A Blush of Rose
ablushofrose.com
Late Autumn in London - Fashion, movies and parties.
Kinvara Balfour In Conversation with Designer Mary Katrantzou and Academy Award Winning Costumier Sandy Powell.
Kinvara is a very special lady. A Playwright, Producer, Creative Director and Public Speaker she interviews many of the biggest names in Fashion and Film and travels the world pursuing great stories and giving her insight on Social Media and technology. With her own exclusive series of Fashion in Conversation at Apple stores in New York and London and thriving a thriving You Tube Chanel and ITUNES (click
here
 to enjoy); Kinvara is a 21st Century girl with a passion for media and communication and a finger on the pulse of an ever changing industry.  
           Sandy Powell in conversation with Kinvara Balfour and a visit to the preview of Cate Blanchett's new film 'Carol'
featuring costumes designed by Sandy hosted the Daily Telegraph Film Team with Van Cleef & Arpels.
Christmas "All Wrapped up" with Smythson and Tatler
.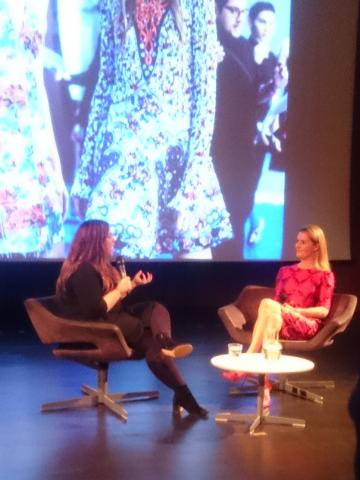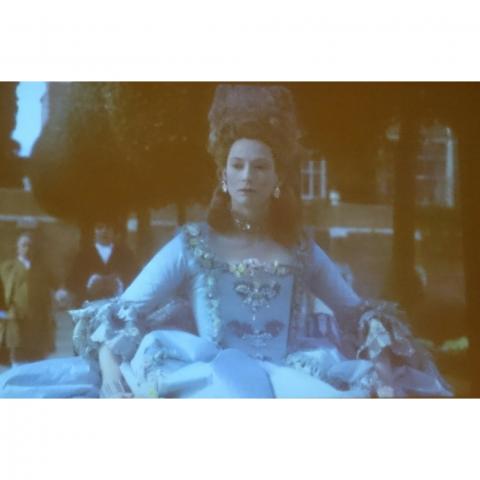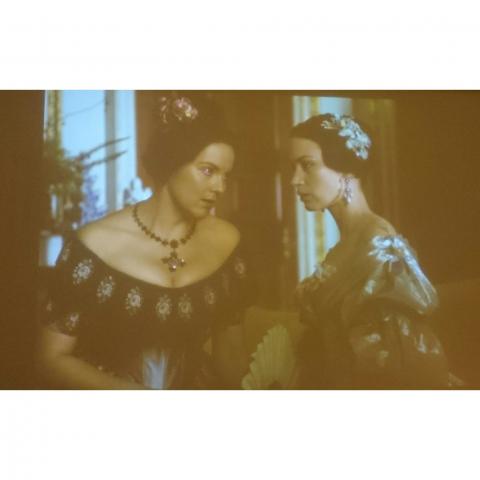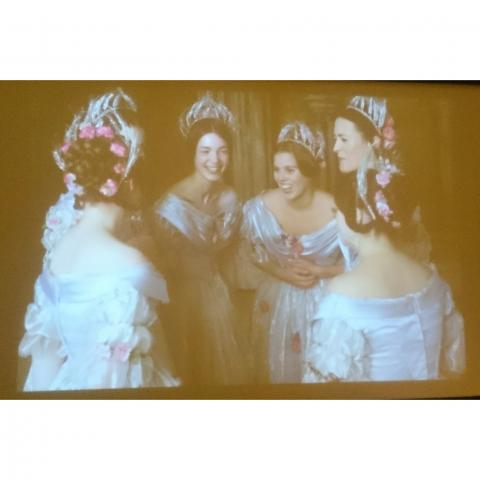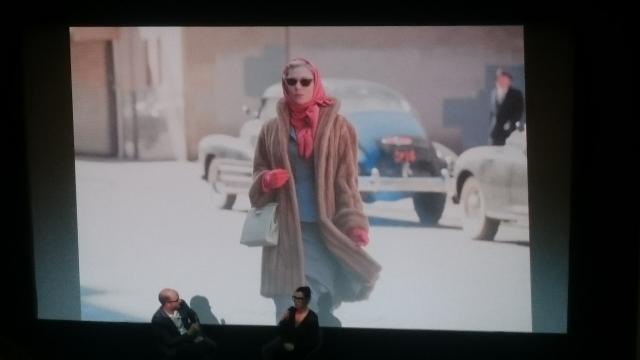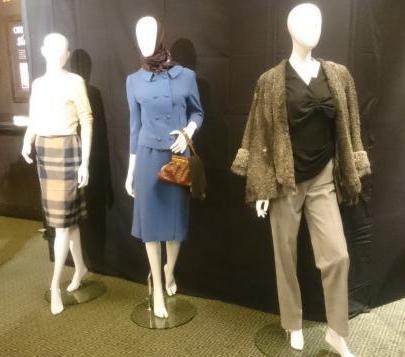 Mary's first celebrity client was Keira Knightly who wore one of her dresses at the Venice Film Festival. It's a great compliment to a designer when celebrities buy the clothes rather than borrow as is often the custom. You could see how honoured Mary felt and I know somehow I would feel the same. Kinvara asked the question - "How far ahead do you work with stylists?" Mary said it can be 3 days ahead which was a little bit surprising to some of the audience. There are some last minute trips from time to time where an assistant will have to run for a plane to personally deliver a dress to Los Angeles for example, perhaps by an indirect route if it's short notice travel. Mary has developed a number of great relationship over the years through working on projects, for example with Sarah Jessica Parker and the NY Ballet. 
The numbers of collections that designers produce each year has grown steadily and today people are working at a dizzying speed. The pace of production has become much quicker but the desire for immediacy in the market is also there too. There's a transition that many designers go through from creating an excellent high quality collection of 8 dresses then gradually this collection of 8 becoming a wardrobe of 800 pieces. The desire for Independence and to express your own voice within fashion is always strong - 'Why not me ? - go Solo - be brave - this was the encouragement from Mary. Mary always asked questions and asked for help and support, and I totally understand her approach in this as strong, open communication is the best way to build a business. What you don't know - speak up and learn. She is self-taught in IT software packages and started using digital herself from seeing the growth in this medium. During her time at Central St. Martins the skills taught where very traditional, now they are preparing students to work a the cutting edge of technology and the industry. 
As this part of the industry grew she built a team with print designers; but it's not only at the cutting edge that she works with the best talent possible to find. Traditional skills are highly valued in the fashion industry today. Two seasons ago Mary was working with the best weavers and lace makers in Southern France and Italy. These mills and factories themselves want to be at the very forefront. Mary illustrated a real example of when she has been on the phone to a mill and heard the village bells in the background. She's fusing London and the high tech fashion revolution with traditional centuries old textile craft and she isn't the only one doing this. I find it a very exciting area of textile production. 
Kinvara asked Mary of she would ever transfer to using online selling only? Mary said 'Who Knows' online sales currently make-up 20% of the business and much of the experience is still personal for buyers. Many people still want to touch and try-on outfits before committing. London still has many of the best shops and boutiques in the world and it represents a different side of the business. Kinvara asked something that many of us where thinking: "Can we have a Mary Katrantzou shop"?  Mary said it would be nice, so we will have to wait and see with optimism. 
Mary Katrantzou is one of the most successful young designers working in London at the moment. She is known, amongst other things for her Trompe de L'Oil effect fabric and is one the most successful graduates of Central St Martins college in the last decade. Following a triumphant Graduate show Mary build her label through hard work, determination and a desire to never stop learning. 
So what has success been like? Mary says she felt detached from the experience seeing first piece on Style.com under her own name. Success can be a pleasant surprise when it happens but with a strong bedrock of support and encouragement from figures like the late Louise Wilson from Central St Martins Mary was confident enough to face up to her doubts about being able to grow the label into a business. We all have moments of doubt, I do, you do; it's normal and in fashion young creatives leave college still growing their career and then once in the wide world they need develop business acumen pretty rapidly.   
Mary spoke about how at the time she left St Martins her work seemed to go against the grain of what was popular at the time. Mary Katrantzou was decorative and maximalist when minimalism was very popular. With a growing international brand to her name she still happily recalls the early days of sleeping in bubble wrap in her studio ahead of the collection shows when working round the clock, her team where sleeping under tables.
It was hard work but the team where strong and bonded and some of her early team come back to the studio and happily recall these days with her. Mary noted when you are with a team you don't feel alone, sometimes the creative process can a be a lonely journey. One of the toughest aspects of launching a fashion brand is finance. Almost everyone begins with very little money for their label. It is however possible to achieve a lot with little budget, it's amazing what many hands and kindness can do, and there are awards and grants available. The London College of fashion is hugely supportive and the mentoring that she received from Louise Wilson was second to none. The BFC are also very supportive in helping up and coming designers and the BFC/Vogue Designer Fashion Fund is another means for designers to gain support. Mary herself was the recipient of this in 2015.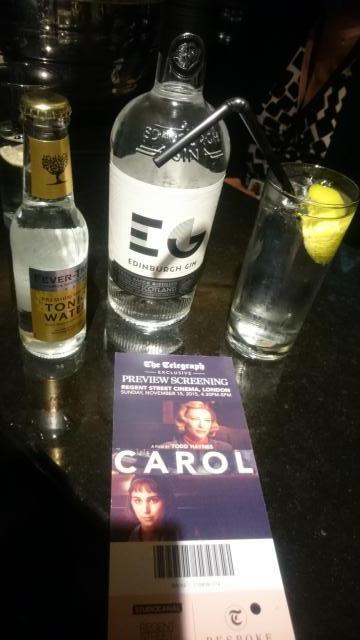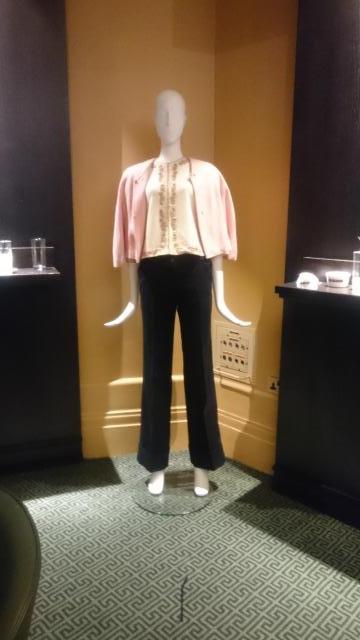 Kinvara In Conversation with Mary Katrantzou
Mary feels that there is a huge amount of generosity in London supporting young talent. She felt E-commerce was the best way for her to ensure that her clothes are stocked globally. London is also a fantastic place for luxury shopping with the show-piece stores of Harrods, Harvey Nichols, Liberty and the legendary Browns that has helped so many young designers get established in the early part of their career. Mary noted that Graphics have been a very big part of generating growth of online sales as they are so visual. Earlier on you are still developing your business skills as well as your leadership of the team and design know-how. You learn to make last-minute changes rather than those changes happening over 3 days. You also learn to 'let go' and allow the creative process take it's own course. SS16 began with gypsies and ended with criminology. Moments of doubt where spoken about, it's completely natural to have these. Need to allow time for looking back. 
Kinvara asked how important it was to have a Fashion Show in the digital age - "would you show digitally like Hillfigger?" Mary said that the show still distills the picture (of the collection). For her, and from what I hear other designers still feel the same way, it's a very important part of bringing the collection out. It's also a symbolic end to the creation stage in the life of a collection. Creating the movement of display in garments produces a very different reaction to still images to seeing the collection live. Show still has the ability to capture the essence of the collection. All businesses have to find their footing in this digital era the brand standpoint becomes different as a new generation of brands open. The pace of how the industry changes offers differing degrees of flexibility. Control of image is easier to curate in this present time also backed by a growing legal area in intellectual property. Above all the digital world allows you to open up and connect in a different way it can be hugely beneficial in taking things forward. Encourage dialogue across the world. Print allows an amalgamation of style and references. Mary's own style and form is evolving over time and she doesn't do print and style as much as she does now.
The digital age hasn't dimmed the need to have good, vital, strong Family like relationships with wholesale partners. These are the people who are travelling the world and communicating what you are about. Digital and media are hugely influential and "Blogger" is  an old word now, we talk about "Influencers". Mary feels that keeping things 'Pure and Authentic' is the way forward and we talk about showing the collection and how it is. It's also interesting to note how different organisations have come differently into the digital age; for example there is a difference between LVMH and Kerring in the digital approach. 
Sandy Powell is one of the most celebrated costumiers in Fashion, with Academy Awards to her name she is regularly called to work on projects with the highest budgets while still relishing working on smaller scale film work with more modest finance. She's a home grown talent who has established a fantastic career over the last three decades and with an eye to the future she spoke to Kinvara about her career to date, her observations of the industry; then and now and her hopes for the future. With a lot of hard work determination and good fortune she has forged a fantastic career spanning, film, television and theatre.   
Sandy is known for her collaborations with Martin Scorsese and amongst the best known films that she has worked on are Cinderella, The  Wolf of Wall Street, Gangs of New York, Young Victoria, The Other Boleyn Girl, Velvet Goldmine, Shakespeare in Love and of course the debuting film of late autumn 2015 Carol. Kinvara and Sandy discussed the new film and her work with Cate Blanchett. Kinvara opened with a look at Sandy's work as a Costumier on her latest film project. Sandy said she needed very few fittings with Cate as they had just previously been working together on Cinderella where Blachett played the stepmother. Sandy simply knows Cate's figure so the process is relatively straightforward. Sandy used many vintage pieces in the film noting that the authentic fabrics of the era contemporary with the film are different from the ones used in manufacturing today. Also crucially women's figures have changed proportion in the last 50-60 years due to changes in diet and nutrition meaning that many clothes from the 1950's simply don't fit women of today. 
Kinvara asked how authentic the style created is; for example is vintage underwear ever used? Sandy told us that she tries to keep outfits as authentic as possible but this will vary from project to project depending on needs. All outfit construction begins with underwear, it's crucially important. Costume rental also forms a key part of the repertoire of the movie costumier. For Gangs of New York the filming lasted over a year with a cast of around 1000 extras. With this scale of work Sandy is grateful to have a team to support her on nearly all projects. 
Different films have different lengths of preparation time which can make it less or more of a challenge to get kitted out in time. For Cinderella she had a lng prep time which was just as well as Sandy described in some detail how the types of fabrics that are required for films like Cinderella are becoming harder and harder to find. As fewer people are dress making Sandy finds she is making more and more online orders direct from Italian Factories.  
An interesting question that many people wonder after looking at films is who owns the clothes? Sandy said in most cases this will be the production company who commissioned them or possibly a Costume House. Is there an attachment to the clothes? Yes, often there is an emotional attachment. 
Sandy has been nominated for 10 Academy Awards and 10 BAFTA's and won 3 and 2 respectively (so far :-) I say ) as is one of the Biggest British names not just in costume but also recognised across Hollywood in the business. 
She began her career by studying the St Martin's Foundation design course and then went on to Central Saint Martins to study the Theatre Fashion Degree. She left before the end of her degree after two years as she was offered the chance to work for Lindsey Kemp in Theatre and took the opportunity. It's was a brave decision but one that was crucial to her early years.  
Where where Sandy's early inspirations? Her Mother used to make clothes for Sandy and her Sister so in the back-ground of her childhood where design patterns, fabrics and needles that where to become the tools of her trade. 
At college in London she was a contemporary of Milliner Stephen Jones and St Martin's was understandably a great melting pot of talent. Would Sandy ever launch her own fashion line? Sandy feels producing collections as a designer is very different to dressing other people to brief rather than for an anonymous person and an anonymous body. Sandy prefers to get to know the characters and the collaborative process. 
Everyone wanted to know more about the famous Glass Slipper by Swarovski. Sandy Happily confirmed with much laughter that it wasn't wearable. The shoes (in face 8 copies in all) belong to Disney and many of them have been on a happy tour of the world as part of the films promotion. You can see one copy below to the left from the V&A exhibition Shoes Pleasure and Pain - check out my article on the Summer page here. 
Above you can see shots from the Daily Telegraph Preview of some of the vintage pieces that Sandy put together for the film Carol. Tartan was a big theme in the film as well as tweed and herringbone and the fit of the Dior New Look. For research Sandy went to Vogue House to look at their archive of magazines and books from the period that was being filmed. It's an invaluable experience and much more beneficial than doing internet searches. 
Working for Martin Scorsese sounds like an interesting world. Sandy described his formidable approach to research and said that he is usually simultaneously working on about 10 projects always backed up by research. He will send out stacks of films, books, magazines, whatever he needs to get his team into the right mindset to create his vision and the packs received by Sandy and her cohort are huge. For example Sandy was given an entire film to watch to understand exactly how Martin wanted a particular collar to be. 
Sandy chooses the projects and the amount of press she does for each project that she works on. Junkets are not in her contract so she only promotes the pieces that she really believes in. She enjoyed Carol tremendously and has given up much of her precious time to promote it. But with an eye to the future she told us of a current project "How to Talk to Girls at parties" being filmed in Nov/Dec in South London with Nicole Kidman and a project with a modest budget but a fantastically surreal plot line.  
In the open Q&A she was asked about her early career working with Director Derek Jarman and Sandy said she made her first film with him, Caravaggio, when she was 25. She enthused massively about the support that Derek gave to young up and coming talents and she went on to work on more projects with him. Working on this movie introduced her to Pop Videos and she has always remembered Derek's motto "you have to treat everyday going to work like a play". The team working on Caravaggio where mostly in their 20's and Derek gave many people their first chance to break into film. 
Sandy said that one of her favourite quotes that she thinks is very true is by Gabrielle Chanel "Look in the mirror and take something off". Sandy was asked if she feels that there is a decline in the skills of dressmaking and costume design in the UK and Europe and she said that there was. In particular she mentioned that Hammersmith/ Shephards Bush/ Goldhawk Road area that where once vibrant bustling places full of work rooms and fabric shops staffed by the skilled working class Irish emigre community. People now buy mass produced online and the property developers have moved into Hammersmith. In particular there are a lack of cutters and tailors now and some bodies such as the Worth Foundation that Kinvara has collaborated with are trying hard to bring these skills back. 
Sandy mentioned several 'Wish List' ideas that she has. One is to work with Tilda Swinton again at some point as their paths haven't crossed since they where both much earlier on in their respective careers. They both worked on several of Derek Jarman's films and both feel he was a great positive force to have in their careers at an early time. Sandy also reflected on the changes more broadly in the film industry as compared to 20 or 30 years ago there are far fewer mid-budget film production taking place. It can sometimes feel that it's either a big budget Hollywood production or a small budget independent project that will be on the horizon with very little middle ground. I did't mention to Sandy when I spoke to her later but I've heard other people in the industry say the same thing.
Sandy is full of optimism about the future and she said that she is very much looking forward to what she hasn't made yet. Kinvara made the excellent suggestion of a Sandy Powell Retrospective at the V&A and I for one wholeheartedly agree. My vote is cast, my wish is made, let's see if it happens. 
Thank you Sandy and Kinvara.     
Emily Blunt (left) in Young Victoria
Queen Victoria's Brides Maids in Young Victoria with Princess Beatrice central.
Gin 'O' Clock at The Telegraph Preview of Carol
in London
Period Costume curated by Sandy Powell for the Movie Carol at the Daily Telegraph Preview in London.
Period Costume curated by Sandy Powell for the Movie Carol at the Daily Telegraph Preview in London.
The glass slipper designed by Sandy Powell for the movie Cinderella and made by Swarovski shown at the V&A Shoes: Pleasure & Pain exhibition.
A couple of weeks ahead of the release of Carol in the UK I was lucky to be able to attend the Preview Screening with the Daily Telegraph Film team. This was really nice as it allowed me to see some of Sandy's work close up and although I was quite an admirer of her work from seeing it on screen; there always is nothing quite like seeing it in person. Before the film there was a Q&A with the Daily Telegraph film team and amongst discussing many aspects of the film such as the subject of the relationship between the main protagonists Carol and Therese and the Direction by Todd Haynes Sandy's work was also given the attention and recognition it deserved. 
As we where talked through lots of cosy Cashmere, Fur and Tartan we where ready to snuggle back in our seats on a cold winter's evening to watch the film on everyone's lips. Special mention must go the distinguished Jewellery House Van Cleef & Arpels as they supported the event and have enjoyed a long relationship with Cate dressing her with exquisite jewellery from the House over many years. 
Feu de Beaumont, Beulah London & Tessa Packard at Lou Lou's - 5 Hertford Street. 
It was a lovely pre-Christmas treat to meet up with 3 of my favourite young female led fashion and lifestyle brands; all in the same place at the same time at the wonderful Lou Lou's 5 Hertford Street. That lovely place in Shepherds Market which manages to be smart and homely at the same time and a place that you can feel yourself easing into.
We were beckoned through rooms with a heavenly scent drawing closer from Feu's bright candles with the warm chatter of club members and friends adding a melodic harmony to the air.
It was wonderful to see Tessa again after a busy 2015, I've previously featured her jewellery when she showcased at Royal Bank of Canada in 2014 and her current offering contains some favourites as well as hints of the launch of her new collection for Spring and Summer 2016.
Tessa's design inspiration translates into a wide variety of designs from each collection theme. She has the creative gift of transforming ideas into unique pieces in a language of colour. It was great to chat with Tessa and hear about what she's been doing in the last year and 2016 looks very exciting.
The Beulah girls always throw a great party and it was great to catch-up with the team again and ponder what treats to buy for Christmas. Beulah continue to innovate and corner the market in contemporary British style with a sophisticated feel, always working with a conscience and an eye for ladylike elegance. There was a range of pieces from the AW 15-16 collection with some favourite Beulah staples in the mix. You can see a feature on it here . 'Warm elegance' are two words that describe Beulah so well and at 5 Hertford Street, this felt like such a natural setting with the scents of Feu de Beaumont by Alice Beaumont and Jordanna Marshall in the air it was impossible not to relax.
Alice was happily chatting away with us guests all evening and it was lovely to see her again, she has her own very special warm aura. The light of Feu de Beaumont continues to grow brightly and 2016 sees the addition of diffusers to the range. The collection offers a wide choice of 'jewels' to add to your home and as a true heritage brand Alice combines the best of traditional Anglo heritage and style (she's a child of Northumbria like some of my father's family - for me it's an undiscovered country I wish to see more of) and with a contemporary eye for comfort it's a natural choice.
Quoting from Alice herself the "..we have created our statement twenty-two carat gold vessels as permanent guardians of that memory...." It's a beautiful way to preserve a legacy in a fresh contemporary addition to your home or your living space. Golden 'Goblets' and 'Porringers' are words that evoke the past and the mystique the candle and it's multi-layered nature in ritual. There's perhaps a quiet echo of Lindesfarne, Bede and saxon monks inscribing their manuscripts too. You can find much pleasure in the scents no matter what connection you make with them.
A big thank you to Alice, Tessa, the Beulah girls and Lou Lou's team for a wonderful evening.    
Beautiful cuff-links from Tessa Packard inspired by the Penny Sweet's of our childhood.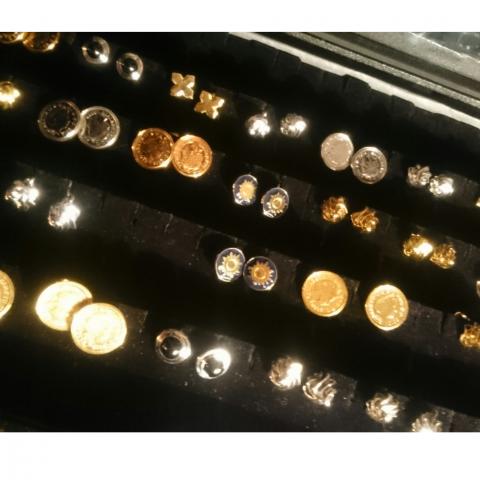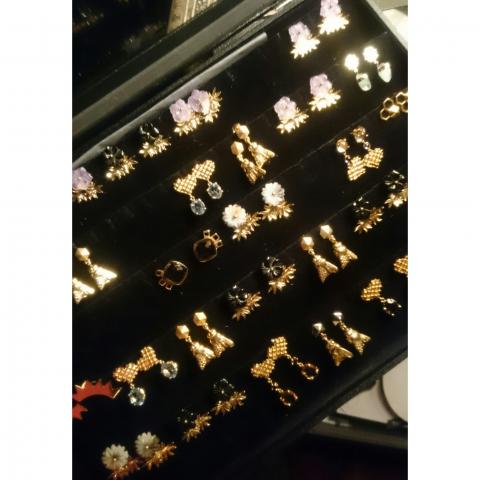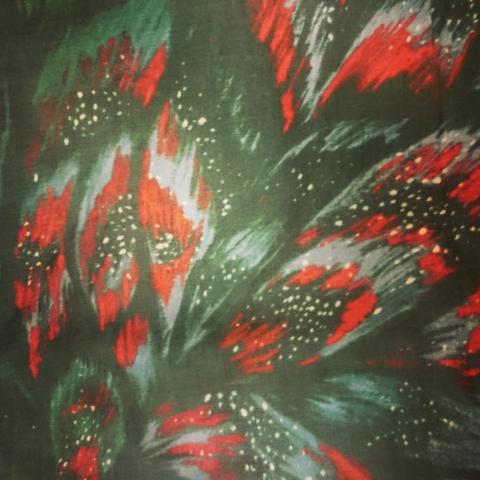 Earrings from Tessa Packard's collections using gold and fine gem stones. 
One of my favourite prints from the Autumn-Winter Beulah collection in fluttering brush strokes.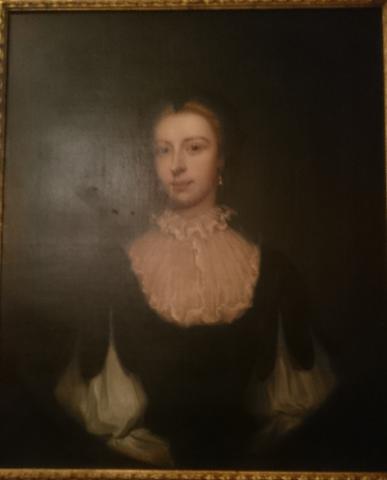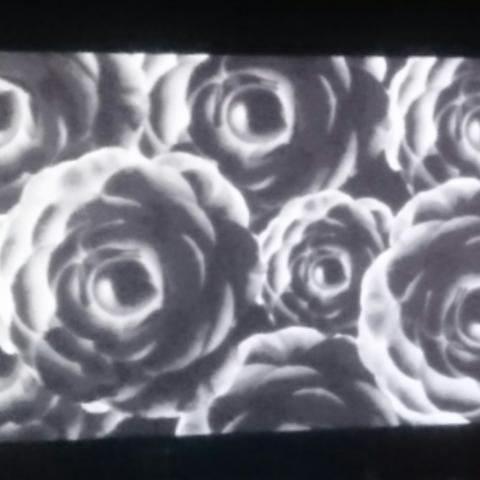 The British Fashion Awards in Partnership with Swarovski celebrating talent and creative work with the leading names of the Industry.
All Red Carpet images with kind permission of the British Fashion Council with a credit to Mike Marsland. 
The British Fashion industry has a lot to celebrate and behind the razzle dazzle of the Red Carpet there is a lot of hard work and dedication. It felt like a bit like a Birthday party for British Fashion and a relaxed gathering of friends with many people from different parts of the British and international Fashion industry together in London's West End to celebrate. 
Britain has the curious ability to produce talented designers and world leading business minds who can build and promote brands across the globe. From established names like Burberry to growing brands like Charlotte Olympia British Fashion punches above it's weight around the world. 
It was a great evening to see many familiar faces that I know, have met and/or written about together in one place and as it was my first awards I took my little balcony seat and wondered what to expect. The first award of the evening was for Emerging Womenswear designer and was won by Thomas Tait. I was really thrilled as I'd had the opportunity to meet with Thomas and hear from him in February 2015 as part of London Fashion Week and get his perspective on life in the Industry. He has been the recipient of the prestigious LVMH group sponsorship after his graduation from Central St. Martins and he's definitely One to Watch going forward. Plain speaking, hard working and humble he's a great person for young designers to learn from.  
Tom Ford was the recipient of the Red Carpet award and his friend Lady Ga Ga - wearing Tom Ford - was there to accept it on his behalf. Their friendship has been very inspirational to Lady Ga Ga and her work. Everyone needs someone to look up to in their industry and Tom is one of her guiding lights, it's easy to understand why. 'The Countess' was looking Sphynx-like and radiant as a goddess and it was great to see her in London.
One of the most memorable and possibly historic fashion moments of the evening was Anna Wintours' speech about her great friend Karl Lagerfeld ahead of the presentation of his award Oustanding/Lifetime achievement award. Seeing Karl and Anna talking together on their table with David and Victoria Beckham you can see what a close bond of understanding they have and the touching anecdotes that she gave to him where a moving tribute to a dear friend. Anna gave possibly one of the most memorable fashion quotes of all time letting us in on her wish to be re-incarnated as Karl Lagerfeld's cat in her next life. Choupette is one special kitty and Daddy must have told her about the joke as she liked my instagram showing the Camelia's background after the awards. Thank you Pretty Kitty.  
There was also great Fashion news ahead for 2016 with Jennifer Saunders and Joanna Lumley giving us a taste of the upcoming Ab Fab movie as Patsy and Eddie are back in town and heading our way. I'm super excited about the new film and in September 2014 I photographed Jennifer Saunders at the London Debut show of designers Vin + Omi - see link for my feature - and made a wish that Ab Fab would come back *wish granted* :-). 
Anna Wintour and Karl Lagerfeld recipient of the Outstanding Achievement Award.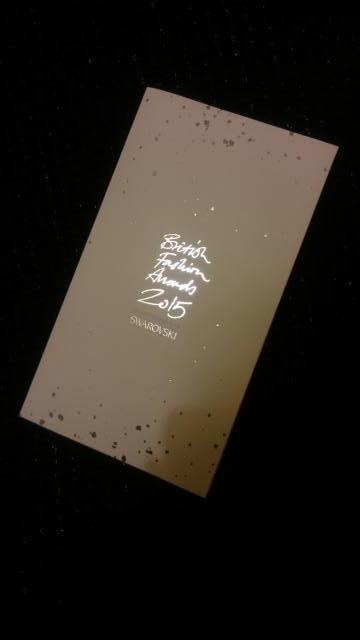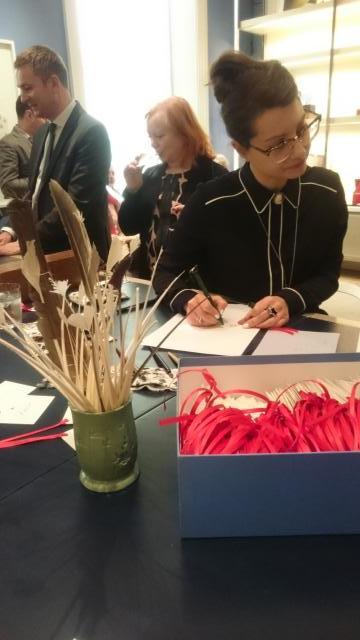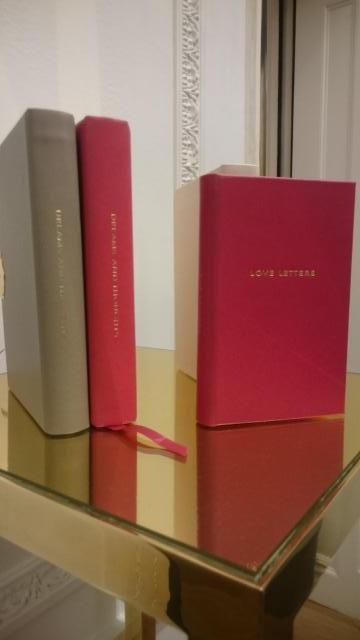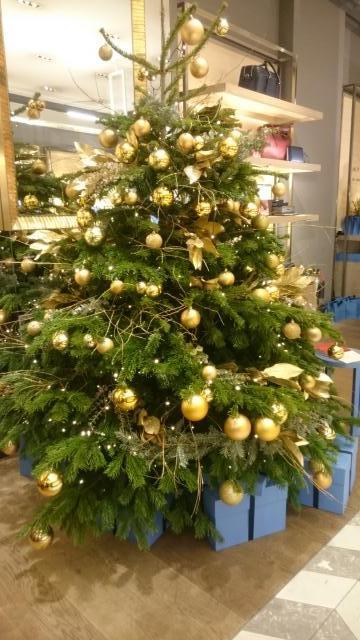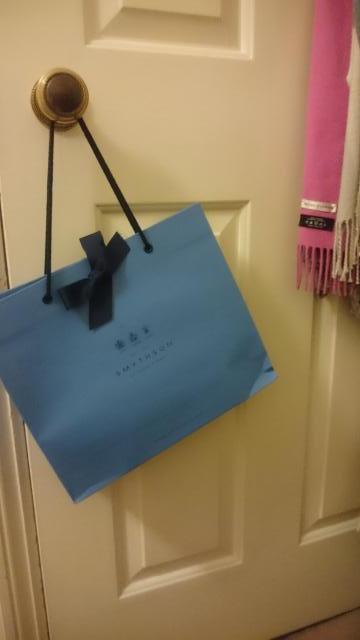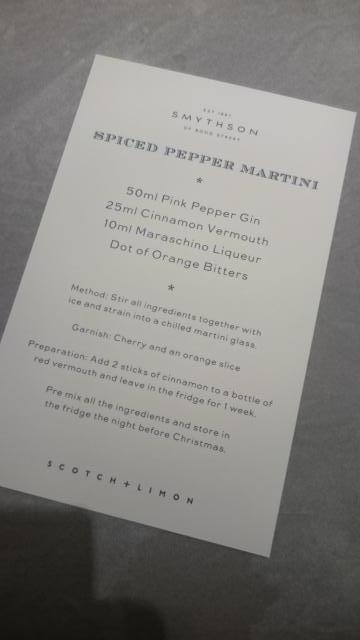 It was really good to see Markus Lupfer at the awards after catching up with him during London Fashion Week and seeing his Spring - Summer 2016 collection. I loved his contemporary suit take - vintage Markus. Arizona Muse turned a lot heads on the Red Carpet with her dress by Ralph & Russo the only British Haute Couture House to show on the official Schedule in Paris. It's another sign of the life and vibrancy of the British Fashion today in the UK. Christopher Kane and Jack Guinness came in their own style of Men's chic showing that the men's suit offers a broad world of interpretation and choice.
Jourdan Dunn won many hearts with her acceptance speech for Model of the year celebrating her contribution to British Fashion on an international level. She was introduced by her friend Olivier Rousteing.  In a bitter sweet moment Oliver expressed the bonds between London and Paris following the terrorist attacks prior to the weekend ahead of the awards. London and Paris are different sides of the fashion coin that have a centuries old bond and day to day across every walk of life we walk hand in hand. Today in fashion one capital is known for Haute Couture and the other for Street fashion and creative genius bubbling away, we're intertwined and always will be. London and Paris.  
Fresh from his success at the GQ Awards winning Breakthrough designer for Menswear Christopher Raeburn cut a dashing figure on the Red Carpet. There is ample choice for men to express themselves through different interpretations of the Men's suit and with London Mens Collections growing each season it's a great time for a spotlight to be on this part of the industry. Erdem arrived around the same time as friend Kate Bosworth wearing one of his dresses from the SS 2016 collection. Erdem picked up Establishment Designer rounding off a great year that has seen him launch his own store. 
Alexandra Shulman looked lovely in a green and black ensemble featuring a very beautiful jacket and clutch. Erin O'Connor rocked a bold print shoulder less dress in fearless Supermodel pose offset with stunning make-up. Taking a break from life in the fast Lane F1's Lewis Hamilton dropped by to lend his support for the evening and show, contrary to media stories earlier in the year, he does know how to dress appropriately for the right occasion and everyone could see it. 
David Gandy is always super stylish in front of the camera and when he's out and about around town. Roksanda wore one of her own designs in a signature colour that she and I share. Roksanda's work has so much passion and life in it it's hard not to be captivated. 
Charlotte Olympia won the award for Accessory Designer. She's a great inspiration as a woman who built a business from scratch with drive and determination. With little sister Alice on board it was a family celebration and she shared the joy through the evening with fashion friends Susie Menkes and Natalie Massenet on Karl Lagerfeld and Anna Wintour's table. David and Victoria Beckham where another fashion family in pole position at the awards and many people liked Victoria's suit. Sarah Burton looked glamourous in a beautiful dress that had exquisite print detail. 
Charlotte Olympia and Alice Dellal

Victoria and David Beckham

2015 has seen many innovations in Fashion in the digital sphere and Chrstopher Bailey picked up the award for Creative Campaign for Burberry after they produced live coverage at their London Fashion Week Spring-Summer 2016 from backstage and included a snap chat campaign shot with Mario Testino. Ahead of Burberry scooping the prize I covered this in a feature article for Country and Townhouse Magazine which Burberry liked very much. You can read it here. I hope you like it too. 
As a journalist, presenter and model Alexa Chung is also at the forefront of the changes in fashion and digital media. At the awards she wore a fantastic dress by Erdem and presented him with his award. As you would expect the women dressed wonderfully some opting for current Autumn-Winter season looks and others following the more recent trend of diving ahead into the next season. Whichever way everyone looked fantastic. 
Rosie Huntington - Whiteley and Mario Testino. 
Liv Tyler and Stella McCartney 
Nick Knight OBE and Charlotte Knight
Stella McCartney is a very lovely lady and she got a huge cheer when accepting her British Fashion Award for Brand. As a working mum she has built a global fashion brand through skill and hard work and dedication and she knows that she's lucky in the support that she has. She's down to earth and straightforward and when you're building a business in luxury fashion or any other industry this is key. Arm in arm below with one of the many Anglophile faces in the fashion world, Liv Tyler, Stella shone brightly and is a true inspiration (ok a minor pun here I admit it but very true). 
Fashion Creators are unique people who influence not only the world of fashion itself; but also touch the lives of millions of people beyond it perhaps without them ever being aware. Nick Knight won the Isabella Blow Award for Fashion Creator and many people where smiling from ear to ear just like Charlotte below. His contribution to the industry is huge and he's one of the world's most influential visionary photographers. 
It was a really lovely evening and for me it felt like something very down to earth on a sense behind the glamour and the sparkle people where catching up and also looking ahead to 2016. It was great to run into people and see who was there on the evening. Mary Katrantzou also sealed a year of success with the award for New Establishment Designer. The tribute to Karl and his career was undoubtedly on the highlights and below I've added a shot of the Camelia Freeze from part of the presentation celebrating his career. Chanel and Britain have a bond in the same way that London and Paris do and I have the impression of Karl is a kind and gentle person that enjoys being with friends but also discovering fresh young talent. 
To the left below I included a painting from the Coliseum in London of the Duchess of Manchester. A reminder that the Theatre world itself has always been associated with fashion and style through the ages in an echo of the catwalk and style. But the future is at lest as exciting as the past with exciting times ahead in 2016 for British fashion.   
Tatler and Smythson joined forces to hold a Christmas party at their flagship London store on New Bond Street to see the current collections and celebrate the festive season. 
With a large tree all decked out in gold and a multitude of shopping ideas on offer the Smythson team where very welcoming hosts. It had been a little while since my last Smythson visit and I'd almost forgotten how broad their range of gifts and accessories was. The choice in purses alone is vast and there was definitely a 'something for everyone' factor.
There was lots of entertainment on offer through the evening beginning with an instagram competition, and a delicious selection of drinks and canapes coming our way as we got to know the collection.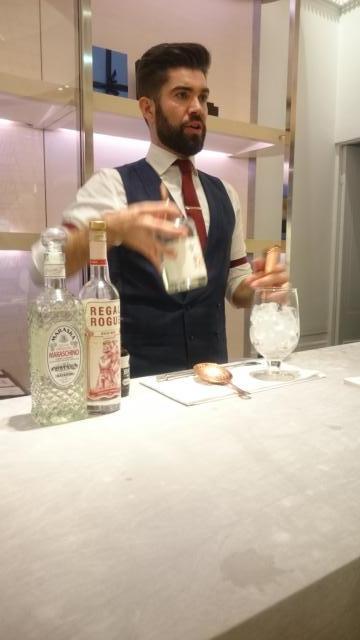 We where welcomed into the festive spirit with an in-house bar provided by the dynamic Bar Tending duo Scotch and Lemon, also known as Barrie Wilson and Fabrice Lemon. They gave fantastic cocktail masterclasses all through the evening and are a tip top pair of drinks professionals who can guide your choices and tastes through a selection of drink combinations. I really enjoyed talking to them and would recommend looking them up if you have a party or event to cater for. I enjoyed two cocktails one of which was the Spiced Pepper Martini - here you can see the recipe printed below on lovely Smythson stationery. 
Below some of the lovely notebooks from the Smythson's stationery collections. Grouped around themes with thought ideas and keep sakes these are charming special gifts for any time of year. As well as the huge selection of gifts on display, Lady Penny Mountbatten was also on hand to give expert tips on entertaining and table setting for party planning. This is something to have in mind not just for Christmas but all year round. Margaret White the resident graphologist at Smythson was on hand to reveal what she could see of peoples secrets by looking at their handwriting. I decided to keep my secrets to myself though and enjoyed looking through the Smythson collection.   
As stationery is a key area of Smythsons world it's perfectly harmonious to see many aspects of handwriting and graphology embraced by Smythson who believe in giving great care and detail to the traditional crafts of letter writing and expression. As part of the evening we where able to have a calligraphy inscribed gift label made ahead of Christmas by the lovely member of the team below and I chose to have one for my father. We could select from 3 different types of script and I chose the one that reminded me most of Christmas. A scrolling 'Robert' duly appeared and it made a very special addition to one of his Christmas presents.  
Smythson are continually forming collaborations with leading designers who show at London Fashion Week schedule and as well as recent tribute to Erdem Moralioglu they also have a fantastic collaboration with Roksanda Ilinicic under way. 
The Tatler team loved this, as shown in the image to the left and it's a fun high colour series of stationery that typifies the themes and designs that Roksanda uses in her collections. 
Notebooks like the accessories are largely leather leather goods and this is a key part of the Smythson brand identity along with the beautiful blue boxes and ribbons. 
Smythson is a British Heritage brand with a strong history but what makes it interesting is that it's also one of the most dynamic in terms of working with contemporary designers. Smythson are firmly on the map as an innovative name within their field taking the best of the past and making an exciting future. 
It was a lovely surprise to go away with a goody bag containing lots of useful things to add to a very Happy Christmas.  
Peter Pilotto at Fashion in Motion at the V&A.  
The Fashion in Motion series at the V&A in London brings together some of the most interesting talents of the British Fashion world and provides a fantastic stand-alone series complimenting the on-going exhibition program.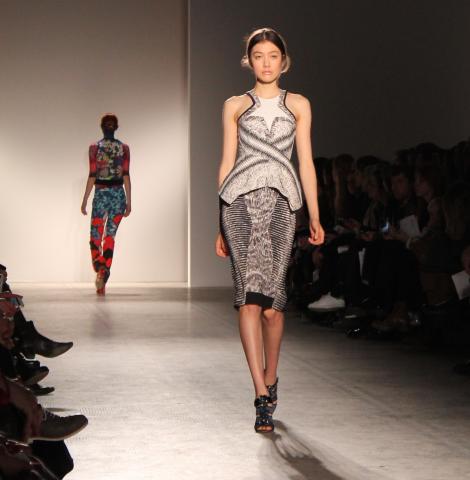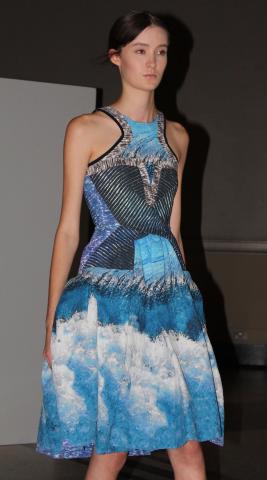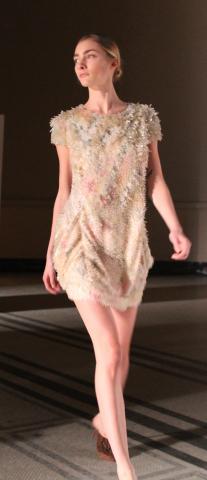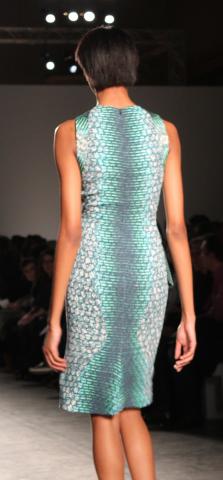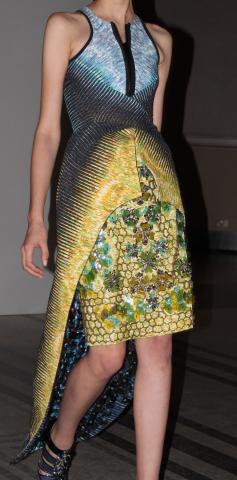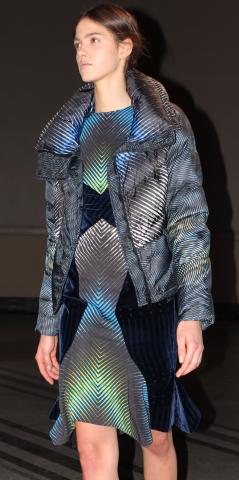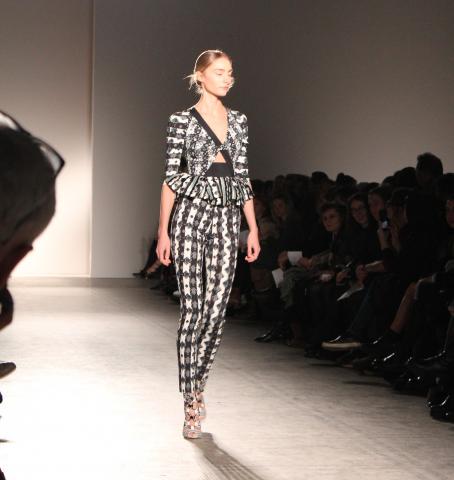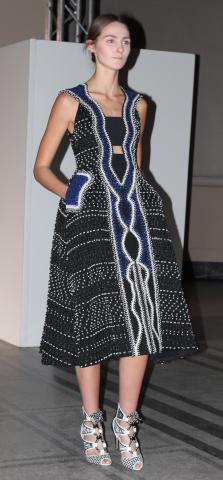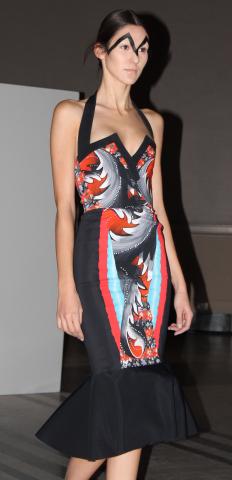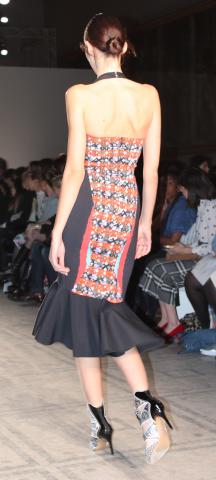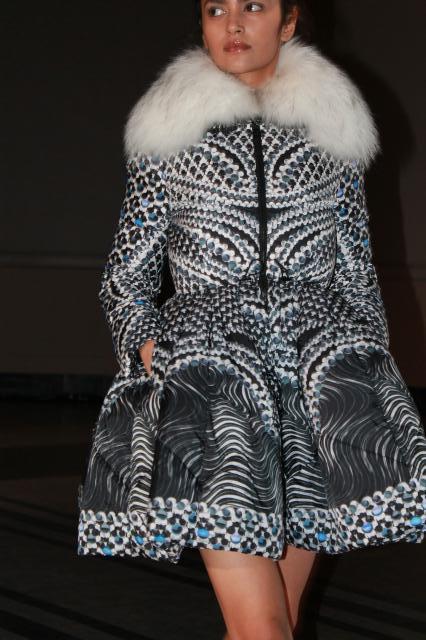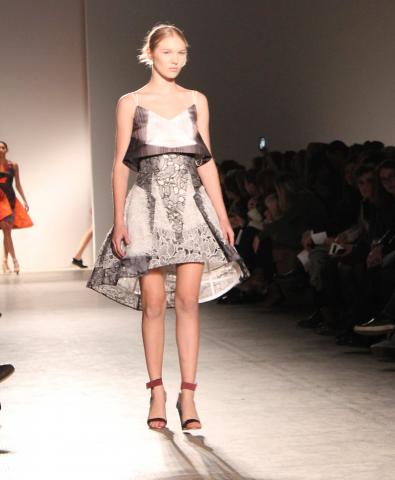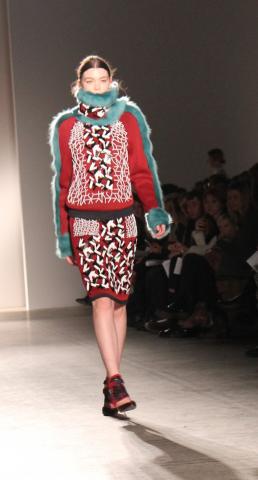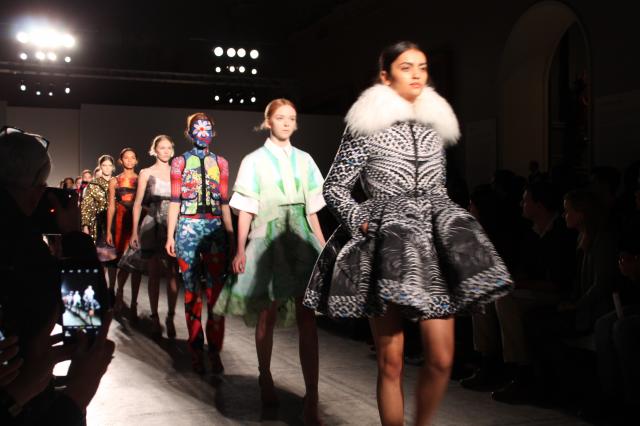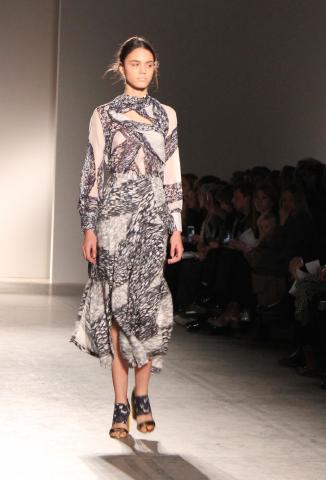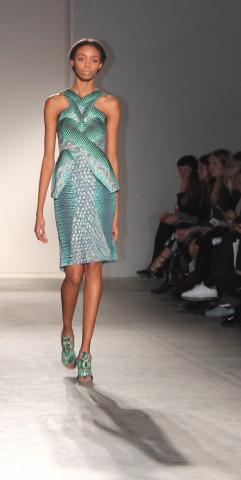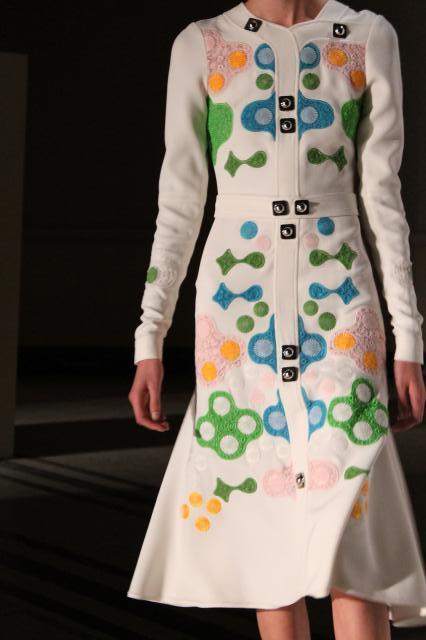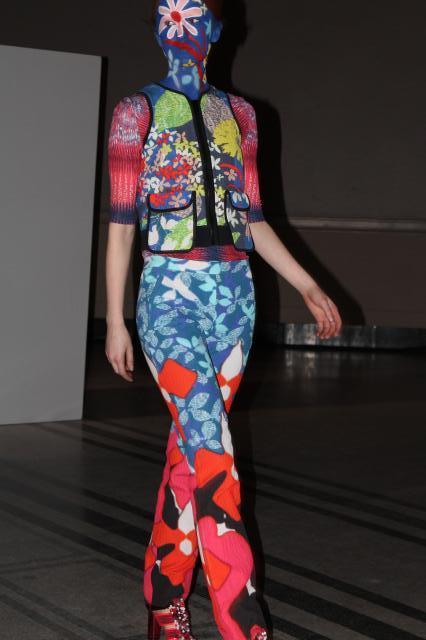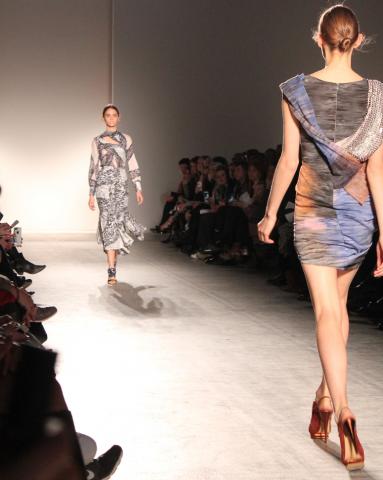 Ralph & Russo at Harrods.
Ralph and Russo's salon at Harrods is a beautiful place to visit. In the Halls of Luxury it is one of the most talked about salon's within the department store giving visitors a chance to see Haute Couture designs in close-up and meeting some of the friendly faces of the Ralph & Russo team. 
Peter Pilotto, the British Design Duo, are one of the main-stays of the London Fashion Week Schedule and it was great to see them in action at the V&A with a retrospective composed form several of their recent collections. In classic Peter Pilotto style this was a bold and diverse offering that showed that Peter and Christopher have plenty of tricks up their sleeve when it comes to creating collections bursting with life and colour. Being front row thanks to the awesome V&A team meant that I could get some great shots and really 'drink in' the design detail. 
To see their work close up is frankly the best way to really appreciate the level of in-depth artistry and craft. Above I've actually opened my look at the presentation with a shot from the Finale ans first out was one of my favourite looks showing what appeared to be Inuit/First Nations heritage textiles with beautiful faux fur (or maybe real) trim, Frankly the way our winter's are going these days we could all do with this extra layering. With a playful skirt this coat was cute to the max. 
Catwalk shots are fantastic and I can never get enough of them. There's huge debate raging currently about the virtues' of showing collections in front of a live audience or showing them digitally with private views of clothes and collections to only a handful of invited guests. I personally think that no matter how the industry evolves in terms of the timing of the seasons in the show schedule there must always be a way for collections to be seen by a live audience and walking them out on live models (not robots) is the best way to do this.  
Faux Fur makes a playful addition to the collection in several outfits and represents another way to use colour boldly adding texture and flare to any look. In the look above to the right it sits in harmony with multi-layered texture and print detail. In the close-up shot you can see further on in the article. You can see how the different style features of contrasting tessellation and pattern offer sensation and exploration to the wearer. 
There are a wide variety of cuts and styles in this collection of looks. Even dresses that sit close to the figure offer diverse scope. Fabrics echoing the natural patterns of snake and crocodile skin wrap around the figure in sophisticated shapes making stronger or more subtle impact. It's a theme that has been played with from several angles by the duo and with a rich exploration of colour added in to it there is maximum impact. Nature themes play a broader role with the colours of the sky, the surf of the ocean working in natural elements along with stars and hints of rock formations. It's certainly eclectic but not too much. These are powerful combinations but Peter and Christopher also offer more subtle nuances of style with delicate applique perfect for a more formal occasion. Below to the right the a delicate dress with feathers and embroidery detail would be a perfect black tie or cocktail outfit and also a great piece for a date night.     
Peter Pilotto are known for their bold play with colour and with one look also including face painting they went all out in this piece to translate their design messages through the whole persona of the model walking in front of us. We often compliment our outfits with coordinating jewellery but it's fascinating to think of coordinating face painting, as an extension or amplification of cosmetic make-up perhaps, with the colours and mood of the outfit that you are wearing. Below centre is a dress picking up the bold colour-working once more, if in a slightly toned down form. The symmetry of the outfit creates a natural balance and harmony and with a 1960's 1970's feel to it there is a retro sense of harmony and vintage. 
Above to the right is a close up of one of my favourite looks that was shown that evening at the V&A. Working in mostly grey and white focuses the eye on design detail and the touches of blue crystal give an extra twist of light and colour. Below to the left is one of my favourite shots that I took of the catwalk illustrating the fantastic space and light that is in the V&A and the perfect stage set for a show. In this shot you have a back-view of one of the dresses showing the replication of feather details in the print form of the look. To the left my last shot from the show is another close up showing detail of look using multiple fabrics deftly illustrating the bold use of textiles and theme combinations.  
As always it was a great pleasure to see Peter Pilotto and many thanks to the V&A for being such great hosts.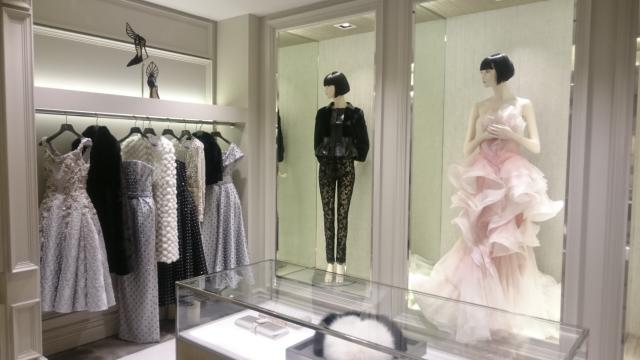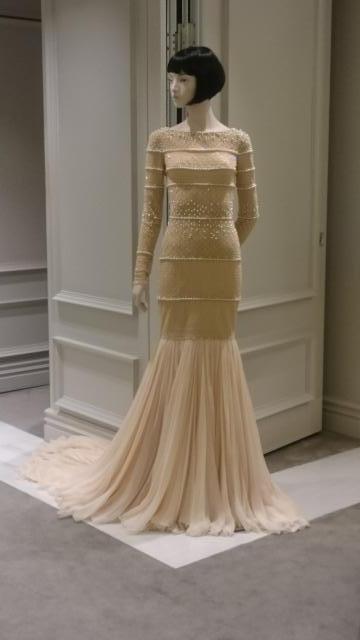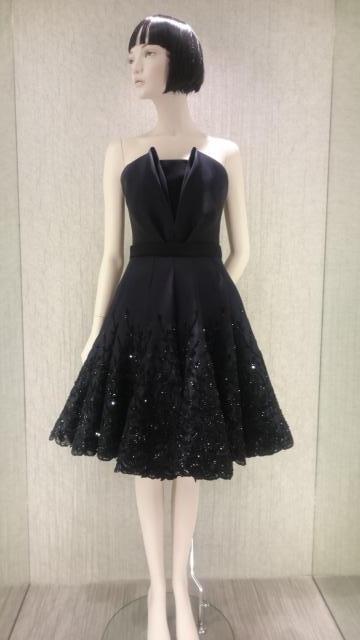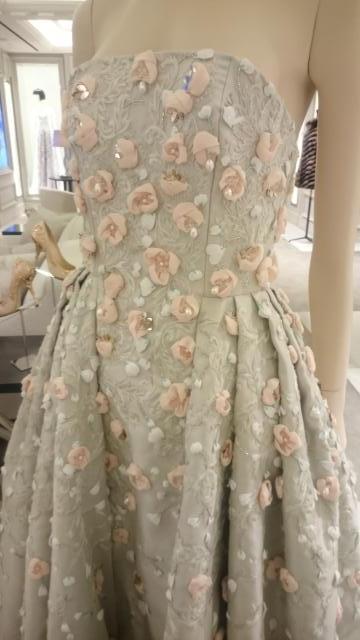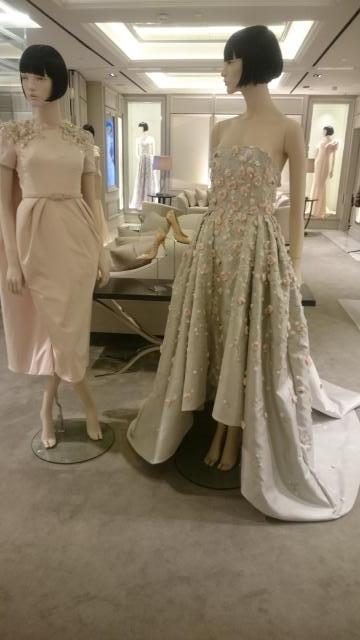 Now an established name on the Paris Haute Couture schedule they are the only British House showing in Paris and the first in the history of Haute Couture. It's a great first step for the House that still feels like it's in it's genesis years. 
With a global clientele spanning the broadest range of names from International Royalty to Hollywood women, First ladies and leading Fashion Figures Ralph & Russo have grown to become a legend at a pace only seen before in haute Couture with the House of Worth in the 19th century. 
The collections usually have two parts to their nature; looks that are structured and fitted and those that are more diaphanous, capturing a different mood and easy flowing elegance that adds to the quality of effortless ease in the pieces. There is a lot of choice within this collection as there is in each collection each season. 
I find that Ralph & Russo work the traditional method of Haute Couture production (with looks to suit a broad spectrum of ages and geographies within their global client base) to perfection. 
Ralph & Russo have the knack of creating what I would call 'Fresh Classics' that don't date but look so beautiful that they feel like part of now an not yesterday. 
Below you can see three of my favourite dresses from the Autumn-Winter 2016 collection that showed in Paris in the summer. Here these are ready made, yes it's true, but the salon offers an opportunity to purchase Couture garments after being fitted. The Atelier is hugley adept at creating perfect cocktail dresses as well as longer gowns complete with the most intricate detail. To the right below you can see a dress in close-up with delicate tiny roses featuring in the fabric and also sewn onto the dress in applique detail. Behind also a glimpse of the shoes. Another Ralph & Russo innovation adding to the purses that now accompany the fairy-tale designs that walk before us each season. 
The colour palette on offer is subtle on the whole with a considered variation such is the methodology that Ralph & Russo use for formulating their collections. Watching the clothes move is the greatest joy as you can feel how sympathetic the design creations are to the women's figure while losing none of their exquisite feel of luxury.
Below you can see part of the Harrods Salon showing the dresses and outfits of the current season. I love the way you can see the skirts of the dresses spilling over from their display cases, it's such a tiny detail but for me it really gives emphasis to the feel of relaxed elegance and comfort that they ebody.