A Blush of Rose
ablushofrose.com
Julien Macdonald - all images below with kind permission of Julien Macdonald
 Mulberry 
The Mulberry presentation is one of my special highlights of London Fashion Week. It's a British House that has a firm place in many people's hearts and under a new leadership Mulberry is coming up with some seriously interesting beautiful designs that are taking it in a whole new direction. I'm in love with their looks and I'm really happy for them too there is a great new era beginning at one of most iconic British Fashion Houses. 
This was a full bodied diverse collection with all the usual Mulberry staples and plenty of new surprises. Must-have bags that you couldn't believe weren't already part of your life as the designs seemed so 'right' some-how visually jumped out at me from the shelves and stuck a chord of recognition in their natural composition of elegance.  
TOGA

TOGA are cool and TOGA hip, there's no getting away from it. It's fantastic to have them on the London Show schedule as they bring a flash of colour, light and eastern inspiration to London twice a year. This was my third TOGA show and the second I shot at and I was really spell bound seeing at what they where doing blending hints of traditional Japanese style with a contemporary international look that you can wear on the streets of Hong Kong, Paris, Rio, NY or London it's a great collection for the Autumn-Winter season.  
Pringle Scotland - all images below with kind permission of Pringle. 

Pringle hit their 200 year anniversary this year and they chose the Serpentine Gallery in central London to show their anniversary collection. I think I could be right in saying that they may well be the oldest fashion label showing on the London Schedule. With production based in Italy and Scotland they still have a foothold maintaining British textile traditions. And each season they balance this with producing collections that suit the tastes and needs of an international clientele. Pringle has a lot to offer a broad cross section of the fashion buying public and they create collections that really do have multi-generational appeal. 
As always it was pretty difficult to make a choice of the looks but I've brought you a broad selection of everything that was fabulous from Pringle this season and think you will find something that you like. The collections focused on on long lined silhouettes conveyed through a neutral palette of colours. Black, slate grey, blush pink and navy blue combined to build the picture of a sophisticated urban style wardrobe with strong echoes of traditional country textiles in the ever present House knitwear.  

Lucas Nascimento - images below with kind permission of Lucas Nascimento.
Lucas Nascimento has long been established on the London Fashion Week Show Schedule where he has won a place in many people's hearts for his bold splashes of colour. Bringing some of the colour and passion of his native South America to London Lucas' collections have a vitality all of their own. Opening the collection with his signature look knitwear featuring prominently Lucas worked the collection around several key themes of colour, Black, Purple, and Bronze-Gold with abundant floral prints re-interpreted and re-imagined in different ways. I for one was certainly a huge fan of this series of looks and there is plenty here to keep you satisfied for day and evening wear during Autumn and Winter 2015.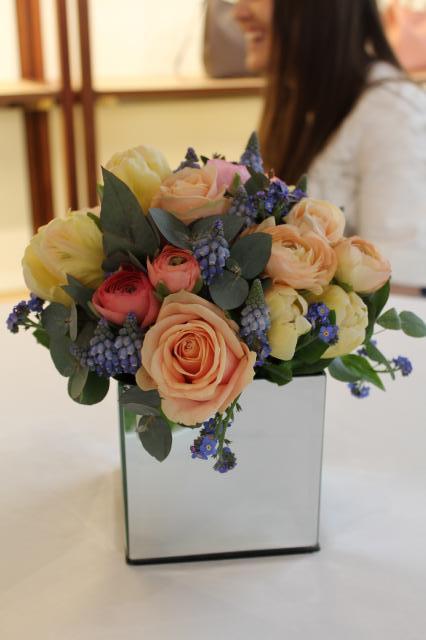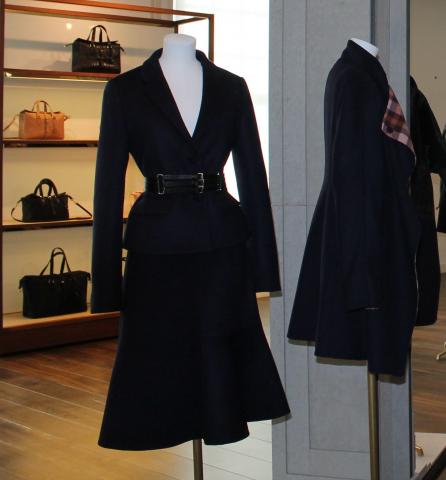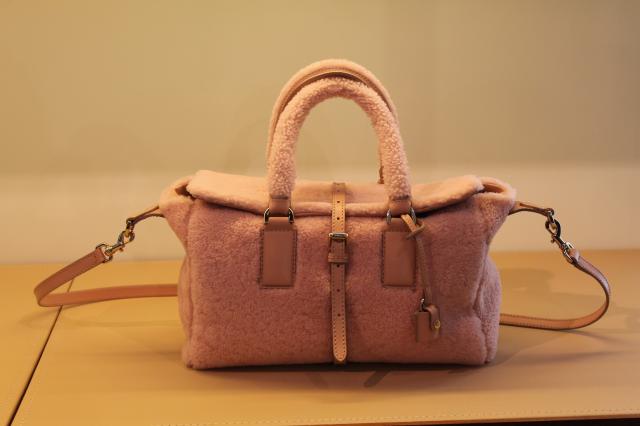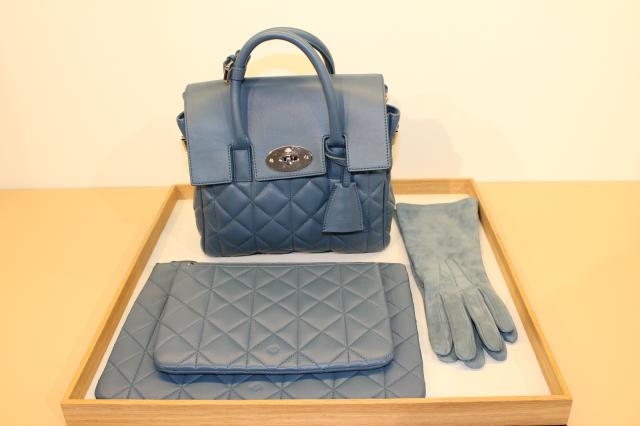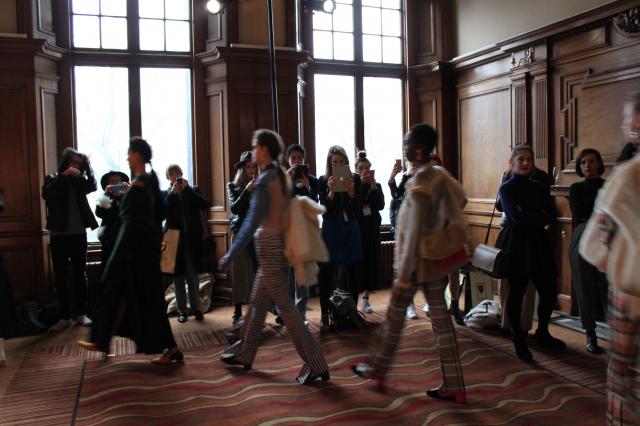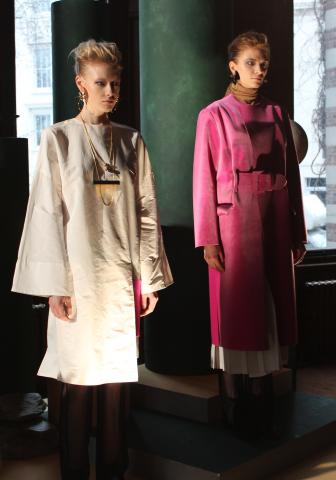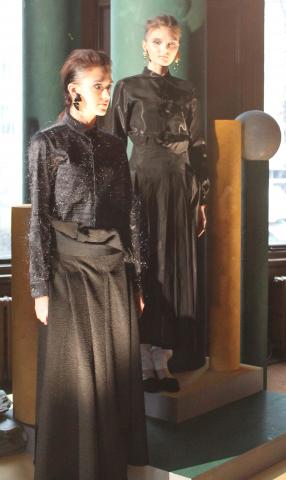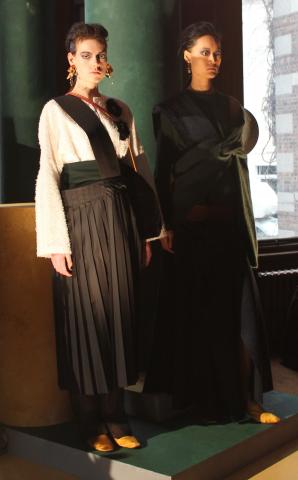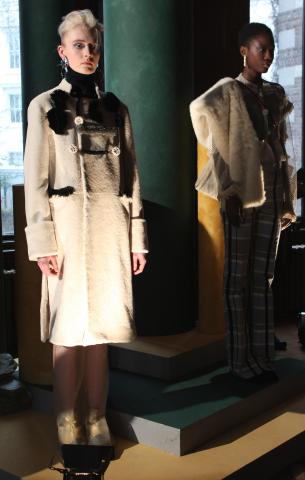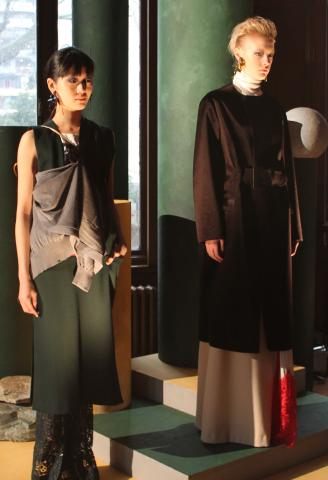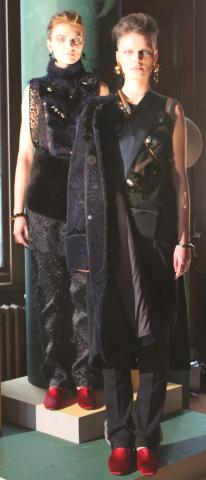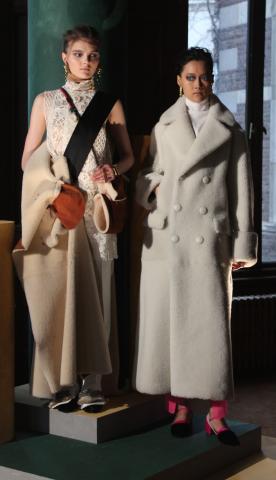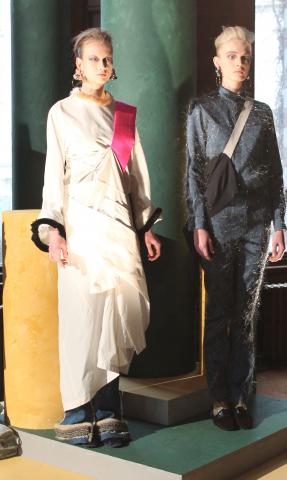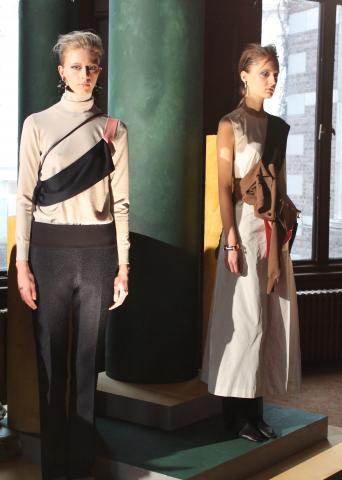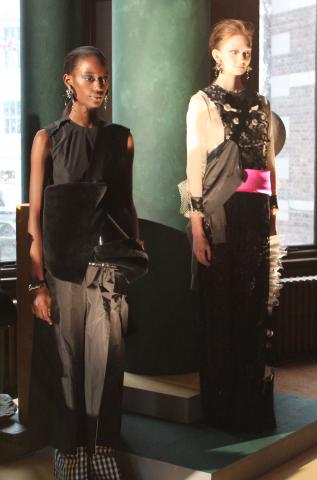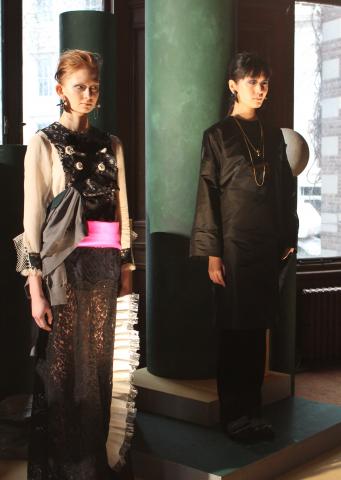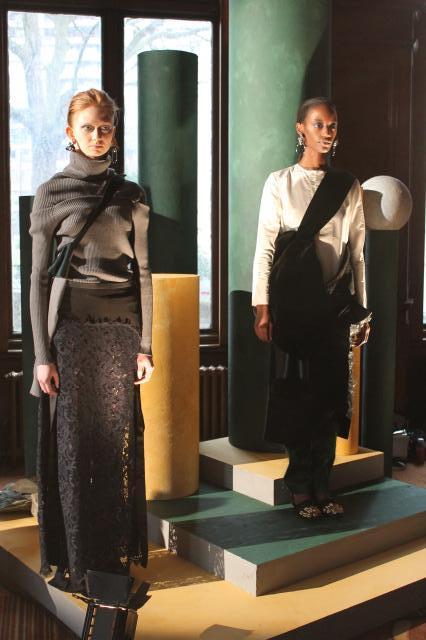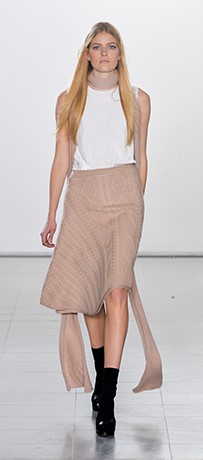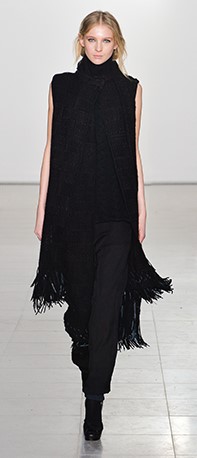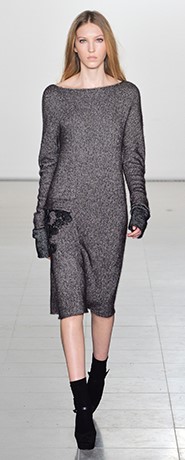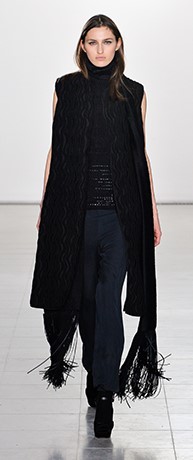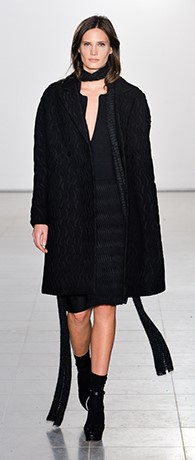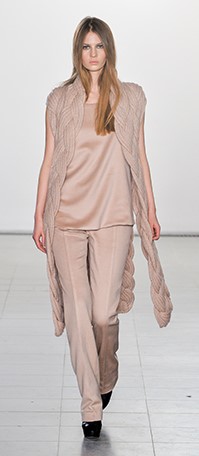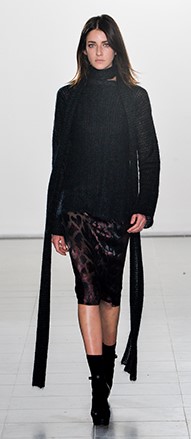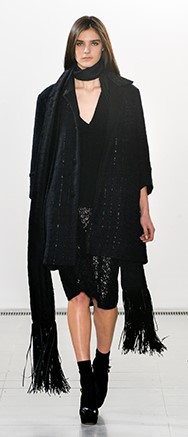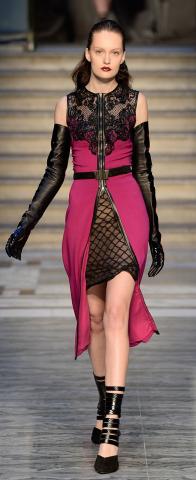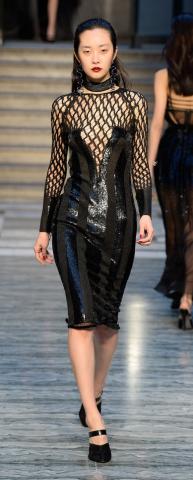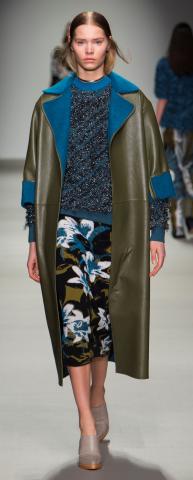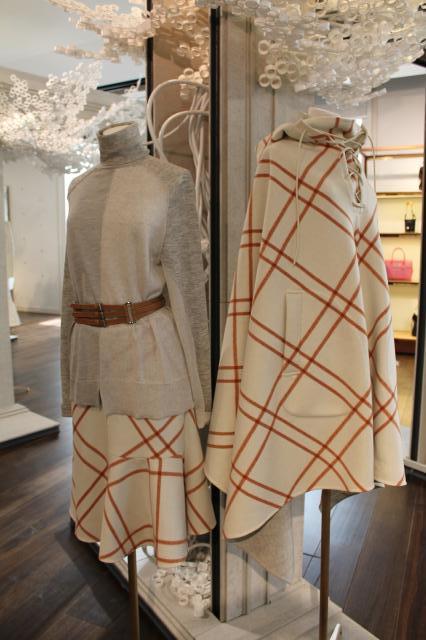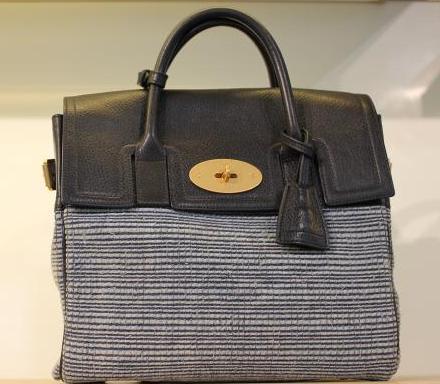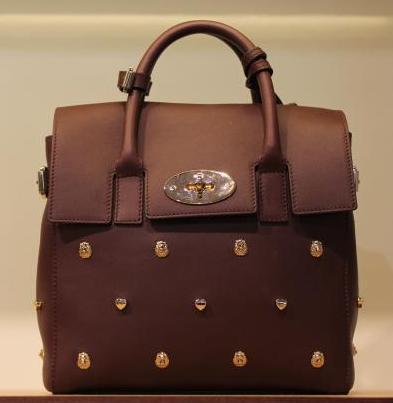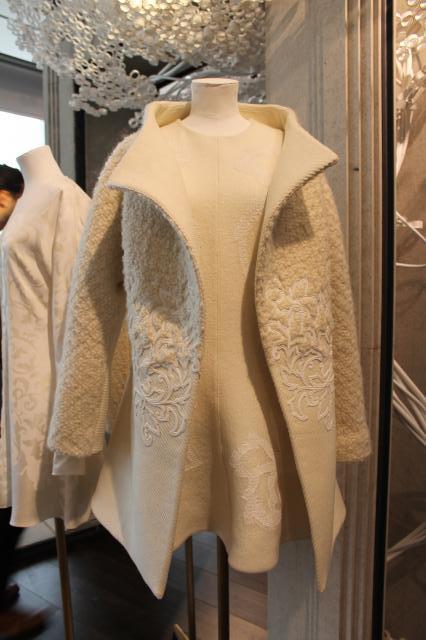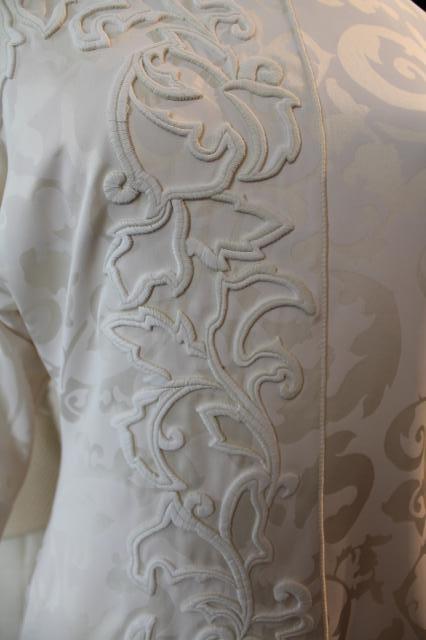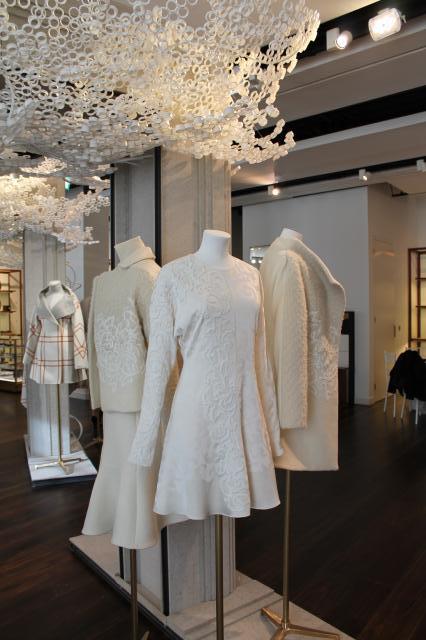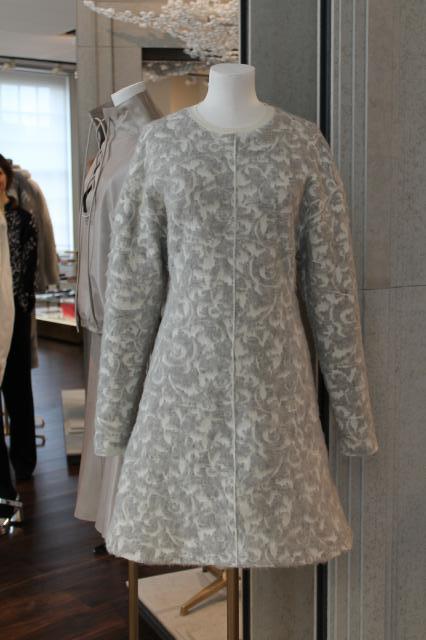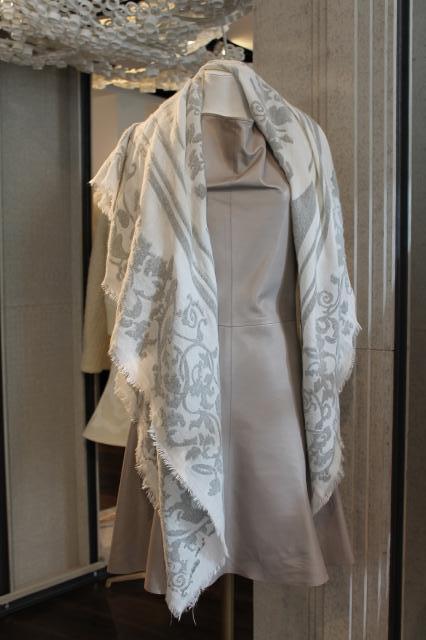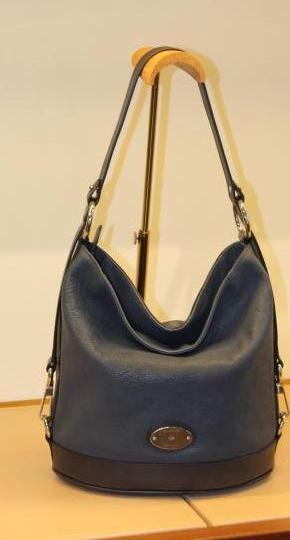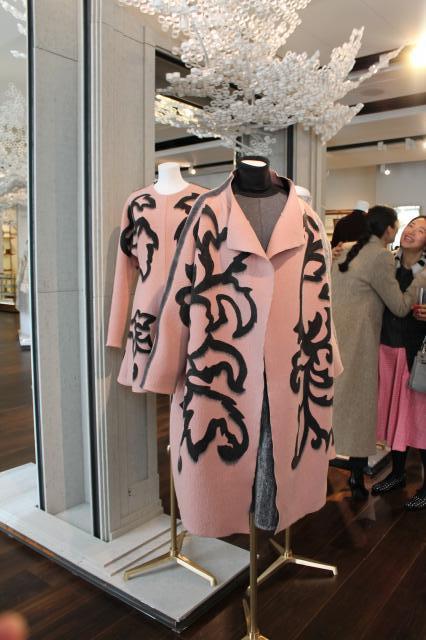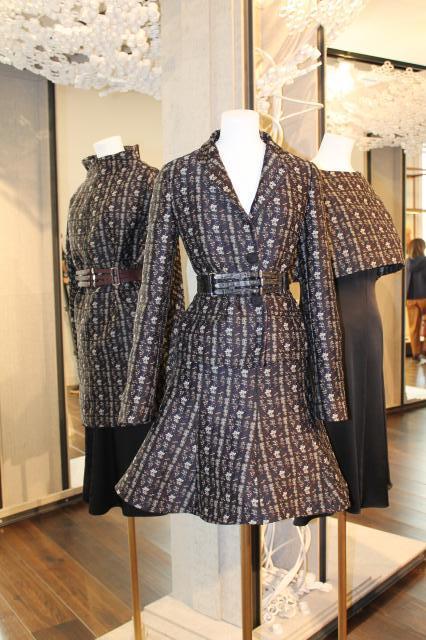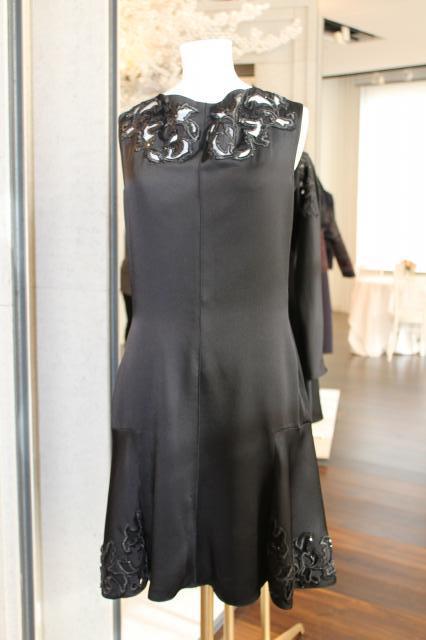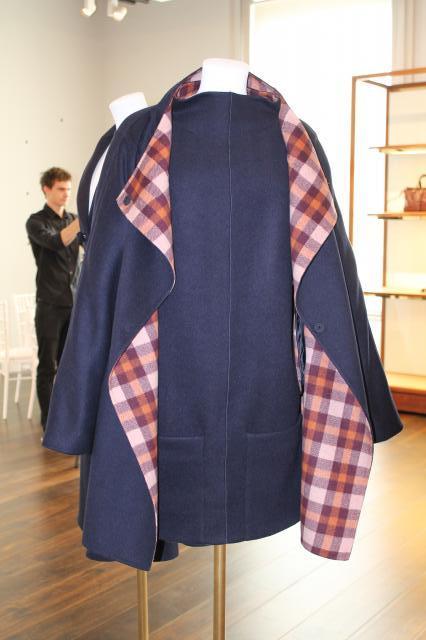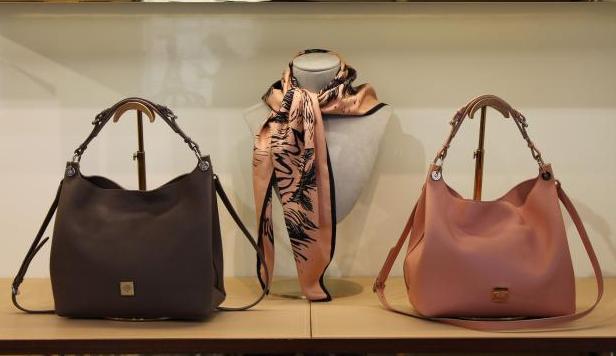 As you can imagine it wasn't easy to make a selection from the images that I shot at Mulberry but what a beautiful dilemma to have? Above to the left is a trio of that show how this collection has found a lot of scope and flexibility in the design themes that it's working with. These two beautiful soft leather bags have a hobo-ish theme about them and chic print scarf adapting the classic animal print look works well with either - so why not take both. I think many people will be tempted. Both will slide easily into an Autumn-Winter wardrobe. This collection brought out a wide choice in day and evening-wear showing a beautiful evolution on the brand but not scattering it's focus - there was a noted harmony to these pieces and all looked exactly in it's place. Looking to the theme of the Lady, whether she be in the town or the country. Above to the left you can see a cape for outdoors to shield the wind in Kensington or the deepest country and a beautiful belted sweater and long-skirt pairing contrasting checks in a colourless tartan style with lightest soft grey tones in the cashmere sweater.  
Here above are two very different coats that both have massive appeal as part of the broad spectrum style that has everyone so excited about Mulberry. Contrasting checks with open broad lapels the coat above left is snug, stylish and lightweight. To the right one of my favourite looks from the collection all together. The detail in this coat and the dress that sits underneath it are exquisite. The look is both warm and light at the same time which is perfect. There was some beautiful play with pink, grey and black, a favourite colour combo if mine to the left above you can see a great look with a triple layer belt shaping the waist over a soft long-sleeve sweater and black-on baby pink stencil patterned skirt. Warm, luxuriant and still very practical. Above to the right a beautiful understated evening or occasion dress matches up with a Mulberry house scarf creating a very elegant versatile ensemble. 
Accessories are very strong at Mulberry and they have put together a feast of designs in many different styles that will capture much attention and a lot of hearts this autumn. The bucket above left is snapping on trend and many people want at least one in their collection at the moment. Centre above two clutch-style purses that will work well for day or evening in the super-sweet envelope fold style. Mulberry have also done some really interesting things with the square-shape tote. This is a very handy bag to have around. The construction is light while the size is also perfect for getting in i-pads, small laptops, note books and reports. I think it could be hit with women wanting a bag for professional and personal life rolled into one. Working with multiple textiles and design themes there is something here for everyone.  
The coat and skirt combination above for me typifies the theme of ladylike elegance that runs through the collection. With an echo of the late 1940's early 1950'a and the New Look in Paris. In dark Navy Blue with clear lines and a naturally elegant composition this look would easily suit a working or leisure wardrobe and compliment the figure wonderfully. It's smart and understated and I love the triple belt detail again at the waist. To the right is another coat twinned with simple style knee length dress with smart pinafore style pockets. I loved the textures in this outfit. The coat is warm and you can wear it buttoned or lose and open as shown above. It's a great wrappable look and I can see it working well with long boots either walking in the countryside or in the town. You can see the back of the coat in the shot above left and the tailored detailing at the back shows how the waist tapers gently on the figure.  In the centre is a beautiful set of two slimline pocket bags, gloves and a matching tote that you could team up with many looks from this collection.  
Beauty, Grace & Style was all over this collection it was really lovely to see a collection that really focused on beauty and through the textures and detail brought together in the looks, producing designs that will help women feel even more special and strong as they wear the clothes. Above to the left is a dress that really stood out for me. In delicate light grey this is a quietly beautiful piece made with the most fascinating embroidery in the fabric. It's elegance, light and a fantastic piece for a special day of evening in the Autumn and Winter season. It's also what I term a chic multi-generational piece that will suit a wide variety of women. In the centre a wide shot of the showroom with several different looks from the white/cream phase of the collection included. Bringing hints of the autumn into the collection with leaf print these light pieces also had an echo of Bridal about them which I thought was lovely. I like to see a little white in collections for autumn and winter. I feel it adds a wonderful extra energy to the collection and as a girl born on a cold snowy December morning it always reminds me of beautiful white snow. Above to the right I've included a close-up of the fabric detail of the dress as it's so beautiful.  

Above all this Roxette sheer-ling bag in pink was my favourite accessory from the collection overall. My little heart went out to it, I picked it up, and felt the light softness in my hands and also can testify that it's quite roomy inside too. This will be a much-loved all purpose bag for a lot of girls this season. The strap is a good length allowing the bag to sit just above the waist on most adult height people. How could you not love something this cute I ask you?? It's also available in black is you want another colour at your disposal. As I moved about the collection to shoot more images I could see that it was drawing many admiring eyes and many other guests where picking it up. To the right, some more accessories that you can blend into your wardrobe this autumn. It's the first time I've noticed cute hats from them and this one in it's berry colour is a pretty funky style statement. Mulberry' scarf repertoire is broad and there are plenty of pieces that you can chose from to treat yourself or a friend. The Chelsea Boot / Ankle Riding Boot to the far right is another wardrobe staple that many girls have in their closets at one point or another. I loved this deep tan look in this piece. 
Above is one of my favourite picks of the cocktail dress looks from the collection. This could also be worn in the day to a smart event with a jacket through the autumn-winter season too. The embroidery of the silk features beautiful leaf design and making a simple statement it adorns the dress at the neck across the decollete and at the hem. 
Above left is a great trio of looks showing three different styles created with one of the season. The full length coat-dress center has boundless possibilities for interpretation in your wardrobe and the dress to the right of centre would be a great look for the evening. 
You've probably guessed by now how in love I am with the black stencil leaf patterns, with a slight hint of spay paint and stencil it's brings a little air of rebellion and street energy into the collection and staves off and faint notion of being prim and proper. This fashion that's alive, with it's finger on the pulse. 
The two tote bags to the left are super practical and the larger one is big enough to be a 'travel light' weekend bag. The wide handles mean that they rest gently on the shoulders or in the hand. 
It was really lovely to say Hello to the fantastic Sabina Syzmura again and I enjoyed talking to the ladies from Mulberry over a delicious smoked salmon brunch. It was great to talk to them and see and feel the excitement about this new collection. I was also pretty excited myself and I feel that Mulberry is entering an exciting new chapter. This collection is trying out new things as well as working with the classics so there's plenty to keep everyone happy. Below to the right is a Bayswater in Ostrich skin and a lovely light shade of pink. I very much believe in bringing colour into autumn and look forward to seeing their line come out in the Autumn. With thanks to the Mulberry team.  
I really enjoyed the way that this collection was presented. Models where paired together often in pieces that where quite contrasting. This is different to the more usual rhythms of a fashion show where a collection moves through a series of moods and phases that allow you to see a pattern or the development of a train of thought, most often a collection will begin in day-wear and move forward to evening-wear. Here the juxtaposition side by side meant that the audience was guided to think and notice the fabrics and textiles used in a more sharp type of contrast.
The first two looks to the left above are both great smart/casual pieces. I'm interested in the sash-tie across the shoulder aspect that they have worked into the outfits. For me it's a nod to the practical utilitarian aspect that is a theme running through the TOGA collections. Style and design innovation come together. In the first look to the left the shoulder bag is hung nap-sack style but also clings to the body slim-line style to form an alternative type of belt. Matched to long line black trousers and a roll-neck sweater this look is simple but powerful style statement. Next to it the beautiful dress in white with a cross-shoulder belt-bag is a light and feminine look for the season picking up perhaps on the tentative theme of whites and bridal running through collections for this coming Autumn. 
The next pairing matched a beautiful expansive white wrap dress-coat over blue textile edged trousers with a dusty moonlight blue suit embroidered with whispy light applique detail. Again another great floppy no-nonsense bag was draped across the shoulders and gently rested at the hips. A slightly more dressy look perhaps but leaving you with plenty of options to explore and find part of the TOGA world of style to suit you. To the right a look a beautiful white embroidery long blouse was teamed with a long white skirt. A warm sheep skin wrap draped around the model offered a comfortable extra touch of warmth to keep out the chill. It's partner to the right was a lovely warm winter coat to keep out the chill and and look super-glamourous in. A winning combination - why not go for it. 
To the right are two more evening looks that bring the TOGA themes out in two contrasting ways. The first dress to the left works with black lace adding a white fringe on one side and incorporating the traditional Japanese Obe. This look also combines my favourate, whites, magenta and black to great effect. Stylised and embroidered it's a contrast to the next look in black which is a stunning kimono - style trouser suit complete with Obe band.    
The warrior look returns in in the collection as TOGA's women take to the streets of their urban jungle with sharp style. The first pairing of looks to the left above see a pleated skirt teamed with a loose fit top, bound at the waist by an Obe style belt and with a cross shoulder-strap belt. This for me is a look that blends not only the traditional and modern but also the masculine and feminine into one. Next to it another look channeling the traditional Samurai robes uses dark green and navy blue that carry the strength of autumn colours. Next to the right a beautiful deep green dress sits in harmony with a black lace under skirt. A long belted brown coat and floor length dress with high collar neckline add a touch of quiet drama to the presentation. 
Sheep skin returns in the next two looks both in an ample winter coat with deep rolled back cuffs and large retro-style buttons. It also acts a warm shoulder wrap. To the right above I love the two looks that blend midnight blue and black in velvet's, embroidery and with touches of faux fur. Sharp and to the point they are contemporary and innovative in the TOGA house style while also being beautiful and evoking the east and the stylistic traditions of TOGA's original home.  
The looks above to the left in the first picture are two of my favourites, the second pair that I love are the two farthest to the left. The long white tunic sitting over the black trousers with delicate bar-style necklace is simple and striking. The next look that it is paired with sees a beautiful magenta coat over a white pleated skirt. The Obe belt is transformed into a bucklebelt at the waist to fit the outfit snugly to the figure. A must-have. 
To the right above my two other favourite looks from the collection are both beautiful pieces for the evening. These two looks see light black blouses teamed with long black skirts. Trousers under the skirts add an extra twist of both traditional style and added warmth to the looks. The skirts both have broadband belts tieing them in at the waist looking both stylish and super comfy at the same time. 
It was a great pleasure to see TOGA bring their collection out for the next season and there was a lengthy series of looks that showed the breadth and diversity through the collection. Here either side are some more looks that would make great additions to your Autumn Winter wardrobe. I admit that I am very much a fan of the TOGA house style and I hope many of you come to know and enjoy the collection this season.  
The two looks above work with the blush pink theme and in truth these pieces could slide forward across many seasons in your wardrobe. The cable knit scarf on the first look to the left mesmerises me and it reminds me of the twists of the skeynes of wool that one finds in yarn stores and farm shops. It's a beautiful plait that also echos the long lengths of hair that women used to wear in the past. The satin vest top is a natural piece to cherish and paired with long line trousers this a great anytime - anywhere look that is truly versatile. Next is one of my favourites from the collection. The knitted skirt and sleeveless blouse radiate easy comfort and the textile of the skirt is mirrored in the long trailing scarf. White again features in this autumn collection as it has from several designers and the next complete look of dress and knee length coat is a smart style statement. The broad collar makes a clear right angle to the jacket length and the elongated sleeves of the dress beneath. 
The long grey cardigan in the next look is a beautiful ode to play with the textile theme. This piece is warm and light in structure and the vibrant pattern contrasts with the simple long-line style trousers. The next look to the right is another one of my favourites of the collection. A pretty knitted skirt and sweater make a simple combination that would fit well into a million girls wardrobes. Next to the right a slightly sexier look for a date or an evening event. A beautiful semi-sheet skirt sits underneath a warm sweater.  
This look above to the left was the first out of the gates and it for me really did encapsulate the collection. You have a wonderful super-long knitted fringe-tassle scarf matched with a knitted gillet and long black trousers. It's a great winter look and for me this is classic contemporary Pringle. Next to the right a great party dress for the winter season in sparkling silver this second look adds a shimmer to it's environment and moves in a really mesmerising way when someone wears it. Next tot he right another great trouser and gillet combination accessorised with a large scarf, tassels trailing almost to the floor.  This again is another look I would happily wear next season. 
The long-line knee-length knitted dress in the next look is pure delight and teamed with the smart coat that has clever echoes of knitwear patterning in it's design it makes a subtle statement as a total look that references Scottish and English Borders textile origins.  The wave pattern appears again in the skirt split above the knee in the next look with long sleeves culminating in gloves to complete the look. The coordinating skirt and blouse look to the right is perfect look for evening for a dinner or party perhaps and without the scarf you could also wear it in the daytime for a special meeting or if you just frankly wanted to look fantastic.  
The above look is a great piece for party season. The V neckline is classic Pringle and the seemless fabric flows down across the figure. This tunic-style look will suit a wide variety of figures and looks and it moves beautifully on the figure as the wearer walks. Midnight blue is always a popular colour choice for women in an autumn-winter collection and the next look with a long sequinned sweater and sheer skirt is a pretty piece. If you where daring you could wear the sweater without the skirt and wear stockings or bare legs instead. Centre above beauty in black. The classic Pringle knit sweater gets a new lease of life and teamed with a semi sheer skirt is shows (as if we ever really needed proof!) that knit-ware can be seriously sexy. 
Added sparkle comes with the next piece as shimmer lights up the skirt of the next look in both the skirt and the scarf. The final look I chose for Autumn-Winter 2015-16 from Pringle was the classic cable knit white sweater with the long line trousers. For my this captures the image of what I think of as quintessentially Pringle in the 21st Century. A modern woman in any city or town in the world carrying with her a little piece of Scotland and our fashion history as she goes about her busy daily life of work and family......... In a whimiscal moment I find myself wondering what fashions will be around in another 200 years time. Will we be wearing any clothes at all? Will there even be any distinction between Men's and Women's fashions? I hope I live at least half as long to see.  
Julien Macdonald knows how to make women look sexy, hot and passionate without ever losing their image and sensibility of that of a lady. This is a style of assurance, of being. It's sexy with a confidence that hits the nail on the head and eyes forward with a sure measured reach. 
Julien's career thus far has been pretty phenomenal and I've loved attending his shows in past seasons. He creates masterful collections and he is always reaching, changing, moving exploring. 
The Autumn-Winter 2015-16 collection opened with a series of black dresses each powerfully exploring femininity and style in a different way. In the first look to the left both line and contrasting textile knit are present with the intricacy of the underdress partially revealed in the skirt. 
Next to the right simple geometry is put in place around the figure sculpted around the breasts and falling gently across the hips. It's look I would happily wear as are the other two to the right. Again placing gentle emphasis on the natural curves of the figure the look furthest to the right was one of my favourite of the whole collection. 
Colour make it's entrance into the collection with magenta and black (my favourite combo) appearing in several different inspired looks. Filled with sexy glamour these pieces blended lace and silks perfectly and played around with structure in a way that never gave up control. There was a hint of burlesque and sexyness about it that every woman should have in her wardrobe and these looks just scream FUN at you. It's about going out and having a good time and feeling well and truly confident. I particularly thought the combination of delicate lace weave and fish-net was a great style choice. From the range below the two centre looks are my personal favourites with lace in an outer layer of the dress. With or without trousers these make great day or evening looks. The cobweb design that Julien is famous for came back into view in the black trouser suit below. A diamond crosses the heart in this pretty dress below to the right. It's a wonderful sheer- skirted feast of enjoyment that will make many women happy this coming Autumn season. 
Below to the left is a stunning dress working fishnet inspired weave into the upper part of the garment while the piece itself descends into a figure hugging masterpiece of seductive style. It's a beautiful look that you can enjoy in your wardrobe for many seasons. Next to the right a beautiful blue Gillet jacket, with intriguing embroidery detail is matched with a black mini skirt and long gloves. Next to the left a beautiful blue skater dress combines stunning embroidery and applique detail around the neck with a softly pleated skirt. With a hint of punk this look is an easy to wear piece for parties and could be teamed with a black jacket to be worn to dinner or the Theatre. 
The jacket matching the dress in the next look would be a perfect accompaniment to the piece. It's a key style piece in it's own right before we even talk about the dress underneath it. The black satin look with deep front pockets and light sash belt tie have echos of the dressing gown look. While the embroidery detail at the shoulders gives an added emphasis of luxury and design know-how. The dress underneath is beautiful and contains many of the stunning light cobweb knit/ embroidery ideas that we enjoy seeing from Julien in his collections. The long gloves that are a seemless continuation from the jacket add to the almost punk look give an extra twist of sexyness to the outfit and make this piece have a an air of almost queenly glamour about it. Below to the right is something to get really excited about as this cobweb inspired knit design dress is a stunning piece that is pure Julien Macdonald style and beauty.  
I was very captivated by the detail in the dresses of the later part of the collection too. They are pieces of artisan craftsmanship and Julien's strong client base will find a lot of looks to treasure in this collection. He really creates pieces that invite you to study them in close detail, I do and I've seen at his shows eyes carefully scanning the beauty of his work. 
The mini dress to the left conjures a beautiful chic look, Julien's extraordinary knit detail gently weaving around the hips of the wearer. I love the placement of a central design across the centre of the waist gently. It places a gentle emphasis on the slimness of the figure plus serving to highlight the central core of the heart and spirit. Next a long-line look with more richly embroidered detail is a statement piece that will captivate the people who see you wear it. 
These four looks are all fantastic pieces that will work well on the red carpet as well as for public and private occasions. Tassel fringes give the two looks to the right that extra sense of swing and movement. Oozing sexy style from every fiber of their being these pieces are very deserving of a place in your hearts and wardrobes for the coming Autumn. You can help but love them and it's a wonderful reminder, as if it would veer be needed, of how much we love Julien's work. He's one of our Fashion National Treasures.  
The V Neck all in one suit that opened the collection made a simple, clear statement that would look good in many wardrobes. You could coordinate this piece with many different accessories or you could wear it alone, just as it is. The next look to the right is a beautiful shimmering look that has great movement in the piece. Sitting gently on the frame I love the continuing theme of the drop V-neck design that provides a key feature of the collection. In this collection Lucas is working around a broad base of staple pieces such as the V-neck tops, trousers, dresses and coordinating sweaters in wither floral or textile patterns. It's a great template for a collection as it gives the client and buyers a key focus to show how they can use different looks and pieces from the collection in a coordinated harmony. 
I love the Camellia design flower sweater. The colours are bold and captivating and it's a great piece that you can wear with the coordinating trousers or with other pieces such as jeans. To the right the V Neck top is a perfect match with the purple trousers beneath. The tasseled detail of the top continues the carefree party them vibe of the other looks in the collection. 
Layering up to face the autumn chill the next look teams some classically simple black trousers with a beautiful floral dress and a light black coat. Visually this outfit grabs your attention but it's not too over powering. The black draws the eye to the colours of the dress and it's an easy-wear look that you can wear in many places. To the right above a super-sexy shot of the collection's signature textile being worked into both coat and sweater, with purple lining teamed with a simple long-line black leather skirt. Another fab look with lots of interchangeable pieces for you to play around with and enjoy.  
Lucas collection explored a lot of patterns and textures. The floral print of the sweater above to the left referenced the tropical colours of Brazil while combining it with a smart trouser suit look. The maroon coloured blouse and skirt above with turquoise band is one of my favourite pieces of the collection. It's a great play on colour contrast. Purple and moss green make a great impact into the collection together in the next look with a long black coat adding an extra twist for autumn. There's so much fun going on with fabric in this collection, I really love it. There is a broad selection of looks and coordinating separates to chose from and looking at it myself I see different pieces that would appeal to different friends and women in my family. It's tropical and it's urban, it's dress up and dress down but it's not confused in the slightest. There really is one discernible message running through this whole collection. It's a free-spirited enjoyment of fashion. 
Another fantastic one-piece jumps out with shimmering blue and copper trim just at the knees. The collection staple V at the neck connects it to the series of looks before and after and for me this blue speaks of tropical Blue Lagoons and secret hidden waterfalls. The water and plant life meet in the next look in a tropical abundance. Flipping the same look into a sweater and a skirt the look to the far right above also works in a beautiful coat. 
This was a collection providing a broad sweep of choices in daywear and eveningwear and always keeping the eye in suspense wanting more. 
I loved the tassled layers on the boas slant that crossed the fabric of the dress. This maximised the impression of shimmer and ripple as the model walked and for me it evoked running fresh waters in both look and delicate sound. These are looks of confidence and charm with their own quietly intriguing sense of beauty. 
Hair was worn long, half swept up with minimal make-up. This was a natural look with lips budding in a soft tone of blossom pink. Long locks are a strong trend through the catwalks for autumn and it's easy to build a care regime to keep your tresses well-tended in your day to day life. 
The last two dresses that I included from Lucas where amongst my favourites in the collection. Both made the long silhouette on the figure and and carried forward Lucas' varsity stripe V neck shape into pretty evening wear pieces.  
It was so much fun to see this collection and get a taste of Lucas' ideas and inspirations for Autumn - Winter 2015-16. Whether you're in Brazil, Rio, London, Paris New York or anywhere else it will be a wonderful collection to discover and explore.