A Blush of Rose
ablushofrose.com
Sophia Webster
Winter was definitley with us as Sophia Webster's Ice Queens cooly allowed us to see inside their world. In a fantasy fairytale moment we stepped into a twinkling cool grotto with crystals and fluffy snow covering the ground to see what she had in store for Winter. Snowflake embroidery and coloured jewels brought feminine magic and polished style with a club land feel. These Queens were about to go partying but for the moment where content to eye the crowd. 


Beauty, Grace & Style
.
Huishan Zhang
He's one of the brightest talents on the designer schedule at London Fashion Week and his collections draw admiration from the industry far and wide. This season a host of Vogue's London team were amongst the audience in front row as Huishan was a nominee for the Vogue Fashion Fun Award for Young Designers in Spring 2017.

Aspinal London
Mariya Dykarlo and her team at Aspinal invited us to an exclusive performance this season in the beautiful surroundings of Claridges, one of London's jewel hotels that manages to be opulent but also completly relaxing and down to earth. We were invited to a night out at the theatre to see a beautiful new collection of bags inspired by the palatial beauty of the theatre auditoriums across the city of London.   

Julien Macdonald
Julien's shows are always some of the most memorable of fashion week and this season we where welcome to a glittering guild hall in the city for fashion week. He's one of the maestro's in British Fashion and a long terms member of the London Fashion Week schedule. His shows are fantastic productions held in Palace  buildings, Halls or cavernous night club warehouse venues. Wherever he is a super-glam crowd appear and the music sets that play are some about the best dance tracks that you will hear during London Fashion Week.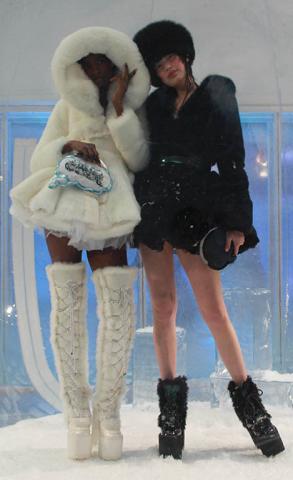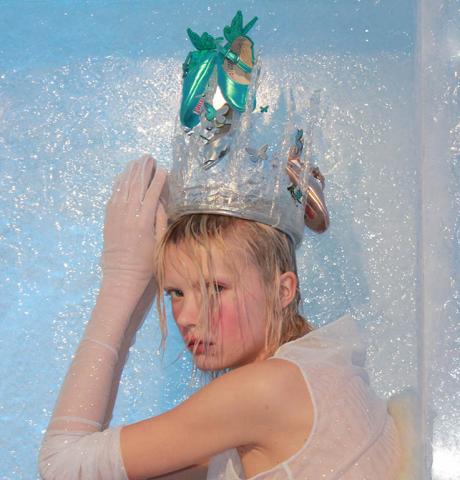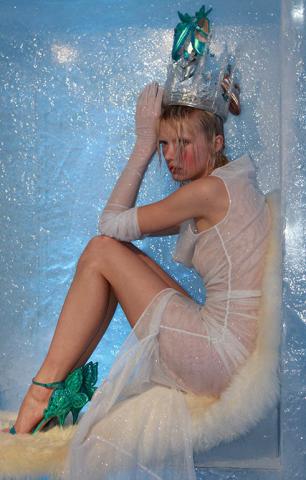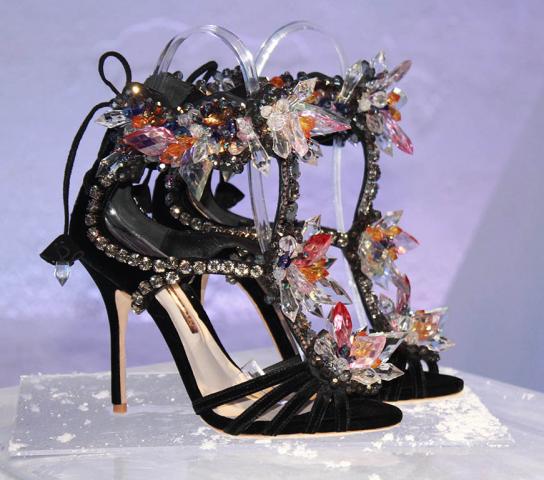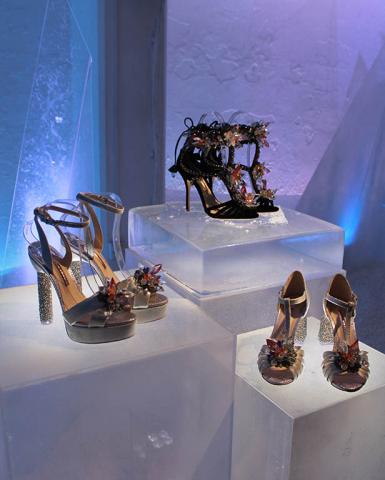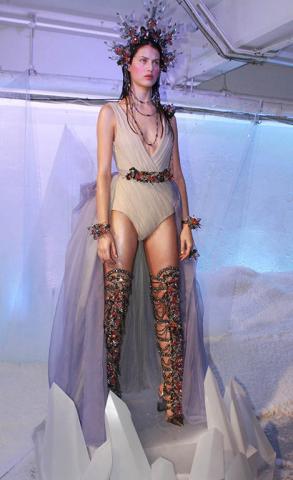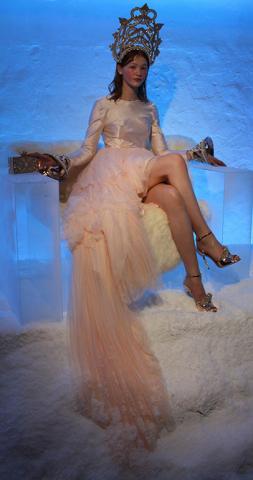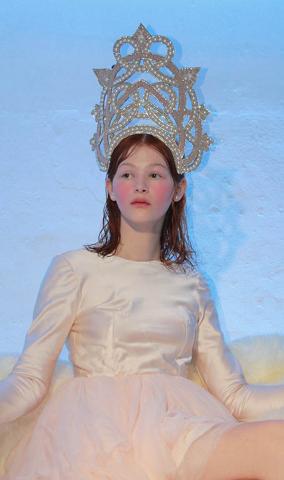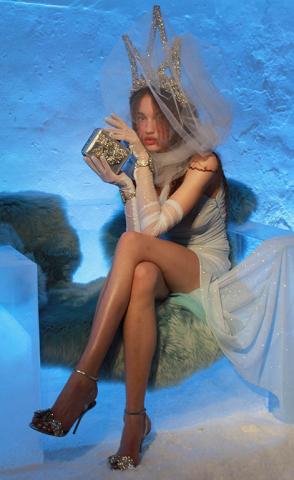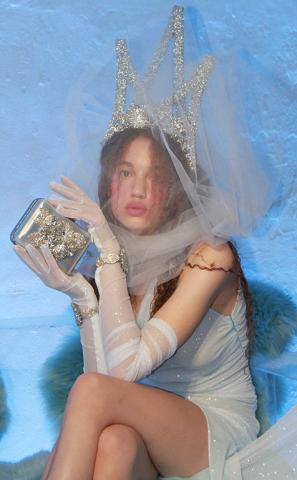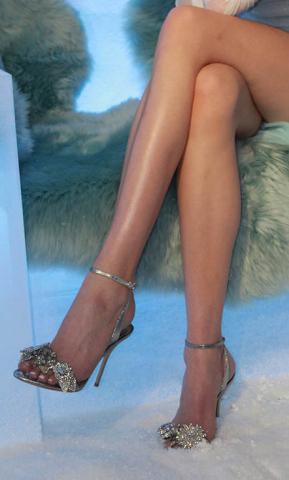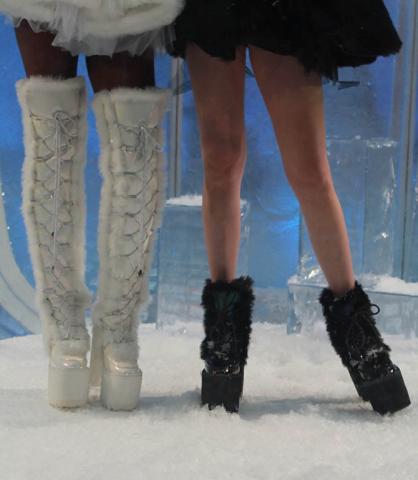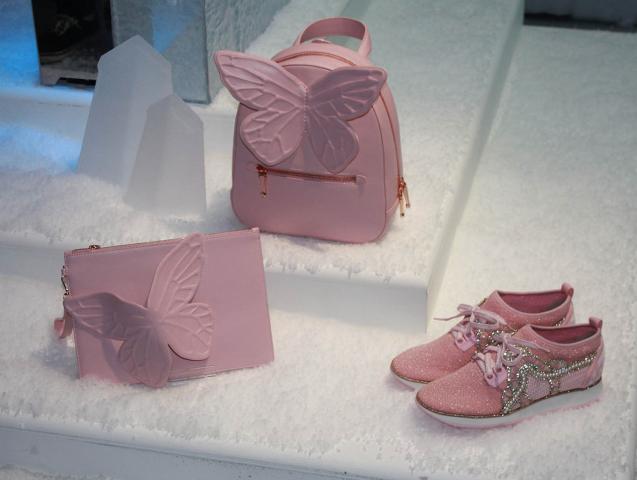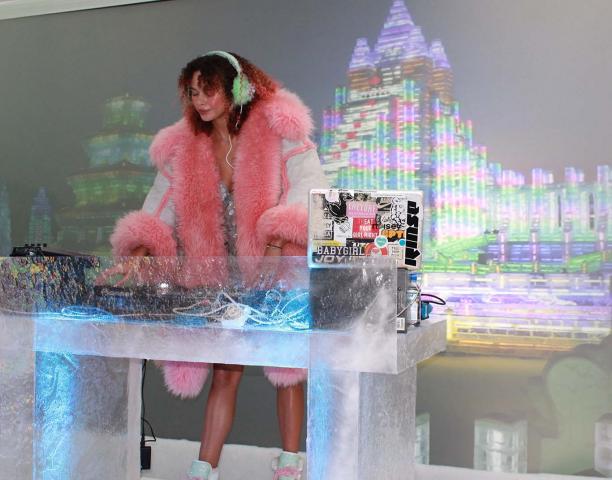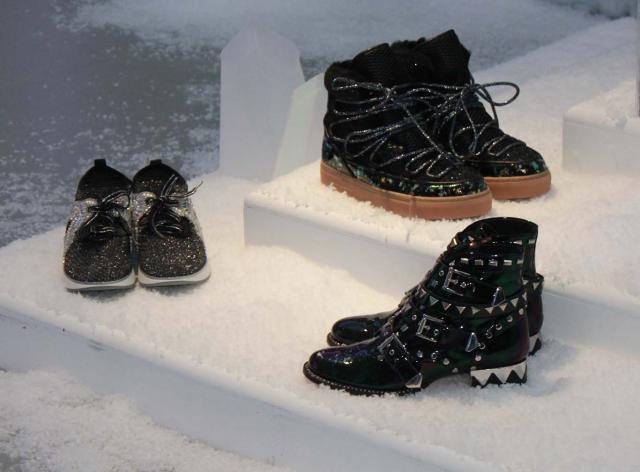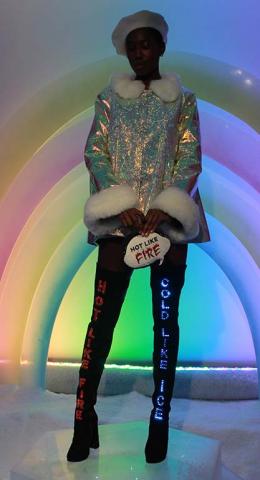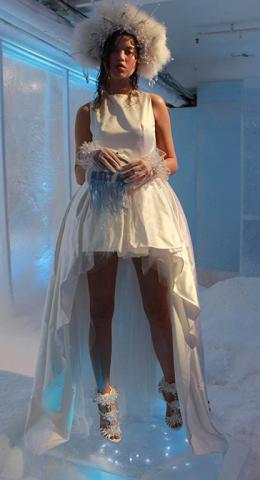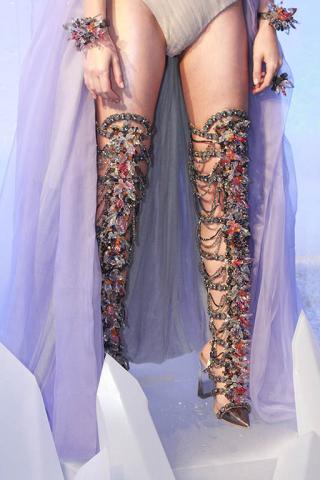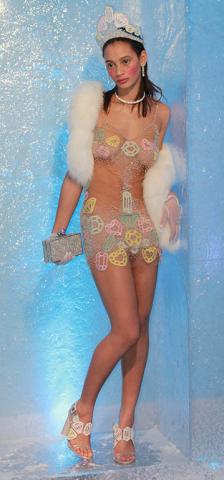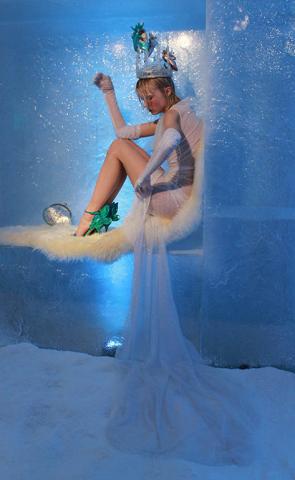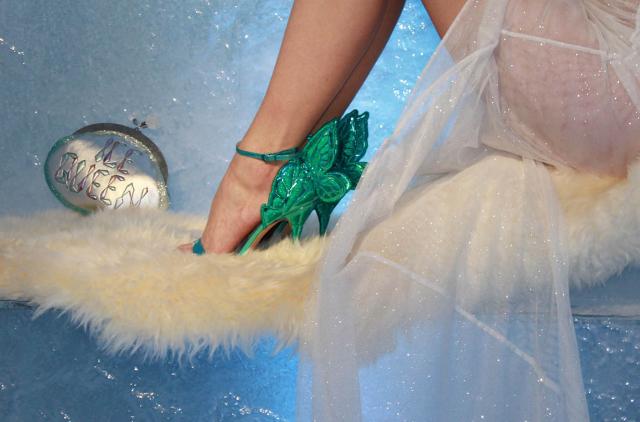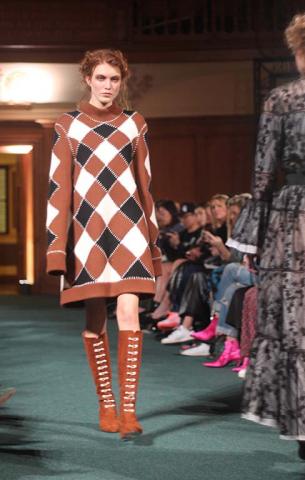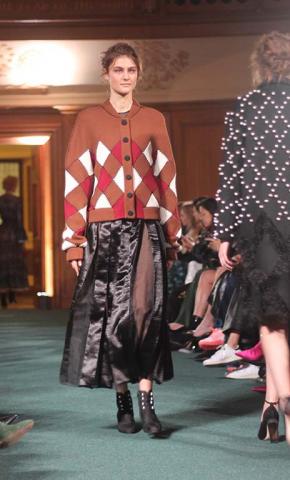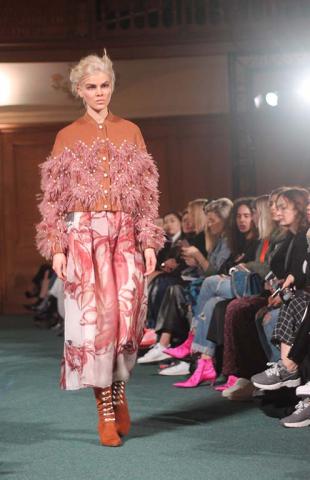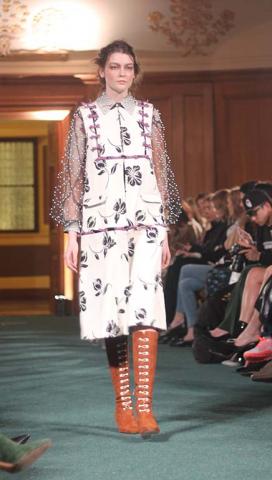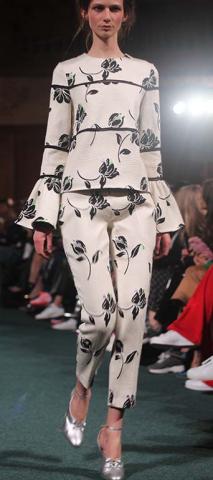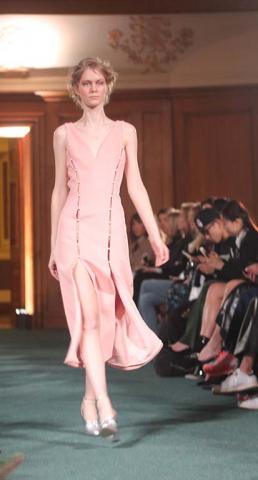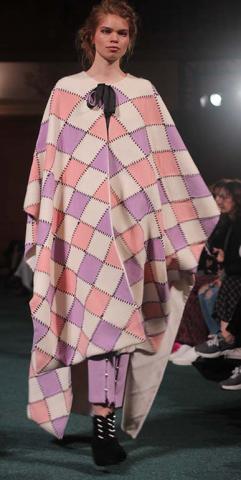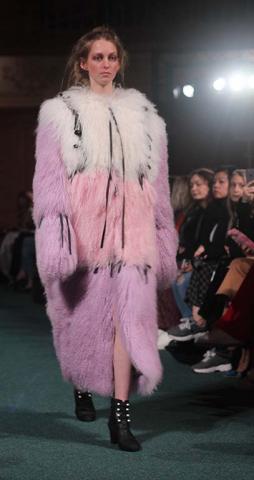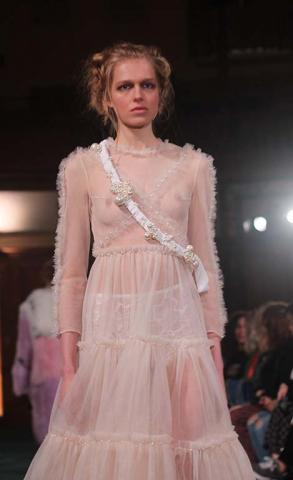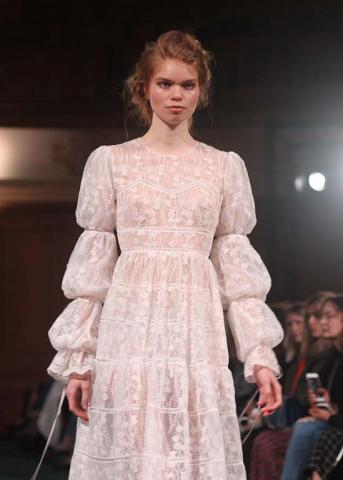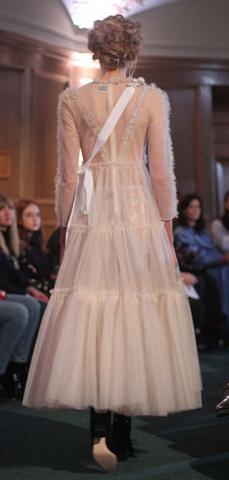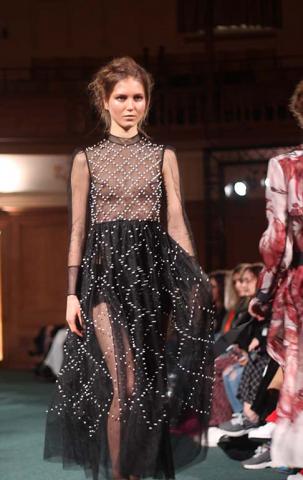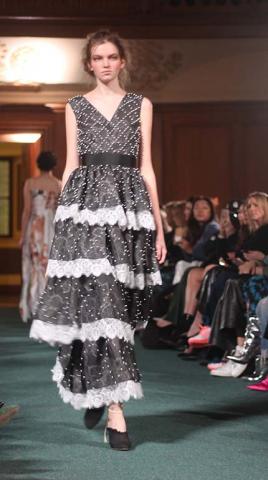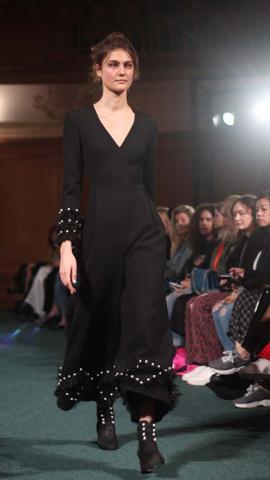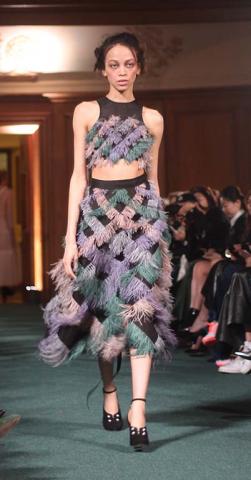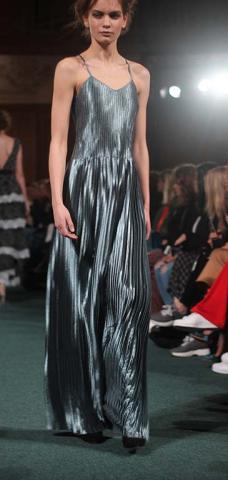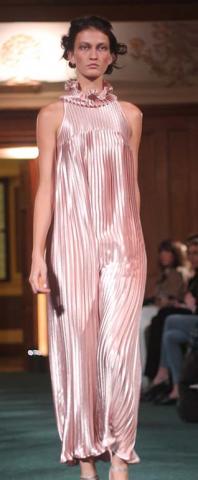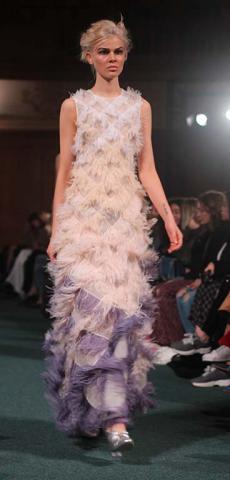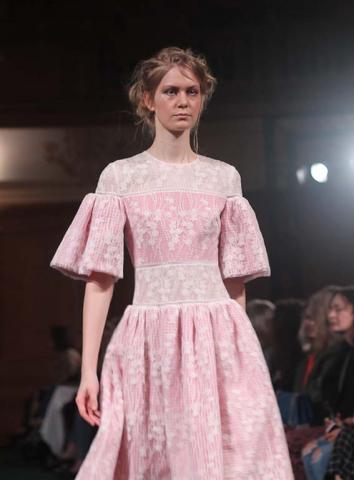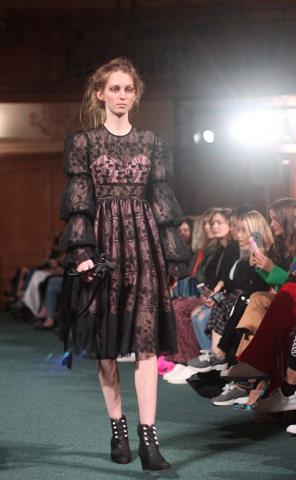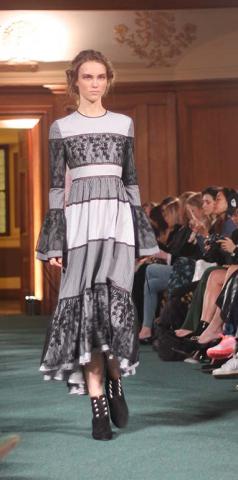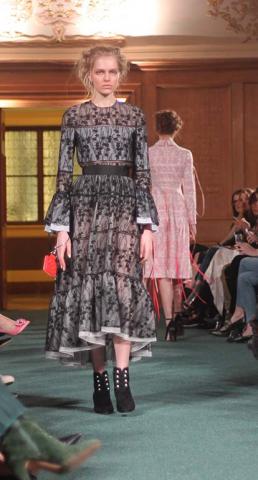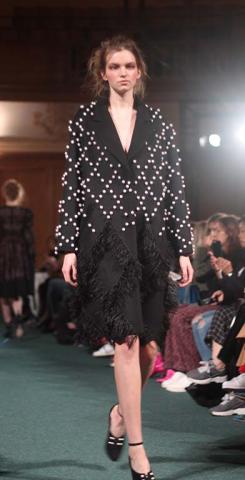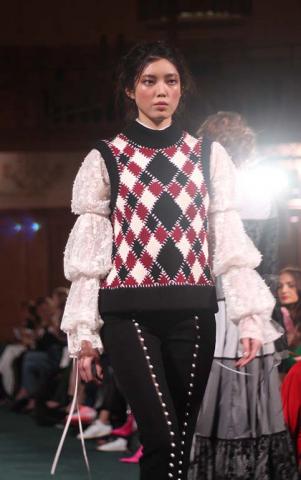 Looking statuesque and regal towering diamante over the knee rock crystal boots fuse jewellery and footwear in an audacious display of glamour. A tunic dress of gathered tulle with silk train put a modern spin on majesty. Jewelled cuffs and a belt accent the simple garment and the look is crowned by a towering coloured crystal diadem shaped like giant icicles for a Snow Queen. Rooted to the spot as if she's grown from the ice itself she coolly regards the scene. For a super star cordwainer the outfits provide a supporting role to the shows emphasising nuances of design. Delicate sandals recall the paper cut-out snowflakes of childhood play wrapped around the ankle. A light shift-dress composed of cutout sweets and jewels lightly sitting on the figure crowned with snowflakes in a high Russian styled influence is part of a simple imagined modern parure of jewellery with single strand necklace and small drop earrings. She's gloved for a touch of formality and carries a neat boxed clutch shimmering with ice crystal's that look like diamonds in her hand. She's ready to dance in an Ice Palace. 
Inside a giant snow globe black and white looks twinned with faux fur jackets and hats are belted up with the most glamourous version of weather proofing that you could hope to find on your feet. Platform boots laced above the knee and snuggly wrapped over the ankle offer serious warmth and clutch purses with chilled slogans give the carefree mood extra glamour.

Fittingly for a shoe-making Queen the crown above contains actual pairs of tiny child-sized shoes. Tiny butterfly wings at the heels symbolise the sweet hopes and flights of baby and toddler days. What does it symbolise? Who knows, perhaps she has borrowed some pieces from her little siblings or dipped into her own childhood closet. Placed above the head in the clear crown it suggests ideas and memories. To the right the swirling curls of the head dress resemble to Russian Kokoshnik in the lighter form worn by unmarried women. Simply beaded with pearl-like detail it radiates the luminous quality of the fresh well groomed complexion. A dress with bodice in cream satin and train in apricot blush creates a skirt length with majestic proportions. On an icy throne warmed by a faux fur throw she sits giving her viewers an audience. Her rosy cheecked glow and damp-look hair hint at the coolness of her surroundings.  

Above in close-up the heritage oval shaped clutch with quilted with soft neon ice cut lettering. Clasp fastened in a nod to the vintage trends of current years it's a pretty piece that you could wear with many looks. Centre above also in close-up classic green heels with the shimmer of ice are completed with the fresh green sprigs of leaves hinting at the fresh new beginning each spring after the great winter thaw. Perched in a corner looking reflective, this Winter Queen is perhaps curled up waiting for Spring.

A dramatically dipped hem with high rise mini dress front descending to broad skirt plays on the theme of the heritage style gown. With a thin under skirted layer the simplicity of the dress is off-set by the complexity of the detail of the rock crystal design. Clusters of natural jewels at the ankles, breadth of the foot and toes capture light dancing around the feet of the wearer. Golden chains encircling the feet make a flattering colour balance and complete the structured look of the white sandals. To the right on pedestals a trio of well crafted pieces that could take you out to a party this autumn, or eve be very happy at home with you, sit ready for inspection by curious eyes.

A small selection of pieces designed for little feet with accessories allow shopping mums to pick up some quirky additions to younger (I'm thinking early teenager) wardrobes. While to the right a grown-up counter part shows how a more minimal style of heel, decorated with glittering crystals at the toes can also work wonders for a refined evening outfit. A sequinned crepe dress, long line gloves and a beautiful box purse round out an evening wear look ready for the red carpet. Topped with a striking three pronged diadem this piece incorporates a viel boldly swathed around the decolette completing a vision of fantasy.

A close-up of a pair of sandals shows crystals encircling the ankle in a simple chain as well as decorating the straps of the shoes in the pattern of flowers. A single crystal tip wrapped in velvet mimicking the head of a flower is suspended from a velvet chord at the heel adding interest to the look from behind. To the right more sturdy outerwear for the Ice Queens when they step outside showing that Sophia is highly able to dress feet for tough terrain as well as for the red carpet. As the party carried on a DJ blasted out the beats to dance to in an Ice City that was the capital of the kingdom celebrating youthful female energy.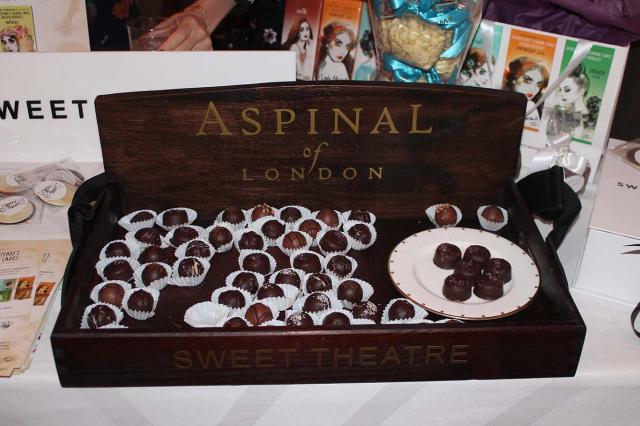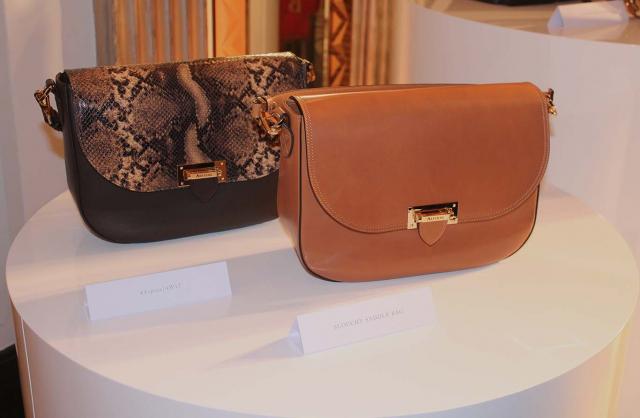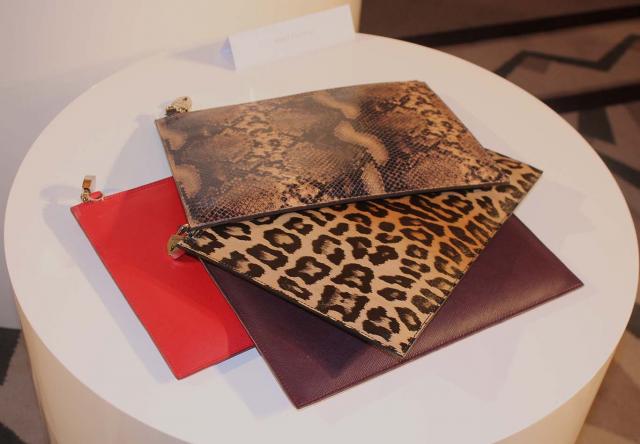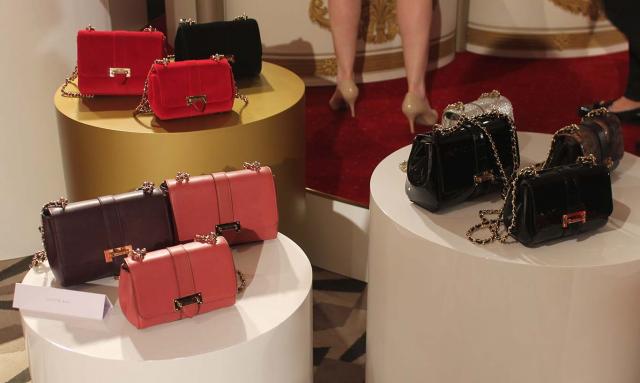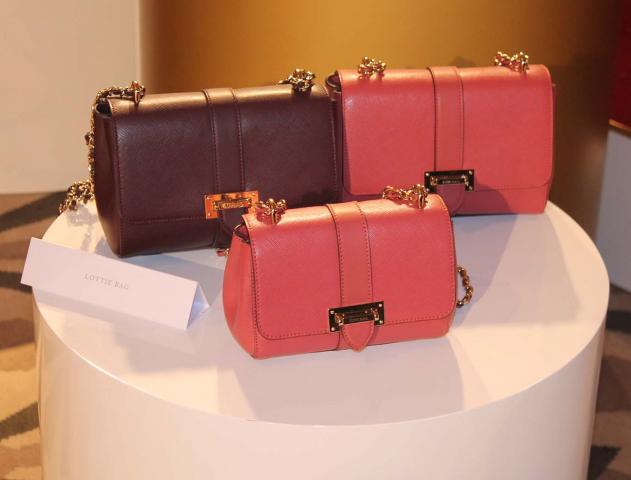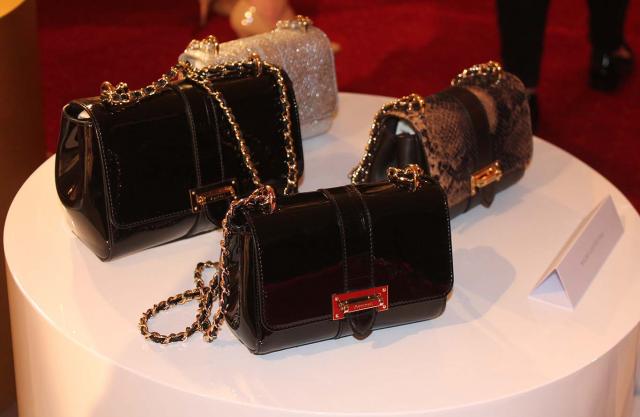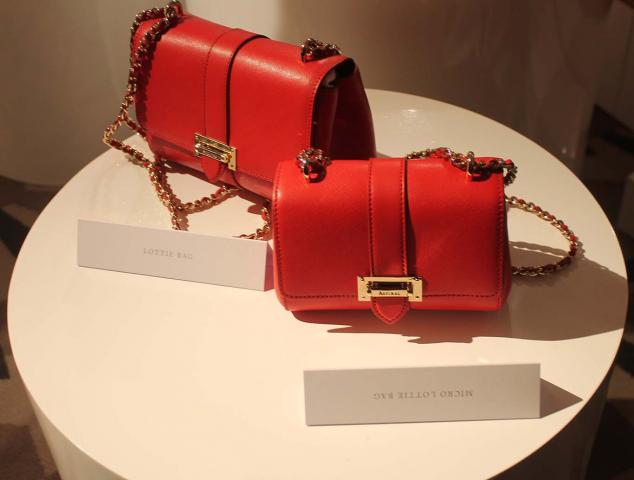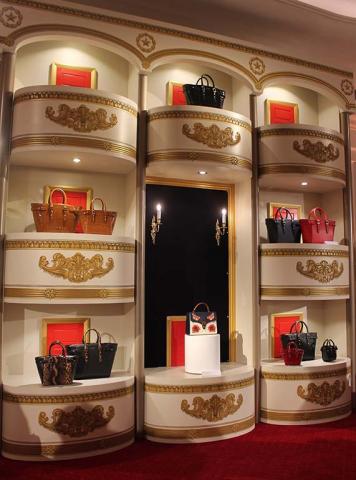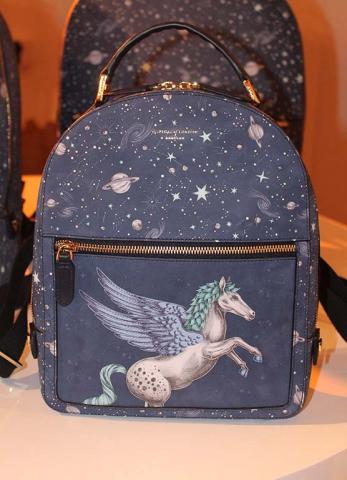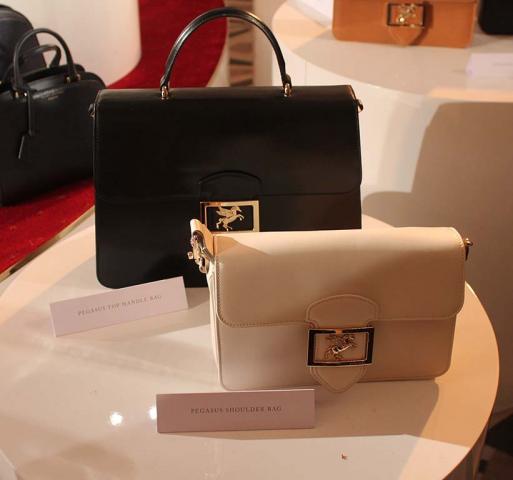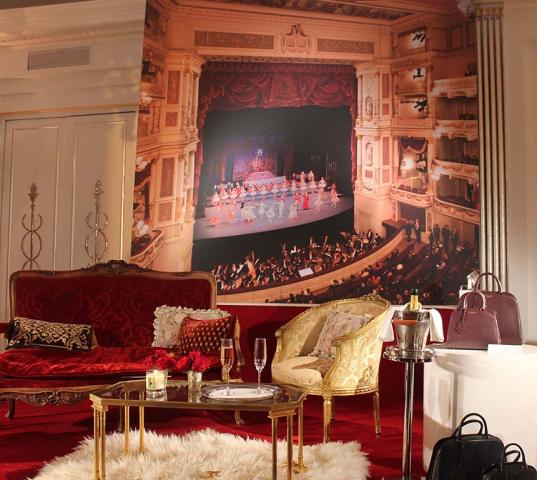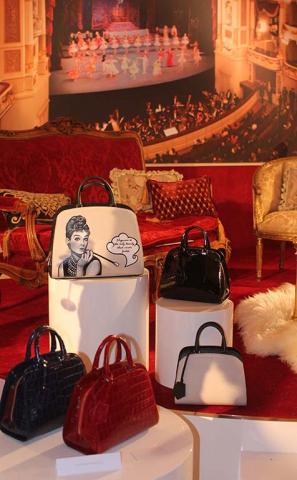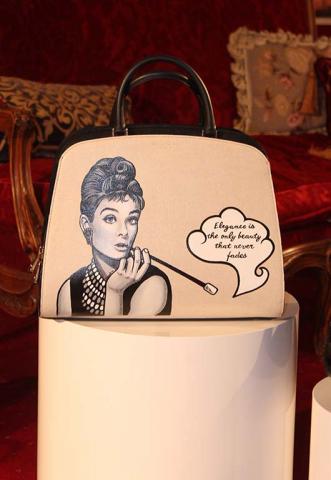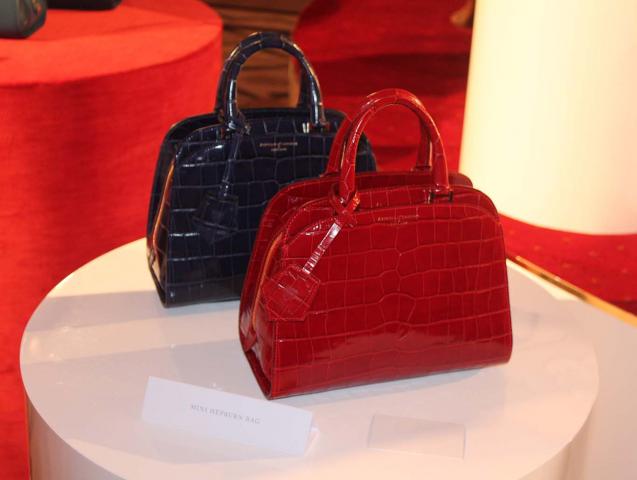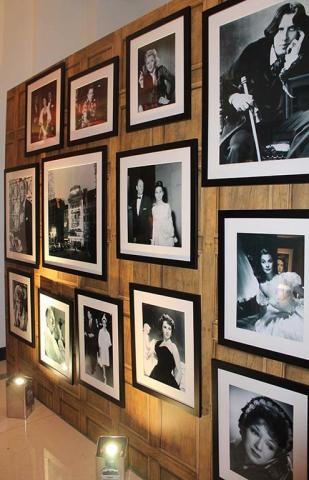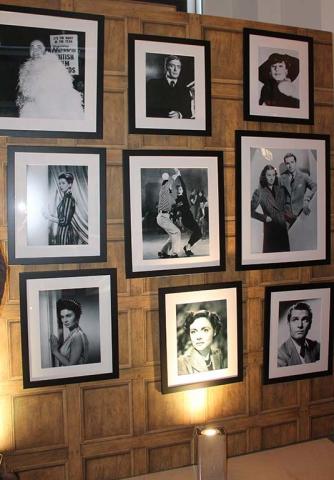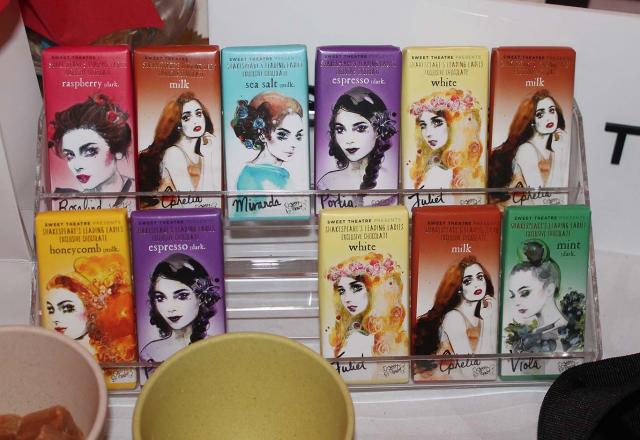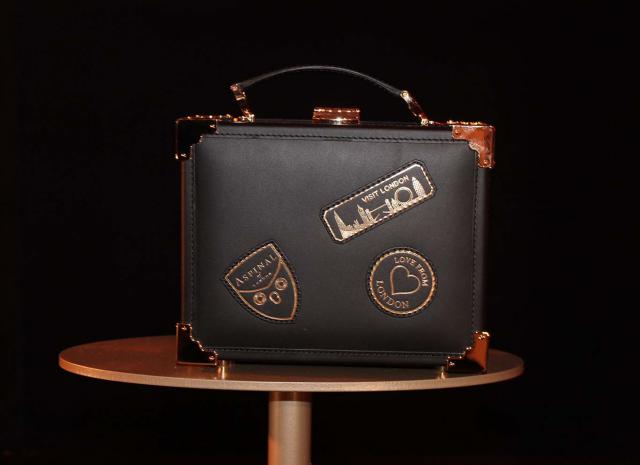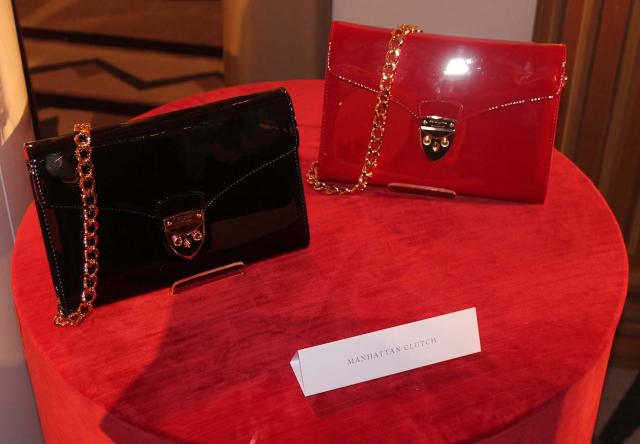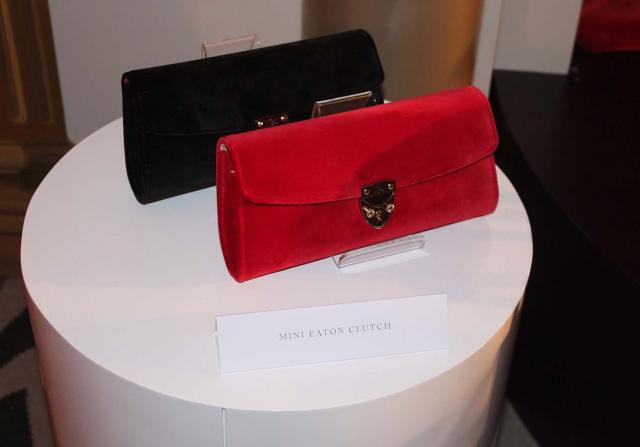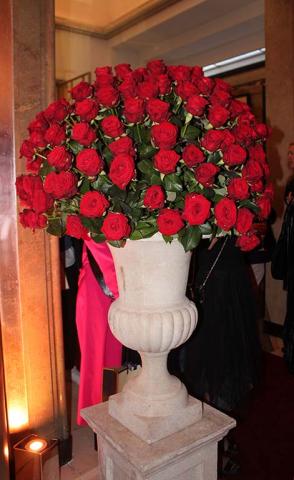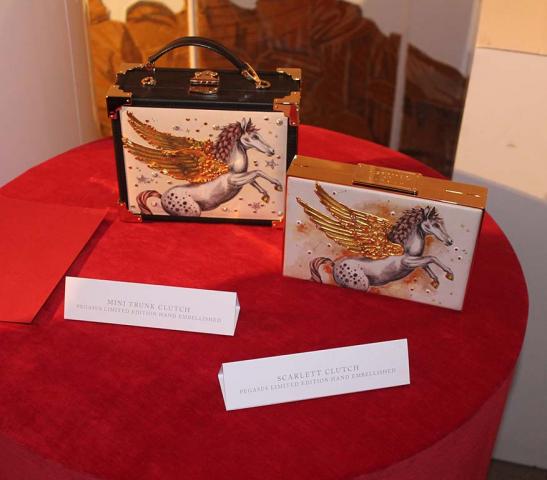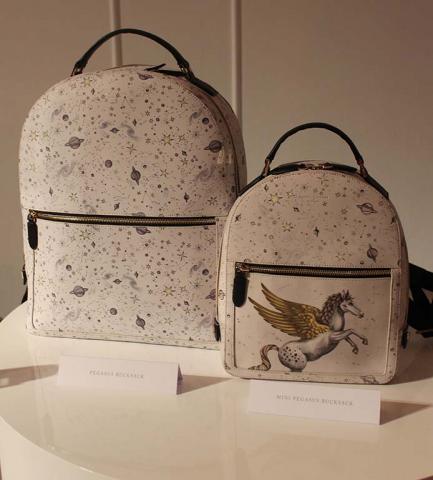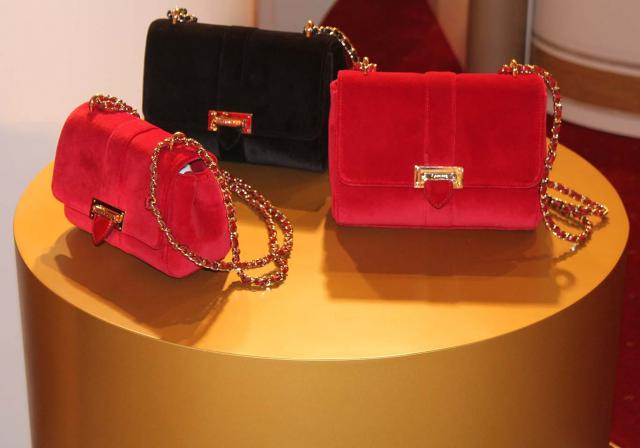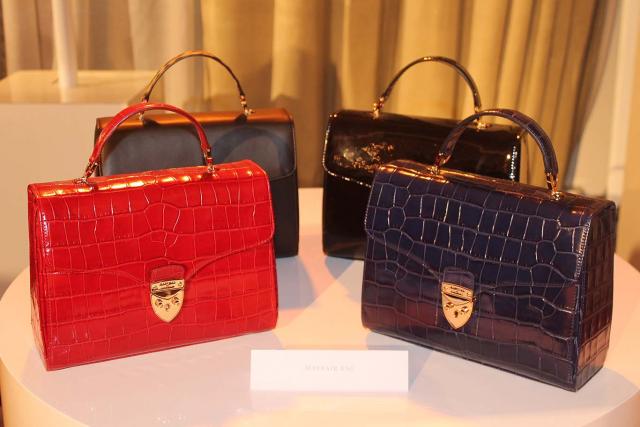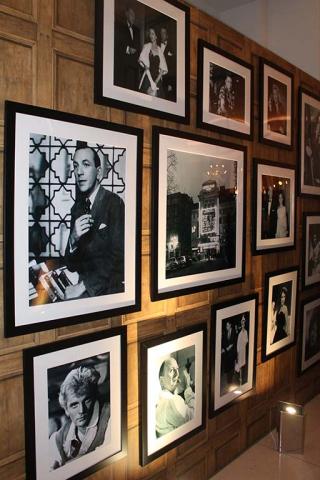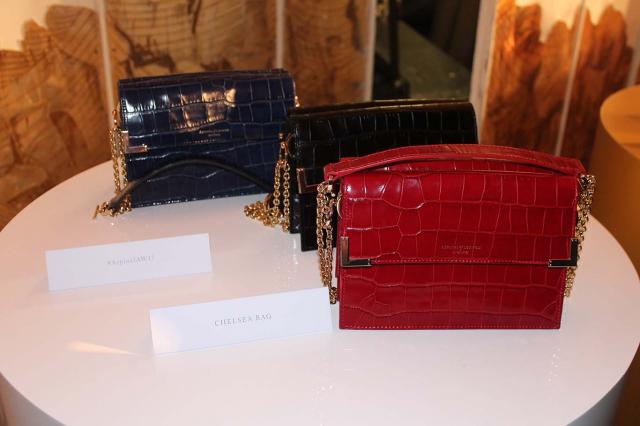 During his time studying fashion at Central Saint Martins college in London Zhang undertook a long placement at Christian Dior in Paris in both Ready to Wear and Haute Couture ateliers and the attention to fine detail in the garments that he produces still speak of the highest attention to detail. A sense of a nascent Haute Couture designer is the impression that you can be left with and he also attracts the admiration of many designers such as Zoe Jordan whom I chatted with before the show. Opening with light delicate looks he took a soft-palette approach to autumn but also dresses clients globally across hemisphere's so there is always someone wearing Zhang's creations in the sunshine.

A floor length pink dress with lace detail is vintage inspired. Ribbons tied at the arms create bloomed sleeve puffs evoking the flourishes of the 18th century dandy style. The fit perfectly here matching the heritage feel but are brought right up to date with elements such as the sheer fabric and the angulated seam of the bodice. To the right again a nod to history in the format of the main tunic of the dress is accompanied by peplum detail sleeves in a flattering echo of of the pin tucked detail giving volume to the skirt of the dress. In tonal shades of baby pink and light blush pink, it's a grown-up pieve of girly enjoyment. To the right a collared dress continuing similar style themes is accentuated with ribbon streamers creating a party popping effect and extra colour and textile double contrast.
Zhang's exploration of evening wear is exceptional, showing a flare for working several key design and image themes in different directions of expression showing a keen justification for his use of different style ideas. The charm of vintage lace and the sweet romance it brings into the lives of Zhang's busy international clients is not lost on him from one season to the next. While he's definitely forward thinking in his designs he had a sharp eye to know what will work from the fashion of times past. Above to the left a tiered sheer lace dress with delicate embroidery sways gently in front of the audience. You could wear this on an evening out with friends, parties, a smart date night or on the red carpet. Center above the lace is broken into bands combining with delicate light fabric with intricate lace detail. It's another piece that looks like it may have stepped out of you great grannies closet as a girl and been given a make-over for the 21st century.

I think of pearls as seeds of beauty and they are one of the motifs that Zhang finds an endless number of ways to communicate through. Above to the left the diamond lattice made in pearls on the outer coat is echoed in floating feather fringes towards the jackets base. A chic power statement in luxury fashion dressing this piece could be worn anywhere speaking the international language of good taste. To the right two equally fascinating and attractive looks show panel dresses linked by pearls that give the dresses an almost jointed form of movement as the wearer walks. Sexy and neat with or without the white lace trimmed trousers ;-) they are perfect for dates, drinks and in front of the camera. Zhang is a master of knowing what to send you out in on the red carpet as well as what will look great at a party or in a Mayfiar bar or Private club.

Tulle, silk and lace can seem like fair fantasy but Zhang is skilled in creating a broad range of evening wear looks that suit both a reserved and more adventurous perspective. A pretty sheer adaptation of the tiered dresses in soft nude show a simple light structure that gently flatters the figure and is light and easy to wear. This is a hall-mark of all Zhang's work in that it makes evening-wear easier for women.



Long line pleated dresses again cloak the figure in shimmering diaphanous fabric whilst also falling gently over the wearers natural curves. It's luxury fashion, but gentle luxury that allows you to be confident in your look and your statement and enjoy your evening or event.


The colour scheme moves lighter at the end of the collection with light pastels and a beautiful teal green playing through many looks. Zhang draws from the well of inspiration found in the diamond extrapolating it onto giant ponchos in soft lilac, pink and white accompanied by pearl pin-pointed trousers (to the left) in an original play on some otherwise regular design themes. Texture is accentuated with feathers appearing in gradation on the lengths of dresses and Zhang's flight of fantasy, creating dreams to wear completes it's journey for the season. It's not far-fetched however, as his global client list shows. This talented young man knows how to provide women with a unique perception of beauty. 

The legendary Pringle diamond is a subtle reference point in this collection in an ode to fashions powerful Scottish textile heritage. White, red and black channels the traditional playing card colours and the neat knitted vest. Curves at the neckline and at the sleeve bases contrast with the lines of the diamond in a subtle harmony. The billows of the sleeves in richly embroidered white give the ostentatious hint of decadence through the intricacy and quality of garment. It's a shirt that would be a showstopper in it's own right but it doesn't look too over the top for it to be worn as part of an outfit. White pearls line the trousers half way across the leg at the front elongating the line of the figure and also adding that extra subtle touch of magic.

To the right white pearls dance around the hem of a black dress in geometric shapes with a triple ring of pearls at the cuff. Quietly poetic this simple dress could be worn to black tie events or relaxed drinks with friends. To the right earthy tones and beautiful floral print combine with feathers and pearls to create a multi-layered sensuous experience for the wearer. A captivating lattice of pearls spreads downwards over the bodice and skirts of the dress creating a delicate look of fantasy that will be a classic wardrobe addition for clients all over the globe.  

The noir of black and lilac underneath the charm of vintage feel broderie anglaise creates a dignified beauty in the look furthest to the left. Sweetly romantic it's a well crafted example of high ready to wear that Zhang is good at producing for clients. An earth tone long sleeve knit dress with knee length boots comprises a chic uniform for cooler days with a high level comfort factor adapting the diamond knit to a new form. A cardigan teamed with silk panel skirt partly reveals a sheer under skirt at the model walks. Soft and delicate, it uses a textile contrast that works well for contemporary smart style. Ruffled multi-layers of the evening dress to the right again nod to vintage themes. Diamond shapes formed from pearls gradually enlarge as the skirt of the dress descends and white lace frills add an extra touch of playful chic. These clothes make a statement but enjoyment factor in gentle beauty is always there. To the right a beautiful floral print motif on a dress and chic trouser suit make a nod to the movements of the season. Dress sleeves are adorned with pearls give a stylish spin to the look moving the collection through different moods and peplum details at the sleeves of the tunic top seal a look of high glamour.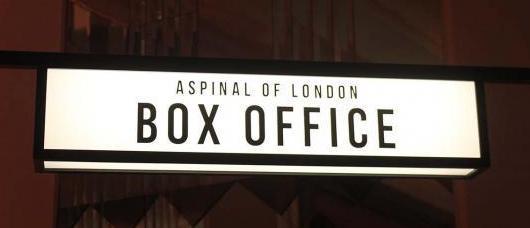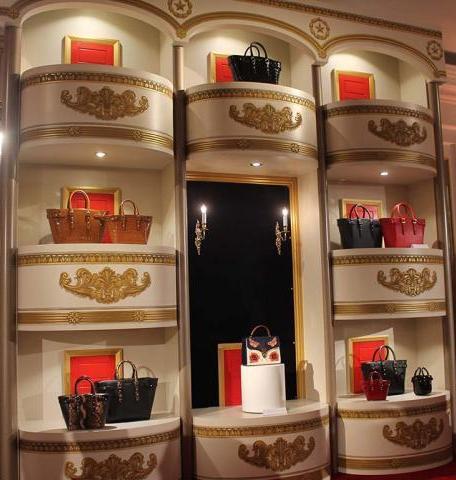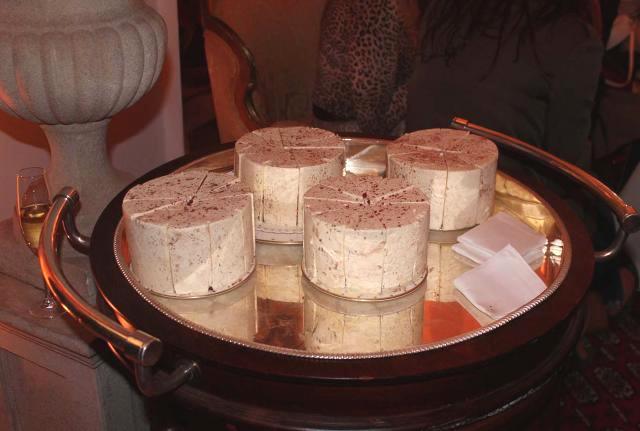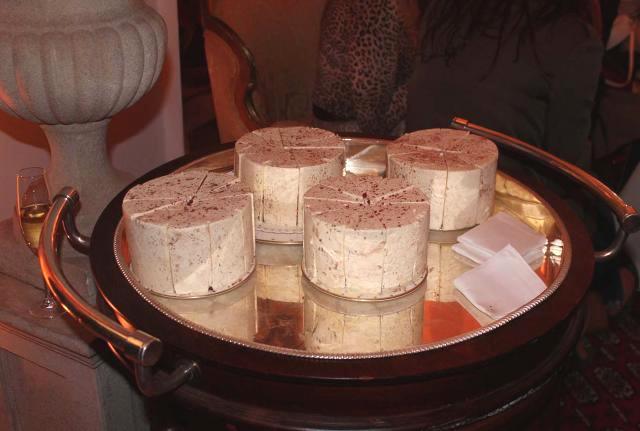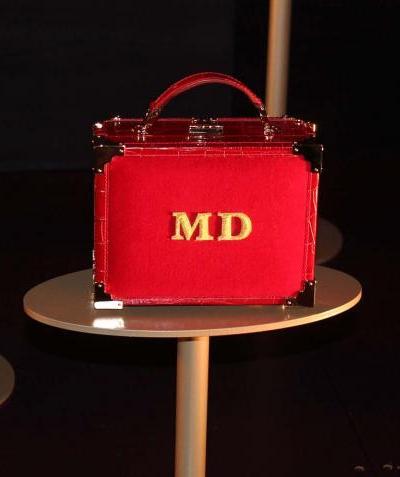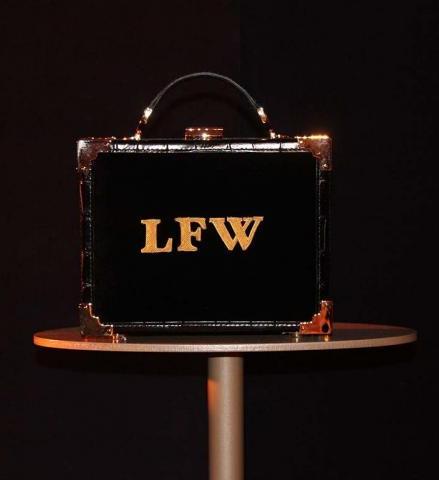 London in it's past and present forms is one of the key sources of inspiration for Mariya. This season the celebrated scarlet of the auditorium curtains formed a key colour contrast with the black of the stage base and orchestra pit. Simple but effective it instantly strikes the chord of the classic bold simplified sophistication that is so easy to harmonise with differing outfits and looks. Above to the left, theatre boxes became an open display with bags taking the place of people watching the show. This personification perhaps speaks to the 'personality' that some people feel lives inside their favourite bags that they take with them when they experience many adventures and good times. They sit in pairs and family groups with a central Queenly bag sitting alone in the royal box.
Chocolate boxes are always a special treat at the theatre and we can dream of hostesses giving out chocolates as we arrive and between acts. While the emphasis was on treats and delights the styles themselves channelled a vintage look in many places with a nostalgic look back to crocodile skin, patent leather and velvet.  
The collection's theme sits uniqeuly well with the backdrop of Claridges own history as one of the principle residences favourered by stars of the stage and screen for over a century.

Today artist in residence, fashion illustrator, David Downton is on-hand to draw guests but the Hotel also has a formidable record of famous faces who have stayed with them in the past.

Their images lined the walls of the anti-room leading to the ball room that housed the new collection. The scent of Roses filled the air as an imagined tribute to the evening performers was placed in a large stone urn of the pop-up lobby. We guests where treated to the most extraordinary confections with the evening's chocolate provided by the Sweet Ttheatre companies 'Shakespear's Leading Ladies'.

The square shape is a favoured form emulating the grand boxes of the auditorium and also the form and lines of the mid twentieth century handbags. A flap-over style with a central clasp envelope shape can fit a purse, keys, wallet and i-pad into it and is light to carry. Again using a simple bold colour palette of red, black and navy, it also harmonises with the Union Jack flag of Britain replacing the white with the black. There are also links to military uniform of the British territories that perhaps also make a subtle demonstration of strength to the eye of the beholder. To the right the Chelsea bag also gets a seasonal makeover with a design offering both handled and strap-only variations for wear. An Aspinal favourite, the Manhattan clutch returns in shiny patent leather and the cute Mini Eaton Clutch, that fits into the palm of your hands, offers a discreet option to add to your wardrobe.      

The theatre takes it's audience on many journeys and Aspinal also took the idea of classical myths and fantasy in the form of the flying horse Pegasus for part of their collection channelling high flying make-believe. Stars and planets from the night sky where brought to earth in back packs and box clutches that put a touch of fairytale magic into your wardrobe. There's also clear appeal to the younger audience as well but clients of all ages would potentially find it fun.       

The Lottie and mini Lottie styles are the Aspinal bijoux clutch calling card style.

An all-round girls purse it's an easy addition to a multitude of different styling options and it's easy to see why Aspinal have stuck with it across several seasons. The price point is also a sensible one, well within the reach of many clients including younger women.     

Colours range from the soft rose pink and mauve to the bolder black and red and metallic tones also enter the series providing a sparkle of shiny colour as the season moves towards autumn.       

Aspinal are making a determined effort in the CSR space believing 'that real luxury shouldn't cost the earth'. As a brand that is a consumer of animal related products it's great to hear that they have taken on board messages from the fashion buying public and feel that the brand needs to give something back to nature. They manufacture some of the families of bags and all of their stationery in England while other bags are made across Europe.

Flying Pegasus makes a leap onto a further series of purses again taking a tour of the brands uniform styles and working with a black and white themes for an understated style look. As with many Aspinal looks there is an adaptable cross generation style to the pieces.      

Envelopes and boxed metallic cornered clutches are two more of the House favourite styles that are also brought to life in a new guise this season. Celebrating London Fashion Week and the capital itself the firm brings it's monogramming to the fore offering the service on box clutches and also adapting the travel case sticker to embroidered logos on the bags. To the right iconic Audrey Hepburn adds a suggestion of girlish frivolity in a cartoon style design of a tote. She's both a theatrical and fashion icon that also, I believe knew Claridges well, a readily quotable fashion muse for a new generation.      

Pringle of Scotland
With over 200 years on the clock Pringle is one of the handful of brands showing on the London Fashion Week schedule that have been in production for several centuries. With it's mill near the Scottish border town of Hawick producing some limited edition garments much production currently takes place in Europe but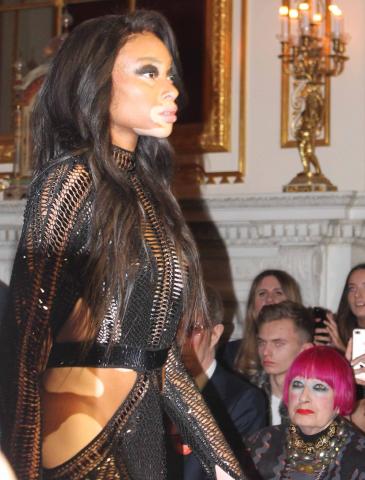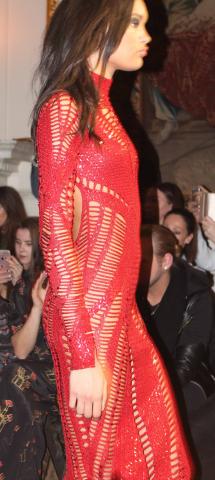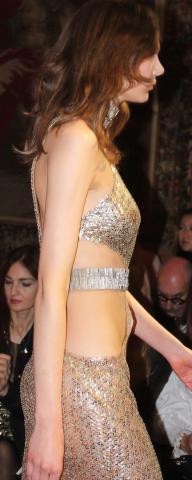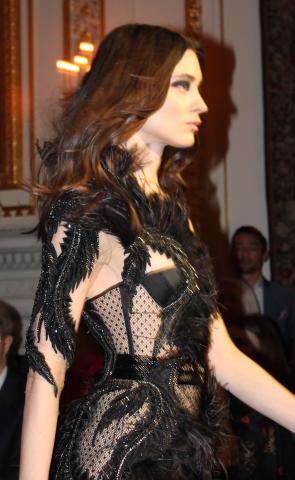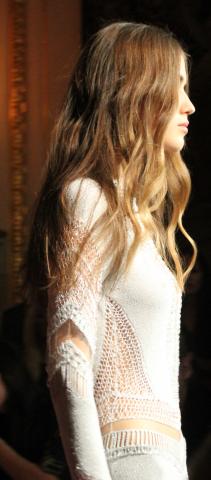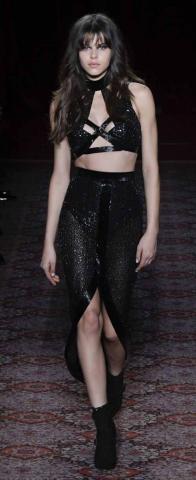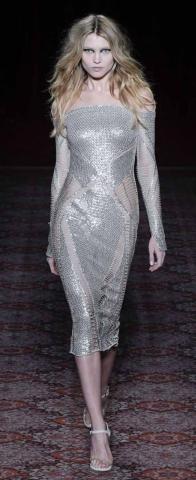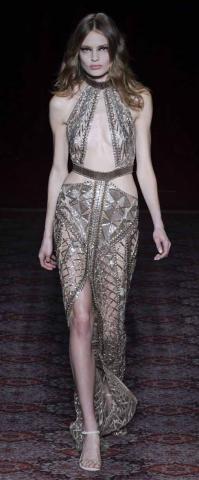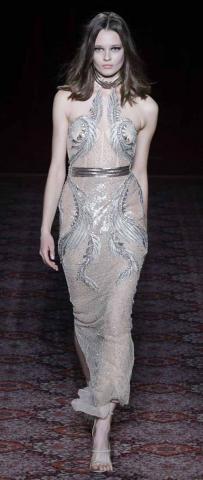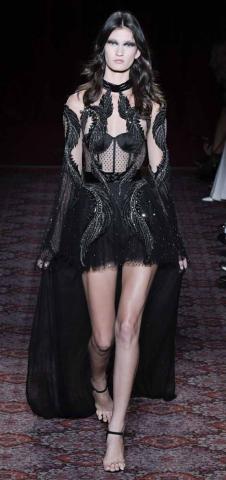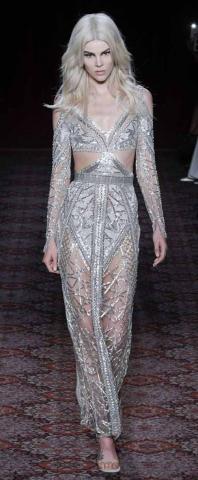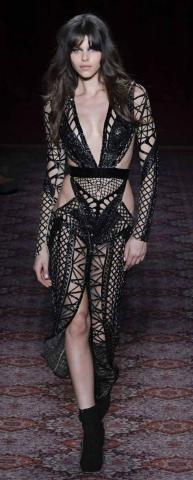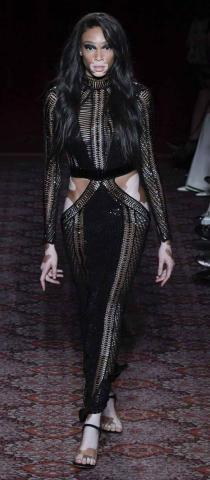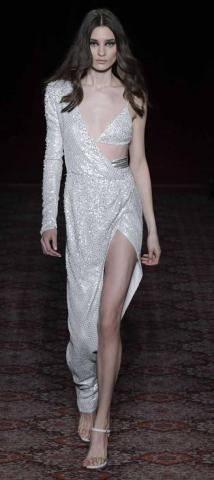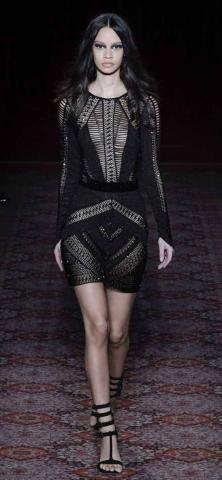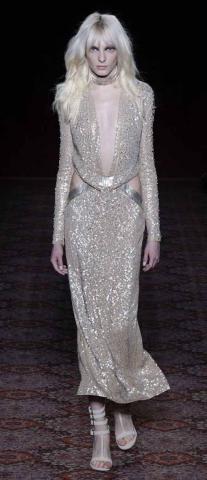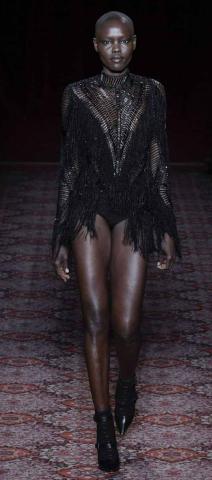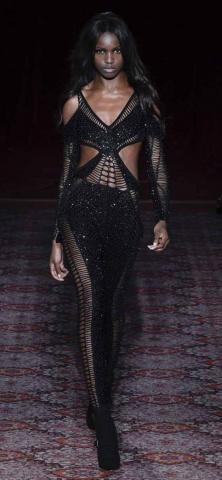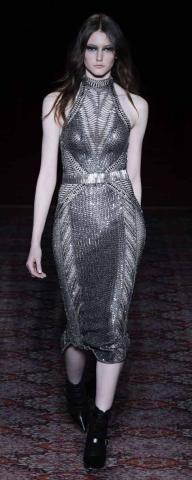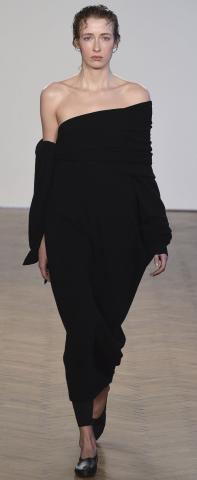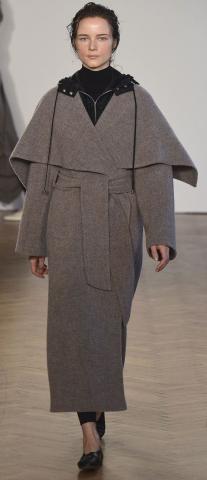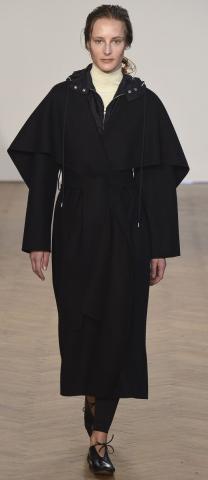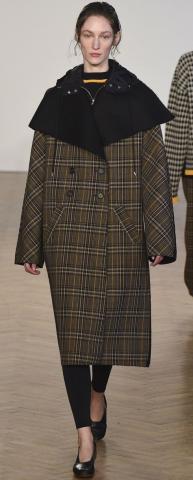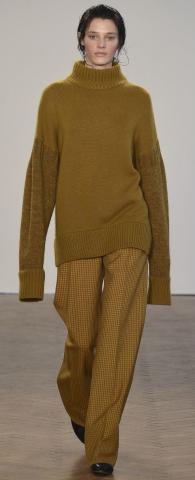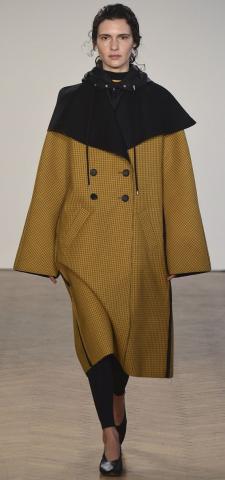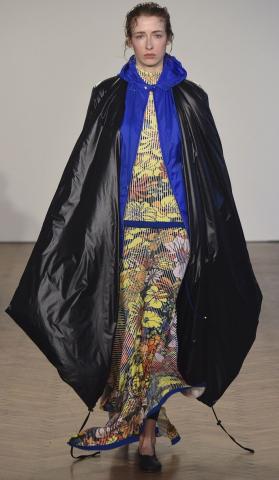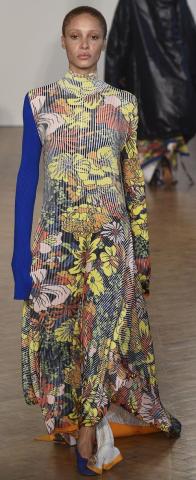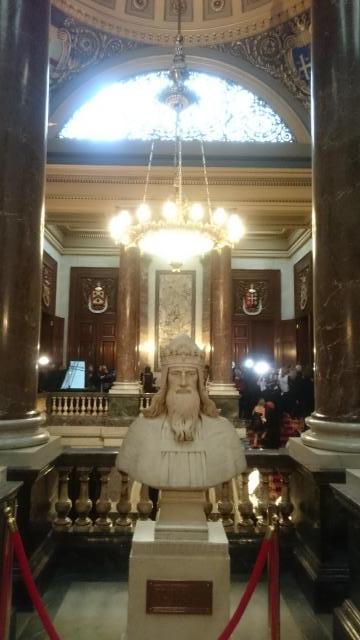 As always at Julien's shows the message appears to be a celebration of strength in beauty. The models walk unafraid and confident, it's a testament to his rigour and standards, in former seasons I've seen his rehearsals, that his catwalks feature

who get the job done and know how to show the clothes well. Good modelling is role play, there is a degree of acting and it is a skill to be honed and taken seriously. Shimmer and sparkle walked before us in the imaginative series of slinky glam red carpet and evening wear pieces shown. In truth though as the vivacious clients at the shows demonstrate for many these are looks that they are happy to wear in the day or evening, anytime anywhere. Julien shows both men's and women's wear together, but I admit that I have a bias for women's collections. Shimmering black with cross bodice, the opening piece dazzles in it's delicacy and will help you keep cool under the glare of hot lights.

To the right a detailed embroidered pattern weaves a silver web across the figure with sheer skirt lengths offering an alternative to the thigh split cut-away beneath a beautiful panel sitting on the hips. Once again the cut-away bodice giving triangular strength in contrast to the soft curves of the women's figure highlights beauty. It appears as though she's walking in jewellery. Where many looks favour symmetry an asymmetric style is one of the best ways to flatter a well toned figure. A single texture in metallic silver white and is contrasted with a deep silver waist band and the look at once skims the floor but also gives ample scope to show long toned pins. Above to the right, a black geometric knit mini dress rocks the classic Julien Macdonald weave technique with hints of art deco. This is a dress that you can dance, live love and laugh in and composes many fascinating delicate elements. Light as a wisp on the frame it's beauty.

A platinum gold dress with low neckline and loose belted shape falling open across the hips offers a graceful expression of movement on the figure. Long sleeved, it would still work well as a bold daring piece to work with a formal dress code and a high collar transforms the dress in part to textile jewellery. A tied around mini dress with bikini style detail is a perfect piece for clubbing or press photocalls. With Julien's work I'm struck by how the aparent simplicity of garments trasnforms into seriously intricate detail on closer inspection. Centre above a full body suit dress is accented with feathers and a perfectly framed plunge of woven knit adds a further texture contrast to the look. 

An anckle length dress with a fanned cobweb across the waist gives the faintest hint of gothic in a look that is again camera ready playing to Julien's clients needs. Many of the famous and private names that wear is pieces are women who embrace bold confident glamour and want to wear clothes that will give an emphasis to their femininity. To the right two dresses in luminous mettalic red and silver subtly highlight the soft curves of the female figure showing strength in confident female form. When you watch Julien's models walk there is an undeniable sexyness but a modestry that shows that strong beauty also is within. 

These looks are pure high glamour ready to wear and although some do try from time to emulate his style no one can weave this type of fashion spell quite like Julien. Working through a steady series of themes that Jennifer Lopez, Hailey Baldwin, Taylor Swift and Heidi Klum and a long established list of high profile women have worn and continue to wear Julien's styles to make a guaranteed impact that always carried a mark of sophistication. Also evident on closer examination of the pieces is the technological development that his team quietly work away at to create sophisticated expressions of style ideas. Centre above you can see two interesting interpretations of a lattice design that show both a catsuit and open skirted dress variation of style. Hugging close to the figure they show when a frame is in good healthy shape but also to note, Julien's looks emphasise the curve of the women's figure and promote a healthy shape. These are modern goddesses, bold and fearless. 

The dazzling number in red above is filled with the shimmer and sparkle that would light up a dark autumn evening and would be a perfect party dress for the Party season at the end of the year. Cut in angular chevrons it creates a contrast in shape to the waves flowing down the figure from the hair to the feet. A belt sits at the waist falling gently in sympathy with the figure not constraining it. Evening glamour is emphasised by a long train falling gently behind the model as she walks adding a hint of theatre to an evening wear piece. To the right a broad weave knit hints at architectural design giving a new meaning to the sense of adding structure around the figure of the wearer. This look and the one worn by Winnie Harlow serve to emphasise the interest Julien shows in accenting the shape of the hips given the freedom of movement in the two part style. 

As ever there where several looks that went onto my wish-list and more than fashion, Julien is also concerned with making quietly powerful statements that support people. This season Winnie Harlow closed the show in a defining moment. The model simply through walking at fashion weeks can convey such a powerful message about acceptance and unity. Watching the models walk by in gleaming, glittering passages it was a pleasure as always to see the artistry of Julien's team come to life before our eyes. The crowd he drew was completely international demonstrating the attraction that he has within the London Fashion Week Schedule to fashion audiences of journalists, buyers, stylists and press throughout the world. 

perhaps in the future this will change *wishing*. Under Creative Director Frances Stringer the brand has secured it's place in the millennial contemporary knitwear halls as well as producing new spins on broadly classic British themes. It seems to be a popular mixture with the firm continuing to thrive. Above to the left an off the shoulder jumper dress of dreams wraps neatly around the figure like a glove. It's a look that's translatable anywhere from public to private occasions. Looking sleek and cosmopolitan the opening looks of the collection are coolly international. A long sleeved black sweater slopes off the shoulders in shrug-elegant style. Matched to wide black culottes it's a classic piece of easy elegance that could be worn out at dinner, drinks, smart/casual red carpets and also enjoyed at home.

But it wouldn't feel complete somehow without satisfyingly chunky knitted pieces too thrown into the mix and in an era where there is a greater fascination and consciousness of the process that creates the clothing we buy in all areas of the market. An out-sized fleece is bound to keep you warm this winter even in the coldest parts of Scotland with it's blanket like form it acts as a statement outer layer over a day outfit, here seen with black trousers and sports top. To the right a knitted coat with cowelled hood sits over a loose knitted dress and evokes the strongest impression of knitted snug warmth in an elegant sophisticated composition. To the right a brooch-pin fastened giant wrap cardigan in tonal flecked natural wool and light grey is another stylish proof against the elements. I think women from all over the world, and in fact many men, would be very happy to wrap themselves up in this in autumn and beyond.

Above to the left is a dream combination of giant cashmere wool scarf, sweater and long line dress. In oatmeal and charcoal grey the twin earthy colours resonate with the landscapes and autumnal skys of Scotland. This is luxury comfort clothing at its best and gives a heap of ideas for possible gifts. Challenging traditional design sensibilities are part of the norm under the leadership of stringer and a charcoal grey knitted dress with sash side tie forms part of a dual layered piece. It's almost like an adaptation of the traditional shawl. To the right an almost monastic styled tunic dress with belt hints at the influence of Italy perhaps where much of Pringles' production now takes place while to the right broad cowelled lapels of a deeply luxuriant winter coat also make a subtle nod to ecclesiastical style. 

A black coat cut in similar style imposes the sheer presence of the wearer over a cream coloured sweater and long line black trousers. An understated look that, in common with all looks here, I can imagine taking for a walk in the great outdoors be it London's Hyde Park or hillside walk in the country.
Mingling black with Tartan the next piece adds a reference to the brands homeland in it's studied composition. It's a perfect town and country piece that you wear to the shops or over an outfit for an evening out at the opera. A mustard yellow evokative of the late summer barley of Scottish fields.

The appeal of oversized cashmere sweaters to an affluent international client base is something an established brand, especially a brand in Pringle's august position can safly rely on to keep the clients coming back and draw in new ones. To me this collection looks less experimental than some of Stringer's recent fashion journeys.

She's there just like every other designer at fashion week to support her brand. An over sized ribbed tunic dress in egg yolk yellow with tie around wrap makes a bold colour contrast without breaking many boundaries. Towards the close of the collection Stringer does take the collection in a very different direction with a handful of pieces though. In a determined injection of colour the Pringle diamond becomes multi-coloured and the classic sweater is cropped to the waist over a white sports jacket and flowing long sleeved blue dress.

Taking her experimentation a little step further, late summer flowers where printed onto long sports fabric dresses that billowed behind the wearers as they walked. Weather proofing came courtesy of a puffer jacket cape cut to ankle length. For an autumn collection the majority of the collection 'made sense' in terms of a marketable output that would find a resonance with the brands client base and maybe some of Pringle's followers are also looking for the avant garde also?