A Blush of Rose
ablushofrose.com
London Fashion Week Spring-Summer 2016
With a new look and in a new home at Brewer Street Car Park. This London Fashion Week turned out to be the best ever so far.
After initially being really surprised at the Venue I was a complete fan after the start of Day 1 attending several shows and presentations in the spaces in and around Brewer Street. The light in the main gallery of the BFC Courtyard space was amazing and I think it was a great aid to many of the designers showing. All images below by me unless where otherwise stated. Enjoy - there's much more to come.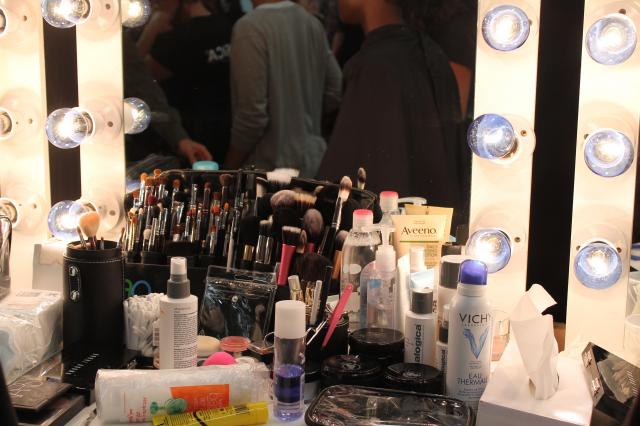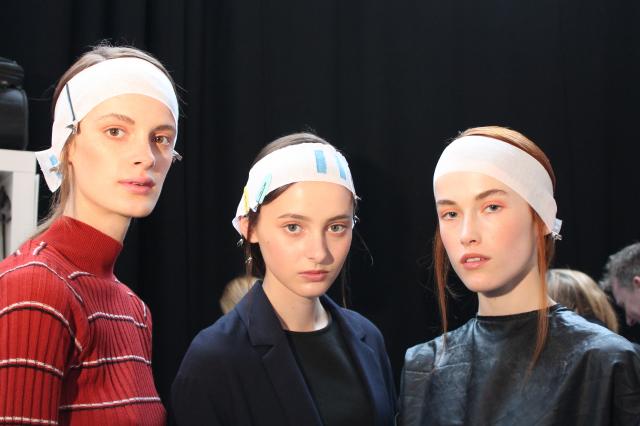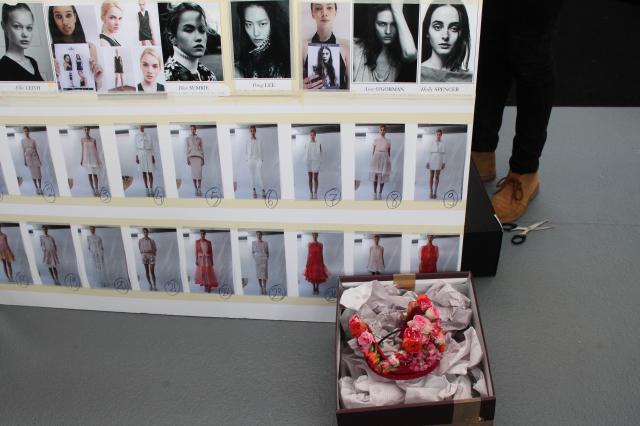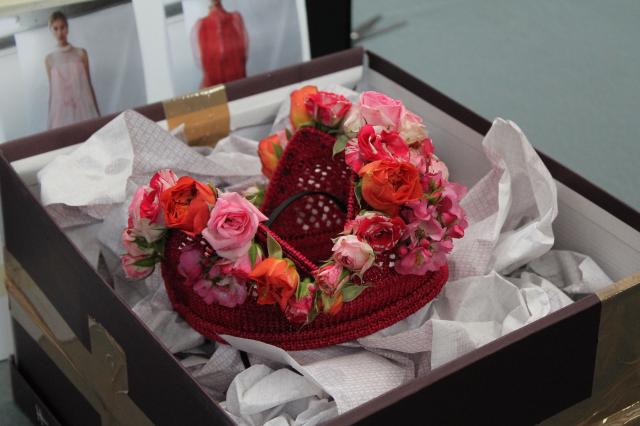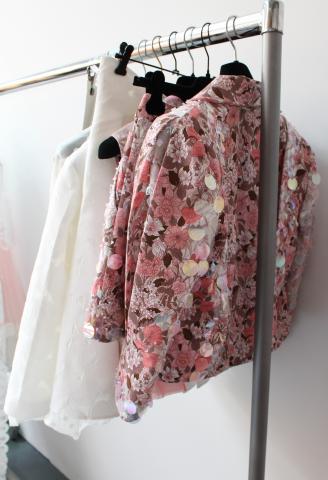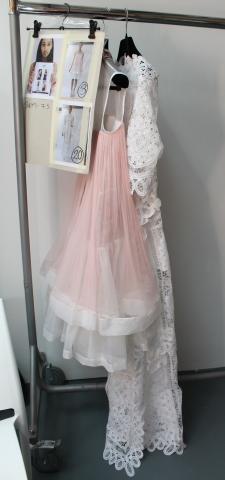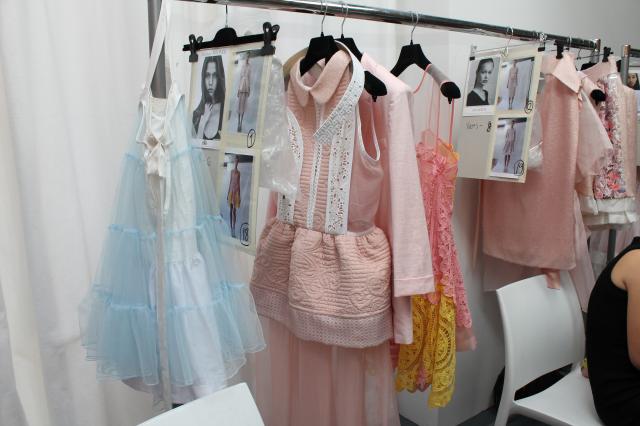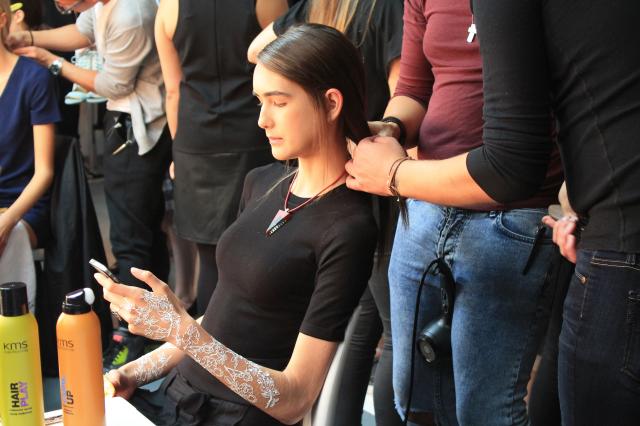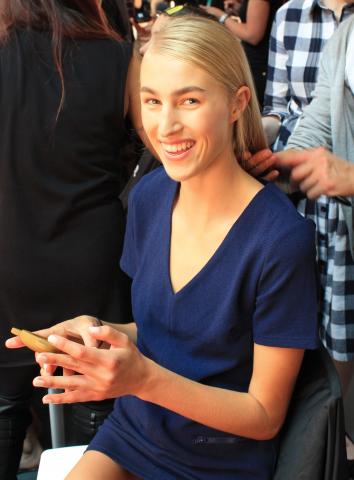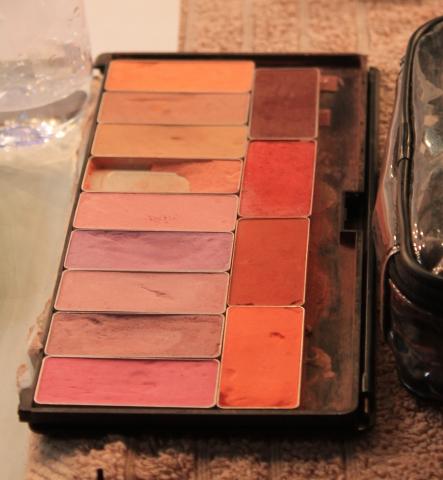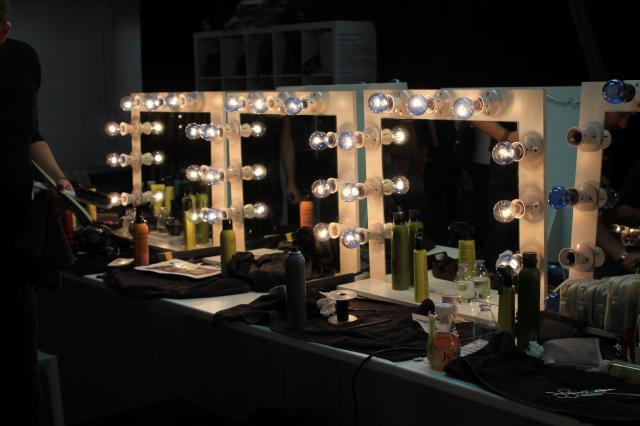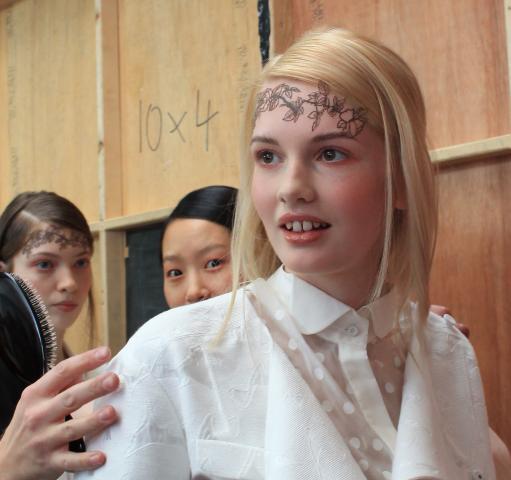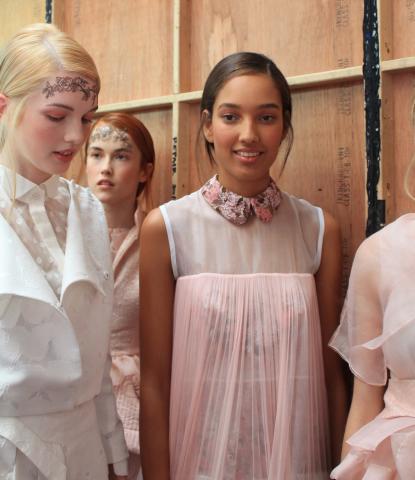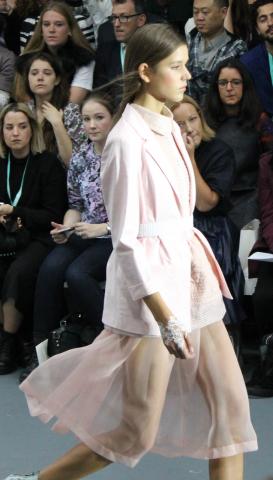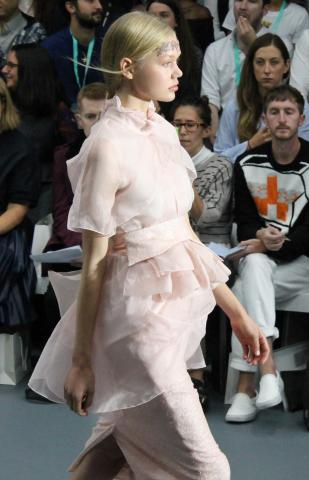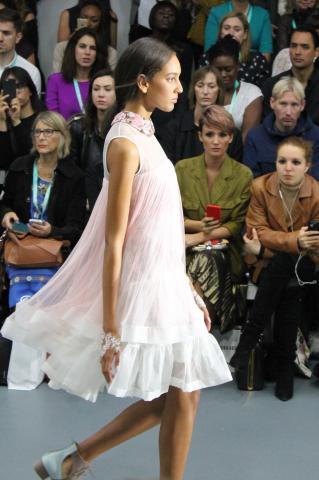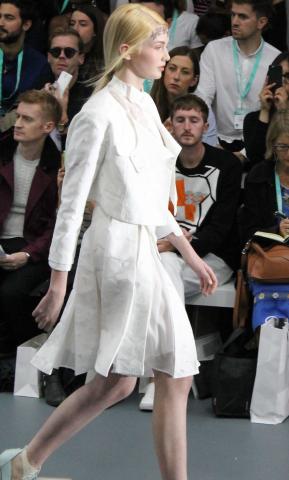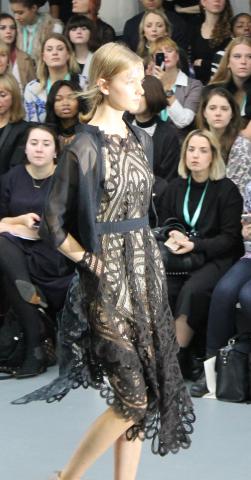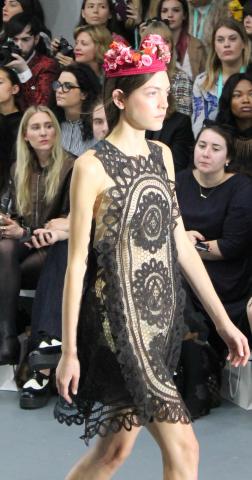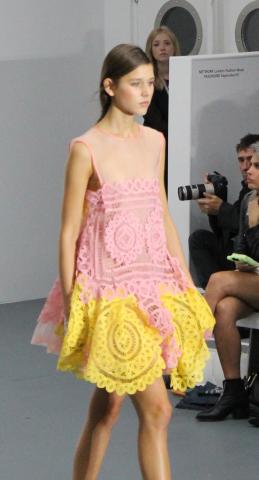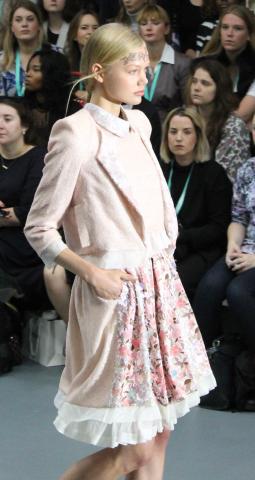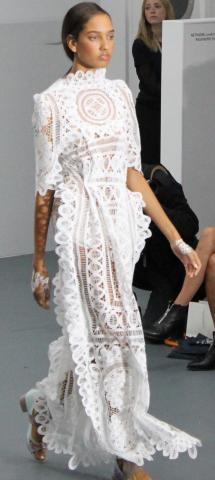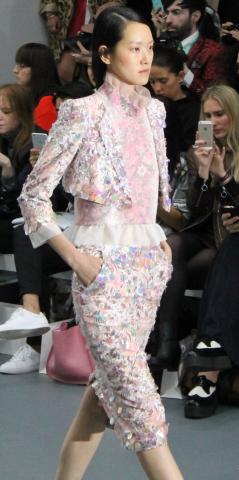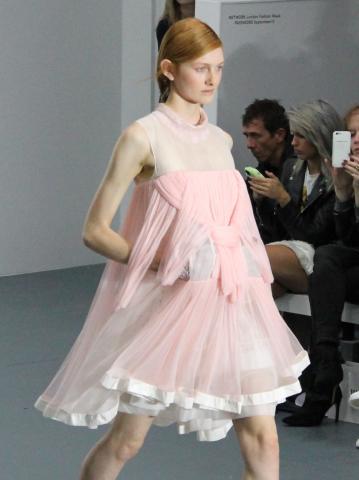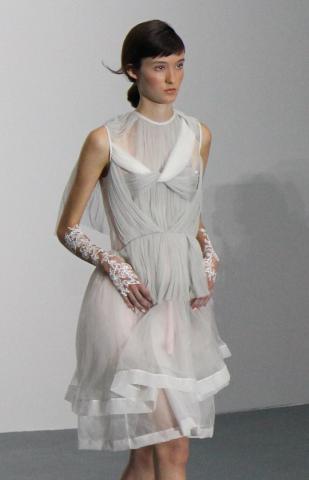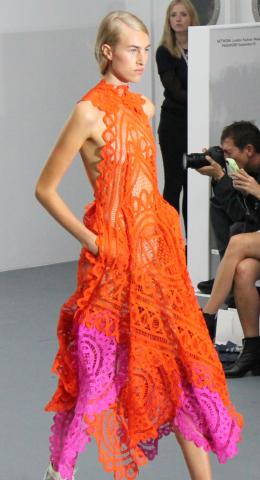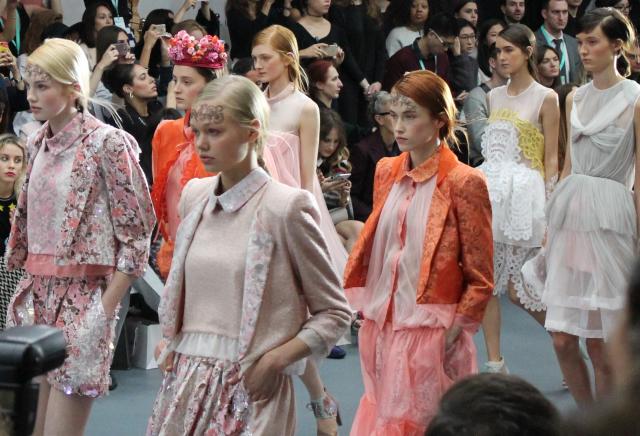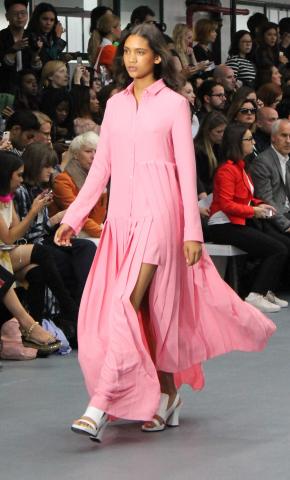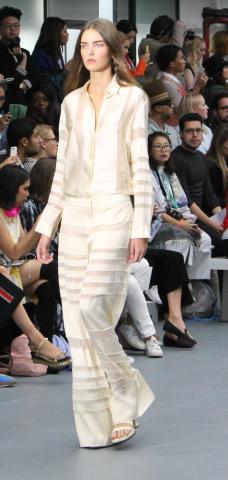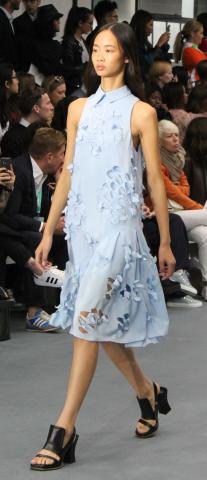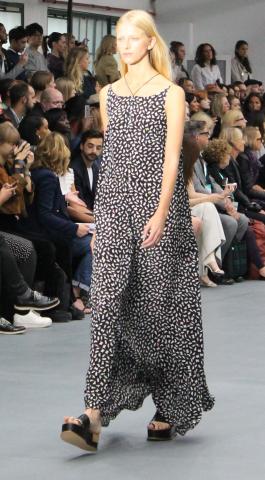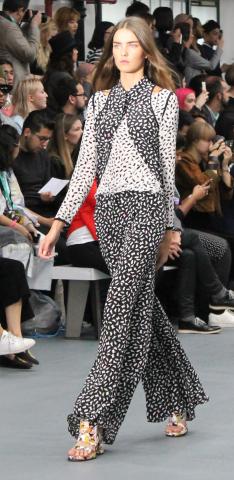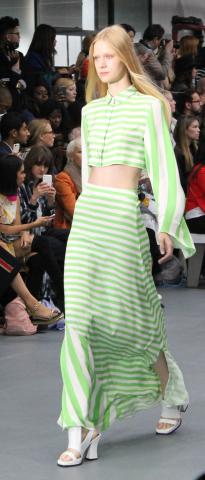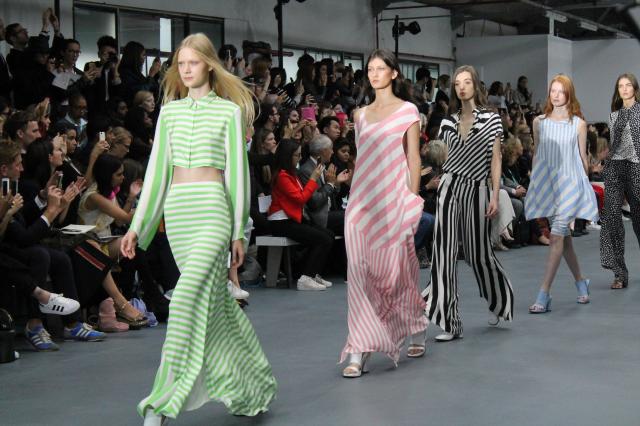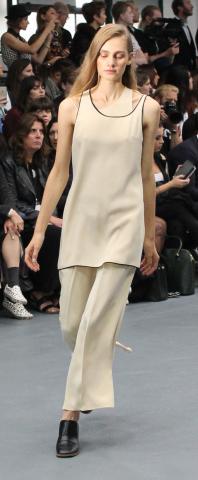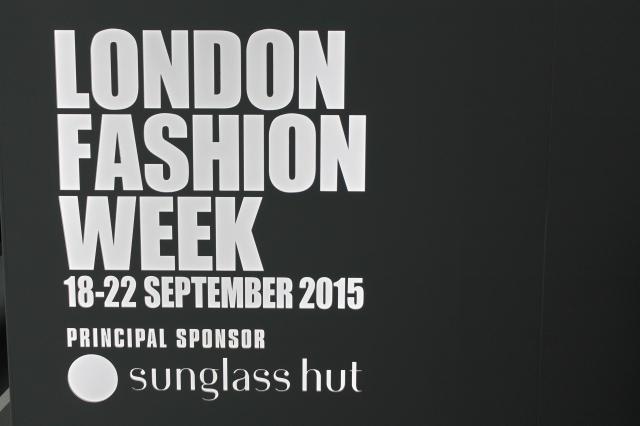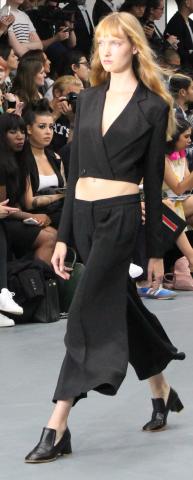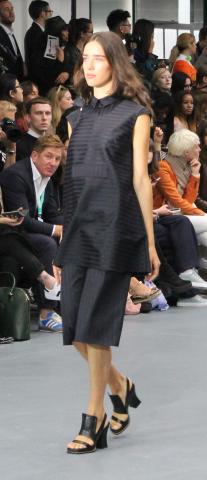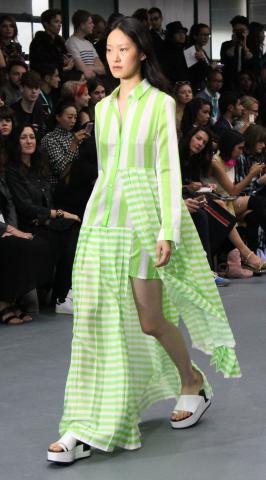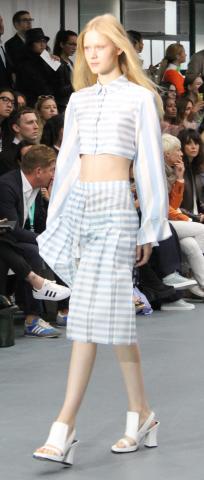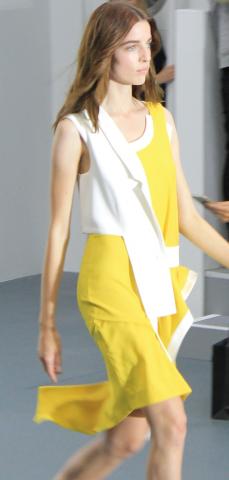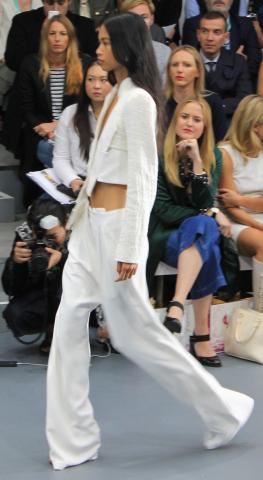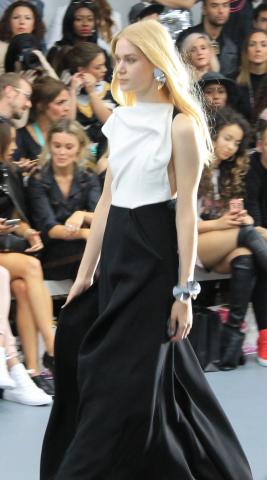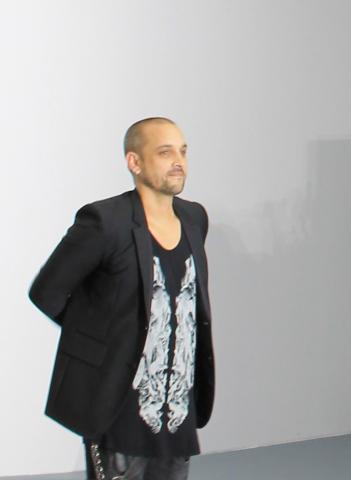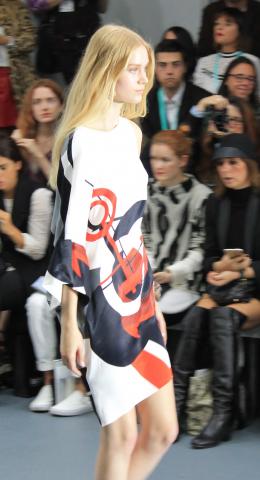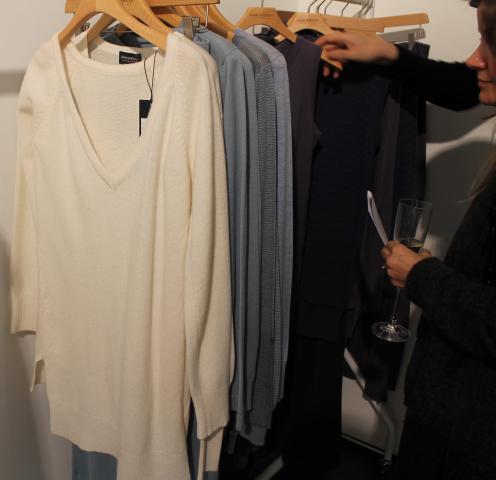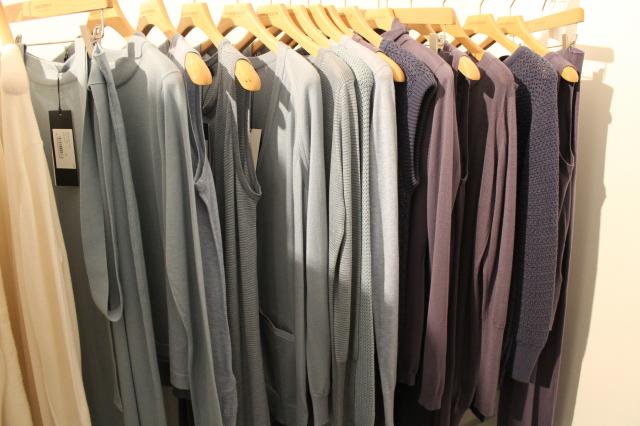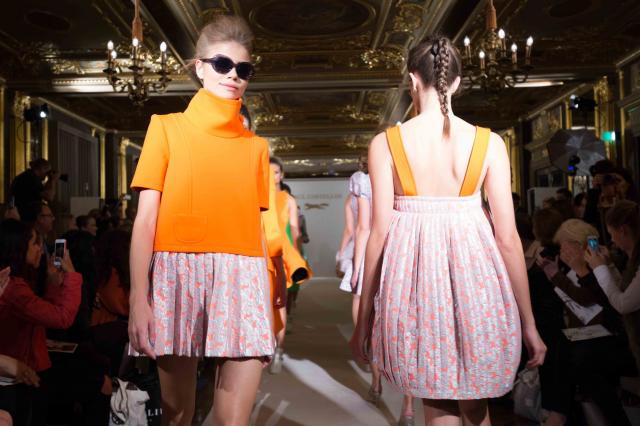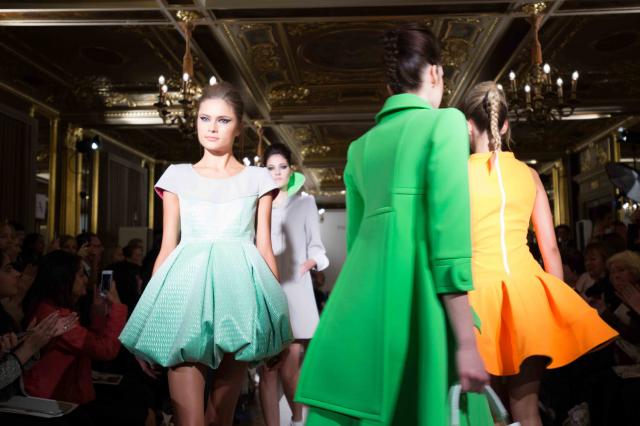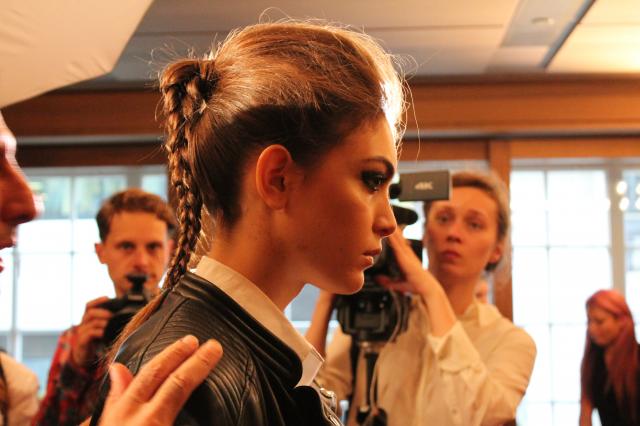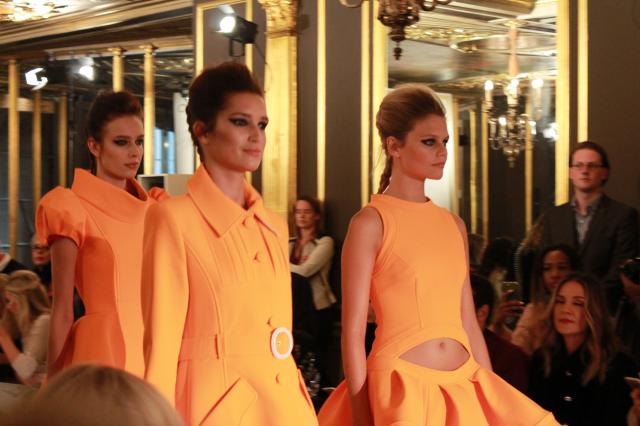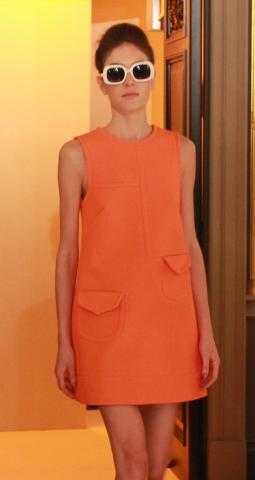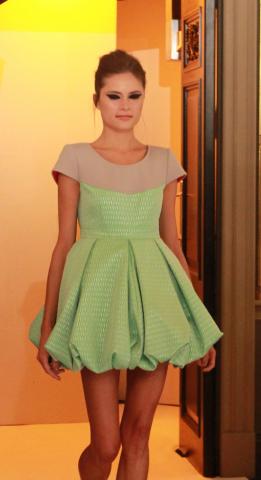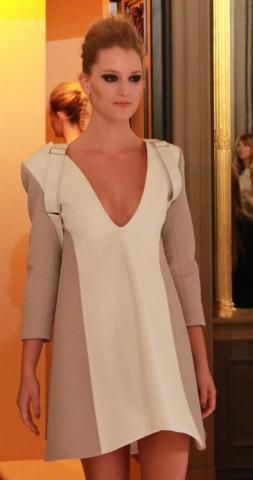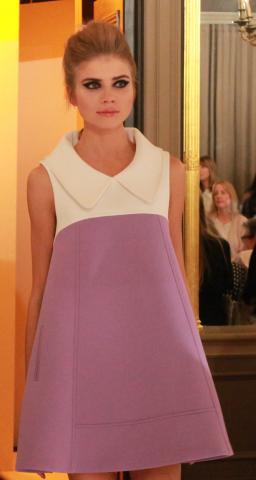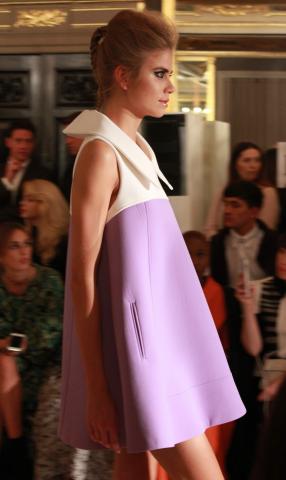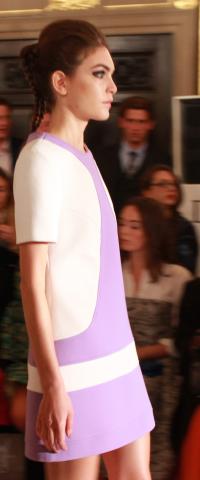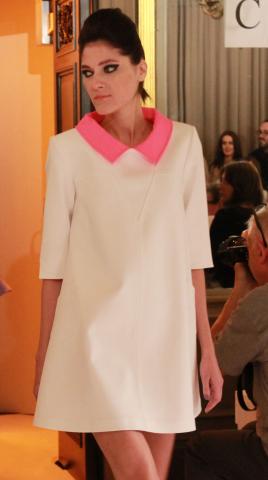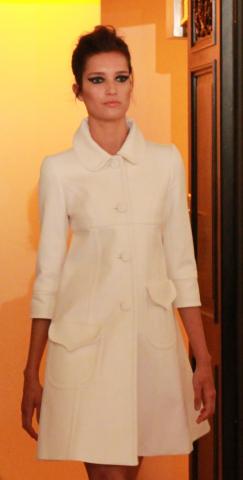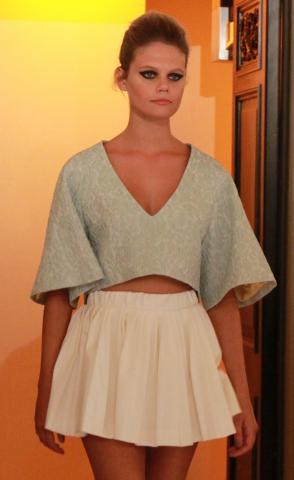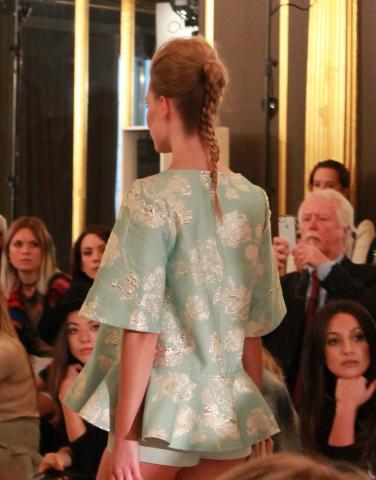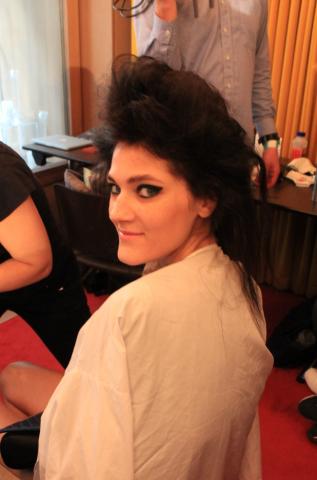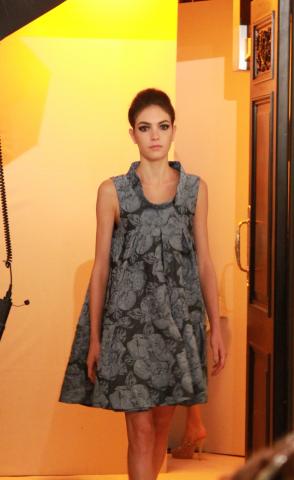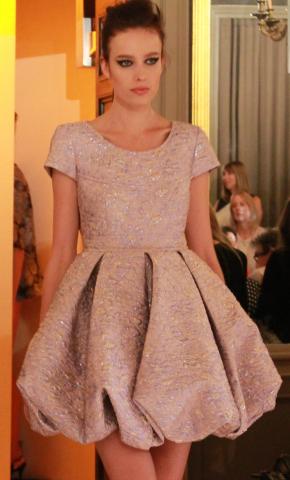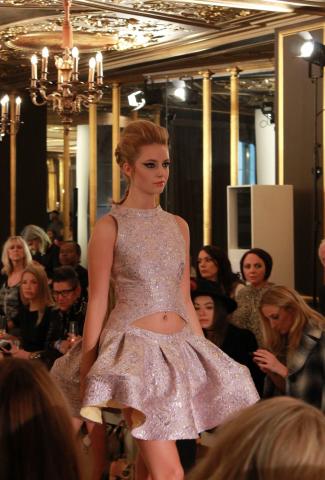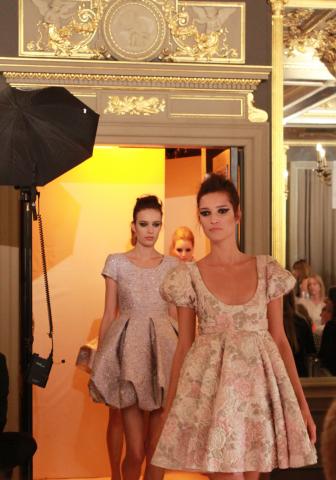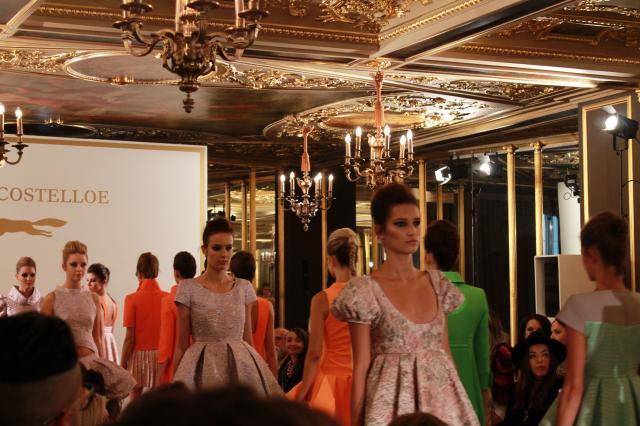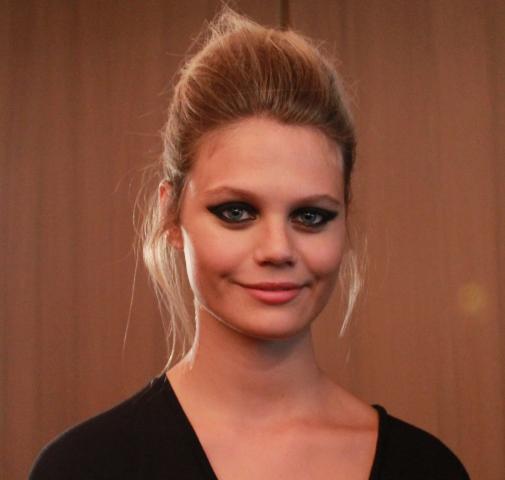 John Smedley - Fine British Knitwear.
London Fashion Week opened with a burst of spring colour from Jackie J.S. Lee. She's shown in London for a number of seasons and I was very excited to open my LFW with this show as I'd never seen her work walk out live before. Cool and innovative it's refreshing to see bold use of stripes on offer with some top notch sophisticated tailoring. Playing around some central themes of candy colours and loose fit cutting there's broad scope within this collection to find some pieces that will work well in your wardrobe next season. Switching to monochrome black and white gives another alternative palette touch that can make an outfit feel a little more serious or work-appropriate should you feel that was right for your outfit plans. 
It's great to be the first show that opens LFW and like all the designers on the schedule she has had a journey to get there. Born in Seoul in Korea she came to London in 2007 to study Pattern Cutting, followed by two years working as a Pattern Cutter at KISA London and an MA at Central St Martins Jackie's early work was snapped up by Harrods with her graduate collection featuring in their windows in 2010. A fantastic start and just the beginning. Jackie designs for the modern woman looking to add feminine pieces to her wardrobe with a contemporary tailoring aesthetic. 
This is high tailoring with plenty of variation to keep the audience engaged. Stripes sit alongside mono-colour outfits and doted prints with many different style moods to tantalise and capture the imagination. There is so much here that will work easily for so many of us in the wardrobe for next season.  
Bora Aksu's world is a big place so let's start at the beginning where all the action takes place ahead of the catwalk show; backstage. The backstage world is where the final assembly of months of hard work takes place and as the minutes count down looks are worn, adjusted and the final look of the show is crystalised before the eyes of the designer.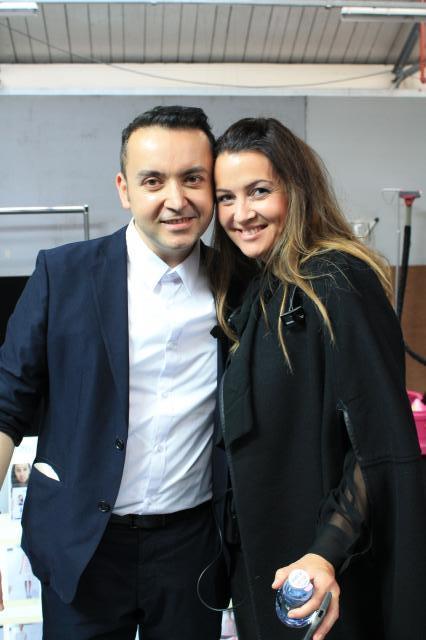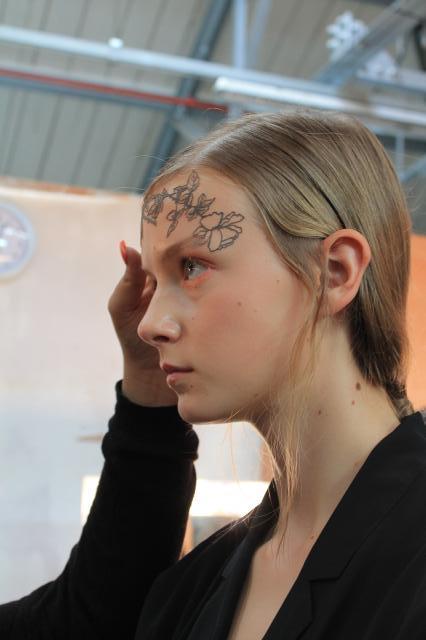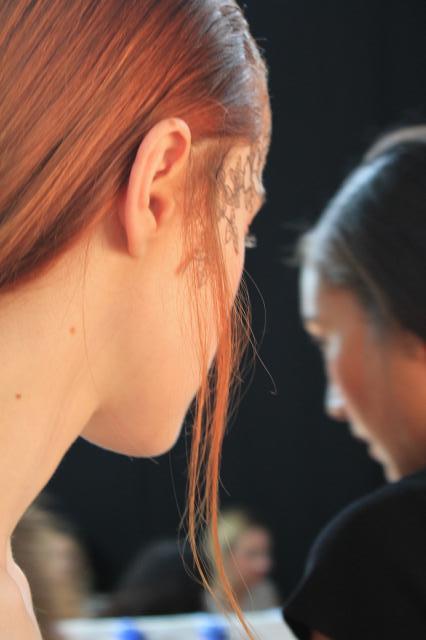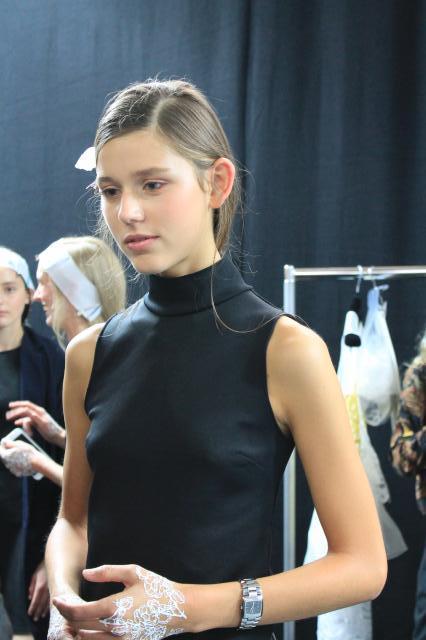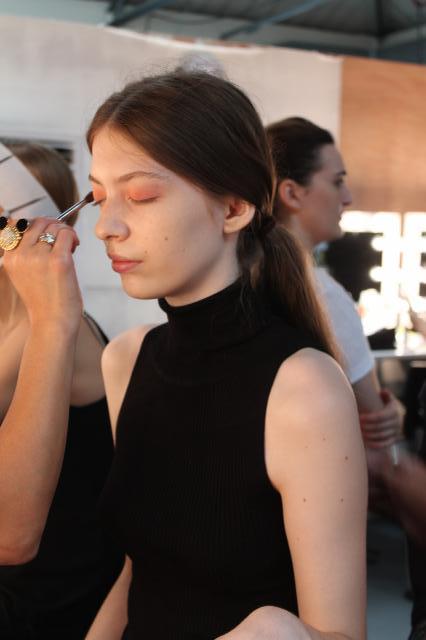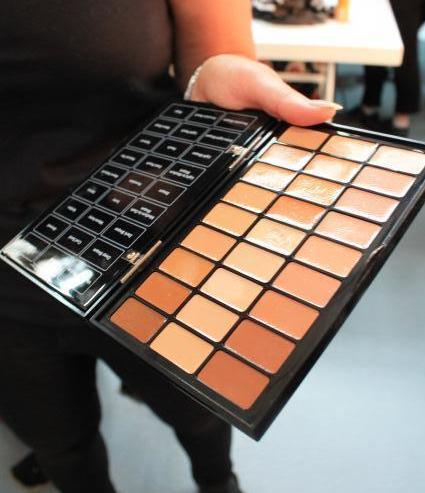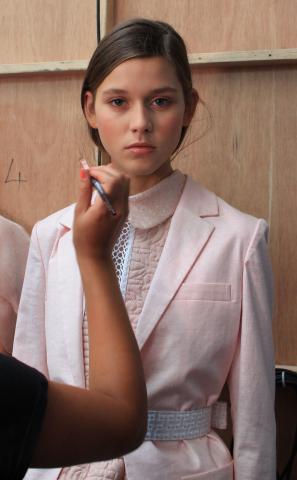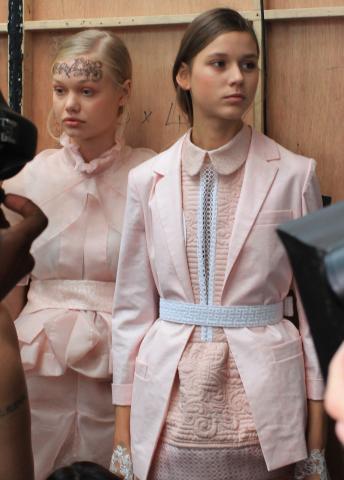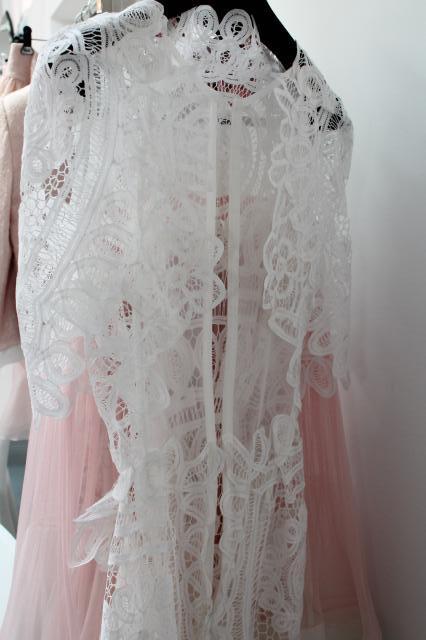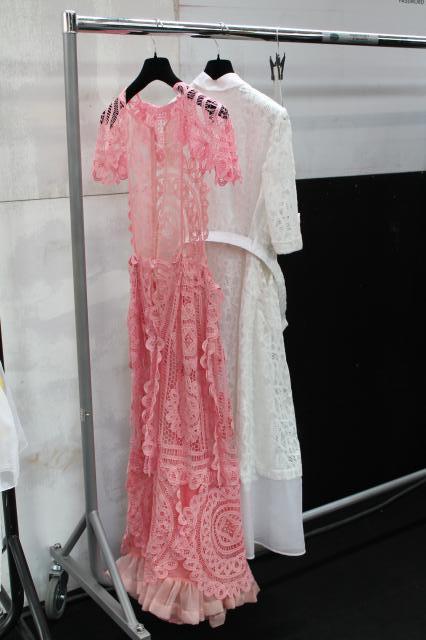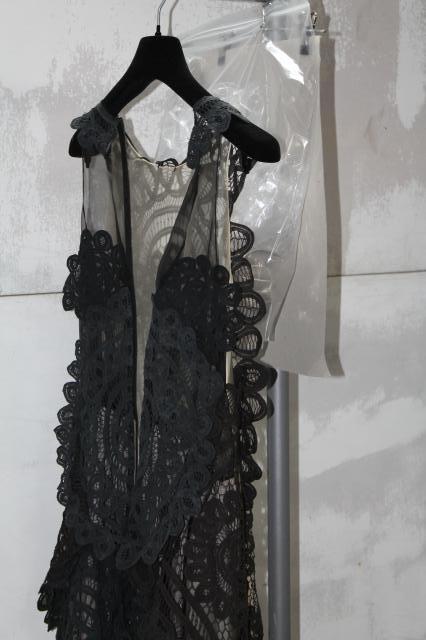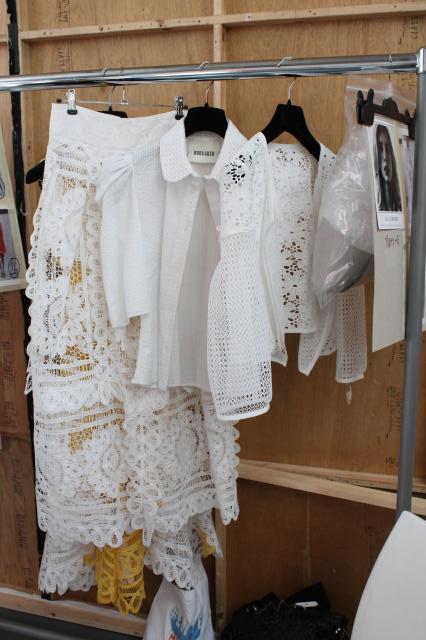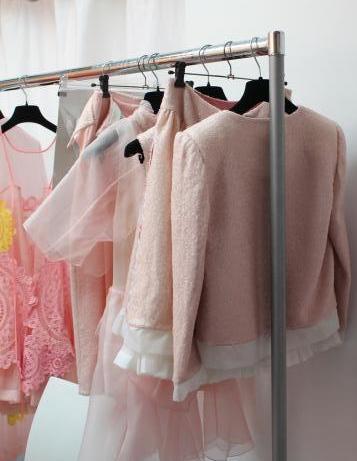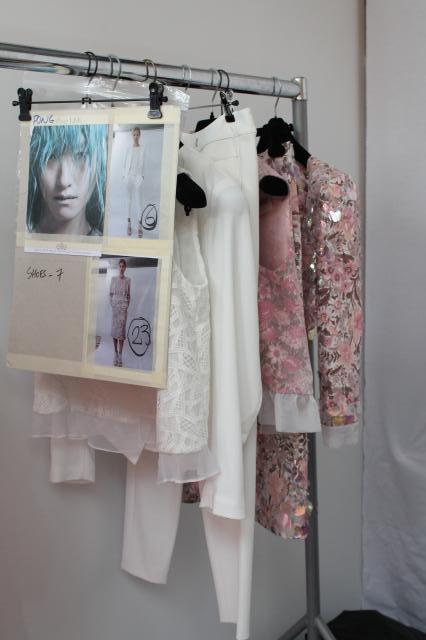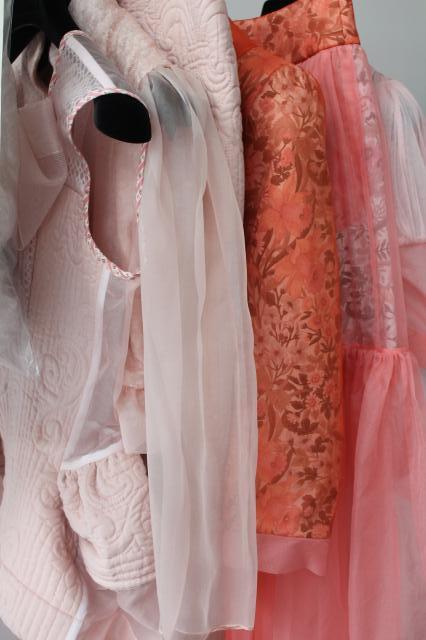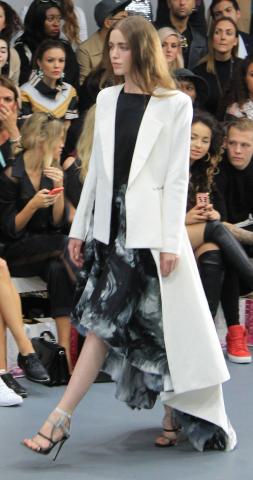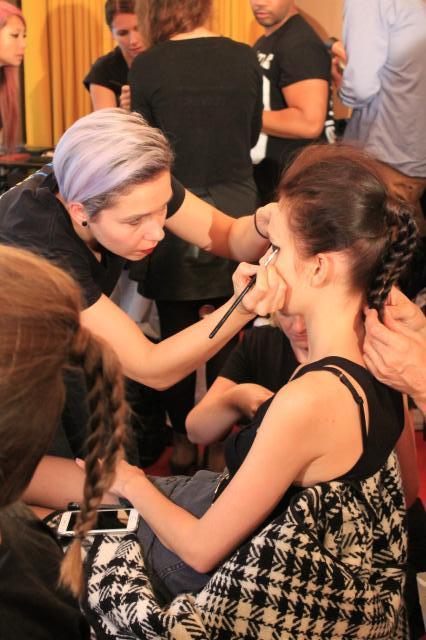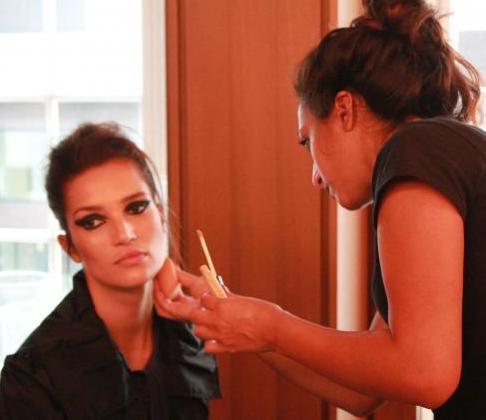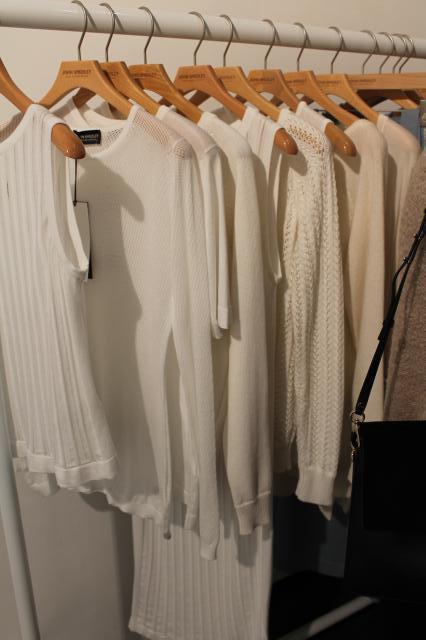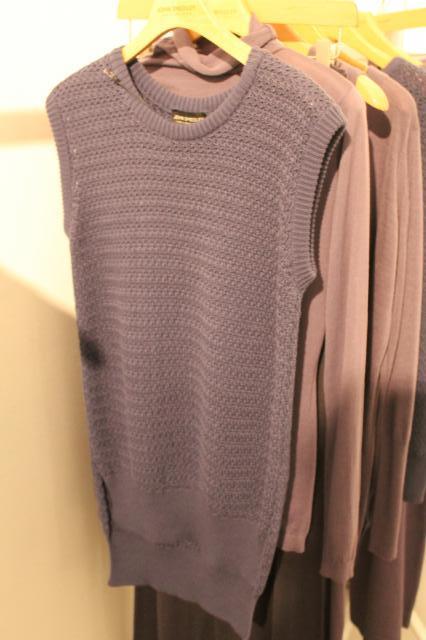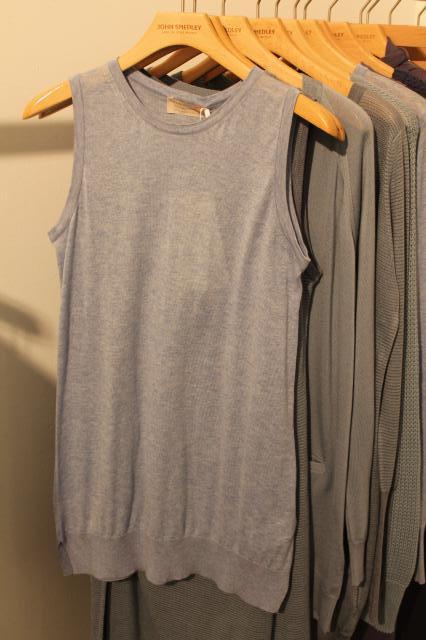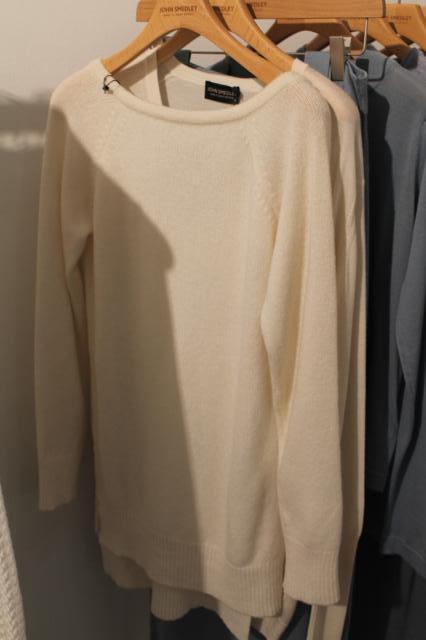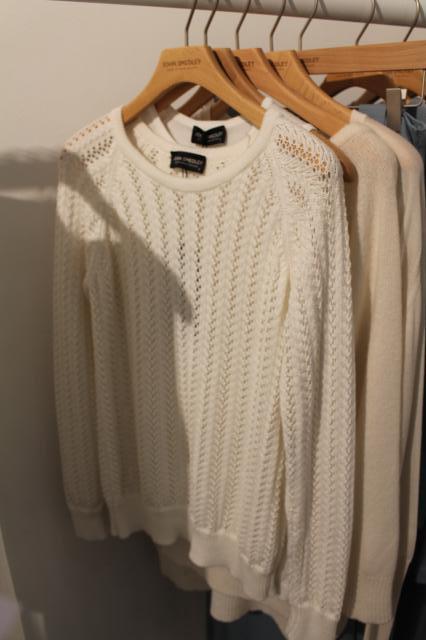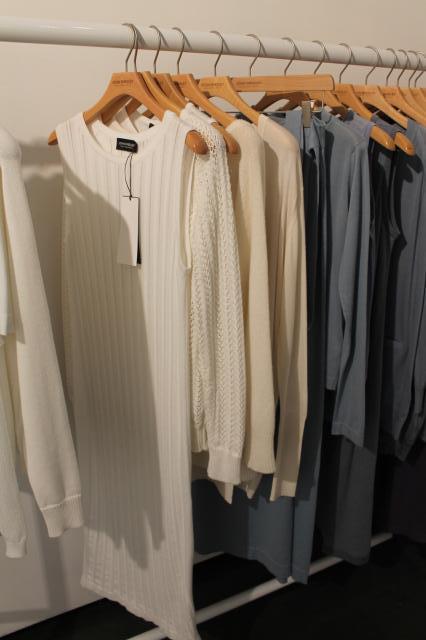 You can see Bora below with lifestyle PR and illustrator Lizzie Owen. It's always great to be able to catch a moment to speak with him. Backstage is a beauty fan's dream and at this show as with several others the Hair and Beauty teams themselves give interviews to press from around the world eager to give the tips and trends for the coming season to their audience live from the show. For this season I saw a lot of apricot on the eye lids and gentle blush on the cheeks giving a girlish blossom look. It's a look that really emphasises youth and vitality and it does translate to people of all ages with different skin and complexions. It gives the appearance of a soft natural lift to the face and is very flattering.  
This collection is centre-n offering a working and casual wardrobe that you can adapt for many areas of your life, and let's face it, that's really what we all love isn't it! This was my first time at a Jackie JS Lee catwalk show and I'm an absolute devotee now, even more than I was before. She's a bright star going places. 
The team that Bora gathers around him are always working away like busy Bees and taking excellent care of everything as always was the wonderful Ant Waller conducting the goings on, with a cool and friendly head as always. You really can learn a lot quickly when you're backstage and there are always in store from the style experts. it's a truism that to photograph well you need to be a good observer and have a natural sense of placement. Watching and filming make-up being applied skillfully and professionally is the perfect primer you need as a viewer to hone your skincare and beauty routine. And importantly it's what I know many readers out there like to see too.  
As the theme of this collection was the Garden of Flowers the models appeared with beautiful intricate floral decorations across their forearms and variously decorating across their brows in a wonderful garden weave. Thus transformed into Fairy Princesses of the 21st century they where ready to take on the catwalk and take to the stage. There's always lots of fun backstage and importantly there is always a lot of good food, snacks and water for the models to eat. Within the gentle chaos there is a lot of time for smiles and laughter and the models look healthy, happy and very busy. One Day 1 many have just flown in from NY (more follow ahead of Day 2 and Day 3) and bookings for the later part of LFW and fashion month are still on-going. It is glamourous but these girls work hard and it isn't as easy as it may look. They are touch little cookies moving from one city and assignment to the next.
Palettes are a huge beauty love of many of us and there was a treasure trove of colour available back-stage in the artists make-up kit-bags. Like soldiers prepared for battle the make-up teams are armed to the teeth with brushes and concealers, foundations, shadows, lip colours and blush hues in every colour imaginable. As you can see below it created the perfect fresh face gentle complexion on the models and is easy to compose yourself at home. A lot of catwalk make-up really is transferable to our day to day lives especially in the Ready to Wear collections. 
This season Yin Lee was leading the make-up team using products from Cattrice & Dermalogica. 
The Hair team where lead by Sam Burnett using KMS California. Leith Clark of Harpers Bazaar was adding her special magic and Phyllis Cohen of Face Lace added the fantastic delicate floral lace designs to the arms and face that gave the models looks that extra perfect touch.   
Jean Pierre Braganza or JPB  as he's also known to many people rocks the catwalk with an electric blast of fashion energy each season that leaves audiences hungry for more. I don't know how else to say it but his shows feel sexy, the clothes, the music, the raw energy it's all there and the front rows have many guests looking like they're heading to or have just come in from somewhere very cool, very happening and frankly where you would like to be. That's the mar of a great designer who really hits the target for you. You want to be with him and be part of his world. In this case it's a man with a great story a background in both Britain and Canada lends itself to the international come transatlantic rock-chic meets jet-set vibe exceedingly well. I've been in love with his look for several years. 
Colours and life burst into being at the start of this collection with a phoenix-like fire at the heart of several looks in the collection. Needless to say this works superbly well with leather. Jean Pierre Braganza is expert at working his collections through different moods and always leaving something more for you to discover. The first look above to the left is powerful in it's vision and strength but still ultra feminine. The trench coat is super-versatile and has the hallmarks of a wardrobe classic. The dress in the next look blends fire and deep blues in a heady but fitting blend. 
With a slightly Cruise-ish feel the next pieces for me blend light Spring and Summer leisure style with possible pieces for the working wardrobe. Teaming white with one bright contrasting colour is always a good move style wise and whether you want trousers or a dress look, or indeed both, there is a lot to chose from.  
One thing that strikes me time and again is how truly international Jean Pierre Braganza's collections feel. Above the dresses to the left play with a print theme morphing into several different designs. High at the neck or cut deep to the waist these are bold and yet flattering to the figure. It's perfect luxury Ready to Wear. High voltage in glamour and ready to wear straight of the hanger and out to an event, or for a special party at home perhaps. 
The electric blue dresses are two of my favourites from the collection and they are both wish-list pieces. Along with them the jacket and skirt combination above to the right is a perfect city or evening wear glamour piece that you could rock in many places. The floor sweeping jacket is an intriguing borrow from the tails of the traditional men's suit and I think it transforms this piece into a possible Red Carpet Ensemble. Below are two more of my favourite looks from the collection that have high impact glamour in a relatively restrained grown-up form. Both are Black-tie appropriate looks that you will be the toast of the town in in any city in the world. It's a great thing to be on the journey with Jean-Pierre Braganza and we are very, very lucky indeed to have him on the London Fashion Week Schedule. 
It's a name that you will have heard of as he's one of our best known British designers internationally and for many years Paul Costelloe's show opened London Fashion Week. He's known as the Godfather of British Fashion and with a career spanning four decades he's dressed some very high profile people. Most notably Diana Princess of Wales was his client from shortly after her marriage to Prince Charles until up until her death in 1997. As far as I'm aware no other designer worked with her for so long apart from the late Catherine Walker. 
It was a long and great design relationship and at the Spring Summer 2016 catwalk show Lady Kitty Spencer, Diana's niece, was seated front row next to Ladies Alice and Eliza Manners, carefully watching the pieces of the collection as they came out in the beautiful mirrored room of the Hotel Cafe de Paris.  
Shooting backstage one thing that is that was very apparent is that Paul's models are extremely well looked after. This was the second time I'd particularly noticed it this season as lots of happy faces where in the ante-room and no-one was left to feel stressed or tired for a single minute. 
Some girls had just landed from New York and others where already several shows into the LFW Day 1 and while they where being groomed, painted and polished there was much talk of schedules and who had been where when they had a chance to catch their breath. Camera ready with serious and smiley faces this was a happy bunch of young ladies sliding into their roles as girls in Swinging 60's London ejoying fun in the sunshine. 
Make-up this season was full of sultry swinging sixties chic. In an up to date twist hair took it's cue a little from the punk rock movement with double pony tail braids flicking out from the head in snake-like tendrils. Some how this looked cute and beautiful and it's a fun going out look (or an everyday look for work or college if you wish) that isn't too complicated to replicate yourself. 
Backstage shooting and filming is always really fun and gives a whole different perspective to the show. If possible it's good to see both. I'm fascinated by the whole process of putting the collection together from the design to the implementation and the pre-show buzz and putting all the final pieces of the puzzle together (as I call it) are all part of the delightful mix. 
Here you can see the beauty looks to full effect in the line-up pre the catwalk show. In close-up you can see how this collection has a beautiful feel of harmony about it. Above to the left a quilted blouse sits underneath a blush pink jacket open at the waist and accessorised with a narrow Obi-style waist band. The same is repeated in the look next to it with a light blouse and skirt combination. These are semi-formal wear looks that you could take to a dinner, party wedding or Christening but what comes across when you wear them is that they are also so light. Bora has crafted an easy-wear High Fashion collection that retains simplicity and is adaptable. 
Above in this range of looks you can see in close-up detail the passion that Bora has for traditional English crochet and embroidery. These sheer pieces will look fantastic on warm summer days and evenings and there is plenty to draw the eye. The first dress above to the right is a Fairy Princess piece that could be worn as a bridal look by someone quite daring. 
The lightness and delicacy
 of the pieces enhance the feminine beauty of the wearer and they can be worn by themselves or with one of the many coordinating jackets of the collection. Centre and right the pink, white and black dresses are contemporary crochet masterpieces that sweep the floor and make a long elegant silhouette. They are wonderful pieces to enjoy. 
To the right you can see a beautiful white short jacket that illustrates how it's possible to combine different types of crochet into one garment and for it to work beautifully. It's not too much and creates a feel of harmony. This is a collection based on a beautiful garden of flowers with the girls moving in it like enchanted flower fairies.   
To the left above I sneaked in a picture showing the exquisite detail on one of the jackets. The giant sequins twinkle at you while underneath there is beautiful embroidery detail as a spring garden of flowers is brought to life before our eyes. 
This piece combines effortlessly with the light white blouse and skirt sitting next to it and could be teamed with other pieces from the collection. This is a collection that reveals itself fully on closer inspection as there is a tremendous amount of fine craftsmanship. This is luxury ready to wear that is genuinely adaptable to a number of different wardrobe needs without ever losing sight of the attention to fine tailoring. 
To the right above you can see the board of looks for the collection set out with a beautiful 'Crown of Roses' sitting next to it. For me this is a beautifully symbolic accessory in the collection. It brings to mind 'Queens of the May' and Summer parties and 
Bora's romantic flower Princesses are also transformed into modern goddesses espousing femininity, beauty and life on the catwalk. We all want to look great in the clothes that we wear and especially when it's in a wonderful dress for that special evening or party. At one point or another we've all either been or wished to be a girl with a garland in her hair. 
Centre above you can see the light gauze blending with the embroidered fabrics as part of the design of several pieces. It's a playful juxtaposition that works fantastically well. What strikes me time and again about this collection is that there is a playful delicate nature to these styles that also exudes a tremendous amount of strength from it. It's hypnotic, seductive and beautiful. 
Sweeping along, almost literally are a series of beautiful dresses oozing unashamed femininity and style. There's a definite touch of old world class and glamour in these pieces and although the nuances are hard to define, I feel you can see a vintage heritage at work here. And why not? Beauty is eternal and there is always something that we can learn from the past. 
Girlish hemlines are intermixed with softened versions of the women's suit. Sashes and bows take on an ethereal softness as they hug the figure and split the boundary between innocent and sexy. Can you have both? Can you be both? There's something lovable about Spring and Summer pieces that float around the figure in a diaphanous soft swaying motion. Clothes and those hazy Summer days are often part of our key summer recollections. With the fairytale looks in hand Bora neatly sits these alongside more formal-style pieces. The white suit above right is a perfect piece for a wedding, date or more traditional moment. Broad collar lapels give a sense of youthful uncomformaty but this is a look, like many from the collection that could be enjoyed by women of all ages. 
You can see how well the dresses move in these images of the Crochet weave numbers. Absolutely wonderful tailoring and a joy to behold on the catwalk. It's interesting to see as time goes by how designers change and evolve and how for Bora he has created an evolution within his specialism of crochet textile work. There's huge scope here. I love the colours naturally matching the A Blush of Rose colour scheme and the bright burst of contrast between the orange and the magenta pink. Hints here of the bright eastern Mediterranean colours of Turkey. Worn with nude slip under dresses these are dresses that a lot of women can feel confident in wearing. 
Below are some of the beautiful contemporary style suits that have stunning detail in their work. Lastly a finale shot from Bora's traditional 'Group Walk' at the end of his show. All looks to be blooming in the garden at Bora Aksu for Spring and Summer 2016.     
As if by Magic we where transported a little way down the road to Carnaby Street but a further back in time to the Rock and Roll era of swinging London. As rock guitar sweetheart ballads played out in the mirrored hall of the Cafe Royal in Regent Street Colour was popping into view from the start in this collection and we where very glad of it. Paul's refined style of tailoring was evident across this collection and the simplicity that he breath's into his modern style of urban chic is accomplished and assured. Taking his cue from the paired down post-war era Paul crafted a collection of high glamour that would suit a large number of wardrobes across the globe. 
It's a collection with a chic and modern vibe and as the music played on we waited eagerly to see what would swing our way. Above to the left this mini dress is both demure and sophisticated and has the simple practical ease of much of the collection. You can simply slip it on and go out to play. Next to the right I really loved this combo of tiny pleats skirt and high collar top. Lying somewhere between blouse and vest it's a great separate to work in combination with several looks. Centre above the green coat also works the cute asymetric pocket look and this is grown-up style that can be worn by women across the generations.  
The next look to the left was one of my favourite of the collection and you can hear the beach calling with this. A short tennis-type skirt teams up with an elegant lose-cut blouse in vintage inspired quilted textile (more on this later) rising just above the middle to make a cool summer look. To ward off the chill of a Spring night the white coat to the right is another super-versatile piece that could easily become a wardrobe staple you'll cherish all year round and a piece to love and treasure. It's a joy to see the work of a master tailor at London Fashion Week but his work shouldn't be thought of as anything other than fresh.  
Lilac and mauve where two colours that featured in several places through the collection paired up with white. It's a great colour play to take us back to the days of Mary Quant and mini skirts and mini dresses. As the collection progressed hems showed no sign of dropping which was a good thing. The sixties mini dress movement was about liberating women in their clothes allowing them to feel free and confident. This was a generation of young women gong out into the world and having careers and feeling confident in their own beauty. 
As the music played on we had to fight the urge to get up and dance, not great form at a fashion show, but there was certainly some toe tapping and swinging of knees I'm happy to report. This was a collection that the audience was genuinely thrilled by and it was great to see faces light up as dresses walked passed them. There where some fun accessories to with the look furthest to the right coming complete with a white leather satchel. Satchel's are practical for both city professionals and people at School and College. Also with a nod to practicality and to Pauls vast experience in designing corporate uniforms for some of the world's most prestigious airlines he has cleverly inserted secret pockets into many of his looks. For a day to day look or an outfit for the Red carpet or black tie event I always find this super-handy. Design should always meet the needs of the wearer.  
We had a real treat this season at London Fashion Week one of the oldest and most cherished British Knitwear brands. How often is it that we can say we've met with one of screen goddess Marilyn Monroe's absolute all-time favourite Fashion Houses? Not too often - we all know she had a relationship with CHANEL but what is forgotten is that John Smedley was for her and many, many others an absolute staple of the well turned out wardrobe. A full roll-call of the House's fans has to be seen to be believed counting James Dean, Twiggy, Audrey Hepburn and Lauren Bacall. It's more widely known now that away from the camera Marilyn was a woman of simple tastes who liked comfort and John Smedley was perfect for her.
With a
Royal Warrant
from
HM Queen Elizabeth II
and now in their third century of production at their base at the Lea Mills near Matlock in Derbyshire; this is one heritage brand with a great story to tell. Founded by the Industrialist John Smedley in the 19th century they are the creator of the original Long John's that where worn the world over in the 19th and early 20th centuries. They also produced the Breton sweater for women at almost the same time as Gabrielle Chanel. 
I was delighted to see this exhibition and thrilled to be able to speak with the marketing team and a Director from the factory in Derbyshire. Dressed immaculately (but too immaculate to seem too cool etc). John Smedley retail to the upper end of the mass market at affordable rices. By this I mean that if you're wealthy you can buy in quality and if you are on a budget you can still by treat pieces here and there. It's not beyond the purchase reach of most ordinary hard working Brits and clients from around the world.  
Like their contemporary Burberry they where a key stalwart
 of British fashion export across the 19th and early 20th centuries and now in the early 21st Century it's John Smedley's turn to shine once again. I pulled together shots of many looks from the presentation. These are looks from the Women's Wear collection but it's hard not to miss a hint of 'Borrowed from the Boyfriend' here. That's not such a bad thing either. There's a practical northern savvy here and they know what women the world over want. They want comfort and luxury at a reasonable price and they also want quality. Britishness in itself is a key selling point on the international stage and John Smedley are aware of this. They have all the right ingredients for a very successful renaissance. As you can se there's a huge choice across the styles on offer and we would expect nothing less from a company with such a broad ranging heritage. 
There's a blissful ode to cashmere going on here and I for one am happy to be fully romanced. It would be hard to pick favourites when surrounded by a sea of potential wardrobe classic staples but I would say the light and snug sweater above to the right would be it. Super versatile for coordination with denims. leggings and even plaid tartan you will be hanging on to this piece and many of the others for quite some time. 
As you can see they've mastered the 'light and breathable' chic look to cater for long warm sunny summer days and you can have endless fun layering up different pieces from this collection. I was definitely very glad to have met up with John Smedley and look forwrd to seeing, hearing and hopefully wearing a lot more from them in the future.   
The colours pop brightly with bold magenta and white making a great combination in several looks. Pretty collars enunciating design and form give subtle definition to the shape and line of the dresses. There's a sharp symmetry that never becomes austere or overwhelming and gets to the heart of the message that Paul is sending across to us this season. Lime green brings a clear crisp note for spring and the shirt-style dress above to the right is a relaxed casual piece that is begging to be snapped up, added to your closet and taken out to a party. Please do!  
Beyond the Swinging 60's / beach girl look there was another trend that I really loved that came across in this collection. With vintage inspired textiles many pieces seemed to be recalling the grand court costumes of the 18th century in Britain and Europe. I think it was something about the print of the fabric and the wide flowing angles of the dresses. Teamed with the decor of the room we where in that had faint echos of the Hall of Mirrors at Versailles this seemed somehow to be perfectly in place. 
Above you can see looks working with navy blue and a beautiful light duck-egg blue. Shorts sitting under tunic blouses bring summer playfulness head to head with an intricate type of fabric and embroidery from a much earlier time. The two go hand in hand well together. The two swing dresses work with similar design themes and are delightfully pretty. The slightly cowelled collar gives a contemporary twist on the slightly historical look. This was my favourite part of the collection and below to the right is my favourite dress of the whole series. This one turned many heads at the show and also drew a smile from Kitty Spencer. The fabric is quilted with many, many roses like a garden growing across the dress and the cut and the length are perfect. It's a fantastic party dress for Spring and Summer 2016 and with those little pockets tucked in there you can get away with a tiny clutch or possibly none should you chose to opt for minimal accessories. To the left below the puff ball skirt makes an entrance, much to the delight also of the audience to show that this style slightly mocked in the past as an 80's throwback is actually very flattering when styled with care.  
It's a wonderful experience to watch such a skilled professional at work and Paul's designs combine a wealth of experience with a very fresh take on the styles and ideas that he's working around. It's luxury Ready to Wear but still very wearer friendly and I think he's got the knack of bringing our pieces that make you want to get you pins out in front of the camera as well as out on the town.