A Blush of Rose
ablushofrose.com

London Fashion Week Spring - Summer 2015
Reports from shows, parties and exhibitions around town.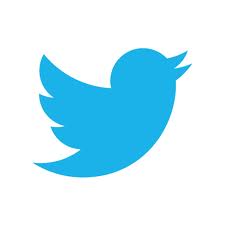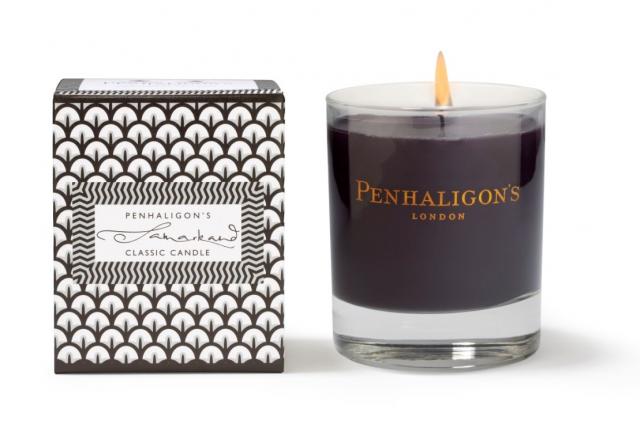 Official London Fashion Week sponsor Penhaligon's are celebrating London Fashion Week with Samarkand.
This beautiful sensuous fragrance celebrates the myth and mystery of the cross roads where East meets West.
Jenico Preston, Head of Sponsorship at the British Fashion Council "We are delighted to welcome Penhaligon's back to London Fashion Week. Samarkand, the scent of SS15 may be named after one of the oldest cities in the world, however we look forward to making London, the most creative city in the world, its home."
Samarkand is available as a Classic Candle and the scent has a deep woody fragrance combined with sweet spices and floral notes. By drawing in the scents and feel of the markets, it brings to life the cultural and creative melting pot that London becomes during Fashion Week, all you have to do is light the flame.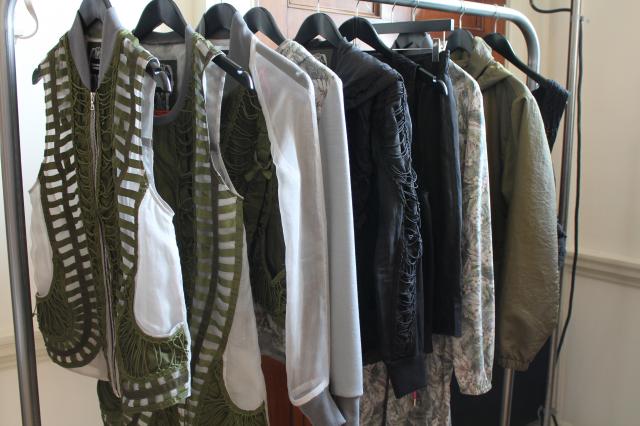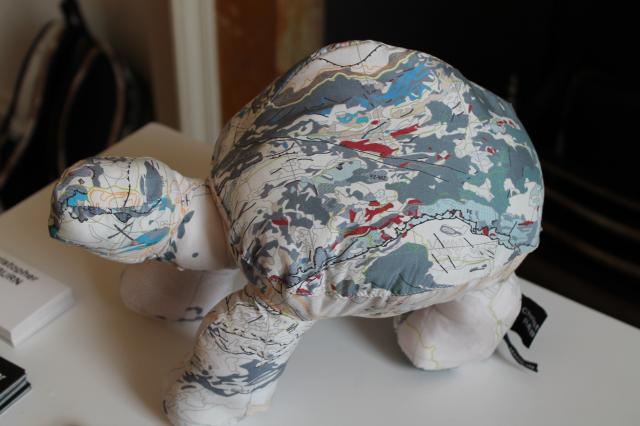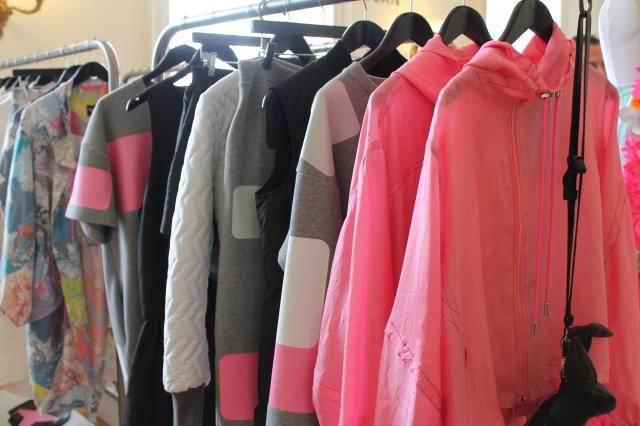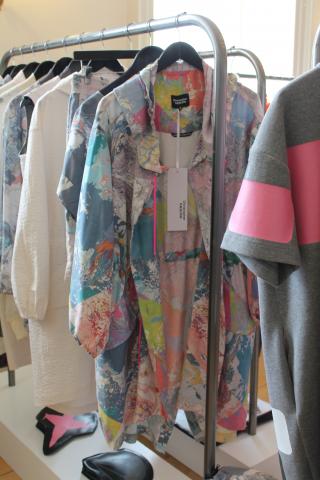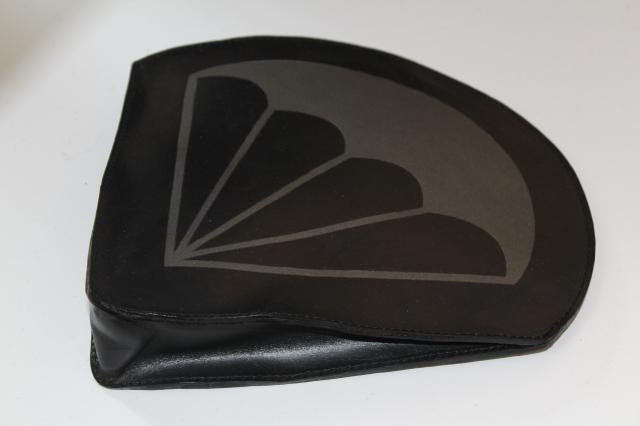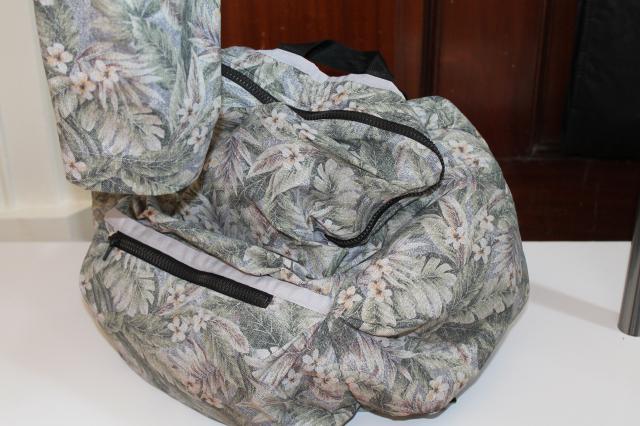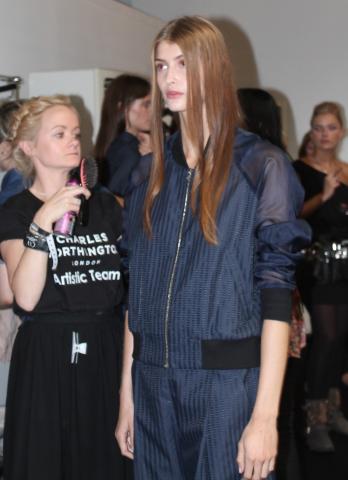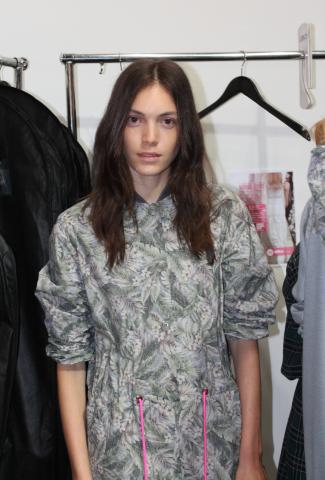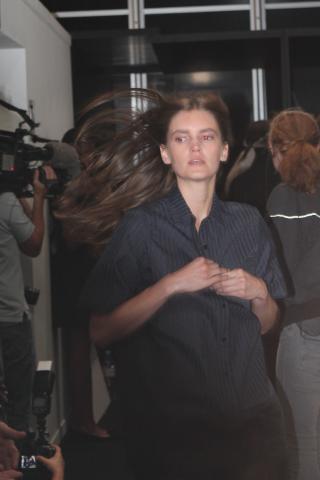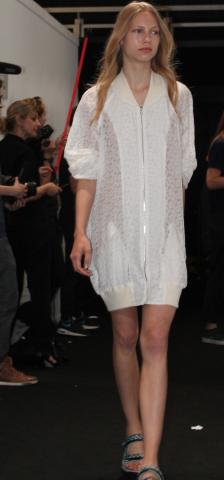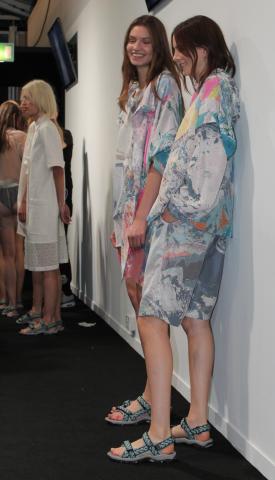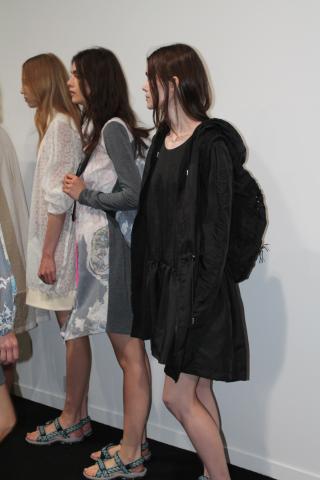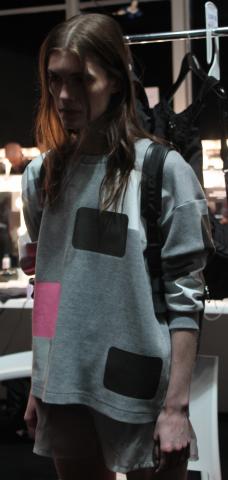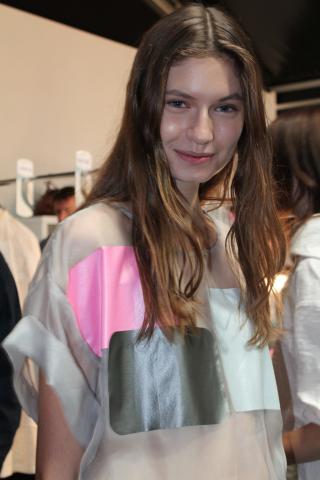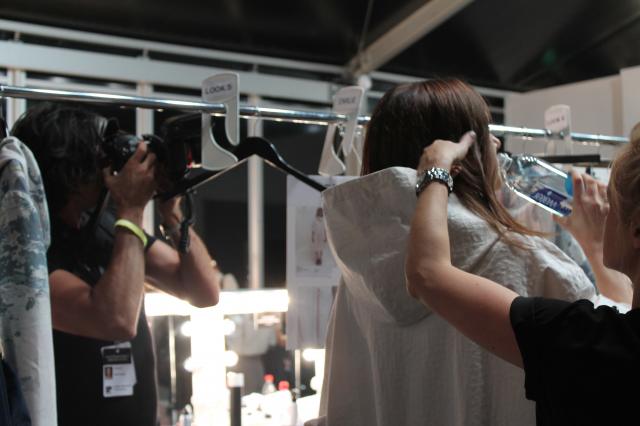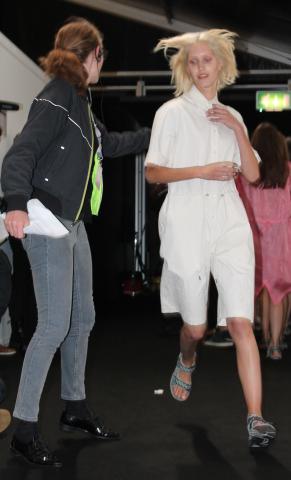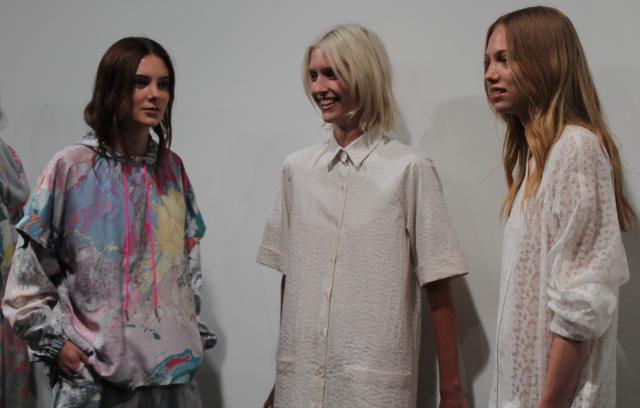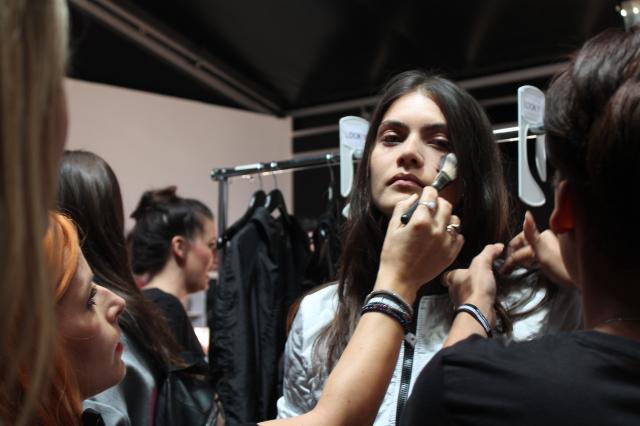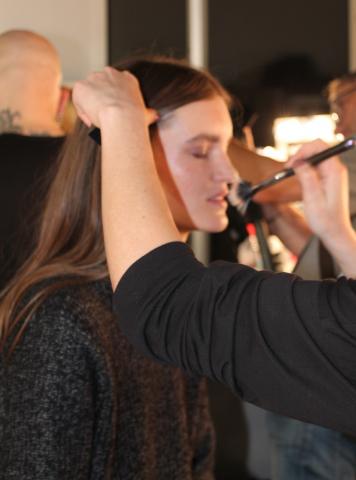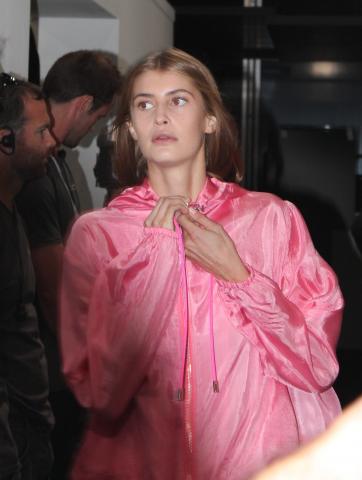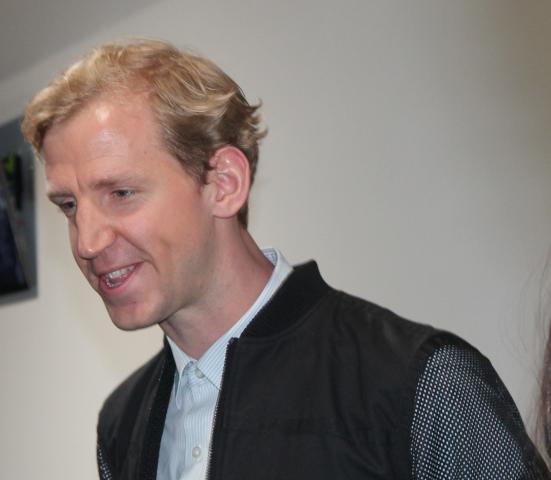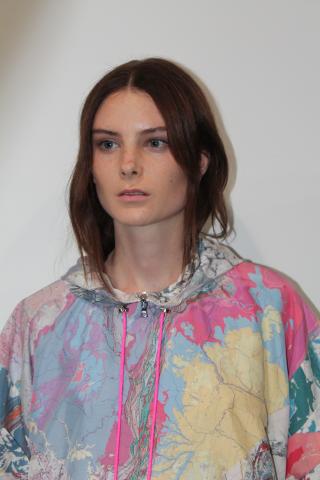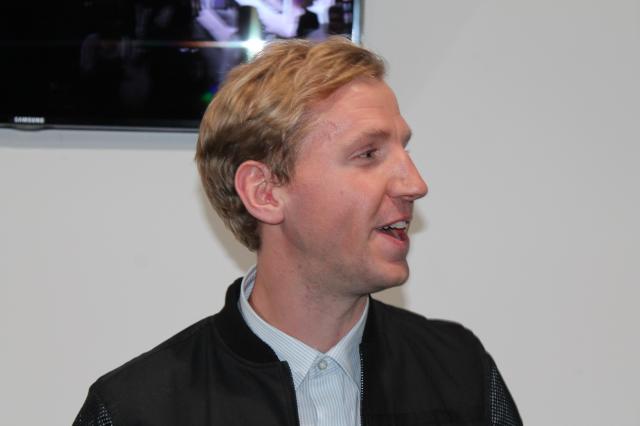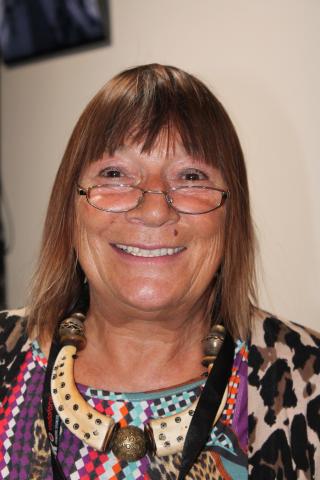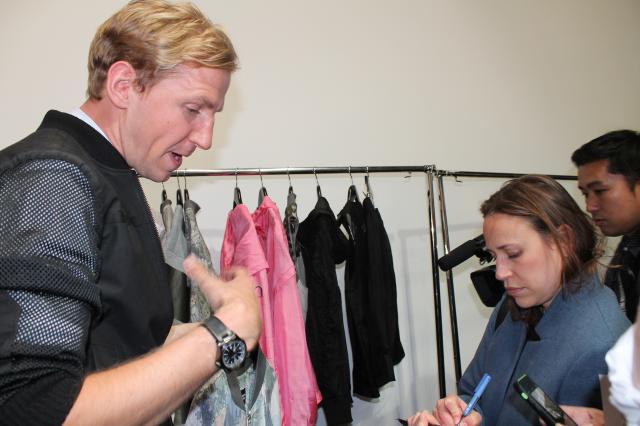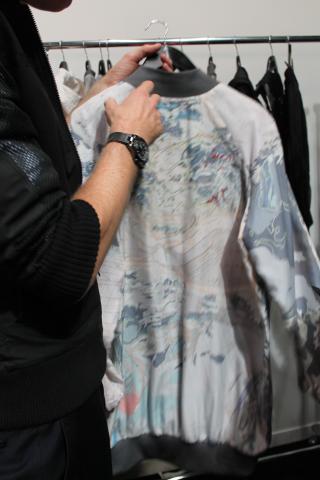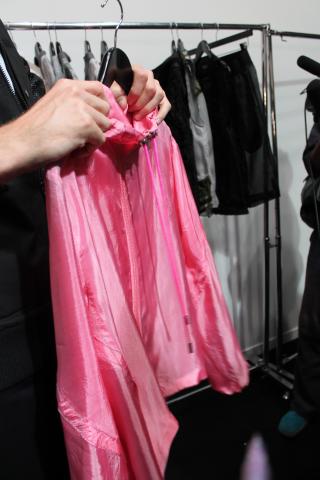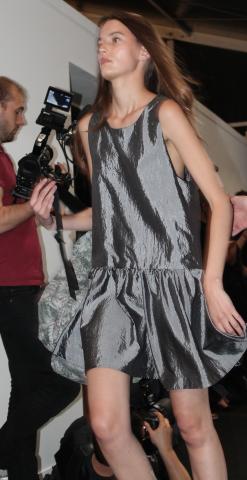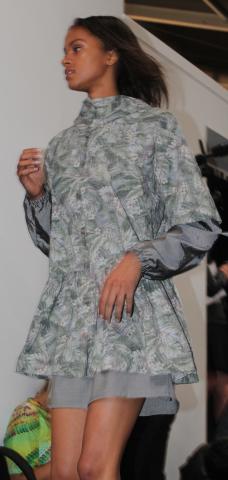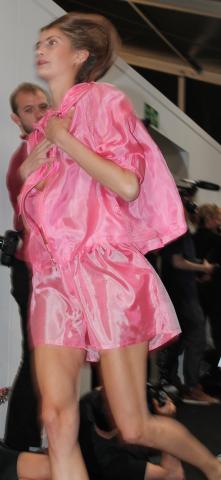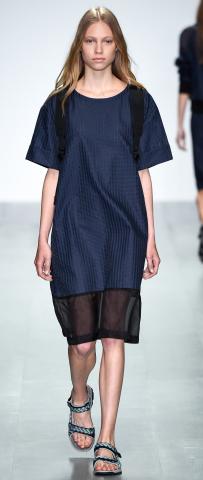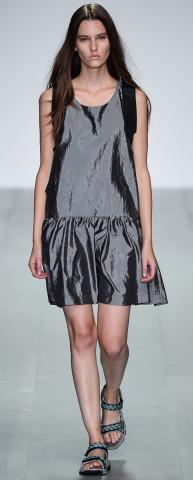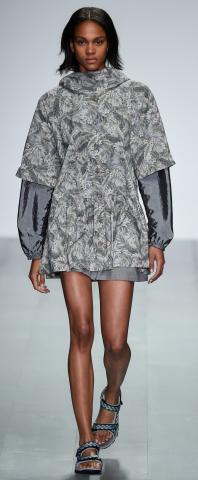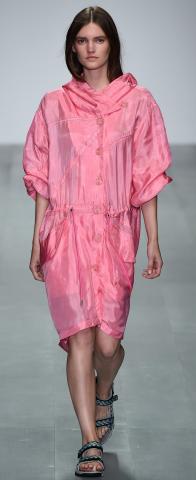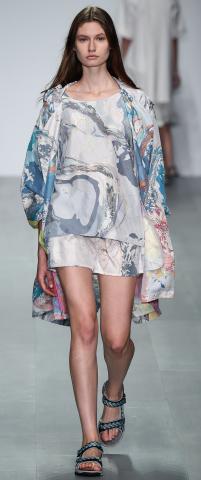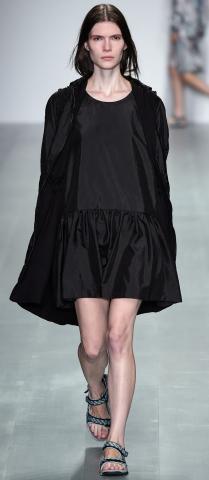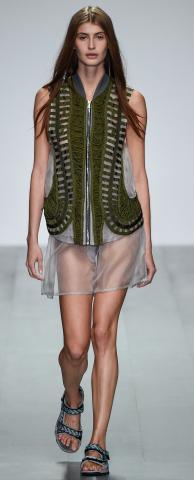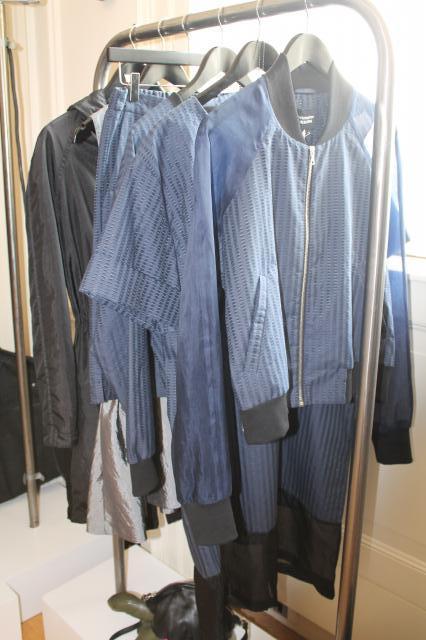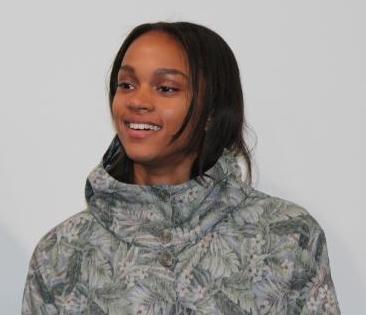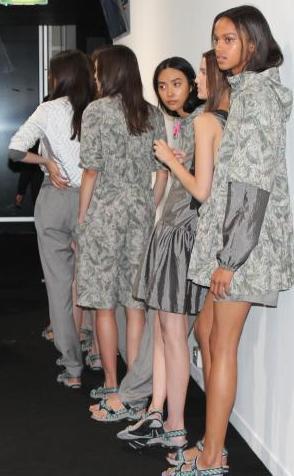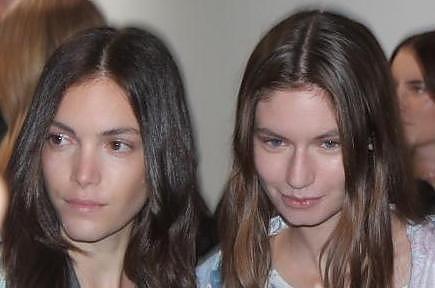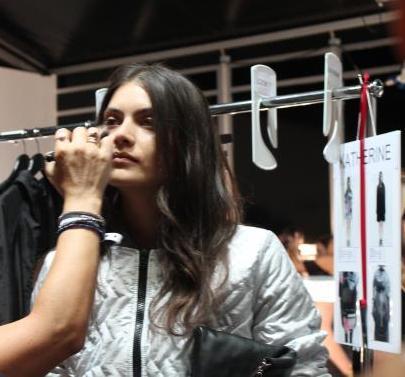 LFW Day 1 - Backstage report from Christopher Raeburn for Spring-Summer 2015 Ascent collection. 
London Fashion Week always great discoveries and this season looking ahead to spring 2015 I was delighted to be able to go backstage at Christopher Raeburn to see Christopher and his team beavering away before, during and after the show. Here below is a great picture of Chris talking to the press after the show and also a great smile from from one of his long time supporters the ever popular Hilary Alexander who's always has such a warm smile. 
The ASCENT collection drew massive interest from the global press pack assembled at Fashion Week. Christopher re-uses materials for his collections that have formerly been military clothing or part of kit designed for issue and use in the field such as parachutes. 
On many levels you can interpret this fashion re-invention as practical, insightful and full of good energy. The clothes created in this current collection, just like it's predecessors, bring a second life and transformation to some of the most advanced textiles created.   
This collection was themed around the re-working of aviation materials so opening my look behind the scenes with 'girls in flight' straight off the runway seemed the right thing. Backstage is always a-buzz and I always feel that each show and each designer are different. The girls at Christopher's show where happy, chatty and relaxed. With everything set to run like clock-work there's as much action going on behind the scenes of the catwalk as front-of-house. Honestly I wish I could be in two places at once to see the shows from both 'sides' and that's the lucky part of model's job as they do see both. Here are some great action shots of the girls running back from the catwalk to the changing room. Most girls wore two looks for the show and as you can see the variety in looks is jaw-dropping. One particularly eye catching look is the pink bomber jacket and dress made from 1960's parachute silk.

Hilary Alexander of The Daily Telegraph looking radiant as always. 
Image Credit for the below from Umberto Fratini (C)
Here below are some looks from the collection as seen from the catwalk.  
Besides seeing the designs on the catwalk this is another great way to see Fashion in Motion. There's nothing like seeing clothes move in front of your eyes as you can see so much detail in the fabric. Playing with military themes and colours as part of his re-use of materials allows for a lot of diversity of colour schemes. Above left is one of my favourite looks from his collection in this shot you can see the dress in Grey but I also like it in black. This material was originally created for Parachutes and while it's feather light it's also very robust. I love the different versions of the jump-suit that the Ascent collection contains. These really are great 'go out and play' outfits for the Spring and Summer season in 2015 and will be a great wardrobe investment. It's a great endorsement of sustainable fashion as everything here is being given a second life in terms of a re-worked fabric but also the clothes themselves are durable. On trend but also very relevant in their fashion messaging. 
All below images from backstage (C) Angela Cliffe.

I love the colour scheme in the collection, lots of pinks, greys, black and white with some deep navy blue entering the looks too. Quite reminiscent of the Menswear Spring-Summer 2015 collection from LCM in June where city-suit blue made an appearance. I love the use of white and light in this collection. Above to the left are three of my favourite looks from the collection all together. A non-fashion fact about me is that I've loved maps and cartography since I was a very small child and I was fascinated by the use of these maps on printed silk re-worked into great jump-suits. The Turtle with things mapped out is down below, lease do check him out. He's first on my order list for next season. I've included some more shots of the girls back-stage to show the camaraderie and more of the great clothes. This collection gets 5*'s all round from everyone I know that saw it and it was a great moment of London SS15 Day 1. 
I was lucky to catch-up with Chris while he was talking to a long-term fashion friend Natasha Cowan who works closely with Suzy Menkes. Suzy has been a great supporter of Chris from the earliest years of his career and she was keenly interested in the show and all it's aspects. 
Chris spoke about the message of sustainability and how this is a growing area, he has a great phrase to describe what he does as 'alchemy between the functional and the feminine'. I think it's a great way of describing it and it's completely in tune with the 21st Century growth in sustainable living. Christopher's vision is part of a growth movement. The stories behind his pieces help to spread the message and combine the creative manufacturing part of the design process with the communication of the ethos that gives life to the brand. Here below are two more close-up shots of jackets from the collection to the right. The first is re-made from maps printed in the second world war on silk and the second is the bomber jacket made from 1960's British parachute silk. The question everyone wanted to know was, 'Had this been dyed'? Answer : No! The pink is the original colour!!
Backstage beauty is always fascinating to see and it's always great to see professional make-up artists work their magic on a group of already stunning young ladies. Above left I had a chat with one of models just after she was made-up and shot her look as she waitied for her cue to walk. I really liked the light-make-up look going on here and the slightly tousled hair that defined the off-duty look of the collection. Above moving towards the center you can see more detail from one of the looks using the dark navy fabric. Working the gender-neutral angle I really like this piece and think it could sneak into a guys closet too IMHO. Center above is a great t-shirt and shorts combination flagging the signature colours of this collection. Boldly colour blocking and teaming up with a great ruck-sack this is a key outfit for an active girl. A little further to the left more girls line up ready to walk and furthest to the right another close-up shot showing more detail of the maps that was one of my favourite look ideas of the collection. 
Here are some more shots from backstage. It was great to see the models really enjoying the clothes they where wearing so much and they looked right at home in the adventurous outdoors action pieces. Yet as always there is plenty of femininity and softness included. These are not looks for a GI Jane, here the military is made into something new and re-woven to make the fabric of a different way of life. This girl climbs and travels and knows her way around the cities of the world as well as hot and distant climbs of far away. With her map in hand she can reach out to anything she wishes to conquer.
I will always love 'rail shots' as I call them it's a great way to give you a quick run through of a collection and here are a couple showing the three areas that I sensed the collection moved through. To begin with the colour plays of pink, white, grey and black in different textures offering a diverse choice of jackets, dresses and jump suits. For all weathers and lots of action pieces. Next center below a great bag that caught a lot of attention during fashion weeks alongside the collection. To the right a shot if the map created outfits with all white pieces placed alongside them creating a great contrast. 
The air force played a leading part in inspiring this collection and below you can see MIG pilots jackets up-cycled into bomber jackets and vests for everyday ware. This is the third colour scheme that I've picked up as running through the collection using khaki's and grey-black working a camouflage theme. There are some great looks in here that could also float over to the boys wardrobe as well. There is a delicacy in the pieces that lends itself to the active girls wardrobe but boys will also enjoy some of looks below too I think. Center below is also another great bag from the accessories line. Over to the right are another set of outfits in the same material as seen on the model above. Great looks and a to chose from here for day and casual ware and evening ware.  
There's a lot to see in this collection. The opening looks working the deep navy blue colour theme have a wonderful combination of pared down blue upper part to the garment combined with a sexy cute sheer fringe above and below the knees. To the right in white is a girl prepared for anything rain or shine. It's fun, light and sexy in true Christopher Raeburn style. The look next to it with the collar blends the style of a classic white shirt with the utilitarian parka. Colour blocking comes in next with a great combination of white, pink and black colour blocks laid onto grey. To the right, sleek grey trousers make a nice match with a quilted effect white jacket. Zipped up, this will provide warmth when you need it. Opened up this will be light to ware and sits neatly on the hips. 
The air force played a leading part in inspiring this collection. Alongside the main collections that everyone loves from Chris each season he produces a series or 'creatures' from the of cuts and these have become cult pieces in their own right, collected season by season. Below to the right is a turtle in map print. Each of these will be unique as a different part of map will appear on the fabric across the shape. Next to it is another turtle in two-tone colouring blending in with part of the collection. 
To the right are two more sports bags from the collection both are quite different but great designs. I love the floral patterns on the bag above right and this is a piece that will blend well a number of different looks from the collection or other outfits. The wallet bag to the right below has the parachute emblem referencing the earlier life of some of the collections composite materials.  
This season Christopher has teamed up with Cool Wool once again to use the natural fiber within the re-crafting of the garments that he produces. All of Christopher's collections are produced solely in the UK with natural materials showing a very strong commitment to both sustainability and British craftsmanship at the very heart of his brand. This crucial DNA is what makes Christopher Raeburn one of the most engaging British brands that shows on the London catwalk schedule. 
Above are some more of my favourite looks from the collection. The feeling of lightness continues with these looks showing both street style and a beautiful summer party dress. Parachute silk in it's natural free floating softness is tamed with an urban aesthetic into forms that gently clothe the figure of the woman. Light and soft and subtle, yet also with a daring to be bold. 
White jumpsuit dresses come next and these are some of the most versatile looks of the whole collection. Soft silk appears again with the map print in three different forms here. All look very appealing and it's very much easy chic. pull on your clothes - style for busy living - maybe just relaxed living.  
Working in black once more the MIG fighter jackets are worked into a beautifully crafted jacket. Next to it one of my most favourite looks is the from the collection is the simple black silk dress and matching jacket. Really pretty and will look great in the day or evening. The next dress below to the center is a sheer black sexy look that would look fantastic at a summer party at the beach or in the city. Closing my look at the collection are these two looks below again from the part of the collection using the fighter pilot jackets. Ready for take-off and full of energy these eye catching pieces could be worn as separates as they are or with other coordinating pieces such as the grey trousers. They are stunning in their creativity and hold a charm and character that is true Christopher Raeburn. Sustainable, sexy and stylish. We love it.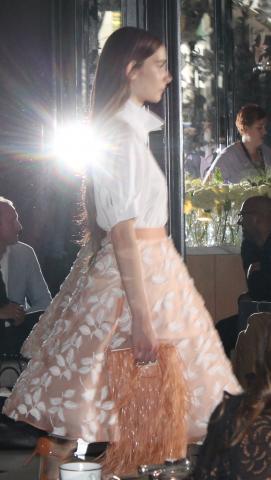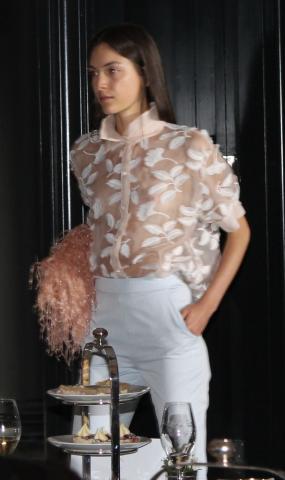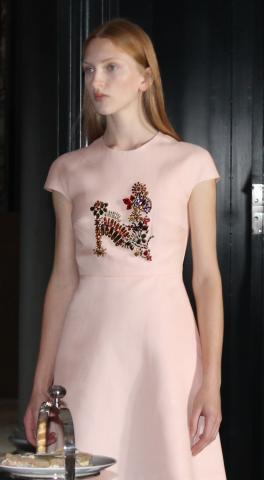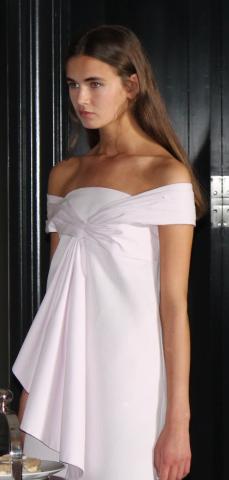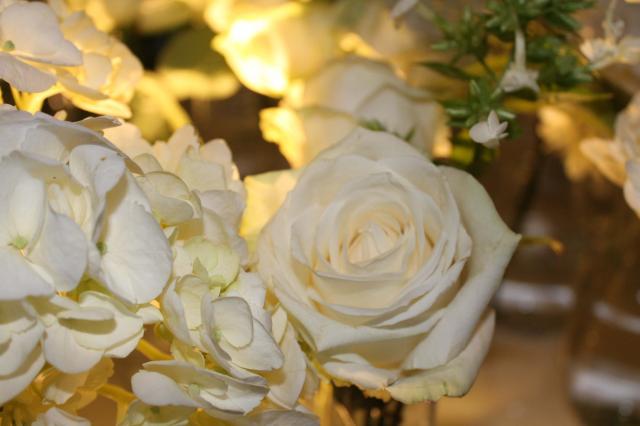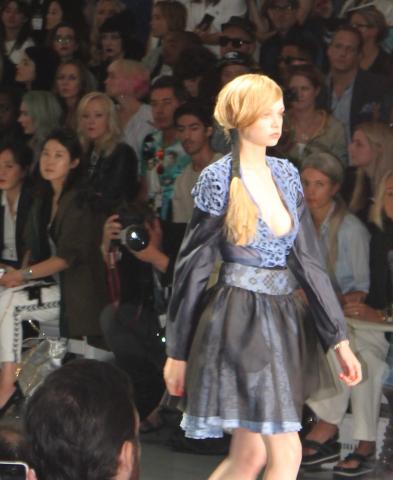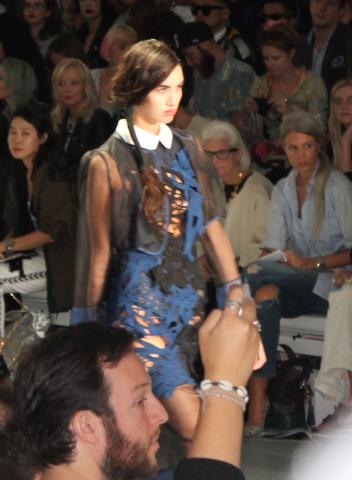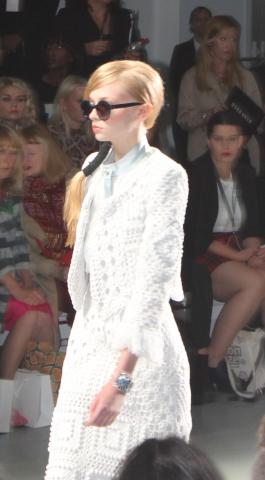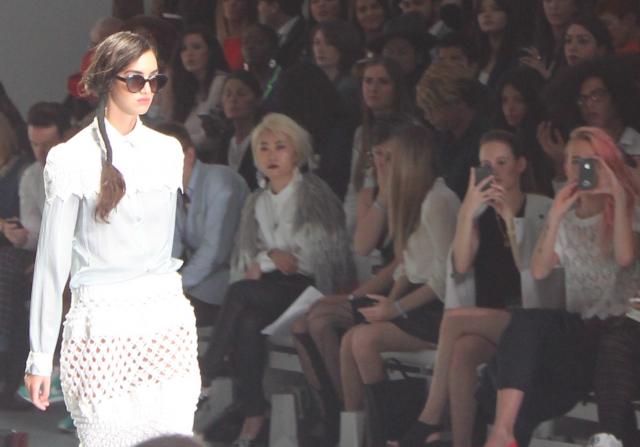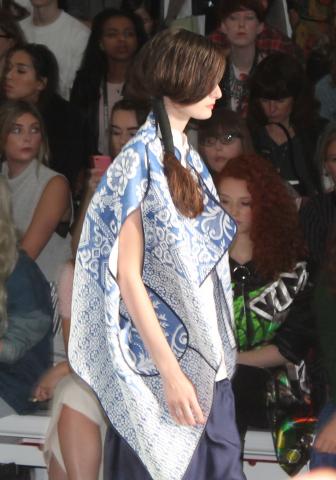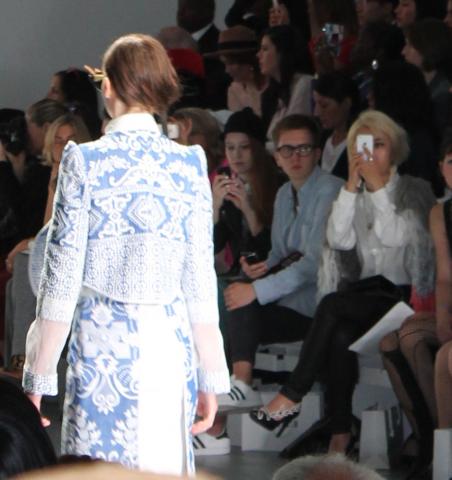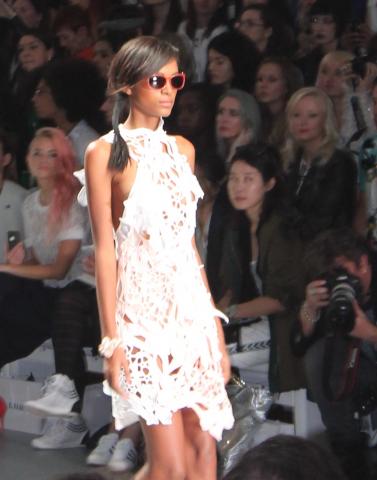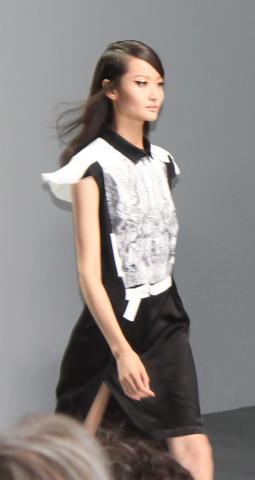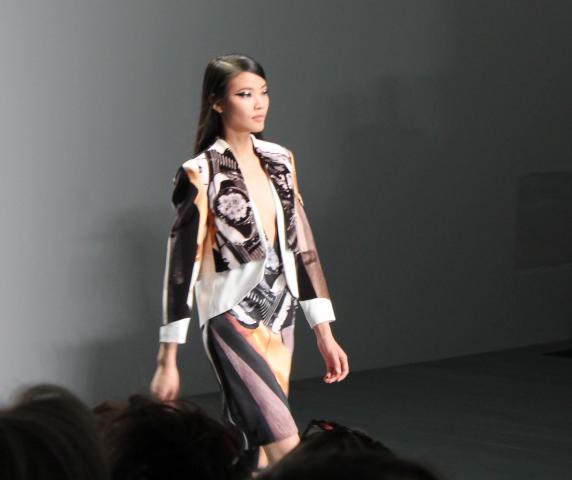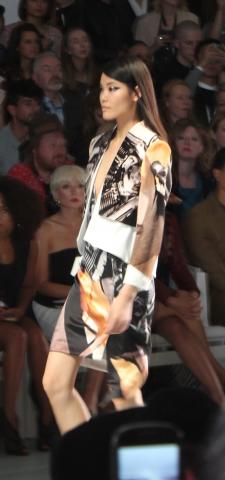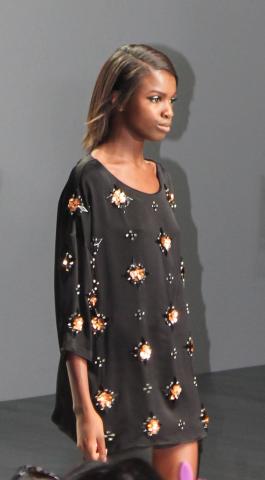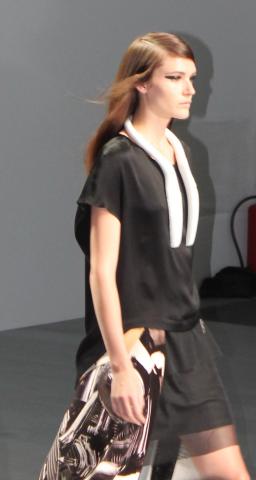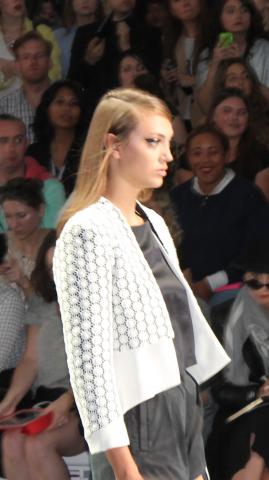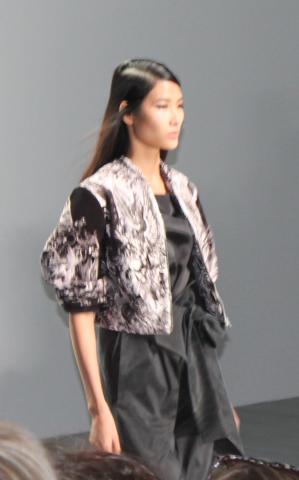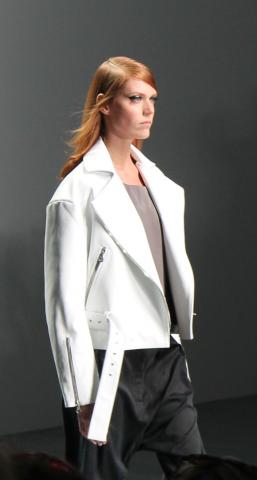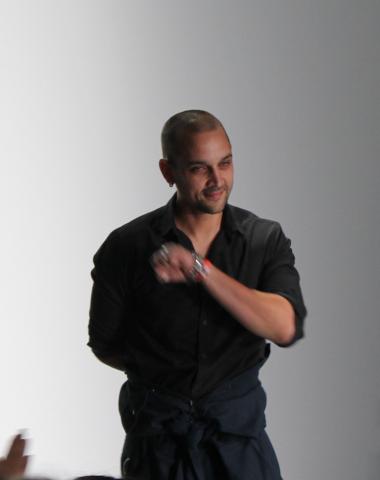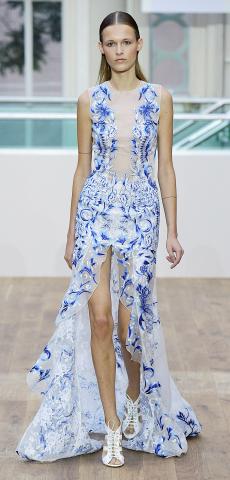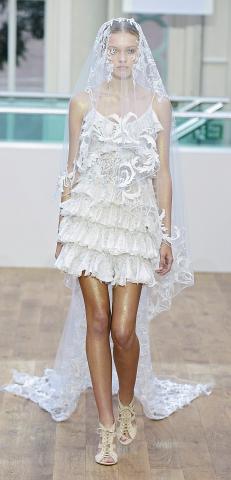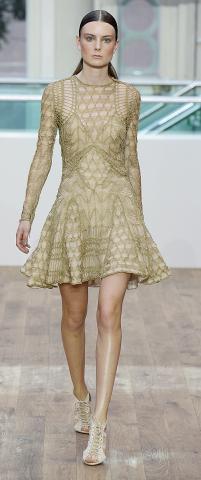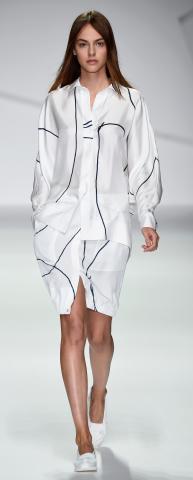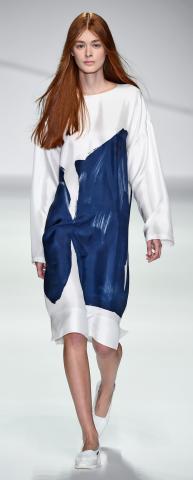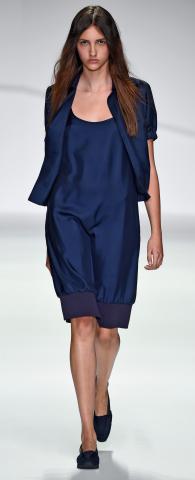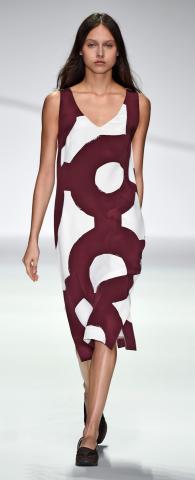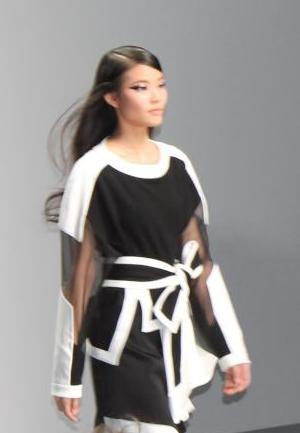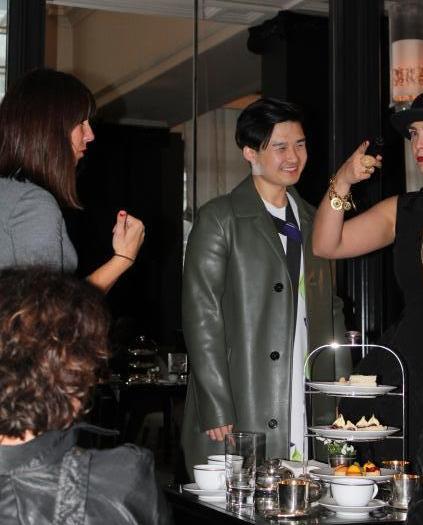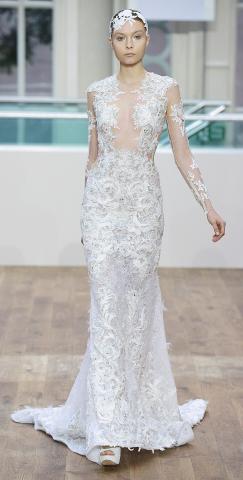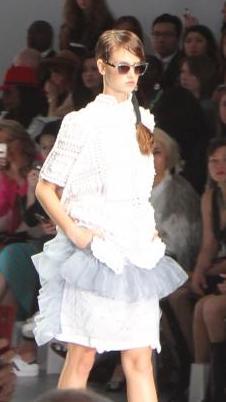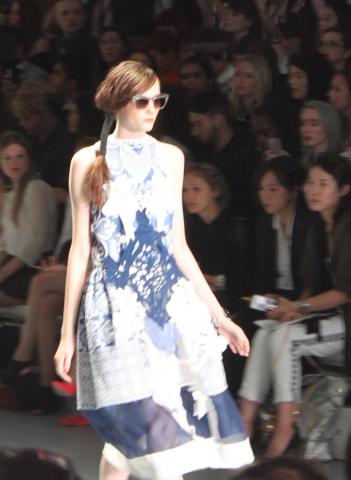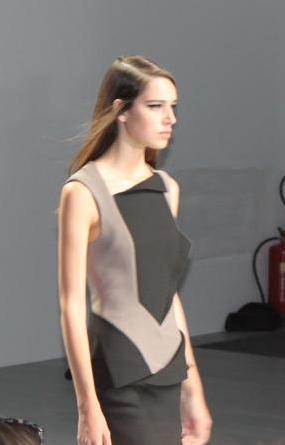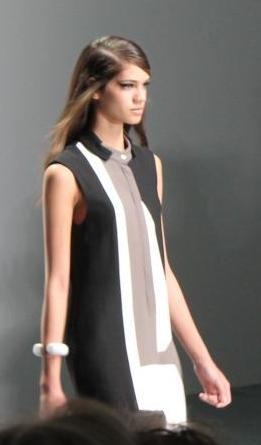 Huishan Zhang Spring - Summer 2015 collection hosted by the Rosewood Hotel in the City of London. 
Huishan is a designer that I've been very excited about since I first heard about him around two years ago. It's been great to see him come onto the London show schedule and show his collections here. This season working the Lady-Chic theme to the max we where invited to the Rosewood Hotel in London to see the Spring-Summer 2015 collection come out. This was girly style with a grown up sexy twist and plenty of tea and cakes fed hungry eyes as we politley devoured the collection. 
I couldn't resist including a shot of the Rosewood from the Inner Courtyard. Stunning building. 
The collection opened with delicate light pieces in white and peach. First a beautiful skirt with a layered underskirts and a very pretty collared white blouse. Note the ruching detail at the elbow. This is a great separate that could also be worn with trousers from the collection. The matching skirt had a light swinging movement as the model walked and the feathery clutch bag set the outfit off to great effect. I thought the leaf detail on the skirts outer shell was very pretty and in a way the leaves also looked a little like feathers to me. The next look of blouse with applique details and white trousers had the look in reverse and I thought it was really fun. You could take both outfits and mix and match the pieces to create your look. Coming next a beautiful light blue-white sleeveless dress that again had the pretty collar and, one of the trends coming through for next season, a front fastening sash tie. Very pretty and somehow not too girly. This can be worn by you and ladies of other generations in your family also. On cooler days or formal occasions you could team it up with a jacket. I had to include a shot of the white roses that fragranced the room so beautifully.
The collection continued with a beautiful white catsuit that looks SO gorgeous. You really could wear this anywhere in the day or in the evening. It bridges formal wear and party ware and would be great for special lunches with with friends. I think it's a piece that will be adored by it's owners. Next behind one of the ubiquitous cake-stands (thank you so much to Rosewood's amazingly attentive staff who made sure none of wanted for anything - no sooner had a tray been cleared then another was under our noses) is a very pretty light coral dress with beautiful embroidery detail. Next to is in white is my favourite dress of the entire collection and the one that went on my wish-list. This is a perfect Spring and Summer party dress for both the day and the evening. Again this dress has the front-sash that looks like it may be cute trend coming into the wardrobes next season. 
The two looks to the left blend peach and pink to stunning effect and make a very attractive colour combination. Firstly the white trousers matched with a sheer embroidery blouse with a cowell collar is modern and elegant and fitted in well with the up to date decor at the Rosewood. The pretty dress to the far right staid with the theme of pink and peach embroidery sitting over an (I believe) silk underlay dress giving maximum glamour and style. Again this dress would suit girls of all ages I think. 
As the show continued there where more echoes of China and Chinese design in the collection. Huishan designs with an eye to dressing the international woman in a beautiful east meets west fusion of influences and I think in the first two outfits above to the left you can see this clearly in the embroidery detail of the dresses.  I can spy blossoms on one and a salamander on the other. The dresses themselves are composed of the most exquisite embroidery. The second from the left also has echoes of bridal lace so to me it brings to mind what a bridal commission from him would look like. These two dresses could actually be re-worked into bridal outfits. The next two looks use the same patterning in different colours giving a quasi 1960's look paying tribute to Mary Quant. The last outfit above to the right combines a beautiful suit with the same textile fabric detail and more delicate light silk ruched above the waist as shown in the second outfit from the left above.   
As the collection moved on the prettiness and luxe moved up a gear and the dresses above are pure magic. Light in weight and very sophisticated in structure they will serve you well for occasion wear and draw admiring eyes. The detail in the design as well as the attention paid to the fabric used is a delight. Definitely something for a special dinner or party at home or out and about. I noted again the use of floral ideas and tassels and liked the flexibility of the designs. The dress above to the left is re-worked into a blouse and skirt combination in the second picture. The outfit furthest to the right shows the importance of blending the colours of this season in the collection. Light delicate pastels sit on top of each other in a candy coloured rainbow.  
Julien Macdonald is one of our best loved international designers and each season he's still blowing us away with fresh creativity, glamour, style and new inspirations. There, so I sound like a fan? Well yes, I hope I do. As a leading proponent of knitwear Julien has lead the way in recent years using the craft of knitting as a basis to explore and experiment more widely with textile production and the result? Well we all benefit from seeing a fantastic coterie of designs. 
Bora Aksu  Spring-Summer 2015
In his adopted home of London Bora brings out two very exciting ready to wear collections each year. Loyal to sourcing fabrics in his native Turkey he proudly reworks craftsmanship from his native homeland into internationally coveted pieces in his London studio.  
This season he's continued his colour themes of many different shades of blues reflecting the beautiful eastern Mediterranean skies that he recalls from Turkey. Once again also he's worked with the themes of crochet and the layering of different textures together to create conceptual, yet wearable fashion for the 21st century girl who likes to show her taste for fabric and design exploration.  
For this collection Bora was partly looking to the traditional of fairy tales for his influences. What sparked my interest was his curiosity about the lives of background figures such as Cinderella's step sisters. Whatever the truth about the family dynamics for Cinderella all the girls in the family had to dress and Bora set to work on merging fantasy to reality with great effect in this collection. 
Hair was largely swept back in side pony tails that had an equine echo of braiding to keep unruly locks under control. Is this a collection for naughty girls? I don't think so, behind those dark glasses the angelic faces where pretty serene and they confidently strode out into the sunshine with quiet self-possession. 
The two outfits to the left where amongst my favourites from the collection. 
These four looks above serve as a great illustration of the intricate textured work that Bora undertakes in his collections. Starting with the first look above to the left in white, it's a truly stunning piece of craftsmanship that many people will admire as a demonstration of design mastery. It's a beautiful ladies three piece outfit, consisting of a blouse, a beautifully crochet embroidered skirt and jacket with beautiful trim. Next to it to the right is an outfit in Bora's signature dark navy blue off-set with white at the collar. Carrying forward a hint of the character of last season's collection he is exploring a slightly preppy look, to use the American term, and also working in a feel of the high end arts and crafts. 
I think the shawl in this piece has an almost cob-web effect to it and this sheer dress beneath is pure luxury. The next dress to the right in white, along with the white suit is probably my favourite of the collection. Light and delicate in it's structure it sits over the figure beautifully and would suit many girls. It shouts 'Beach Parties' and I think it will be a very popular look from the collection. To the right is another look with lots of character which I think does harken back to the 17th and 18th century modes of dress and the era's conjured up in the grim fairy tales. This girl doesn't look grim though, she's neat as a pin. 

Here is another look at the fabric detail from the collection. Bora showed his great versatility in sending out jackets that where cut close to the figure and also jackets that where much more lose fitting and free flowing. Once again key design elements where worked in such as the complex Turkish inspired print design. 
Jean-Pierre Braganza  Spring - Summer 2015
The New season collection from JPB as he is affectionately known to some fashion followers was called Architectonic. With a crisp striking sound track reminiscent of clear straight structural lines this was a quietly powerful collection that let the colours and cut do the talking. Still with all the hallmarks of JPB that we know and love, great attention as paid to using structured lines and symmetry. Black and white blended with soft mauve with later flashes of colour through the collection. 
I thought it was a really beautiful collection and as always I love his style. The reference to architecture in this collection with a lively twist of tonic summed up really well the spirit and the energy of the collection. It's young, fresh and urban and ready to take on city life and it's challenges and adventures. There are quite a number of pieces in this collection that would translate well into a work wear wardrobe and at the same time there are many looks that you can wear for going out in the day and the evening. 
In the outfits above both the tunic dresses and the separates are pretty irresistible. I love the colour blocking and also the infusion of JPB's signature trademark prints it's a great blend of style. 
The modern sharp looks continued with with a great white jacket, above to the left in crochet style teamed with a black blouse and shorts, creating a jump-suit style.  This is a great spring and summer party look and many of the dresses do blend street style with a very sophisticated aesthetic. The second dress to the left above to me is a great day into evening outfit for the summer and would, like many of the suits make a great investment piece. 
The next two jacket and trouser looks are pretty desirable and I love the combination of print jacket and black shirt and trousers in the second look from the left. The furthest look above to the right is a very beautiful dress for the summer. The enamel (I think) inset detail is very striking and the outfit also has a sheer half-skirt train that swooshes behind the model as she walks.  This would be another great beach/party or about town dress when the sunshine comes. 
Here are two looks at another one of my favourite outfits of the collection. It wasn't the last piece to be shown but I've saved it for last as I thought it was very bold and very special. 
Here crafted together are the strong colour lines of JPB's signature architecture style and prints infused with life and creativity that are one of the mainstays of his creative career. You need to see it from both sides to fully appreciate the design. 
And to close a pic of the man himself thanking the audience who where cheering rapturously. 
Julien Macdonald Spring-Summer 2015 
With the scene set at the Royal Opera House, high voltage glamour took center stage. Julien's collaboration with the Strictly Come dancing was very evident as many of the strictly team where present at the show giving support and loving every minute of it. The cobweb knit has grown and developed into the most intricate of structured designs and the figure hugging dresses that left plenty of room for a sexy swinging walk where a mainstay of the collection. 
The design first to the left above set the tone for show with gloriously woven symetrical detail at the shoulders falling to sculpted asymmetry further down the the dress. The semi-sheer side split was exactly the key style twist that Julien's fans love him for and this look set hearts a-fluttering when it opened the show.  
It's a stunning collection with a lot of attention paid to the extra touches that keep Julien's work on the 'wanted lists' of many A list celebrities who treas the red carpet and private clients who have a need for luxury glamour that doesn't keep quiet about itself. You will be noticed in the Julien Macdonald dress and that's why people go to him. With craftsmanship a whisker away from the Haute Couture Julien embellished his designs liberally with sequins and crystal in generous numbers. I was about to say these aren't dresses for shrinking violets but actually I feel that if you feel a little shy about making a bold fashion statement a piece from this collection is exactly what you need to give you the wow-factor and a fashion re-awakening. 
The colour palette moved through blues and pinks touring all lengths at the knee, high leg and floor seeping light elegance as with the dress above. The light blue baby-doll dress above right is perfect beach-party ware and the pretty ruffles in the swim suit next to it are sexy-cute detail that scream 'fun in the sunshine'. It's a beautiful dusty pink colour like the dress below and I think a lot of people will enjoy them. 
Jasper Conran Spring - Summer 2015
There was a laid-back mood to this collection, relaxed summer style with just a hint of sporty energy thrown into the mix. This is a collection to have fun with and hang out with but it hasn't lost the key note of Jasper Conran woman and her stylish cool elegance. It's a collection where it's easy to find pieces to adopt for your wardrobe this spring. The opening looks with sporty varsity stripes sit easily on the figure and both flatter the wearer but also allow for free and easy movement. So for leisure, for the office and for afternoon and evening parties most of these looks would see you smartly kitted out. I liked the mixture of the college-espe stripes and the free form lines giving a contrast of freedom and control.
This was a show that had people very wide-eyed as they watched it. Above are some more of the dresses that I selected from the catwalk looks. A beautiful white baby-doll dress above to the left is the one of the many pieces that could go on your wish list and the white embroidered dress centered above is one of my very favourite looks from the collection. Mixing weave design with applique embroidery and crystal this is a heavenly piece that will look great at private parties or in front of the camera for an 'on-duty' moment. 
To the far right another floor sweeping beautiful gown that brought smiles to a lot of faces as people eagerly watched the collection. It's beautiful mermaid-esque design that will make you the belle of the ball and could be a modern alternative to the traditional bridal all-white. This will be a very easy piece to wear through a summer evening. As with all Julien's pieces it shows the wearer's figure beautifully and it's seductively charming. A dress that invites you to know more about the wearer.
Looking to Bridal Julien has a great background in creating the most fantastic bridal dresses and I've added in two looks to the right that show his versatility for looking after the needs of girls on that special day. You, well I, could spend a great deal of time looking at the detail in these beautiful gown which like all Julien's pieces you could treasure for many years. 
From the looks above you can see the loose-fit easy style appeal. A reworking a tennis dress theme and loose parker style light jackets sit over an easy ware navy blue dress. With matching slide on shoes it's a quick addition to the wardrobes of busy lives and would be a great summer piece. One of my favourite looks from the collection is next with a bold splash of colour this loose hanging dress references modern art and has a 1960's or now feel about it. That would seriously be on my list for this season. 
The colour scheme in the first part of the collection focused on marine and sporty blues and white, as the collection progressed more colour play came into focus. Below left the dark navy blue dress has the bomber jacket collar and cuffs re-worked into the hemline and paired up with a chic matching navy blue jacket it's a very stylish piece. Next Lapis bold blues take their cue from bright summer skies and these looks are made for sunshine, tan and parties,  
Street Style
Here are some of my Street  Style looks from London Fashion Week. As always you meet a great crowd in between shows and there are lots of great looks to see every day. The first look is a beautiful burgundy coloured matching skirt and woolen sweater matched with a white shirt underneath. Accessorised with a brown belt and a large brown bag it was a very chic Autumn style statement. A great choice for the in-between weather that we sometimes get in London in September. The next picture shows a lovely lady artist Davina Kemble, who I met before a show. Two things caught my fashion eye about her outfit, the beautiful tweed and vintage LV bag in Cerise. Please look at her website here to see more of her work. Furthest to the right is a lovely lady from the fashion crowd. I loved her all-black look especially the leather jacket and her bold statement necklace was the perfect completion of the outfit. 
I very much like the blue and white skirt teamed with the blue and white bias coloured blouse. Again this is a very wearable look that I think a lot of girls would enjoy. Pure colour perfection and the colours that remind me very much of white painted Greek Island villages. The easy dresses kept coming with simple clear patterning brush strokes and wandering lines worked their way across the fabric. Furthest to the right a colour burst again looking to contemporary art came into the frame. This is another piece likely to be very popular as it breathes so much life and colour. It's pure art fun and I'd love to wear it. 
As the collection moved on browns and white joined the colour scheme with a white jumpsuit making an appearance and summer staple maxi dresses floated down the catwalk alongside the light summer trouser suits. You could be the most chic beach comber in these looks or relaxed and chatting away at a summer party, or around in town on a hazy summer afternoon. The choice is yours and I think it's a great collection, light as a feather and a fresh new season for Jasper Conran. 
During his time as a student at Central St Martins Huishan spent a year at Dior in Paris including six months in the Haute Couture Atelier. Founding his own label upon graduation you can see a maturity in his work that translates effortlessly into Ready to Wear that will find a place in many girls wardrobes. 

As the collection continued the mood changed and became more vampish. Pastel coloured dresses where covered with an outer layer of draped black tassels that gave a more sophisticated sexy rock-chick look to the collection. There definitely some great party looks here and some pieces that you could re-work in an autumn wardrobe too if you wished. I think it's great when you find more ways to love an outfit. 
I'm following that with one of my favourite shots from the close of the collection. It was very beautiful to see the girls walk through the collection re-play in the dimmed light. You could see the shimmer of dresses perfectly and it made for a very cinematic moment. It was like watching nymphs passing through a glade.
After the show and light came up Huishan, to the left, was talking animatedly about his collection and giving interviews. The was sparkling applause through the room and many of us congratulated him on his collection. He's got a great smile and his love of his craft is very evident. I urge you to follow him and his work. 
The next two looks feature more of the crochet detail that is so admired in Bora's work. Again I really like the great play with some of his favourite colours here, using white and light grey-blue and dark navy blue and black. 
To close a look at the collection I chose this shot. To me this is a beautiful alternative vision of bridal ware and the deep blue-purple conjured up scenes of beautiful Turkish sunsets and deep lagoon pools in hidden bays. 
The embroidery work in this piece is truly special and it's worth taking time to examine it closely to fully appreciate the work. With a twist of classic Bora the outfit is fringed in dark navy blue giving the dip-dye trend of recent years a luxury twist. The trailing veil is the stuff of fairy tales and as a celebratory garment in it's own right it. There's a lot to love about Bora's work and I enjoy seeing his style evolve each season.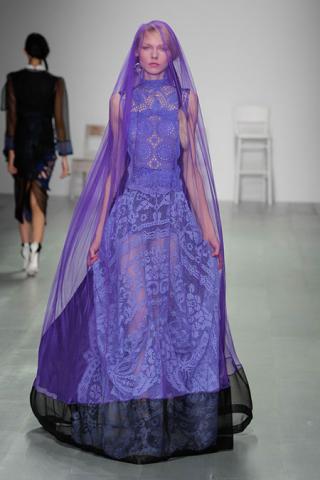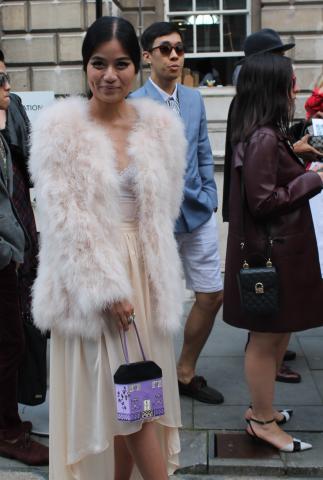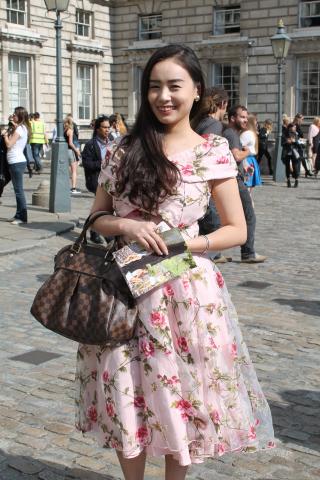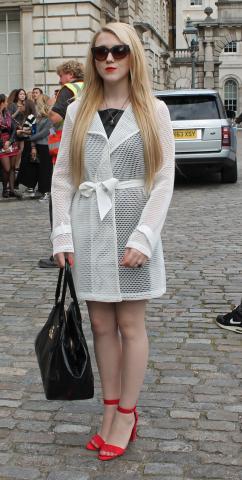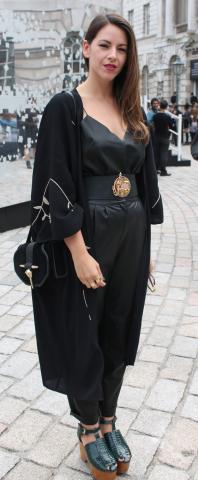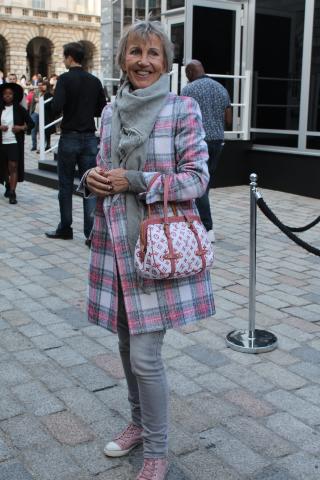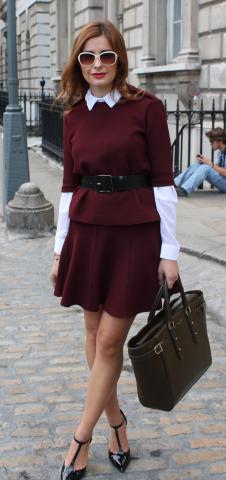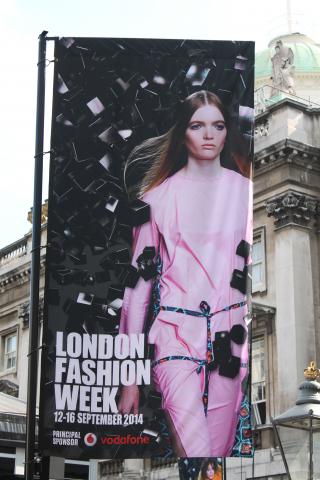 I met a lovely Italian Photographer Bella from L.A. and on her way to a show. I was captivated by her Japanese gown that she wore as a jacket over a very chic black jumpsuit. She kindly let me take a picture from the side to get a look at the detail of her jacket and her beautiful purse. The style is very like one of my tweed shooting cartridge bags that I use as a handbag sometimes in the winter except this one on black velvet had the perfect makings of a great evening bag.
Next are two ladies I saw between shows. Both where wearing some very pretty outfits with contrasting style themes. The look below centre is classic with a white embroidered shirt and skirt and Chanel handbag and shoes. The look to the right is more dreamy and playful with a baby-doll camisole dress accessorised with a vintage fur coat and a very cute purse. 
Below left is one of my favourite looks I snapped. This girl is a fashion writer from Asia and she wore this beautiful vintage dress with beautiful Rose detail. With a late 1950's and early 1960's twist and layers of pettycoat swishing in the breeze this was a look that drew many admiring glances on a bright September afternoon. Centre stage one of the very stylish men to be seen at London Fashion Week. A fellow free-lancer I couldn't resist taking a picture as he was simply so well turned out. To the right below here is a shot of another girl I met leaving a show wearing an interesting sheer jacket in the style of Bora Aksu.
More to come from London Street Style.