A Blush of Rose
ablushofrose.com

Huishan Zhang 
This collection had something to please the Huishan fans and plenty to draw in new admirers to his House. Thee where plenty of a rock-chick looks with attitude and tiger spirit. This was a really strong collection with plenty about it that caught my eye and assembles audience of press and buyers. I really enjoyed shooting it and it was a pleasure to see it come out. Day wear pieces sat alongside party wear and evening wear and you could rock a number of different looks from the collection to suit your mood.  
Roksanda - images with kind permission of Roksanda Ilincic.
Colour and passion burst forth on the catwalk for Autumn-Winter 2015 from Roksanda. Packed with style and glamour this is a collection that will have something for everyone and once again Roksanda has triumphed and created an autumn-winter wardrobe with classic looks and a unique fingerprint all of her own. 
Christopher Raeburn
Christopher's shows are one of my personal highlights of London Fashion Week and I was thrilled to be backstage again capturing the point when months of hard work melds together in a final 'lightning touch' moment when everything comes together. There's magic in the air plus laughter and chatter. The IMMERSE collection blends the outdoor and indoor and gives a broad selection of looks for use through the season. This season Christopher collaborated with Wool and The Gang, a collective who are swiftly growing globally to spread the word about knitting. Please check out their website here and find knitting patterns, tips and a global network of knitters dedicated to bringing the traditional art of knitting back into all areas of fashion. This collaboration sent a powerful signal about sustainability in fashion and was another triumph from Christopher and his ever growing label.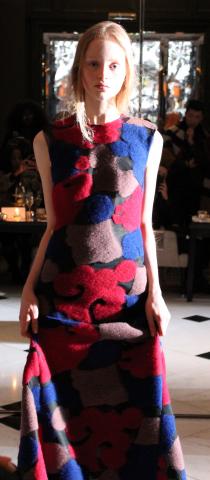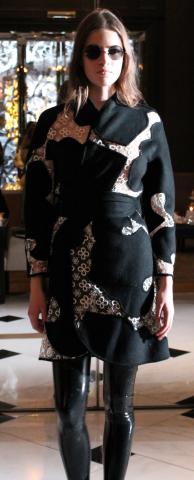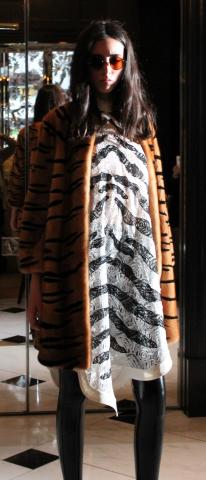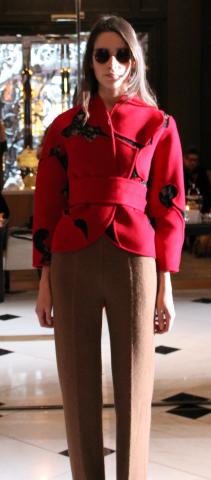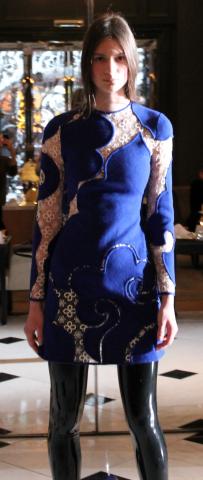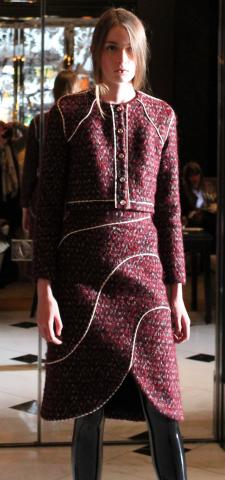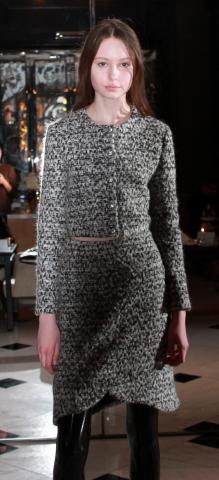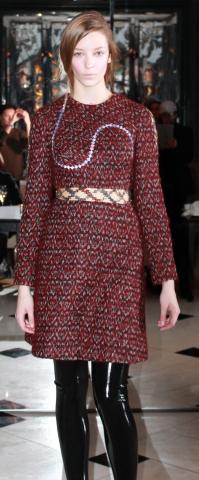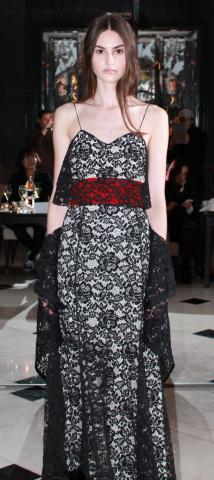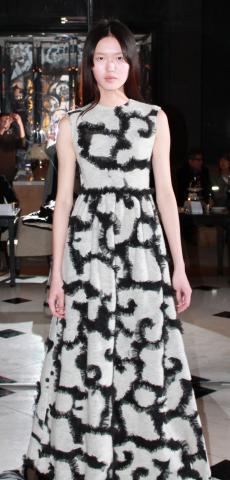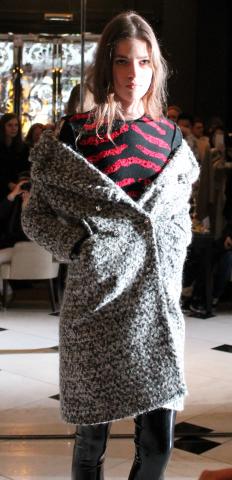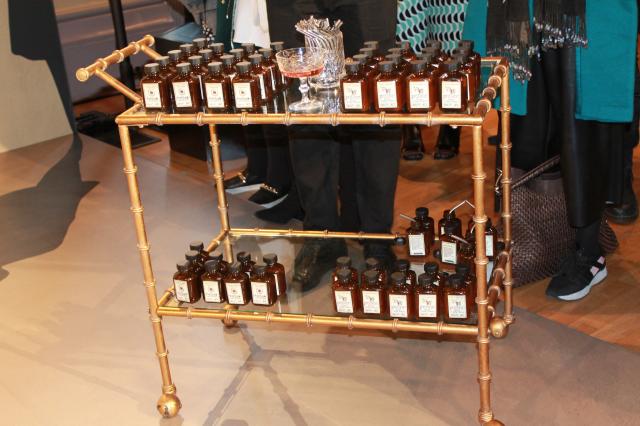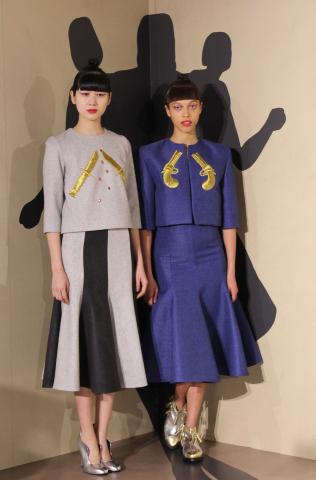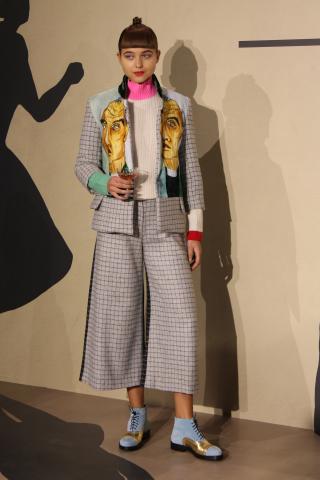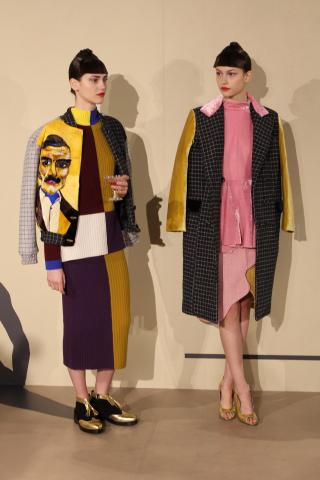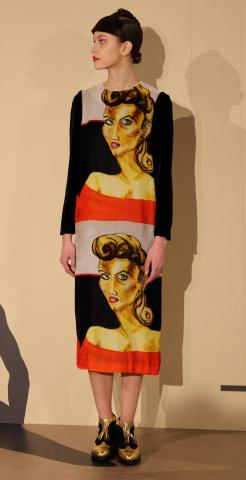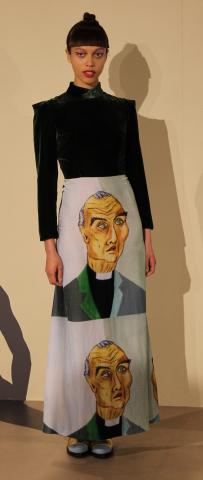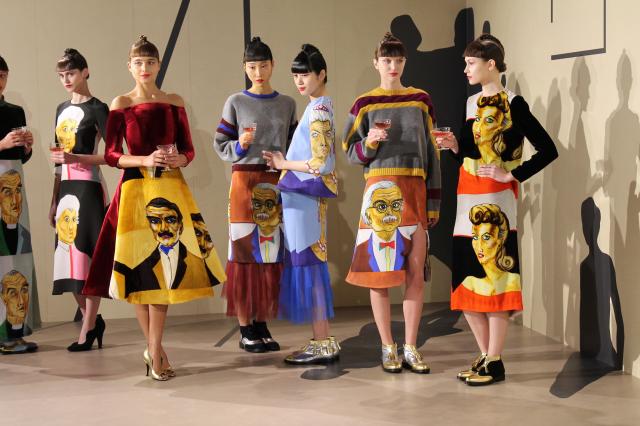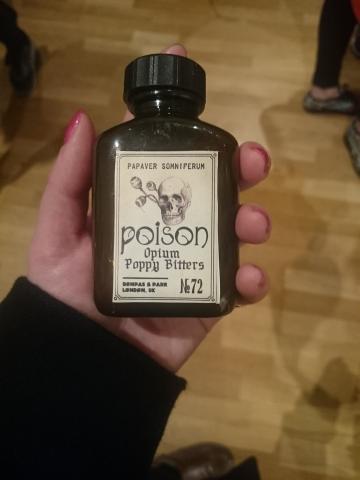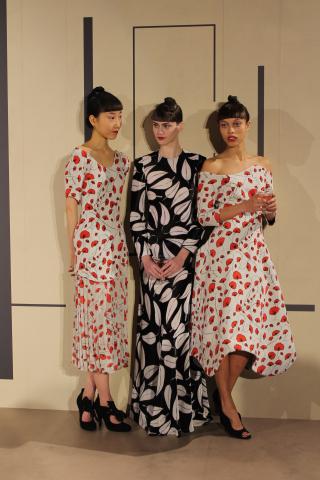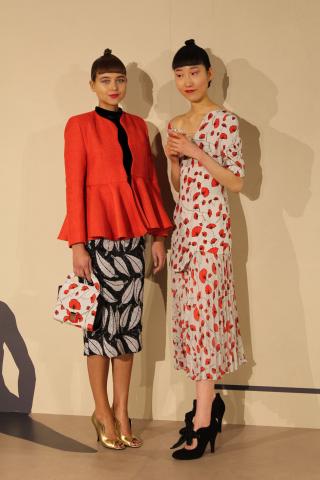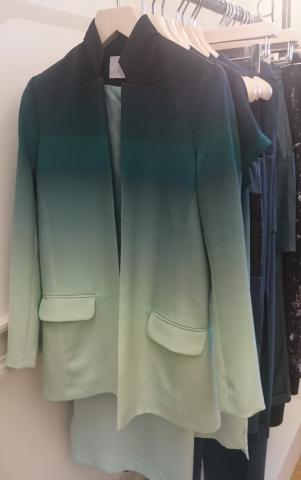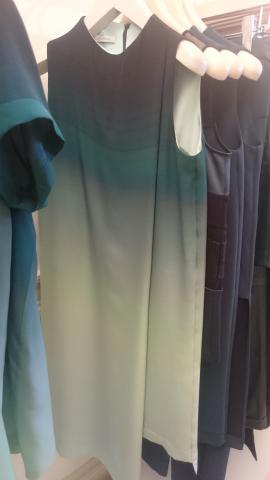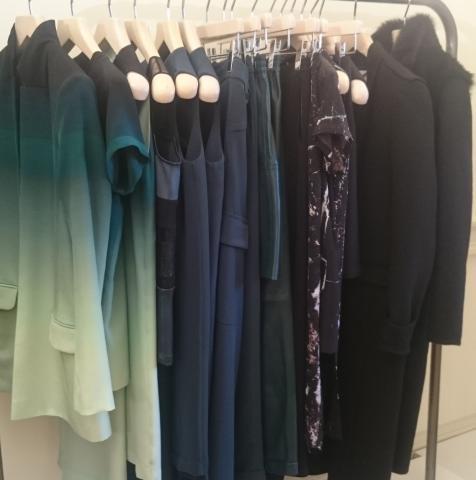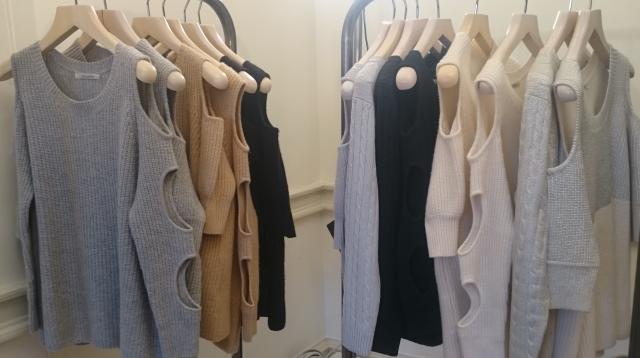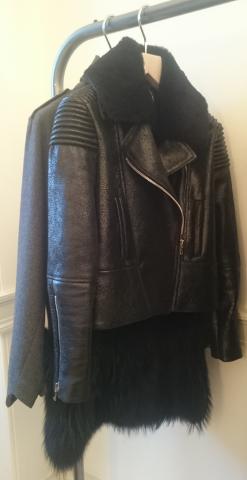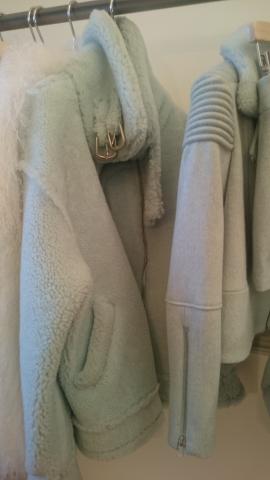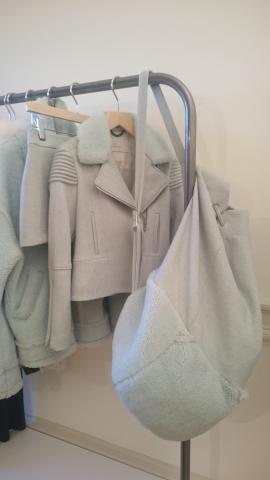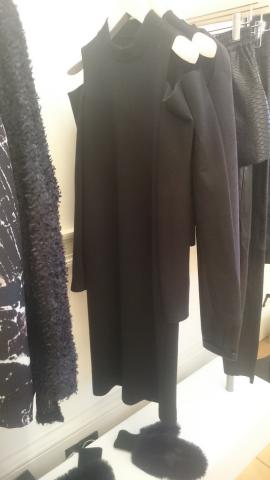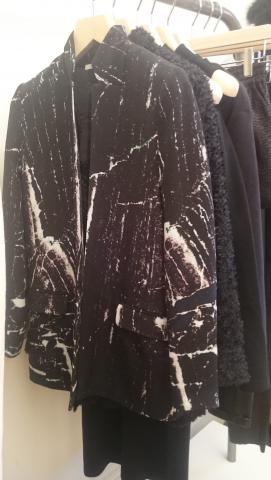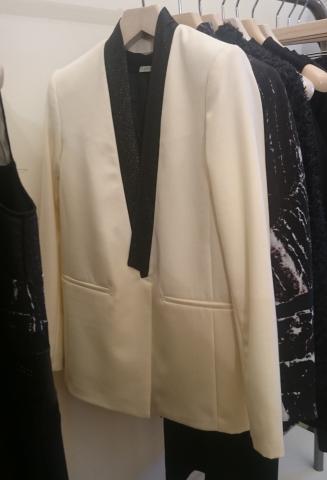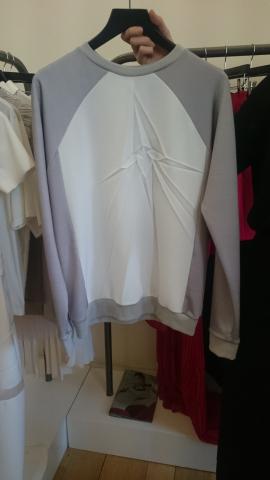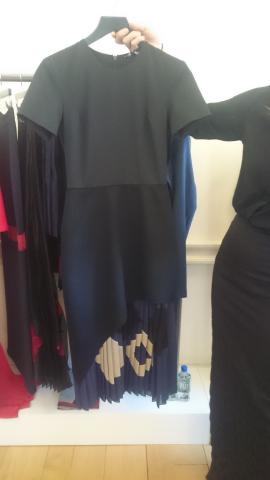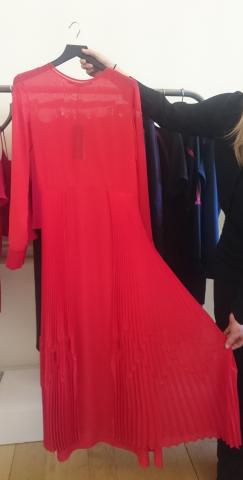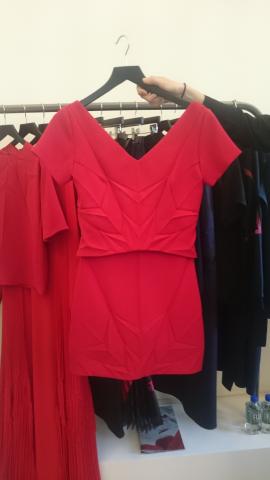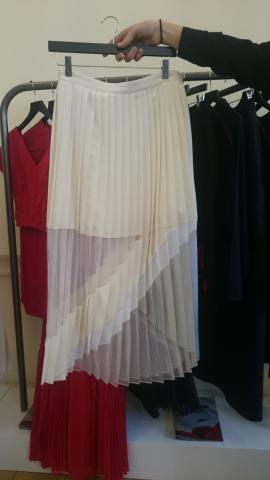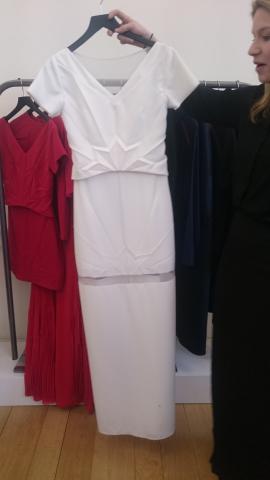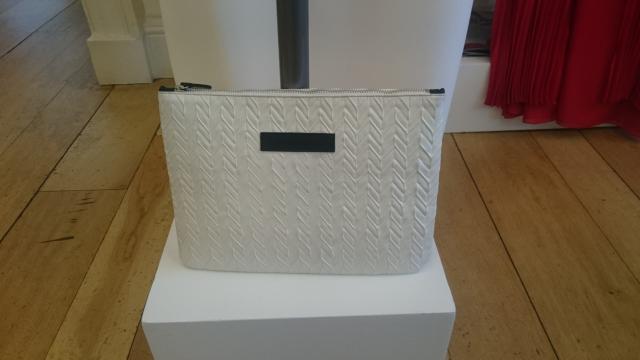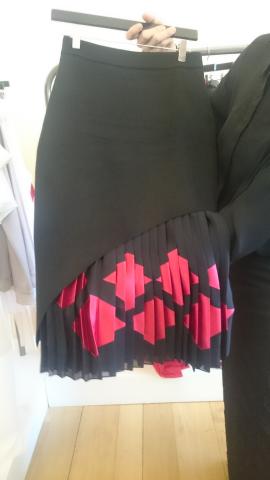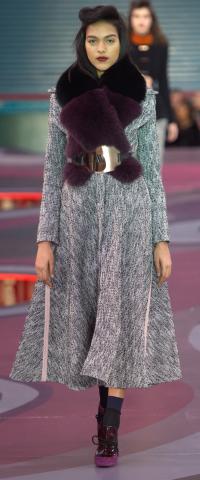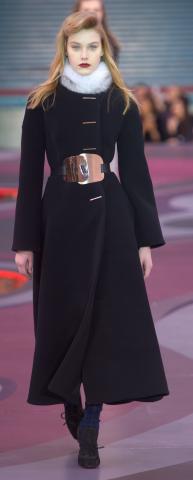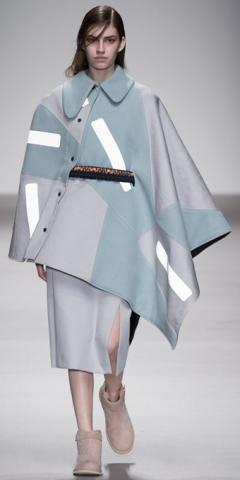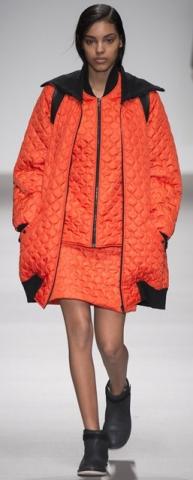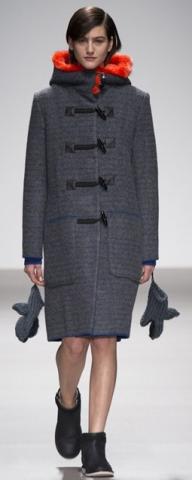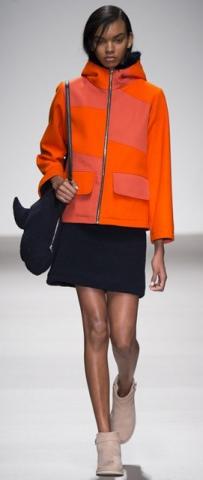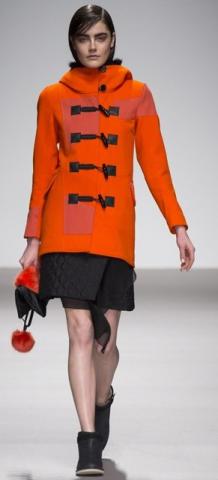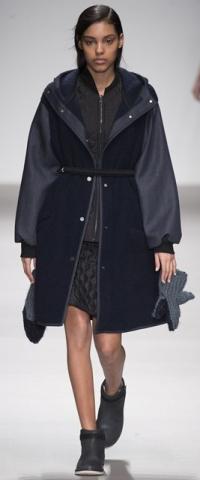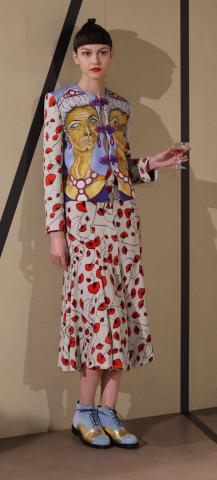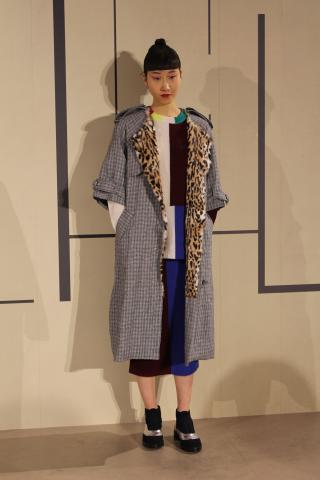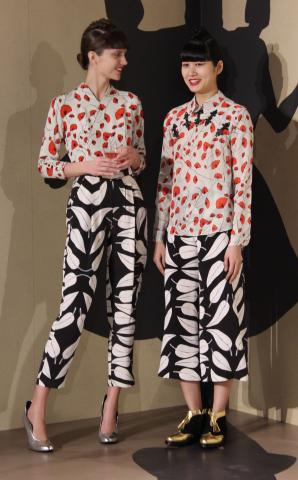 TATA NAKA 
The twins had something very special in store for us this season and we where left in suspense all looking at each other wondering who the murderer was. There was murder and mystery a-plenty and we where invited to a party at a country house where nothing was quite as it seemed. I eyed my drink carefully as you can see in the picture centre below. As one or two bodies where politely, discreetly dragged away by the butler we distracted ourselves by watching the first looks of the collection come out. 
Georgia Hardinge
Georgia Hardinge is one of our most exciting young designers. Winner of the BFC Contemporary Sponsorship award for 2014/15 she works closely with the BFC in many ways. As part of her AW 2015-16 Fragment collection she designed a very pretty purse on collaboration with the BFC. You can see it here below. Probably no surprise to you that this soon found it's way into my wardrobe and many others at London Fashion Week. It's a great clutch with lots of space and a great size to get an i-pad into or small notebooks and other things. 
Zoe Jordan
Zoe is a contemporary designer with a lot to offer. Like Georgia above she's one of my favourite contemporary designers around on the London Fashion Week scene and I enjoy her clothes massively. 
Above to the left is a great shot from life backstage with Christopher and some of his team adjusting the first look of the collection to come out. You can see it below in the catwalk looks and it comprises of a beautiful coat and dress in light turquoise and turquoise-grey. The aqua colours reflect the collection theme and the model appears to be completely immersed and wrapped in colour. Next to the right a close-up shot looking that the beauty themes for this collection. Relatively light makeup and a nude-face are embellishes with a burnt umber colour on the eyes. 
Above to the left is a shot of one of the Wool And The Gang team that I spoke to before the show. We had a big chat about their collaboration and I was very pleased to see them working with a major designer after first meeting them at the Somerset House exhibition rooms the previous September. Knitting, yarn, sustainability and chat about fashion, what more could you want?! Next one of the great crew of models post make-up and during hair. It's a great shot and for me it encapsulates the real life of models at LFW. They work very hard and fashion month is an endurance test where you have to be on your game on and off the catwalk. To the right one of my favourite shots of part of the make-up station. A beauty bloggers paradise of make-up and tools and crafts. Far right one of the model crew having a final fitting ahead of lining up to take to the catwalk. It's a super-cool coat with great vest beneath.
Above to the left is a fantastic ruck-sack in the signature shark-print of the immerse collection.  Matching with a full jumpsuit that you can see below it's a fantastic weather proof look for the Autumn-Winter season that it also very light and easy to pack. Next to the left two great outfits exploring different moods of IMMERSE. Closer to the camera you can see the WATG knitted hat and the wool coat softly blending marine colours into the weave. The chunky knit hat is to die for and I think the knittables from this collection will go like hot cakes. In the look at it's side, water is the theme as spheres move across fabric emphasising descent into the depths. To the right one of my favourite looks from the collection the Shark inspired suit complete with shark cut-out bag. Very desirable. I think this will be one of the most popular creatures from Christopher yet. To the right, a quiet moment of beauty as a model awaits the completion of her make-up look.  
The shot above involved three mirrors all together if you include the camera too. I think it's a great image that captures the experience backstage and how fashion lives in front of the camera not just on the catwalk or on shoots but also in many places. Centre above a back-shot of one of my favourite looks. A quilted orange coat, both waterproof and insulated is a perfect snug seasonal addition to your wardrobe. Matched with the furry back-pack it's a fun and visible statement for the autumn season. Also I have to say highly practical too as in the gloaming you won't be missed in this high impact colour. For me this sums up Christopher's work brilliantly as it's fashion that has a dual life as a stylish object and also something serving a practical purpose by addressing what an outfit s for in a very direct way. To the right - action as it happens back-stage. Time to hit the catwalk.  
A Master at Work, here's a great shot of Christopher running through the looks ahead of the show. You can see he's wearing a signature shark IMMERSE sweater, it looks very warm. Next to the right one of the models in the catwalk line-up wearing a wonderful coat from the collection as well as a fantastic Wool And The Gang Snood complete with tassels. The two-fabric theme of using shark print and material is really eye catching and the coordination is a perfect harmony. It looks so warm too. Next to the right a shot of a model in a lovely big warm coat. You just want to snuggle right into it. It's wonderful. Deep marine blue references the naval theme of the collection and luminescent panels give a new-trend and practical solution to the shortening hours of daylight in many parts of the globe. To the right an awesome knitted hat coordinating with dungarees and a sweater makes for another robust seasonal look. Next to it the duffle coat is re-awakened in a new guise with a quilted dress underneath. 
Here above to the left is another shot of one of my favourite looks from the collection worn by one of the models. You can see how wonderful the tailoring and fit of the piece is and how the shark looks so cool and quite sweet (can I say cute?, can a little shark be cute?) sitting across the figure. It's a piece for both guys and girls to wear as an accessory. Above a back-shot of one of the looks showing the fit and tailoring. It demonstrates the simple elegance of many of the pieces and how they encapsulate a deep sense of natural harmony. 
Next to the right a model line up shot as these two prepare to head to the catwalk. You can see the wonderful shark mittens in the first look and also the large hood that sits gently over the head. Lastly to the right above a great picture of Christopher THANK YOU!!!! with two of the models taking a few minutes to give us some lovely pictures after the show. 
What a great collection and roll on autumn :-)
Here are some looks from the catwalk front of House courtesy of Christopher Raeburn. You can see the first look of the collection that is shown above being fitted just before the show. It wraps the figure warmly and is a wonderful re-working of the raincoat. The liquid sphere's of water bubbles are the next design feature with a casual suit look of trousers, shirt and sweater all rolled into one. Camouflage colouring return with echos of armywear in this hitherto marine collection. It's a lovely autumn-leaves kind of colour scheme and I really like it. The mini skirt is flattering and coat and vest shirt are fantastic interchangeable separates. You can see to the right the quilted outfit shot backstage above. It looks so warm and snug, just inviting you to wear it. Next to the right the traditional duffle coat gets an update with two shark mittens at either side of the sleeves. A furry hood offers extra protection from the elements and reassuringly deep pockets are a practical style addition. The shark tote appears again in the look above to the right with a classic mini skirt and beautiful orange jacket. Again this piece has a hood to shield the head and ears from harsh winds.   
A slightly longer duffle coat makes an appearance in the next look with a wrap-style skirt sitting underneath. I love this vibrant orange colour and the the bobble detail on the bag is an extra fun twist. The look I profiled from the back above is next to the right. With a simple minimalist look and clear lines this piece is a great ready to wear look with an urban feel that will slide into a casual or working wardrobe easily. Next to the right an all in one suit and bomber jacket provide a light and warm insulation from the damp and rain. I love the coat in the next look. It's large and wraps around the figure with a slinky belt. A quilted skirt and warm zip jacket underneath add layers of warmth. The knitted shark mittens. One of my favourite all in one looks from the collection runs next looking comfy and lightweight. Lastly to the right the visibility stripes return in another warm winter look and the quilted jacket is a must-have piece. 
Above you can see part of the first sequence of looks. The collection worked around the theme of a country house party in the early 20th century. I perceive inspiration drawn from the 1920's, 30's and 40's in the styles and think the twins Tata and Naka have created something really interesting for autumn-Winter 2015. Floral print appeared in the form of leaves and the ever present danger of the poppy flower. The poppy festooned the surfaces of the two early dresses above to the left both hugging the waist and figure in delicate pleats and also flowing free from the figure in the full skirt. 
This early series of looks in the collection played around with 3 staple colours, White, black and an opium red that bordered on an orange.  Ii found it really irresistible and there is great scope here for party wear and formal wear for different occasions. You really could take one, or several of these looks to a country house as part of your weekend wardrobe. Above to the right the jacket with the gentle curves of the front and the peplum detail about the waist is a very chic piece. Complete with opium poppy clutch this look is refined and stylish and extremely flexible. The looks have a great sense of movement in the too and you can dance in these outfits and let your hair down and have a good time. 
As the interrogation of the suspects began some people where clearly enjoying themselves more than one might expect in such circumstances :-p , but hey the drinks where good. Above to the left are two great outfits blending the poppy flower and leaf detail designs in the trousers. These are light pretty pieces that have a lot of scope and as our carefree guests found you can simply enjoy them. Next to the right one of the looks that cleverly blended different themes of the collection. This I really liked. Cluedo-style different characters from the list of potential suspects where introduced into the collection as day-wear moved to evening wear. It was a wonderful nuance to the collection as it unfolded. 
To the right was one of my favourite looks from the season a colour blocking dress with a grey-checked coat with leopard skin lining. I saw here a reference to Sherlock Holmes and also animal skins that traditionally would hang on the walls of country homes. To the far-right fantastic suit borrowing from the men's 1930's wardrobe and featuring another prominent suspect, the Vicar. Glass in hand this party girl kept her cool and wasn't letting slip if she knew anything at all. 
Another pretty matching top and skirt literally paints the picture of another possible suspect. She's obviously a grand lady, a grand dame but is she hiding a terrible secret? Jewelled and tight lipped, she's saying nothing. This is a great outfit to go partying in or to enjoy at a private event or dinner. I think it really says something special about the wearer. Centre above 'that' drinks trolley. You can just about glimpse the metal pipe straws :-) I kid you not. Murder was ever present. Above to the right a wonderful dress profiling the Vicar/Reverand Green character. Note the rich velvet of the upper part of the garment. So comfortable also warm for winter nights out at an event. 
So we had guests, a murder, suspects and also above some clues to the weapons that where used. Daggers and pistols emblazoned across the front of the jackets offered a stylish take on the possible implements
 used. These two suits would also look fantastic out on the party circuit this autumn and winter and I love the box pleat details in the skirts. Very chic. Centre above two more of my favourite colour composite looks from the collection (as I call them). With a sharp calculating eye the lady in the next outfit would be my prime candidate. This tunic style dress is flattering and super fun - with Miss Scarlet no one can tell what will happen. To the right is the cook, Mrs White if my memory serves me correctly. Years of loyal service, did it tip her over the edge? Who can say but this is another fantastic dress cut perfectly to the figure and making a very flattering silhouette. I loved every minute of seeing this collection come out and I think a lot of people will get enjoyment from it in Autumn-Winter 2015-16. 
This collection opened with a great look that could be day wear or a great style for a special dinner. There is an art to crafting the perfect long sleeve light sweater and pants and Huishan has that art. It's clear to see that he is a young man who has learnt his craft well and he can create perfectly hones sophisticated staples as well as being free to paint on his canvas more broadly and compose a broad variety of styles. A Tiger print top and PVC black trousers are a slightly more daring look. Teamed with a supper-snugly grey woolen coat this is a rock-chick look that will keep out the winter chill. It's a great total look.
To the right the shimmering sequinned dress is a light, flowing floor length piece that will serve you well in the party season. It's light and moves wonderfully on the figure. Next a knee length dress plays with stripes on the figure and matches coordinates with the black trousers to give a contrast in colour and texture that emphasises the long lines of the figure. Very pretty and you could wear this in less formal office environments as well as using it as a piece to wear for dinners, drinks and parties this autumn. To the right, one of my favourite looks of the collection. This beautiful floor length gown is a majestic sweeping statement and will be cherished as a fantastic evening wear piece for parties, dinners or red carpet.
Colour came boldly into the collection and Huishan worked with red, blue and an antique white boldly. Above to the left this dress showing a tri-colour applique design was very popular. To the left a coat-dress using the same theme of shapes over layered onto an embroidery base was used to great effect and the broad sash-tie waist gave an echo of traditional Chinese style transitioning into a chic 21st century look. Tiger stripes appear again in the next look in a beautiful floaty dress and coat teamed with black trousers. Layered up for extra warmth it's a very fun look.  A smart jacket and trousers complete the look of the wrap jacket. 
Embroidery detail peeps out from beneath the red pattern cut of the jacket and this contrast of colour and fabric draws the eye closer. The cut of this jacket is both generous and tailored and it's a great piece. Teamed with beige trousers it's very versatile like all the looks of this collection. To the right the blue dress also plays with the theme of different layers of fabric contrasting and complimenting each other beautifully in the outfit. It's a great look to go out in this season and I can 'see' it appearing in clubs and restaurants.  
Above to the right is the beautiful Georgia herself with the fragment midi skirt. It's a stunning piece and the perfect pleats sit in pretty juxtaposition to the outer skirt. It's a very pretty piece that you could coordinate with different items from the collection as well as a simple white blouse or a sweater perhaps. The beautiful long white dress is a fantastic classic Georgia design with pleats and structure worked into the fabric creating a true 3D piece of fashion that's wearable and comfortable but also feels a like a piece of art. The skirt to the right is a beautiful free flowing piece that also has it's own innate sense of decorum and structure. The clear lines paired with asymmetry make a clear bold statement. 
To the far right one of my favourite looks from Georgia's collection, the shattered mini dress. Here you can see in sharp detail the way that Georgia brings sculpture into her clothes in 3D art form. I think it's fascinating that she is blending two different forms of art work here in her designs and I feel that her work stands out uniquely.   
Taking it's cue from the frozen pinnacles of mountain ranges the Serac collection is an ode to ice and chill and beating the freezing temperatures in the most stylish way possible. I would happily give a home to many, many pieces in this collection and there is a huge amount of choice of things to wear to suit different occasions and needs. The blazer above to the left is a great jacket for occasion wear and you could even team it with jeans and shirt or blouse to wear to lunch and less formal drinks with friends. Next to the right one of the fantastic patterned looks that evokes the frozen ices of the mountains in winter. This is a very cool jacket that you can team with many other separates from the collection. Next a great leather jacket that has beautiful pipping at the shoulder and sheep skin trim at the collar for maximum warmth. To the right above a beautiful long dress that is super versatile and a piece you can 'live in'. It's all part of Zoe's vision of creating a capsule wardrobe of interchangeable items that suit an international woman.  
A new feature in Zoe's collection is her Knitlab line. I was very excited to see this as I've noticed in previous collections how interesting her knitwear is. It's a great feature of her collections and there are so many pieces that you just know you should wrap your arms around. The Knitlab collection will be stocked in boutiques across London and beyond from Summer 2015. I'm personally in love with the styles and the textures and hope that Knitlab grows as a part of Zoe Jordan's world. I would happily take one of each of the above sweaters and they also make perfect gifts. Please do look them up through Zoe's website here. 
One of the most striking, and can I add frankly hypnotic, features of the Serac collection is the colour play with the icy frozen mint Green. It's also very reminiscent of how ice can look sometimes when you see ice bergs breaking away from ice sheets. These colours drew me in. The jacket above to the left is very versatile. You can combine it with the matching dress in the next look or it would also match well with a navy/midnight blue dress or a black one. Also it teaming it with black or white trousers would work really well too. 
My regular reader know I do have a slight weakness for railshots like this and it's a great way to quickly capture the mood and palette of a collection. Another great part of this collection was the expression that was put into texture. 
To the left here you can see my favourite coat, it's the Bear Run Jacket. It's 100% sheep skin and completely reversible, I recommend taking the medium/large size unless you are very petite for maximum snuggle factor. It's so soft and furry that you just want to be lost inside it and I can think of nothing better to be wearing when walking through the snows in the mountains this winter, or anywhere else. Also in this series Zoe has brought out the crystal ridge jacket and coordinating mini skirt in the same sheepskin fabric. 
To the left you can see one of the most fun pieces of the collection altogether. The giant sheepskin duffle bag that you can fit your kit for the weekend in. This is such a fun, and touchable!, item in the collection. Accessories are always meant to be enjoyed but this piece has a huge fun factor about it - it's a must have addition to you Zoe Jordan collection. 
Swirls and curves where an important design feature in this collection as well as playing with fabric and colour. I was very taken with the knitwear pieces that Huishan put into the collection and think that he shows a tremendous flare for working with the traditional woolen suit and dress. The deep berry colour that he uses for two of the dresses above is a perfect autumn shade. From the left there is a jacket and dress combo, a short jacket and skirt and a one piece dress. Plenty of choice and many people will be tempted to take all three. 
To the right I've included two dresses from the collection that where simply stunning. The deep blue of the first dress makes a beautifully pronounced colour statement with delicate applique embroidery while the second dress os my favourite look of the whole collection. Chic and sexy this lace dress will be a well loved member of your wardrobe. 
Above in red longer lines give a light and delicate feminine flow to this garment. Sheer beauty in this piece. I also think it's a look that could live in your wardrobe past the autumn-winter season and be cherished further forward. Next to the right a beautiful dress with pleat detail in the lower skirt. It's another one of my favourite looks from the collection and I would love to wear it this autumn. A long-sleeved t-short with fragment sculpture detail is next up and this would combine perfectly with any of the skirt from the collection or could also be worn with jeans year-round. Lastly to the right the lovely Georgia with stunning skirt from the collection. This piece is very flattering and emphasises length and line wonderfully. It's pleat perfection. This collection worked around key colour themes of black, red, navy blue, white and grey and I think there's a tremendous amount of goodies here to chose from to add to your wardrobe this season. 
Roksanda opened her collection with a dress that delicately blended a kaleidoscope of colour in what is becoming one of her recognisable signature styles. With a sheer long sleeved vest underneath this look is sharp and sophisticated without being over powering. It's strong and feminine in the right balance of harmonies. Note the fur clutch that also can double as a muff depending on how you carry it. The next look to the right blends this style with ribbon waves of colour in a cascade print skirt. It's really fantastic and I love the combination. Across a series of looks in this collection the waist is accentuated with a plated belt that crosses the stomach. This is an evolution from an earlier collection by Roksanda where she draws a modest amount of attention to the waist as a feature. I think it gives a warm glow to the centre of the outfit. 
Centre above the purple jacket, multi-coloured sweater and what I'm calling ribbon pattern skirt was one of my favourite looks of the collection. Simple and classic this is a look that you can wear to work or for an event such as dinner or a party. Wrapping up against the cold to the right the sheep skin coat will ensure you are warm and snug. The fur collar at the neck gives extra protection against the biting cold and long line lose fit trousers are a stylish way to wrap up. Sweeping and glamourous the grey coat with purple fur wrap scarf was another of my personal favourite looks. It's a high glamour piece that combines classic tailoring with a key understanding of fabric and movement. Eexactly what we love from a master crafts woman of London Fashion Week.  
Roksanda is known for her bold use of colours and this season she offered us lots of great surprises. Above to the left a beautiful dress in combined grey, baby pink and black in different form and shape. A beautiful must-have. Next the long black coat with fur trim collar is one of my favourite look of the collection. It's simple, classic and elegant and would make so many women happy this season. Next to the right, two beautiful fur coats reach below the knee in a bold splash of colour with wide leg culotte 3/4 length trousers underneath. To the right and all in one playsuit blends autumn berry and pumpkin in a look using more of the noted swirl style that accentuates the curves of the woman's figure. 
Below to the left this look continues the colour theme with simple definition of the figure in flattering curves and lines. It's so pretty, I can see myself wearing this in the fall. Next to the right a black short sleeve coat sits over a purple dress with sheer sleeves. It's a great visual contrast for the eyes and the fur collar adds to the feeling of warmth and comfort that envelops the wearer. It's a dream autumn look to be walking through the leaves in. A great sweater dress comes next in the cross pattern fabric style a little reminiscent of tartan. Reaching to the knee it's a super autumn-sweater dress. The next two dresses are more of my favourites from the collection. Both stylish and warm they are killer looks for both day and evening and like Roksanda's collections as before, I think they'll be snapped up around the world.   
The make-up look in this collection was also very interesting with a fresh ivory complexion and attention given to the lips in a deep autumn berry colour with a hint of the Roksanda electricity flowing through it.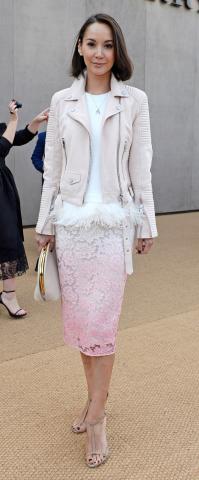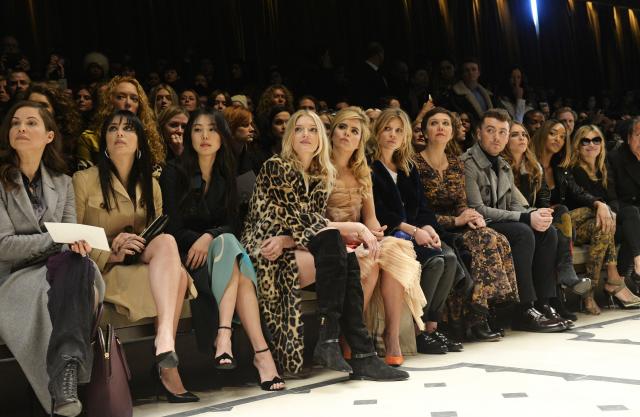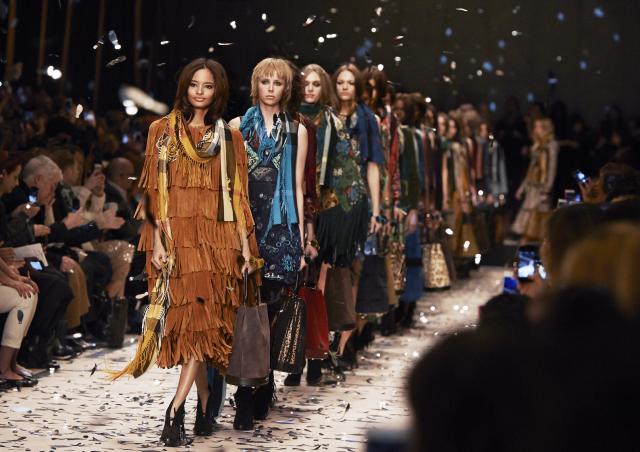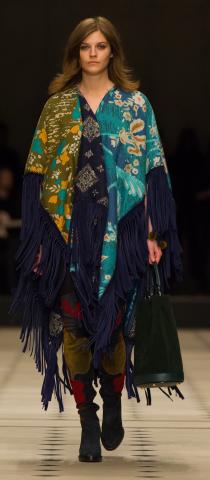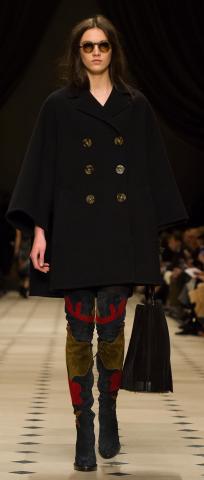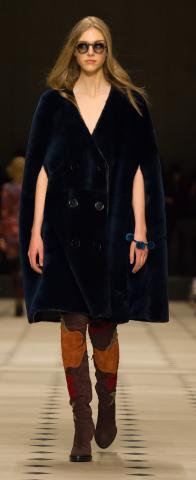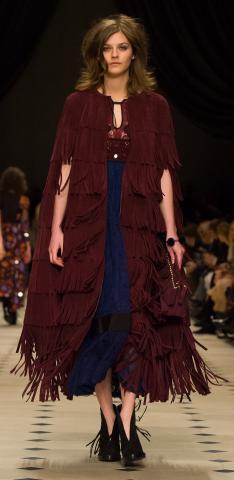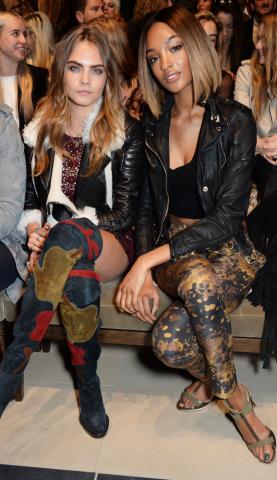 Michael van der HAM
Michael is a very special designer on the British circuit. His work is loved by many stars and he was even commissioned to design fashion for the London 2012 Olympics. For Autumn-Winter 2015-16 he has worked up a very beautiful collection. It was not the easiest of things this time selecting looks to show for the coming season. I frankly saw most of the collection comprised of pieces that I can visualise myself wearing to different events this season and frankly as far as collections go when looking at it from the perspective of a buyer or a photographer, this was a mind-blower. 
The collection opened with a beautiful purple dress that, like most of the collection, was a whisper of romantic dreams walking before our eyes. It's a perfect shift dress that will look great all through the season and frankly you will want to keep hold of Michael's pieces into the future. This is a look that I definitely want to wear in the Christmas party season and I will be following up to find it next season. The applique detail adds to the sense of beauty and mystery around the figure and I love the double silhouette that comes in this look. It's a perfect feature.*Big Sigh*.
Next a look that has also stolen my heart. The beautiful blend of materials, rippling black silk trailing to the floor in an extended sash-tie and a light delicate shift skirt. Again there is the lightest delicate applique detail here in this look. It will serve clients well both on the Red Carpet and also at Private events. Again this one is high on my list to be a purchase next season. Black is a great colour for playing the mood of the look in a sexy way or just to feel beautiful, demure and sexy. It's blissful.  
To the right above the subtle interplay of different textiles brings a nuance of Bohemia to the mood of the collection while all the time maintaining a chic and classy style. My eyes have literally eaten up this collection and I'm enamoured of the way Michael has used different textiles within these designs. Nothing is too much or too little and the synchronicity and harmony are perfect. Again this dress with white sheer layered skirt, touches of velvet and brocade, accentuated with the most delicate beautiful flowers, is a piece that I can see myself wearing this autumn and would happily add to my closet. I've been an admirer of Michael's work for a number of seasons but I can honestly say this is by far my favourite collection from him yet. Black, white, grey and lilacs make a perfect tableau. 
To the far right a stunning look in  my favourite midnight blue speaks to me of parties under the stars this season and coming home late (or early) in the morning after a ball. This is a key piece that you would want to treasure across many seasons like much of the designs in this collection. I love the bodice detail in these looks and I detect a note of both country girl simple dresses and the camisoles of the late Victorian and Edwardian era. A hint of lingerie and light style adds perfectly to the shift skirt emphasising a graceful, elegant carriage. It's chic and pretty and a completely universal look. 
Harmony and texture create a perfect balance in the next look above left, with long flowing lines loosely falling over the figure. This beautiful black dress uses the strong colour emphasis of black and gold with a ripple of fabric across the bodice creating a contrast of line and symmetry. It's a style softly warn on the figure and to be honest I am a great fan of evening/occasion-wear outfits that are comfortable to wear through a long evenings of dinners and parties. You should enjoy your fashion always and for me a key part of this is finding comfort in my clothes, for me good looks and high performance go together hand in hand. 
A light golden dress comes next with a delicate shift giving texture and movement and a central band giving line and form to the figure. There's almost a feeling of the tea dress moving up a gear in this piece and I love it. The skirt moves brilliantly as the wearer walks. Next a multi-fabric piece captured my attention again in a perfect blend of colours and print designs this is a great look for AW15-16. Delicately accentuating the waist, it's a chic and versatile number that would be great for dates, drinks parties and generally to love. I think it would also be a very fun Christmas Day outfit to wear too.
Midnight blue returns again in the next piece with a beautiful skirt showing the prettiest applique and a light blouse with a sash at the waist. It's a super versatile day and evening wear look that I think a lot of girls will love this season. As with the next outfit to the right it contrasts solid colour in the top blouse of the look with floral patterns in the skirt. It's a fresh and lively duality that catches the eye. The outfit second to the right also for me slightly hints at a bow-sash across the upper part of the outfit. It's a great look no matter how you read it. To the right the silver dress with floral applique detail is a stunning piece of haute ready-to wear, if I can call it that, that will look stunning wherever you take it. You'll have some good times in this dress. 
I have another big crush on this grey coat with golden leaf brocade details. It's just perfect and should be heading to it's rightful in the 'A Blush of Rose' closet this autumn. A piece like this will fit into your life like the missing piece of a jigsaw puzzle. The next look in black and gold stole my heart, light delicate and sexy it's a beautiful outfit that has me thinking of the music of the party season beckoning. Next to the right a dress in beautiful blues adds fun twist to an earlier theme in the collection. You look at the print and see either flower petals or clouds I think and it gently wraps the curves of figure in a chic party dress style.
Another beautiful trapeze coat in black features a beautiful floral design across the upper jacket and deep pockets make this piece ever stylish and practical and a look that can fit easily into your life. It's chic, warm and encapsulates my fashion motto - Beauty, Grace & Style. This is a universal piece that can be truly loved and admired and frankly it's another look that I'm in love with and I'm sure women all over the world will love too. The next look to the right works a stunning blouse with an hypnotically pretty skirt. This is a look and wonder piece but as Coco Chanel said this is a style that makes you notice the person as she walks and the light captures her she oozes grace and charm and you see only her best features. To close this look at the collection I've included another stunning look in purple, a shift lightly floating over the figure with delicate applique that begs to be danced in and enjoy a good night out. Amore - this is a collection to love from Michael. 
Burberry - images with kind permission of Burberry. 
One of our biggest names in fashion did it again this season, big venue, stellar guest list, banging out live tunes as the models walked the catwalk and pumping the front row with an international 'A' list that spanned the globe of good taste. We expect nothing less from one of foremost fashion houses as it straddles the globe. 
Centre above a great shot of Christopher Bailey and Claire Maguire. Claire again is rocking the Burberry jacket with a great dress underneath. It's another great look that I would happily wear around and about this season. To the right models line up before the catwalk show and the aviator jacket is re-worked into a textile look to give anew dimension to the style. To the far right Cara sits alongside the beautiful Jourdan Dunn sporting the bob of many women's dreams and a great pair of leggings teamed with a House leather jacket. 
We all love to wrap up come the Autumn and Christopher has worked a number of fantastic wrap-style additions into the collection in various ways to emphasise the feeling of being wrapped and snug. It's also a practical yet go-getting collection that has a range of looks within it that can blend into your life in the city or in the country. Above to the left a poncho-style look blends blues and greens in a textile harmony that awakens the senses. Tassels trail and swing in a care-free world traveler vibe and this jet-set hippy look is completed with over the knee boots and the cutest bucket tote. 
A must-have coat next up re-works the cult-classic Burberry trench and the tassel detail is echoed in the shoes. I love those shoes too as the open front makes them easy to slip on but also they have the enveloping comfort of boots. Double score :-) . A classic trapese coat and long boats give a chic classic Burberry profile with a another great tote to hand. It's a great look to wrap up in during the colder months and if you want to keep your profile low the sunglasses do the trick perfectly. 
Breaking out the colour in the next look to the right a bold fabric print jacket next brings some colour to the autumn-winter days. You can wear this with just about anything, jeans and trousers going casual or you could team it up with a formal one or two colour evening outfit to add a touch of spice to your look. The dress to the right is a real sweetheart look and a great piece to go out clubbing in. A faux-fur coat in midnight blue is up next and it looks so warm and snuggly you just want to disappear into it. Teamed with dark coloured over the knee boots and a tasseled variation of the seasons Burberry tote this is a great look that is easy to wear and will make you feel fantastic. 
Burberry brought along many of their best friends and below from the left you have a truly international cast of names. From the left, Cara Delevinge and Lily Donaldson mixed it up highlighting the true eclecticism that can be found within the Burberry stable of looks. I particularly liked Cara's cropped aviator jacket with sheepskin lining. So warm and cosy and worn mid-season it's not too hot. 
On a style point, I love the long and lose hair vibe and the over the knee boots are big story heading out way for Autumn 2015. Next to the right Amanda Strang rocked a look from the Spring-Summer 2015 collection. I'm especially fond of the skirt and jacket in this look and they also make great separates to combine with other pieces. 
There's a lot of variety in the dresses in this collection but there is notable cohesion this isn't a confused or disparate offering from Christopher trying to please everyone. I find the span if look inspiring and there's a broad discernible trend towards folk-chic. The first two looks to the left above both play with this in different ways. The first dress plays with the theme of autumns golds I feel and the second dress in teal green is a great sheer look that is brimming with femininity and confidence. 
I love the next burgundy Burberry trench-style coat to the right. It's so cool and again another warm wrap for the coming season. I think the leopard print tote could very popular too. The blue dress to the right is one of my favourite looks of the collection. A sexy barely-there bodice blends with a folksy-print skirt and this jet-set gypsy girl will be shimmying away through the party season in a very cute flattering look. Note the cute pompom bracelets appearing through the looks above. The blue sleeveless trapeze coat is a fantastic wardrobe addition for the coming season. You can blend it with just about anything and you'll be just as happy walking in the country in it as winding your way through the city.   
Above to the right a deeper blue features in the next dress and I find these light looks very practical for AW 15-16 party wear as frankly how often do we come in from the cold, take off our coats and enter a warm room? Yes, I can see heads nodding and hands raising, we all do this. No one is ever (well almost never) cold at a party or a bar in the Autumn/Christmas party season.  
To the far right is a beautiful dress in peacock blues that will weave it's way into your wardrobe without a second thought. It's a light and whispy piece that still packs a style punch. Following on a another fun dress for the season is the myriad of blues piece to the left. This short style above the knee is another great look to be dancing and partying in.
Coats are always a big feature of Burberry and the next two looks that I close this feature with are representative of the eclecticism that Burberry embraces as part of it's design core. The long fringe coat sitting over a floaty blue dress strikes a note of rich autumn colours and the shorter mustard coloured coat with it's deep pockets, broad lapels and huge snuggle factor are looks that you will have a serious amount of fun wearing. 
There's plenty to love at Burberry this autumn.