A Blush of Rose
ablushofrose.com
Early Summer arrives with a round of Gala's and events showcasing the best of current and upcoming seasonal fashion. While the Met Gala in New York and the Cannes Red carpet see actresses and fashion figures wearing current bespoke pieces the Cruise collections also look ahead to the Early summers of next year. While CHANEL dropped anchor in Cuba, Dior and Gucci headed to the UK celebrating their new collections against the backdrop of famous monumental architecture at Blenheim Palace and Westminster Abbey. 
While you may not feel sand between your toes next to Parliament or in Oxfordshire the gesture to the British fashion audience and a nod to our heritage is very much appreciated. Was it political perhaps, with European Houses reaching out ahead of a Brexit vote? Who can say, we loved what we saw. 
The MET Gala 2016 -  Manus x Machina * with much love and thanks as always to the MET press team in NY.
For the 2016 Met Museum 
Costume Institue Benefit
 on 2nd May the Manus x Machina theme highlighted a play on the role of technology in the design and creation of clothes. Co Chairs Idris Elba, Jonathan Ive, Taylor Swift and Anna Wintour where joined by honorary chairs Nicholas Ghesquire, Karl Lagerfeld and Miuccia Prada and it runs from May to August in the Museum's Robert Lehman Wing.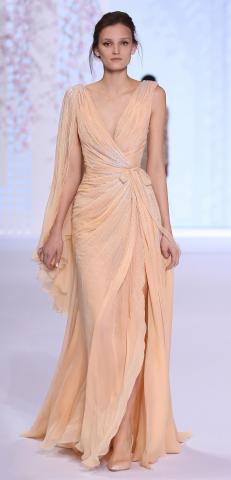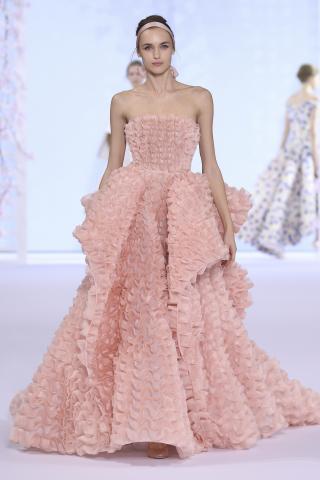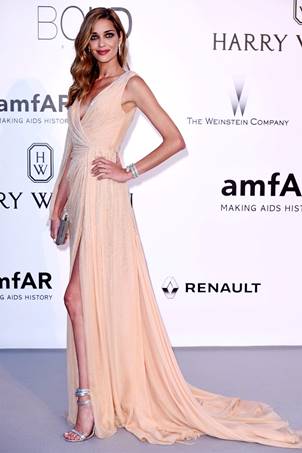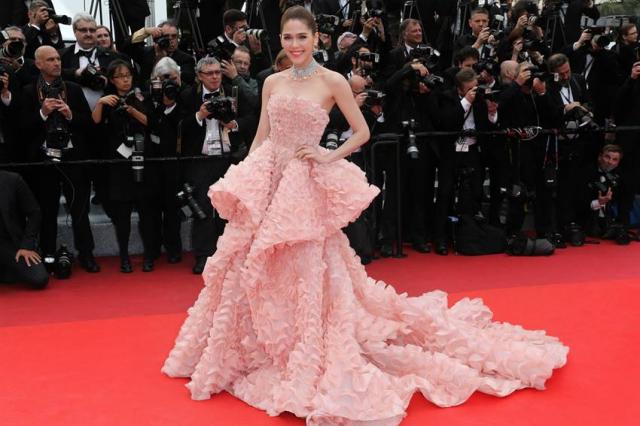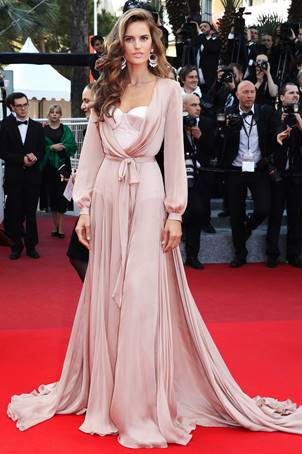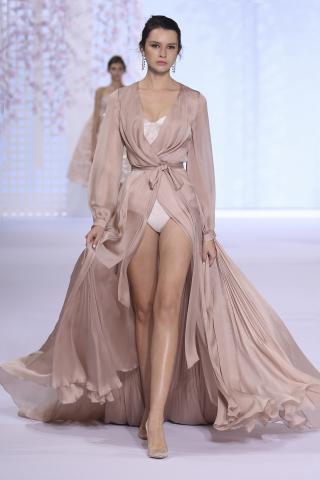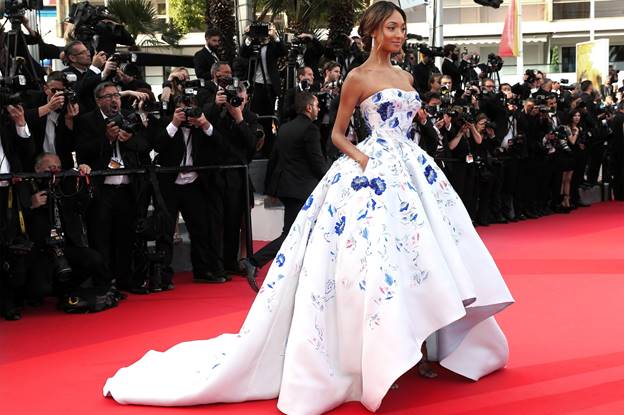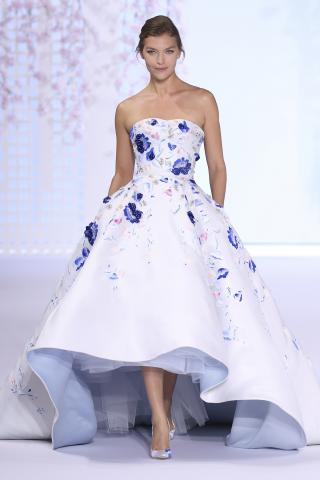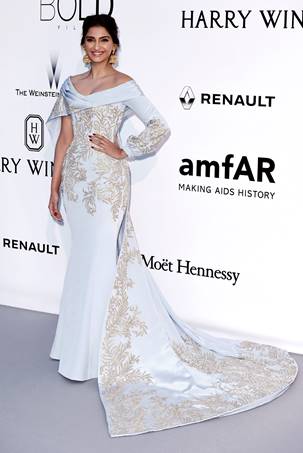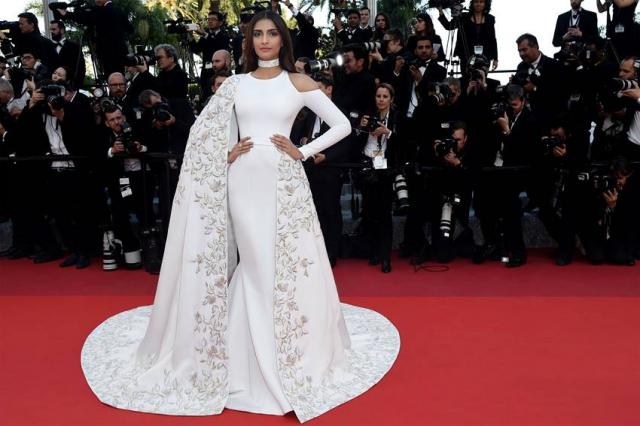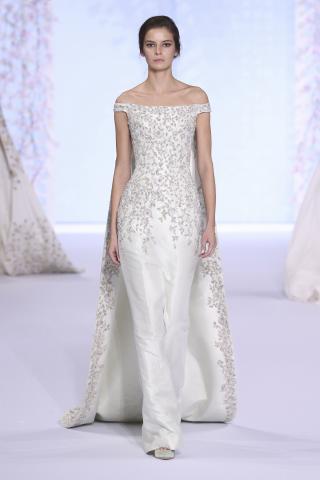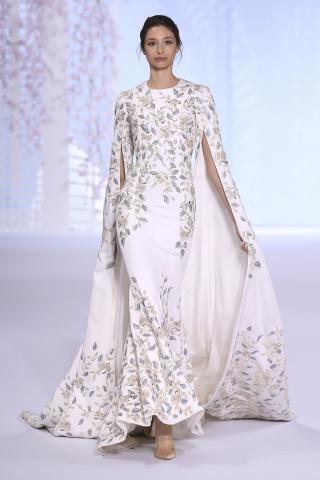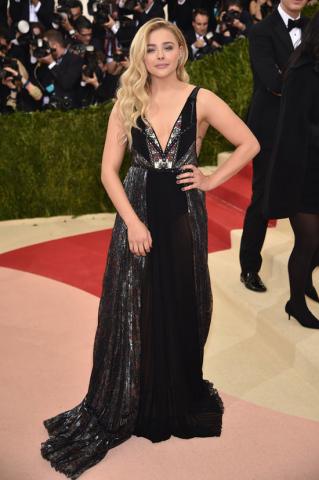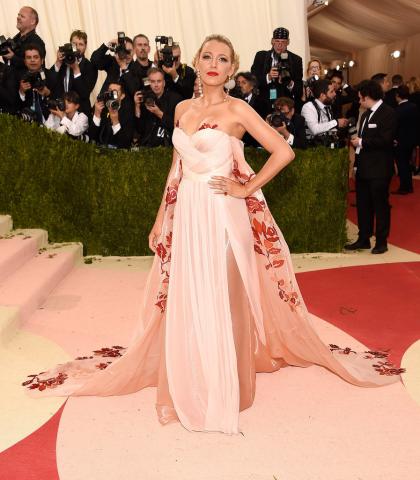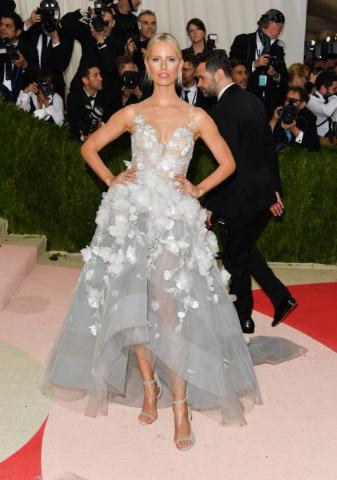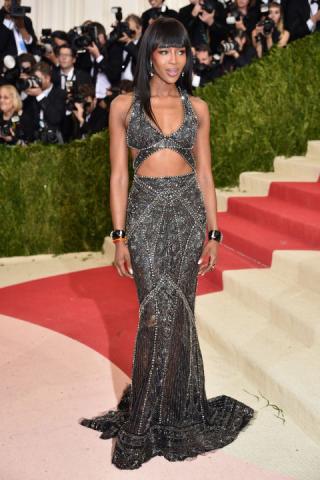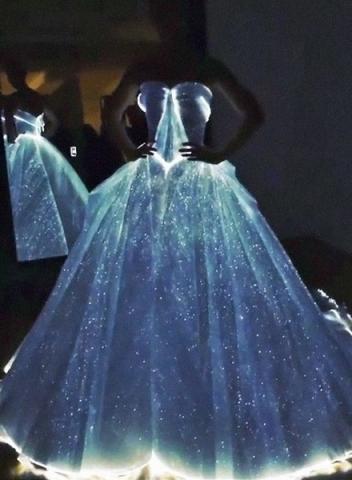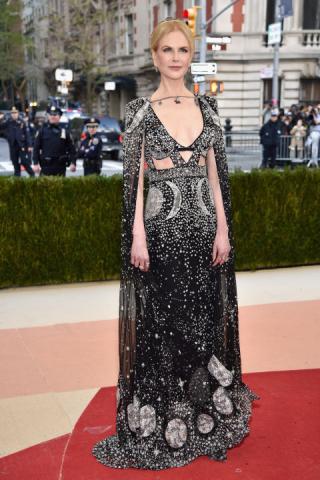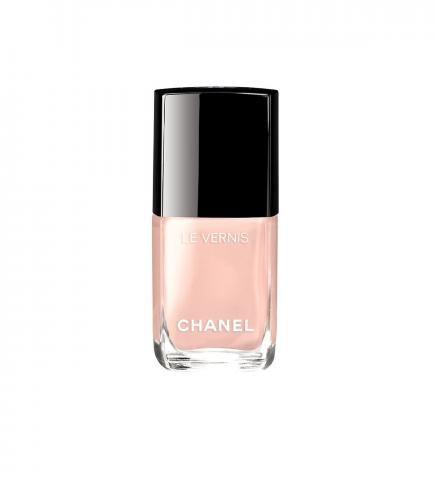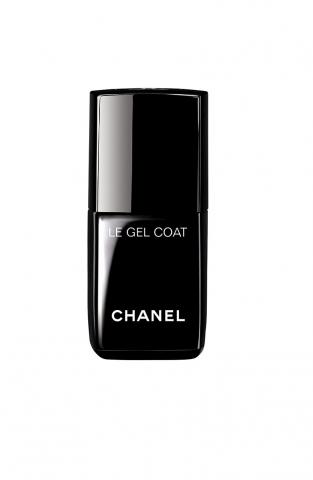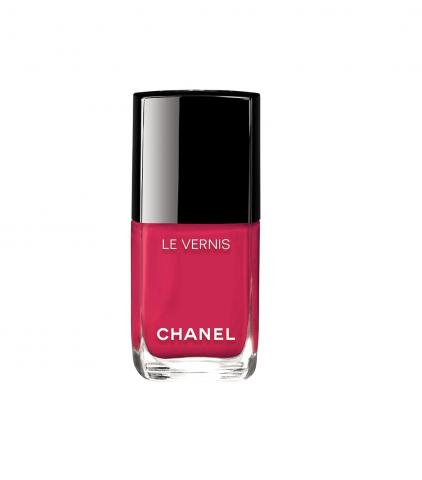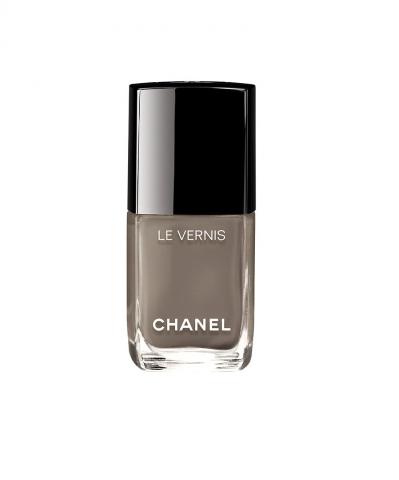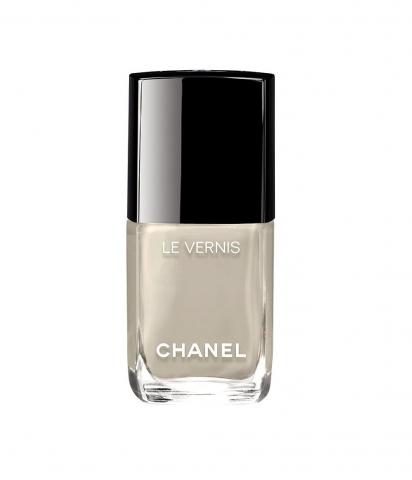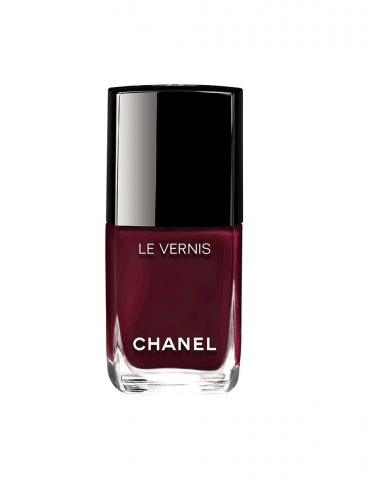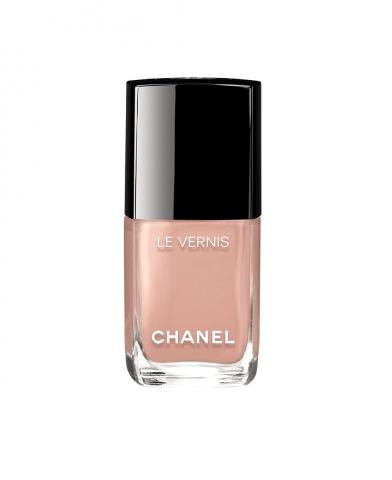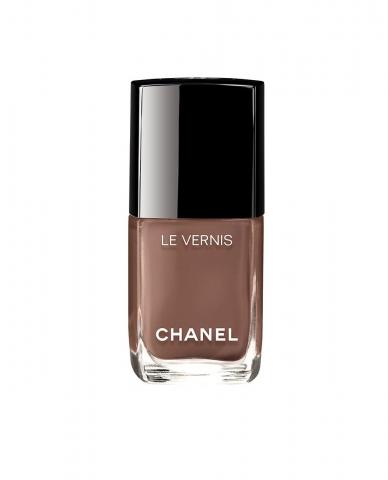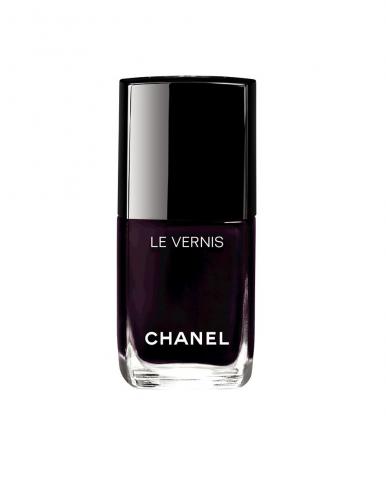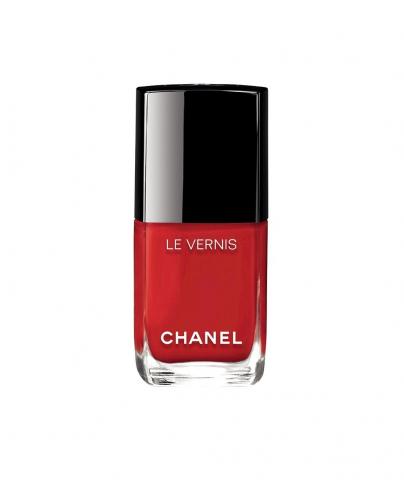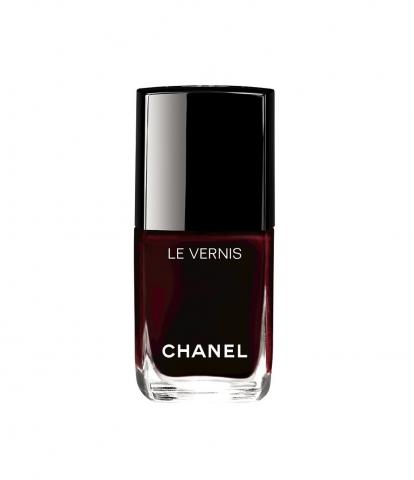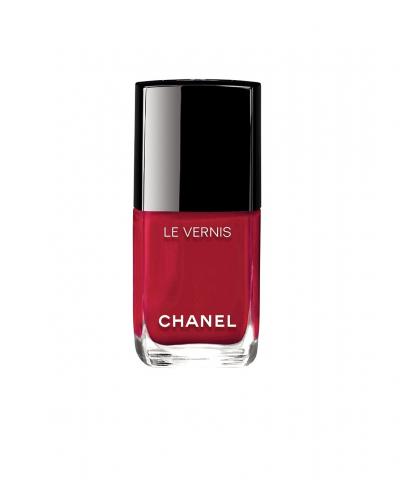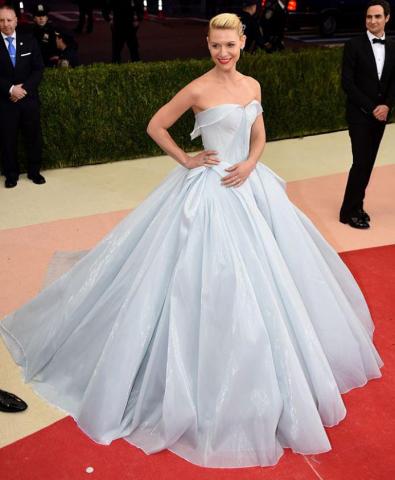 CHANEL Launch new GEL nail colours.
This Spring CHANEL gave their product line a make-over making the transition to a new long lasting formula. This post was a little delayed while I was surfing some seriously high waves in my life away from writing but all back on track now and love the new formula. Working around key theme colours for this seasons launch CHANEL are branching out in a new direction and have made a great new start. I personally had found the colours pretty durable but keeping up with the pace of change, if not innovating to be one-step ahead, is always a good thing and CHANEL have embraced something new in the spirit of Gabrielle, while keeping true to colour themes and House style. 
The line comes complete with Le Gel top coat to ensure that the nail colour is held fast. In the last few years has been a trend that has risen from the independent nail bars, manicurists across Europe and America. Gel coats and blended long-lasting products are probably the future of nail colour and nail colour technology the world over as this tide shows no signs of abating. Girls these days rarely have the time to colour their nails daily or even more than 2 or 3 times a week in the way that they may have done a few decades ago the pace of life has quickened for everyone.      
This range funnily enough channels my favourite colour schemes and offers the flexibility of a choice between a broad base of neutrals that have the maximum potential to work well with day wear, evening wear, leisure or corporate. For a debut collection it's a good bet. Passing beauty counters in the early days of the launch I've noticed that there is a good amount of interest and, in time the collection will broaden out beyond key staples. For now there is a lot to like and the shades speak of luxury and quality in the subtle understated way that is CHANEL as we know it. 
Ballerina in it's light delicate pink is a CHANEL modern classic with a light delicate feel it's a perfect french manicure-style base that you don't necessarily feel the white-tip is missing from. Again this is great blessing in a speedier age where 2-3 coats of resistant quick drying colour is really all we need. CHANEL have remained true, thankfully, to their larger size of 13 ml polish bottle where other brands have played with size and design over the years. This a handy thing on many levels as you still get a generous amount of colour for your expenditure and the same classic well shaped bottles that store easily and are a good palm-fit.   
One of the biggest cheers of the evening and almost universally the favourite dress was this illuminated dress that Zac made for his long-time friend actress Clare Danes. With hectic schedules Zac said in an interview with friend Kinvara Balfour a few weeks alter in London that the two rarely have the chance to catch-up as often as they would life at the moment but he was thrilled to be able to dress her for this year's Costume Benefit. This dress had the impact factor that generates column inches from the red carpet and as I discovered hearing him speak with Kinvara Balfour in June in London, Zac is a designer with a genuine fascination for technology and the details of the dress construction are tantalising to see. 
Complete with battery packs and concealed wiring a multitude of tiny LED's helped Clare sweep the competition away without even trying with a hint of Disney Princess magic thrown in. This was the most visibly tech infused high fashion outfit on the red carpet with classic ball gown dimensions. Karolina Kurkova wore Marchesa, one of the quintessential NY based luxury brands dressing clients through the year for events such as this. he light structure was perfect for a warm summer evening and the cool shade of ice-blue suited her light honey tan to perfection. 
Blake Lively wearing Burberry
Nicole Kidman wearing Alexander McQueen.
It's a fascinating exploration of how the traditional world of Haute Couture is becoming intertwined with developments in technology the future of fashion and the future of technology look set to grow ever closer. The exhibition looks at how designers are fusing the input of the petit mains of the atelier with the capabilities offered by modern technology. It's an exciting challenge that offers a world of possible scope and opportunity and who knows where this will lead us in the next 100 years of Haute Couture and Ready to Wear. 
In this current age the distinction between the idea of Haute Couture being hand-made and Ready to Wear being machine made has blurred and Andrew Bolton the Curator in Charge of the Costume Institute is keen to express that one medium of creation very much infuses life into the other; "Manus x Machina challenges the conventions of the hand/machine dichotomy and proposes a new paradigm germane to our age of technology." For fashion, like any modern industry there is not question that the capabilities and possibilities that technology could ever be ignored and in fact many designers feel that the realisation of their conceptual vision is enhanced by the new technology that they are able to access.
The duality of the Human and the machine is emphasised with neither one being able to replace the input of the other; they work in symbiosis. Where the machine has technical ability, Jonathan Ive, the Chief Design Officer of Apple who co-sponsored the event emphasised that whether a garment was made by hand or machine, it's the amount of thoughtfulness and care that makes a garment extraordinary. There's a tremendous amount that can be said around this summer so I'm going to talk fashion here and write an extended piece later in the Summer on the July-August page to really give a deeper insight into this topic in depth as this subject has enough material within it to span a multitude Phd's and my mind is whirring with possibilities. 
In the meantime here is a look at the Red Caret dresses featured and the exhibition itself. With a theme of 'technology' the guests had a lot of scope to play with. Blake Lively kept the Anglo-American fashion union strong strong opting for a traditional approach to a black tie dress code. Her Burberry dress was one of the most classic and most admired pieces worn that evening with flowers trailing to the floor across the fabric it illustrated how modern technology doesn't mean an abandonment of traditional artistry delicacy. The flowers cut with laser applique acrylic rather than the traditional hand finishing. This has been one of the stumbling blocks of bringing machines into High Fashion. Centre above Naomi looked to a more metallic feel to her interpretation of the dress code and she wasn't alone in this. Her Roberto Cavalli dress accentuated the essential lines and dynamics of the female figure in perfect symmetry while shimmering with metallic lustre. American label Coach are keen to emphasise their style credentials reaching beyond the original focus of the Brand's casual bags and this evening dress worn by Chloe Moretz above to the right is a great piece that looks great on a 20 year old and a 60 year to be frank. It's a fantastically versatile number that will could easily be a black-tie favourite in your wardrobe.    
For me this exhibition looks like a piece of heaven opening on the ground floor with a series of room that show the anatomy of Haute Couture and Ready to Wear dresses laid bare with the results of both the hand and machine input visible to all. Guests where shown a journey through the design and creation process that takes place in the atelier and it's very insightful that this inside of studio is being shown to the fashion audience in this detailed way. The recreation of the 'Flou' the dress making rooms of the atelier.....  I believe that many people are deeply interested in the workings of life behind the scenes in the fashion industry and the craft that takes place and I'm delighted that this has been shown in so much detail by the curators of the exhibition. 
The ground floor of the exhibition houses the case studies of design in a series of installations while the visitor is invited to consider many different forms of design techniques including pleating, lace making, and leather work. Like many people I find toilles fascinating and the beauty the garment as it takes shape is something really special. Manus x Machina focuses with such purity on the design and construction of garments which is apt as this is the truest way to fully examine the relationship of the hands and the machine in the fashion world at the current time. So as a delight to the senses a whole area of the exhibition is set aside as a re-constructed salon dedicated to the construction of garments. The Parisienne Atelier transposed to New York.       
Naomi Campbell wearing Roberto Cavalli
Chloe Moretz wearing Coach
Clare Danes wearing Zac Posen.
Karolina Kurkova wearing Marcheasa.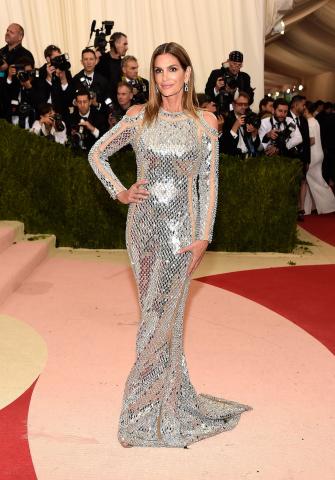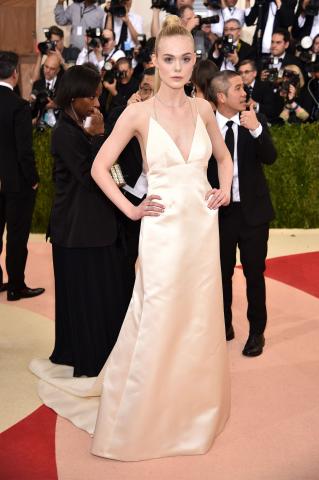 Cindy Crawford wearing Balmain.
Elle Fanning wearing Thakoon and Tiffany Jewellery.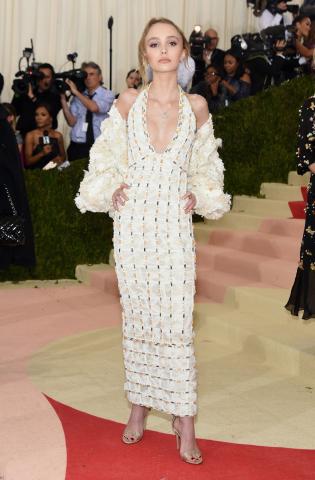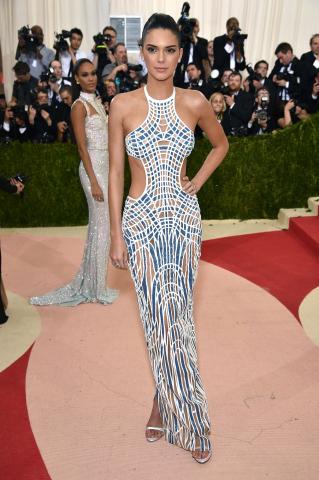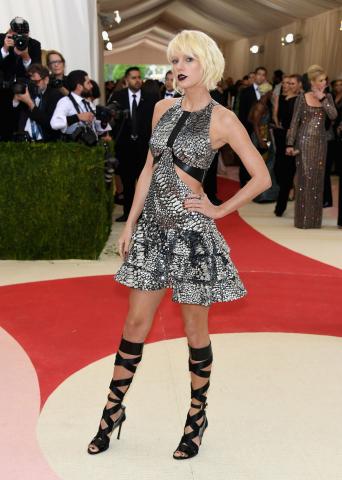 Lily-Rose Depp wearing CHANEL.
Lea Seydoux wearing Louis Vuitton.
Kendall Jenner wearing CHANEL.
Co-Chair Taylor Swift wearing Louis Vuitton.
The colours on offer will sensibly take you from day to evening and all of them will suit day to day life at work and play. Ballerina, the classic French Manicure base returns once again with it's natural light delicacy to be joined by the bright fuchsia of Camellia that happily (for me) echos the signature colours of A Blush of Rose. The smokey hues of Garconne and Monochrome offer a muted a contrast for the fingers or toes offering a subtle contrast with a tan perhaps. The overt passion of Gitane is tempered by the deeper mysterious tones of Particuliere that reveals little while Mythique captures a sensuous pleasure that intoxicates and draws the eye closer. This and Rouge Noir and Roubatchka below form a sensuous trio of passion and intrigue that celebrate the rich luxuriance of colour that the beauty lab have conceived.  
Cannes Film Festival 2016 - Ralph and Russo bring their brand of fresh classic Haute Couture to the Tapis Rouge.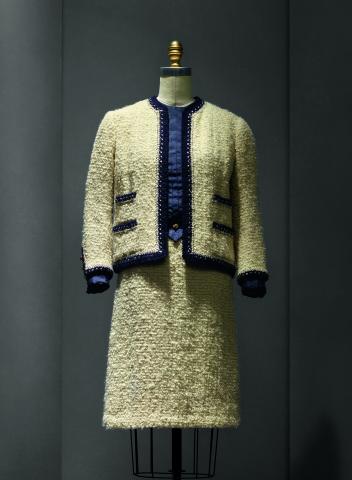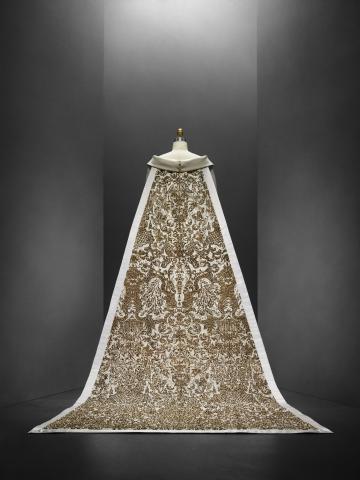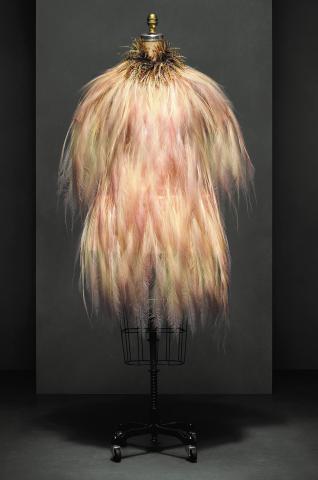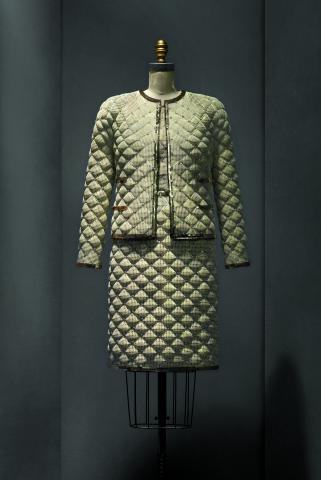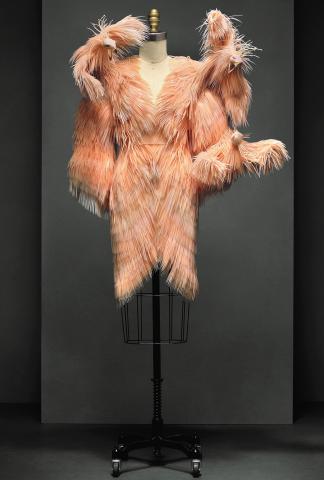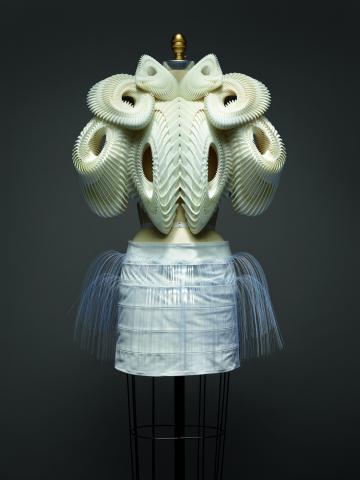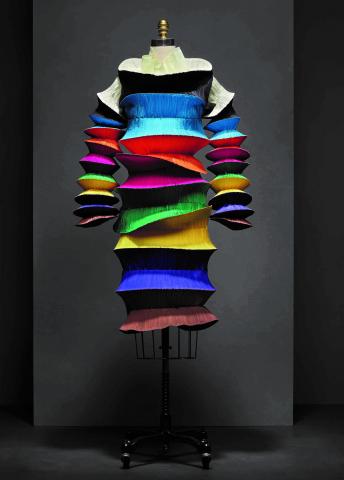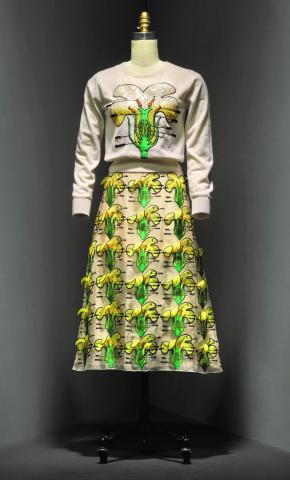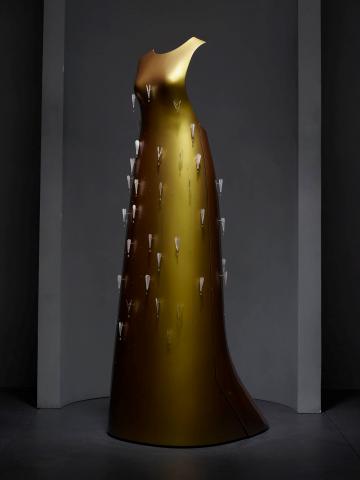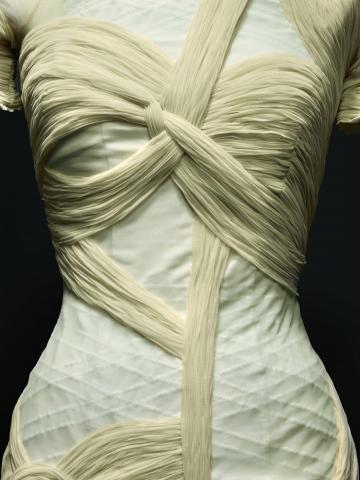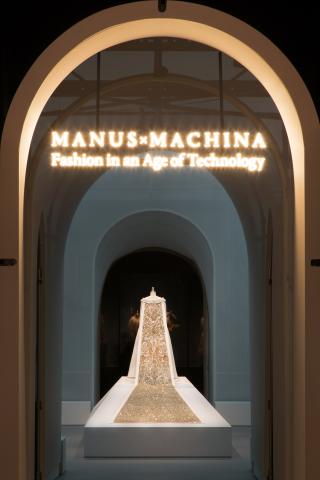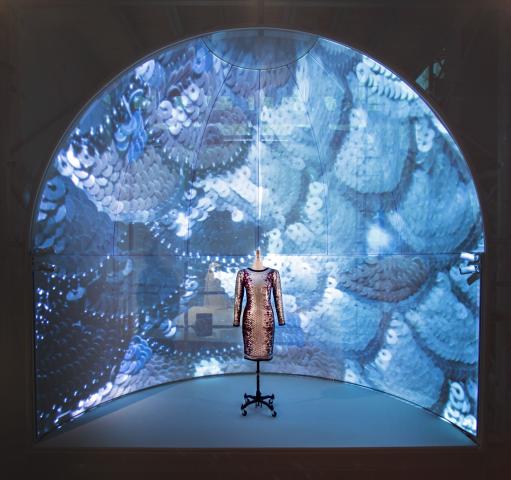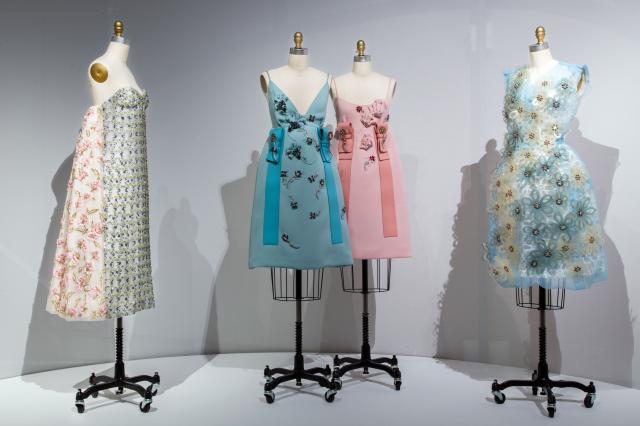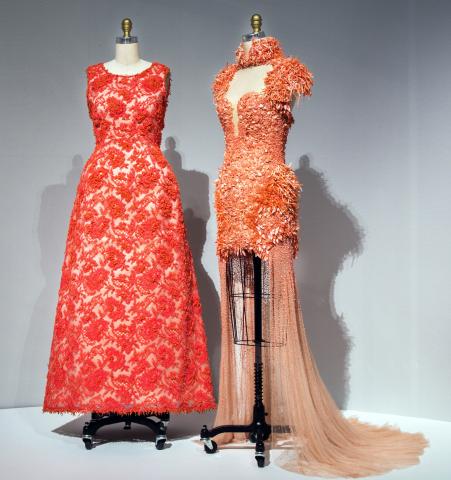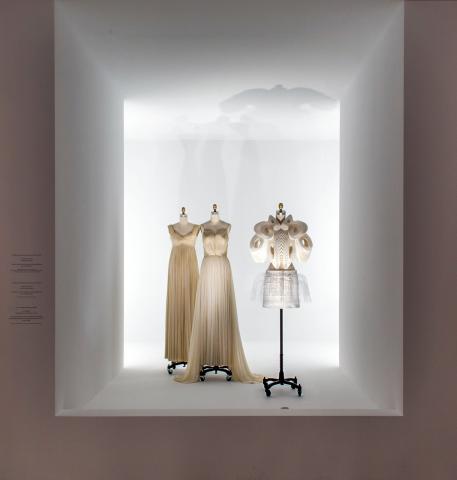 And so to the exhibition itself; The anatomy of design is what is being explored here and it's evolution. The evolution of fashion like some form of independent life and new species on earth is explored at the genetic level with new cascades of colour, style and development. Bridal commissions still play a large part of CHANEL's private client base and to the left a shot of the exhibition opening shows elaborate 20 meter train following the dress. To the right above you can see a shortened version that shows more of the detail in close-up in this image. The elaborate craft of technical ability and artistry. The train itself is hand-painted with gold metallic pigment, machine-printed rhinestones, and hand embroidered with pearls and gemstones.
Above are two CHANEL suits that look remarkably similar in their structure and form despite being over half a century apart in their design. Karl has taken CHANEL to many interesting places, not just in terms of his global Cruise and Metiers des Arts collections so I felt that perhaps the Met curators could have been a little more daring in their representation of how the House has re-worked the classic CHANEL suit over the past near-century. Texture wise the 2015 look does illustrate the quilted effect look that was formerly seen in handbags and the fabrics used are in are a 21st century technology transformation.      
Entrance Hall to Manus x Machina
Dakota Johnson wore a very interesting piece from Gucci managing to combine expression of her pwn personality without going too off-beat like some of the younger crowd can do at the MET and looking out of place. With a fresh stellar take on making a statement Dakota looks relaxed and happy on the Red Carpet in front of the cameras. She's dressing to be herself and also for the occasion or that is how it looks. Lea Seydoux was a strong ambassador for French Label Louis Vuitton in a black and white number embellished with sequins and playful ruffled sleeves. 
Kendall Jenner looked statuesque in CHANEL with slightly marine vibes coming from the blues and pool-tiled tessellation patterning. Taylor Swift adhered closely to the dress code in a way that you would expect from a co-chair of the event. The singer wore a Louis Vuitton outfit in metallic hues that also had a resonance with nature in the crocodile skin effect design of the fabric. Nature and technology melded together in one. The twined strap shoes wove a gladiatorix look to the outfit and Taylor was ready to lead the charge.   
Second generation CHANEL face Lily-Rose Depp wore a metallic detailed piece from the Spring Summer 2016 Haute Couture collection. With an off-the- shoulder Bolero styled jacket neatly offsetting the structure of the gold and crystal-sewn paneled dress at 16 this was her 'MET Gala' debut. No doubt the first of many in years to come. Cindy Crawford shone in Balmain with a dress that hit the metallic top notes of the register looking like sleek quicksilver. Elle Fanning looked delicately beautiful in an Ivory dress by Thakoon, a designer who was one of the first I bought from and still admire. Taking the Moon and Stars celestial fashion angle Nicole Kidman wore Alexander McQueen in black and grey perhaps taking a more overarching view of creation whether by man or man-made machines. It's a beautiful piece that could be adapted to be a little more daring. 
Karl Lagerfeld House of CHANEL AW 2015
Wedding Ensemble Karl Lagerfeld House of CHANEL AW 2014
Evening Dress Yves Saint Laurent 1969-70
Christopher Kane Spring 2014
Dress Iris van Harpen Autumn 2013
Ensemble Iris van Harpen Spring 2010
Kaikoku Floating Dress by Hussein Chalayan Autumn 2011.
The first floor of the exhibition contains a series of alcoves that lead the viewer gently through to see a series of petites mains workshops including embroidery, feather-work and artificial flowers. It gives the viewer a full appreciation of the different departments of work and the skill sets that combine to create stunning Haute Couture and Ready to Wear outfits. Throughout the exhibition traditional hand techniques are discussed hand in hand with cutting edge technologies such as 3D printing, computer modeling, bonding and laminating, laser cutting and ultrasonic welding. Welding itself brings to mind metals and it's use with, and in place of, traditional fabrics is a fascinating part of the representation of costume. 
The Hussein Chalayan piece above is heavily influenced by Japanese art and the play with light crystals across the surface (or perhaps they are LED lights, I'm not sure) shows the less conventional side to this exhibition. Along with the two further outfits to the right by Balenciaga and Miyake studio they offer a contrast to the beautiful but relatively conservative offerings on show from CHANEL and other Maison. Fashion, and in particular Haute Couture which is often allowed free reign to explore, is a vital way for people to express their personality and feelings and the constant expression and re-expression of ideas.   
Nicholas Ghesquire for Balenciaga Spring 2003
Flying Saucer Dress Miyake Studio Spring 1994
The delicacy of flowers is one beautiful eternal facet of fashion design that will probably be with us for centuries to come in what ever form is dreamt up. The soft flowers offer ample scope for exploration of creative possibilities in the workrooms. The infinite complexity of natures design will always be something that the hand will try to replicate. The span of designers represented from Cristobal Balenciaga, Sarah Burton, Pierre Cardin, Gabrielle Chanel, Paul Poiret, Helmet Lang, Madam Gres and Christopher Kane comprise the body of mostly well known names that are represented. It's a beautiful exhibition that surfs the current trend, one that I have wished for, to show the wider world the inner workings of the fashion design and creation process. Many people want this now.       
Artificial Flowers Gallery View
Tailoring and Dress making Gallery View
Embroidery Case Study Yves St Laurent Dress
The Haute Couture of Ralph and Russo has well and truly stamped it's presence on the international Red Carpet since first coming to the Couture schedule in January 2014 and they have since gone from strength to strength growing a client base amongst the rich, the famous and the Royal the world over. As a London based Atelier they have re-ignited high profile catwalk gracing Haute Couture in the British capital that has given rise to so many of the worlds leading designers and this modest couple are quietly down to earth in the approach that they take to their confident conquest. The fashion and film industries have long enjoyed a beneficial symbiosis and each May as the tribes of the cinematic world gather in Cannes the fashion world gives us one of the greatest public displays of Haute Couture of the year. As the camera lenses trained on the Red Carpet click away Ralph and Russo is one of the main choices of recent years amongst the ranks of Haute Couture Maison that stars chose to wear.
Above left Jourdan Dunn wears the dress that opened the Spring-Summer 2016 Haute Couture show for the screening of The Unknown Girl. With beautiful hand painted water colour detail this dress showed Tamara Ralph's interest in exploring new techniques and innovating each season. The colours are spectacular and clear and filled with the light and energy of Summer. With pale blue lining and embellished with Glass and Crystal this Jourdan literally swept the photographers away and she was anything but unknown to onlookers. Tamara and her team have mastery of a diverse range of shapes and styles and actress Ana Barros wowed at the amfAR Gala in an Apricot Silk Chiffon dress that fell gently across the figure draped delicately with asymmetric sash and glass bead embroidery. This beautiful colour will suit many skin tones and the lightness makes it suitable for both day and evening formal receptions. A true Summer Night Dream piece. 
So after joining the party a little later than Mabelline, OPI and countless other brands have CHANEL nailed it (he he). Well they have, providing you do seal the colour with the Gel top coat you are almost guaranteed to have a manicure or pedicure that will last for seven days. This is a collection that does seem to live up to it's promises. As before the formula contains lipids and nutrients to enrich the nails and promote longevity of wear. The care aspect that you would expect from a premium beauty line is still there. It's 5-free which means that it's free of 5 chemicals such as formaldehyde that used to be commonplace in Nail formulas. The cuticles made of tightly packed hairs are delicate and a formula that enriches the nails is far better for the body. For some people this collection won't be broad enough in it's colour scope so although some of us will continue to pick up favourite shades others will be looking out for something more exciting and different coming up on the horizon in the Autumn. As a first step though it's pretty good.
The Maison has firmly sealed it's reputation as a provider of Haute Couture that bridges both the traditional and modern aesthetics. Ralph and Russo have remained true to the vision of creating Haute Couture that fulfills every inch of the glamourous design fantasy that many clients still look for with the design still remaining modern and contemporary at the same time. Gowns festooned with ruffles, lace and composed of acres of finest fabric are always going to find an eager client base hungry for a fresh twist on classic glamour. Ralph & Russo have established signature shapes and styles giving the Maison a recognisable stamp on the catwalk. If you're looking for the high glamour of the 40's and 50's brought into the 21st century this is a designer who is very likely to be top of our list. 
British-Thai actress Araya Hargate wore a diaphanous blush pink dress to the opening Gala featuring pin-tucked organza ribbon that cascaded over the structured corolla train. At the moment many people speak of the 'Standing Dress' phenomenon which is a description of dresses that are visually stunning in front of the camera but less than ideal for models and actresses to actually wear sitting at table or getting in and out of cars. This isn't the case with Ralph and Russo where the dresses are genuinely wearer friendly with perhaps the occasional attendant required to help with placing the train of the skirt. Not a bad thing sometimes either. Izabel Goulart wore a beautiful robe dress teamed with a luxuriant swimsuit styled white bodice underneath that wowed the crowds. While we currently love lounge-wear this was an example of how the dressing robe form can make a metamorphosis into a luxuriant Red carpet dress that looks fantastic in front of the camera and is effortlessly light and comfortable.       
Araya Hargate at the opening night Cannes film festival Gala
Sonam Kappor in both and below right.
Haute Couture Houses have long been known for the expertise in creating the most superb bridal gowns imaginable and Ralph and Russo, now known universally in fashion as a House that closes their shows with an exquisite dress requiring six sets of hands to help lift and turn the train of the bride, also brings out each season a series of dresses that can have a double life on the red carpet or for a wedding. And what beautiful creations they are echoing the earlier era of the 17th and 18th centuries when a bridal outfit would also be worn subsequently at the Royal Court for presentation and for further occasions as they arose.  
Above to the left Sonam Kapoor wears a beautiful gown of Ralph & Russo custom couture at the Premiere of 'From the land to the Moon' ("Mal de Pierres"). Referencing the current 'Cold Shoulder' trend Sonam wears an adaptation of the original white silk crepe Kimono dress shown on the catwalk, as many clients chose to do. Silk thread floral embroidery embellished with silver bullion and crystal and glass beads. Ralph and Russo continue to utilise highly skilled embroidered in many areas of their collections, thus preserving the craft and skills as well as offering a high standard of finishing detail that many clients love, although fewer Houses now still produce. For the amfAR gala she wore a variation of the light mint dress to the right in delicate powder blue with floral metallic embroidery, silver bullion, crystals and glass beads. Another creation that typifies the highest levels of artistry that Ralph and Russo are so well known for.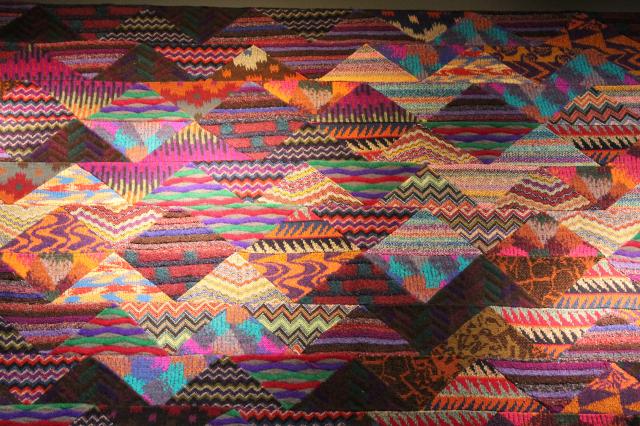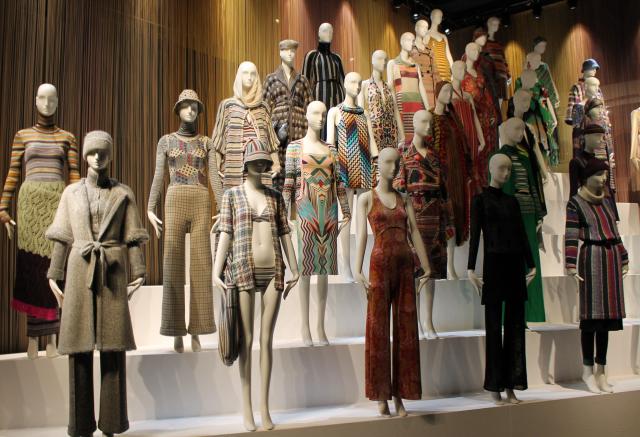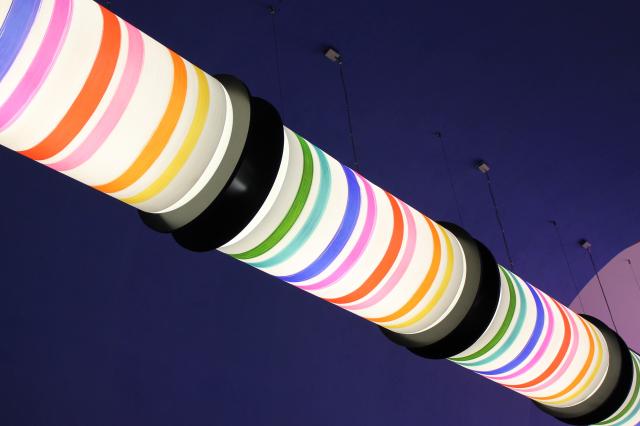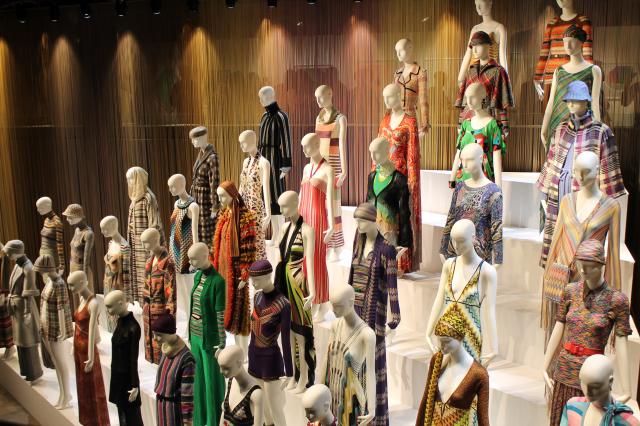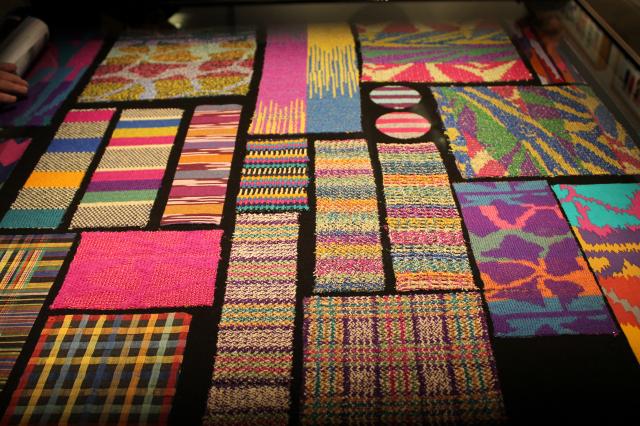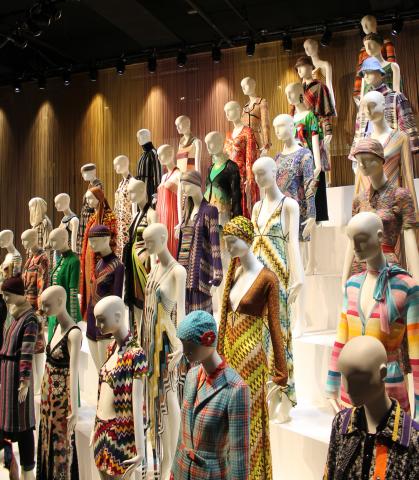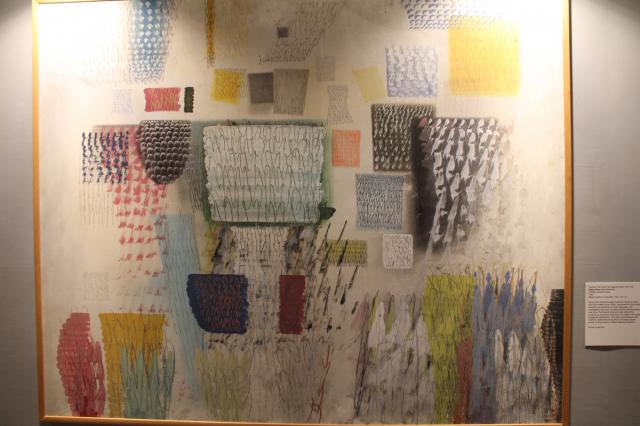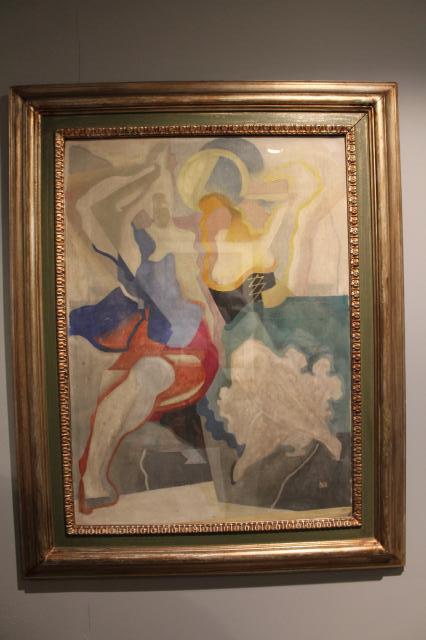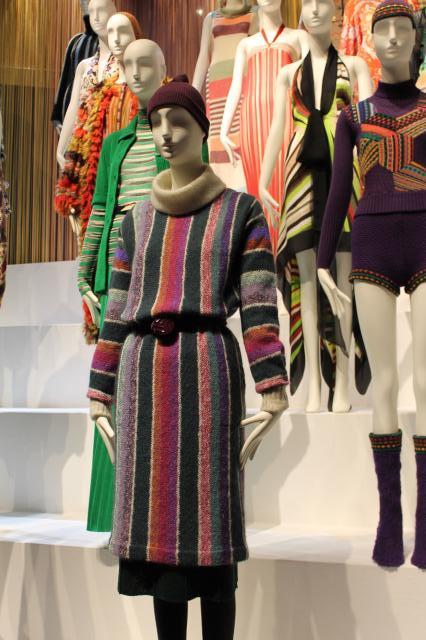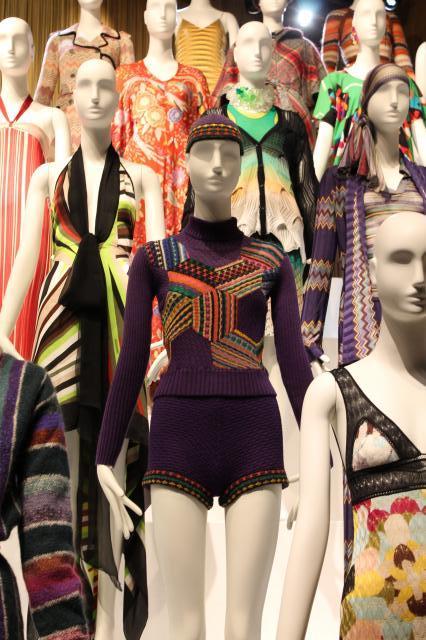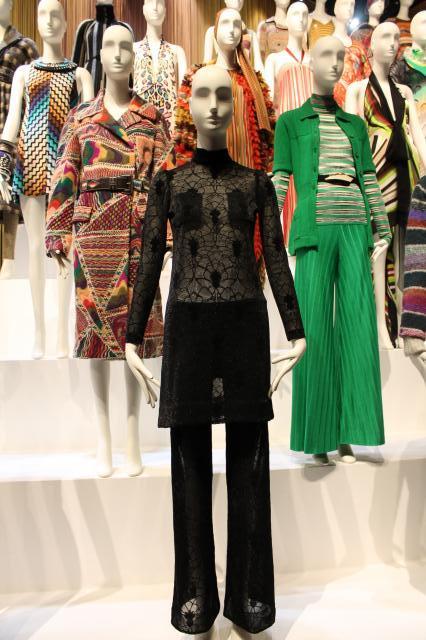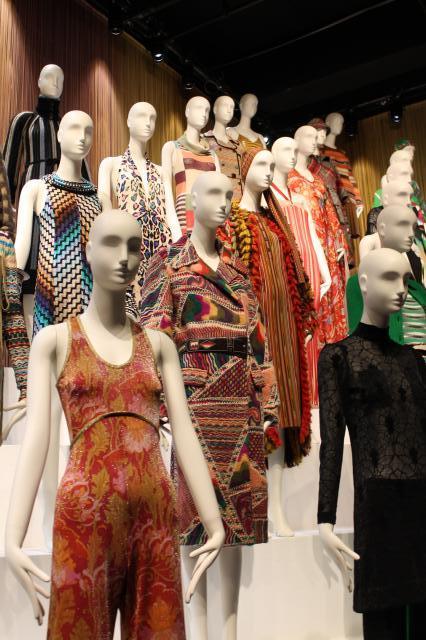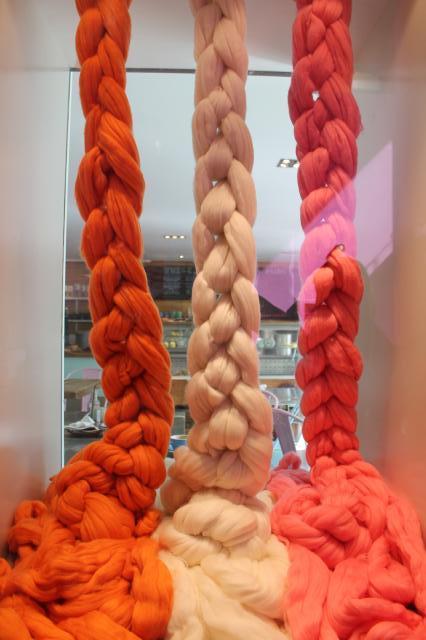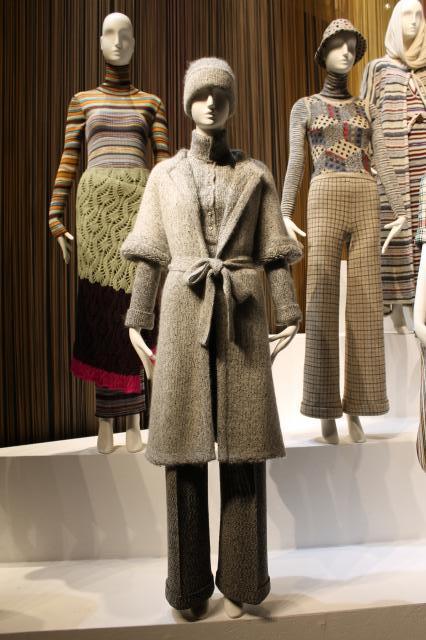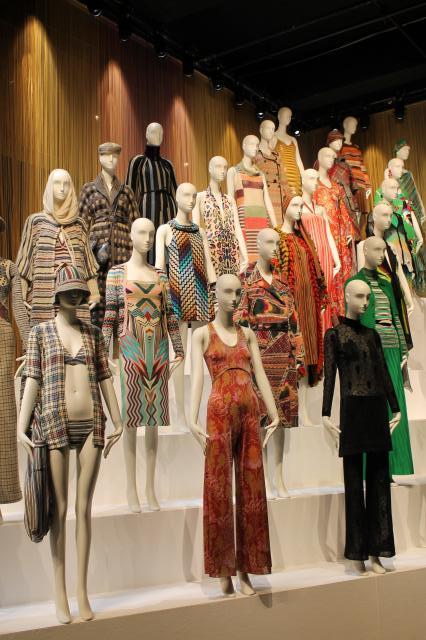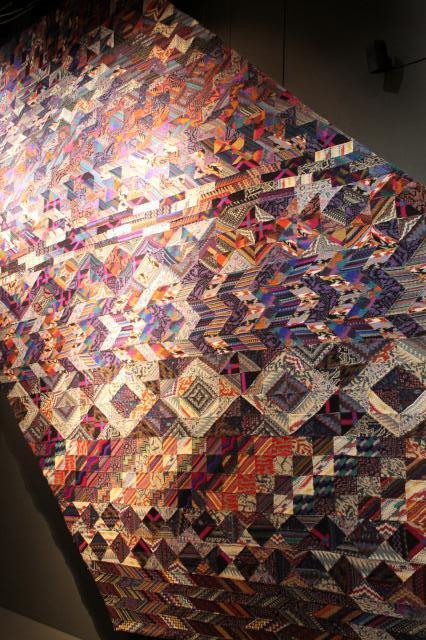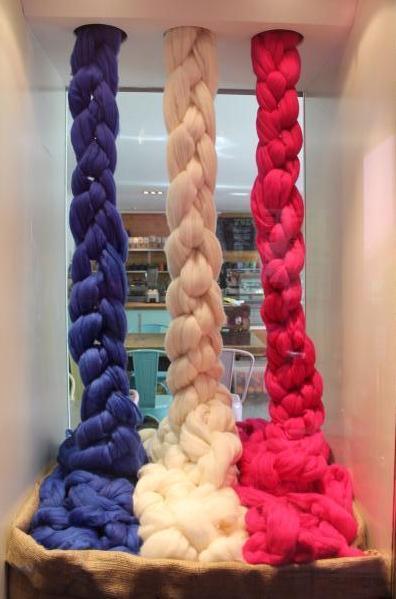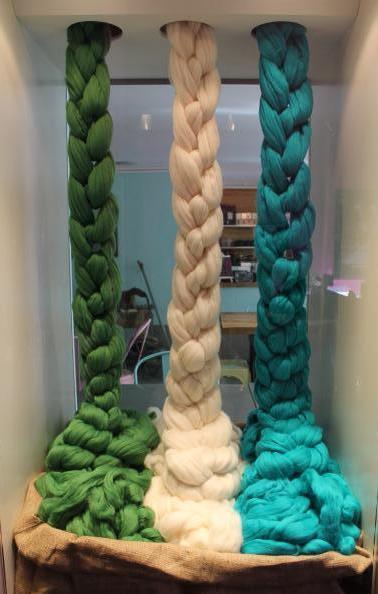 Missoni's Art of Colour at The Fashion and Textile Museum of London * with big love and thanks to Angela and the Missoni family and FTM team.
A real fashion treat landed in London in early Summer with the Missoni family welcoming us to the preview of the opening of a retrospective of their style with a collection of looks designed by Angela Missoni who has lead the House since 1997. Now in their third generation of the business Luca and Ottavio Jr Missoni enthused about the family's passion for textiles and were visibly happy and humbled by the great deal of interest that the assembled guests had for their work. Once again London's Fashion and Textile Museum have secured a leading name to launch an inspired fresh exhibition in the Bermondsey museum founded by inspirational fashion legend Zhandra Rhodes. Zhandra is dedicated to promoting the work of many designers as well as being a leading fashion figure herself. Angela herself is one of the most influential and respected names in international fashion circles and a dedicated female entrepreneur.   
Missoni the House is the creation of Ottavio (Snr) and his wife Rosita. Their love story and passion for textile and art grew inspired the genesis of the House. It was a partnership that created an enduring legacy. There was a lot for Missoni to cover in this retrospective as there is both fashion and art on display spanning a total of 60 years of Missoni history. And as you would expect from an Italian Business dynasty the family are keen to tell the story of their own journey in the fashion industry too. The corpus of the exhibition, the large scale installation of dozens of dresses from different parts of the Missoni past shows how Missoni has kept it's sense of style and forged it's on look through the decades as time has gone on. Missoni shot to global fame in the 1960's and 1970's when clashing, daring prints and textiles matched the kaleidoscopic Psychedelic tone of the era. The 1970's long line dresses inspired by north Africa and Morocco are still comfortable options today that could be accessorised with one colour jackets either smart or denim or leather for a casual look.    
In opening Introductions Ottavio Missoni and the Gallery hosts thanked Woolmark who, with an understandably close relationship to the production base of Missoni textiles. Bales of brightly coloured plaited wool's welcomed visitors to the museum as part of the installation at the entrance. In an inversion of visitors entering a darkened cinema our eyes where guided to the colour pitch to see Missoni at and the luxuriant Rapunzel like tresses brought us straight to the heart of Missoni manufacture, the wool, the carding, the dying and finishing processes and then the weaving. 
Italy is famous all over the world in a way Britain was a little more in the past, for it's Textile mills that produce for everyone from new designers to the great Houses of CHANEL and Ralph Lauren. It's woolen mills support fashion designers and also skilled jobs in textile manufacture and machine technology and innovation. What Missoni have understood from their earliest days is the ability of colour to captivate the eye and utilise it's energy to inspire confidence in women in any walk of life all over the world. The sensory experience of colour and touch are the two main conduits by which they connect with their clients in the wider world.    
Art plays a large part in the Missoni story and the preamble to the exhibition area that featured the articles from the Missoni past where many pieces of art borrowed from Museums and private collections across the world. With a factory meets colour vibe the tube able to the left gave the industrial feel combined with the uplifting power of colour as we entered the converted warehouse space in post-industrial South London that Houses the Museum. Above to the right Giani Monet's painting shows an interpretation of colour blocking also tacitly referencing the rebuilding of Italy and much of Europe immediately following the conflict of the second world war. Following the war years fashion was one of the industries that lead Italy towards a new confidence and a rebuilding and strengthening of the Italian Economy.    
Colour exploration takes many forms in the exhibition and with the fashion on show and the family use works from their personal art collection to set the scene as they welcome visitors to the show. Bold sweeps of colour from Sonia Delauney, Lucio Fontana and Gino Severini proved to be a profound influence on Ottavio and Rosita Missoni himself show the families passion for bold colour that grew into one of the most famous fashion empires of modern times. The paintings above give us an insight into how artists try to express their thoughts and perceptions of reality through art. Here there is an element of psychology that I don't think you find necessarily in fashion to a great extent but it's worth noting the influence. 
Missoni does however consciously make the choice to set itself apart from notions of traditional structure and form and built an identity around seeing fashion from a different point of view. The Missoni women is a woman who strikes out, it independent and self assured and dares to be different. There is nothing radical in this as most designers will tell you that they have this vision of their women. Indeed the role of the fashion designer is often that as a champion of the woman, to empower and strengthen through her self expression in clothing. 
Gino Sevarino Ballerina 1957. 
Sonia Delauney Rythme colouer 1962.
Enrico Pamploni Ballerina in Motion 1935. 
Giani Monnet Constructioni 1946. 
Above is part of the enticing series of tapestries that lines the walls of the exhibition in the Museum's main hall. Upstairs a large number of gouache washes and pencil drawings from early collections and work by other artists gives further insight into some of Missoni's inspirations and working methods. 
The pure enjoyment that Missoni have in working with colour and textile is obvious through their use of colour and the family happily brought many pieces to London from both their archive and borrowed from private collections where Missoni is held by collectors. Above two of the textile friezes on display show mesmerised the eyes of visitors with their intricate complexity and vibrant energy. Above to the left set pieces and square from different fabrics where a beautiful bolt of colour reminiscent of the English quilting tradition that Missoni have so much in common with. The contemporary psychedelia kaleidoscope that the designs produce offer an almost endless choice of forms and style that have captured the imaginations of the fashion buying public over several generations. 
It's almost impossible for the eye not to be drawn in, it's human instinct to explore the intricate and be curious about beauty and complexity. The heart and the mind wandering in one lingering glance. This romance of colour echoes the love story of the founding couple themselves and the exhibition contains a cinema reel showing devotion Ottavio had for Rosita and the inspiration she gave him to build the business. Enduring love is a key ingredient that makes a lifetime of work an absolute joy.   
The weaves and varied textiles on display cover a myriad of inspiration of colour, style and inspiration. Never too outre there are styles that are more daring and more restrained that suit a broad variety of tastes showing the broad appeal of the brand. Looking at the styles above there are many pieces that you could pick out today and they wouldn't look out of place. Designers such a Matthew Williamson and Diane von Furstenberg share a similar sense of colour expression and both also work with 60's and 70's line shapes in their collections showing that Missoni is both unique and part of genre of designers that show the timeless adaptability of these styles. The intricacy of the details make this a great stop and stare moment and if you visit, be sure to give yourself plenty of time to really look at the clothes in detail as the combination of fabric variety and style variation provide a lot of contrast. Above to the right is another look that struck me as being totally contemporary and I can 'see' a woman walking down a street in New York or perhaps an Italian city in the winter dressed in this outfit today in the coming autumn. Above centre it a picture hat reminds me most clearly of the tapestry work and piece work style that has fed directly into the formation of Missoni style. Impressionism has been hugely influential and I love the little saltire to the left-hand side of the painting. 
A bolt of light at Missoni.
I spent some time catching up with the grandson of the Founders Ottavio Missoni Jnr who curated the exhibition; fashion and artwork together and he told me about how excited the family where to be able to bring the collection to London to show for the enjoyment of people in the capital and beyond and how much his family enjoyed Britain and the UK. Both he and his uncle enjoyed talking to fellow preview visitors in depth about the collection. 
The family business is now in it's third generation and the younger generation are excited about the times ahead for their brand and it's place in fashion in the 21st century. There is some resonance with the early arts and crafts movement that swept through the UK in the early 20th century and the words 'Life in Colour' are what I'm left with as the most abiding memory.
The exhibition runs until the 4th September in London and I warmly recommend you visit is you are able to. Missoni is a name that so many of us have heard of and the brand has a wonderful story to tell you.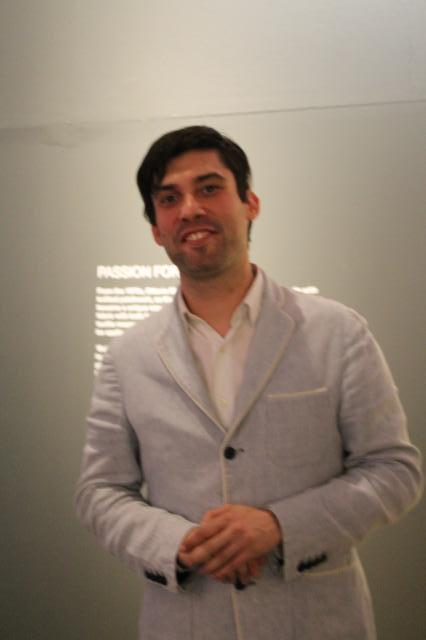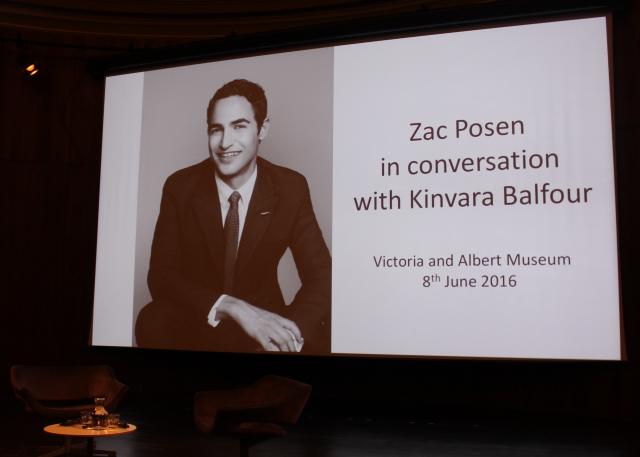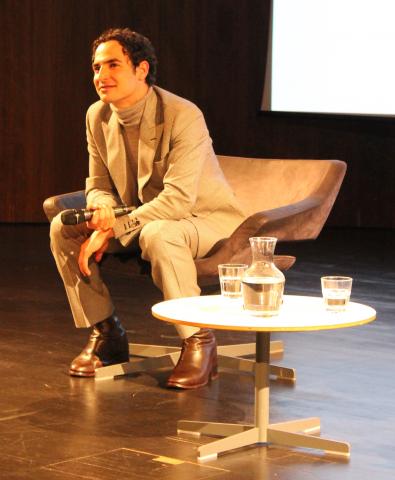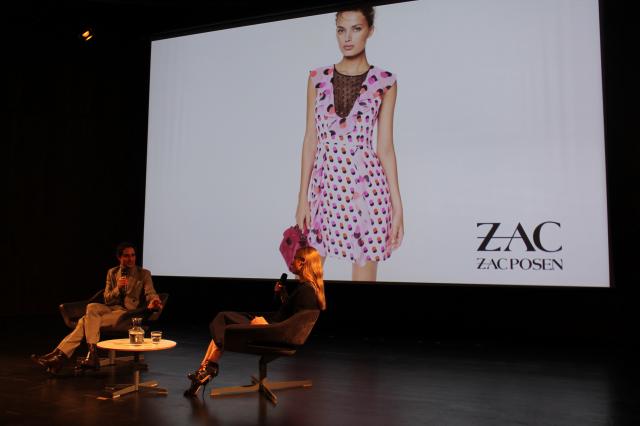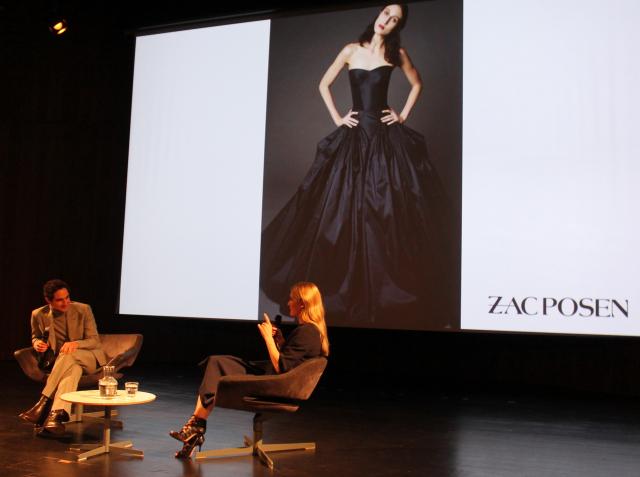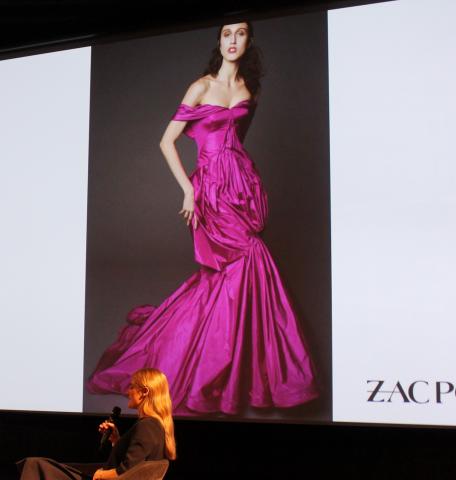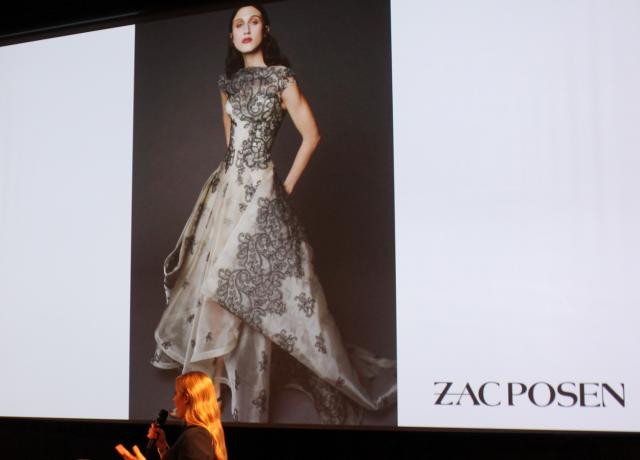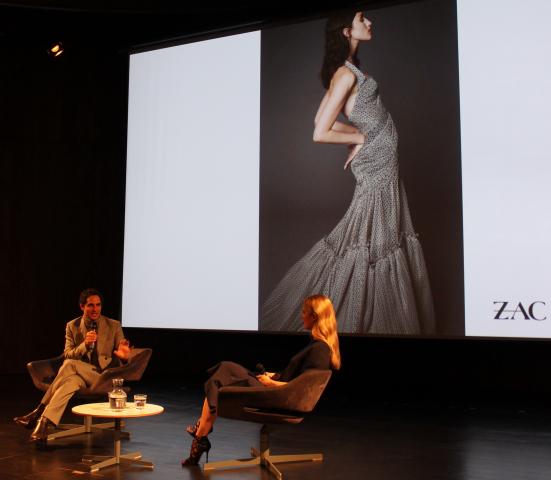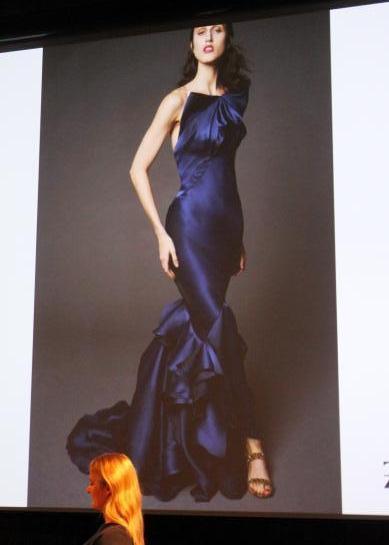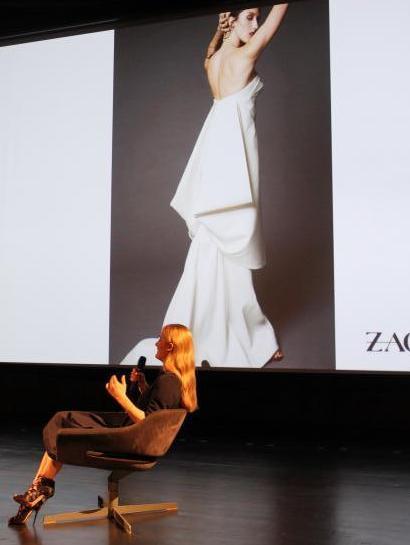 Kinvara Balfour in conversation with Zac Posen at the V & A Museum.
It was a wonderful treat to hear that at relatively short notice Kinvara had managed to grab some time with her friend, the phenomenon that is Zac Posen during his brief stop over in London. Although he initially trained at Parsons in New York; he credits London with being the city that made his fashion career and during his time with Kinvara his enduring love of this city became very obvious. 
Zac Posen the Designer was made here by his own admission, or as his Absolutely Fabulous friends and supporters who return to the silver screen this Summer Edina Monsoon and Patsy Stone may have put it; Zac was 'rebirthed' in London.
His love for this city and the friends and support that he found here is palpable when he talks, he loves our Supermodels, our Roses (Yay Zac), our countryside and our history. He's the happiest House Guest you can imagine. Alas though at this point in his career he seldom has time to journey here often.  
Opening his conversation with Kinvara, Zac's varied career to date was introduced from Designing for Delta Airlines to studying at Central St Martins.  spoke about how he had never expected to leave London initially after coming there. In his early years Zac originally wanted to be an actor or a performer and he's quite open about how more recently the feel for taking this direction has come back into his life. 
After a studying at a progressive High School in Brooklyn his mother told him to 'get a job' (there would be no Summer Camp) aged 16 and he applied to Central St Martins school in London and began when he was 17. On arrival in London he lived in trendy flats and went clubbing, the sure fire way, as Kinvara's talks reveal, of meeting people who can point in you in the next direction for your career. During this time Zac became friends with a host of British Supermodels Karen Elson, Jade Parfit, Erin O'Connor, Iris Palmer and fell in love with all things British. He met people through fashion shows in New York and going out a lot that brought him to incredible inspiring women. He reflects on this time in the late 1990's when characters in fashion where allowed to be characters. 
Zac also met party king Dan Macmillan and at the time in 1996-98 in the era of John Galliano and Alexander McQueen whom he met in the library of the met and Assisted his team on a project there. Zac related his experience of meeting Galliano and his team and his Muse, the first High fashion Muse he had met who who stunning beautiful and spoke seamlessly in several languages as she walked across a room. 
Back in London Zac moved to a haunted basement and then later moved in with a friend.meanwhile at St Martin's Zac was learning how strict and harsh traditional teaching could be, although he does mention this with a wry sense of humour. But his has the greatest respect for St Martins and credits it with being the School that really made him a fashion designer rather than an arts student who made clothes.  
During his time at St Martins Zac spotted Natalie Ratabesi, a fellow student who he describes as a 'Fashion Nija' and he is still very thankful for the support that he received from the inspirational teaching staff. In an age before the internet had taken off Zac describes how he had to piece together connections and work our who was who. He met Daisy de Villeneuve and then her mother Jan de Villeneuve who was was an American model and very well connected in fashion. His next flatmate Nina was writing with Dazed and confused which lead him to meet Jefferson Hack. 
Zac gets straight to the point on most things and he's open about the fact that at St Martin's he had to 'lose' everything he had been taught at Parsons and start again. His artist father hadn't been too impressed with the Parsons teaching and although it has a great name and reputation, I think I've heard this before about Parsons in NYC and the teaching in London was on another level entirely. His only fashion school was St Martin's as far as he is concerned. The discipline that Zac received at school in London set him up well for producing 16 annual collections as he does today. Running a fashion label involves being a good leader, learning how to delegate and trust people to form a cohesive and creative team. 
The business side and the creative side have to go hand in hand and Zac's words where music to my ears. He like me sees the art and the commerce side by side and his first equity stake in his company was bought by Puff Daddy. Zac is keenly aware of the ancient saying that 'Opportunity is not a lengthy Visitor' and when the door was open to establish his company he did and didn't look back. At St Martin's he had the opportunity to design a Muslin dress for Naomi Campbell and appeared on Fashion TV and met buyers from Barney's. Zac had the opportunity to go on a trip with buyers in Europe and watch how they work up close.   
When the September the 11th attacks happened Zac was preparing his very first capsule collection with help from his mother and sister and friends. Zac's mother cleverly negotiated for the retailer who would sell the collection to finance 50% of the costs of the collection and this enabled it to be produced. Zac and his family could have downed tools but they decided to use the energy of the experience to go forward and create something new and he also secured a grant for his second collection. The First show took place at a de-consecrated synagogue and with no budget for PR; Zac used his network of friends and contacts including Isabella Blow and Suzy Menkes amongst others to spread the word, and they certainly drummed up quite a crowd as the show was packed. 
With music from the Red Hot Chilli Peppers and and P-Diddy back stage prepping the models and getting them excited and ready to perform the launch initself couldn't have gone better and provided some uplift and respite from the tragedy around. Following the shows success agency KCD decided to represent him on a pro-bono basis for a second collection. The second collection was underwritten by Tom Ford on a non-compete basis with Gucci and Brooks Brothers, America's oldest clothes makers heading towards it's 200th anniversary signaled their interest in working with Zac. 
Brooks Brothers is one of the best known US retailers and Zac's line includes Shoes, Jewellery, Bags and Scarves. Zac produces original art work and print design for the collections and then brought day-wear to the collections with the aim of making it an artisanal collection. 
What does Zac enjoy doing? He loves to shut the door of his atelier, play music and shows much of life in the Atelier on Instagram. Above in my Met Gala piece is the Dress that Zac made for the 2016 Costume Institute Benefit on the Manus X Machina theme worn by Clare Danes. The dress was 'powered' by eighty battery packs and Clare was revealed as the wearer just before the Gala took place. Zac asked Anna Wintour who he should take to the ball and she wanted him to take Clare. Kinvara noted that she wasn't aware that Anna had this much control over the guest list and invitee's but it is indeed her party. It was a timely suggestion as Zac and Clare don't see each other as often as they would like at the moment due to the hectic demanding nature of their adult working careers. Zac is not only immersed in fashion but his 'Cooking with Zac' food diary on Instagram has taken on a life of it's own and a book is one the way in 2017. For Clare the continued success of homeland keeps her busy and in demand. 
Clare and Zac have known each other since they where children and grew up two blocks away from each-other in SoHo New York. In their teens in 90's New York everyone knew Clare was cool, Zac said she had a swing in her loft and with early performing success in hot shows such as My So Called Life she was well known in the city and beyond. Zac like Clare is also a performer at heart.  
Mindful of the ever advancing pace of technology in the fashion industry and in sync with the Manus X Machina idea of the hand verses technology Kinvara asked Zac if he would ever consider showing in Virtual reality; to which Zac very enthusiastically said that he would. Zac is a huge fan of technology and revealed that his Mum had suggested showing a collection in the virtual reality platform Second Life. But in the real world behind the glamour and glitz that is the small but highly visible part of the industry Zac is a thoroughly down to earth practical guy. When working on the dress for Clare to wear he googled for the fabric. Day by day he watches Japanese television for business market and technology news and finds it more cutting edge. direct and simply relevant than anything else. 
For the Met Gala dress the process of creation was the most seem-less over all that he has experienced and this was one dress that really did require a carriage to transport Cinderella to ball. Created with Tech digital plastic, tulle and microscopic steel fibres Kinvara noted that this dress was comprised of a few things out of the ordinary compared to most but the effect was fantastic and Zac's creation by popular acclaim on social and mainstream media was probably the best liked dress of the evening.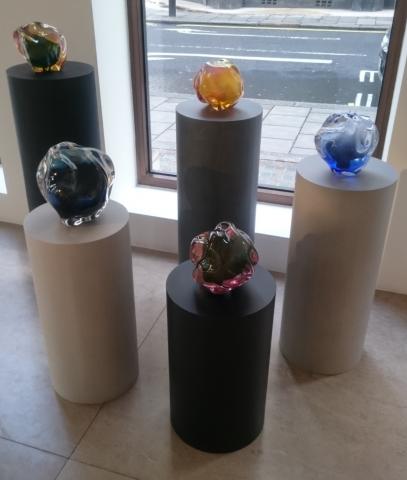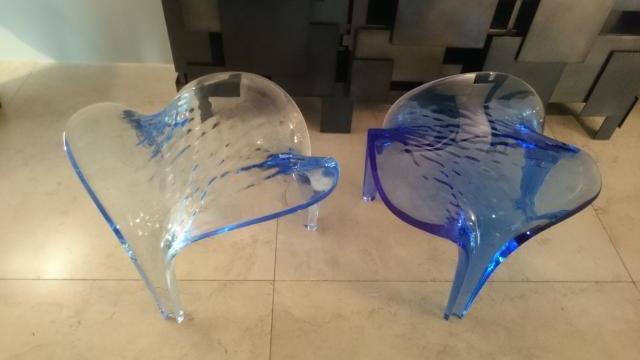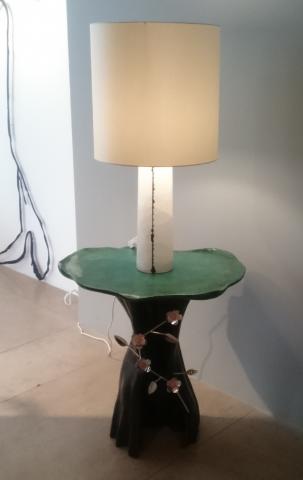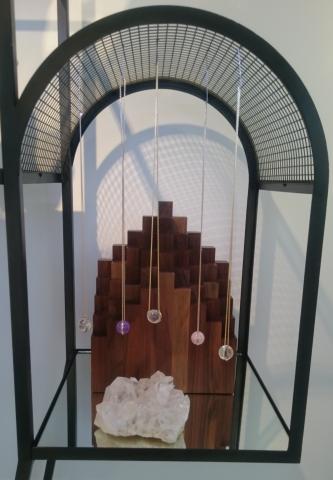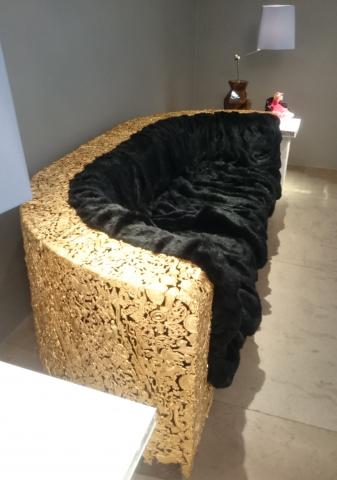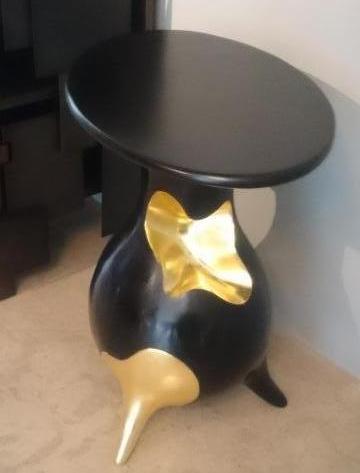 The David Gill Gallery King Street St James'  London : Young Bright Things
When David Gill decides to hold a showcase in his Gallery in London's St James' it's something that will draw plenty of attention and the Young Bright Things he brought together cleverly crossed several spheres of the art world. Curated by Gianluca Longo this exhibition explores his, David's and many peoples including mine, idea that art is transcendent across many areas including fashion, furniture, glasswear. Longo, a contributing editor to W Magazine chose 10 designers from across the world to showcase the best of emerging talent in the international contemporary art space. 
The gallery hosted much of it's usual span of offering during the same period and above centre you can see the two tables by the universally talented Zaha Hadid who sadly left us earlier this year that form part of her Liquid Glacial collection. These shapes are extraordinary and you can 'feel' and sense the fluidity and energy so strongly in them. I looked at them and wondered if I could see Sting Rays swimming in clear water Zaha was a true master craftsman and it's extraordinary what she achieved and gave to the world. No doubt these pieces will be enjoyed for a long time to come somewhere. Zaha and David first collaborated in 2007 on a project Dune Formations for the Venice Biennale that year and it was the start of a great friendship and working relationship over the coming years. 
Quirky isn't the right word but many pieces in the gallery have their own unique sense of charm and a playfulness about them that invites curiosity. The table to the side above to the left with it's sloping surface and indented gold leaf set cavity doesn't serve any obvious purpose beyond amusing the eye but if that is what takes your fancy then it will be a charming addition to your livingspace. Some of the objects breathe fantasy and in a funny way I realise that exploring this gallery felt like stepping into an adult Alice and Wonderland playground of sorts. Shapes transformed and objects with undefined sense of meaning and purpose. 
Flavie Audi creates the most amazing glass sphere-like shapes that perfectly en-capture the natural movement of liquid within a spherical stone shape. A graduate of the Royal College of Art her work is internationally recognised as fresh, tasteful and groundbreaking. The fascination with water and fluidity of shape is something universal and it's easy to see why her work is becoming so saught after. It's also a highly portable form of collective art as the pieces can be easily moved around a home or office as you desire. Working in different colours she captures different moods of light and manages to radiate a sense of calm and tranquility with her work. Find out more at flaviaudi.com. 
Noor Fares trained at Central Saint Martins and her creative sculpture impresses many with Diane von Furstenberg reportedly a fan of her work. Showing mostly crystal in this exhibit she shines brightly as a great future talent. The pieces that the showed here at the gallery reflect her interest in Sacred Geometary. Noor is Lebanese and raised in Paris and from a family of stylish women who's tastes left their mark on her. Her work is informed by her heritage and the Souks of the Middle East as well as her study of History of Art that sharpened her insight into symbolism leading to study at the GIA in California and an MA in Jewellery design at the Central Saint Martins school of art and Design in  London. This shaped her understanding of the nature of stones and taught her the craft to create the ideas and designs that where forming in her mind. One of her specialties is the pendant in semiprecious stones that carry a talismanic charm about them. This continues the tradition of jewels as a keepsake and form of luck to be worn and treasured. 
Zaha Hadid at The David Gill Gallery
For many of these artists it was their first foray into the arena of interior design exploring further from their base in art and craft. Petra Palumbo created a series of needlework pieces using the art of Rhys Coren as her basis for exploration. Fusing art and fashion is often a very powerful way to translate messages and design across mediums and Petra's family label Tapissiere based on Walton Street in London's Chlesea offers a rich variety of hand painted needlework in wool and silk. 
Luke Edward Hall is young, fresh, seriously multi-talented and gaining a lot of attention for all the right reasons. For David Gill's exhibition he created a 24-piece dinner service, his first venture into dining plates. His work covers many forms with his illustrations covering furnishings from cushions to a current project carrying out the full scale re-furnishing of a Georgian country house in Kent. He has numerous other projects to hand this year including art work commissions and illustrations for the Parker Palm Springs Hotel in California. Summer 2016 sees one of his most high profile projects to date with a collaboration with Burberry. Spring 2016 saw Luke begin to show his works for the first time.    
Bringing technology into clothing be it Haute Couture or Ready to Wear is one of the great next steps of 21st century fashion and it's fascinating to think of where we could be in 50 years time. Couture leads inevitably to Bridal wear and Zac also designs dresses for Davids Bridal that are shown internationally throughout the world. It was wonderful to see and hear Zac in London and he's a vocal advocate of the strong fashion education that this city provides in contrast to his native New York which is kind and starkly honest so hopefully helpful for more budding fashion designers to hear. 
As Kinvara noted in her closing comments before questions; Zac is an extremely nice person, he's quick witted and kind and is interested in dressing women of all figure types and ages in his quest to make women feel beautiful in the clothes that he designs. Zac's enthusiasm and interest in all things new and what may come next is one of the things that most struck me from hearing him speak with Kinvara and the many guests of the talk. He's visionary, humble and curious and looking for the next adventure whether through television projects such as America's Next Top Model or the upcoming Cooking with Zac series. He's a true creative talent with a stunning sense of timing.   
To the right above Annie Morris created a bed using line drawing inspiration from Alexander Calder and the Silver bedstead that he created for Art Patron Peggy Guggenheim in the 1945. The embroidered illustrations cover the surface in naive style blue and black lines and the wall behind traces an imaginary bed frame of powder coated steel and line drawings. This comfortable cool take on interiors brings humour into the bedroom expressing the poses and stretches of the bodies natural movements as it relaxes in sleep. 
Above to the left the black and white abstract is typical of tee pieces that you can find in David Gills gallery, what's remarkable for me is the way the gallery thinks carefully about placing art works and furniture close to being art together in a composed way that may inspire some clients to buy complete sets. It's something I personally see more often in antique and traditional art galleries. Another feature about this gallery that may draw your attention is the variety of works on offer in glass. Glass has the unique ability to play with light and bend it and also create many illusions when we look at it and often in the warmer months it presents the illusion of water as the light reflects through it. 
To the right one of the glass pieces from the general exhibition in the gallery provided a dazzling display of what magic well placed glass can create. To see the light bouncing on the walls creates the 'swimming pool' effect and draws the eye in delight. Centre above the casket in new-antique form engraved and containing objects of fascination is a piece of modern art in it's own right created by one of the Young Bright Things who are now lighting up London. 
With thanks to the David Gill Gallery, their hosted artists and team. 
Charlotte Olympia joined the London Fashion Week schedule for her debut show in February 2016 for the AW 16-17 collections and her inclusion in this offering from David Gill proves that there is a growing trend in looking at Fashion as a part of the family of the Art world. Charlotte is known for her bold playful style and colour use. She mixes pop art with a vintage feel and having our shoes displayed on a plinth in your home or gallery is quite 'John Lennon'. Charlotte brings a touch of the rock and roll sensibility to contemporary luxury footwear and the as shown in the pumps displayed below she is very keen in using art work and design in some of her pieces. 
The tote bag below to the left and in miniature centre shows a beautiful 1920's era painting brought to life in the form of an accessory to carry everywhere. There is a slight nuance of humour in this piece perhaps in the carefree reconstruction of the image in it's new setting. The juxtaposition of gold and black in careful contrast to the magenta pink of the Rose allowing for the viewer to focus their attention on the subject and the subject and her expression. And here we go, we're looking at a fashion accessory and thinking about it as a piece of art. Worthy of any Couture Salon the long chair to the right is part of the wider exhibition at the gallery and the crushed velvet piled in ripples across the surface of the chair with it's gold metalwork frame is a unique contemporary addition to a living space or office.
Intriguingly Charlotte also showed her first piece of furniture at this exhibition and that leaves us guessing about further horizons that she may wish to explore in the future. The assemblage is driven by Gianluca's  desire to explore art and his field of vision runs through design, interiors and through to fashion and in this synthesis Gianluca was hoping to create a party in the gallery of varied gathered artists. I think it works and there definitely seems to be a comfortable blend between the different styles and themes going on.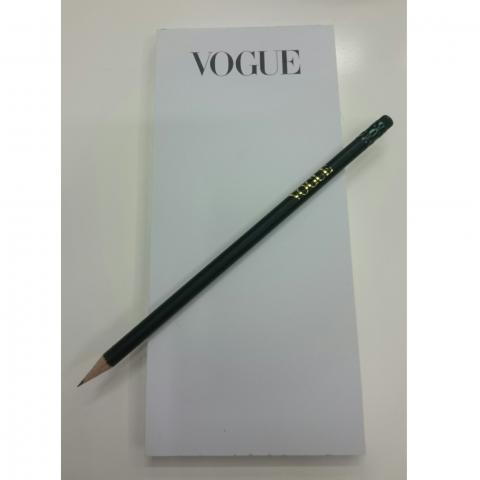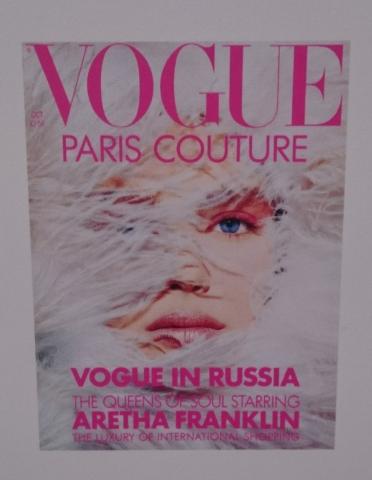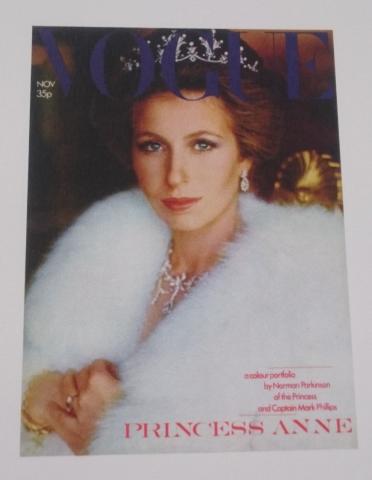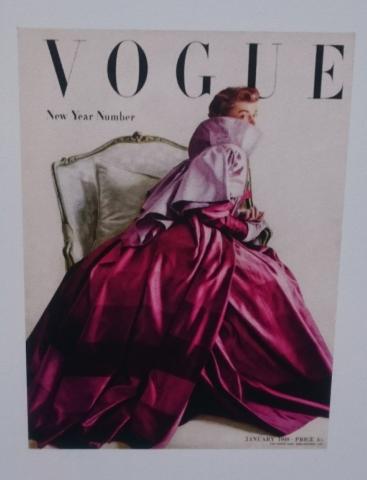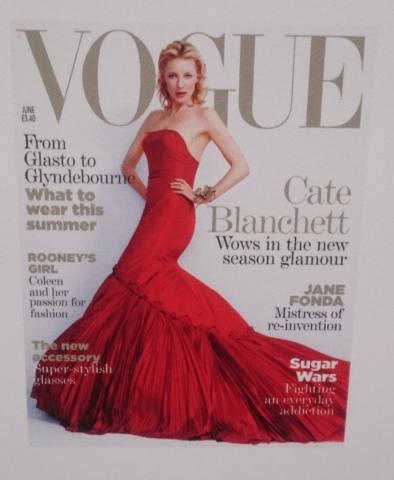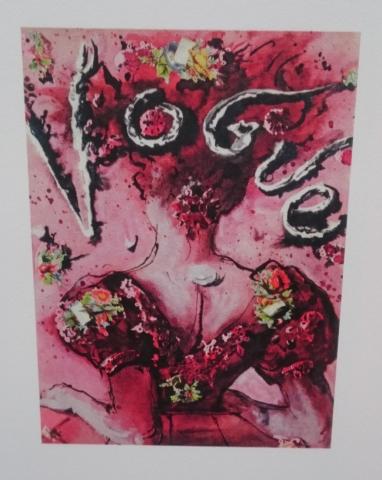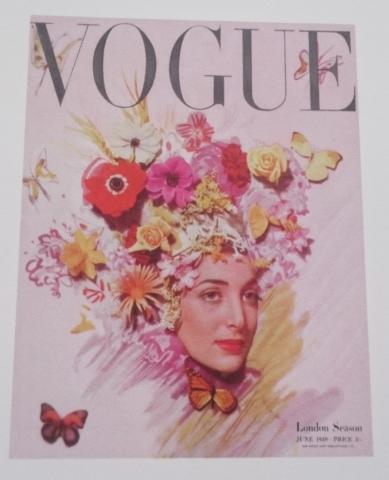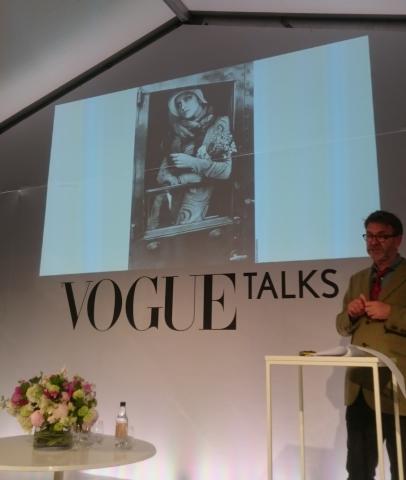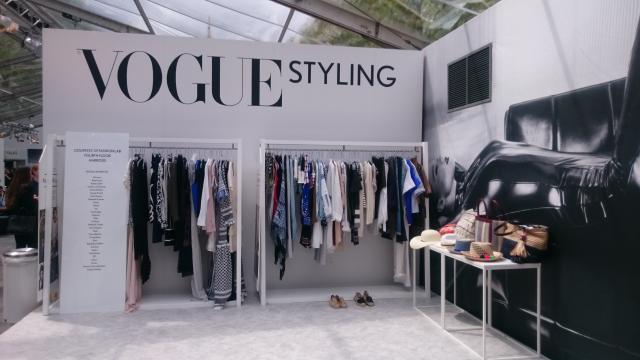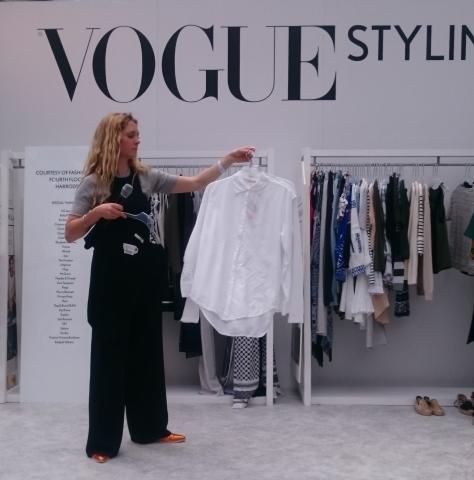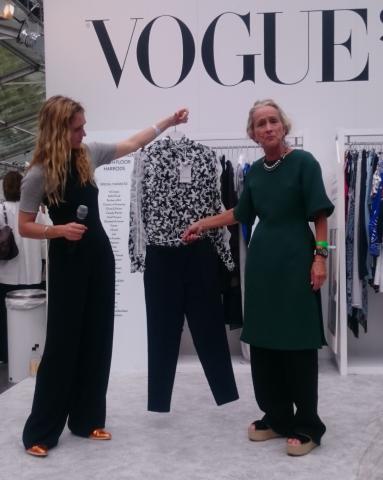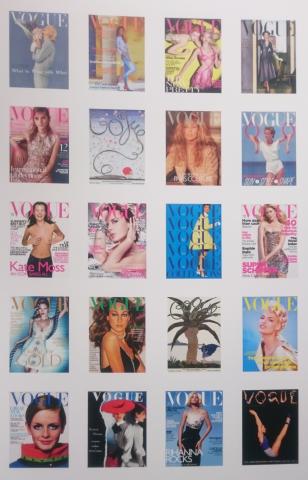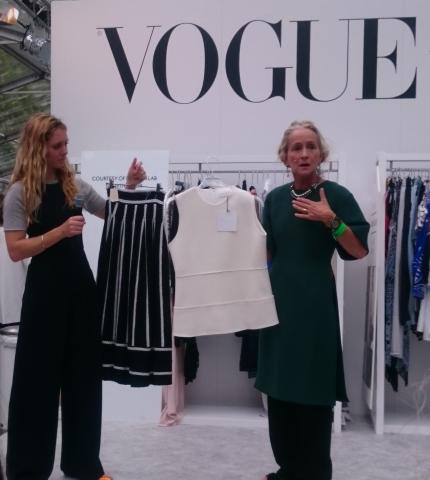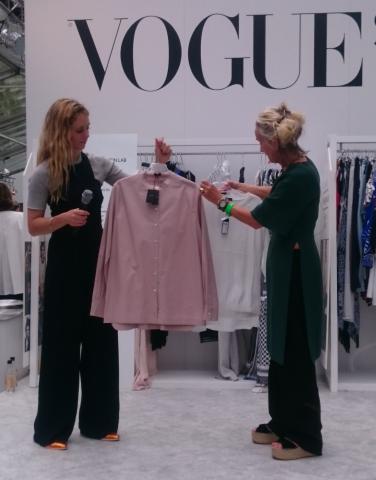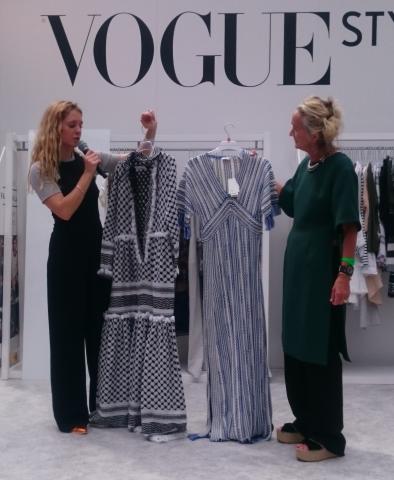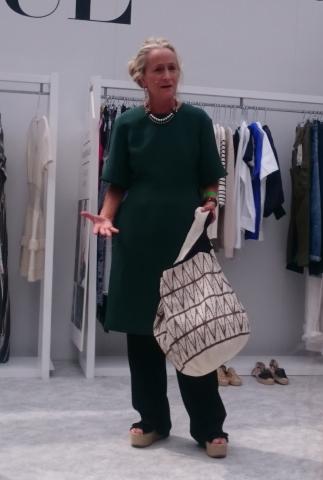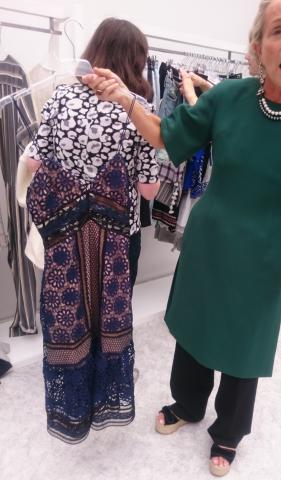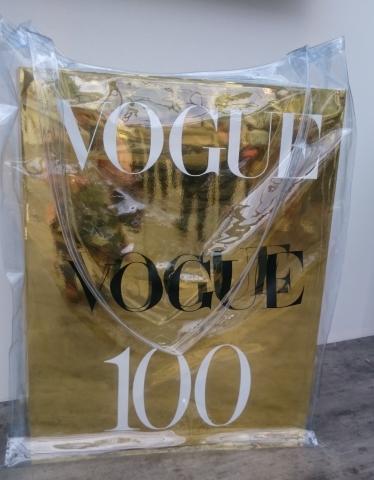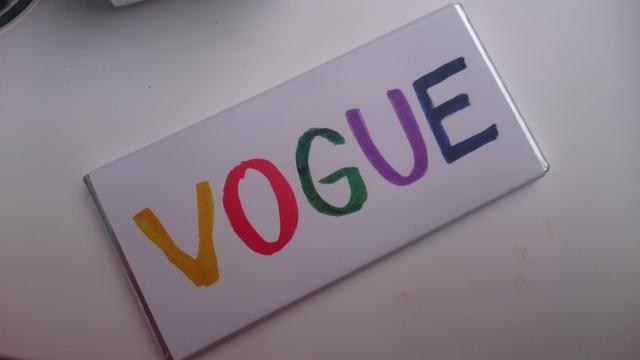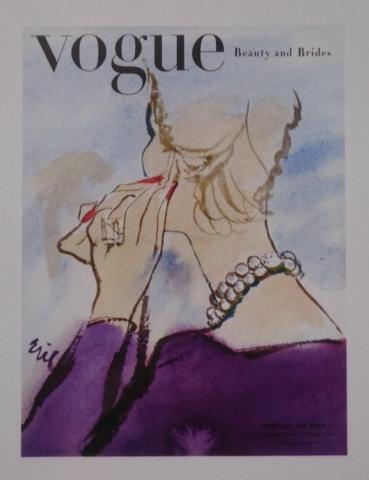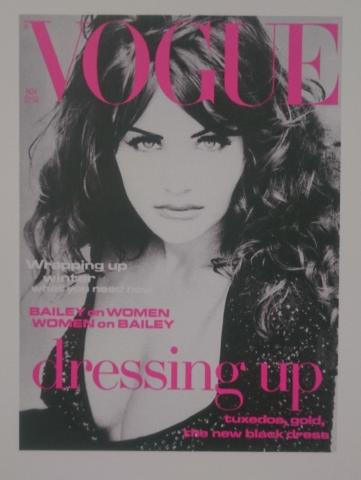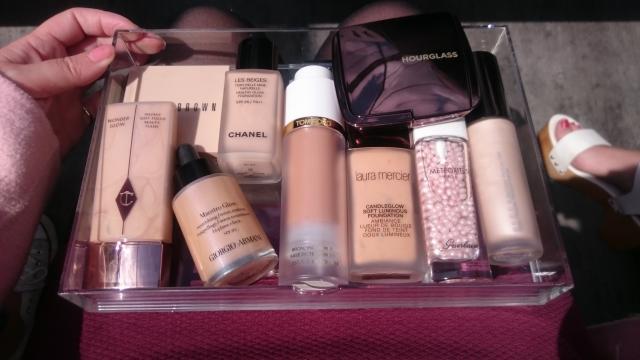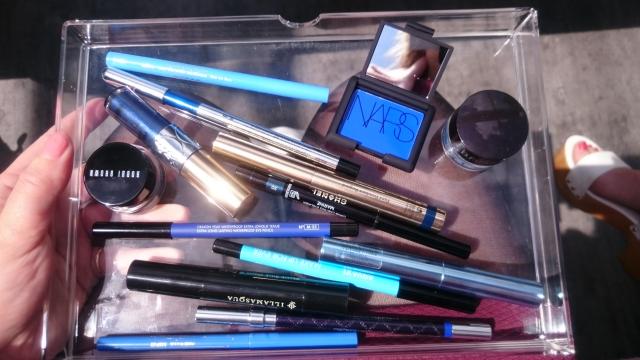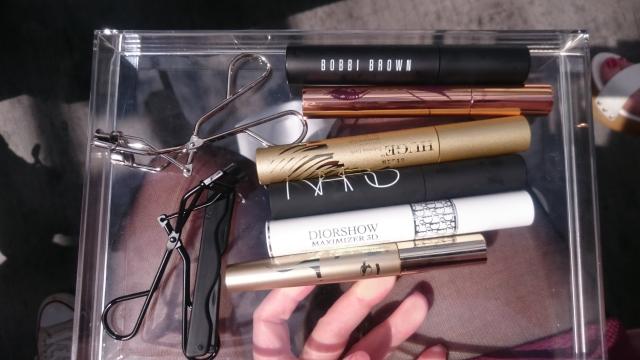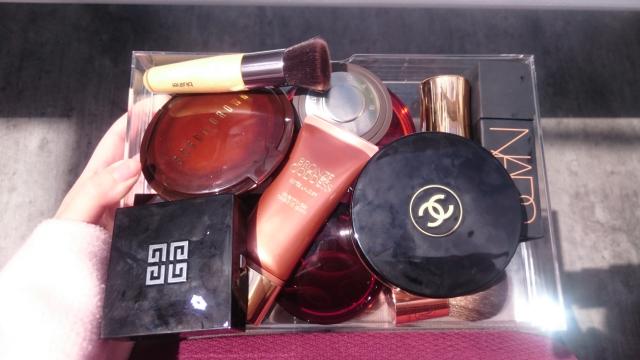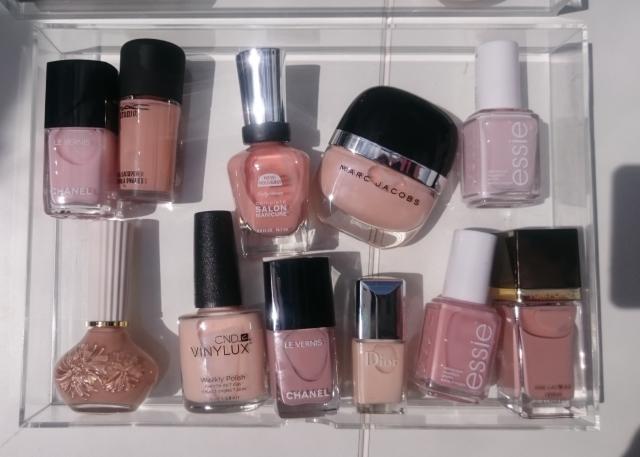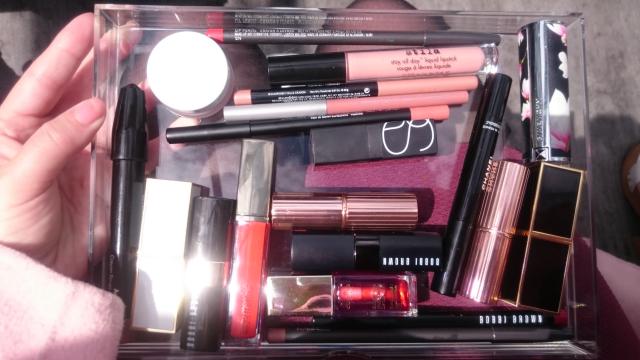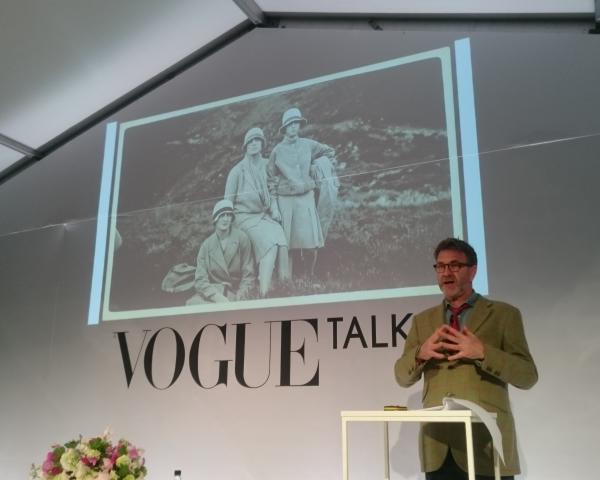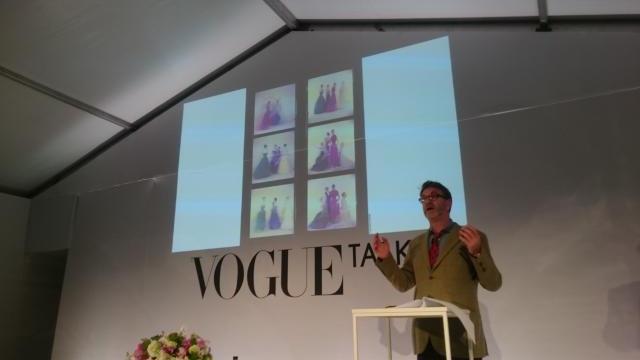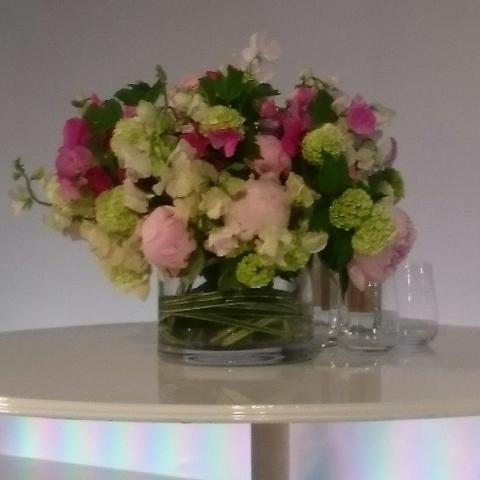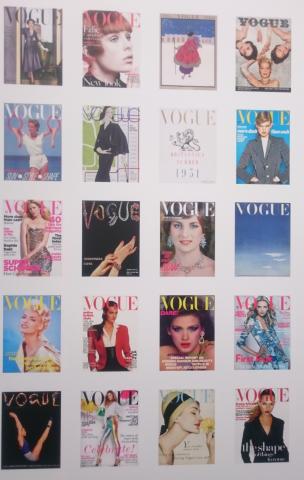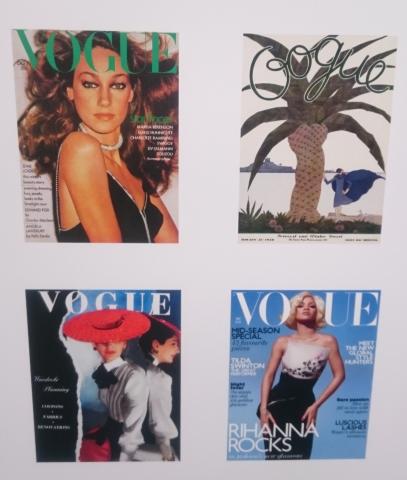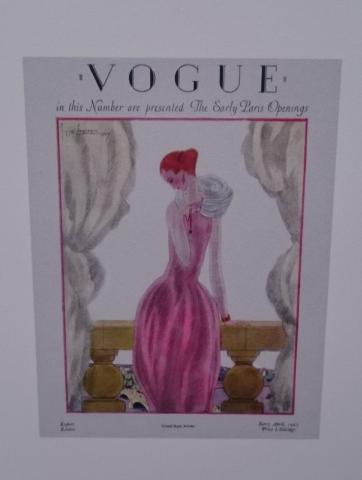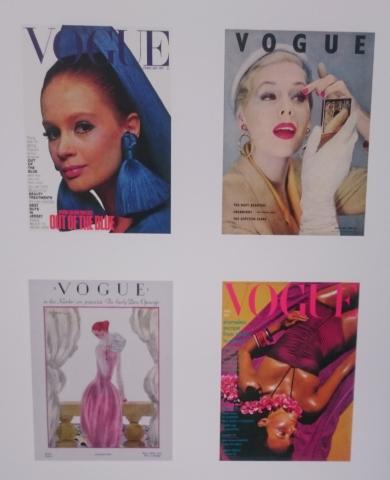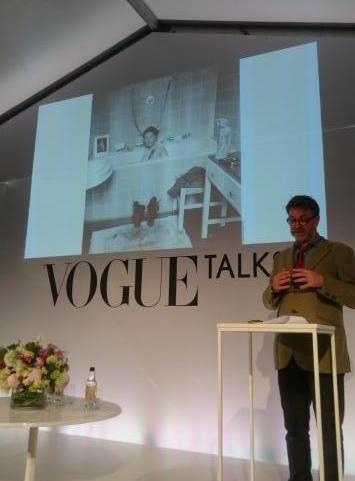 The Vogue Festival 2016 - 100th Anniversary celebrations.
The annual Vogue festival is now a firm fixture on the fashion calendar with Vogue using it's considerable clout in the fashion industry to secure a host of the biggest names in fashion from across the world to speak in conversation-style interviews and a variety of topics across a Summer weekend. Names on the programme this year included Grace Coddington, fashion friends Kim Kardashian and Charlotte Tilbury who discussed their shared passion for make-up. The commercial reality of the industry is never far from peoples thoughts with sessions on how to launch a beauty business and Guram Gvasalia CEO of Vetements the fashion collective that his made a bold new path in the industry taking to the stage.           
Vogue's Nicola Mowbray held a fascinating session discussing social media now and how we are using it to represent ourselves. Her panel included PR expert Liz Matthews, Sasha Wilkins of Liberty London Girl and Laura Bates of Sexism now. This is a thought provoking topic and one that is very current as so many of us are using and sharing our lives no matter what industry we work in. 
It's a great way to get an insight into the industry and a feel for what it's like to work in it day by day which I think is invaluable and between two locations at the Royal Geographical Hall and a large tent just across the road in the park (both venues easily in sight of each other) the Vogue team cram a variety of different activities from styling to beauty bars, a Vogue cover 'photo-me' style booth and a further space for tutorials such as figure drawing with David Downton - what more could you ask for?  For me one of the highlights was talking with some of the Vogue Team, it's always good to pick up more tips and hear about the early stories of other people in the industry too. There is a serious side to this as its a showcase of life in the fashion industry but the atmosphere is light and the Vogue team clearly want as many feasable to be able to absorb slices of the fashion world environment. 
Day two brought Sam McNight taking part in a hair masterclass alongside Josh Wood and more sessions on how to kick-start your career in different of the fashion industry. Robin Muir's personal tour through the Vogue fashion photography archive and the celebration of 100 years of fashion was one of my personal highlights and Domenico Dolce and Stefano Gabbana drew a sea-tide of interest to their talk discussing their global client base and the new avenues that their Alta Moda Couture range has brought to them. 
Vogue's Editor in Chief Alexandra Shulman spoke to three designers about the pressures, challenges and opportunities facing designers now in the industry. Christopher Kane, Peter Dundas and a Lady I've been lucky enough to cover in a published piece Jenny Packham, one of the Duchess of Cambridge's favourite designers. It's something that I have in mind for a while now not just in the high visibility fashion weeks. I could really see where the designers are coming from, each with their own different view point and after writing an article on Jenny last autumn for another magazine after seeing her 2016 collection launch show it was good to see and hear more of her insight and perspective on the industry. 
Lucinda Chambers is heaps of fun to put it simply and as one of the wise owls of the world of British Vogue she combines wit and wisdom with effortless amounts of verve and bright suggestions. Lucinda was once the Assistant at British Vogue to Grace Coddington and will cheerfully tell you she was probably the worst that Grace had, she incidentally won her place as Grace's Assistant after famously throwing a cigarette across the a neighbouring desk by accident and nearly setting fore to the office. That's a way to attract attention! However things may have started she is now one of the most recognisable figures in the industry and worked with Catherine Duchess of Cambridge on her June 2016 editorial for the 100th anniversary of vogue. In conjunction with the Sponsors Harrods Lucinda and her really lovely assistant guided us through the trends for Summer that they picked from labels in Harrods fourth floor "Fashion Lab". This area of the store hosts labels that are interesting Ready to Wear without quite same price tag as the high fashion parts of the store.
She showed us a selection of easy-wear pieces that will fit easily into the wardrobe and also into the suitcase. One of the most versatile items to acquire is the Summer shirt and designer high quality T-Shirts come very highly recommended on Lucinda's list. These classics can be teamed up with denim skirts or jeans, Navy blue or Khaki separates or anything you wish. Centre above she showed us something for evenings or lunch or dinner our demonstrating that there is a lot of versatility that you can play with around the theme of naval stripes and the classic navy blue and cream/white colour scheme in the Summer. This look was a gem with both horizontal and vertical stripes sitting together very happily. Above to the right navy blue trousers and star petal flowers in revered navy and white made a bolder statement for when you want to show a bit more flare. All are fun looks that will suit any age and travel destination. 
The ultimate timeless wardrobe piece for Summer and one of my personal favourites is the classic white linen shirt and here above left Lucinda's amazing assistant who I could chat to for ever held up a selection of the best finds around at the moment. Invest in a good shirt and it will last you for several years. Centre above these Boho style long-line dresses work the hippie-chic Kaftan look taking our thoughts to Morocco and the Greek Islands. Both have the easy wear factor and are perfect Summer lougewear. For me the Stripey one had the edge. The bucket bag above in the centre was irresistible with it's geometric shapes and straightforward, but very handy, circular shape and single strap. It reminded me of an antique Soldiers Drum for some reason, probably the crisscross pattern. The perfect Summer bag you can get everything in. 
Above to the right was a dress that went to the top of my shopping list. I spied it on the rail as Lucinda spoke and although she didn't show it in her collection run-through, I asked her to show it me and many of us loved it. With classic blue-style embroidery and blush-nude tones underneath it's an absolute delight and perfect for a special dinner or not-too-formal wedding perhaps in the Summer months. You could wear it at other times with a jacket over your shoulders too. It's lively and sexy and absolutely perfect. Flower embroidery across the surface and the lightness of this piece are fabulous. After hearing Lucinda speak on numerous occasions it was great to meet her in person and have a chat.  
Robin Muir: Hidden treasures of the Vogue Archive and curating the 100 Years of Vogue Exhibition at The National Portrait Gallery...
Emily Sheffield introduced Robin Muir who has many amusing anecdotes about life inside the fashion world's most famous basement. It was an absolute pleasure to hear him talk about the history of the archive and curating Vogue: Century of Style. Robin's life at Vogue began in a straightforward way with a two week assignment amongst the sliding cabinets in the Vogue basement cataloging the work of Cecil Beaton, as it turned out he never left and since then has built an extraordinary knowledge of fashion photography and is still as passionate and in love with it as when he first started. This unique collection of prints, contact sheets and negatives is a cherished resource with everyone from Karl Lagerfeld to fashion MA students taking a keen interest in the contents and even today periodically Robin said that more discoveries are made "Always in a dust covered box". 
It was fascinating to hear more about the work of early photographers such as Baron Adolf de Meyer the US Scots photographer of the early 20th century who is known as the Debussy of Photography. He was Vogue's first staff photographer and was widely known as a pioneer of fashion photography. His works are very beautiful and do forgive me if I'm wrong but I believe both of the images below are taken by him. The one to the left is beautiful classic 1920's editorial and to the right three ladies including the Marquise de Prasline and Baronne Edward de Rothschild family is the earliest portrait photograph of women in fashionable clothing owned by the magazine. 
Summer 2016 Beauty with the Vogue Beauty team
The Vogue team are pretty exceptional at bringing us the best of the new season products with an experienced eye and broad season overview. For an in-depth look at we should be wearing on our faces there is a pretty comprehensive over view below and plenty to satisfy different appetites and pockets. Below the foundation tray went with the theme of a lightly golden tan for this Summer. Lots of options here including one of my and many girls long-term favourites Les Beiges by CHANEL. After playing with a few I would also recommend Laura Mercier's soft Luminous Candle Glow foundation and Meteorites base by Guerlain with fresh gel mixing with melted Rosy pearls. Formulated to aid the collection and neutralise blemishes. It goes on smoothly and lightly and I loved it. Summer is not complete without a warm tan and to the right we where given plenty of options in both powder and liquid form as well as some brushes to try. 
Long gone are the days of streaky liquids in jars; we now have a profusion of tan makeup choices that have been painstakingly researched and developed by Cosmetics Houses. CHANEL again show strongly here with the market leading Soleil Tan de CHANEL alongside top performers Estee Lauder with their Bronze Goddess and Bobbi Brown's tan compact. What the team really want to get across is that there is no harm or reason not to buy two colours of foundation or tan and blend. This is not a gimmick to drive sales. The uniqueness of everyone's complexion means that you will probably need to create you own make mix. Make-up artists are a guide, a wonderful guide to show us how to use the products currently on the market to be our own makeup artist. 
A good Mascara, especially one that is waterproof is pretty essential for the Summer. There's a lot to chose from the Vogue listed their favourites of the moment including Bobbi Brown, Charlotte Tilbury, NARS, DiorShow with lash curlers on hand should you need an extra lift. The colour you chose depends largely if you are looking to wear it in the day or evening. I will be honest and say that for many people brown is still better in the day time and black in the evening if you are fairer but if you have dark eyes, complexion and hair black is a good colour for you at any time of the day. What you need to go for is a brand that you see getting good reviews and if you can do try and get mini samples of the more expensive brands if you are having trouble deciding. Road testing really helps. 
In terms of a Summer eye colour the bright blues of the Mediterranean beckoned with the domed roof tops of Greece and blue of the seas of many warm places we will go to. The blues come in different shades but all bright. They are eye liners in liquid and pencil form, mascaras and shadows. For a subtle look you can use one or layer them up in combination for greater effect. Again the blues have it with their own sweet melody of variations to play across the skin.  
Lip colours where mostly nude and shades of pale rose for the Summer as the Vogue team tipped this to be a leading trend. Nude works well with most complexions and allows you to explore more daring variations of eye makeup or stronger sweeps of colour with blush. Lip liners in nude or deeper berry shades accent the heart of sensuous petal lips and my personal picks where Stila, Givenchy, Charlotte Tilbury and Bobbi Brown. So, well half the tray really as choices that would work easily in the make-up bag. Adding a twist of colour for this who can't live without it there was a coral lip gloss and a sheer red lipcoat that will be hard to miss. 
Lips and nails often sync in harmony and the selection of nail colours to the left in the palest pinks and nudes made a pleasing match. Favourite of our times Essie made an appearance twice with a pale white-rose and a beige-rose colour and CHANEL in it's re-formulated long-lasting new guise also was a popular addition to the selection that many girls looked at. Dior's make-up line isn't quite as well known as it might be so it was good to have the opportunity to try something from them while MAC seemed to have nailed the shade of unobtrusive beige that you could wear easily with any outfit. The overall beauty mood and look was to emphasise health and vitality with a just-been-to-the-gym feel and also great care in diet and nutrition. Having the best products at your disposal is fantastic but the true base of beauty is the body that you live in and it must be taken care of well.  
Not everyone has made the switch to digital as Tim Walker himself still works in traditional film. Eschewing post production he builds sets to shoot his editorial pieces in. One of the Vogue team Lauren Milligan asked Tim if if more works where ever re-discovered and yes, it s always possible. Recently some early House and Garden material has been found with documents covering work by Lee Miller, Cecil Beaton and Irving Penn. There is always more to discover. I had a brief chat with Robin after his talk to thank him and ask him a couple of questions. I'd very much like to visit the archive and hope if I'm very lucky my wish will be granted maybe one day *wishing*.  
The festival had the usual mixture of fun ways to get involved with Vogue and some of the brands that it knows. The giant gold Vogue bag was back promoting the 100th anniversary edition and subscriptions and the Vogue shop had demin jackets, T-Shirts and heaps of books from design House profiles to colouring books. David Downton was also happily signing copies of his illustration book after a model drawing class with Erin O'Connor and that was well attended by budding and experienced artists alike. For beauty treats Jo Malone where on hand with perfume samples and hand massages and there where manicure and braid bars buzzing with activity across the whole two days. Titled a Masterclass this weekend did have the feeling of a 2 day fashion tutorial with designers, stylists and make-up and beauty experts happy to dispense wisdom to people who are really interested in knowing more about working in the industry. I really enjoyed meeting more of the Vogue team and talking to them about life as a full time journalist. Vogue is serious about fashion but also has a great sense of humour and passion for life's colour.  
Along with Meyer, Robin toured the work of many other photographers including Baron George Hoyningen - Huene and his friend Horst. Hoyningan - Huene's family first fled to London during the Russian Revolution after London he moved to Paris and worked at French Vogue working diligently he rose to become Chief Fashion Photographer by 1925. He also had two sisters who worked in the Fashion Industry. In 1931 he met Horst who would become his partner and frequent model and eventually go on to establish his own photography career. His work was featured in the V&A's 2014 Summer exhibition and he is becoming known again to younger generations. Also in that year during a journey to England for the Winter they visited Cecil Beaton and Horst then began his association with Vogue publishing pictures in the French edition in the November issue.
While Cecil Beaton is undoubtedly a legend I do think that this trio of Hoyningan - Huene, Meyer and Horst should be much better known. Just browsing the publicly available images online is wonderful. Robin also spoke about prints where treated as disposable in the past with the reverence of hindsight and respect for genius this is shocking to some who see all the works of beauty that have been lost. I'm however sympathetic as I can understand how day to day with these photographers who became legends constantly producing great work it was easy to become nonchalant about the volumes of material piling up. There was even one point when sacks of images where left our on the pavement outside Vogue House for anyone to take or be thrown in the waste. 
At Vogue Cecil is remembered as a nice man who was attached to the world of theatre and make believe. He wore clogs to work and described his style of work as 'High on Artifice and Cellophane'. An aesthete at heart, the sense comes across of someone who enjoyed his work and career very much and had boundless energy. He sounds like a happy man that left many people who knew him in the industry with great memories.   
Not long after I moved to London a good friend introduced me to the work of Lee Miller that was shown in a V&A exhibition. Her career was fascinating from model and muse, initially to her photographer father, she went on the have a successful international career and eventually she stepped behind the camera. The Vogue 100 exhibition covers the work that Vogue's team did covering the second world war in the style of news broadcast journalism. Lee Miler was one of the Vogue photographers who made the greatest contribution and was relentless in her coverage. To the left she is photographed bathing in Hitler's apartment on the day it was known that he committed suicide and Germany had surrendered. 
She entered his apartment with American GI's and was amongst the first to enter Buckenwald concentration camp after it had been liberated. She documented the struggles men and women faced across Europe during the second war. You can read a tremendous amount into this image as she's symbolically washing away the past. Lee's documentation of Women during the War stands apart as a seminal suite of images that make a powerful impact and will probably be a point of reference for centuries to come. One image from a fashion shoot in 1944 shows a girl n pristine white dress with G.I's in a jep visible in the distance close to the Eiffel tower. 
Cecil Beaton also became a war photographer although his work is less well known and Vogue was as dedicated as anyone else during the war effort to very concerned with documenting the lives and experiences that people of all walks of life where facing. With the permission of Vogue head office in New York British Vogue took a step up into the territory of Hard hitting photographic journalism that at the time was the territory of LIFE magazine.  
To support the war effort Vogue purged vast amounts of it's archive in the drive to create more paper and Lee's work escaped as she gave prints to Arthur Penrose. The pulping swept away 100's of masterpieces that would now be regarded as art from 1916 - 1940's. But this was Vogue joining the effort with everyone else. In London everyone was feeling the consequences of war. With only a handful of images that date to the pre-war period in existence rare discoveries that turn up in peoples homes still offer up gems.  
Above and below some of the many Vogue covers lining the walls that Robin selected to illustrate Vogue: a Century of Style.      
The celebration of different styles of illustrating the Vogue cover that lined the walls of the exhibition space was a great piece of display that was enjoyed by everyone who visited and was a great photo-point. Looking at this as an archive in itself was fascinating and I was very interested to see some of the earlier Vogue covers that featured watercolour illustration as well as the photography. I'm a photographer myself and know how much work goes into the current form of the covers that lead into editorial features and I think the commercial reality of the modern magazine industry will mean that this is unlikely to happen again, but it would be lovely if the odd one could come along once in a while. I notice a different feel, while the model cover shots are powerful and increasingly overt in their sexiness as time moves forwards the earlier illustrations are more gentle and delicate in their femininity. An echo of women's changing role in society as well as fashion, perhaps, that's an interesting topic to discover. It was also very interesting to hear from Robin that the Vogue Group was more experimental about it's images and for cover use in an earlier era with even attempts to use artwork across different international editions simultaneously.   
The work of John Deakin was another tranche of pictures that where re-discovered in the Vogue archives. From the post war era they lay forgotten for a long time. The Salvage of a Photographer collection is a tremendous body of work and sealed John's place as one of the most significant portrait photographers of the 20th century. 
With little material surviving from the early years of Vogue it's unsurprising that Vogue are making a serious effort to preserve what they have. Gone are days when people could wander in and out the achieve quite freely, it's now more guarded but it has had a host of famous and not so famous visitors to date. Julie Christie, Isabella Blow and Alexander McQueen have all passed through the basement and Sir Terrance Conran made a visit, salad in hand, when he had gone the wrong way in the lift. Tim Walker, one of our greatest fashion photographers undertook work experience working with the negatives of Cecil Beaton. In Robin's words it was an example of 'how not to title a Photographic collection' but Tim's enthusiastic persistence and love of the medium of photography have built a hugely successful career. Just keep going and do what you feel you should be doing is one of my motto's.  
Digital photography is the most widely used medium now and Vogue is in the process of digitising the entire historic collection while contemporary images are all held digitally. Robin noted early digital image files from 1994-1996 have corrupted and material in print from the 1940's onwards is in far better condition. Another area Vogue is very serious about is preserving it's exclusivity in use of the archive material with few people beyond Vogue staff allowed to use it and other visitors only allowed to view it with approved permission. In terms of a resource that it can generate income from in the future and intellectual property this is something they are keen to maintain.  
Above an image showing the Jewelled dresses of a shoot by Clifford Coffin. his work was part of the post-war return to glamour that Vogue brought to it's readers all over the world.     
Beulah London, Feu de Beaumont, Okapi, Laura Cathcart and Tessa Packard celebrate their new collections at 5 Hertford Street in Mayfair.
On a warm May evening at Loulou's 5 Hertford Street a group of young female business women gathered to host an informal afternoon tea and tell everyone about their latest collections.  It's a lovely to visit the Club but what's even more exciting is seeing so many young women developing their businesses and using their talents and creative ambitions to follow their dreams. Between them they where covering many bases in luxury lifestyle and work well together as a collective circle of friends who have mutually complimentary brands.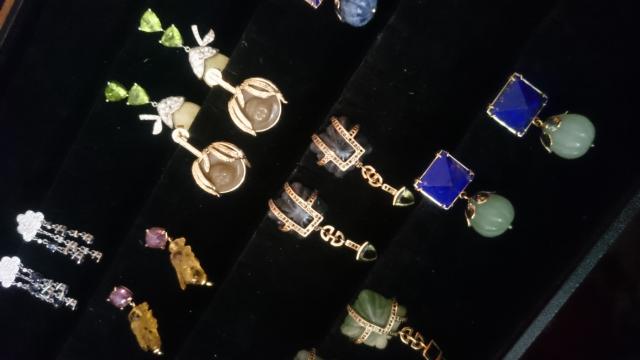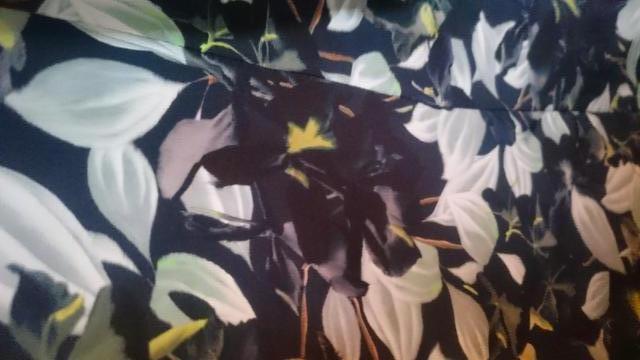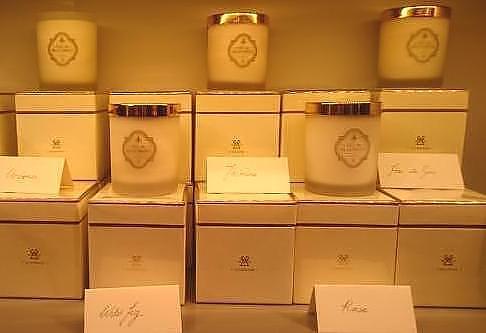 New to me was the discovery of Laura Cathcart's millinery in person. I'd heard of her by name and this Summer she she is showing her collection in the Beulah London boutique in Ebury Street, Belgravia. Her styles are crafted in her Shropshire studio and this lady from Norfolk who grew up in a family devoted to Horses has the perfect knack of creating both traditional and contemporary hats for Weddings, the races and other formal occasions. 
As well as collaborating with Beulah Laura has also worked with Charbonnel et Walker to produce a window display of hats designed like chocolates for their Bond Street window and this Summer in 2016 have been chosen as part of the Millinery Collective by Royal Ascot. Laura has also worked with Fortnum & Mason, Veurve Cliquot and fashion designer Amanda Wakeley with all of who her natural elegant style has a resonance with.
Laura's clients include companies of the TV and film world and most recently she has worked with Elizabeth Hurley providing suitable pieces for her role in the TV series Royals. Laura's love of stage and film brings her into contact with many leading figures in the industry and as her repertoire grows she called upon as a consultant in millinery codes and style etiquette, most notably by the Sunday Times Style.      
Another new discovery was OKAPI. This luxury handbag brand brings the life and passion of South Africa to London with a unique series of pieces made from the skin of the African Blesbok, Ostrich and Crocodile. The teams mission is produce high end leather goods obtained from entirely traceable ethical sources and essentially export the very best of South Africa to the world showing there is a responsible way to do this rather than going down the route of trafficking and smuggling. It's an anti trafficking message not a million miles away from the message of peers Beulah. Hanneli and her team are also committed to supporting job growth locally and promoting the preservation of traditional skills in rural African communities. 
All Okapi products are made by hand locally in Africa and each piece is designed with the intention of being used over a lifetime. They believe in items growing with their owner over time, to get a little worn maybe and to be customised and adapted so it becomes completely unique to the wearer. It's a vision almost unique in the luxury accessory space and Okapi sell a range of items such as feather and horn based natural accessories that you can add to your chosen bag. Bags can also be embossed with initials, the ultimate personalisation and very lovely for gifts as well as yourself. The full range includes leather wallets and card holders which where and idea of Chelsy Davy who told me about brain wave and inspiration gift to her friend painter and brand founder Hanneli Rupert at the party. 
Launched in 2008 and now selling all over the world. It's an inspirational story and a another route to defeating poaching and trafficking on this glorious continent.  
The air was filled with the scent of Alice Beaumont's Feu de Beaumont candles which made the atmosphere even more homely and relaxing than it was already is there. Alice's range of luxury candles are composed of natural oils of Rose, Jasmine, Verbena, Oudh and he signature Feu de Bois producing noticeably clear fragrance and have been carefully formulated with Soya wax. Uniquely the candles are poured into 22 carat gold jars adding a special natural resonance to the collections. As of Summer 2016 the collection is now available at Harrods on the second floor where frankly it fits very well. The candles also channel the Anglo Saxon heritage of Northumberland and with the option to buy your fragrances flames in a Golden Goblet or the large Golden Porringer (how wonderful does that sound) contains five wicks across the large surface area. 
Tessa Packard was on hand with her Dachshund (a very welcome club guest) showing a lot of very interested ladies (and a few gents) her beautiful unique jewellery pieces from across her four collections to date. Newest to the offering in 2016 is a weather themed collection playing on the many changing themes of the British weather and finding endless inspiration. There was lots of laughter in the air and much excitement in trying pieces on and some very happy sales. 
Below to the right is a hint of the fabric from the fantastic Lamorran print featuring in the Beulah London Spring - Summer 2016 collection. This design features in midi, floor length and knee length dresses and also in blouses. All proved popular and the wider collection with it'e garden flowers theme is featured on my next Summer page as this page has been bursting with events from the Summer. As the evening continued we chatted and explored the collections and outside the Curzon cinema was hosting a Red Carpet Movie screening. A very apt backdrop to a party that hosted so many A-List favourites.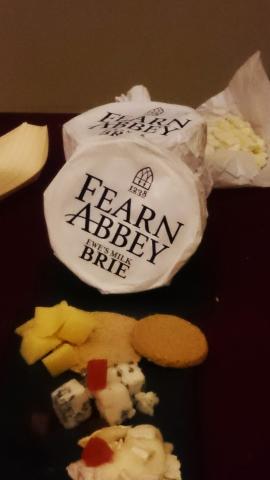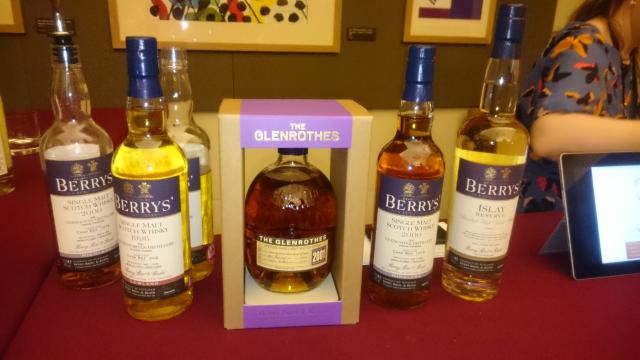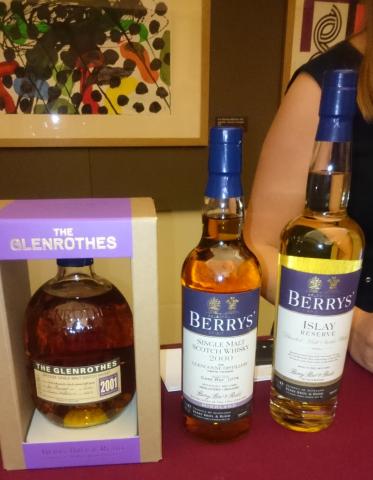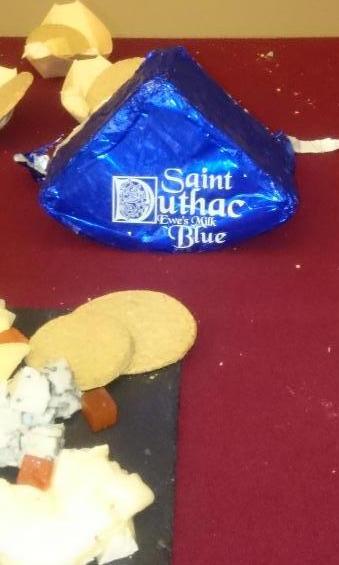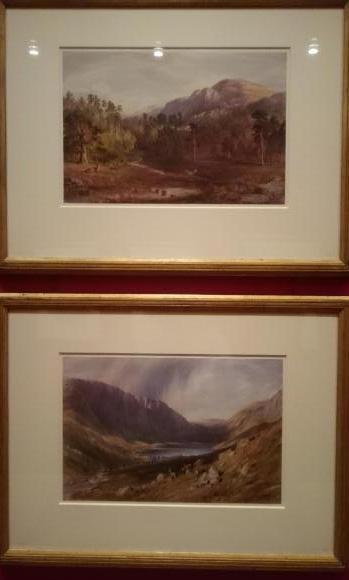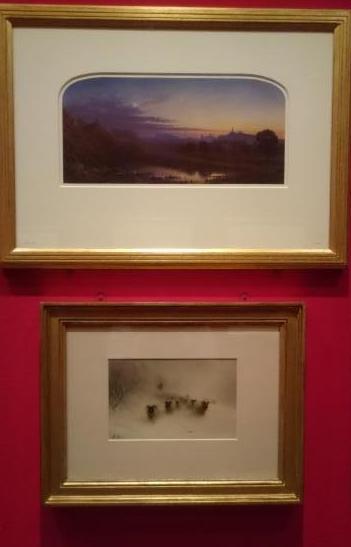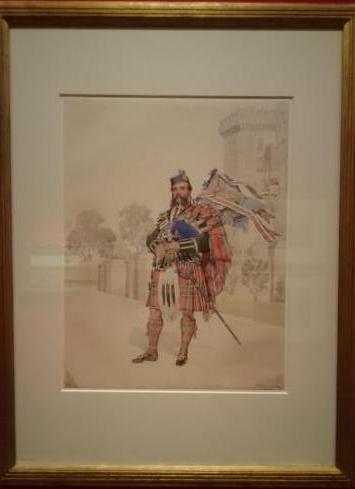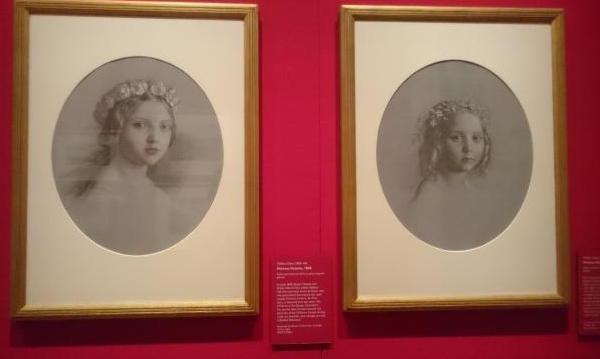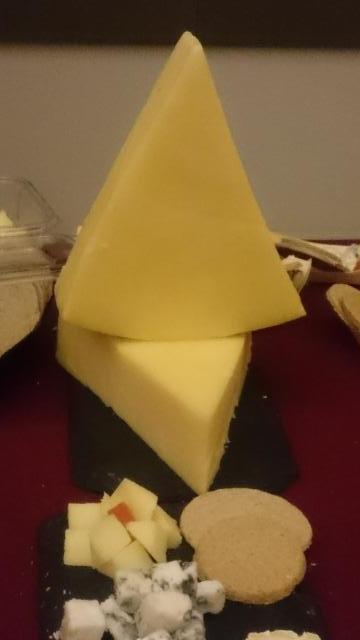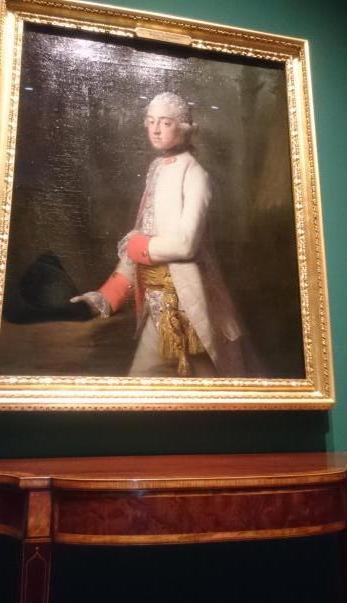 Scottish Artists from 1750-1900: From Caledonia to the Continent. An evening at The Queen's Gallery in Buckingham Palace hosted by the University of Saint Andrews Alumni. Food and drink kindly offered by Berry Bros. & Rudd and Jeraboams. 19th May 2016 
On a lovely Summer evening the Queen's Gallery at Buckingham Palace opened its doors in one of their private evening exhibitions at the invitation of the St Andrew University Alumni team serving up hearty Scottish snacks, with chamber music filling the air and beautiful Scottish art around for us to see.  Arts and crafts where also on the menu as well with the opportunity to create your own piece of romantic Scottish craft.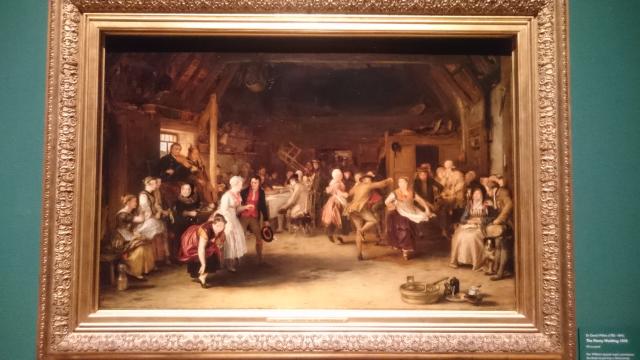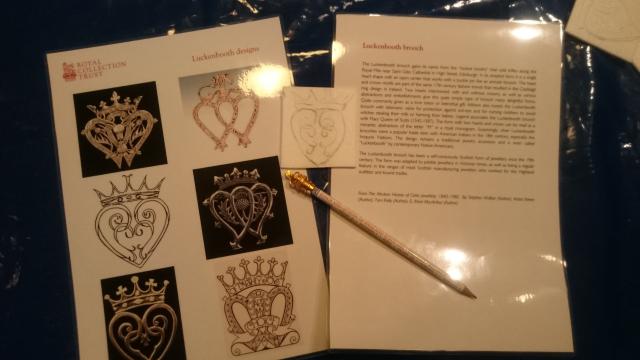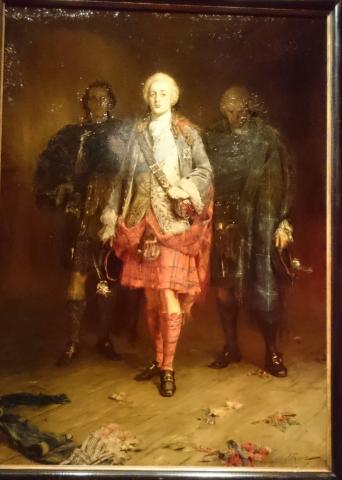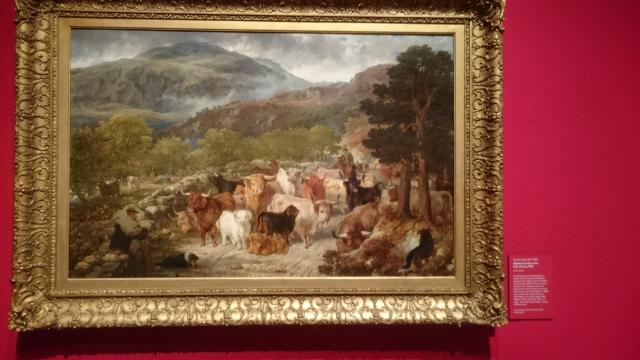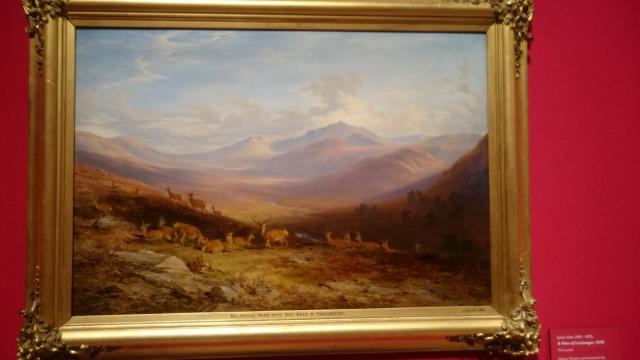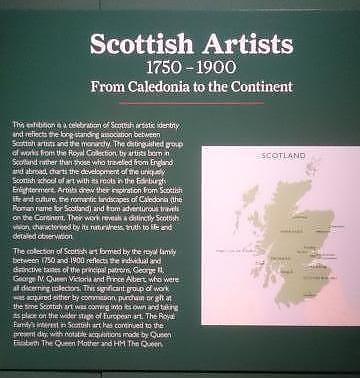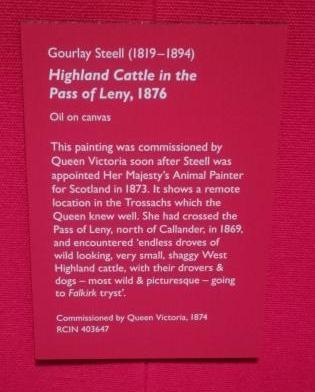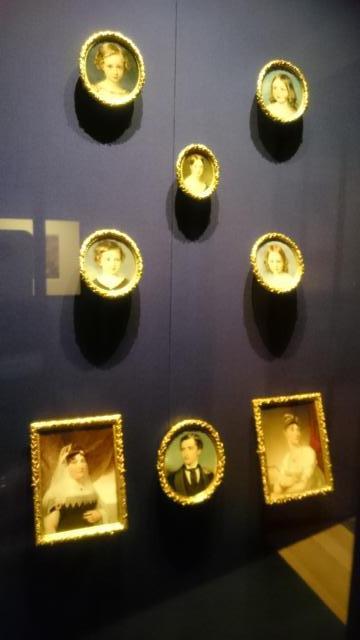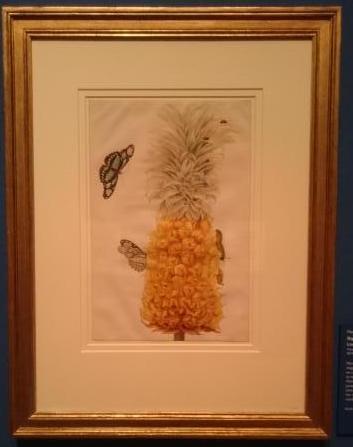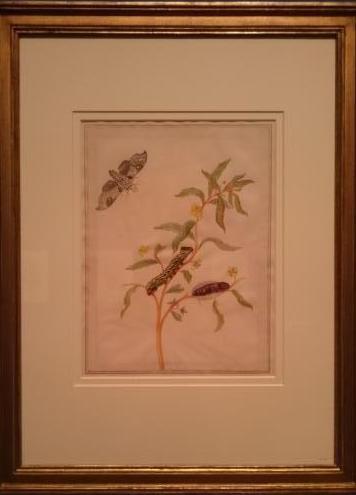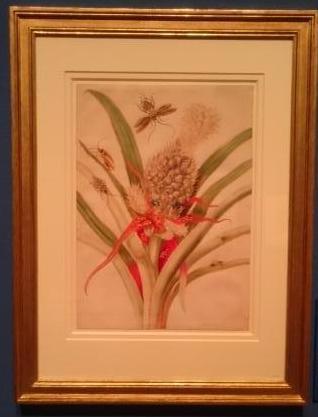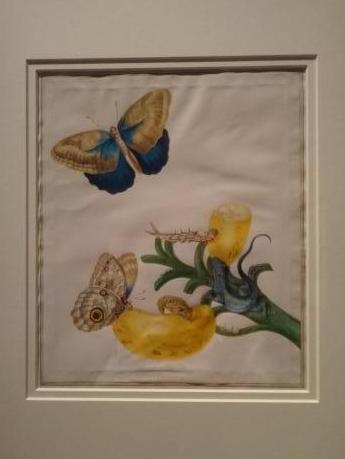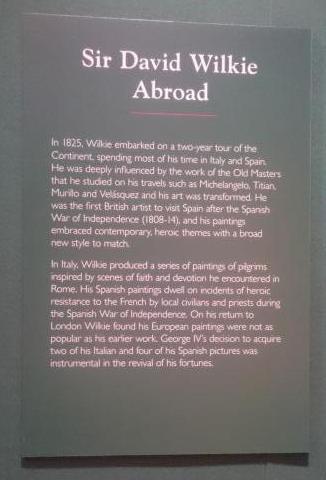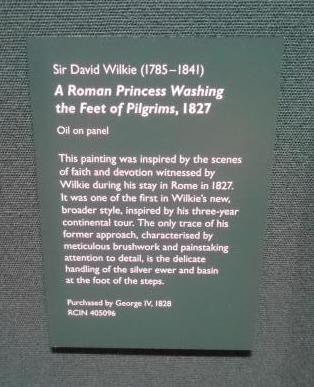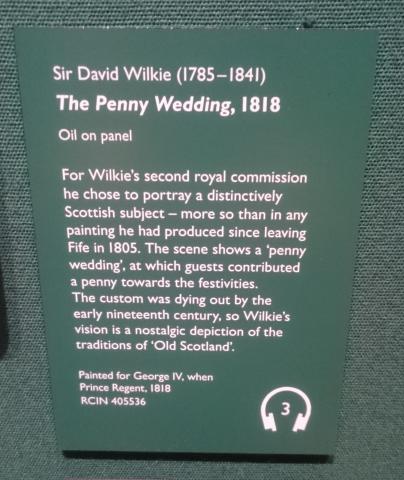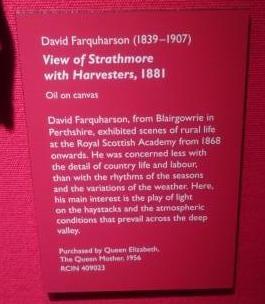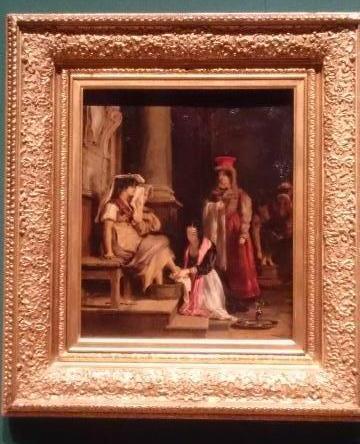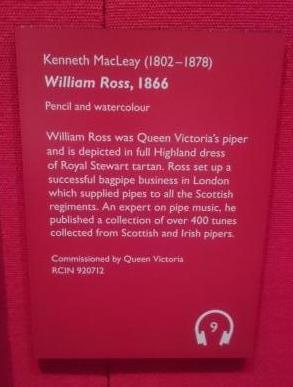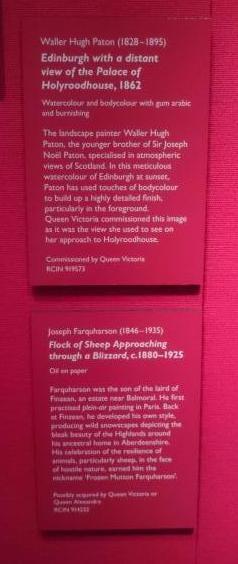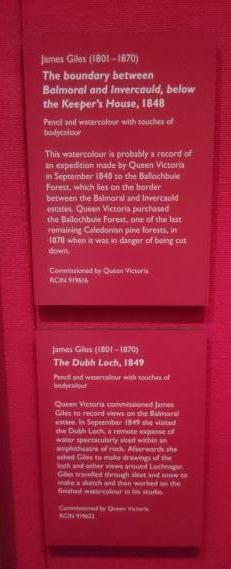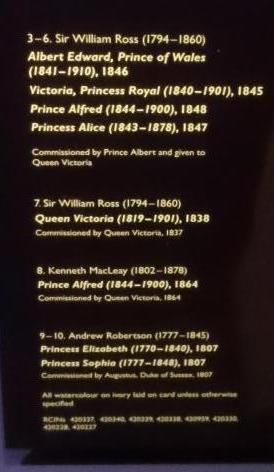 To the left produce from some of the finest Scottish Distilleries and some contemporary art and above paintings of Princess Victoria and Princess Alice (daughters of Queen Victoria).     
The Galleries where divided up into numerous entertaining rooms and after several years since my first visit to the Queen's Galleries I was pleasantly surprised to be reminded how big an area the galleries cover and the generous space that they have to put on such a large exhibition.   
Being a small part Scottish I'm always interested in hearing about products from the rural areas of Scotland in particular where people are weaving cloth, raising animals or using the abundant bounty of nature and some ingenuity to create some truly special products that can be purchased locally or often are distributed across the world. The most famous are these are Tweed and cashmere cloths and Whiskey and Salmon amongst the consumables. On this evening thanks to the kind team from Jeroboams Food team we where introduced to a number of very moreish Scottish Cheeses and quince jelly's, one of my favourite tasty snack foods. Jeroboams like Berry Bros & Rudd are known for their wine and alcohol selection but also have a strong Food division that carries a warrant from HRH The Prince of Wales in it's won right. Indeed Peter Rich the founder of Jeroboams has been ardently pursuing the finest quality foods to supply clients with since he opened the business in 1985. Here in abundance was delightful fare from Scotland and many people where very taken with the Scottish Abbey and farm cheese that they tried. 
Berry Bros. took the guests on a very detailed tour of all the Highland regions that raise the malts that eventually become the whiskey. I have to say like most of us, I'd known since I was tiny and had my first Holidays in Scotland barely out of the cradle that Scotland produced Whisky (the gift of choice for grandparents and great-grandparents back in England) but I didn't appreciate how ancient and also how variant the practice was. I did know that it was also anciently distilled in Ireland and Wales too, not alluded to hear, but as a girl with ancestry all across our Islands I'm not complaining that Scotland claims this drink. 
I'm a little unusual maybe in that I don't drink whisky, I let it brush across my lips and melt in my mouth across my tongue, disappearing as it reaches the top of the throat. I find I can enjoy the taste better this way and if you drink it down it's harder to appreciate the nuances of flavour.   
Another highlight of the evening was being able to create a 'Luckenbooth' memento that is traditional to Scotland and also interestingly amongst native American tribes in Canada and the US as a result of trading and exchanging silver items in the 18th and 19th centuries. A great cross cultural custom. The Luckenbooth is a symbol of affection usually given by sweethearts that can take several different designs but works around the theme of a heart with a crown placed on the top. I gently carved out a simple design and created a printed card with the design on the front. I sent it to my parents in the country as a May time gift and it's probably tucked away with all the craft-work things I made for them when I was at school. Luckenbooth's seem to have almost dies out at one point but become popular again I believe in the 19th century with the resurgent influence of Scottish culture.  They usually took the form of Brooches and where sold in booth's along the Royal Mile in  Edinburgh from the 15th to 19th century. The brooches where romantic symbles of marriage or intention to marry and deeply ingrained in Scottish courtship customs. The last booth's where demolished in the mid 19th century. 
The exhibition explores the work of prominent Scottish Artists including Sir David Wilkie and James Ramsey who where born in Scotland but also spent much of their life abroad on the continent. One of the things that struck me the most about the exhibition was the diversity of Scottish art and therefore the varied means of representing the country and also the crowns connection with the country. Scenes of highland life with giant thick-furred Highland Cattle known as "Coos" and  
varied scenes of day to day life depicted the romanticised view of Scotland but beneath this clear tones of reality. Rural life and it's work and toil and below a couple celebrate a wedding in a village barn or tavern. The Penny Wedding reminds us gently of how communities helped each other to celebrate milestones in everyone's lives such as when guests where asked to contribute a penny to a couples wedding celebrations. Perhaps the forebear of wedding gifts in this day and age. 
There are hints of wider horizons though as below to the right is a touching painting of a Roman Princess by Wilkie, a lady born to one of the many princely families inhabiting Rome in the 19th century, washing the feet of a pilgrim who had come to Rome to pray. During his continental tour his work developed tremendously and for centuries it's been an essential point of artistic education to spend time in Europe seeing, drawing and painting and as an independant adult it's one of the things I've enjoyed doing in the years since University.
As the artworks are from the Royal Collection it's charming to see the interest that the Hanover family took in Scotland and the enjoyment of Scottish art and life. After the legitimate line of their Stuart Cousins who where eligible for the throne died away the descendants of George III and Queen Charlotte came to form their own attachment to Scotland. It was a fortuitous stroke of luck that Queen Victoria's husband Albert had such a deep attraction of Scotland through it's resemblance to the Thuringia forests that formed part of the extensive Coburg family estates. Victoria, Albert and their children loved Scotland as we know many generations of their family have since from a first person day by day familiarity and Victoria believed in commissioning Scottish artists to represent Scottish life. 
Artworks and many portraits from both the era of the Stuarts and Hanover's (Queen Victoria's children and two of her father's sister and their Scottish artist) feature prominently and I thought this was nice as it's often overlooked that the two families where indeed cousins and more closely related than many people realise. To the right Victoria's children painted by Sir William Ross are super-cute in their miniature frames with their youthful innocence contrasting greatly with the somber full length portraits of their forebear cousins Charles and James Stuart who where not able to rightfully claim the throne and lived many years in exile in Europe at other Royal Courts with Royal Bourbon cousins and also often in Rome. They don't look sad, rather more stoically proud Stuarts, but faced an uncertain future as history took a different path. Charles Edward Stuart (the young pretender) in the centre, left behind and illegitimate daughter who's own son returned to Scotland to live modestly in the 19th century. As he and his sisters had no known children the family, although far beyond any claim to the throne in law, melted away into the history books and art.   
Below is one of the most quintessentially Scottish images one can bring to hind. Beautiful deer on a remote hillside in all weather. A scene that could be from the 19th or 20th centuries or now but also evoking the ancient movements of heards across Europe from very distant ancient times. We all love Scotland and I hope you will be able to enjoy the Scottish arts at the Palace this year.