A Blush of Rose
ablushofrose.com
 Autumn in London - Falling into Fashion
It's been a wonderfully hectic autumn at A Blush of Rose and I have a host of reports coming soon to share with you in my first part of looking at Autumn in London. 
First up is the
Beulah London
launch party for their Autumn-Winter 2015 CHRYSALIS collection at the private 
South Kensington Club
in Chelsea. 
As ever so many beautiful styles where on display for the coming season that felt like they belonged in your wardrobe. They show that ethical fashion can be stylish and sexy too and as always the Beulah girls throw a very good party. Beulah is also a strong champion of a British based design and production process, much of the labels clothes and accessories are made by crafts people here in the UK helping to build and maintain skills here as well as in the grass routs of Beulah in India.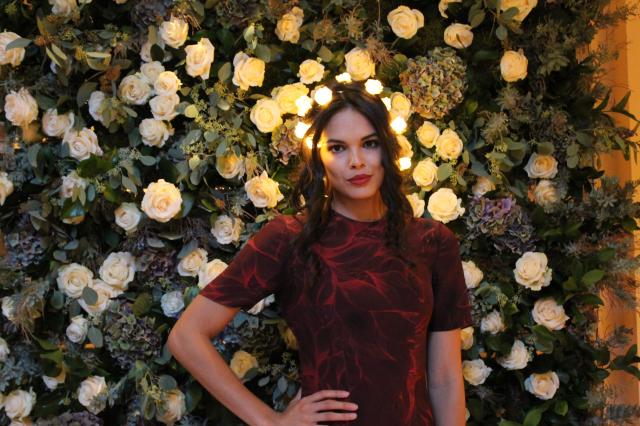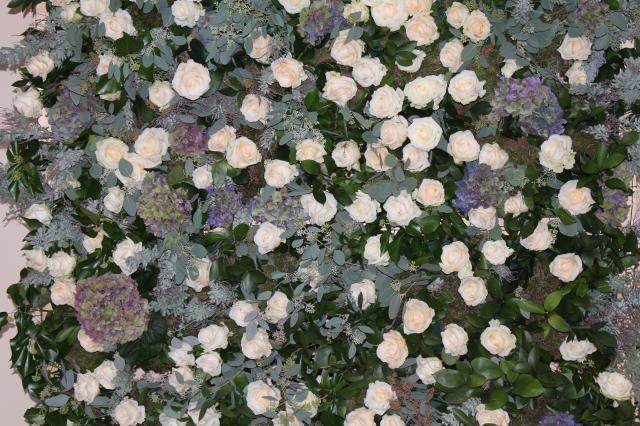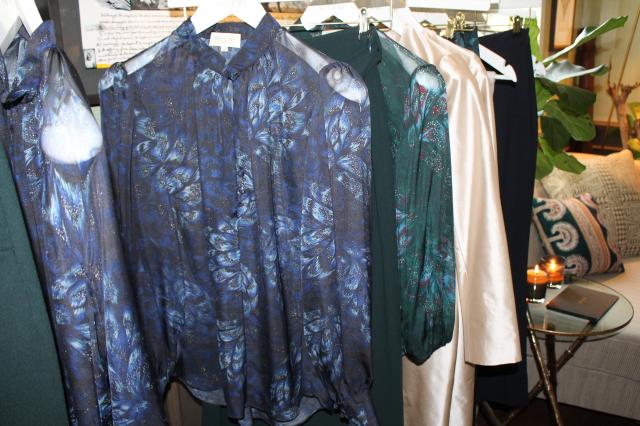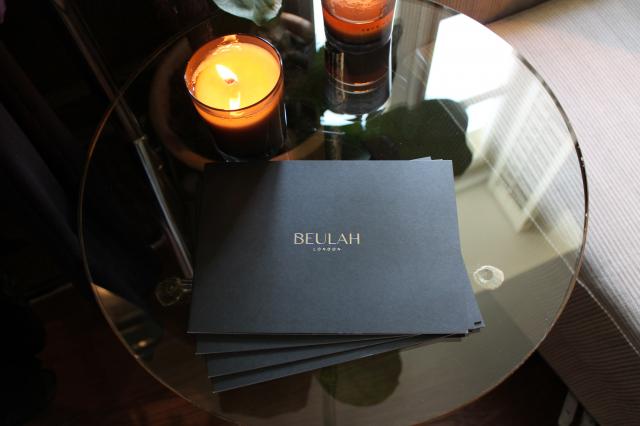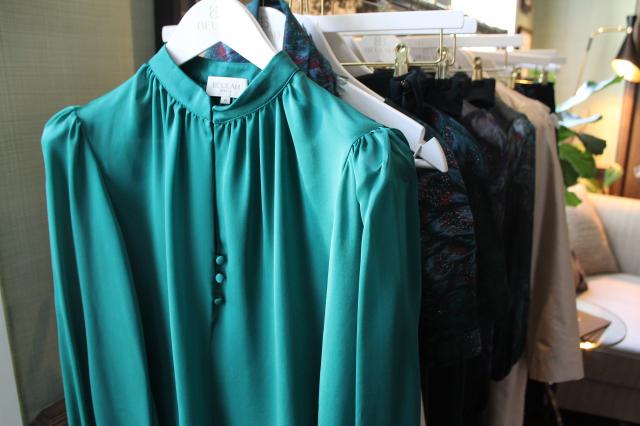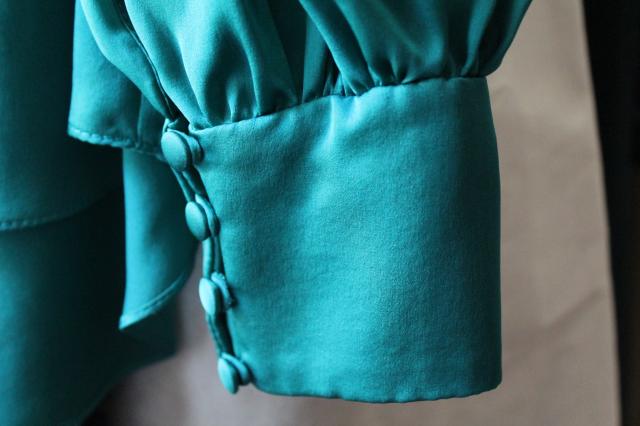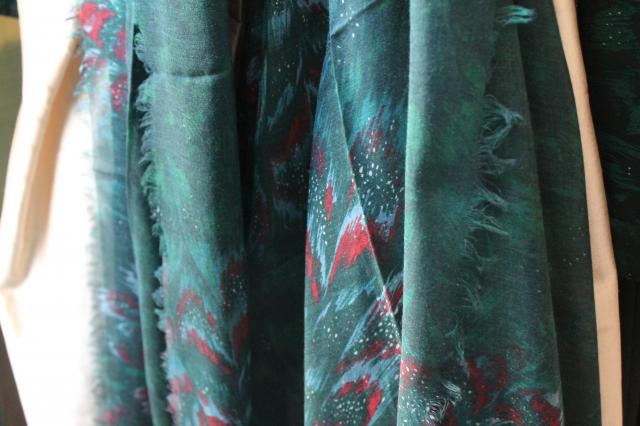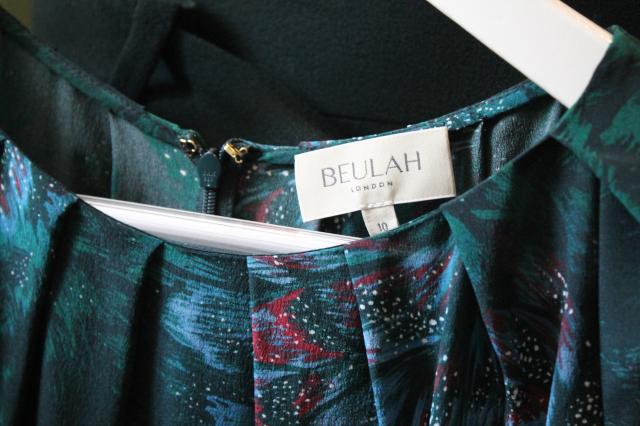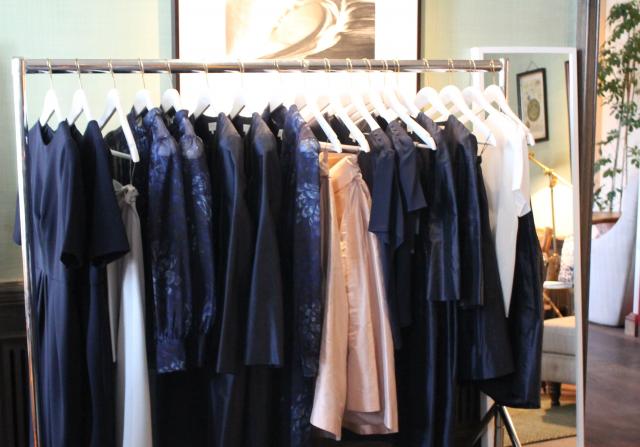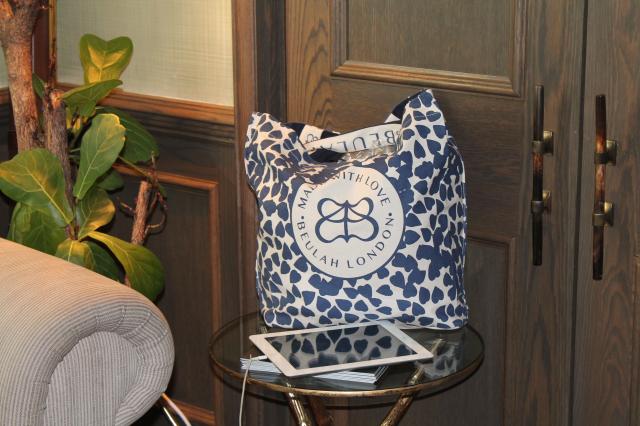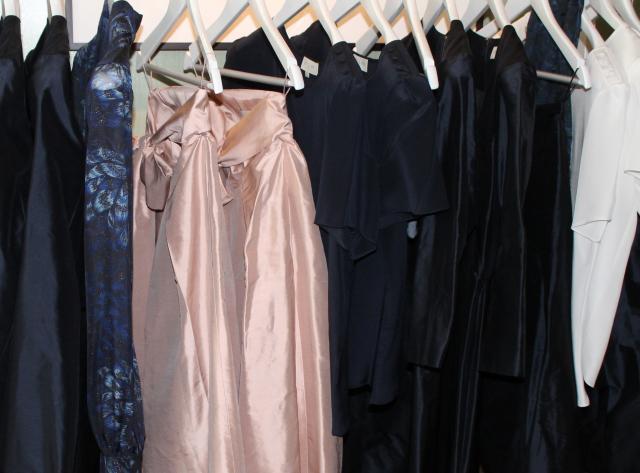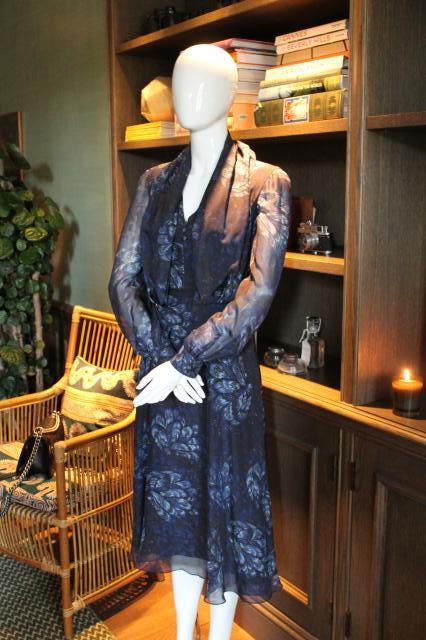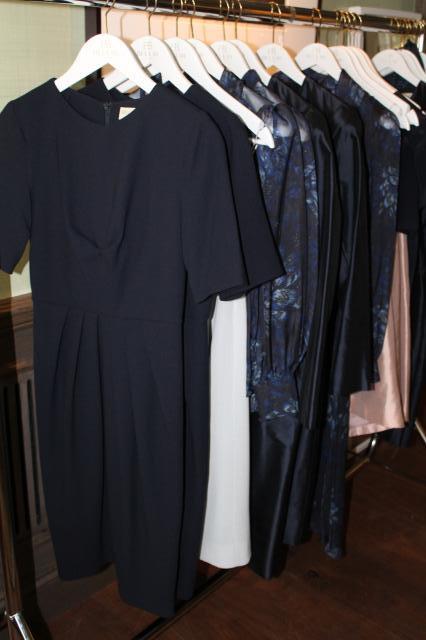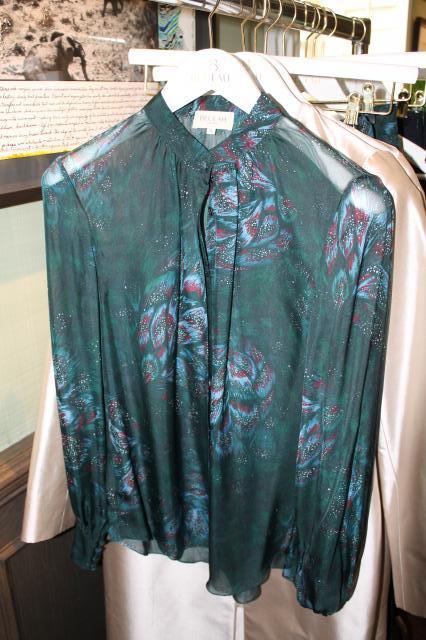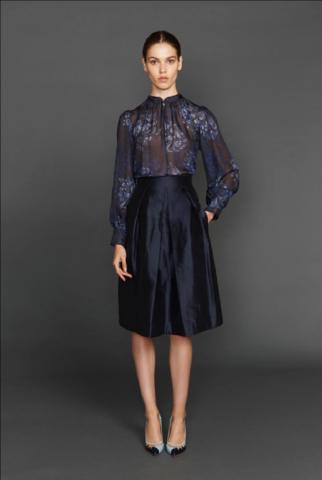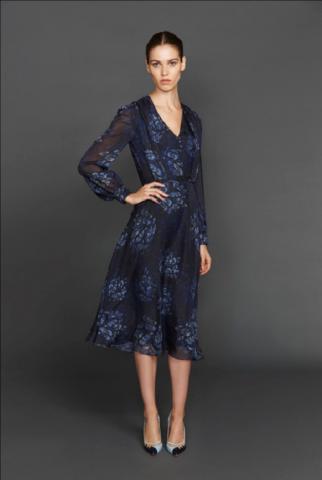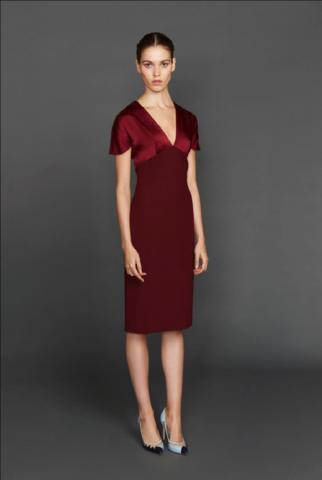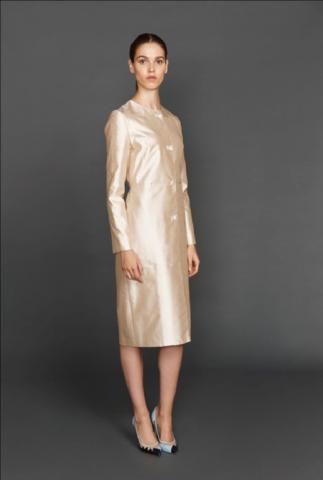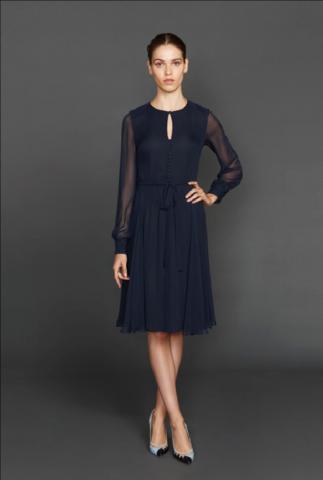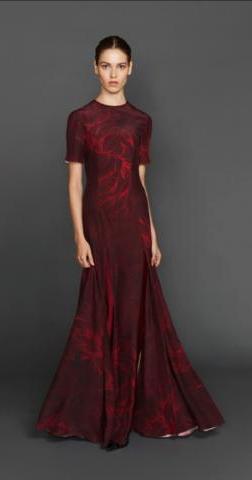 The rooms of the South Kensington Club where warm and welcoming and it was very exciting to celebrate the new season with Beulah. A party that feels like a thanksgiving is always a great way to welcome in the new season and for Autumn 2015 the CHRYSALIS collection Beulah dipped into a rich colour palette.  
Beulah Look Book image credit to Katrina Lawson-Johnston. 
The emblematic Beulah Butterfly emerged from it's chrysalis this season in a number of key signature colour looks including the mesmerising fluttering brush strokes print that makes an appearance in dresses, blouses and scarves, and which fluttered it's way into my wardrobe too. 
Above is the Georgia dress in this print. It was one of the many talking points of the evening and an exciting fresh design. The greens, blues and reds of the print are bold enough to capture the attention without being too overpowering and it will mix well with a variety of items or look stunning as a single statement by itself. 
I have an enduring soft spot for Beulah as many of you will know and recent collections have also incorporated many of my personal favourite colours such a blush pinks and midnight blues. In the 21st century it's really great to find a brand that have a very firm handle on creating designer luxury with a fresh contemporary look. 
Many of us need and love the formal pieces in our wardrobes and it's really important to find looks that excite us. I find Beulah is perfect for giving you a choice of designs that are elegant and very modern that you can wear to black-tie or smart/casual 'lounge suit' type events and also nights out with friends.  
The working wardrobe is catered to well also each season with must-have crepe dresses and skirts that have go-anywhere appeal flying off the rails usually 'sold out' a few weeks into the new season. They've long nailed the art of creating an array of interchangeable separates that coordinate well. Taking your time to look at the latest offering from Beulah is always a heavenly experience and one that I can't recommend enough. You can see first hand how they work with such fantastic fabrics and the pieces have the true feel of classics. 
Above you can see an array of my favourites this season including the Sabitri in Navy, and the Hermione and Veil skirts in Navy silk. There's a multitude of options on offer here and the beautiful line of luxe T's that Beulah have brought out are another key staple of a successful capsule wardrobe. New this season is the Ava box-pleated blouse in white which can be twinned with many items form the collection and is in itself a crucial investment piece. For a more casual look it could also be matched with jeans at any time of the year.    
The Fluttering Brush Strokes print in blue also is a key feature of the blouses that you can see above and several more key looks such as the ISA skirt in Evergreen.
From the background you can see how comfortable and relaxing The South Kensington club is. With it's rooms loosely following different themes, some old world colonial mixed with contemporary comforts it feels like an international home away from home. On the table above you can see the Blue Heart Beulah bag for love, a great shopping and travel companion, made with love in India and supporting women in a skilled profession. It holds lots and the wide handle straps make it easy to carry. Matching with the classic blue heart scarves 50% of profits from sales of these bags go to The Beulah Trust supporting the education of women.  
The beautiful Sia blouse in 'peacock' is a perfect colour note for the darker days of autumn and winter. It's really important to bring colour into the wardrobe and adapt it into you seasonal looks. Above is a close up of one of blouses from the collection showing the softly rippling fabric that is so flattering to the figure and the intricate button detail. This blouse is also available in Oyster and makes a perfect neutral to mix and match in many ways.
Scarves are a key part of the accessories line at Beulah and this season there is a huge choice on offer. From the Fluttering Brush Strokes print above to the classic Blue Heart below they are also joined by a range of monogrammed modal scarves that have endless flexibility. They also make great gifts. 
The working wardrobe is catered to well also each season with must-have crepe dresses and skirts that have go-anywhere appeal. Below to the left is the ever popular Hana dress in Navy. Like it's dusky rose counter part from the Spring-Summer 2015 collection it's a 100% perfect wardrobe staple. You can wear it for work, social and leisure and it coordinates well with jackets and scarves. It looks pretty and harmonious pictured with the rest of the collection.  
Below in the centre you can see the light and delicate Serena dress in Fluttering Wings Blue looking completely at home in the environs of the club. To the right is one of my favourite pieces of the collection. The Veil Dip Hem skirt in Blush Pink. Not surprising really as this is one of my own signature favourite colours from the blog and my wardrobe across the last few years. The beautiful bow tied at the waist adds a playful fun addition to the garment, a perfect piece for party season.
This season's selection like all Beulah's collections has cross generational appeal as is borne out by the guests who join their parties.
It was lovely to catch up with Natasha, Lavinia and the Beulah girls and talk about what they had been up to since we'd last met. As the party continued more friends arrived and Guy Pelly and his wife Elizabeth Wilson where joined by Nathalie Pinkham, Harry Conway and more friends and family.
As the Beulah story has grown and more positive stories are created the Beulah butterfly image and symbolism grows with meaning every year.
Behind the blouse to the left is the Tabitha Coat in Oyster. You can also see it below in the Look Book series of images. This classically elegant piece is light on the figure while also shielding you from the chill airs of the autumn and winter nights. It could also be worn very happily at any point in the year. 
Working one of my key emblems the Rose, the collection wove this flower into the decoration filled with beautiful fragrant flowers and the lights crowing the head of the model wearing one of the key statement looks for autumn - the Aura Dress in Ember wings. 
Below are some beautiful pieces from the collection. The first piece is the Ada dress in Renaissance Red. I love this deep rich red that Beulah have created this season and just like the Aura dress above it has the feel of deep fire and energy inside it. It's a perfect chic party look and like so much of the Beulah collections, it's a classic that you can build into your wardrobe for seasons to come. 
The Oyster Tabitha Coat and Sia shirt in Fluttering Brush Strokes Blue paired with the veil skirt offer one of a possible multitude of combinations for a perfect evening outfit. Beulah have a broad selection of looks and styles in their repertoire and it's safe to say they have mastered the art of producing floor length evening gowns that hang really well and also retain a fantastic shape and form as they flow to the floor. There's a skill and art in all tailoring and I think that long dresses are not always easy to master. The classic navy Sabitri dress makes an entrance again into this collection providing clients with plenty of choice this season from signature House styles to new innovative designs. As always, there's plenty more to come from Beulah.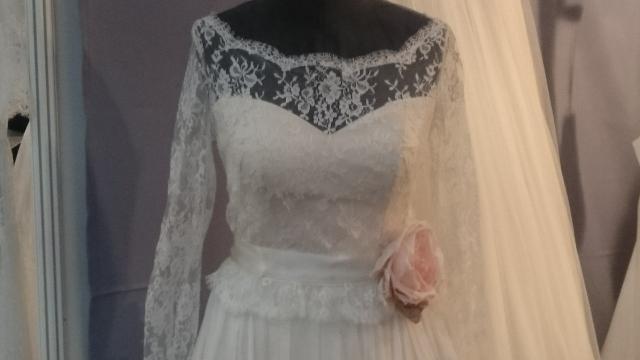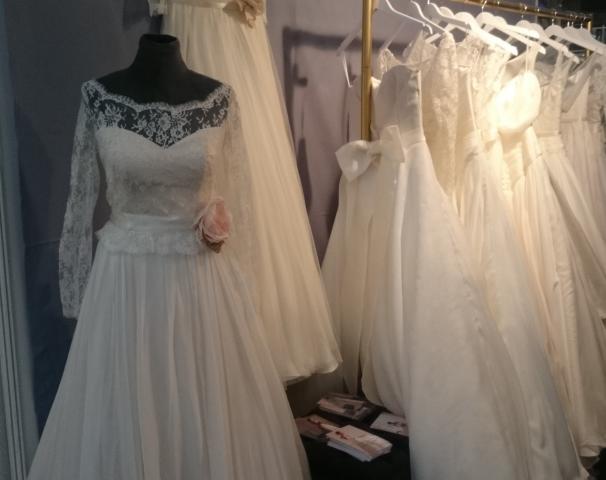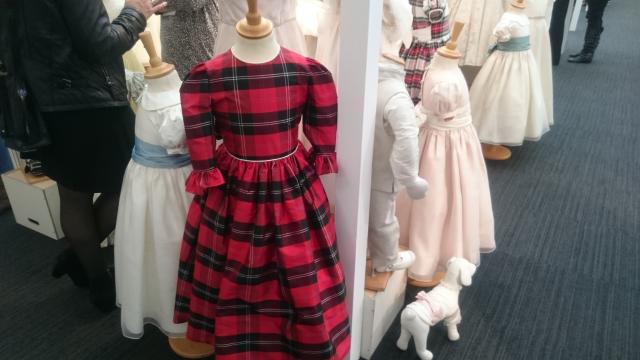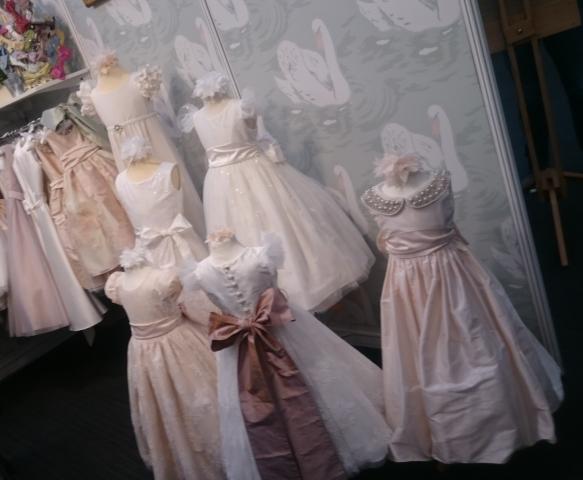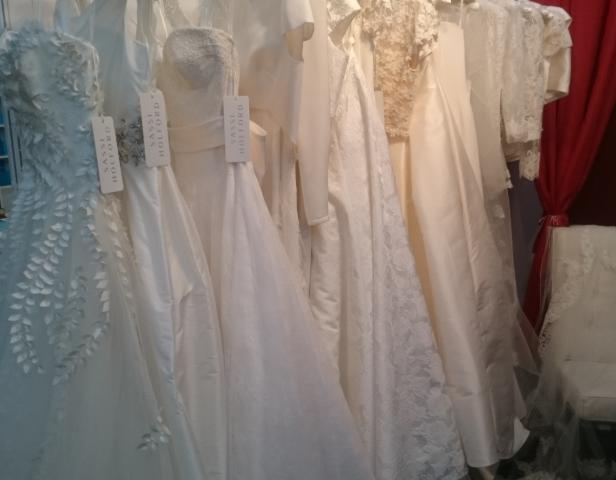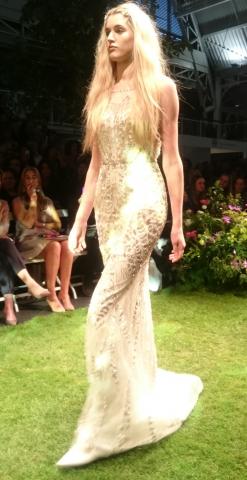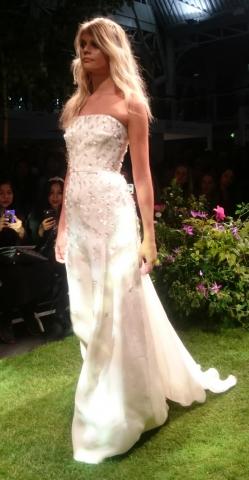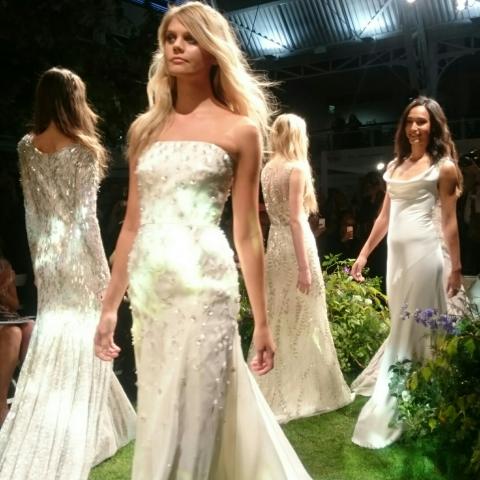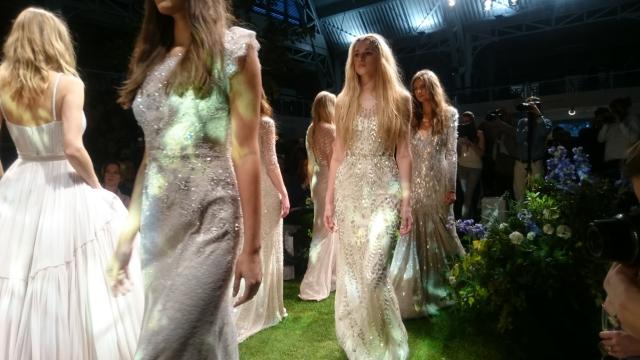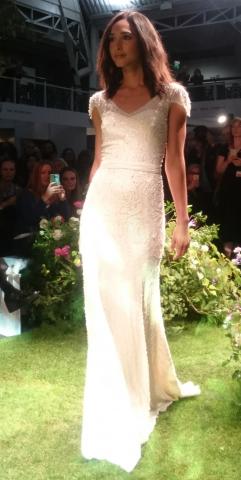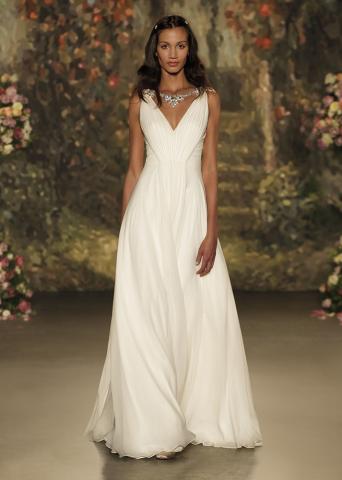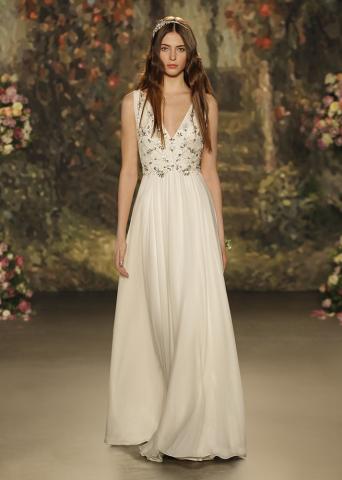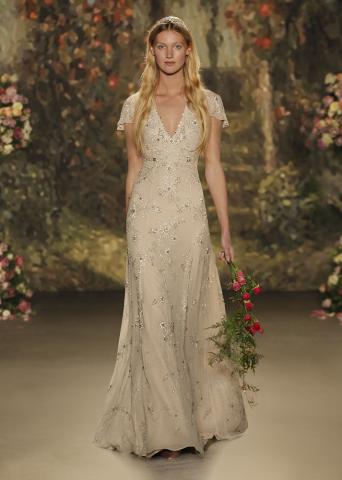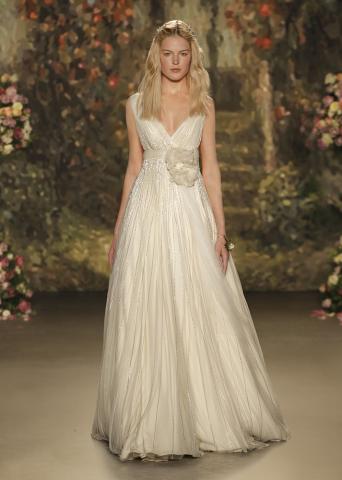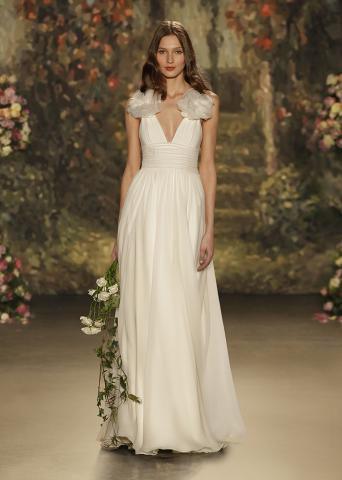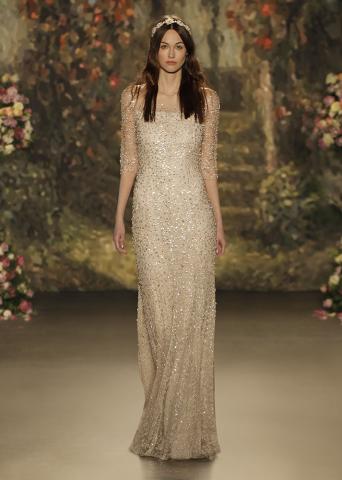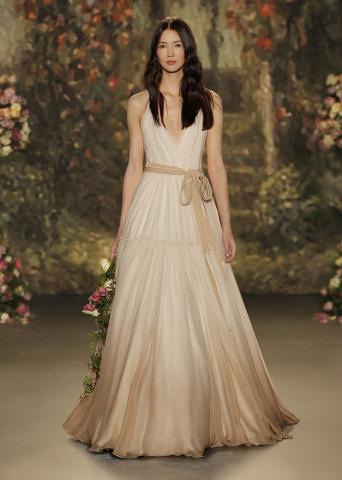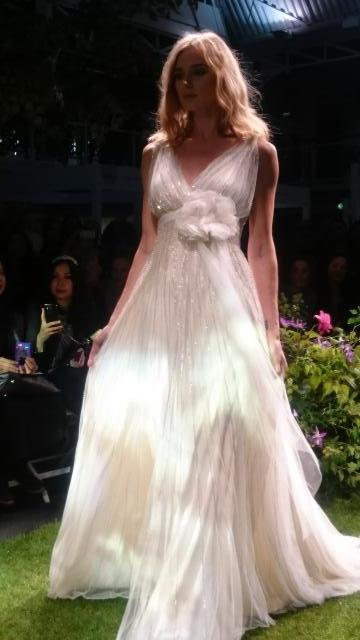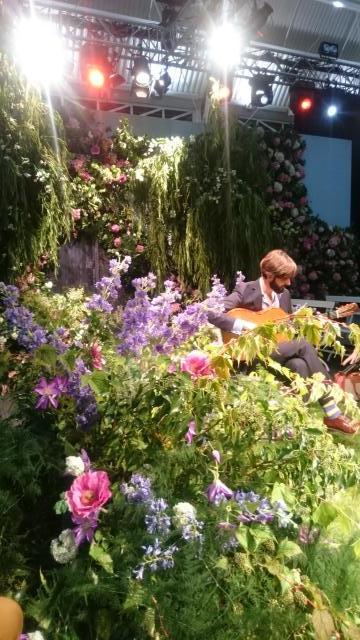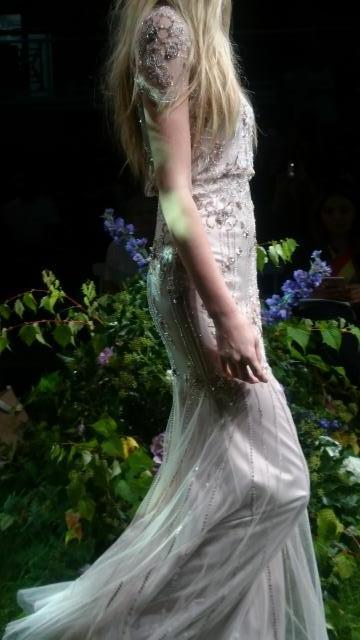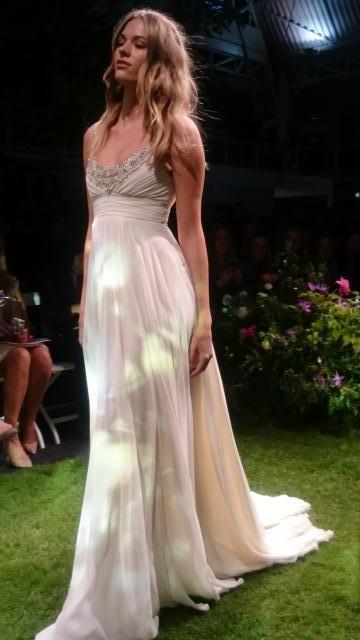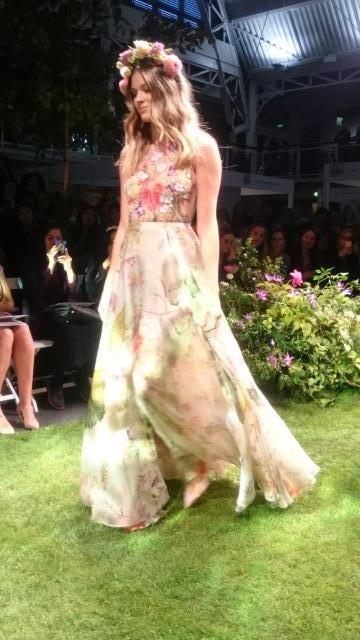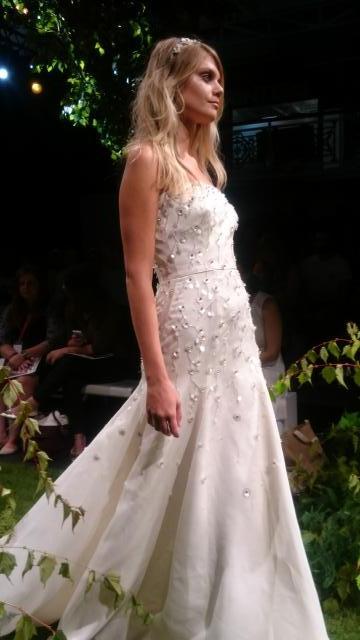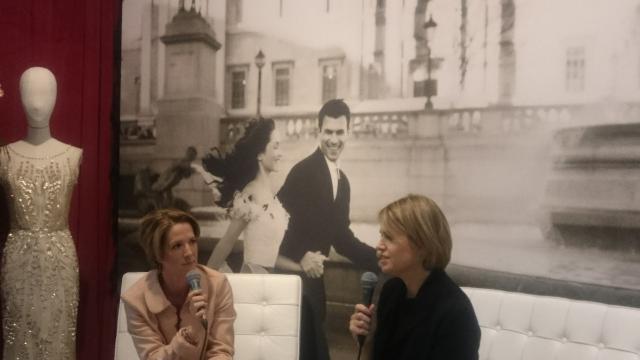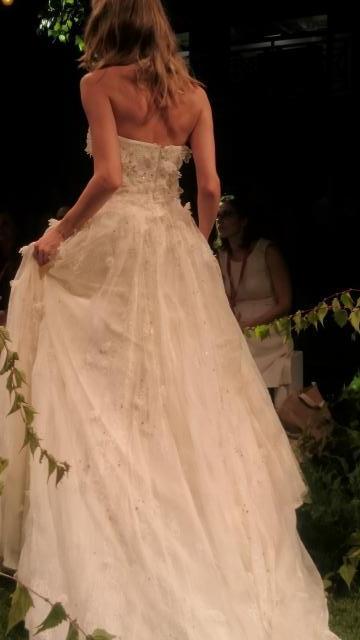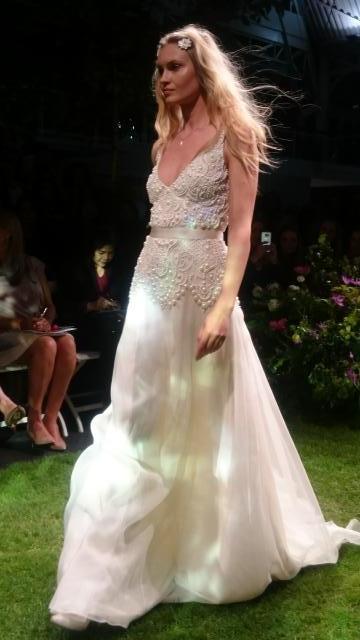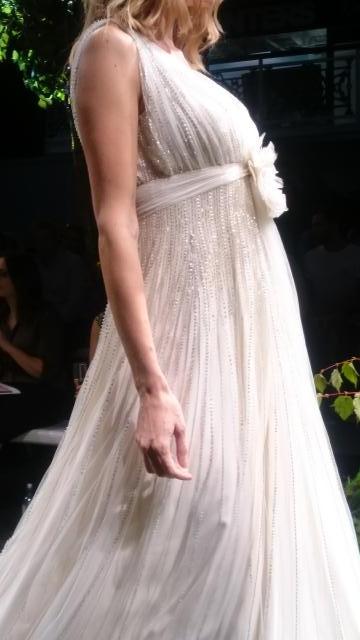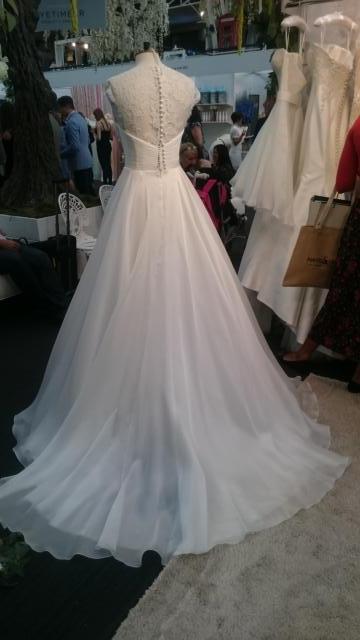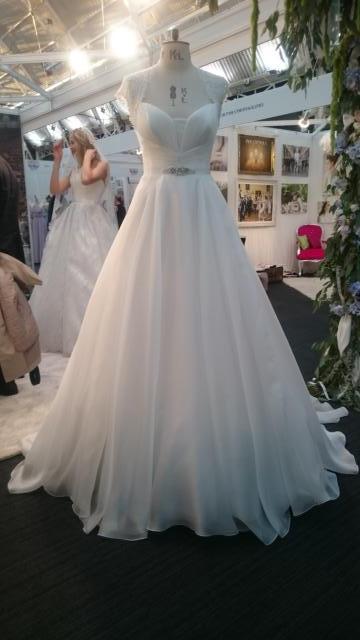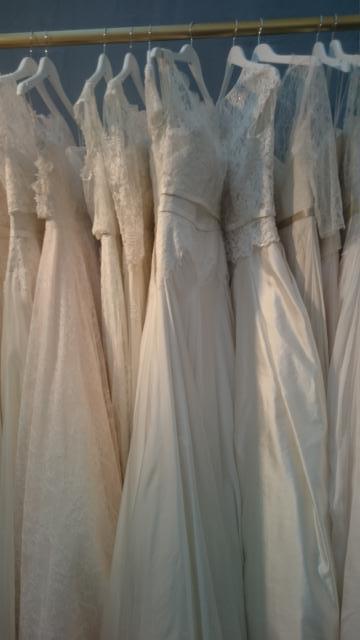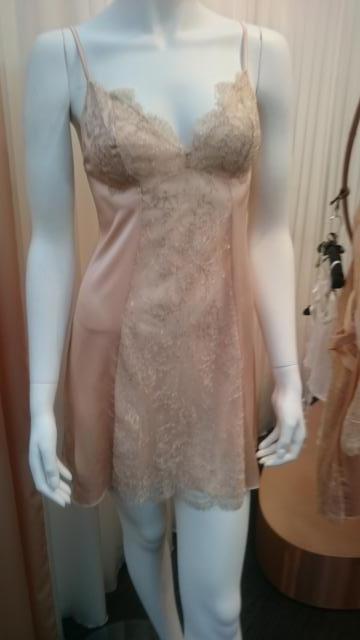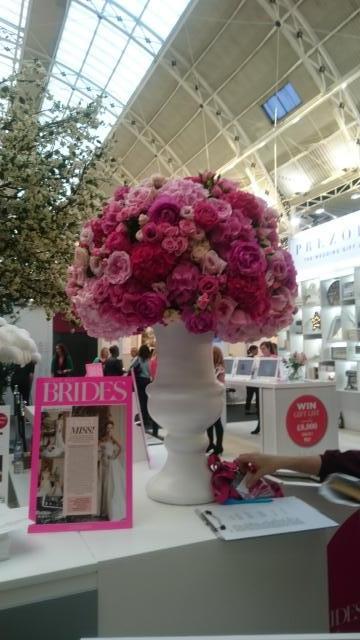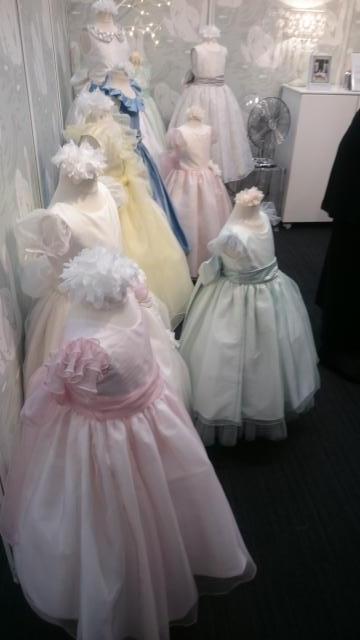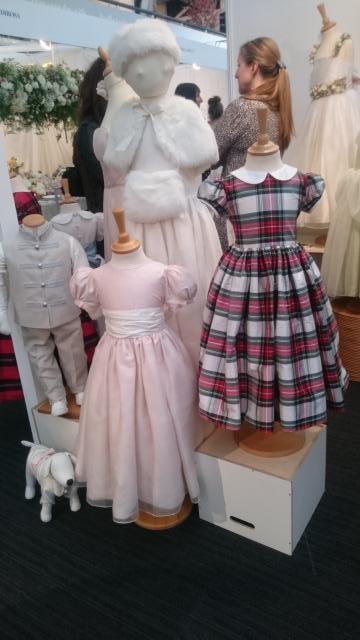 We where welcomed to a beautiful grove filled with flowers and with the melodic sounds of Spanish Guitar music floating through the air. It was definitely a very romantic mood setting and the atmosphere was very tranquil. Whether you marry in a church or a garden or one of many other possible places flowers often play a large part so this was a perfect mood setting. 
Jenny is one of our best known British Designers and she shows her Ready to Wear twice a year in New York and her Bridal Collections in both London and New York. With nearly 3 decades of design experience behind her she is versatile and produces a diverse span of ideas that cover different variations of a luxury contemporary design look. 
The inspiration for the collection was drawn from the Shakespeare play 'A Midsummer Nights Dream'. The light hints of fairytale romance, mystery and enchantment where all around and made a wonderful setting for the mixture of future brides, several future grooms and press who where gathered. This garden of delight yielded 
many possible treasures for us and although a single thing I was scanning the looks for what I felt would work best on me. I think it's natural and what we all do when looking at Bridal pieces. Also I love the emphasis that Bridal often places on showing the beauty of the figure in a gentle way. 
Jenny's skill at creating Haute Ready to Wear translates very naturally into Bridal. Applique and embellishments are a key feature in many of Jenny Packham's collections and it was very exciting for us in the audience to see close up the meticulous attention to detail in the series of dresses that walked in front of us. 
Jenny originally trained at Southampton University before continuing her post-graduate studies at Central St Martin's design college in London. With talent running in the family she is also the sister of British Naturalist and author Chris Packham. Both Packham's have flourished in their natural fields and while Chris is established int he natural world Jenny looks out upon her own ever expanding fashion world. Jenny has stores in New York, Paris and Hong Kong while being stocked in concessions found around the globe. In London where it all began she has a Couture and Bridal boutique in Mount Street in Mayfair and also an accessories store in the much-loved Elizabeth Street in Belgravia. Her dresses are stocked more widely throughout the UK in chosen boutiques. 
When she's not creating the Bridal gowns of dreams Jenny is dressing some of the most famous women in the world most notably the Duchess of Cambridge along with Adele, Angelina Jolie,  Taylor Swift, Blake Lively, Oprah Winfrey, Dita von Teese,  Cameron Diaz, Uma Thurman, Miley Cyrus and Jennifer Lopez. It's certainly enough to keep anyone busy.  
Jenny believes that a wedding dress should have several key features about it. I should make the bride cry, hopefully with tears of joy and laughter and it should also be comfortable to wear through what may well be a long day into evening. She also believes that a dress should be of the time that wedding is in. While Jenny is drawn to the shapes of the 1930's and 1940's in her designs she feels strongly the importance of looks an clothes moving with the times. She feels you should be able to look at a wedding dress and be taken back to the time and place where it happened and feel that time and recall it partly through the memories of the fashion. It's one of the sensory experiences that make up the course of the wedding day. 
Jenny offers a large of style to explore and her team are on hand to guide you through the choices that you'll make whether it's Bridal,  Ready to Wear or Bespoke design that you are looking for. From listening to  Jenny talk at the Q&A after her show it's easy to understand her clear insight and enthusiasm for her craft. She is very interested in women and looks to the future of the industry as well as it's routes. 
To the right you can see the finale dress of the collection that moves with the contemporary mood for coloured bridal dresses. I was lucky to be chosen by Conde Nast to have a question chosen for Jenny to answer which was, has she ever received a commission or a request that made her laugh. As it happened she had within the past few days. Jenny creates bridal pieces for her team and one lucky future bride submitted a design idea that featured culottes. So culottes it shall be!
Here are some of the beautiful looks from the 2016 Bridal collection. From the left to right above, the Luciana, Rosemarie, Octavia and the Phoebe. All have names that recall this wonderful romantic Shakespearean tale and for me they seem to carry a breath of romance inside them as they move so gently on the figure when you walk. The skirts in all these looks are full yet the dresses themselves are light and comfortable to wear, key to a long and busy day when you will be mostly thinking about other people and need your dress to be working it's magic by itself. 
Keeping line and form relatively simple there are a great deal of choices and variety on offer. Shoulders can be bare or covered with broad sash-style straps. Sash ties at the waist also gently accentuate the figure and look cute and sophisticated at the same time. Below from left to right are the Venetia, Ceres, Mina, Patience and Cressida dresses.  All would make a great accompaniment to a very happy day - your only question will be which one to chose. 
With a VIP ticket to the Brides Show from Conde Nast I wanted to see what else the Fair had to offer and was delighted to tour the stands and look at the many different options on offer when panning a wedding. Several venues where exhibiting from Country Houses to Harrow School in north London. I was surprised at first but the friendly Harrow events team where chatting away and very keen to show how their school is a great venue. 
I will admit that after several years studying the world of Haute Couture as part of the Fashion Industry I love looking at the process of creating bridal gowns. Here below you can see a piece from the Sassi Holford exhibit shown from 3 angles with a close-up of the lace back-detail of the dress. I really enjoyed looking at the myriad of things that need to be considered before the big day. When you've decided on your dress or even just selected the designer there are still a great number of choices from flowers to stationery. 
I'm personally quite a good decision maker; so a fair like this taught me when the time comes I'll be able to look at the options and make some clear decisions quite quickly if I have a good number of choices in front of me. I really enjoyed talking with members of the Brides team from Conde Nast and learning a little bit more about their brand of Fashion journalism.
They have a very special role as while fashion plays a part in all our lives, and the Brides team have a special role in helping women chose not only a look but actually coordinating an entire event for themselves and their family and friends. 
It's always good to be welcomed somewhere with beautiful flowers and the arrangement below that with the Brides Magazine team when they grated us was delightful. With Honeymoons in mind perhaps Myla the Lingerie company had a beautiful pop-up boutique. As ever they have lots of beautiful pieces to chose from but I can't help thinking that lingerie is not just for weddings, it's for many special evenings. The lace detail is fantastic and this colour will look good on many people. To the left more beautiful gowns to look at and admire in detail.  
With a myriad of planning ideas a aids to hand today's bride is very well placed to make decisions and commence the arrangements in an era where we girls happily juggle many different aspects of our lives. The wedding industry is huge globally and it's easy to feel overwhelmed to begin with such is the choice on offer. 
Accessories are a strong part of the industry in their own right and the contemporary re-awakening of the interest in Wearing the tiara has added to the wonderful ways that you can accessorise your bridal outfit. 
A wedding day is often your blank canvass the one event that you will go to that you will probably have the greatest degree of control over. Moreover I've always felt that this is the day that you give to other people and provide everyone else with a special memory.
Jenny Packham is one of our national treasures whether you're considering bridal design or evening wear she offers a comprehensive take on the contemporary look that is loved around the world. With the Duchess of Cambridge choosing her to create the bespoke outfits that she left hospital in after the birth's of Prince George and Princess Charlotte there's no greater seal of approval currently on offer to British designers.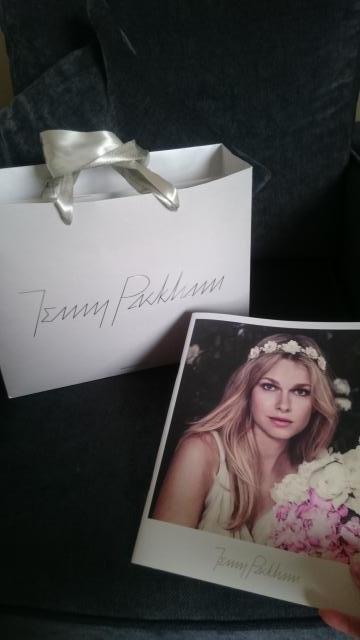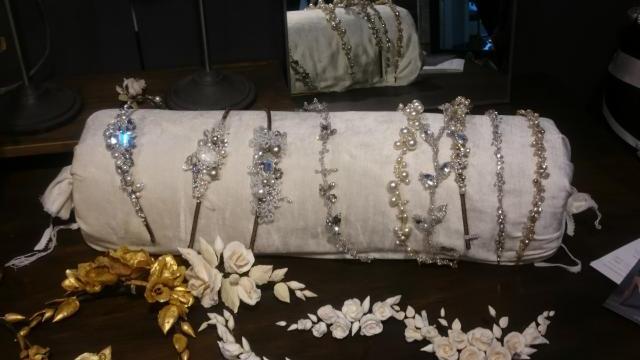 It was great to see the options for taking care of the littlest wedding guests and I fell in love with 2 stands in particular. Little Bevan who have a boutique based in Pimlico (below to the right two images with the little dog) and Nicki Macfarlane (the two shots against the grey background below to the left) who designed the Bridesmaid dresses for the Duchess of Cambridge's Wedding to Prince William.  
Both these designers celebrate the best of English traditional design and as you can see they create super-cute looks that are also sophisticated in a manner appropriate to children's wear for formal occasions. Beyond weddings you can see how these outfits translate to other 'best' occasions wonderfully. From a child's perspective special outfits are often something that you remember about events and I think many children will look back with fond memories of these outfits in years to come when they are grown. Also for parents and grown-ups it's delight to be able to find something so special for the children.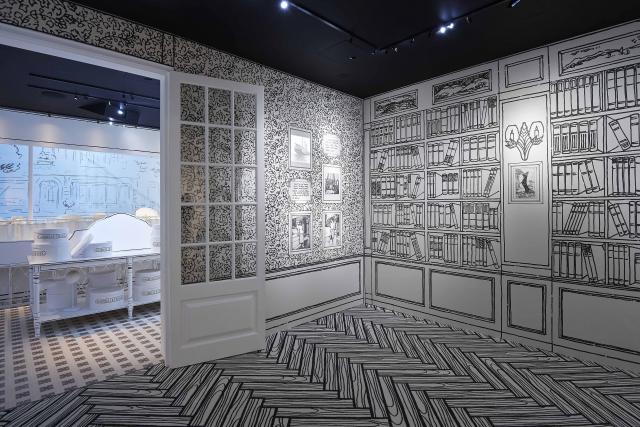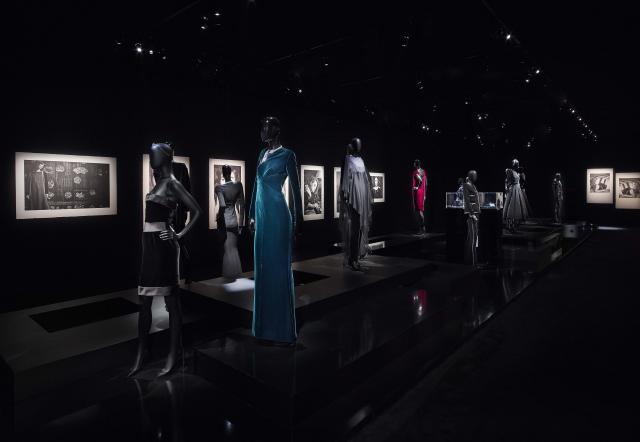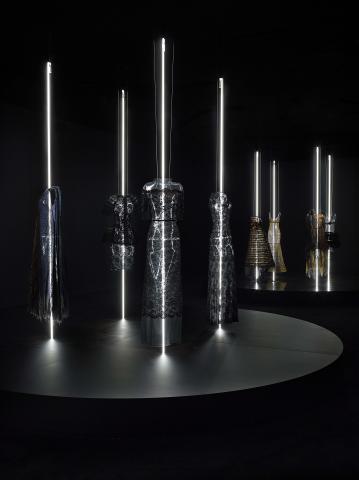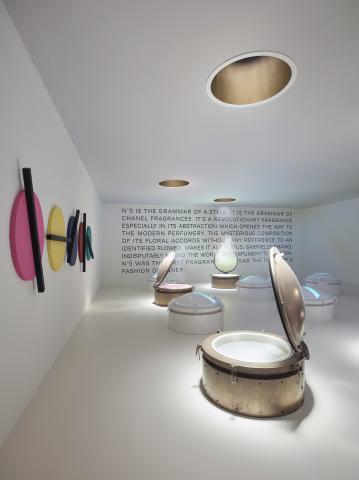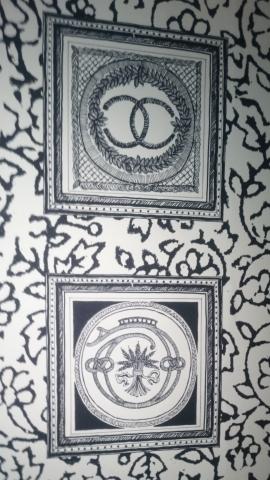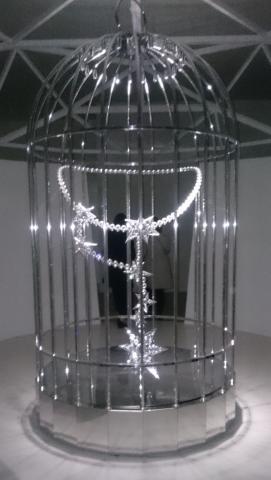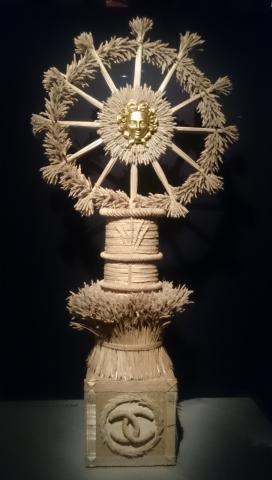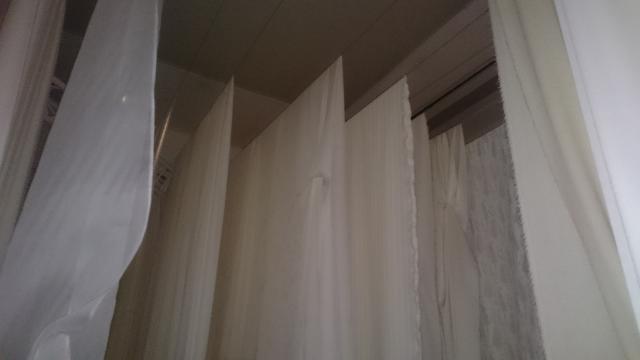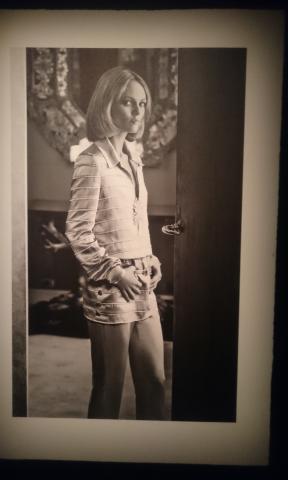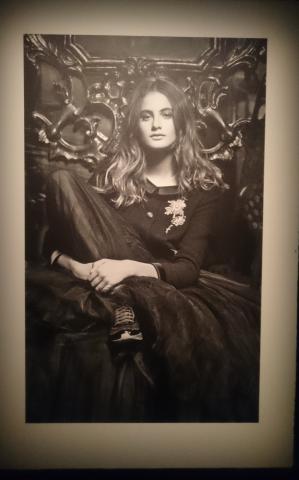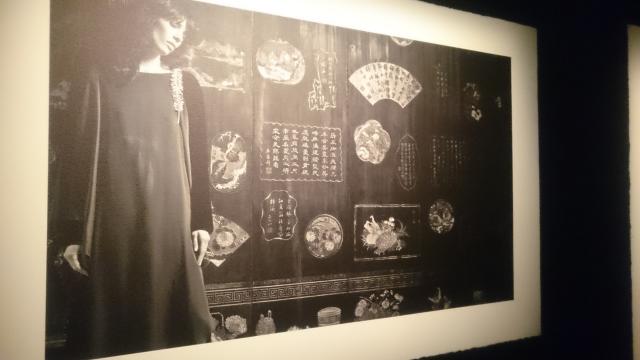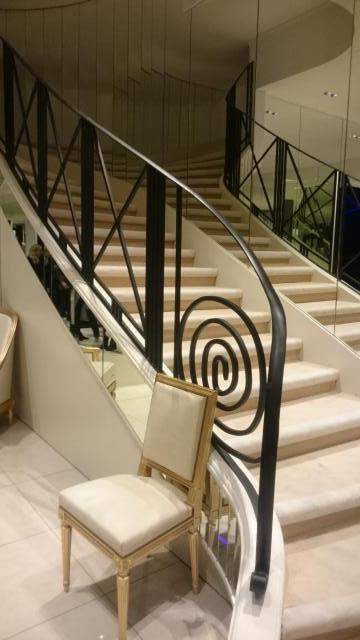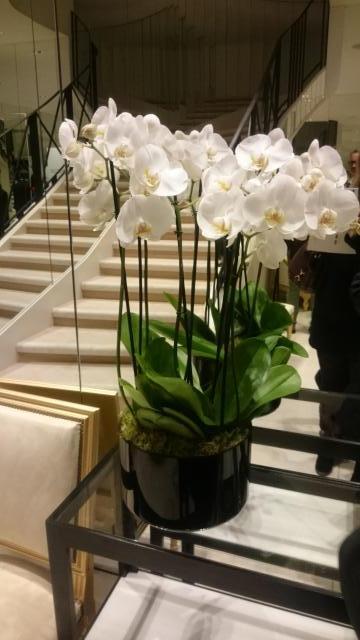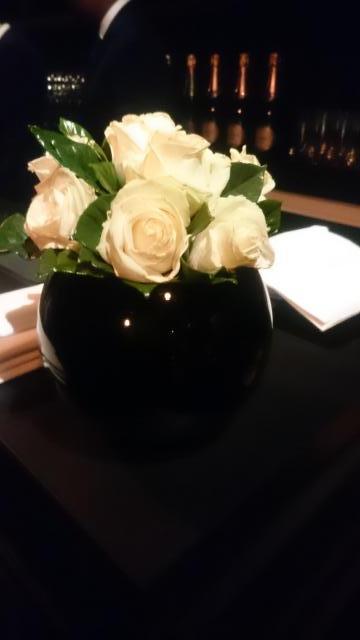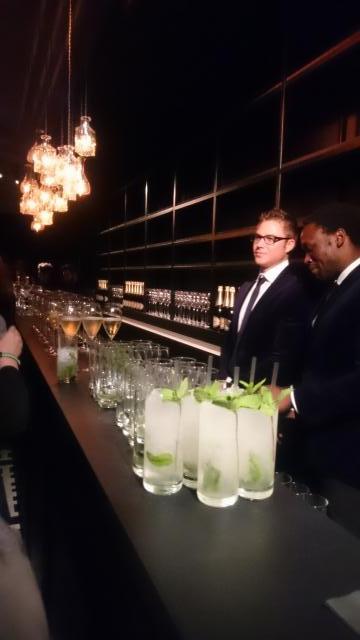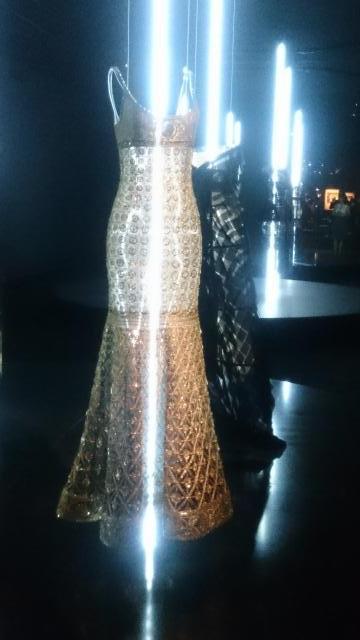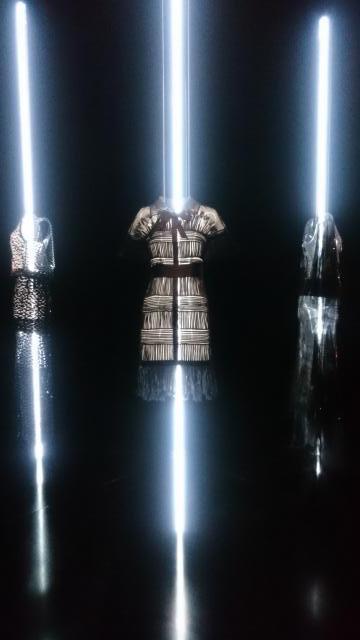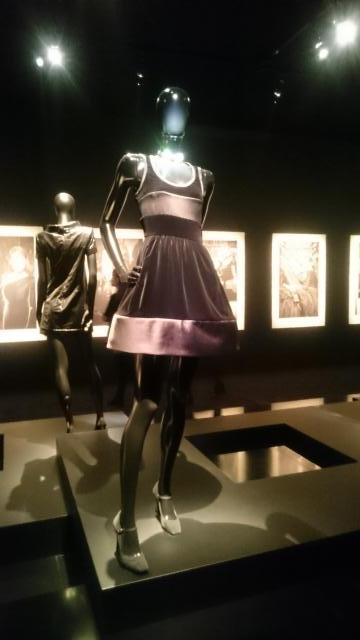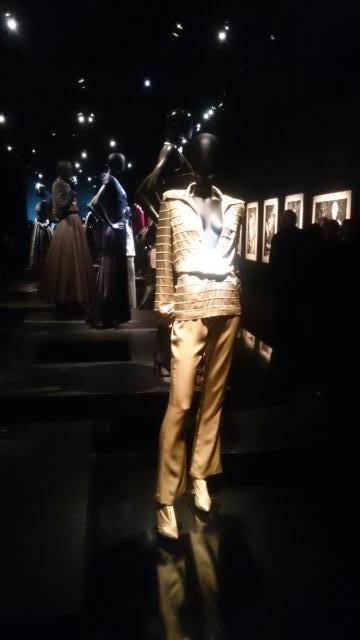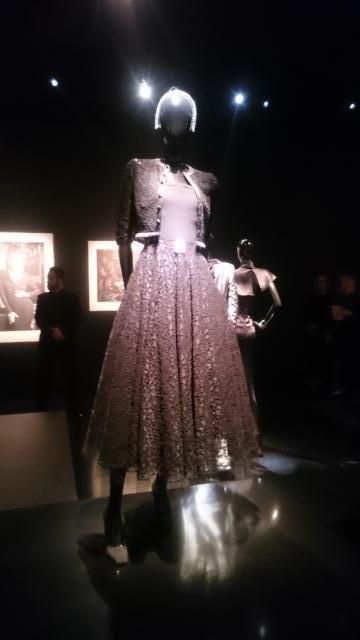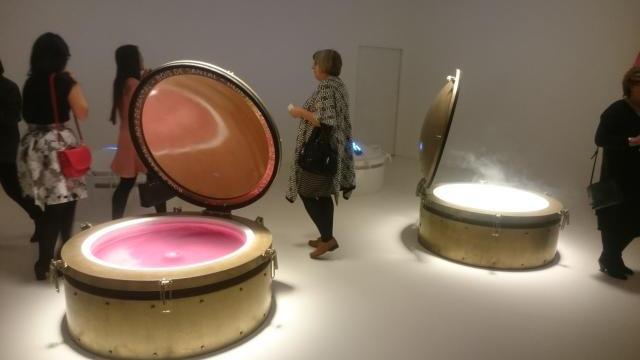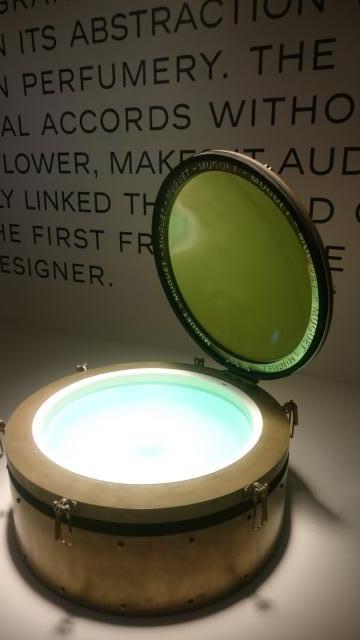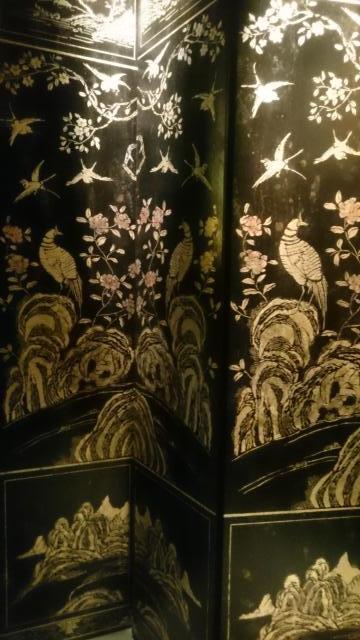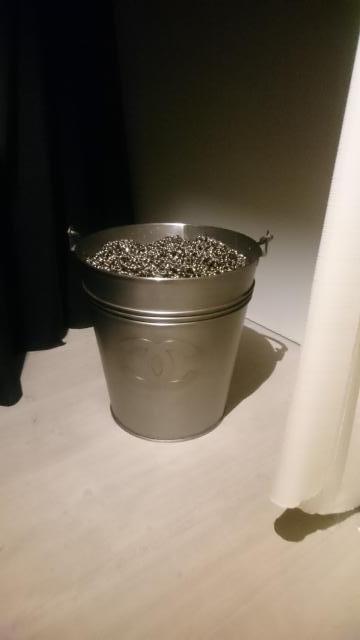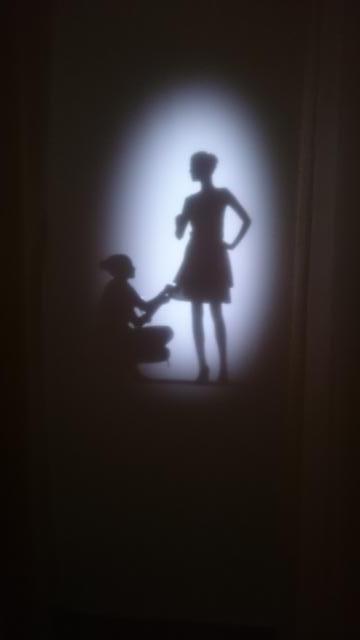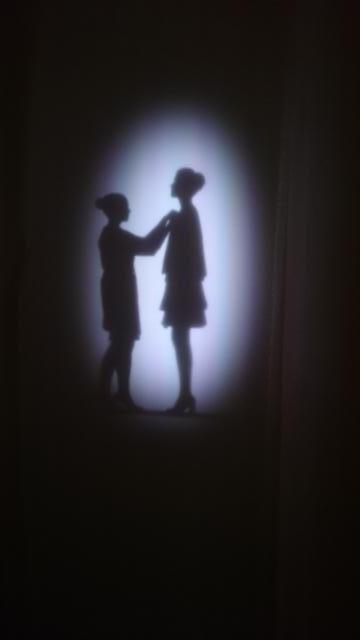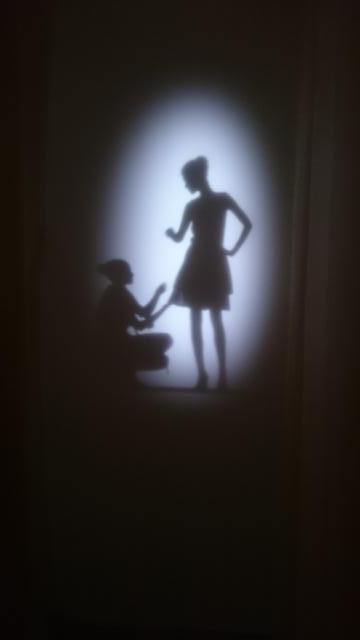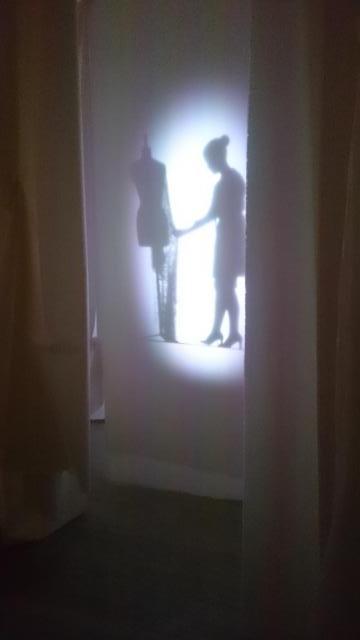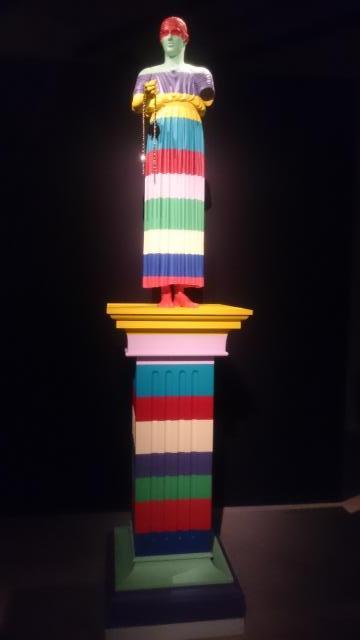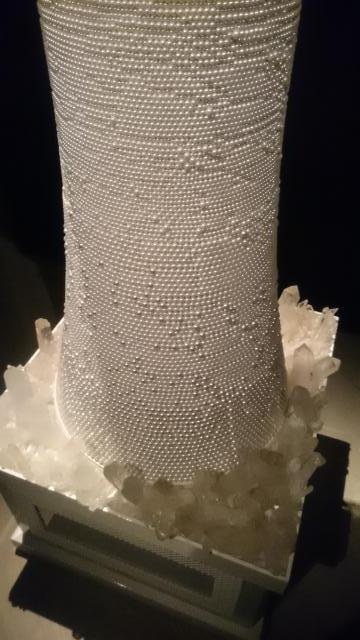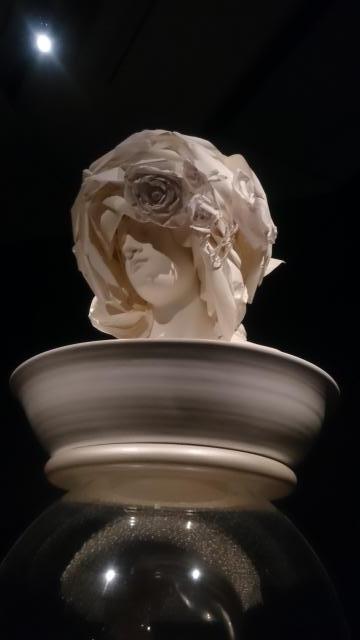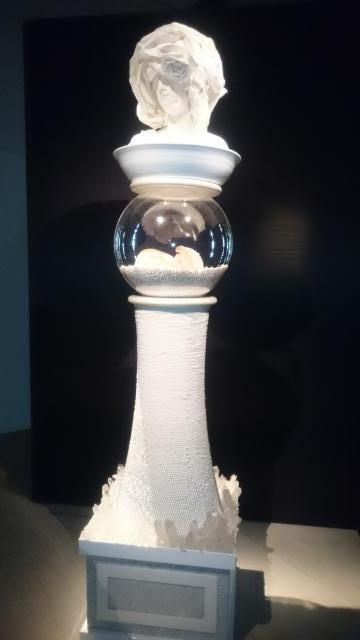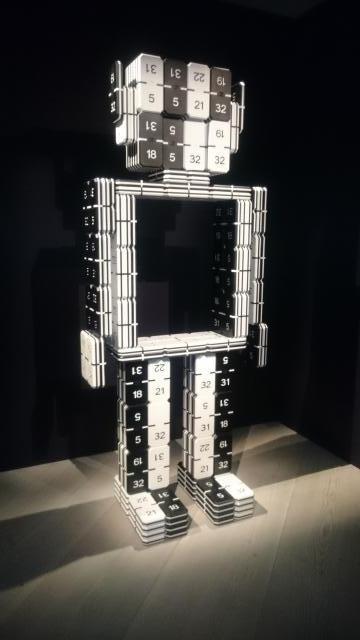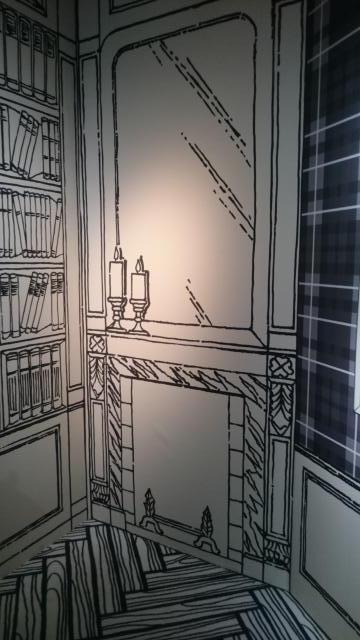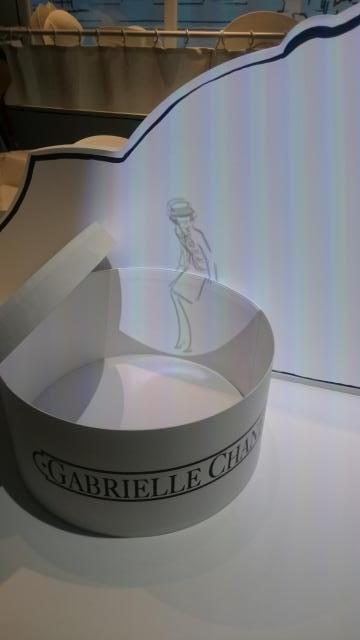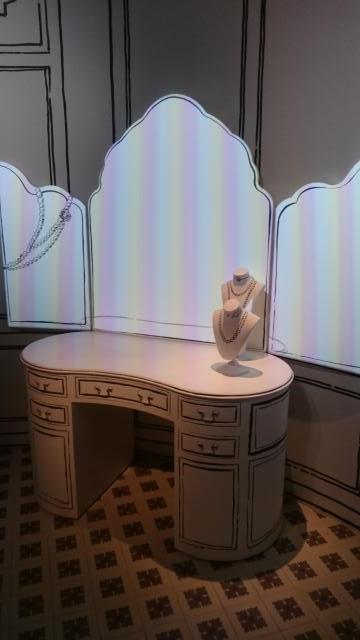 All images below are credited to me except where indicated.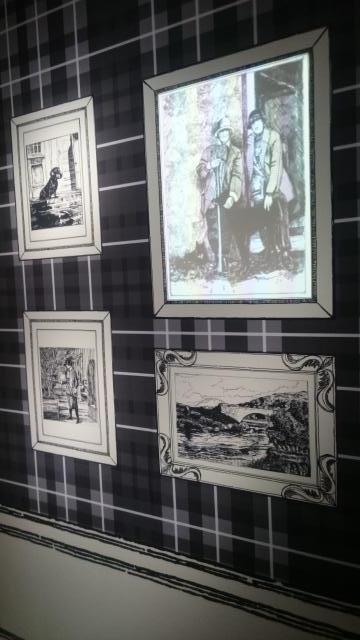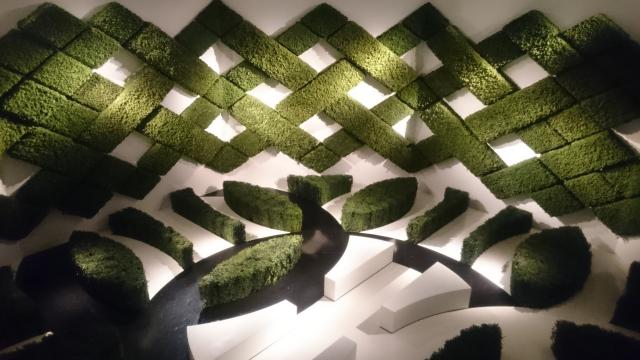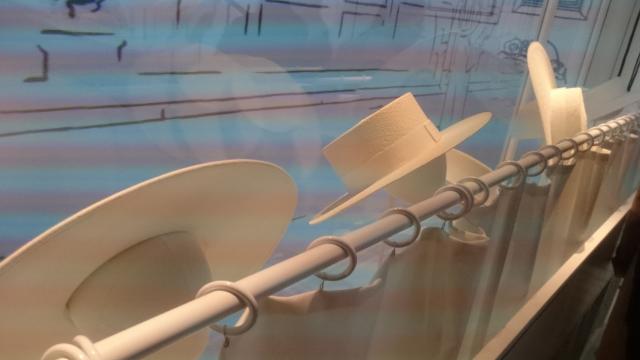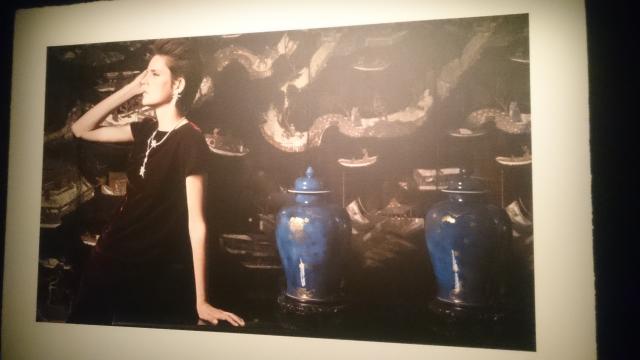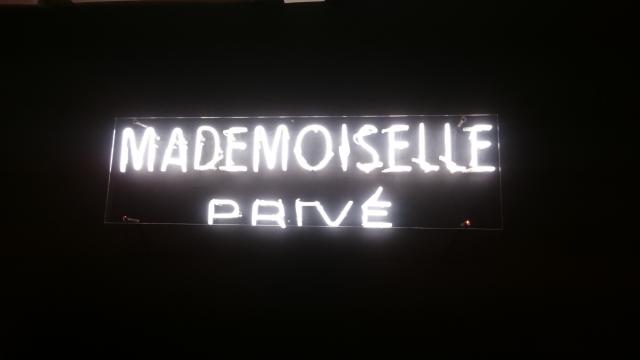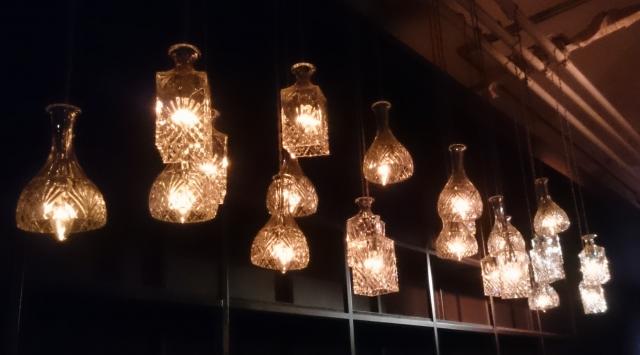 Image with kind permission of CHANEL (c).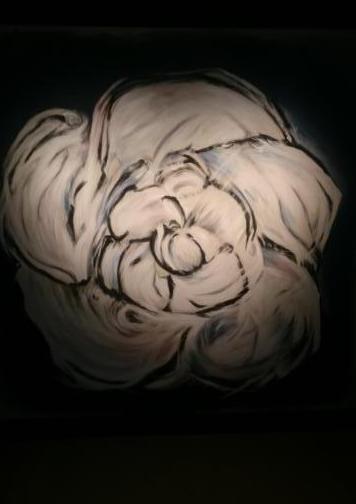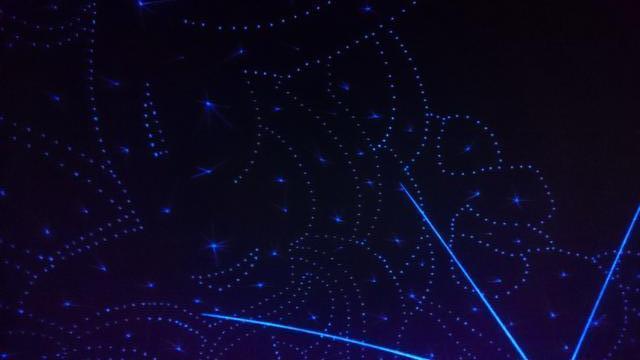 Image with kind permission of CHANEL (c).           Below you can see a panorama shot of the re-imagined hat boutique and to the right a snap of the constellations of                                                                   the night sky that represent Chanel's love of astrology and mystical belief in superstition. 
Image with kind permission of CHANEL (c).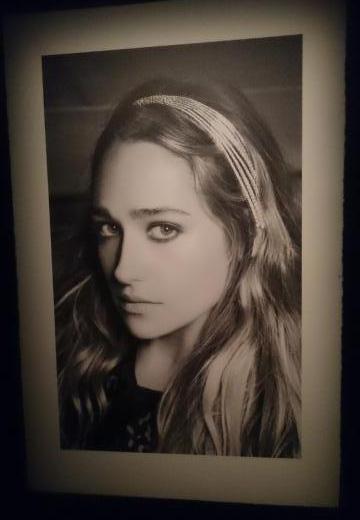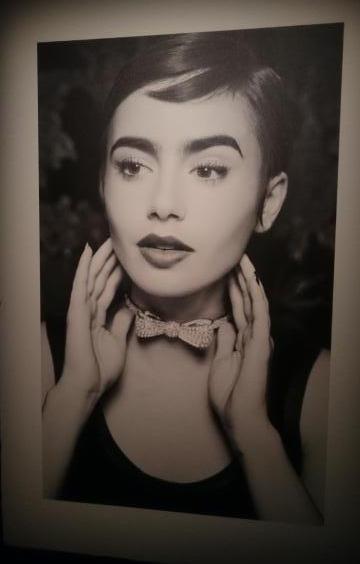 Image below with kind permission of CHANEL (c). 
I firmly believe that Gabrielle Chanel's relationship with Britain and London is a story that needs to be told. While growing up in France in the Auvergne, the British Isles was a distant place on the map. Later her relationship with Arthur 'Boy' Capel who lived in France for much of his life typifying the ostentatious expat drew her close to the world of British fashion and her girl-hood instinct for creative design that was already developing into an entrepreneurial drive took a structured form and focus. 
She quickly began to adapt some of her partners clothing to suit her needs, first for riding and then for more day by day style with the man's military jacket influencing the origins of the classic Chanel jacket. With a growing reputation in fashion in the 1920's and 1930's, it was her later relationship with Hugh Grosvenor, 5th Duke of Westminster (now known historically by his nickname of Bendor) that finally sealed her place on the map literally in the capital as he intertwined their initials on lamp posts all over his golden acres in Mayfair and Belgravia. Their scrolling dual cypher can still be seen today.  
After an early start in life that was migratory at the best of times, Gabrielle Chanel was a women who notably tried to make home wherever she was. In London she lived in a Mayfair townhouse and when in the country she moved between the numerous Houses owned by the Duke of Westminster including Eaton Hall near Chester and his estates in Lancashire and Western Scotland. 
In Paris her Salon was notable for it's feel of the grand town house. At the Saatchi Gallery her world was literally recreated in the 3 dimensional sense as the world she created on the Rue Cambon in Paris was transposed to Sloane Square both in the physical sense as you can see from these pictures and in the digital. CHANEL have fully embraced multi-media. Guests at this exhibit where able to use an App that linked to a digital sychronised overlay of a tour inside Gabrielle Chanel's apartment. 
As we moved around the rooms we where transported into the private apartments on the Rue Cambon or given further insights and prompts into Chanel and now latterly Karl Lagerfeld's world of design. CHANEL are fully embracing of technology and as someone who's lucky enough to have interacted with Choupette Lagerfeld over instagram you can see how they have taken it fully to heart.
I've been to the CHANEL Rue Cambon boutique several times over the years but there's nothing like an installation such as this to feel the space differently. For one thing there where no clothes at this exhibit to look at as you would usually see.    
Gabrielle Chanel's career opened with millinery and she began her life in the fashion industry in Paris as a Modeste in Paris during the late Edwardian era. This was the name given to all hat designers at the time. Her life frequenting many society parties and intellectual groups meant that she was able to make ready contact with large numbers of women. Those in her circles included courtesans Their world is largely forgotten today but they where freer than married women to explore fashion and design and as the 1920's came into view after the first world war this was one of the groups of women who where unrestricted by convention and where able to try new modes of style. 
Chanel's hats, some taking their cue from the man's English style Boater popular the world over, where refreshingly simple and adaptable compared to the fashions that had prevailed during the late 19th and early 20th century. So Mademoiselle Chanel first became known as a Milliner and it was through this area of fashion that she exercised her talents but even at this stage she was privately starting to create her own fashion designs. 
In a series of rooms leading forward from the mirrored Salon room Scenes from the life of Gabrielle Chanel where brought together as though from a sketch book brought to life in 3D. The concept was simple and with the overlay of a second reality through the Mademoiselle Prive App the quieter parts of Chanel's life that informed much of her creative background came to life. 
Above you can see where an illustrated animation of Coco Chanel gracefully climbed out of a hat box and walked across the display table in her re-imagined Millinery Salon. This is Karl Lagerfeld's now famous silhouette of Chanel and it seemed very apt to have taken on it's own little life walking in her memories. A reference to the dressing table - the traditional heart of a dressing room in the past and the warmth of the hearth are signs of a home life. Note all the books in sketch next to the fire Chanel was an avid reader as where the great loves of her life. Arthur 'Boy' Capel in particular was a man of tremendous curiosity.   
Chanel's life in the UK featured it's quiet times as well as the visible high life she led in London and Paris. On country estates in Scotland and on the seas around the French Riviera she mixed with many members of High Society such as Winston Churchill, the Astor family and the Duke and Duchess of Windsor. What is less well known is that she also would also know many people who worked on the estates and would quietly absorb the knowledge of their day to day lives and yes, get a good insight into the grass routes of the tweed industry in the Scottish - English Boarders. She may have had anglophile friends but I think it's very apparent that it during her friendship with Grosvenor and her subsequent relationship with Britain that she came to be possibly the greatest admirer and proponent of the classic English Women's Tweed Suit and knitwear. Chanel's adoption of Jersey in the 1920's as an answer to the post WWI lack of wool transformed into a full blown love of Tweed in later years after she spent more time in the UK.  
Further rooms examined more of Chanel interests, experiences and passions that shaped her journey to her life in fashion and her thoughts and ideas when she arrived there. What isn't always appreciated about Chanel is her deep interest in numerology. In a playful expression of this a life-sized robotic human is constructed out of numbered cards. Next in perhaps a symbol of Chanel's expression of Eternal style a Roman statue holds a Chanel boucle chain in one hand as if about to make a proclamation. 
The third image along is a fascinating statue described in detail below and lastly to the right a corn wheel with the sun-god depicted for me evokes Chanel's childhood in the beautiful rural Auvergne region of France. The simple rhythms of life creating an everlasting cyclical truth. There is also the strong symbolism of the pagan and the earth and renewed life attached to this harvest wheel. Chanel's birthday was reputed to be 5th August and in France this is the early start of the harvest season. Wheat was one of her favourite symbolic motifs. 
Jewellery is a key part of Chanel's legacy. She only created one Haute Joaillerie collection during her lifetime in 1932 but this in turn spawned a series of Haute and luxury Joaillerie in the decades following her death.
In the bird cage to the right a life-size diamond necklace was the same height as me. It had to be seen to be seen to be believed but also made it easier to appreciate the workmanship in detail.  
When many of us think of Chanel we think of Pearls from the necklaces that CHANEL brought out to accessorise many of her collections and garments. This was one item from her early adult life in the late Edwardian era that she revived to continue into her contemporary 10th century aesthetic. 
One of pieces in the sculpture gallery of the exhibit (very apt as it was hosted by the Saatchi Gallery) was a pillar based with giant crystals leading to a column that was roped with pearls from top to base. There must literally be thousands there with many different shapes and sizes in the mix creating a 3D natural look reflecting the diversity of pearls found in nature. 
On top of the plinth stands a sphere and inside this is a large shell of the kind that gives birth to these pearls in the ocean. Protected inside this glass sphere the shell almost looks to be swimming in pearls itself and crowning this at the top is a statue a woman's head dressed in a hat that shows her garlanded with flowers. It echos the millinery of Chanel's early career and simply looks very beautiful.  
The next series of rooms where some of my favourite. A fabric store house was recreated in the gallery with materials hanging on rails from the high ceilings suspended above us. The fabrics where so beautiful and evoked the feel of the atelier. This part of the exhibit was all about life behind the scenes, selecting the materials, and then beginning the design process. It was a step into the creative workshop of Chanel which I really loved. As a fabric and design lover there was so much here that lit up my eyes after the speechless halting display of the giant diamond necklace. One poignant image I took above of the humble bucket with the famous Chanel chains coiled inside ready for use seemed a very apt look at the simple materials before they gain the magic and life of being on the wearer.   
The expertise of the atelier really come to life during an Haute Couture fitting. In the rooms draped with fabrics a show-reel played an imaginary client being fitted by a seamstress. Through the decades of the telling and retelling of the romance of Gabrielle Chanel, her work and her life, one of the simple truths of her legend is that she was very diligent in hiring the right people to work for her and exacting in the standards within the business that carried her name. She would accept nothing else for her clients experience.   
Fragrance is a key part of the story of Chanel that we know and love and for many people it's an introduction to the world of Chanel in Childhood when they become aware of the perfume of members of their family. This exhibit was designed to be a multi-dimensional experience in several ways (I'm sure the metaphysical curiosity of Arthur 'Boy' Capel would have been awakened along with Chanel's ghost - more of her later). 
Beyond multi-media the senses where awakened by the captivating scent of the topiary gardens that where created as a remembrance of Chanel's life in the orphanage of Aubazine and it's gardens. Bringing us up to date vats and cauldrons where bubbling away reminding us of the chemical cocktails that are created in Chanel's laboratories and the exploration that goes into developing new and exciting perfumes, plus keeps alive many of the much-loved favourites. 
I sat in the topiary garden (above) for some time and inhaled the beautiful smell of the privet - quite apt for Mademoiselle Prive - but also genuinely a hedge much-loved in formal French Gardens. I took the picture from the gallery above the garden that was a wonderful place to stop and look at the Panorama and see the shapes. From here we entered the first of two large galleries showing Haute Couture outfits across several decades. It was definitely a place to linger long and study the form and shape of the designs. The models in the shots above and below where wearing high jewellery from the CHANEL collection based on the theme of Gabrielle Chanel's original 1932 Haute Joaillerie collection.   
P
hotography is a huge passion of Karl Lagerfeld's and here in this room lining the walls where numerous photographic portraits of Chanel faces from some of the current campaigns. There are familiar and new faces amongst them from Vanessa Paradis to her daughter Lily-Rose Depp and Rita Ora. You can see that Vanessa Paradis has been photographed in the vintage gold coloured outfit above and there are a number of different moods going on at the same time within these frames that all form part of the Chanel modern composite.  
Along with Vanessa Paradis, the awesome Stella Tennant (I admit one of my favourites because her bone structure is a living miracle) and Christine McMenamy feature in long landscape images that particularly make reference to Ancient China and Chinese art the Famous Coromandel screens in replica below being one of the hints of ancient China that she kept with her every day in her Parisian apartment. Luckily China is also one of the new frontiers of CHANEL in the 21st century so a strong connection with the cultural base of a key client demographic is no bad thing. You could go further and analyse the symbolism but sometimes it's really better not to and just absorb the beauty. I think that's what Gabrielle would want. 
To my knowledge Karl Lagerfeld and Gabrielle Chanel never met and part of the gallery tour was a movies where Chanel's ghost roams the corridors and rooms of her old buildings in Rue Cambon until she finds her way into Karl's studio. Played by Geraldine Chaplin in life; the dialogue between Karl and Chanel is frank and at some times I felt personally a little bruising for such an elderly woman but she gives as good as she gets at many points from the Maestro that re-invented her House and transformed her legacy. For sure if Gabrielle Chanel came back today amongst us it may not be the easiest of partnerships - at least to begin with but I would hope they could find common ground at the helm of this vast express train that the House of CHANEL has become. 
The second room of Haute Couture was presented in a contemporary way with Haute Couture dresses place on mannequins lit with tubes of neon light. I thought this was a fantastic representation the energy of the wearer that brings the clothes to life when they are worn. To show dresses in this way with the pulse of light running through them gave clarity to form, content and structure and for many people visiting this exhibition to appreciate the clothes it was a fascinating place to linger long. There's nothing like being able to see the work of the Atelier close-up it's the best way to understand appreciate the work. 
As well as the light of illumination there was also a wonderful lightness in the structure of these pieces the double ethereal effect of the lightness gave the room an almost new-age Angelic feel to it. I almost felt the neon was a symbol, perhaps an unconscious one to represent the energy of the women wearing the dresses.  
Chanel brought the luck and chance of the Casino to the top floor bar at the Gallery - decked out in a 21st century version of the traditional English Club with a very intriguing Maze- pattern carpet slightly reminiscent of the privet garden.  The Daily Telegraph drew a very interesting crowd and there was a lot of good chatter. 
Delicious Canapes where just what we needed after lots of talking and as we mingled in the room and with many images and ideas swirling, we headed to the bar to grab cocktails before easing into super comfy chairs. A new use for decanters had been discovered as the lights above the bar (below) had clearly had an interesting history each of their own. I think I'll keep mine intact but it's a great design idea. 
It was great to take time and reflect on Gabrielle Chanel's legacy and the endless re-invention and life that Karl has injected into CHANEL. It's true, Chanel is now something different from the House she knew. Her career was intermittent at times while she had commitments away from fashion and CHANEL today is a true international powerhouse that could very well be with us for many, many years to come. I hope so. 
I was very grateful for this journey into Chanel's world re awakened in 21st Century London. Yes this is was a promotional show but I also think it serves to highlight an important part of her life which was her relationship with Britain and time she accumulated staying here during visits over many years.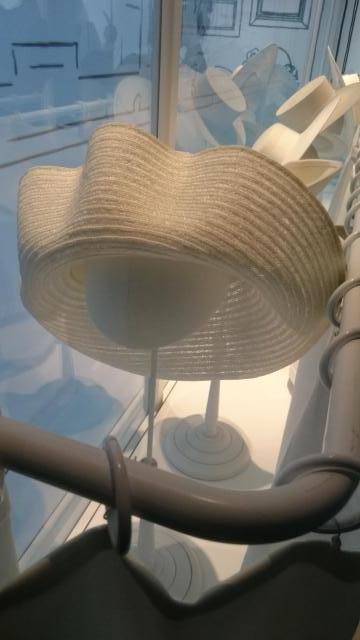 Jenny Packham - one of the Duchess of Cambridge's favourite designers evokes a Mid Summer nights dream with her 2016 Bridal Collection.
I was lucky enough to be Front Row at 
Jenny Packham'
s launch of her 2016 Bridal collection courtesy of 
Conde Nast Brides Magazine 
and toured the stunning bridal fair organised by the amazing Brides team. She's one of the favourite designers of the 
Duchess of Cambridge
given the unique honour of designing both her debut dresses following the birth's of Prince George and Princess Charlotte 
and a fantastic ambassador for British Fashion Design around the world.
Here's also a link to my digital feature at Country and Townhouse covering Jenny's career in detail bit.ly/1JWksoE . 
I hope you enjoy it, plus 
I also have a report on the way from my peek at her SS2016 Ready to Wear pre-collection. 
CHANEL - Mademoiselle Prive at the Saatchi Gallery in London. 
I was delighted to be invited to the Daily Telegraph's Private View of Chanel Mademoiselle Prive at the Saatchi Gallery in London. I have lots of great photos from the exhibition and I think it's very important that the story of Gabrielle Chanel's relationship with Britain is told to get a full perspective on the influences around her fashion career. 
I also contributed a successful article to 
Country and Townhouse
 covering the exhibition and more of Gabrielle Chanel's heritage that can be read here too, http://ow.ly/VzIZB . Many thanks and hope you enjoy. 
The V&A  Fabrics of India exhibition.
Fabric is at the Heart of the Fashion Industry and I was delighted to attend the V&A Press Day to launch the opening of the Fabrics of India exhibition. It's a bright burst of colour to see us through the Winter Months.  I love London, and the UK for that matter in the winter but it can seem a little grey at the best of times :-). All images below are mine with big thanks once again to the great team at the V&A.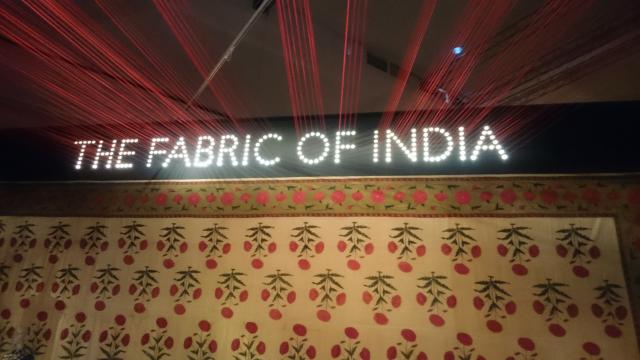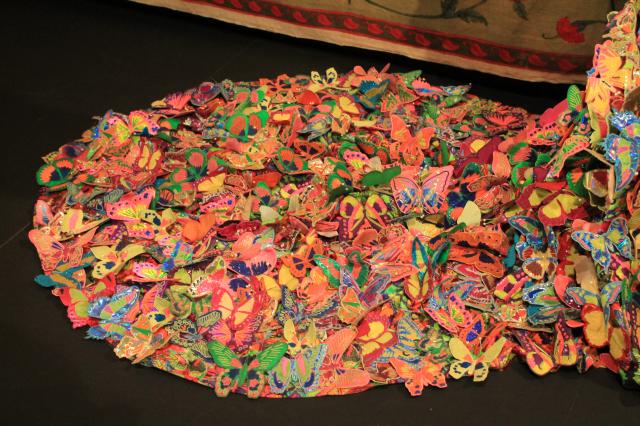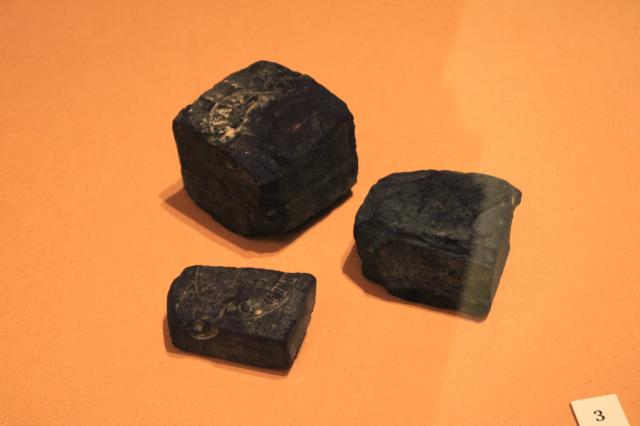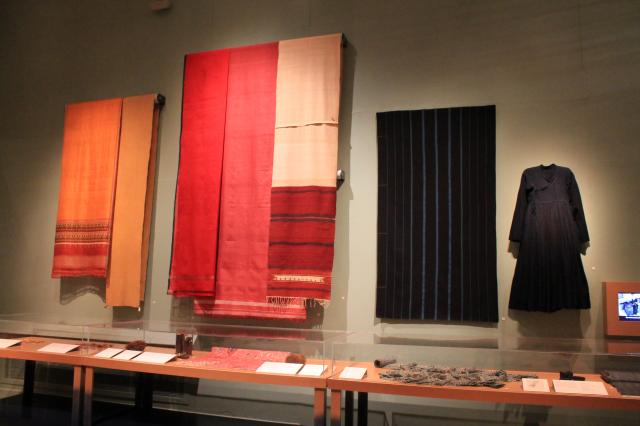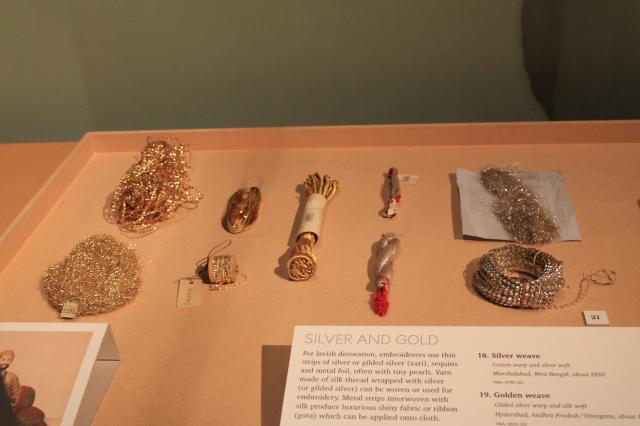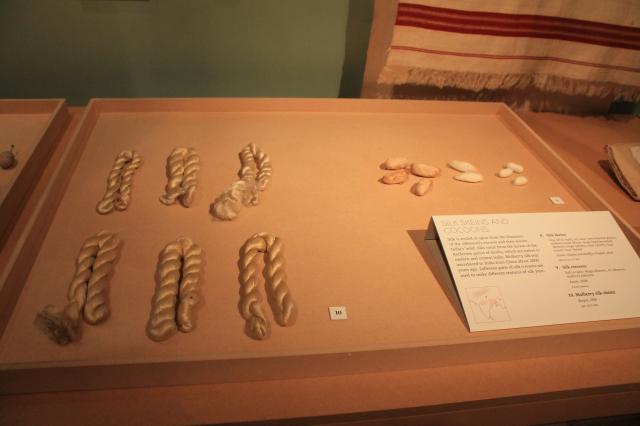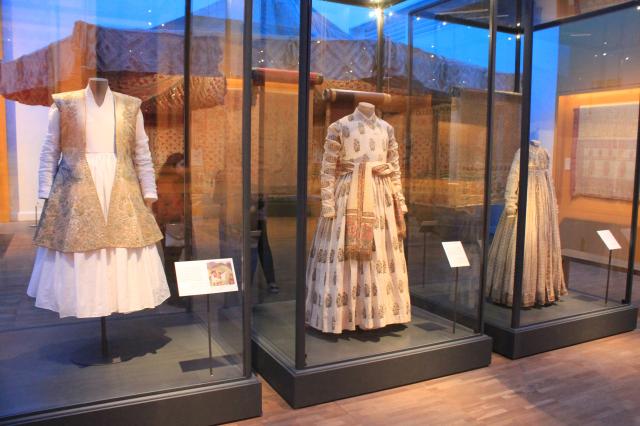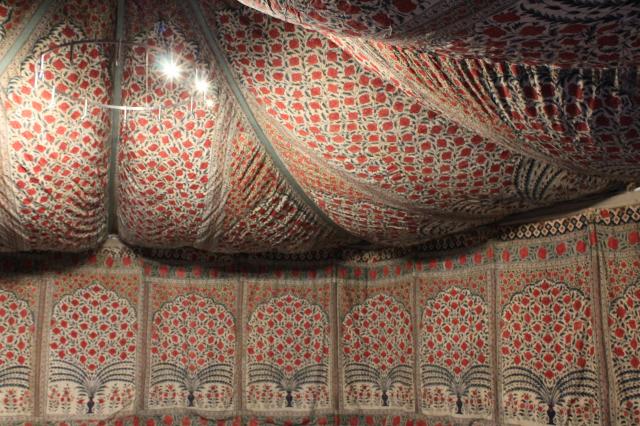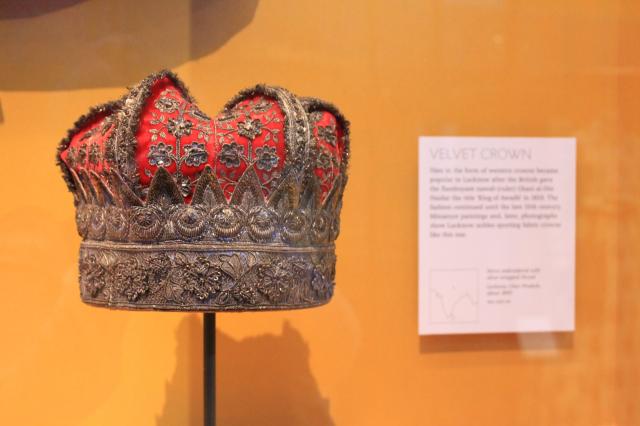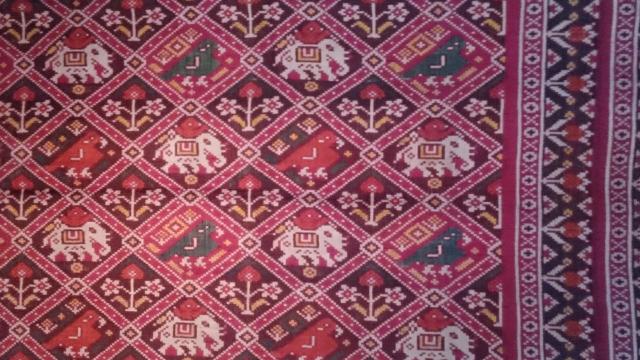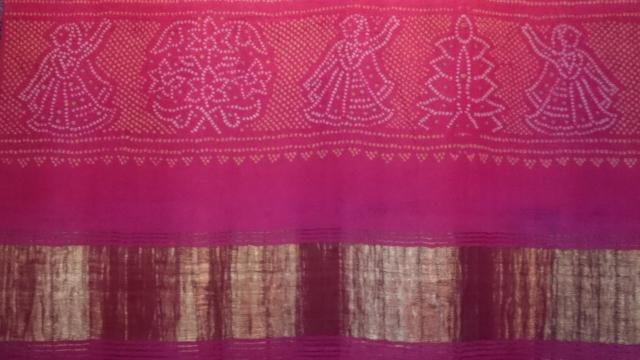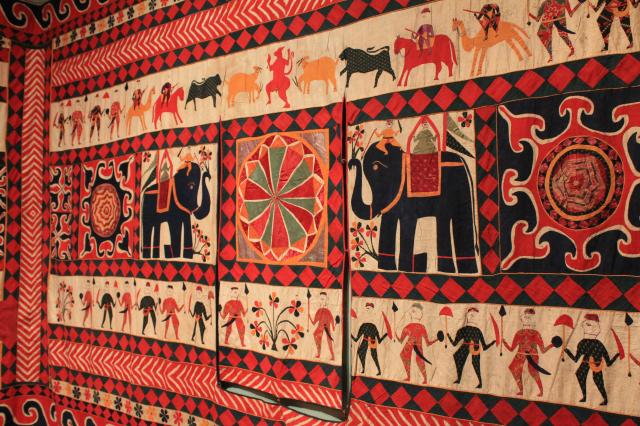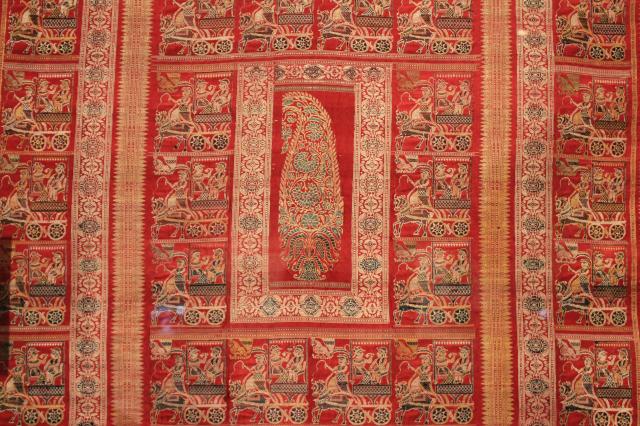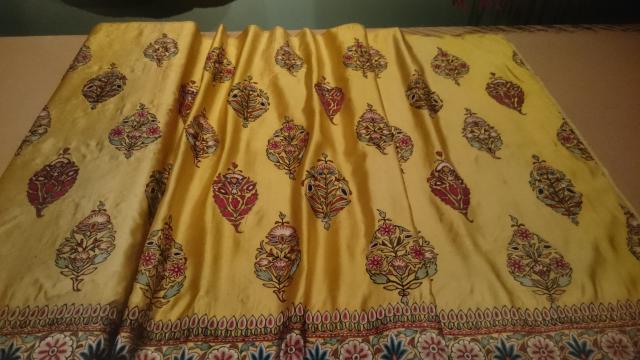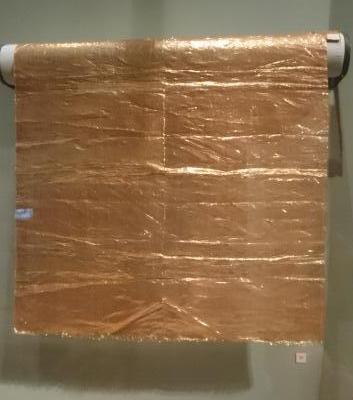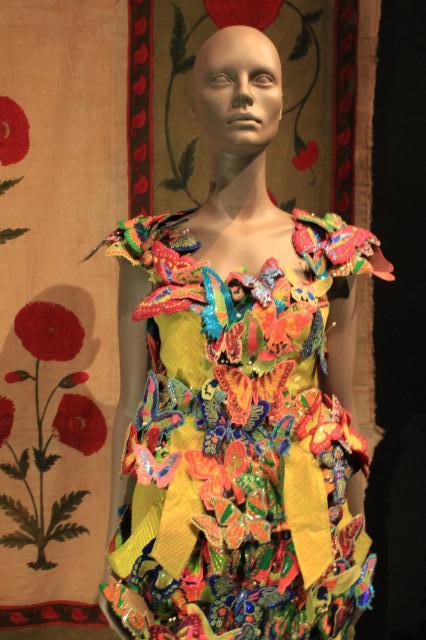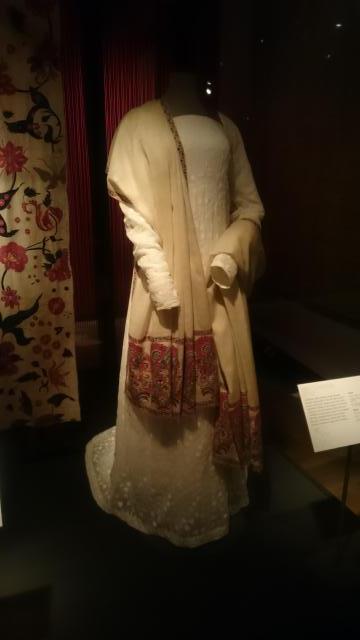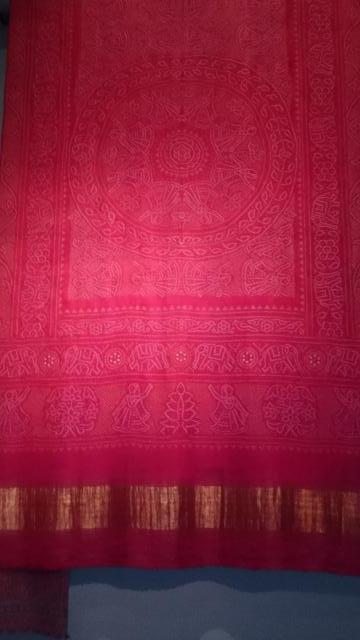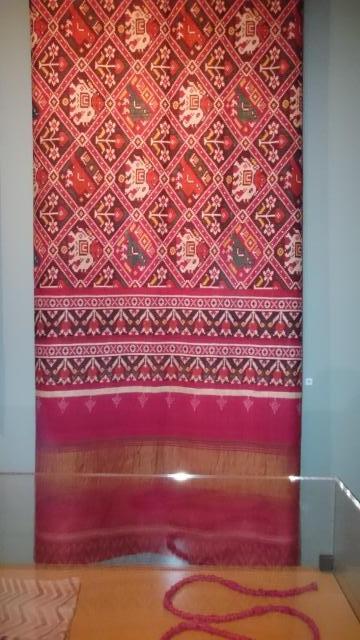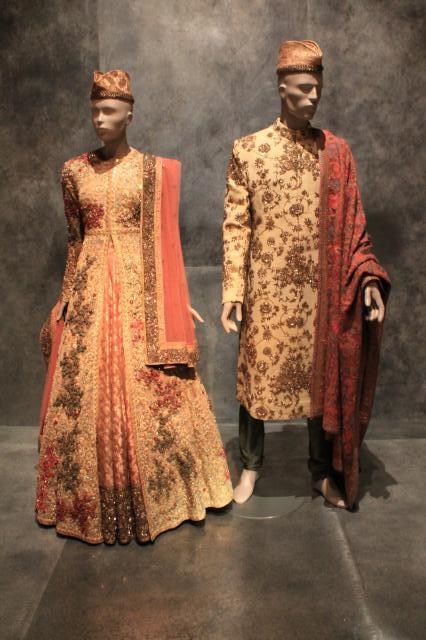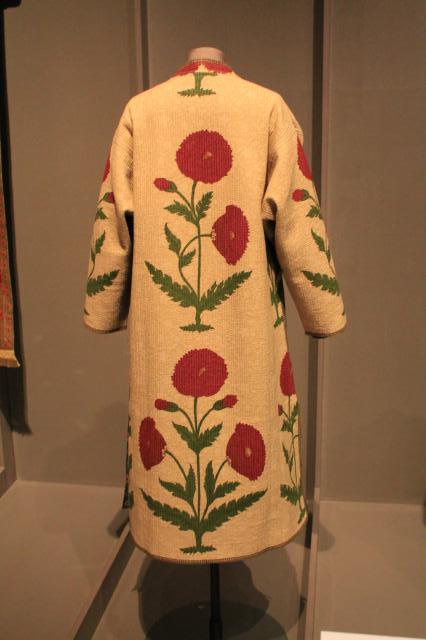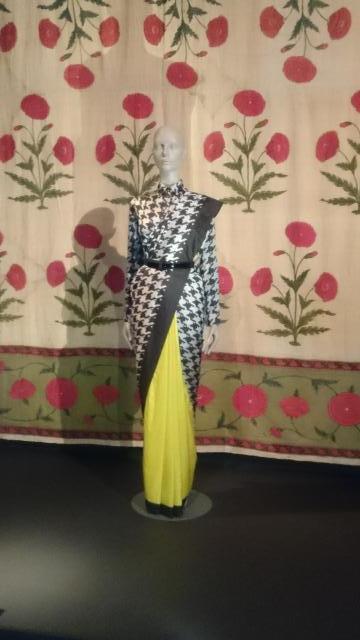 The Fabrics of India exhibition takes the viewer on a journey through the history of the textile production in the Indian States and it's absolutely fascinating. Britain and India have a long history of interaction and our textile industries are interconnected as are the histories of our two countries. 
What was brought sharply into focus was the rich diversity of culture within India itself and how the many independent kingdoms had different traditions of culture and dress and how innovation often came from the humblest of origins with weaves and patterns often being the brainchild of women or men living humble lives in villages in remote regions.   
I grew up in a family that was aware of Britain historical links with India and one of my grandfather's lived there for a time, but I wondered seeing this how much the teens of today know about Britain and India's shared cultural past through the 18th, 19th and 20th centuries. Travel, trade and adventure have been there longer than our shared love of Test-Match cricket (although that is fun) and it's amazing to see the influence of Indian textiles on the West.
Below are three outfits showing the contrast of contemporary and traditional in the banquet of Indian Fashion that is available to discover and explore, both in this exhibition and also through the Indian society today. There are few boundaries beyond a more modest take of how much is revealed in the West. Nature themes are eternally popular but so is focus on emphsising the skill at playing with textile design in a way that highlights the skills of the individual craftsperson. 
For many of us the two things that stand out about Indian textiles are the bright captivating colours and the intricate embroidery work. Above are two of the most striking pieces of long fabric cloth that caught my attention during walking through the galleries and they seem to bring India to life before your very eyes. It's definitely a point to stop and stare and marvel at the detail of the craftsmanship. With these fabrics, the more you look the more you can see. Details emerge from Elephant trunks and tusks to the shapes of trees and flowers. 
Gold seems to be a perfect partner for the bright Magenta pink and whether inlaid in sheet form or sewn in delicately it makes the perfect partner fir an eye catching design. Tradition is always good to carry with you and even better when there is a spark of innovation thrown in. 
I couldn't resist showing some more detail of the long contemporary dress designed by Manish Arora for his first fashion show in Paris in 2007. It is composed of individually crafted textile Butterfly's. The bright exuberant colours are a representation of the light and energy of the colours of India, it's people and it's places. With a myriad of information on offer about India's rich and complex fabric production heritage, the exhibition still manages to be accessible to a wide audience with the novice being able to find a detailed easy paced introduction and a visitor familiar with the history and back-ground of India able to reconnect with familiar sights and sounds. There is something very warm hearted about this exhibition and it feels like India is welcoming you in. 
One of the essential keys to fabric production is the sourcing and blending of the dye itself used to colour the textiles. 
India's unique rich world of vegetation offers the perfect larder to harvest abundant materials with which to make a kaleidoscope of dyes from blue wodes to the burnt marigolds to give both bright Yellows and provide a light tone to mix the colours to lighter shades with, brown hemps and ochres and by no means least the stunning Magenta pink that Diane Vreeland described as the Navy Blue of India.  
Above is one of my favourite panorama views of the exhibit looking across at an installation of fabrics moving through different colour schemes. Here I was really thinking more broadly beyond India and reflected on how the clothes and textiles also a[[ear to those similar to what can be seen in the Himalayan countries such as Bhutan and Nepal and the former state of Sikim. 
Tibet is only another step further away and although the modes of dress are a little different here the colours in the clothing of Tibetan people are also largley similar to hear. The exhibit does reference 6000 years of history and the ancient routes of Indo-Tibetan Culture must surely have a legacy in the know-how that has survived into the present times. 
Gold and Silver in both it's spun and sheeted form brings an extra touch of magic to many looks and it's something that we all love about South Asian textiles. The gold thread is in fact gilded silver as the softness of gold requires extra protection. The thread can be used in either fabric or ribbon and when interwoven with it's natural partner silk the effect is pure luxury. It's a combination that has been working well in textiles for centuries and when we imagine fabrics worn in the hundreds of Royal and princely courts that crossed the country, and in many more ordinary places our 'minds-eye' has a memory of these materials. 
Silk is the other leading character in this story and it's essential to absorb the full significance of the heritage of the silk industry itself and the tens of thousands of hardworking silt weavers who have been employed in this trade for centuries to produce garments that have enjoyed an enduring place in the history of Fashion throughout the ages. It's an ancient profession that also hints at the ancient cultural and trade links beyond the Himalayas to China.  
Above are some brilliant needlepoint examples from the 20th Century that are a joy to look at. The piece above to the left was part of a room covered from floor to ceiling within the exhibition of one large tapestry detailing the celebrations of a ceremony in a traditional Indian State. The colours really do jump out at you from the walls and it's a beautiful way to see people portraying scenes from life as they know it. To the right a more intricate design from another part of India depicting a scene of warfare and gods. Chariots and Peacocks, those familiar visuals of Indian mythology adorn the work giving a sense of harmony and majesty.   
Men's clothing comes under the spotlight in several parts of the exhibition and the clothing of high-status men was elaborate and full skirted in the way the women's was in the West at the same time. I wonder what Raja's must have made of the clothes of Western travelers when they visited their courts on the early trade and diplomatic missions from the West. No doubt life inside cooled buildings was agreeable to these kinds of outfits as I can hardly imagine what it would have been like to wear them through the Indian Summer. 
Inside the exhibit is a full tent of the kind that would have been used for entertaining outdoors. Complete with Peacock emblem's there seems like acres of fabric here that go towards creating a hide-away that could also be used as an audience chamber. The Peacock, that traditional Indian motif, returns again and all around the tent Indian music played bringing us closer to the spirit of the time that this was lived and used.  It also recalled to me one of the favourite contemporary garden features that are popular in Europe and America, the so-called Maharajah's bed's that offer a large relaxing place to lounge and sleep in during warm summer days.  
As contact with the West increased, so India's rulers began to adopt the manner and style they encountered. Along way ahead of Rolls Royce's arriving on the Sub-Continent the Western Style Velvet Crown seen above was an early example of cultural cross-over and was made for a ruler of one of the Indian States. Above to the right is one of the most striking pieces of textiles that I saw in the whole exhibit. The beautiful Yellow silk dyed with Marigold, to become gold almost, is a delight in itself and overlay-ed with the precious delicate embroidery. 
Below to close this look at the exhibit are a series of outfits that are both historical and contemporary. Most striking perhaps are the couple furthest to the right who wear garments designed for their wedding. The couple marrying where Shivani Raina and Jatin Chhabra and this took place in 2014 with the wedding being featured in popular Indian television program Band Baajaa Bride. These outfits show in detail the importance of hand-woven textile in the continuing tradition of Indian luxury clothing.
This was the V&A's first major retrospective of Indian Textiles and it was well worth the wait. With pieces dating from the 3rd to 21st centuries it was a complete look a the historical era of handmade Indian textiles. Men's role in textile production through history was emphasised with clear illustration that this was a trade for both men and women to engage in. The exhibition is part of the Indian Festival at the V&A that also features the Bejewelled Treasures exhibition featuring a large number of Indian pieces from the Al Thani Collection. This collection also celebrates the richness of Indian History.