A Blush of Rose
ablushofrose.com


January 2015 - A New Year in Fashion
2015 began for me at home in London looking forward to the fashion year ahead while enjoying the bright lights all around. I'm very optimistic about where the industry is heading and looking forward to many discoveries and surprises.
London Fashion and Textile Museum in Bermondsey, 'Knitwear - Chanel to Westwood'.
John Galliano Haute Couture for Maison Margiela
London Men's Collections AW 15-16 featuring many highlights, not the least the return of John Galliano to the catwalk in London for Maison Margiela. It was a truly wonderful collection. I'll be honest, a lot of people, myself included are sympathetic to him and like him but the clothes spoke for themselves - he's was innovative as always and the collection felt fresh and powerful. 
All below images with a credit to Marcus Tondo.
Katherine Hooker
I was delighted to meet designer Katherine Hooker at her pop up sale in January in Chelsea Old Town Hall and have a report coming about her designs and wonderful way with tweed. It was a chance discovery for me and I was delighted to be able to talk to Katherine about her collections during the bustle of the sale. 
Here below are some of my favourite pieces from her sale and some new looks from her AW 15-16 look book. I encourage you to discover Katherine's work and visit her website at
katherinehooker.com
. She has a broad spectrum including accessories and bridal wear and she and her team are very engaging to work with. Her London boutique can be found at 19 Ashburnham Road, SW10 0PG.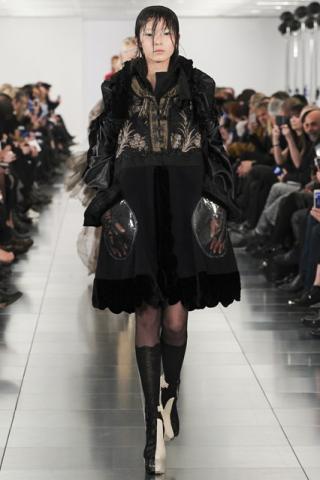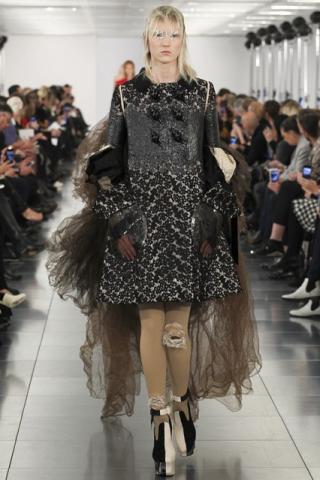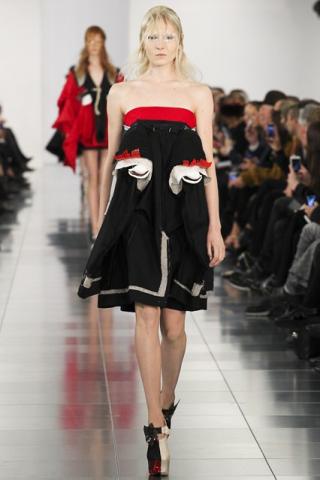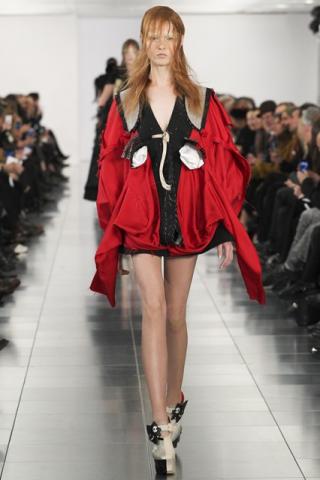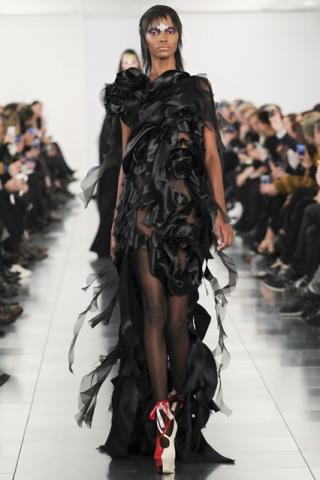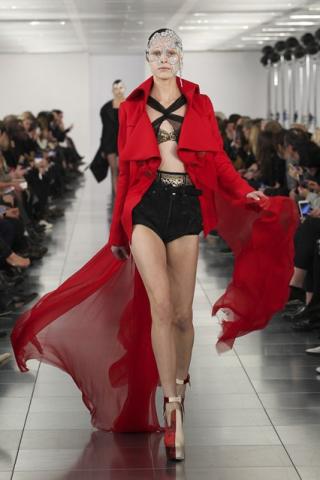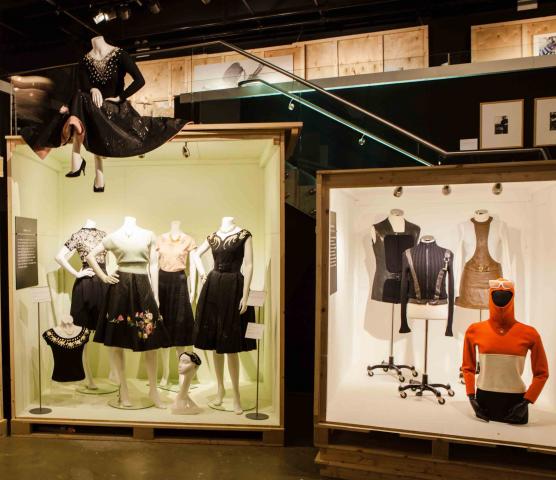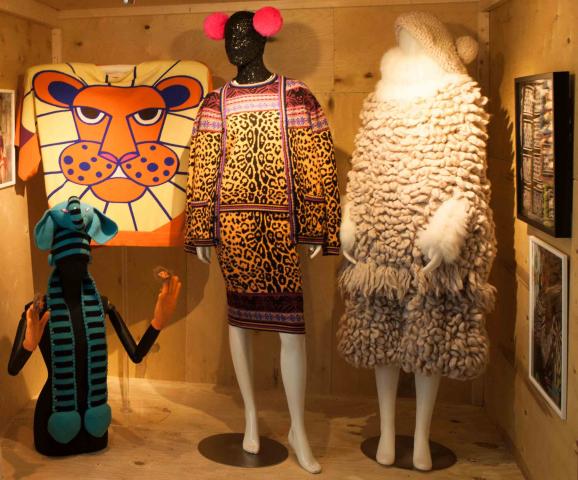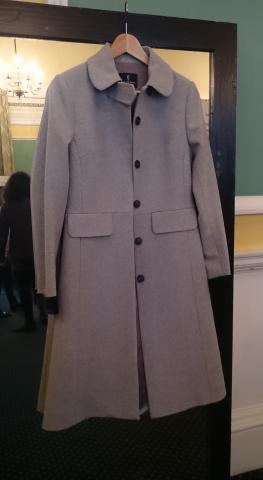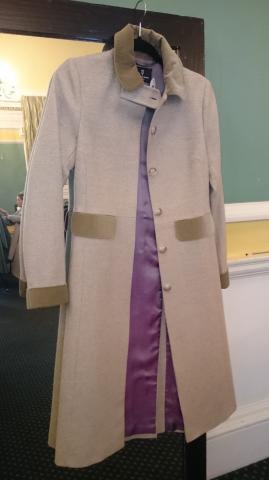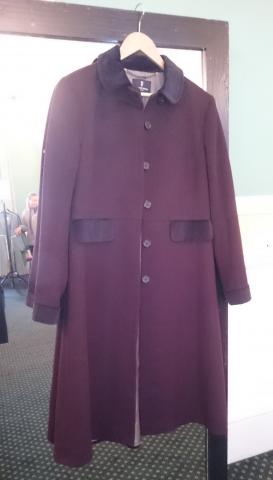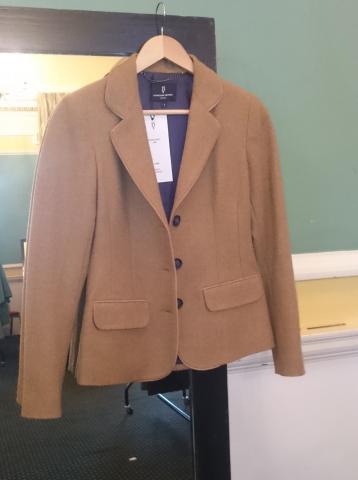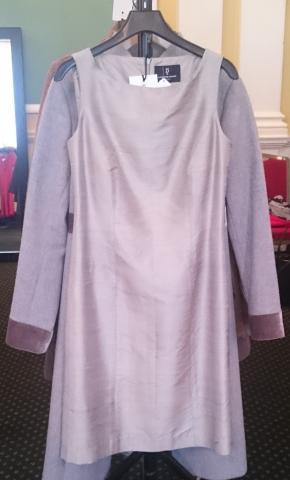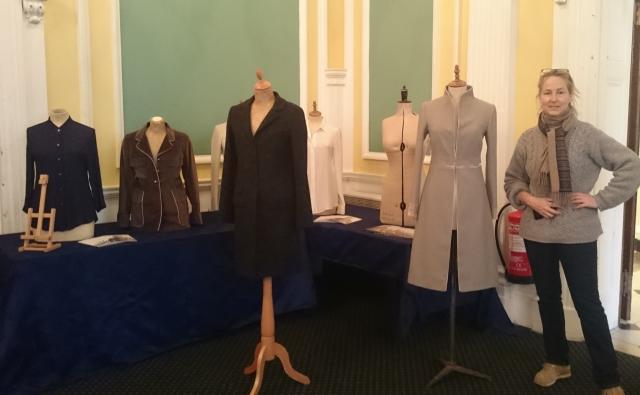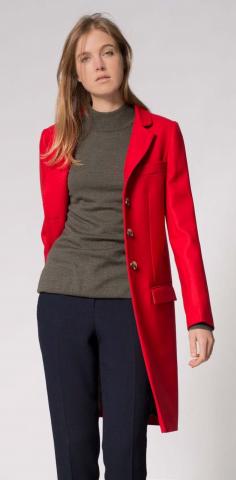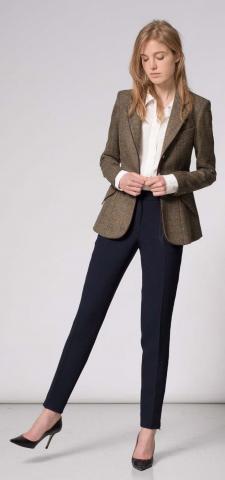 As 2015 opened Knitwear was a really hot topic and a part of the Fashion and Textile industry who's profile is growing rapidly. In hosting this exhibition at the Museum in Bermondsey Zhandra Rhodes brought together a range of pieces to discuss a part of the fashion industry that just about anyone who reads this page will have had interaction with at some stage in their lives. Wool and knitwear often form part of our early experience with clothing from the lovingly handcrafted garments many of us wear in early childhood to the many forms that it's found in adult clothing. 
The assembled collection opened with a look at the works of contemporary designers. To the right amongst the looks is a piece by SIBLING in their well-loved bright tones and bold replication of animal print. Not to forget the Pom Pom headwear. This traditional knitwear article has appeared all over the place across this winter on hats and scarfs as people look at how to adapt knitted pieces and express their style in a playful way. A group I'm coming to know well, Wool And The Gang have championed the chunky knitted hat complete with Pom Pom on the top if the crown which has appeared on many heads.
But back tot he retrospective. Mark Fast, another designer who's work I've followed was also featured as well as Julien Macdonald and Dame Vivienne Westwood. She like Gabrielle Chanel has enjoyed a long career and I really enjoyed the juxtaposition of these two designers headlining the exhibition. Interestingly although we now think of Chanel as traditional and classic we should not forget how controversial she was at the start of her career. Knitwear as a revolutionary tool? perhaps, it's not impossible by any means. 
There's also a fascinating glimpse into the history of knitting and a revelation, to me at least, that it's actually something that the British Isles and Egypt share from their very distant history. The exhibition contained examples of Egyptian Coptic era knitting and also references to the discovery of knitting being thousands of years old in the UK. It's a very ancient form of craft that women and men too have been practicing to create both simple and complex clothing for a very long time.  
Not to be missed was the spectacular Fair Isle sweater cabinet. This lively collection of sweaters would brighten up any day and on a cold day in January with a bleak sky I imagined that wearing one of these with jeans or trousers as part of a weekend look would bring a lot of warm smiles to peoples faces. I didn't know the background to the Fair Isle knitting tradition before this exhibition but was fascinated to learn that it was a style that Edward, Duke of Windsor helped to popularise after receiving a gift from the islanders.  
Wearing the sleeveless sweaters and waistcoats (later known as Tank Tops) first to play golf and also for casual weekends the Prince brought this beautiful tradition; nurtured and developed by the islanders; to a much winder audience. What we would now call publicity. A kind gift from the people of the isle had the most unexpected outcome as the sweaters and knitted textiles became much saught-after the world over and are still enjoyed to this day all over the world by both men and women. Its also a great British export story that demonstrates home grown talent from humble, practical, logical beginnings that has given something to the world and put the Fair Isles. 
There is a diverse array of clothing from sportswear to eveningwear and everything in between. Here to the right you can see this illustrated with snow proof clothing sitting in a cabinet with daywear. Chanel plays a large part in this collection with garments from the first half of the twentieth century on display showing her development of the traditional cardigan and twinset in the style of the English Lady famously influencing her work. It's lovely to see this part of Chanel's heritage and the reminder of how the year's of her life that she spent in England and visiting Scotland influenced her work. Justine Picardie one of Mademoiselle's most famous biographer's and now Editor-in-Chief of Harper's Bazaar UK celebrated the opening of the show at the Design Museum with Zhandra. 
Chanel's legacy will always be phenomenal but it is right that the debt that she referenced owing to traditional British craftsmanship, ideas and technique are recognised. 
There where so many great looks within this show it was very difficult to have favourites at any point. One of my favourites however was the cabinet above to the left that showed evening-wear from the late 1950's and early 1960's in a style that I personally adore. It's a great combination of silk or satin knee or mid-calf skirt with a fine wool cardigan. It's a little bit of ever-so-slightly retro glamour that you can rock at the right event and I will be.
The last part of the exhibition that absorbed much of my attention was the work of Julien Macdonald. There was a great showcase of his evening-wear garments that showed his talent for making high art out of knitting and bringing this well loved craft to the Red Carpet. yes knitting can be fun sexy and glamourous and Julien showed the way. His outfits like many more in this collection are captivating and the composition as a whole is superb. It's a fantastically well curated exhibition that I think everyone can take something from it especially during this time of resurgent interest in knit-wear and textile. 
It must be wonderful to guest-design for another House you don't have free reign; but you can add your own spin to the growth and development of a brand for a season and explore. Like many people I was eager to see this collection and loved it when I did. It's sexy and full of vigor and life. It's pure Galliano dressed (ahem *cough* no real pun intended) in the style of Maison Margiela. 
What I see here is the real beating heart of Galliano's work that we thrilled to enjoy. The conceptuality of his designs is all still there. The nods and hints of history of the 18th century of Baroque folded, twisted, re-made, re-awoken into new passion filled, life filled creations is all still there. The first look I picked out above the left for me is a synthesis of what I see in John Galliano's work blending different influences from across time with modern fashion design techniques. It's vibrant and the contrast of the embroidery and black velvet bordering have strong echos of the past while the clear perspex pockets bring this piece straight into the 21st century. This is a girl dressed for any age and any time.
Above to the center a strong look working with brocade and embroidery themes. Again echos of the 18th century are here in the slashed forearms revealing the cream and white detail of an under shirt. To the back of the dress a train in silk gauze falls behind the model in an echo of Court Dress. However this woman lives in the modern work and is a carefree modern client enjoying her fashion. To the right above a very attractive evening or occasion dress working the signature colours of this collection black, red and white. It's a modern striking piece perhaps with some faint echos of John's time at Dior. Baby doll lines and an off the shoulder cut with a billowing free formed skirt.  
Taking almost a more masculine cut the look above to me was influenced perhaps partly by men's jackets of the 17th and 18th century. I'm thinking in particular of the detailing around the shoulders. The white rosettes from the previous look are still present and perhaps this is a small badge of revolution demonstrating that Galliano is still strong in his challenge to conventional design and, although a master, he is telling his audience that he has the need, passion and strength of many more years of creativity ahead of him. Center above is a look that I feel may well find it's way onto the red carpet as it's a dramatic statement. 
It may please clients for private events but it would also serve as a great piece for a model or client to wear at a public event. It's both delicate in the beauty of the artistry and cutting but strong in the statement that it makes. A happy contradiction that will look amazing on many women. The last look that I chose to show from the collection looked ready to party complete with theatrical masque. I felt, like with much of this collection, there was vintage Galliano here and a great showman at work. It's a fantastic look with the beauty, grace and hints of drama that we remember seeing from him. 
Another important point about this collection; for me at least one of the most important; was the fact that this was a Haute Couture show in London given by a British designer. I strongly believe there is the possibility for a British Haute Couture week one day as we frankly do produce many of the world's most talented designers. Following his collaboration in 2014 with Oscar de la Renta it's great to see John Galliano back on track with a new House to design for and a lots more great work to come. It was an honour to see this wonderful collection. 
Here are some impromptu shots that Katherine's team where happy for me to take before she and I had a chat about her current and previous collections. I love her coats and the show room was busy with people genuinely finding pieces that they where falling in love with and buying. The first jacket was a waist length biscuit colour that caught many eyes. This is an ideal piece for spring and autumn or a cooler day in summer. I love the colours that Katherine uses also. Many are strongly influenced by woodland colours. The theme of naturalness runs through these looks alongside classic composition. 
The next three looks are more traditional long coats that will slip happily into many women's wardrobes. I chose the looks that appealed to me, I will be honest and purple was the colour that caught my eye. In it's many shades from lilac through to deep Imperial purple it can complement the wearer in many ways. The middle of these three jackets is probably my favourite of the set here although I would wear the shorter jacket for weekend casual and maybe also for riding too. Smart coats are great investment pieces and always good to have to hand.  
I also couldn't resist a rail-shot of this lilac silk dress. It's absolutely beautiful and frankly could be enjoyed all year round. It will look fabulous with a simple clutch bag in the summer for parties ant can be teamed with a jacket in the same colour or subtly contrasting at for more formal occasions. It's a piece that you could come to rely on. I really love it. Lavender is also very flattering. It suits many skin tones and can help people who are very fair to achieve more a glow in their own complexion. It's a cool colour that will give colour back to you. 
Below are some more show-room pieces from Katherine that I spent time admiring. As you can see she also designs beautiful and ever practical gillet's. Katherine works in a variety of textiles using the finest British tweeds, wools and cashmere that Katherine and her team are able to fine. She is passionate about promoting British fabrics and all her garments are produced in England. Katherine's business originally began as a custom made to order business but in more recent years she has produced Ready to Wear collections as well as engaging in a number of collaborations. 
It's a young growing brand that has clients across the globe. I enjoyed speaking with Katherine about her collections and her Pop-Up shops she's doing in early spring. It was a chance discovery that I met her after leaving my yoga class on Saturday morning and I'm very glad that I did. I've heard of her work in the past but hadn't (shame on me) made my way yet to Ashburn Gardens to try on some of her wonderful pieces for myself. As I was making my selection of pieces to shoot I stood next to a lady buying a coat that her Goddaughter had fallen in love with for said Goddaughter's birthday.I think this sums up quite neatly what I feel about Katherine's brand and the place it has int he wardrobe. These are special pieces, with a careful eye to quality from the fabric selection through to the tailoring and they find their way to owners that treasure them as special pieces.  In this I do believe that Katherine has managed to retain the charm and magic of bespoke custom-made tailoring in her expansion into Ready to Wear. It's a wonderful thing to carry with you as your brand grows.
Here are a series of jackets and coats from Katherine's Autumn-Winter 2015-16 collection that have just been debuted. There are a lot of practical stylish pieces here that will combine well with a wardrobe belong to a variety of women. Whether you're city based or country based, at work or at play there is something here for a lot of women and I really like these looks. I can 'see' a few on myself and on friends. I guess that's the test of a label that you find pretty well hits the target for you. 
So there we have it a collection that's versatile, stylish, high quality and with classic designs that will live long in your wardrobe. It's a tempting offer and there's always the option with Katherine and her team to go bespoke and created coats, dresses and full suits to your own design tastes selecting the fabrics and look yourself. 
I find the thought of customising and having a hand in the design process very appealing as, speaking personally I sometimes shop with an idea in mind and then go hunting for it. Often I find what I was looking for or had thought of but on the occasions that I don't; the idea of designing and tailoring my own dress or suit is very appealing. I think there is a little designer in all of us sometimes. 
All below images with kind permission of the London Fashion and Textile Museum.