A Blush of Rose
ablushofrose.com
Spring and Summer 2015 - part 2.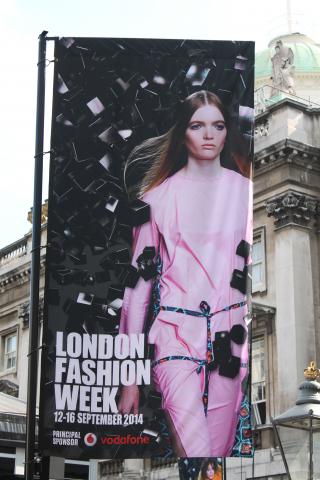 I noticed quite a bit of monochrome colour use around and I couldn't resist opening this look at street style with a lovely image of Natalie Massenet taken at one of the shows held away from Somerset House. Natalie is doing a great job as the incumbent BFC Chairman and each season London Fashion gets stronger, also her continued attention to expanding other initiatives such as London Men's Collections and supporting British designers is work she has enormous amounts of energy and enthusiasm for. 
I met this lovely girl to the right of Natalie before a show and loved her interpretation of the early Autumn trend for black and white. It's a simple look that you can carry across seasons. Matched with a plaid scarf, one of the key trans seasonal accessories and a Michael Kors bag this was a lovely street style shot. Next to her was a wonderful Scandinavian girl I met who works in the fashion industry. I was drawn (this won't suprise you) to her beautiful jacket and spoke to her about her role in fashion and time in London.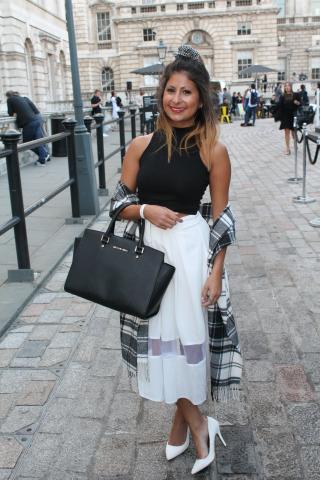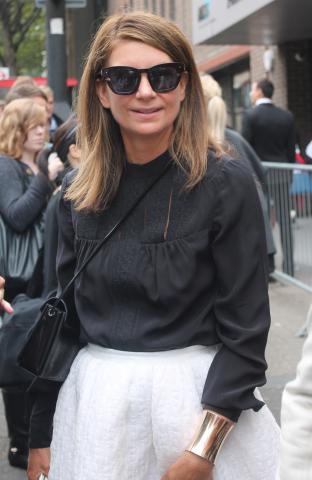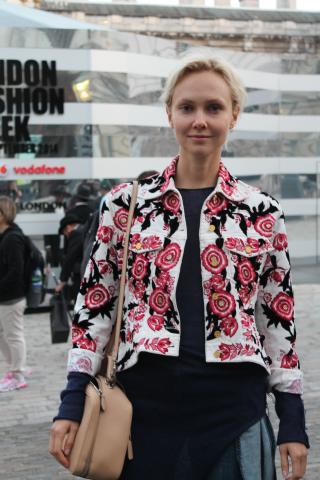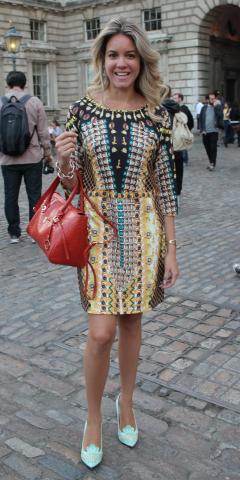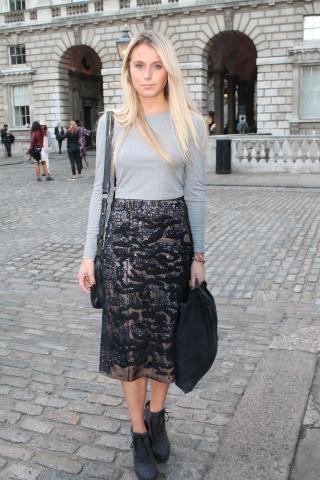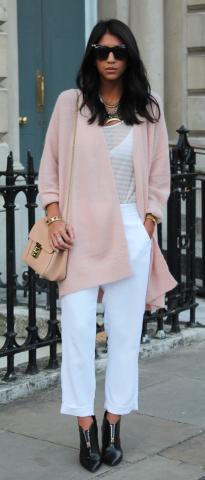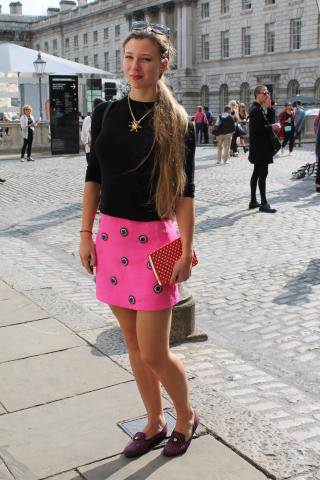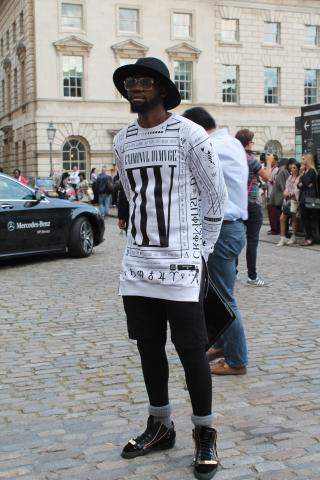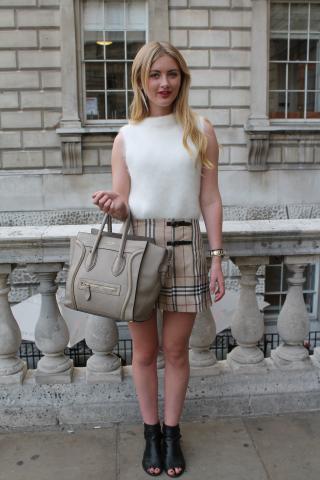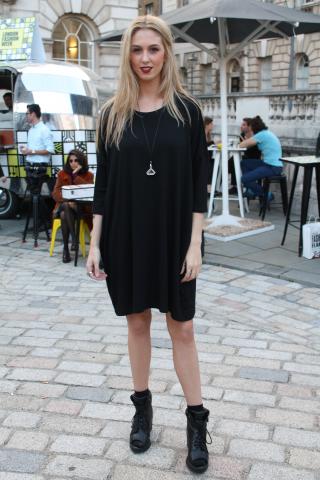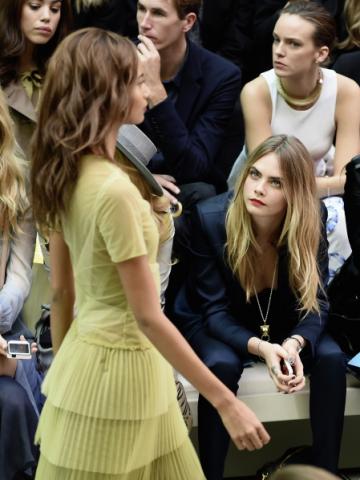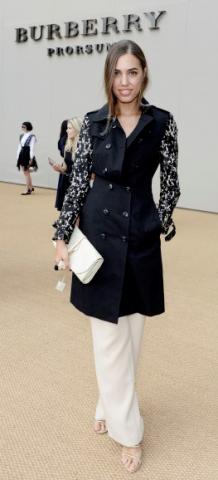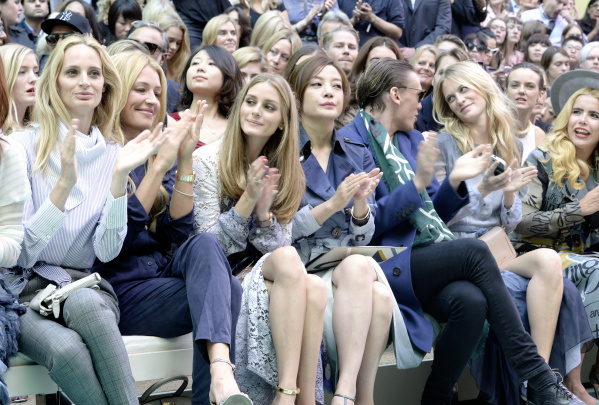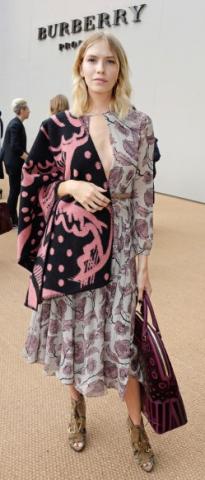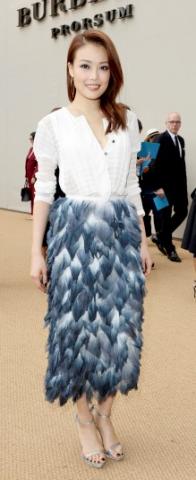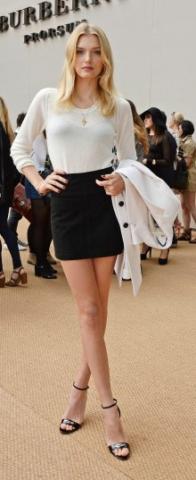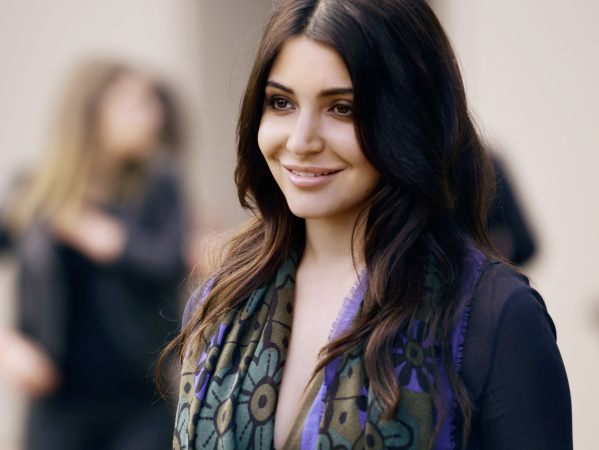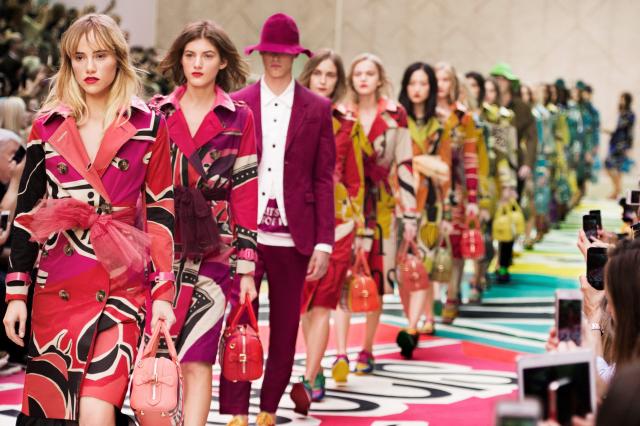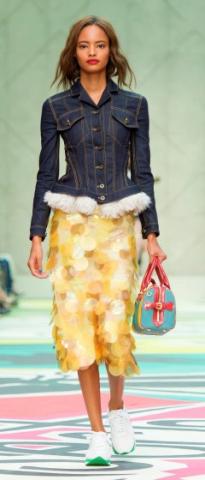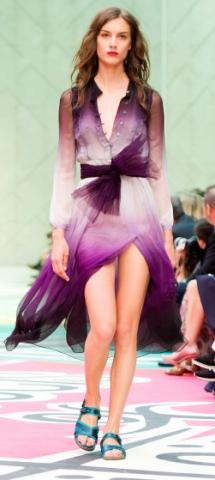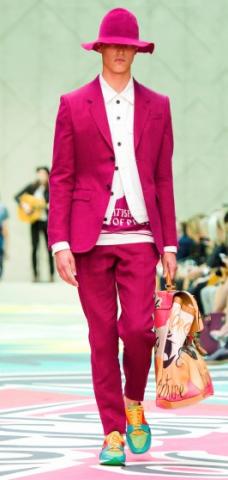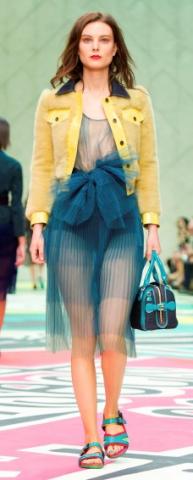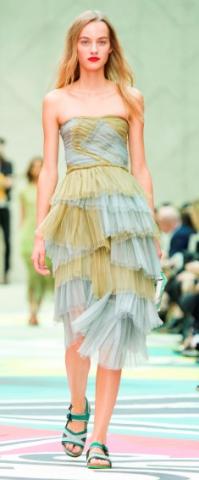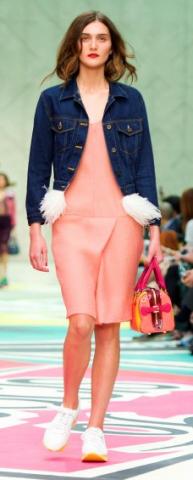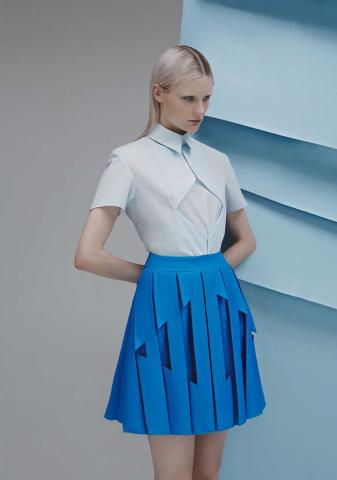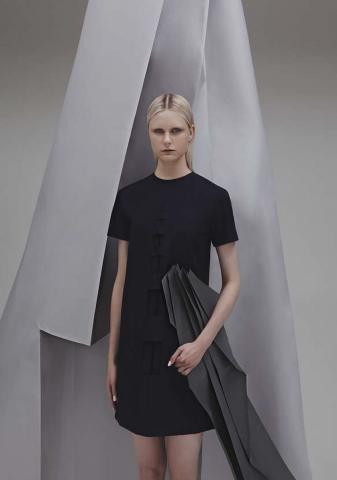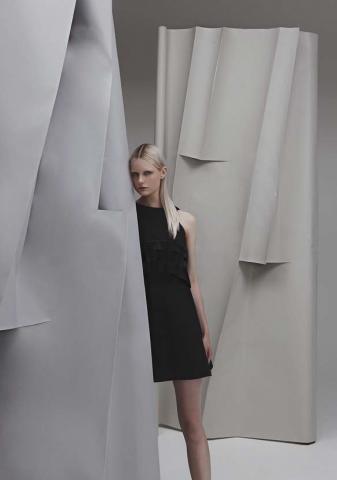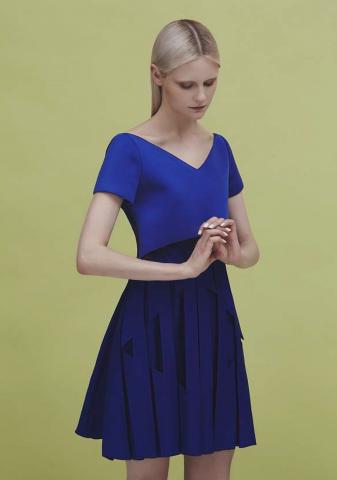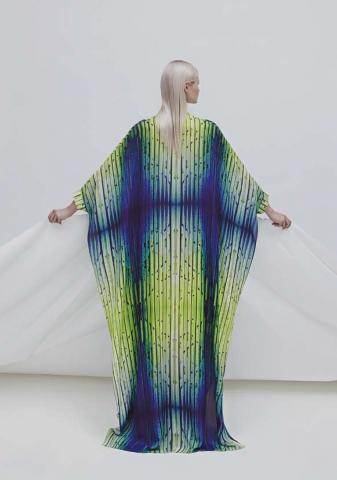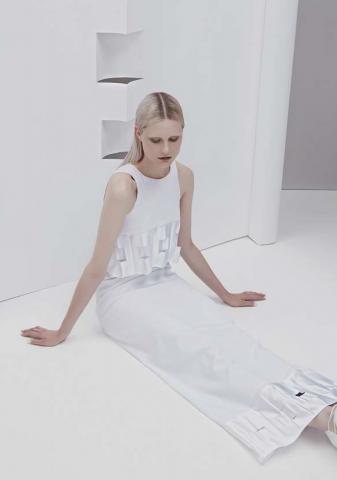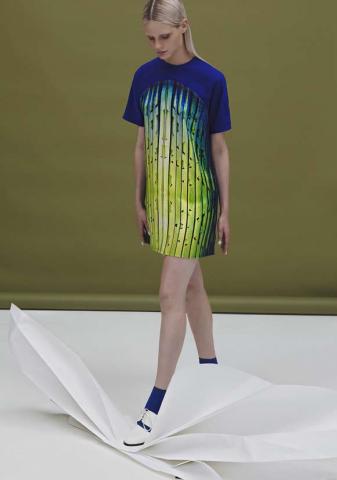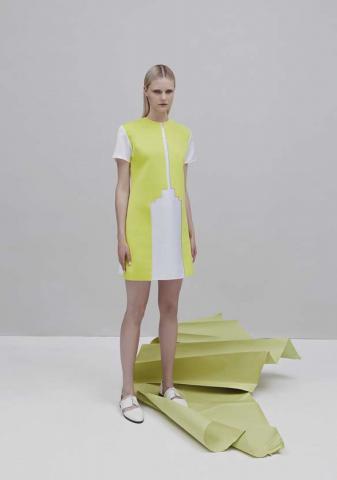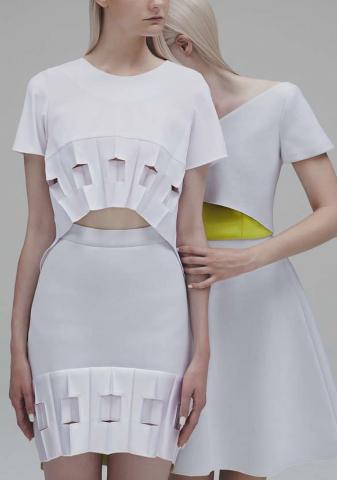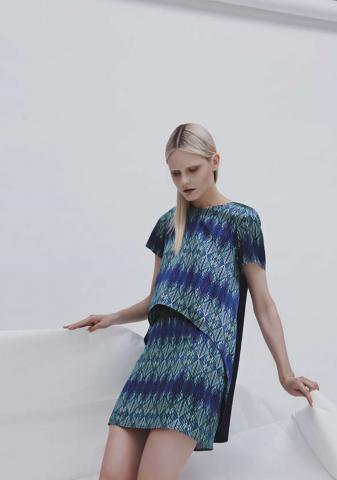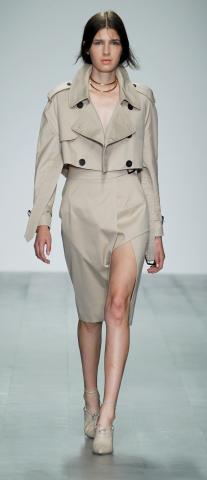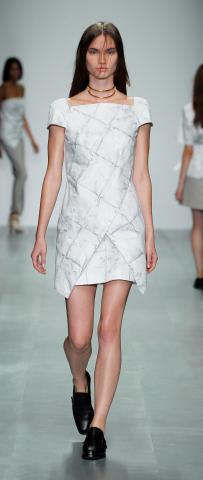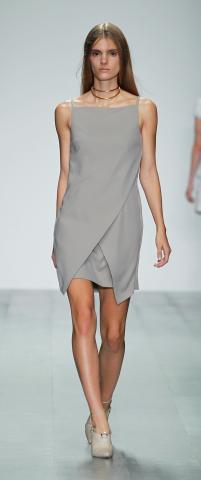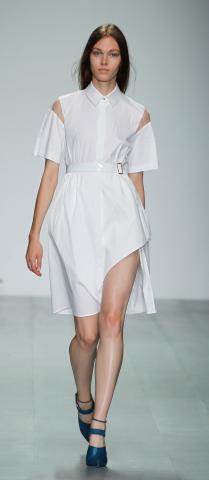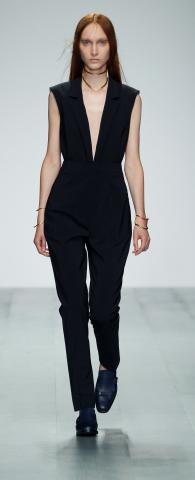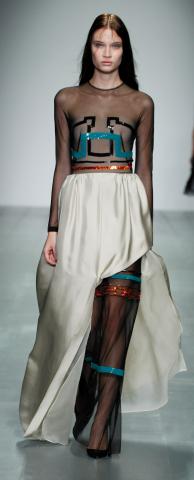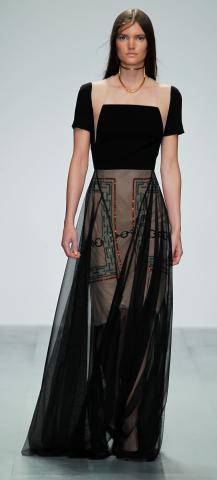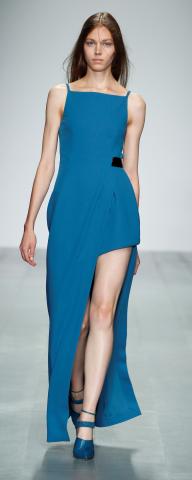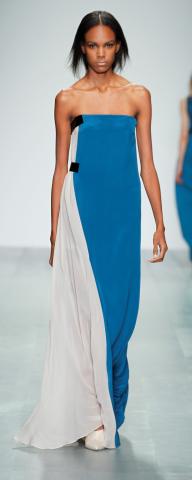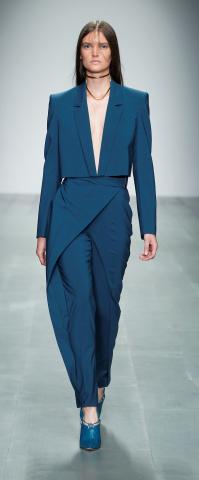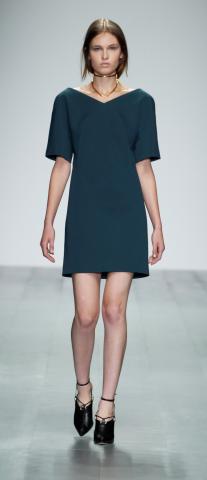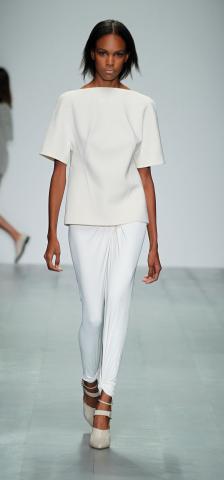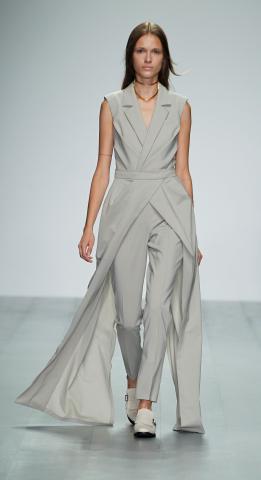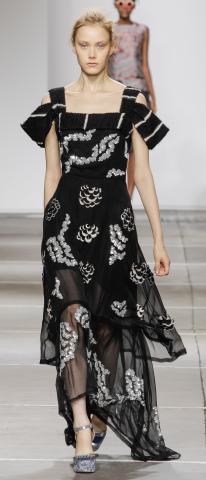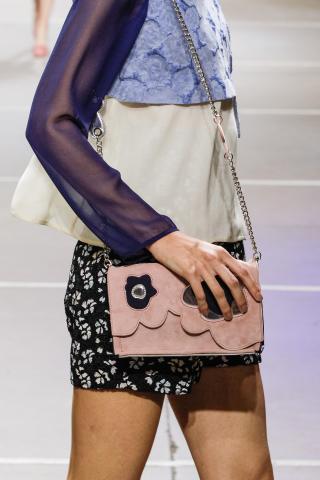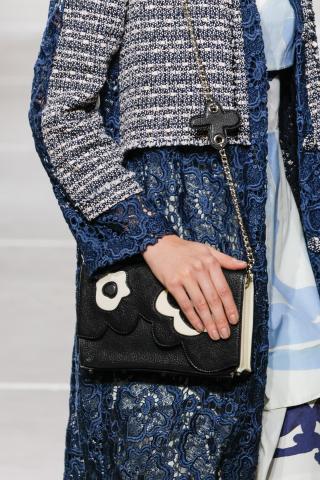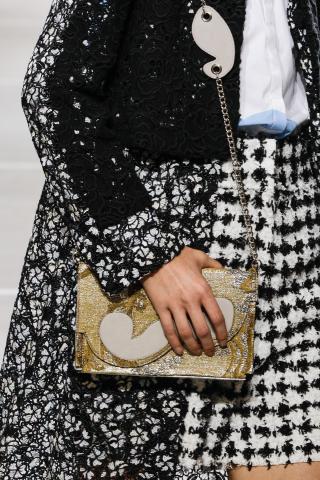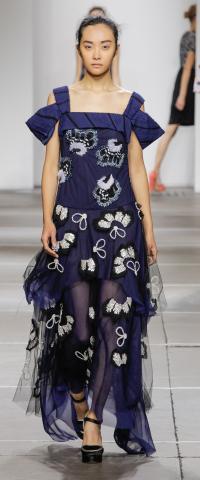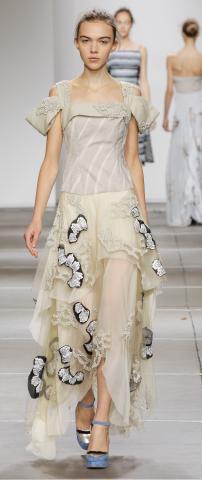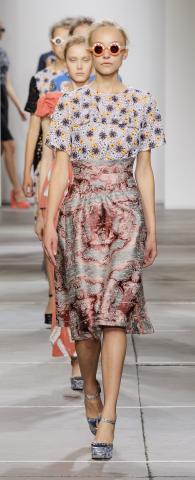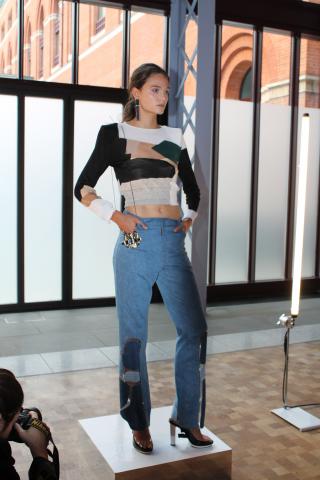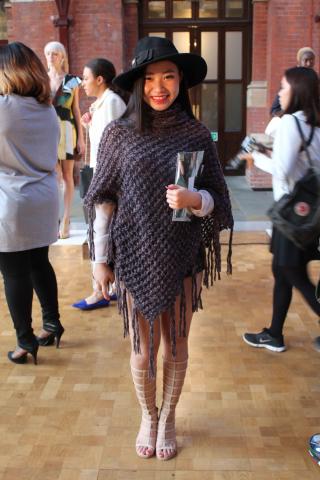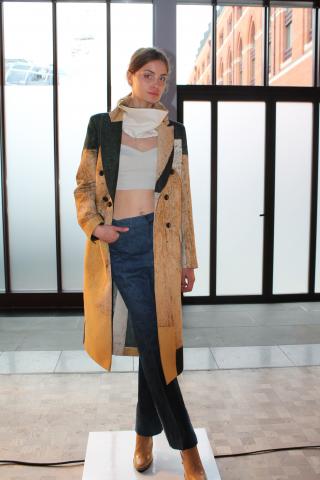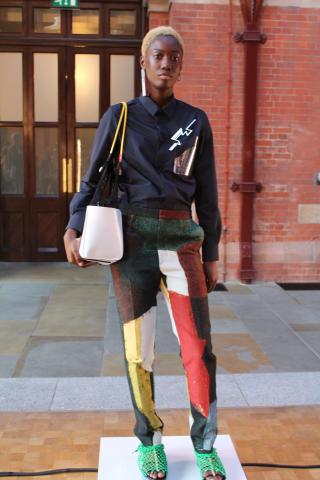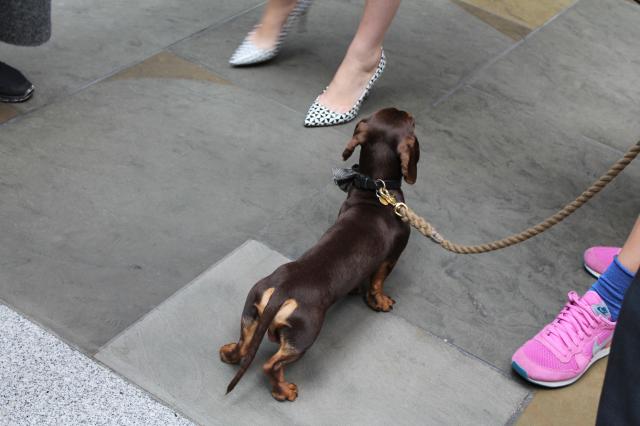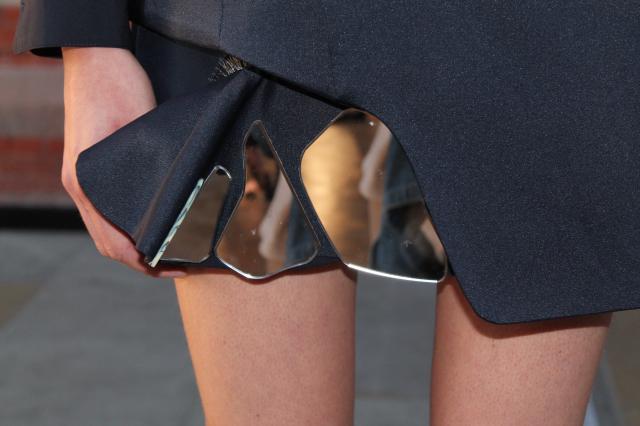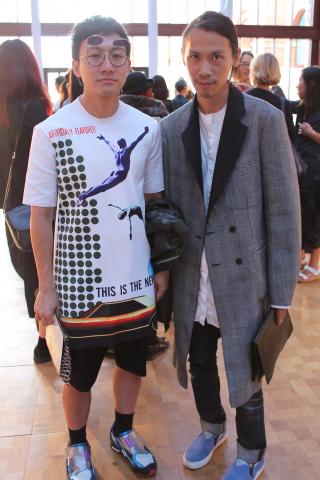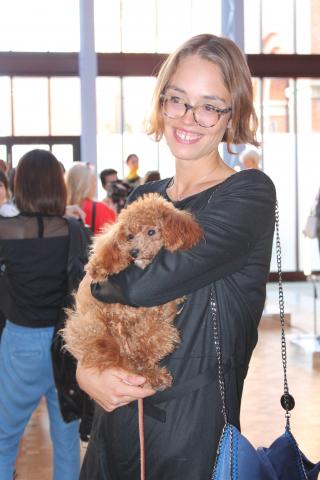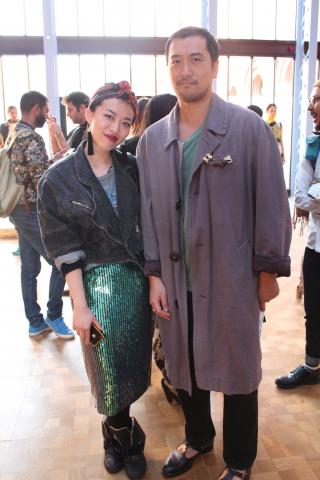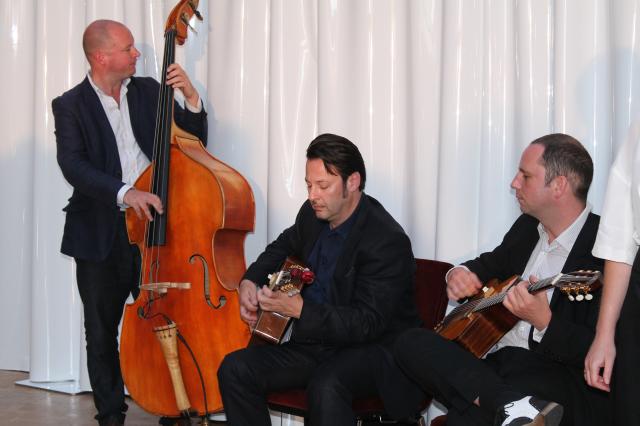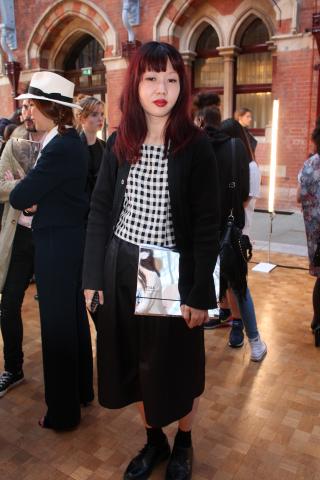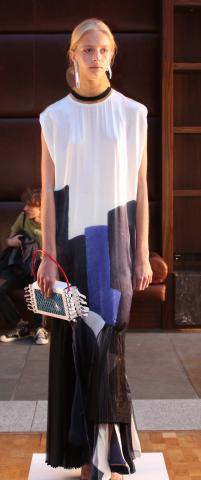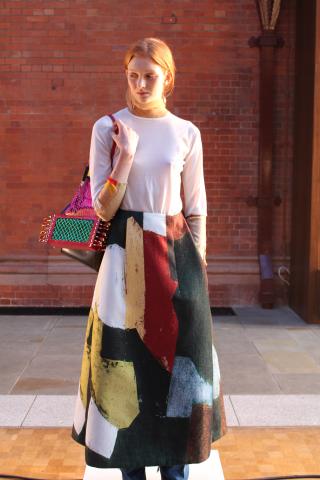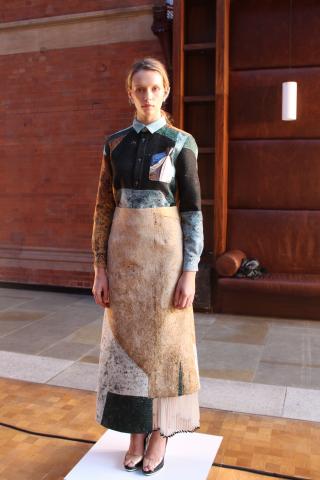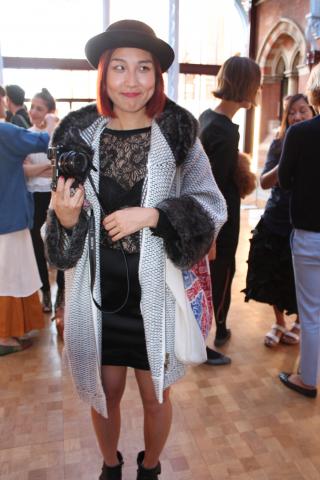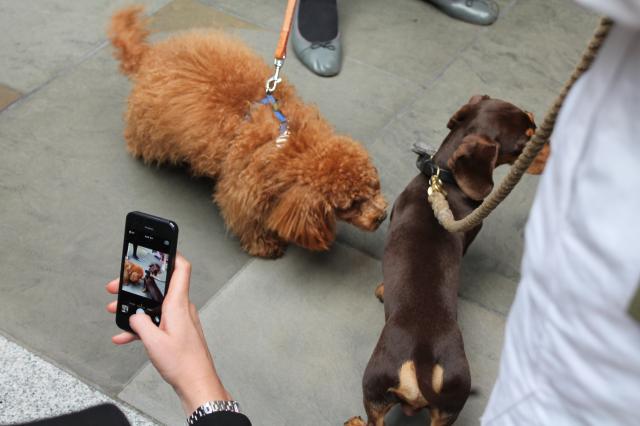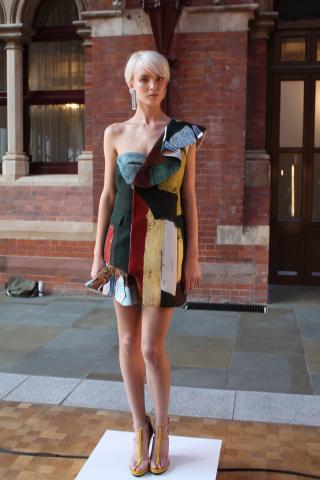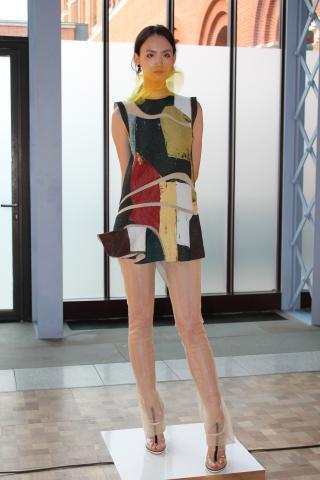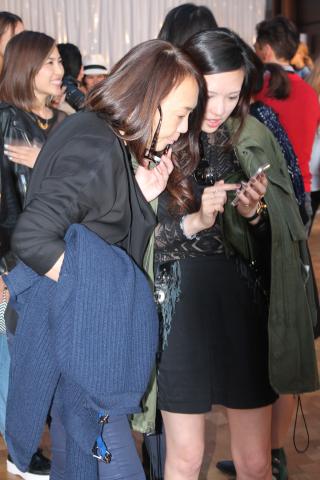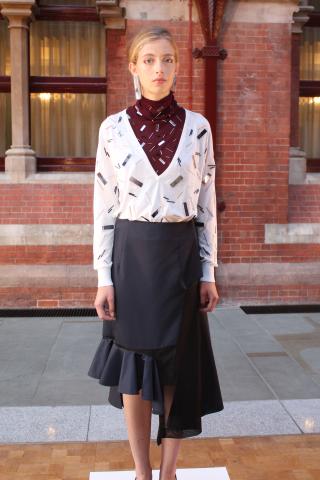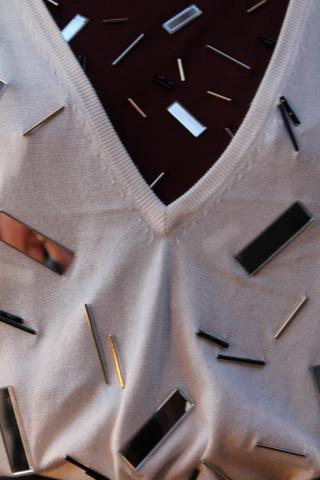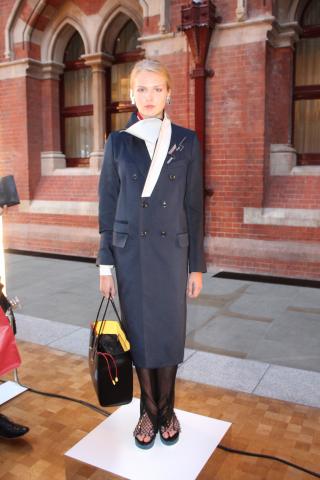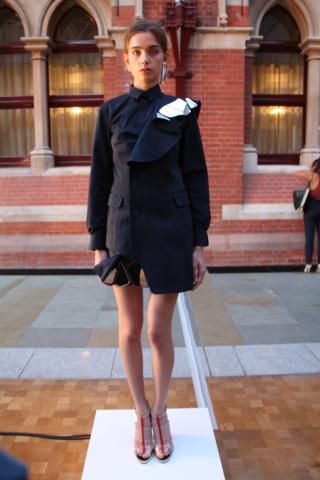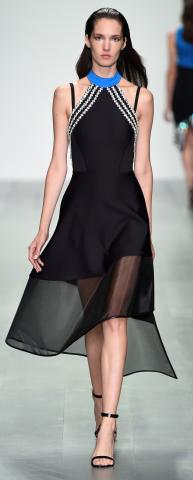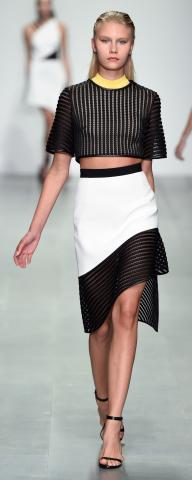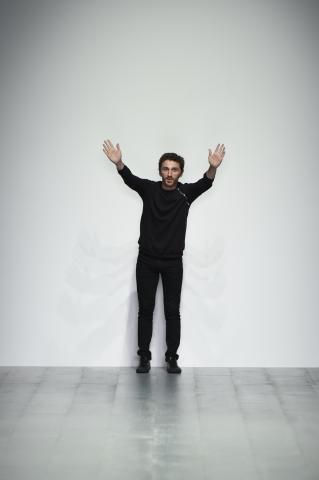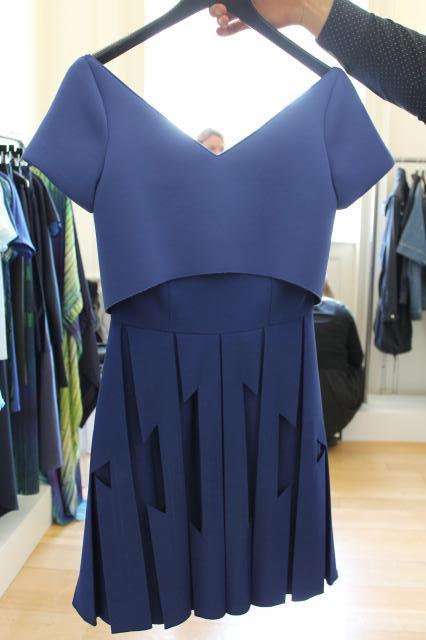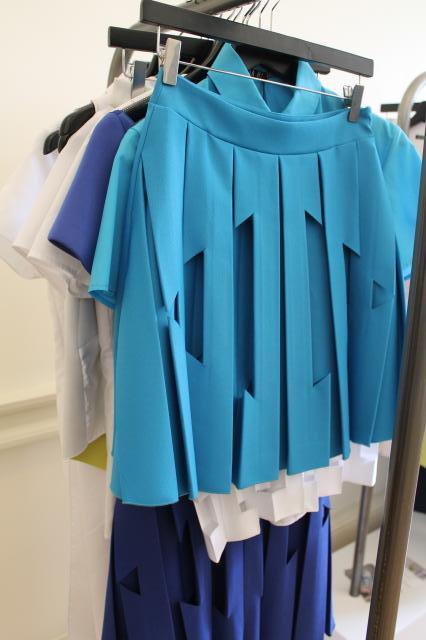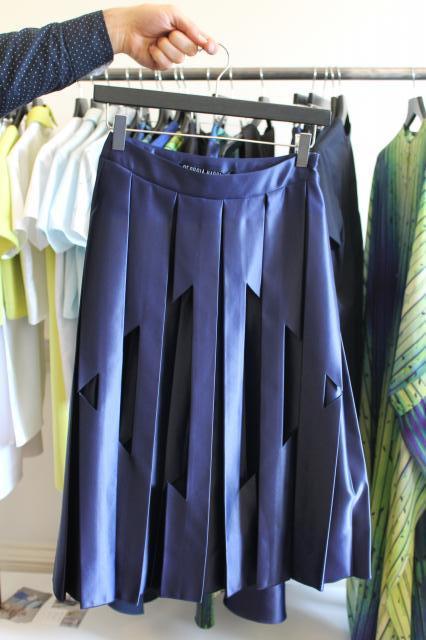 Fashion Week always has lots of pleasant surprises in store and there is plenty to see on and off the catwalk when you're looking at the clothes. The BFC always sprinkles some fun art works around Somerset House and I liked the below shots illustrating the support of London Fashion Week by quite literally flying the flag. 
Men can and do Street Style too as this gentleman below illustrates and this bold print. Lots of symbols and a bold statement. Next pretty - in - pastels another lovely girl was dressed, as I saw some people where, with colour themes for the season of collections that they where viewing. This look was lightly structured with white trousers and a sheer vest sitting underneath a blush rose light wrap-cardigan.  
Next was a great American girl, loving fashion and heading off to an evening show. Her dress is print work and a fascinating pattern. Lastly I met a lovely stylist who was working the 1970's long-line look that has come in this spring.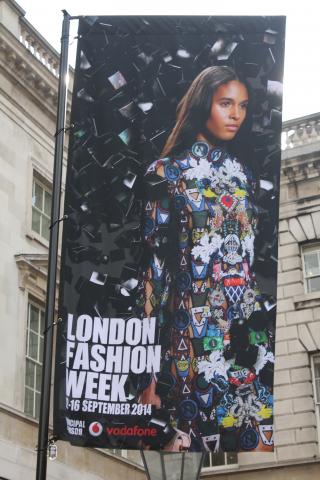 Some more great Street Style below. The great black jersey dress is a perfect simple look to put together during a busy Fashion Week. Teamed with a simple necklace to break up the colour and draw the eye this look accentuates a well groomed tidy appearance. The next two looks are simple stylish sweater and skirt combinations that both use the combination of different colours and textures. Matched with a coordinating bag they look the part. Furthest to the right is a great look that will take you from day into evening. You can wear light sweater and skirt combination like this to work and then out on a date later on in the evening or for meeting friends for drinks. 
I love the trench that Vicky Zhao is wearing below to the left. I don't know if it reminds me more of water or clouds passing across a blue sky, or even both but it's such a beautiful piece. Next to the right a lovely model here as a guest shows how simplified looks can be stunning with a figure that has the right angles. Again black and white is the theme, colour simplicity emphasising the detail of the outfit. A great shot of two ladies Cat Deeley and Olivia Palermo enjoying a chat before the show. They are both rocking the blue hues look that is pretty popular for next Spring. 
Once again a hint of dressing in the season to be shown which is now becoming a trend in itself during fashion weeks. Poppy Delevinge wears the next look to the right with light sophistication and furthest to the right Cara Delevinge watches a model walk. Cara has such a great face, so expressive and yet so gentle. She always looks really interesting on camera and is, of course very nice in real life. 
Burberry Spring - Summer 2015 - shots here with kind permission of Burberry.
I don't know anyone who doesn't like Burberry, I mean that. It's now many years into it's second life as fashionable, brand straddling the worlds of both heritage textile manufacturer and leading high Fashion House. It's a beautiful thing to behold and always one of the high points of the London Fashion Week show schedule. Burberry under Chris Bailey really do show an eclecticism in their collections that leaves buyers from the industry and clients with plenty to chose from and a range of styles in each collection to suit everyone. 
Below are some of the friends of the House. From left; Amber le Bon wearing a beautiful black coat and contrasting white trousers and clutch. Again working with the monochrome theme. Anna Wintour looking beautiful in blue coat and purple dress. Asian film star Joey Yung followed Anna by wearing looks of the Spring collection as a taster of what was to come. The next guest to the right wore a beautiful outfit from the Autumn-Winter collection and she along with her fellow guest in black and white worked the traditional English Rose look in contrasting ways, one country casual and the other sleek and glamourous. Furthest to the right Olivia Palermo, a very good friend of Burberry wore a signature house scarf of the season matched with a beautiful white dip-dye-style dress. 
Here is another beautiful guest ahead of the show she's wearing Burberry Autumn 2014 colours and the midnight blue blouse compliments her complexion beautifully. Here's a great shot of the mostly-female front row line up. A beautiful sea of blues in a combination of styles and shades. 
The catwalk show itself opened with a big emphasis on the re-working of the Denim jacket. Re-styled by Burberry this season, this old favourite most of us own has been given a lift in the form of feather trim. It gives almost a swan-like effect around the hips and I thought it looked like a very 'Rock' version of a ballet dancers dress. Whether open or buttoned up it sits well on the figure and as shown below matches well with a variety of dresses and colours. My favourite would be the light pink dress. 
Sash tie detail features in many looks across the collection. In a lighthearted expression of femininity this addition to the outfit emphasises the slim waist and represents the playful spirit of the colour themes of the collection. Above the two dresses furthest to the right have bold playful patterns and positive messages in print following on from the delicate colours at the start of the collection. Coordinating sandals add the final touch. 
I love this series of dresses below. The sheer fabric is a joy to see over the figure, part concealing, part revealing the beauty inside, it's always a beautiful idea to use in design. The first look to the left below features a layered sheer dress and a beautiful yellow jacket. It's not denim but uses the key features of classic denim jacket design, it's one of my favourite looks. The next two looks, moving to the right also feature pleated sheer skirts with wrap-around sash ties. One is over a light summer dress and another is paired with a blouse and short skirt. The diaphanous layers of the next dress to the right sit beautifully over the figure and this dress will have you looking pretty in the day or the evening in the warmer months. Another feature of the collection that I loved was the brush stroke - water colour patterning that made up many of the designs. The green dress furthest to the right echos the light sash detail at the shoulders to give an extra feminine twist and is a fun sophisticated outfit for spring and summer evenings. 
The blush pink dress below is one of my most favourite looks from the show and it's found a place on my wish-list for next summer. This looks stunning by itself or could be matched with one of the jackets from the collection as it is in the next look. In the center the pink and lilac layered tulle dress with pink sash-tie is a pure piece of heaven and again Chris Bailey has come up with another perfect party dress full of girlish delight for you to adore through several seasons. The sheer crimson dress next to it adds a touch of sexy daring and again light as a feather this look will be very easy to wear as the temperatures climb wherever you are in the world. Boys walk alongside girls at Burberry and the gentleman in vibrant pink looks the part in a sharp Burberry suit, with sunhat and travel bag. The bag can be worn by guys or girls and some daring girls could also wear this suit I think. 
The denim jacket below is layered with blush pink faux fur to give another spin on the traditional denim jacket and with the sheer blouse and sheer sash tie skirt this is another light, free and easy summer piece that a lot of girls will enjoy wearing. Tie dye enters the frame with the the lilac high waisted jacket in the next shot sitting neatly over a multi-layered tulle-style dress. This is a great casual look that you could easily also take to a party across the spring and summer season. Colour play continues again with the lilac dress split to the thigh and light as a summer breeze. Loose in it's structure it contrasts with the more formal lines of the next piece. Lastly a lilac sheer blouse and slashed seam skirt gives a sexy boehiam edge to the collection. 
I'll leave you with a great shot of the catwalk passage at the close of the show. It's a great line-up of the colour spectrum and you see the current face of fashion with the phone camera's poised on the front row.
Georgia Hardinge 
Georgia's a great girl and one of the most talented, highly skilled young designers that we have in the country at the moment. She works incredibly hard and is relentlessly visionary in her approach to the creation of the perfect style and design. 
Georgia's Spring-Summer 2015 collection looks to the new season with with a fresh colour palette of blues, white, yellow and black with just a tiny touch of green. As with many of Georgia's collections, her training in the arena of architectural design is evident when you look at the shapes that are drawn from her inspiration. The boldly cut geometric patterns are works of art. For me this is high fashion design showing in London from one of our brightest young designers. I open my look at the collection with this stunning dress above to the left in two complimentary shades of blue. The bodice of the dress is a simple piece contrasting with the pleated, laser cut skirt. 
This season laser cutting technique has been a big area that Georgia has been looking at. Center above the blouse forms a diamond; that to me is across the heart. Full of youthful innocence this look is a very chic piece that you can wear to the office or out in the evening. The white look to the far right is one of my favourite pieces of the collection. The blouse and skirt are truly gorgeous and compliment the figure superbly. 
I love the expansive use of colour in the above piece it's like a beautifully coordinated Kaleidoscope vision. The piece above to the left is a great look for Summer and the design is really striking. A shorter variation next to it is a fun look that you could wear on a variety of occasions in many different places. With a slight boy-ish style T-shirt as part of the upper part of the dress it offers a mix of both utilitarian and feminine softness in the design. 
I really like the shot furthest to the right with the two girls wearing clothes from this season. You can see both a laser cutting and pleated look and a colour contrast of yellow and white in the second. I love the interplay between the models.
Above is a great two piece look using wonderful print design. In a variation of the print design above this works around a complex theme of blue and green with a hint of yellow appearing too. It's striking and unique and will appeal to many Georgia fans as well as people new to her brand. The structure fits neatly onto the form and is uncomplicated on the figure. This would look great for a party but also would work well for smart and casual day-wear. It's altogether a great piece and one that would be treasured. 
I think it's got cross generational appeal too as has the next dress using yellow and white. Playing with style and structure again I see a sky-scraper-esque outline in the design at the front of the front of the dress.  As in many of the studio shots the model here is close to material that imitates the key design ideas of the form and structure of the design. To the right in another of my favourite looks of the collection two models lie down under the Summer sun bathing in the rays in their beautiful Georgia Hardinge dresses. I like both of these looks a lot and think they have broad appeal. #wishlist moment. 
The two looks above capture the strength and mystery of Black in the collection. Surrounded by larger than life folds and structure shapes these two ladies look quite secretive, perhaps I'm being over imaginative but these to my eyes are two quietly seductive outfits that draw the gaze. Below are some of my studio shots I took while talking to Georgia and her team that show the looks in a little more close-up detail. Enjoy and please find more of her work here.
David Koma - all images with kind permission. 
I love David's collections. They burst with life and his looks have a unique signature that it's hard not to like. So don't fight it - dive in. Enjoy his play with symmetry and a-symmetry. I don't often reference other designers in a write up but you can see where he may be 'coming from the same place' as Georgia Hardinge in terms of design aesthetic he's creating something altogether different just showing how much light, life and creativity is out there in our British designers. 
Cutting close to the figure and with a sexy swing this collection continued some of our favourite design themes from David with plenty that is new. The opening look of the collection was a super-chic beach look that would easily take you places if you where wearing it around the city in the Summer too. The close cut asymmetric shirt and the pressed perfect shorts twin perfectly with a very beautiful long coat that would find very welcome home in my wardrobe. It's a great piece with some beautiful detail in the lining. Next a beautiful white summer dress and and another pretty shorts and cropped vest combination with jacket. 
The high neck and cropped shoulder dress has a sporty edge that shows off a well-kept figure and to the right the next two looks in light blue and black. Two great figure hugging looks, I really like the one furthest to the right - very sexy for evening parties.  
Colour play continues with brilliant blues. These two dresses above left are modern and controlled in their style without looking harsh to the eye. This collection contains soft gentle colour blends set alongside bold lines. Criss crossing the figure they highlight the natural symmetry of the woman's figure and draw the eye towards the definition of the curves and the shape of the girls. Geometry and the figure interwoven. 
Working the suit theme again the white trousers, cut away black cropped top and white jacket are a great summer look. In many industries this would work well as a day time work outfit that would take you into evening also. It's beautiful and very sophisticated for a touch of fashion-savy office chic. The next two dresses are pretty in the David Koma classic style and will find a place in many fashion watchers wardrobes. 
The collection moved on to a slightly moodier, edgier theme with a little less sunshine and a touch more sexyness. Still the classic David Koma shapes where re-worked and sculpted into new styles. I loved the mixture of fabric and texture in the first two looks to the left. These are power statement styles that have international appeal. I think there is a re-newed feel of experimentation in this collection that brings zest and life. 
The shimmer and light from the sequinned applique shows light figuratively moving across the body as the girls walk the catwalk and I almost felt like it was seeing a transmission of energy made real. With a series of statement styles sent out in front of our eyes David closed the show with several looks following the look of the below pretty black dress with the sheer lower skirt. An eye catching evening dress for summer nights. 
Michael Van der Ham - images with kind permission. 
Michael's collection are something to greet with wide open eyes. He has a gift for distilling eclecticism into defined style that collection by collection builds his unique body of work. The first dress that came out was for me one of my favourites of his looks. It's a beautiful floaty summer dress that will bring a lot of enjoyment to the happy owner. The is a sexy light Summer dress for afternoon tea and pure pleasure .Fashion is to be explored and enjoyed and Michael creates pieces to love with a twist of the arts & crafts about it and this is what I love in a designer, the unique thumb-print that spells their name out in style.
Images below from Georgia's lookbook with studio shots taken by myself.
The second dress above from the left mixes fresh print with sheer satin in the skirt. Playing with lines in an almost make and mend fashion here Michael draws us in the direction of textile blending/patchworking, call it what you will. Mixing fabrics together in this way is an art and this series of looks above runs the full spectrum of both creative and restrained works. 
I love the center piece for it's daring.  It's high fashion from the catwalk but you could walk around London/Paris and New York in it quite happily or be quietly tucked away in the country for a lost weekend. The two looks above to the right are slightly more pared down pieces that, as with the first look you could wear to a wide variety of smart events in the summer season. 
More movement and play in the next series if looks. A creative collage is how I would describe this set of looks in many ways. The white bodice top to the left above is a pure Summer piece and below is a beautiful pencil skirt in deep Navy blue decorated with abstract light blue and white shapes. To the right is light mauve blouse completed with an overlay of a contrasting textile. The skirt is in a contrasting vintage print but far from clashing it pulls together a sense of combining ideas to blend together a style. 
The look center above is pure summer fun and looks joyous and radiant. This is a perfect go to the beach or go anywhere look. Next to the right, one of my favourite looks of the collection that I would quite happily wear. A beautiful swing coat in contrasting textiles, crochet and then tweed overlaid is teamed up with a chic summer tea dress and a fun clutch purse. This is a great outfit that could take you to many places and would be a useful piece to own as semi - formal wear.
The theme of the opening dress of the collection is worked into a light trouser suit outfit. Textile combinations are key once more in the next look matching a blouse with houndstooth tweed shorts and a coat with crochet. Michael's coordination of different materials is bold and it does work. In the more simplified fabric choices in the following looks to the right you have three more classically tailored styles that have strong 'go anywhere' appeal. This is a collection that both plays with creativity with Michael's own design stamp but also gives the buyer a choice of many classic under stated pieces that are high fashion must-have's. The two looks furthest right above are pieces that I would probably chose to add to my wardrobe this season.
This collection contained a lot of life and energy and I was very pleased to be at the show and see it come out live. I loved the duality of the collection where some outfits contained a number of textiles and ideas bundled successfully together and other looks worked more simply in one fabric channeling a more simplified design aesthetic. 
Center above is another look using multiple fabric that I think will appeal to many girls. The look runs through four different fabrics worked together accessorised with a beautiful suede clutch bag. Next leading right are four light delicate dresses that will have you ready for whatever parties come your way in the summer season. Absolute delight. 
Marios Schwab - images credited to the studio of Marios Schwab.
Marios works in a very classic way with pared sown simplified structures that catch the eye quickly whether you are up close or at a distance. Opening the show with a bold re-working of the well known trench coat he showed that he can well and truly re-model old favourites into something knew and still keep winning an audience of admirers. It's a skill and looking back through his past collections, it also is a habit. Next to the right are two trouser suits cut slightly lose on the figure they're 21st century trouser suits made for a women who is confident in her world. Colour definition moving through shades of deep green and petrol blues to whites offers a variation on the marine summer colour scheme. A teal above the knee dress and white summer trouser suit complete this line up of looks.
The collection moved on to play with forms and shapes around classic original looks. The trench coat morphed to combine with pencil trousers and added a partial train to give an elongated silhouette while retaining the lightness and ease of summer wear. The dress to the right used a beautiful fabric with a criss cross design across the boas of the dress. Sitting neatly on the figure this pretty slim look is a great cocktail piece and like many styles can be worn for work and for play. 
The outsized shirt-dress in the center shows a pretty summer casual look and cutting across the figure is a key trend in Marios' collection this season. He plays with bold print in some of his looks and I included one of these dresses to show that. Again this uses that shirt-dress idea and tied at the waist this relaxed summer look works effortlessly.
There are plenty of great evening looks in this collection that will take care of your catwalk needs and I've included some of them below. The first dress to the left represents the exploration of marine colours in the earlier part of the collection. Moving on to some of my favourite evening pieces, sheer sexy glamour takes over. I love the three looks center below especially the furthest from the left. It shows the figure so beautifully and I love the play with the geometric lines, for me, echoing perhaps Roman friezes and classical symmetry of design. It's very sophisticated and refined as is the core of all of Marios' work. This is glamour that is quietly under stated and highly valued by his clients. To the left a classic little black dress to see you through a number of party seasons, and one that could be sneaked into a multi-seasonal wardrobe. We like versatility. 
I close my look at Marios' collection with some more pieces that make a stronger statement and several that would be key evening wear looks for the summer. Draped carefully on the figure and emphasising the fluidity of lines and contours they would look after the needs of clients who statement dresses for private events or in front of the camera. I think this is a very complete collection working within Mario's true form and vision but also offering something new to his clients and followers. Another triumph this season and a great pleasure to see.

TOGA 
It was a doggy delight that greeted me and fellow show guests on arrival at the cavernous St Pancras Hotel. 
Four legged fashion friends where definitely most welcome. This was the part of the appeal and I spent a good while chatting with the owners before I even got to look a the collections. 
The crowd was really interesting with many guests from the Far East supporting TOGA. TOGA's house style is urban and modern with a growing audience and it's own style sensibility. Below, far left, one of the glamorous party guests that I spoke with. She's wearing the wide brimmed hat that is popular this season. 
Below center a long line coat with wide two contrast coloured lapels was accessorised with the glass plate trend-theme that features in this collection. The dark navy of the coat looks uniform and slightly formal contrasting with the sheer dress peeping out from underneath. Rounded off with a beautiful black bag.
Above to the right the glass mirror decoration is in evidence again on the next look. I see a small statement and reference to inner beauty and outer beauty here. Is TOGA trying to tell us something about fashion, our inner beauty and confidence being reflected out to the world?
I think perhaps but it's also a hint for us to enjoy our own reflection also and b confident in the beauty we have in this world. For me good fashion makes us look good and feel good, great fashion stimulates the mind in as much the same way as great art does. It's something I thought of in the past when I started writing about fashion and I still believe it very much.
Above is one of my favourite looks of the collection a dress in bold print in contemporary art style. Paired with translucent latex trousers there is a slight echo of the 1960's and this is a very fun dress for next season. You could wear it to parties or around town. The veil-collar detail puts a unique twist on the outfit and gives it extra fun factor but in a serious grown-up way. 
Next up two more great girl about town looks. Both these outfits put a spin on denim and re-work the classic jeans with a striking modern art twist. Collage and different tones are played with and the long lines flatter the figure. The vest blouses of both these looks both mix sheer and opaque fabrics, once again using shapes and angles from modern art themes. In one look a collar is high, in another is oval cut around the neck broadening flat across the shoulders. 
There was plenty of men's style on offer amongst the guests and I met these two gents who where very supportive of the collection. They where rocking the TOGA look emphasising care free casual wear that has strong synergies with aspects of traditional tailoring.
There where lots of great dresses on show again very suitable for parties and casual wear and I loved the patch-work textile fun in the designs, home spun to high fashion and high art. These pieces are worth studying to see the fascinating detail that they contain. To the left above a blouse and skirt combination work with muted earth tones and shoes with clear latex cover reveal the feet to show naturalism and echo a connection with the earth. Radio transistor handbags accessorising the next two looks make a stylish impact and bold contemporary art colour give strength to the female form. 
Here is another shot of one of the furry friends of TOGA with his owner looking very happy. Here are some more pictures also of the party guests enjoying the show. The architecture of the venue was pretty special with the high vaulted hall inside St Pancras Hotel. Light poured in through the building-height windows and high vaulted ceilings.
As she presentation progressed we where also treated to some great music from a live jazz and blues band which was really nice. The dogs enjoyed it and so did the guests. Lending itself to the relaxed atmosphere it was the perfect accompaniment to the collection and I enjoyed swaying my way through TOGA's new season. 
Here is a detailed shot of one of my favourite looks from the collection. A mid-thigh coat-dress in black is decorated with mirror reflecting the light and energy in the room. I've added a close up shot of the dress next to it showing the skirt mirror applique in more detail.