A Blush of Rose
ablushofrose.com
Day 2 at Fashion was absolutely jam-packed for me and I was swept away with more invites to shows than I could actually get to myself. I'm pondering hiring an Assistant to be a mini-me for next season ..... but anyways I had a great time seeing some fantastic collections on show and as always each LFW I really enjoyed meeting up with familiar faces in Fashion and Press that I see each season when the tribes gather.
Orla Kiely - School is Cool.

Simone Rocha - from strength to strength.
Simone is developing into an increasingly fascinating designer with each passing season. You can see a steadily growing maturity in her work, becoming a tiny bit ore classic, elegant and restrained while at the same time she is still experimenting boldly and creating collections that are drawing massive attention and acclaim. Once again this season she took inspiration from the world of Queen Elizabeth I and the fabrics and textiles of her age. So here is the perfect synergy of old and new together in one place, with a fresh take and smartly striding forward. 
Danielle Romeril - It was all about survival with Scottish, Aussie and First Nations vibes.
Queuing for Danielle Romeril's presentation was quite exciting as I remember first coming across her a couple of years ago in the Designer Showrooms a London Fashion Week with her early collections on display. Fast forward a couple of years and her presentations are hot tickets on the show schedule as people look to see the next stage. 
Jasper Conran - off the catwalk and into your closet. 
I think that that's literally the best summary I can give about how I see Jasper's collections and this one is no exception. This is one of most readily translatable collections that you will see during London Fashion Week and he builds a complete wardrobe of looks that blend easily into women's lives. It's always good to see what comes from him with each passing season. 
Markus Lupfer - Swinging in St. James'
Markus had many surprises in store for us when we arrived at the palatial venue in central London where he showed his collection. The Palace-like venue was transformed into a rural idyll - how's that for great fashion week juxtaposition - and bunnies and fashion pack alike looked forward to  seeing Markus' offering for next season. Donna Air is a good friend of Markus and a long standing supporter of his label and happily chatted with us guests as we viewed the collection. It's great to see enduring fashion friendships..... and cute bunnies are a bonus. 
Above second from the right is a pretty sweater and skirt combination with matching scarf and shoes. It's a cute look and subtly very warm for the in between season weather. I really like the lively colour mix and the combination on pink black and white which are also my key theme colours. It's a very cute look. To the right above a beautiful peach coloured dress keep things neutral and simple offering a blend of textile fabric to give an extra dimension to the dresses design. This is a fantastic day dress but could also be worn in the evening or with a jacket if you wanted to dress it up further. The large black tote that it combines with carries a hint of the 1950's and early 1960's and looks sophisticated without somehow becoming too serious or traditional for a piece that a young lady could take to college or the office. It's a chic look that makes a simple style statement and looks beautiful on the figure. 
Below you can see the peplum vest top in more detail. It's a great piece that will coordinate well with a lot of other separates, again from the collection and also from your wardrobes. Mainstays such as jeans and slim fit jodhpur-style leggings. The beauty look in this collection was so soft and nautral you couldn't help but fall in love with it. I've included a close-up shot in the center below. They have used a light base with spf, highlighter around the eyes, Mascara to make the eyes 'pop', cheeks are barely stroked with colour and the lips a soft natural honey rose colour. To the right a little look at the beautiful decor that this location Houses day to day.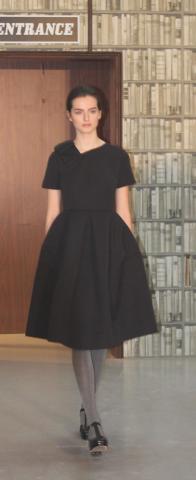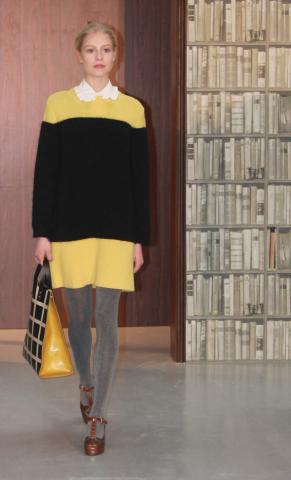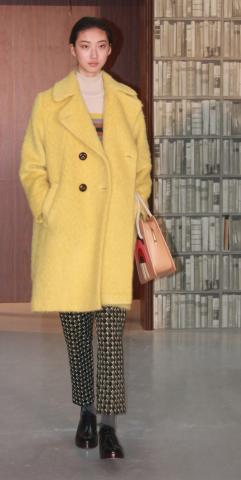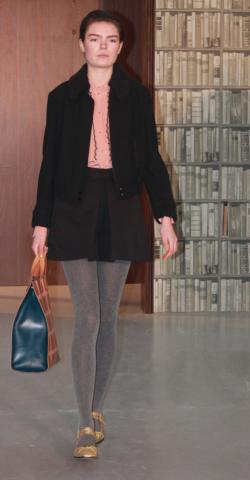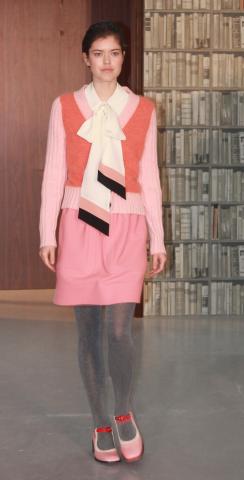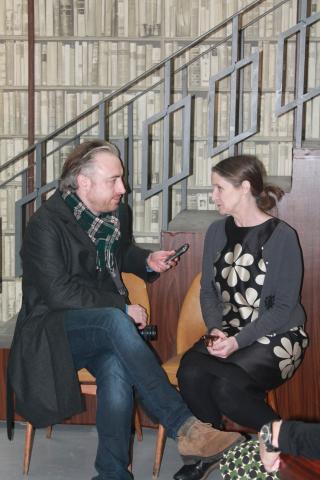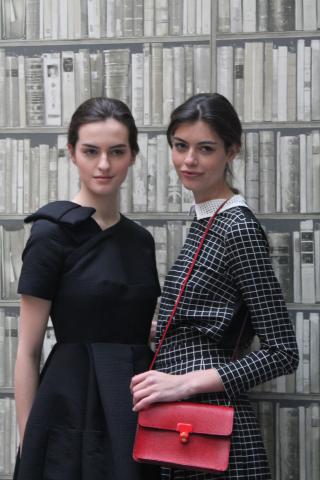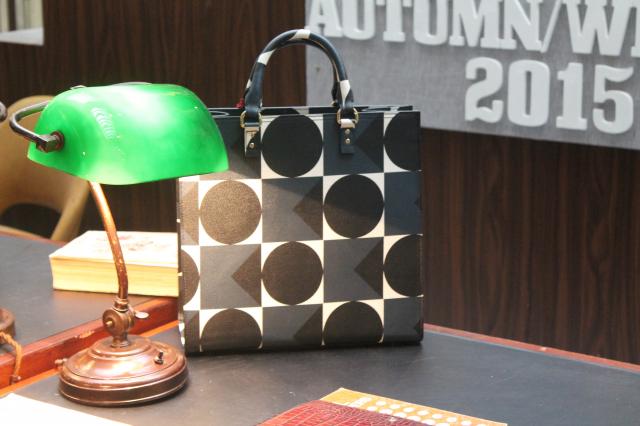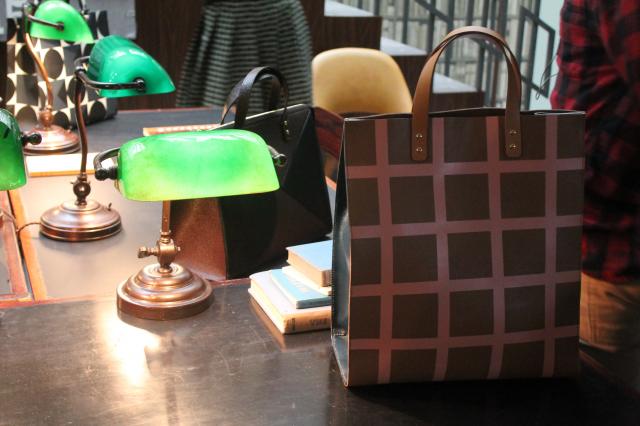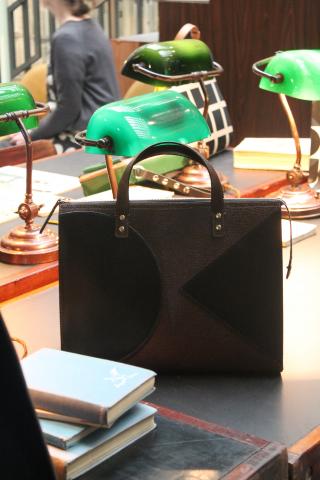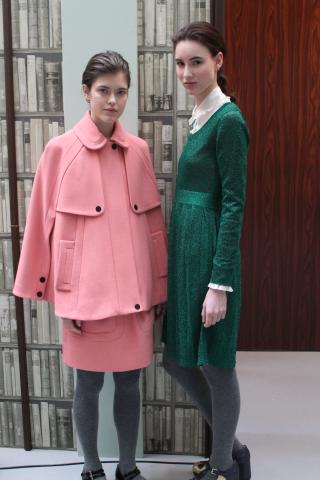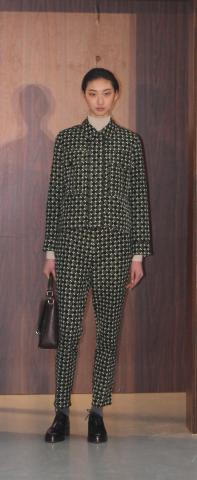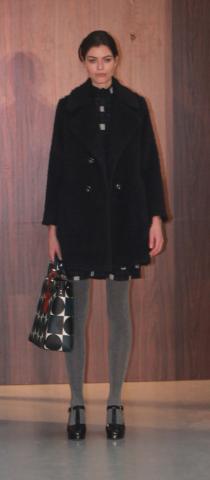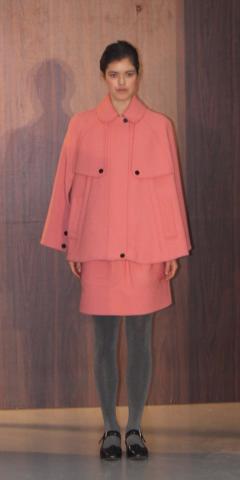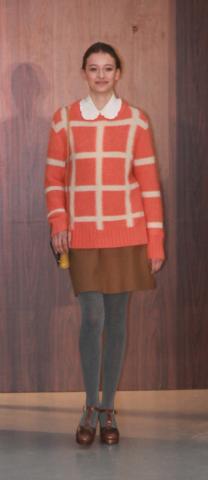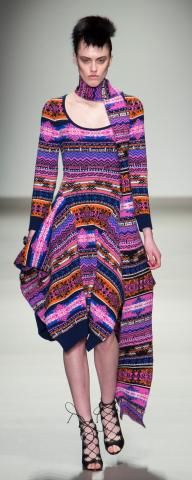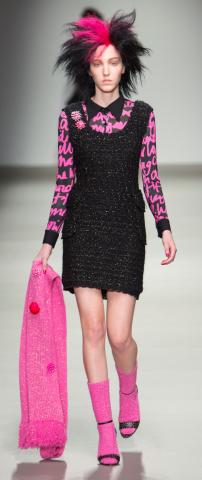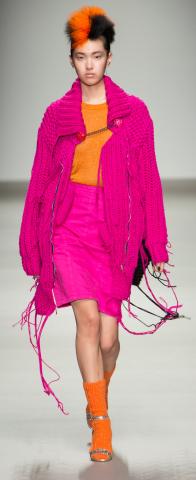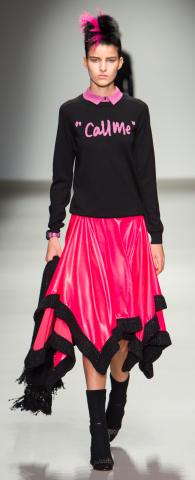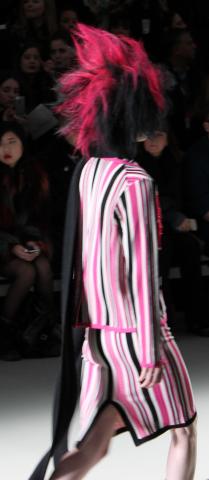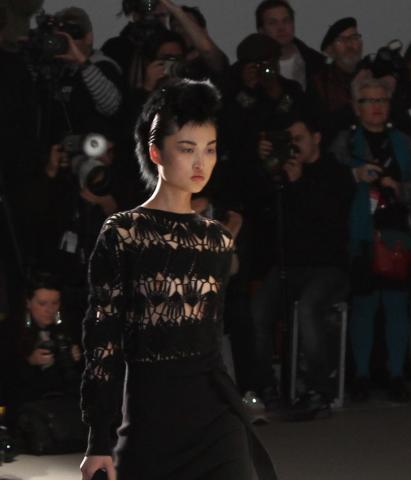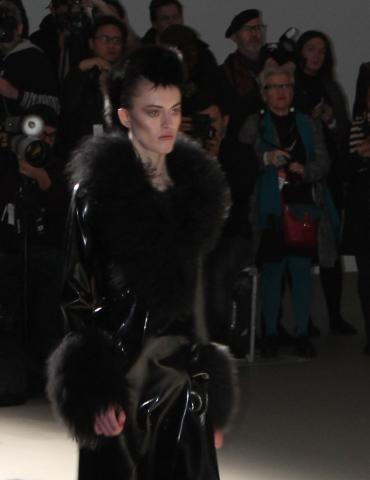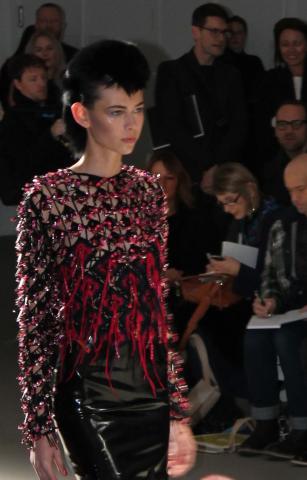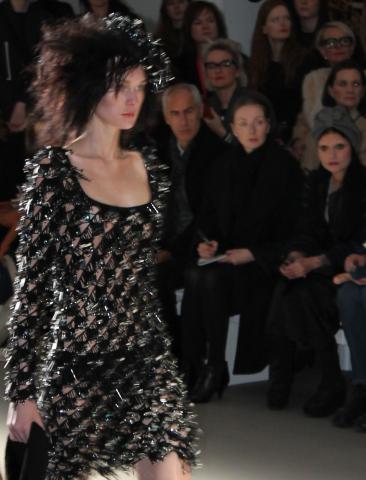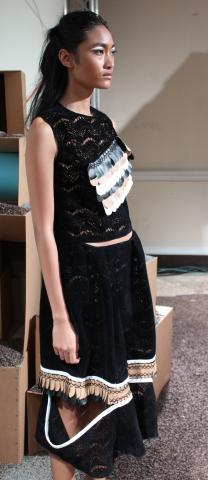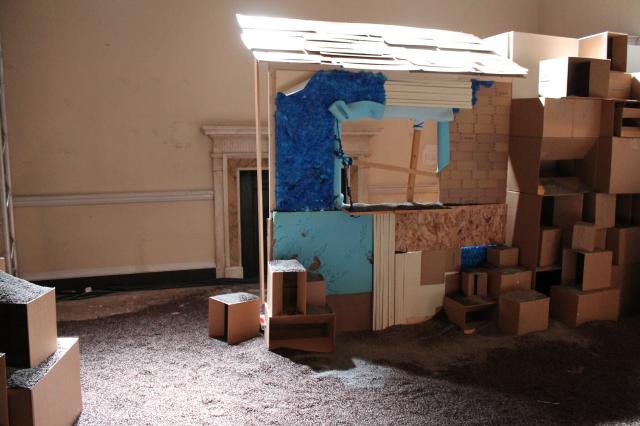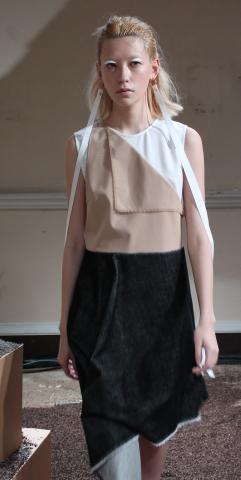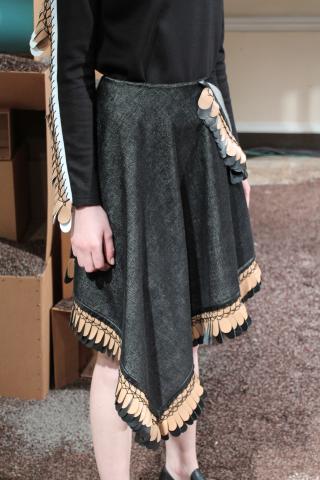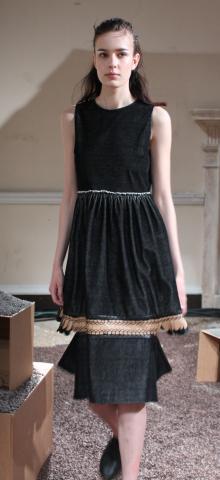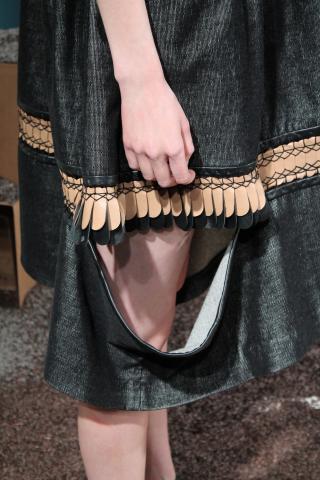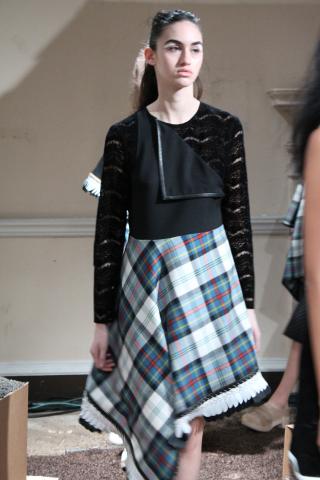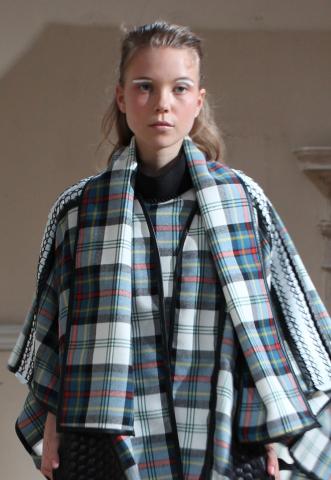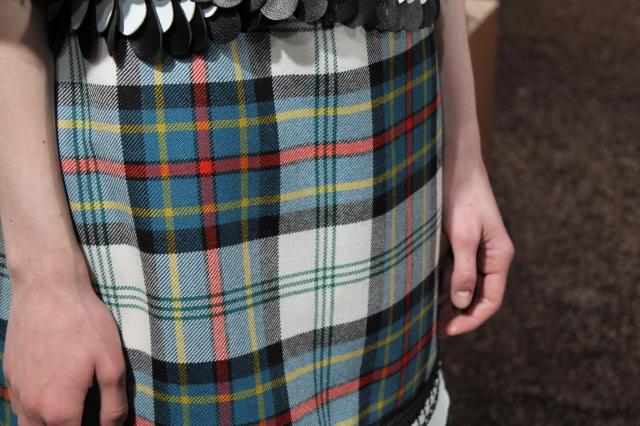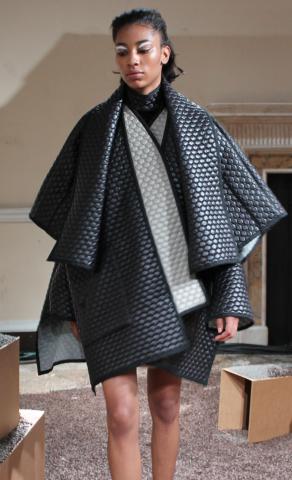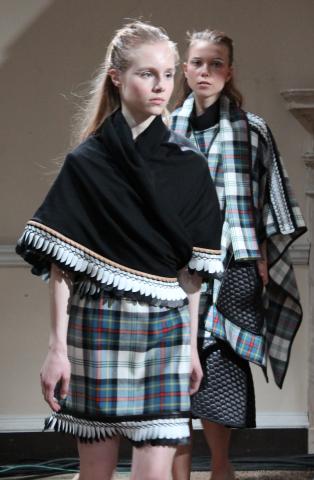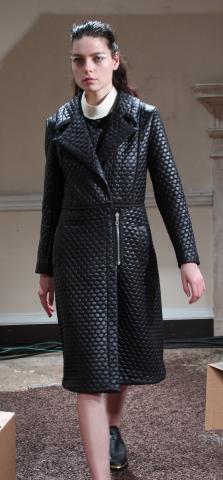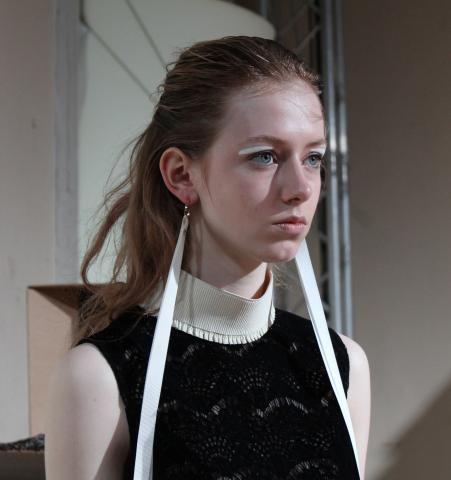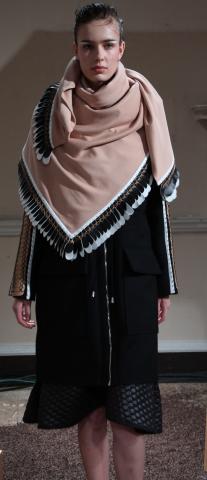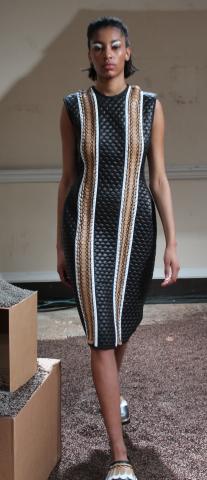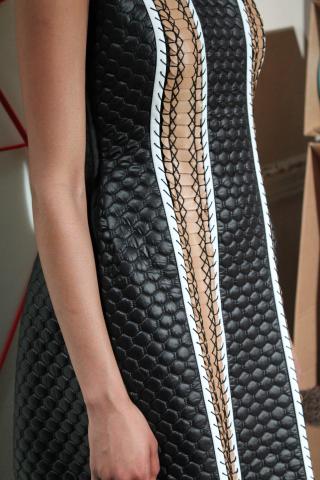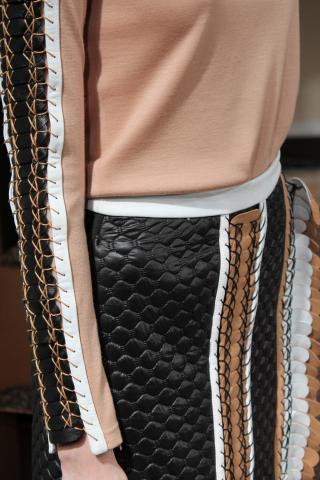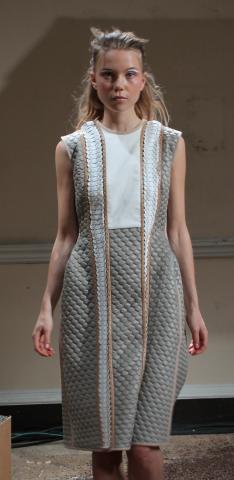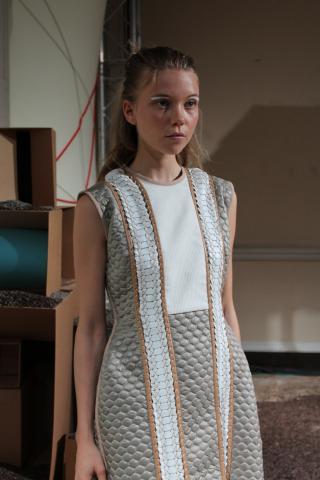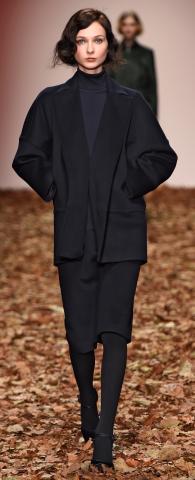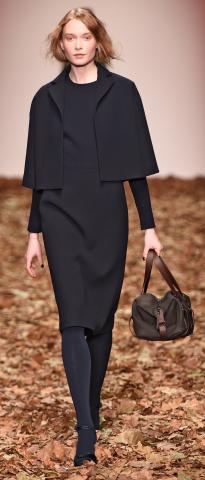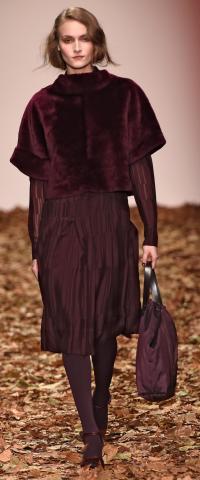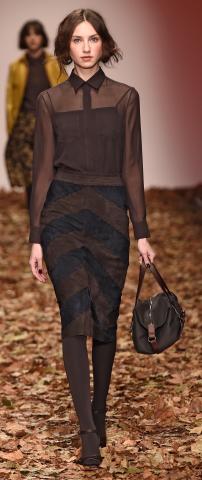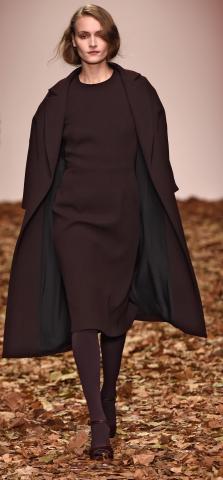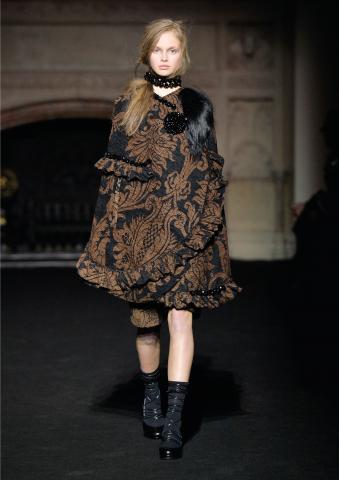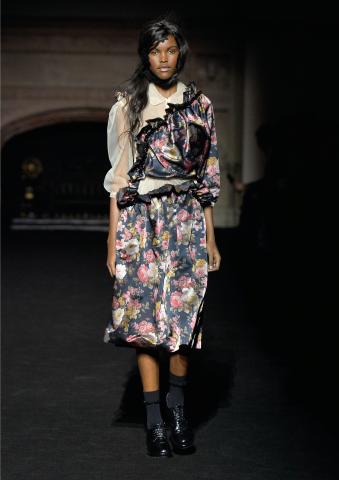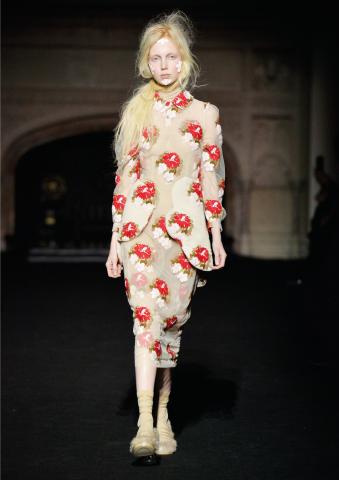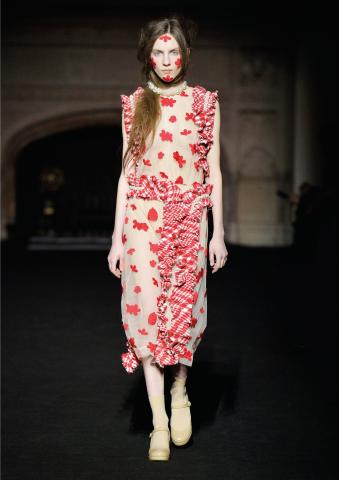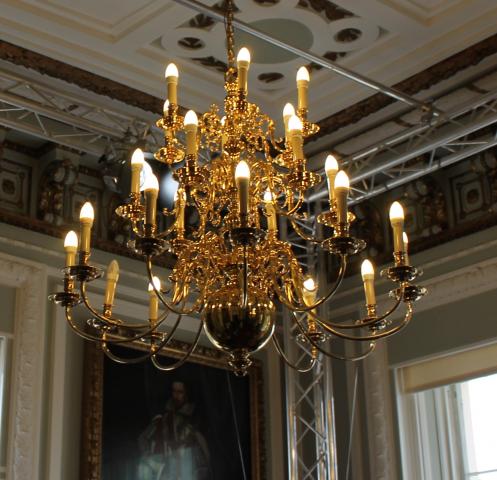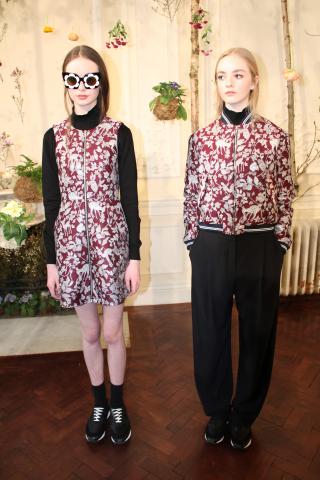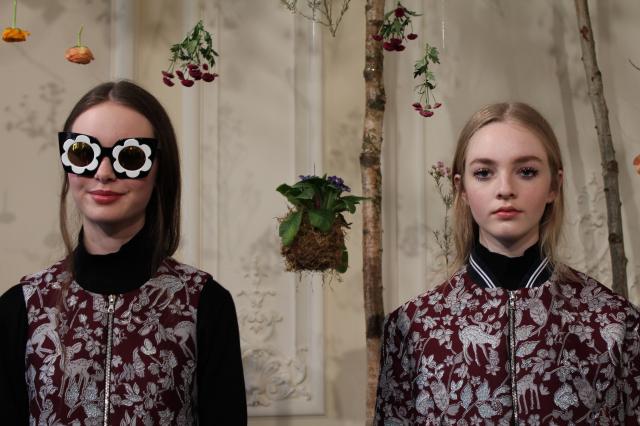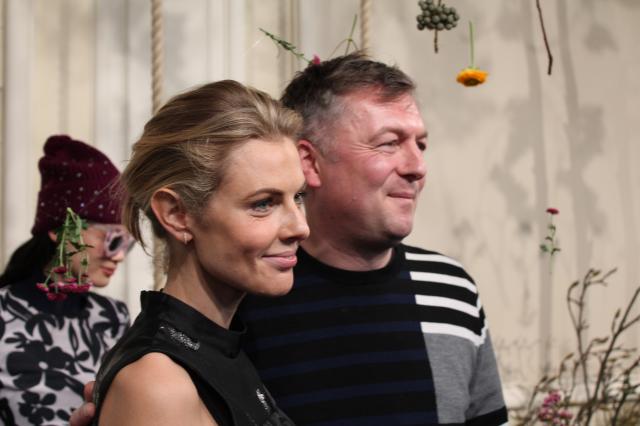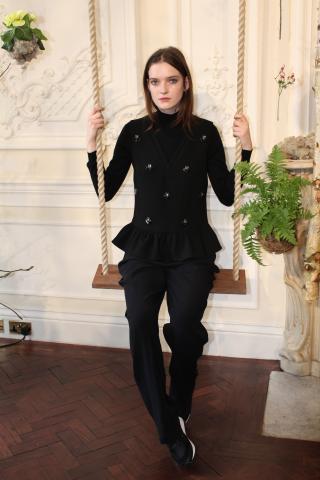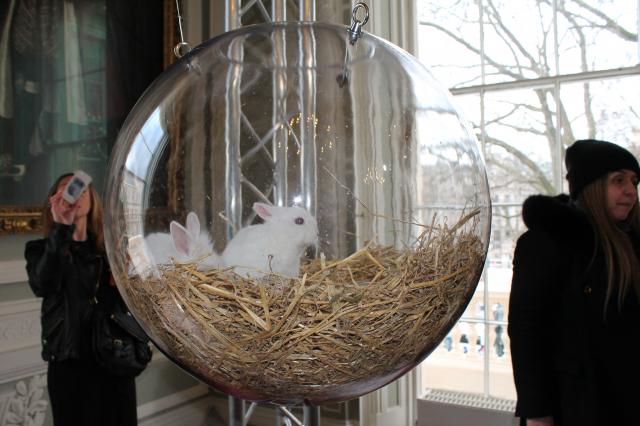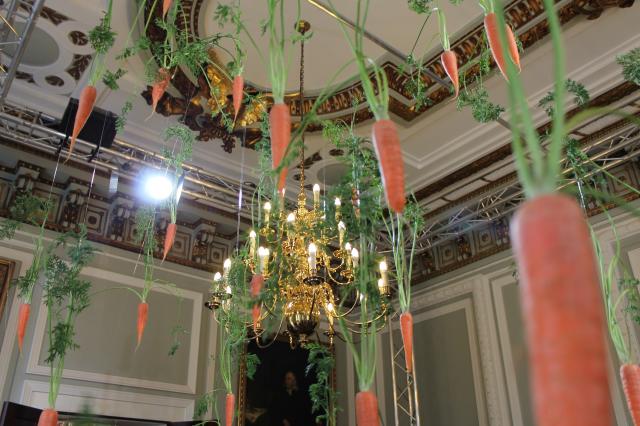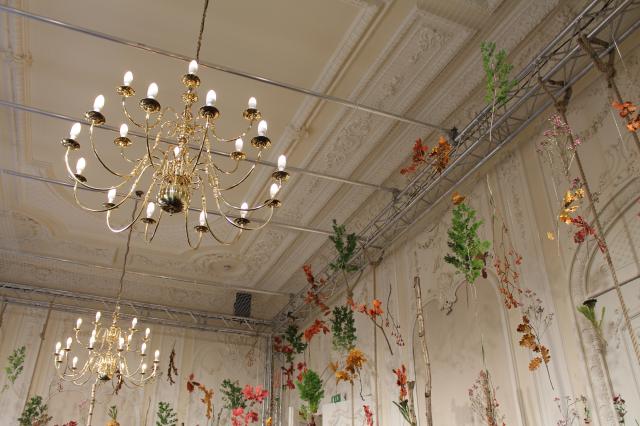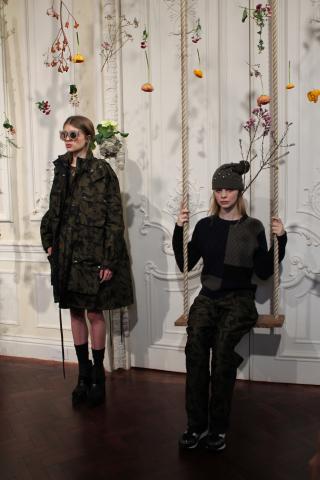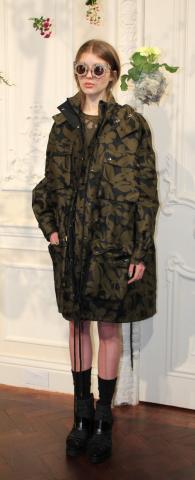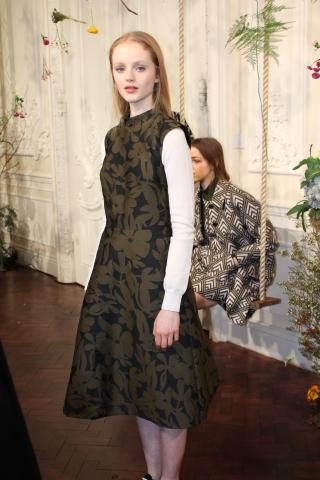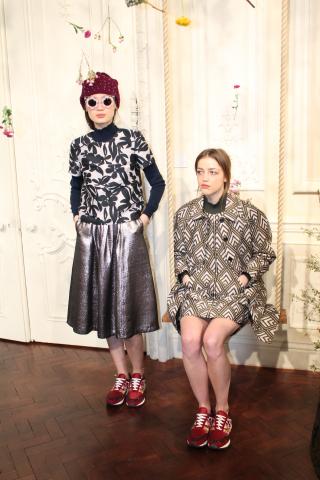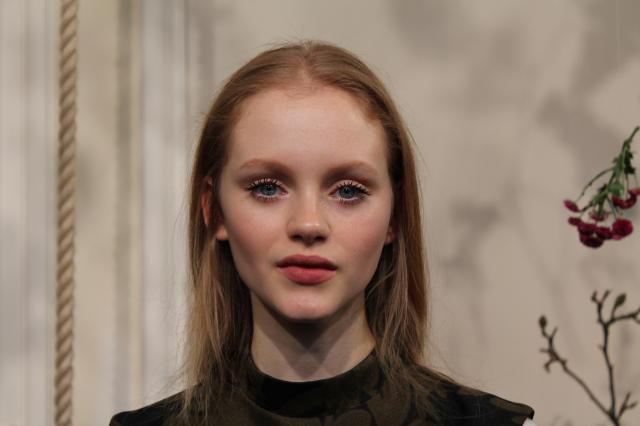 Images here below are mine.
Orla Kiely is an incredibly special person. She's a truly talented, dedicated craftswoman who as well as ready to wear has created a strong line of home ware and apparel accessories. 
She has never lost her drive and focus and her Ready to Wear Collections that debut twice a year in London are filled with beautifully designed looks. 
I find her work genuinely multi-generational and her sense of a classic style that can be translated and re-worked for clients across generations is really a breath of fresh air.
This season it was back to the Library in the most literal way for some hard study and defined lines. There was more than a hint of Miss Porter's School and East Coast US Colleges about this collection but make no mistake these are clothes that also work very well on ladies of all generations with an eye for style.
There's a hint of preppy neatness in the collection but these clothes are all about soft comfort and show a natural, elegant neatness in design. For me the back to school-ish theme conveyed a message of earnestness. Work hard and play hard and always enjoy the clothes that you wear. They are an expression of you. The look to the left below is a wonderful jumper dress in two contrasting colours making the classic Orla simple-chic statement while coordinating with one of her House tote bags. Next to the right is a beautiful cardigan and trouser set working in signature Orla print in an eye catching baby pink. It's another look that easy to carry off and well tailored. Next are two very cute dresses. The first has a simple design with a belted waist and a lost black semi-sheer blouse underneath. To the right the black dress is definitely a head turner that you could wear in the day and also in the evening. You could wear this piece to work or also to a special dinner or event. 
The first look above to the left is a simple comfy sweater and skirt look that's cute, cozy and easy to wear. You could be heading to the library but also you could be en route to work or enjoying your day somewhere. It's great fashion to put in your wardrobe. The next jacket, blouse and skirt combination is pretty and practical. It also twins with my favourite colour themes. The next beautiful green dress is light and playful and you can see it in close up on a model at the top of this piece. I love the way it gently drapes over the figure and moves lightly as the wearer walks. Matched with a softly delicate white blouse and the neutral grey tights running through the collection it's a look for the day as well as meeting friends in the evening. 
To the right the trouser suit in Orla Kiely prints is a really nice piece in classic Orla Kiely style. This outfit will serve you well on cooler autumn days and evenings. The pink jacket and skirt to the right is a beautiful chic piece that still carries the air of relaxed comfort about it that Orla's House style is renown for. This and the green dress above where two of my favourite looks from the collection. The yellow coat makes another bright pop of colour for the autumn and the deep pockets and generous fabric add to the enveloping snuggle factor. It's one of the many must-have's from the collection. 
The colourful cardigan above uses colour blocks to great effect and this is a very piece. Teamed with a salmon blouse this is great play with colour and has a lot of really fun energy about it. The green dress to the right hangs loosely but comfortably on the figure and lightly belted it gives the wearer definition of figure. Super-sassy in the centre the short black coat and dress teamed with a signature Orla Keily bag is a chic and slightly sharper look for people who perhaps feel like making a slightly stronger statement. The brown dress to the right blends neutrals effortlessly and coordinates with an animal character face bag to give a playful touch. Orla is a charming lady and she happily gave many interviews after her show. Below I've included some great shots from the accessories line that show next season's must-have bags. You'll note that many of them are large enough to get book in ;-) School is cool this autumn.   
One of the key features of the collection that grabbed my attention was the lovely autumn colour palette rich burgundy/ mulberry colours. These warm rich colours always attract my attention and feel so inviting to look at. You want to touch the fabrics, you want to wear them. Below to the left are two outfits that play with one of his autumn-leaf print fabrics. I really like the short zip-front dress with black sweat-shirt detail. It's a great outfit to hang out in or wear on an occasion - multi generational too which is a little phrase I've invented and love to use. Statement sunglasses featured through the collection in several places and added an air of nonchalance and mystery. Next to it was a look bringing back the bomber jacket and teaming it with some well tailored loose-fit trousers. It was chilled, laid back and borrowed from the boys wardrobe. I say borrow, it's a fantastic look. 
To the right below I picked out two very different contrasting looks that show Markus' love of play with prints and design. The girl seated on the swing wears a beautiful coat-dress that works triangle patterns and tessellation beautifully without it looking or feeling too much. To wear later in the season on colder days this piece could also be teamed up with trousers from the collection or jeans or leggings. The model standing next to her wearing a silver skirt combined with a leaf pattern T with long black sleeves brings a taste of urban city style and country casual into one outfit, and it works perfectly. I love the beanie hat and sun glasses too, protecting against the heat and the bright lights of winter days.   
I think the luscious Harvest theme was a beautiful one for Autumn and the show certainly put a Spring on the step of the guests. I've seen plenty of carrots chandeliers and royal portraits before but this was certainly the first time they all came together in a room. My feeling was that in heart of St Jame's a stones through from the centre of all things Royal in London Markus wanted to make the starkest most simplified down - to - earth contrast with rural life and the great outdoors. I feel he really wanted to show a natural collection of high fashion that struck a chord of natural harmony and an effective balance.  

I've been interested in Sibling for a while and after seeing their show at very close quarters at the V&A in Autumn 2014 I have a whole new level of respect and admiration for their work. 
They are a talented trio and this season they went to town with their collective knit-guru knowledge to fashion a wonderful collection of looks for day/evening and anytime. I was a fan and my personal favourite signature colours of black, magenta and grey are woven through the collection too. 
The energy and humour that they bring into their work are infectious and each new collection is a delight to discover. 
The looks above are full of energy and sparkle. The first look to the left was a metallic shimmer of punk fashion glamour. With a chain-mail-esque construction it is actually a beautiful piece of knitwear with applique detail of mirrors attached. With a matching headpiece this semi sheer look is a great piece for daytime (if you want to make a bold statement) and for evening. This and the next look to the right are two of my favourite looks from the collection. They are just so bold and both really flattering and sexy. These are outfits that you will really adore and as I love to say will 'live long' in your wardrobe. 
Models are often described as stalking the catwalk - I'm happy to confirm that Sibling's models stalked with an edge and attitude that would allow no-one to question their dress sense. And frankly you would have to be crazy to anyway. 
Above fur and PVC made for a dramatic texture contrast. This was a sleek fashion statement that would see you well wrapped up in the Autumn-Winter season. 
Next to it is a bold patterned knit sweater that was another one of my favourite looks from the collection. This off the shoulder style could live quite happily in your wardrobe through several seasons and is as versatile as many of the collections. 
Another feature for this season was the long slender scarf that was left trailing down across the outfit. A simple accessory but always key, the humble scarf can always add a new dimension to any outfit. 
Also quite by chance you can see the lovely Martha Ward in the background of this shot. She's a very experienced stylist with a wonderful eye.   
Above to the left is a beautiful sweater with crochet detail matched with a sash-tie skirt. Simple and straight forward this is also a confident look to suit a confident mood. Next to the right is a beautiful suit in black with some shine and shimmer to light up the bright autumn days. The magenta blouse makes a beautiful colour contrast and I love matching magenta Mohawk. Pretty divine. It's a look that will work in a wide variety of places and to be enjoyed. Next to the right a shot of the stripey suit (also shown below face-on). In play on the varsity stripes theme or perhaps more likely a textile exploration this look clearly shows that the Sibling trio are also masters of traditional tailoring as well as the experimental and new. 
The collection for Autumn-Winter 2015-16 focused around the themes of sustainability and conservation of water and materials in the light of a changing climate and environment. With this theme in mind Australia, with it's sometimes challenging climate was the natural backdrop for the collection. It is a great example of  how people can live in sometimes challenging climates and really make a go of it to create something new. 
Danielle's muse for this season is creating a new life and sustaining from the materials that she finds in her landscape, cast off, worn and ready to be transformed and given a second life. 
To the left I open with my favourite look from the collection. this light coloured dress is remade from re-used rubber and leather. With an understated front panel across the bodice of the dress and two seamed lines coming down across the body of the dress this simple silhouette is very flattering and easy to wear.  
The dress below to the left is a both a play and autumn colours and for me also illustrates quite well the subtle hint of camouflage military style clothing in the collection. You can see it in other places with bomber jackets and the military issue-inspired beanie hats that are re-worked through the collection. It's a great knee length piece that would work well for day or evening and twinned with a white long sleeve light sweater here, it could also be matched with with light blouses underneath or worn alone. In the centre I couldn't resist adding a close up shot of the two burgundy outfits that feature beautiful forest-inspired print. You can see the beautiful Deer in the design playfully hiding amongst the leaves of the forest. To the right below are two more looks in black. Bold and clear they the dress with black long-sleeve top is coolly understated. This is a great look for work, casual or an evening out. Sitting on the swing the model behind wears a beautiful peplum detail top with matching long black trousers and pumps. Looking a touch more sportive but still a look at blends the town and city it's a great go-to casual style.   

Again the jacket below to the left has a great look of the military cast-off about it. Off duty and in the country or the city Markus Lupfer's girl for autumn and winter is well prepared and still looking stylish with a feminine strength. There's both comfort and practicality here echoing the duality between male and female in the design. Military boots or DM's are replaced with platform wedges still offering protection and comfort while striding forward and making a strong style statement. Underneath the coat you can see a beautiful moss green dress peeping out in the same colour continuing the same design theme. As well as looking at the uniquely inspired clothes I also loved the decor of the rooms. Sprigs of colour from country walks filling the place and creating an aerial tapestry of colour. 
Images below with kind permission of Sibling. 
The first look of the collection was a classic from the collection which went straight onto my wish list. This classic two piece look of dress and coat is strong simple and clear in black. With hair swept up into a lose up do this is a practical style for a day in the town, city or country. Beautywise I also love the 1920's look that the model carries off. Next to the right looking beautiful in green a dark moss jacket and tights coordinate with a lighter green skirt. Looking chic and modern but not too edgy this is a great look for the office or for doing out. Centre above is a very beautiful black dress nipped in at the waist with a tiny sash tie belt. Chic and sexy this glamourous piece is super versatile and will suit a wide variety of women. 
Another twist on experiments with black is next as the softly hanging dress with a chic neat jacket that sits on the shoulders. The next dress to the right uses a simplified version of the Kimono structure to with chevron pattern weave.  It's subtle but makes a quiet point and has a quietly artful composition. Next to the far right another favourite look of mine from the collection, a beautiful burgundy brown long-sleeve dress with tiny chord belt tied in a bow. It's simple and pretty and is a great look to be kicking through the autumn leaves in. Warm but still light it subtly emphasises the curves of the figure. 
SIBLING - Punk Rock knit with attitude - Hell Yes

I've selected some further catwalk shots for you to enjoy. This knitted All in One dress complete with scarf from the same fabric is a textile dream come to life on the catwalk. Matched with sexy lace-up, open toe shoes this is a great look for the new season and it will keep you warm also. I sense a touch of vintage Billy Idol here too in the model's expression :-)
Next a another great Magenta and black combination spelling it out. Yes, that's right boys you need to communicate directly with the girl, call her to text her and let her know. 
Also note the fetching wrap scarf's that come with each of these looks. Lots of choice here for a simple accessory that will make a great gift this season for a friend perhaps.  
In the center above another gorgeous dress from the collection that many people will want to add to their collections. I love the bright pink socks too and the graffiti art long-sleeve t-shirt adds a rebellious twist to what could otherwise be dressed up as quite a conventional look. Check out the cute pin-badge detail as well. This is definitely a look that I would like to take home. 
Next to the right is a front-facing shot of the varsity stripe suit with it's trailing pom pom scarf and lapel badge detail. The vertical stripes elongate and flatter the figure and place emphasis on the sweeping grace of the models walk. The back-combed hair adds a hint of rebellion and firmly stamps the punk spirit onto an otherwise simply high colour outfit. You can dress this look down with black tights and boots and for a more pared down effect. 
Above to the right is a beautiful coat and dress ensemble. Prepared for all weathers and all eventualities this look will also keep you warm and dry. I noted that the cross- front of the coat with it's small size zip partially covering the opening of the front of the coat both emphasises using what you have to the best of your ability but is also a very stylish innovation. That is what the collection really is about at it's core I believe. Beauty coming from strength, determination and innovation and also practical and more meeting the purpose for what it was designed. 
Below to the left is another look that layers different fabrics and introduces the fringing design theme in the wrap scarf. With rubber disk details doubling for feathers for me this piece in the collection brought in echos of North American First Nations traditional textiles and design. I think if you want to look at how a group of people have survived through ingenuity in challenging climates and shown the greatest respect for both the natural environment and the need to use and re-use resources around them then First Nation culture is a vital reference point. Also they have such a beautiful craft tradition to draw influences from and endless creativity.
Cardigan's are wonderful things and should quite rightly be a feature in themselves. The look above to the right shows how a carefully crafted piece can become the centre feature of a beautiful outfit along with simple wardrobe staples such as fish-net tights. The design detail here is truly beautiful, such delicate crochet.
To the far left another look at my favourite sweater and skirt combos from the collection. The plunge V-neck style allows for off the shoulder variation. The loose thread detail that runs through the design in places. 
In the center look, vibrant orange contrasts with Magenta in a bold colour cocktail that whips up a heady colour mix. To me it's the visual equivalent of sharp clear fruit juices and looking closely shows you the chunky knit detail of the jacket sitting over the sleek skirt and light sweater. The long tassel thread detail hanging from the jacket brings a carefree flavour of design to the look and gives a great swing as the model walks. 
My last pick from the AW 2015-16 collection is a graffiti print dress that hugs the figure and with a cute collar and front button detail is a great going out dress. The layered light Magenta jacket falling just below the knee is an elegant separate that works beautifully with this dress but also could be interchanged with quite a few things from the collection. 
This autumn will be rocking with colour at Sibling and I for one can't wait.  
All images with kind permission of Karla Otto on behalf of Simone Rocha.
Above the centre of the range of looks I've picked out a dress with a similar design theme to the first one that I showed. With a shot from the front and also a close up from the side you can see the detail of the strips that Danielle has put together that appear as a design feature across her website. The bold showing of the sewing stitches on the outside of the garment give a strong emphasis to the craft and 'making' emphasis that this collection gives as part of it's key messages. Also this material for me does evoke a reminder of the snake-skin a hint of that durable creature that learns to survive and adapt in many climates in Australia and beyond. 
To the left a look that shows asymmetry and colour blocking in the collections three main colour themes, black, sand and white. The collection features asymmetry in a several places as simple and effective design element to create a new look. The long earrings add almost a tribal look tot he outfit and show how starting from a blank canvas new culture can develop and new ideas can form. To the far left this dress again evokes first nations dress for me with the little leather fringe pieces resembling the feathers used in a variety of ways to decorate First Nations traditional clothing. Looking to the future a design twist is added with the open space at the base of the skirt. While watching this collection  I was thinking of Danielle's girls as living in an isolated community post-apocalypse perhaps and building a their own sense of fashion and style from the materials that they gathered around in. In isolation they are forming a new culture.  
Above the model wears an outfit using lots of tartan as a key design textile. In her brave new world perhaps this is a legacy from the past and cloaked in a heritage re-worked and re-modeled she's moving forward. I thought about the historical links between Scotland and Australia and also of the hardy nature that you need to be equipped with to live in both climates and for me this piece is also a testament to resilience. For Autumn-Winter 2015-16 Danielle's girl is wrapping up well in layers and keeping out the cold. To the right the simple dwelling that shows how a home can be improvised, made and created from little to begin with and still provide shelter. 
These girls are dressed for winter and facing all eventualities. I love the out-size neckerchief scarfs. They add a hint of the cowboy and wild west and it's that's also another reference to girls bravely taking on the wild frontier. Above is a close-up of a great Jersey top re-worked with a stitched in seem of pvc material. This outfit has the handy ability to be both warm and light and light. It's interesting to note that when fabrics and materials often used for non fashion purposes are re-worked into fashion they often produce surprising benefits for the wearer. 
A close up shot to the right reveals the delicate detail of the embroidered fabric that looks a the beauty trend in this collection. The high collar and fringe detail add an extra pretty touch of style and and the long strip material earrings again evoke a tribal design. This shot gives a close up on the beauty for this collection. An almost nude face is highlighted by a simple paint sweeping across the eye lids. In an echo of tribal war paint this minimanl looks takes beauty right back to the beginning.  
Above is detail from one of the looks (also shown in full length to the left) that shows the open sash design. The dropped waist dress looks durable and strong while still illustrating the successful use of fabric in the design. It's a simple style to wear and make a statement in. To the left more detail from the lower part of a dress showing the use of the design motif. To the left a really interesting coat - one of the most fascinating looks of the collection. It's made in many layers and appears to swirl around the figure in an extraordinary way. Still is remains light on the figure while being warm and insulating against the cold. 
To follow a closing look at the collection featuring some more designs using Scottish textile patterns. The look below to the left is a great fusion of lace and light knitwear mixed with a long asymmetric skirt that flares gently in an a-line shape. With an extra panel across the body of the dress this look is a chic and neat outfit to wear for dinners or a party. Center is another very cute look that I like with the gentle shawl-wrap around the shoulders with fringe detailing echoing Native First National American feather designs. A close up of the tartan fabric to the let closes my look at this collection. It's very apt as I believe it's the oldest British textile
 that we have in existence
 so therefore it's the longest surviving example of British design known throughout the world. 
I find it pretty exciting to talk about how much I like knitwear and this look above to the left with simple skirt and sweater with long-sleeve thin sweater underneath look entirely perfect. For work and play this will kit you out well and will be a piece loved across several seasons. The sheer blouse in the next look teams up with the chevron pattern skirt that hugs the figure closely. A neat look that isn't too prim it's another flexible and very cute addition to your wardrobe. Centre above a drop-waist print dress emphases casual
 ease and fit while next to it the knit sweater and lose flowing skirt are two pieces that you can add straight to your wardrobe. The palette for this collection is muted this autumn and if you so wished you could add sparks of colour with other handbags and scarves to add another dimension. As they are though they are beautiful total look pieces for me. The brown dress and jacket to the right with the looped bow tie waist again is another super-cute design; versatile through and through. The look to the left with sheer blouse, bodice and chevron print skirt is another hot look that I would add to my wardrobe. With quiet confidence this pieces sets a natural tone of elegance. 
Below the neat suede jacket and dress in deep brown offer a stylishly inspired option for a suit look this autumn. The colour is deep and rich while flattering the figure perfectly. Next to it a perfect dress and coat combination. A forest brown with moss green lining it's this look will certainly fit the bill for your everyday life when the leaves start to fall and days get colder. For something special the deep berry coloured fur jacket and stunning semi-sheer dress underneath would be on my wish list. It's sexy but also warm and snug at the same time - how does Jasper do this? Playing with geometry transferred from chevrons to squares in the next look with the next number working a uniquely fascinating design. Lastly a great party piece for you to enjoy. A dress taking the semi-sheer blouse theme and re-working it into a full knee length dress with beautiful applique. 
I mused at times that this collection almost reminded me of Downton Abbey meets current day, girls raiding their Great grannies wardrobe. And well why not - the results are spectacular and we can all benefit from some of the decorum of the line and form in the styles of that era. It's a very strong collection that I think will leave many of Jasper's fans very happy and draw many new eyes his way. 
The look above features a beautiful wrap-around design where a cloak becomes a dress and vica versa. With Familiar design hall marks of fringe ruffles and large applique features these two looks carried off a fresh 21st century take on Tudor-bethan style. The bold red and white dress evokes the richness of the fabrics of the era. Wrapped against the cold, Simone's girl wore her hair loose in an unstyled look like a girl who had no intention of being presented at an Elizabethan court. There is both style and anarchy here in a funny and beautiful way. Giant sized pearls frame the hems of the garment in what is becoming a classic style touch from Simone for the most decorative of boarders. 
Centre above is a look that echos the same style in different colours. Again the style of draping across the figure is really beautiful and echos the natural curves of the figure. It also has the natural rescued, re-worked look about it off heritage textiles transformed. To the right above is a beautiful two piece suit that drapes the upper part of the figure in flowers in the most beautiful black velvet. I think this is a very interesting innovation for a jacket style that looks so beautiful. 
There is a lot of exploration of fabric in this collection and I really like Simone's playful combinations. Above to the left a combination look of a light blouse and floral pattern dress. Using different textile combinations in free flowing designs is always the start of an interesting look and this is a standout piece from the collection as it's simply so bold. In the centre a beautiful dress with floral themes that lightly hugs the figure. sitting very lightly on the figure this is a bright day and evening look for Autumn that has colours that would also look lovely around the Christmas Party season. Flower petals on the face have the design bursting into life. 
For my last look a the collection for this season here is a beautiful red and white dress above right filled with beautiful patterning and design detail. With hints of autumn leaves, this brings to mind the charm and passion that you can find on an autumn day or evening and perhaps the hints of Gingham suggest a late Summer/Autumn picnic. 
I love seeing Simone's collections each season and seeing her ideas take shape. It's satisfying to watch her brand grow internationally and I'm sure we will see more great things from her.