A Blush of Rose
ablushofrose.com
London Fashion Week Spring - Summer 2016 Part 3. 
More style and taking breakfast very seriously to start a show filled day.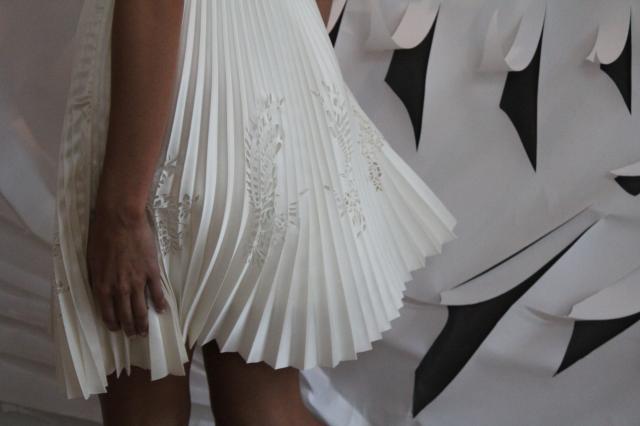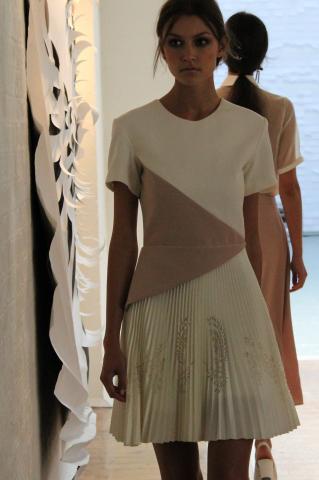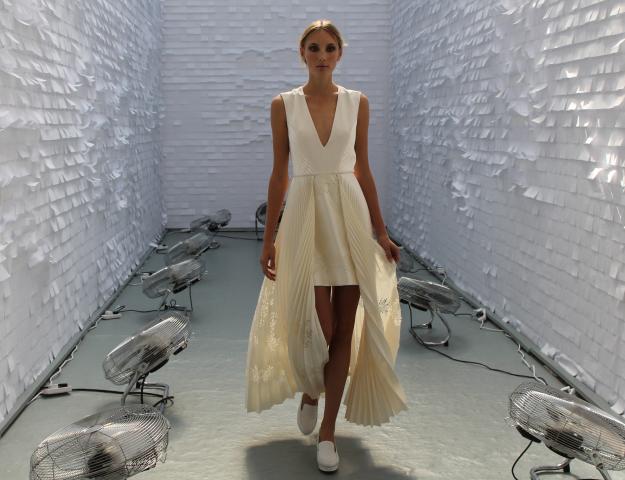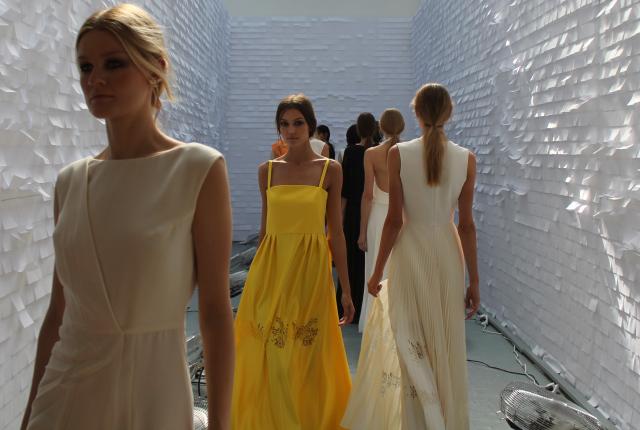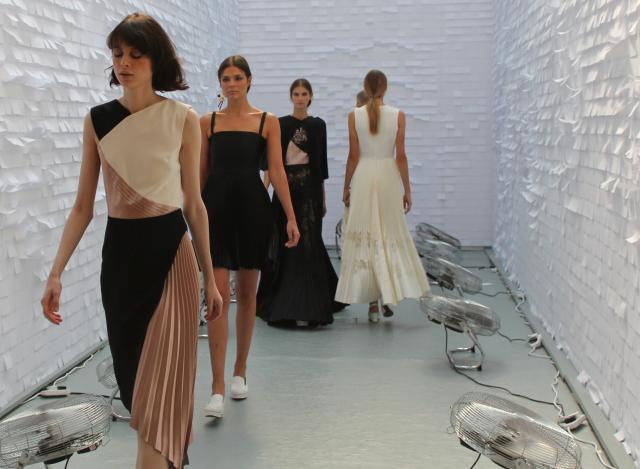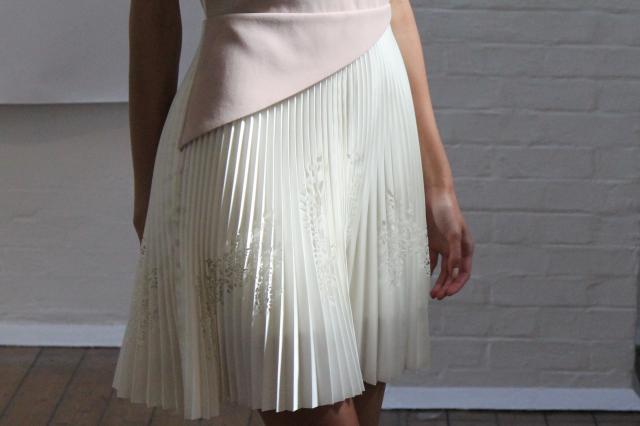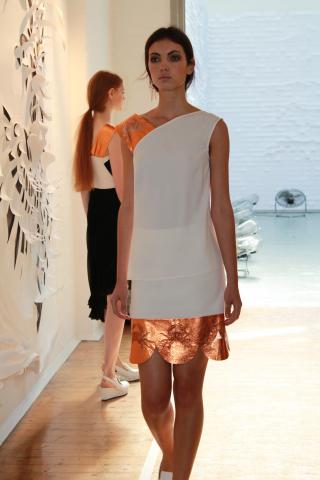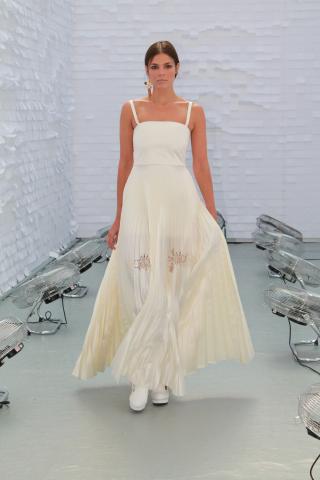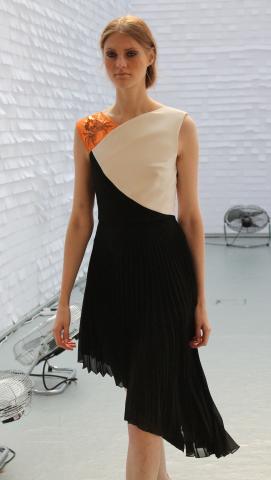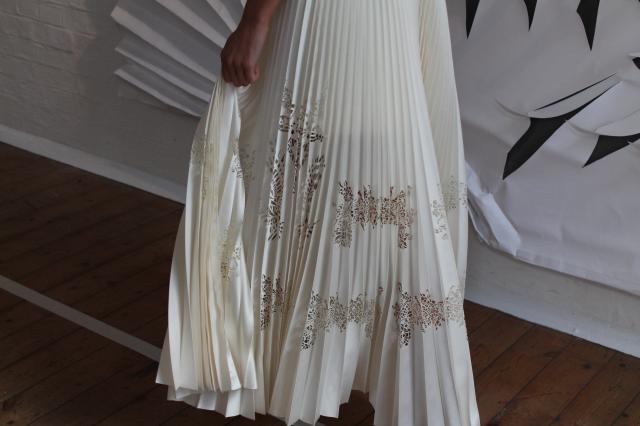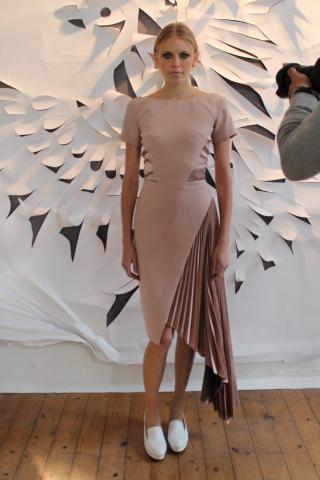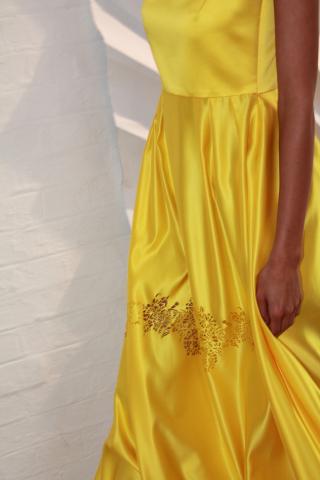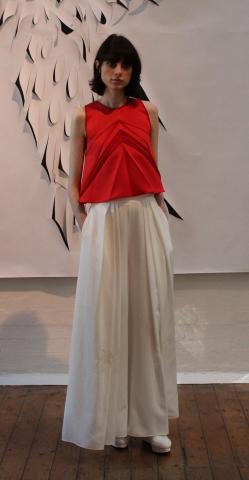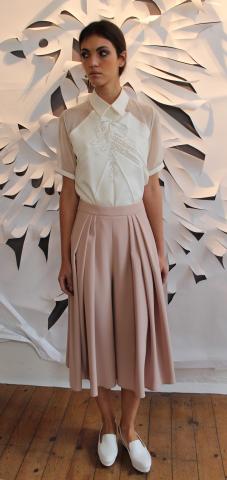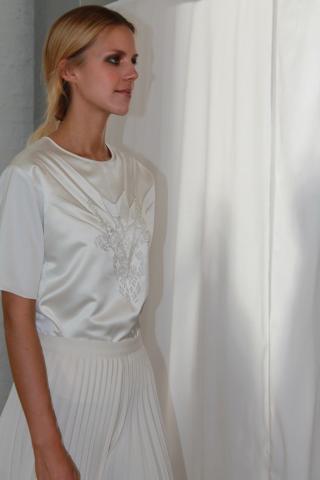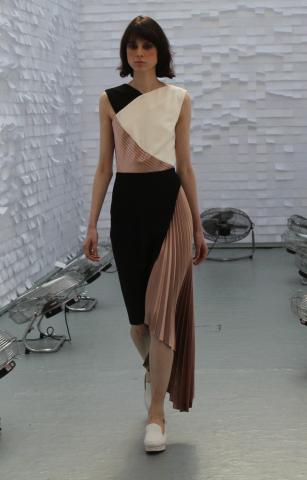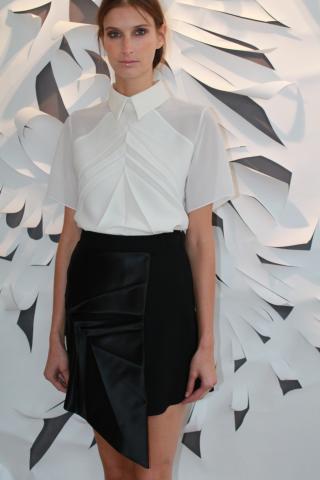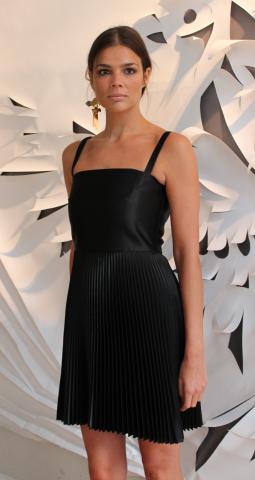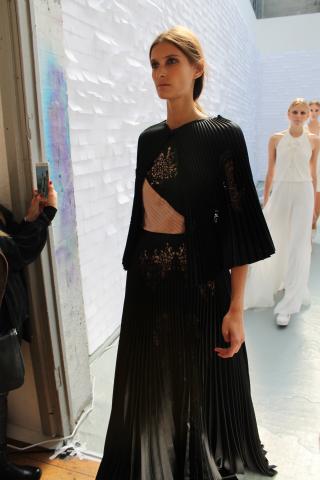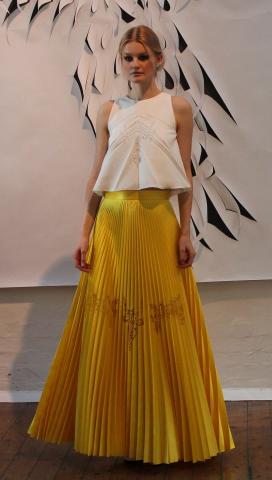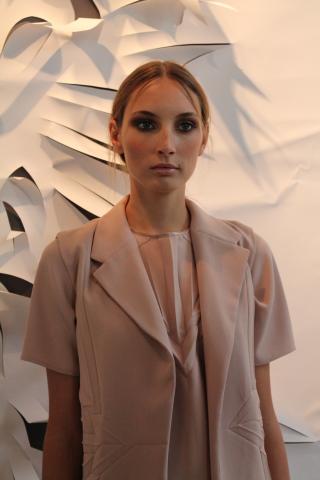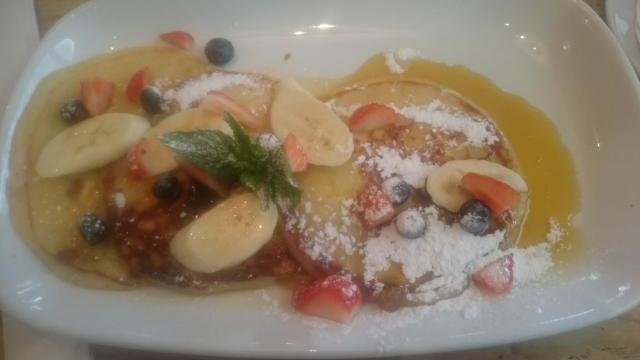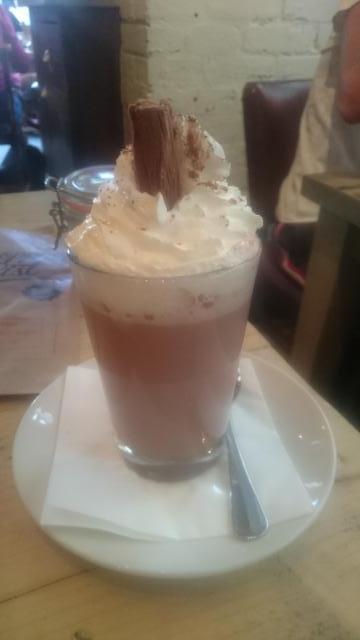 Another helping of style from some more fantastic names. I started with a hearty breakfast in SoHo at Bill's coffee house right next to the Brewer Street Carpark, that was fast becoming my second home. It's pretty to have such a great all round diner on the doorstep at Fashion Week and the kind staff where very helpful to the fashion hoards who where descending en masse to their establishment during LFW's first season at it's new home. 
Georgia Hardinge - A Sculptured label and a keen eye.
Georgia is one of the most interesting young designers on the Show Schedule at London Fashion Week. Born in London and growing up with an international education culminating in her architectural studies at the Parsons School of Design, Georgia brings an eye to her designs that mature and sophisticated, yet she still has plenty of curiosity and is looking to explore and brings fresh surprises each season.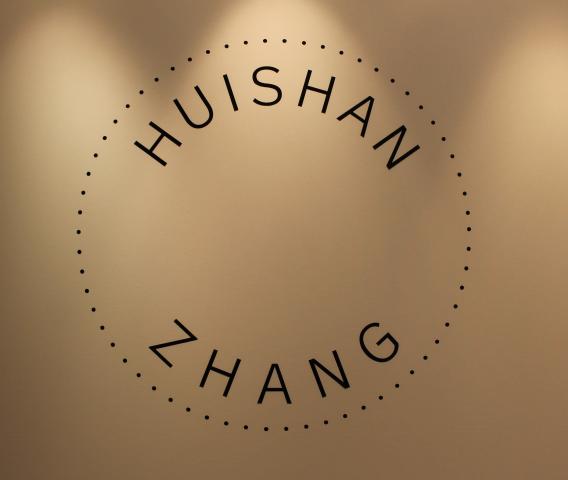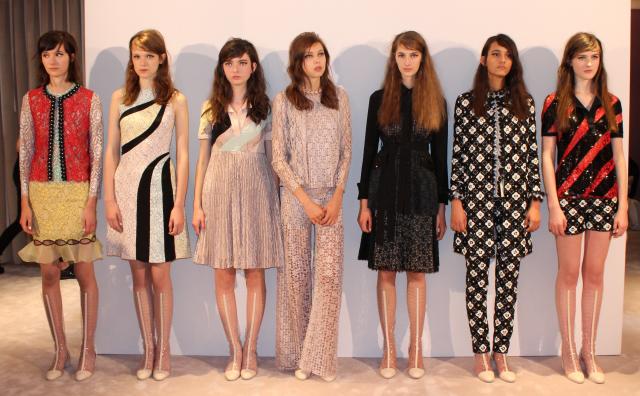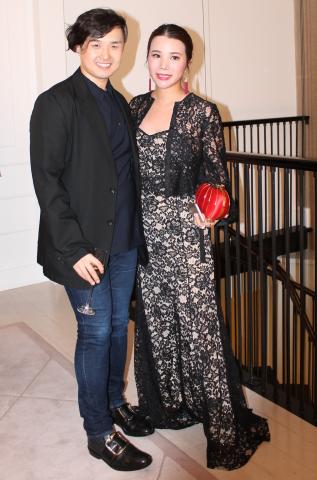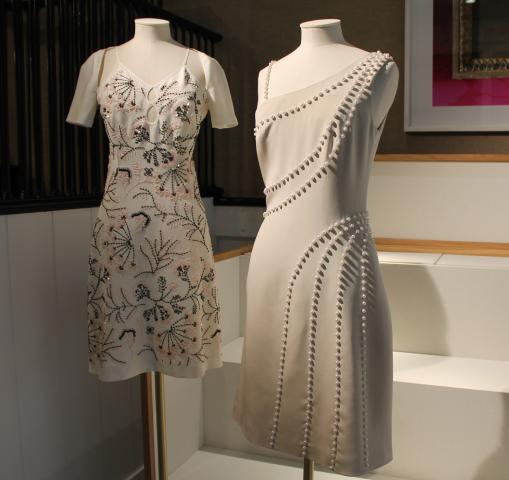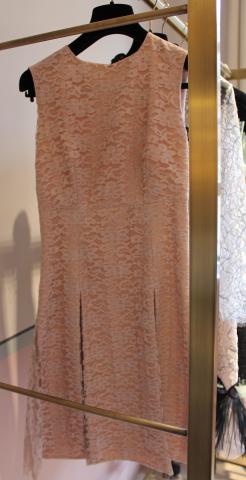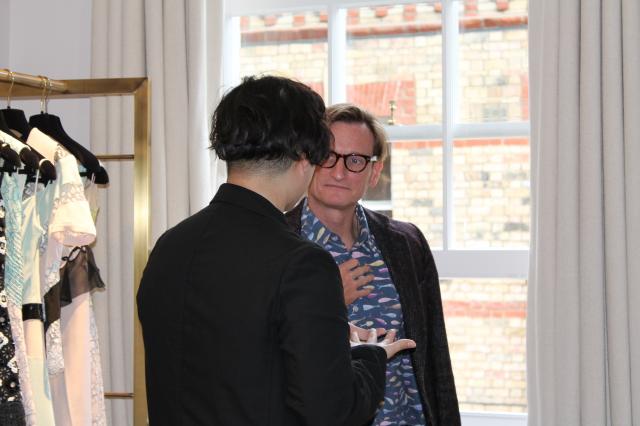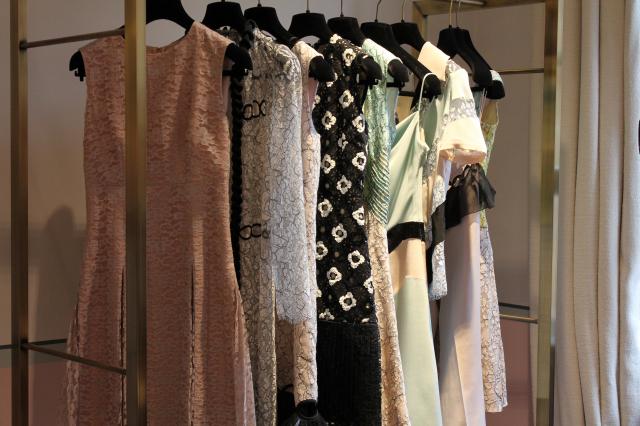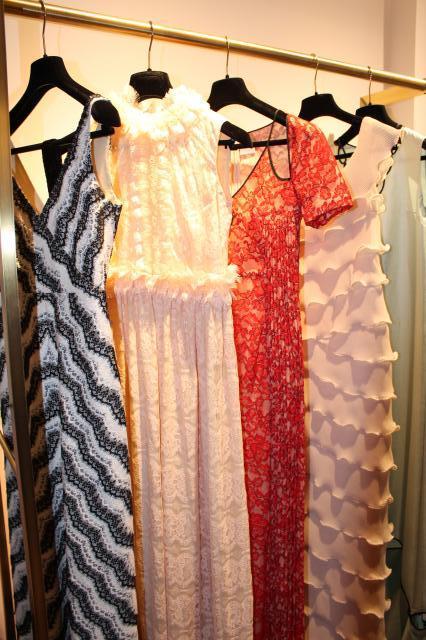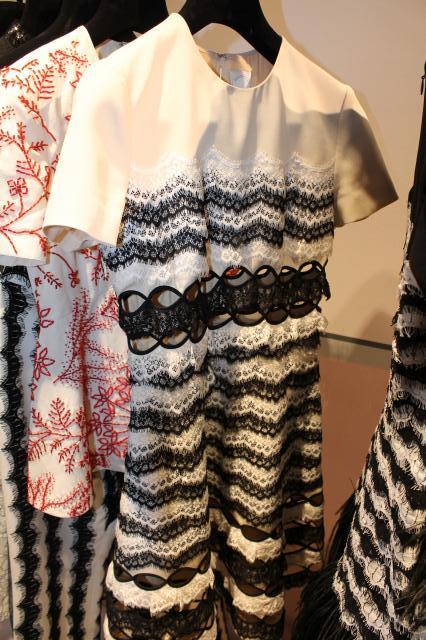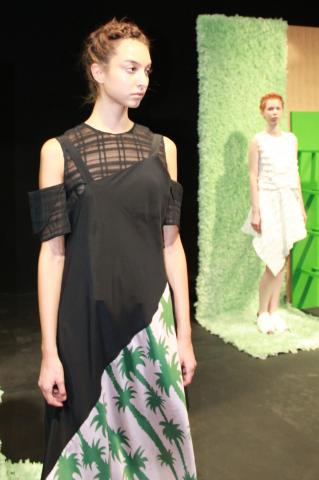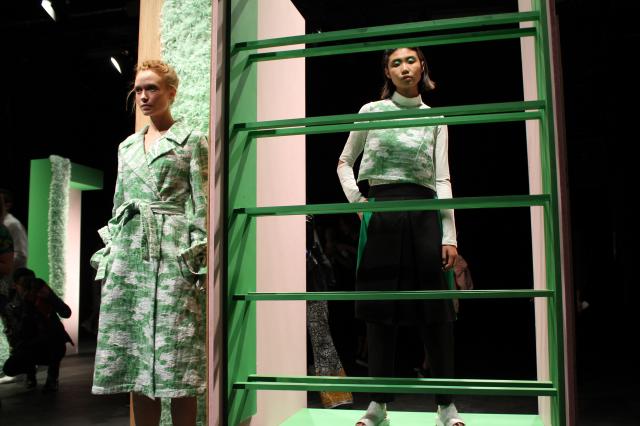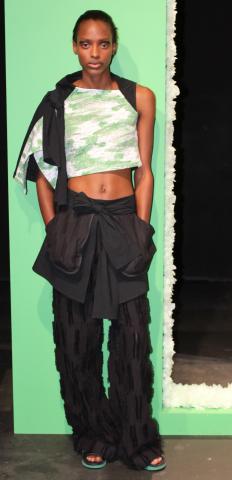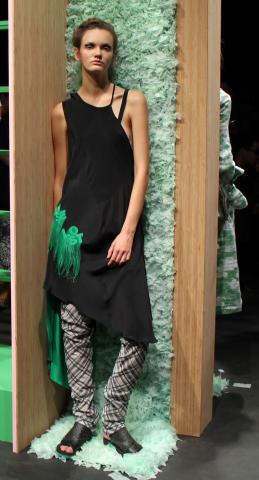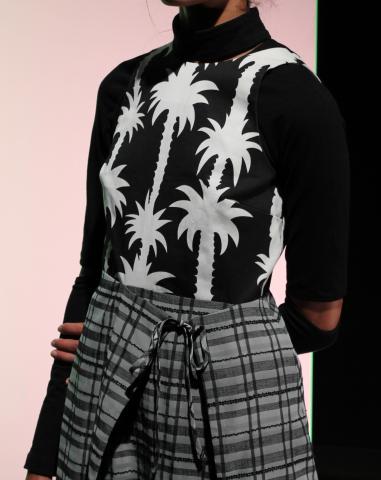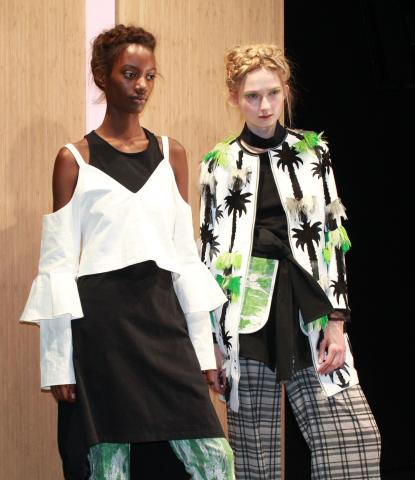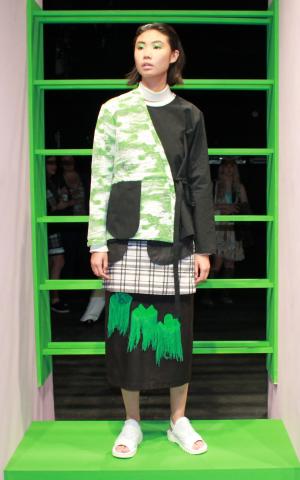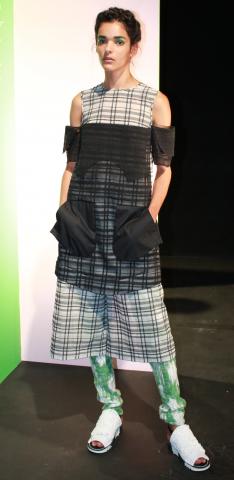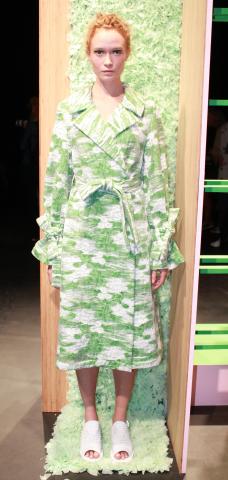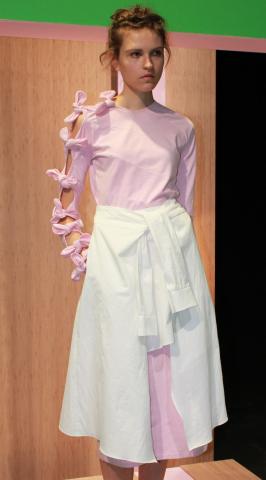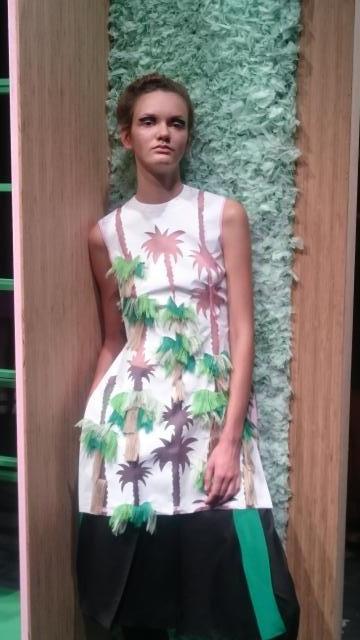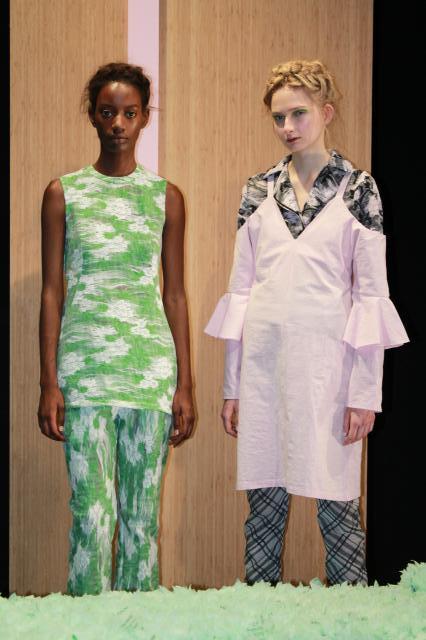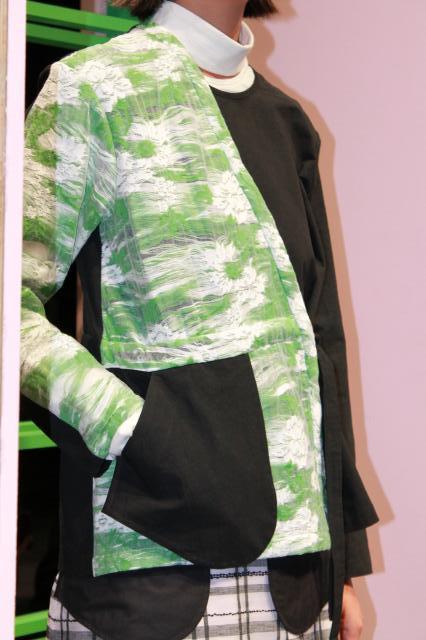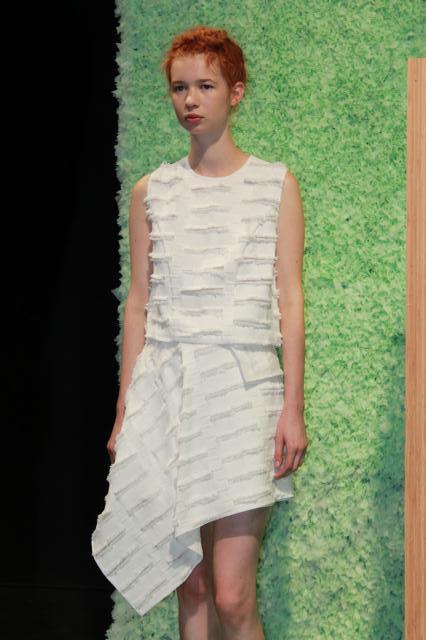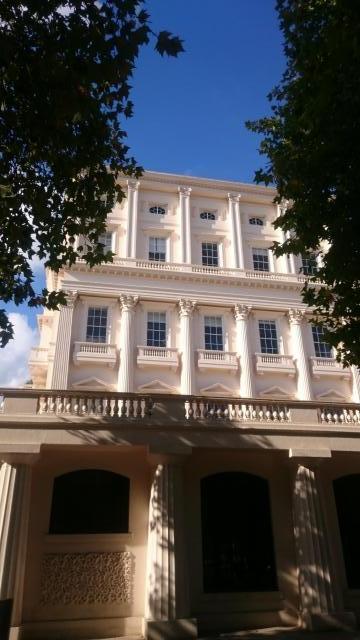 For Spring & Summer 2016 Georgia unveiled the Dynasty collection bringing heaven to earth taking inspiration from the constellations of the astrological Zodiac. With friends Laura Bailey and Annabelle Wallis on hand plus some supporting family members the presentation was packed and one of the most hotly anticipated collections of London Fashion Week. An truly international group of press gathered in to see the collection for themselves. Season by season it's fascinating to watch Georgia's work grow and develop and this collection felt like another exciting step along the road for Georgia's label.   
The symbols of Scorpio, Cancer and Gemini worked their charms across the fabric joined also by the heraldic symbol of the eagle. Georgia's signature laser cut detail moved up a gear to embrace intricacy even more detailed than had been seen before and the sheer artistry here gives the designs an even more unique look. The laser cutting is inspired by old Japanese stenciling to create textures and shadows across the fabric. As you can see in the close-up I shot of the skirt below this gives a wonderful effect to the fabric as the wearer moves. Both the pleats and the stencil detail literally give a new dimension to the fabric. 
The colour palette is largely muted in this collection with lots of white and dusky rose blending with black. Colour is also for the most part matte in tone but contrast comes with shots of vibrant yellow, red and a deep orange-red that in some places is off set with a metallic finish. Thus embracing the neutral, the colour scheme gives the collection even further scope to be translated broadly into many wardrobes across the globe. These are pieces that sit lightly on the figure and are very comfortable to wear with strong day into evening power. 
Georgia's laser cutting and pleating in combination are a unique design feature that she has pioneered and are loved by her growing international audience. One of the things that struck me watching this collection come out was the potential for some seriously head-turning red carpet moments. This collection has many pieces that will suit the needs of someone looking for smarter leisure and casual pieces that would also suit well for some office environments. Where this collection also excels, in my opinion, is in it's production of evening wear for Spring and Summer events. There are a large number of pieces that I can 'see' appearing in front of the cameras in the Spring and Summer season. 
Georgia has found huge scope to play with in her chosen themes of the season and this is a collection that also has a strong international feel about it too. Her label sells globally reaching a large audience. Her training in architectural design has left the indelible trace on her work of a woman with a very clear eye for form and structure. Architecture and sculpture form two of her main inspirations in form and style. It's a corner stone of her work and there are few other designers so widely recognised who's work embraces the three dimensional sphere so evidently. 
Georgia's talent has won her recognition from many quarters and she is a recipient of the British Fashion Council's "BFC Contemporary" in conjunction with Ebay. She has also collaborated with Victoria's Secret and Swarovski and designed an exclusive perfume bottle for Lancome sold at Selfridges. 
It's also interesting to note that Georgia has won an award at the Berlin Film Festival for Georgia and her film for TopShop. So with architecture, fashion design and cinematography as part of her repertoire she certainly looks like a lady who has a deep understanding of many mediums of communication on the arts.
Georgia's fascination and enthusiasm for fabrics and breaking new ground in her use of textiles is infectious. 
It was pretty fare to say the Dynasty reigned supreme at London Fashion Week for Spring-Summer 2016. You can read my other feature on Georgia and her collection for Country and Townhouse magazine in the UK here and like me you could be eagerly waiting to see what comes next from this leading lady.     
Huishan Zhang - Bringing hints of Haute Couture to London Fashion Week.  
Huishan is a very talented designer and one of the noted alumni of Central Saint Martin's Fashion School that show their collections on the London Show Schedule each season. As his name grows internationally he's committed to building his label in the city where he graduated and we're very lucky to have him. 
Huishan is well known in the industry for having spent time during his degree studying at DIOR in Paris. During this period he spent six-months in the Haute Couture atelier and I think that when you look at his work it's easy to see where this has left an indelible mark on his work, and certainly it's no bad thing to carry such experience with you. For me you can see an extra emphasis on delicacy and clarity and a refinement that often comes across in the Haute Couture collections and when carried across to Ready to Wear this is a formidable expression and signature to add to your signature line. There's a lot of fashion out there to explore each season in London and Huishan has carved out his own niche in creating a luxury ready to wear line that's truly international with light touches of Parisian and international chic. 
Huishan knows how to create a selection of smart formal and semi-formal wear occasion looks that will slip easily onto your wish list and adequately take care of the needs of many women who are looking to be well dressed for those special events through Spring and Summer. When you speak with Huishan (as Hamish is below - more later) you become very aware of how much he has the woman in mind.
Above to the left and centre you can see two of my favourite looks from the collection in soft baby pink with the most delicate embroidery details adorning the dresses. Both relativley simplified to the eye in their elegance they are super-versatile pieces that you could enjoy through several seasons.  
The Modus Operandi boutique in Belgravia played host to the presentation in their beautiful mews studio. Tucked away from the bustle of London a bubbling crowd of the international fashion elite mixed together and it was great to catch-up with some familiar faces again. Hamish Bowles and Huishan had a really good chat, Hamish is tasked with being impartial as ever but I personally felt that he did enjoy seeing much of Huishan's collection. Hamish, always sprightly and interested is always interested in hearing from the designers themselves. I can't claim to know him well but when I come across him I get the feeling of a very special person. All young designers are on a journey and although Hamish has seen far more than me over the years,it's fascinating to watch them grow.
Below are a series of looks that explore the Red, White and Black colour themes within the collection. I've put in a number of my close-up shots to focus on the detail of the embroidery that is in the designers and the play with texture that Huishan brings into the collection too. There's a strong game in interchangeable separates as well as chic cocktail dresses that allow you to show your legs. As I browsed the collection with other editors and buyers you could see the ease at which people where 'outfit planning' around the looks. This is not conceptual fashion this is ready to wear and off to the red carpet fashion. 
A number of international friends also joined Huishan for the launch of the Spring - Summer 2016 collection and we said Hello to Chinese actresses as we sipped our drinks and looked through the collection. You can see broad smiles all round. Below you can see a number of dresses that I wanted to give a special mention to as I felt that they combined many style elements that would easily translate to giving them broad appeal. Embroidery features heavily and so does play on layers in many places as a key feature. For many of the looks a discreet clutch, CHANEL, Dior of Valentino would do just the job of setting the look off to perfection. Below to the right is another of my favourite dresses standing by the mews-stable door (just out of shot was another cheeky Leopard watching the show). This is a classic long-line gown that is detailed with exquisite embroidery and is a perfect black-tie/red carpet piece that could be worn globally.
But it's not all classical composure this season for Huishan. He showed us that he is very capable of mixing it up and adding bohemian elements to his collections, retaining that sense of free-spirited design and creating for multiple audiences. 
The collection doesn't feel confused at any point for this, in fact it all hangs together very well as part of a broader tableu with a good deal of verve and momentum. 
I'll leave you with this last dress that went on my wish list, a beautiful piece in shell-pink detailed with tiny pearls as the seams of each layer that created a look of waves and layers that had us thinking of the sea, water and summer parties by the pool or by the sea.  
Danielle Romeril - Sustainable Fashion in the driving seat.   
Danielle Romeril is a young designer making her own unique mark on London Fashion Week with a strong suit in ethical sustainable fashion that carries it's key messaging not only in the fabrics that are being used but also the design that she creates. 
Looking at Danielle's collections, nature and nature themes are always a really strong part of what she's uses to communicate her ideas of form and beauty. The theme for the Spring-Summer 2016 collection was 'Paradise Lost'. Her protagonist or muse this season has what she described as an 'impoverished beauty' showing both elegance and a sense of being 'undone'. There's a hint of a wild free spirit here with strength and without pretension. 
Following on from her tale of survival last season the Spring- Summer offering was set in a lush landscape filled with natural greens and hues. For this collection Danielle drew on twin themed inspirations both from the photography of Jackie Nickerson who's work showed African farmers in their working clothing and two shots by Photographer Viviane Sassen; one of which was titled Paradise lost and from which the collection takes it's name.  
The themes of light and life and colour run all through the collection and textures and colour pay particular head to the rich vegetation that can be found in the African landscape.
As with her previous collections, there is a clear practical aesthetic that Danielle's work embraces that mean that her clothes are both comfortable and utilitarian. Danielle's girl is beautiful but she also needs to be able to survive in the world and the story she tells each season is one of a journey as well as day to day living. You can see the crossover from jungle prints and the mixed textile inspirations of African workwear into street-weer to capture the imagination. 
'Raw Aesthetic' is a phrase that often describes Danielle's clothes really well but she also weaves in soft touches of femininity to her collections which creates a very natural harmony within seemingly opposing elements. Danielle's girl this season wears her strength lightly. She doesn't carry a heavy armour, rather you more have the impression of a natural girl in the world exploring her environment with clothes that are light, delicate and feminine. There is a natural sense of grace that I think Danielle captures here very succinctly. To use the term 'Noble Savage' would be going too far, it's more a case of a noble, innocent raw beauty making it's way in the world.  
Above the trouser and dress combinations work a look of easy practical elegance and the green light two piece outfit makes a beautiful Summer suit that could be worn for many working and leisure environments. The colour is so fresh it brings the life of the tropics to you. Next to it playing with different textures and fabrics in a great combination layering effect this look makes a creative statement as an ensemble, the pieces could also be worn separately or the dress by itself for day and evening - wear and the shirt and trousers together. Above to the right the white skirt and blouse play with texture against the backdrop of sheer white for a versatile look that will also suit a wide variety of shapes and figures like much of the collection.  
There's nothing that says Spring quite like seeing green shoots and leaves in abundance. Palm leaves form part of a multi-textured collage on the jacket above to the left and in other places in the collection they appear in print detail. Keeping the colour themes simple and not too overstated in two shades of green and black and grey keeps allows Danielle to work different ideas into the look without it ever seeming too much or the eye being overwhelmed. The collection is bursting with ideas and using a layering technique of working with separates allows maximum flexibility for wearer. Danielle used cut-work cotton layered over muslin for the separates and teamed these with a jacquard embroidery. 
These are clothes with an international urban look that has neatly grown out of the agricultural background of the collection. Working themes of asymmetry across this collection shows an ability to mix form and style in a way that draws and intrigues the eye rather than over powering it. Flashes of green light burst forth, the power colour in this collection. Layering is also a pretty handy way to beat the chill of early spring. In parts of the collection Danielle uses Silk organza, that beautiful natural fiber woven into a luxurious fabric. Even as she faces the elements this raw beauty of a girl is also dressed in one of the most delicate soft raw fibers of nature. 
Far from Paradise Lost Danielle's girl is capable of making her own paradise and new reality as she walks in the work. The care and craft that has gone not this collection is very evident and Danielle's continued exploration of her style and design is a joy to see unfold this season.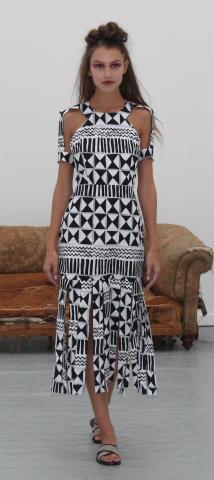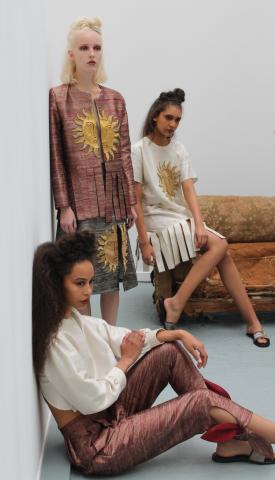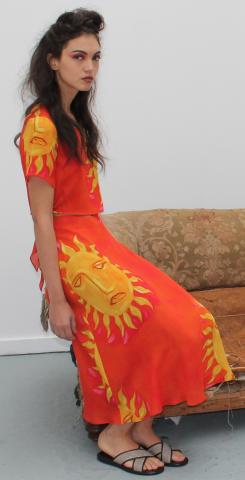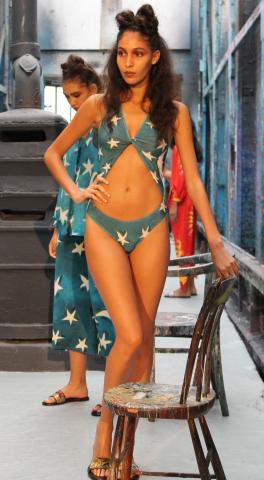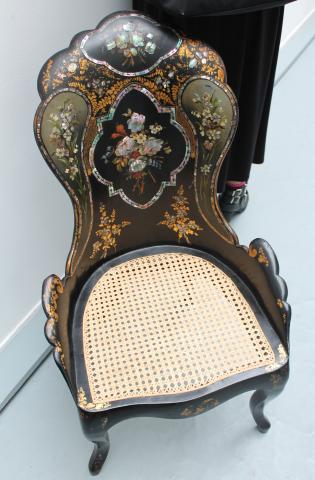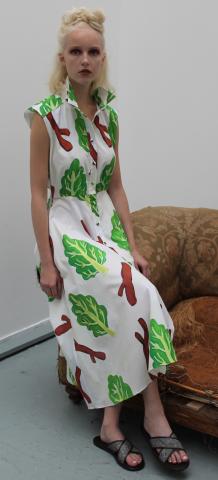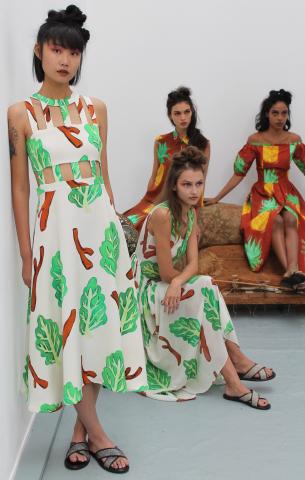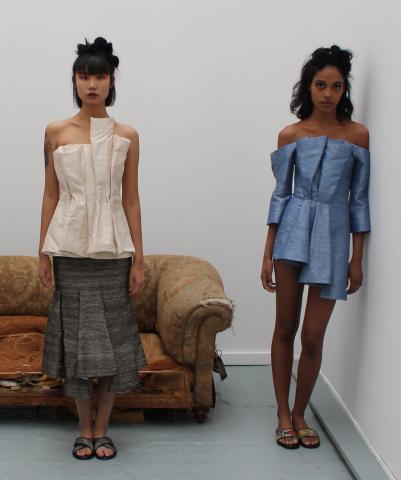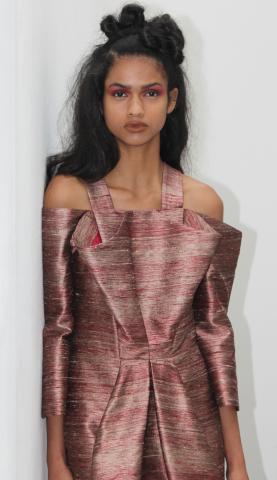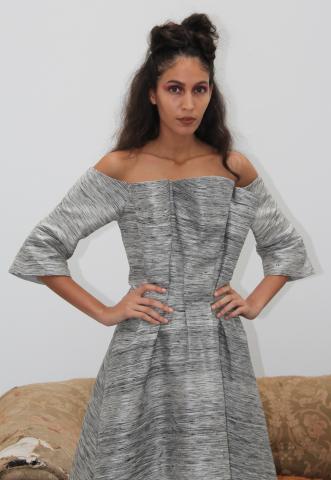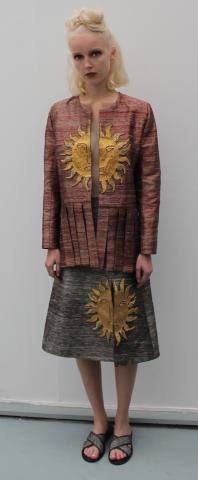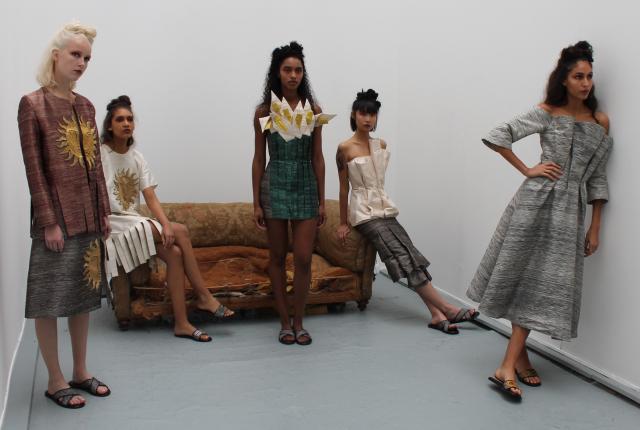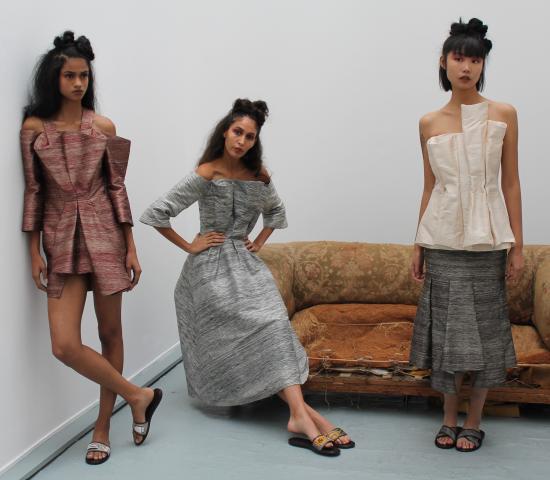 Tata Naka - Stepping into the South American sunshine. 
For Spring - Summer 2016 Tata Naka took us on a journey across the Oceans to South America and other far flung sun drenched climbs. There where unmistakable hints of Brazil and Argentina in this collection as bold colours and prints made their entrance into the designs that radiated glamour and confidence. 
Infusing their work with the references of magic from the Colombian Novelist Gabriel Garcia Marquez and Mexican Painter Diego Riviera Tamara and Natasha Surgurladze channeled the realism of the work of these artists bringing the rhythms of life and energy of South America into their collection.     
The collection opened with strong statement themes with the stripes of military insignia and honours appearing as colour blocking themes in the first part of the collection. It's a clear bold look at part of South Americas' recent history when military figures played a huge part in the lives of many countries. Also it's more than a passing reference to the influence that the cut and cloth of military fabric have played in Men's and Women's civilian fashion over the last 200 years or so. The South American Dictator, the El Presidente figure repeatedly enters the frame drawing on the influence of the novel ''Autumn of The Patriarch by Marquez. Overtly masculine themes of military dictatorship, power and strength are transformed into beauty and elegance with a new power when dressed on the female figure. It's a statement of power but in a new and different language. 
Tessellation and mosaic enter the collection next offering a contrast to the bold blocks of colour replicating the military badges and insignia. Above to the left the dress with the tasseled skirt is a carefree piece that would look fantastic for parties and summer days and nights. The carefree structure of the lower skirt again contrasts with the notion of rule and straight lines. This is the spirit of style and women breaking free but still with the restraint of controlled, stylised design.     
One of parts of this collection that I fell completely in love with was the use of a beautiful Silk Dupion type fabric that has the effect of grained wood running through this. The twins created a series of looks in this material in different colours and this part of the collection provided ample room for explorations of smart cocktail wear outfits to be worn potentially through several seasons. The collection is also super-versatile in mixing complete looks and separates that can be mixed and matched with other pieces that have a classic feel to them. 
There's something mesmerising about the gentle folds of fabric that make up the design of these pieces. They make a beautiful design across the bodice of the dress and capture the carefree elegance of South American high glamour. We've all either met or heard about the famously powerful beauty that many women from that part of the world embody and these modern classic designs have the feel of light fresh luxury about them which is a style must-have. The ankle ties of the trousers have echos of carefree days on the beaches and island adventures borrowing a little stylistic note from menswear in the pleats around the waist. There's a tiny hint of sailor/cast away style giving an extra spin on glamour and adding to the Sexy Chic vibe. 
I couldn't resist including more close-ups that I shot above to give you the opportunity to look in more detail at the fabric in these pieces. Working the fabric into a form that looks almost like light ruching creates a simple but effective statement adding to the allure of a modern look with a cool unique design Aesthetic. Off the shoulders and sitting high above the knee gives a gentle sexiness that sits easily on the figure and will be comfortable to wear through an evening. This is not abstract conceptualised fashion this is something that you can live with and ooozes classic femininity. Tata Naka always have a very cool eye when it comes to set dressing with and eye for the beautiful and finding effortless ways to make a place elegant. I adored this chair to the right above which makes an excellent one-off piece to decorate a hall way or dressing room. 
Nature elements such as the Moon and Stars have a huge traditional role in the cultural history of South America and the most potent symbol of strength is the Sun itself. The blues of the night sky lend themselves easily to the casual relaxed fun of the pyjarma-style trousers and shirt combination to the right. Tata Naka made some very fun bathing suits in this collection and I was dreaming of the beaches in Rio around the time of the Summer Olympics. 
There's a strong sense of spirit in these pieces and the harmonies of rural working life for the subjects of Diego Riviera's paintings and frankly you'd have to be pretty crazy not to find the fun and enjoyment in the pineapple swimsuit with it's beautiful bow-tie at the breast. 
Strong nature elements continue as driving themes of the collection and the fresh green shoots of spring time are evident across many of the looks of the collection. Drawing on the rich green vegetation that permeates life in South America the strength of green in print on fabric and also in raised embroidery relief is crisp perfect floral note for a Spring-Summer collection. Long Summer dresses are super-flattering to a variety of figures and these looks have broad appeal for leisure, evening wear and cocktail parties and for more casual working settings. 
The beauty themes for this collection where kept soft and informal and with a fantastic Pink around the eyes, something I've played with myself in the last few years in trying new beauty looks out of hours. It's a great idea for 'going-out' make-up and is actually a lot more subtle than you might expect. 
This collection for Tata Naka was an absolute masterpiece and shows why they have won so many Fashion Awards across the last decade including the New Generation Award at London Fashion Week and been adored by Sarah Jessica Parker's character Carrie Bradshaw in Sex and the City and Cameron Diaz and Mina Suvari to name a few.