A Blush of Rose
ablushofrose.com
September and October in London and Paris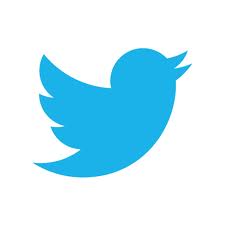 Beulah, the ethical British Fashion brand is going from strength to strength and this summer they launched their Autumn - Winter collection at 5 Hertford Street with good friend Donna Air. 
The themes for this collection where inspired by the pared down chic of Dior's New look from the 1950's and used a sophisticated simple colour palette of smokey rose, black, white and midnight blue to create an array of very desirable looks for the coming season. 
Alongside desirable contemporary chic Beulah's message is carried alongside the clothes. Founded as a means to create a project that would also give a livelihood to vulnerable trafficked women in India, Beulah also espouses the broader ethos of tolerance and kindness and wellbeing that can be found in many ways, amongst friends and family and also through wearing beautiful clothes and colours. Fashion can lift our mood and make us feel strong.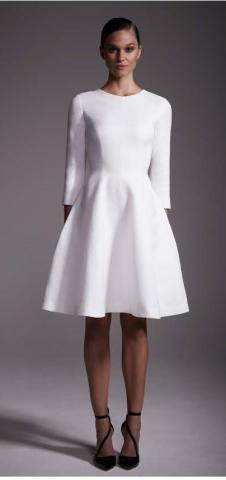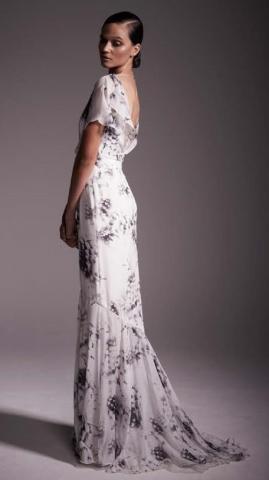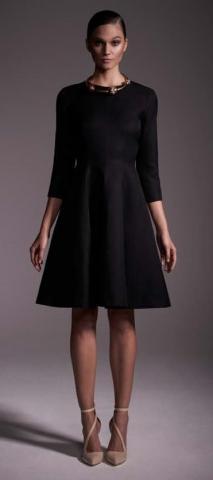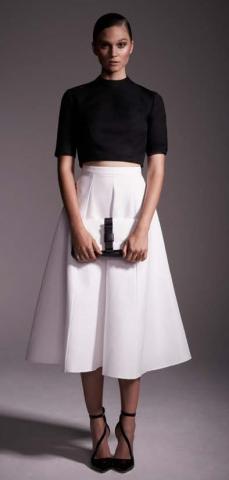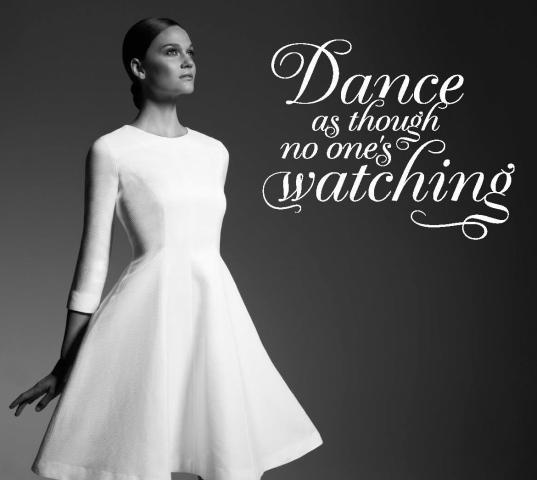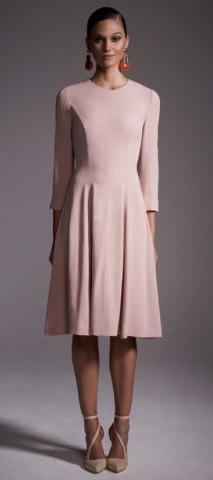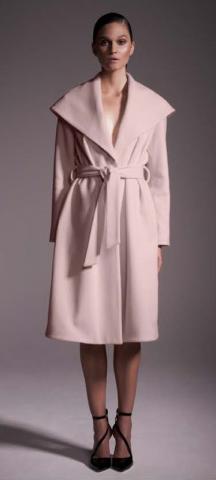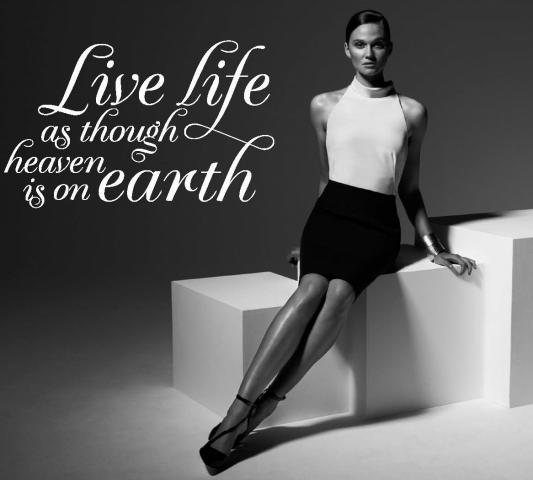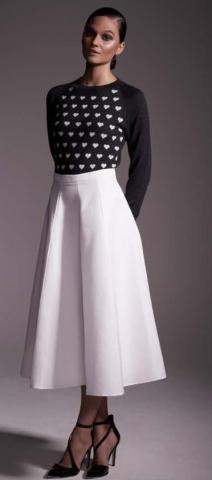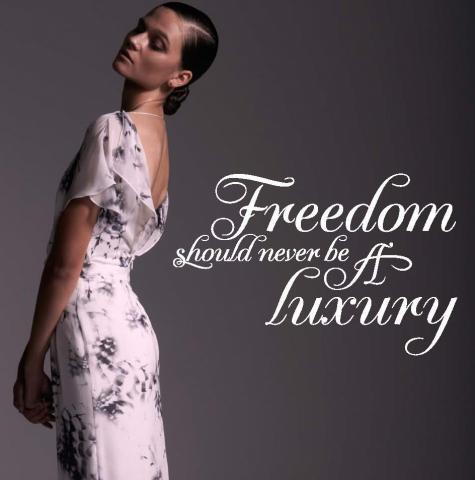 This season's collection is entitled 'Enlightened' and with this theme of peace and illumination the collection opens with two looks in white. The dress above is a flattering figure hugging shape that's very versatile. It can be worn in casual or career environments and will suit many figures. The white coat dress next to it, the 'Chiara' is also similarly fitted and flattering to the figure. Regular Beulah watchers will recognise the Porcelain dress, center above. It's one of their popular classics from previous collections and returns this season in a new print. It's a beautiful floor sweeping gown that adds maximum glamour and has a real head-turning effect. 
To the right above are two stunning pieces in pink smoke. The 'Seraphina' dress above in white is worked in this beautifully coloured fabric. It's a great dress that you can wear by itself or team up with a cashmere cardigan or jacket for a coordinated look. Next to it is my favourite piece of the collection, the 'Lumina' coat. With it's broad lapels serving to keep out the chill and adding an extra layer of comfort this coat ties prettily at the waist in a cute 1950's Dior-esque style. You can even tie the sash at the front of the garment in a pretty rose-bud style. It's a colour that will flatter a lot of girls of different complexions and will look good on a 15 year old as well as her grandmother. It's one of those pieces that you would keep in your wardrobe for a long time to come. 
Looking at the collection as it moves towards evening wear a sexiness and chic enter the collection, but always with an air of understated charm. The black Seraphina dress above to the left is a very versatile look you could wear to many occasions and teamed with the golden necklace in the above picture it's a real show-stopper. 
Next to it the 'Lucille' dress in black and dove white is a great piece. Well cut and superbly fitted, it's still comfortable for the wearer and would look good on a lot of girls I know. It's another easy charm piece that could live happily in your wardrobe for many years to come. To the right is the Evangeline skirt teamed with the nightfall scarf. This piece skirt is a great separate that can be teamed with other pieces and I love the shape. This skirt is in optical white and it also comes in black. The nightfall scarf is available in the above bright white lights print and also the white feather print. 
I feel the spirit and emphasis of this collection is really about having fun, enjoying life and enjoying beautiful clothes. I really like the inclusion of 'mood boards' in this seasons press pack and I've included some of the boards in this feature as you can see. It's a great advertorial for the clothes and also re-emphasises the heart warming message of the brand that Lavinia, Natasha and the Beulah team are conveying through their growth and development of the business. Spreading the word is always good.  
Above is a great jump suit named 'Star' that works the ladies lounge suit angle. This look would work in the office or at leisure, it's very versatile and another flattering piece that could become a wardrobe staple. 
The next two looks to the right combine the 'Evangeline' skirt with the 'Delaney' white heart t-shirt and the 'Blythe' top. These inter-changeable pieces from the collection give great scope for playing around with different themes and ideas. 
Above to the right is the Moonbeam dress in navy and black which will be a great addition to your wardrobe ahead of the party Season as we move through Autumn. It's a great fun cocktail dress that I think a lot of girls will enjoy and the off the shoulder neckline also gives the possibility of teaming it with a silk scarf or wrap should you wish to protect against the chill evening air. 
I'm closing this look at the collection with another mood board that symbolises Natasha and Lavinia's key founding principle that freedom should never be a luxury. It's a thought to bare in mind every day as we move into Autumn and beyond.
CHANEL embraces Romantic Poetry for Autumn 2014 make-up collection
CHANEL have brought out their new make-up line for the Autumn and Winter season woven around the theme of romantic poetry and the state of consciousness and inspiration in love that duly inspires it. Taking it's cue from the friendships and inspirations that Gabrielle Chanel found among poets, this collection draws on a very sympathetic palette of colours, many of them my favourites, so I'm very happy to be sharing this with you.
The soft subtle beauty of pink is at the heart of the collection and CHANEL take the eyes as the starting point to work the collection around as, quite rightly they are windows of our souls and it's through the eyes, that the first bonds are made between two people who form a deep loving attachment and it's through the eyes amongst other parts of ourselves that contact and understanding is constantly renewed, refreshed and deepened. The phrase 'Seductions of the Gaze' is something that we can all relate to in life at one point or another. Slow lingering connections made this way can be the more lasting ones.
So this courtship dance begins with shades for the eyes. I will freely admit that I love them all and they are a suite of my favourite colours that will work themselves easily into anyones make-up bag. You can pick a favourite or two or three or more and blend them together.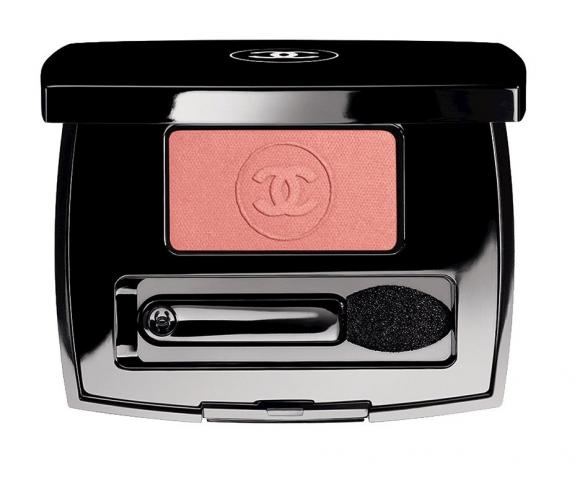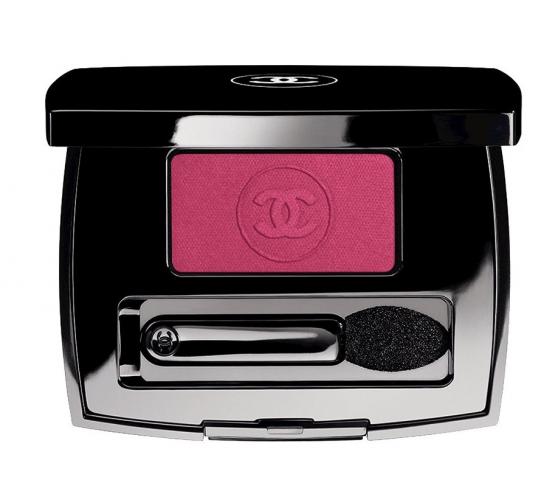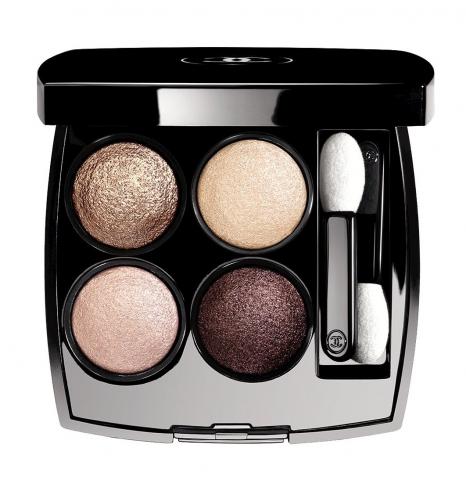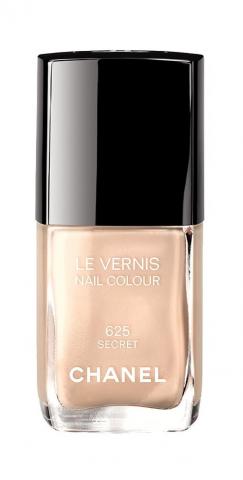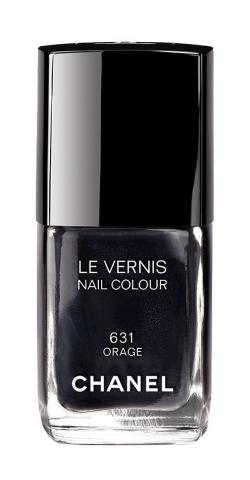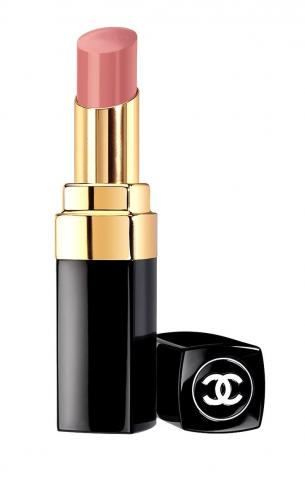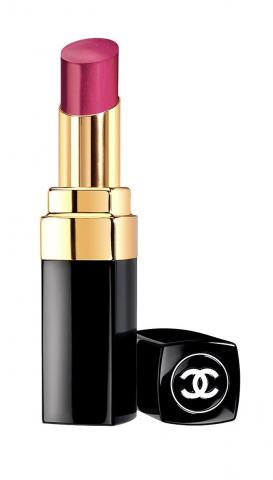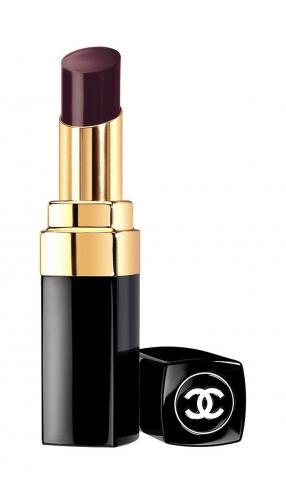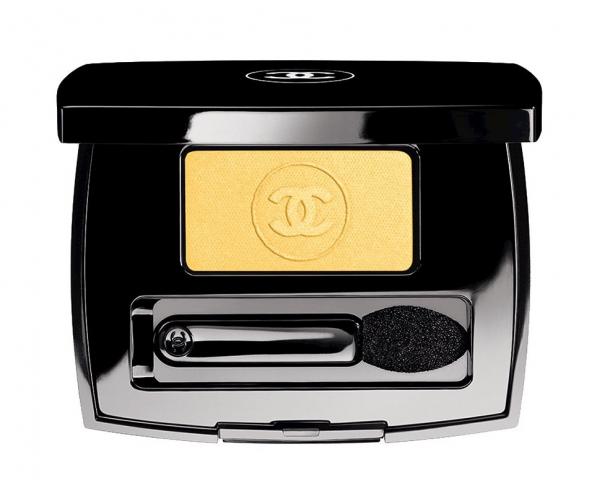 Les Annees 50's - mode a la France at Palais Galliera in Paris.


Following on from the Charles James exhibition at The Met earlier this year the broad skirts and neat lines of the 1950's return again for another celebration in Paris.  It's a coincidence as this exhibit over in Paris was also long in the planning but it throws the spotlight again in the era of glamour dressing. Post-war everyone was looking for a bit of re-invention and something new but also to reclaim part of what was known as civilised life as it had been before the war. 
Some journalists have commented that these clothes still harken to an era when women's life was restricted and their tight corsets reflect this. I can see their point a little bit but I still look at is as progress from what went before. These are outfits for women out and about in the world.  Many of the evening wear pieces are in fact light in their structure and easily wearable and comfortable. I think we are a world away here from the Edwardian era and very early 20th century.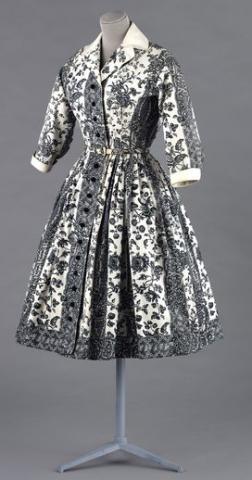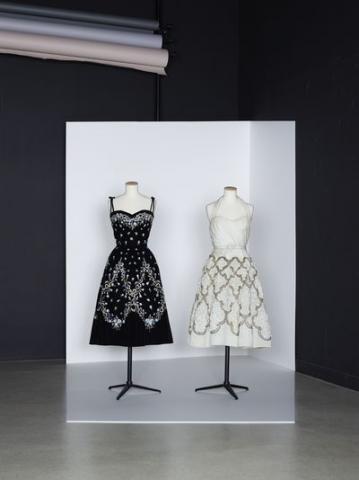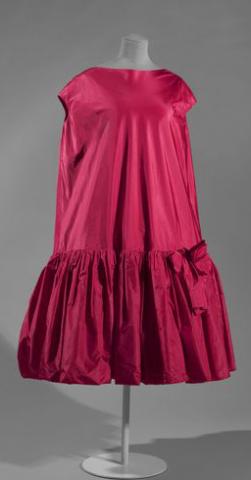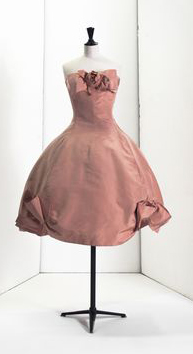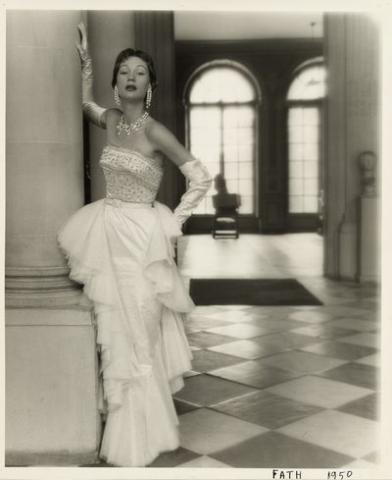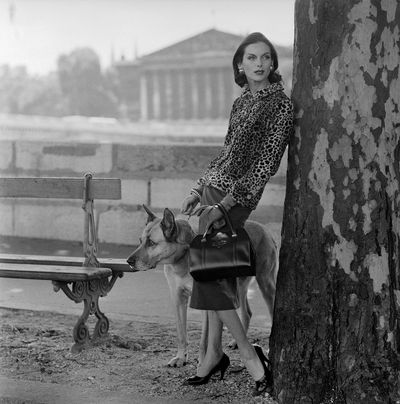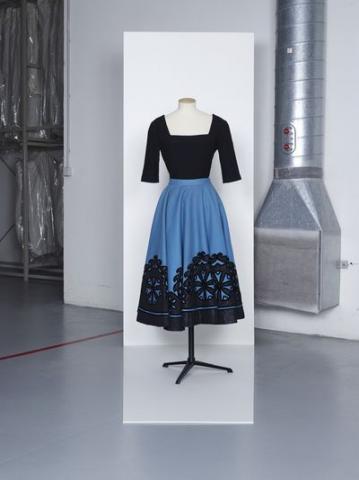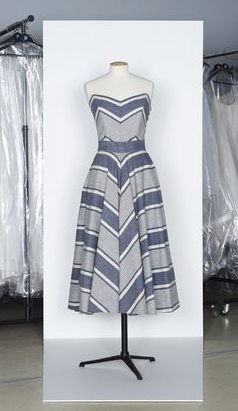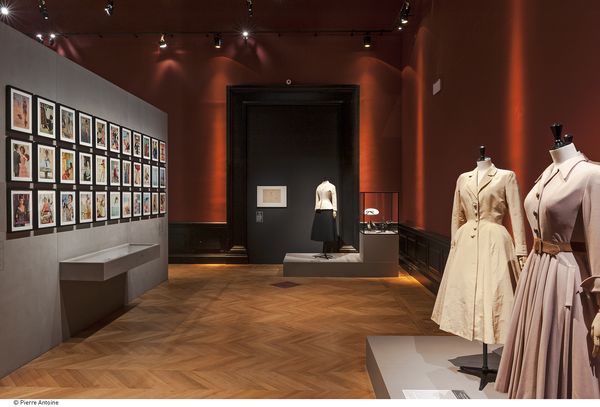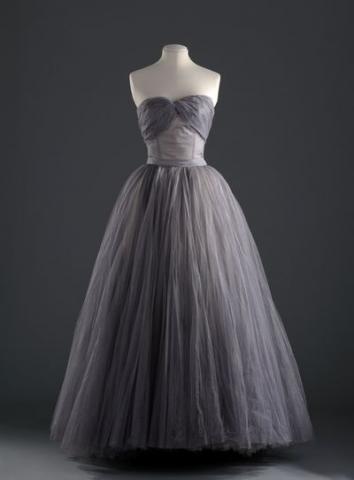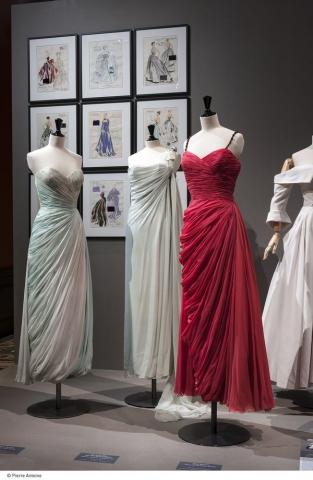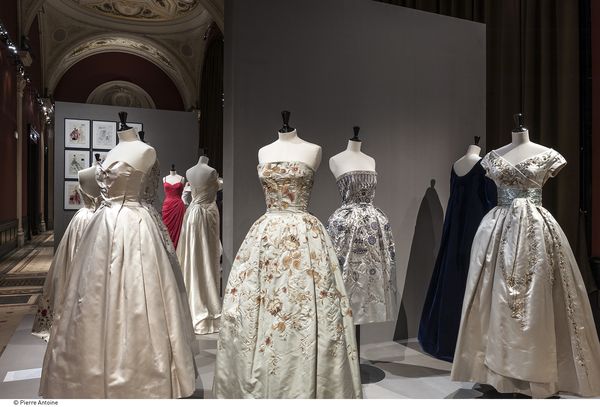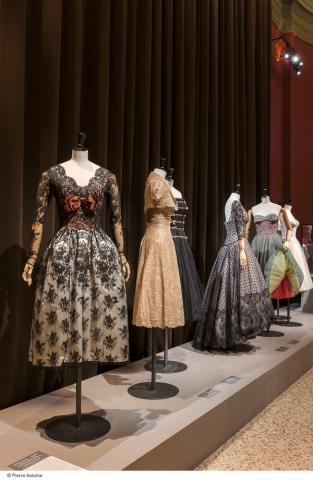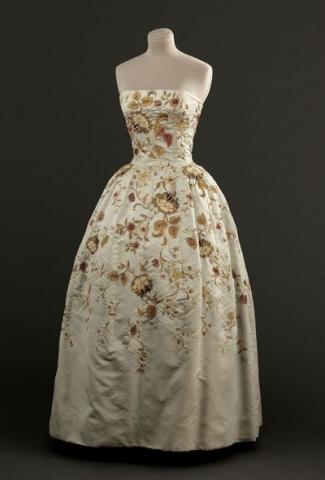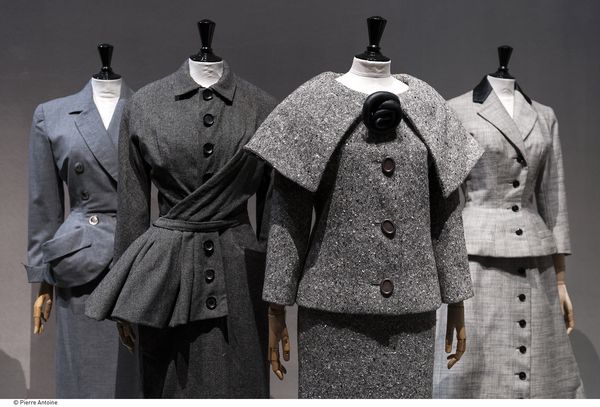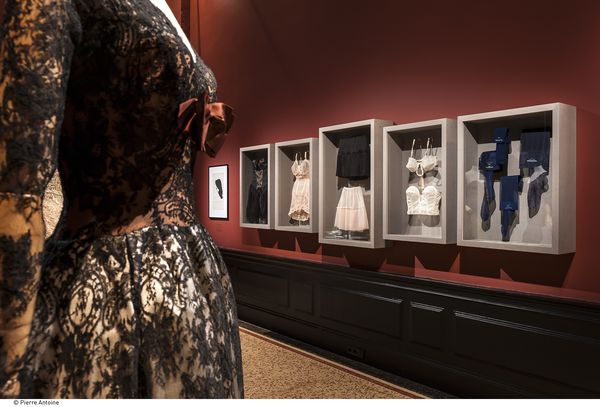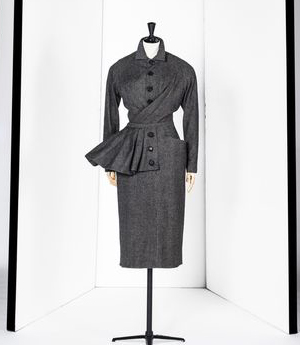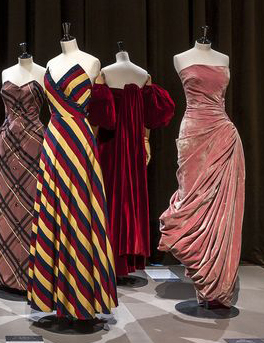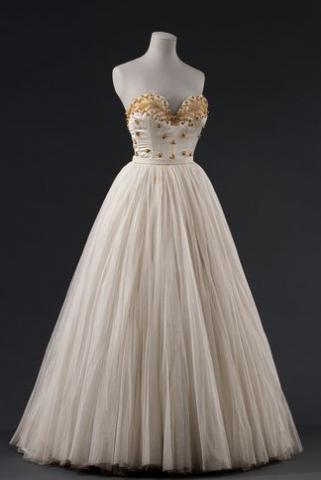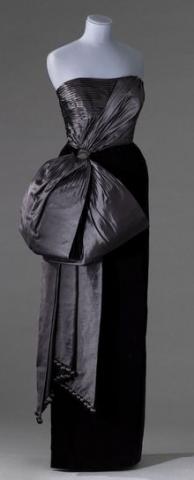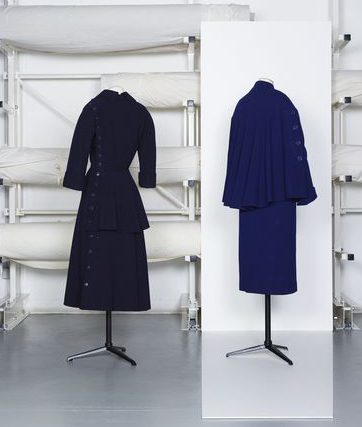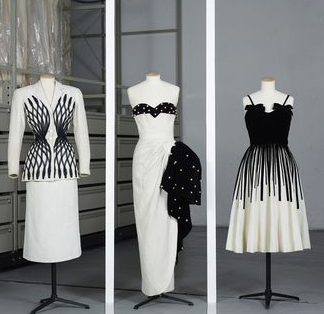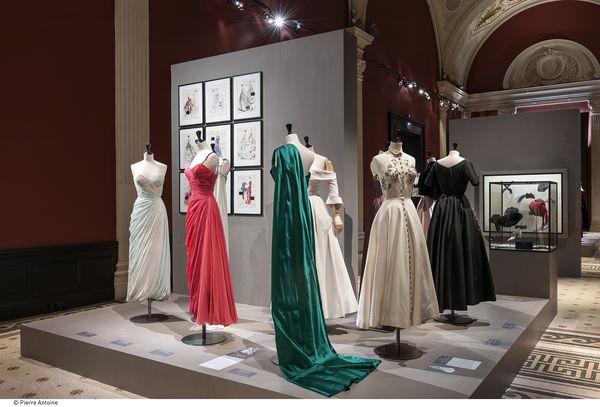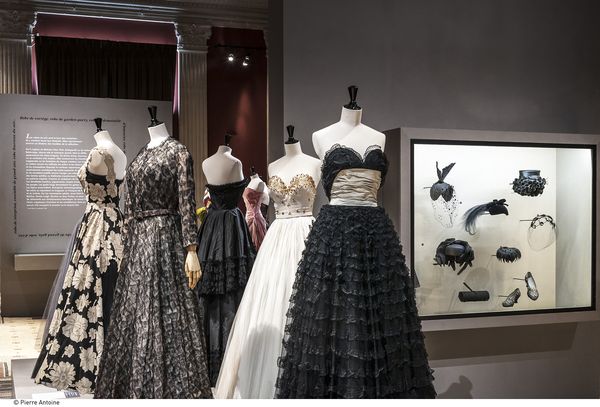 This is all in all a very pretty and very poetic collection that has my vote. Romance isn't just for spring-time love can come into our lives at any stage and if there's no-one special now there's no harm feeling extra loved up and contented anyway and for that we need to have our favourite things around us. Here's hoping for a romantic autumn. 
CHANEL produce one of the best lip glosses on the market and the sugary soft sweet pastels above of the Levres Scintillantes are sweet treats to add to your beauty collection. Directly above Rose Reve is a milky pink colour that will coordinate with both a light and romantic look or work well with a more dramatically toned make-up composition allowing the emphasis to fall on the eyes. It coordinates well with the nail colours below and as with all the formulations in this range it will have good staying power and a gentle moisturising effect. 
This colour is the natural partner of Secret the nail colour below and also works well with it's neighbour Atmosphere. Secret is again in a milky-pink, very light and natural and clear. I guess evoking the best clear-hearted intentions. Atmosphere is next to it swirling away with emotions and passion and feeling. I love the warm shimmer tone, it really is full of atmosphere. Next to it is Orage, a stormy tempest of emotions. I look at this from a positive angle and see it as the point when emotions burst forth and the real feelings show. It's a bold colour filed with passion and intensity. 
The blush is Innocence. It's a perfect rosewood full of purity and good intentions and will work well with many different skin tones. It would also make a great upper cheekbone highlighter and could be used across the eyelids also as a suprise twist in your make-up routine. 
Finally when you do find yourself able to speak it's the lips that do the talking. Here are four new shades that play with both romantic and passionate themes in contrasting notes. I really do like all the shades in this collection and I'm pretty relieved that I think each will suit me - I'm awaiting samples to road test - so stay tuned but I'm anticipating success.
The first colour above left in the Rouge Coco collection is 'Intime' celebrating the universal harmony of pink this is likely to be my pick of the bunch and the one I'll be taking out and about with me each day through the Autumn. It's followed by the rosewood tones of Confident and then the bolder, more passionate Viva and Aura. 
A very sweet collection of berry tones to play on your lips. 
Above is a very pretty eye shadow quad that is one of my favourites of recent seasons. Blending beige's and pinks together this is a very gentle ensemble and as with all palettes it gives you a lot of flexibility in colour combinations from one box - just the kind of thing I love to have in my handbag for when I'm on the move. The two beige tones are envisaged to be used as a nude satin base and the rosewood and violet-plum are there to give added definition and contour. This is the four-layer strategy for blending but you can play and do your own thing and use from 1-4 colours at anyone time on a multitude of different ways. Play and explore!
CHANEL have got pretty serious in recent seasons about developing a very good eye contour brush that can be used very easily to great effect. Here is a new felt-tip eye liner in noir and bruin that gives you flexible free hand when lining. 
CHANEL tell the story of the collection through the order of the colours brought out above. Above to the left is sensation, the gentle shimmery pink that evokes the first stirrings of feelings between two people. It's soft gentle nature reflects the ease at which connections are first made and begin. Palpitation, the colour center above is one of my favourites of the suite of colours and evokes the warmth of feelings that grow as awareness of of a liking and a bind forming begins between two people. It's a deep ink that will fade back into the eye lids. 
So you know you like each other but afraid to make the first move - hesitation - the darker Rosewood colour above to the right hints at feelings being concealed. Deep with meaning but yet nothing is spoken, thoughts and feelings are carried only in the eyes. This shade harmonises both with the lighter romantic pinks and the stronger sensual shades below. 
As things become more heated the passion takes control the deep almost-black blackcurrent shade of Pulsion adds drama and passion to the look adding a darkness around the eyes. Teamed with Exaltation sitting next to it in the center above this is a very striking colour duo. That can be used lightly or with more emphasis around the eyes in a strong ode to femininity. Lastly in buttercup yellow is admiration. I love this colour, it's vibrant and full of life. It can be used lightly as a highlighter or with more emphasis to give a warm passionate glow both across the eye lids and at the corners of the eyes.  It's a great colour to celebrate life and passion and I'm glad it came into this palette.
My heartfelt thanks to Anne de Nesle heading the Press team at the Palais Galliera for a great chat and sending me through some wonderful images of the exhibition. It's definitely a comprehensive look at the era and among the designers being explored is another name from the era who deserves to come back into the light - Jacques Fath, a very talented contemporary of Dior and Yves Saint Laurent who died tragically young. 
In the above opening scene of the collection copies of Vogue Paris line the wall on one side celebrating the many covers of the era, while to the other light coat dresses in pastel by Dior (pink) and Fath (beige) welcome you into the exhibition. At the end of the row you are greeted by the archetypal New Look suit designed by  Christian  Dior complete with hat. Above to the right in the second of these two Pierre Antoine images are a beautiful array of dresses set in front of one of my favourite things of the fashion world, the Gouaches or water colour illustrations. There's a lot to study here in form and style.   
In an echo of the theatrical stage set these images where taken of some of the outfits as they where coming out of the storage where they had been kept. I rather like this slightly theatrical approach to a photo shoot as it shows behind the scenes of the museum and reminds us of how the clothes need to kept carefully and sensitively when they are away from the eyes of the world or working towards the debut of an exhibition. The conservators role is crucial as without this the dresses wouldn't be preserved for future generations to enjoy. All the pieces in this exhibit look pretty pristine to be truthful and the bar has been set high for the condition of the garments to be shown to the public as representations of the best style of the 1950's. 
Above the images taken by Gregoire Alexandre show a beautiful array of clothes from right to left, two cocktail dresses from Balmain, the Solveig in black and the Clorinde in white. Next to the right a summer dress by Lanvin-Castillo in cotton with raised seams. The next striking fun looking blue and black dress is also by Lanvin-Castillo from their boutique AW 1954 range. Sweeping right again following the edicts of the Dior New look, the Bernique dress from the 1950 collection is striking, beautifully asymmetrical and modern. The image furthest to the right is of two dresses, firstly the black Jeanne Lafaurie of around 1948 and then the ink-blue Rochas dress from around 1950.
Above are grouped together a beautiful collection of suits that really typify the style of the era. The fabrics are beautifully preserved and give a strong sense of the new direct style that they ushered in. I think these are Autumn and Winter pieces as they look slightly heavier. 
They are looks that have had many re-incarnations since these originals styles where created and from this you can see the level of influence that the New Look and the wave that came behind it had on Women's fashion for the next 60 years. 
The look center above is an afternoon dress by Louis Feraud named 'Bergere'. On a toille of white cotton beautiful black embroidery is applied in exquisite detail. This really is a creation to marvel at. To the far right is an image by photgrapher Henry Clarke of a lady with her dog wearing CHANEL. It's a great stylish, yet carefree picture that encapsulates the slightly formal glamour of that time around 1950 but still has a fresh, quite modern look about it. 
All above images (C) Gregoire Alexandre.
One of the most memorable parts of women's wardrobes from this era is lingerie. This was the era when luxury undergarments became sought after by women from all walks of life and underwear was still formal enough to support the over garments of dresses and ladies suits that the wearer would require of it.
I find lingerie a fascinating sub-genre in itself and here there are some great baby-doll pieces and Cami knickers that you can still find in various re-incarnations across lingerie departments across the globe. Women will always want silk and lace next to their skin. We need to feel comfortable. 
I noted the blue stockings in the nearest cabinet and thought they where quite fun - in England a girl would be teased for being too clever by boys and be called a blue stocking but I think blue underwear is pretty attractive. 
Part of the glamour that most of us associate with the era is the stunning beauty, grace & style of the evening and formal dresses that where made not only in Paris but across the world's fashion capitals. Starting above left is a smokey grey dress from Dior's Autumn-Winter 2014-15 collection. It's a great piece that to be frank I think many women would buy now as vintage should they be lucky enough to get their hands on a piece. The next piece by Jacques Fath is titled the 'night bow' dress from his Autumn-Winter 1954-55 collection. Again I look at this now and think it's very wearable and chic. It's a particularly a style that returned in the 1980's internationally. 
To the right, another stunning evening dress from Jacques Fath in 1947, in embroidered white satin with a silk toille underskirt to give body and volume. Furthest to the right a 1954 evening dress from Christian Dior in silk cut in the ottoman style with very intricate embroidery, some in pale blue silk. These are all dresses that women will want to wear and look at across many generations to come I feel. 
Here are some more images of the most beautiful evening dresses. They really stand out as what we recall as examples of the beauty of this time. It's quite a stop and stare moment and the embroidery detail in many of the dresses is very worthy of close inspection. In the center above is one of my favourite dresses of the whole exhibition. Fabulously embroidered with the most beautiful pink rose flowers the kirtle of the gown sits over the ornate golden brocade of the dress. Moving away from the broad floor sweeping gowns tailored on slightly historic lines the next looks to the far right are aesthetically simple plays on the gathering of fabrics in a sashed asymmetric style. In the background are more beautiful Gouache drawings that I love to see.  They are such a beautiful piece of the design process it's great to see them included here. 
Above to the left is a beautiful shot taken by Henry Clarke of a Jacques Fath dress from 1950. Very pretty and I recommend that you check out more of both Clarke's and Fath's work. I said it earlier but Fath is really one of the lost genius' of mid 20th century Parisian fashion for me and I hope at some stage a brave soul puts together a retrospective of his short career. 
Following on more shots from the collection. A lot of these dresses work around the theme of the netting over-lay and use layers and taffeta in abundance. 
All images above and below here (C) Pierre Antoine.
All above images (C) Gregoire Alexandre.
Horst Photographer of Style profiled at the V&A
Jean-Paul Gautier's Ready to Wear departure
It seems hard to believe that Jean-Paul can look back on a career spanning across four decades but nevertheless as his retrospective show was making it's way around the world through 2014 he decided that it was finally time to step away from Ready to Ware and concentrate on the bi-annual Haute Couture collections as the core emphasis of his design House. 
So this collection was a celebration that rang around the world and covered many pages and web sites not just those dedicated to fashion. For a big celebration like this why not invite some of your best friends and do a huge retrospective? Jean-Paul did just that and pleased everyone.
Above are some more great stills from the store archive prior to the collection going on display. Here above to the left are three dresses from Dior, Fath and Gres moving from right to left. The Gres piece in pink you can see again in more detail below. In the center are three striking black and white looks from Jacques Heim, Alwyn and Carvan from 1950 and 1951. They are gorgeous and the Carven piece together with the pink Gres piece are looks that I think could be worn by women now and I think these too would be snapped up as vintage wear along with many others here if they where for sale. 
The beautiful pink Aurore dress next to it from 1958 is very special.  It's a Dior dress designed by Yves St Laurent before he worked in his own House. Lastly to the right is pretty baby doll dress from Balenciaga. Very cute.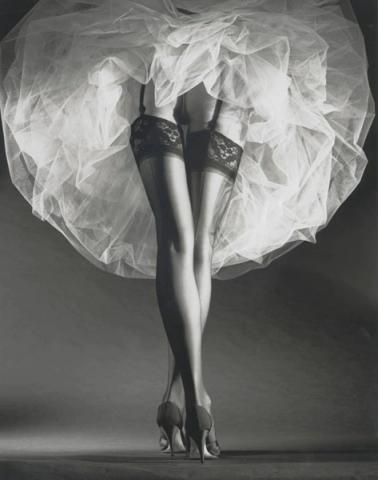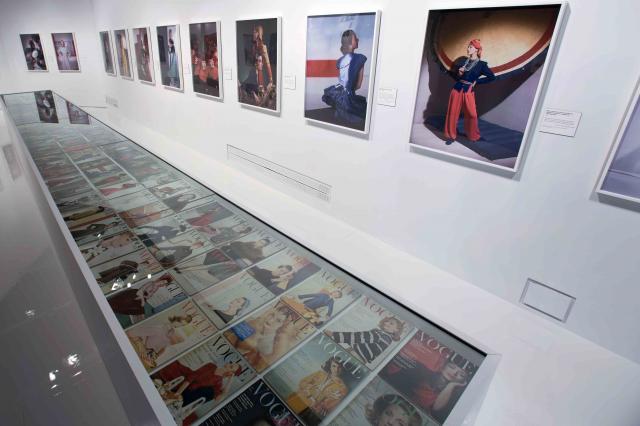 This Autumn in London the V&A showed work by Horst in a retrospective looking back at his career. I was captivated and I'd only be there a short while and looked at a handful of the images when I could see for myself how very influential he's been. 
This show really brought home to me the importance of these retrospective shows as with another photographer, Lee Miller that the V&A showed a few years ago, you really need to have this work brought back to the attention of the broader public so that their names and legacies are not lost beyond the circles of fashion and photography students and those who where lucky enough to work alongside them. 
His work is stunning and I am definitely a follower. I felt so thankful to Conde Nast for releasing the works from Horst's estate to be shown. His work is visionary and I quickly understood that he certainly was a photographer who embraced style and to be blunt wasn't injecting overt sex and sexiness into his pictures. This may be to do with the generation and era that he came from but I think it's also relevant today. 

I spent quite a bit of time with my friend Florine looking at these Vogue covers in great detail. To our eyes now they may seem a little conservative but I see nothing wrong with this. They are still very beautiful just a little less overtly sexy than we see on the shelves today. Measure for measure they still have the same level of impact and power and still represent the featured brands superbly well. 
So this collection lives up to my fashion motto 'beauty, grace & style' and I found that Horst and I had quite a bit of common ground. Aside from fashion photography it was great to see his pictures of ancient Mesopotamian palace sites. I was also fascinated to learn about some of the methods and techniques that where used for editing in his pre-photoshop and computer graphic era. I found myself wishing that I could be inside his studio to literally see how he was putting his work together how he asked the models to stand etc. As someone who does photography myself I felt like I could see into his point of view for the composition of many of the countless shots that he put together. Above to the right is one of his best known images of a look from Schiaparelli in 1947. It's great to see this particularly as this House has been recently re-awakened and is showing again on the Paris Haute Couture Schedule.
Below are some of my favourite shots from Horst's covers and editorials. Around the Clock below to the left is one of my all time favourites from him. It does show that Horst did do sexy photography but there is still a discrete charm about it. Nothing is over the top. The next shot in the center is an image best known to a younger generation through Madonna's replication of it in the Vogue music video of the early 1990's. Also to note that these two image are shot 5 decades apart showing the length and diversity of his career. Lastly another shot that has made it's way into the annals of photography history - a girl with a beach ball looking ahead to Summer. Great fun. 
Images (C) the V&A - Horst photographer of style.
Dinner suit and headderss from Schiaparelli 1947.(C) The Conde Nast Horst Estate. 
This is probably my very favourite Horst image the iconic Round the Clock New York 1987 (C) The Conde Nast Horst Estate. 
A very close second would be this one the Corset by Detolle for Mainbocher in 1939 (C) The Conde Nast Horst Estate. 
Summer Fashions - the cover from American Vogue May 1941 (C) The Conde Nast Horst Estate.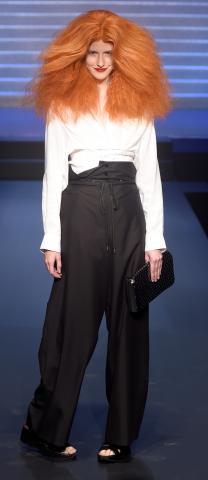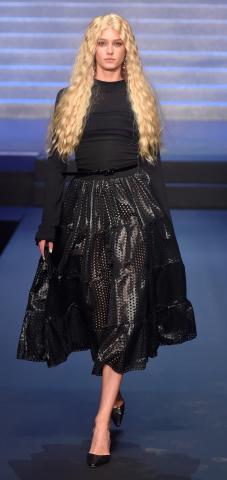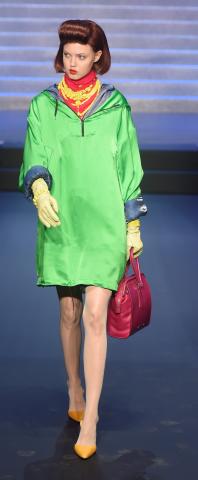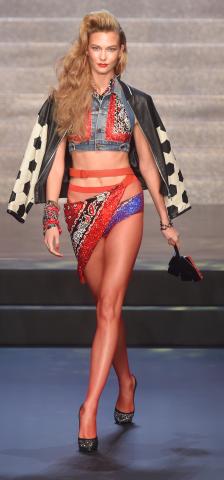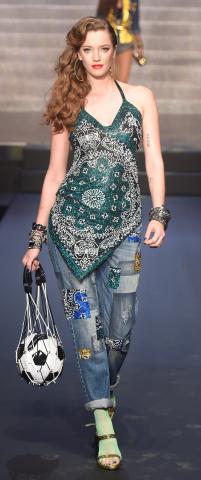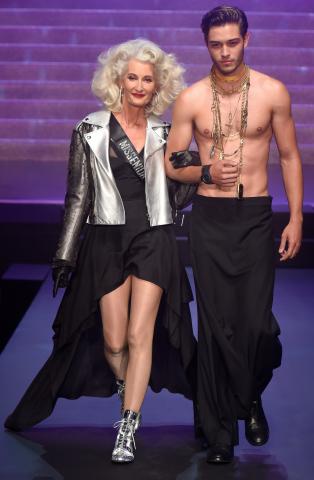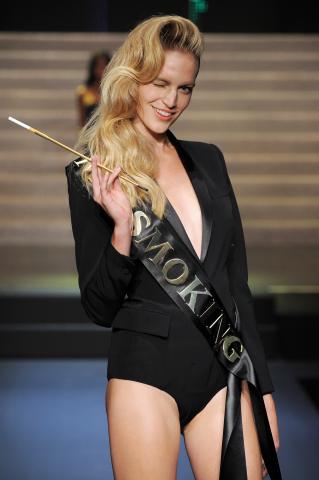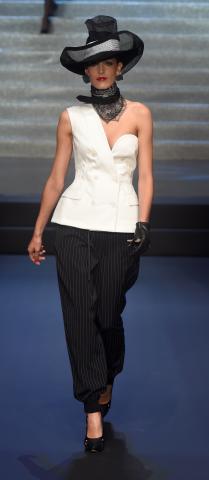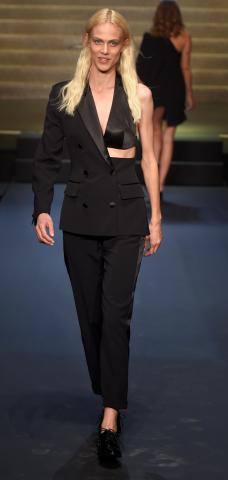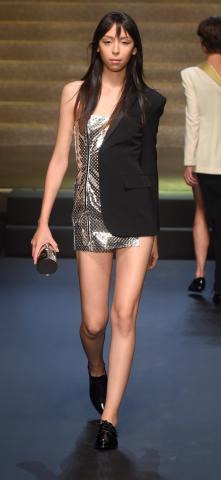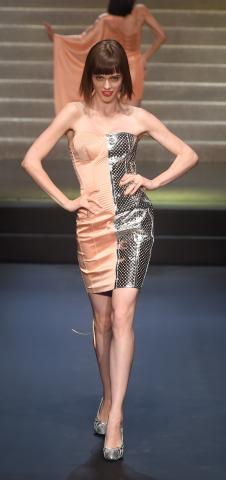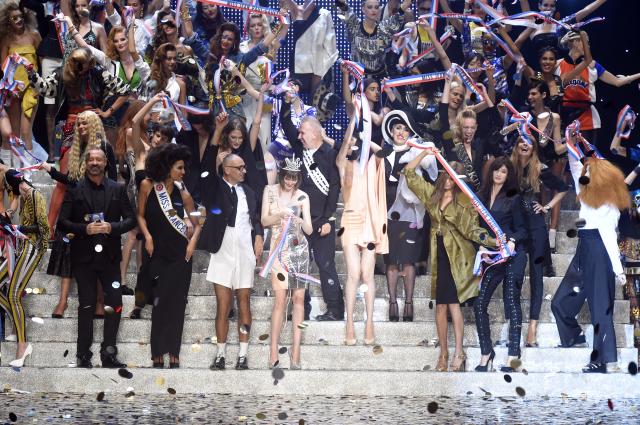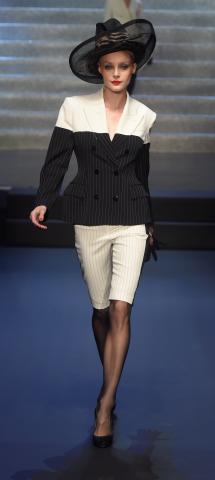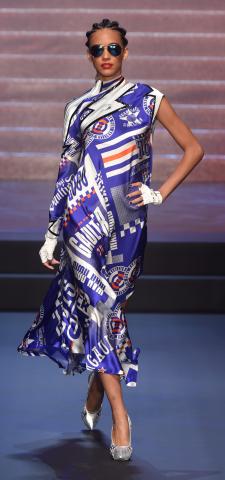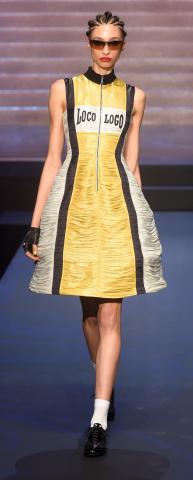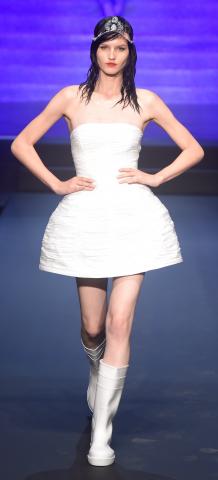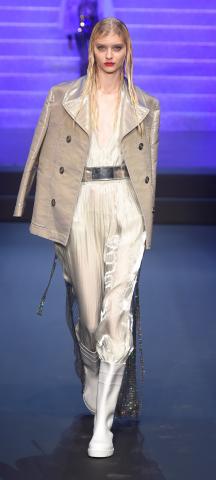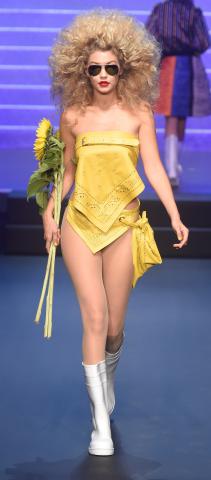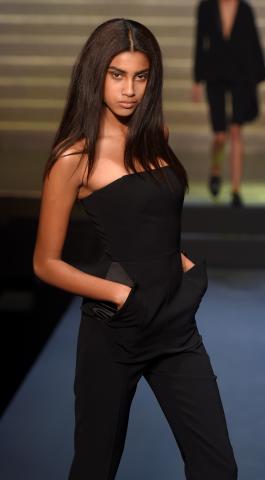 The collection opened with a series of great outfits showing the modern woman pin stripped and sexy. She's suited and booted to go and take control in the City or perhaps she's out to dine with friends. Whatever the reason, actually she really doesn't need any reason to dress up and look great, these are outfits for the power women that still have the air of demure discretion that I personally love from clothes like this. I think this is an ode to the early years of Jean-Paul's career where it was harder than it is today for women to make their way in the professions and switched on style helped women's confidence. Out of the board room an onto the sports field the next mood in the collection looks in a very different place to the sporting arena and 'Team Jean-Paul Gaultier' is ready for action on the pitch. Jean-Paul is, I gather, a football fan away from his life in the fashion world and I liked the play here on sporting themes and some girls adding to the spirit. Also noted in the last 30 years women's team sports have changed dramatically at professional level and it's great to see this avenue of fashion explored.   
The party continued with a full tour of Jean-Paul's repertoire from mini dresses on space-age Queens to jumpsuits with jackets and brief beachwear or partywear. It was a dazzling whirlwind and then came the part of the show that those in know had been waiting for and for many was the greatest fun surprise. Jean-Paul is a modest man and doesn't forget to say his Thank You's to people. If you see him speak this comes across in interviews and conversations away from the camera. He really is a nice guy. So for the next trip down fashion memory lady we have the Editors on the catwalk! And about time to!! I think it's great that this group of ladies got high beam fashion recognition for all the work they have put in supporting Jean-Paul and countless other designers like him. Leading the way was the fashion Goddess Grace Coddington, former model before her phenomenal career behind the camera began she could not be mistaken and this look got a lot of cheers. Next up Business of Fashion's Babeth Dijan. An emphatic nod to pioneering online fashion, then Vogue Paris' Emmanuelle Alt. BB in hand, always on the go. 
Next came one of fashion's favourite Italian's he very beautiful lady Franca Sozzani. She's a very gentle spirit and widely popular, with wise words often in a hectic headlong modern fashion industry. She also has frankly amazing hair and a very sweet smile. No introductions needed for the next lady on the catwalk and great to see Suzy represented here in the limelight for a little while. She's another woman who has done a tremendous amount to help the careers of young designers and she got a good cheer when he 'double' came down the catwalk resplendent in trademark bold colours. 
Skipping along again with Summer back on the agenda playful Summer rock-chick outfits where back on the agenda in vintage Jean-Paul Gaultier style. I loved the play of denim patch-worked with Indian print scarves. The last look to the right represents 'Le Smoking' I'm certainly not aiming to promote smoking in any way here merely this look was so stunning it had to go in to celebrate Jean-Paul's work with the classic women's trouser suit first created by Yves Saint Laurent over half a century ago. Jean-Paul has done a lot to promote this 'mode' and as many of us have seen in Madonna's Vogue Video a couple of decades back he's sexed this style up somewhat to give it a snappier edge. 
One of the sweetest parts of the show was the place that Jean-Paul gave to models including Carmen Del Orefice who had walked for Jean-Paul in decades past or had career's in the industry before he came onto the Paris show schedule. It's great recognition and shows how stunning many women are still in their later years. 
Then is was back to sexy sassy tailoring to head towards the close of the show. There is plenty of great design going on here and some pieces that I think will be very popular in spring. The editors came out again to take a curtain call on the catwalk and after that, as you can see, the party really began in earnest. Jean-Paul will still be working on Haute Couture and other projects but this was a very beautiful close to this chapter in his career.