A Blush of Rose
ablushofrose.com
London Fashion Week Autumn - Winter 2016-17 part 1
As we saw the very first signs of Spring emerging (Fashion Week in London is always around the Spring/Autumn equinox's) it was time to look ahead to what the Autumn would bring us while debate was raging on both sides of the Atlantic about whether we should even completely change the structure of the fashion calendar to show leading into the season. Ahead of the collections I'll let you know my thoughts on this. For some designers this may work depending on how they prepare their collections for sale but for most in the Ready to Wear world it may not be so straight forward. 
Haute Couture shows it's collections going into the season it is showing to clients for; but this fashion arena has a different dynamic whereby clothes are custom made and worn relatively quickly for the events clients have in mind so in the world of Haute Couture such advanced planning 6-8 months ahead is not entirely needed. Haute Couture clients often don't want to order clothes that they see and be fitted for them and then wait perhaps half a year to wear them; even Bridal pieces are completed closer to the time they are worn. 
Back in the world of Ready to Wear, designers often need time to send collection to production and distribute them across the world so depending on how vertical their business is in terms of manufacturing it seems that there are differing degrees of how easily this will work for people. Whilst some designers in New York are holding off on their Autumn collections; I think most will favour the current system. 

Eudon Choi
Eudon is a seriously exciting young designer to have on the schedule and early in 2016 I was lucky enough to interview Victoria Stapleton the Founder and owner of Brora Cashmere who has collaborated with him to create a capsule collection using fabrics and yarns produced in the Brora Mill in Scotland. Trained at Central Saint Martin's in London Eudon's natural South Korean style aesthetic of minimal shapes and drapes with flourishes of style and colour prove fertile ground for creating new looks and inspirations each season. 
In this collection the focus was largely on cool colour with some beautiful autumnal shades of burgundy-brown and midnight blue gradually coming into the collection. looking through the collection there is a great focus on draping and bias cutting plus the echo of the boas cut in the asymmetric fall of the fabric across the body. 
To the left you can see two quite different looks working around similar core themes illustrating how Eudon has found boundless space to expand his ideas through this collection. Combining pleats with soft fabric Eudon presents a sensuous collection that sits on the figure with a natural grace that is quietly sexy but also young and fresh in it's feel. 
As well as layering colour, colour patterning is also important to Eudon here and he uses signature prints in several places in the collection as he does with this dress to the right. Note the cut-away shoulder detail here that became a theme of the Autumn-Winter collections as they came out internationally, known as the 'Cold shoulder'. 
The seasonal look to the far right in a beautiful Wheatsheaf Corn colour has a natural warm elegance again cut on the bias with asymmetry this sits so gently on the hips with a bow at the collar it's a little prim but certainly not old fashioned and a look that you could wear socially or to work during the day time. Pieces that you can visualise adding to your wardrobe are always an irresistible find.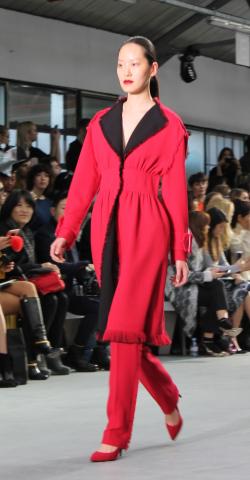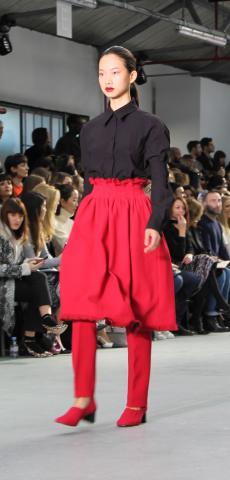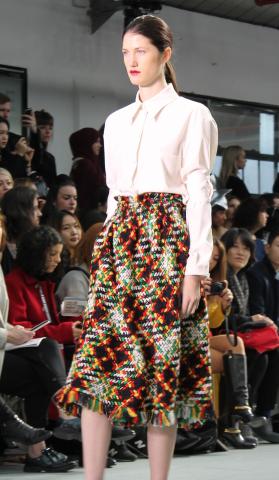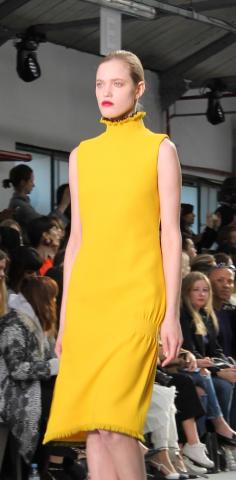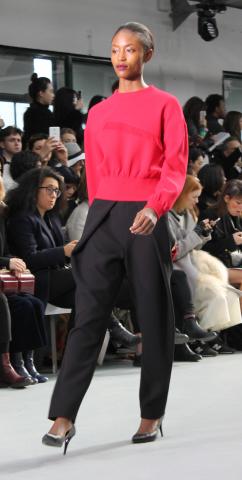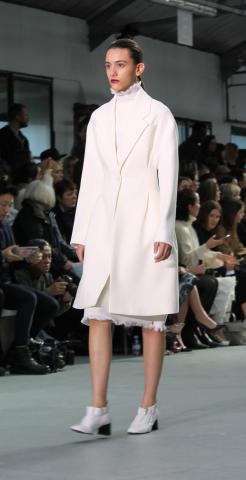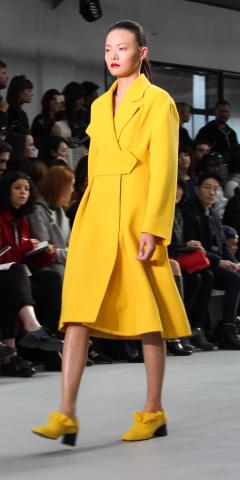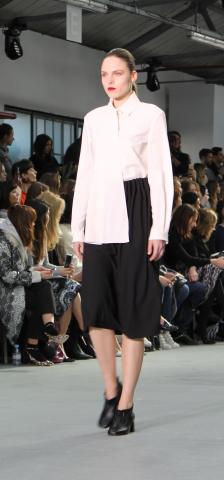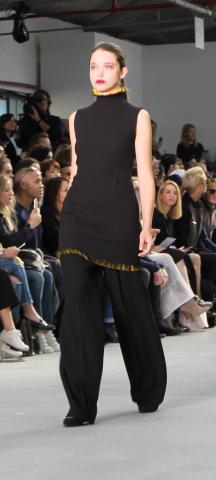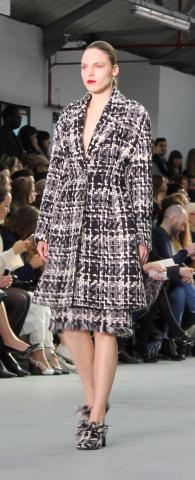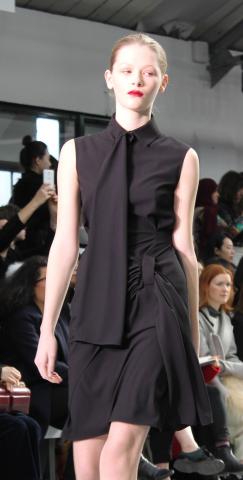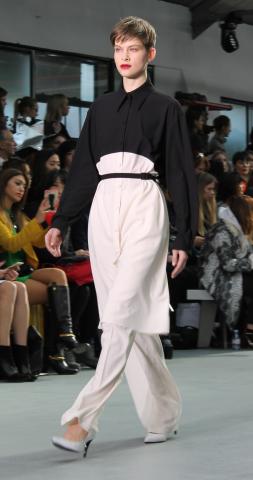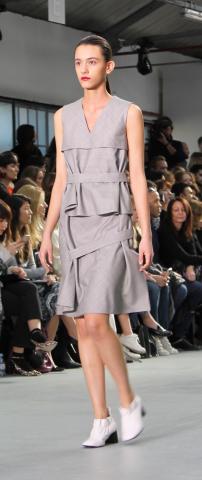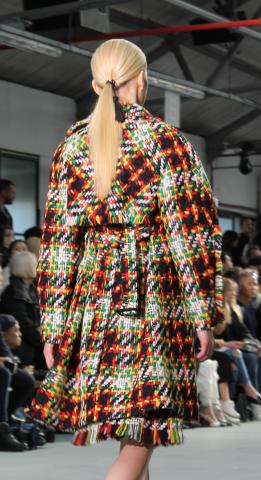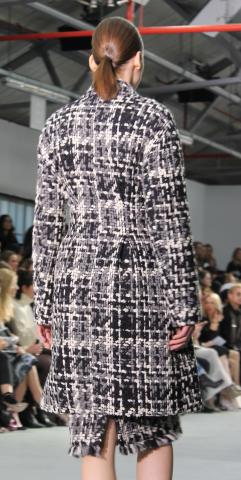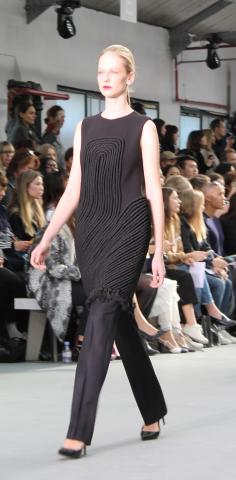 Jackie Lee was the designer who opened London Fashion Week for Autumn - Winter 2016-17 as she has done in the last couple of seasons, and bright and early after the official launch and welcome seats where eagerly taken for the show that gets the ball rolling. Waiting with my ticket I stood alongside the usual mix of journalists, photographers, buyers and industry contacts and notably for Jackie's show a large contingent of girls who had traveled from Asia to see the show and support Jackie. 
It shows how far her reach of markets covers and the true international appeal of her international luxury aesthetic. Looking at the collection you can see the broad appeal within the Luxury Ready to Wear demographic. Jackie is covering a lot bases in her collection with day wear pieces that will also work well for evening wear. Pieces that you can wear for work, meetings and social events. Within the flexible nature of the collection craft notes blend into high fashion effortlessly making a composite ouvre of chic composition. A scarlet coat conceals a black lining and synced at the waist it shapes the figure elegantly. Fringed at the knee and bordering the lapels and seems a hint of carefree breaks the lines to prevent them becoming too austere. Next to the right a skirt with scarlet trousers underneath echos the theme with a black shirt offering juxtaposition of style and line. 
A more casual look to the right twins a comfy sweater with straight line trousers showing the flick of style twist that Jackie brings to her pieces. Above to the right in yellow this beautiful dress rocks 60's style lines with a contemporary twist of a high floral frilled collar and a tucked band below the waist. This is the perfect flexible luxury look that she has defined through her collections. This is one of the shows where you see the designers looks around you. 
Jackie's eye for structure and form are very well developed and an early grounding in fashion in Seoul in Korea was followed by a post graduate course in pattern cutting at Central Saint Martin's in London in 2007. She further honed her skills pattern cutting at KISA in London working hard and learning every step of the way ahead of taking a MA in fashion at Central Saint Martins graduating in 2010. She gained The Harrods Award and her collection was displayed in the window of the store after the graduation show in 2010. Even as a young designer new to creating collections for a market served by Harrods and it's peers it was clear then that she had a great talent as her collection was just as salable as anything else they stocked.
A yellow wrap-fastening coat makes a feature of belting across the waist and swinging just below the knee it's shape is both generous and tailored. This is coat made by a designer with a mature hand, bright yellow bringing light through the autumn days, and very flexible to match with the monochrome pieces that came next. A long shirt in black and white over white trousers (could be worn without) and lightly belted on the hips. Jackie plays with asymmetry in parts of the collection with the look furthest to the right revealing a playful energy in the twists and movement of the dress. The white coat and dress next to it use more muted themes with a fringing at the collar and hem a beautiful play on the white quasi formaility of the coat. I would love to order this look for my mother as she would love fun formal/not formal feel to it. 
Taking a new approach and making a fresh statement the grey dress above to the left shows Jackie's ability to create new shapes and looks that have the snap of modernity and appeal. A strap around the waist becoming a high belt and another raised slightly towards the left hip of the skirt shows a new approach to working with layers of fabric. The grey trouser suit plays with the fluid lines popular in the late 1980's and early 1990's with a tiny tied belt sitting again high at the waist in an echo of traditional Korean style. This is a look that has the sense of what I would call 'International Contemporary' it could be worn anywhere in the world now. 
So how does Lee's work translate to using a traditional textile? Wool woven into tweeds with a familiar geometric pattern and an unfamiliar effect of almost Trompe-l'oeil. In a play on the traditional tweed suit and dress the fringes of the skirt, dress and coat are left free flowing bringing the natural fibers close to the skin. A neat white shirt in soft silk adds what may appear to be a traditional element to the outfit but articulated design at the elbows allowing a different ease of movement. The coat and dress above right and with trousers below look look harmoniously autumnal in person and the monochrome outfits below are modern classic pieces too and I can envisage wearing them with accessories in the cooler months to keep the chill out. 
Jackie has both adventure and classicism in her clothes and it's hardly any wonder that she continues to draw the crowds, the fashion buyer crowds as well as the press mind each season. Hers is definitely a style that has plenty of scope in women's wardrobes and she crosses generations neatly which is always a great way to appeal to many audiences. Towards the end of the collection the light ruffle trim and interesting cording across the garment appeared in two dress over trouser looks giving another new spin to the modern suit. This is a style of sophistication, and one I want to see more of in the future. It's fascinating to see how a young designer with such a mature grasp of tailoring can continue to develop before your eyes.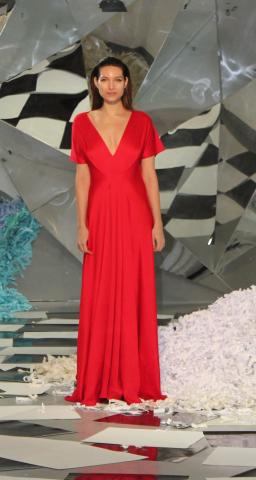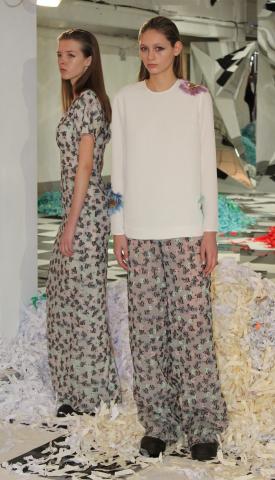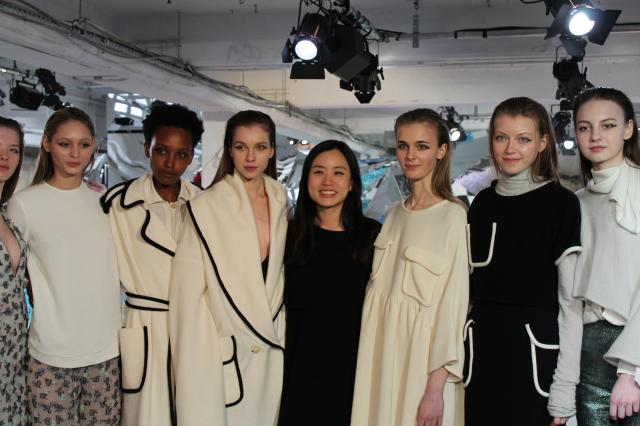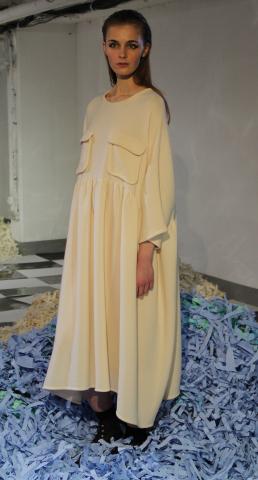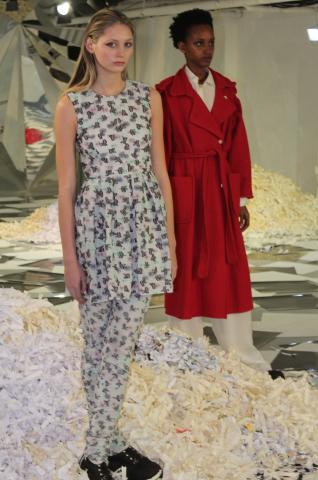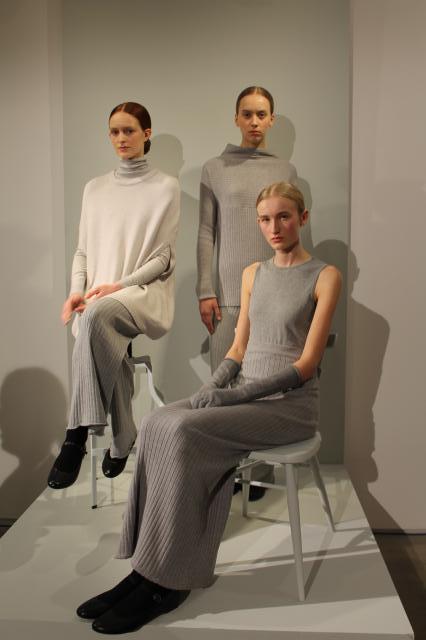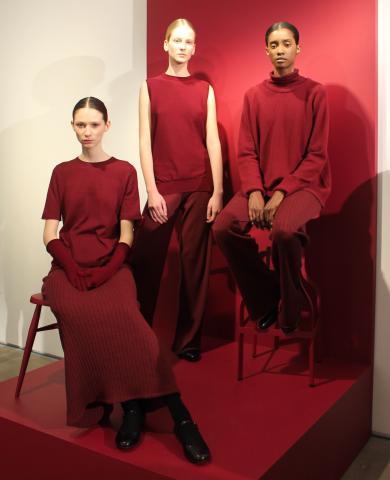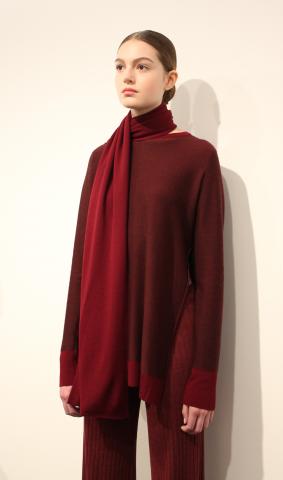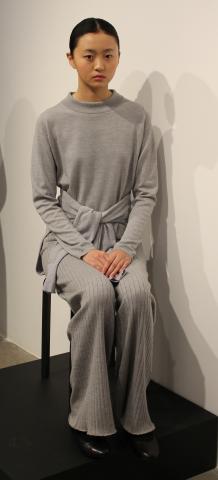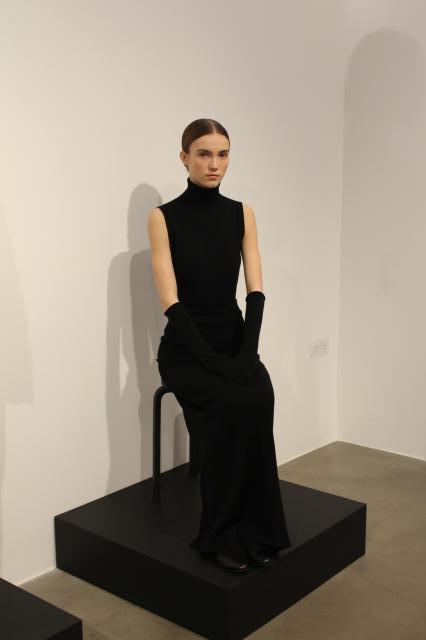 Sometimes the best things happen by chance and for Edeline Lee this was certainly true. When she debuted some of her own designs in 2014 in an unplanned moment while Head of Design at Rodnik London, her contemporary soft-edge aesthetic designed for the "future lady" drew a surge of private orders. This wonderful surprise lead to the birth of her own fashion company as requests started to come in at a steady pace and word gradually spread.  
She's one of the brightest young names on the London Fashion Week calendar and Edeline Lee is a lady with very stylish instincts but given her background already in the industry this is hardly surprising. Main features for this collection where the out-sized pocket detail and long lines, reminding me of when a 4-5 year old tries on an 11 year old's blazer by mistake but wants to keep it on. But this is grown up fashion it's just looking at it with the 'why not - this could work' factor that some of us lose as we get older. Centre above the floral pattern reappeared with trousers and contrasting top and also a figure wrapping dress. To the right above a figure hugging dress sits lightly on the figure with the inverted white/black border piping that is a feature of the collection. These are great mix and match pieces to have at your disposal.  
Below to the right is my favourite dress from the AW 2016-17 offering, a beautiful scarlett dress that reaches to the floor. Looking deceptively simple this dress is created with the know-how of cutting fabric on the bias to maximum effect. I couldn't get closer to take a perfect shot but do look for this piece in                                                                   the coming season. Below you can see Edeline with her models looking happy and relaxed. This was her                                                                          second season on the LFW schedule and a strong follow-up.  
Autumn 2016 sees a continuation of the move/feel in Edeline's that attracts many women from the art world as well as the wealthy including celebrities such as Alicia Vikander, Solange Knowles and Taylor Swift. There's an easy softness in Edeline's clothes that translates into very wearable easy-feel luxury. These are clothes that are innately comfortable as well as stylish and her pieces have been exhibited by curators of the Fashion Space Gallery to represent the "Future of Fashion Presentation" this is high praise and a recognition of how her eye and judgement is scene within the industry.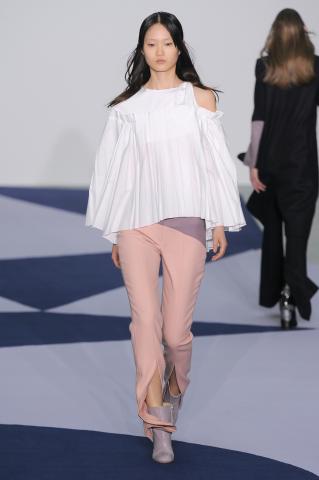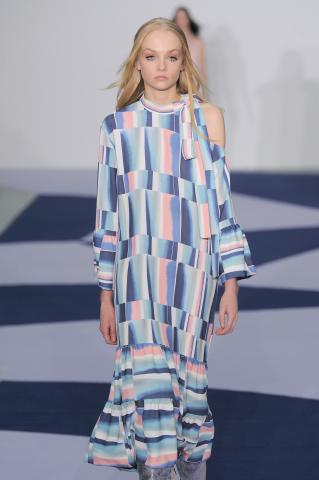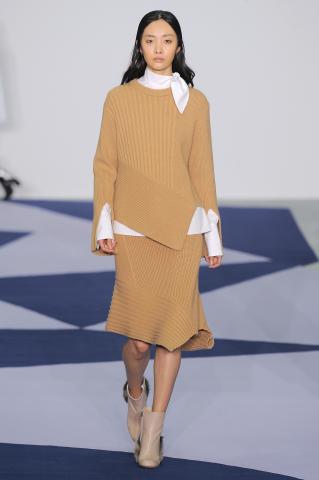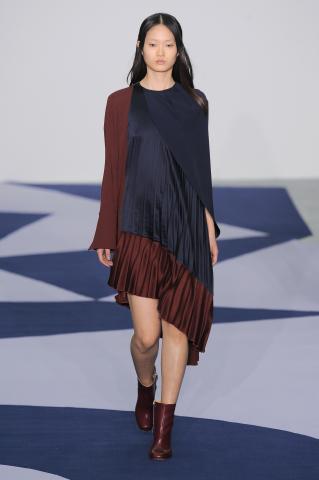 Coats that will keep you warm in a windswept Manhattan and casual two-piece or layered looks that translate easily between a working and leisure lifestyle. Her models look like the clients, women across several generations who could buy and wear her clothes indeed the white coat to the right could be worn by student or matriarch and blend into any lifestyle wardrobe. There are so many things you could do with this piece alone. Next to it one of several looks in this collection in a cream colour that comes as a two piece, trousers and over dress with short lose pleated skirt. This is a trans-seasonal piece that you could wear through the year and would match well with a denim, leather or more formal jacket. 
The look is repeated in a new fabric centre above on the model with delicate print showing that this is a great way to layer an outfit. Re-working a traditional lose line smock and totally free for movement the long line dress to the right above is quite arts and crafts in it's inspiration and could be worn over trousers on colder days next season should you be in cold climbs. Above to the right broad culotte style trousers hang lightly from the waist while the separate top has the same sense of gentle style. They look great as a pair and you can also enjoy them as mix and match pieces.     
If you had to give a list of the top ten or so things that British Fashion was best known for; textiles and our heritage in textile production would surly be up there somewhere high. John Smedley began it's manufacture of gentleman's undergarments and outerwear in the 19th century after an earlier history as a Muslin cloth producer and are most well known for giving the world the Long John the original Onesie - where worn by men of all walks of life. During this time John Smedley was one of the world's best known British brands and it's very fitting that as of September 2015 it has found it's place on the London Fashion Week show schedule and the brand is becoming re-established once again the wider British Fashion conscience. 
Today the mill in Derbyshire produces garments and the fabrics that they are made in to season collections and exported directly the world over through the brands website and sold in well placed London boutiques in Mayfair and St. James's. The firm launched it's first London store at 24 Brook Street in 2015 to celebrate the 230 year history of the brand. 
As I walled to the debut SS16 show last September I thought in light headed moment after a packed LFW day 1 that these old street of Mayfair would have seen John Smedley worn by our ancestors and few of the luxury brands that this fashion hub is bursting with today would be able to say that. 
Bringing us straight into the 21st century, crossing four centuries of style since it's foundation in 1784, John Smedley now focuses on producing knitware that ranges from the staples of scarves, gloves and round bobble hats in wool and cashmere blend with more contemporary style pieces that will suit an international audience. Housed in an art Gallery in SoHo for it's unveiling the collection looked as though it looked at home being worn by gallery workers in the vicinity. 
This is a resurgent brand with new life in it and plenty of scope and yes I will be buying from John Smedley for this Autumn as there are too many handy staples in this collection to miss out on. 
Whilst there isn't a current celebrity face representing the brand the list of past fans of the label reads like a PR's wish list of endorsements; Marilyn Monroe is probably the best known from the Silver Screen client set along with Audrey Hepburn, The Beatles and Lauren Bacall. One of the firms most loyal clients is H.M. The Queen who has been wearing John Smedley for decades to keep out the chill of drafty Palace rooms and ensure that she has plenty of layers of clothing for time spent in the country. She gave the firm a Royal Warrant in 2013 and with this vote of confidence John Smedley are looking to the future with a host of ideas. 
Their latest women's wear collection shown and London Fashion Week was a scheme around 3 colours, Black, Claret and Grey that showed the versatility of the brands offering. They now work with young designers from the Fashion Week schedule including Holly Fulton, Claire  Barrow, Ashley Williams, Phoebe English and 1205. However they do have their own strong n-house design team profiled on their company website allowing clients to see the full design team behind this label. In a blended collection that keeps in touch with what the international fashion buying audience are looking for. With it's global reach still expanding the firm is true to it's origins in Derbyshire and the original Lea Mills factory is still very much in operation. Today the current owner, a sixth generation direct descendant of the founding family is committed to moving the business to a more sustainable footing. The firm claims a unique heritage as the world's longest running textile factory in continuous operation and locally the firm employs, trains and develops many skilled crafts people, some of whom stay with John Smedley for their entire careers. It's a very worthwhile profession and great news for our regional economy that local world leading centres of excellence like John Smedley are alive and well and bringing 21st century British fashion to the world.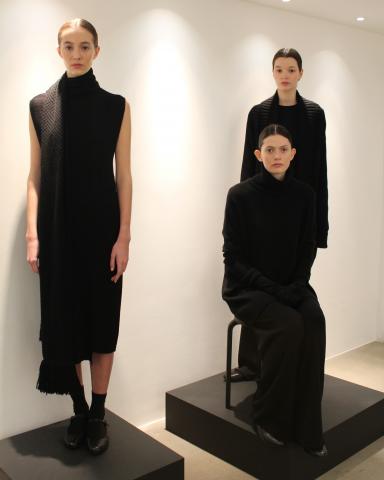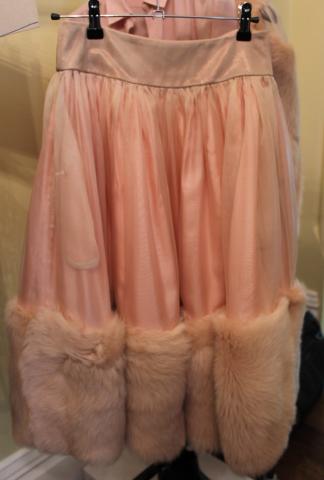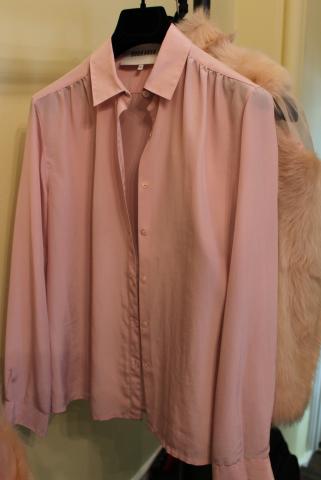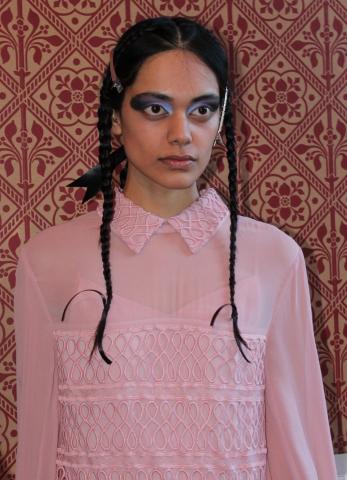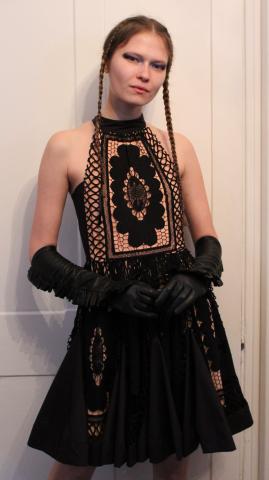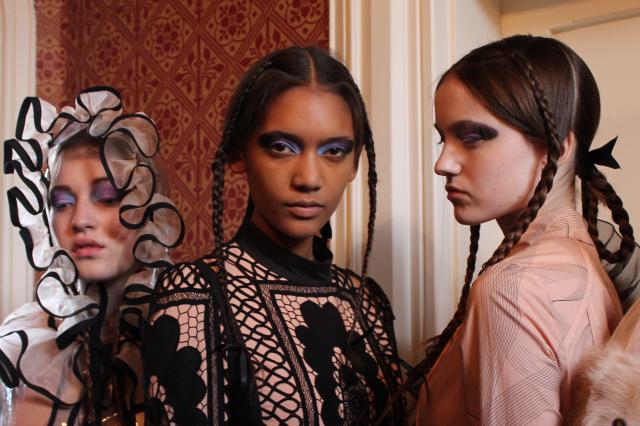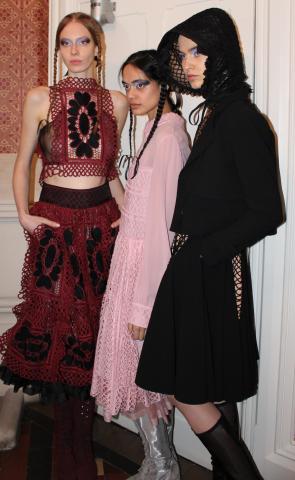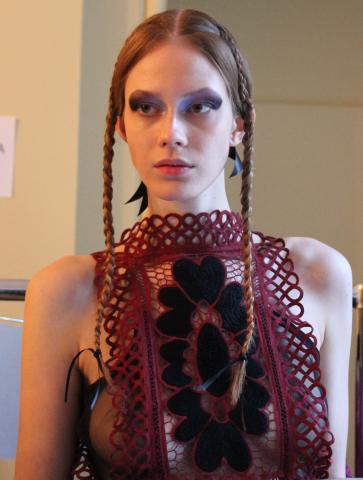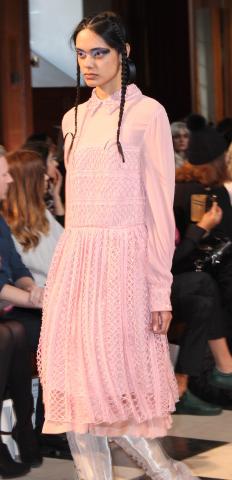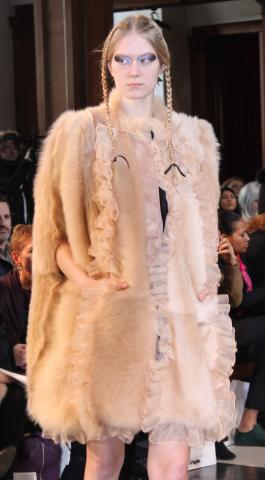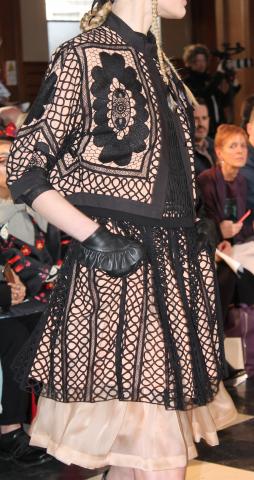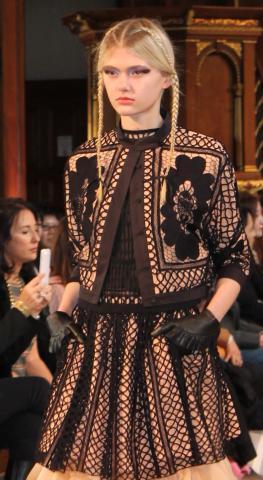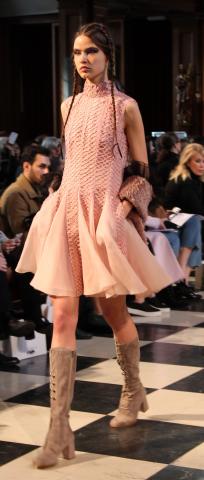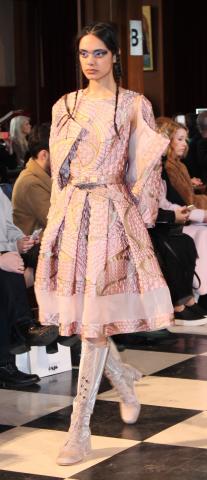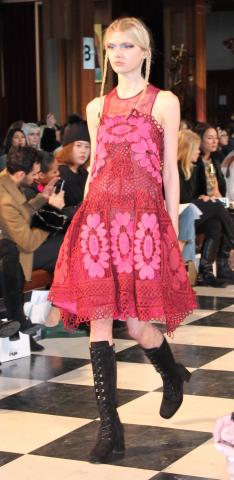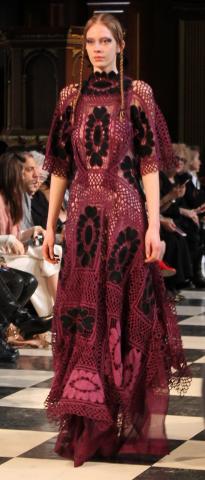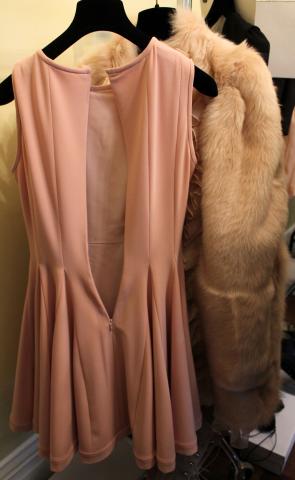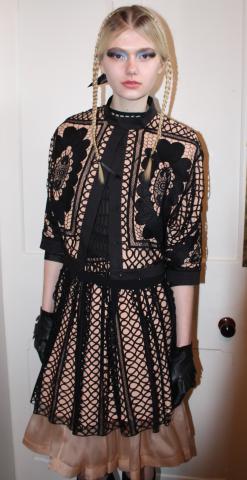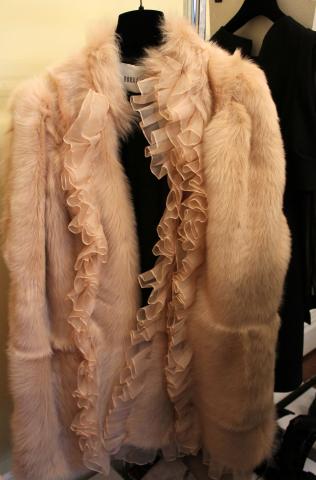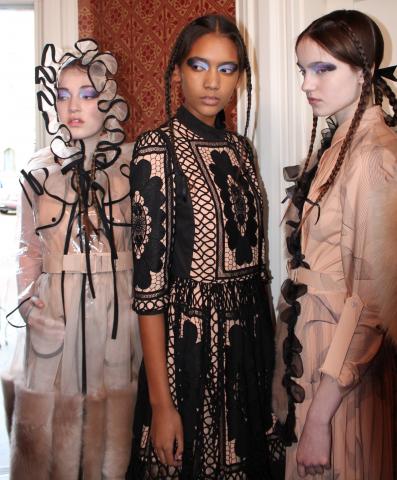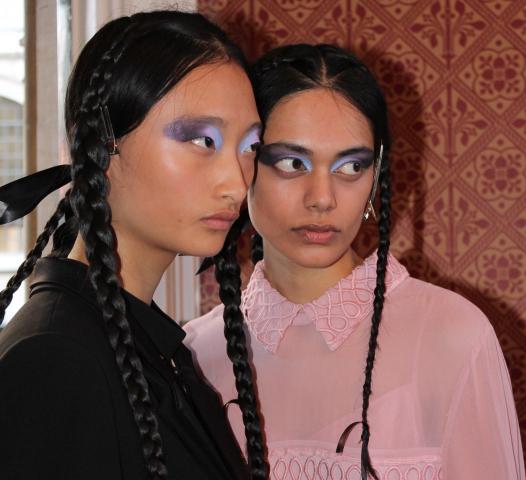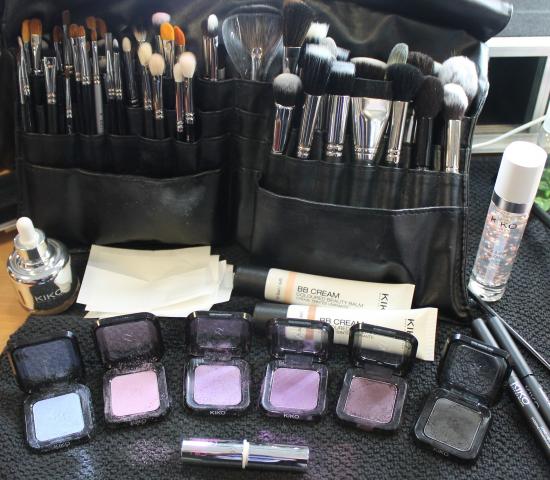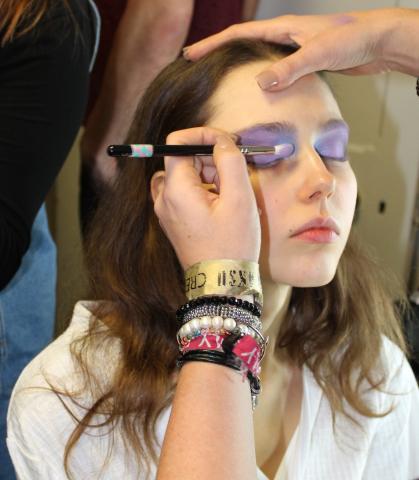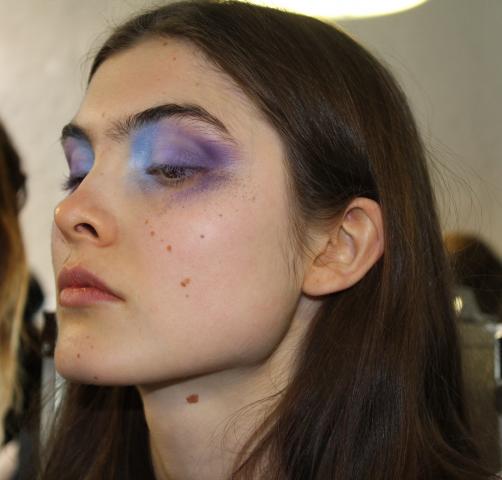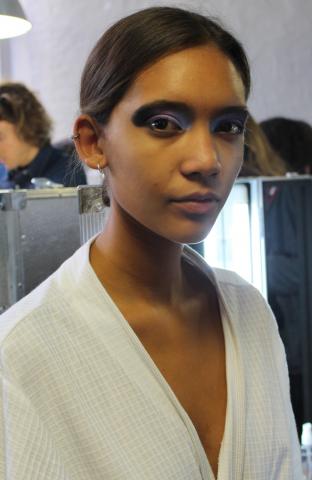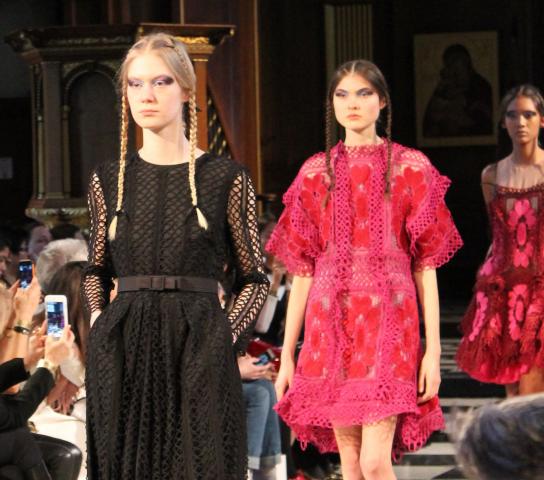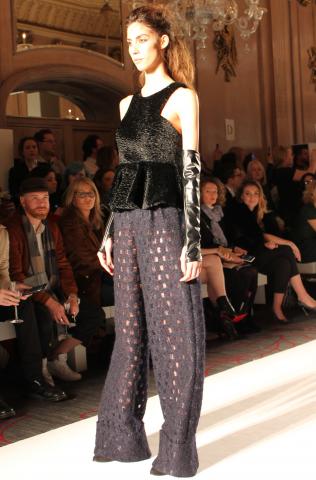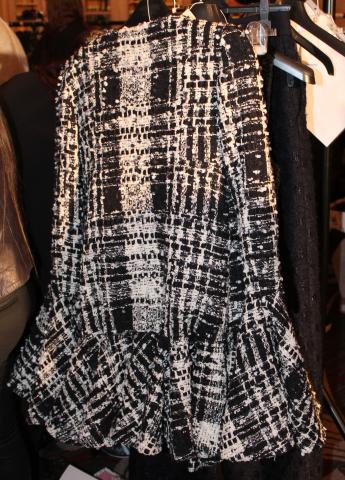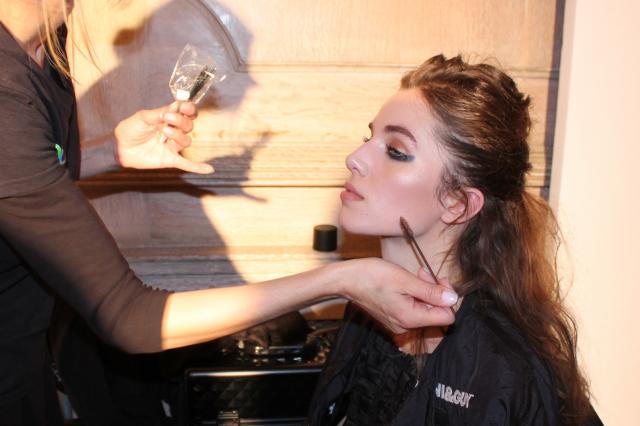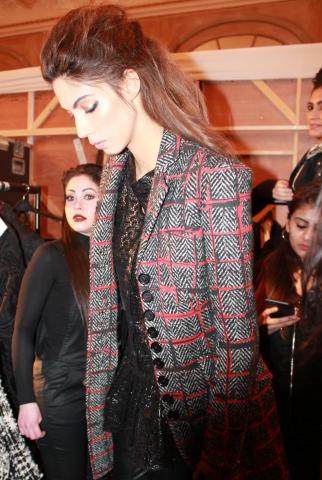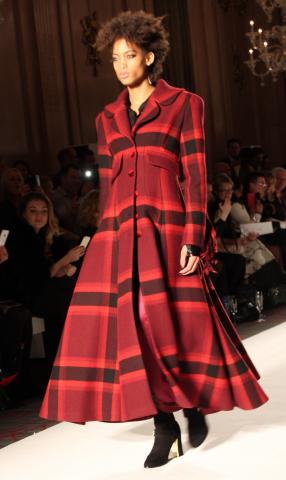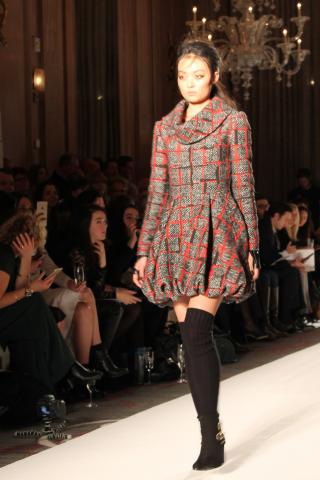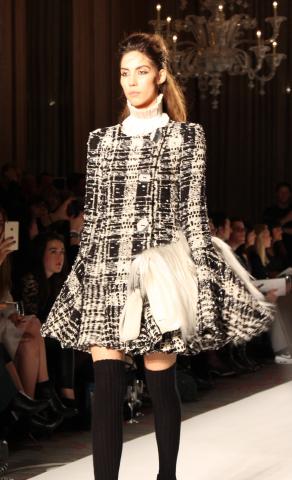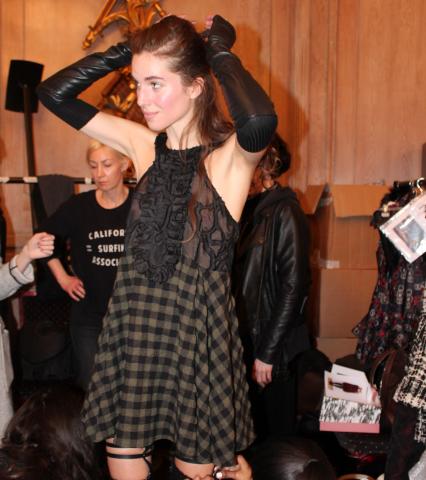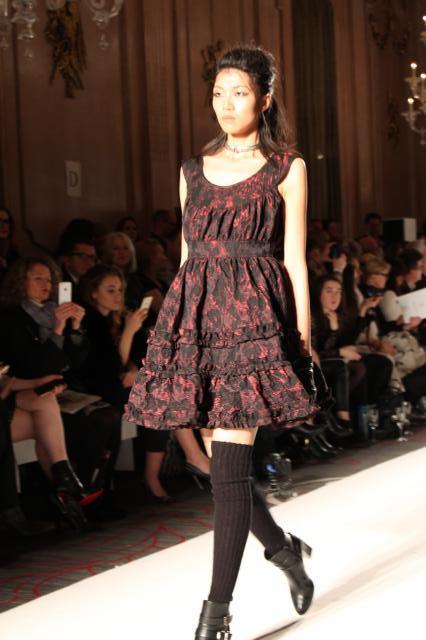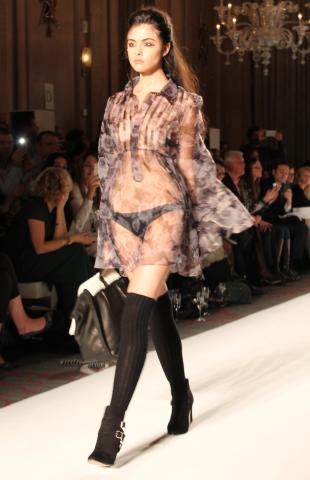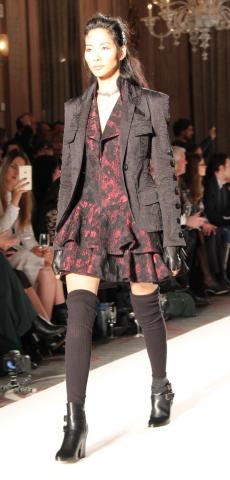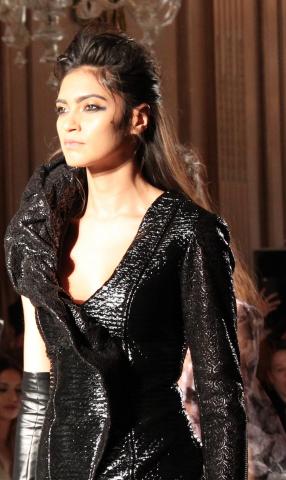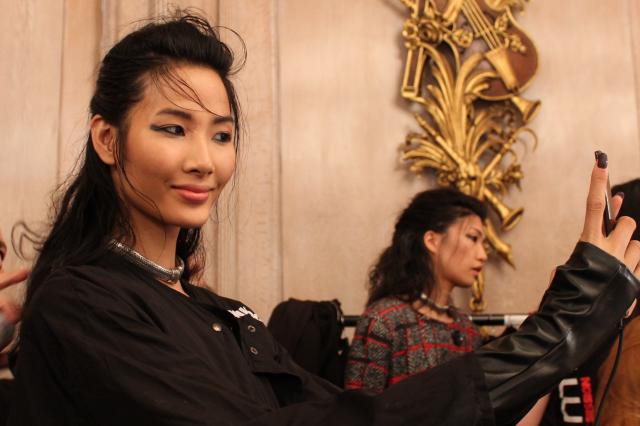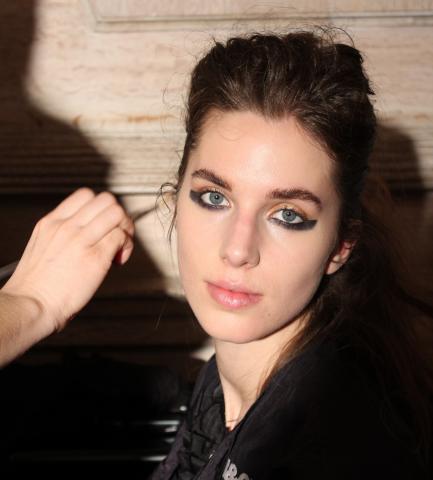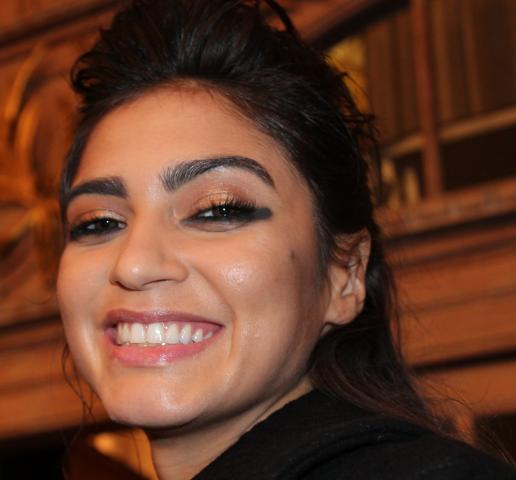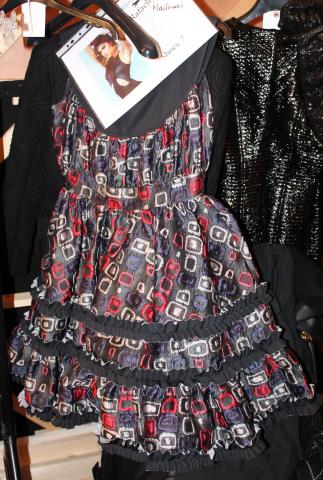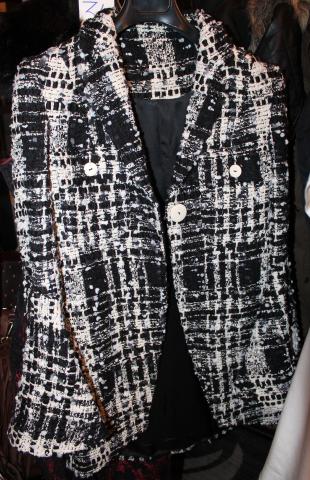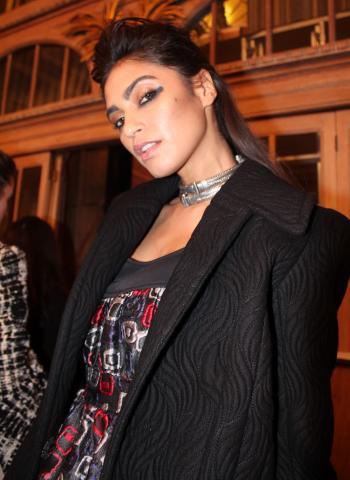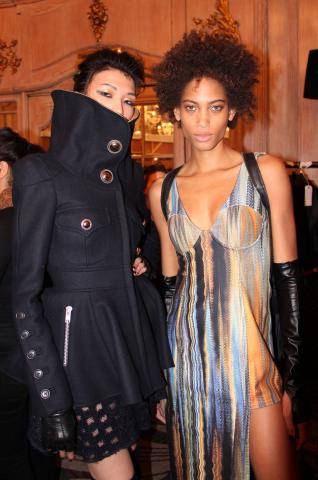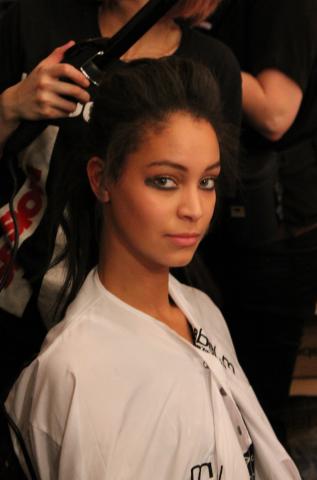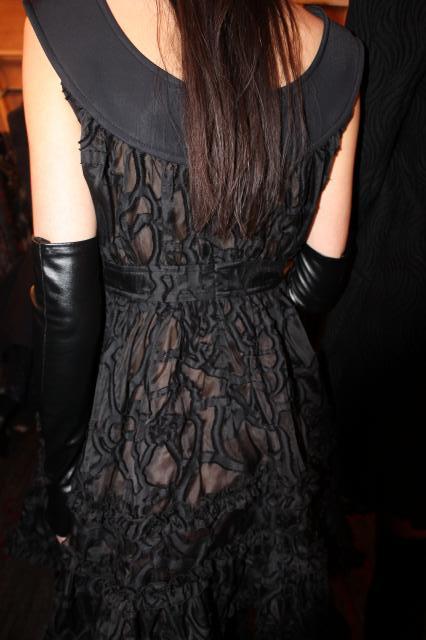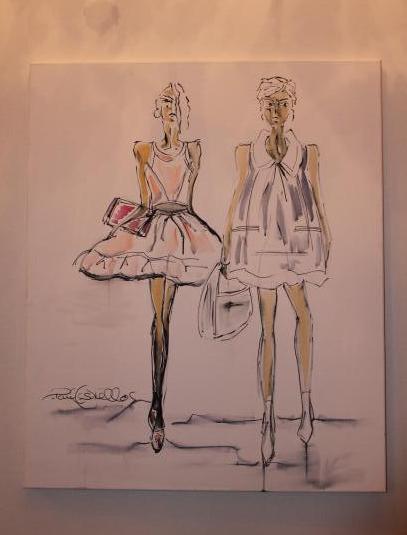 Bora Aksu
He embraces colour in every collection and Bora Aksu's London Fashion Week show is guaranteed to be beautiful fun and full of fresh youthful energy. This season he held it in a beautiful Church in Holborn and ahead of the show we where able to see some of the models preparing the the vestry. I love the wonderful use of the cityscape and it's buildings in such an inventive way around Fashion Week giving an injection of new life to the cities old buildings. 
For the Autumn-Winter 2016-17 collection lilacs and lavender where a key colour pop for the eyes. Bora lined up a crack team of international make-up artists who worked away using KMS California hair products and KIKO Milano make-up. This Italian professional make-up collection is used internationally and as a new discovery to me I saw the make-up teams enjoy working with it. Eyes where blue in tone closer to the bridge of the nose and lilac tracing out to powered flecks towards the outer cheekbones at the side of the face. Brows where gently filled out and defined with pencil and shading to give a darker tone contrasting the bright of the eye lids. It's a look that takes a little time with skilled careful application but is achievable. It's a great going out look.    
Face make-up was pared down and natural channeling the young innocent ingenue look that Bora brings into many of these collections. Easy-blend BB creams created a neutral base and allowed the eyes to do the talking. This season his muse is living a fantasy with a collection of clothes that seems like the most heavenly treasure chest of luxurious outfits. Full of life and spirit there was a 21st century sophistication in these looks that also played at times on a theme and feel of shapes from vintage eras. Hair was worn long in multiple braids, some tied behind the head in a grown-up reworking of childhood styles.     
Once again Bora was weaving a master stroke with his embroidery techniques and this season he played with the numerous layer detail of piping and twining of shapes in deceptively simple patterns to weave complex designs across the garment surface. Clearly Bora's client is a women who enjoys her clothes and there are many pieces in this collection that will show the wearers taste in playful prettiness to her audience whoever it may be.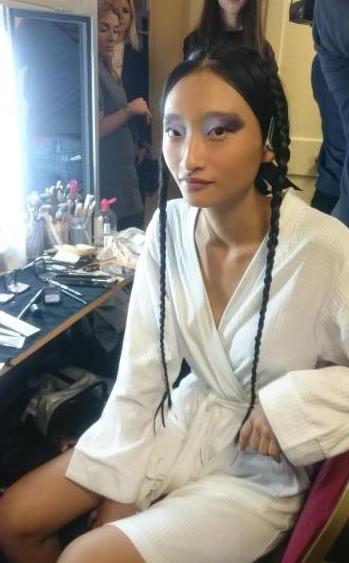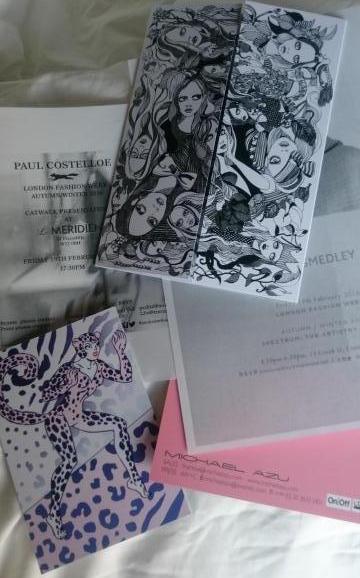 Simplified styles that can be worn for work or leisure appear across the collection and the light damask-rose colour that filtered through the collection appeared in two of these simplified styles, the blouse and the above knee lose pleat form dress above to the left. Both are easy wear looks that offer a lot of potential for mix and match coordination. Centre above the faux fur trimmed skirt offer warmth for the cooler months and the inevitable feeling of comfort with having such softness close to the skin. It's a flexible separate and you could match it with whites and blacks quite easily. Above to the right a full faux fur coat trimmed with girly frills at the opening is sure to keep out the cold on the darkest snowy night in the mountains or perhaps in Russia. 
There's an eye-popping amount of detail here to take in. Bora themed his AW 16-17 collection around flowers in the garden and as the floral motifs pop up and up you can also read the tessellated outlines of trellace in the embroidery shapes perhaps too. Within the garments themselves the colour themes are subtle with occasional contrast and plenty of harmony. This should be a collection with international appeal to like-minded buyers who are looking for a new way to express their own feel for design and textile through a bold colour statement. 
Where there is a uniformity in the overall underlying crochet theme; there is huge variation in the styles that Bora is producing for this season. Some dresses sit above the knee while others trail the floor. On shoulder, off shoulder and with or without a jacket. Some garments are constructed with a nude under layer whilst in others the nude layer comes forth and forms part of an external layer of the garment. 
Walking down the catwalk in the gothic atmosphere of the chapel reminiscent of the gothic echos that Bora adds to his collections it was hard not to be touched by the power of the music and the natural synchronicity of design that he dressed his muse in. Crochet is something that Bora has played a lot with in this collection and new for this season he above, second from the left in light pink he also mixes in a piece that uses quilting interwoven with golden embers of colour. These are definitely dresses that you could have a neo punk princess moment in should you wish and will be fantastic for going out in to clubs or parties. The movement in the pieces is great and the skirts are generous in their material creating graceful feminine flowing lines. 
These are looks for girls who enjoy a youthful feminine twist on the fashion and in places it is a little harder edged, a little darker. A hint of black here and there with black gloves and ballet pump frills brings a hint of rebellion to the collection.  Autumn looks undeniably romantic for Bora Aksu as it does each season but this time perhaps a little softer and with distant echos of renaissance beauty vibes with a modern twist.  
Paul Costelloe
Paul Costelloe has made a return to the London Fashion Week schedule in recent seasons and many people are glad that he did. He's an Irish designer who has a long and valued relationship with the British Fashion Council and fashion industry and is held in very high regard all over the world. That's before you even know that he was one of only two designers (the other being Catherine Walker) to be chosen by the Princess of Wales to design clothes for her during her years in the public eye. He's a versatile man though and has one of the broadest range of corporate clothing contracts in the industry including British Airways, Delta Airlines and the Irish Olympic team. 
He designs both womens and mens collections plus accessories. Life is non stop for this dedicated father of 7 and fashion is now a family affair with several of his children involved globally in running the company. Another thing I learned this season about Paul, he's also an artist and has been painting for decades although little of his work has been seen there where tantalising hints in the water colours on display (below).  
The models at Pauls shows look undeniably happy and there is always a great atmosphere backstage. You can often see Paul talking with them and he and his crew re extremely attentive to make sure they are comfortable and have everything that they need. A huge help if your photographing as they are already relaxed and happy to pose briefly in the midst of show preparations. 
Make-up themes for this collection where relatively simple with a golden-bronze on the eye lids and a broad stroke of black Kohl sweeping from the underneath of the eye to the side and flicks of black Mascara. A great look working with a lot of skin tones and easily mutable if you want to go with a more pared down version of the look.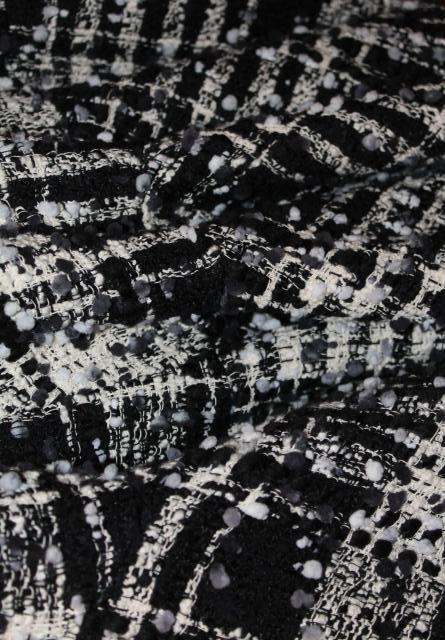 Paul designs party dresses fantastically well but with the pieces that will take you from dusk to dawn there are also a wide variety of more pared down looks and separates that you can adapt into most wardrobes as smart pieces for everyday wear. Coats are also another area where he produces a series of looks, many cuts and lines with a very contemporary feel that are well tailored,warm and not too heavy. Some of the garments are produced by a family owned factory in Ancona in central Italy. Having previous worked in Milan for several years after his years in Paris Paul has a keen appreciation of how the European textile manufacturing centres can also be one of the many resources that designers call upon.  
Sexyness and Style often go hand in hand and Paul knows how to play with the look of sultry beauty without overdoing it and looking like anything other than beautiful. We shouldn't be surprised in any way by this as he's very experienced and has gained a composite understanding of design since his teenage years as a fashion and art student in Paris in the 1960's. Above to the left a coat dress shows flared detail around the hips in an echo of dress composition. Large buttons set at an angle with an out-sized collar resemble a 1960's flare. Centre above the red wool coat with similar flared detail is a warm and ladylike statement piece offering a touch of grandeur in a non too serious way for a 'proper' winter coat. An echo of military lines in the cross-over buttoned front panel is softened by outsized buttons and longer weather-proofing sleeves. To the right a jacket and dress combination both showing quilted detail they give a playful take on some traditional shapes.  
This season Paul has composed a number of variations on the theme of an above the dress with round collared neckline, layered frill seamed skirt and central waist band. Taking a bohemian theme and re-working it to create a diverse number of formal and occasion wear pieces. Paul is based in central London in the traditional area for fashion design production and has always maintained a commitment to producing the very highest quality clothes for his clients throughout the world. He is fastidious in the suppliers and crafts people that he chooses to work with and the final results are there for all to see as when you look at the clothes the quality is highly apparent. Above left you can see one of the woolen coats that takes a new look at tweed and the traditional herring bone textile, breaking up the lines with touches of Red, the colour very much heading our way it seems for next autumn. Centre above the long woolen tweed coat in black and white is a stunning formal piece that sits well on the figure and will also keep you very warm in the city of the country, wherever you may be. It accessorises well and would look great with a number of bags from Pauls collection and beyond. 
In terms of accessories Paul covers many bases with satchel style bags that are handy for work and leisure plus a number of different rucksacks and slender backpacks in beautiful soft leather many with fascinating tassel leather details. Plus he's also brought out a number of very cute round faux fur pouch-like bags that you just want to touch. They look almost like a re-incarnation of the Victorian era hand-muff and have a deceptively large amount of space inside. On the catwalk you can see more detail of the fabric used and the over the knee black socks added a touch of Edwardian era retro to the looks while also proofing the wearer against the autumn chills. 
The rich burgundy-berry is a luxuriant autumn colour and draws the eye across the tailoring that is naturally flattering to the figure. Centre above a close up of the beautiful woven tweed fabric that Paul created for the coats in this collection. Above to the right some back detail showing of a semi sheer dress sculpted to one of the collection formulas sits lightly on the figure and is a stunning night time piece. You could dance all night in this piece and it sits lightly on the figure. Long black gloves add a sexy twist to the outfit and like many of Paul's pieces it's a look of great confidence.    
Paul's repertoire is undeniably broad and the looks that he has produced for this collection serve an international audience and a woman who knows that she wants high quality well made fashion, with some ostentation undeniably but also with a desire to be playful in the shapes that she is wearing. Within this collection Paul is one of a number of designers who offers a range of luxury coats as well as daytime or evening outfits and this for a woman who is shopping for many pieces for her wardrobe is something that shows an experienced eye. This 'complete package' is something that generally comes from more experienced designers and though there's nothing wrong at all in sending out a collection of cocktail dresses seeing Pauls collection reminds one that we are fortunate that London Fashion Week also gives us the experience of seeing designers with the longevity of experience of Paul and his overview of the needs of the client through thinking about them 365 days of the year.