A Blush of Rose
ablushofrose.com
London Fashion Week Spring-Summer 2016 part 2 all images shot my me unless indicated. 

Orla Kiely - It's a Birdie!
Many designers chose to show around the capital giving scope to provide an open interpretation to their collection while some stay on the catwalk. Either is amazing and I think it's a great example of the diversity on offer within London Fashion Week. Orla always has something special to offer and this season we where invited to join her team in a game of crazy golf as London Fashion Week was in full swing. 
Above the playful Summer dress rocking the pastel themes with notes of animal print is a Fun in the Sun piece that looks great by itself or could easily be accessorised maybe with a blue denim or black leather jacket should you feel like it. Cut close to the figure it's very flattering and is an irresistible look to slip into your wardrobe and holiday bag. I'll take one please! Matching a bikini with a light jacket to see you off to a beach party or for late afternoons by the pool is a great look and really practical for summer time.
Looking almost good enough to eat the swimsuit centre above is a masterpiece of SIBLING House crochet and also reminds me a bit of licorice whips with a sweet at the centre. The beautiful tessellation effect invites the gaze and the colours are playful and fun, perfect for summer. To the right the next two dresses are fantastic powerful looks that rocked the catwalk and would look stunning on the Red Carpet too. The asymmetric design that hugs close to the figure is hugely flattering with thigh high splits elongating the figure superbly. Whether you desire something more or less opaque there's something for everyone's taste and need here.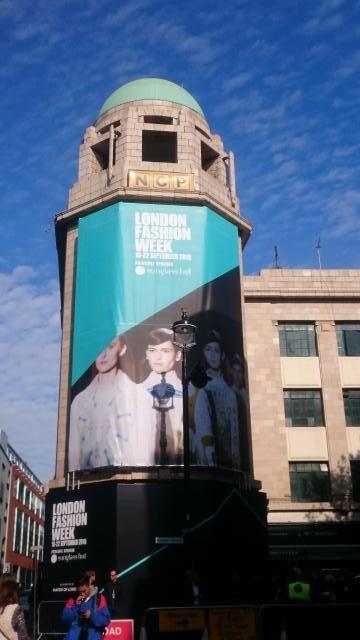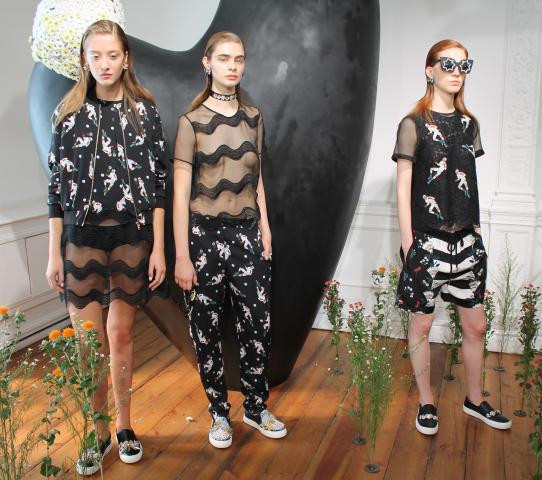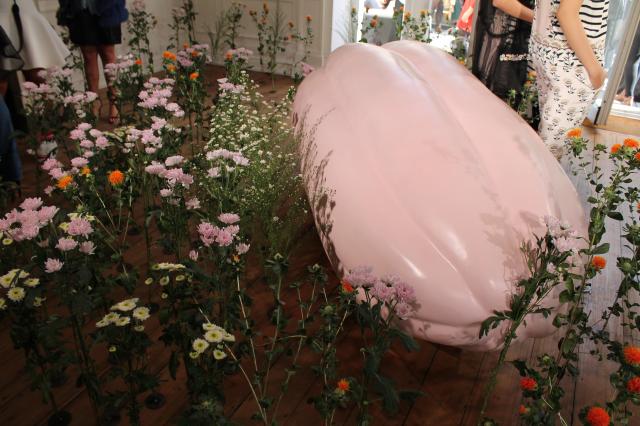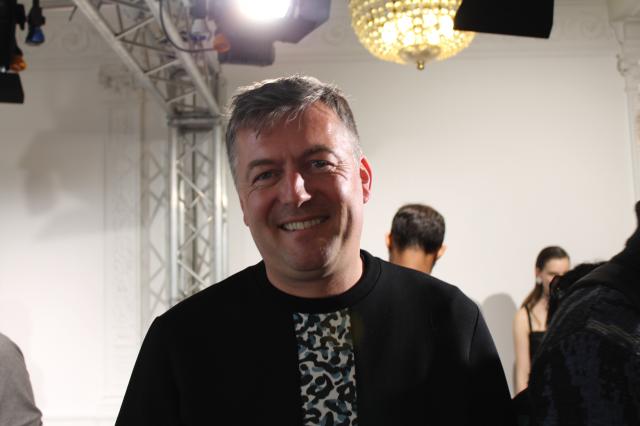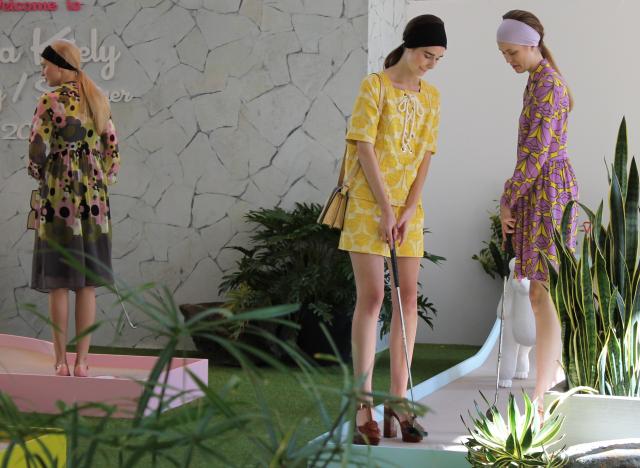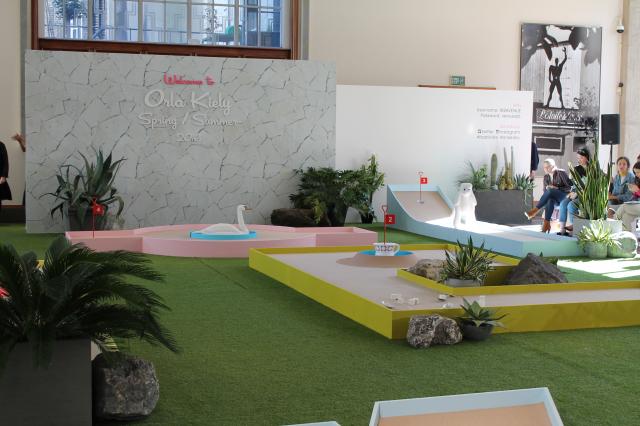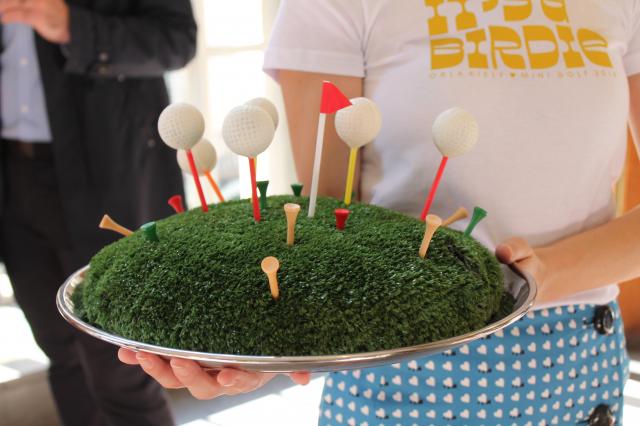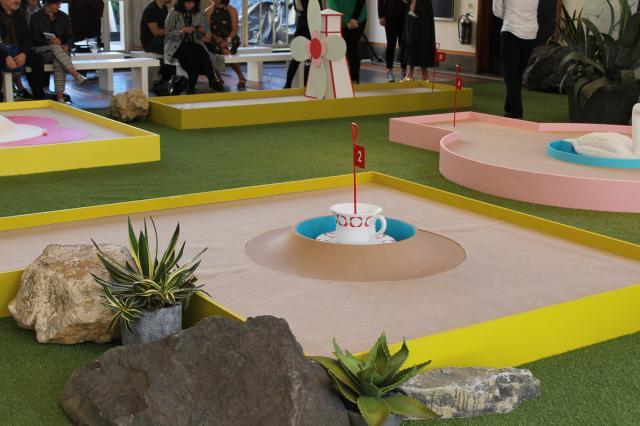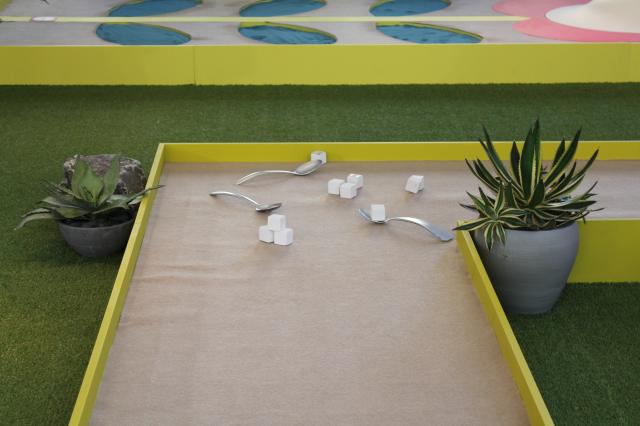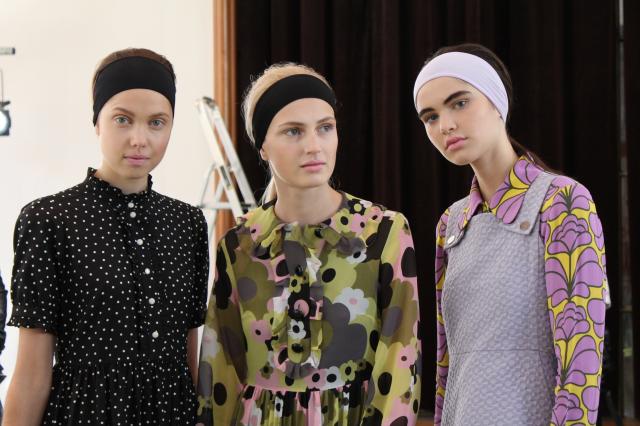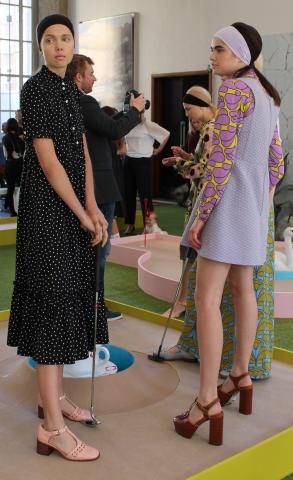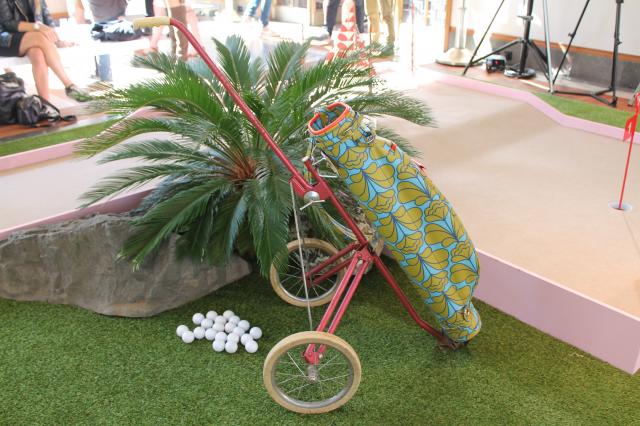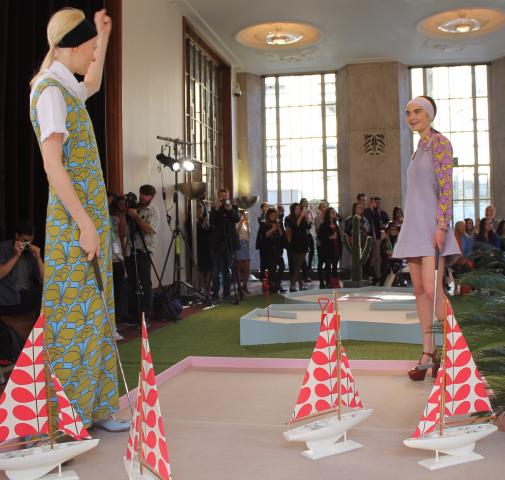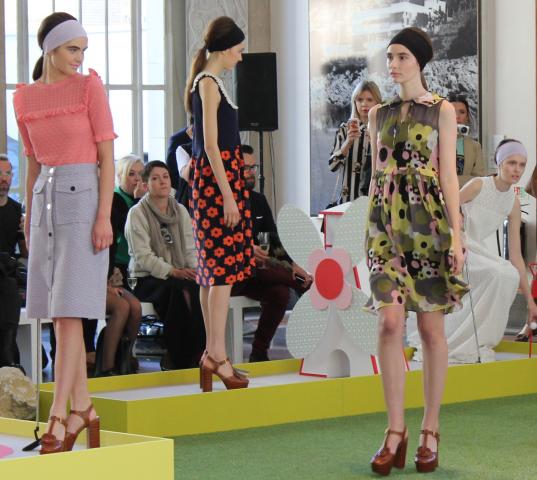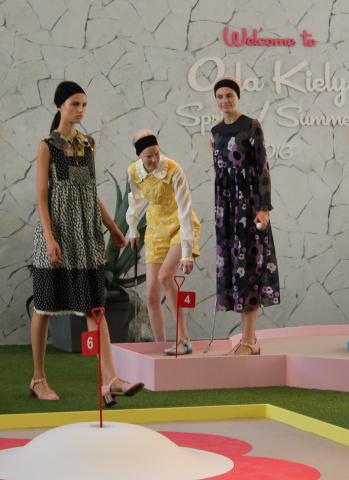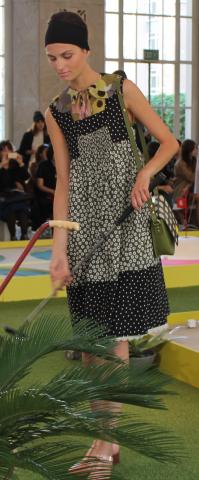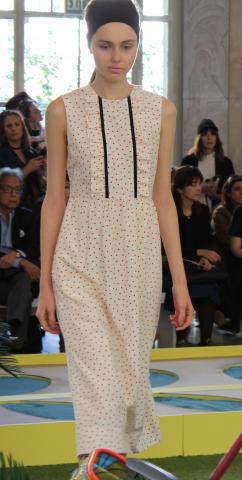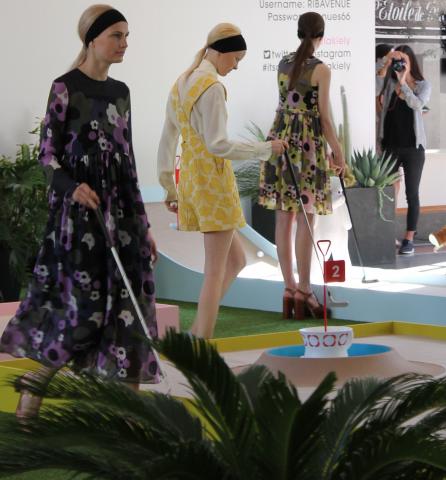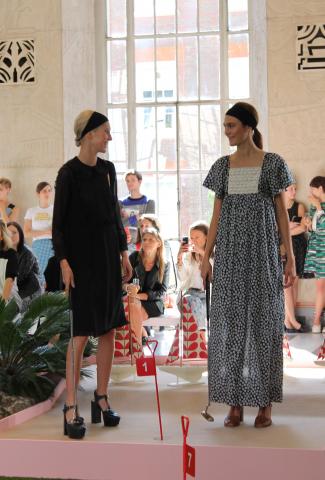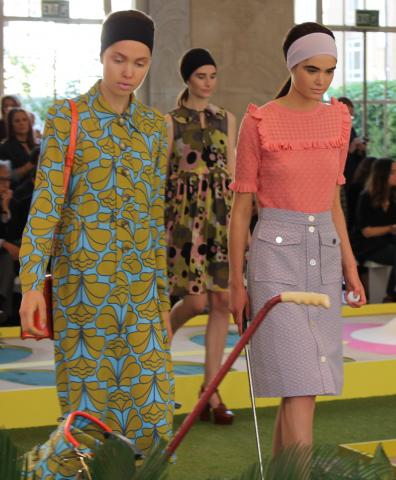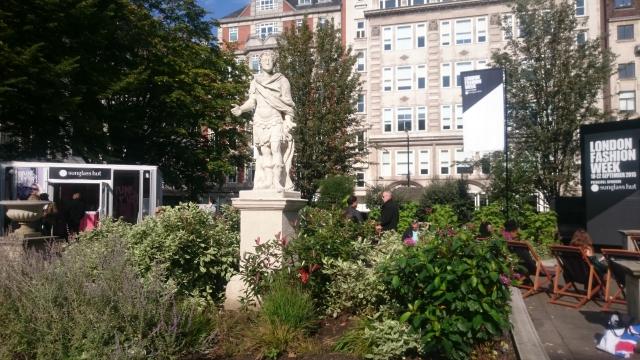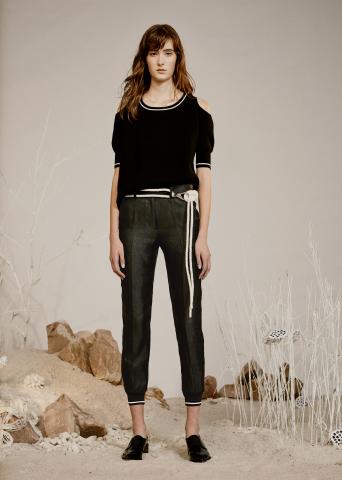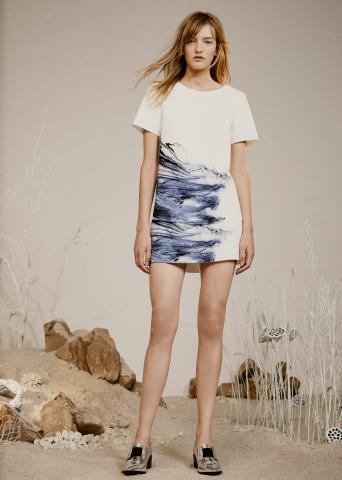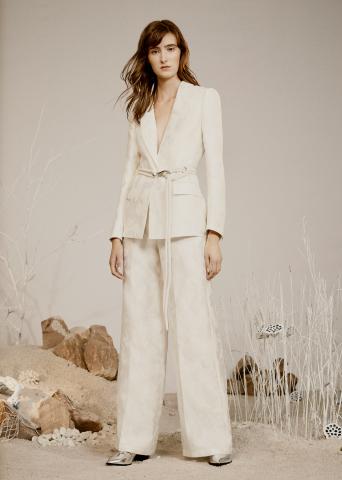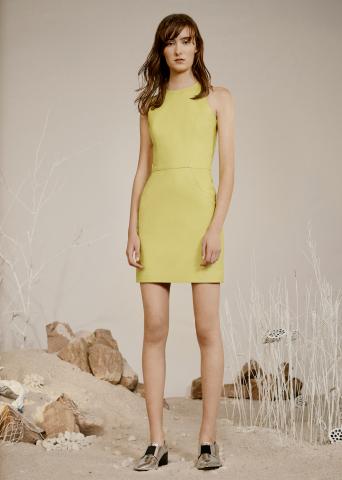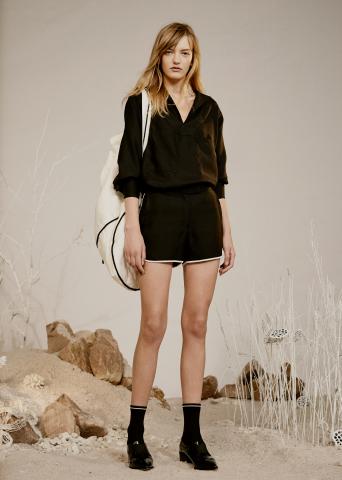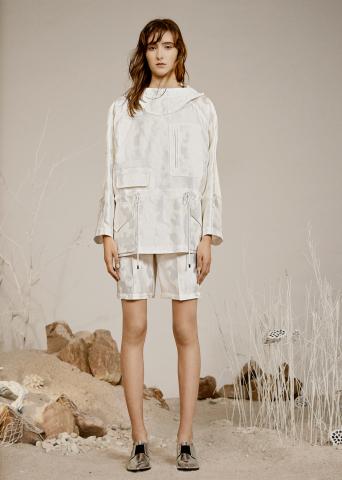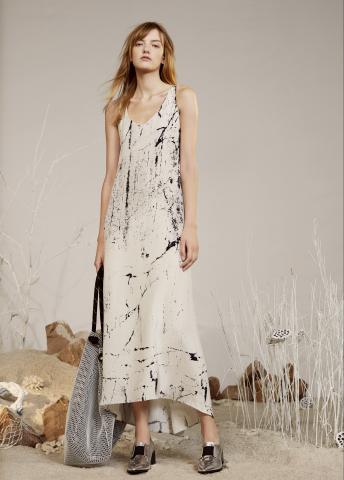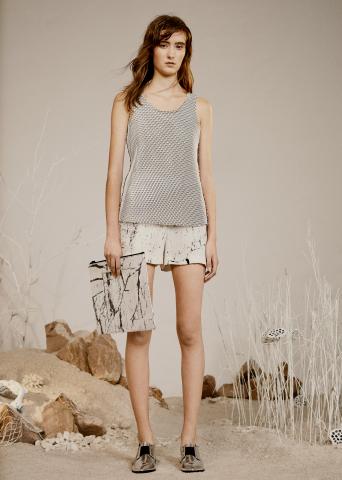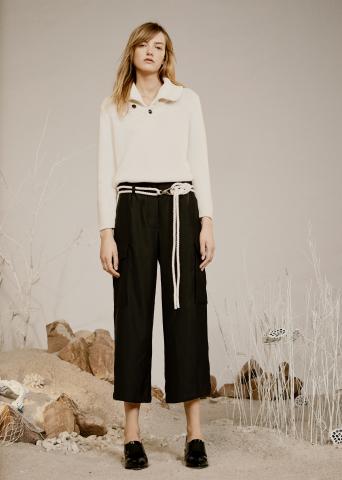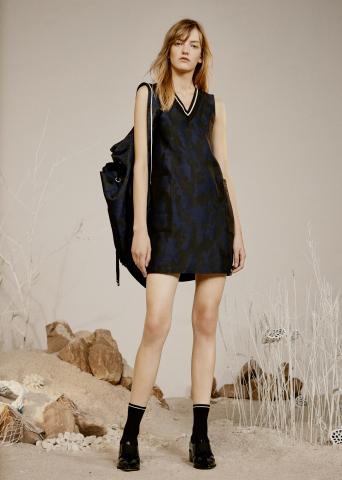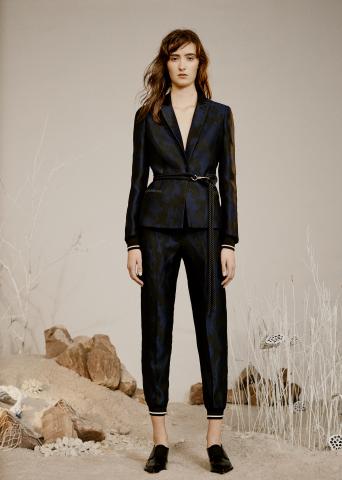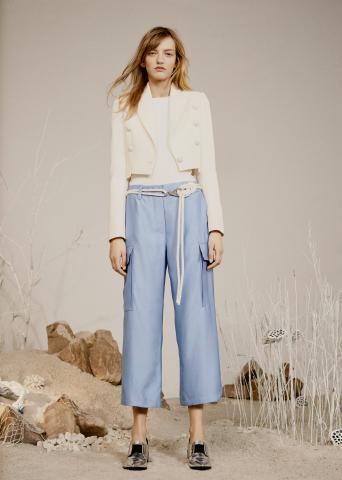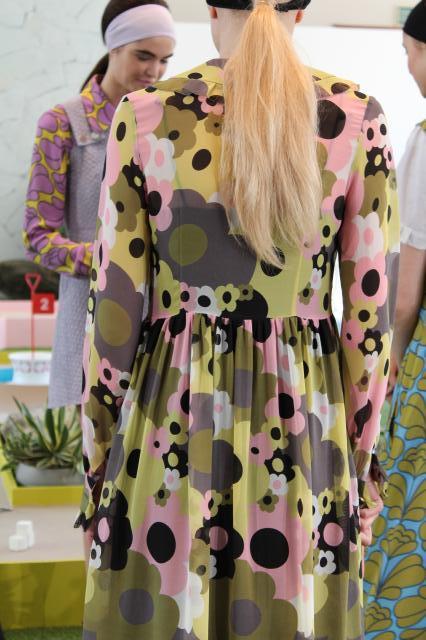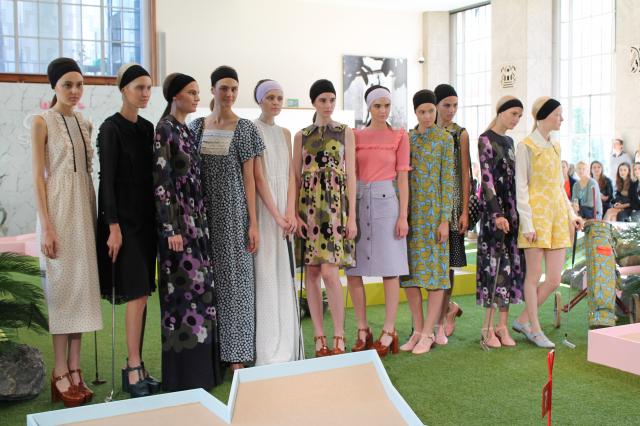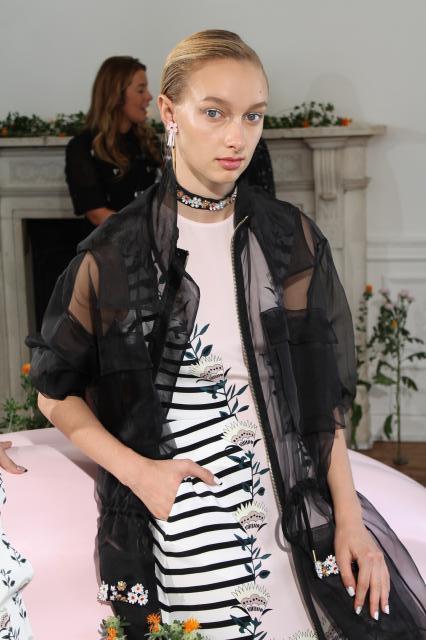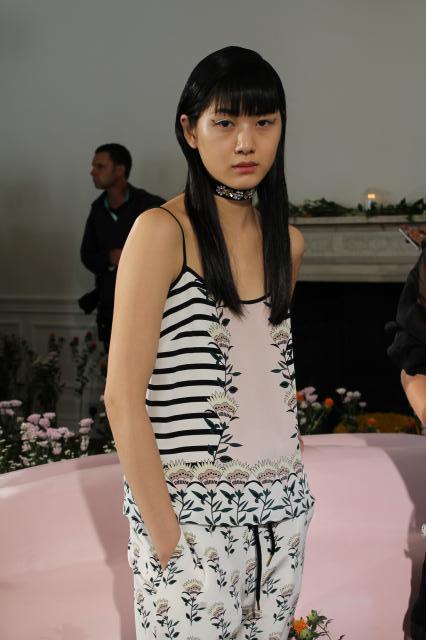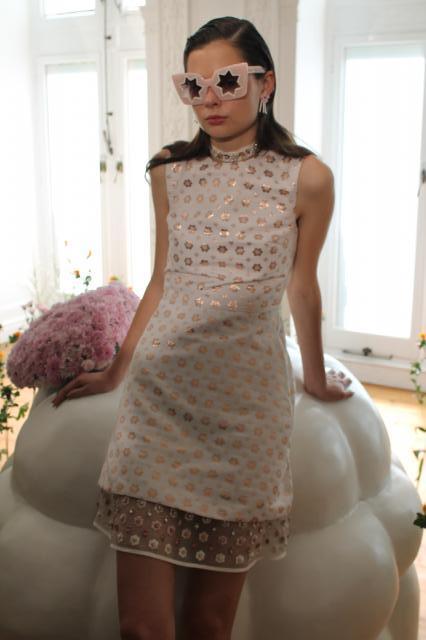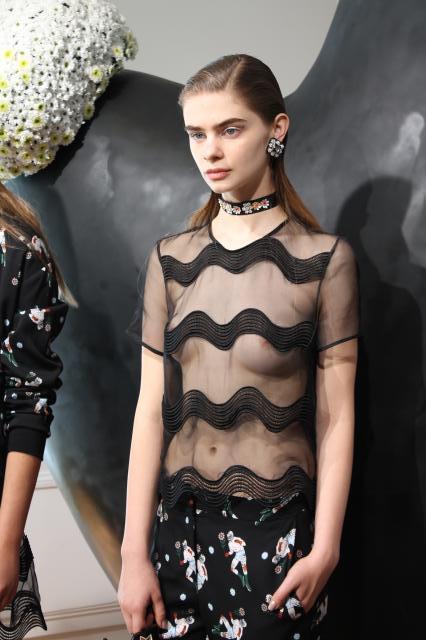 The Fashion pack have re-orientated now that London Fashion Week has moved to SoHo and amongst the bustle of the narrow streets and Coffee Houses the Brewer Street Car Park is a new landmark that everyone passes through at some point during Fashion Week. In many ways it's a journey into the past of SoHo as a creative hotbed and fashion hub of centuries gone by and here and now it's part of the exciting re-generation of the area. 
With a fun 1960's - esque theme Orla brought together the carefree life of the Rock and Roll era and Fun in the Sun was the order of the day for Orla's girls looking ahead to Spring - Summer 2016. Carefree past times with friends are key parts of our Summer memories and nearly all of us at some point have played a game of Crazy golf over the years. A key part of fashion is enjoying your clothes and feeling them blend into your life and your wardrobe after you've fallen in love with them and taken them home. This collection from Orla, while channeling the retro vibes Beach Boy style also provided a broad scope of choices to add to your closet. 
Above the lilac pinafore dress siting mid thigh is pretty, comfortable and practical. With a fresh light feel for Summer it blends easily with one of Orla's signature print blouses but would also work well with a white shirt or matched with a neutral cardigan for a more subtle look. This could be a key work wear and social outfit that you would be able to enjoy in many places. It was lovely to chat with the lady herself. Orla is such a kind lady and well as overseeing every detail of her show she also has a keen eye for making sure her models really are happy on shoot. Above some close-up detail from one of Orla's print dresses. Not quite heading in the realms of psychedelia this piece is bold in the style of Orla's signature prints and the light 1960's - 70's flowing lines are gentle and suit many different figures. 
What some fashion watchers may not know is that Orla has through her career designed in many different ways for different parts of our lifestyles.  She began as a milliner and then progressed to accessories making beautiful bags and has a thriving homeware business. Sports wear? Who knows, it could be next. Many eyes where on the printed golf bag complete with trolley. This one definitely camouflages better in natural harmony with the countryside than many of the designs that you will on the course. 
You can see the key make-up themes for this season on the trio above to the right. Looking soft and neutral with a light Rose on the lips and some light definition to the eyes with a clear complexion, it's a look that emphasises health and neat grooming. The wide hair band is fashion statement iconic of the era of the that Orla is channeling for Spring and Summer and it's also very handy trick to have up your sleeve to keep hair smooth on warm summer days, perhaps before heading out to a party in the evening.   
There where a number of different shapes and looks through the collection that gave it sense of broad appeal. Above to the left you can see a coral blouse with beautiful fabric and ruffle details. Teamed with a skirt with front pinafore pockets this is an easy wear look for work and play next season. 
Orla is bold in her use of colour and patterns illustrating the strong link between confidence and style. Light dresses above and below the knee in a variety of different permutations are a key feature of the next seasons collection. With blouse-style bodice's descending into lose fitting skirts the theme and feel is carefree and stylish perfect for a Spring and Summer day and easy to co-ordinate should you wish. 
Markus Lupfer's presentation was one of the most highly anticipated shows of Day Two at London Fashion Week. Showing in riverside rooms in the stunningly beautiful Whitehall this was a collection that was unveiled in grand surroundings at the heart of the British establishment and fused this perfectly with a 21st century sexy take on rock chic style. 
It was great to chat with Markus and catch-up and see how he was doing. This seasons presentation was a cocktail party and as well as seeing some international fashion friends I also found myself next Hamish Bowles of American Vogue chatting in a group I was with and taking in the collection.  
Markus' girl is very strong and confident and her clothes let you know this before she speaks. His style reaches out internationally very easily and it's clear to see why he's such a great draw on the show schedule. 
London street style infused chic meets with a high class international brand of sexiness that plays boldly with beauty and glamour.
In terms of putting together fun presentation that was jam packed with great clothes this was certainly it. Between presentation sessions we where positively encouraged to take a swing ourselves navigating around giant tea cups and saucers, sugar lumps on silver spoons and toys from childhood such a boats to sail on ponds and cuddly polar bears. On a sweet theme we where entertained with glasses of chilled wine or juice and some of the very best disguised cake pops I've ever seen. The golf ball cake-pop is a master stroke of culinary creativity :-) . 
While the mood of the collection took the best hints of decades gone by it wasn't backward looking. With Orla's well loved Bohemian nuances running through the looks this was an exploration as much as a continuation of Orla Kiely as a 'Go to' contemporary brand. And there are a lot of cute looks to chose from and when we're shopping for clothes to suit our moods and want something playful for summer this is what we're looking for. 
This is a fun-filled collection that captures both the imagination and the spirit of carefree youth and summer fun. Fashion should never take itself too seriously and sometimes in any industry it's worth taking time to pause and reflect and take a swing at things from a different angle. We should all stop once in awhile for a game of crazy golf and kick back with tea and cakes.  
Fashion is always looking to change and to innovate and one of the biggest conversations through 2015 in fashion has been the use of Digital Media in designers and work and it's possible future influence in the way that they show their collections on the London Fashion Week Schedule. 
Who will use Digital? , how will this change the Industry? , will it make the London Fashion Week / Fashion Month experience different? If so, where will this take us? 
We're just at the start of this exciting journey and embracing the trend is Zoe Jordan who showed her Spring - Summer 2016 collection digitally in New York and then also in London. 
This season the British Fashion Council where streaming live online and also showing presentation live in Golden Square (right) where I joined Zoe and her friends for a showing of the Spring-Summer collection.
Images with kind permission of Zoe Jordan.
For Spring and Summer 2016 Zoe Jordan took us on an adventure that was the start of a great journey. Her collection was set against the back-drop of a rock-strewn landscape looking a little like the dessert and a little like a lunar landscape or possibly a sea bed. The collection was themed around Water with naval symbolism abounding as we saw look after look of easy elegance that would fit easily into the wardrobe of Zoe's international woman. 
Sailors knots looped loosely around waists on mariners trousers, shorts and jackets. It's a unique style twist and is neat and chic echo of Zoe's love of sailing. As ever with Zoe this is a highly practical wardrobe with many casual and smart pieces that will blend easily into the wardrobe and suitcase. Above to the left light weight trousers sit comfortably with a crew neck jersey vest and next to the right a vest and jacket combination borrowing hints of men's military style tailoring. Sitting above the waist this naturally gives definition to the figure and emphasises a slim frame. Casual practicality is emphasised by the duffle bag slung over the shoulder in the next look with the comfort factor emphasised to the max. 
A shot from the finale of the show and huge thank you Orla and her team.
This season we where welcomed into a floral paradise transported from the deserts of Mexico. Delicate flowers where strewn across the floor and the hardy flowers where growing in abundance all around us. The colour themes played around mostly with black, pink and white giving the feel of a restrained and confident colour palette that still offered room for plenty of surprises. 
In contrast to the previous autumn this was a collection that was feminine to it's very core. The androgynous military-esque styles became soft and delicate with the desert flowers providing Markus with a feast of inspiration for a myriad of print design possibilities. Symmetry plays a key role in the collection with surprising twists. To the left below the slip top uses florals bisected with horizontal lines creating a uniue signature look.   
This collection is filled with a large number of interchangeable separates that offer a lot of flexibility. Light and breezy looks are completed with sheer pieces such as feather light jackets or a sheer chemise. There's a sweetness but also a toughness here some of the pieces are adorned with prints of the Mexican 'Luchador' wrestler that his holding a flower. 'Make Love Not War' perhaps is the message here or maybe that there is always strength in beauty. 
These are clothes where you want to admire the beauty and detail but also that you can live in very day. The chemise below tot he left is so very pretty that it's hard not to fall in love with it. It's one the many great items that you can combine with other pieces and would also look great with jeans. The crochet details is reminiscent of Spanish style handmade textiles naturally transported to the new world of Mexico. She may be seeing stars but this is a girl with her feet on the ground too. Beautiful floral details in the accessories give a delicate balance and soften up the appearance of looks. The floral chockers are a really cool idea and you can wear them with almost anything.   
Marcus always injects a healthy dose of humour into his collections and this wit is part of what gives his work such a healthy spark. 
The mysterious fantastical fruits growing in the desert formed part of the fun set dressing and provided a great backdrop for the photographers shooting looks from the collection. Markus never fails to surprise us. I guess mexico is a little South of Los Angeles but there was definitely a touch of silver screen budding actress/ rock chic in the mood of some of the pieces. 
One of my must-have looks was the dress to the right. It's a perfect day to evening dress that you could wear for dinner, a date, drinks or around town. It's beautiful by itself and and is also very flexible to be coordinated with a variety of accessories and light jackets. 
For me the little golden flowers are a symbol of what the girl herself. Shining with a golden radiance and perfectly formed a representation of a happy spirit perhaps still a killer look to have in your wardrobe for next season.  
For Spring and Summer 2016 Zoe Jordan took us on an adventure that was the start of a great journey. Her collection was set against the back-drop of a rock-strewn landscape looking a little like the dessert and a little like a lunar landscape or possibly a sea bed. The collection was themed around Water with naval symbolism abounding as we saw look after look of easy elegance that would fit into the wardrobe of Zoe's international woman. 
I would personally describe Zoe's style as 'Relaxed Glamour with a hint of sport' mixed in. Her woman is cool, confident, an able traveler and also at home in the city. There is a little mix of themes and ideas in this collection and I feel that Zoe's perhaps though about dressing her woman for different days and moments in her life rather than simply doing day and evening wear. Her label for me has a strong theme of the outdoors about it as well as creating pieces for the wardrobe that you can work in the Boardroom as well as a drinks reception.  
Above and to the side are three fantastic trouser suits that you could wear to dinner and drinks receptions and possibly also Black tie events as well. I really like these pieces and I love the way that Zoe is playing with using colour in the fabric here too. The suit in aqua and light sky blue is a very special look that has a very unique appeal and to the right the black and midnight blue suit rocks some serious glamour. 
Zoe's print designs from previous seasons make a return in some of the collections looks in dresses, shorts and new this season elongated envelope style clutches. A weaved style mesh fabric is a new interesting innovation this season and true to Zoe's utilitarian philosophy it appears in the form of a shirt and also as the fabric for a tote bag. 
Without boldly stating eco sensibilities I think there is also a strong underlying theme of sustainability in Zoe's work. There's no one theme, it's not sporty and Tom-Boyish or Urban chic sophisticate, all seem to work in harmony to blend and create a true collection of looks.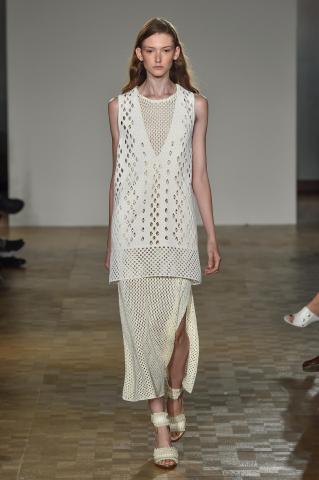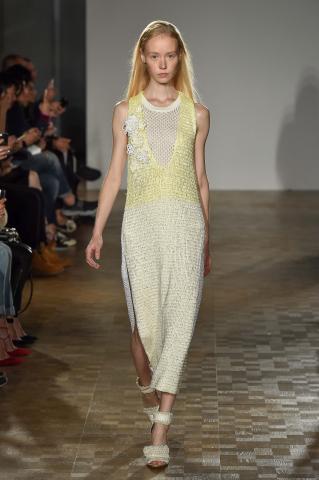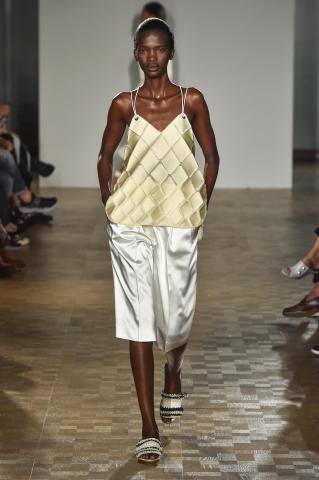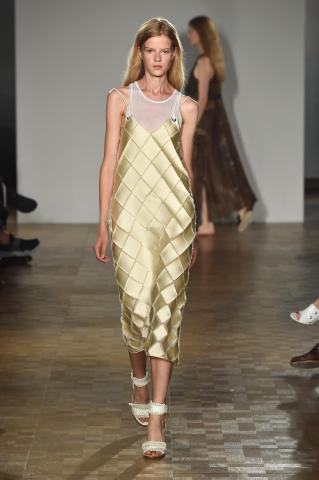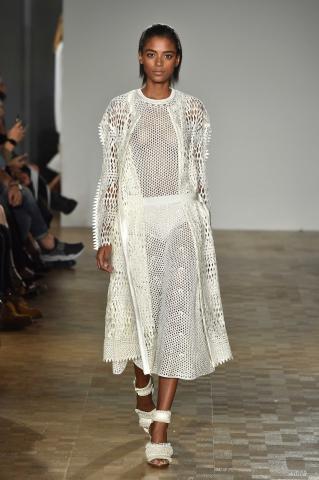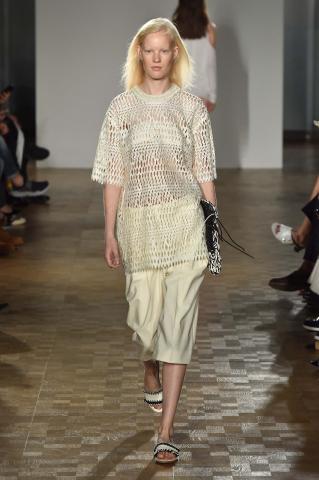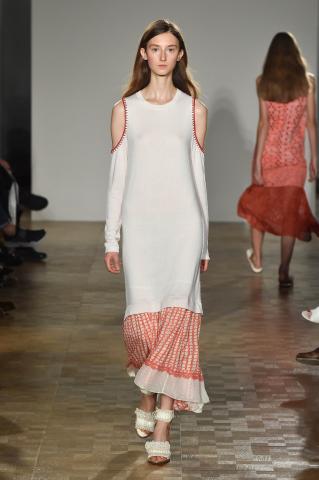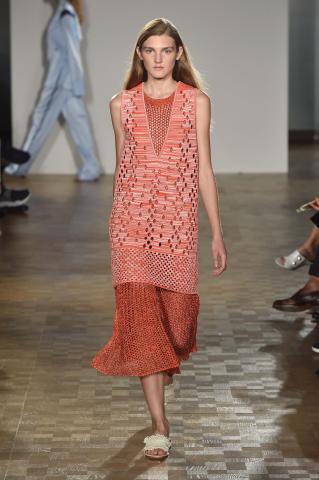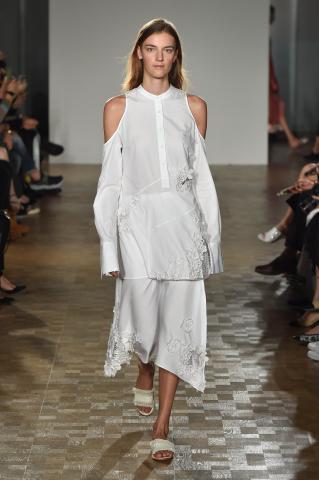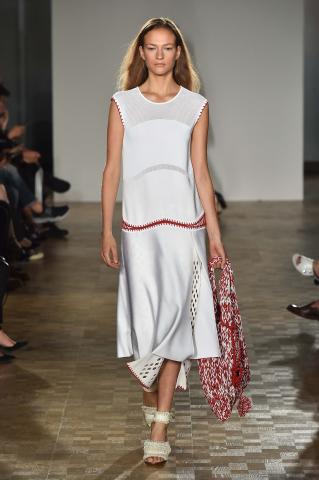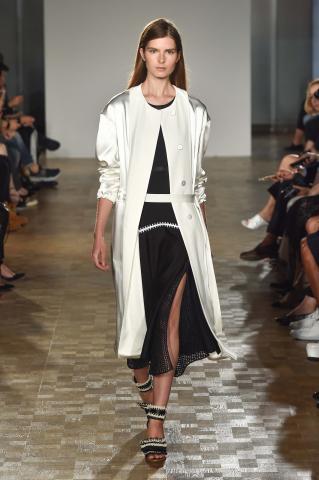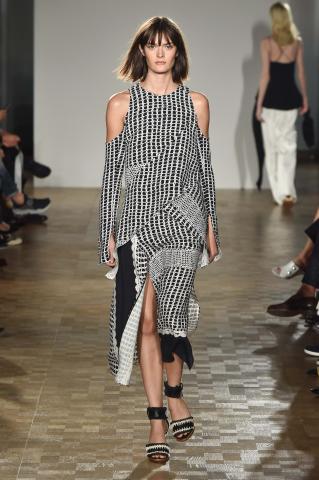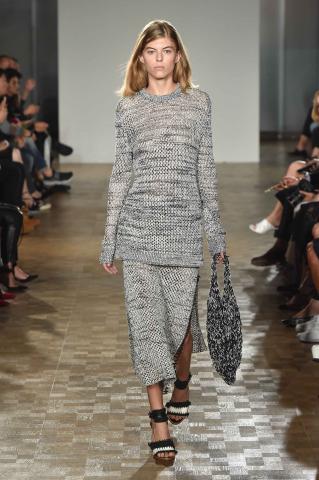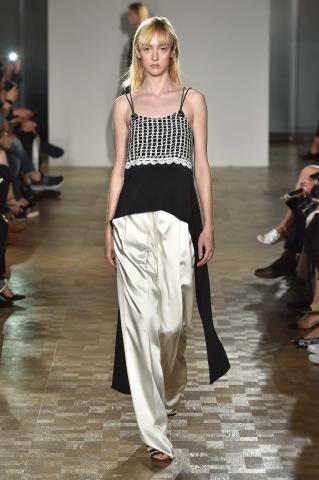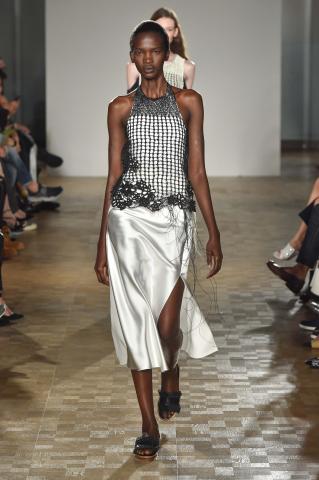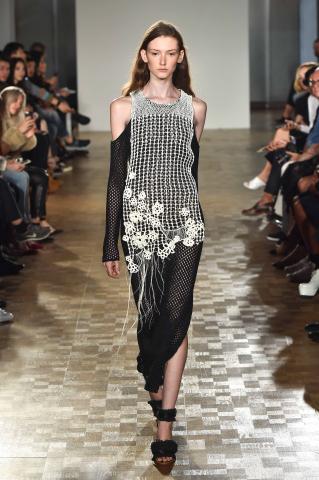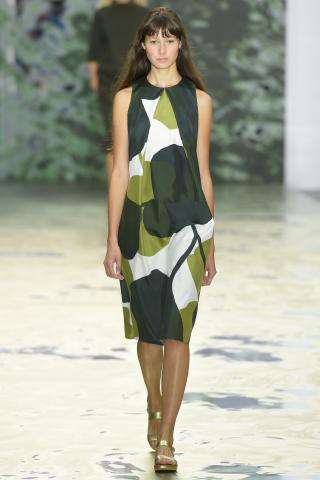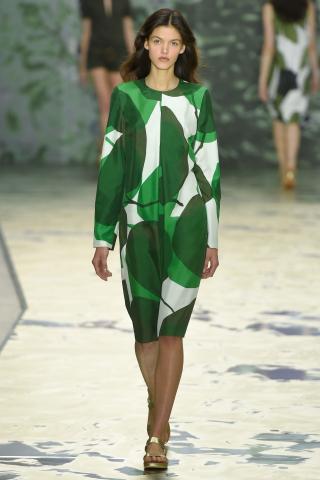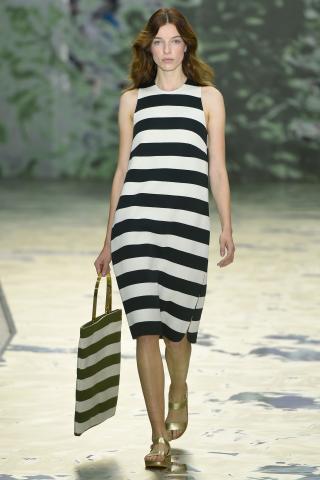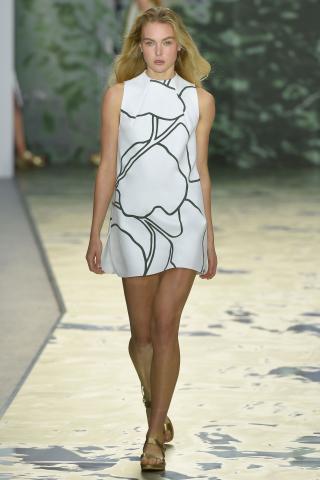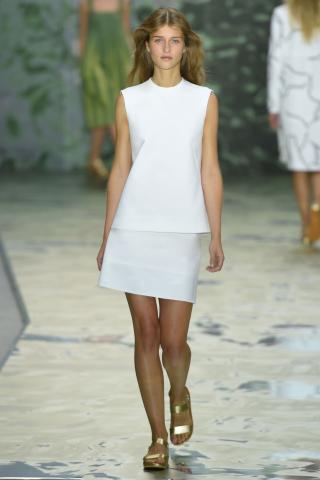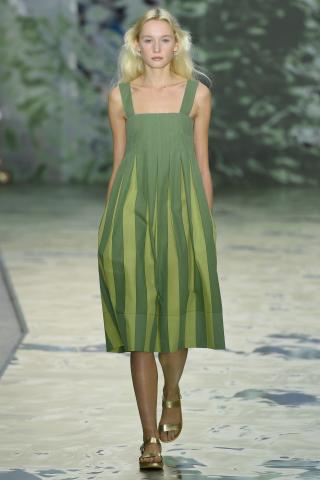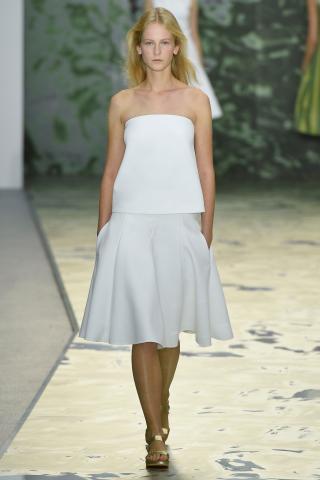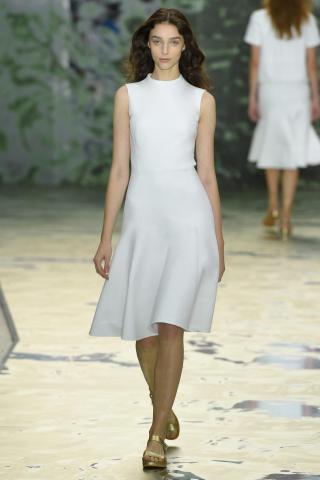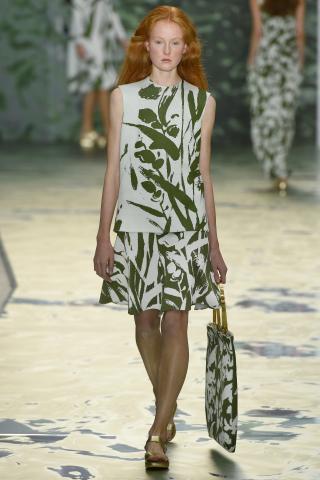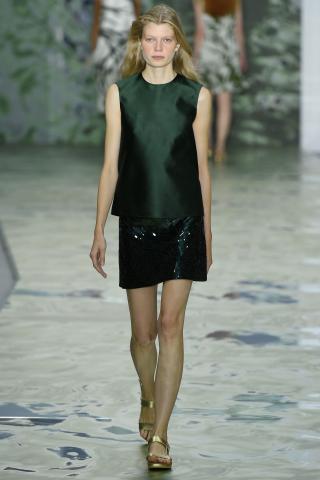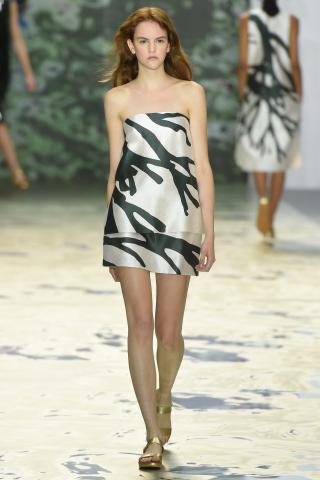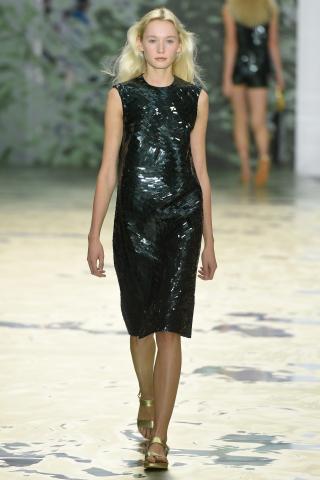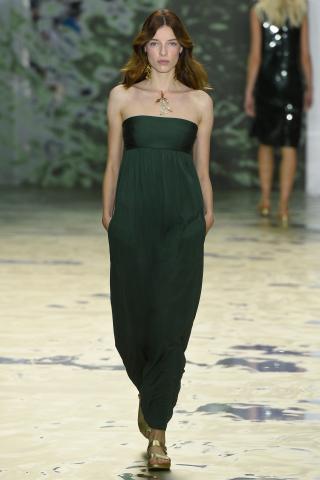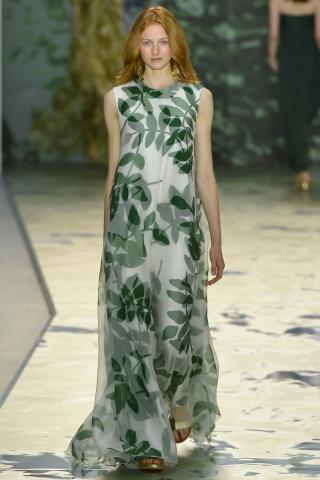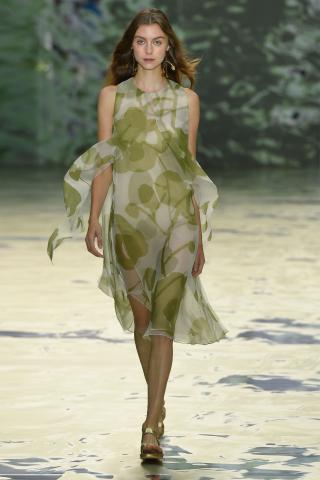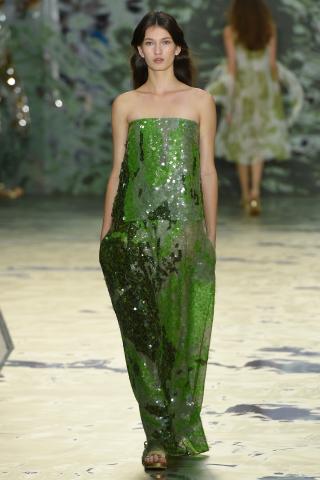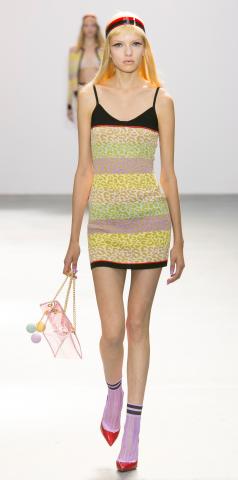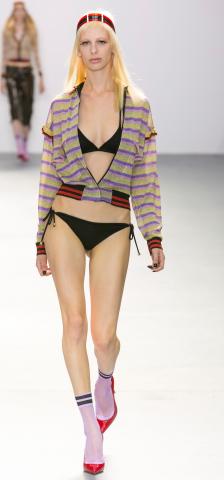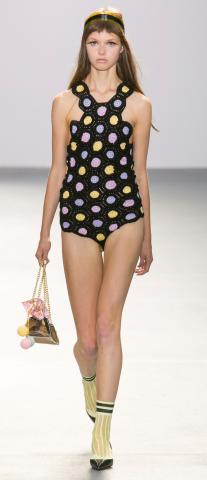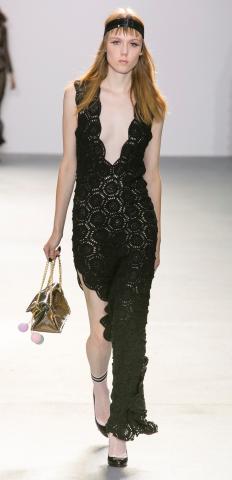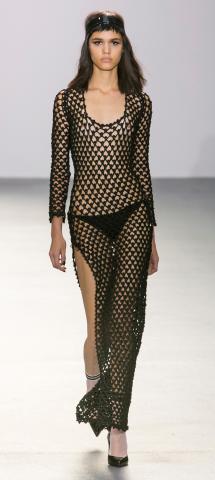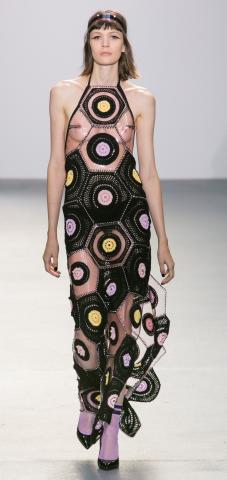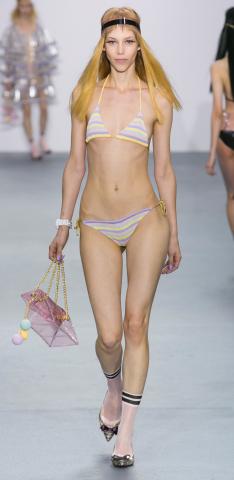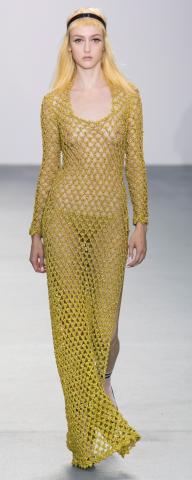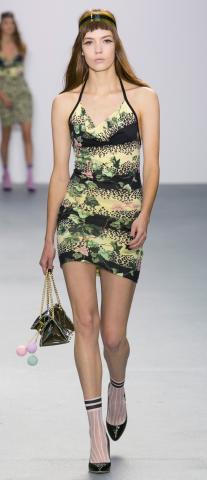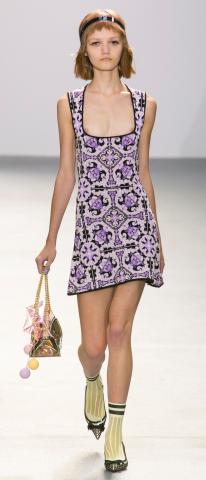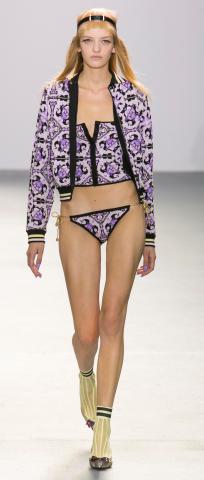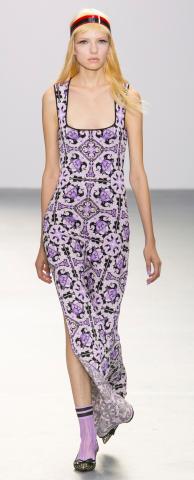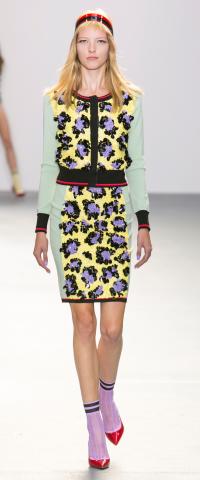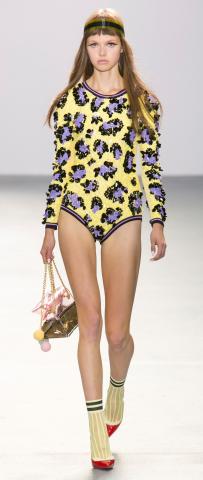 SIBLING
One of mainstays of London Fashion Week who always know how to surprise and delight their audience are SIBLING. This season the neon tones where toned down to subtler shades of pastels blending with black and showing how knitwear can be street wear and beach wear with added sexiness and verve. This was a dynamic collection as always and fused technical expertise and creativity with passion and wit. The catwalk was hot for SS16. 
Working further with the crochet theme further and mixing textures and transparency the dress above to the left is a strong statement in honeycomb that leaves no doubt in the wearers confidence. This would make another great Red Carpet dress I think for someone who wants to make a strong style statement in front of the cameras. Above in the centre is a the cutest pastel bikini that could easily find it's way into the holiday bag. Note the chic translucent box clutch that many of the girls are carrying. Very chic and easy to put with any outfit.
Looking like a mermaid the goddess dress next to the right with golden chain-mail knit is one of the most stand out pieces of the collection that drew a lot of attention. Working with SIBLING's strength in the knitted version of chain-mail, turning up the punk feel to a highly sophisticated this is a grown up look that has long passed rebellious youth. To the right another must-have Summer dress using pastels, hints of black and animal print drew many eyes.
Using Jacquard in the collection was a masterstroke at crafting heritage style into a contemporary fashion line and then creating something something magical from the cross. The mini dress above to the left is super cute and on my wish-list. The bikini with bodice top piece and bomber jacket is a great combination and shows how a beach outfit should really come in 3 pieces so you're prepared for going on to parties when the sun goes down. Centre above the long dress cut to the thigh like several above in this collection oozes glamour and would look fantastic at evening dinners as well as being a wonderful piece to enjoy through the day. 
Animal prints meet with playful pastels again in the two looks above to the right with a smart sports-casual suit and Leotard all in one swimsuit sending the suit in a sporty direction. 
One thing that you can be sure of each season is that SIBLING will surprise you while continuing to deliver on their brand of edgy street fashion seen through a lens of sophistication desired by an international audience looking for the 'London' look. 
Jasper Conran
Japser is one of our best known and respected designers internationally and he has built a very loyal following of clients around the globe who know they can rely on him to produce looks and collections that will fit well into their wardrobe and lifestyle. He easily crosses geographies and generations and has a lot to offer the modern woman. This season for Spring and Summer 2016 the palette was neutral and modest with greens and browns appearing in block colours or in signature relief as we where led on a journey of exploration. 
Japser crafted a collection that was a buyers dream as look after look came down the catwalk that had heads nodding. There where certainly many 'Shades of Green' in this collection showing that Jasper's method of starting with a colour theme and broadening it out to form the basis of a full Ready to Wear collection offers a great foundation for ideas. This is an easy-wear contemporary collection that suits both a working or leisure wardrobe. Above to the left the teal green outfit is stylish and relaxed in one colour gently showing the figure. 
Jasper played with print in different ways through the collections and the two dresses centre above offer both great colour and silhouettes and easy flowing design. To the right the nautical stripes offer a traditional taste of Summer while the green shoots of leaves in print to the right give a fresh look at summer style with warm climbs beckoning. Matching totes emphasise practicality while also making a nod to sustainability with their bamboo handles.  
Pringle of Scotland(Images with kind permission.)
Pringle are one of our best known British Heritage brands showing on the Fashion Week Schedule; having arrived at their 200 year anniversary in 2015 they are forging ahead into the future with innovation on the cards and happy experimentation with style and form continuing a new age exploration of the crafts and traditional shapes and emblems of the brand. 
Jasper plays a lot with lines and patterns in this collection and he reveals this in several ways. The reverse of full colour flowers, the painted outline above to the left is a catchy bright design that is also subtly understated and has huge potential to be coordinated with jackets, purses and shows as well as being worn by itself. 
Stripping thing down to absolute simplicity the two piece white outfit next evokes Wimbledon whites and has a sporty-casual feel to it as so the other looks to the farthest right. All comprise of interchangeable separates and would match well with different jackets or pashmina's and stoles for cooler evenings. The beautiful longer tunic-style pleated dress above in the centre again for me evokes the Grass court tennis season in SW19 with the two shades of green evoking the freshly pressed lawns. All are loose and comfortable pieces that will stand you in good stead during warm days and evenings when you're out and about at events or in your working schedule.  
As the collection moves from day into evening the looks are no less desirable. A shimmer and a sparkle adds some understated glamour, true to Jasper's style, to a black and teal two piece outfit that is perfect for showing off the pins. 
Seaweed patterning in deep green decorates several of the looks in the collection and looks great in the off the shoulder outfit above to the left. Teal and white making a slightly softer statement than black and white. 
There's plenty more shimmer with echos of the deep green sea above in the centre and to the right. They are both fantastic evening dresses that have great appeal and will be comfortable to party in through long evenings wherever you are in the world. 
Working with a restrained colour palette Jasper has turned his focus to creating a myriad of different designs this season that will suit a lot of style occasions. This is stylish and fun fashion with dresses and separates here that you can enjoy through many seasons and investment pieces to cherish
For Spring and Summer 2016 Pringle continued their current trend of producing light, open structures in their knitwear allowing breath-ability and the possibility of layering even in warm weather. The first look above to the left is an example of how this layering can work and the singlet top could also be combined with jeans or trousers if you wanted to work the look differently. The colour palette moves from white into soft lemon with knits in single or several colours. 
One feature that caught much attention was the re-working of the classic Pringle diamond shape pressed into the fabric. The vest top above with this technique uses this idea and this is a great look for parties. The dress to the right using a similar theme is also a great piece, the shimmer of the light lemon almost looking golden under the lights. The light vest underneath giving it a twist of urban cool. Crochet style knit comes to the fore in the next look as a sheer dress and jacket give a complete look for summer.
Above to the left a two piece outfit in light lemon gives a light and stylish option for Spring and Summer easy dressing. Colour was an area that Marios Nicosia wanted to explore gently in this collection.  Beyond white and lemon he moved into an exploration of a burnished Red giving a subtle lift to the palette but not distracting the eye too much from the plentiful designs inspiration. Marios played with cutting away the shoulders in several of the outfits and as well as a cool style twist this is also an interesting design technique that allows the wearer to move easily. 
In many looks Marios favours long lines that gently create a flattering silhouette. In a reworking of the vest and dress combo theme above the look in Red is a super-chic. Open weave style again means that this is light and airy and flexible for warm days and evenings. You could wear one of the two pieces and I also think the singlet/gillet would be a great look to slip on over a bikini or a swimsuit when you come out of the water. 
The light white outfits are perfect light summer wear. Beautiful raised embroidery detail in one of the looks adds an offset of femininity to the re-styling of the formal shirt with it's cut-away shoulders and exaggerated length. You could be very bold and wear the shirt by itself. The long white dress next to it makes a play on fashion craft with the out-sized stitch detail and the first of several fun tote bags makes an appearance. With soft structure and shape and a simple practicality these would be fun editions to your wardrobe. 
As the collection turns more decidedly towards evening wear the palette moves to black and white. The effect of white satin in the pieces gives a classic stylish and sexy evening appeal and there are a host of options here for you to find something for different occasions. 
Once again Marios is definitely pushing the boundaries here but not going further than the audience would willingly embrace. This is a stylish contemporary collection continuing the journey that Pringle has started to go new places but also with hindsight to build skillfully on their heritage and classic successes.