A Blush of Rose
ablushofrose.com
Burberry (all images in this piece shot by me)

I'm being a little bit naughty here as the see-now buy-now collection from Burberry at London Fashion Week was meant for wear and instant sale in February. But as a leading part of the spectacle that is London Fashion Week in February it hopefully isn't too out of place here. Burberry is always a key element of London Fashion Week each season and unless you see what Christopher has to offer this season; it can feel like you've missed a key part of the week.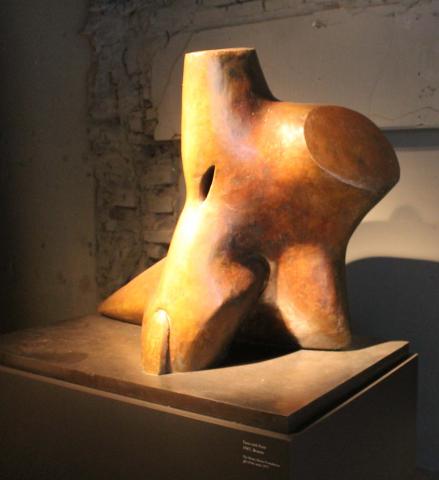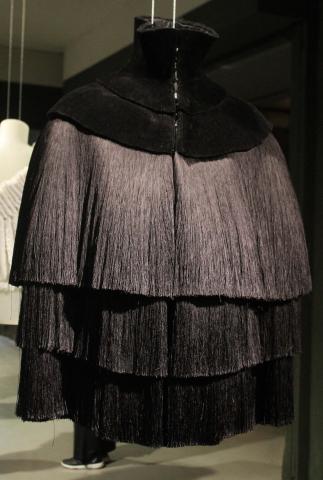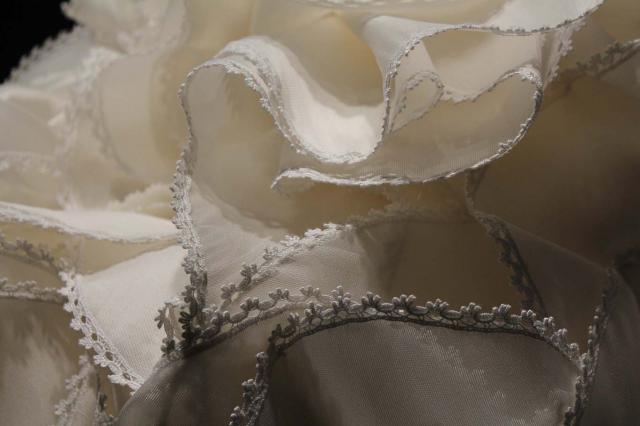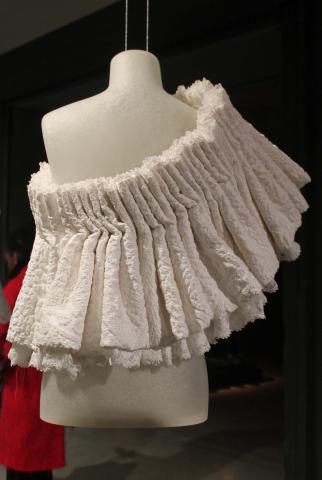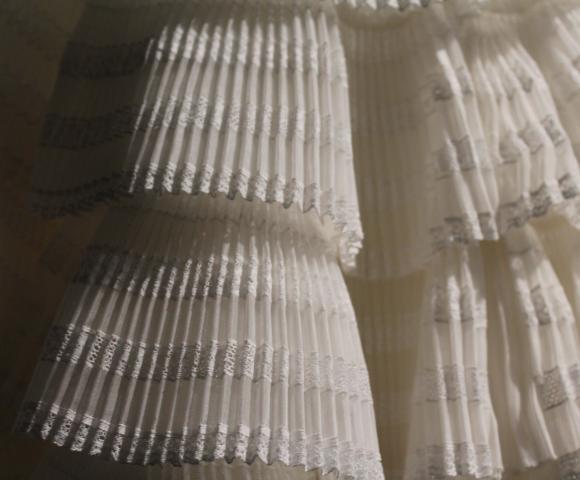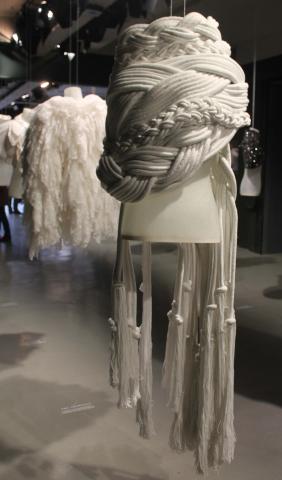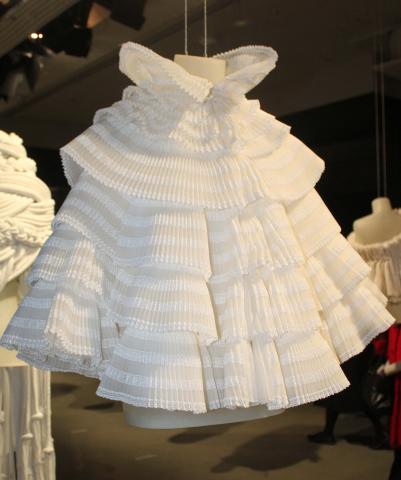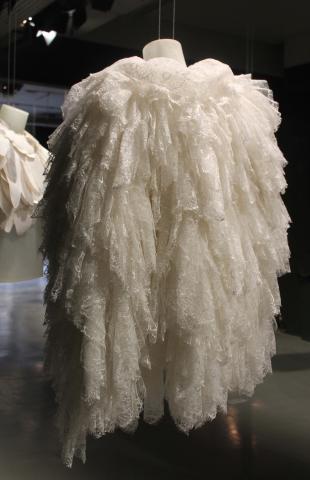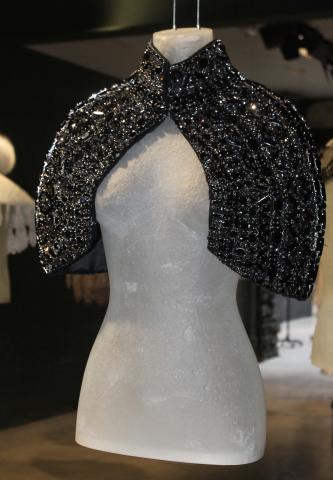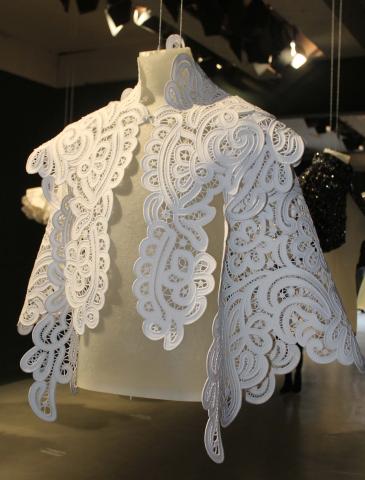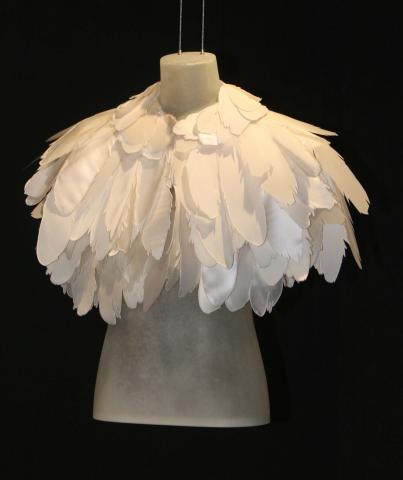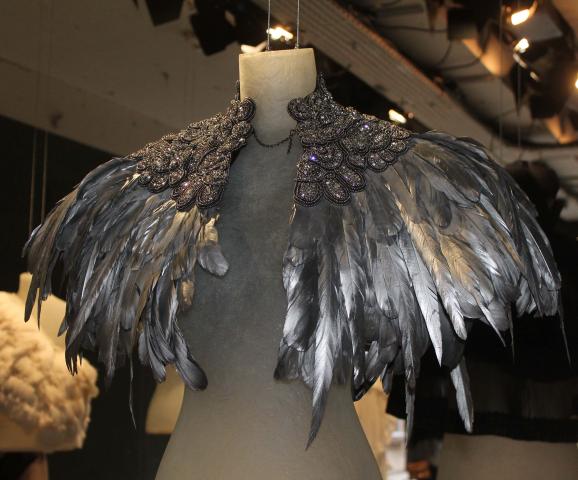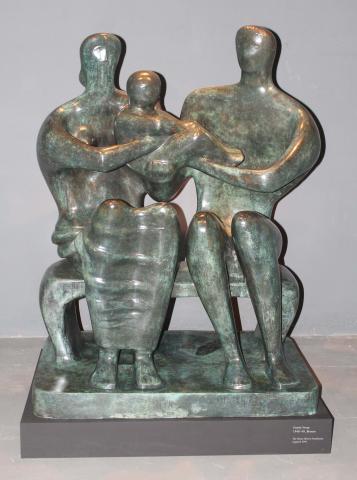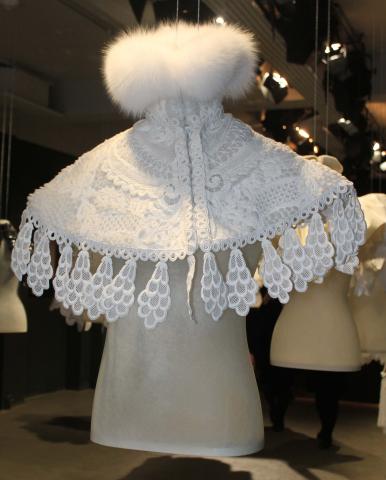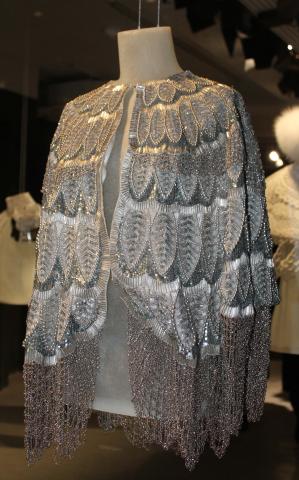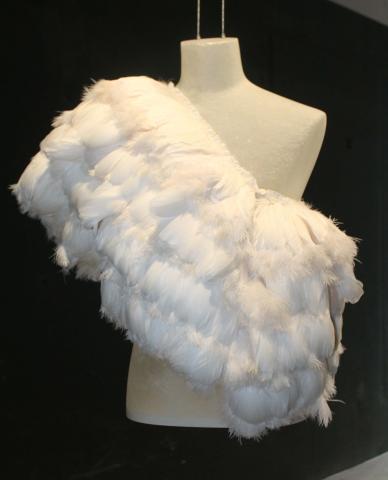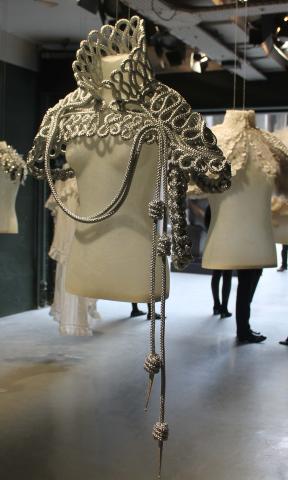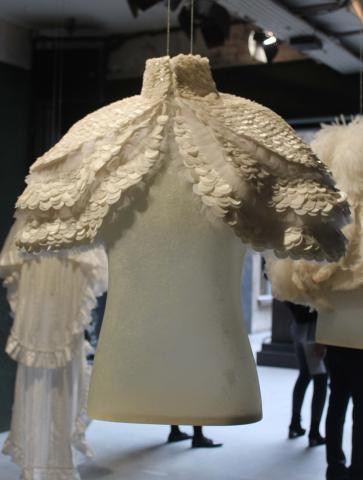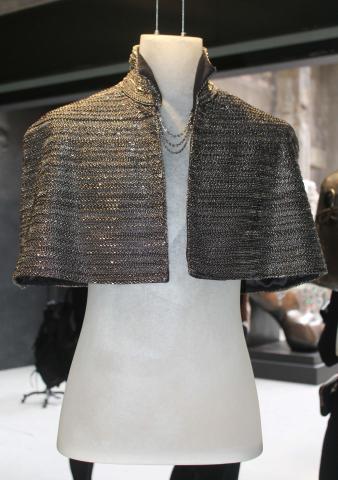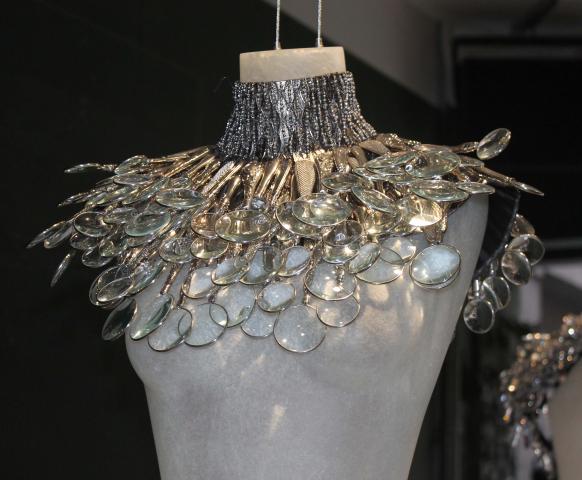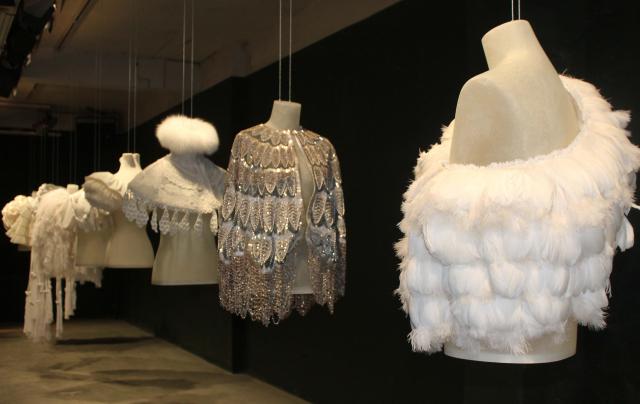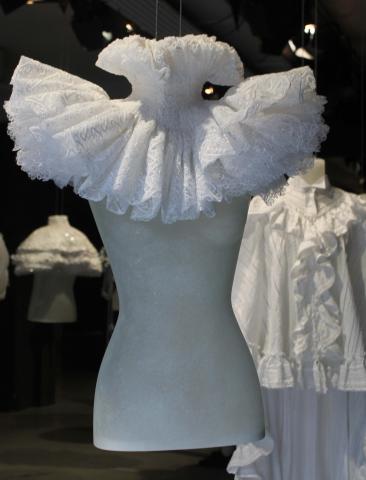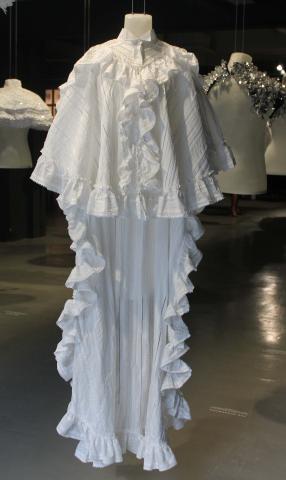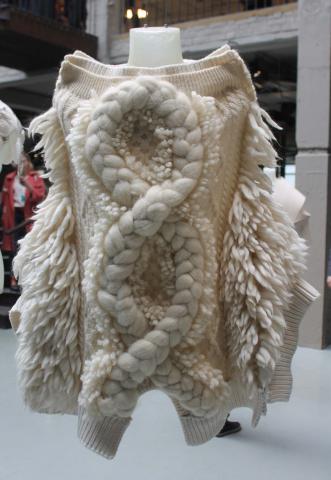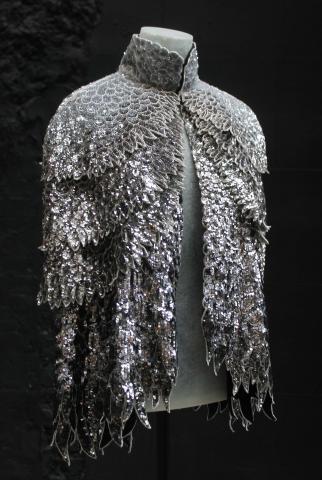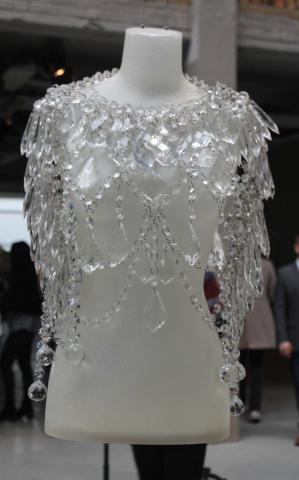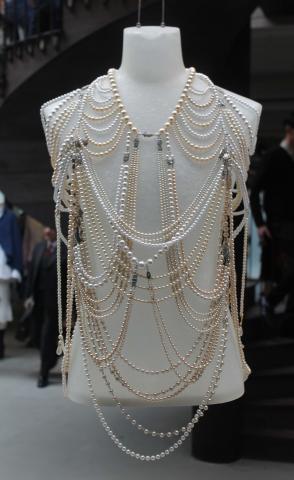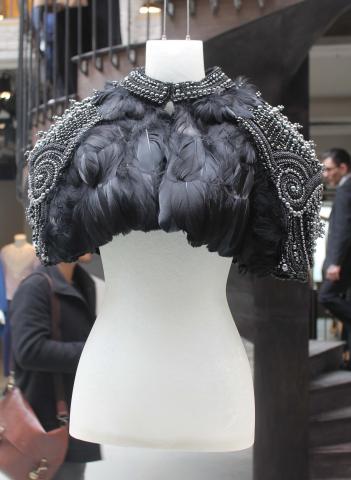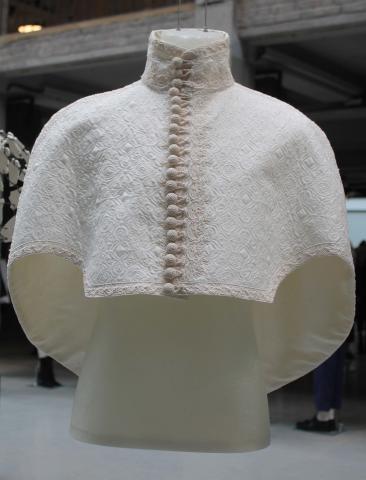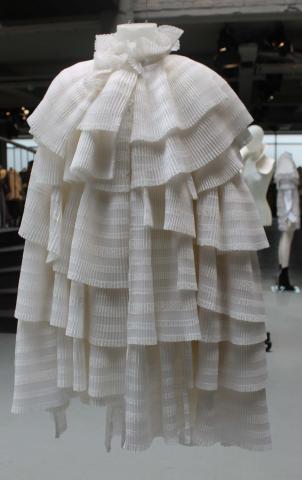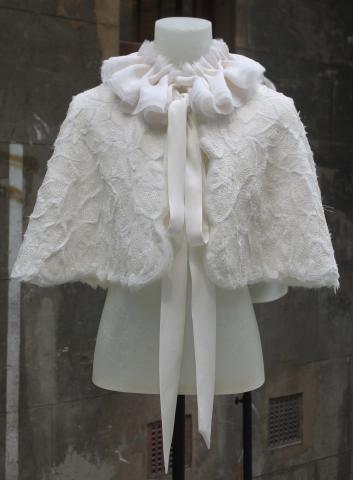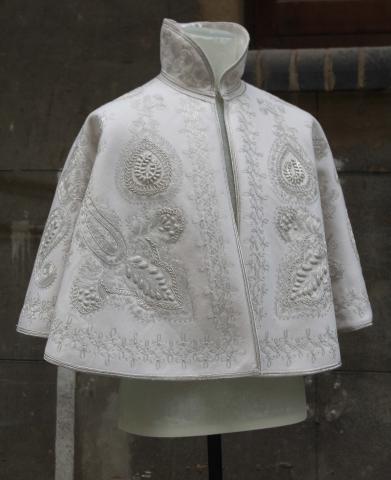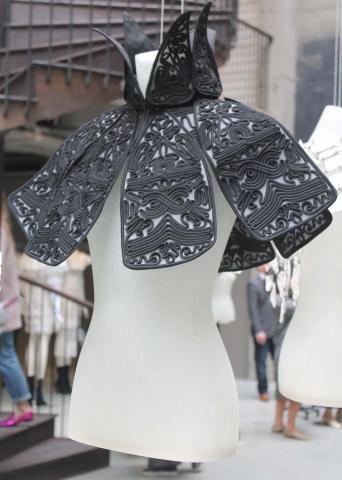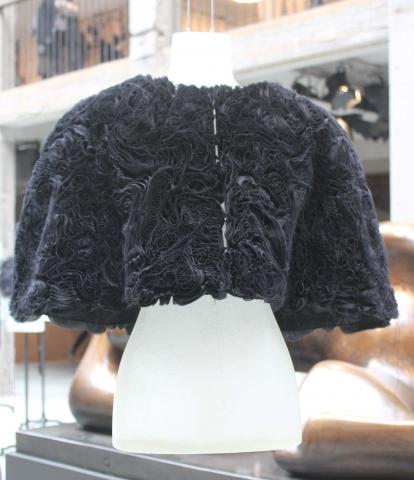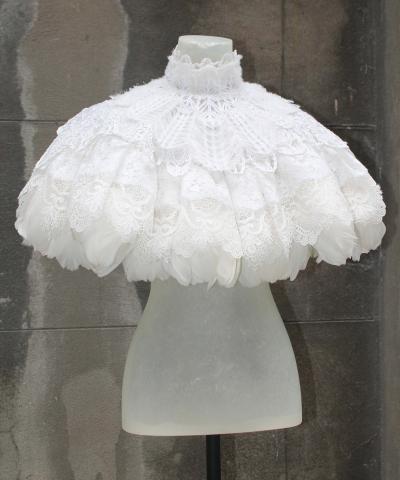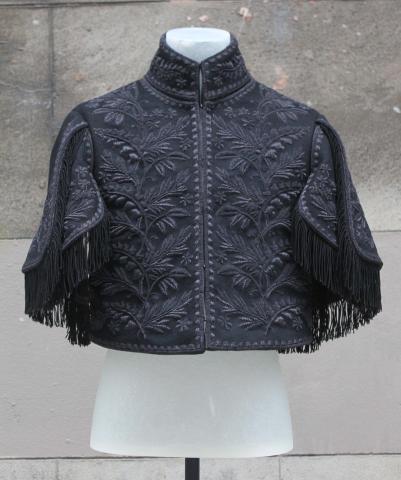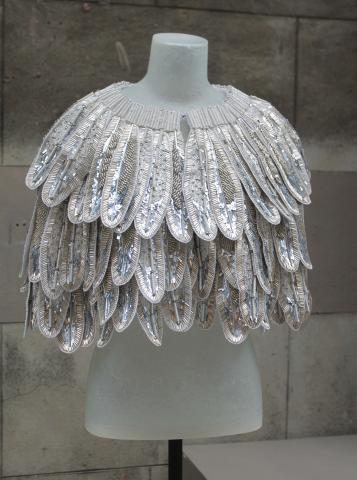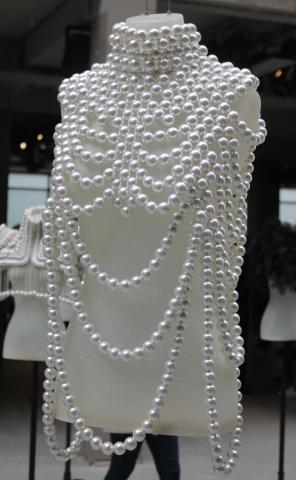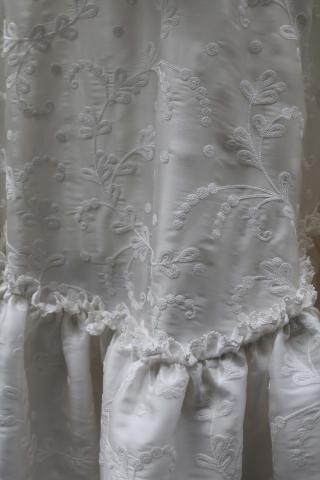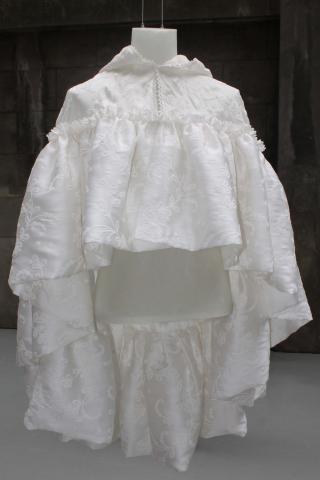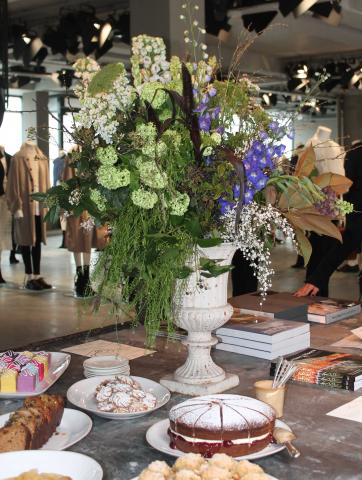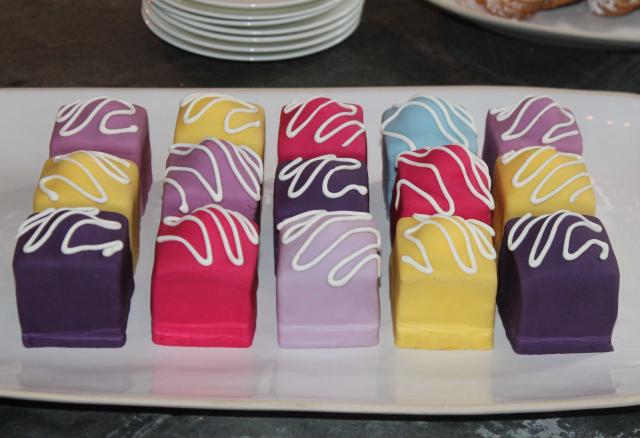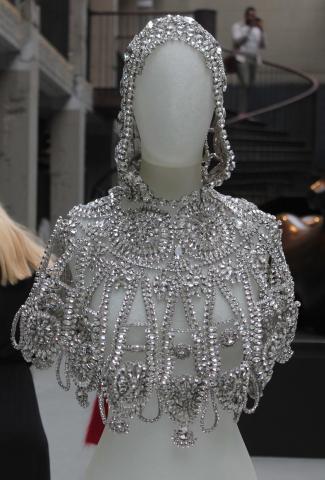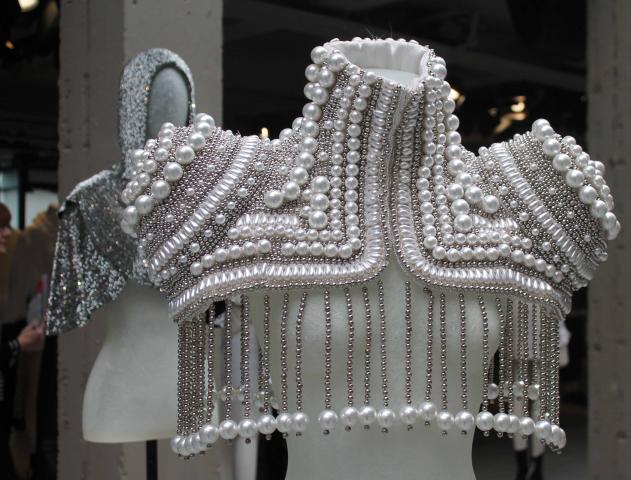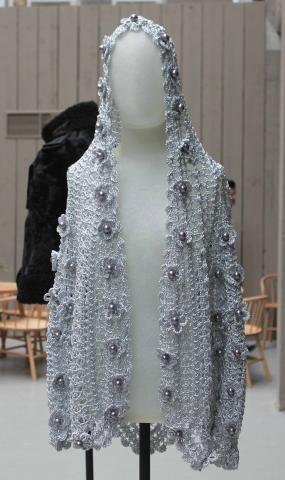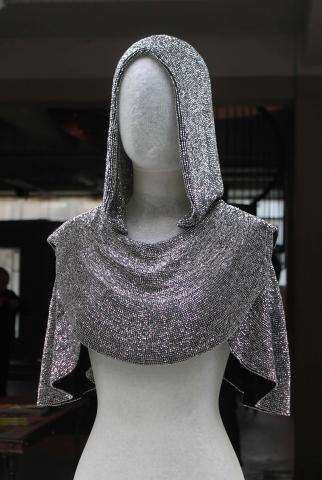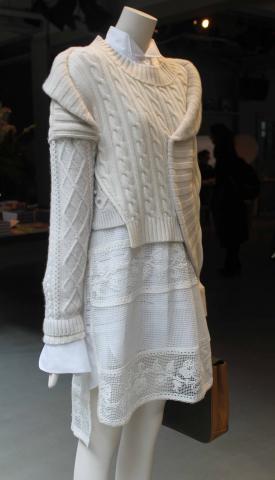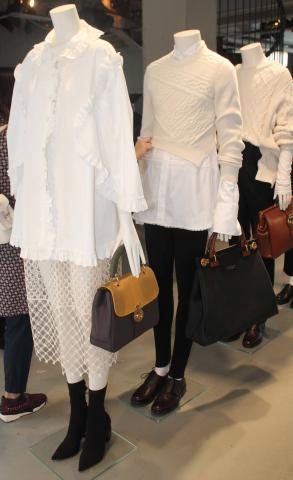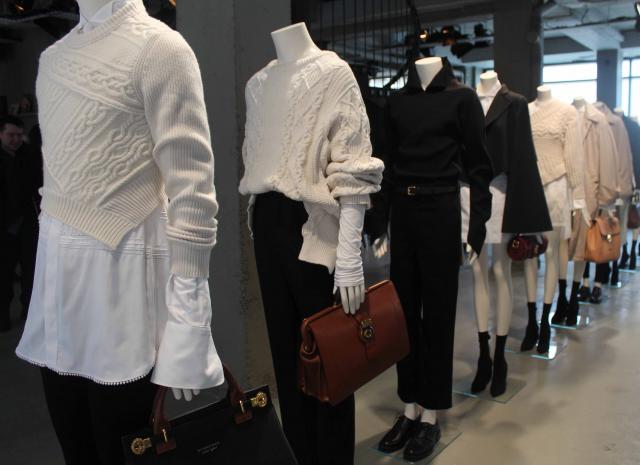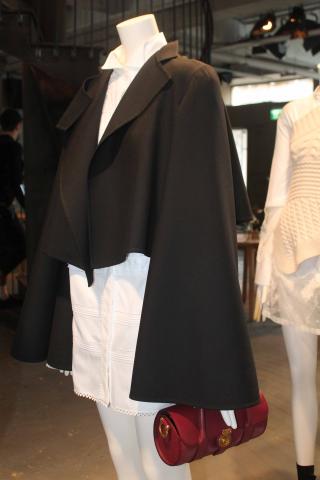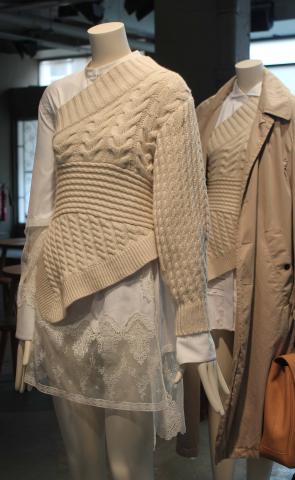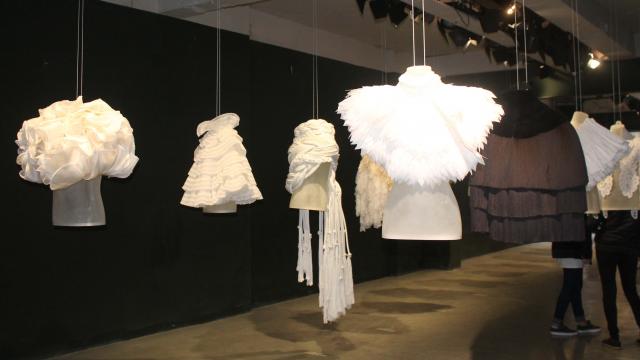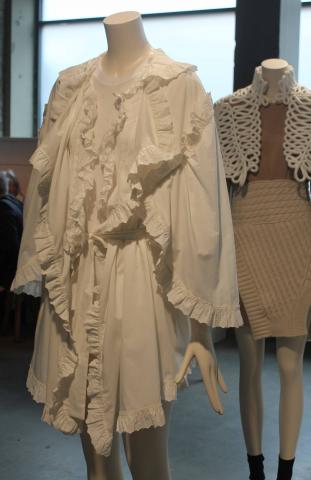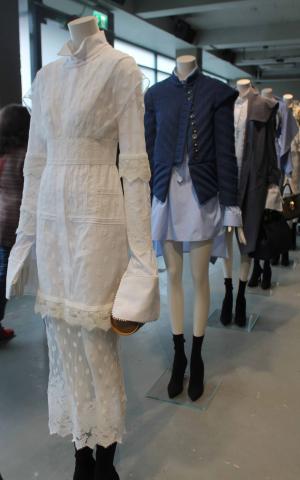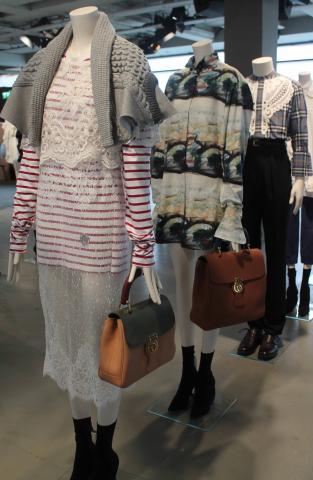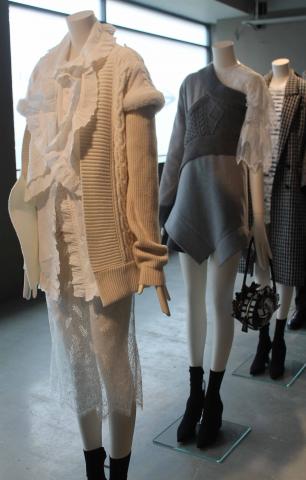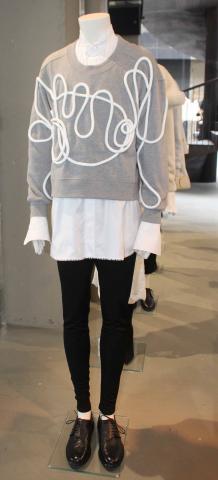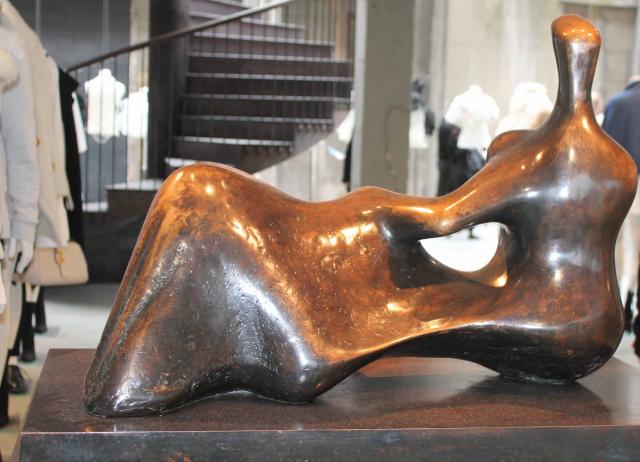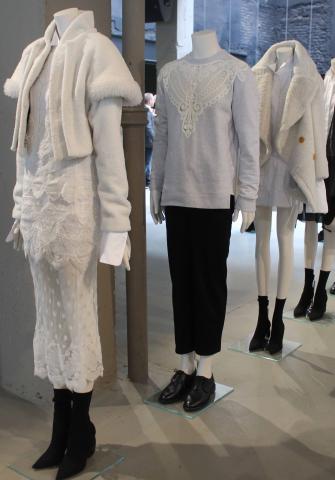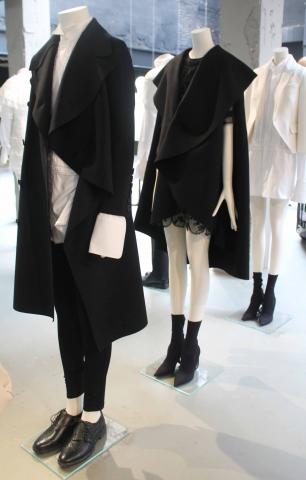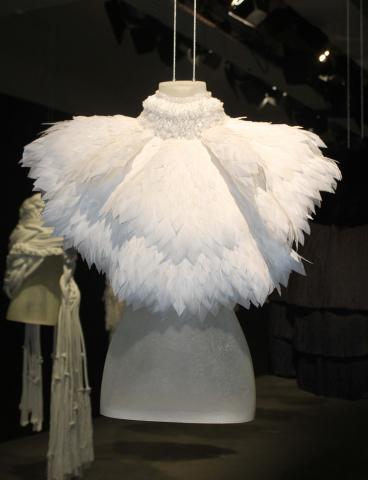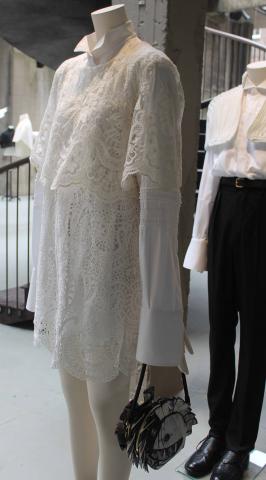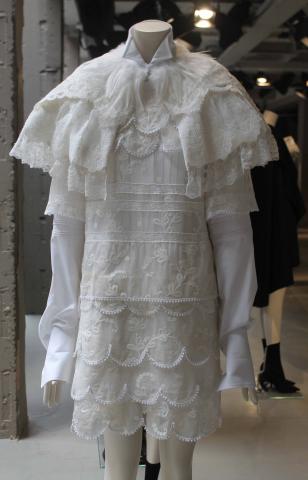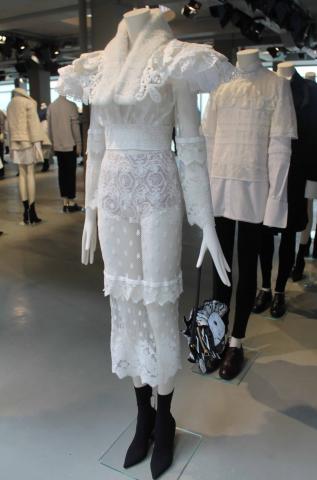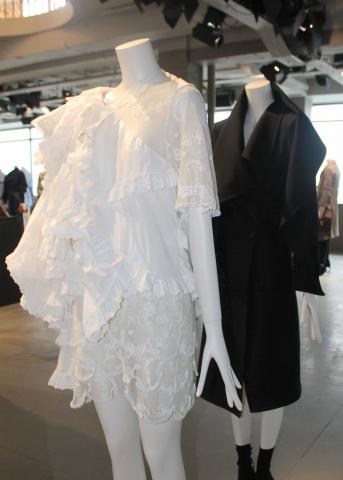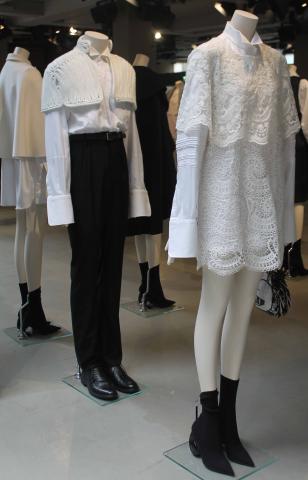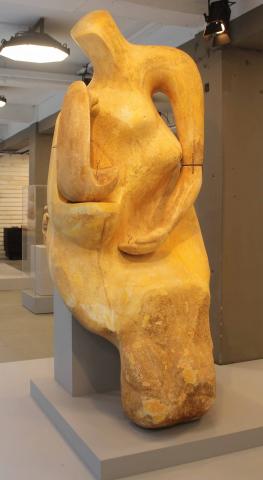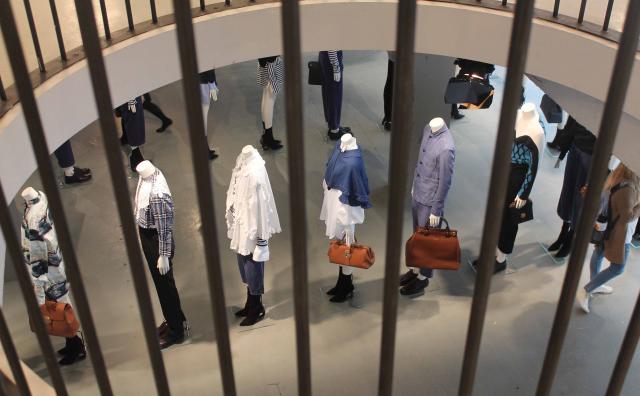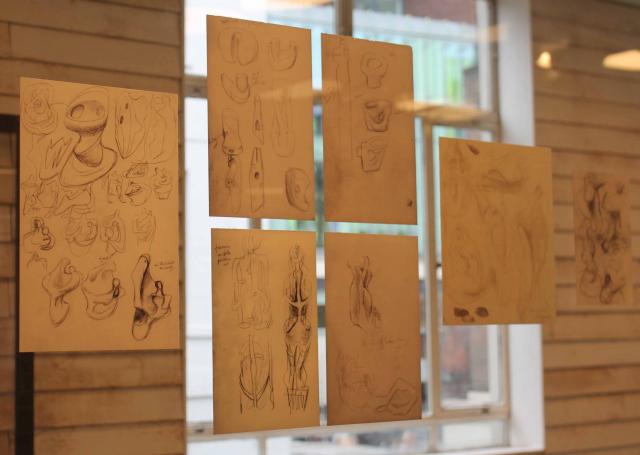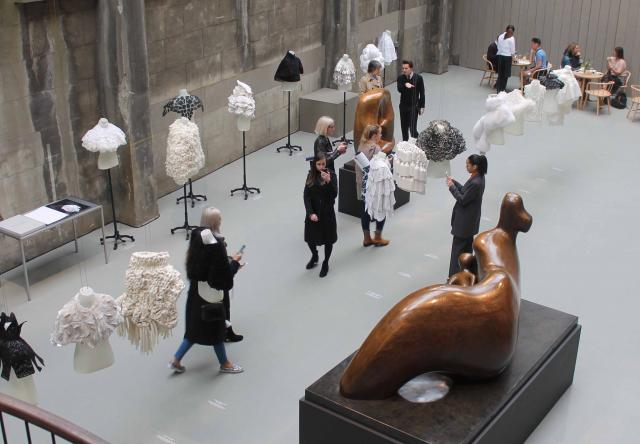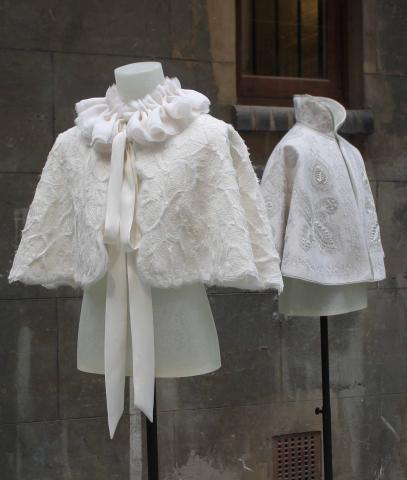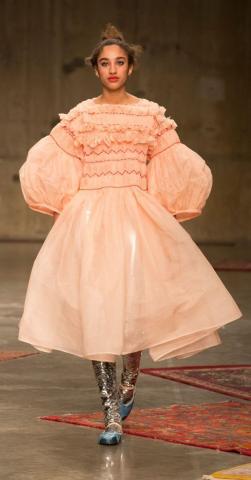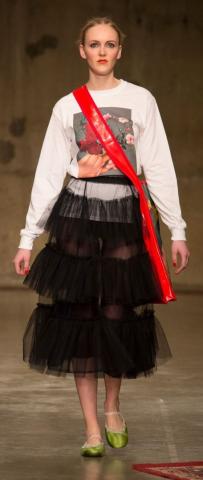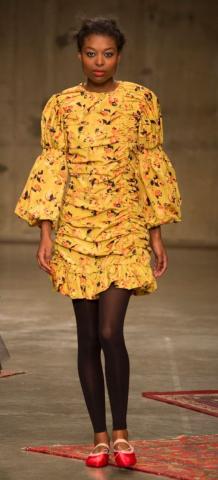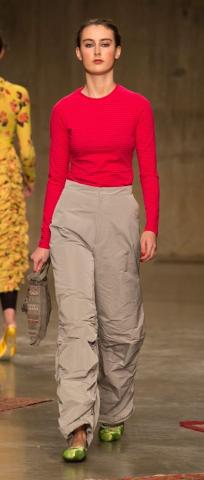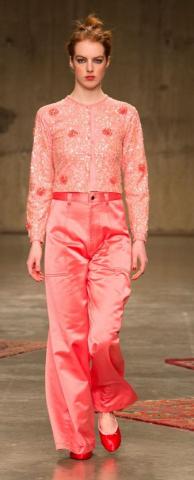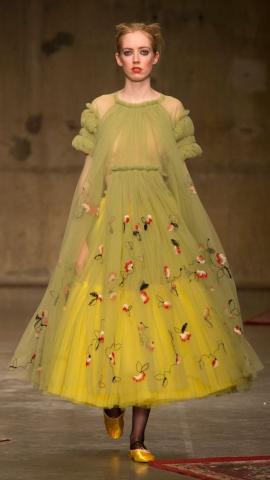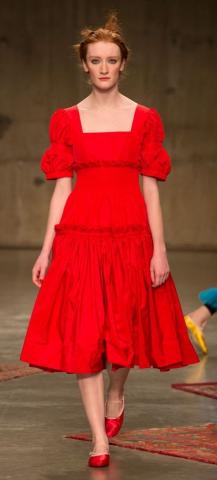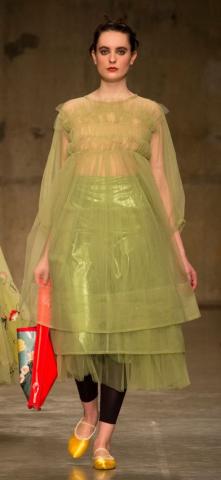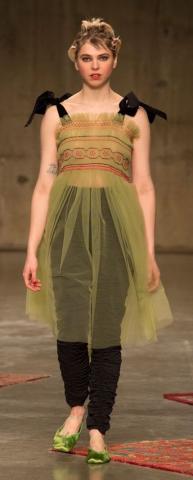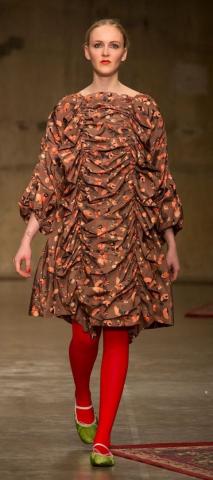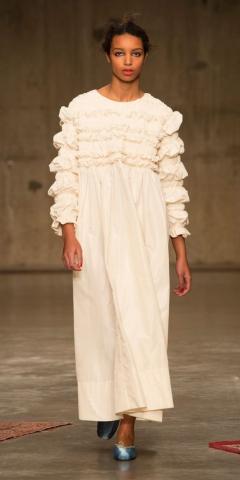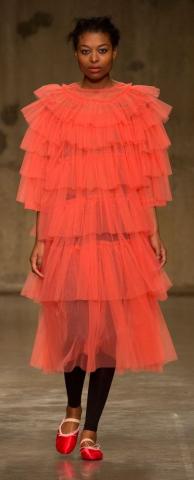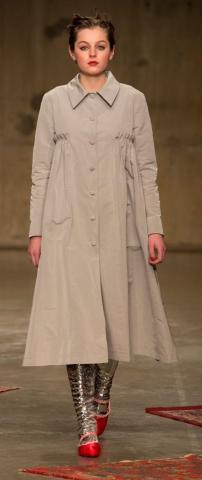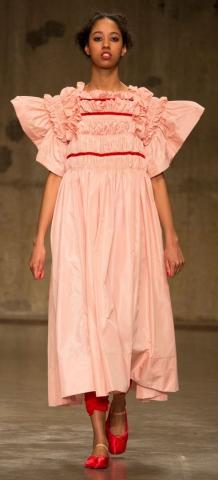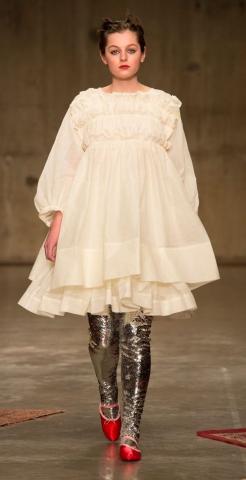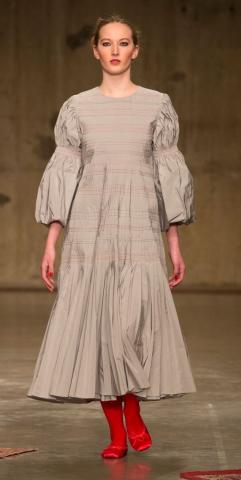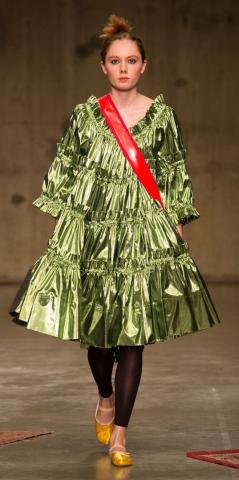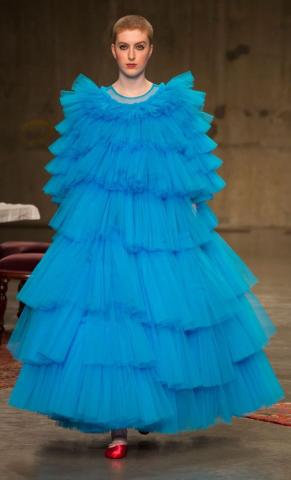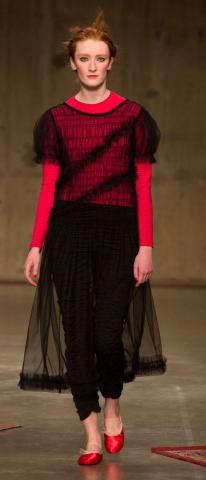 Tata Naka
Sisters Tamara and Natasha Surguladze embrace colour, life and fun in their collections. Showing in London since their graduation from Central Saint Martins in 2000 they are one the most inspirational lively brands to add an extra touch of colour popping glamour to the London Fashion Week schedule.

Barbara Hepworth played an important part of dressing the set of 'The Makers House' in Soho used for the second season to show the collection in catwalk and as an installation during London Fashion Week. Her sculptures set the tone alongside many artistic representations of the female form that hearkened back the early neolithic celebrations of the beauty, often rounded beauty of the female figure.

The upper floor of the exhibition provided a perfect viewing gallery with which to survey the display of capes intricately crafted by Christopher and Burberry. This garment was a key tool of expression for the brands current season look in February and in reality these where created with the craftsmanship of Haute Couture pieces. A huge number of ideas infused the collection with a sense of glamour meets art and the cape, a garment not worn in as many numbers as in the past gained a new intriguing look. 

Above a collar is seemingly extended into a full cape in a crafted lace masterpiece that appears ready to float above the shoulders of the wearer. Falling to the waist it's long enough for the possibility of being worn in place of blouse by bold wearers, as is several of it's neighbours. To the right a ruff collar loosely bow tied accents a luxuriant soft cape textured in an echo of the soft waved patterns found in nature on leaves and under the surface of the skin. It's a beautiful piece asking to be won with a ball gown or could also work wonders with a smart trouser suit. Perhaps a hint of the christening gown can be detected in the next piece with lace ruffles cascading down the mannequin frame. All you need with this is a perfect pair of smart trousers but the really bold could simply wear it as a dress. To the right, high art and craftsmanship worthy of Haute Couture bring the most meticulous detail to a look loosely inspired by 19th century military wear. The exhibition allowed us to see these works that pass on the catwalk at close quarters and it was a must for anyone interested in textile skill. The somber lines of military style softened through the delicate nature symbols and all in symmetry like most pieces of this series. 

The gentle adaptation of military and also religious styling into the artistic and civilian is repeated across several looks. Bailey sticks with the simple colour theme of black and white through his pieces in this part of the collection and this sheds a spotlight on the intricacy of the design contained within. Subtle fringing adapted from epaulets to cover the upper arms adds a slight sense of theatrical drama. A fascinating series of tiered crimping creates another cape that could again be worn as a dress by the cold or with trousers or stylised jeans. The lightness of this piece (as you would expect in the Burberry crafting) belies the volume that meets the eye. To the right vintage night-ware vibes appear in the look to the right with a train descending from the shoulders. It think it would look great with close-cut black trousers but of course there are myriad ways that this can be worn.   

The play on knit with free strands and a swirling cable plat evoke home knitting creative sessions when small and on first sight it reminded me of an Octopus in anemones. Definitely a piece to keep you warm and dry, you would be ably weather proofed in it. Scale-like layered shoulders in the piece able also hint at gentle marine origins with the faintest echo of a high military collar. Lace making is one of our greatest traditions and Burberry nod to this in the next two capes above to the right with curling, scrolling shapes moving across the figure. Note again the perfect symmetry and theatrical pouff of fur (I believe synthetic) at the neckline.  

Feathers offer a unique sign often in many ways and here the delicacy of the natural suggestion they bring is encapsulated in the pieces above. Soft and as thin as tissue they offer a very literal flight of fashion fantasy for the wearer. One with collar set with crystal jewels and another with heavier beading detail take differing approaches to the look. In it's purest form feathers creating a collar and an asymmetric look offer the simplest translation of the style.   

Feathers and leaves translated into metallic have the intriguing suggestion of angelic chain mail sheathing the mortal against the realities of an earthly world or perhaps enabling him or her to have the strength to face and conquer them. To the right a 16th-17th century echo in the ruffled collar highlights the pure beauty of the natural delicacy that a collar can bestow. The options are open in terms of how you would wish to accompany this item. To expand on the military theme again, the pipping of insignia is extrapolated to form a whole garment that covers the shoulders in beautiful simplicity.   

The gallery display of these pieces against a black background is the simplest way to highlight the detail. Some pieces, shimmer, feathers gently ruffle in the breeze and this earns it's place as a fascinating installation, equal to anything you may see at Freize. To the right gem-set cut brilliance twinkles in an imagined darkness and to the right thin beaded lines create a simpler glint. 

The next piece above to the left shows the gentle embossed silk across the fabrics of the garment. A beautiful cape that descends to almost form a blouse with uses fabric with couture generosity and would look fantastic with trousers or a straight black skirt. Vintage theme pin tucking and ruching bordering the different elements of the piece. It's a beautiful spin on the textiles of bygone centuries. Not pushing too many barriers, this piece would suit many women across age and taste groups.

Gathered folds sit gently on the shoulder in an asymmetric enlargement of the ruffled cuff. Sitting on the figure it's both serious and playful. To the right pleats - a plenty as the ruffled collar finds expression in a much larger waist length adaptation in five over lapping layers. Below you can see in close up the beautiful lace detail that creates the effect of alternating colour tones across the piece. A true piece of fantasy worthy of a ball, red carpet or film set.   

There are just so many words and phrases that came to mind when looking at the next piece. A collar framed by opthalmalogical lenses forming the bodice gives a new literal meaning to being 'in the eye' of fashion. A conceptual vision it makes a unique statement crossing jewellery with fashion.     

One of the most beautiful pieces of the display that captured light and natural beauty was the deeply folded lace collar. The traditional simple collar was transformed reproducing it into a myriad of folds weaving around the neckline of an almost concealed wearer.

In a moment of whimsy and romance I saw a similarity to the White Rose of York, the home country of Christopher Bailey, Burberry's Creative Director. A fusion of the floral with fashion in one easy move.

Many of these pieces do give the impression that they could be bought and displayed as pieces of art when you didn't wish to wear them. I don't know what they plan is for them but I do feel that they form a natural collection.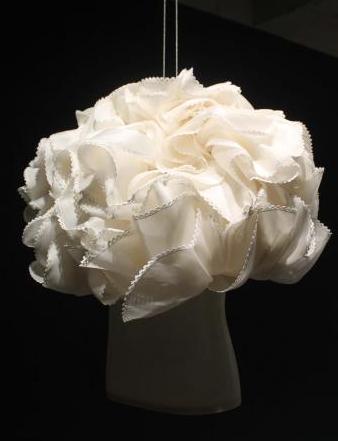 The collection feels very multi-layered and multi-dimensional, exploring colour and texture through many mediums. A distant hint of military wear returns on the fringe detail of jacket-cape above to the left. With it's velvet collar reminiscent of ecclesiastical wear it makes a strong impact that still resonates understated style. To the right the knotted chords on military insignia wind around the shoulders in a super-sized form. Length is given by trailing chords knotted to tether the strands. Weaving across the shoulders and around the collar another traditional expression of rank is transformed into a light wearable piece to add to a variety of outfits. The folded patterns of rose petals and flowers closely folded swirl in black across the surface of a more traditional looking pieces. You could wear this to a premier at the Opera or Ballet in the West End of London or any corresponding locale around the world with a nice evening dress or match with blouse and trousers for an evening look.   

Following art meets fashion and florals meeting fashion another mood of this installation explores the link between jewellery and fashion. Reaching into the past once more a chain mail styled cowl covers the head in an open knit shape dotted with pearls that form the centre of flowers. In a contrast to the somber style it emulates the transformation into a simple light statement of beauty and grace. A more striking variation on the chain mail is offered next with the shiny silver folds cloaking the figure gently. The photographer in me can see the possibilities for getting great profile shots of sitters while wearing these pieces. The tiny beads moving in flexibility across curves. A jewelled creation to the right extrapolates the necklace and earrings into a full garment to be worn by a client. Twinkling and marvelous, it's a stunning please piece that would make a statement at any public or private event. In such a grand galleried space, chandeliers also came to mind as a possible route of inspiration and next to it tiered pearls coloured white, silver and gold are strung in a unique ensemble across the frame of the figure. Is it clothing or jewellery?  

And, does there even need to be a difference? Uniform sized glass pearls in neatly arranged chains make a simple yet daring composition. I have a vision of this being worn over a 1920's straight-lined flapper styled dress or a more contemporary black piece either knee length or floor perhaps with with ruched waves around the lower skirt. Centre above this piece reminded me of a famous Saxon era shoulder cape that is housed in a British museum. Far from a warriors burial though, this is a glittering piece to make an entrance in in front of the camera. It could be styled with a variety of looks but I would recommend an evening dress in one, preferably darker, colour excepting baby blue and pink pastels. To the right the drops of the crystal chandelier are unmistakable here with this piece capturing a beautiful sense of movement on the wearer. Again being worn with an evening dress would be the perfect and it would make a phenomenal red carpet entrance.     

The Makers House comprised three galleries in essence, an Art Gallery displaying sculptures, a high fashion installation of Bailey's caped exploration and also the ready to wear gallery of men's and women's looks for the new season.       

Plenty of recognisable Burberry themes came into view with knitwear taking a playful role in forming some new-era contemporary (hopeful) staples. It's a constant challenge for designers to find something new to give and this season playing with angles seems to have been an area that Bailey enjoyed working with. Knitted cables run on 45 degree angles and seams sit in juxtaposition. The colour scheme on black, navy, cream and white off-set with earth tone handbags of varying styles is hardly radical but here Bailey is creating a new uniform for the sophisticated stylish crowd.

Changing one thing at a time, be it a colour code of identity or style is highly advisable and all blended well into the Burberry establishment aesthetic. The models where lined up imitating their catwalk counterparts with enough space in between to see the detail of clothes but not enough to form a crowd around each piece which worked well. In many places looks appeared as though they could be worn by a boy or a girl. Centre above a white shirt is accentuated by a delicate smock overlay. The hint of antique and vintage somehow looks blindingly contemporary and with close fitting black trousers it's a casual anytime look. There's a clear nod to the trend of showing visible multi-layers but never more than two colours across large parts of the collection.           

Lace and lacework celebrating the traditional British craft appears in many looks. A sheer white lace dress for warmer days with long sleeves reaches mid-calf with a faux fur collar offering a textile contrast and layered winged out shoulder detail. To the right a shirt dress transforms the conventional masculine city-shirt into something completely the reverse as feminine complex lace detail, or what we perceive as feminine in the current era, takes the outfit in a very different direction. Burberry do a great line in coats taking the classic House trench as their starting point. This collection offered a series of lighter coats that easily slip between casual and formal wear appropriateness in the way that Burberry can create so well. Curves shaped into folds over the body reversed the buttoned down look of the trench coats and military jackets. The series looks more than up to the task of shielding the figure on cool but not cold days.           

Colour experimentation comes in a myriad of horizontal marine stripes, print and tartan. There isn't one particular direction for the collection to go in, there's a strong feeling of mix and match playing on looks and themes from previous seasons. It's clearly a formula that must be working for Burberry so no need to change the fashion diet of it's audience too greatly. Ruffles a-plenty in the next look typify a frilly fantasy on the shirt dress. Next to the right a black coat in soft fabric makes a broad sleeved gesture with red bowling ball bag off setting the monochrome tones.            

These are clothes you can have fun in, go out in, spend time with friends and family in and also work in, should the dress code norms of your workplace allow. Burberry is the largest and one of the oldest British fashion brands that is huge name in the global and now financial market. There are two extremes to be avoided when a custodian of such an established brand; being so conscious of the past that you get lost in it and trying to be fresh, new and different and losing sight of the heritage that made the brand great. Bailey seems to come up with collections that please the crowds and also take small steps into the unknown on an artistic level. The orders keep coming and new and existing clients see something that inspires them. Thanks to the Burberry team who once again made us feel at home in their make-shift corner of London.         

Molly Goddard designs styles for modern princesses, not necessarily day dreaming ones but ones who want to live out their own ideas and may well go do design school and found their own fashion label. There's whimsy and prettiness with a strong sense of independence and vision. It's about doing things 'my-way'. The collection opens with baby doll dresses transforming early Victorian frills and tulle layers into a modern twist on ball gowns. A peach dress with balloon sleeves contrasts volume with detail in tightly folded ribbon frills. You could attend an art party, walk the red carpet and dance until dawn in it. Metallic over the knee boot combined with soft ballet flats ad a shimmer while retaining the look of innocent fun.

To the right the lines of the late regency era get a re-vist and re-vamp from Goddard's clever hand with frills running across the bodice and the length of the arms. It's a piece to feel beautiful and free in and at the same time undoubtedly a piece of British contemporary high fashion. Centre above echos of a ballerina shape appear in the knee length dress. Thick hems once again give a nod to the past and the double layer skirt suggests the warming protection of layers for in cooler months. The organza fabrics and the metallic boots bridge a gap between the antique and the space age. This is another dream piece to dance in and enjoy. There's a real sense of spirit here. To the right a grey dress reaches to the ankles with a pleated skirt sitting below a subtly colour banded dress bodice. This is luxury but also a piece that you can be comfortable in and enjoy. To the right a soft salmon pink fairytale fantasy of ribbons, plumed sleeves dropping to mid-calf length could easily swirl around latter day balls in the Assembly Rooms in Bath evoking a real Jane Austen moment.           

The collection moves forward from the sugar-sweet to the slightly more experimental with the shimmer of foil in fern green recreating the playfulness of the traditional old-school party dress. The hints of Victoriana are diluted and with her bag tied across her shoulders also reminiscent of a winning prize. The froth of blue tulle is one of the most photographed looks from this collection that gives broad volume and again a statement of freedom and space. Goddard boldly imposes colour of her fashion canvas. Magenta and black is a great way to make a stylish tonal contrast and here a bright long sleeved vest and black trousers are overlay-ed with a light sheer gauze dress. It's a great piece of sophisticated contemporary design topped, or should that be toed-off, with beautiful easy ballet flats. A t-shirt and sheer skirt make a statement of challenge to the carefully defined prettiness through the rest of the collection but on closer inspection of the floral t-shirt logo and the neat tiered gatherings of the skirt, the subtle hints of beauty and grace are there. To the right sunflower yellow hues on a delightful piece of contemporary formal wear that could take you anywhere.              

Colour and the use of colour itself is a theme of expression for Goddard this autumn, rather than working through key colour themes themselves. To present a composed look to the eye she generally uses two colours across many pieces or two colour and textile tones. This adds to the sense of maturity and sophistication in her work. The magenta vest is teamed with grey cargo style trousers and green ballet flats for a smart casual go-anywhere look. The material clutch is a nod to a more bohemian relaxed mood and perfectly demonstrates Goddard's aesthetic of style with a chic-boho twist. A pink silk gown with contrasting visible blue under-laid skirt again typifies the cute sense of fun juxtaposition that she embraces.

Goddard's girl takes on life and relishes beauty as she does it. The same warm pink creates a beautiful trouser and blouse look with rosette flowers embroidered across the surface of the blouse. To the right a classic Molly Goddard wide tulle skirt sits underneath an overlay dress of lime green embroidered with floral and avian detail. A simple strong colour statement in scarlet is another piece of unashamedly feminine style flourishing in scarlet with beautiful detail.              

Sheer looks offer abundant scope in the collection for Goddard to blend style options around. A dress to the left is accompanied by black leggings and the less bold could also find a nude camisole to wear underneath and still enjoy the beautiful style detail of the outfit. Using black ribbon bows for straps is always a special way of adding a chic touch to a look. Here by working in print design to the bodice and paring again with black trousers and green ballet flats this is a total look that could also be worked into two constituent parts. This is a girl who wants to look chic at both work and play and a mauve themed print dress ruched in the late Victorian style offers the potential to wear in more formal settings. It's styled perfectly to Goddard's vision here but could be dressed with black tights or bare legs, neutral coloured shoes and a smart evening bag.

To the right a softer grapefruit pink version of the blue look above complete with leggings also seals a look of playful pop elegance. For your seasonal coat? She has the answer too. Something along the lines of her loose cut aesthetic harmonises to be an easy fit in the literal sense with the wardrobe. For colour? This time she stripped it out opting for a light clay that would work matching with any of the looks that ran before. As ever Goddard took us on a slightly bohemian adventure that never lost track of the eye for detail that her girl and woman is always in tune with.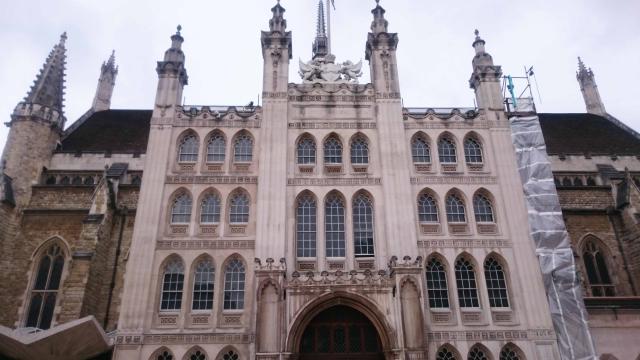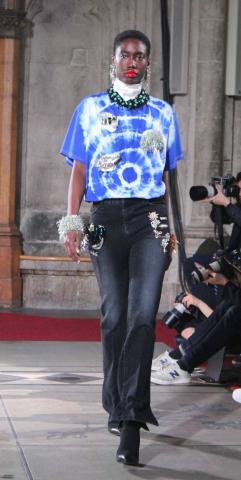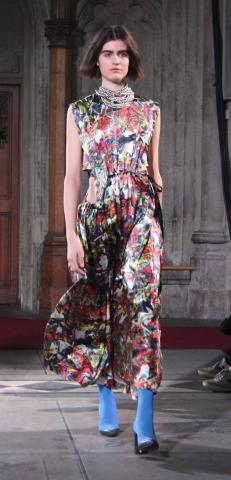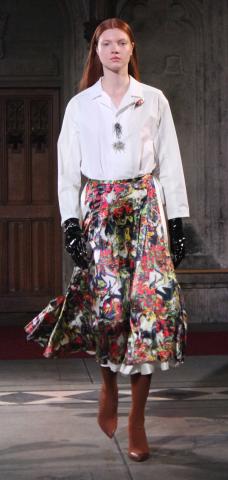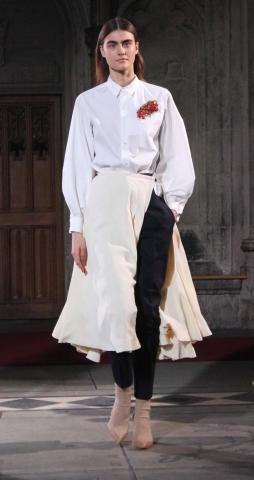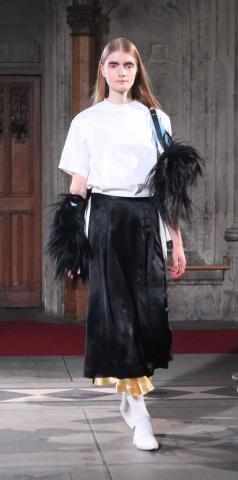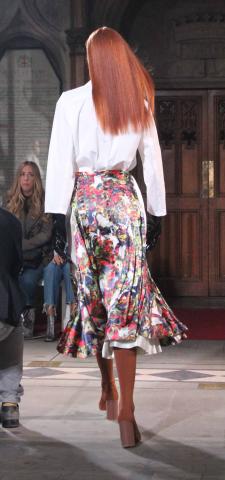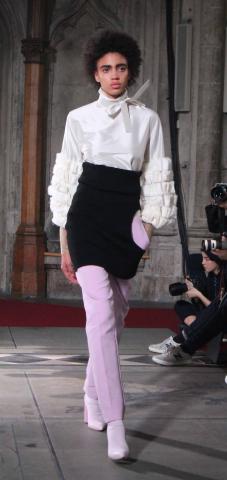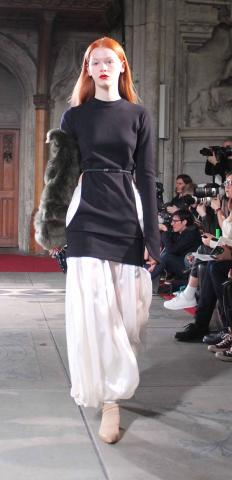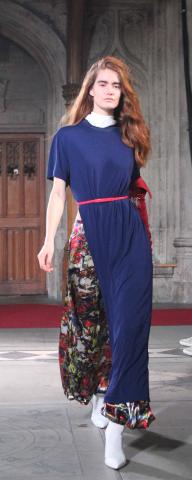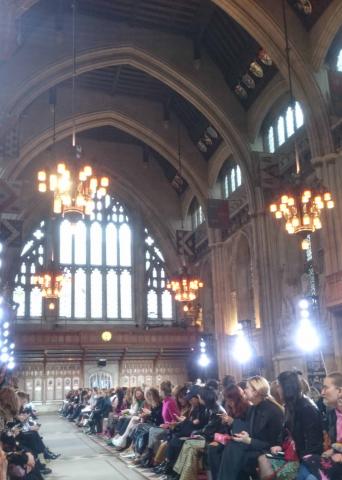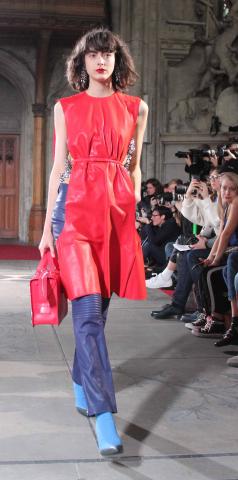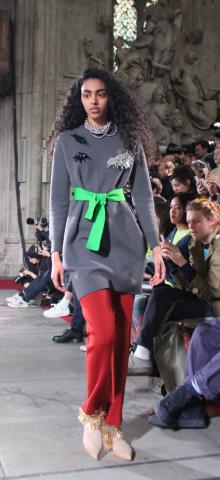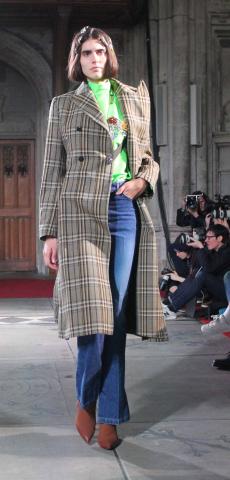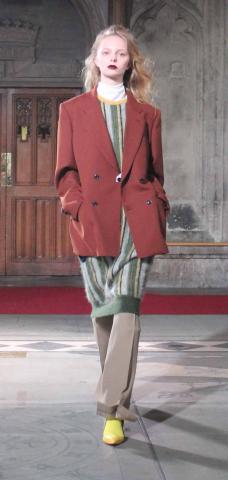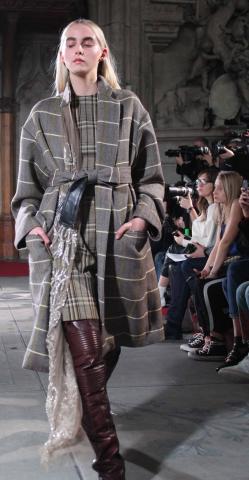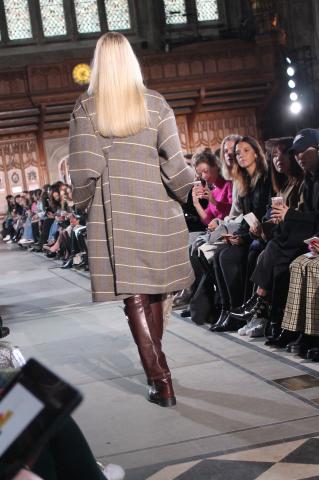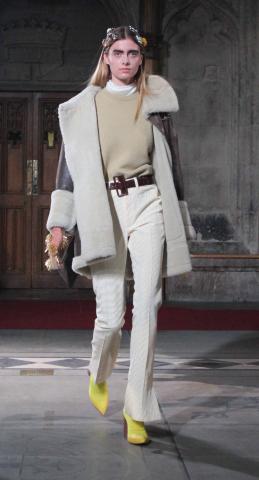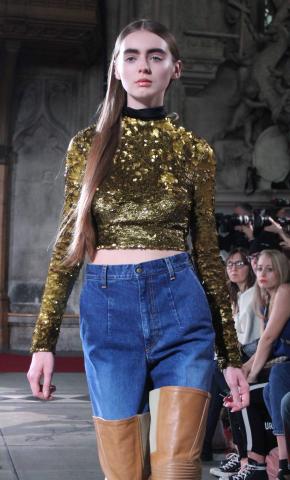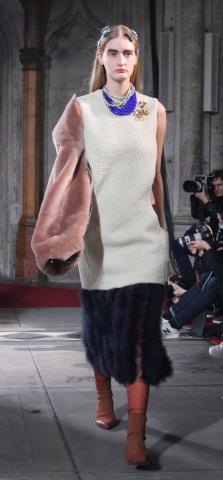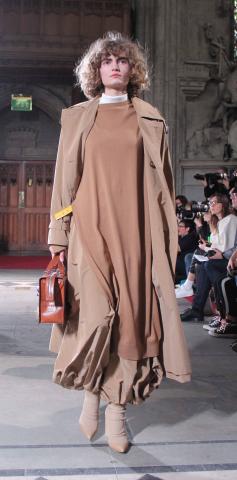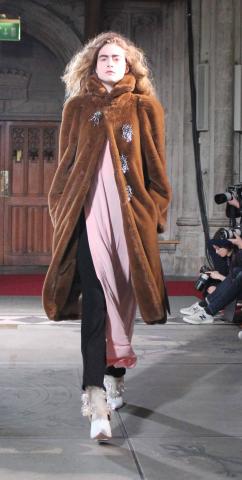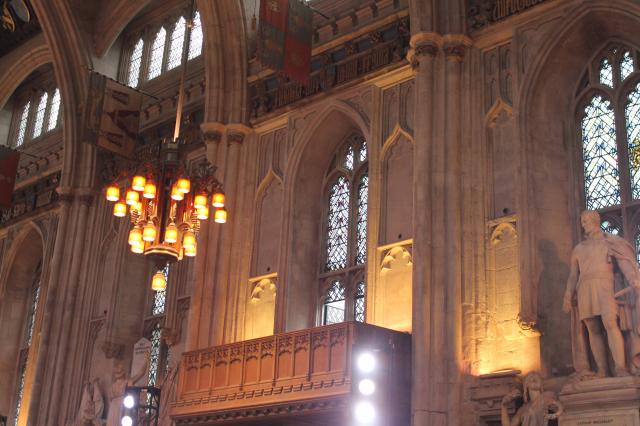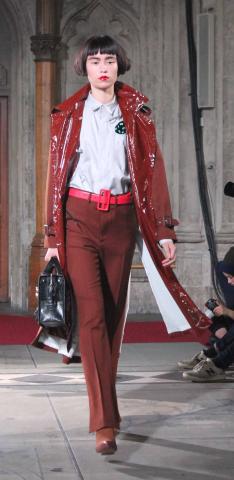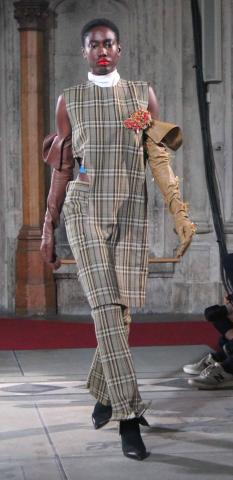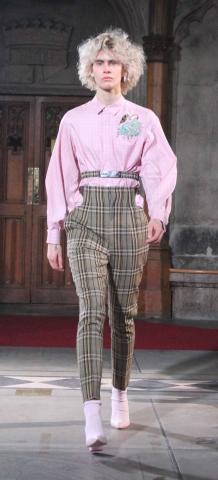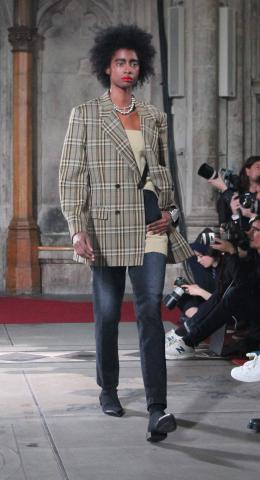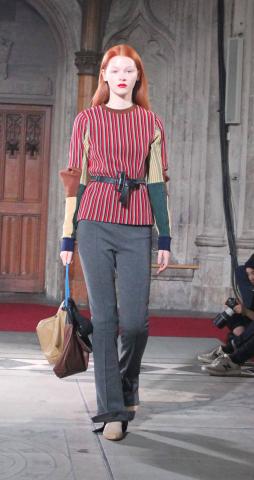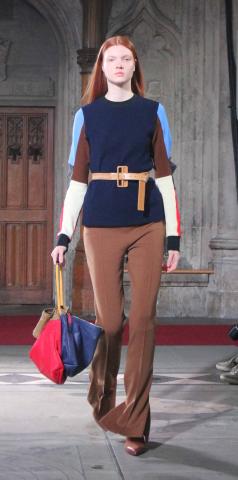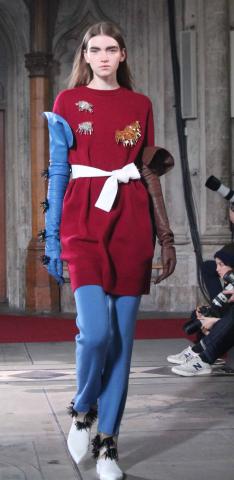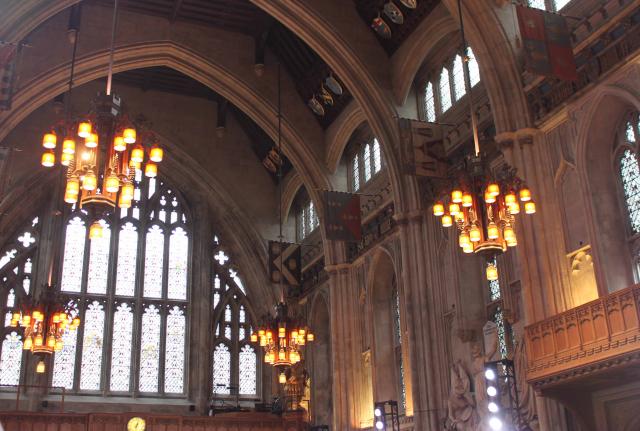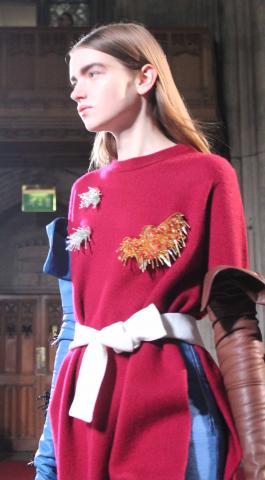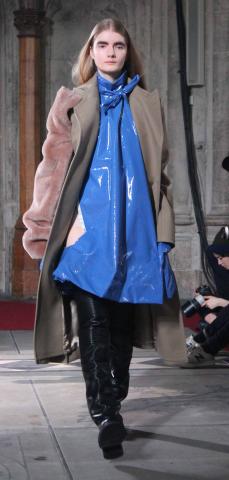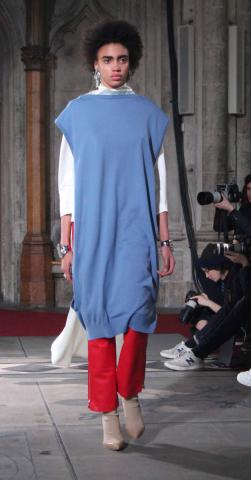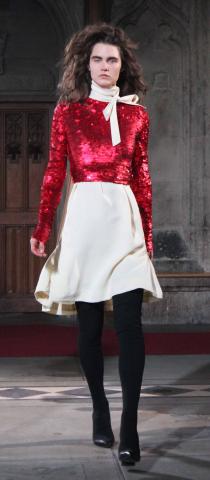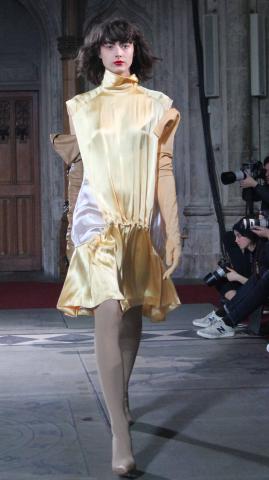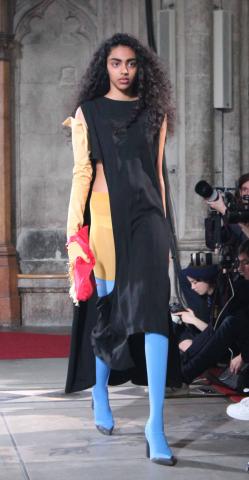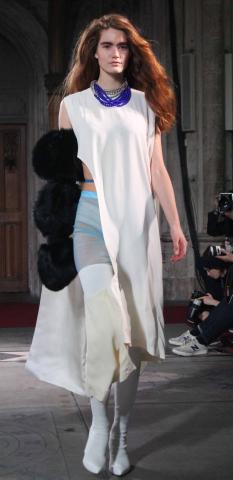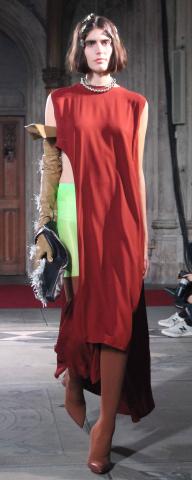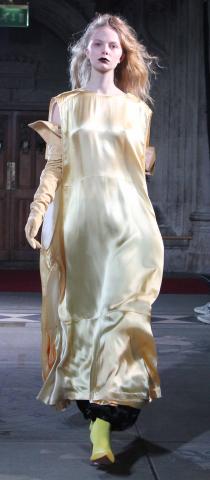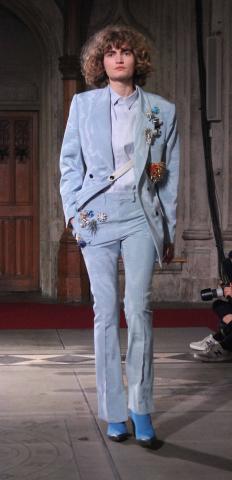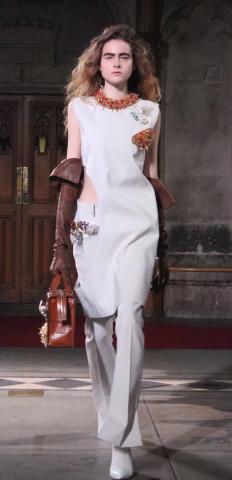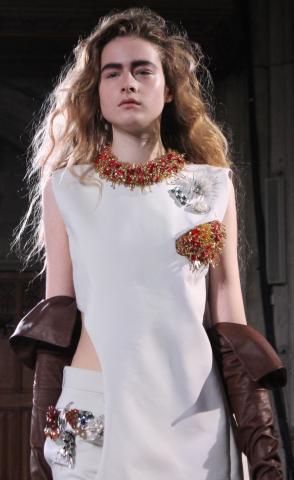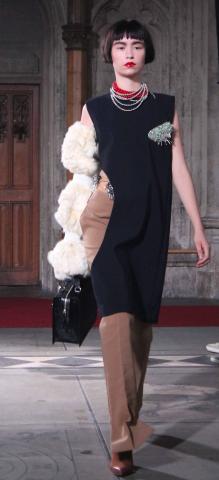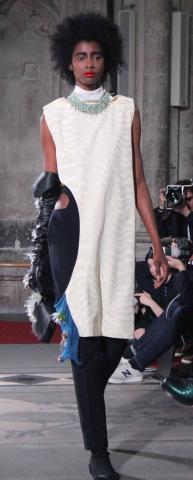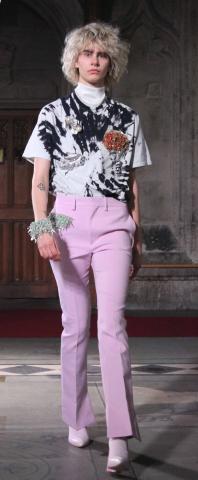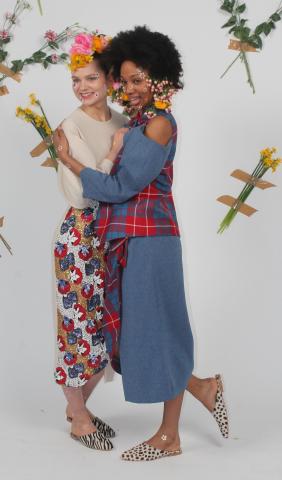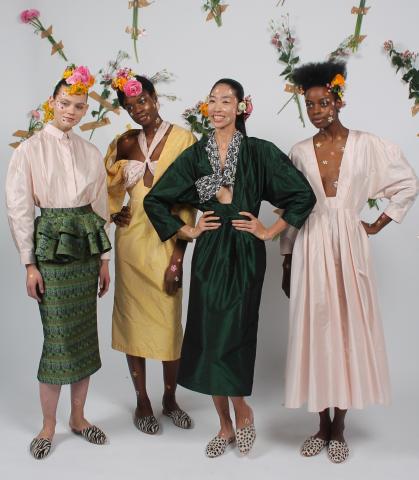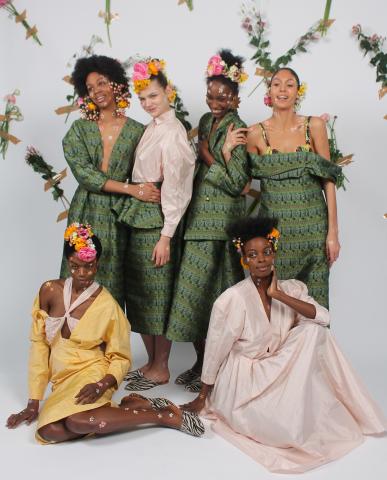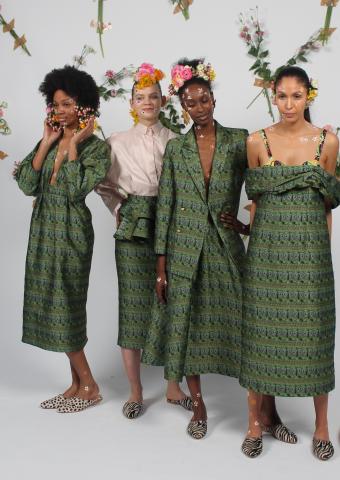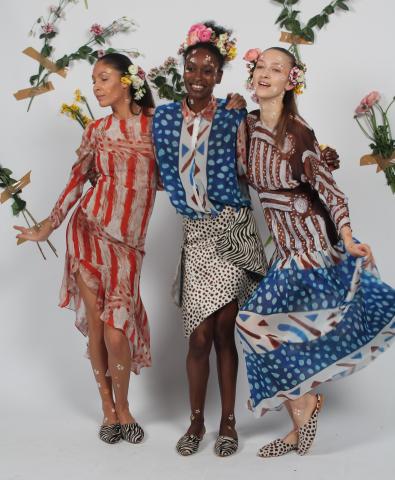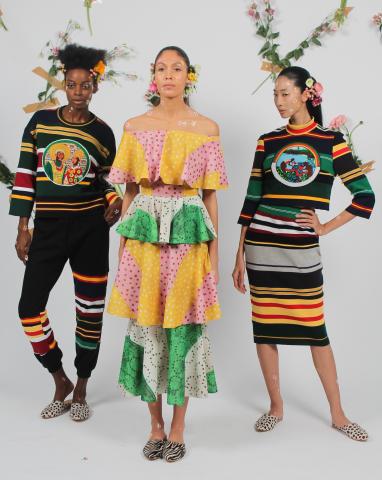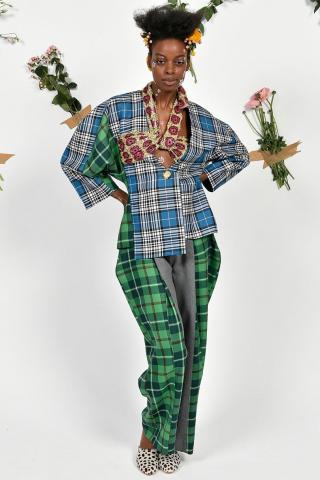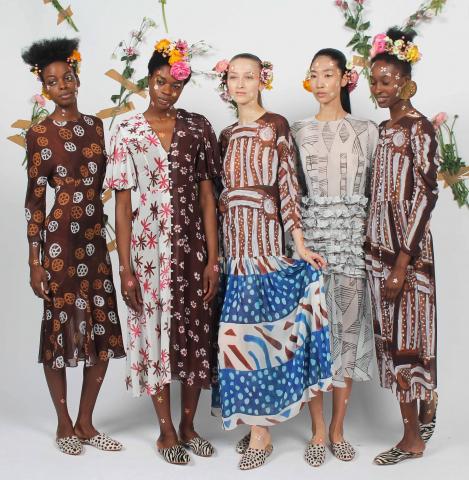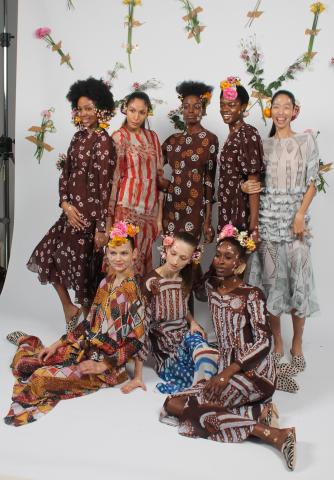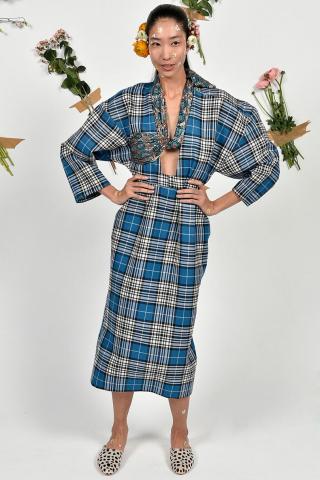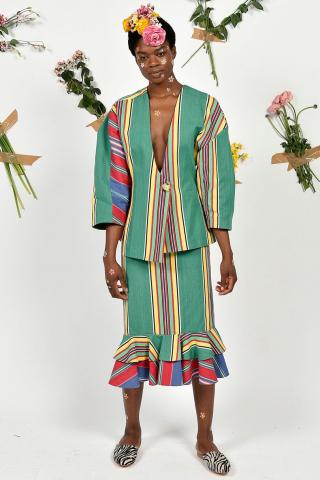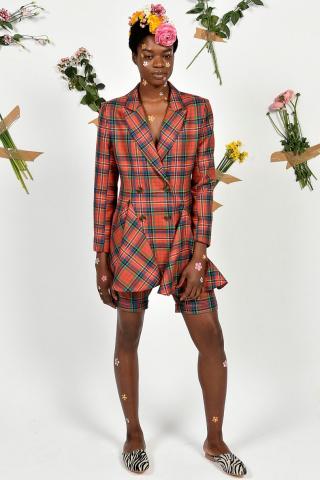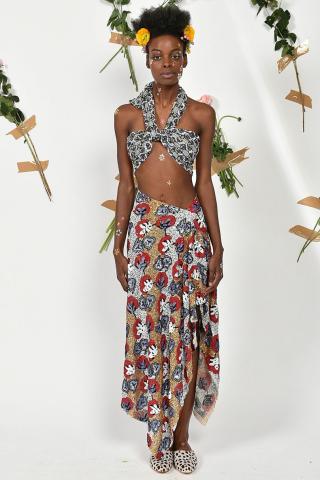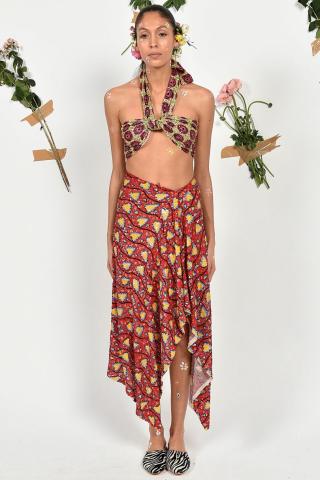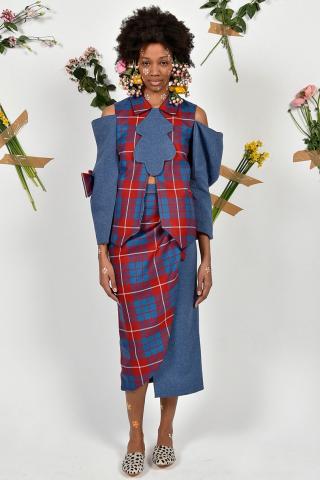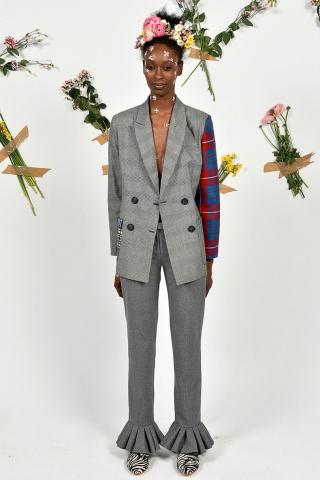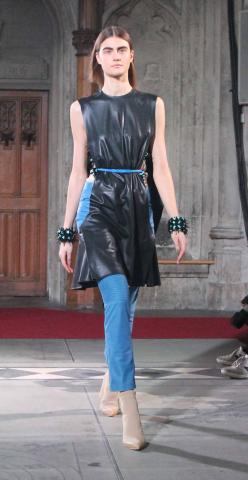 The autumn collection embraced a sophisticated colour palette woven and styled into unique designs capturing a sense of exuberance. The palette is based within the tribal heartlands of Africa drawing rich influence from but natural themes and woven materials. The tartan plaid that is also native to the British Isles and other countries across the globe, opened the collection in a clash/contrast blue and green tapping the essential life giving colours of earth and water.

The looks are stylish and comfortable also resonating with a slightly more laid back pace of life sometimes on the giant continent. Interesting to note is the adaptation of the tribal bandeau and halter neck bodice, used as an inside to outside style addition to several garments in the collection it breaks up the line to stop it becoming more formal than you may expect to see. Above to the left a beautiful woven dress with loose arm sleeves is neatly tailored in a flattering cut. A beautiful blazer with shorts to the right is trimmed with extra flare at the hips in a style that could easily also be teamed with trousers or a black skirt if you wanted to wear it in dress code settings. Exploration of shape and style in the next look to the right is an expressive moment where you can imagine a girl in Africa also taking traditional themes and working them from a different angle. To the right. The tailored trousers suit is given a flourish of tartan and peplum detail at the ankles in a subtle re-working that brings a gentle smile to the inside.

This day-wear part of the Out of Africa collection also hints at a proudly 'Make do and Mend' trend perhaps but it's also a way for the designers to show hints of transitions can be brought into contemporary design. If there is a difference between the heritage and the international style, then make it a bold contrast, why not shout it loud that you can blend the two together. The sets for Tata Naka shoots and presentations always have the feeling of party of sorts and the relaxed mood that infused the set also perfectly represents the feel of the brand and it's approach to life. As ever alongside the jocular exterior the cutting and tailoring remain superb and skills that Tata Naka have honed so far in their design journey show that they are a sophisticated brand.

Single colour silk-satin dresses in saffron, teal and ice pink are a very sweet and chic option for smart day or evening wear and as with the pieces brought out by the sisters comfort and elegance are always dual pre-requisites. A recurring motif through the collections is the dropped neckline that runs in a gentle arc from the shoulders to the waist. It looks simple but good cutting ensures that the line of the fabric sits close to the figure and the decollete is not too revealing. Jacquard features strongly in this collection with green and blue translating into subtle colour patterns that evoke the life and health of the grass lands in many African countries. A beautiful array of skirts, jackets and dresses on and off the shoulder show that with one fabric you can easily bring through several ideas to form a series within the collection. There's sophistication but also a playful prettyness that it ageless. 

Prints appear across the next phase of the collection with imaginative pieces representing the inspiration designs that can be found across Africa show another way to express beauty and feelings through the unique designs. Colours and shapes mix tones of earth and heaven with florals, little stars and the blues of rivers and streams. Throughout this collection the girls wear flowers in their hair emphasising the fresh sense of life and vitality that the collection conveys. 

This is a fashion collection shown at London Fashion Week but there is a clear connection to the world and lives of people in Africa. Its a true sympathetic representation with a dynamic burst of energy that also brings this naturally to the heart of the contemporary fashion market. These are dresses that you can wear and live and laugh in. Soft feminine flourishes permeate the collection with the traditional Tea Dress getting a re-vamp for a modern dynamic market. Bold stripes and sprinkled dots of colour keep the sense of strength present alongside play. The bandeau top returns further on in the collection with classic sarong style wrap skirts ready for a late winter sunshine break. It also made me think about the possibility of a bkini commission and who knows with the twins sense of fun, perhaps they would be quite happy to create.

In the ancient settings of the Guild Hall in the City of London Toga Archives welcomed us to see their next offering of some of the most captivating contemporary style to be seen at London Fashion Week. The contrast of the ancient setting built in 1128 with possibly earlier origins that seemed to conjure the idea of a knights hall; it felt like the perfect setting to unveil a collection of striking modernity setting the past and the future together in a neat juxtaposition.

The series of autumn looks for 2017 opened with a beautiful sky blue trouser suit and blouse. The look, embellished with applique and jewelled shapes imagines almost a vision of jewels growing out of the garments themselves. Designer Yasuko Furuta is renown for her experimentation with design and embrace of new and challenging shapes that sit in harmony with established recognisable modes of design. To the right a white dress with cut away crescent at the right hand hip sits over 1970's line trousers; elbow length leather gloves with the over turned lap evocative of men's historical riding boots complete the look. It's 21st century sophisticated and urban chic that travels easily. Swapping round the colour themes the black dress with fawn brown trousers and black purse is accessorised with a woolen arm guard. Again the cutaway style of the dress at the hip accentuates the feminine line of beauty in it's contrast. To the right a white dress, black trousers and leather arm guard complete the series. Interchangeable similarly styled jewellery pieces are fused with the outfit to show dimension of expression. 

Vibrant use of colour in tie dye t-shirts is given a stylish upgrade with a funnel neck collar and jewelled clusters crossing the chest of the wearer. Long line trousers in both tailored linen and denim are accented with Toga's in-house crystal inspired jewels and wide wrist cuffs give the looks a rock and roll edge. It's glamour and sophistication and an international look. Floral print evokes a softer side of femininity and the cut-away hip shows the delicacy of the human frame. To the right a blouse and shirt combination takes a little step away from the ordinary with a deliberately exposed under layer and jewels sitting like curious insects from nature that land on you during a Spring or Summer time walk.     

Turning towards evening wear the look above to the left is a bold combination of formal shirt and black silk trousers with skirt wrapped around. It's a statement of duality and with nude shoe-style boots it could be an alternative look for the red carpet. To the right the another black silk skirt is fringed with a dropped golden hem. Teamed with a white blouse and over ankle boots a fluffy acompanyment can be found in the sleeve guard and shoulder bag. This is essentially a very different take on the black and white formal look. To the right a look in my favourite colour themes begins with white silk shirt  descending through black mini skirt and pink trousers giving the option of possibly wearing either or one of the pieces with the blouse should you choose. A low waisted sweater cut away at both hips and ankle length skirt with silk billows is defining modern femininity classic. A faux fur shoulder arm guard acts as a new incarnation of the muff and neatly belted, (with muff to one side) this would be a great versatile day wear look for work and leisure. The collection moves back towards more casual looks with blue colour blocking against floral print.       

Bright coloured tunics and trousers combine to create looks that will brighten up the autumn and winter days with tweed and woolen weave making an appearance in several key understated outfits. A well cut double breasted knee length coat has go anywhere appeal and can be combined readily with either casual or smart looks and wrap you up warmly when heading out in an evening dress. A terracotta blazer adds a hint of convention over a thin green stripped dress and dove grey trouser combination. To the right a deep winter coat, sash tied with thin horizontal lines coordinates easily with a tunic tweed dress and over the knee burgundy boots. It's a perfect town or country look for the autumn.       

The Hall proved an able back drop to show the collection with the Gothic arches somehow emphatically resonant of the beauty of the women who were walking the collection. Many had their sketch book our or where making notes, a little more than one usually sees, perhaps gaining further inspiration from the Gothic surrounding. A below the waist sheer-ling aviator coat provided a sensible touch of warmth complete with trousers and sweater. This classically composed look was one of the most versatile on display. To the right glitter and sparkle with denim and thigh-high boots made for a perfect evening looks to go clubbing in or out for drinks with friends.       

There's an undeniable cosiness in the elegant sophistication of these outfits and you get the strong impression that Fukura is designing for her clients to enjoy autumn around the world across several age demographics. A knee length sweater is trimmed with navy feathers and a protective warm shoulder wrap is placed at one arm. A think necklace and jewelled hair ornaments give the look a suggestion of Art Deco and camel coloured boots give the whole look tonal harmony. To the right a broad camel dress is overlaid with a thin sweater and soft winter coat. Just the suggestion of yellow at the belt and white at the collar break the possibility of a one-colour garment. A fur coat with black trousers and pink tabbard-slip peeping from underneath show how a garment associated with evening wear can be worn with casual pieces too. A more conventional day wear look in burgundy and pale white-blue to the right is readily accessible to the fashion buying public as can be worn almost universally. To the right the tunic dress with left hip cut away return with length emphasising trousers split over the ankle. Gloves long enough for Mr. Tickle from the Mister men again carry the vintage riding boot fold.         

The collection passes through different moods and phases some leaning more towards the conventional than others. Plaid returns in trousers and a blazer balanced with some emphatically TOGA twists such as baby pink blouse and high belt or an olive and navy sweater styled with blue jeans. To the right long sleeved multi-coloured sweaters are belted at the waist in a retro twist chiming with the 1970's style trousers. Unique styled tote bags in several bright colours also take the outfit in a colourful direction. To the right a transformation of the trouser suit also shows Fukura's desire to challenge, question and adapt accepted norms of style.          

She clearly enjoys the exploration and watching audiences at fashion weeks in London, Paris and beyond, it's clear that her style is one that is one that is easily translatable across the fashion pack and far beyond. She gives us a modern vision and invites us to paint on our own canvas. While you could certainly describe her overall look as challenging there is the potential to take what you want from the collections and style looks that are more under stated if you should wish. Toga Archives are one of the key established contemporary collections to watch each season for a re-appraisal of where women's wear can be in the future and how we could transform it further.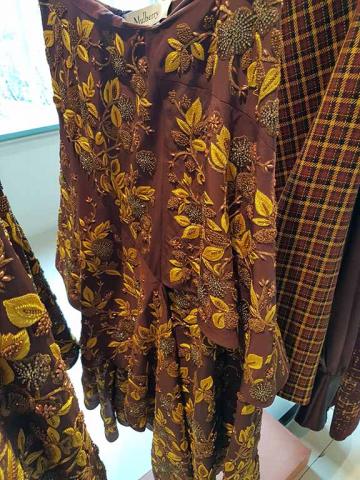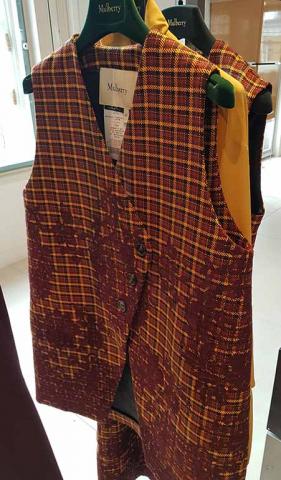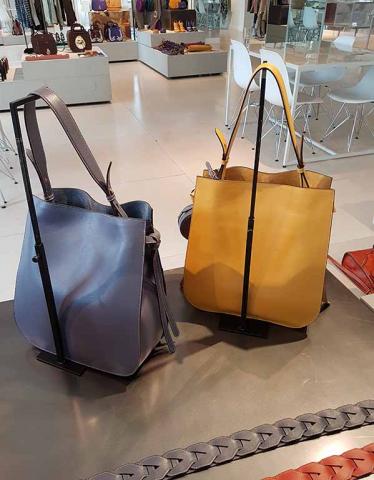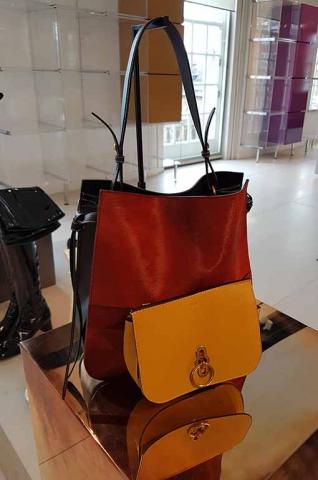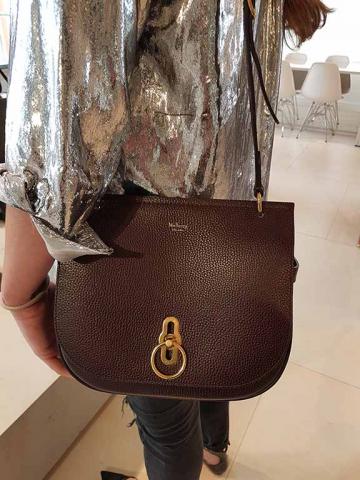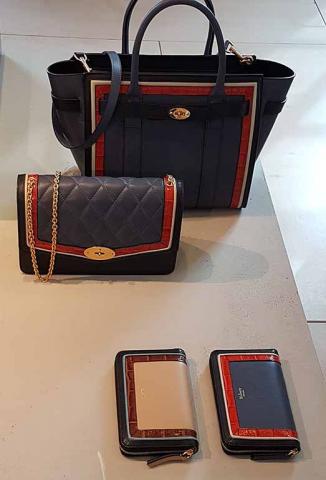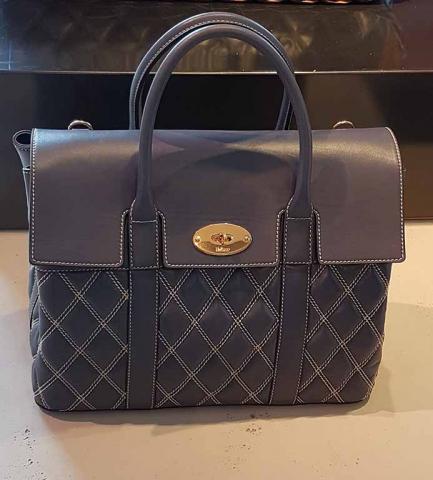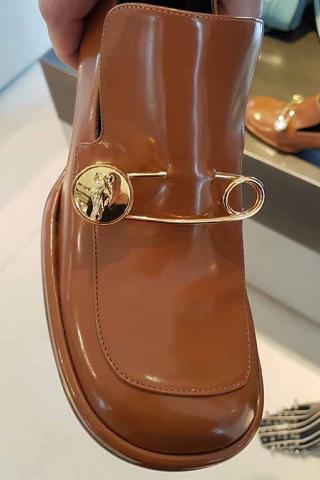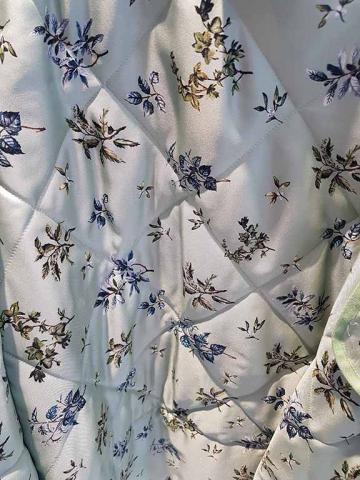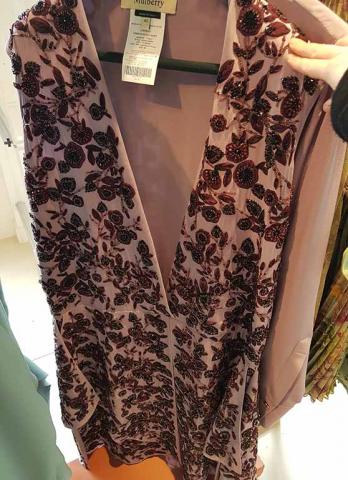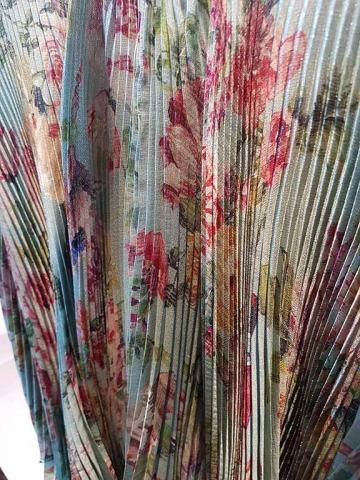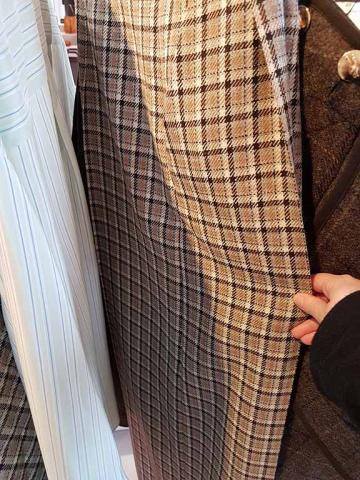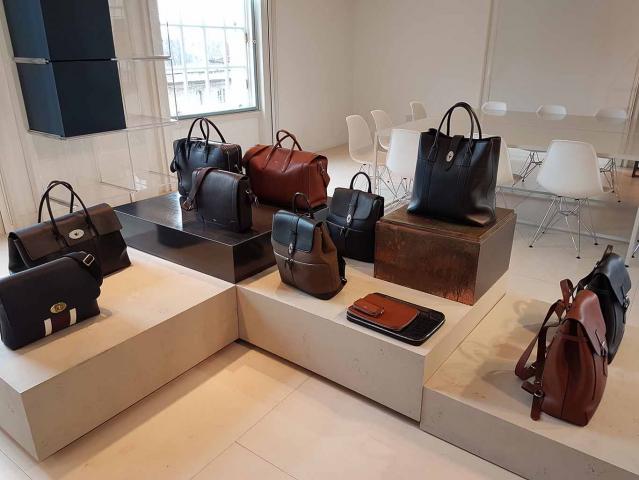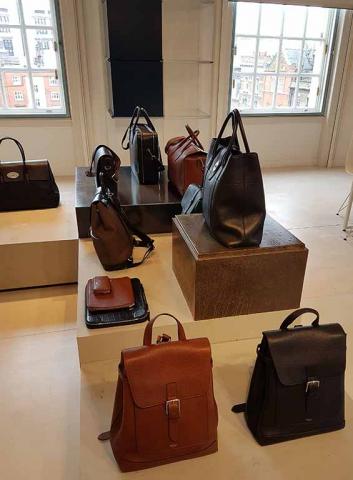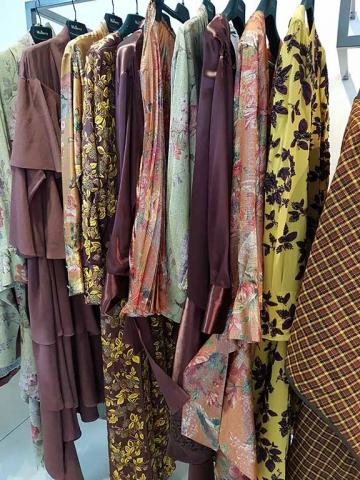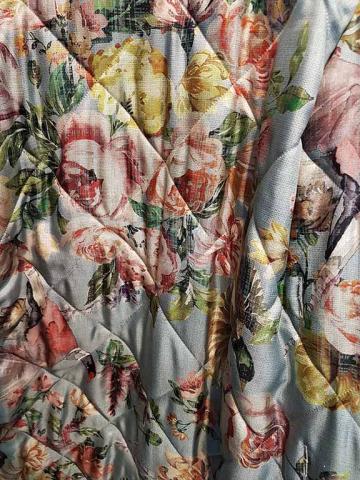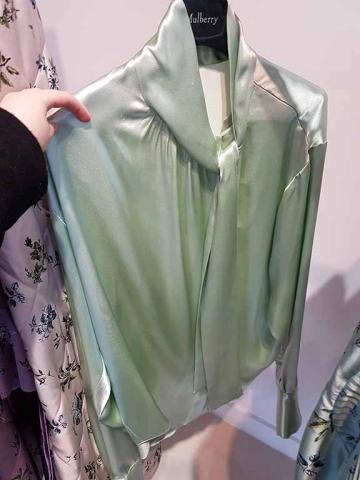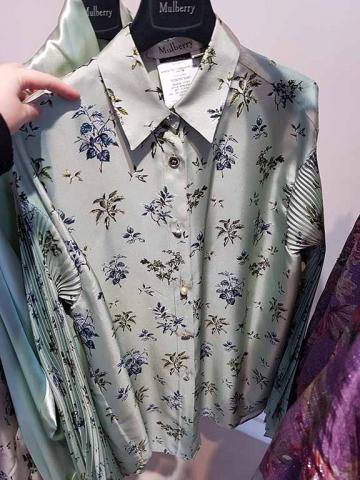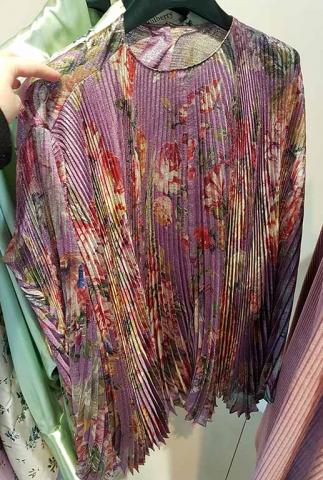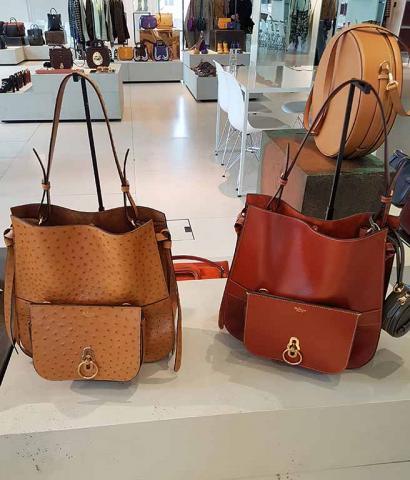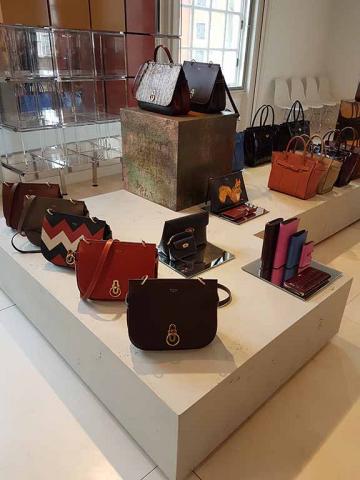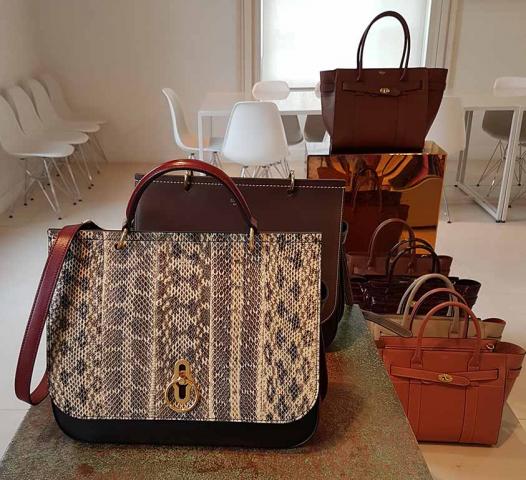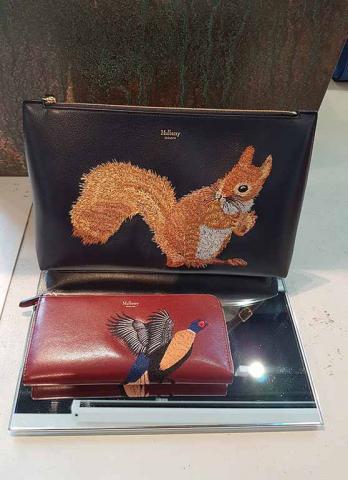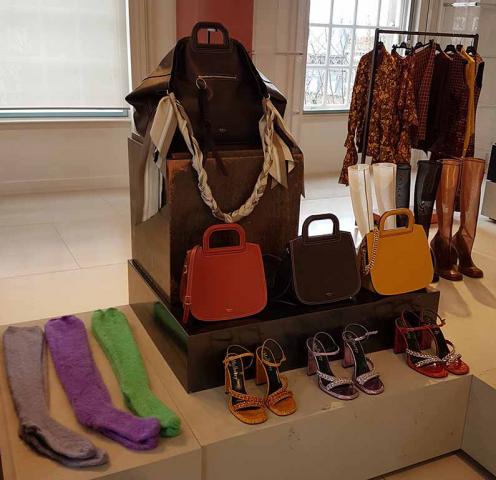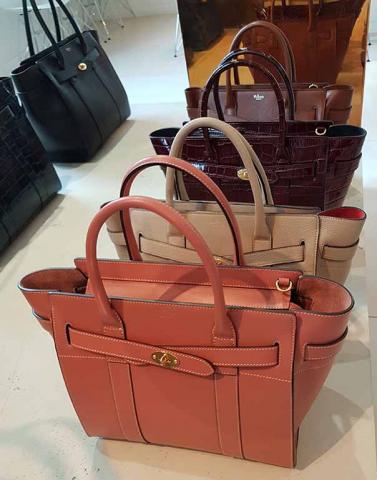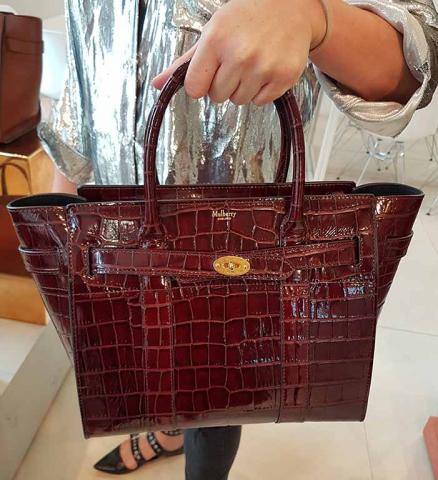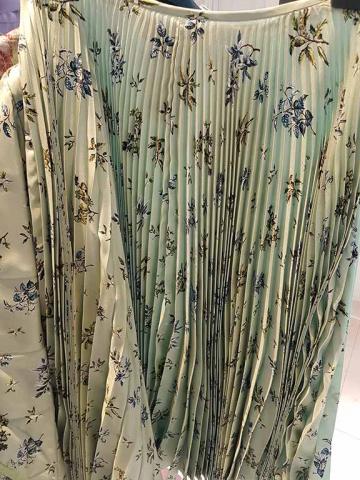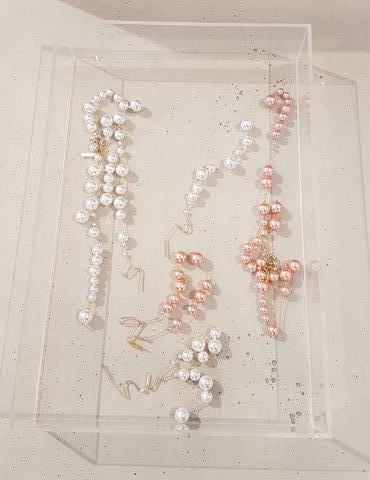 Mulberry
As a special treat after London Fashion Week I was delighted to be able to get a close-up look at clothes and acessories from the Autumn-Winter collection for 2017 and see Johnny Coco's steps in exploring the new chapter of Mulberry's design history at close quarters. I love fashion shows and       

presentations around fashion week and being able to spend some time around the teams working on the brands in the after-show quiet is also very special. Mulberry's team headed by the legendary Vanessa is a close knit well-oiled machiene looking after the brands global interests. To the right the famous squirrel who appeared as the invitation gift to the show sat on a long purse with looped handle and below a pheasant about to take flight adorned a slim-line purse. This flattened elongated shape is seems to have caught the imagination of designers for this season and as ever, it's highly practical. Centre above the very kind Jessica showed one of the smaller sized new era Bayswaters in burgundy. This was in Alegator but there are a number of alternative materials used. To the right an interesting adaptation on the postman's messengar style in the Amberley hobo's to the left.    

Mulberry also have a new take on hints of traditional country sporting clothes this season. Embroidered applique features on a number of designs from dresses to waistcoats and jackets. Autumn mood colours of rich berry, pumpkin and gold with a hint of olive added in the piece to the far left give a modern tapestry effect to the bell sleeved dress. You can dance, twirl and party in this and wear just about anywhere you would choose to enjoy it. Much the same can be said for the collection where pieces have a look of aristocratic inspiration worked into a more modern bohemian easy-going style. To the right a waist-coat in woolen tweed is embroidered in a subtly blending in style that won't look too over the top for any occasion. A long tweed skirt has echos of British Country Lady style cut in a mid calf pencil skirt shape it part of the more conventional series in the collection that would appeal to clients looking for more traditional looks. To the right a sequined tunic blouse cut open at the centre with skirted detail around it. You could wear it with trousers, a skirt or possibly just about get away with neither depending on how long your legs are.     

Footwear is an area that Mulberry are keen to explore and this season the run across the spectrum from diamante shimmering sandals with heels and a myriad of boots some with fascinating sheer fabric, to knee high cashmere socks in bright colours. You're covered here for work and play and also cosy evenings in. More of the Amberley range appear here in earth and sky tones with the Amberley satchel in the center shown once again by the lovely Jessica Eckart. It's a light easy accessory for the day, evening or weekend and it's this adaptability that Mulberry hope will be key to the success of the new line. 

A quilted medium sized Mulberry Bayswater in navy blue is both safe and experimental adapting two tried and tested themes and working them together. Shorter handles allow you to carry this at your side or use a long over the shoulder strap. It's soft navy blue leaves it easily adaptable to blend with other looks and a neutral feel to the collection of bags can be seen across the collection in the looks to the right in beige and black. Character also plays it's part and Harry the Horse of Vanessa has a supporting role in the collection on the pin buttons that appear on the collections mules. A bold blend of fabrics and colours in the set second in from the right shows a subtle throwback to the use of school and college uniforms as a design inspiration.

There's no doubt though that for many clients bags, purses and accessories will be at the heart of what they come looking to buy from  Mulberry and it's still the part of the brand that I would guess is best known internationally. The small zipped Bayswaters and totes above show the neutral shaded breadth of options that the brand offers for autumn. Costume jewelery is also an area that the brand has moved into with simple strings of pearls forming necklaces and bracelets. Johnny also adapted tiny miniature parts of portraits showing lips, eyes and ears to represent the senses and worked them onto pin badges and buttons showing the human impulses behind the age of enlightenment.  

Beautiful silks feature in the collection prominently and a passion for showing and perhaps reinterpreting the vision of eighteenth century chinoiserie styles that reappeared in late Victorian times. A simple pistachio blouse with pussy bow adorns the neck of a timeless classic while to the right an intriguing addition of pleats to an outfit in the sleeves complimenting the smooth surface of the piece. Providing the ultimate duvet-day experience the piece to the right is part of a series of light light jackets that can be worn with interchangeable pieces from the collection. Soft floral touches are everywhere highlighting the gentle feminine nature of the collection.   

The pleating detail comes into it's own in the lengths of the skirts and in full composition of some blouses. This is sophisticated Ready to Wear but it's also got it's eye on the free spirited arts and crafts movement within the world of the imagined British aristocracy. No corsets here, arms, legs and bodies are free to express, enact passages of poetry and talk and laugh in doors and outdoors in the day or evening. So where are we with Mulberry this season? I think perhaps on a journey of the imagination and of the fantasy spirit in all of us who sometimes yearns to break free.