A Blush of Rose
ablushofrose.com
Autumn/Winter 2017-18


There's another feast of fashion on the way this season with the London collections in the spring showing the most diverse array of talent and choice so far in the fashion week's that I've seen. As the fashion pack gravitated back towards the River to the new HQ of London Fashion Week near Somerset House designers where also given a much greater space to show their stands in the exhibition area and it felt that more talent than ever before was on display.

Teatum Jones


Opening London Fashion Week for the third season running Teatum Jones provided a new look and a sophisticated surprise this season without losing touch with their creative impulse that has it's own unique brand of expression. Below to the left the opening look featuring a sheer fitted dress with balloon sleeves channels

Minki


One of the joys of London Fashion Week is discovering new brands that are bursting with energy and vision. A new label I discovered on the first day of Fashion Week was Minki London filled with all the spark and punch that you would expect from from a bright new brand.
Steven Tai

DAKS


If you're looking for a smart sophisticated international uniform kind of look for this autumn DAKS is frankly the master craftsman of stylish tailoring that puts a chic spin on slightly conservative themes. Amongst the British labels showing at London Fashion Week this definitely is a hardy stalwart of the classic traditions and far from tired, it gathers a very chic front row of editors and clients. In my second season watching them in London I fell in love, yet again, with the expert tailoring and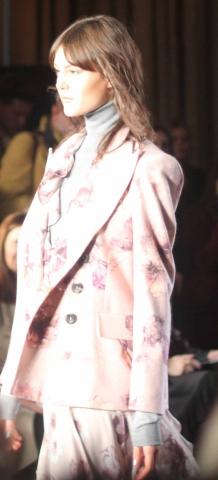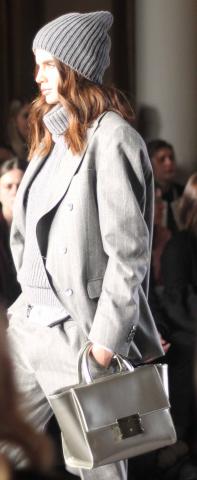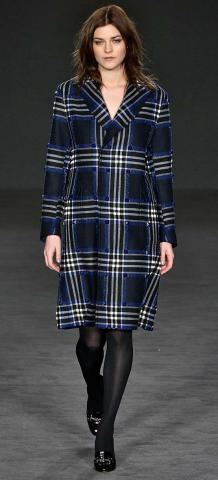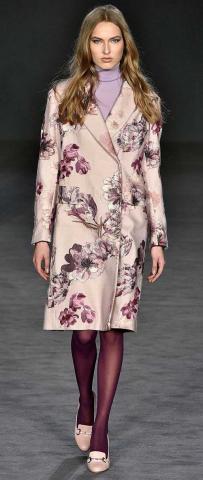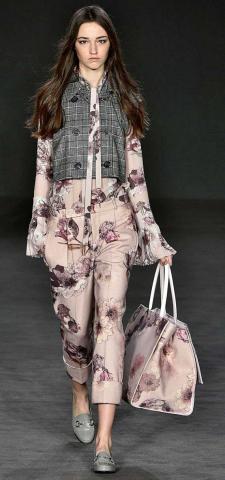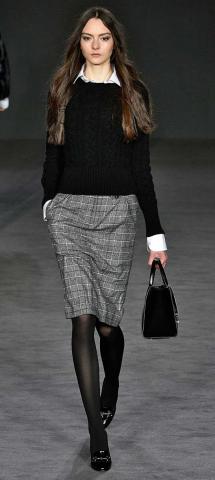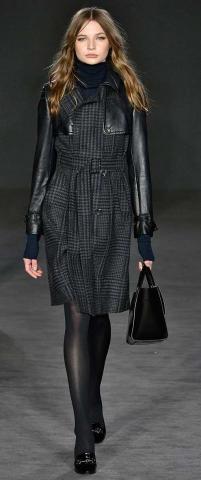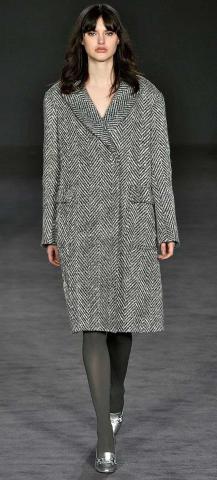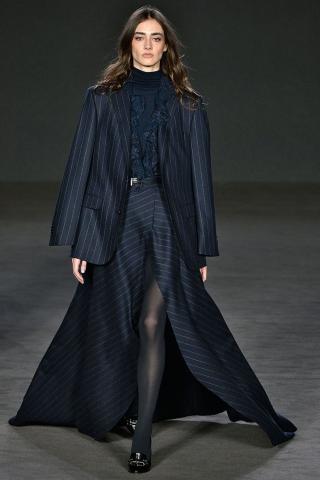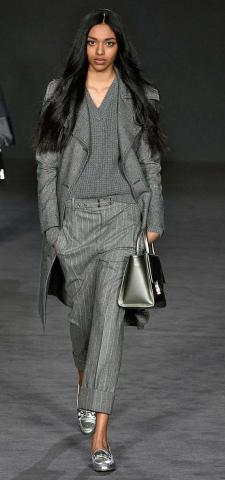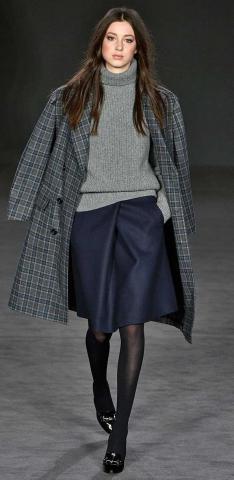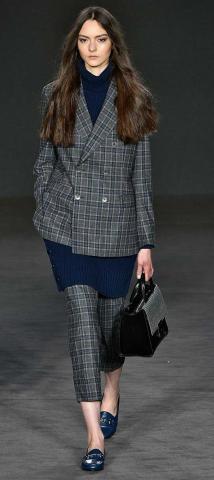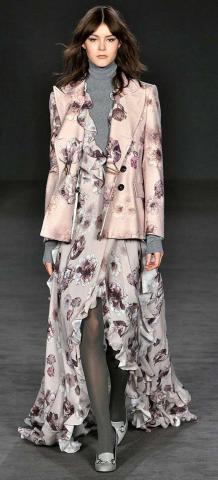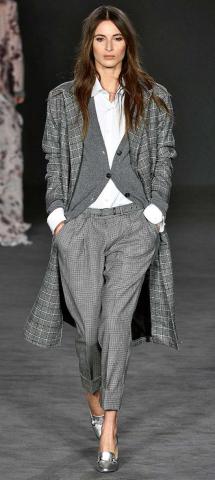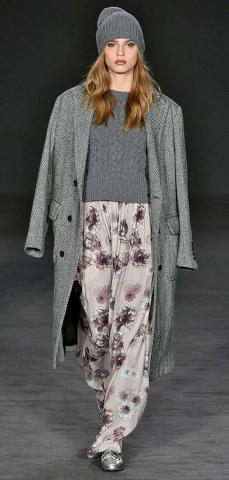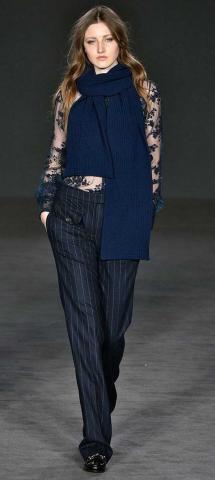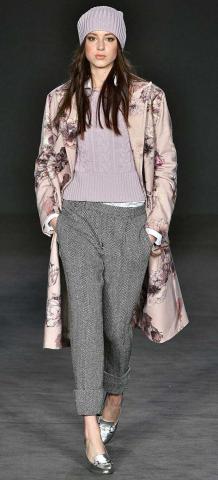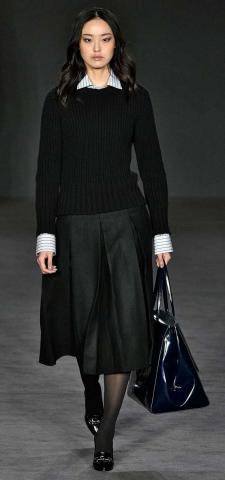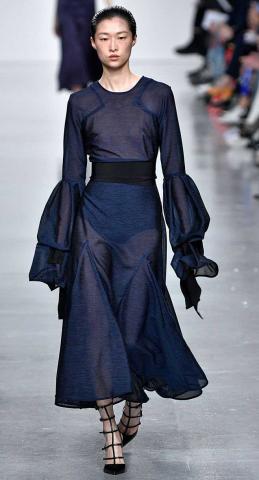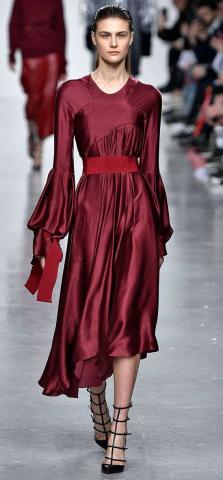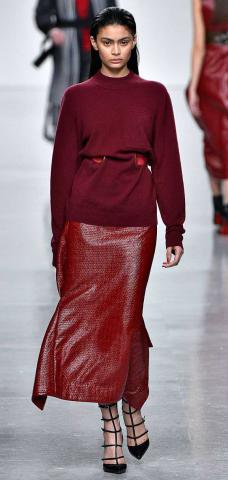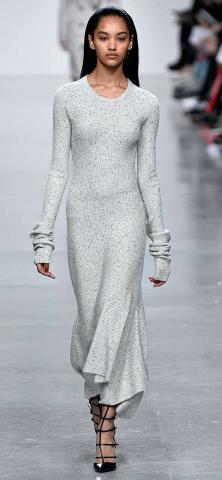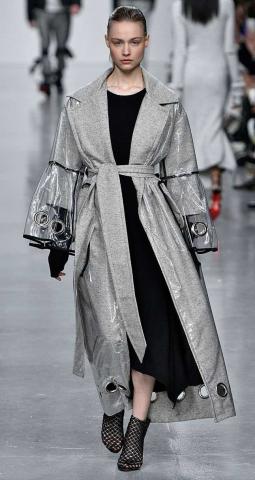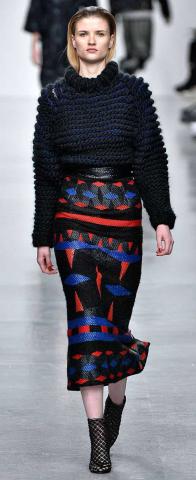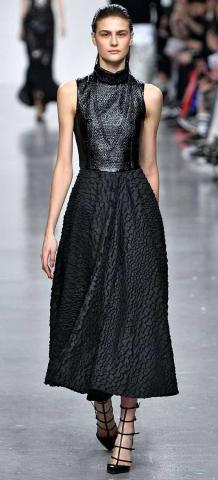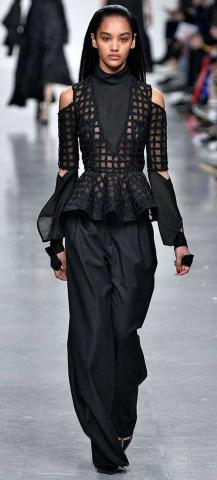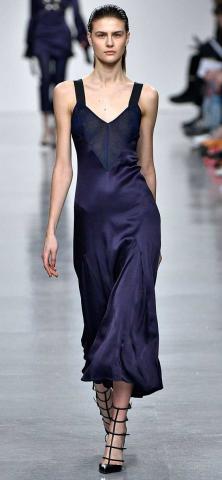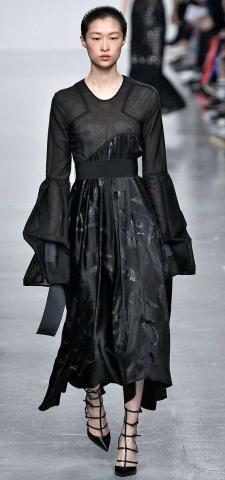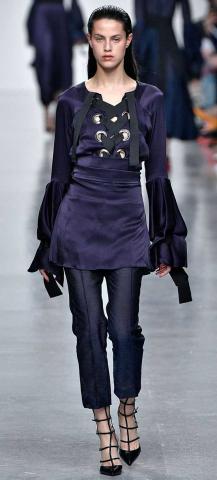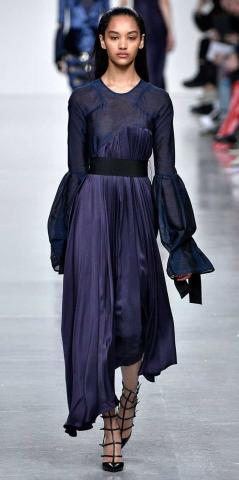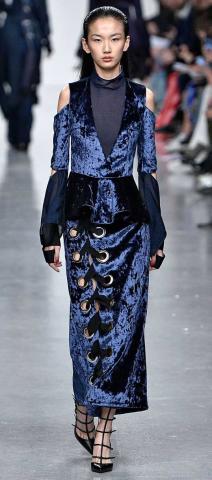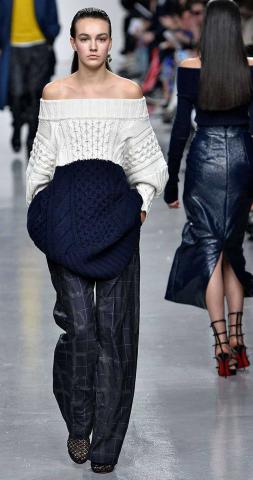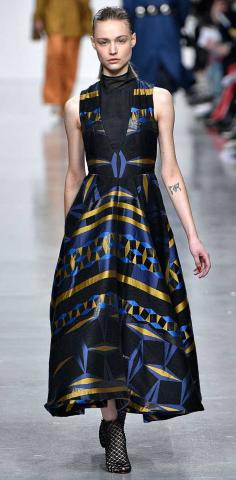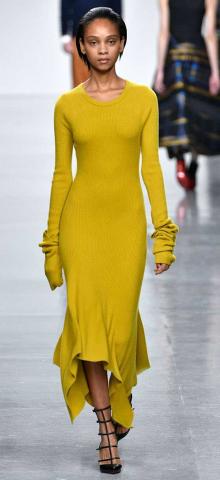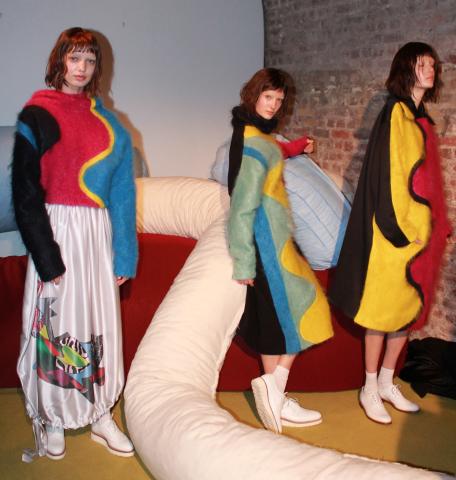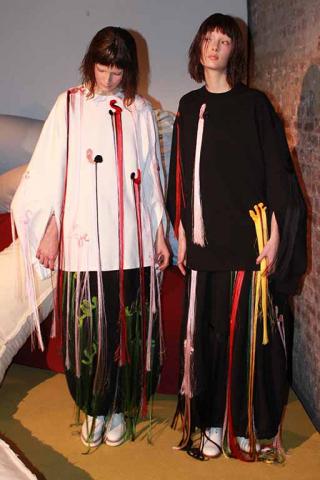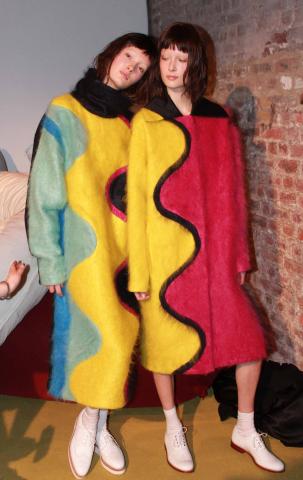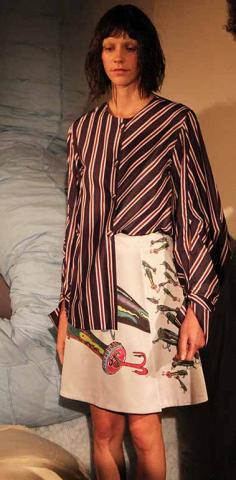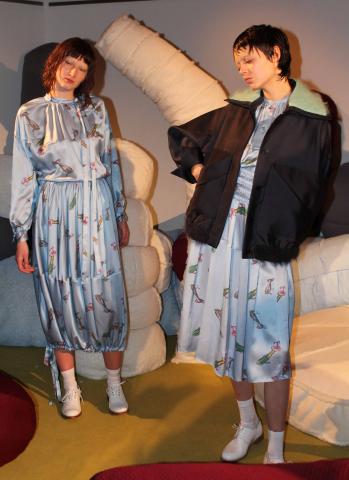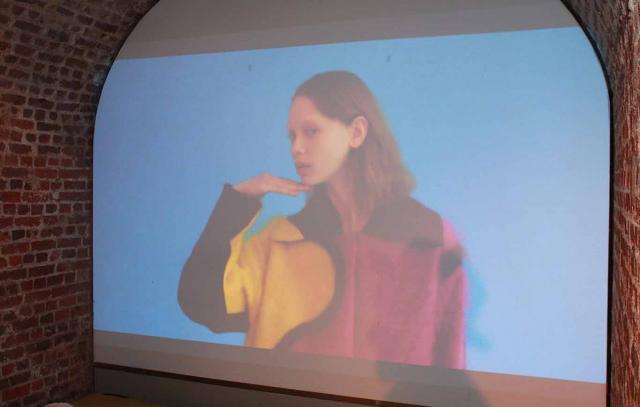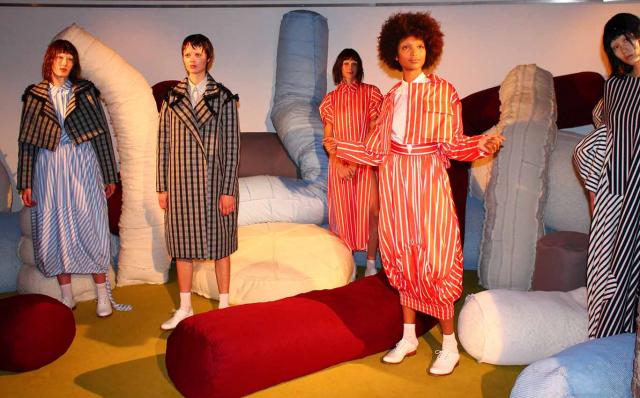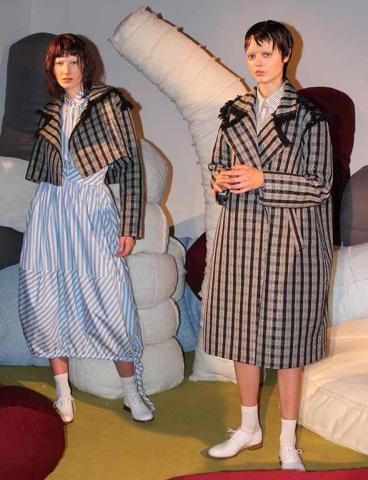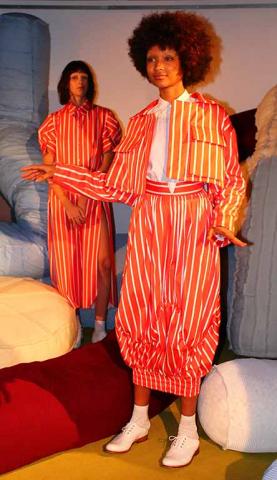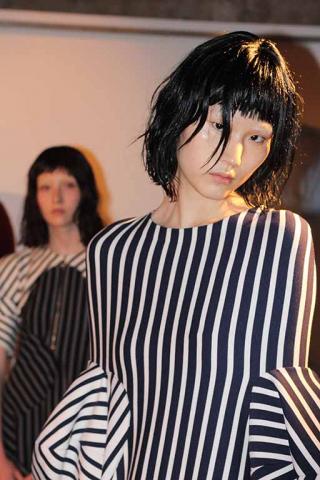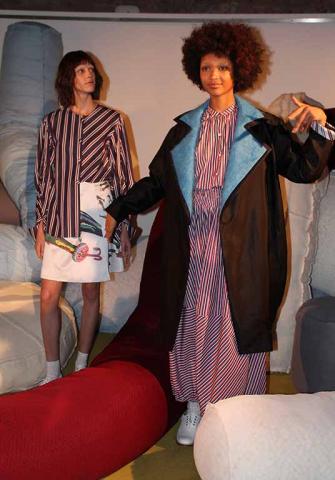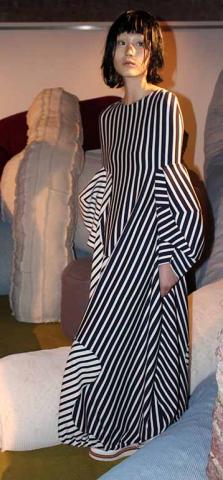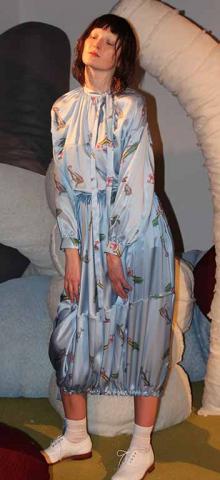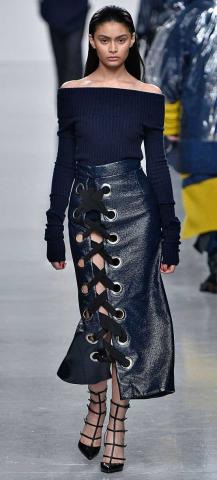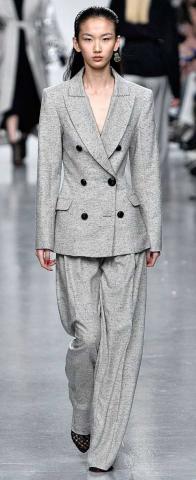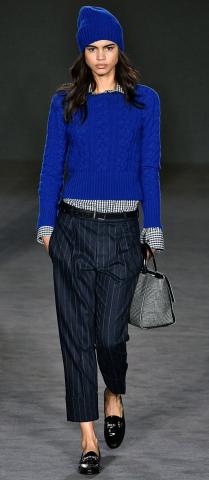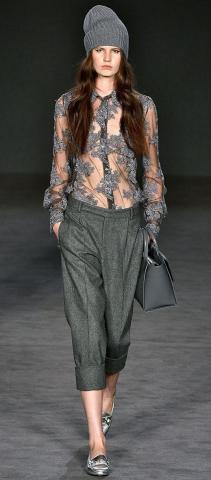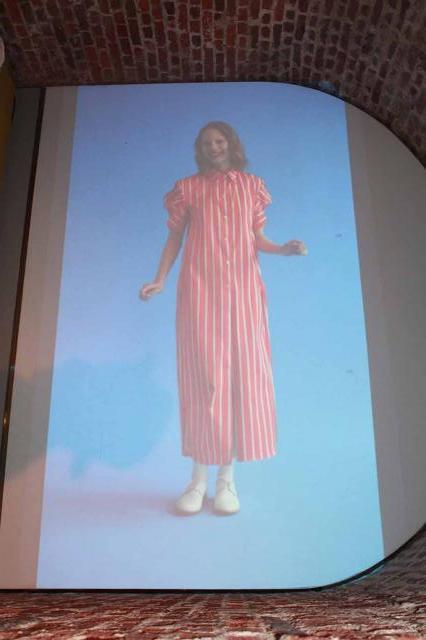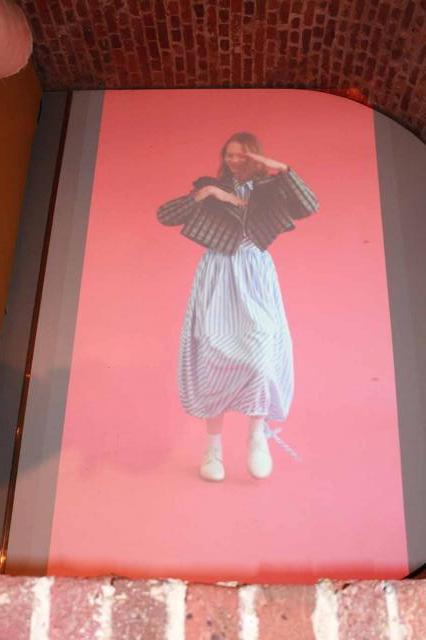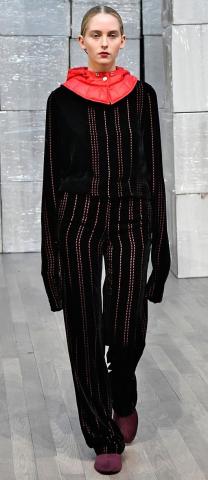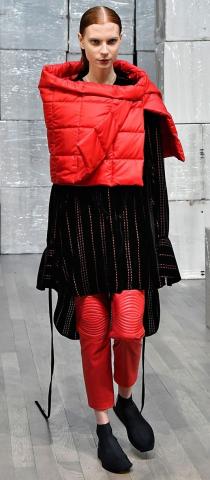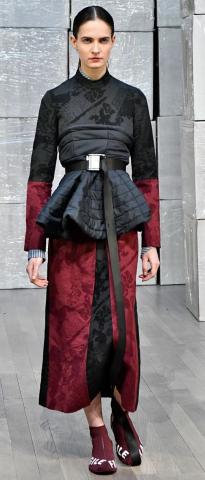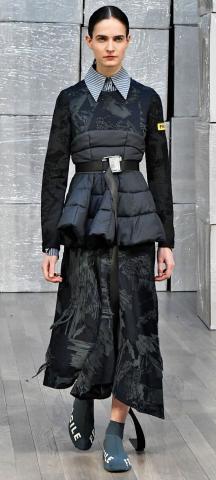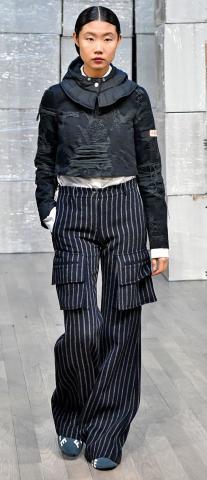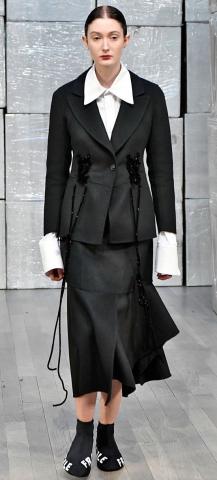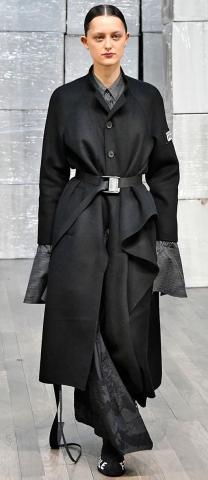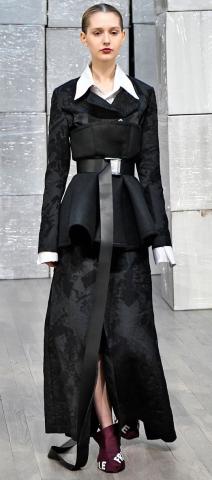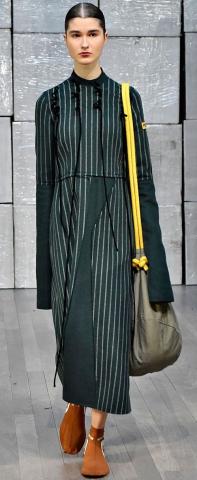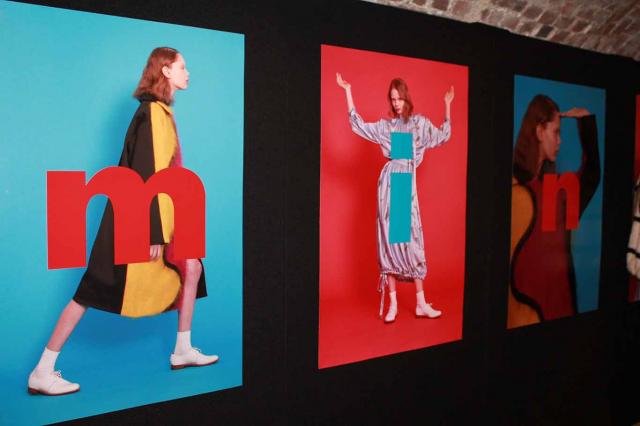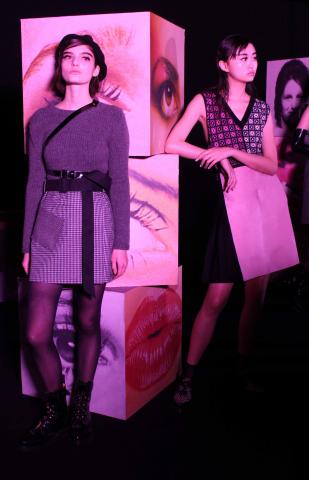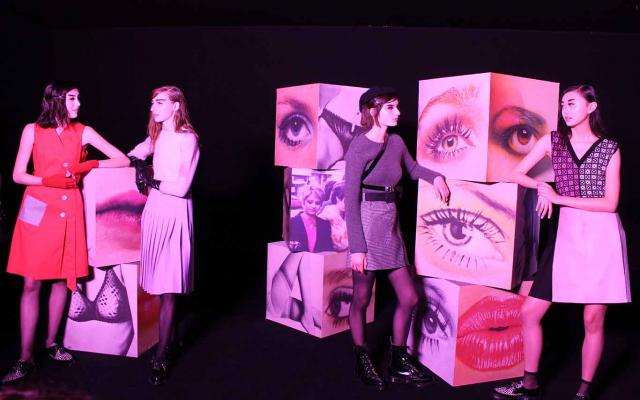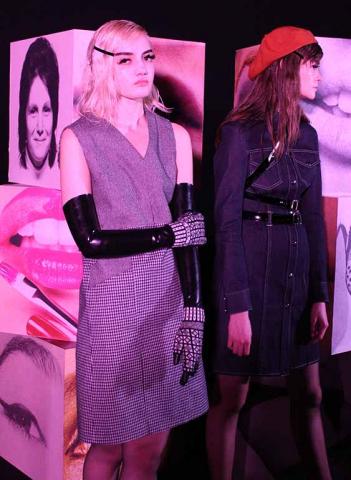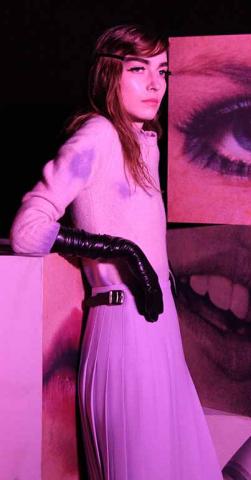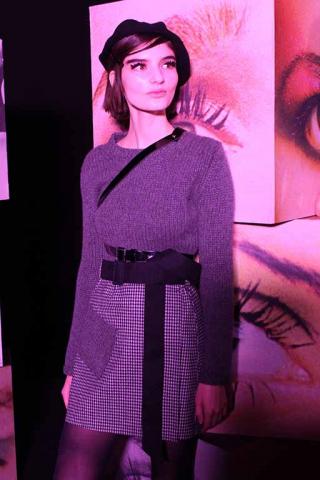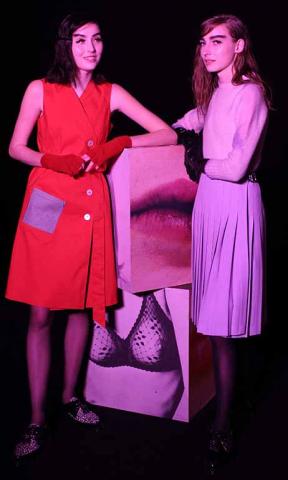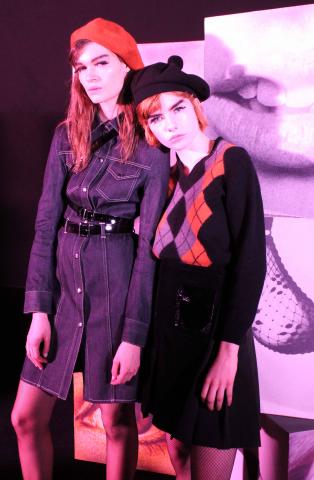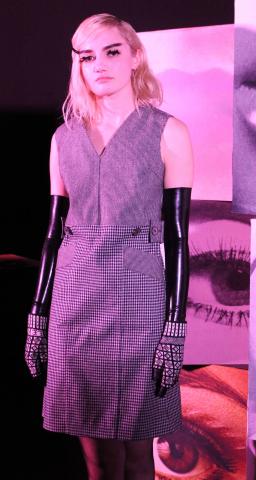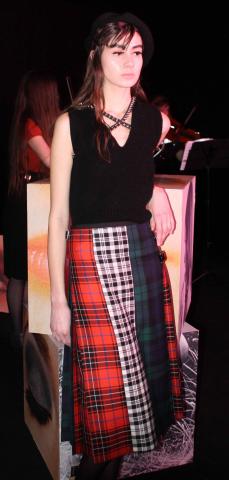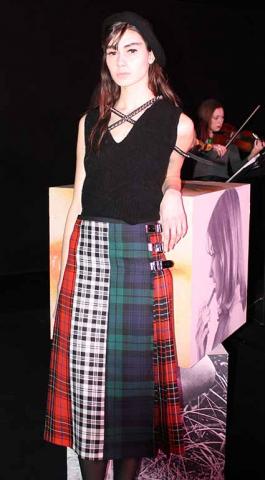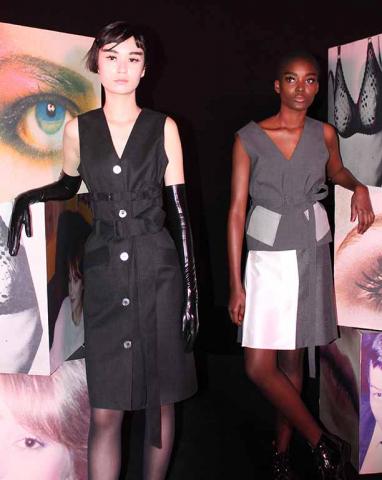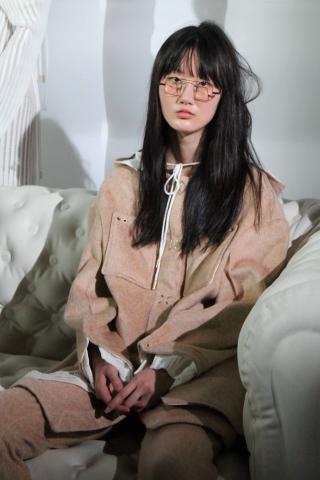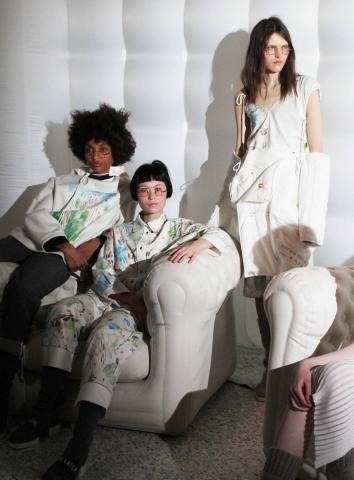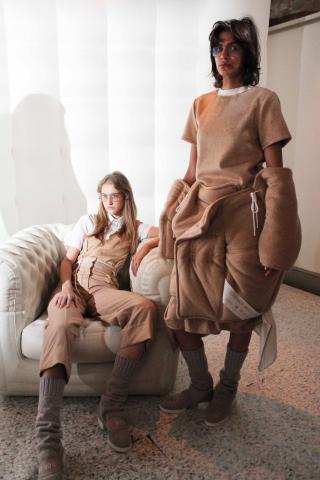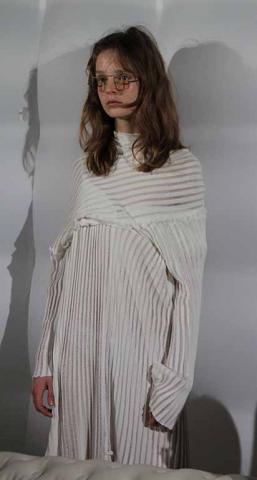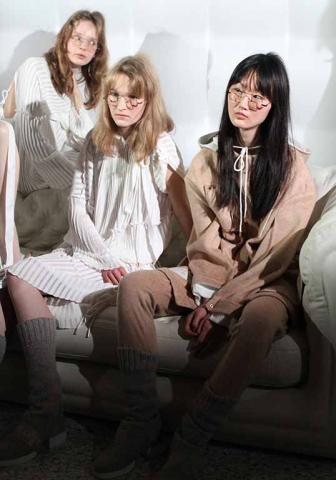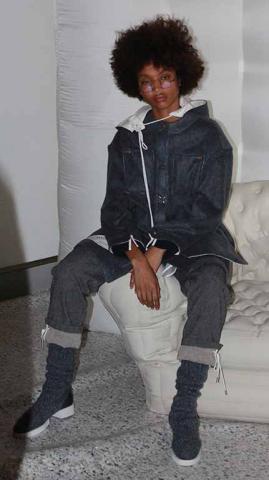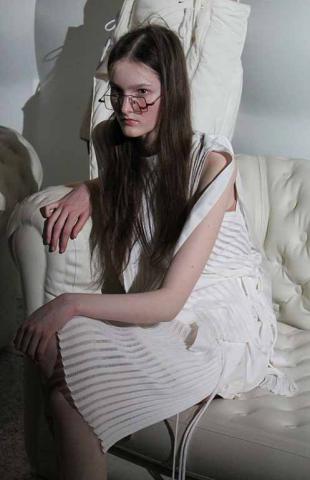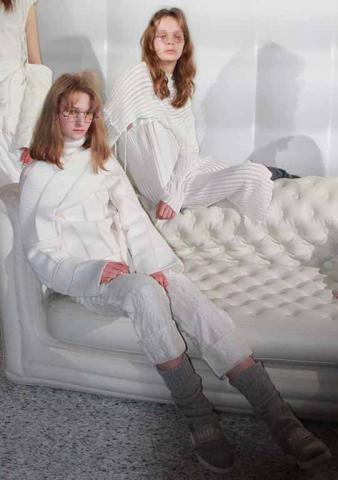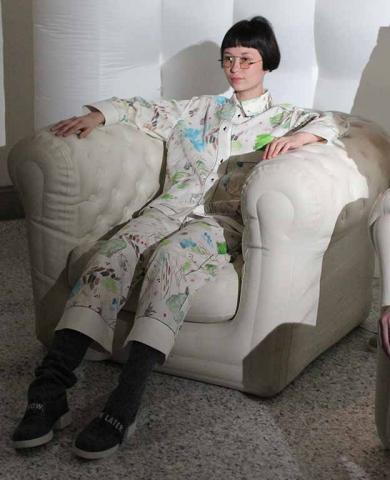 Front shots image credit Firstview

mid twentieth century lines and designs such as those of Christobal Balenciaga an his admirer Christian Dior with the styles such as the nipped waist adapted to a broad waistband and an emphasis on ease and comfort. This look is the first in the midnight blue series of the collection and makes a statement of maturity and grace as the collection unfurls in contrast to the vibrant punchy openings of previous seasons. And why not; the fashion world is broad and many buyers look for elegant pieces to add to the collections at any age. Elegance is timeless and ageless. To the right, the simple slip dress stands alone looking like the perfect simple wardrobe addition to add a touch of glamour in the day or the evening. It's an easy one to put at the top of the wish-list. You can match it to a jacket or wrap easily.

Centre above out-sized eyelets work lace up detail to the bodice of a tunic dress makes an eye catching feature. Hints of 'gothic romantic' permeate this collection and the pencil trousers could be dispensed with from this look by bold individuals who want to show off their pins. Another flowing dress to the right with it's asymmetric transition gives a contemporary twist to an evening dress utilising both sports material fabric and the silk-satin of formal wear. It neatly illustrates the young and sporty v's sophisticated side of the brand combining into one in one easy step. To the far right velvet shimmers in a twp piece garment that keeps faith with the challenging slightly off-centre Teatum Jones look with lace up detail running up the right legged side of the skirt of the outfit.     

The theme is repeated again with an open lace skirt providing a sexier alternative sitting snugly on the hips with room for a must-have knitted short sweater dress to tuck in underneath. With it's off the shoulder design and super long sleeves it could be worn by itself for a daring option styled with statement shoes. To the right another out sized off the shoulder dress in dual coloured white and navy with cable knit contrasts with wide leg trousers showing a variation of tartan in geometric print form. Clashing but not clashing is a composition theme for the season that allows you to experiment while keeping a sophisticated line of decorum.

Centre above geometric shapes in black, gold and blue bring an art deco and Grecian influence to the collection showing that the Teatum Jones girl is growing up a tiny bit and developing her taste in art. Golden yellow gives way to a mustard in a figure hugging jersey which is the ultimate slip-on anywhere outfit. With long flowing lines leading to a fluted slash cut hem, this piece is a perfect work/casual staple that will flatter the figure. To the far right a beautiful flowing crimson gown works themes from earlier in the collection such as the curved shape across the bodice and waist nipped in by a broad band. Balloon sleeves and an expansive use of fabric for the dress with pin-tucks creating a diaphanous length of skirt have hints of Hollywood's golden era about them moved into a twenty-first century context.     

sheer practicality of the style. A soft wool tartan style coat is adapted with small circles inside it's design to give a twist to the traditional fabric print. Falling just above the knee it's the classic wardrobe staple that DAKS can be relied upon to produce for you wardrobe and illustrates in one look why clients worldwide return every season. It has the easy ability to be formal but not too formal. The men's double breasted suit jacket is toned down slightly with a looser cut allowing a glorious navy thin sweater to sit underneath. Breaking the colour of the grey plaid of the jacket and peddler length trouser it matches the models shoes in a classic composition of DAKS coordinated style. One of the many smart/casual styles that they have created with easy casual style.

Floral flowing prints work in a harmony contrast breaking the formal lines as a jacket, worn open, in the tailored house style sits over a luxury crafting of a traditional tea dress that could be worn alone for dinners, parties and the red carpet. The polo neck thin sweater underneath adds a little seasonal protection against the cooler air. Effective seasonal layering is on hand with grey trousers blending with a light cardigan sitting over a beautiful white shirt. It's a perfect office/casual look rounded off by a grey light woolen plaid coat that sits perfectly lightly on the figure worn open or closed. The collection moves gently through moods working the seasonal floral print into loose line trousers with a light grey knit sweater. Topped off by possibly hte chicest beanie that you will find on New Bond Street the grey wool jacket that finishes the look is one of the pieces that shows DAKS ' ability to create easy classic must-have. Well made and enduring.       

The belt can always prove a useful focal point to anchor the silhouette around and the duo drafted intriguing almost circular clip belts this season for waist definition. Large sweaters re-emerge in a more cosmopolitan easy-wear style that looks like classic autumn high fashion day wear. The burgundy sweater and rouge skirt make natural wardrobe team mates for the navy knit and trouser combination that has a sensuous note of comfort that makes DAKS irresistible. The all in one dress returns in dove grey, bunched at the cuffs and swinging to ankle length with clever fluted extra volume giving it a graceful motion as the wearer walks. Hugging close to the figure it's delicately beautiful and again the easy sense of sophistication shows an eye for Teatum Jones to broaden their market and client base. The grey trouser suit to the right evokes the power dressing of the 1980's 1990's and the era of Donna Karen with plenty of appeal across generations today. A grey coat loosely belted at the waist to remain partly open gives a carefree spin to a long-line black dress that could take a different direction and look more formal.  

Geomatric notes in blue and red against a black back drop with a puff knit black sweater it looks urban and young; the core identity of Teatum Jones but it's not too forbidding for clients of all ages to add to their wardrobe. The sleeveless black dress blends a shimmering sleeveless bodice with a skirt formed of synthetic fabric imitationg the patterns of crocodile skin. Reaching the mid calf with a full wide skirt this piece connects old school glamour with a new generation interested in sustainability and sustainable fashion. Suitable for black tie it could be worn with a jacket or wrap. A lattice tunic vest with cold shoulder cut away detail and peplum fringe at the waist matches flowing wide leg black trousers for a contemporary look. To the right a black dress styled in the season's themed aysmterical wave cut with wide cut sleeves features a beautifully embellished skirt with cross textile detail. In one colour this dress uses several different fabrics in a contemporary textile exploration that is subtle enough for clients of all ages and perspectives to be drawn to. A very interesting new look from Teatum Jones this season.   

light wispy embroidered flowers decorate a sheer silk blouse. Navy pinstripe trousers adapted from the man's wardrobe again show DAKS playful ability to mix and match genres in one comfortable composition. A seriously snug navy deep knit scarf crosses the body providing extra protection against the chill. The blendable wardrobe is a key feature of DAKS offering essentially comprised of interchangeable separates. Lapis blue strikes a colour note for the darker days with a cosy beanie and sweater sitting over a more formal checked shirt and pinstripe trousers. Offset with a light tote this look again shows DAKS' ability to simplify your wardrobe, should you wish, in mix and match capsule style for life out of a well travelled luxury suitcase taking you from board room to weekends in the country. 

Centre above a white shirt, dove grey sweater and and grey turn-up trousers work a weekend casual style that could also easily adapt to office wear. The light beanie and floral printed jacket offer a protection from the autumn winds with the playful colour harmonies stopping the look from becoming somber in any way. To the right a ight blue pinstripe shirt peeping out at collar and cuffs from beneath a black knit sweater and satin box pleat skirt is a work wear style that could be adapted to more formal leisure settings. To the right a double breasted knee length coat, seen elsewhere in the collection is profiled with a complementary light lilac polo neck sweater underneath. A smart look for town or country anywhere in the world.           

The lace embroidered front-buttoning blouse creates a daring contrast with the more formal mid-calf trousers for a fun seasonal look. You may want to grab a chunky scarf on the colder days. A fabric and style contrast in the next look to the right shows florals in a play-suit underneath a plaid waist coat. The giant weekender tote carried by the model is a desirable piece in itself. It's a look that shows that although DAKS leans towards the formal, it doesn't take itself too seriously. To the right another perfect neat chic ensemble for office wear, or what I would describe as more formal casual. A white blouse and think black sweater team with a pencil skirt offering any-age appeal and a look of innate composition. To the right a deep pocketed wool coat is a comfortable and easy staple to add to the wardrobe.  Style-defined and practical you can wear almost anything with it from jeans to office wear or over an evening outfit on cooler nights. It's also just as easy to accessorise be it with a satchel or tote or a smart purse from a high fashion House such as Chanel or Dior.
           

The pinstripe is taken in a new direction with a floor length side split wrapped dress transforming what is known as formal wear into an evening wear piece. The open tailored jacket sitting on the shoulders has it's formality tempered with a soft polo neck underneath. Navy tights complete a single colour look that takes what was known as masculine style long ago and makes it it's own. The next look all in black sees a high cut leather jacket twinned with a black belted knee length dress. Honed and simple this s another perfect addition to a busy wardrobe offering a complete look with a polo neck under-layer to wear or not depending on the chill factor. A simply layered day suit of sweater, trousers and coat again offers an easy autumn uniform option with the look furthest right rounding out the seasonal offering in classic sophisticated style. There is a sense of what the American's call 'preppy' in this look, a polished East Coast American style that in fact I think has come from the British and European wardrobe of the mid twentieth century and brought up to date.
           

Minki believes in producing looks that help bold and confident women express themselves touring colour and fabric to create something different and unique.
Fashion fuses with contemporary art here and the audience is self defining. The brand has a strong focus on developing experimental fabrics through unconventional materials. Walking in to a bright burst of colour, the plush felt-like fabric coat dresses to the right played to the bold mood of the label. Swirling snaking 'S' shapes seemed to appear in many places in the collection and giant material worm-like shapes made a play-time set behind the models.

The styles spanned the range of soft shape and tailored very ably with a series of looks as centre above in red, black and white stripes that took alternative approaches to familiar garment compositions such as elasticated hems and out-sized bag styled pockets. To the right varsity stripes on a shirt contrast on the vertical and diagonal with one-side tucked in to show more of the abstract print detail of the skirt.

Streamers of thread and ribbons bring a colour dash to the two looks above to the left simply breaking the blocked colour of black and white. This is fashion more at the conceptual end of the scale and Minki illustrates the interest in playing with shapes and contrasting sensory elements as part of the fashion mix. Beauty was kept to a minimum with a 'just finished' hair look and softly luminous skin accented by apricot hints at the lips and across the eye lids. As the collection moved through different phases varying emphasis was placed on the structured and the soft. The Minki woman encapsulates everything within one look.  

Above to the left vertical straight and off centre thin blue stripes define a cool autumn look with a plaid high-cut jacket sitting above. To the right Idina Moncreiff models a plaid roomy coat perfect for wearing autumn layers underneath and with serious fun factor to enjoy. Large loose-fit coats are a feature of the collection and they do keep you just as warm as closely cut counterparts. Shoes were old style sneakers with thick bases and heels that gve them a dance twist. 

A seam above the knee is a popular feature in the silk dresses of the season and you can see it above to the left as well as in the delicate light blue silk dress above to the right. With it's tiny pussy bow at the neck it mimics vintage pieces in inspiration in Minki's nostalgic habit but contemporary prints and the addition of an outer sports jacket such as in the shot to the right transform dresses in a re-working of a late 1930's and early 1940's aesthtic. I very much enjoyed shooting this presentation as it shows great scope and hope to see more of Minki in coming seasons.   

Haizhen Wang is one of the most interesting young designers currently on the show schedule at London Fashion Week and like many he is interested in exploring the dynamic between our perceptions of formal and casual or sporting styles. I was fortunate to be able to see one of his early presentations at London Fashion Week and his work is still one of the most watched amongst the younger generation of designers. This season sports shapes putted into jackets and wraps around the shoulders as a protective outer layer to contemporary urban wear garments. To the left pinstripe/navy blue long sleeved one piece works an adapted corporate look. A long stripe shirt is teamed with a mixed fabric skirt in camo' colours. That trend continues on the jacket centre above with out-sized pockets at the knee blending utility style with city formal. To the right a white shirt with out-sized collar and cuffs adds an unconventional theme to a look featuring unbound brocade at the waist of a single breasted jacket. The jacket and skirt combination in black are shifted further into a contemporary direction with the off-centre pleats of the skirt. A style note accentuated in the next piece to the right that shows a longer skirt peeping out from underneath an edgy futuristic style coat with air plane seat-buckle fastening at the waist.    
A similar look above sees the seat-belt buckle trailing behind the model as she walks in a slightly exaggerated gesture that also gives an subliminal suggestion perhaps of the smooth ease of passage that many of us feel when wearing outfits that seem completely on-song. The stripes make a come-back to the left in a long dress with draw string chords at the neck. An outsized duffel shows that she is ready to travel. Taking the colour palette in a warmer direction a new variation of the sports/lounge style suit sees pin lines streaking down a jacket and trouser combination with a red quilted shirt underneath. To the right the jacket is elongated into an out-sized shirt and teamed with red red trousers and topped off with a quilted red jacket. An interesting addition with hints of evening wear is the burgundy and black dress to the right quilted and embroidered it is highly reminiscent of Japanese style with the safety belt at the waist emphasising that the muse is protected within. Far from doll-like she strides boldly into the future.       
In a super-trendy riverside setting Samantha McCoach treated us to whisky and there was plenty of chat as the fashion milieu thronged in anticipation of her presentation for autumn. I've been very interested in Samantha's work since she launched and remember seeing her collection displayed in the London Fashion Week Designer Show Rooms when she debuted. Hailing from north of the border this proudly Scottish designer cites her major influence as her Italian Grandmother who has lived and worked in Scotland as a kilt maker for many decades. Her grandmother's experience in crafting kilts over many years inspired Samantha to create a modern contemporary style of the traditional highland garment that would look smart and polished in a variety of places. This season Samantha styled her look around the 1960's era of when her mother and grandmother where young with snap shots of three generations of women in her family appearing as part of the mood and inspiration. Think block mascara, minimal blush and pouting full glazed lips.   

Above to the left a soft baby pink sweater is neatly accompanied by a matching kilt skirt to just below knee length. This is a very interesting look as you could wear it out clubbing or to a party but also to a daytime smart occasion such as family lunches or out in the world enjoying yourself. Long black gloves add the tiniest hint of noir glamour channeling the labels inspiration in the name sake night club of Paris. A dark denim shirt dress and with red beret creates a bright colour contrast and shines with the vibrant energy reminiscent of the collections' vibe. Where France meets Scotland, a Scottish tam sits on the head of her model companion. The Pringle diamond is translated onto a short style sweater perfectly complimenting an above the knee black kilt. To the right a grey sweater and short skirted kilt feature belt detail and a cross body purse strap evoking a vintage style outfit given a modern makeover. A knitted V-neck tunic top contrasts with the rectangle form created in the kilted skirt. It look beautiful, playful but also cutting edge and exactly in the Le Kilt mood. 

Samantha's also taking a look at how to re-work the traditional kilt weaves and above a multi-tartan look mixes colours and patterns in an eclectic hue. It also gave me an idea for mixing tartans in a really fun way. OK readers; this is my idea don;t pinch it! How fun would it be to create multi-tartan skirts, shawls and garments that show different parts of your Scottish family roots, should you have them. It's like walking heraldry, if you have or had four Scottish grandparents you could use four tartan fabrics or panels rotating around your kilt, or the length of your scarf.
She's a bright young British entrepreneur with lots of ideas and a brand that has drawn attention internationally. Her devotion to using the highest quality textiles as well as creating a desirable look that is fun has re-ignited interest in day by day kilt wearing for a younger generation not wearing it in a traditional formal family sense. It's a powerful fashion ambassador. I warmly urge you to explore Samantha's work and take the opportunity to get to know it if you see it swishing stylishly your way.

I was very pleased to see Steven this season after being caught out last season with a show clash plus traffic chaos. This seasons mood was 'sleep now -  work later' aimed at the young international student crowd who may perhaps rather do this. I find that co-hort are often madly dashing around pursuing projects or at a dead stop in hibernation mode and taking time out in the country, I could partly see what he meant. His quietly beautiful muse is the shyer girl who is a little known for hiding behind her glasses and reflectively looking out at the world around her.

The looks mix a sporty sensibility with a feeling of comfort and softness. These are luxury lounge-wear styles for young clients to feel cocooned in and snug. Above to the left the camel jacket and trousers are a light but flexible style statement that could be worn for life at University, free-time and weekends and very comfy to travel in. To the centre above two looks in white appear a little more sophisticated. The first comprises a sports style sweater and trouser combination team with a seriously desirable knit-boots that Steven made this season in a hybrid almost of the slipper and the comfy long cashmere sock. Behind it a ribbed knit woolen dress sits on the figure very loosely with visible external seams that add a quirky touch of character. To the right pastel hues in Steven's own hand painted designs give the white sports pieces an extra edge with signature detail. They show a wearer who is interested in expressing their thoughts on the world around in an interesting approach.  

It's definitely a collection with broad appeal touching on the trend of the last few years for hygge and comfort (which we all need) expressing Steven's sporty take on this and how it can blend into our lives. Many pieces will be of interest to people beyond Steven's core market base and I think the versatility of his style is a potentially strong international selling point. As the models lounged and relaxed in their rotating outfits sleep was the last thing on anyones mind as we looked at the designs. For me I was imagining Steven's girls quietly planning adventures and achievements in the years to come looking prepared for a life outdoors and seizing opportunities.