April 2011
Chanel Press Day and Autumn-Winter 2011 - 2012 Preview.
I was delighted to be invited to Chanel again to see the new line up in the Spring-Summer Make-up range and see the Autumn-Winter Ready to Wear that was shown in Paris in March 2011.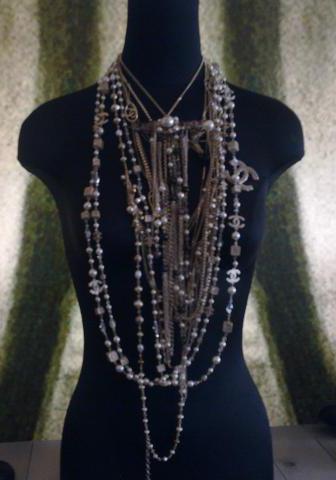 Knitwear is very strong at Chanel for Winter 2012 and I loved this Sweater above right. It's light but the knit is close and warming. I love the graded colour that begins in beige at the top and works it way down to a Kohl-Grey-Black towards the base. The model above is accessorised with beautiful pieces of Chanel Jewellery and I really love the broad statement bracelettes that she and many more of the Chanel models wore.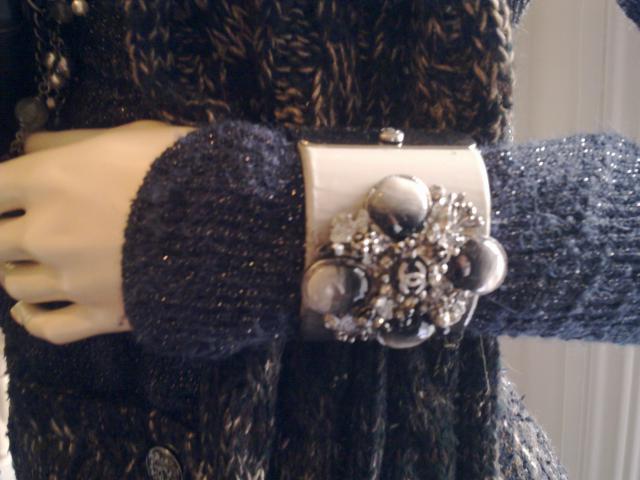 The suit on the right is pale Cream with a hint of Lemon. The beautiful Boucle embroidery is beaded with pearls and will keep you warm and chic in the cool Autumn airs.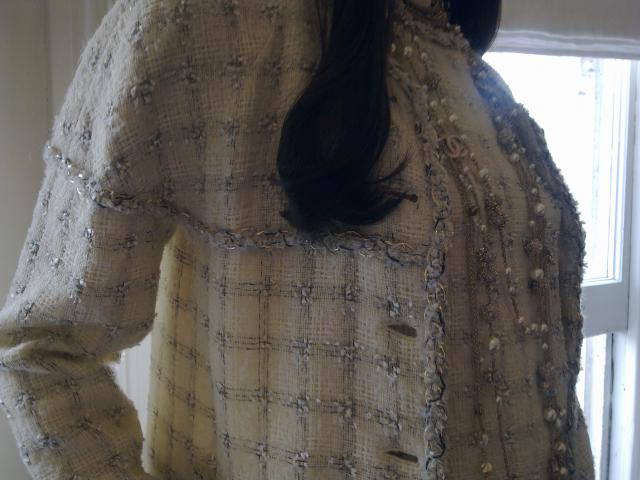 Above left is another classic Chanel long jacket. It's stylish but still with that comforting warmth that perfect knits have. This outfit carries the classic button and high collar details that echos the convent school uniform that was so influential to developing Chanel's classic House style.
I picked out two sets of accessories that really stood out for me. Both are glorious in strong colours. To the left below is Green with hats and gloves, shoes and a statement bag to match. To the right is an equally eye catching confection of Red themed accessories .
What do I like best? I would say there are pieces in both that I would really like to wear. I love this shade of Green that looks so earthy and natural. I love the cap and fun knitted hat and not enough people wear really smart gloves in the winter I feel. I think working a Jewellery piece into your bag is a really interesting idea..
From the Red collection I love the all the little purses and the bracelettes too. I liked the fun garter ribbon that you can just see in the shot below them. You could also wear it in your hair as a fun accessory.
There are so many lip colours to choose from that you will not be short of choices when this collection hits the counters in May 2011.
As always there are many must have items but my favourite would have to be the Blush-quad palettes with their huge soft brushes.
Helen Amy Murray at Van Cleef & Arpels.
The rooms above CHANEL Fine Jewellery on Bond Street where transformed into a Salon with the maison's super helpful press team on hand to answer any questions and give more background about the collection.
All images below (C) Angela Cliffe.
(C) All images Van Cleef & Arples and Helen Amy Murray.
Helen Amy Murray has made her name as a pioneer of a new method of Upholstery or furniature and decor. Van Cleef & Arpels have commissioned Helen Amy Murray to contribute to the refurbishment of 86 of Van Cleef & Arpels boutiques and concessions worldwide. Her flair for working fabrics in raised relief using bright and captivating colours is the perfect setting to show the collections of Jewellery offered by the Maison to it's clientele.
Above right you can see two of the chairs in the London Boutique that Helen Amy Murray designed showing the images of Butterflys in raised relief detail. You can also see the shimmer effect created by the layered texture of the work.
As well as furniature she also designs and produces screens of varying sizes that superbly illustrate her craft. To the right above you can see one of the larger screens now in the Bond Street store. You need to stop and take this in, rather like looking at a painting to appreciate the beauty and intricacy of the work in this piece. It's just as detailed and absorbing as any painting. This is where art and upholstery meet.
Printed Silk and Satin in vibrant colours such as hot Pink celebrate the natural beauty of Cherry Blossoms and Butterflies. The raised relief gives these pieces a strong 3D effect when viewed from afar.  
(C) Angela Cliffe 2009 -2013.

There are more knits in thick cable style and again accessorised with statment jewellery. I think it's a good combination and Chanel House jewellery can be worn with clothes every day to add some fun to an outfit where ever you may be.
To the left is another beautiful Chanel jacket again, accessorised with wonderful Jewellery. It's very versatile, you could wear it with jeans or with a part of a suit.
The Summer 2011 Makeup collection looks pretty special and I have a full beauty report on my products page. Please click Products I like to see a more in depth report.