A Blush of Rose
ablushofrose.com
 Autumn - Winter 2016 part 2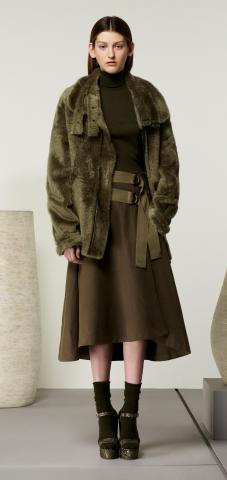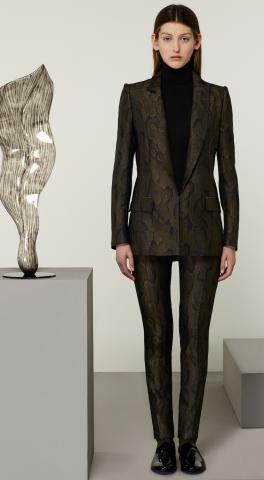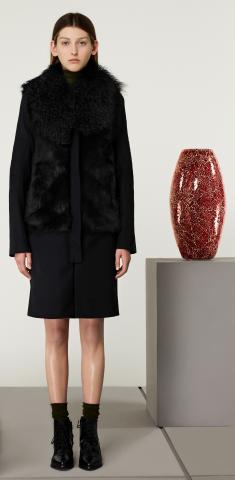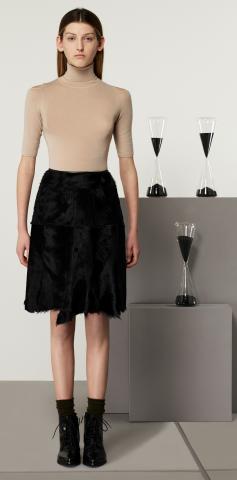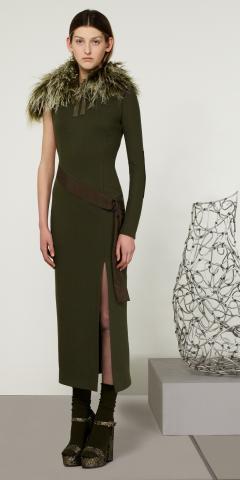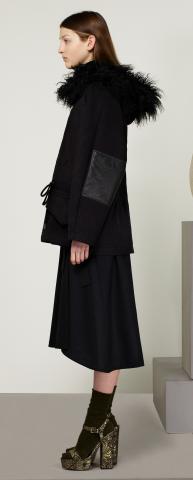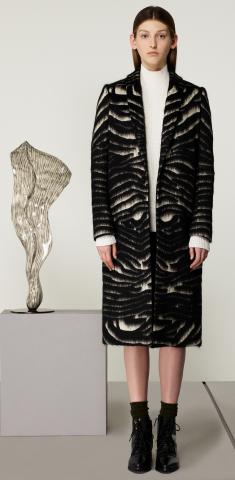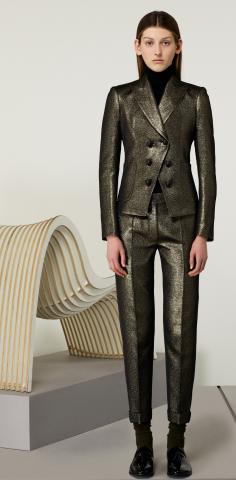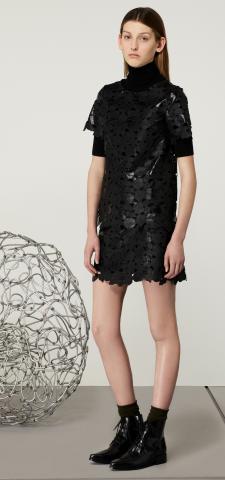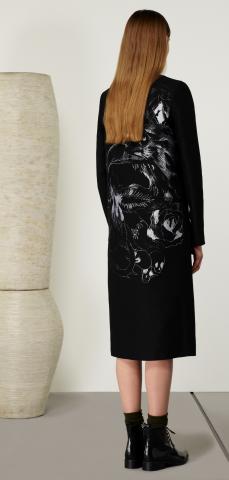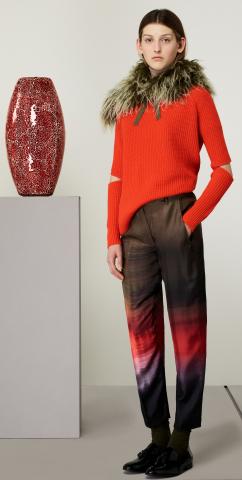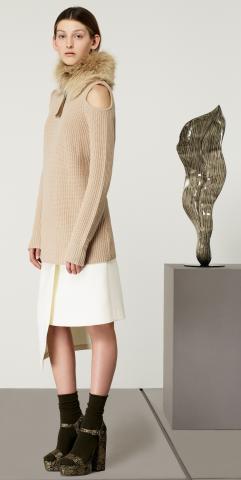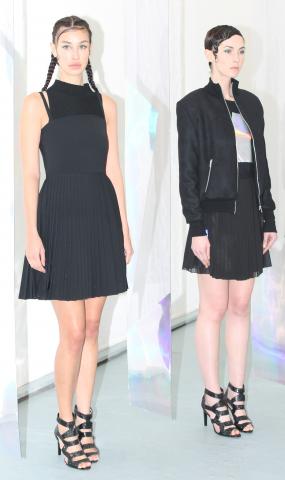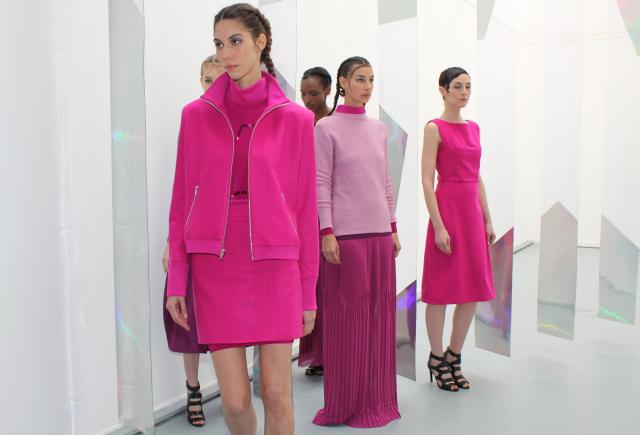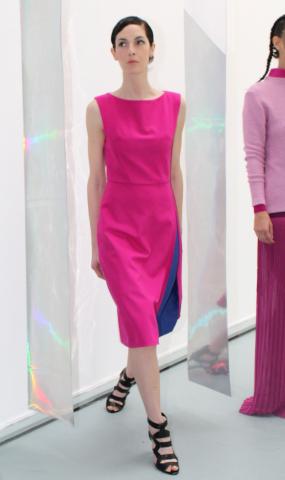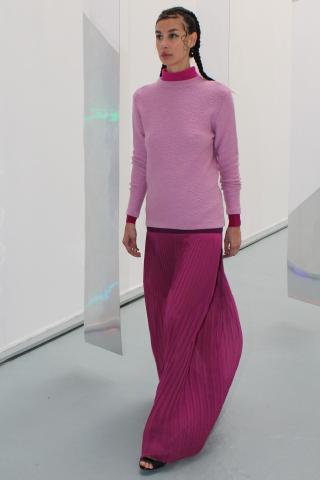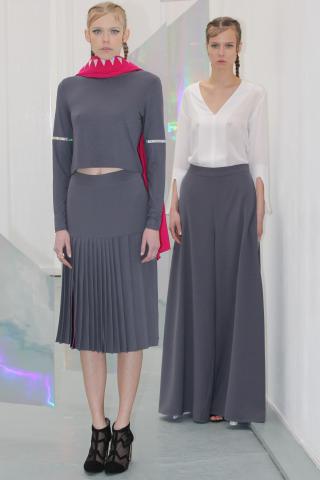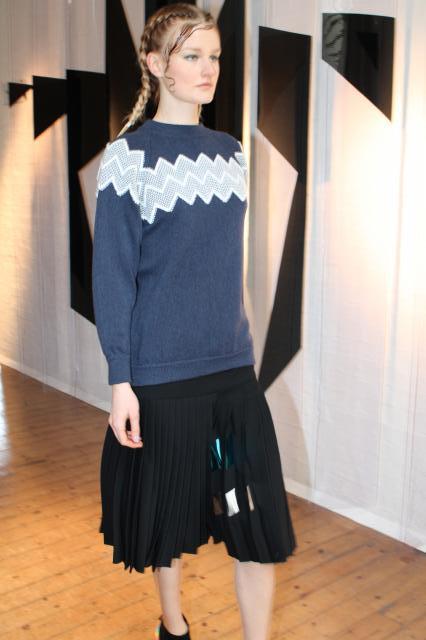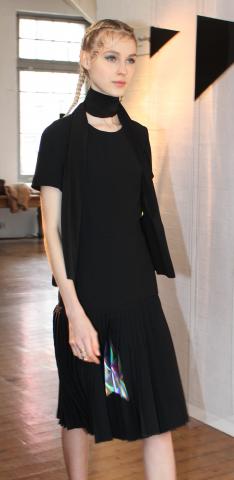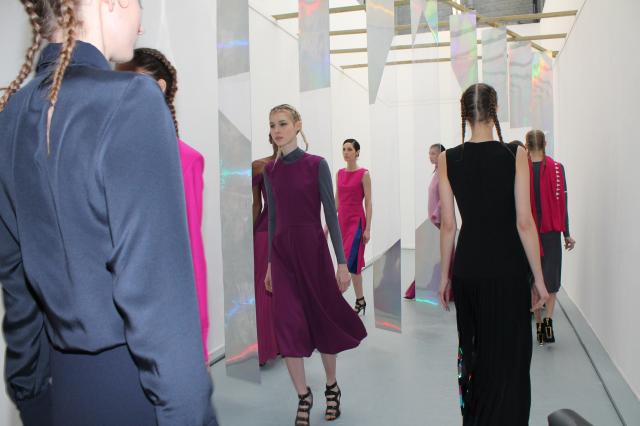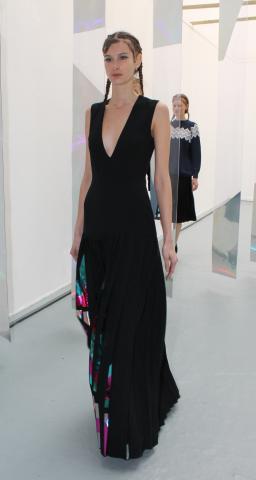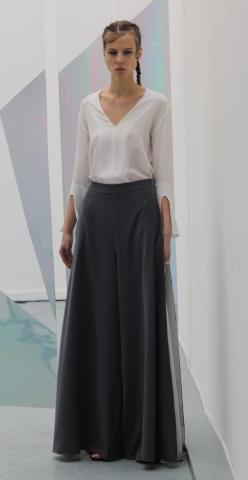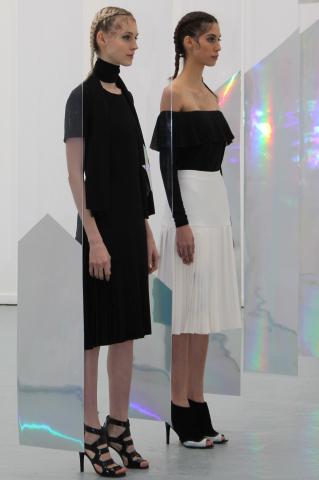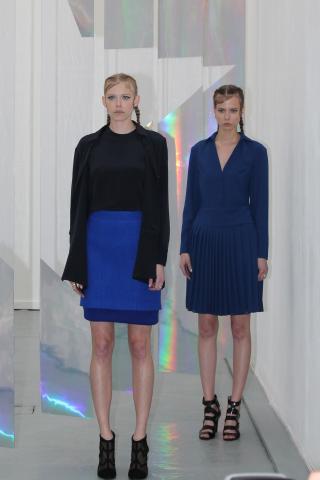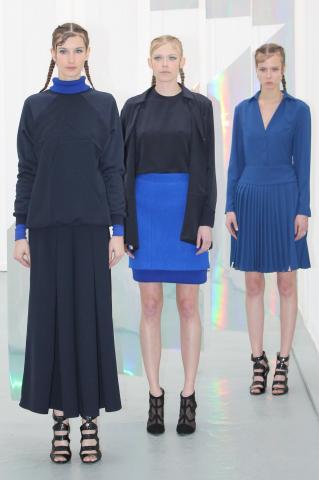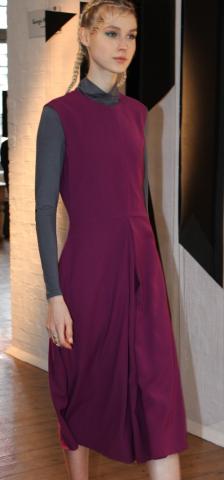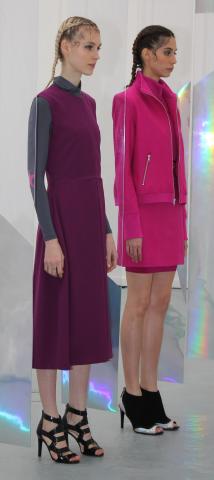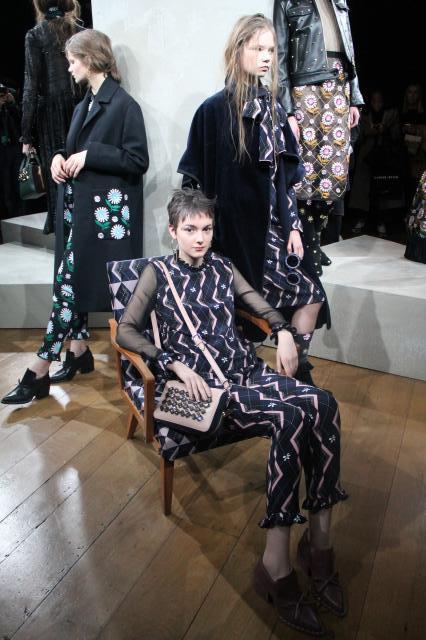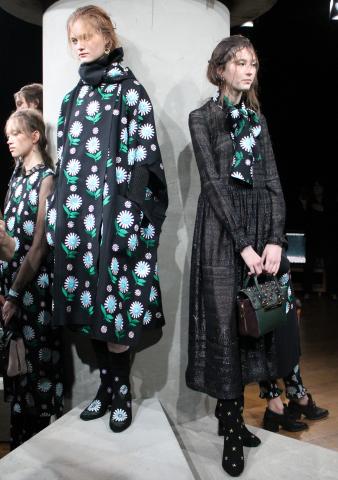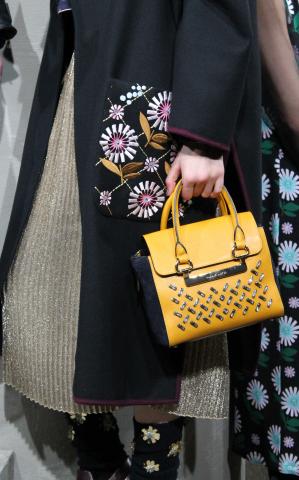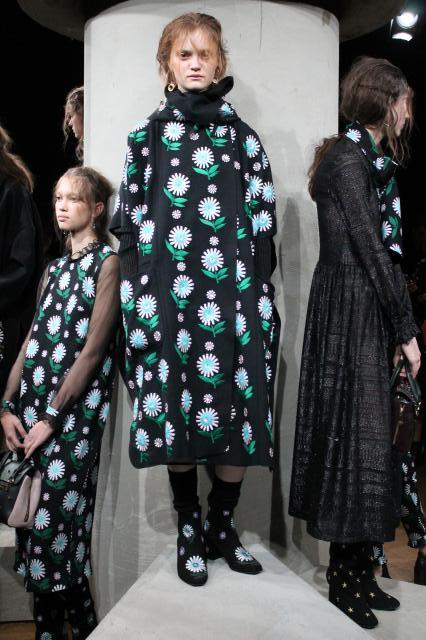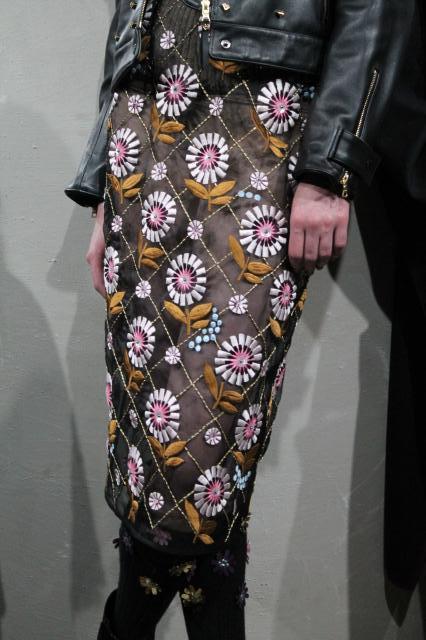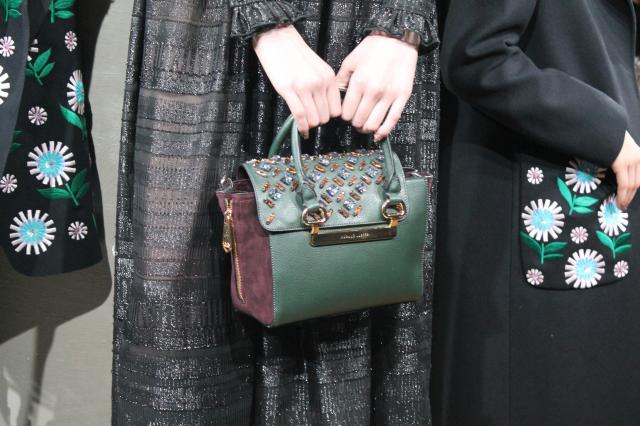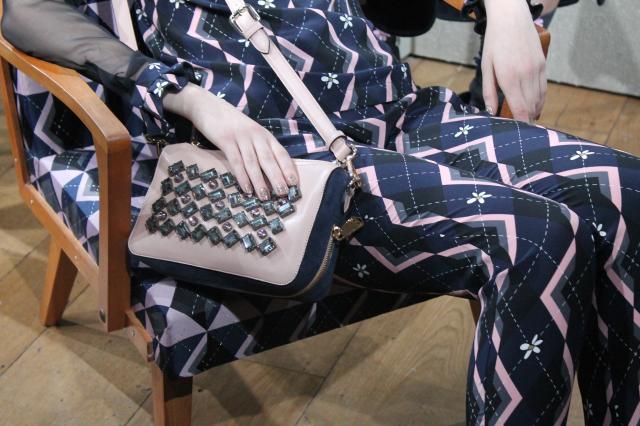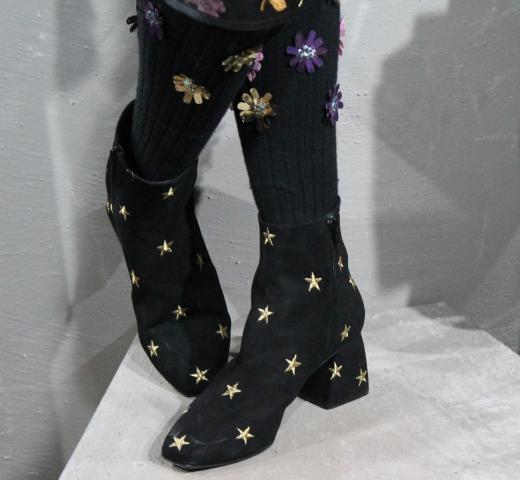 Georgia Hardinge
For AW 16 Georgia introduced to the Hidden Collection which revealed a fascinating series of styles with some hidden surprises in there for us to discover. As a signature piece of her collections, the pleat was in the focus for a new area of exploration with a feature hidden inside for the eye to detect as the wearer moved creating a fresh twist on contemporary casual luxury pieces. The star shines bright leading to Autumn 2016 and Georgia took another step forward in establishing herself as a serious international designer with the backing the British Fashion Council.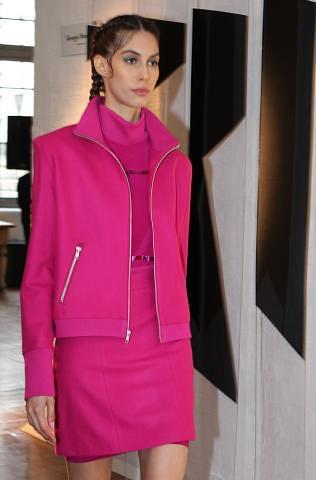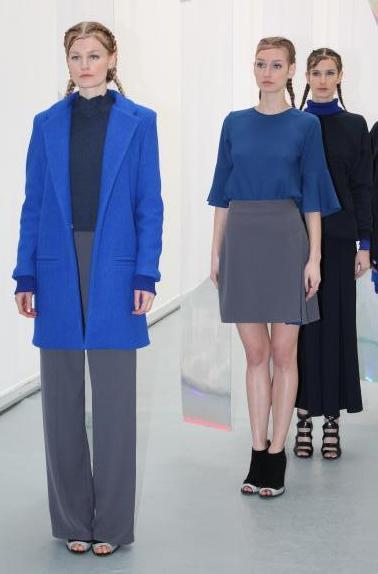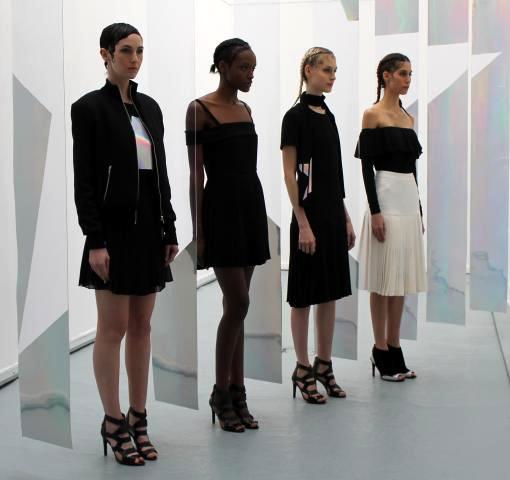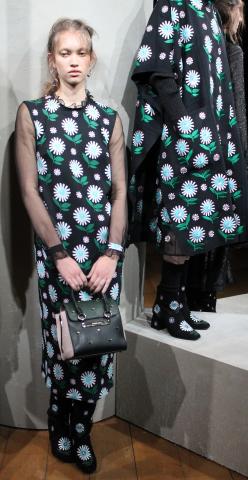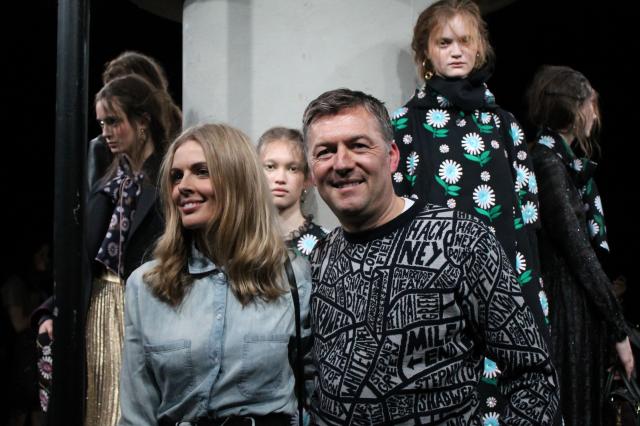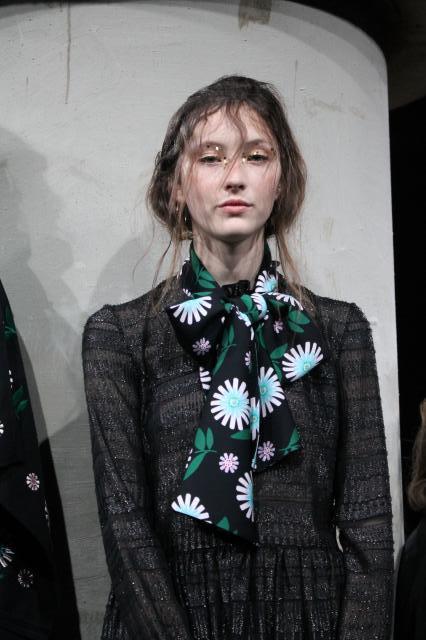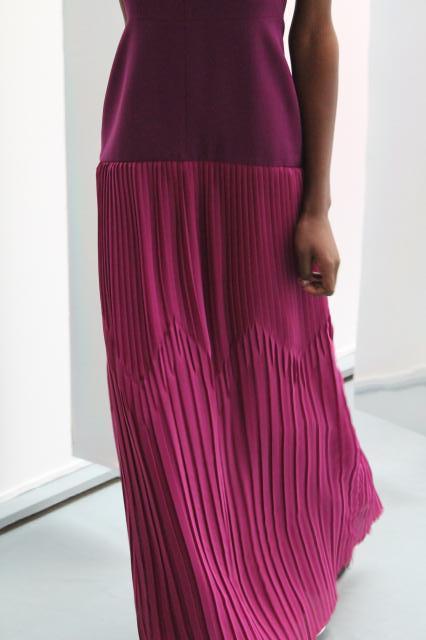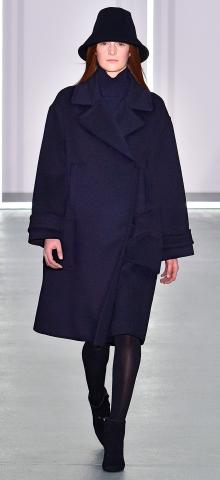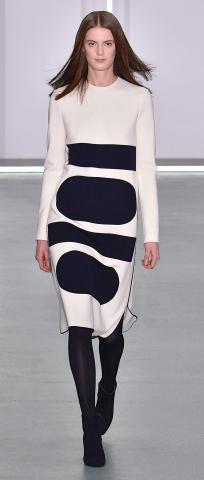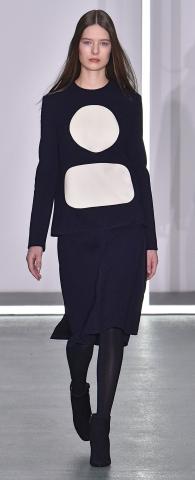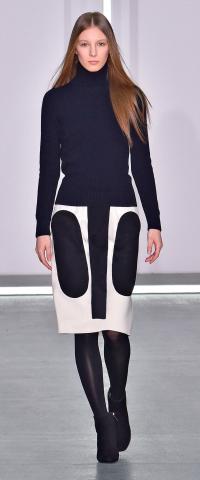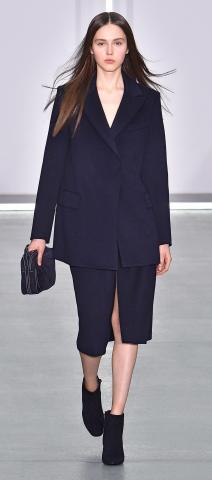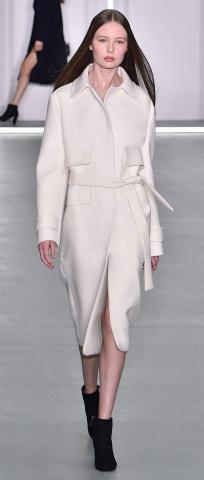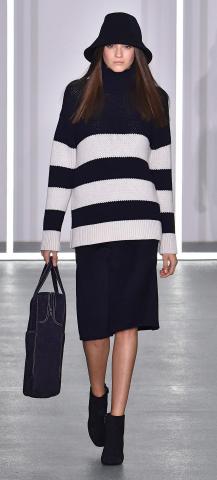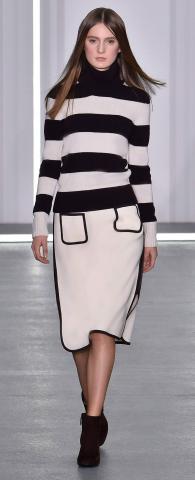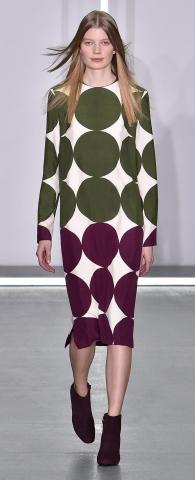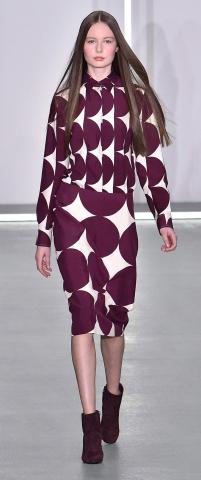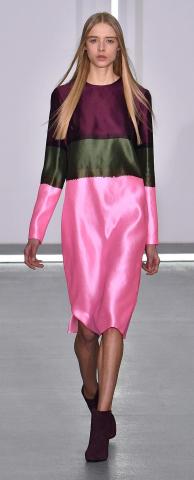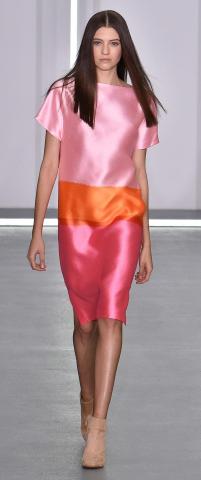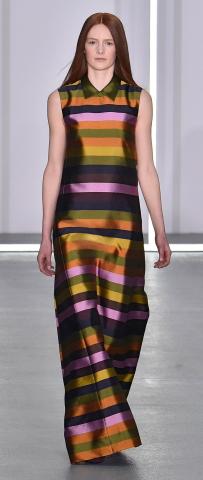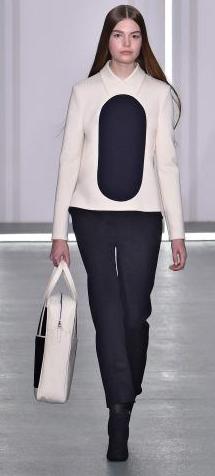 Markus Lupfer
Markus always brings a unique twist to his presentations and this season looking to autumn we where greeted with a live acapella set from a guest vocalist while the new season collecitons where presented to us. Markus was ably supported by long time friend and wearer of his clothes TV presenter and business woman Donna Air who toured the collection and talked with Markus and guests. As always he created a party mood and atmosphere. 
Colour contrasts of the slightest degree where the order of the day with ascending harmonies likes the notes of a musical scale sweeping before us in the Elm Lesters Paint rooms studios in Soho. For Autumn as the nights get darker the colour is turned up higher making a bold statement of strength to banish the twilight. These colours are great play for mood and keep the senses sharp, alert and upbeat. This may not have been a conscious decision by Georgia but I can see so much energy in the clothes it was something that sprung immediately to mind. There's a shining spark in this collection as it's emblem the star portrays and it's charged with the energy of youth and wit.  
Working around a colour scheme of four key harmonies fuscia, charcoal greys, lapis and navy blues and monochrome black and white the collection covers evening wear, day wear and looks that easily cross over to both. Above to the centre is a tunic line dress in magenta pink working in a wrap style cutaway pleat in contrasting blue. Contrasting polar opposite colours is an optical design twist that shows an advanced level of colour understanding. Both striking and classic this look is very adaptable with the possibility to add a jacket or wrap and wear alone. Georgia is presenting us with a collection on a theme but one that answers the needs of a stylist and client rather than an esoteric journey that can raise more questions than it answers.  
The pleats in longline form appear through the collection and above to the left you can see one of several pieces in the 'Hidden' collection using a two-pleat structure. Visually stunning and technically complex this illustrates Georgia's pursuit of technical fabric development that she brings to her designs and ideas. You do get the feeling that when she is inspired and wants to make something she will find a way to technically execute her vision. This shows determination to pursue an idea and make it real on the level of science and technical execution as well as aesthtics which only a handful of young designers explore in London.  
This presentation hall was decorated with clear perspex sheets that illustrated Georgia's interest in Lenticular techniques and optics. A giant star was re-created across panels and the refraction's of light echoed the kaleidoscope - rainbow effect that one sees in nature. In this collection she has tried to capture the essence of the parralax defined as a difference or displacement of an object viewed from 2 different lines of sight. This motif appeared across the collection in stars printed onto scarves and both concealed and revealed in the folds of the skirts and dresses. Inserted into the folds when the air catches that garments the star is revealed in glimpses but always remains at least partly hidden. There's a wonderful metaphore in here perhaps for modern celebrity and with Georgia's impressive client list growing there are many who collect her pieces who will relate to the feeling and need to keep part of themselves hidden away from the full glare of the media eye. Sometimes it's better not to give too much away.  
Lengths vary into three main styles through this collection from above the knee, through to mid-calf and floor length. Clean smooth lines dominate through the series of looks and a sporty edge appears in several pieces such as the zipped jackets in fuscia and black. The lines don't appear restrictive in any way and lend themselves to many shapes and figures making this a collection for the fashion buying mainstream rather than a niche collection. 
In her years since graduation from Parsons School of Design, Georgia has explored technique and developed a style of modern classic that has earned a place on the Red Carpet and many international clients. Watching Georgia's collections over the past few years has been very interesting and this seasons show was bustling with international editors keen to discover Young British talent that captures the dynamism of what British fashion offers to the world.      
Looking at the pieces through the prism of pleats as a focal theme there is a lot of variety. Above to the left a plum mid-calf tunic with front box pleats and grey blouse works a prim workwear and semi-formal theme. Highly adaptable the uniform like style in parts of this collection lends to utilitarian adaptability. Narrow pleats in a fringe encircling a skirt or longer culotte style trousers with larger flowing style pleats behind offer two very different looks and will work with many different figures. The sheer white blouse with open cuffs acts in simple harmony as a coordinating separate. Awash with blues of many shades the trio above works a number of looks that dress the figure in different ways. 
From the back a navy blue outfit is a pure girly dream with plenty of party-wear appeal. Centre and front Georgia retains a balanced silhouette of long length and sound lines. The monochrome series of pieces have the look more of evening wear with many great pieces to go clubbing in. Above to the right and below you can see several of these chic offering that typify the neat sophistication that Georgia creates so well. Below you can glimpse the shine of the star light in the folds of the dress with the floor length piece showing hints of a myriad of colour.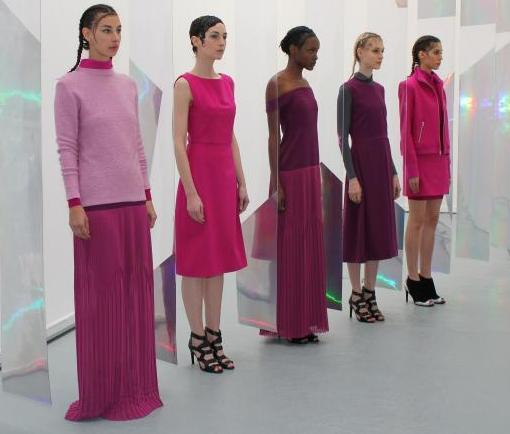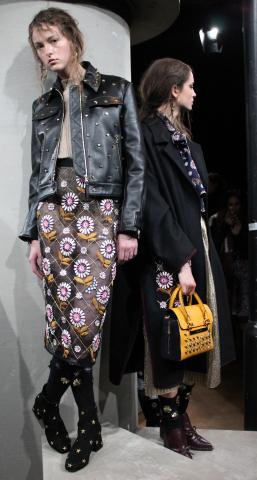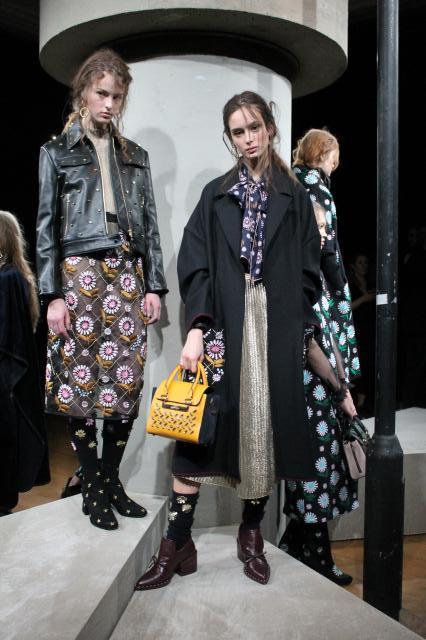 There are a number of interesting light fabrics at work in this collection with dresses in shimmering light silk crepe of a long country style dress above to the right shows a cleaver adaptation of piece to become a contemporary dress for day and evening. A pussy bow is added with a print fabric from the outerwear pieces of the collection adding a colour contrast and tieing it in with the wider design themes. The fabric is luxurious but the look also retains the 'go out and play' feel of fun that much of the collection has. It's luxury that doesn't take itself too seriously but keeps a fresh new feel about it. 
Play suits in patterned fabric that also appeared in dresses above to the centre offer an urban edge of sophistication that also wouldn't look out of place in the country. The comfort factor in these pieces is apparent and Markus has aimed here to create a collection for the woman who lives the 24-hour lifestyle; "She never sleeps" so this wardrobe is designed to be readily interchangeable from the day to the evening with Sunglasses featuring as much as outer coats.
There's plenty going on in this collection but it doesn't look confused. Faux fur in teal green completes an autumnal look above to the left with a generous deep texture sitting on top of light separates. The double sash tie of the skirt echoing military style lines and a forest green light sweater sitting close on the figure as a handy mix and match piece. The trouser suit with woodland hint print shows a deft hand for tailoring makes an executive statement. 
The Navy blue coat centre above with faux fur gilet outer lining and plus sized collars will keep out the cold on a wind swept day on London or New York and this has a strong urban contemporary feel about it that hits the bullseye for modern luxury. Like much of this collection there is also strong multi-generational appeal in the design as well, a that has the versatility to live a while in the wardrobe. The beige sweater and faux fur skirt look is another play on juxtaposition of texture that creates a sophisticated harmony. Faux fur sewn in panel form gives a raw/luxe feel of elegant simplicity. To the right a touch of glamour with a distant echo of the 1930's and 1940's film star era with a fur wrap at the neckline. Split to the thigh for a confident stride this look would also work well with beige and black boots, jacket or accessories.  
Markus has continued his look at accessories with about-town clutch bags decorated with beading and crystal making an appearance in harmony with a number of looks. Mustard yellow chiming with delicate floral embroidery and light mauve, deep berry and black find a home in the autumn colour scheme switching and flexing through the collection. Shoes and boots offer another expression of mood with embroidery features from the dresses continued through the footwear offering the possibility for a composite total look. They're warm too and fit well against the ankles; practical as well as a style statement. Outwear and coats are made for all weathers both stylish and robust. 
Markus has made beauty with fabrics rich in quality apparent to the touch when you pick them up. His coats have the weight and feel of fine tailoring and they offer a bright pop of style as the autumn days set in. Collars with generous necklines keep out the autumn chill and prepare you for the great outdoors. These are clothes to have fun in whether you're walking through London or down a tree lined avenue or a path in the country.  
Zoe Jordan Images with permission of Zoe Jordan.
With the raging success that is Knitlab under way Zoe isn't resting on her laurels but is reaching further into the imagination and repertoire to define the Zoe Jordan woman and design composite capsule wardrobes of modern luxury. Her woman is international, she travels and needs chic adaptable fashion to suit her working and social life. With a career in banking behind her en route to the fashion world Zoe is uniquely placed amongst contemporary designers to know what these women need from a first person perspective as well as her coterie of friends and clients. 
Florals feature prominently in this collection with  the circular flower motif appearing across many coats and skirts in varying forms. Attention to detail and craft is at a premium with the delicate hand embroidery adding a skilled touch to the garments. You can see to the right in close up detail from a skirt utilising Argyle style lines across the shift surface of the skirt enhanced with beading ins a non-formulaic natural pattern across the design showing the individuality of the collection. 
These pieces catch your eye by the quality of the workmanship and design fabric and show that Markus has un-relenting deep love of design and use of sophisticated techniques ensuring that the label is recognised firmly in the luxury womenswear bracket. 
His atelier is determined to make magic happen and watching the collection unfold a vibe of nonchalant cool and channeled a reassurance that Markus' girl always has. There's a strong sense of the Rock chic here with finely tailored soft leather jackets blending with the florals give an off-beat twist of gypsy - bohemian feel. Whatever Markus's girl may be rebelling against however it isn't quality or fashion itself as she has an apparent extremely good taste.  
Introducing bold print design to the back of a coat continues the them of creating strong signature which Zoe has done before. Where some have criticised her lack of unity in her collections I see variations and experimentation around a bedrock of style ideas building on the heritage of the brand. 
Setting the contemporary art background to this collection looks about right and matches the tone and aesthetic that Zoe is creating in establishing the identity of the woman. The youthful insouciance of the Zoe Jordan girl is still there but these days her skater girl is a woman of the world and she likes to try her hand at a few new lines of expressing herself without every losing her touch for taste.  
Jasper Conran Images with permission of Jasper Conran studio.
We band words around like 'living legend' often in spoken English and in fashion world where hype and euphoria are commonplace it's all to easily said. Jasper however really is worthy of this epithet and he is one of the few designers still showing who where amongst the founder members of the London Designer Collections show that came to be known as London Fashion Week. He's a pillar of the fashion community and he does make very stylish clothes. 
The Zebra striping open coat above in the centre draws another nature strand into the collection creating a complete monochrome look with a white roll neck and dark skirt beneath. It's an eye catching piece that will show the style credentials of the wearer without being overtly challenging and controversial. In other words, it will turn heads for the right reasons. Work/Play dresses in both stencil cutaway form and rainbow dip dye offer more outlets for experimentation, cut to mid thigh they will allow you to show off long pins and also channel a spontaneity.  
The rainbow theme is something that Zoe explores briefly in the collection before returning to embrace more neutral colours of earth and sky that have in recent seasons been her staples. There's nothing wrong with spicing up a collections colour theme with a bot of extra colour and it gives Zoe's longer term followers a chance to weigh up what they think of the new moods of the collection.  
He started producing clothes that could glide effortlessly into our wardrobes in 1978 and here you can see the ball is very much still rolling. Above to the left a warm navy blue coat with matching scarf and hat (yes this is grown up coordinated fashion) looks like it will see you through a blizzard any where in the world. It also brings to mind that I've often felt Jasper is one of the British designers that French women often like as his clothes match their sharp eye for chic and composition. Working with themes of oval, circular and block stripes and navy blue and white colour inversion Jasper struck upon a fun design interplay that left room for many different permutations in the opening series of the collection. There are lots of pieces to chose from here that have work/leisure stamped firmly on them all cut from the reassuringly high quality fabrics that the Jasper Conran woman expects to adorn her wardrobe. There's an equal measure of sophistication and bright new glossy about the pieces. They will suit a 20 something and many decades above. 
Since graduating from the University of Westminster in 1997 Markus has received numerous awards and joined the London Fashion Week Schedule in 2003 and again in 2010 after spending several successful years in Spain designing for Armand Basi. 
Following his time in Spain he returned to London the city where he launched his career and his presentations are eagerly anticipated each season as Markus unveils his latest fresh take on transforming staple pieces for the wardrobe with his unique luxury component.   
Jasper creates collections that are pretty fulsome in their exploration of ideas. Left above you see a lose navy blazer coat over a skirt with matching clutch and then to the right a white waist-tie coat with similar pocket design and open front hem. I can imagine him drawing and thinking, and 'so what about this way also'. On overall impression of un-fussy fashion is created through very skilled attention to detail here and it shows a maturity of work. 
Centre above a play on the Breton stripes with broad colour strokes in lose knit sweaters offer comfy snuggle-in fashion that will be much loved in many wardrobes for Autumn-Winter days in the town or country. Mixing and matching with skirts you could also switch to using denim with these pieces too. Accessories come in the form of round-style hats, small totes and larger shoppers that are also a very handy for getting a lap-top and notebooks into.  
Geometric shapes and in shades of seasonal colours bring a contemporary art touch that has an easy natural charm in it's appeal.  
With look after look of frankly wardrobe-ready material heading down the catwalk it would be easy to get the feeling of sameyness but that doesn't happen. Looks are bold and designed to slip straight into the wardrobe of women who appreciate good tailoring and quality and are looking for style investments as well as fun and life in their clothes. The fashion buyers now may be the daughters or even granddaughters of the women who first attended Jasper's shows in 1978 but he has lost non of his broad spectrum appeal. Mustard continued to be a key colour for the collection and is a natural lift for the darker days of fall along with woodland greens and a berry - aubergine red that appeared in some other collections. Sometimes fashion moves through colour moods and in the British collections these seem to colours en vogue for the next season. 
Towards the close of the collection as day moved to evening wear the broad brush strokes of art played upon the surface of silk bringing bright tones to the palette for the darkest days of the year. These looks, all one-pieces apart from the second from the left, are classic glamour looks that you could keep hold of and wear through the year. Jasper does very well at producing collection that will pleasantly surprise and always be of the highest quality. While you wouldn't go to his ready to wear for the avant garde you know that you will get something that's fresh in it's approach to women's luxury fashion without crossing any boundaries of taste acceptable for most working and social environments. In short you can be very sure of what you will get from Jasper in the best way possible and we are very lucky to have him still showing in London and dressing women throughout the world.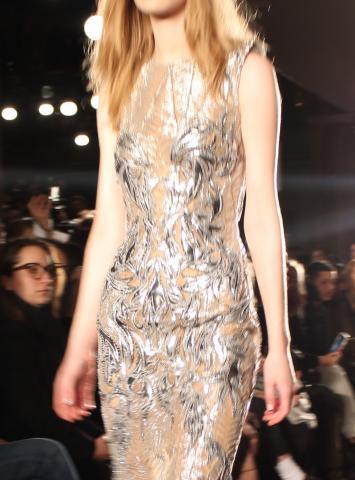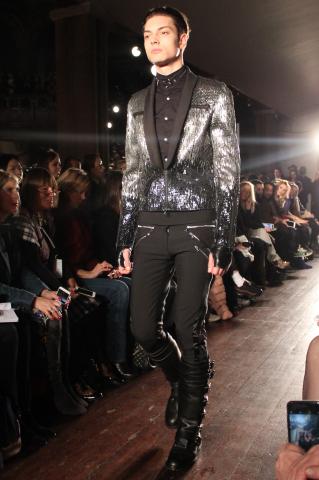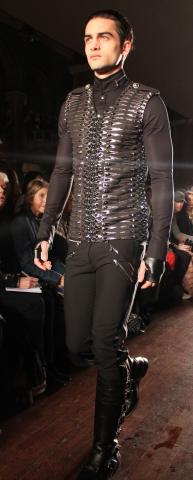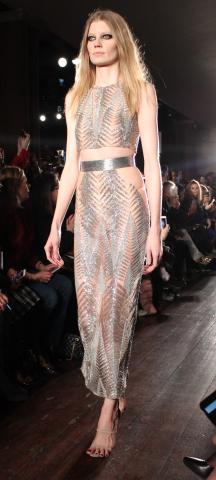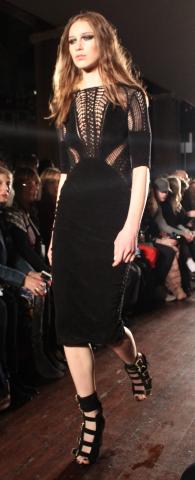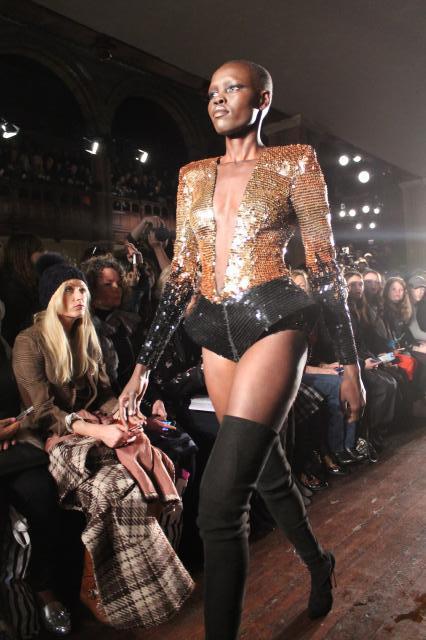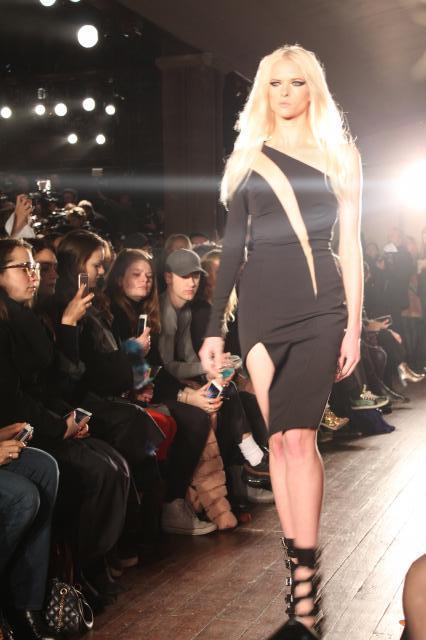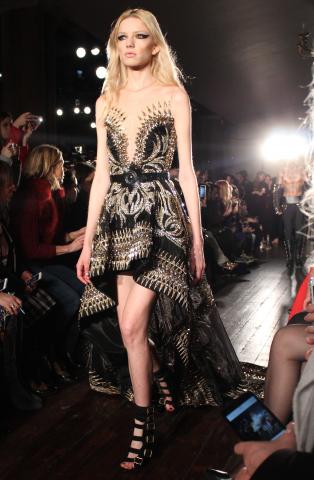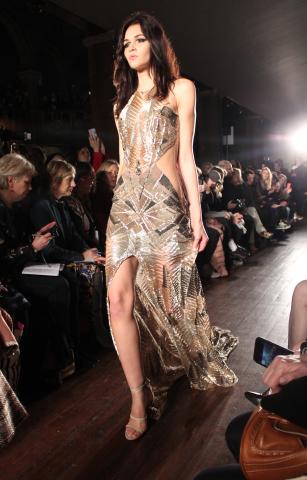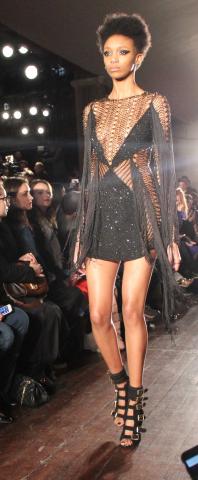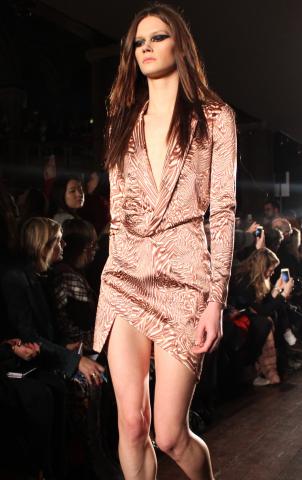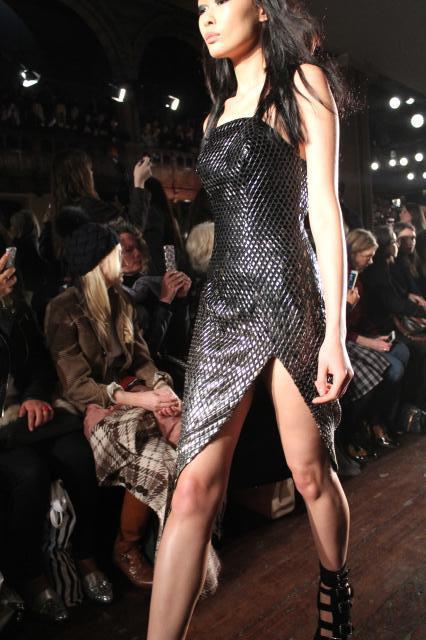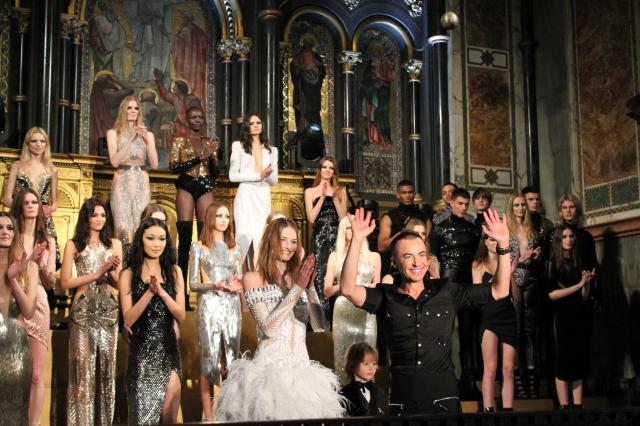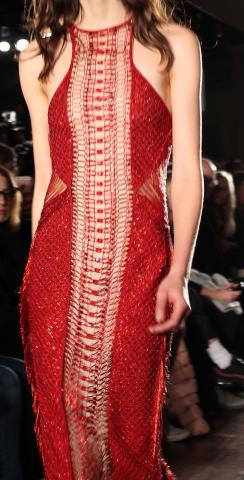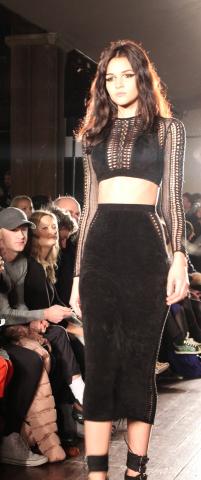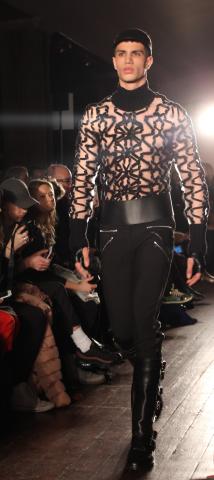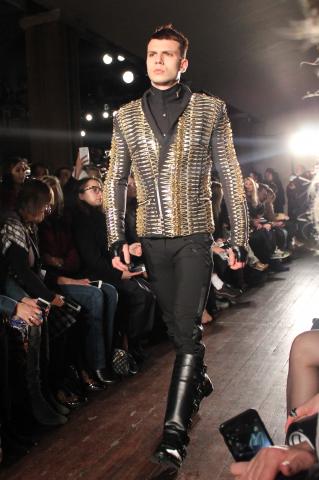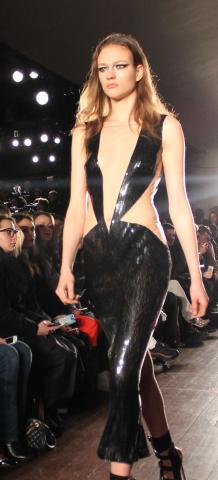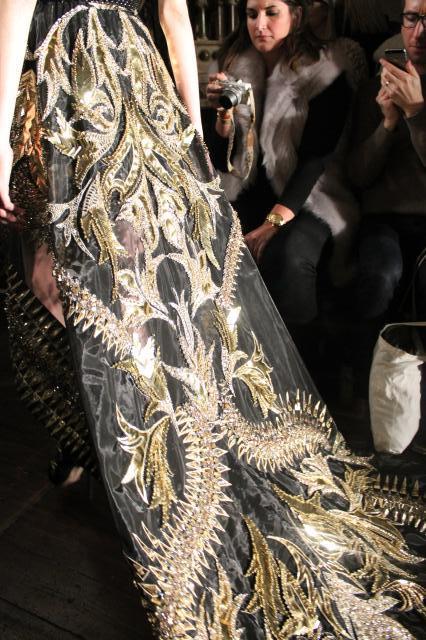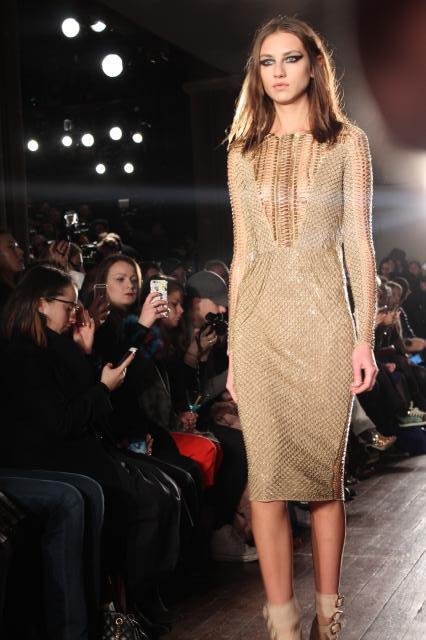 Julien MacDonald
The sparkle and magic that has brought Julien's international renown across two decades was on full display and embracing the current mood of some designers to combine men's and women's wear this show was about and 80/20 split between women's and Men's Autumn-Winter 2016. With some very cue make models on the catwalk noticeably delighting the largely female audience of press, guests and buyers this was one of the delights of the show. The show opened with one of the best DJ sets of London Fashion Week and with a celestial techno dance/trance set syncing with lasers flashing around the hall of One Mayfair we watched a fantastic collection come out in an atmosphere of tangible excitement. As ever his shows have the feel of a fantastic party.  
Julien is a Master of sexy chic flexing between the understated and and bold with equally defined flair. The fibres of his designs are spun across the surface of the skin with figure hugging accuracy leading the eye to admire the well toned figure that will be inside the dress or suit that he has created. Favouring a series of looks that emphasise the long-line of the figure this season Julien has succeeded in creating looks that work his signature cob-web features but also have a noticeably fresh take on glamour. Above to the left two looks working a 21st century disco theme sleek lines stay close to the figure with sequins elongated against the skin. Showing a well toned figure they both have the flavour of international appeal that Julien's clothes have always had through each season. Lithe and sexy it's exactly what Julien's audience is looking for when going to him for pieces to dd to their collections. 
The knit that earned Julien the title of 'King of the Cobweb' has translated into high tech play on the fertile ground for creation with weaves and patterning. Angluar chevrons aligned in delicate panels imitate both natural and man made structures in their form simulating a high tech machine in the form of a model with her confident stride in front of us. In a moment of design symbiosis the fabrics in many paces seemed to be growing across the surface of the skin, so close was the cut. This effect is testament to Julien's keen interest in design technology and working to create looks that are technically advanced as well as stylistically the vision he wants to create for his clients in the next season. 
After studying at the University of Brighton and the Royal College of Art in London Julien's talent and his passion for creating an advanced modern incarnation of knitwear gained the attention of Karl Lagerfeld and he was recruited to work at CHANEL in Paris while simultaneously working as a freelance knitwear designer for Alexander McQueen. When Givency asked him to become Head Designer in Paris in 2000 succeeding Alexander McQueen he had achieved one of the most sought after positions in Paris before the age of 30. Today leading his own House based in London his show is one of the most hotly anticipated tickets of London Fashion Week with a large number of celebrities and private clients in attendance.        
Julien unveiled a broad evening wear repertoire that will answer a lot of wardrobe questions for his ever evolving client base. He's also pretty willing to explore further with his collections and his time on Strictly Come dancing has probably influenced his experienced tailoring hand to some degree as there is a noticeable freedom around the waist and hips in many of the women's pieces. These are looks that are very easy to dance in even though they are cut within a whisker of the skin. They're made for a sexy salsa or tano tangle. But more than a tease they are pieces you wear through a long evening.  
The unmistakable sexiness that Julien is known for is still as clear as ever with a the air of sophistication that speaks of glamour and never too much. Models eyes where well lined with kohl and eye shadow colours where smokey and beautiful never edging too far towards the gothic. Designs focused on accentuating curves rather than a display and there remains a feel of understatement in the looks. The menswear featured jackets with a military line style and trousers where a meeting of NYPD police officer and black tie formal. Ribbon seamed lines and zips, it works well and many girls will want them too. They are great staple that you could match with a white blouse and jacket. Borrow from the boyfriend or brother if you can.         
With a pulsing beat taking us mentally to the perfect places to be wearing these looks the scope of the collection was pretty broad, knits, weaves, tassels, sequins and a host of stars made a collective experience that left a lasting impression. Fresh, snappy to the minute looks that are charged with sex appeal and sit lightly and comfortably on the frame. Julien loves women, he loves dressing them and making them feel like Queens on the catwalk, red carpet or wherever in the world they may be. It's his art and his craft. The numerous celebrities that he has dressed over the years, most notably Victoria Beckham who's own fashion success as a designer he celebrates, are a testament to the strong reputation that he as built as a designer who can deliver.       
This is a collection that felt like 'vintage' Julien Macdonald and in that there wasn't any looking back. In amalgamating both his women's and men's lines and also developing a children's line for the future he's well on the way to building a diversified own name brand with international recognition. There's also a feeling of family in his business and it's a family that's growing. British Fashion is one of our major exports internationally and Julien and his fellow British designers with global profiles that fly the flag commercially for Britain very powerfully every time they are worn by Hollywood actresses or international musicians or celebrities. Julien is one of the captains of the our Fashion industry and each season he strives to bring something new and different. Bold but not conspicuous his designs seem to reach any woman who wants to live her dreams and dance, party, live and love. Speaking of which my favourite piece of the show came out a little blurred and unusually I relaxed my strict eye and included the picture below to allow you to gain an impression. Just as designers are passionate about the craft sometimes we all have to follow our heart.