A Blush of Rose
ablushofrose.com
London Fashion Week Spring - Summer 2017
Each LFW is a unique adventure and I have r
eports coming on the collections and 
presentations I saw - 
it was a great week with lots of great fashion and a very insightful look into next season. Amid the speculations about show schedule changes many designers are continuing to show a season ahead with the 'see no buy now' model best suited to the biggest operations.  
Teatum Jones  
Day 1 began bright and early with a bright burst of colour at Teatum Jones opening London Fashion week's schedule with a collection channeling the vibrant energy of the youth culture if Glasgow. A film of the new generation of artists and creatives opened the catwalk show with confident voices proclaiming their independence and strength. This was a collection that sent out both men's and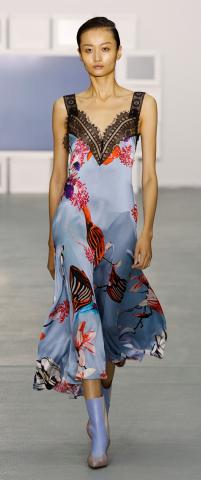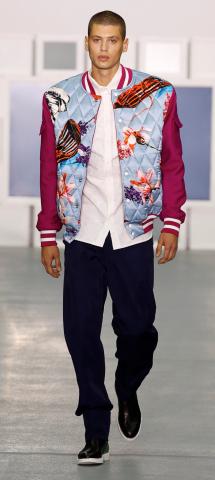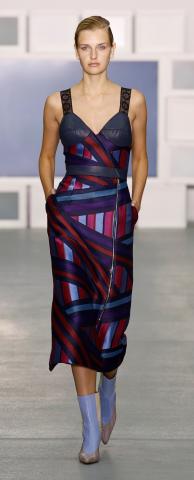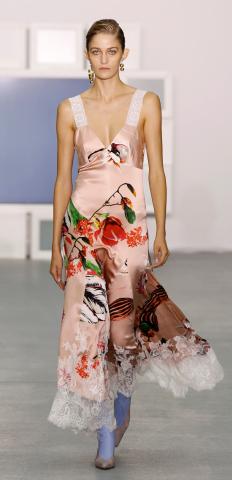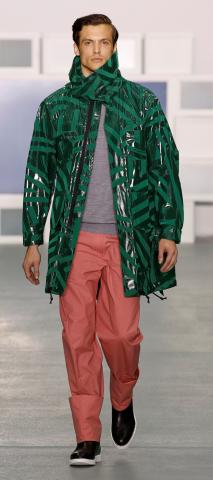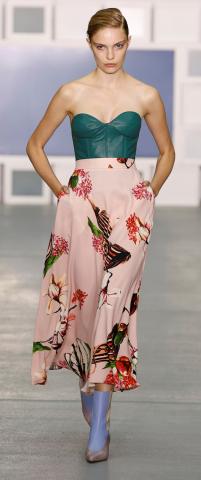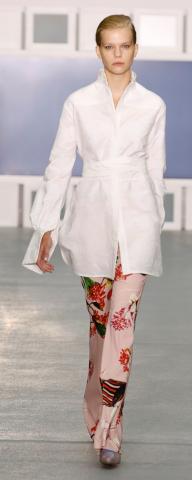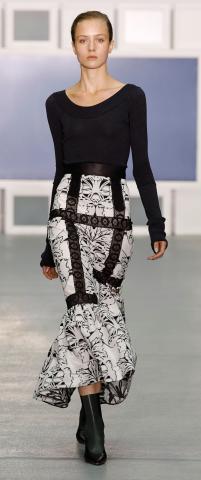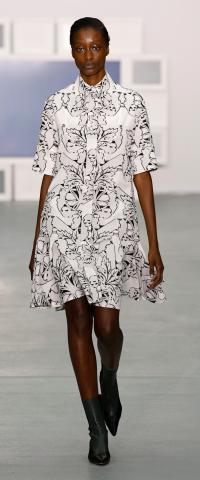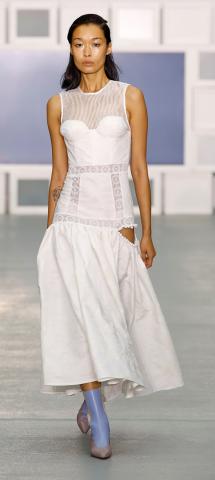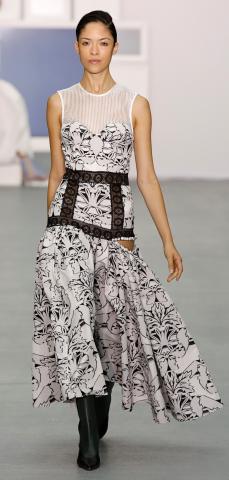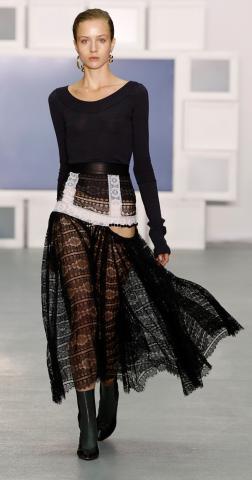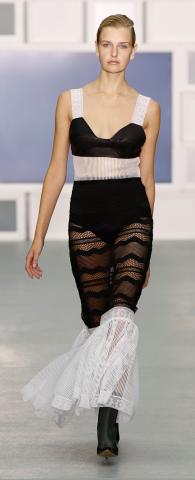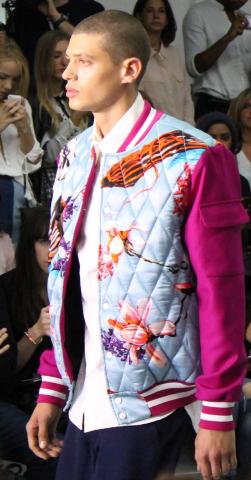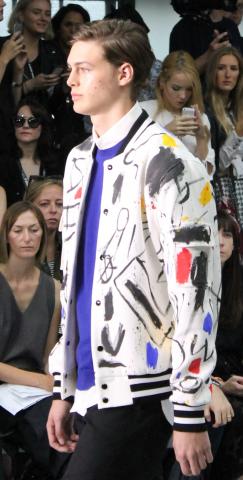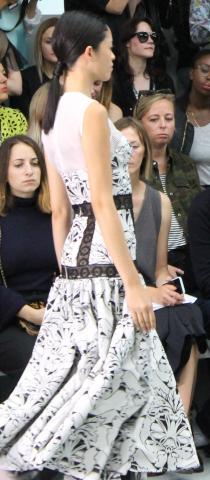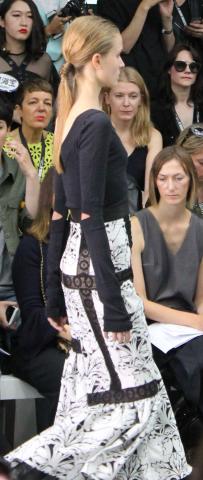 Steven Tai
Steven Tai is a Canadian Vancouver born designer who is entering his third year on the London Fashion Week show schedule. After studying at Central Saint Martin's College in London he spent time working with Victor & Rolf and Stella McCartney before launching his on label in 2012. Its been a successful start and Steven has  established a unique style that plays with soft femininity with different looks blending together. There are pockets, pleats, bows and utility there is equal measure of pretty and quirky and it all blends together in a seemless harmony. Steven is noted for his celebration of the awkward with his models notably championing 'any girl' chic showing that fashion is for anyone. This hard work and dedication has attracted the attention of the right eyes with Yohji Yamamoto awarding him the first Chloe Award at the 2012 Hyeres festival.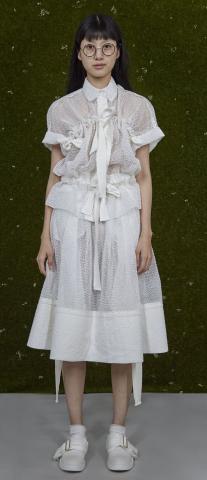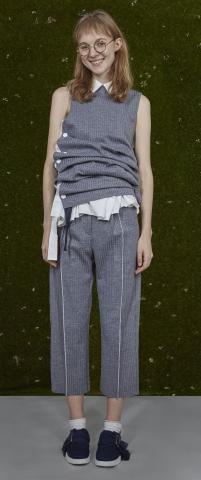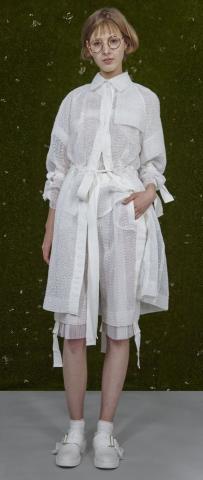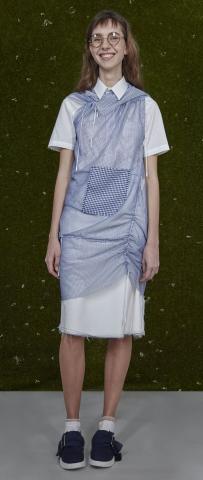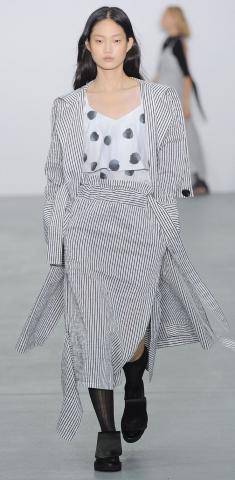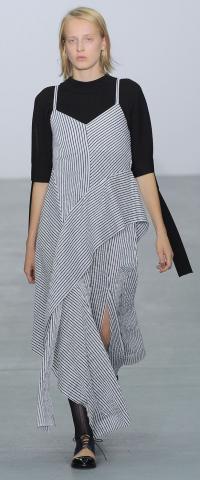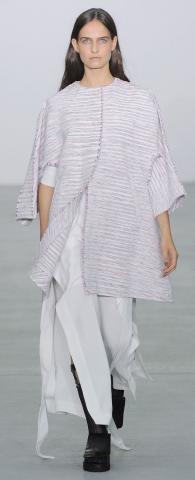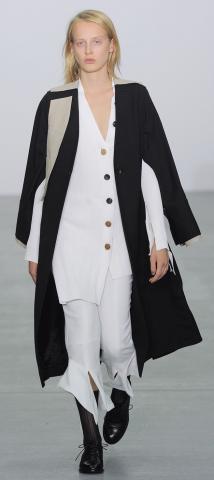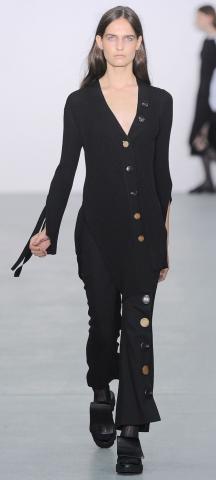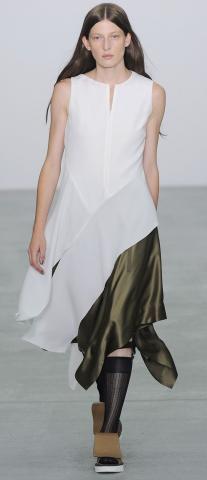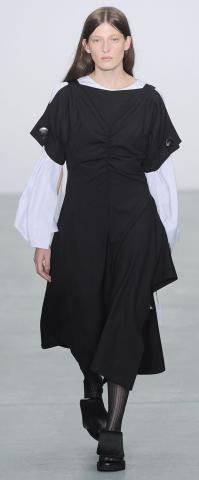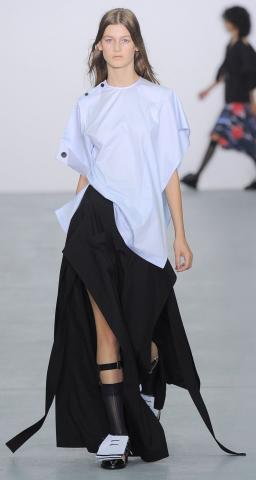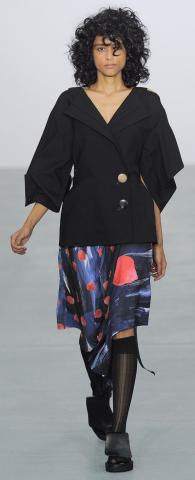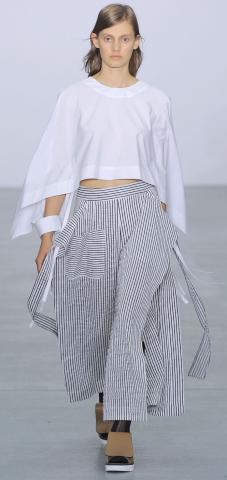 Globe Trotter
With day one under way and the schedule in full flow it was time to 'Straighten up and fly right' heading over to Albermarle Street in Mayfair to take a look at the latest offering from Globe-Trotter for Spring-Summer 2017. Globe-Trotter is a heritage travel brand that was founded in Saxony Germany in 1897 by David Nelken and moved to Britain in 1932. Based in Hampshire they produce the finest luxury travel goods that have served Captain Robert Falcon Scott, Sir Edmund Hillary and attache cases for Winston Churchill. Her Majesty the Queen chose the brand for her Honeymoon luggage in 1947 and she still travels with it today. Recently James Bond has also joined the list of well known clients using their luggage in the film 'Spectre'. I was keen to see what this brand where offering to the contemporary travel audience and amongst the audience at the presentation was also Caroline Rush of the British Fashion Council. There's a natural link in many ways between thinking of a travel brand and fashion and exports with the industry as a whole worth over £26bn to the UK economy each year. Travel is big business and whether it's for work or leisure and having a good journey is one the most enjoyable and relaxing experiences that we can enjoy.
DAKS
Creative Director Filippo Scuffi brought out a collection for Spring - Summer 2017 that took us on a journey inspired by the era of colonial British India, re-imagined for the 21st century. DAKS is one the heritage brands showing on the London Schedule that has a truly global client base and as such attracts key international buyers. With Caroline Rush and Alexandra Schulman amongst the names sitting in the front row this was one of the most anticipated tickets of the season. The set drew many admiring glances before the show opened as a prelim' and I was lucky enough to find myself next to the artist who created it.   
John Smedley
As one of our leading heritage brands John Smedley has re-emerged onto the fashion scene in the last two years showing it's collections in presentations on the schedule and spreading the word to the world about it's fantastic pedigree that was in danger of becoming unknown to a new fashion generation.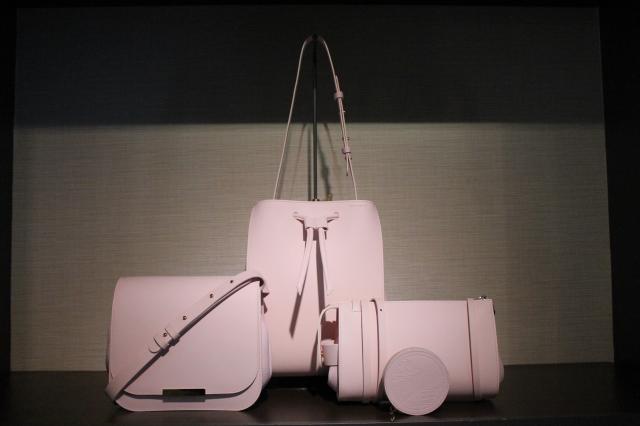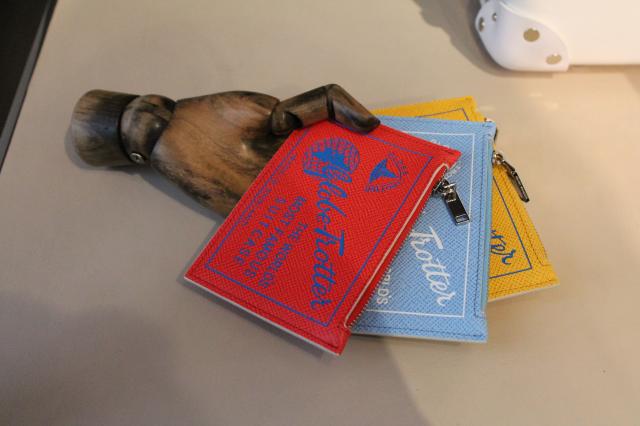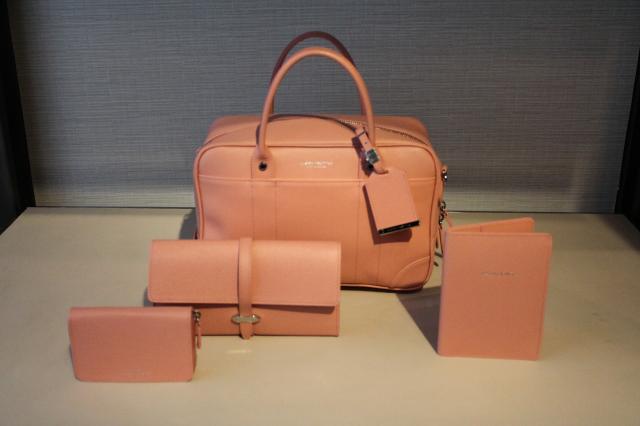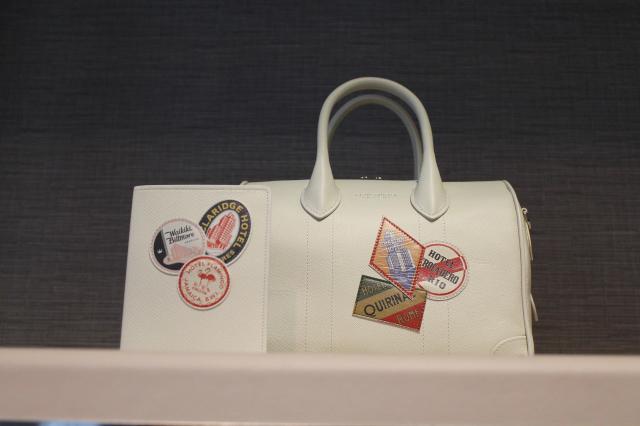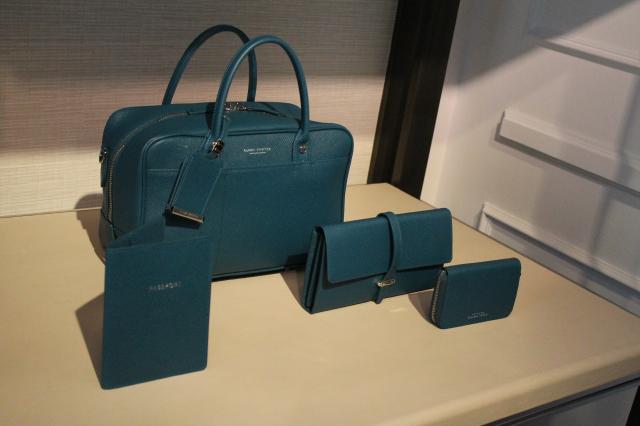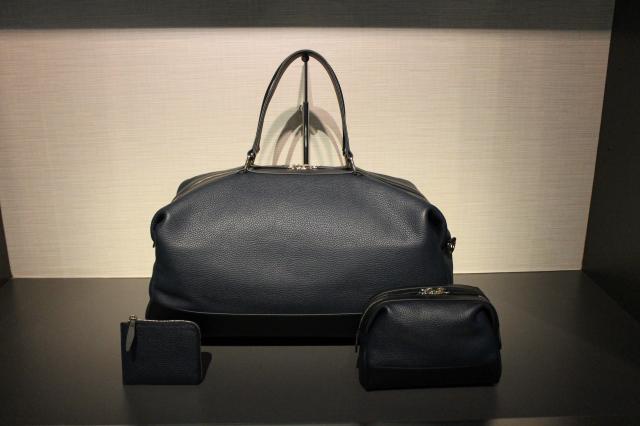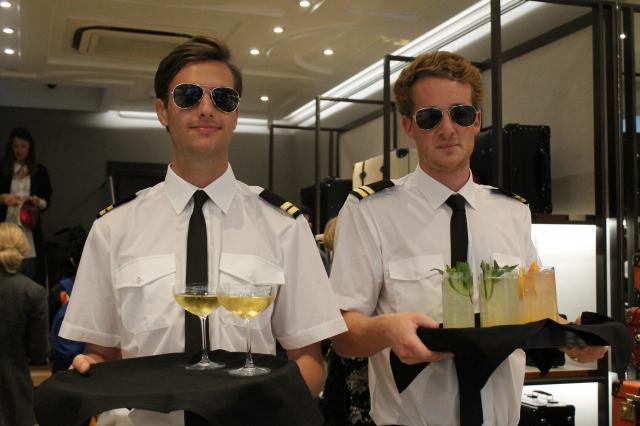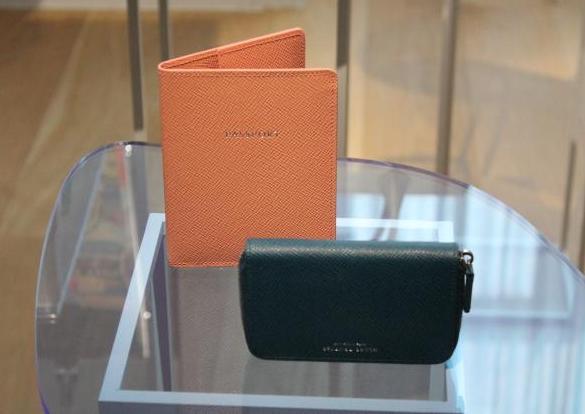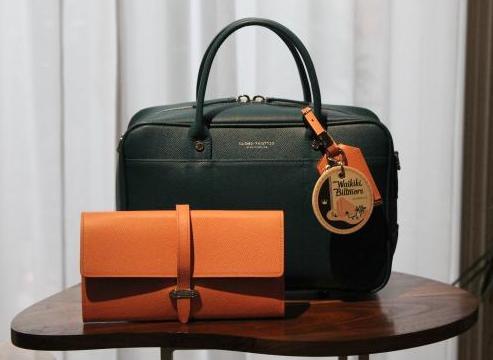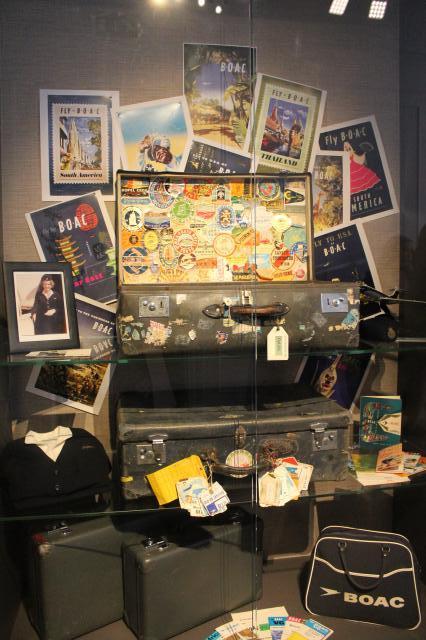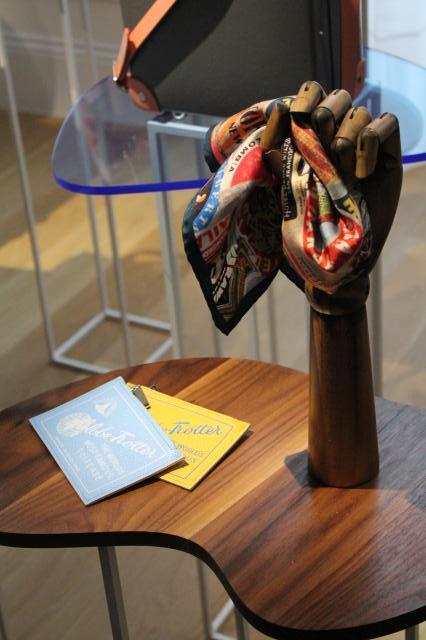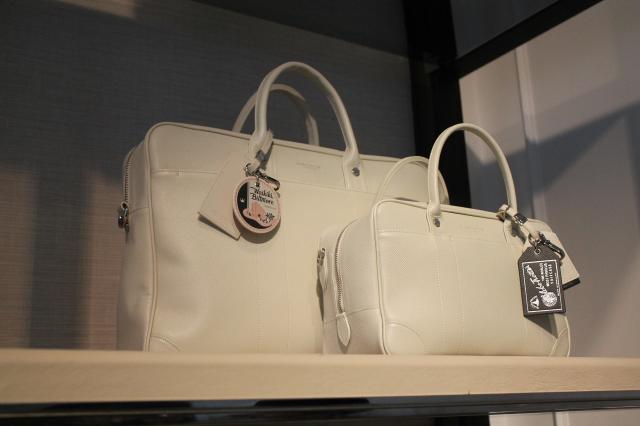 Coming next Swedish School of Textiles
One of the most exciting shows of London Fashion Week for me was an off-schedule show that debuted the best of young rising talent out of Sweden. 'Go along' my friends at Trace Publicity said, it will be really good' and yes readers, it definitely was. We're privileged to have a London Fashion Week schedule packed with great designers showing new collections each season defining their visions in physical 3D form but this was a very fresh look at some hopefully bright stars from the future who flew in from the north of Scandinavia to show their raw talent and striking unique vision.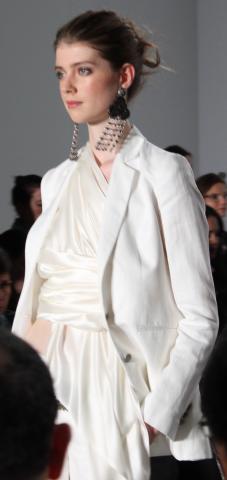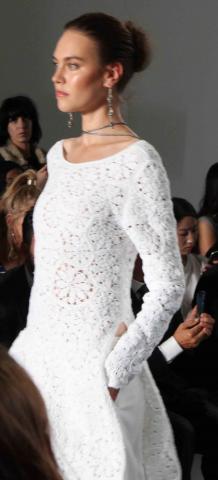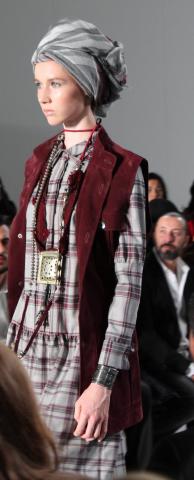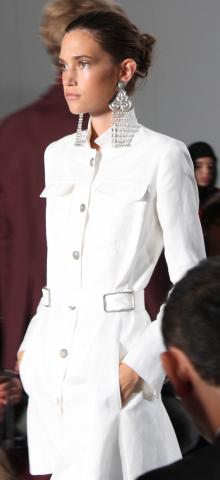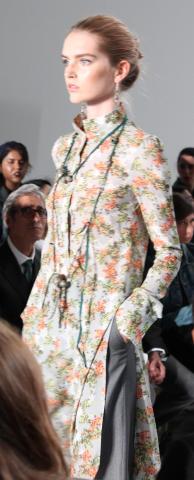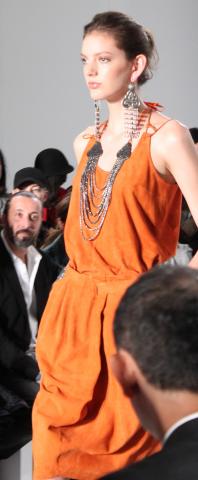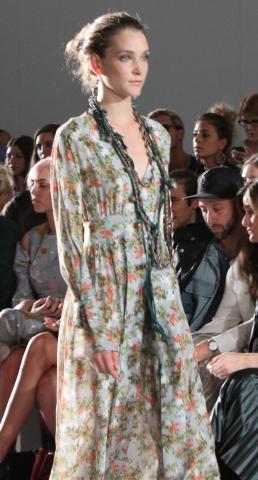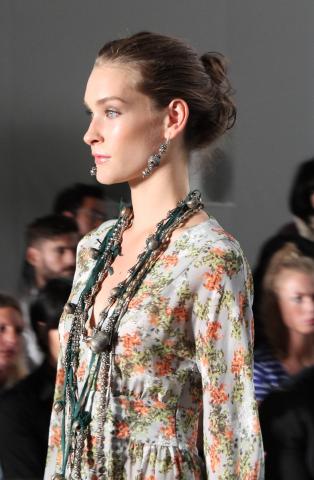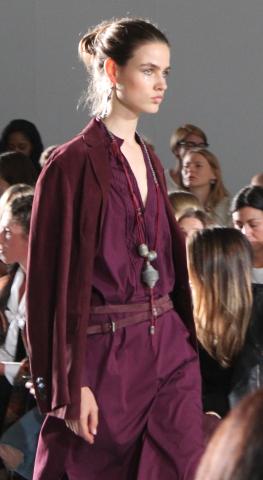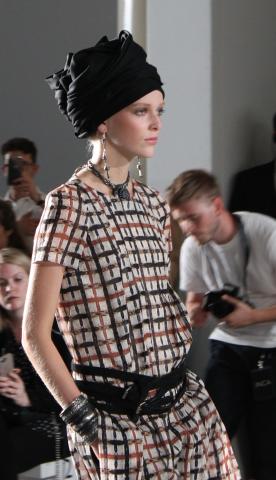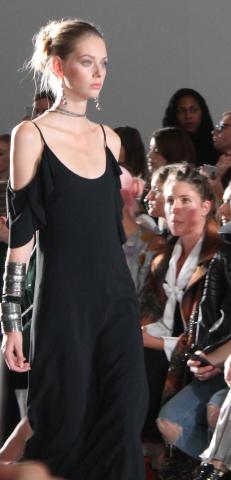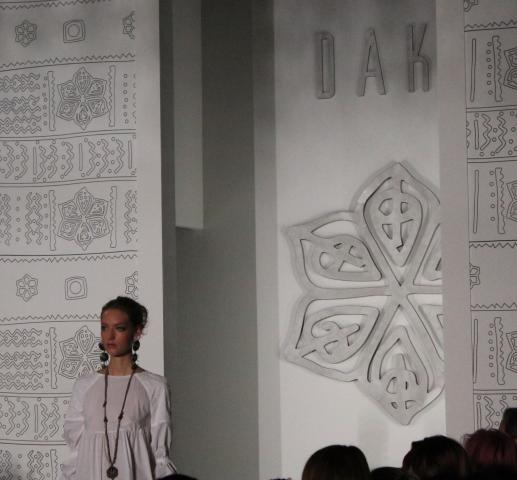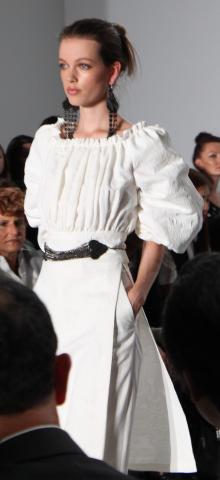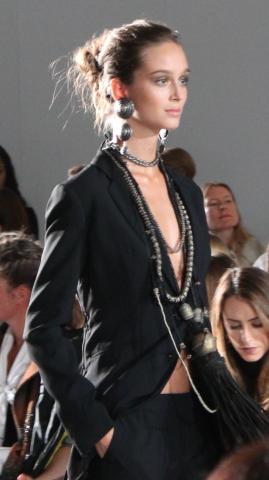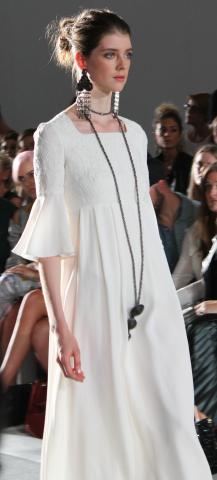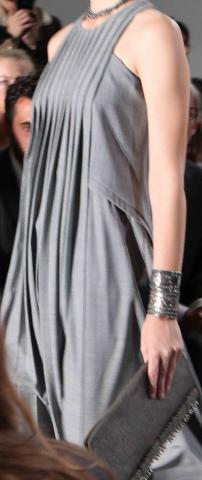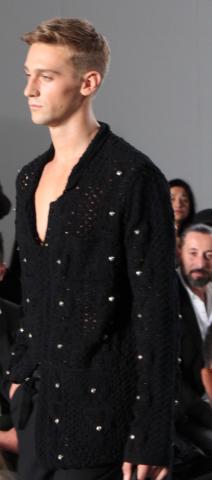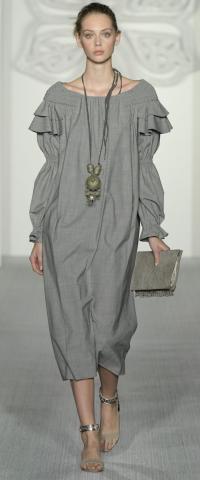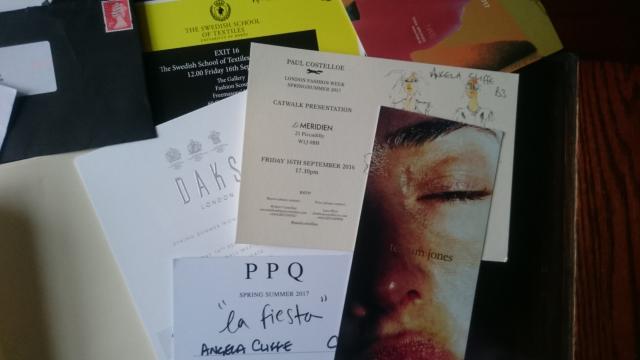 Women's styles together as several labels are now doing and it made complete sense with the vision of the collection. Opening with a slip dress confirming that this is a fashion staple that will continue into next season the duo worked in both print and lace to create a mid calf length piece that will be beautiful to move in for both day and evening. By itself or accessorised with a light jacket or wrap it could take you many places. Next to the right a striking blouse and pencil skirt combination showed how vibrant colours can create a harmony of contrasts that will look good on many different figures. Long cuffed sleeves go with the 70's retro vibe and this is another versatile piece that I would enjoy wearing or dress someone in, style and play factor in one. A quilted bomber jacket to the right seals the look for a contemporary casual menswear piece over a classic white shirt and black trousers. We can thank the lovely Pandora Sykes for the resurrection of the Bomber Jacket in recent years and reworked with florals and collection colours the appeal is obvious.
Cutting the slip dress at the waist and adding peplum detail creates a beautiful blouse teamed with trousers in the signature ribbon crossing design. Set at diagonals it gives emphasis to dynamic energy captured in the spirit of the collection. A close fitting dress to the right works the ribbon theme in full across the garment and is a beautiful cocktail piece for next season. Sitting gently on the figure it's naturally flattering. A sleeveless teal and green bodycon dress next to it hints at sports wear with leotard lines nipped in with a ribbon belt and a mid calf skirt in sheer delicate lace providing a chic contrast to the sports edge tone. To the right a navy one piece dress sis under a teal sports jacket creating a strong feminine casual look that's relaxed, gamine and desirable.         
Above a V necked low cut sleeveless peplum fringed blouse with ribbed white undershirt and pencil skirt create a bright and fun look that shows the figure gently making an eye catching confident silhouette. A white shirt and green shorts sit underneath a baby pink bomber jacket fringed in matching racing green updating the American college look for international casual wear. The slip dress centre above uses one of the signature prints of the collection with blossoms placed on a baby pink background and shoulder straps and skirt fringing in beautiful white lace. Light and flowing, it's a dream piece that will look good on the red carpet as well as for any event you would wish to go to, barbecue, beach party or evening drinks on warm summer nights. It's an easy piece to accessorise too with a wrap or a light jacket and a designer clutch. 
Ribbons stripes make a canny appearance again in the green and black jacket sitting over a neutral base of pink pink trousers and a grey sweater. Evening glamour turns up another notch with a teal green bustier sitting over a beautiful skirt in the signature themes of a pastel colour over laid with floral and butterfly print dancing across the surface. This motif hints at being a key feature next season as it's so easy to dress.  You can wear the print solo or team it with mono colour separates as in the next look featuring trousers and a long line white shirt with unfurled open cuss and Obe style belt tied at the waist. Accessories also feature as to the left with a back pack in the pop art print featured in the skirt contrasting with a sleeveless bodycon black vest.     
As the first show of London Fashion Week many high profile fashion names where in the front row including Natalie Massenet, Caroline Rush, Hilary Alexander and Vogue Stylist Lucinda Chambers, another advocate of the Bomber Jacket. This collection had plenty for the eye and made this one of the most talked about shows of SS17 Fashion Week overall. This collection delivered in many key areas in terms of what fashion is looking for from British Designers now; innovation a fresh looking approach. Wearable style that translates from the catwalk to the High Street. International appeal to help you reach many different markets and looks that will cross age categories and have a broader appeal to women and men looking for style. Looking forward to seeing more from Teatum Jones.      
Using black lace horizontal bands defines the line of the figure in an stylistic flounce with a tulip skirted hem offering a flourish of contrast and movement in the style. Paired with a close fitting long sleeved black top this outfit is a very adaptable smart casual look that you could wear for work or leisure. The black and white stencil design of the skirt is repeated in the shirt-dress to the right. We all need a good shirt dress in the Summer season and this piece should make a strong competitor for a place in your wardrobe. As the collection moved into evening a series of very wearable evening dresses came forward showing the defined panel around the hips emphasising the healthy feminine figure with a semi sports impression made by a gauzey upper bodice and a stylistic twist in the seemed open slash just below the hips. Flowing skirts that will move in the Summer breeze hint at romance and fun while always keeping firmly focused on channeling a fresh trend. Teatum Jones' party babe then changed into some figure hugging styles that showed the healthy lines of the wearer and gave more permutations on working with lace. Where the first part of the collection explored colour the later part moved to working in black and white leaving the monochrome palatee free to explore more stylistic nuances rippling through the designs. 
The collection opened with a several sports meets casual looks. Above to the left a light white skirt and blouse with ties and is a sensitive and innovative blend of the sports and casual aesthetic. It's a clever look and feels natural and simple giving the wearer plenty of scope to enjoy through the Summer months. The long ribbon of the bowed ties hints at carefree play while the structure referencing utility brings the collection in line with the practical reality of design in the modern world. The long lined shirt dress with defined cuff and wide sleeves with echos of traditional Chinese design fits perfectly into the contemporary modern landscape. Soft fabric and a feel of easy movement gives a comfort factor. The dress to the right above re-works a pinafore-tunic style with a pulled seam giving an asymmetric ruching effect. A hint of craft appears in the frayed lengths of the underlying dress sitting below he sheer blue sheath showing that Steven's girl is not afraid to experiment. 
Pleats appear in the skirt and knee length shorts to the right giving a sense of uniformed structure matched with two blouses with both elbow length and balloon cuts. A textile motif running across the mid blouse in ribboned layers resembling flowing waters draws parallels with the sacred feminine and adds a twist of craft to styles that could look uniform. No hint of awkwardsness here, it all looks rather precise. These are wearable fun styles that will suit work and leisure across the summer months. The trouser suit in grey with it's above ankle trousers features a neat collared shirt underneath a long line jacket with the same ribbon waves across the body of the jacket and the sleeves.  A light summer suit is very handy and Steven is showing that he is thinking of clients at different ages and in different life stages when he is looking at how to adapt his seasonal inspirations into a wearable and viable collection.    
Above a Tennis skirt and sports themed top herald active days in the sunshine, again like much of this collection it can be worn for non formal office wear as well as leisure and weekends. Smart move. Next to the left a bolero jacket in grey with ribbon seemed detail and short sleeves sits over a white tunic blouse descending into a lose pleated skirt. It's a cute combo and again would still work well for work. The mid calf trousers to the right with their visible seem combine with a side buttoned sleeveless vest and and ruffled white shirt underneath. With it's tailored collar, it's another fresh take on work wear and shows Steven's potential appeal to the capsule wardrobe seeking clients. The final look to the right is similar to the first in the collection and introduces a light raincoat to sit softly on the figure. 
Steven's awkward girl is very like-able because there's an apparent honesty and innocence about how she is enjoying exploring her clothes be they bought, borrowed or home-spun. But back to Steven and his ability to create a very sophisticated collection to appeal to women of all ages at this early stage in his career, it simply has great mileage   
Eudon is always looking to push limits and boundaries as well as satisfying his growing global following with fashion pieces that make a statement as well as comfortable choices for the coming season. For Spring-Summer 2017 he referenced the work of late American Photographer Francesca Woodman and her sense of style and form contained in her black and white images. Above to the left the collection opens with early signature colour themes of light blue and dark navy in a uniformed style contrast that also nods to Eudon's early career phase as a designer for men. The man-ish lines are tempered and broken down to create lose shapes and comfort. 
A light blue long line shirt with open collar sits with navy coloured and styled blue trousers slashed higher around the ankle. Next a long cardigan with button detail running from the side of the lapel and following through in the left leg of the trousers shows how black can be livened up with additional features like these buttons. The look is tapered closely to the figure but never looks restrictive. The front seem detail of the dress centre above looks both arty and professional and another very comfortable piece to wear sitting losely on the figure over a white shirt with voluminous sleeves it's an easy choice. A light blue blouse with button detail at the collar bone borrows from the medical kit wardrobe in the next bold look with asymmetry in the cut of the skirt, a little like trousers that have been completely opened revealing garters holding up the socks in a 'borrowed from the boys' moment. Colour pops into the collection with the impressionist brush strokes of leaf matching with a contemporary single breasted navy blue jacket with out-sized buttons. A beautiful print dress above to the right gives a fresh single statement option.  
Moving the palette to a very light grey the dress above to the right creatively plays with cuff button details in the upper sleeves that are cut away on the shoulders. Looking at this collection you can see how a men's tailor has decided to re-structure what he knows transposing his style into womenswear, and it works. Practicality meets style in the flow of the pin striped open-sided skirt to the right with high cut white top and broad sleeves it gives off a maritime feel while like it's navy trouser counter part to the right it will also suit for work wear. The brush stroke print appears again in the light silk blouse sitting underneath a pin stripped skirt suit. With a jacket cut long to the same length as the skirt it's an art alternative to corporate dress. To the right two very different dresses offer great scope for a Summer wardrobe with the classic 't-shirt under summer dress' look getting a makeover and a three quarter length sleeveless navy blue with printed fringed hem opening up new possibilities for a summer time working dress code. 
Choi works through a lot of different ideas here but with a homogensied colour palette it never looks too confused or scattered. There is scope and direction giving the viewer choice but not confusion. It does also look like he's breaking new ground with pieces conceived that will look like fitting additions to wardrobes. A navy trouser and sleeveless dress combination for example and then a white skirt with tassels and relaxed open jacket in light grey. A chick feminine bow at the waist of a black dress gives another creative twist with a little romantic twist and a slightly less formally structured version on white with crochet fabric in the length offers a more avant garde alternative. This collection places great emphasis on fluidity and movement in the fabric in many places with women dressed for comfort and cutting edge style. The next look to the right shows how the cut away styles that Choi creates have such a strong contemporary aesthetic. The clay coloured open skirt and black side buttoned top again strike a confident note for urban style wear. The black pinafore to the far right with side strap and buttons is a new classic.     
A lose white summer trouser suit with long navy coat features cape style open sleeves giving flexibility as well as a nod to playing with formality and a take traditional British gentleman's tailoring. It's never too serious though with a jaunty swing in her step the wearer strides with confidence. With day wear amply covered the collection moves to evening wear and a shimmering silk shift light olive dress above seemed across the centre of the figure as if to emphasise bias cut tailoring and drawing a light diagonal ruche across the surface of fabric. To the right a double layered olive and white dress cut in chevron pattern makes a perfectly acceptable contemporary dress for evening wear, perhaps without the black socks for a drinks reception or dinner. The light blue dress to the right is a perfect summer party piece that is light and casual and easy to carry off in style. This season Choi ably represented the muse of the woman photographed by Francesca Woodman who was herself only 22 when she passed away. The spirit of carefree hope and of a confident young woman making her way in the world lives within it.    
Q.E.S.T collection in honour of Her Majesty The Queen supporting the Queen Elizabeth Scholarship Trust crafted in Red Claret fibreboard the same as her Range Rover and Helicopter are, the straps of the cases are edged in Gold Ink. The cases have been lined in Suffolk made Gainsborough silk, the same as used to furnish the lining of the Scottish State Coach that was given to the Royal Family by the Earl of Albermarle in 1920. The Q.E.S.T. supports talented crafts people at many different stages of their carer in developing skills in the luxury craft industry. The capsule collection contains a leather luggage tag, a jewellery box, three trolley cases and an extra deep suitcase. Being true to it's British heritage 2016 will also see the launch of further collaborations celebrating the 80th anniversary of the Spitfire 
and the launch of a Selfridges X Morgan Cars travel case. Capturing the energy and passion associated with these marques in creating new collections in this revitalised brand blends the old and new together in a vibrant synergy. All are key icons with a very British identity that have admirers around the world. Travel and leisure are covered in this collection with totes and shoppers, weekend bags, wrap purses wallets and toiletry cases all presented for both men and women. Sipping the refreshing cocktails and taking in the collection I was genuinely impressed. The Propeller Line collection that the SS17 offering is the latest addition to is an aspiration line within the collection but the bags and purses produced with their inspirations from Rio de Janeiro and Buenos Ares, Singapore and Tokyo have both quality and a reasonable price point attached to them that should hopefully ensure they are a strong competitor in the market place.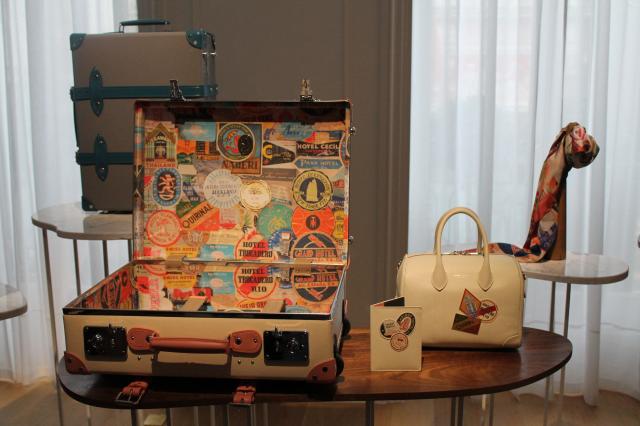 Good travel creates good memories. One of key traits of Globe-Trotter that earned it an enviable client base was the sound manufacturing techniques that produced cases that are both light weight and very durable, with the firm still using the many of the same techniques and machinery that it used to create it's products int he 19th century. A vintage poster advertising the brand shows an Elephant standing on top of a case demonstrating it's strength and also hinting at adventures in far away climbs. The Spring-Summer 2017 collection was designed by Creative Director Charlotte Seddon in collaboration with a very special friend of the brand, Hilary Farish a lady who traveled the globe as a flight attendant with BOAC between 1960 and 1969. It was great to see Hilary at the launch of the collection happily talking to guests and press. Her well traveled luggage is the genesis for the collection and featured in a display case below to the right. Her luggage is in good shape for the miles that it covered bearing a testament to the strength of the production quality of Globe-Trotter and the craftsmanship standards that it holds dear. 
Posters, stickers and luggage labels seen below give a glimpse into the adventures that Hilary and her luggage had and an emblem offering Seddon a motif to work design ideas around. It imprints a fun burst of colour across the collections key themes of Marine, Desert Rose, White, Clay Grey and Peony. The lining of the new season white case above to the left channels this theme through it's interior with the stickers transposed onto various different signature items by hand applique such as passport holders, name tags, purses and scarf print. All of the items in the collection are practical and desirable and trigger thoughts of far flung places.   
Totes in retro style shapes echoing the angular nature of the travel labels themselves such as the Peony Pink and white above offer a generous amount of room for their size in soft leather. My personal favourites of the collection included this Peony Pink set and also the Men's weekend travel bag and vanity case above in black. For luggage I would be very tempted to pick several items from the lilac Ameila collection of early 2016 and QEST capsule collection as Claret is such a timeless warm colour and the luxury rich red also stands out pretty handily against the backdrop of other luggage when you are travelling. Globe-Trotter are keen to reach a new generation and genuinely have a lot of experience in creating goods that will stand a new generation of travelers in good stead. Looking to the future and adopting the social media hashtag #YourAdventureBegins is a positive way to start the new season. 
The Spring Summer 2017 collection available to buy in store and online in February 2017. 
Catwalk frontal images with kind permission.  
The light cottons and volume take you back to the Indian continent in a heartbeat with gathered seems strategically marking the lengths of the figure at the waist, the upper leg and knees in the first look. There is something iridescent about white and it's ability to look coolly perfect in the summer light and bring more light on dull days. Length was important for much of this collection with ankle and mid calf length clothing dominating. A minimal look took the lead in the collection with ruffles and the tiniest of pin tuck's adding touches of extra volume to give extra expression to shape and form. From it's origins in menswear there can be no doubt that DAKS have nailed the art of creating a variety of sophisticated options for the wardrobe of the international woman each season. To the left above a grey dress ribbon-fringed at the shoulders with it's balloon shaped sleeves is an obvious work/social cross over for the next season. Adding a touch of formality a white dress pressed in criss-cross style (is this imprime? - readers let me know!) make a sexy sophisticated piece for the evening with it's broad silver metallic band.         
Statement antique inspired jewellery is a theme running across this collection. Broad bangles define the wrists at the end of sleeves, large triple disks are suspended from ear lobes in ancient style earrings while other lobes feature chain insignia hanging beneath engraved plate work. They look like pieces picked up in a market selling ancient souvenirs or antiques. Above to the left a white trouser suit cut generously around the waist and upper leg in an echo of men's style offers maximum comfort as well as unfaltering sophisticated. An antique clip at the waist makes a chic button alternative and shows your style credentials to anyone who sees you wearing this across the world. You'll be set for a meeting or a social event in the sunshine. 
The bandeau dress with it's ribboned ruffles either side of breasts is an ultra easy wear piece to slip on and head out in. Again to the right the long-line pinafore piece makes an emphasis on easy wear luxury and you could be in an office or on the deck of yacht wearing this and looking equally as elegant. Next to the right one of the looks from the evening wear series shows ruffles aplenty in feminine abundance also echoing some traditional gowns worn by Indian Raja's in some states (not quite so many ruffles perhaps) sitting below the fitted jacket styled upper dress. One of the most dazzling pieces from the collection and one of my personal favourites saw silk wrapped around the upper figure in sari like style forming a blouse alternative under the classic straight legged trousers. Set off with a chain belt and drop earrings this look gives sex appeal and a style edge. The turban makes an appearance in several places adding an eastern chic and giving cross cultural fashion outlook.  
The colour scheme for this collection moved through neutral white, grey and black into contrasting warm earthy tones and natural tones of orange, aubergine and also prints. The message of this collection is don't be afraid to experiment I think with traditional forms deconstructed as in the grey suit above to the left seeing the line of a classic men's suit broken by the insertion of a long Indian men's outer shirt. Next to the right a ruffled bodice and crushed balloon sleeves create a contrast in volume with the straight lines of the lower tunic-style dress and broad legged trousers. The best outfits are often constructed through a series of contrasting elements that come together to create a harmony. The black trouser suit to the right is a sexy non nonsense look that you can see has been tailored to allow more movement across the shoulders. Singularly buttoned at the waist with tasteful layers of antique necklaces it makes a strong statement in an international fashion world. DAKS' woman this season is undoubtedly a traveler sophisticated and knowledgeable about the world that she moves through and chooses to carry some of the influences that matter to her with her across the globe. She's relaxed and familiar with every territory that she passes through.  
Within Scuffi's design remit he explores a plethora of design options making use of many different techniques with textures varying greatly. Chrochet work appears in several places with a representation of the 'heavenly wheel' recreated on an ochre coloured dress, a black knitted blouse. Light and breathable for the summer months it also has a romantic quality. Above you can see some of my ring-side shots as a guest giving more of an impression of how the clothes moved on the models. The pockets in the white trousers of the look above hint at practicality. It's good to see a guy looking smart in open crochet knit too, why not! To the right a print dress channels the vibe of the collection art work that make a light casual addition to your wardrobe for the season. Fusing the traditional with the modern a metallic jacket to the left incorporates fringed antique tassels at the pockets with thin necklaces a souvenir from his travels. 
The notion of keeping the relaxed holiday feel still within you when you return to your regular walk of life remains. DAKS' women looks serenely elegant as she crosses the room with a cool sense of majesty. The white dress above high waisted in Regency era style with flared sleeves and beautiful bodice embroidery is a very string look for Summer evening wear on warm nights. You could wear it with the vintage style jewellery here or change the look adding classic pearls or precious stones and perhaps a wrap or light jacket. The Indian plaid long line flowing dress with it's central black theme, waist band and cuffs plays a melody on traditional Indian textiles as does the simple form dress next to it belted with a harness style tie.       
It's a beautiful collection that never felt the need to edge in the direction of hippy but still managed to capture the bohemian tone perfectly of the long distance traveller. The swept up hair left the face free to highlight the warmly nude makeup palette that gave a lightly sun-kissed look to the models. The blush used had warm tones of amber with faint metallic discernible on the eye lids and the lightest of eye liner and mascara. Hair was swept up in Chignon's to escape the heat or wrapped up in the aforementioned turbans. The long smock fronted black dress was another one of my favourite looks with it's loose flowing sleeves and easy volume. the adaptation of a heritage print weave in the look to the right from different sides again forms another sari-style top that makes a perfect accompaniment to tailored trouser. It also reminds me of the Hermes scarves that I've seen worn as halter neck tops in the Summer and is a great style tip for working your fabrics harder.     
The warm aubergine look alternates easily between a female Field shirt dress and jacket to a men's trouser suit with long Indian shirt and narrow belt across the waist. Delicate florals are a perfect way to inject an ultra-feminine note into the collection recalling the wild countryside of India and it's beautiful fauna. Heady romantic adventures are hinted at or simply time wandering and exploring. For all it's carefree charm the piece is very precisely tailored with a defining waistband and light pin tucks on wither side giving scope for the fabric to move across the figure. Also woven into a shirt form this fabric is a dream. Brilliant whites appear in a few more of my shots to the right and below and I close with a slinky black slip dress that will work wonderfully well on Summer evenings. It's thin straps and off shoulder sleeves fluted by ruffled layers make it a sophisticated dress for evening drinks and parties in the Spring and Summer months.     
Still based in it's original Lea Mills premises in Derbyshire that it has occupied for over 230 years the brand that holds several Royal Warrants and counted Hollywoods leading ladies and gentlemen of the mid 20th century amongst it's clients, Marilyn Monroe, Audrey Hepburn and The Beatles. More recently they have been an unseen guiding hand of expertise in the fashion world as the go-to supplier to Dame Vivienne Westwood and Sir Paul Smith. With the continuing respect of industry experts firmly behind them John Smedley has returned to the retail market with a passion and in the last 12 months launched a flagship store on Brook Street in Mayfair where it originally traded from in the 19th century. There aren't too many stores in Mayfair who can say they where there over a century ago. With a men's store also on Jermyn Street in St. James' you don't have to go far in the capital to find them but where business is really booming is online and in luxury retail concessions across the globe. 
Spring - Summer 17 saw bright bolts of colour to blow away the cobwebs at the start of the season. The colour choices where mostly bold favouring an impactful monotone look. This  draws the eye undoubtedly the skill of weave and a clear appreciation of the touch of the high quality fabrics but it would also be very nice to see a little more experimentation coming off those legendary looms up in Derbyshire. 
That being said, I am very much a fan still and love the way that John Smedley are transforming knitwear into a true 21st century craft piece that is undoubtedly high fashion. There's lots of scope here to compose complete looks or wear items as coordinating separates with jeans or leggings. It's easy wear chic will blend well internationally and can be casual or dressed up more formally. There's a strong appeal to a wide audience and doesn't lose a note of femininity while working with an androgynous millennial look. With fashion press queuing outside in a long snake this was one of the most well attended presentations of fashion week. 
Also on display, more of the Globe-Trotter offering launching in 2016 including the Caviar, Champagne (centre above) and Pearl collections. Created to carry the connotations of the most luxurious travel experiences engaging the senses in taste and touch, these collections in gunmetal grey, pale gold and bright white aim to take you on a journey of your dreams while being supported by luggage tough enough to face the most testing practical reality. There's an interesting contrast here between fantasy and practicality with the brand successfully encompassing both. A sophisticated simplicity in the designs' appearance places it firmly in the desirable luxury market creating the unconscious feelings of ease that we associate with luxury and enjoying travel. The new season collection looks carefully at taking shapes from traditional men's travel goods and re-works them into styles that will suit a feminine eye also. Produced in fiberboard by pressing together layers of bonded paper, Globe-Trotter are able to make cases that are sturdier and have greater water resistance than finished leather goods. In 2016 Globe-Trotter released the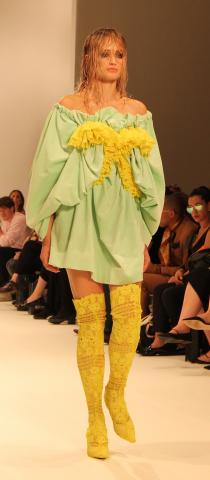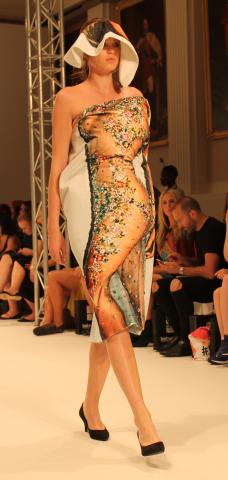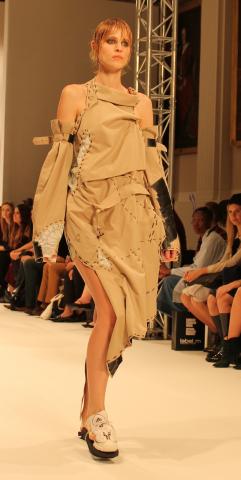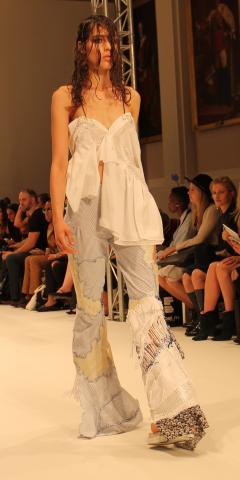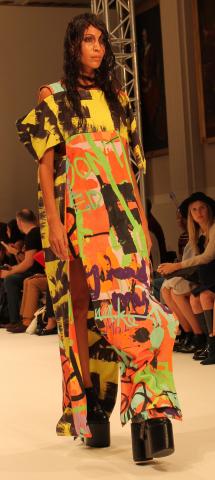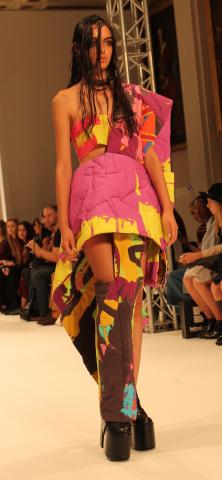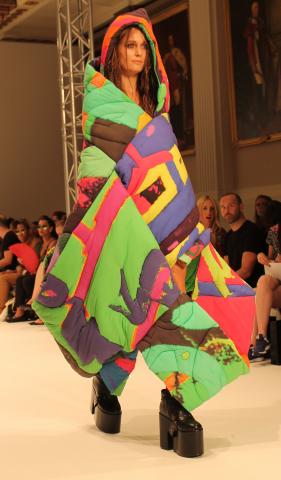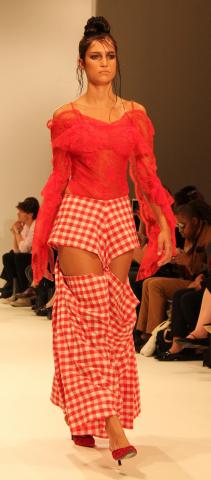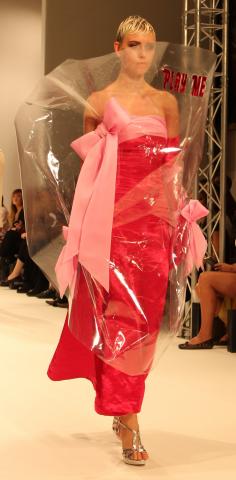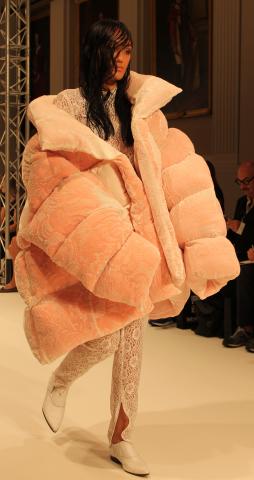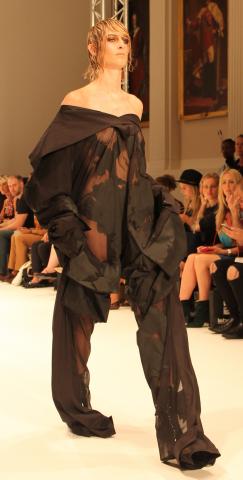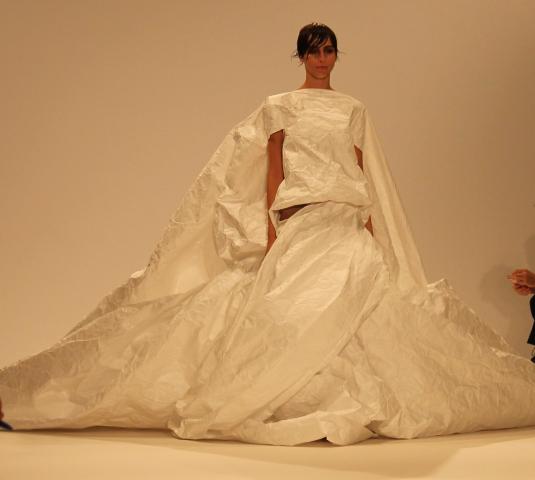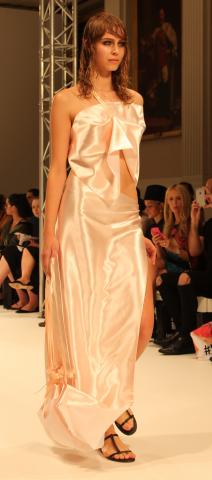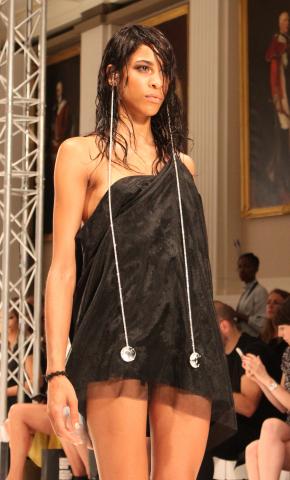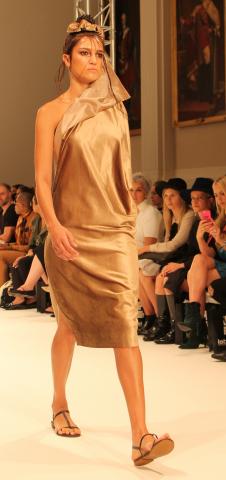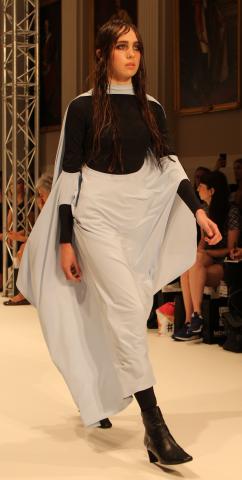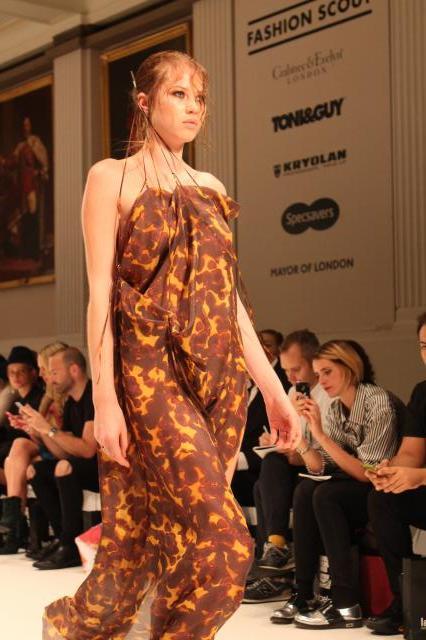 The set opened with a wrap around white flowing organza sheath dress that was peeled from the set design itself as the show began much to the surprise and respect of the audience who had taken their seats. It's this kind of originality that typifies the spark and fresh appeal that these collections have. The show comprised of two designs shown by a around 15 members of the graduating class of the Swedish School of Textiles Faculty in the University of Boras. Offering both BA and MA programs his prestigious faculty has been teaching students since 1866 and I would guess that probably makes it one of the oldest in Europe.  
Above to the right bright colours burst forth in the green dress with yellow floral bows and matching yellow knee high boots. Gingham trousers cut away almost to be shorts with a beautiful off the shoulder styling is a Summer look that will really make an impact. Above all this is fashion to be enjoyed but the pure creativity of the ideas is what really stands out. Above to the far right the faded patchwork jeans and their lose flowing blouse top with peplums and pin-tucks is a perfect carefree Summer piece that will coordinate easily. Above to the left a very sexy sheer black piece transforms the jumpsuit to a luxury garment. Next to the right out sized knitwear will kit you out for the cool early days of Spring particularly in a northern climate. 
Large running stitch details marking line also echo traditional crafts and sheepskin lined boots and gloves. A giant quilted blush bomber jacket took a contemporary favourite further and on the surface you can see the detailed jacquard raised relief. Beneath a lace body suit adds a note of contrast. My impression looking at this piece was that I could imagine it turning up on a catwalk in Paris in a designer with a contemporary Haute Couture House. These three pieces in particular where very mature in the development o their style amongst the looks on display. To the right romances on pink and red took new forms with a very creative piece to the far right making a playful suggestive invitation 'Play Me' the perspex veil asks and play you may wish to.   
Another highly inventive piece saw the curves of the female form turned sideways across the centre of a dress at a contrasting angle to the figure of the wearer. Again another fresh idea that really caught the attention. Stitch detail followed by bright print and patchwork quilting brought more surprises our way.
Sophisticated evening wear played a strong part in this collection showing that fresh young minds and hands are very capable of turning out pieces that would 'Wow' on the Red Carpet for those A-Listers with more adventurous tastes. 
Above to the left a satin gold dress is cut in the same piece of fabric as it's hair band and to the right the Leopard print dress is light and delicate enough to be worn on the hottest African evenings. To the right the black and light blue dress works more with themes of abstraction while to the right a body suit is beautifully decorated with a pearl bikini on the outside. 
One of the most striking looks was the scarlet dress trimmed with golden sparks of fire designed to be worn from the mouth as is to show the gold of the woman's words falling from the lips of the model. Truly a memorable piece and hugely symbolic. 
An asymetric baby doll to the left in black with it's satin shimmer and super long silver drop earring makes another bold presentation statement that shows the wearers understanding and appreciation of art in style. To the right rippling satin abounds in a cut away dress that reveals the figure and also the clients eye for making a fresh statement of designer luxury. It's an intriguing offering and  I hope we see many of these new designers again in the future.