Tm                    
Beauty, Grace & Style Tm
All rights reserved. UK Registered Company.

A Blush of Rose
                               by Angela Cliffe
Hello, it's lovely to see you here and I hope you enjoy visiting the site and seeing my work.

* I'm currently in the process of moving the website to a new platform and hoping to show you an updated site in the next few weeks.

A Google Chrome-friendly web page 
Also find me on Instagram and Twitter@ablushofrose
A Blush of Rose and Beauty, Grace & Style are trademarks held under A Blush of Rose Ltd.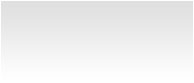 A Blush of Rose 
                                                            by Angela Cliffe
                 London based Fashion Writer and Photographer, sometimes in Paris. 
Angela Cliffe (C) All images below.
I was delighted to become a contributor to Town & Country in the UK and happy that the pieces I've written have been so well liked around the world.

I will bring you links to some of these pieces shortly but in the meantime here are a few of my published favourites from the archive.

There are links to the articles below and I hope that you very much enjoy reading them.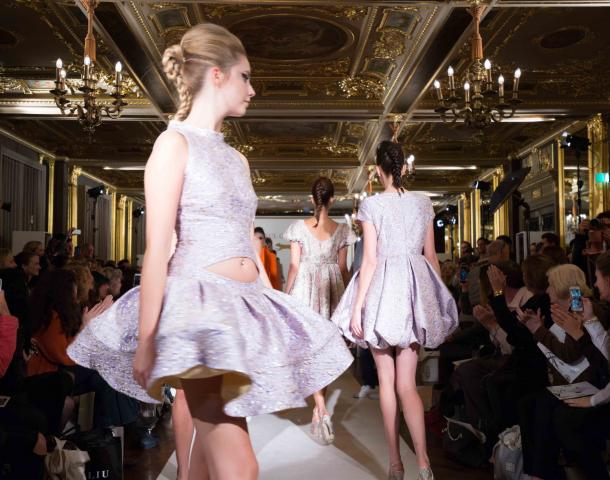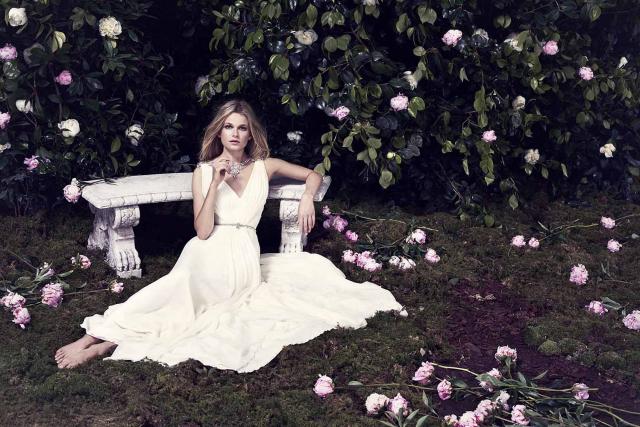 From the selection of pieces here are two on leading Fashion Designers that show on the London Fashion Week schedule and who are celebrated around the globe. Jenny Packham internationally celebrated for her Bridal and Ready to Wear bit.ly/1JWksoE  and Paul Costelloe - a highly influential figure in British and Irish Fashion ow.ly/TN1s5. Plus Chanel's landmark exhibition at the Saatchi Gallery ow.ly/XKO9F.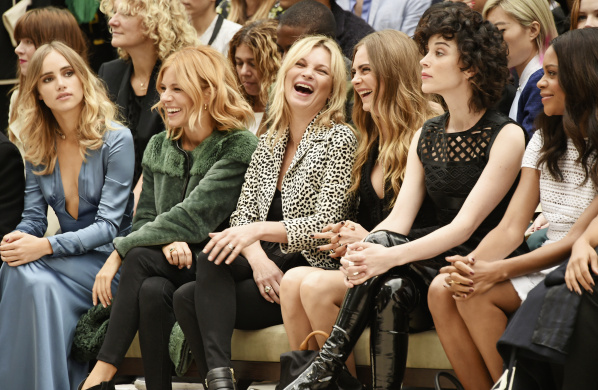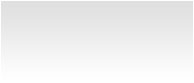 Beulah London launch Autumn-Winter 2017 collection and Sloane Street pop-up.

Coast's AW 2017 collection and collaboration with the Royal Opera House.

Jigsaw womenswear - bright seasonal style for autumn.
Zoe Jordan launches her AW 2017 collection and Burlington Arcade pop-up.
The Audrey Hepburn sale at Christies in St James, London.
Mulberry show their Spring 2018 collection in Paris.
Dior's Couture du Reve, 70th anniversary retrospective at the Musee des Arts Decoratifs in Paris.

There are a lot more exciting features coming up and as always I'm happy to hear from you with thoughts or brand and events inquiries at editor@ablushofrose.com. 
With my best wishes,
Angela 
TROY London, Feu de Beaumont and BEULAH London show their collections at a Party featured in Tatler Bystander.
DELAM Launch their ethical luxury cashmere range in Notting Hill. 
Christopher Raeburn shows his Sarawak Collection for SS 2016 at the V&A Fashion in Motion.
A report from Hawick; the home of Tweed and Textile production in the Scottish Borders.
Getting down to basics with the V&A at Undressed: A Brief History of Underwear.
The most exciting Car Boot Sale in Town at Brewer Street Car Park in aid of Women for Women UK with a host of famous Fashion faces at the Car Boots 
- we love - SALE!  
CHANEL buy artisan Lace maker Sophie Hallette.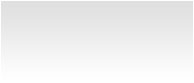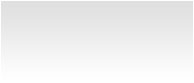 The Met Gala in NY and Cannes Red Carpet Style.
Missoni at the London Textiles Museum.
CHANEL relaunch their nail colours with stylish classics. 
The London Vogue Festival. 
ART & fashion at the David Gill Gallery in St James's. 
Scottish Art and Whisky at 
Buckingham Palace.
Zac Posen in conversation at the V&A with Kinvara Balfour. 
Beulah Launch their Summer 2016 Collection and a party with Tessa Packard, Okapi and Alice Beaumont at 5 Hertford Street. 
Istituto Marangoni Graduation show G25.  
Vogue 100 evening at the Burlington Arcade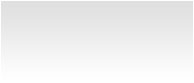 A Summer page with;
Summer Beauty report including fresh scent and makeup.
Days out in the country.
Pre-fall at On Motcomb.
Art weekends in London & Masterpiece Fair. 
Racing fashion and Haute Joaillerie from Paris plus of course Haute Couture for AW 16-17.
Luxury Belgravia Boutique OnMotcomb in London is one of my favourite places to pass through to get a burst of fashion for the new season. There are some beautiful features on my autumn and winter pages and I recommend you look them up if you're searching for a special outfit. The boutique hosts beautiful luxury Ready to Wear and Haute Couture from designers including Oscar de la Renta, Zac Posen, Carolina Herrera, Naeeme Khan and Rosie Assoulin to name but a few. 
The annual Costume Institute Benefit in New York known as the 'Met Gala' brought the customary dazzling series of dresses before the cameras. This year the theme of 'Heavenly Bodies: Fashion and the Catholic Imagination'. Guests interpreted the dress code with their own style and imagination, in a variety of bespoke looks from Haute Couture created by a myriad of well known designers to limited edition high street brand creations.

I favoured the more classic sophisticated looks that are generally quite wearable to many Gala, White and black-tie events and one of the main features this year was the train accentuating the glamour of the looks. Below are Blake Lively in Versace shot by Andrew H. Walker, Diane Kruger in Prabal Gurung shot by Neilson Bamard and Amal Clooney wearing London's Richard Quinn by John Shearer. There will be full dress report online and a look at the Met Museum's accompanying exhibition in New York open until late October.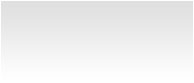 London Fashion Week SS17 
Claridges style heritage. 
Burberry Makers House.
Buckingham Palace, Windsor Castle and Hollyrood celebrate 90 years of H.M. the Queen's wardrobe. 
Feu de Beaumont launch 
Cherry & Pine Candles.
Justine Picardie speaking about Dior & CHANEL at Blenheim Palace.
House of Holland Fashion in Motion at the V&A. 
Beulah AW 16-17 
Huskiwear introduce the one-piece ski suit. 
Hair by Sam McKnight opens at Somerset House.
CHANEL show the 2017 Metiers d'art at the Paris Ritz home of Mlle Chanel. 
Strong Women photography exhibition by Alistair Guy.
The Animal Ball Conservation Couture!
Party Dresses from OnMotcomb in Belgravia.
The Fashion Awards.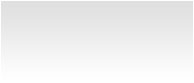 London Men's collections, Belstaff, John Smedley & Christopher Raeburn
Candid Magazine issue 14 launch party at the Century Club SoHo
Outdoor style for girls at Farlows in St. James' London
New Spring-Summer 2017 beauty from NARS 
The V&A brief on Balenciaga: Shaping Fashion exhibition opening in May 2017 
Shooting behind the scenes make-up with Tania Grier at Sisley Paris UK.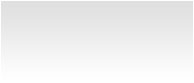 Some of my favourite images I shot of designers work for the current season collections are below. Colour is a big story but for many designers it's also an embrace of the feminine mood. Mulberry current season collection shown in Paris in the Autumn ahead of London in February celebrated the mood of the vintage era of the Bloomsbury set and British High Societies playful tastes.    
Shimmer and sparkle for the evening arrive on cue with many options for a new take on luxury style. Black and white formality is re-invented and party season red, white and gold appear in expertly tailored looks that make a statement of independent chic.    

Huishan Zhang has now answered the prayers of many of his followers and opened his own boutique on Mount Street in Mayfair. The Huishan Zhang atelier is now established in the luxury shopping scene in the capital and I hope it's here to stay. He has a truly global following and his designs take hints of traditional glamour themes and brings something different.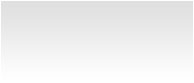 Diana: Her Fashion Story at Kensington Palace.
Beulah London Summer collection and visit to India.
Ascot 2017 dress code and style for The Season including Suzannah and Coast Fashion. Hats galore from our leading milliners.
V&A Fashion in Motion.
AW 17-18 press day finds.

Art and Antiques in Chelsea and Mayfair.


Exploring Bath Fashion Museum's current Lace exhibition and vintage charms.
The 'Met Gala' and Summer exhibition; Rei Kawakubo the Art of the In-Between.

London Craft Week 2017 featuring Mulberry, Bamford and Smythson.

Fortnum & Mason of Piccadilly - Fashion from Suzannah and miliners William Chambers, Stephen Jones and Vivien Sheriff.
Wedding chic from the new Sassi Holford Boutique.
A private view of Catherine Walker.

The Marangoni Institute at Graduate Fashion Week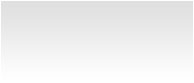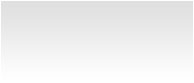 A visit to the opening press day of Balenciaga: shaping fashion.
Pre-fall collections at OnMotcomb.
ARKET: The Scandinavian fashion and lifestyle brand lands in the UK.

Molly Goddard showcasing at the V&A in the new galleries.
Alexander Fury talks about 7 Decades of Dior also at the V&A.

Modes & More - a vintage treasure trove in Pimlico  

Jasper Conran is a firm favourite again from the British collections for Spring. He has mastered the key Town and Country style over his career and knows how to dress women from their later teens to their nineties and beyond. Chic, sexy as well as demure, he has no fear in exploring new ideas that will take his lady to many places around the globe or happily in her village.

London based German designer Markus Lupfer showed a series of designs that explored both feminine florals and conceptual art influences. Shielded by flower themed sunglasses the models wore bold print and applique designs with 1960's and 1970's retro influences.   

Paul Costelloe still loves his craft after five decades in the business and each season brings a touch of romance to his collections that, combined with his creative excellence, give a clear statement of how much passion he has for the business. Spring-Summer 2018 finds inspiration again in Paris during the decadence of the 18th century and the Rock and Roll romance of the 1950's and 1960's. 

His styles range from glamorous luxury day-wear to evening pieces that work well at both public and private events.  In front of the camera or whirling around on a secret special evening; Huishan is dedicated to making women feel beautiful.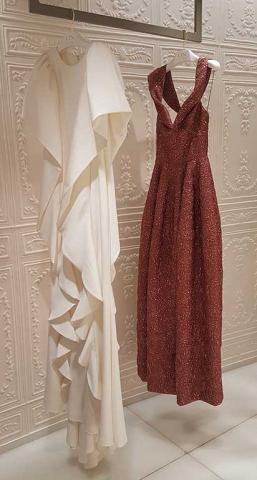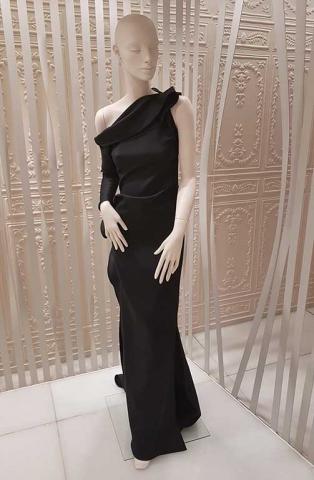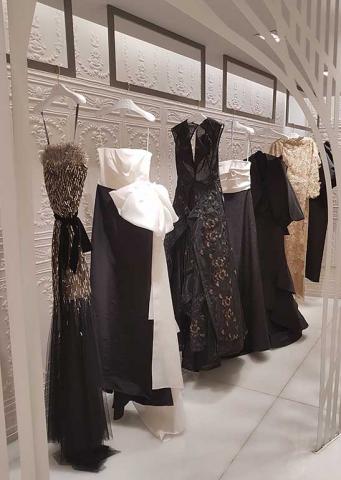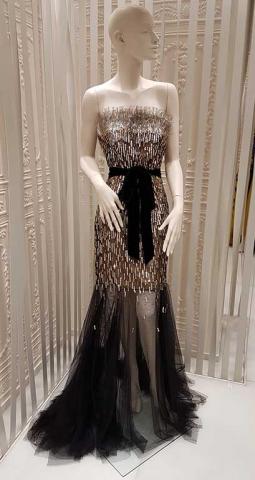 Stewart Parvin, Rachel Trevor Morgan and Emmy of London - British Haute Couture style at it's best.

Jeweller Tessa Packard opens her new Chelsea boutique.

Spring - Summer 2018 at Temperley London
A slightly shorter page here than normal as family duties called me away from fashion for a while. I have more reports from this period I hope to back-fill in future.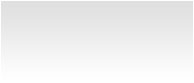 I was delighted to become a contributor to Town & Country in the UK and happy that the pieces I've written have been so well liked. They feature the talent of wonderful women Jewellers including Tessa Packard, Kinvara Law and Tansy and Victoria from Tada and Toy and also a host goodies from the best of British brands that I know, Feu de Beaumont fine scented candles, Rosie and Lucia's women's wear collections from TROY London and Bamford collection clothes.

Sparkling talents in Town & Country UK link.  The Best if new British classics to embrace now link.

There is also a piece on the work of two strong ladies, Natasha and Lavinia founders of Beulah London. Theirs was one of the first ethical luxury women's fashion brands and following their journey to use fashion to help women find freedom is a joy to watch link here.  

Jasper took sports themes as a key to his Spring and Summer collection this season and worked in touches of chic elegance to create looks that crafted elegance with light and delicate sports fabrics. The result is an interesting series of looks that move through smart leisure wear into delicate dresses that could be worn for parties on hot summer nights.
The mood of colour is naturally bright and this collection simply has a feeling of :-) about it that  you couldn't help but sense when watching the collection come out. Fabrics are light and durable but this is outwear that cleverly embraces delicate femininity at it's best in the sweet mix of designs.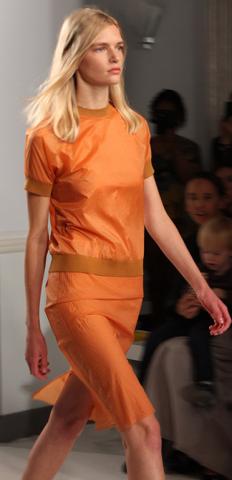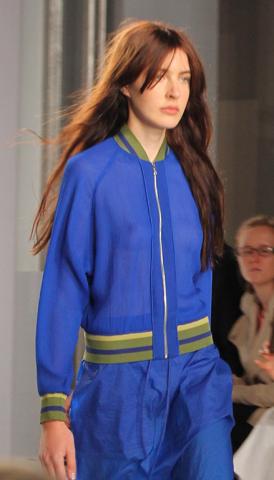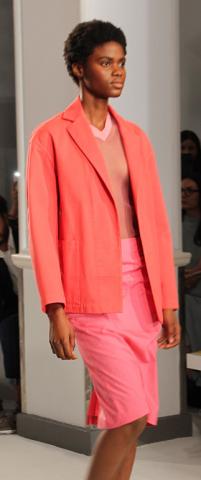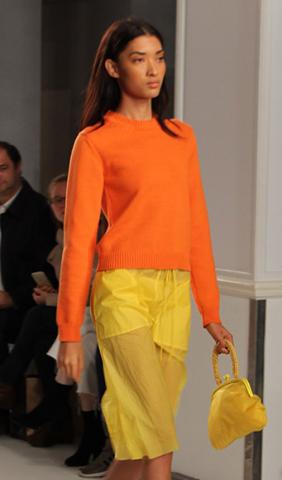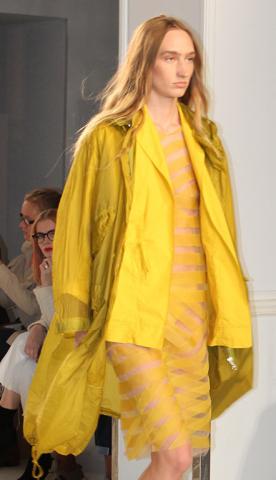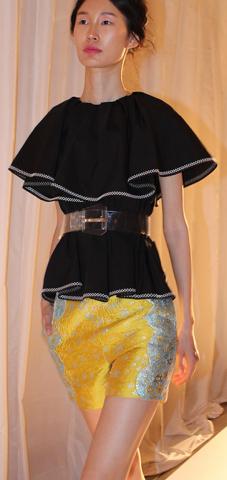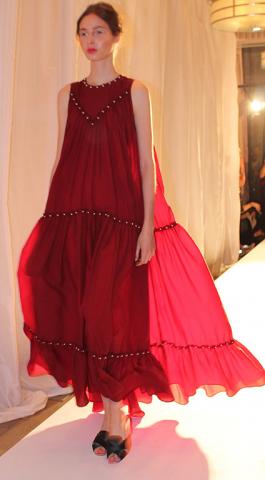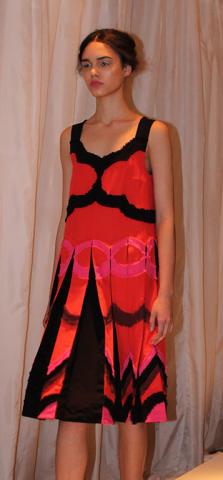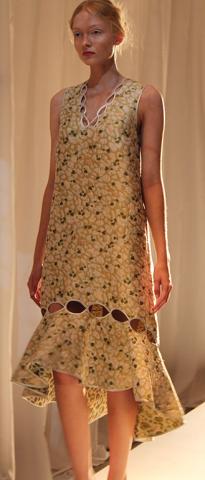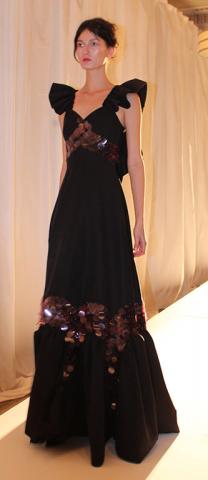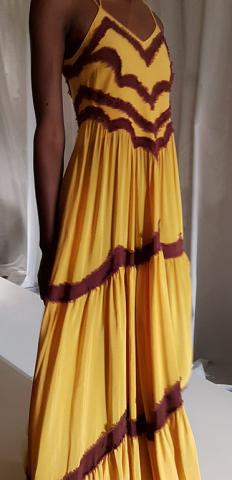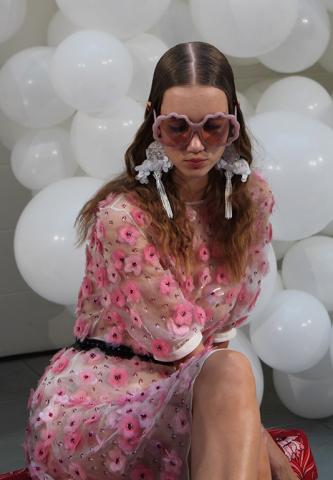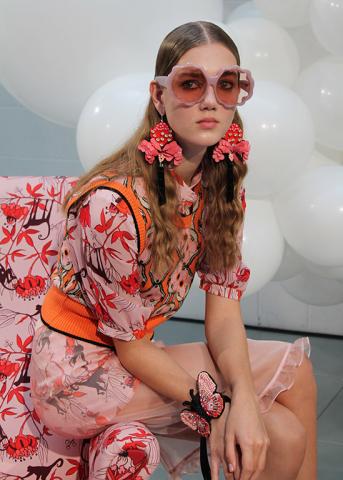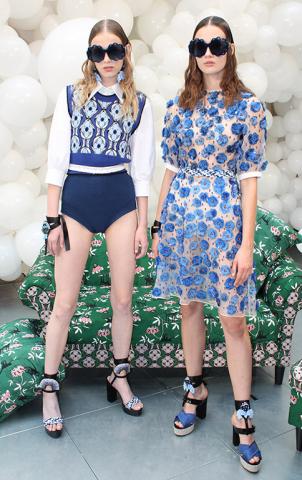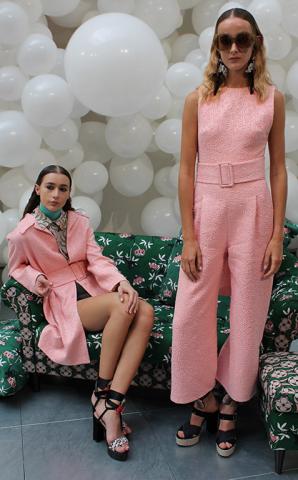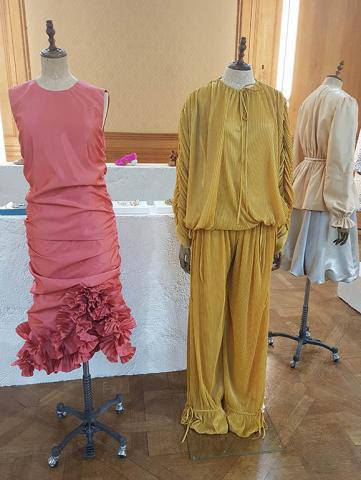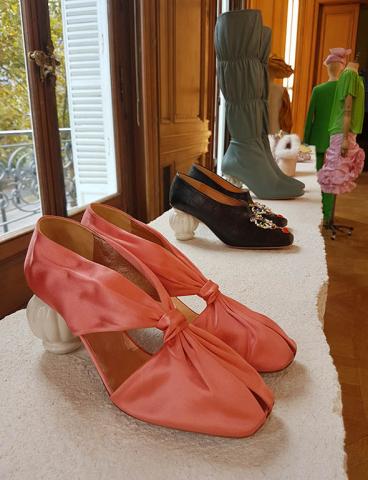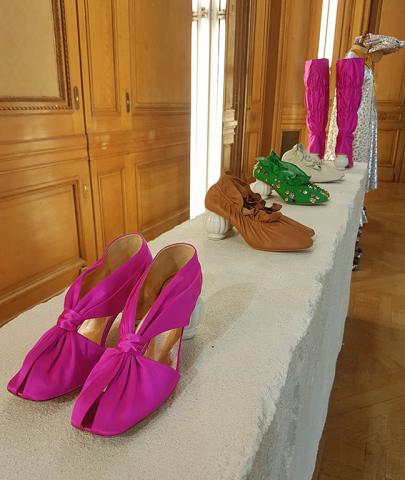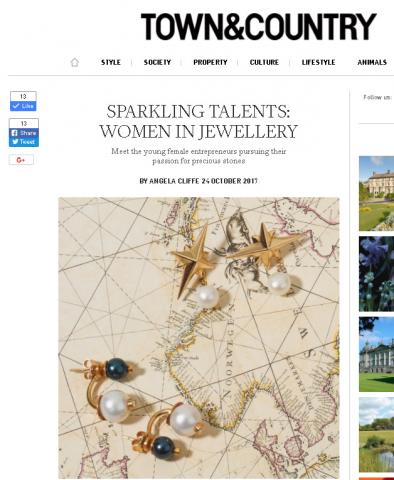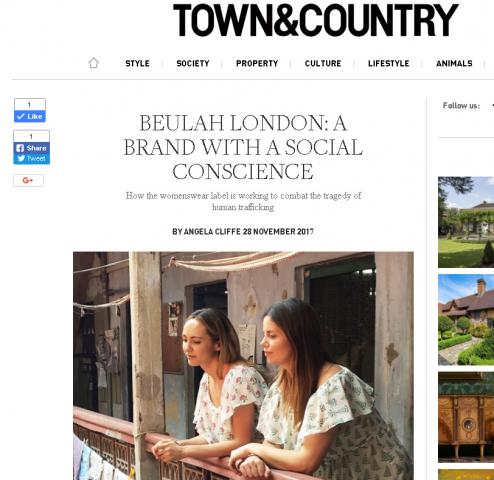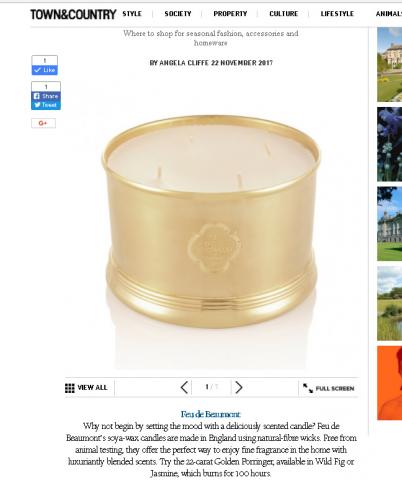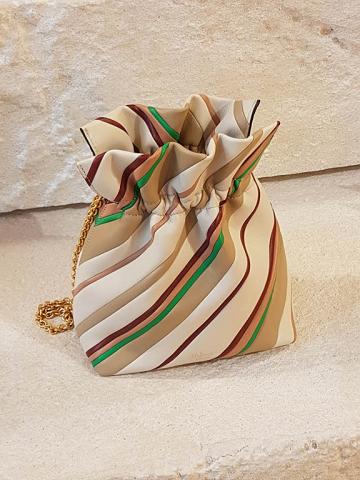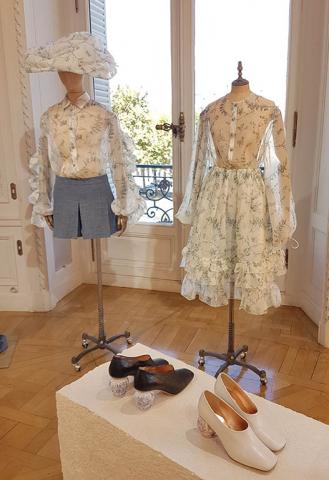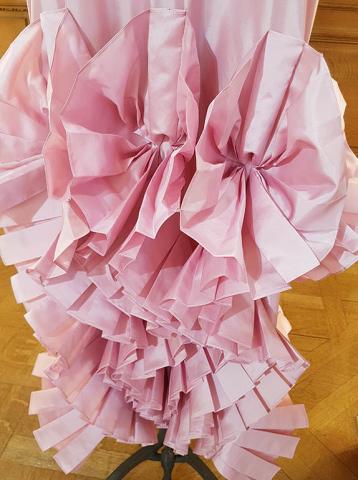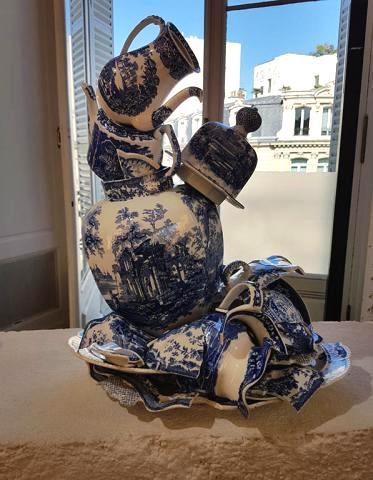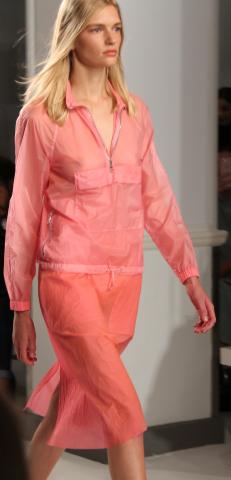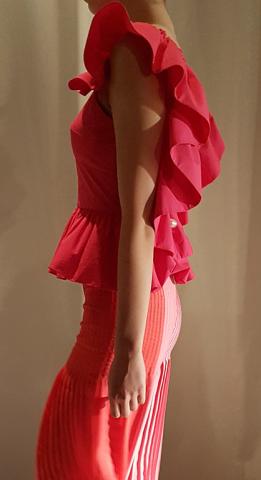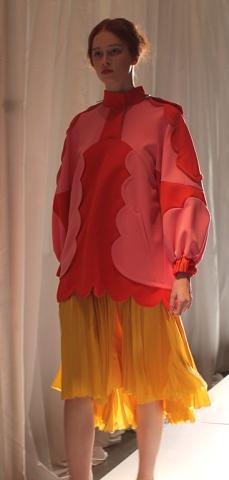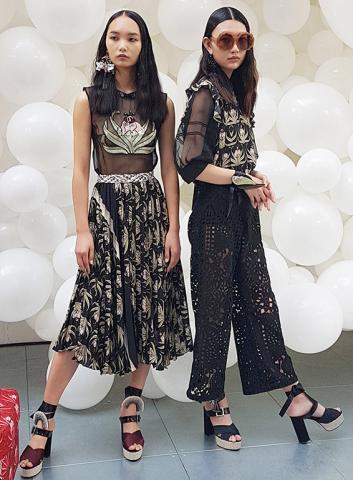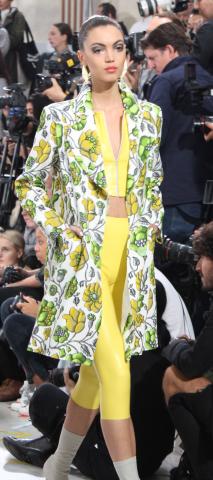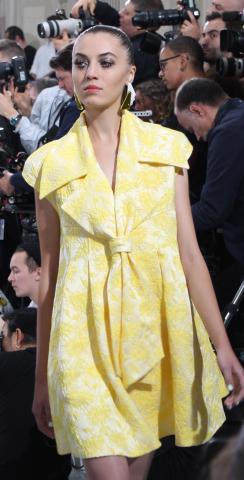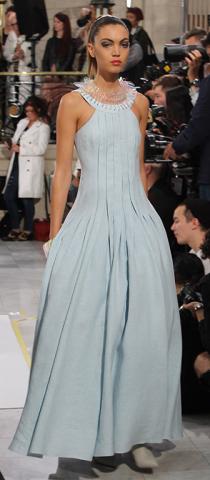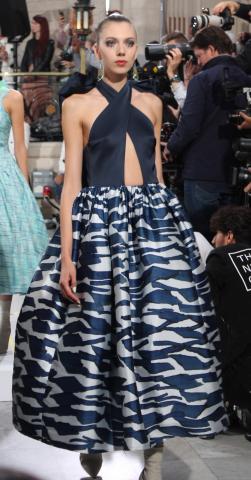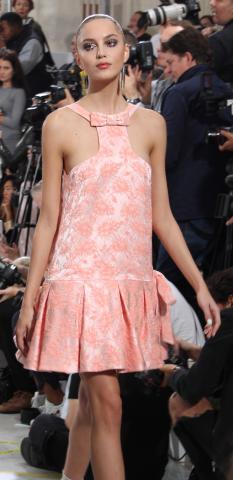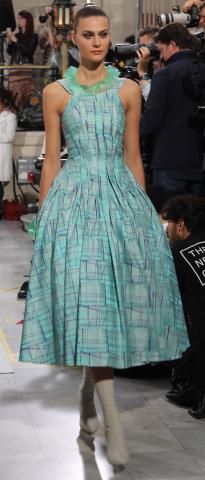 The collection moved through the several key colour moods including blue and white Willow Pattern china, soft delicate ruffles and bows in dresses and skirts matched with easy wear loose fit pieces and finally bold lined styles on bags and garments making a strong modernistic style statement. There was an unmistakable air of romance within and a glimpse at Mulberry's own chinaware heritage.

Wide brimmed hats in whipped peaks of fabric gave an Edwardian echo to the outfits, while many eyes where drawn to the porcelain china heels that graced many of the soft satin and suede shoes and boots. A profusion of accessories included the most beautiful clutch pouches that sit in the palm.

Outfit choices range from the more daring to the classic to suit a variety of moods and occasions and Lupfer's home-wear and furnishing lifestyle offering provided a smart backdrop for the models to relax against. This is a collection for cool cats who want to relax in the sunshine.  

You can see my full collection report on the Spring-Summer 2018 pages, here as a taster you can see jackets and dresses expertly cut and falling softly on the figure showing the careful hand of experience. A bright broad colour palette welcomes in the new season.

Alice in Wonderland arrives at Fortnum and Mason thanks to Halcyon Days.

Skin vitality bliss with Avene French skincare.

Spring - Summer 2018 with Beulah London in their new Elizabeth Street boutique.

Mulberry's preview of Autumn - Winter 2018.

Winnie-the-Pooh and friends arrive at the V&A.

Les Exclusifs de CHANEL.