Spring & Summer 2020 part 2
After any winter, be it harsh or mild, splashes of colour are always welcome below are a selection of the ones who brought it gusto as we progressed into the mid-two days of LFW SS 2020.

Alice Archer

All images (c) Alice Archer

Alice Archer studied fine art at Goldsmith's and Central Saint Martin's before heading to the Royal College of Art to study fashion. Upon graduation she worked with Dries van Noten in the Netherlands to enhance her understanding and technique in embroidery as well as learning about the life and working processes of a fashion brand.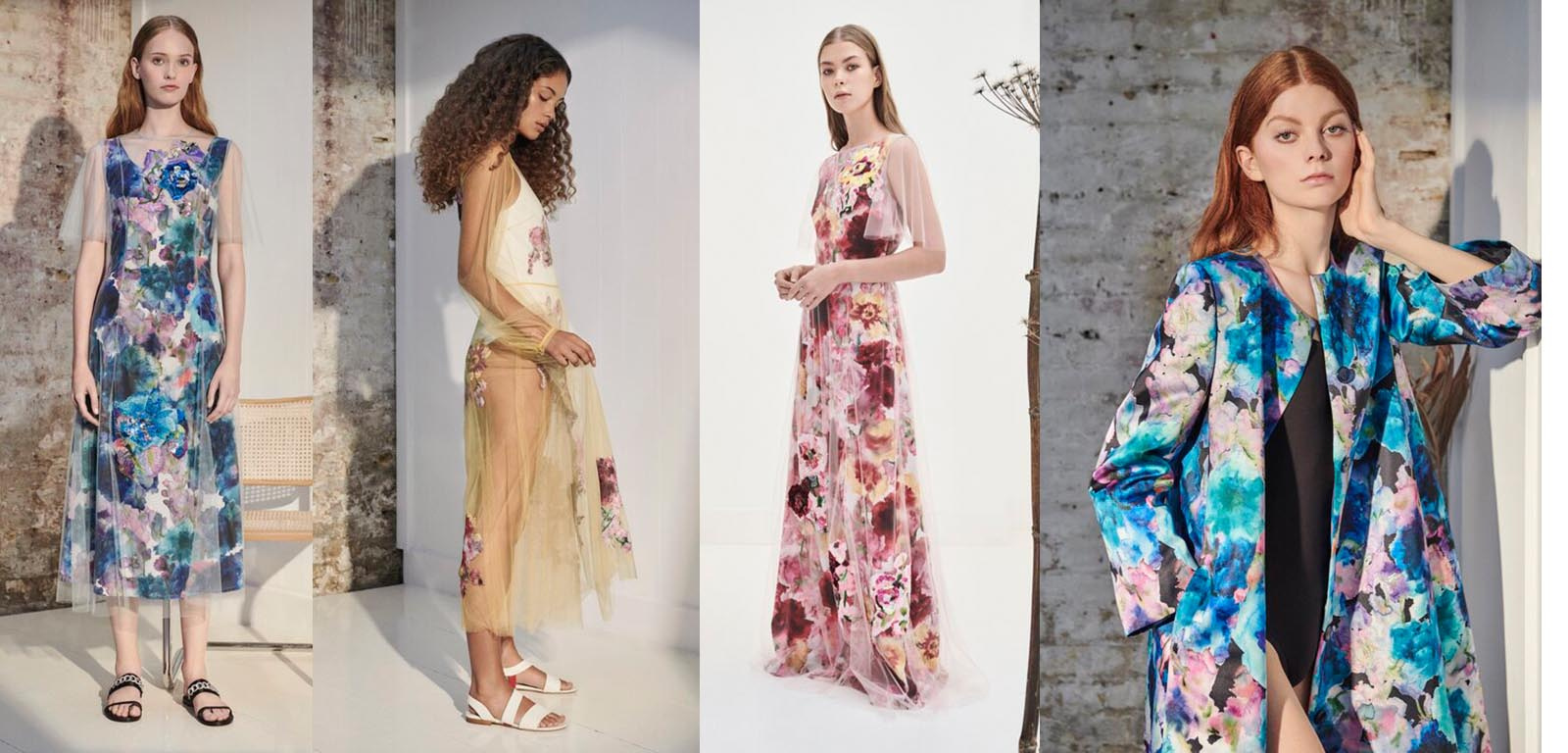 Alice's offering from Spring and Summer 2020 largely worked around a series of delightful floral print designs. In a dapple of watercolour paints the first dress above to the left embodies florals resembling colours gently dappled onto canvas. Blues, dusky Pinks and Greens run towards eachother across the fabric surface and resemble a carpet of flowers or strewn bouquet. A sheer White shift outer dress is gathered at the upper skirt in tiny pleats emphasising volume. To the right a similar print appears in the form of a long line coat seen above also with a body suit underneath. The soft silk wraps around the figure with the lightness of a feather, yet a concealing as a glove. It's a beautiful colour spray that would work well for daytime or matched with evening outfits, particularly harmonising songle colour dresses. Centre above, a white body suit sewn with Peonies and Roses is complemented by an outer soft Lemon shift sewn with radient blooms. It's a fun and bold look in contrast to it's demure floor length neighbour. A strong palette of Roses and Peonies is swatherd in another sheer White tulle lightly creating a soft shift around the wearer. This would be a perfect look for Summer balls and formals and Black-Tie/Red Carpet piece with longevity through many seasons.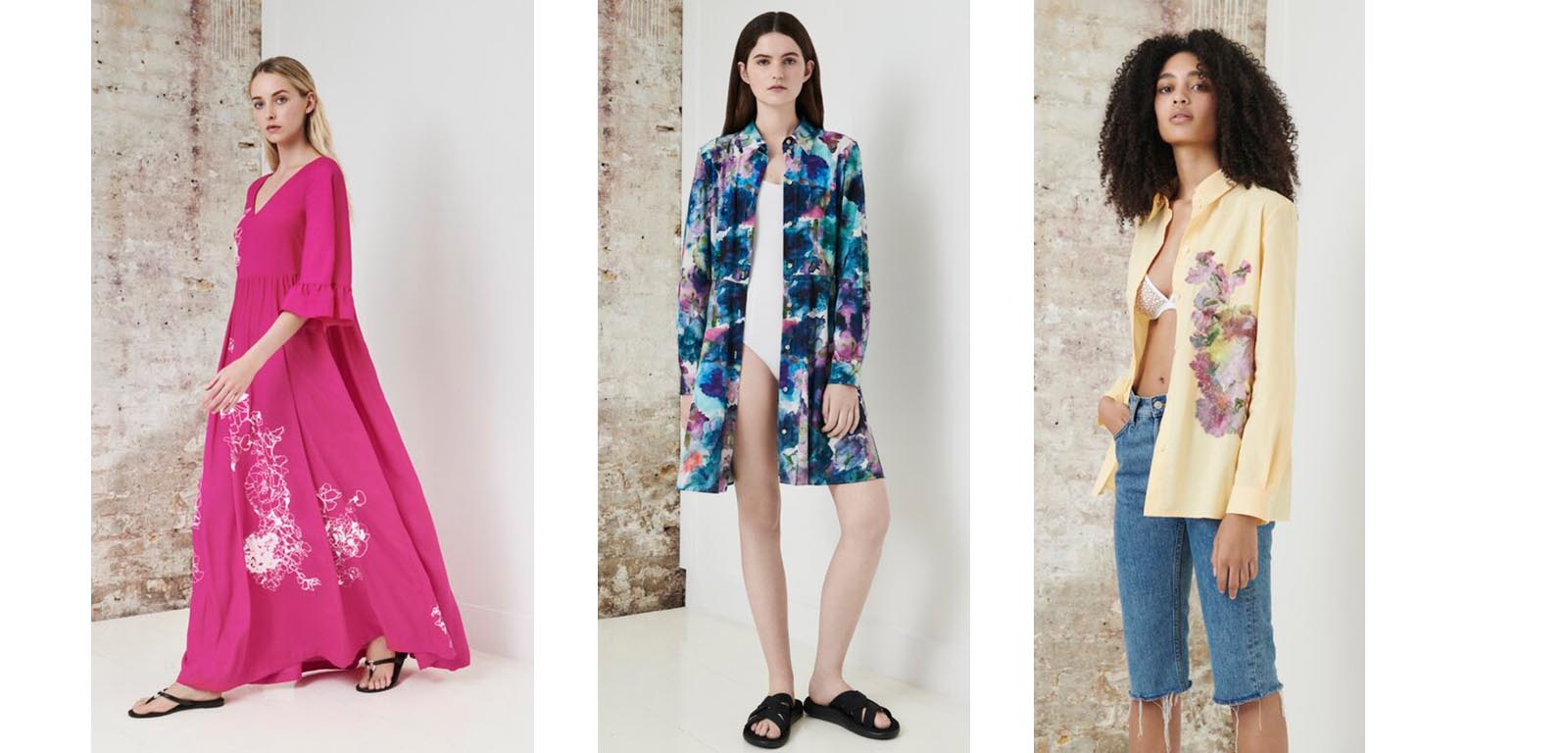 Indeed much of the offering this season has a feeling of collectability about it. A floor-length Magenta dress sewn with White floral embroidery through the left length and across the skirt accents a soft floating summer dress that would look beautiful in the day or the evening. I can envisage clients wearing this watching the sun go down across the horizon from a sandy beach or enjoying on a Summer picnic. The Blue watercolour floral print returns again in the form of a long line blouse or mini-dress. Worn here with a White body suit it's a verstile styling look that could be dressed with heels and an evening purse for drinks parties or owrn with jeans or shorts during the daytime. Soft Lemon returns again in a blouse worn open detailed with more of Alice's exquisite embroidery. Beautiful colours bloom across the surface and the piece worn with a bralet top and cut-off jeans shows how many of the piece in the collection are highly adaptable to styling up or down the gears of formality.

A midi-length Rose Pink dress is embellished with flowers blooming in fullness across the surface cut to a soft tunic line with gentle balloon sleeves. It's a perfect adaptable dress for drinks parties, a smart summer lunch or also a staple in the working wardrobe. I think it would also make a beautiful option for Weddings, Christenings and summer party gatherings. Centre below a midi-length blouse in Rose is printed with water colour washed florals that gently offset the lead colour. Tied loosely on the figure, it's accented by a belt and a body suit underneath a gain make a great companion or you could choose some neutral separates. A soft Lemon elongated blouse dress features sketch-like illustrations of flowers in White across the surface. It's an easy adaptable look for Summer, for work, play and travel.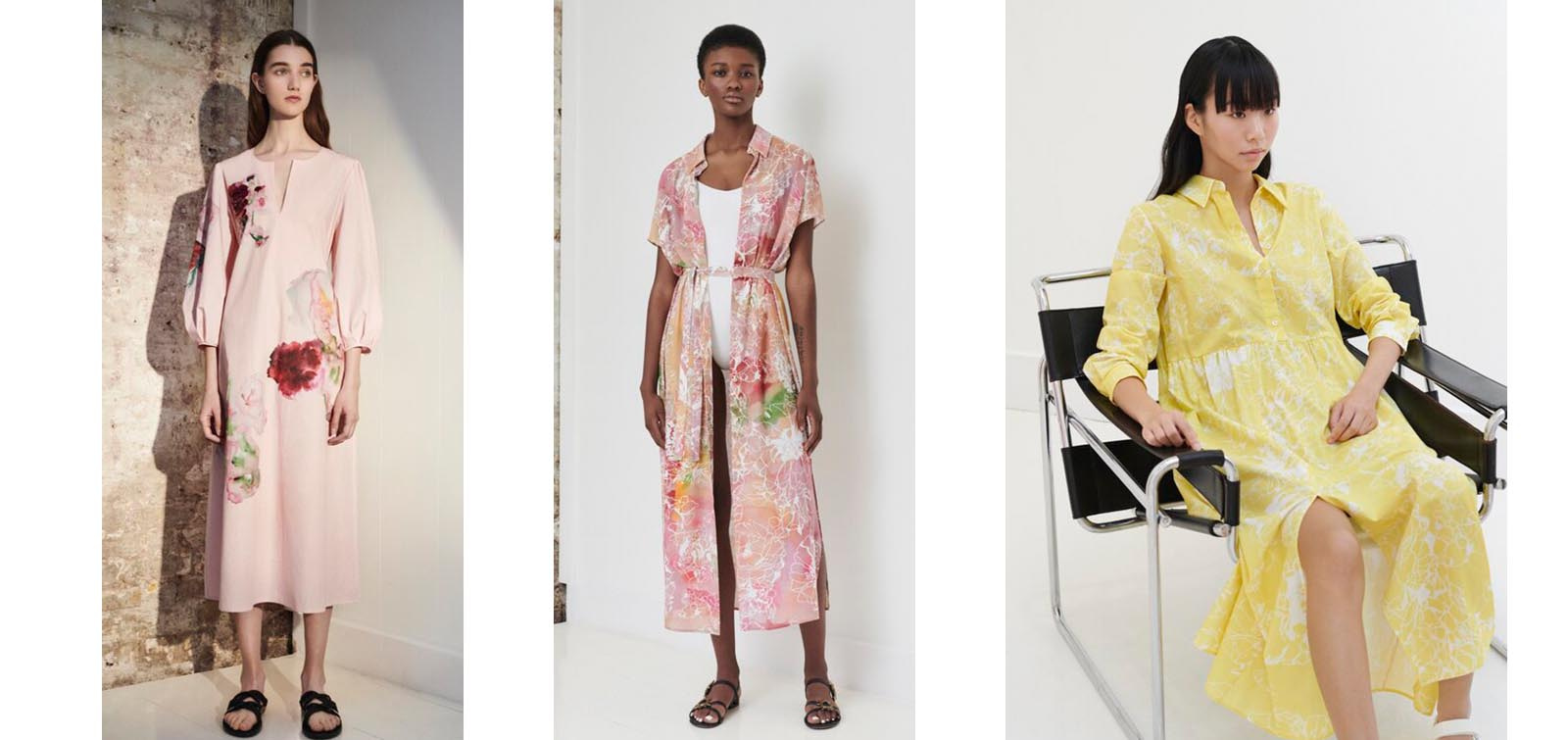 Huishan Zhang

All images (c) Huishan Zhang.

Of the wave of young fashion designers who have emerged from China in the past decade, it would be fair to say that Huishan Zhang is one of the leading figures in the pack. Following a post-graduate degree at Central Saint Martin's that feautred a year spent in the ateliers of haute couture, ready to wear and accessories at Christian Dior in Paris, he embarked in showing collections from his own label. With powerful early endorsements from many industry figures including the mighty Angelica Chung at Chinese Vogue, he's a young designer with an already impressive back catalogue of collections to his name.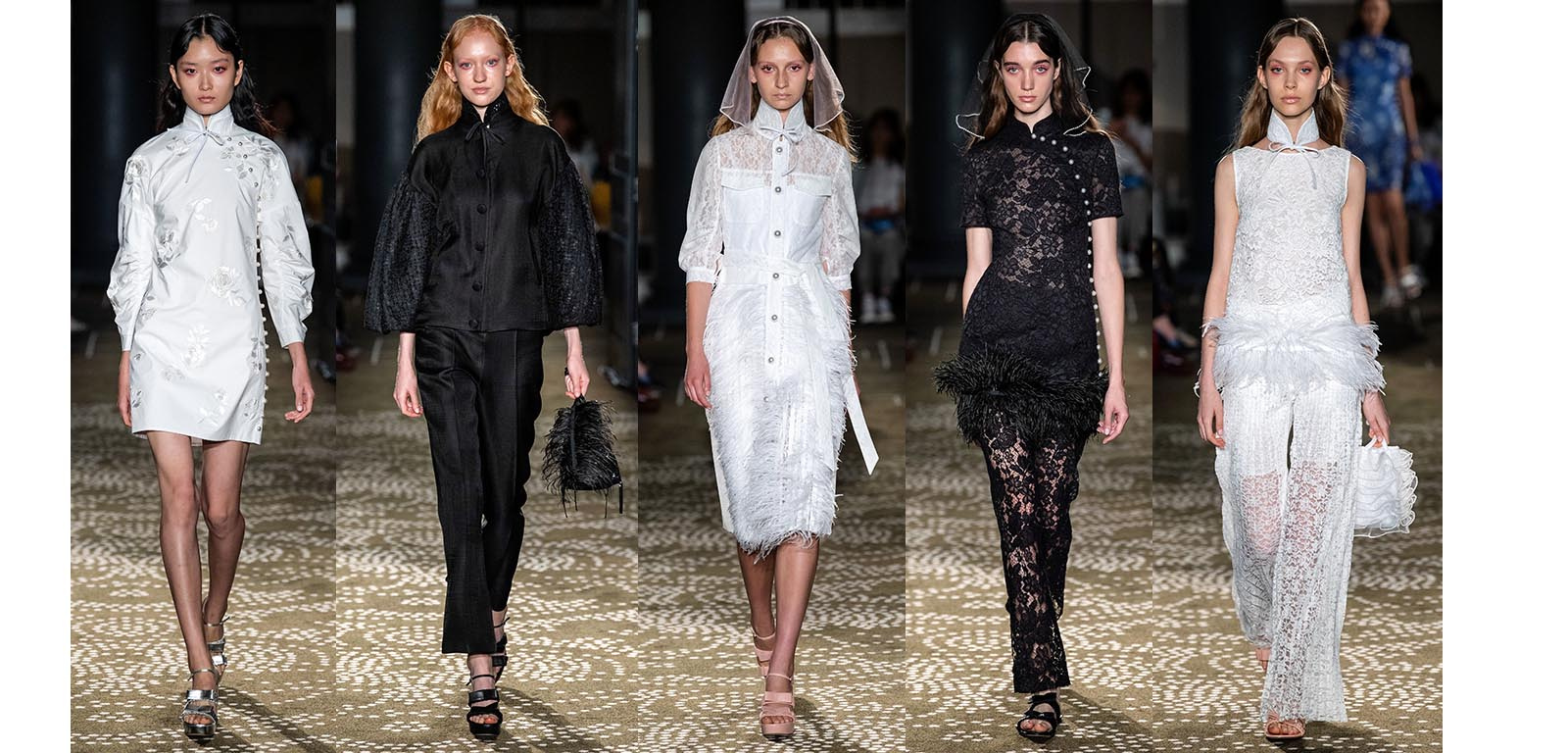 The collection opened in a brace of monchrome bringing the soft touches of the traditional garments of Huishan's home nation to the catwalk. The classic Chinese collar and shoe-lace thin ribbon bow tie at the neckline descend to a length of vintagey hooked buttons own the left side. This homage to the chongsam was much admired. The crips White silk is embroidered with flowers and soft balloon sleeves. The classic length is cut shorter to create a mini-dress look and it's a very easy piece for the summer months. In a reverse of Haute Couture some of the looks in this opening frieze above could certainly be bridal pieces. A Black silk trouser suit is cut with exquisite definition and a texture contrast in the jacket shows off a craft tone of weave against the smooth silk fabric. A large feather makes a fluffy statement against a pouch shaped purse to add a third colour texture.

Centre above a blouse is lengthened to below the knee to create a soft tailored approach that fuses feathers, denelle embroidery and also a veil in a contemporary Bridal option. With the feathers moving around the wearer as she walks, it's a mix of structure and free floating form. A jumpsuit in dentelle lace is composed along lines respecting classic Chinese design elements with a plunge collar neckline and cascade of buttons falling to the left across the figure. It's a sumptuous piece of craftwork that playfully adds volume with feathers fluttering about the hips. To the right a lace dentelle chemise falls to a circle of feathers around the hips above finely woven lace trousers. Another soft pouch-bag is accented with tiered lace surrounding the it like a skirt of it's own. It looks like a super collectable piece in it's own right.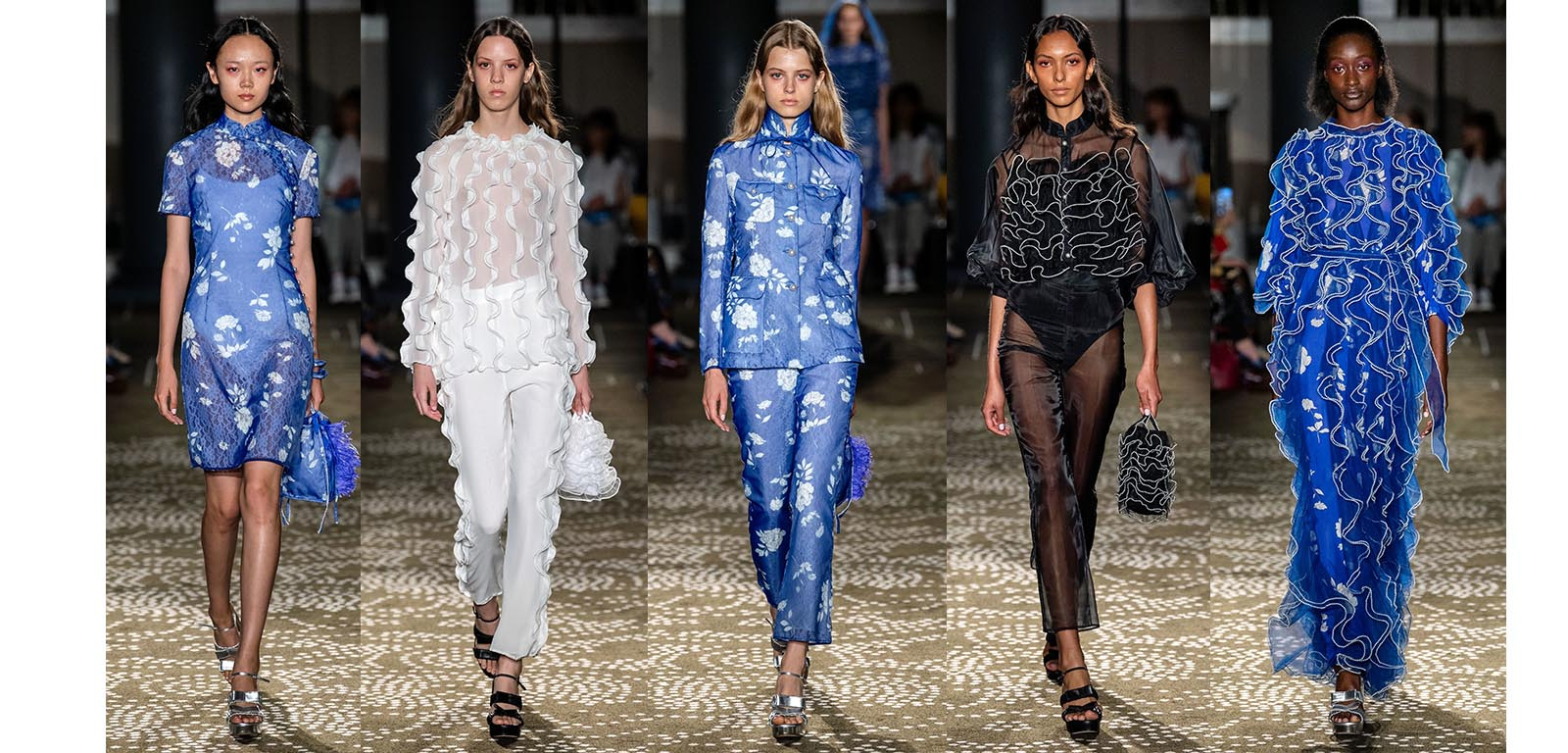 A beautiful Blue enters the collection, which to me evokes the delicate classic tone of Willow pattern china I remember from childhood. An above the knee dress is crafted in this beautiful colour with sheer lace overlaying a bodysuit underneath. Soft floral print on the surface evokes the fresh shoots and blooms of spring whilst soft panelling brings that garment close to the figure. Another wonderful pouch-clutch bag in the same fabric as the dress for me seals these cute little items as a seasonal favourite. A spine of feathers at one corner running the lengths of the objectagain adds abother fabric dimesion. As with the White pouch above, it's a piece that is repeated through during the collection when in coordination with the main garment. The same fabric is used in a trouser suit with pockets at the upper chest and hips.

Soft rippling fabrics appear like living waves of silk through the length of a White trouser blouse and trouser combination. The bold sheer design of the blouse is off-set by some coverage of the form in the escalloped waves. Worn with a jacket it could suit more formal ocassions and events. To the right the waves continue to flow across the fabric with a Black festoon of tulle circling the figure of the model aside sheer elbow length sleeves. A body suit captured the deep structure of the garment whilst a pouch clutch at the side is another highly desireable object in it's own right. To the right a Lapis-Blue dress printed with florals is swathed in a myriad of delicate fluted waves reaching from collar to floor. The garment has the fun factor but is also serious enough to wear to formal receptions through the spring and summer. Like many of his designs, it feels like an evergreen piece that could be brought out in successive seasons.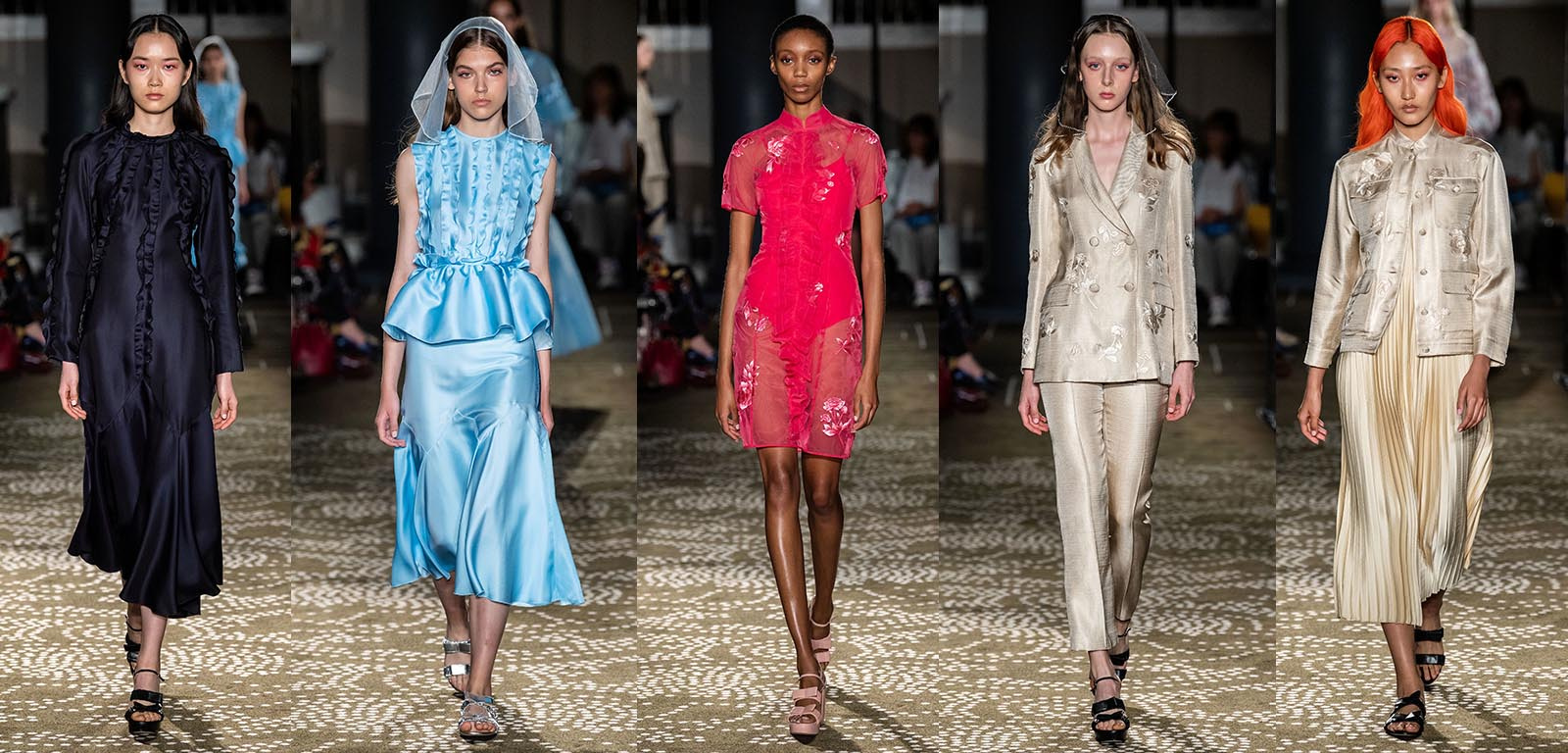 The classic beauty of a Black evening dress is imagined in a flurry of silky ribbon-like tendrills fanning out across the surface. Running from the neckline to the hips and down the length of the sleeves, it's simple features evoke classic beauty. These fetching frills appear again in a Baby Blue blouse and skirt complete with bridal veil. As more brides choose to look to colour, it would be an interesting option with perhaps sleeves added for formality. As it is for eveningwear the sleeveless tunic descends to a peplum fringe gathered around the waist with soft gatheres. An A-line midi-length skirt is cut masterfully to emphasise the beauty of pure silk. Another pop of colour appears in a Magenta bodice with shift embroidered with floral dentelle. Again the curved flourishses appear through the length of the garment through to the hemline.

To the right a soft Ivory Cream enters the colour palette with a jacket and trouser forming a beautiful elegant suit option. Subtle embroidered floral details through the sides of the jacket and sleeves are balanced by barely visible White flowers. A double-breasted cut and pockets on the hips accentuate the beauty of the structure. To the right a sports-jacket style is created with the verve and polish of high ready to wear. A dress composed of a myriad of fine pleats encircles the figure in a comfortable soft approach to style.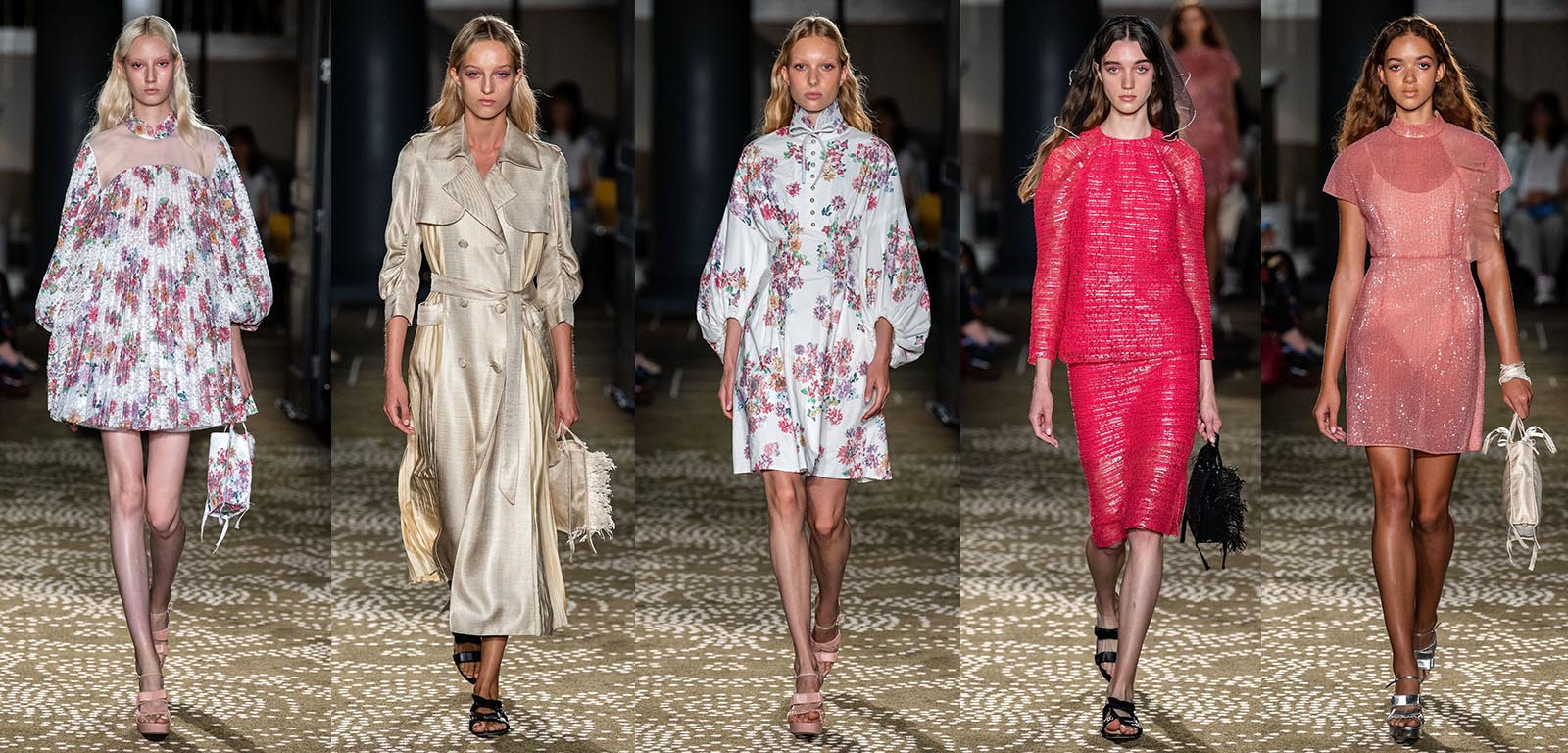 Another collection favourite of mine was the floral bouquet print that was set on a White background. Above it features in two dresses with a haute ready to wear meets Bohemia vibe. A pleated mini-dress with soft balloon sleeves accentuates volume in a subtle way with another cute pouch in matching fabric. Centre above a shirt dress is cinched at the waist with larger ballon sleeves amplifying around the figure. Briadly belted around the waist is frames the figure and would make a beautiful formal wear option. An Ivory Cream coat dress tied at the waist transposes the classic lines of the raincoat with side pleated borders. A square set pouch is borderd with tassels of feathers making a pretty acessory for this look but also, like it's fellow pouches a wonderful gift. A Magenta-Cerise skirt suit features a fascinating fabric that is composed of a lusterous weave. Slight tucks around the neckline add volume across the bodice whilst a classic pencil skirt is accessorised with a Black working satchel and tiny veil. To the right a sheer soft Blush above the knee dress is teamed with a bodysuit to add figure definition. It's a twinkling piece that would attract some cameras on the catwalk I expect.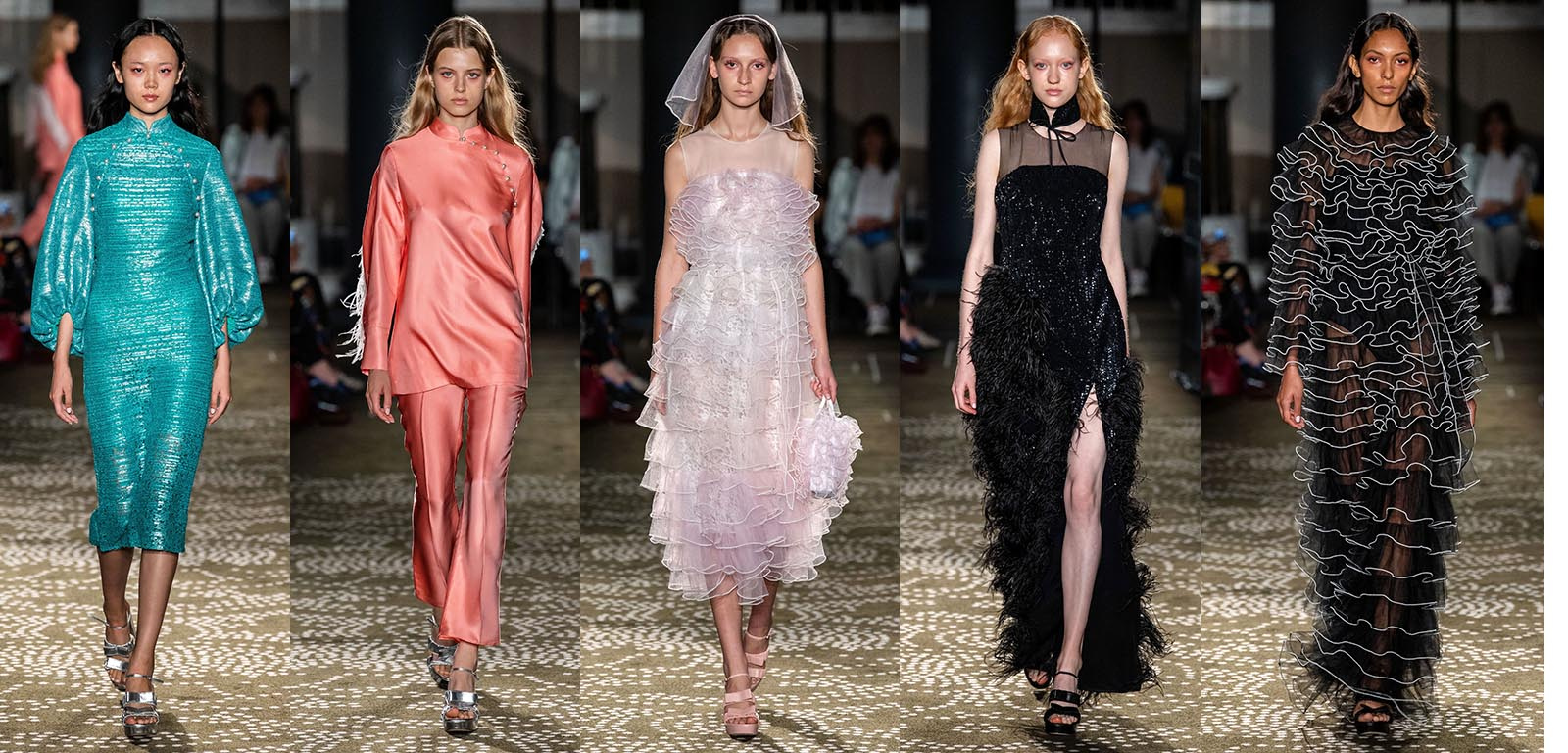 An Aquamarine dress featuring the beautiful weave from above contains balloon sleeves that reach to the mid forearm set against a dress core tapered to the figure. It's an easy piece of elegance that would look good in formal social or work locations this season. It's easy to accessorise further with jewellery adding to it's subtle shimmer or one of Huishan's seasonal pouches. An Apricot silk trouser suit featuring a heritage Chinese style neckline is alight and sophisticated composition to add to your wardrobe this season. Centre above a fountain of White tulle sheer layered tiers falls down the figure to the mid-calf with a small bridal veil crowning the model. It's both an evening dress and a possible template for a bridal option. A Black dress with a similar construction replaces tiers of tulle with wispy feathers. Split to the left thigh, it's a confident statement. To the far right a millefeuille of Black tulle piped with White to create a mesmerising movement flows across the length of a dress. Tied with a ribbon at the waistline, it's another piece that shows Husihan's flights of romanticism has a firm grounding in reality for his clients.
Molly Goddard has fashion in the blood, her mother designed filmset costumes I understand and whislt she inherited a knack for design and an understanding of the hardwork that takes place behind the glamourous finished product, she is in no way someone who took anything for granted. Building her business cautiously from scratch at home in London she's shown the tenacity and dedication that it takes to produce something that will grow and last.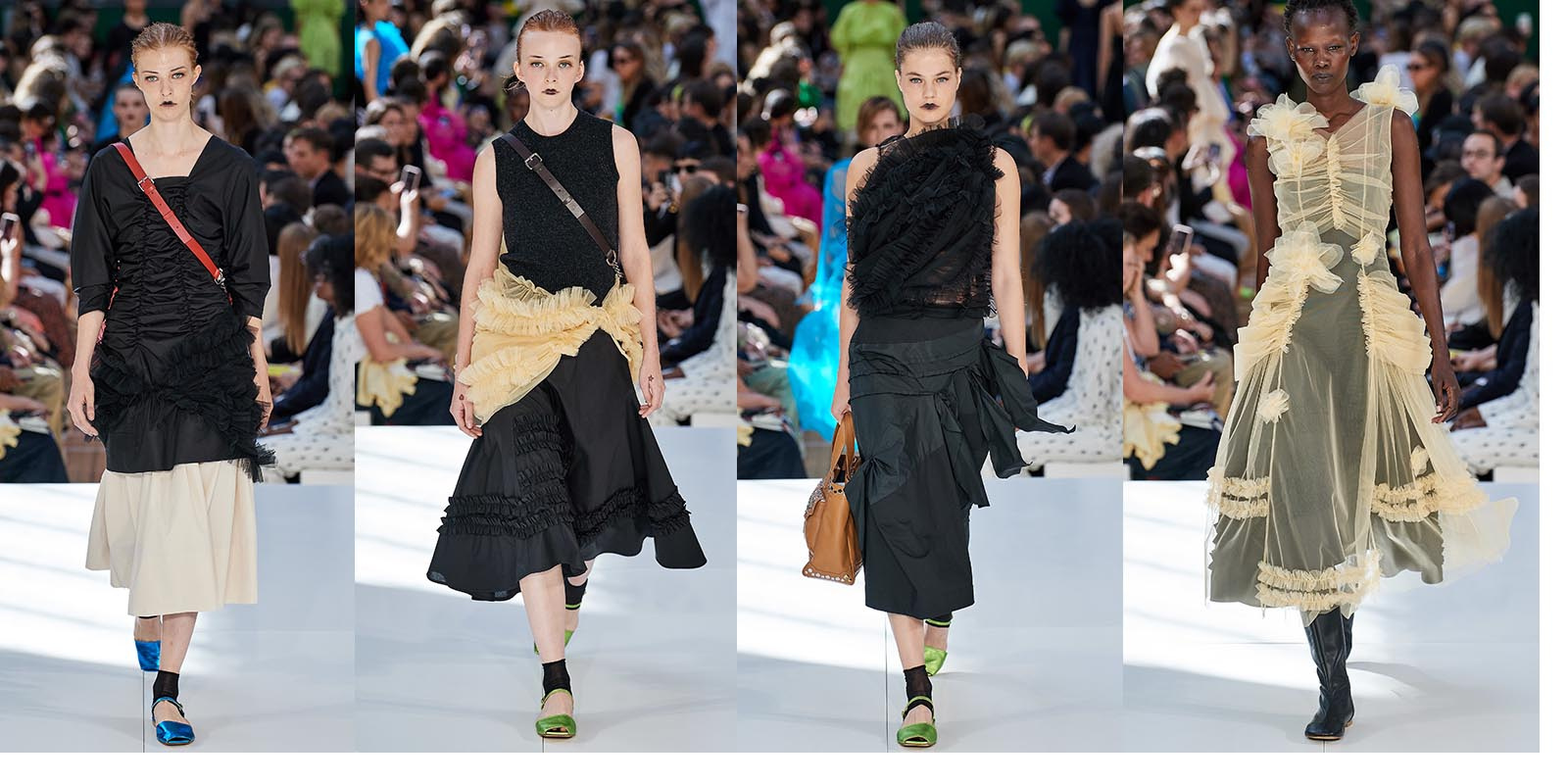 A Black dress pauses half-way through the descent of the figure to change from Black ruched structured gathers to nude smooth fabric. Hints of the vintage and Victoriana are about the look mostly in the destinctive pull-gather lines and the cinched gathered ruching. A dress cut loosly in the A-line shape breaks down a crushed gather of ruffles ontop of a skirt that features both a triple layer of ruch gathers encircling the hem and a single layering rising up across the left leg. An Ivory-Cream sash tied about the waist with small pin-tucked frill gathers at either side creates a colour dychotomy in the piece. To the right a tulle fiesta appears in the form of a blouse swathing the figure above a skirt that appears to be bandage bound. The sheer soft Ivory-Cream dress to the right reveals the structure of the dress by it's choice of fabric. A Black underdress further serves to 'backlight' the dress and hints of the 18th century mantua dress appear in the gathered ruches on both hips.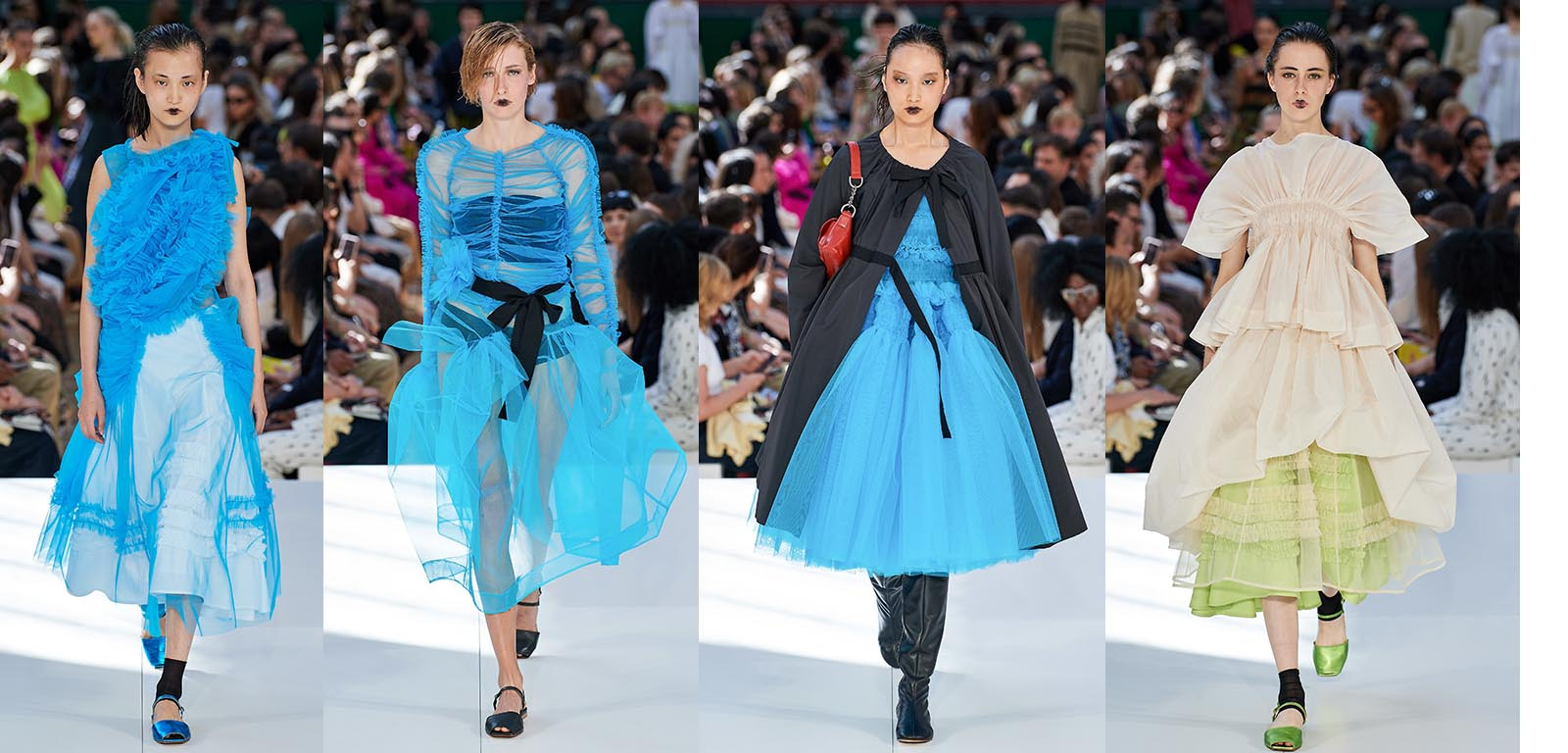 Goddard loves to play in colour and a trio of dresses in Neon Blue highlight the fascination that she has with the variance that can be made through playing with the traditional structure of dresses. An un-boned criniline skirt appeas to be part of the inspiration for a dress above to the left whilst it's bodice is lined with a flurry of swirling shapes like a sea anenome. The outer tulle skirt layer in this same fabric fearures two small rows of gathers emulating the classic belle epoch skirts that formerly stretched to the ground. Completely sheer dress with bandeau top and pants forming a base reminds me of the lightest sketch that you could do across a piece of paper. It's light and subtle and the gathers that are usually an affectation of design are here the main feature. The waist is drawn by a thick Black ribbon tied in a bow before moving more freely in the skirt. A beautiful knee-length dress makes a bold splash of colour with it's gathred tulle and Black cape. It faintly reminds me of the 1920's and 30's school uniform and the illsutration of the Madelaine books by Ludwig Bremelmans. There is a feel of uniformity about it somehow. To the right a Cream-Ivory dress in three broad layers is gathered at the bodice before fanning out almost literally across the neckline. A Lime under skirt in a flutter of gathered layers is separated from the overdress by a single sheer layer of tulle. This border between the dense folds and the long sweeps of fabric represents the a veil between two fashion modes.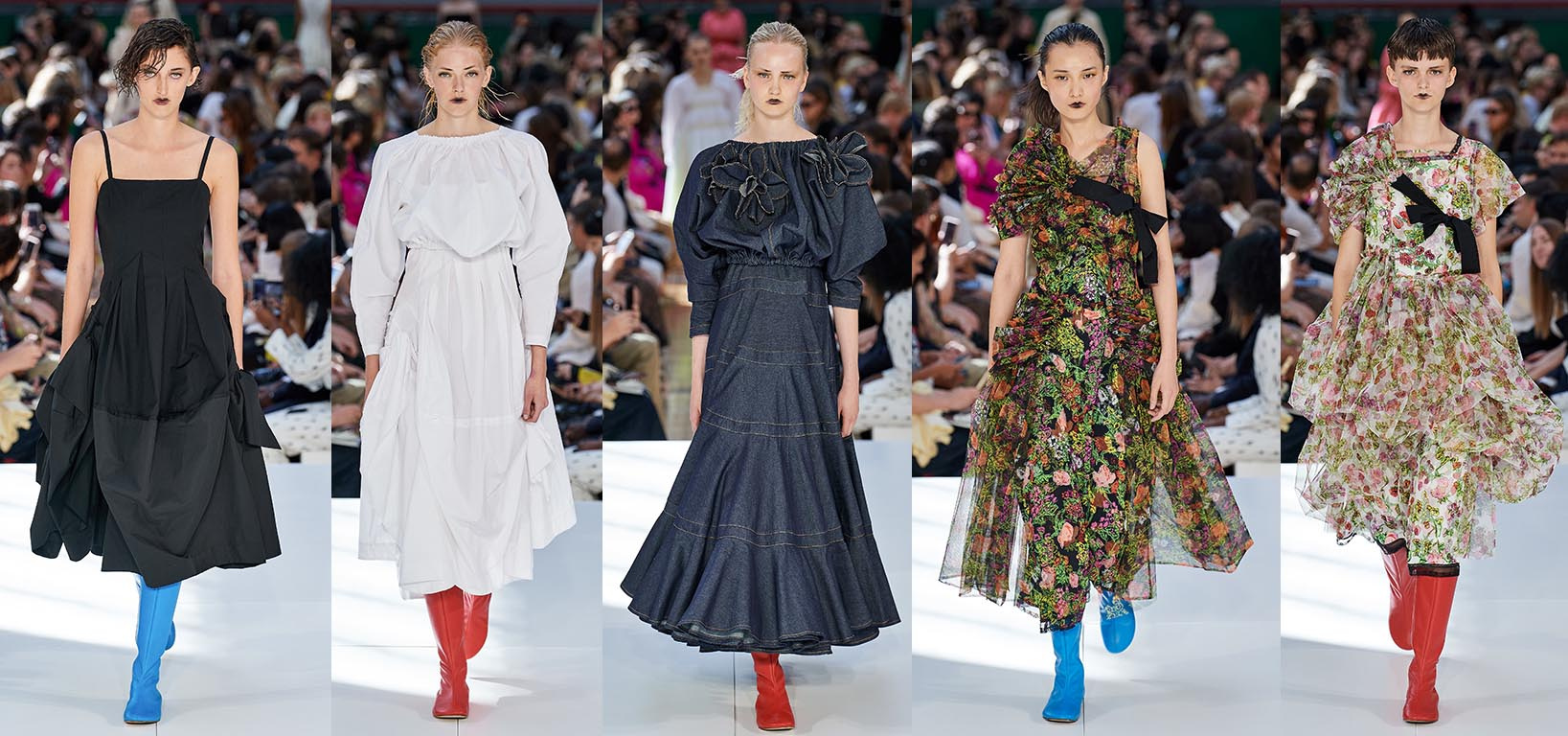 I think that Goddard's work has a theatrical, or more to the point costume-like inspiration to many extents and to the left above both the Black and White dresses. Soft gathers of Black and White fabric in pin tucks around the waist become uneven carefree lengths of skirting. Fabric is gathered, a Black bodice is fitted closely to the figure and it's White contemporary covers the shoulders in a generous soft wrap. Whilst the Black dress looks more playful the White dress is more demure and could be more suited to formal occasions. The Black dresses structure shows attention to the traditional vintage lines. Centre above denim fuses the notions of casual and refined in the contrast of the all weather jeans fabric being fashioned into an ankle length dress with formal tailoring. Flowers created in the fabric and sewn around the neckline anounce a touch of beauty, when the fabric itself is known as something hardwearing and active. Two floral dresses express the classic fit and flare shape wiht a play on the dynamic of a ruffled shoulder and a Black bow-tied ribbon at the left side. Skirts wrap around the figure in soft tissuey layers and descend to midi length. They are two fun looks for the summer and a 'Molly Goddard' version of the classic summer tea dress perhaps.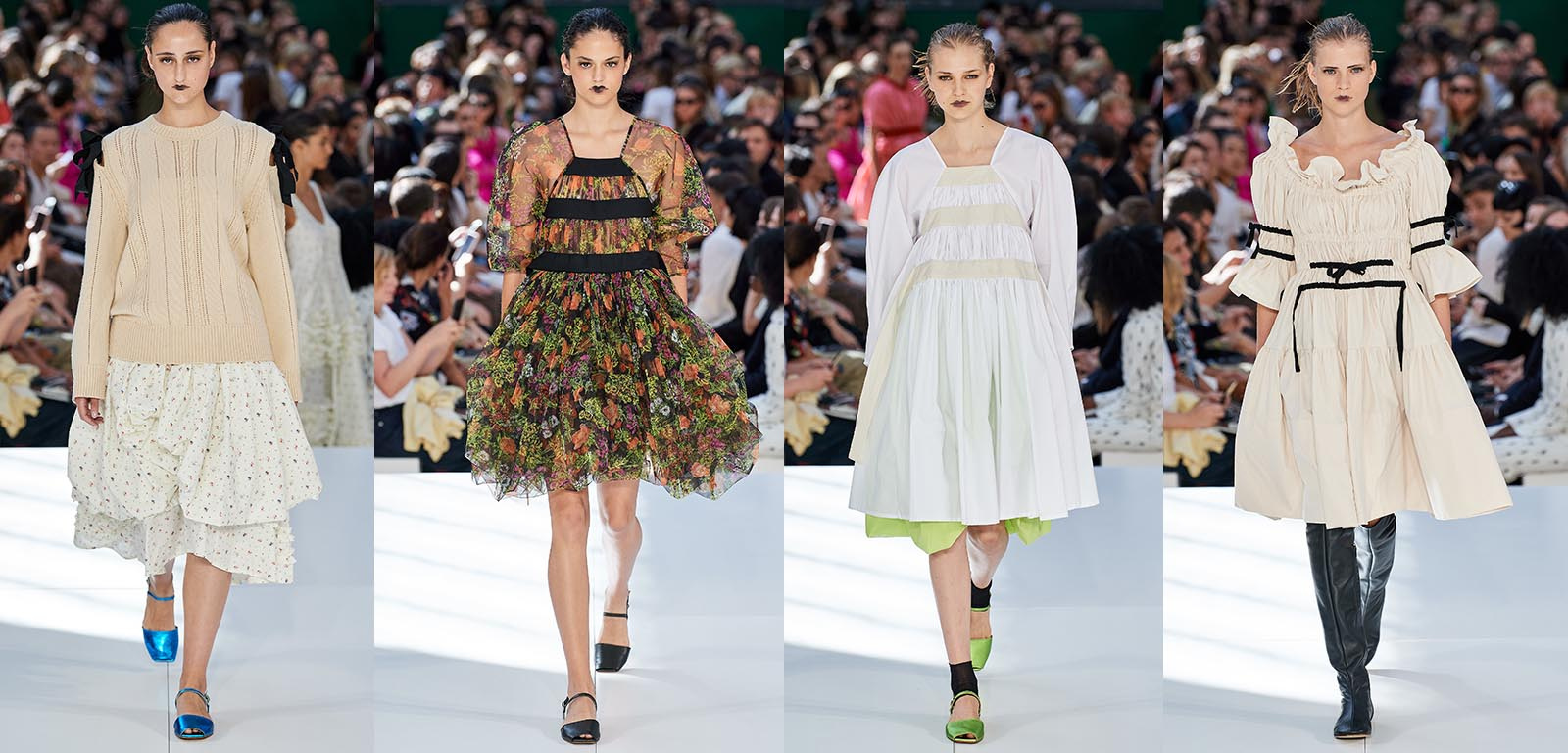 A light knitted sweater brings a hint of the regular to the collection nodding to the practical realisties of summer days out when it's always good to take a sweater or cardigan with your summer clothes. Black ribbon bows tied at the shoulder hide cut-away joints at the top of the sleeves. The fine knit of the arment slightly hints at the dress underneath whilst the natural volume of the farbic 'ooshed' up into soft volume. The White base fabric is dotted in paintbrush head beads of colour is an easy summer classic. A floral print shown above returns with a tripple band at the upper body, ruched multi-layered sirt and soft sheer sleeves. The triple banded bodice returns again as a feature in one of the classic Goddard smock dresses. A White knee-length dress creates volume in inumerable gathers below the neckline fanning out to a comfortable summer dress. the bands in Lime are echoed with a soft underskirt and summer sandal tip. It's a very easy to wear look that could move between relaxed and formal. To the right another of the classic Goddard styles feaures a multitude of gathered pleates around the bodice with an intriguing double Black ribbon feature cinching the sleeves above the elbows and at the waist. Over the knee Black boots complete the look and would keep you warm in the early spring.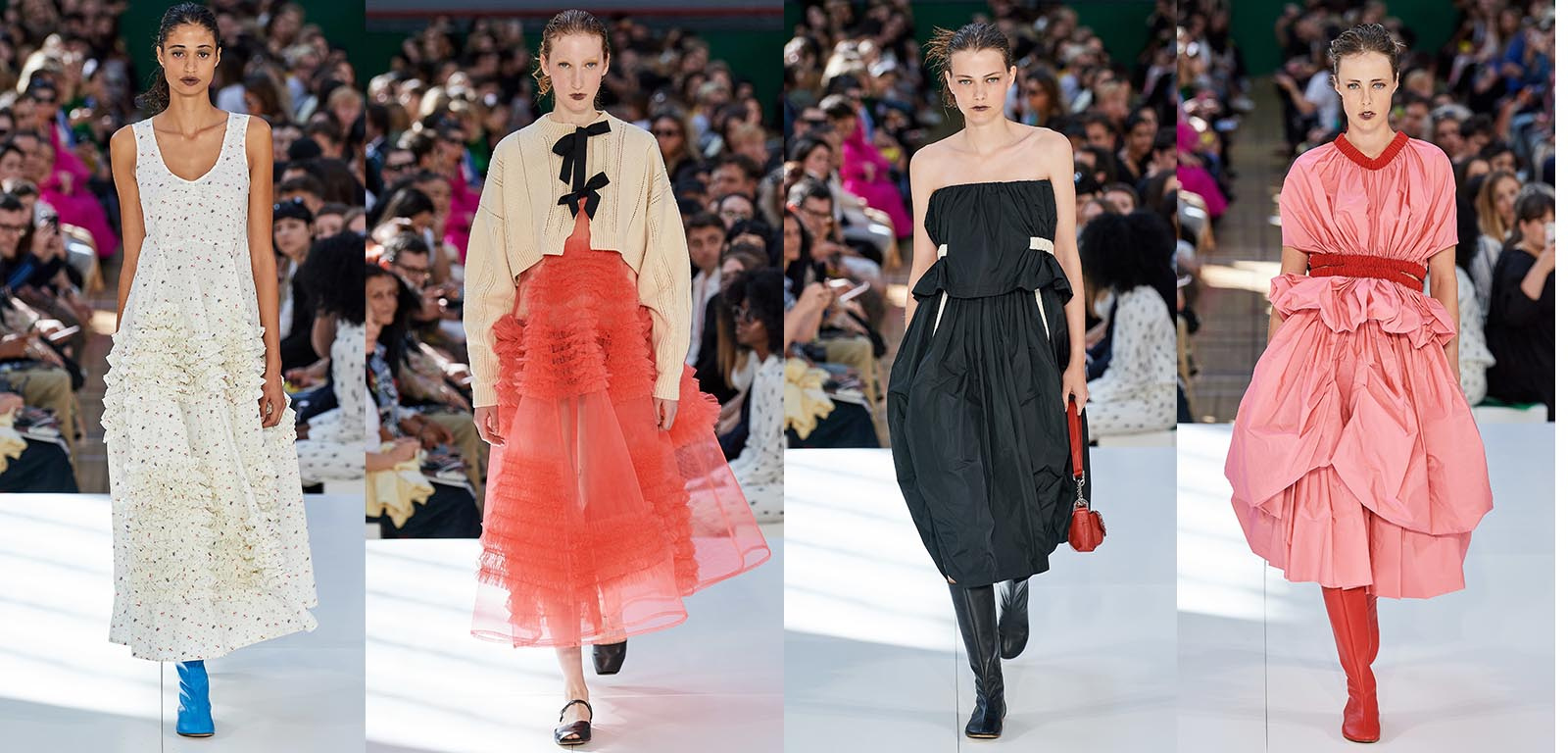 A White summer dress is swathed in ruffles at the hips and at varied lengths of the dress skirt. The soft gatheres accentuating volume add a second texture to the look and it's a perfect easy summer dress to haev in the wardrobe. The two Black bows return again in a high waisted cardigan in Ivory-Cream worn with a vibrant Orange sheer dress in colour and texture contrast. It's quite a difference but somehow with Goddard's soft styling approach she side steps the feel of the two garments actually clashing. A shoulderless Black dress gathered around the neckline and above the hips channels a faintly tulip style that flatters the figure. It's a easy piece of styling for the Red Carpet or a fun summer party. To the right another bold colour statement in Rose is cut in sash-ties with bold Red piping and at the neckline and circling the waist. The triple layering of the skirt and the casual folds across the surface add a carefree sense of beauty to the coposition.
As the collection draws to a close, the skirts become very broad heightening the glamour statement. These are Red Carpet looks that will capture the cameras and be on the pages and in the social feeds around the world. Diaphanous Ivory-Cream skirts in netted tulle are balanced with a soft White top cropped above the waist. A Black silk blouse sits voluptuously on the model centre below with the soft layers of a tulle completing the gentle outreach of volume. To close the look at the collection, a voluminous froth of tulle in minutely gathered layers is vintage Goddard and a look destined for the Red Carpets and cameras next Spring.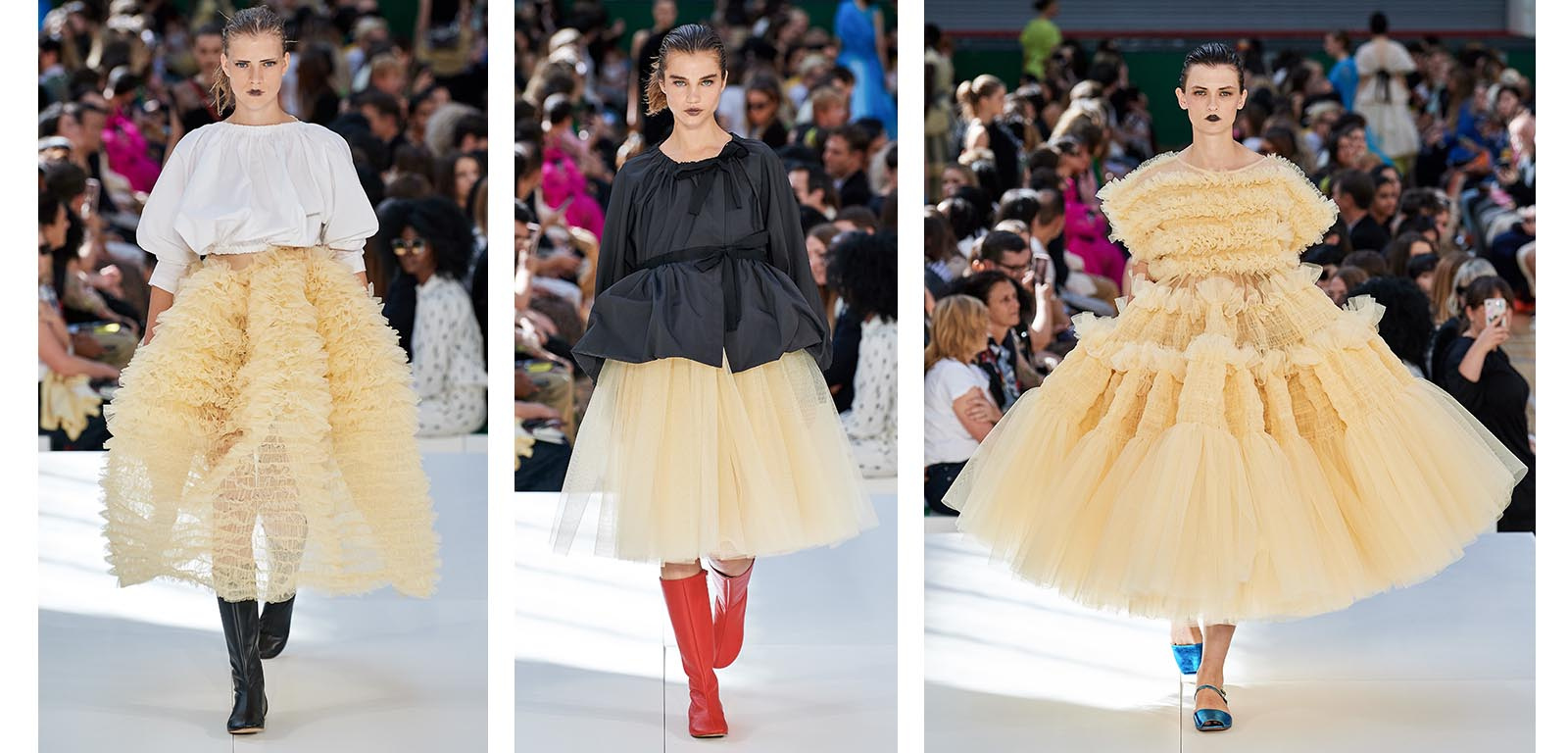 TOGA

Images by Filippo Fior (c) of Go Runway

TOGA is often described by it's founder Yasuko Furuta as being 'For a woman who can only live in chaos'. For the most part then whilst the world is swirling around her she's turned out pretty well then and ready to take on any suprising unpredicitable challenges in a series of different moods for social, professional or formal occasions.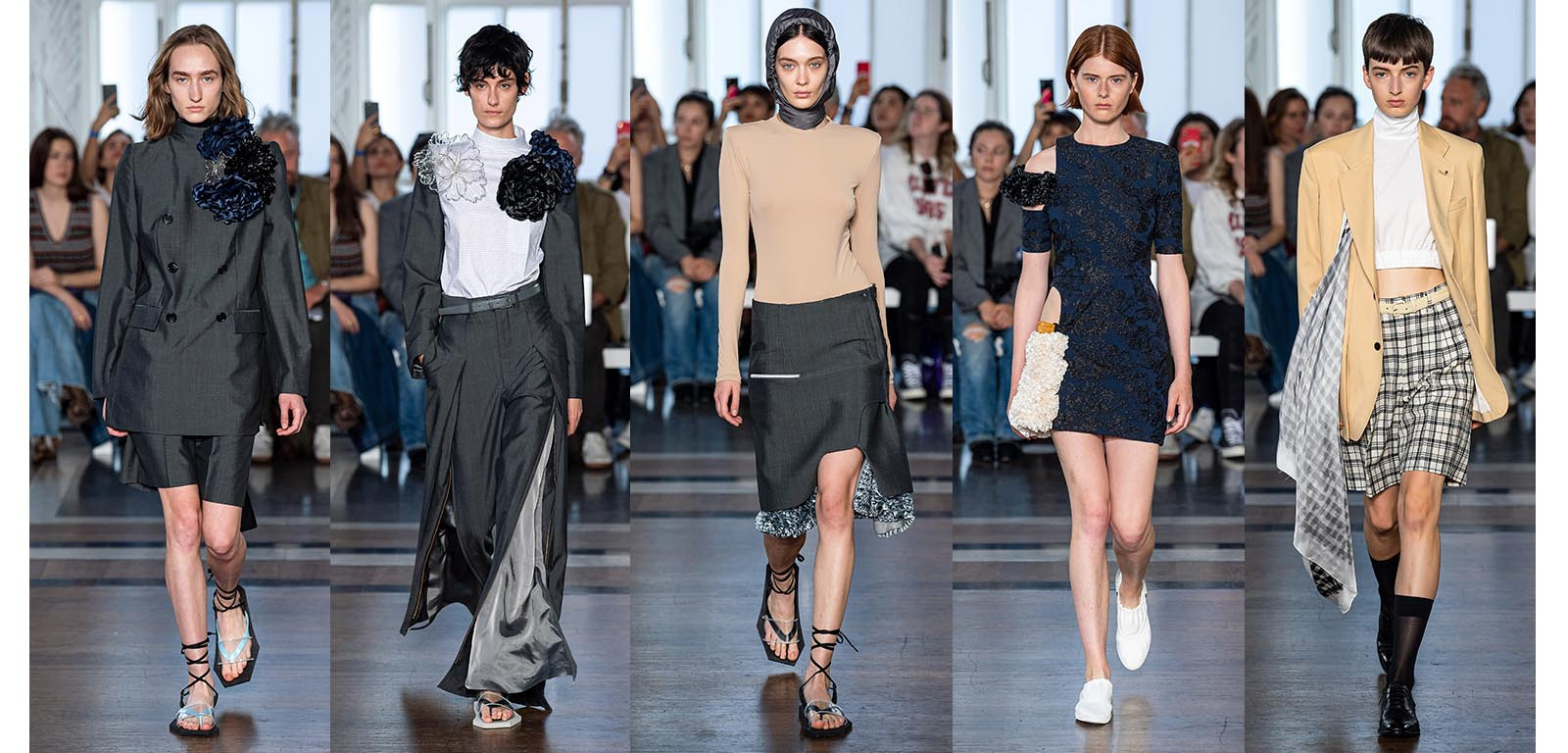 A make-over of the double breasted jacket produces a sleek garment with a matching mini skirt. It's a new transposition of a suit with an outsized corsage flourish at the left shoulder. This floral note is shared by another look at it's side where a White blouse is sewn with blazer jacket sleeves and trouser legs are cut with bold slashes to reveal a contrasting silky lining. The departure from conventional structures in these two opening looks is a clear signal of how Furuta can deconstruct, innovate and reconstruct a conventional style with an underlying sense of mathmatical precision. A soft Beige sweater and a Grey pencil skirt creat a monochrome look before a departure at the hemline of the skirt with a feathery frill. A Navy Blue mini-dress features cut-away details at the right hip and shoulder with fabric gathered into carnation-like ruffles in Black and White. This monochrome contrasts with the floral print of the dress but doesn't overwhelm the piece. A light summer suit style appears again in the cropped White vest top, Beige jacket and plaid skirt combination. It's a smart look for the summer season with with a flourish of fabric from the scarf appearing from the jacket lapel that could be wrapped up around the shoulder.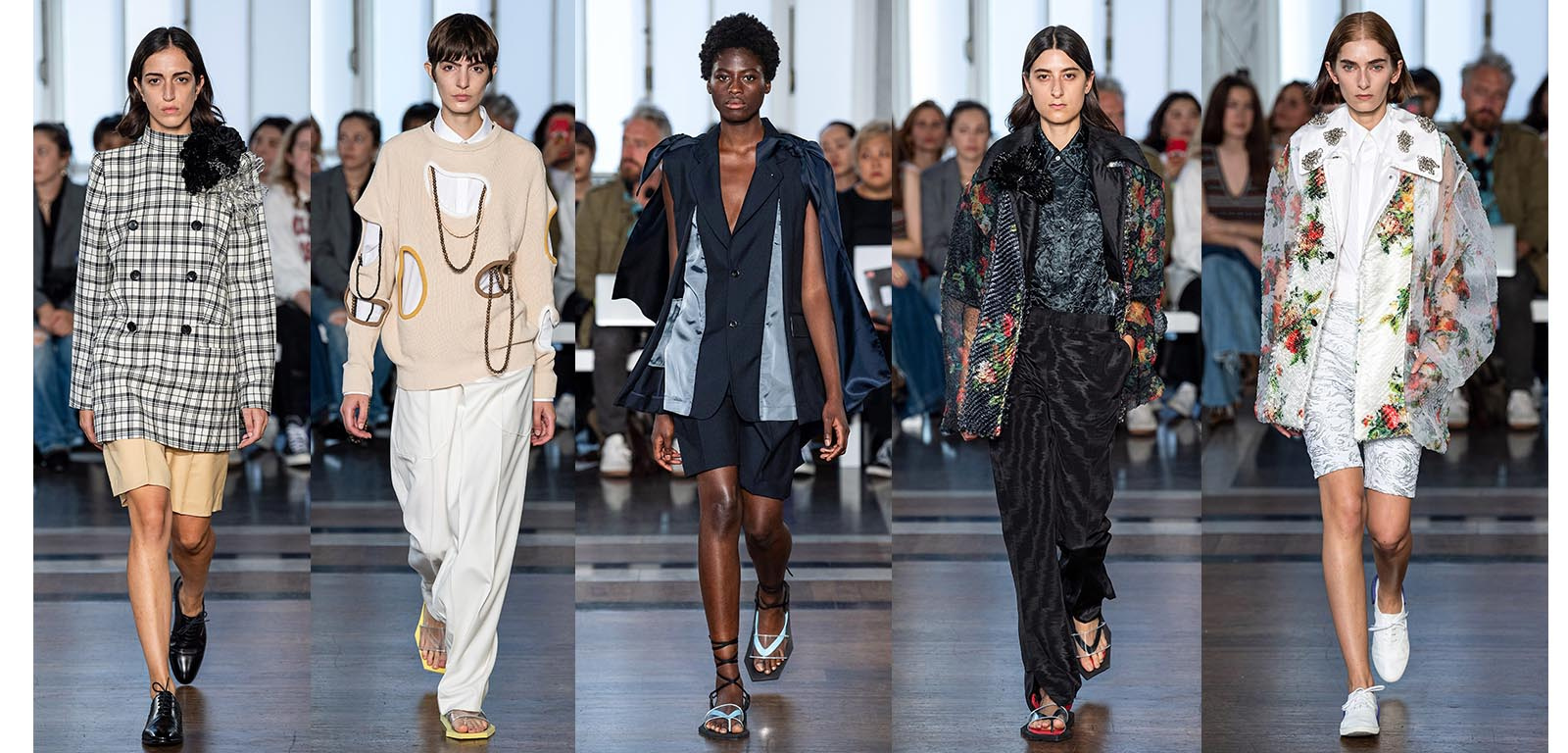 A checked jacket appears again cut in the same style as the opening piece. With Cream coloured shorts, it again makes another light summer combination. Using the dychotomy of chains appearing through bordered circles is something that I've seen before from TOGA and next season this appears again in a Cream cut-away piece. The White blouse and trousers present a smooth line of defined style that sits in quiet opposition to this look. The suit is deconstructed once more with a blazer cut away int he sleeve lengths and linings revealed in the form of panels. Conventional trousers become shorts and this strking look boasts the confidence to play with convention. Beautiful florals arrive for the summer in two sheer jackets each of Black and White. The starkness of monochrome is softened by the beautiful flowers. A Black blouse and trousers in soft silk and a crisp white shirt and shorts, the latter woven with roses embossed on the surface craete a sweet harmony.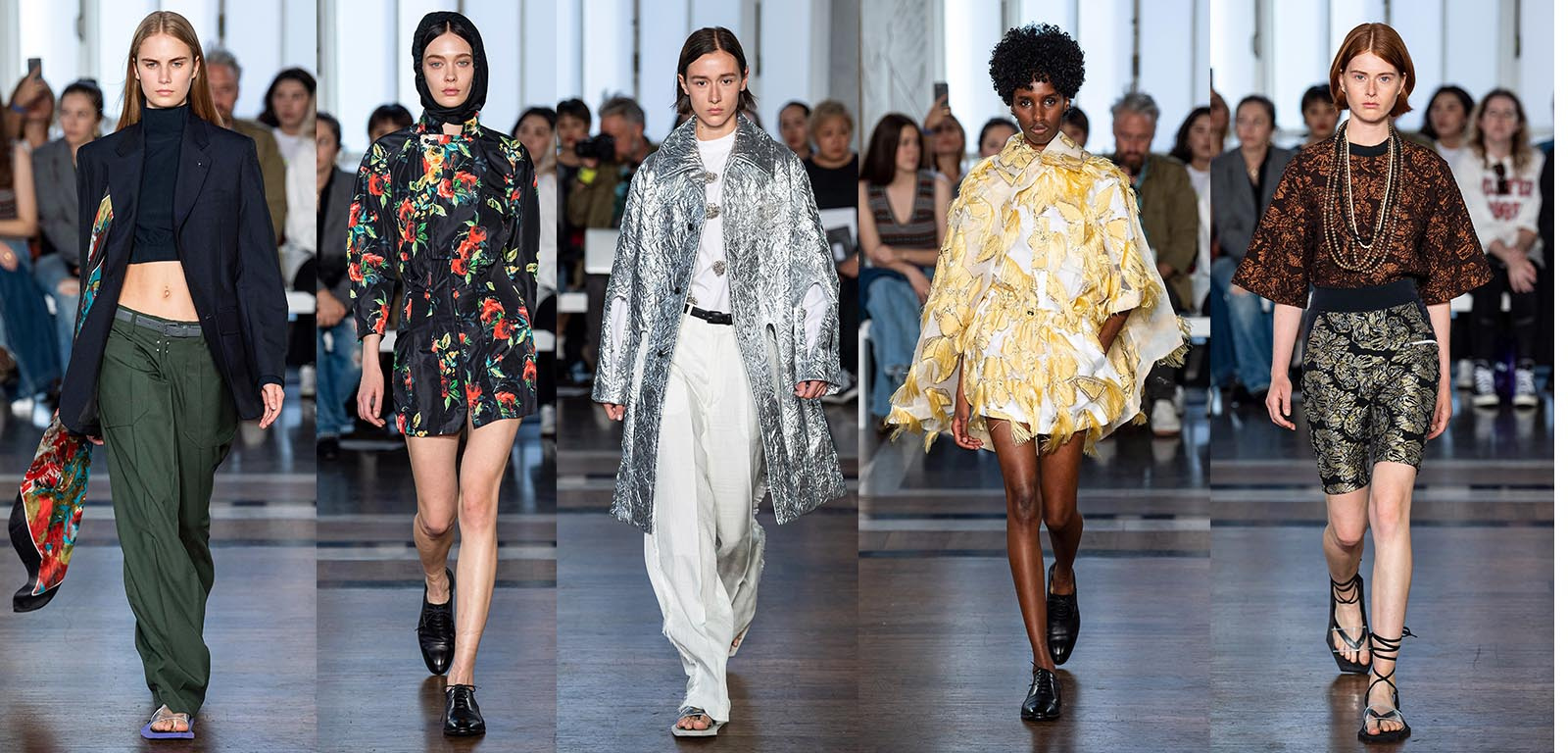 A cropped vest, jacket and Olive trousers are cut in similar lines to the suit in the range above. Once again a scarf floats from behind a lapel and could be wrapped around the neckline or hair for a stylish twist or to protect from the wind. It's an adaptable social and casual work look. The floral scarf heralds another fine print dress. Fitted in a comfy cut around the model a soft headscarf also protects against the breezes of the early spring. A White shirt and pressed trousers contrast with a Silver metallic jacket that reaches the knee. Resplendent in the sunshine, it would make the cool days of spring much brighter. A Yellow floral dress gathered at the waist features broad sleeves cut in a cape-like style. It's a sunshine ray of colour for the warmer months ahead. To the right a combination of Copper and Silver feature on the surface of a cropped shirt and shorts. It mixes a sports aesthetic with designs that appear like floral Calico. And why not make a fresh statement for spring?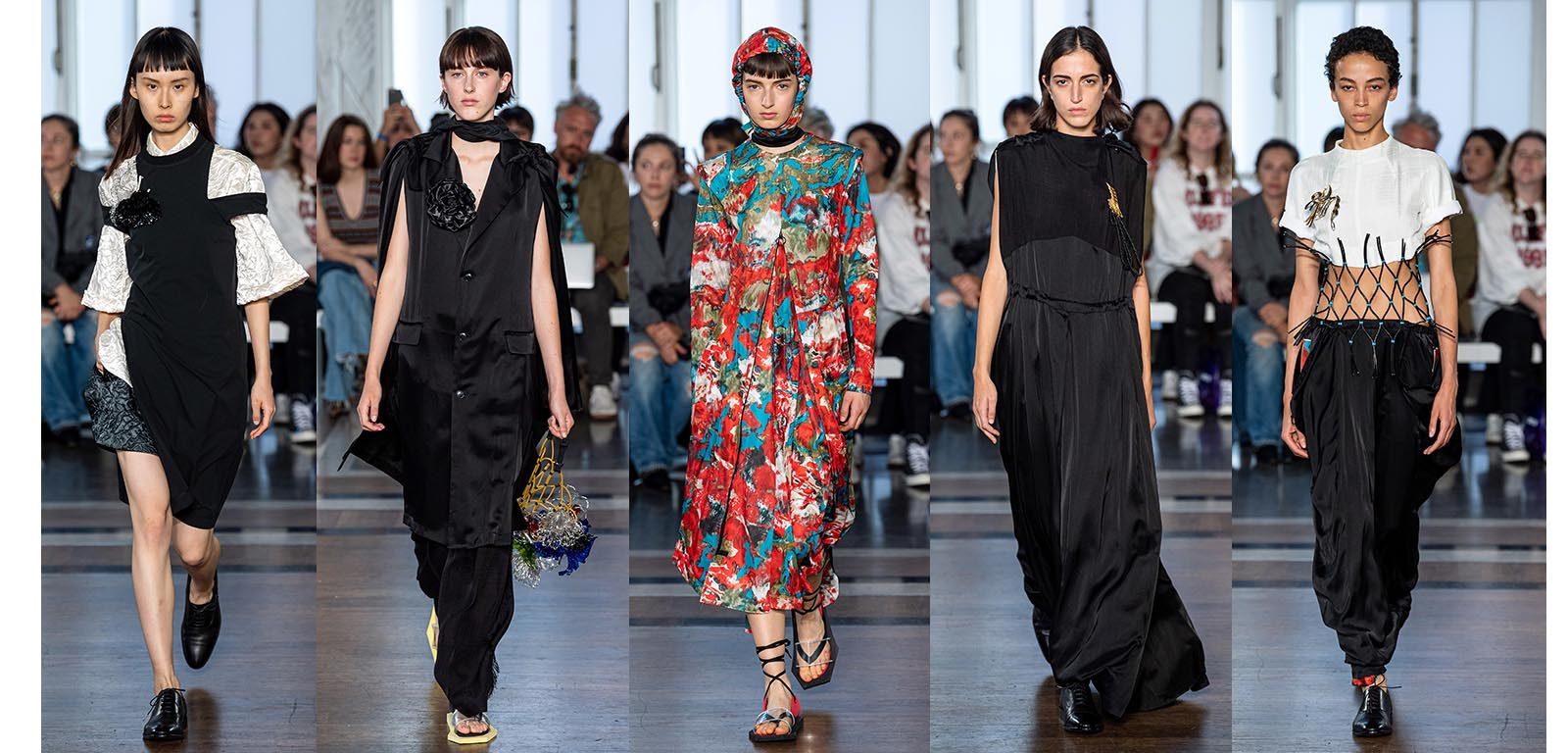 Cut away shoulders pf an angular Navy dress reveal the delicate light embroidery of the lace underneath. A broad sleeved White lace blouse and a Grey mini-skirt underneath create a tricolour of different fabric expressions around the same figure. A Black silk jumpsuit is cut open at the sleeves from the shoulder downwards revealing a cape-like structure. Swirls of colour at the left hand are introduced in a pouch purse. The flambouyant fabric of a scarf in the range second above from here is re-created in a hat, coat and dress. The infusion of colour is only off-set by a Black thick band at the neckline. Its a beautiful print created with a passionate energy. A Black sleeveless full length dress channels lines of classical beauty and the chord gathered tie at the neckline and the waist adds both a sports-like twist. It would be suitable for a statement Red Carpet look I think. To close the look at the collection, a White cut-off blouse and Black trousers are suspended between eachother by woven threads. With, what I believe is a Dragon embroidered at the right breast, it's a strong and innovative look.

Regina Pyo

Images by Filipo Fior for Go Runway

This is a designer who sees dressing as a ritual every day. It's worth stopping to think about this as I personally feel that in our over stimulated rushed world now, many of us are loosing the process of dedicated though that our elders and previous generations put into assembling a look and wardrobe of clothes all together.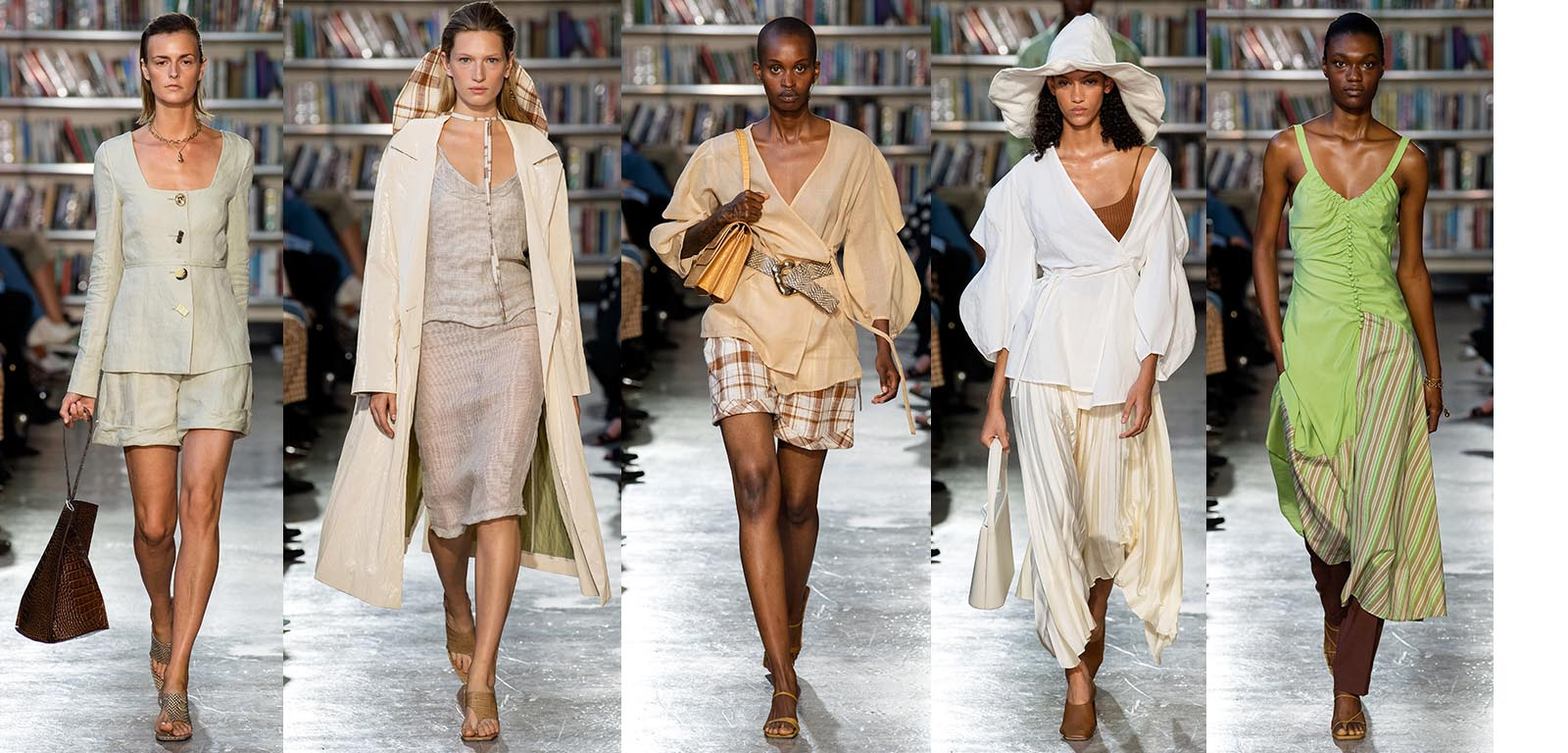 Pyo wants to examine ever garment I think and see how it applies to the daily lives of women and how these pieces can be felt and imagined. A Mint suit of light jacket feauring individually shaped buttons is completed by soft sunshine friendly shorts cut to the upper leg. It's a light and fun look that also features a soft tote bag that would be useful for putting working notebooks, a laptop or folders in. The soft natural tones of neutrals pervade through much of the collection a Dove Grey blouse and soft semi-sheer skirt. A Cream raincoat with broad lapels is another easy styling piece to add to the wardrobe. A wrap-around blouse also presents a soft appearance and the broad belt cinches the waist above a pair of plaid shorts. Turned upward at the hemline they look like a handy thing to add to the travel bag for breaks or weekends in the sunshine. To the right a Brown vest top coordinates with soft shoes to make an earthy contrast to a loose cut White blouse with balloon sleeves. A voluminous skirt with fine cream pleats swirls around the lengths of the legs of a wearer. It's a beautiful look and one that I could see being worn on the beach or quayside in warmer months. To the right a Lime dress with vintage shoe-hook type buttons drown the front channels colour in Rink and Green stripes and Chocolate coloured trousrs.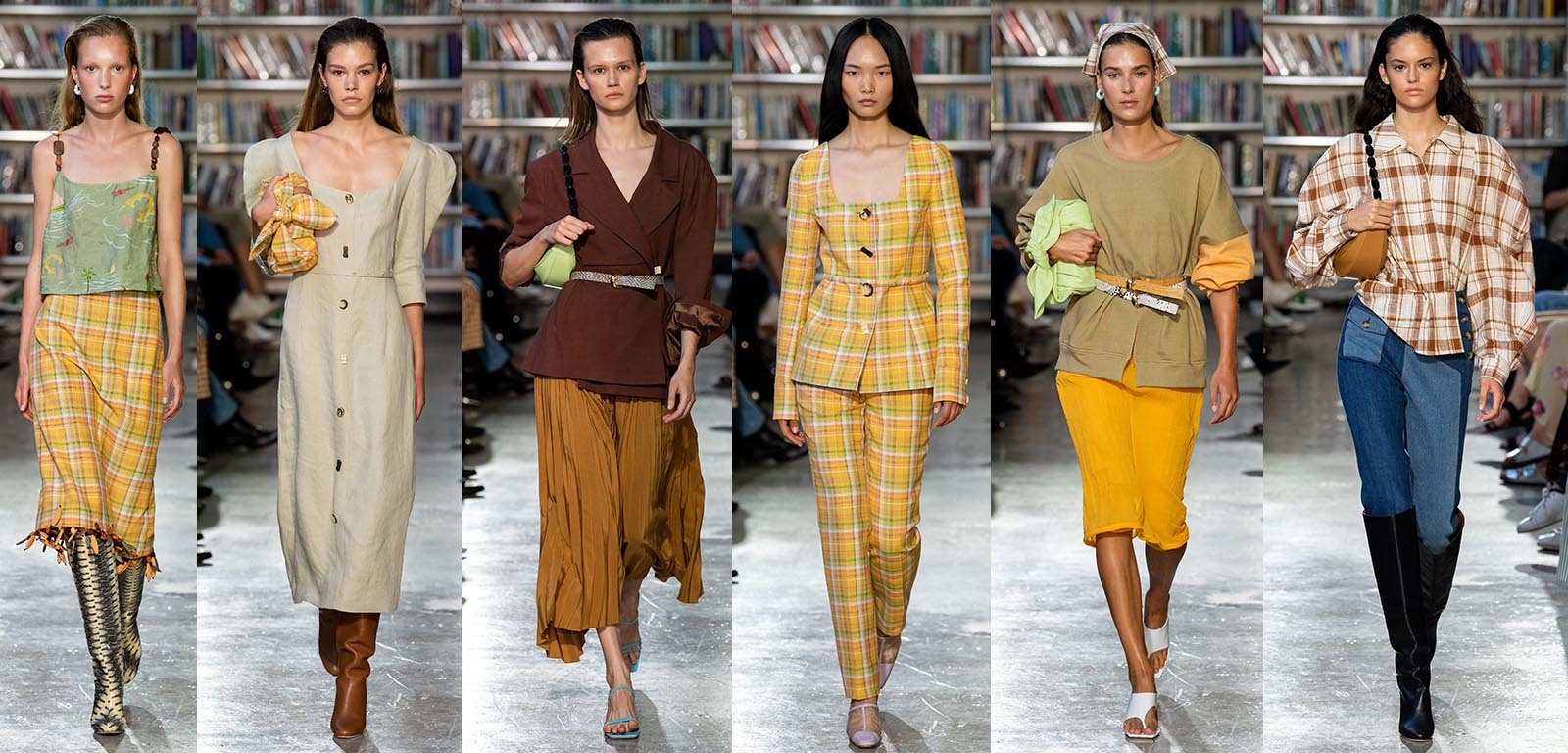 A Mustard Yellow crafts into the collection with a soft plaid skirt with cross threads of Greens and Red makes a subtle partner for an Olive vest with the same colours swirled acorss it in thread-like stripes. A Clay coloured easy dress sits softly ont he figure referencing vintage lines but forigng it's own path. In her arm the model carries one the wrapped square form totes, close to her body and the parcel almost looks like a mini picnic offering. A Chocolate Brown single breasted jacket is wraped and belted across the waist above a Mustard coloured midi-length skirt that's finely pleated. It's a perfect look for work and play and would be a great day to evening piece. A trouser suit cut from the same Mustards woven plaid makes a summery statement and as with all her collections, Pyo doesn't overplay colour, she creates an impact that will gain an acknowledgement of the eye and create a smile but not make eyes go wide. Amongst the classics that she casts an eye over to adapt, the humble jean also gets some attention. A plaid shirt creates an big country feel with a pair of jeans featuring cut away segments of lighter Blue.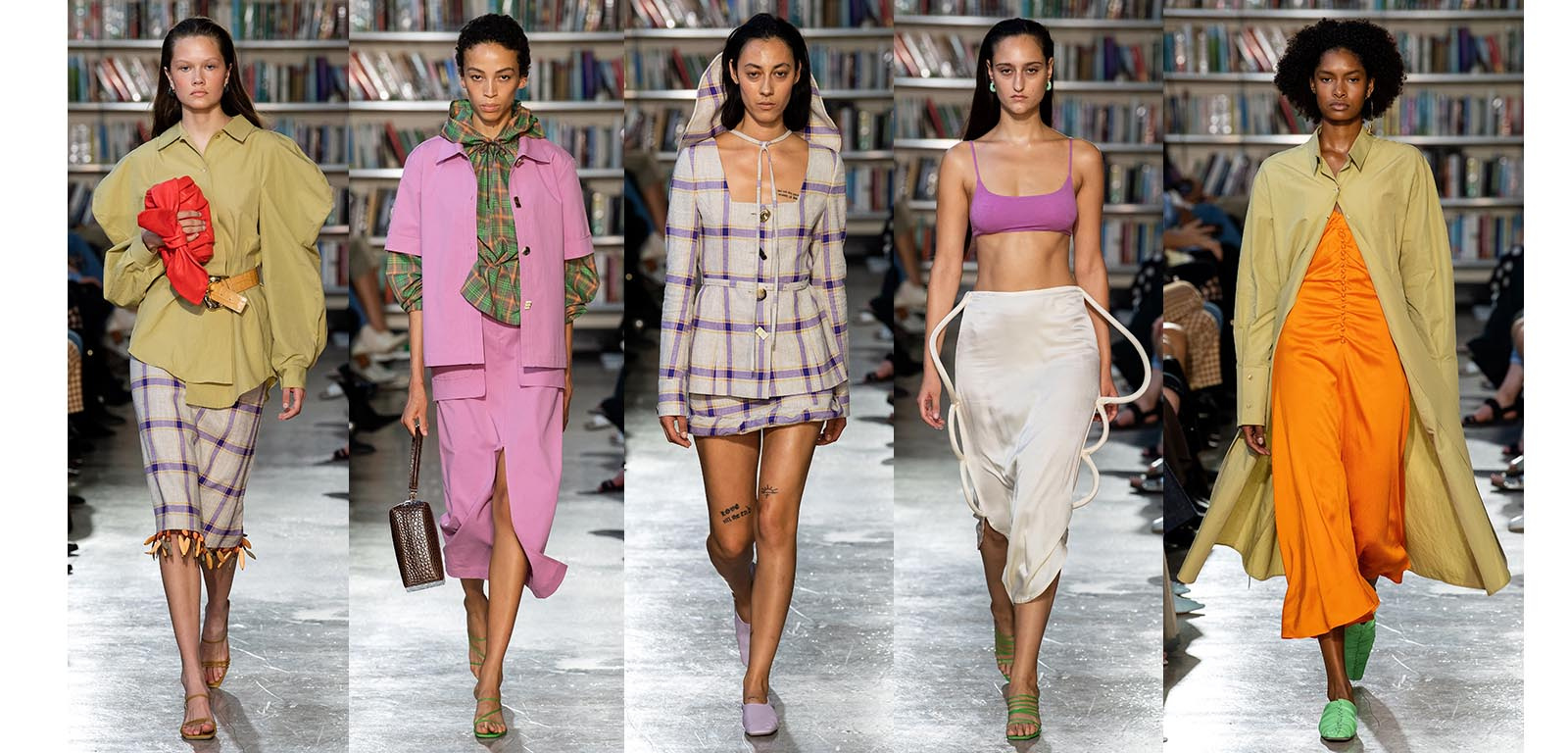 Through the mid-section of the collection colour becomes a little brighter and an Olive blouse cut in a large almost vintage Russian expanses of fabric is tied with a loose belt above knee length shorts cut from a broad Lilac weave of tartan. A Blood Orange parcel like wrapped purse is another grabbable piece from the collection that you could treasure or gift to a friend. The Lilac weave appears again in a skirt suit with matching hat. Ready for days of sunshine it's another fun carefree look that has the unquestionable look of being well styled. A vibrant Green tartan cut with Pink makes a feature of a blouse partly hidden under a Lilac jacket. With a corresponding skirt it forms another inspired twist on a classic. A Lilac bra top and knee length skirt banded by external hoops awakens a sporting element in the collection for Summer whilst an Ochre jump suit and Olive jacket again channel the artists colour palette of options.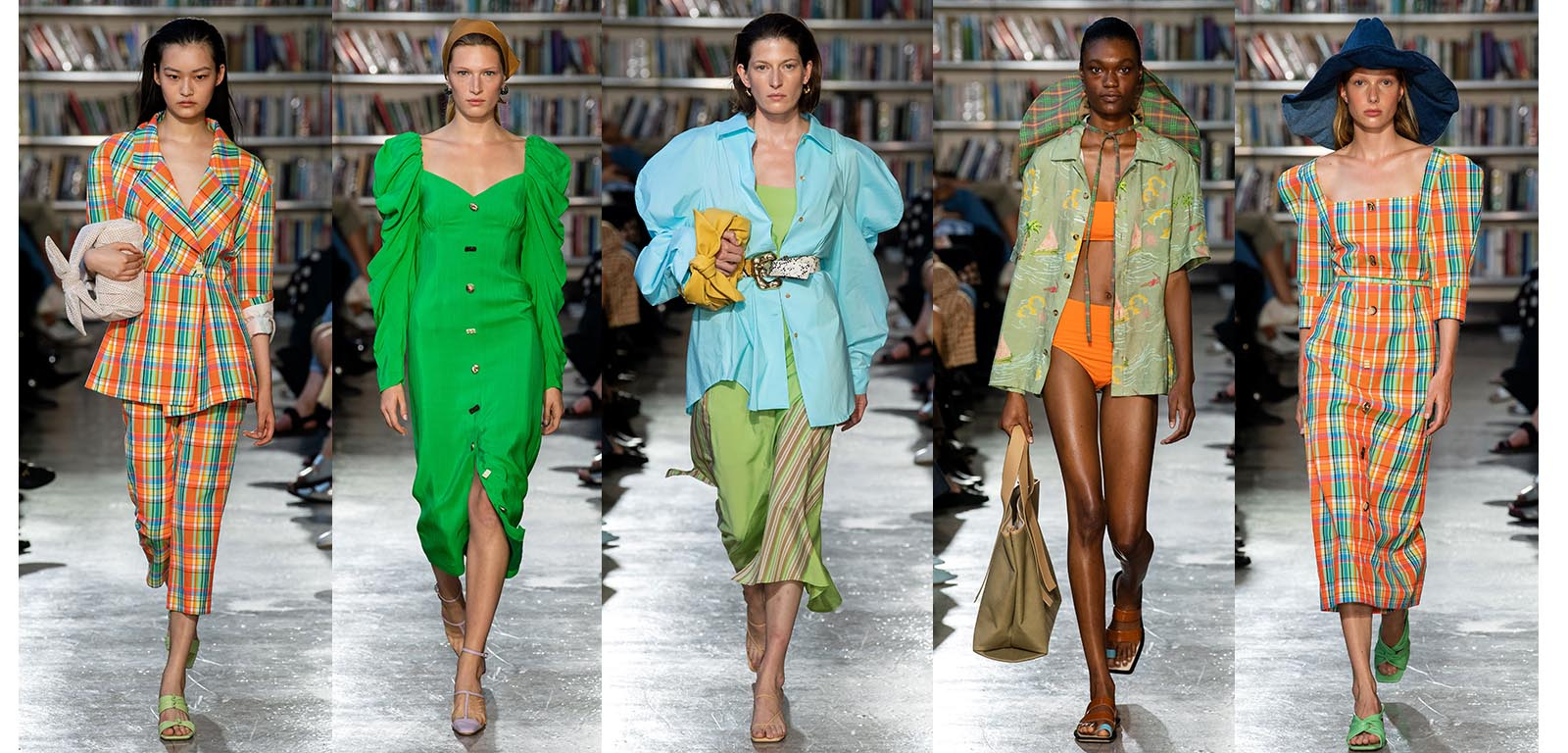 Bright colours help to light up the summer and make the wardrobe absolutely joyous. A popular style through the collection is the long jacket with a descernable wist bar within it leading almost to a skirt length. Buttoned in a single cross over the figure and matched with trousers this tartan look, just like the summer dress furthest to the right expanding on Empire lines, this makes a fun look. Note the cute parcel-like pouches return with ribbon end ties that look like bunny ears. A bold Green dress is cut to glamour lines with ruched sleeves giving dynasty vibes. It also comprises a signature note of Pyo design in the individualised buttons through the front length of the garment. A re-run of an earlier Lime dress showcases an Aqua-Blue jacket above also featuring the high glamour volume of the previous dress. An Orange bikini in two pieces is disguised under a light Olive shirt with beach scenes painted on top. It's ready to have a day in the sunshine.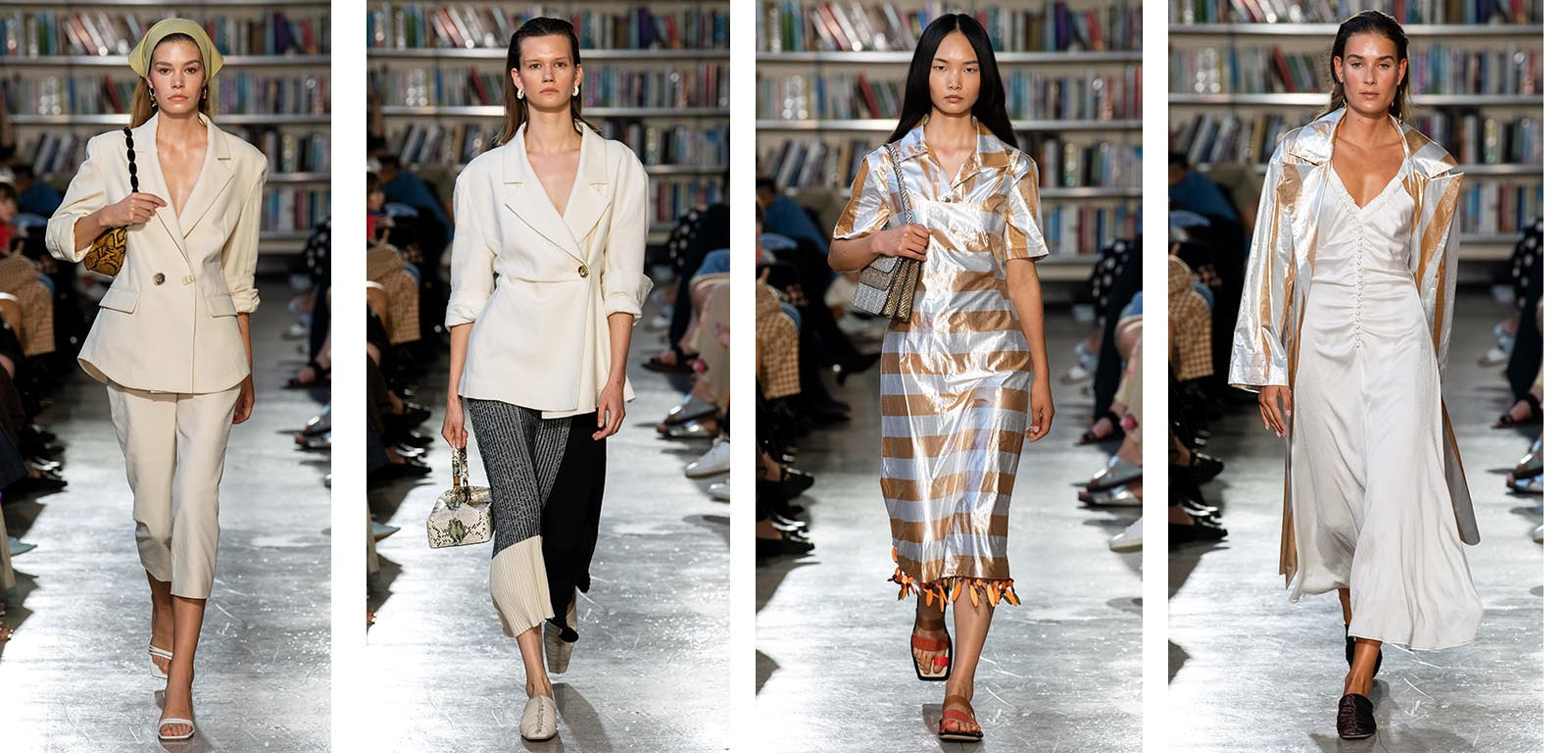 A Cream coloured trouser suit cut to midi-level is a sophisticated understated glamour look that will suit for work and play. A headscarf adds an extra look of nostalgia and charm whilst the perfection of the styling speak for themselves. A single breasted fold-over jacket is a very easy garment to add to your wardrobe with a soft skirt crafted in three fabrics weaving around the legs. Again it's a beautiful sophisticated look that also has that fingerprint of identity and design exploration that you find in Pyo's work. To the right a dual toned silk fabric creates a theme worked across a long shirt dress and a light silk summer coat over a White silk dress. Ruched down the centre this is a beautiful classic piece for eveningwear and one to treasure across seasons.