Autumn & Winter 19-20 pt 2
All images shot by me unless otherwise stated (C)

Malene Oddershede Bach
Images credit: Malene Oddershede Bach.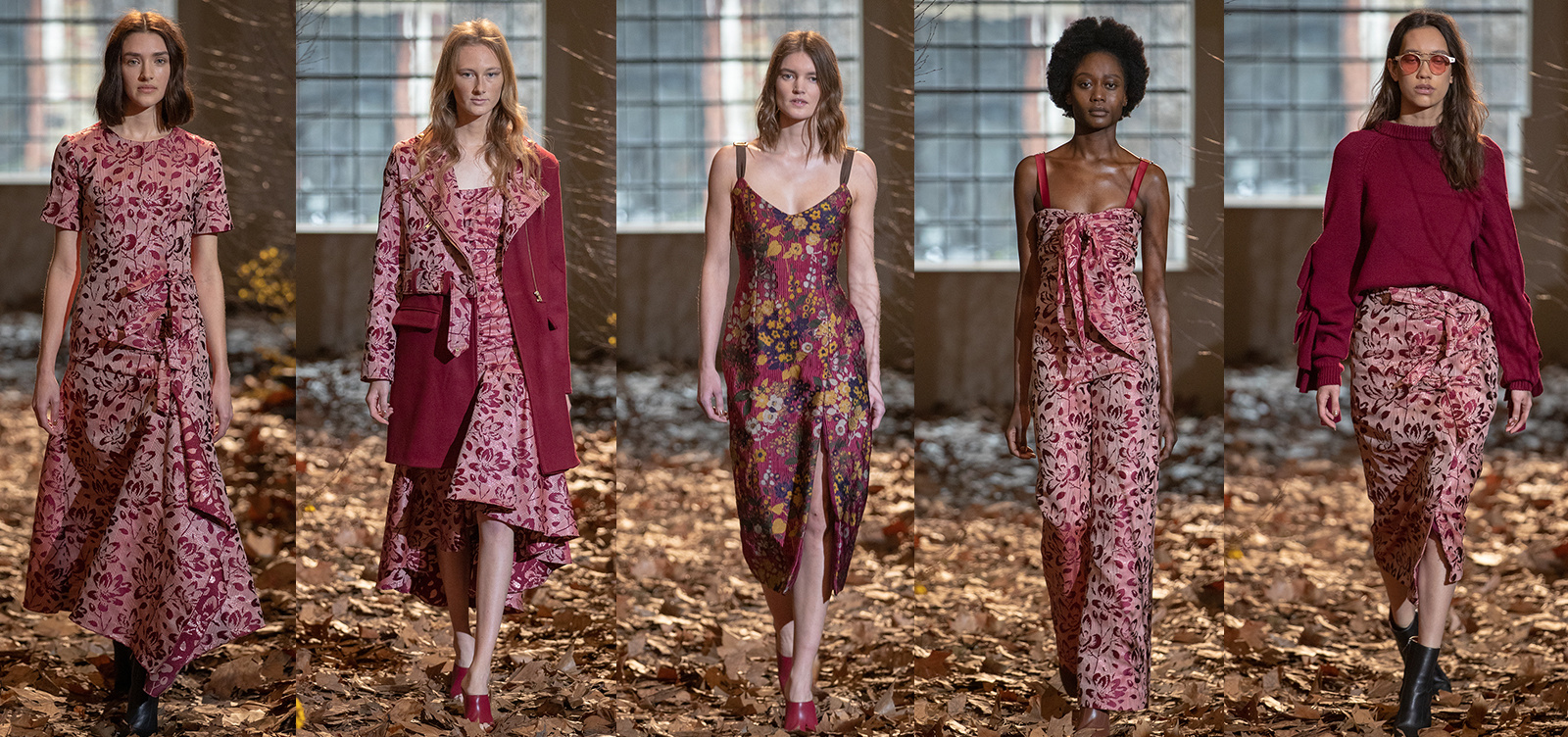 She is easily one of the most impressive designers to emerge onto the show schedule in the last twelve months. She's leaped from a debut presentation to a 'hot ticket' catwalk show in the blink of an eye and it's been very well earned. Malene is a Danish designer showing in London who launched her Fashion House in 2011 and is now sold across the world. Fabric is a key element of her work with textiles at the core of demonstrating commitment to demi-couture and Ready to Wear. As the floor was strewn with leaves models walked out into the autumn. A day dress opening the collection gathers fabric at the waist in a raised fold. It's a charming subtle piece that could suit many celebrities on the Red Carpet as well as be a good party look. A dress in the same signature print features a dip hemline raised at the front. It's one of the most enduring styles favoured in occasion wear and helps to ensure longevity in the wardrobe. A jacket is cut with contrasting segments of Mulberry Red and material cut for the opening dresses of the collection. It's an innovative design and captures the mood for experimentation with norms amongst designer fashion clients around the world.

It's mesmerising looking at Malene's styling of garments. There's a huge amount of maturity and sophistication in her work at a relatively early stage in her path in the industry. Above centre an expertly cut bodice frames a cocktail dress that will be easy to pick out for drinks and dinners through the autumn and winter season. It will make the best impression on the Red Carpet whilst and be a well-crafted piece to treasure in the wardrobe for years to come. A jumpsuit with shoulder straps shows her versatility of style and ear for the trends that interest her clients and farthest to the right an easy soft casual mood is conjured by the soft knitted sweater and skirt in rich signature Berry coloured fabric.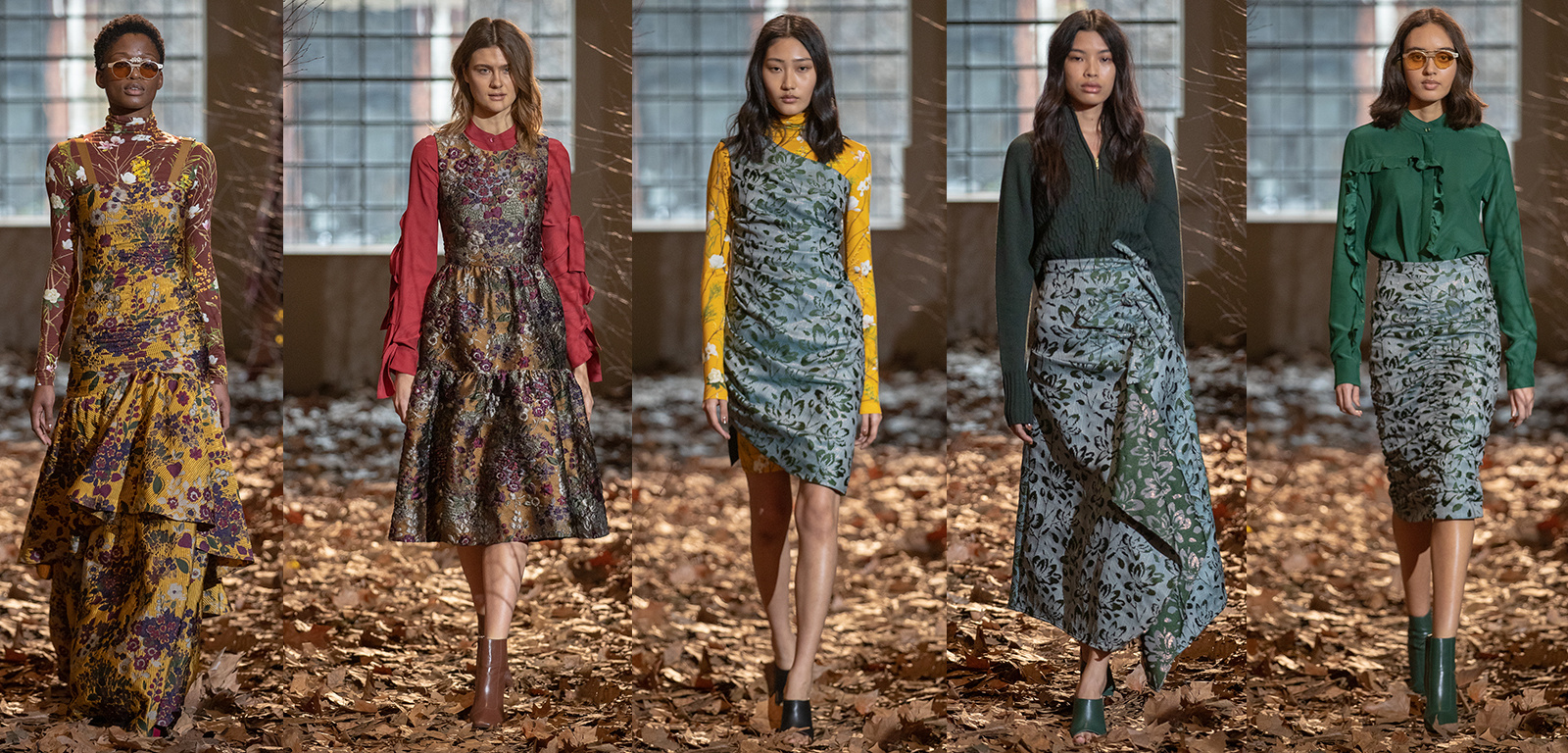 The Golden tones of Autumn sing loudly in a joyous song through the collection. A stretch fit polo-neck printed with florals sits underneath a full length dress with dropped waist and a double tired skirt. This looks like a daywear ensemble and is but take away the thin sweater and you have a dress that's perfect for the evening. For a formal party, ball, opera box; anywhere you would wish to be. Contrasting the casual and relaxed with pieces that have the ring of Black tie and drinks parties is something of a theme in the collection. A rich Berry-Red blouse carries the spirit of rococo with fabric sashed in frill layers through the lengths of the sleeves. The dress worn over it harkens to the classic fit and flare evening and occasion dress style with richly embroidered fabric gathered in a two tiered skirt descending from the bodice.
Centre above a Grey-Blue singe shoulder cocktail dress printed with Green florals is combined with a long sleeved/short-legged jumpsuit. It shows Malene's muse willing to make a bold change and dress in a way that she defines rather than convention. Also you could separate the two garments and have two styles to wear as another option. The next two looks featured to the right use a combination of Green and a skirt in signature print. A Teal light woven sweater with fine lattice weave sits warmly above a midi length skirt gathered in folds below the left hip and tied at the waist. The folds reveal the double faceted weave showing the inverse of the fabric colour scheme expertly designed. It's a faint hint of bohemian in contrast to the classic blouse and pencil skirt to the right. A style twist appears in a right angle of ruffles on the left hand side of the blouse whilst ruches drawn up through the skirt lengths add to the feel of decorous elegance.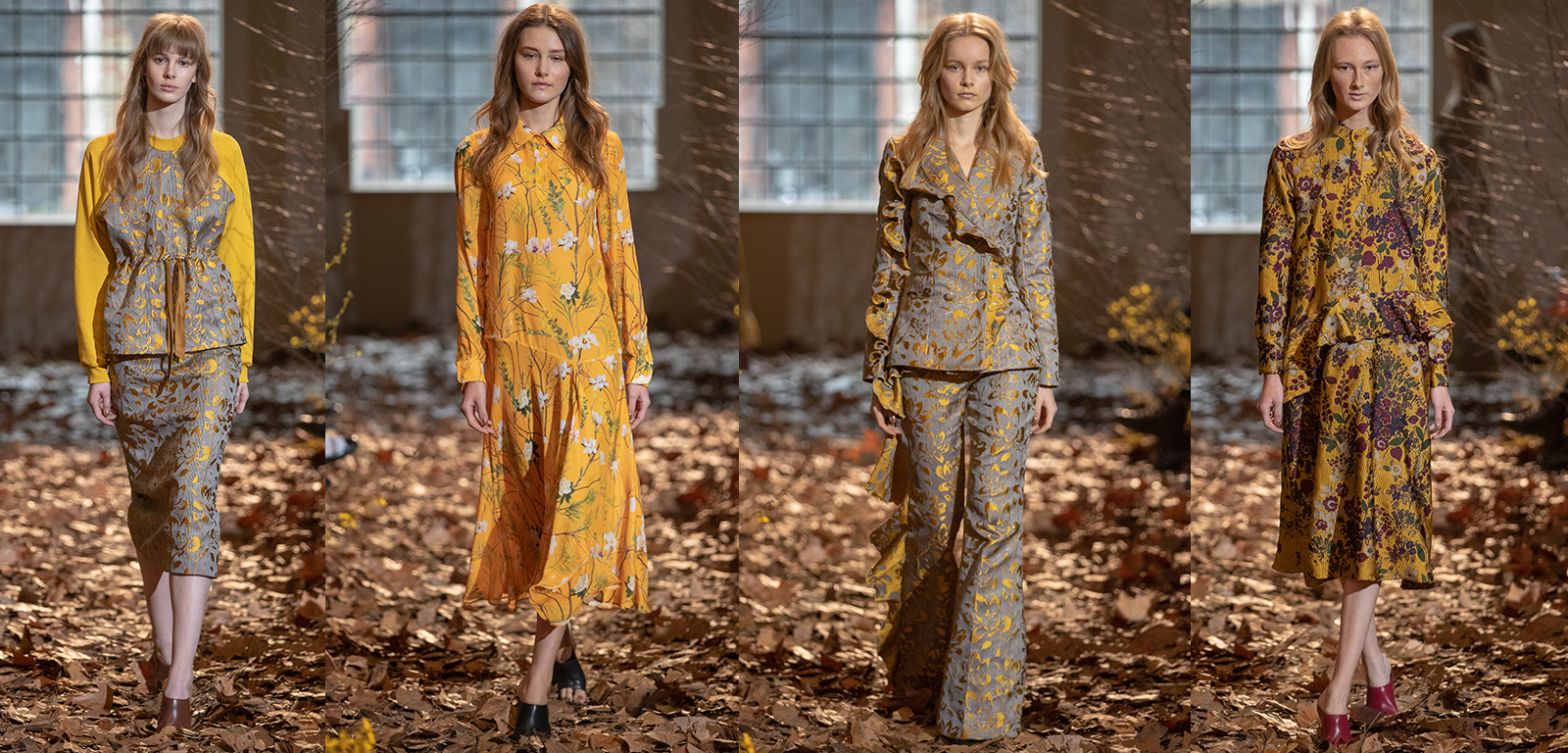 The Golden of autumn is a key part of the northern hemisphere autumn landscape and Malene explores many beautiful styles with hints woven in. Above to the left a Taupe draw-string bodice and skirt feature the shimmering metallic of leaves glistening in the light over a Mustard long sleeved blouse. The light structure makes it perfect trans-seasonal option, just like it's neighbour a Saffron dress with shirt collar decorated with late summer meadow flowers. A waistline is cut with a wave but this look is largely conventional with the potential to wear for work and play. Asymmetric vision appears in a trouser suit with frilled waves descending down one leg and falling softly from the right shoulder across to the waist, capturing the light as the wearer walks. To the right another tea dress features peplum fringe detail at the dropped waist of a midi-dress. Festooned with florals, it blends the carefree and practical with it's shirt-like buttoned up style.

A floral bouquet descends the length of a Navy floor length dress with the effortless style of a painting or fine textiles used to furnish a manor house. A bow tie beneath the bust-line and a casual Mustard cardigan create a relaxed look for day time. A soft clash/contrast is created between a polo neckline Brown blouse decorated with florals and one of the signature double faceted printed textiles of Grey-Blue and Gold. With a curved ruched pull snaking from left shoulder to right hip the outfit plays with texture and colour without over complicating the look. Bringing a 3D raised textile effect to the designs a Navy sweater is sewn with the flowers and tresses that adorn the skirt beneath. The garden and flower bed appear to come alive on the model as she walks and viewed close-up, the both the skirt and sweater are a fascinating piece of artwork to treasure. To the right below a cowl neckline dress is an easy slip on and slip out to the party look for the coming season. It's a look that makes a statement, though not too loudly and could also be worn in stylish office settings as well as lunches or drinks mixers. Once again as you move through this collection you see that Malene has found a very large number of collection theme ideas from several core motifs.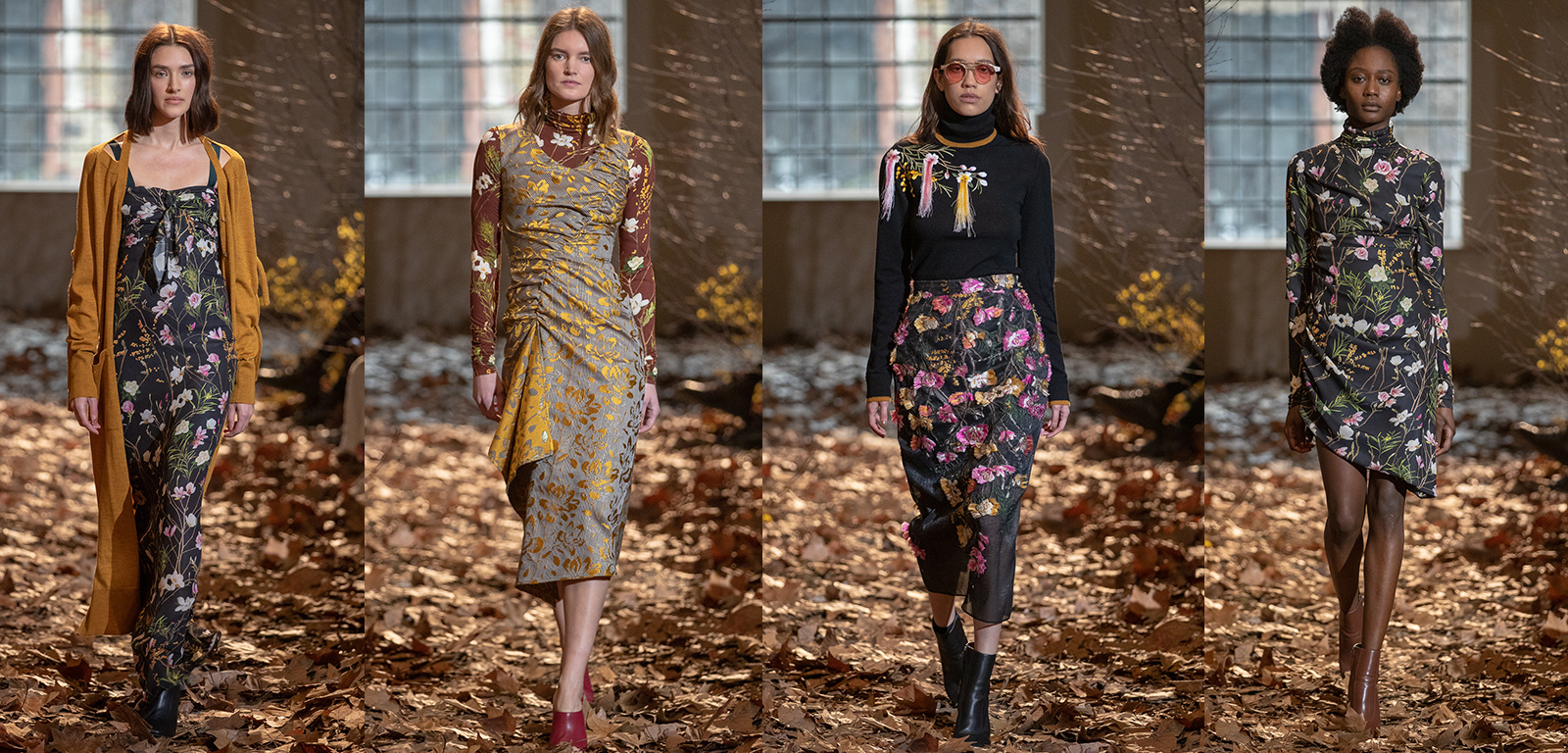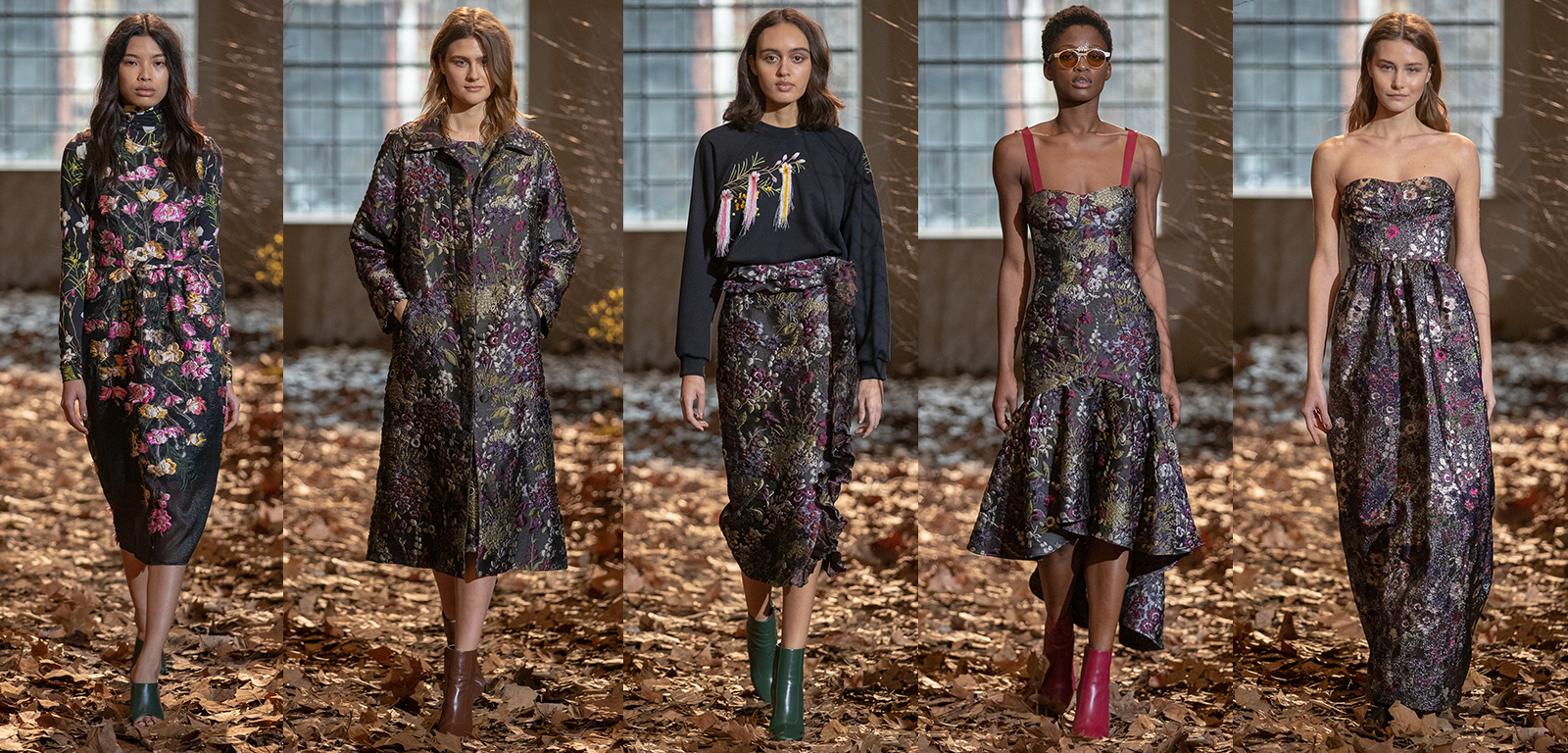 A below the knee dress in the same raised floral applique offers another slightly more formal floral option that's easy to wear at a variety of locations. It will photograph well as all Malene's pieces do and also be a memorable piece to collect for your own enjoyment. The care and attention to detail that Malene takes in her work sets it apart as amongst the brightest of her generation and moving left across the frieze above, a series of outfits in deeper autumn colours explore another captivating fabric. A knee-length coat with pockets is cut referencing the waist line to give jointed movement to the wearer and above a skirt also features a dipped waist underneath a Navy sweater with sprigs of wild flowers appearing to grow across the surface. To the right a cocktail dress is expertly cut with classic centre raised hemline and pin-tucked gathered pleats. A bold coloured straps hint at playing with the traditional. Another classic evening dress to the right with off the shoulder bandeau neckline, sculpted bodice and generous long line will be easy to place in the wardrobe. It would be a fantastic party piece for autumn and a ready staple to place in the wardrobe of a high profile client you may be styling.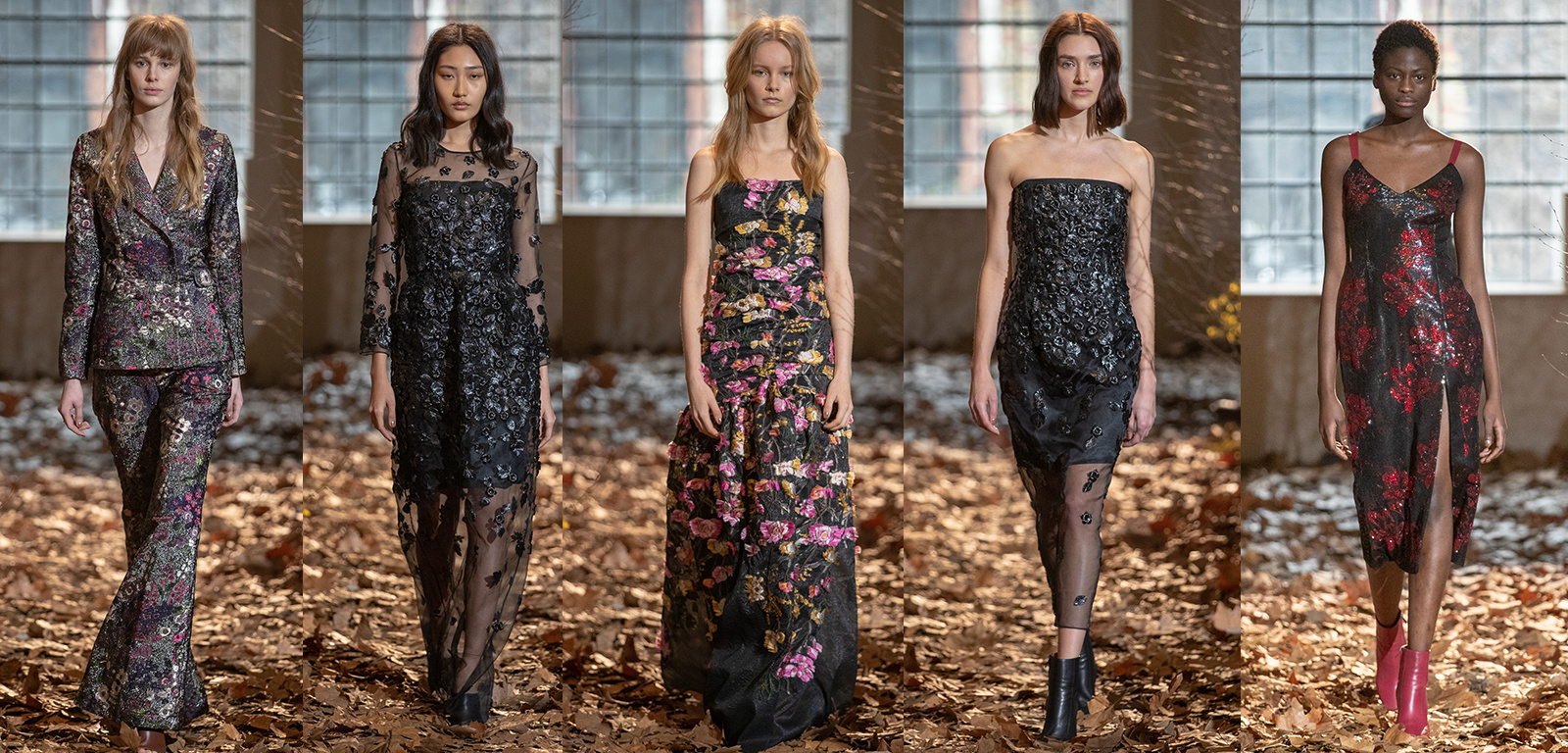 An elegant trouser suit with broad flared legs is cut in signature rich fabric that's a pleasure to see and touch. This type of fabric was relatively available in earlier decades but to see this exquisite detail in garments produced today for Ready to Wear is very rare. Malene has her sights firmly set on producing collections that are truly memorable and worthy of special attention. As we move further into the depth of autumn, swirling leaves rush across the surface of a Black shift dress appearing to simply fall down the lengths of the wispy sheer silk of the dresses outer shell. A second version of the garment to the right removes the upper shift layer and creates a bolder option with uncovered shoulder. Centre above a ball gown is strewn with raised applique with feathery flower details appearing like living stems in the lengths of the garment. It's a piece that strikes me, like several in this collection that could be worn perhaps for a classical music performer as well as a client to dinners and parties. To the right a bold number closes a look that this seasons offering with a side slash heading for the hips drawing subtle acknowledgement to the height of the wearer. Scarlet flowers on a Black background have hints of the festive season.
Alice Archer
Image credit Alice Archer (C)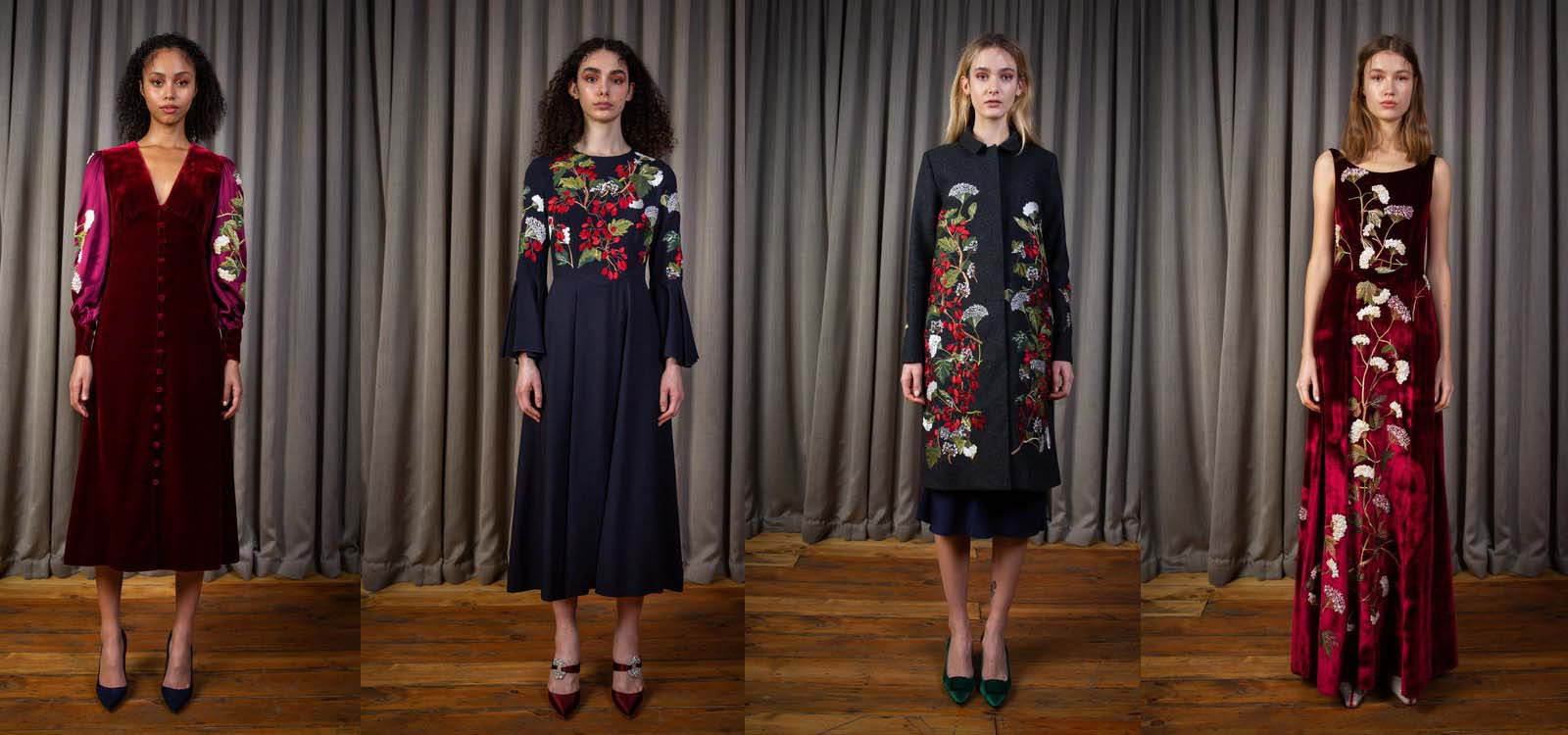 Alice Archer's designs are exquisite. With a rich warmth in her design and meticulous attention to detail, viewing her collection is like opening a jewel box of colour. Red velvets of autumn and Christmas and smooth silks that are soft to the touch. A dress with a Scarlet velvet central tunic and plunge neckline is accented with sleeves of matching silk. Richly embroidered flowers descend the lengths from shoulders to sleeves and the impact of refined and careful design is instantly apparent. To the right a Navy dress also at midi length brings the vibrant Reds of autumn to the bodice and sleeves of the design and reaching waist and elbow. You could wear this and it's peers for winter weddings or parties just about anywhere. A knee length coat also embroidered to perfection brings the same floral colour notes to an outerwear garment. Leaves, berries and flower heads all celebrate the autumn. To the right a Scarlet ankle length gown heads to the top of my wish list flowers appearing to grow up across the length of the figure. The velvet fabric is cut perfectly around the wearer to give a refined elegant composition.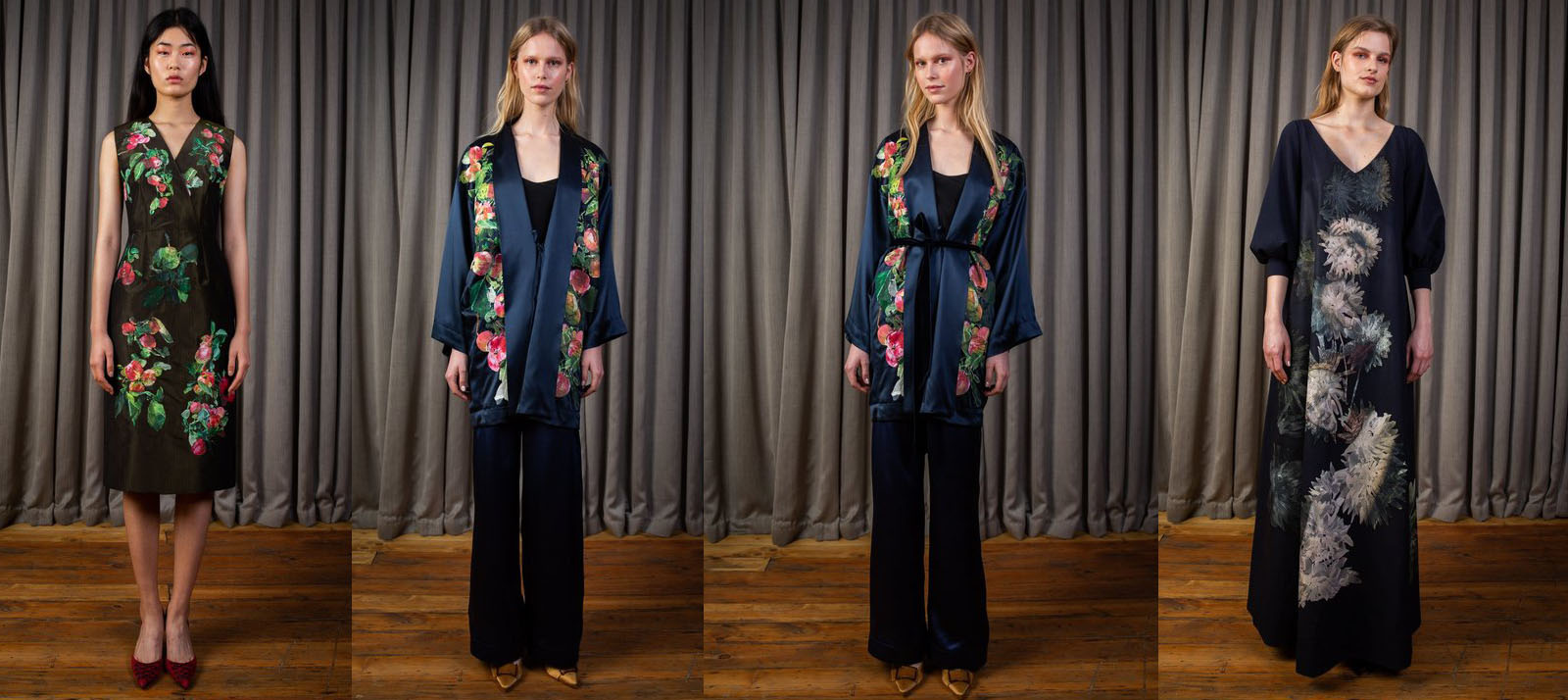 A classic cut cocktail Black silk dress features key floral notes in Green leaves and Red petal buds evoking the brightness of autumn flowering Roses against the scene of the changing seasonal landscape. It's a subtle stand-out colour scheme that has a graceful signature. The same floral artwork moves to a Midnight Blue silk wrap jacket worn over matching trousers to offer a lounge suit look for evening entertaining or relaxing should you wish. The fine embroidery on the abundance of silk is instantly captivating. To the right a Navy floor length formal dress takes an adventurous step placing images from historical paintings on the surface of the dress set into flower heads. Like fairy spirits in the moonlight it evokes mystery and illusion.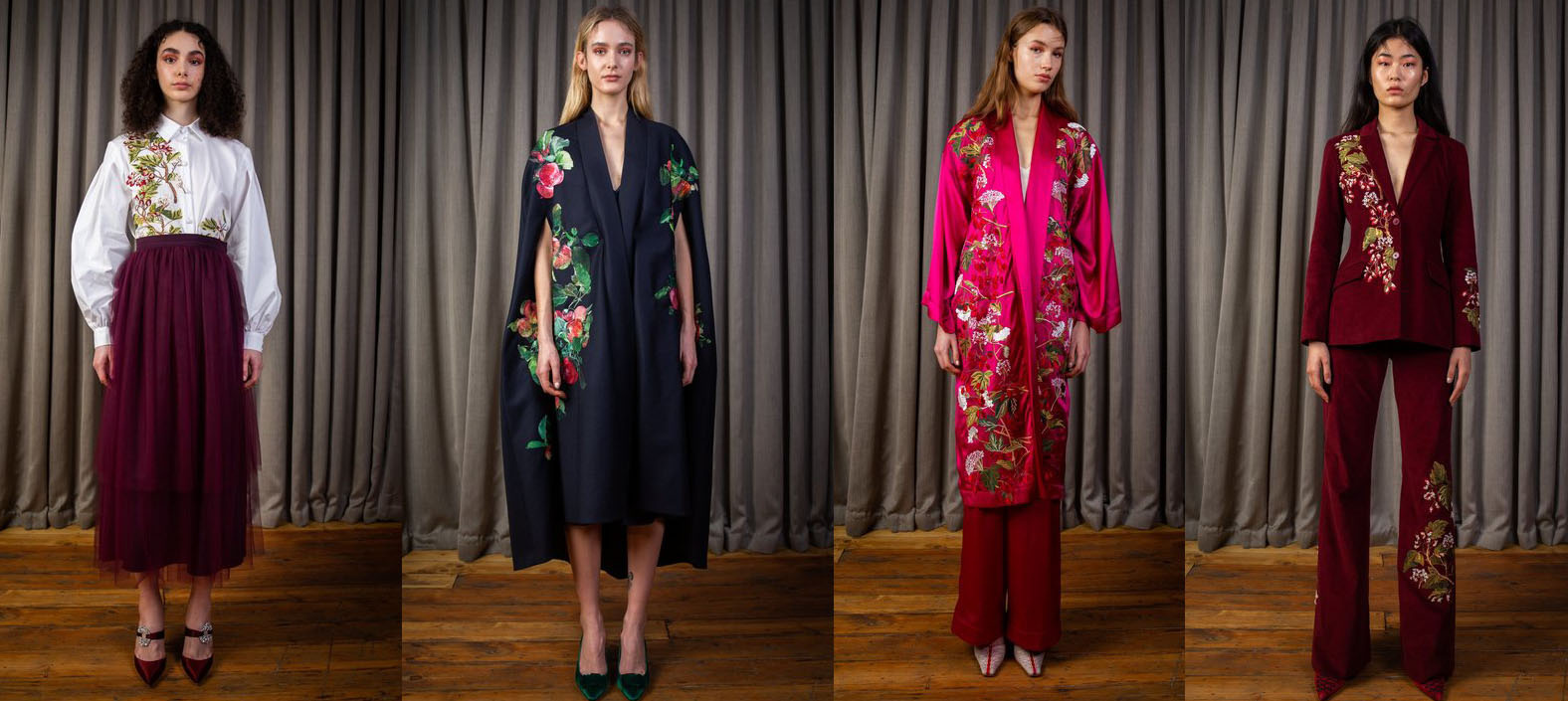 The floral notes stay through the collection and a White silk blouse is decorated with holly-like berries matched to a skirt in tulle. This fabric, new to the collection dresses the wearer in the fabrics traditionally used underneath the final skirt. The tulle actually rests on top of an opaque fabric to retain the modest refined feel of the series offered this season so what you see appears to be a garment that is inverted from the traditional form. A jacket in Midnight Blue silk is cut in a cape structure with a bounty of flowers sewn across it's surface. It's an elegant evocative piece that would be worn on a 19 year old or a grande dame in her 90's. Jackets, their cut and refined applique detailing are a mainstay of Archer's collections and a Magenta dressing gown style jacket reaches midi-length carrying dreamy florals all the way along. Paired with Scarlet trousers it makes a contemporary suit. To the right the rich opulence of Claret forms a well-cut classic trousers suit that will flatter a long silhouette thanks to the careful placement of winter flowers through the length of the sleeves and the jacket.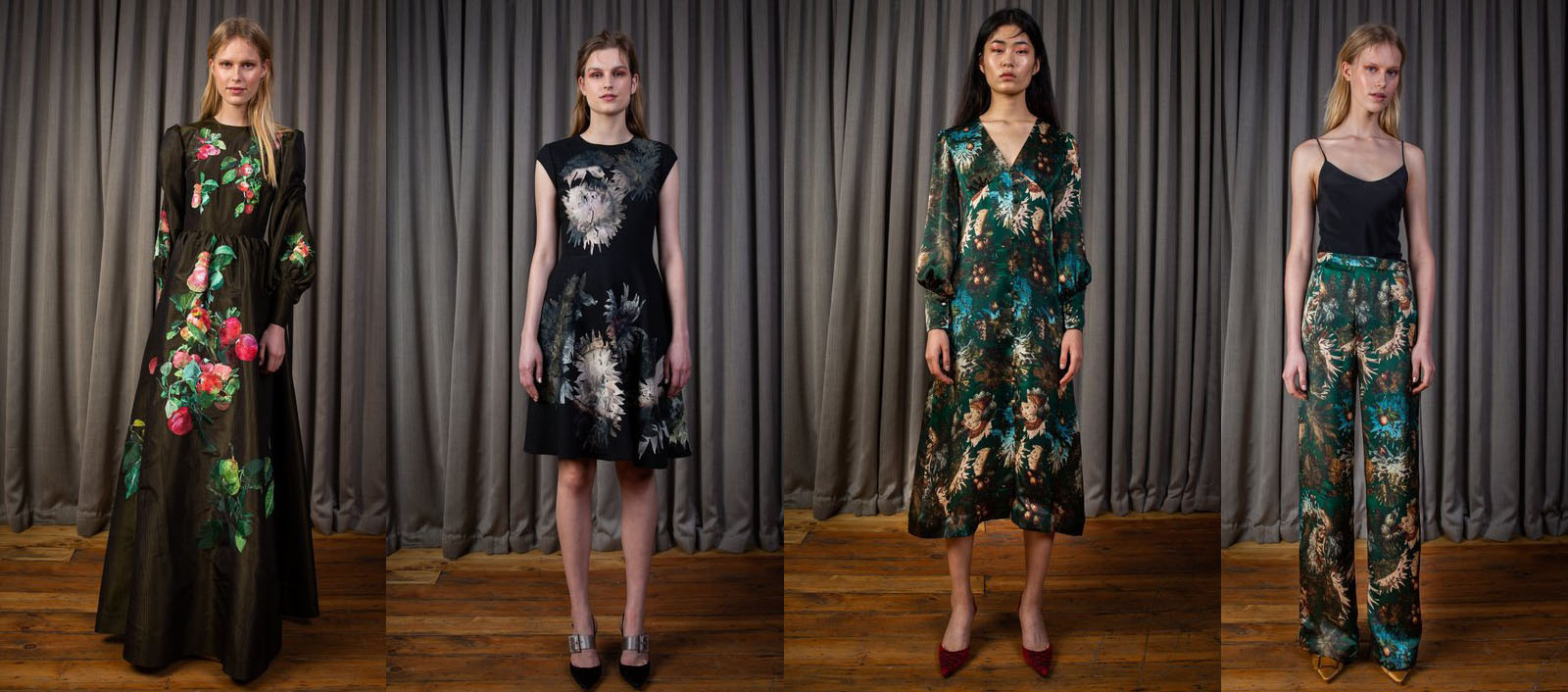 A full length Black dress is strewn with a bouquet looking like a set for an artists painting. It's typical of the poetic beauty that Archer infuses into her work and the gown in it's fullness is a show-stopping eveningwear piece that would suit a varied span of potential clients. A shorter version of mysterious flower dress appears that could easily be worn with boots or shoes and matched to a jacket. It's easy, practical and polished like much of the collection. To the right Evergreen midi length dress features foliage and nut clusters found in the trees of autumn and it's light cross bodice form would make a classic day-to-dinner option. Looking more casual a Black vest top and trousers matching the previous dress offer a way to max and match your style or create a bespoke tailored look. Archer's collections are a treat to dive into each season and this one is no exception.

It's always a pleasure to see one of the UK's most experienced Ready to Wear designers show and this season Jasper continued to bring out some superbly tailored pieces in front of a host of high profile friends and clients.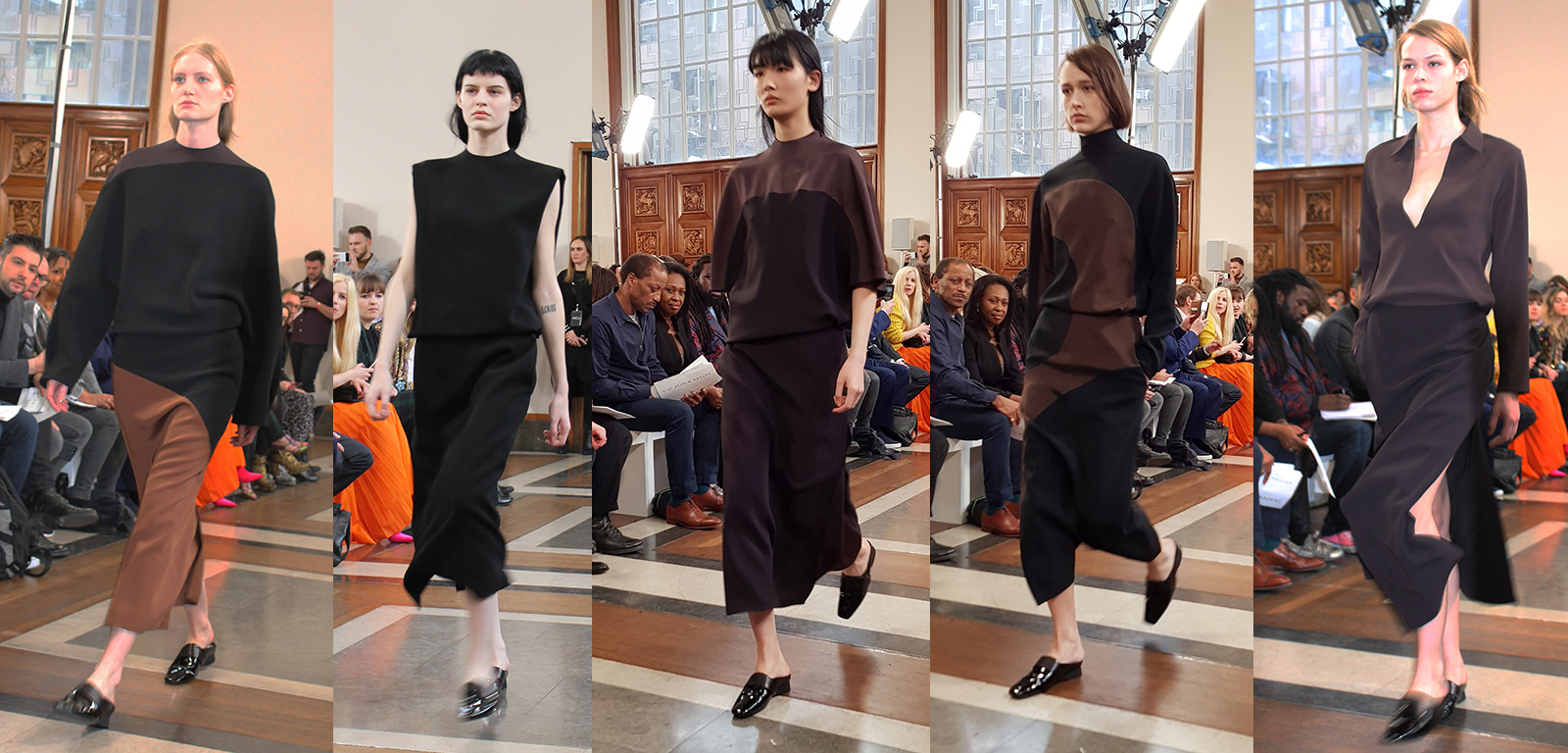 For Autumn-Winter 2019 his clothes where all about lose shapes, comfort and the opening style of a long sleeved dress featuring Chocolate, Black and Caramel colour tones set the pace. You can wear this at leisure, at the office and it's an easily adaptable look that doesn't date. A Black tunic look is created by a sleeveless blouse and straight midi-length skirt. Cut lose to flow around the figure but still defined, these are easily separates to collect and add to a wardrobe. A silk blouse bordered in a Chocolate Brown at the shoulders desends to a Brown/Black followed by a complementary coloured skirt. Gently rippling silk floats about the wearer as she walks. The marble effect returns again in a dress banded in Chocolate and Black offering a one-take easy to wear option that fits easily into your wardrobe. A plunge neckline Chocolate blouse and Black pencil skirt split to the left thigh are a daring workwear addition for autumn. Looking polished and confident, it's a classic desk to dinner look.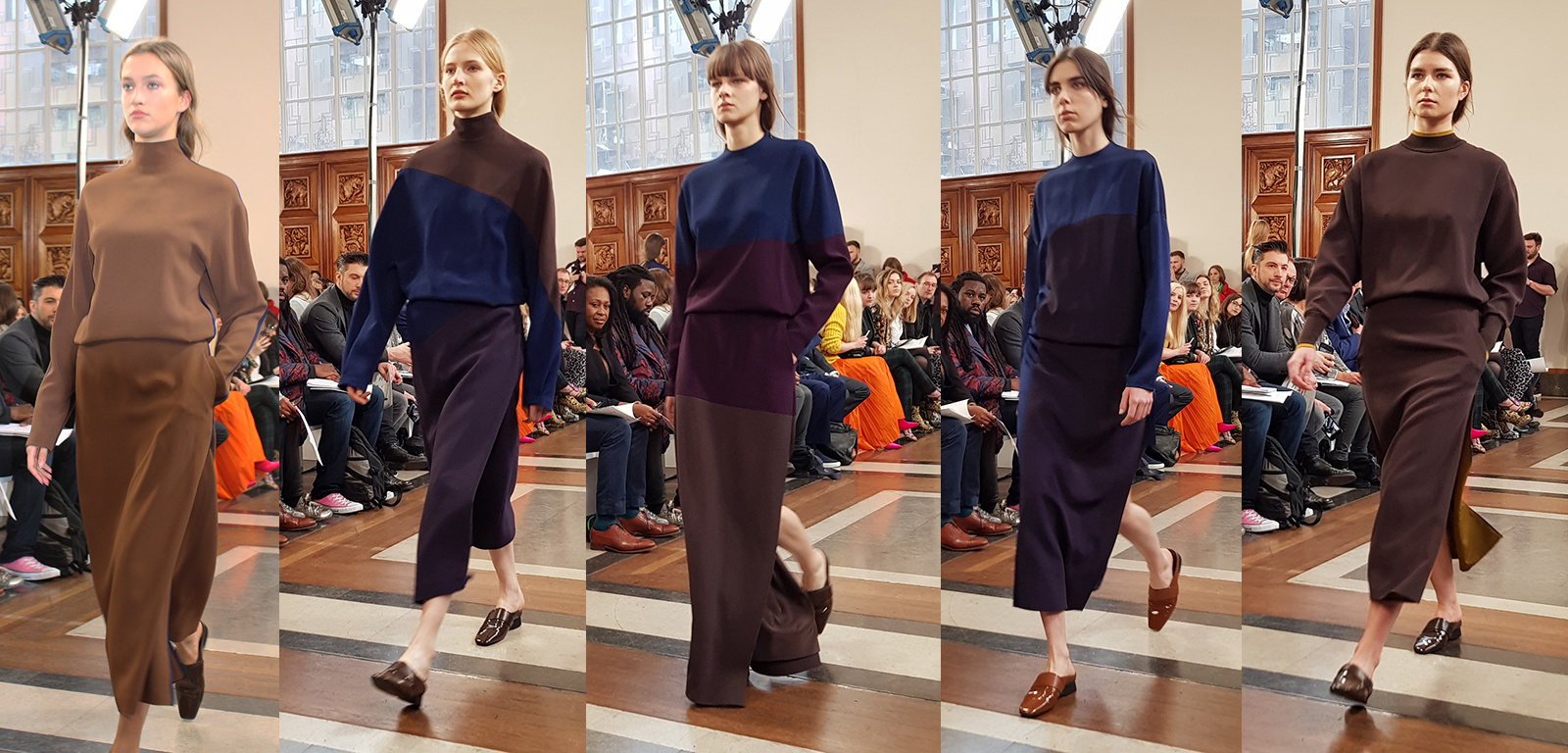 Continuing with a darker palette to enter autumn with, a chocolate sweater and bias cut skirt conjure a classic autumn ensemble. Like much of the colection, it will suit clients across the generations. Jasper favoured slightly muted colour in his works and initially for autumn before ribbons of Purple and Blue rippled across blouses and skirts in a blocks of colour. A tricolour of Blue, Purple and Mauve walks forth in a dress banded at the folded waist with elongated drapes accentuating the height of the wearer. To the right a dress in Royal and Navy Blue with a side split skirt sits lightly on the frame with amplescope to curve around different figures wearing it. This mode of cutting is one that Jasper has used across several seasons and clearly clients find these pieces easy, comfortable and stylish to wear. A dress to the right in an almost continual dose of Chocolate runs from neckline to ankle with a mustard collar and underlying seam of dark Gold. It's a casual and smart look that you could wear to brunch, the office or for travel.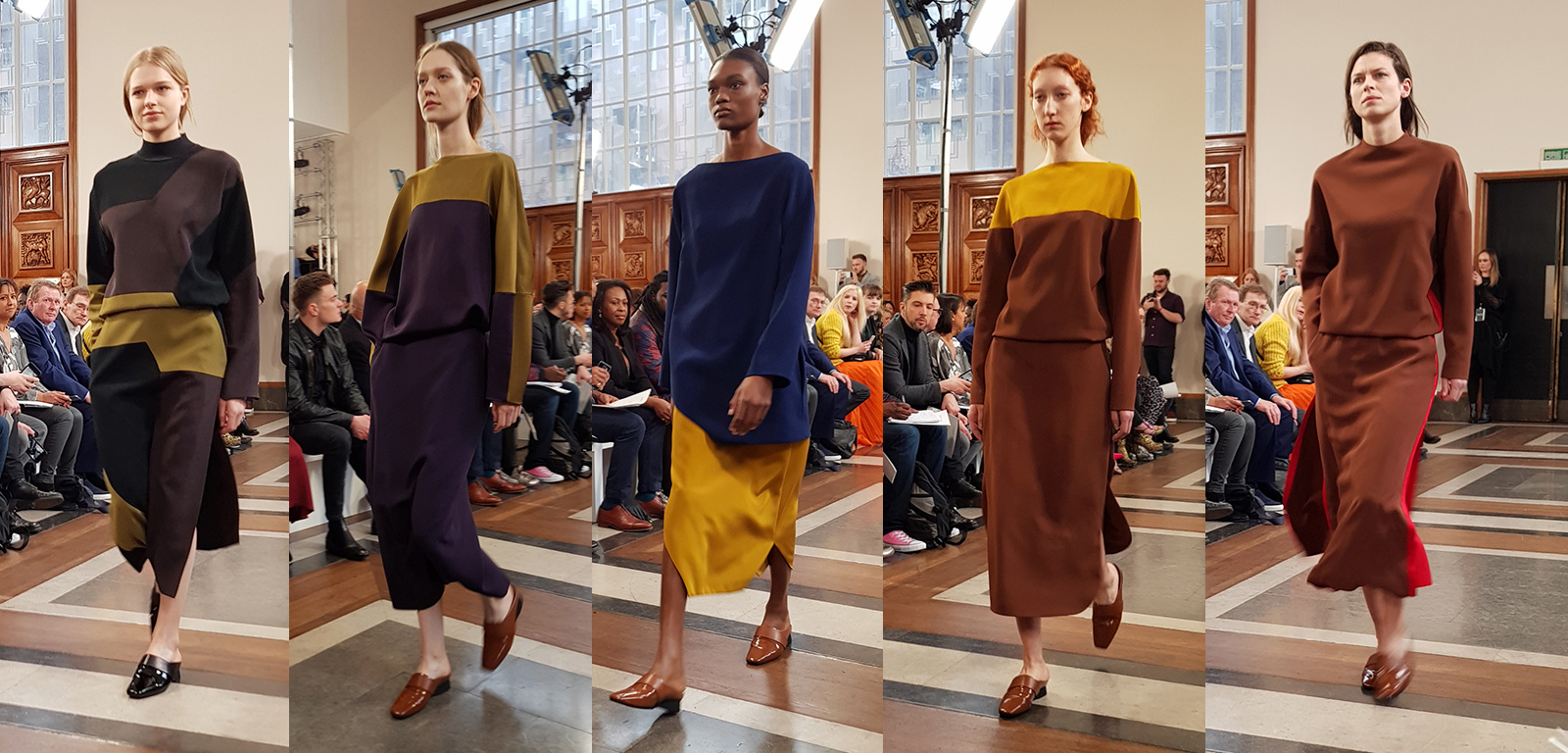 Soft curves begin to give way to the crisp lines of geometry. Black, Chocolate and Mustard palce a contrast with the soft folds of the fabric around the figure that move as the wearer walks. I feel like the earth colours of Morocco have also been an inspiration here, a place whee Jasper spends time after opening his hotel. An Aubergine and Mustard coloured dress folded at the waist to give the impression of separates traps in warmth just as many of the other pieces do. The colour scheme mood changes also reminded me of the breaking dawn of a new day as colour brightened and a light sweater in deep Blue, the colour of the early morning sky, was met by a strong Gold. To the right a Golden Yellow block of colour across the shoulders to me resembles the Iron Age Gold sheeted shoulder collars that where worn by leaders. They may be a far-sighted comparision but for me it was what came to mind. To the right a Brown top and skirt present another easy day to evening-wear option.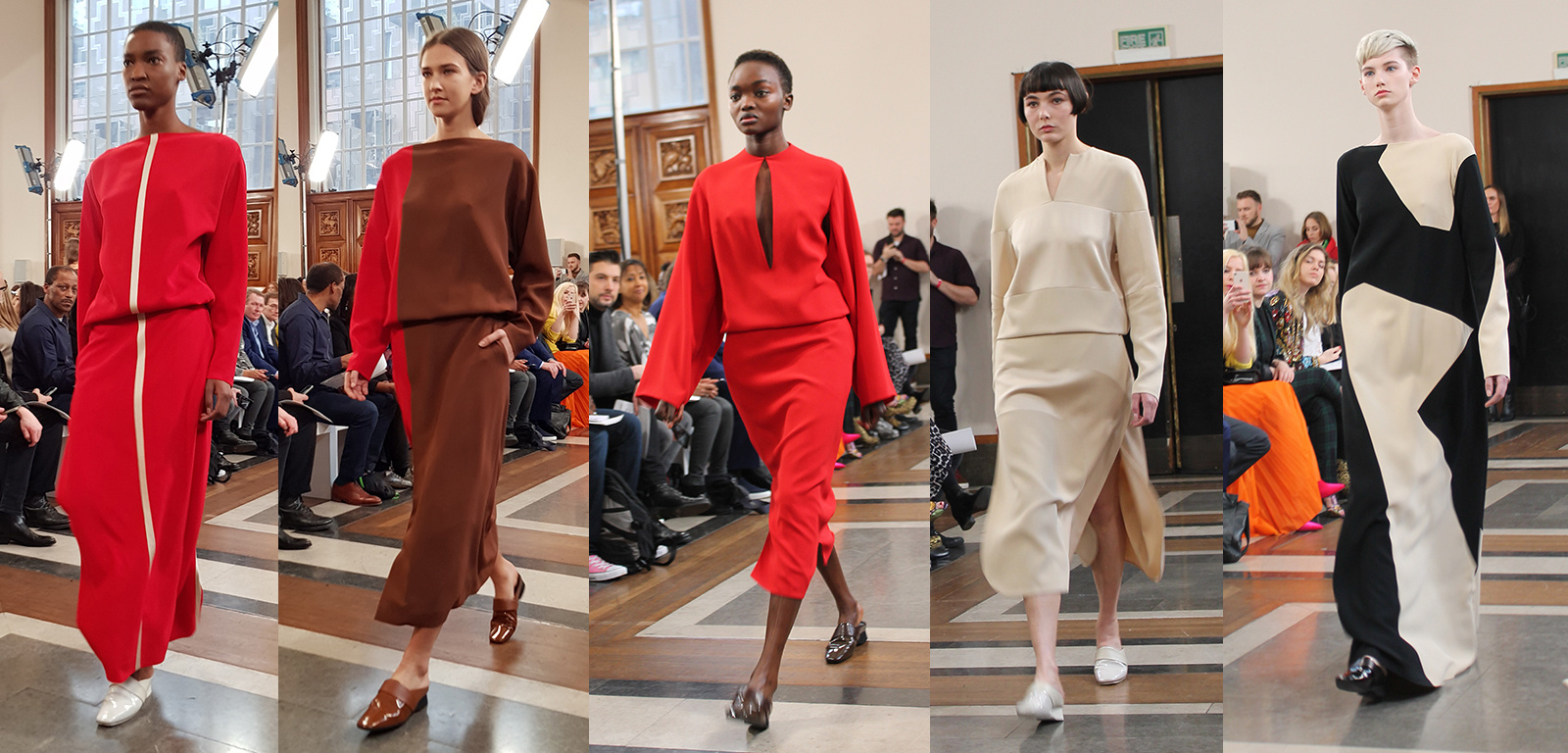 Sportswear hints enter the collection at several times. The minimal style and generous nature of the garments cut lends itself to easy movement and activity of the figure within. Jasper shows his experience in understanding the outline of the body and ergonomics. A Red dress with folded waist features a White stripe down the centre contrasting the linear and the flow of the soft fabric. To the right another long sleeve Jersey dress is bordered with Scarlet through the length of a sleeve and skirt in a contrast to 80% of the garment being in Chocolate. A cut-away plunge neckline of a Red blouse is a simple defining statement in a classic two piece outfit. A small V neckline cut away in a blouse of organza silk is designed with a contrasting weave silk band across the middle of the garment. Matched to a fine silk skirt with side slash it forms a slightly Art Deco looking piece with the option of splitting the two pieces. To the right bold angles of geometric patterns are in harmony with the strength of monochrome. This diaphanous piece moves with fluidity around the wearer and heralds more exploration of geometric form and shape.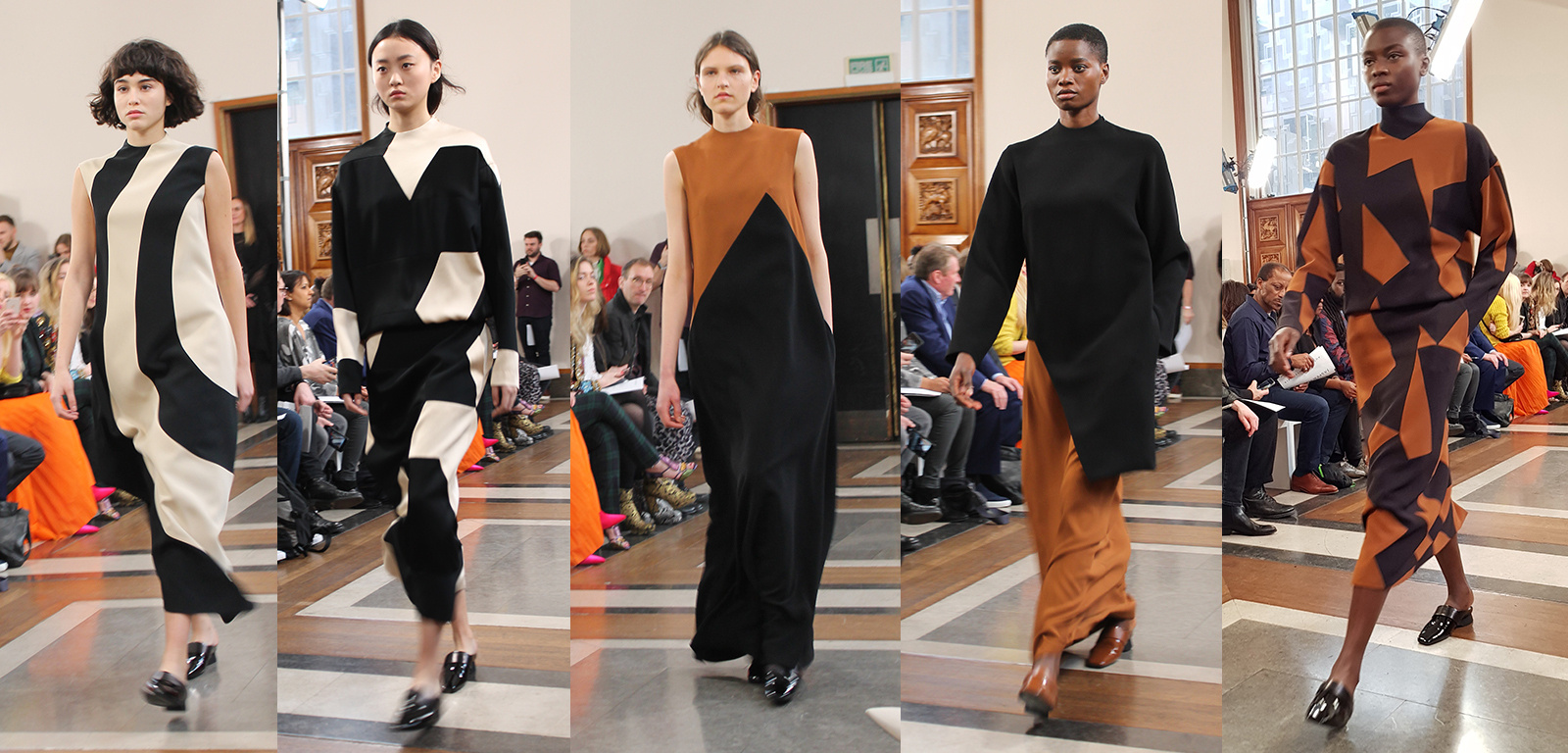 Play with shape in circular monochrome bands curing across the figure offers another design that speaks to an instinctive understanding of the flow and rhythm of ine and movement around the body and through nature. These are dresses that seek to express the universal elements that build out world. To the right the corners of a Honeycomb pattern appear set on a monochrome canvas of Black and White. With sleeves reaching down to the fingers and a line faling just above the ankle, this is another versatile wearable outfit. Centre above a chevron peak is cut upwards towards the bodice with with bold Black cutting into the Caramel. The sleeveless tunic line offers the option of remaining cool in warm rooms through autumn as well as adding layers of scarfs or sweaters or jackets. To the right a cut-away Black sweater reached the knees and a Caramel skirt grazes the ankles in an elegant silhouette. Overlapping randomised shapes like those from the kaleidoscope tube in Chocolate and Caramel pattern the surface of a dress ready to step out into the crisp autumn airs for a busy day of work or a walk in the park with friends.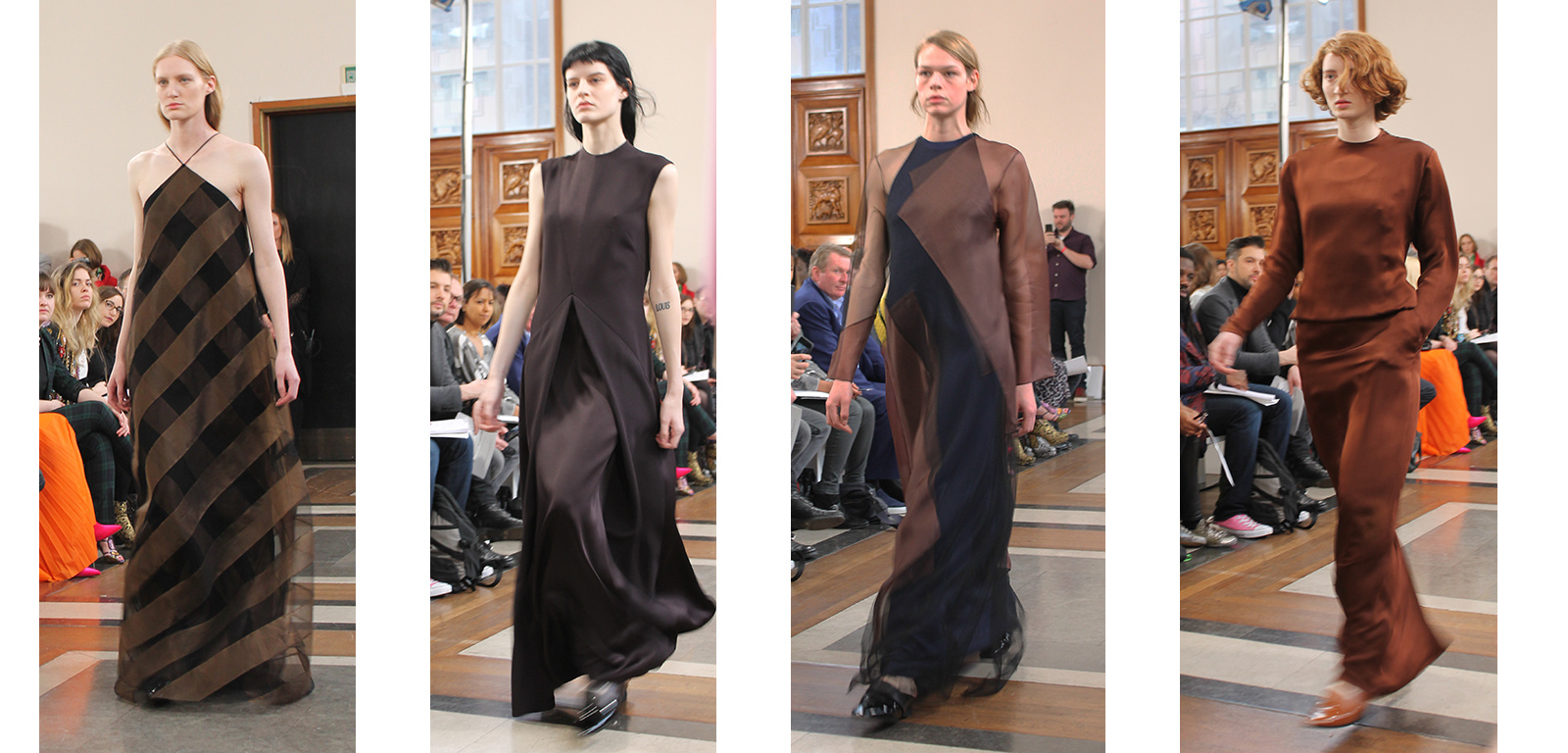 As day moved into evening through the collection phases Jasper's evening dresses progressed the theme of chic cuts and effortless long line silhouettes that gave a floaty and demure feel. Above to the left, one of my favourite pieces showed a shift dress with outer checked silk layer floating wisp-like over a central silk core. A halter neckline held in place by a simple twil keeps the balanced harmony in sight. To the right a Chocolate flowing dress is cut with a large pleat at the front to add volume giving the wearer ample scope for movement as she walks. The silk swishes over the figure in a liquid-like way and the rich confection resemblence of the colour makes it tempting and delightful. The geometric theme returns again on light sillk with several dresses above and below expressing this in muted Browns, Blues, Mustard and Green. Creating soft contrasts around the figure these pieces make perfect ocassionwear pieces to add to your collection or give as gift. Working in block colour also produces some classic pieces that swished before our eyes in a confident sense of decorum. A rich Golden Bronze dress and it's Teal counterpart below both speak in the language of rich autumn colours, their silks gliding over the surface. To the right a bandeau neckline Black dress is cut in contrasting fabrics in swirls of silk that wrap around the figure. It's a perfect cocktail dress that won't date and could be worn with jewellery and easily acessorised as much of the collection. Jasper has honed his craft over many years and this season offers numerous subtle pieces crafted with care and thought to the clients lifestyle needs.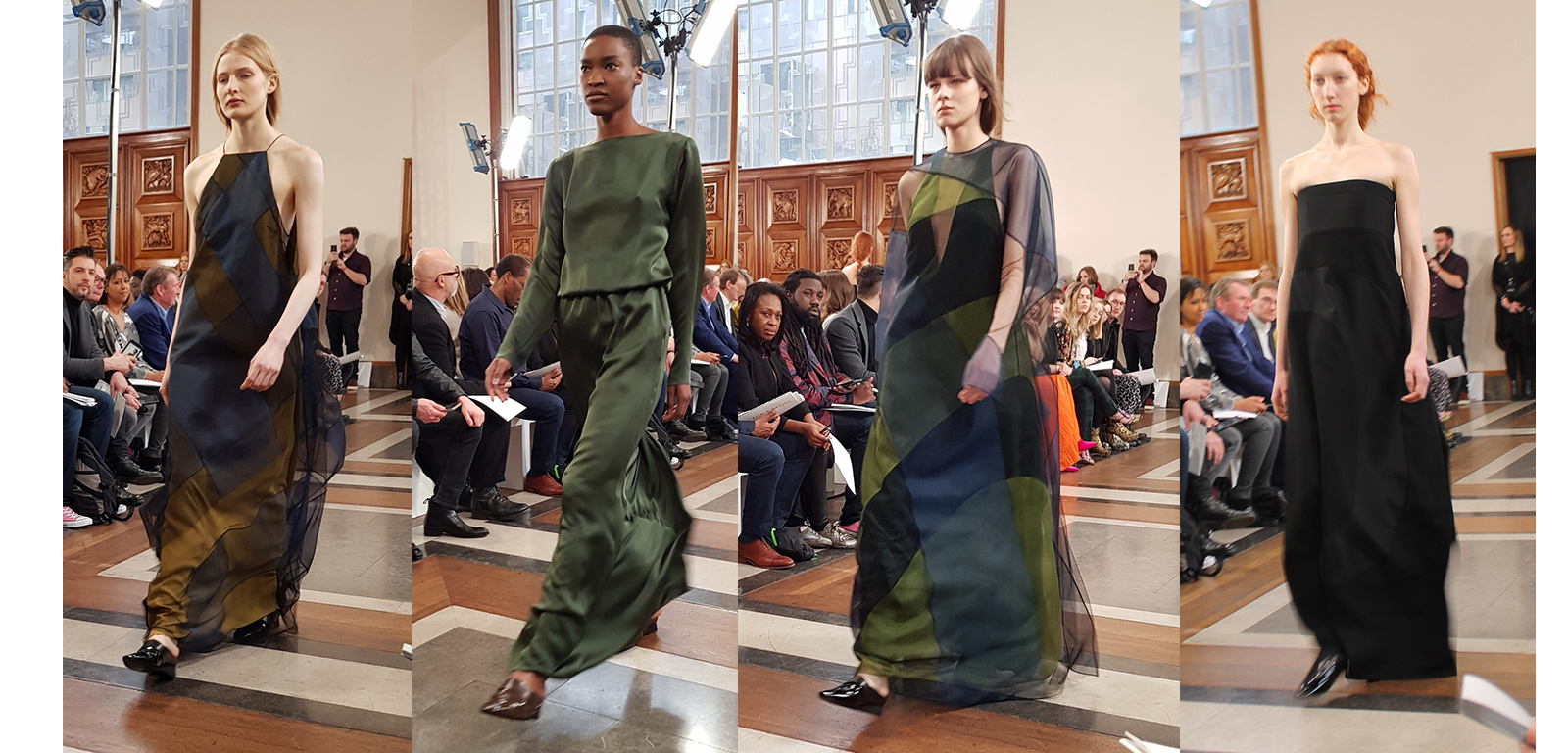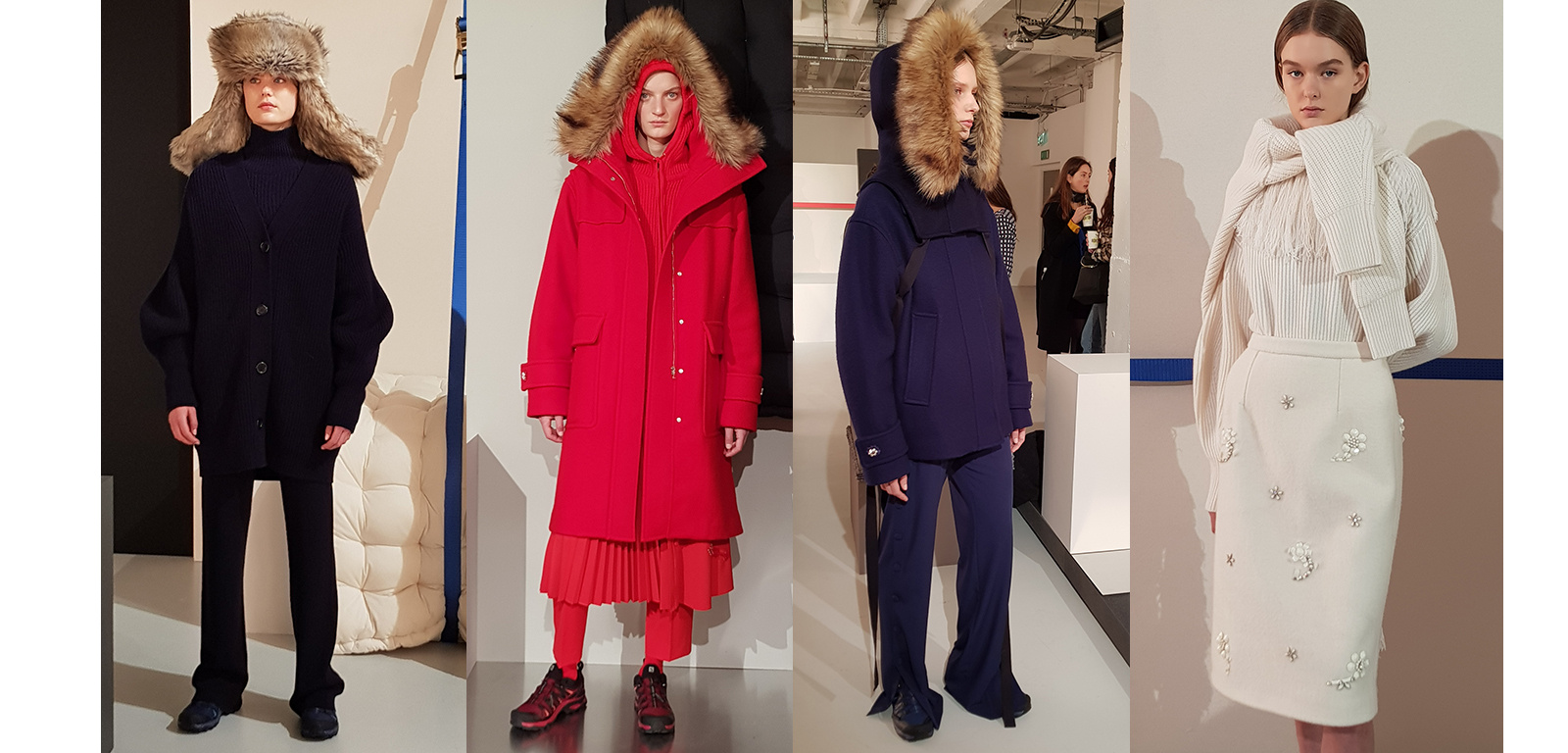 This season sportswear and the great outdoors where huge influences for Markus in terms of his formation of the collection. His muse was fiercely wrapped against the elements with large faux fur hats interspersed through the collection. A Navy knit duo features both sweater and cardigan in thick yarn with a pair of warm trousers creating a snug autumn look that captures the essence of autumn chic. Worn without the hat it's a discreet cosy look that will blend in anywhere at the office or out and about. There's no danger of getting lost in a snowstorm wearing Scarlet. Layering up against the cold a model wore a hooded sweatshirt, skirt, trousers and scout plus socks peeping out from the stylishly rugged trainers. Be you in Scandinavia, the UK and northern Italy or anywhere in the European or North American countryside this outfit will keep you warm and the individual garments can also be worn as separates.
To the right above a Navy jacket features a detachable hood that ensures the garment stays versatile for slightly warmer days ensuring trans-seasonal wear and value in your wardrobe. Long boot-cut trousers shield the legs from the cold airs of autumn and winter and cuts at the base of the length allow for flexibility in dressing with a variety of boots and shoes. To the right a chic look all in White for après ski, around town, parties and maybe the office is defined by a knee length pencil skirt sewn with enamel and glass jewels shaped into flowers. Wearing two thick knit sweaters, one featuring fringing, the look eases through the day to evening style speak.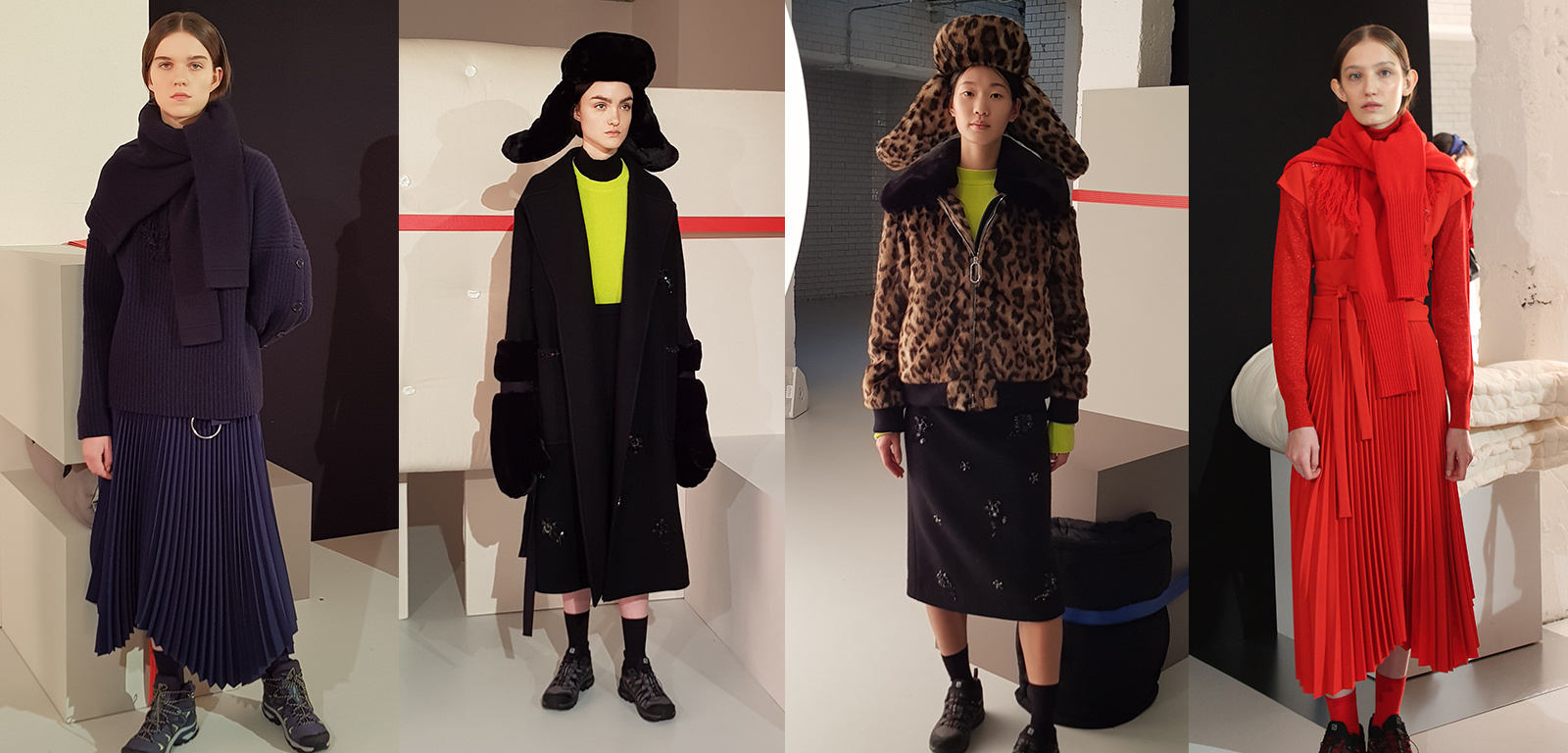 The delightful chunky sweaters are one of the many must-have grabs to consider buying this season and have great gifting potential for family and friends. Another double sweater combination is matched to a flowing pleat skirt that almost mirrors the line of the ribbed knit. Softness of texture and practicality are both emphasised reflecting a key aspect of the collection. The striking bee-like colours of Yellow and Black appear in two outfits both using the lighter tone in a thin sweater and Black in the skirt. Plus faux fur hats with outsized ears covers make another snug effect whilst giant glass beads sewn into floral shapes. Too the right a bold Scarlet dress with pleat skirt and sweater tied around the neck create a bright inversion of the style to the left of the frieze. The bright colour and detailed design almost belies the warmth within the outfit.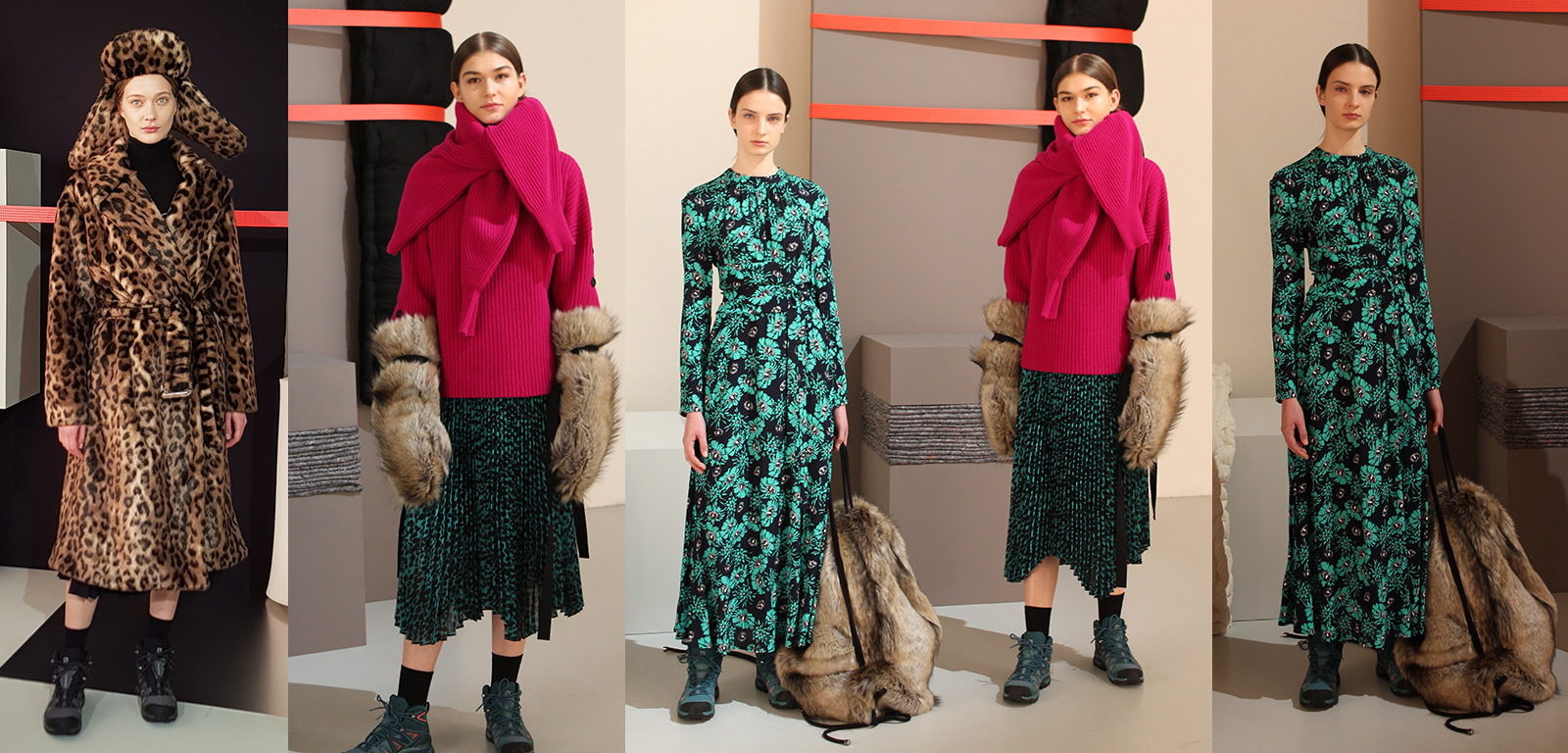 Faux fur plays an important role in the collection with a broad lapel coat in Leopard-like plush wrapping the wearer against any cold. Magenta and Green are two opposite colours paired to great effect and a 'double sweater' style, so popular through the collection, is match to giant faux fur gloves that spell Yeti-Chic. A fine pleated, neon pine skirt designed and dotted with animal print detail sits casually at the hips reaching to the midi length (shown also in singular for greater clarity). A floral print dress adapting the classic 1970's line is an easy mix and match piece. You wear it it solo, or add a cardigan and jacket. A great faux fur tote bag looks big enough to pack a little brother or sister but could easily set you up for a weekend away with the added advantage of keeping you warm on the plane, train or in the car.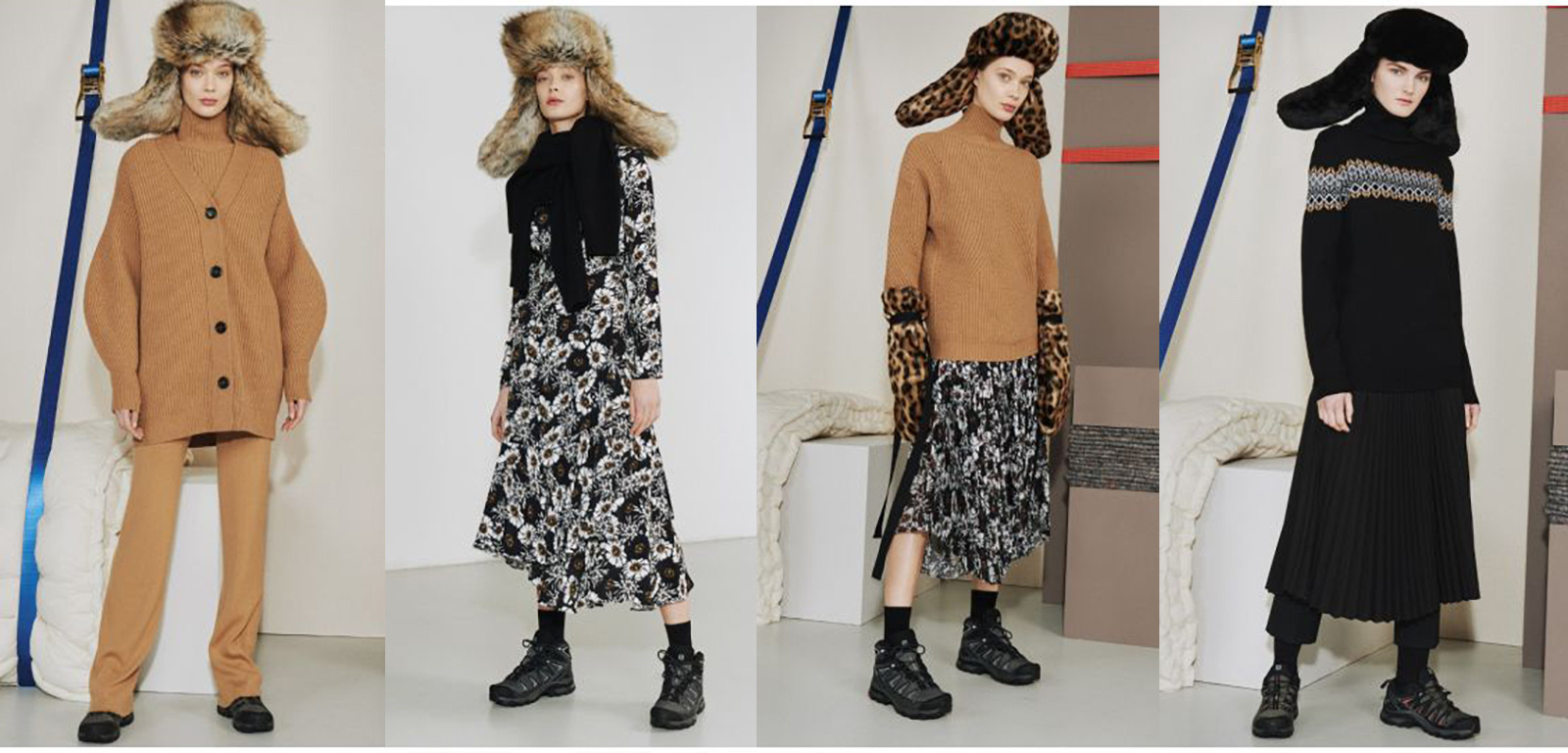 Some of the above images in this frieze sourced from the designers press kit are a little blurry, for which I apologise. Caramel, one of the sweet rteats of autumn blends a polo-neck, below the waist cardigan and trousers to create a single colour comfortable and practical look for the cooler seasons. The giant ice storm defying faux fur hats ward off the winter snow and ice with a cool bravao of their own. Flower heads appear in monochrome through the length of a long sleeve maxi-dress and leaning more to a trans-seasonal piece with polo-neck sweater wrapped about the neckline. This dress wrapped in a caramel sweater offers a warmer daywear layering option showing that Markus has his feet firmly planted on the ground and not on a flight of the purley conceptual. A Black chunky knit sweater of partial Fair Isle design and mathcing Black pleat skirt offers both a chic and snug styled look for day, evening, inside and out through the winter season.
Molly Goddard

Images credit and (C) Molly Goddard

Molly is the Queen of the early 21st century British fantasia dream ready to wear dress. Her work graces the cawalk, the sound stage, the Red Carpet and has also been profiled at the V&A as part of their Fashion in Motion series. This season was no exception with a parade of beautiful dresses swishing and swaying before hte eyes of the audience.
Bright colours, hints of neon, netting and pin tucking galore, just some of the clues that you are looking at some of the work of Molly Goddard. This season Molly demonstrated her ability to find fresh takes on her classic styles adored by fans as well as embrace new ideas and dynamics. A subtle neon Pink dress is decorated with broad lapels and shoulder epaulets but far from serious and officey, this dress wants to skip out the door and have an adventure in the countryside or at a smart party in town. All of these looks would do well on the Red Carpet and the shirt collar is modelled onto the next dress in another semi-neon shade, this time Green. A smocked bodice contrasts with diaphanous sleeves and a skirt envolumed by generous pin-tucks at the bodice base. It's a straightford heritage theme that still works today in modern fabrics with some tweaks.

Centre above a broad bib floating over a bodice has a faintly ecclesiastical look as it sits above the gathered smooth fabric forming a pretty juxtaposition that enhances a subtle note of style. A light Buttercup tulle is abundantly gathered around a model with stand-out layers used in the smock detail of the bodice. In a striking innovation this dress and the former are accessorised with a handbag itself composed of a millfeuille of gathered tulle. Molly offered a classically cut Grey midi length wool coat to her audience sitting over one of her desired dresses that itsef comes complete with a hood to shield the ears from the wind just like the gloves. Socks striped in Black, Magenta, Purple, Rose and Grey, also my webpage colours nestle around the ankles, both locking in heat and creating a snappy style moment.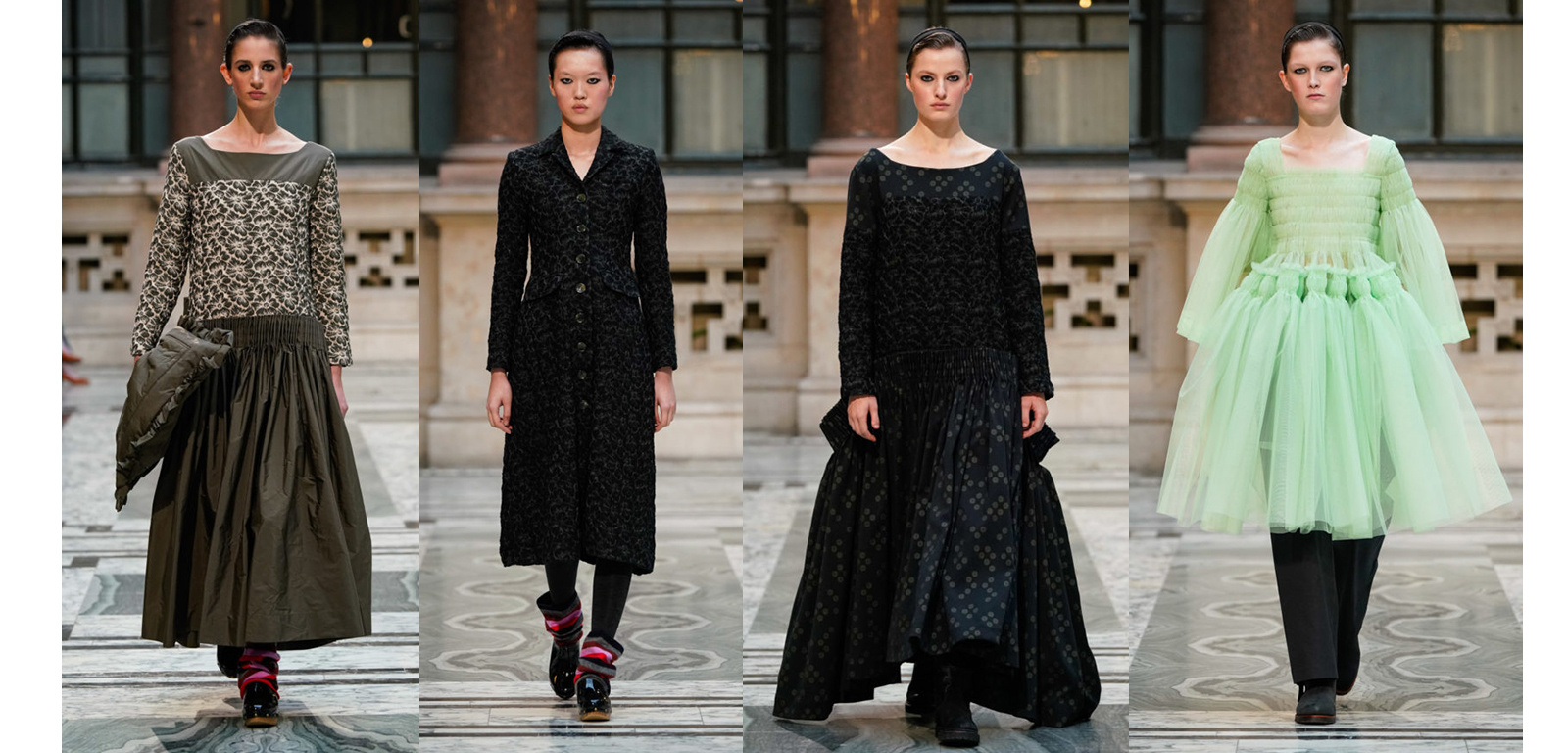 There's a feel of a new look about some areas of the collection and after an introduction with familiar forms easing in the audience Molly began to through in some ideas that will be newer to many who have seen her work in the past. To the left above a Teal-Brown dress features a floral lattice resembling knitware across the bodice and through the lengths of the sleeves. A dropped waist is banded with pin-tucks giving a vintage feel above a dress skirt of ruched taffeta. It's a new spin on the ball gown and ocassion dress with a clutch purse shaped like a puffed pillow completed with pillowcase border. Comfy and polished for a 21st century Elizabethan. A Black jacquard coat jacket is mysteriously minimalist with it's barely visible deep pockets placed at the hip and small collar. It's a jacket that could be worn either everyday or for special nights out as you chose and wouldn't leave a client over-dressed or under-dressed in any environment. An ankle length dress cleverly uses one light Grey geometry print in the lengths of the fabric and a second around the waist to create a subtle style contrast. Open sashes at the dropped waist play with shape and the dipped hemline sitance the piece from any notion of replication of the historic. Mint tinged with neon gives an energetic bolt of life to a ballerina-style tulle piece that forms a partnership with trousers, instantly blending the fanciful with the practical. The dress will probably be worn by itself by some clients and will be a recognisable Molly Goddard hit on the Red Carpet this autumn and winter. There may be whimsy at play here but her looks draw serious attention.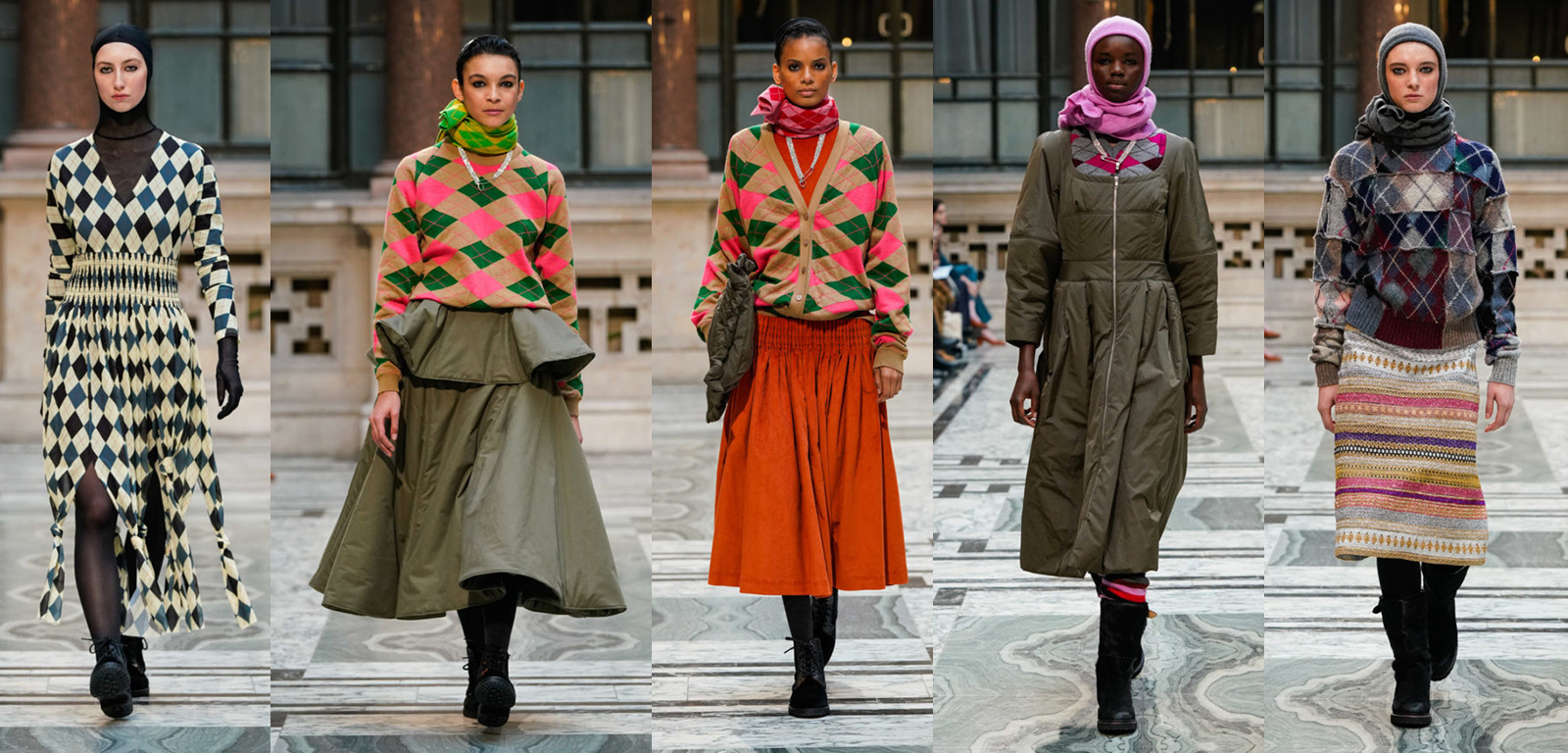 The embrace of knitware and in particular intarsia design particularly evocative of golfing sweaters marks another departure of Molly towards the utilitarian, sporting and action embracing this rather than sticking solely to notions of the purely feminine. The classic V neckline sweater is adapted to a sweater dress with plunge neckline and elongated diamonds in the waistband as opposed to the sqaure-cut ones through the dress lengths. Cut strips of the dress fabric hang from above the knee length to ankle tied in a knot half-way down creating a swing and movement of an unexpected quality. I'm perhaps thinking of the Grimaldi clown as the underlying sweater reaches up to cover the head in a modest cowl form.

Preparing for the great ourdoors the camouflage of Teal Green of a quilted skirt is matched with an anti-camouflage of Green, Pink and Caramel Intarsia check sweater. A luminous Green neck scarf also uses the disctintive sporting diamond. It's a bold combination in stark weather-proof contrast to earlier pieces but evidently useful in the cold of winter and for autumn walks in Yorkshire, Cumbria and Scotland. A cardigan in the same knit fabric sits over an Umber coloured skirt and blouse. Another neck-tie in Magenta Intarsia offsets the colour theme further and a second quilted pillow-like purse is in the hands of the model. The same camo' fabric used for the purse is transformed to create a warm weather-proof jacket with woven Magenta and Burgundy diamonds underneath. The head is modestly and practically covered by a cowl and wrapped in a scarf to keep out the winter chill. To the far right a model similarly cloaked in a Grey cowl and Molly looks to a bold double knitware statement here. Cosy heritage homespun is the motto here with patchwork intarsia mixed with cross coloured knitting that appears to be hand woven on a traditional loom frame.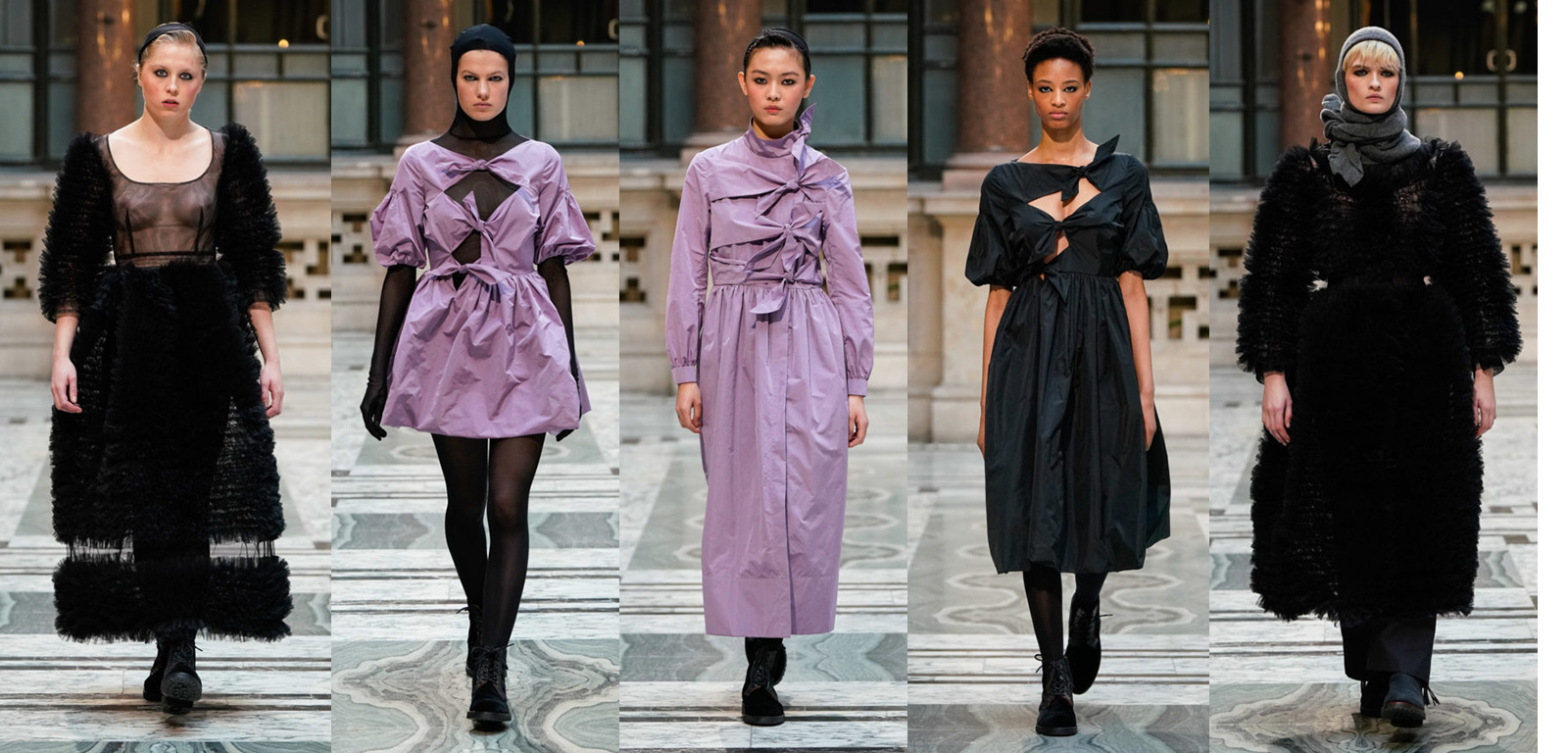 As the collection moves more firmly to eveningwear, Molly switches to a colour palette of elegant Black and Lilac. Soft feathery gathers of tulle encircle the arms of a model and fill hte lengths of a sheer skirt with a transparent band curiously at the midiline break in the skirt length. The bodice is bravely very sheer but clients may also find an easy adaptation in placing a Black undergarment beneath the dress.Ribbons and ties become a key motif to express a soft sophisticated style hint. A mini-dress in Lilac features bows at the neckline, bodice and waist crossing the figure and creating an adaptable volume in the piece. It's a perfect aprty mini-dress that could potentially be worn with or without the full body stocking underneath. Centre above a series of sash ties with sit over an ankle length Lilac dress that wraps around the figure like a day jacket. A Black dress using the same series of three bows across the upper part of the garment set on a diagonal is a classic cocktail dress in Back satin silk for the party season. To the right Black tulle gathered in feathery tightly packed waves around the figure is acompanied by trousers and a knitted cowl. This looks like an unusual pairing but it will keep many clients warm and happy next season.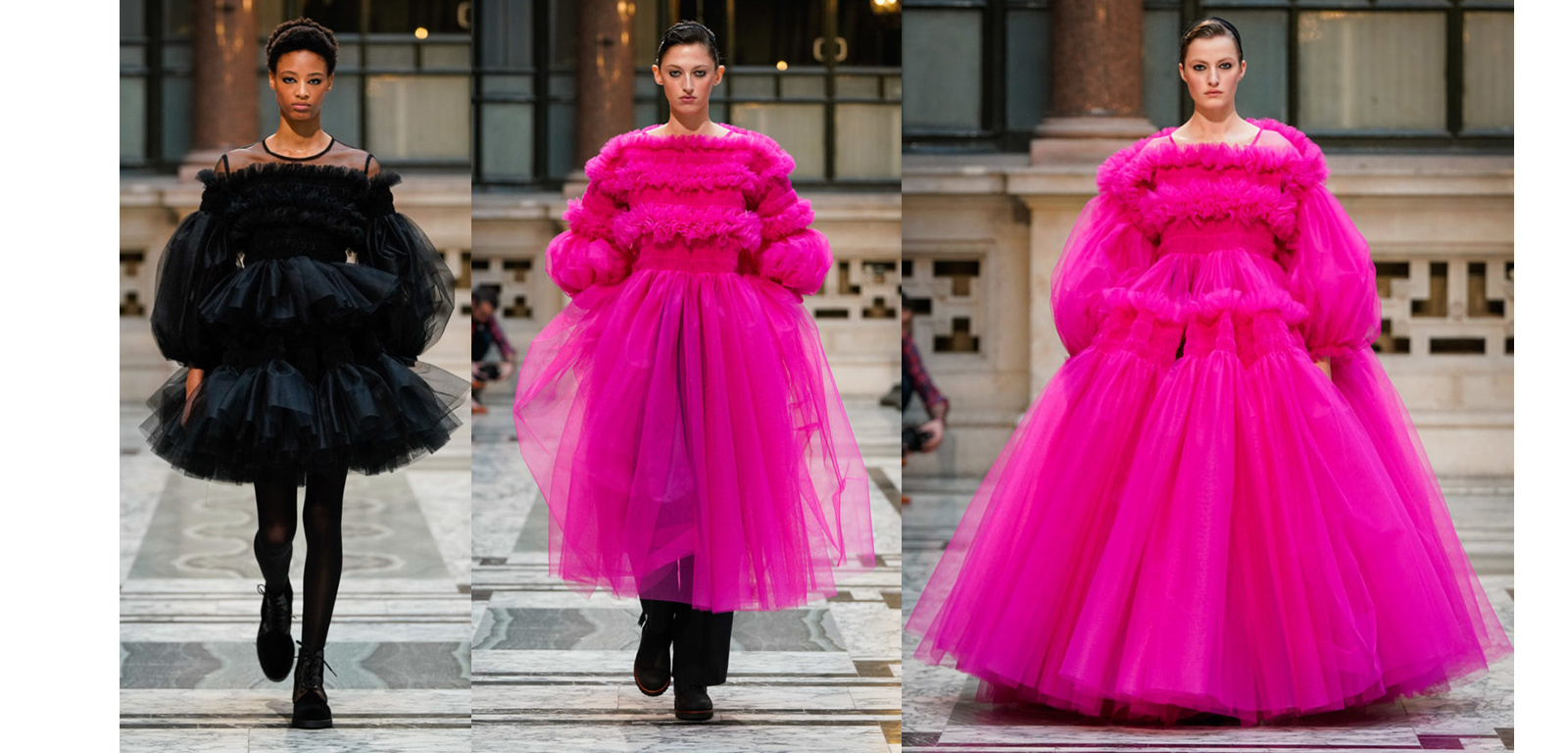 To close here a look at three classic large showstopping gowns that Molly is loved by her clients for, including one that I shuffled forwards in the deck as I felt it belonged with those it matched to closely. Tulle glorious tulle in abundance, meteres of it banded in tight ruch around the bodice of a Black dress descending to billowing sleeves and a double tiered skirt with net layering. It's a classic statement dress and would possibly be adapted to sit off the shoulders. Centre above a midi-length Magenta Pink dress features a bodice and sleeves of tripple layer fringed tulle ruffles above a sheer netted skirt. This look incorporates trousers as several earlier ones do creating both a colour, fabric and contextual contrast. To the right the final dress fittingly is amost as wide as the cavanous space inside the Whitehall location the show took place in. This time a bodice tiered in two layers of tulle descended to a skirt created of clusters of gathers of fabric. Voluminous sleeves almost disguise the presence of a train behind the wearer and this look could well sneak into early awards season at the turn of the year for it's dramatic impact.
TOGA was envisualised by Yasuko Futura to be worn by 'the woman who can only live in chaos'. Her world is complex, dynamic and breathing and teaming with new life, energies and ideas. Key symbols in previous collection have included the mitochondria of DNA cells and contemporary art expressing the feminine. She is interested in transcendant ideas that reach across time and have broad resonsnce with an international client base.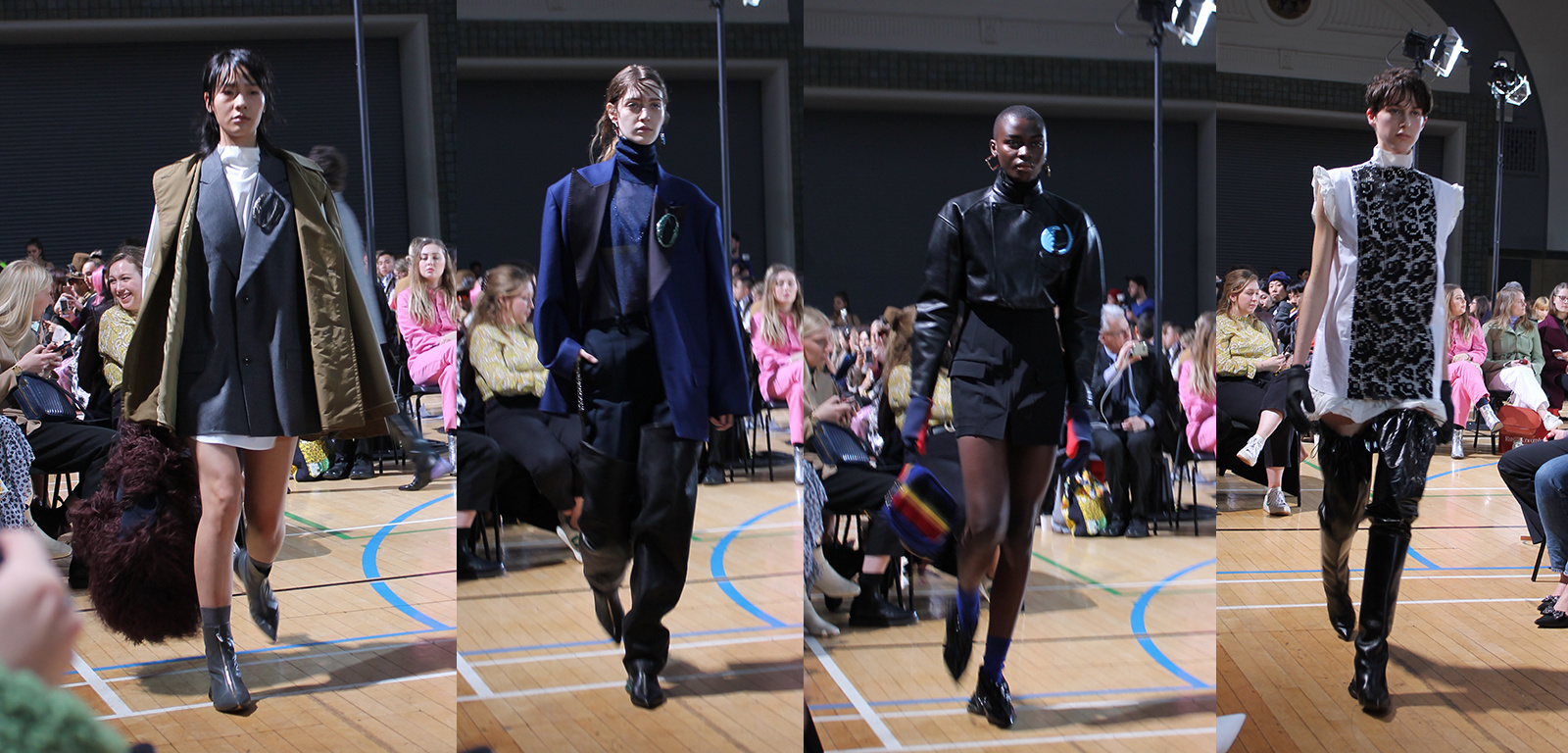 A White tunic dress and Grey Blazer walk out cloaked in a Mustard jacket. This tripple layer garment has the cosmopolital 21st century feel that also incorporates nuances of traditional Japanese style in the easy length of the fabric. The mitochondria symbol is present in brooches worn on the lapel of the first three pieces above. A Navy turtle neck sweater, lose cut trousers and matching blazer with contrasting dark lapels gives the choice of a contemporary suit to wear in the colder months. A bolero Black leather jacket and mini-skirt present an urbane choice for a woman about town and a striped material clutch in a seasonal print, more of which to come later, adds a pop of colour. To the right a fascinating blouse is formed from a Black lace embroidered panel set onto a White Broderie Anglaise sleeveless tunic. Complete with mid though patent leather boots it's part electro-punk, part urban casual.
A leather jacket tailored with a very careful eye to the classic form and features interesting additions such as a double belt. At the left lapel strands of Golden blossoms hang downwards in a motto perhaps for the beauty of new life. Underneath the model wears a tunic shirt dress giving a monochrome look and her purse clutched in the right hand has a utilitarian feel. A spacious Navy knit sweater wraps the next model in warmth to the right and a zipped mini-skirt completes the feel of a stylish easy casual look. Gloves keep the hands warm and add extra notes of colour. To the right a Mustard sweater is cut open at one shoulder with trousers in check fabric giving an inspired take on autumn style. To the right a Lilac lose-fit shirt dress features a cowl hood for modest dressing and protection from the elements through the winter. A faux fur coat in marbled patterning creates a bold contrast and is also easily interchangeable with other items to wear day or night.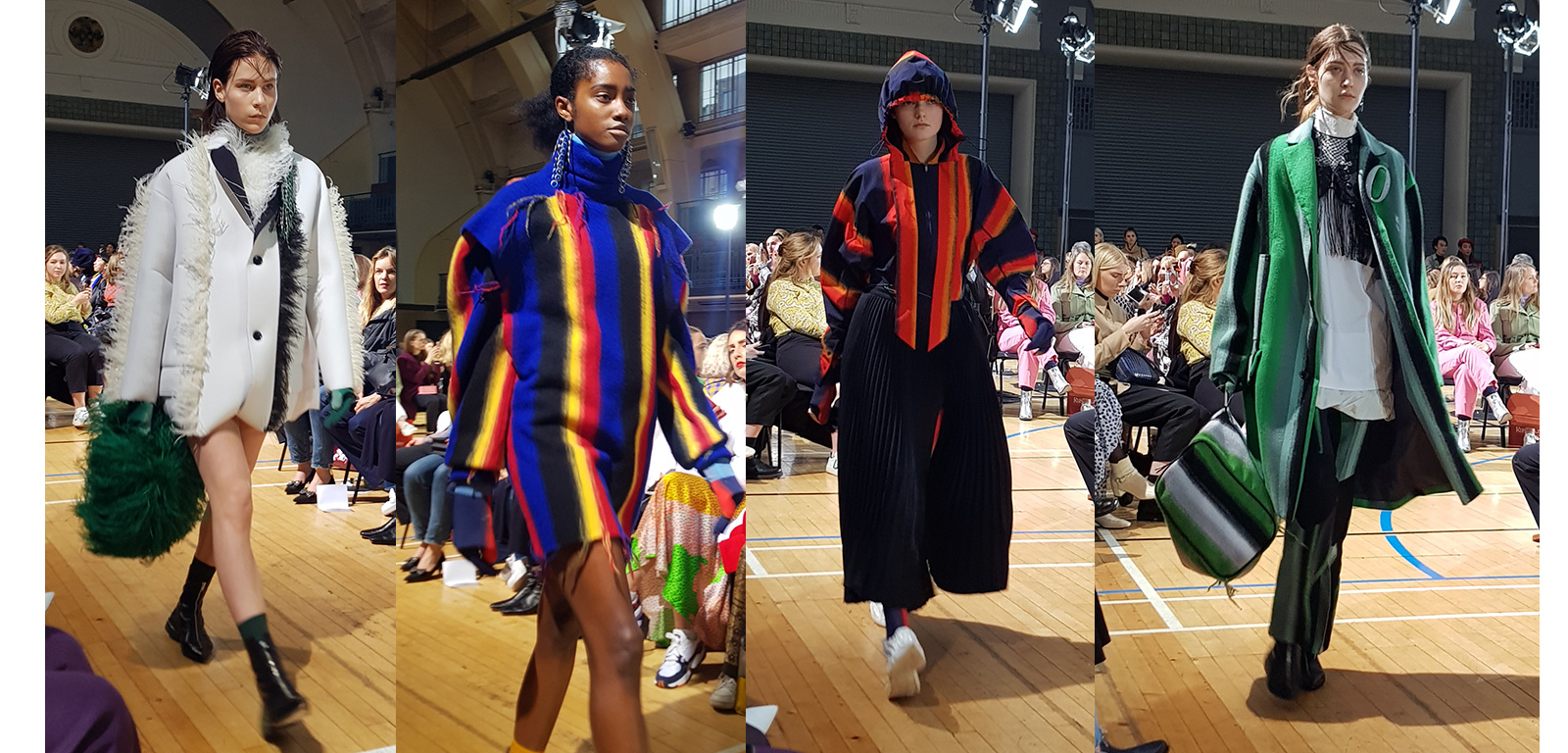 There are many but not too many ideas going on here with a White coat taking elements of both blazer and puffa design together with tasselled fringes coming from the seams of the coat. A giant Green pompom ruff of a purse adds to the contrast of floaty flounces of style with the lines of precision tailoring. To the right a mini-dress displays bold colours with stripes of Black, Yellow and Red vertically placed down the front of a piece. It's high neck collar shields the wearer from the cold of autumn and the sleeves have a second layer at the shoulder keeping the upper body warm. To the right a sports jacket blends together with the tighly folded pleats of a voluminous Navy skirt. This all in one piece is both rainproof and stylish with a bold take on the varsity stripe. To the right stripes return in Green, Black, White and Grey with in trousers and a coat matched with a White T-shirt. The Look has a sporty and cosmopolitan feel and as with many looks in this collection, individual pieces can be mixed around in your wardrobe to create a effect.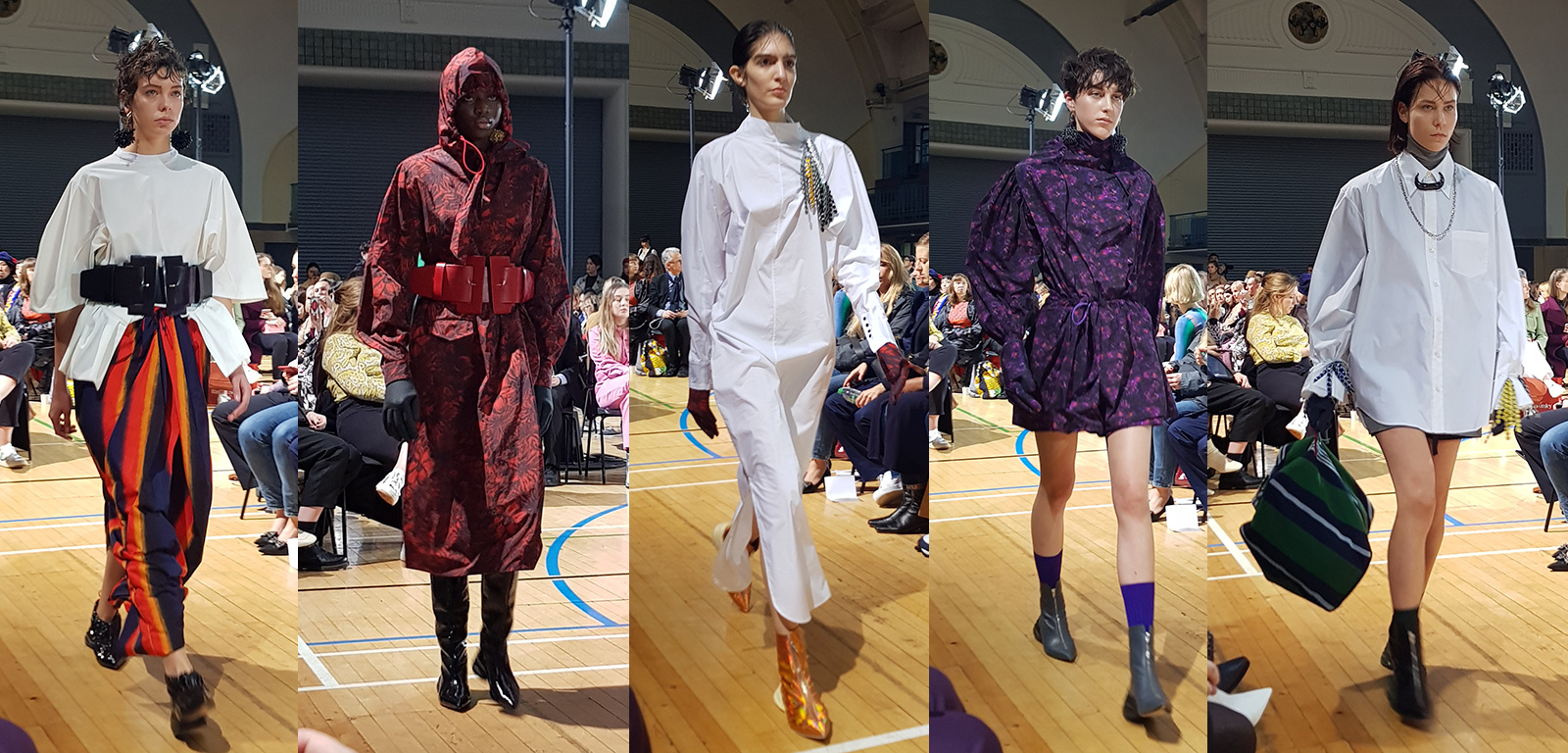 A White blouse is fastened by a broad belt at the waist with generous trousers in a brightly coloured signature collection stripe. It's a piece at once both relaxed and making a statement. To the right a Red raincoat in floral print is also banded by a thick belt in Red to match the jacket. Patent leather boots and gloves will sheild the wearer from the rain. A White shirt-style jumpsuit is expertly sewn around the figure to give a light practical option. I think that this would make an interesting Red Carpet look for stars with a creative and artistic leaning. To the right a raincoat reaching to the mid-thigh is tied at the waist and neckline with a drawstring. This conventional style mode is contrasted by the all-in one nature of the garment that includes gloves in the length of the arm sleeves itself. To the right a White shirt sits over Grey shorts and is matched to a varisty stripe bag in an autumnal collegiate look.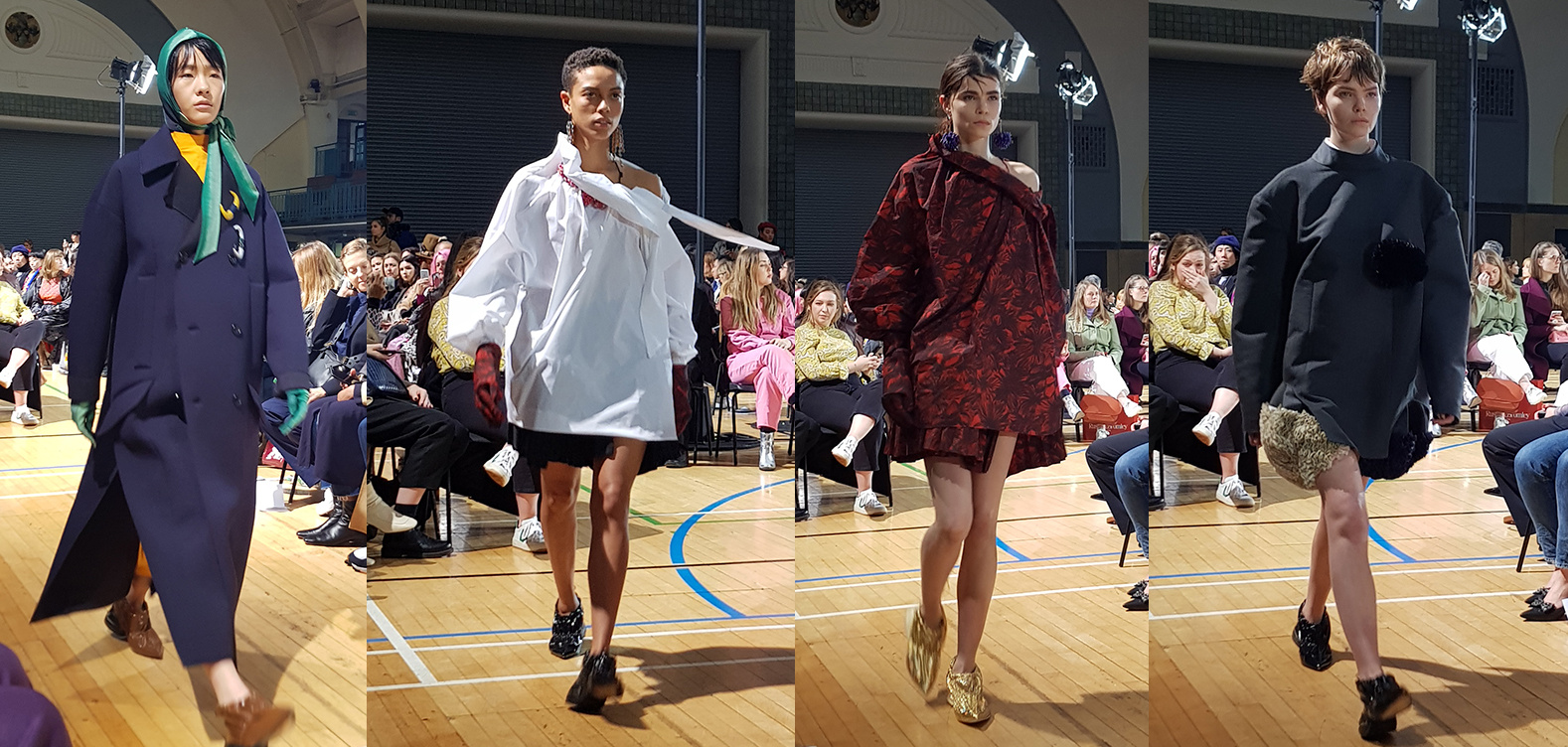 A Navy raincoat with deep pockets and double breasted cut is adapted to give a second set of button holes further across the body. This enables the coat to be dressed much closer or loser to the figure depending on how much you choose to wear beneath it. A White blouse open at the ruch gathered neckline is a flexible trans-seasonal piece that could be worn through in the winter indoors or ease you out of Summer and into Spring. The single shoulder look features in the next item that shows one of the collection signature prints in Red florals draped across the figure with a mini-skirt cut away at the uppeer leg. It's diaphanous and elegant for those who want to show off well toned pins. A Grey quilted jacket is trimmed with sheep skin inside to give the wearer an extra level of warmth and off-set the cold if worn with nude tights legs. This piece could also be worn with trousers to keep you extra warm.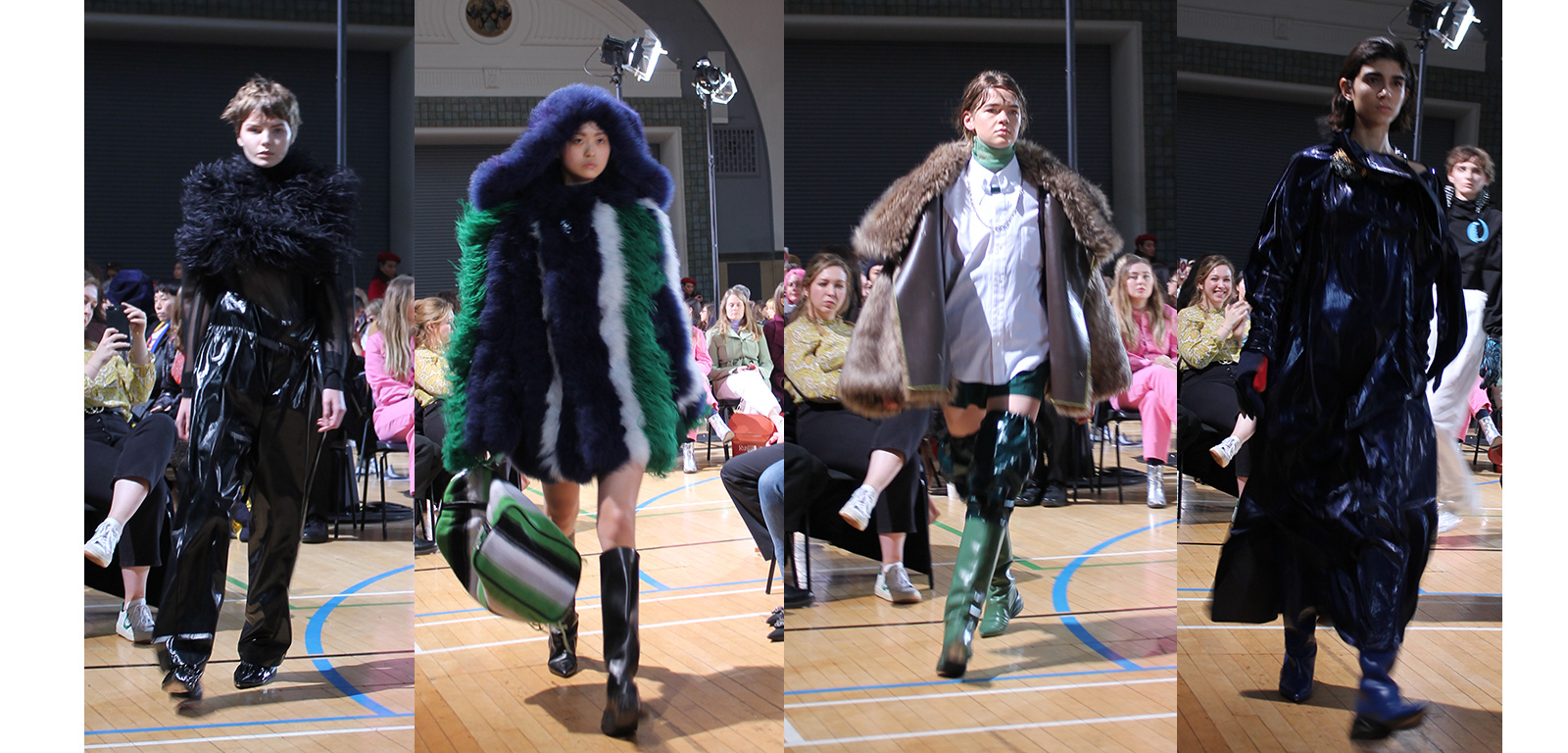 A patent leather effect is created by plastics used in the formation of a playsuit decorated with a large faux fur collar. Sleeves are created in silk gazaar that is sheer to the observer and ruching around the waist draws the garment around the figure. A large plush coat will banish the fiercest of winter winds with a broad hood enveloping the wearer. In her right hand a large satchel in coordianting colours and stripes sets her up for a busy day. A White blouse and cut off shorts make a practical trans seasonal option work with a thick faux fur coat and high wellington boots. The boots appear to have the classic lining extended outwards and upwards to the mid-thigh and protecting the wearer from the stormy showers of winter. To the right I close with a slightly blurry image (apologies) of a piece that showed remarkable fluidity under the cameras. A Black dress in loose water resistant fabric swathes around the model as she walked out into autumn and winter on the catwalk. That's a wrap for autumn from TOGA and an innovative twinkling one it is too.