London Fashion Week SS 2020
A balmy end to one of the warmest summers in the UK that we've had in recent times, led everyone into the next fashion season always almost a full year ahead with a firm eye on summer style.

Mark Fast

All images credit (c) Mark Fast

Mark Fast has made a very welcome return to London Fashion Week in recent seasons and for him Spring-Summer 2020 is one that is alive with colour.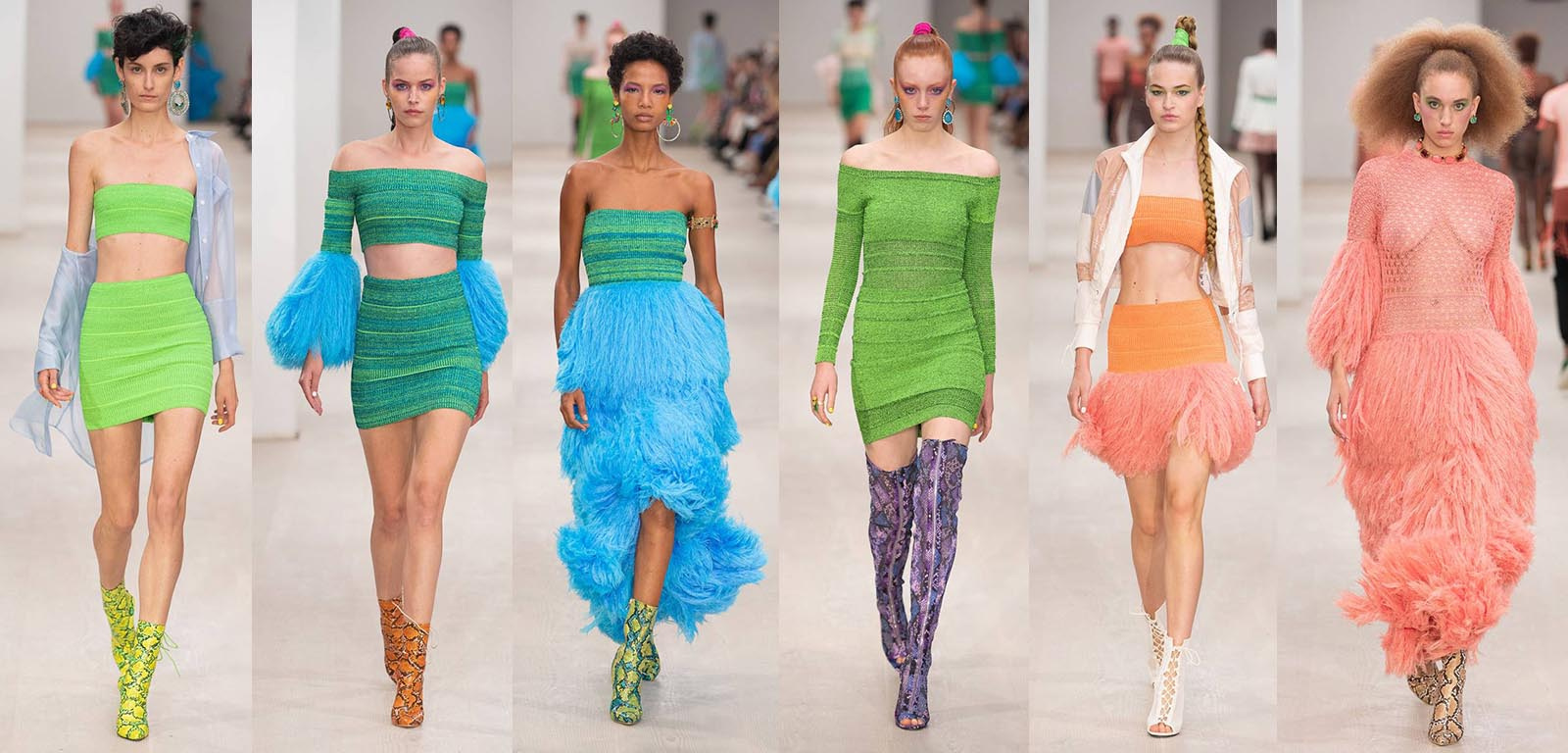 Strength is in colour and the durability and versatility of Fast's chosen textile, the knit as a mainstay of the offering this season. A Lime Green knit bandeau body top and mini-skirt are off-set in both colour and texture contrast by a sheer light Blue blouse. True to Fast's millennial clubbing roots, this is a look to step out in on the town. I'm not any kind of fan of animal skins in any form personally but Fast uses these prints in three colour neon hues in several places to make a feminine strength statement. Turquiose degrede knit is contrasted with Aqua Blue feathers at the elbow and in the lengths of the skirt in two looks above. With Fast's muse set for a fiesta there is ample play with volume against a backgrop of figure hugging style. A bodycon mini-dress in Grass Green is ribbed in bands of fabric allowing for maximum elasticity as well as elongating the figure to the eye of the viewer. To the right soft Peach enters the frame with a feathery fringed skirt and a full length Peachy creation in wide fish-net weave and tiers of tightly gathered hair-like strands imititaing the fall and movement of feathers around the wearer.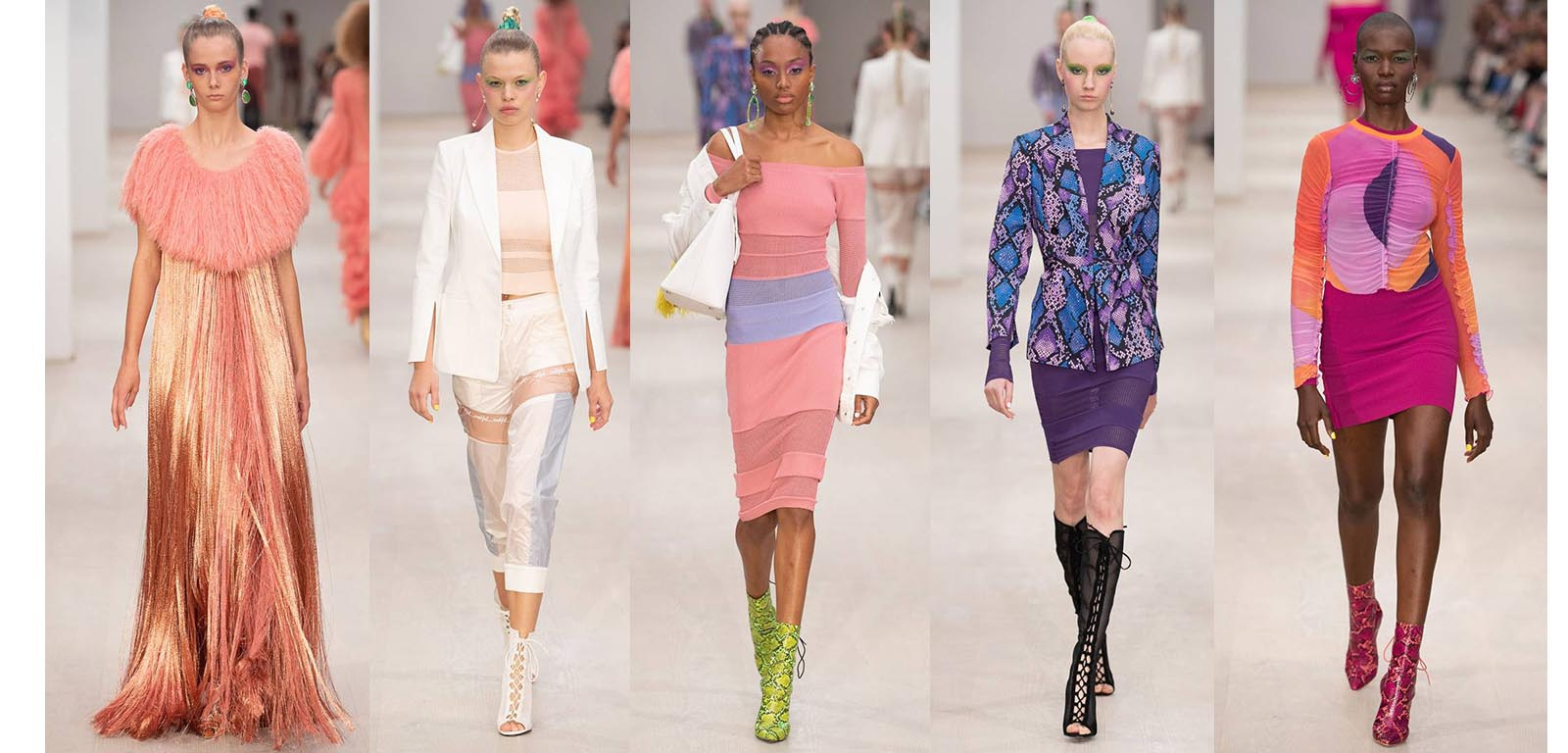 Hair-like strands reach full length around the figure with Rose and Gold fabric reaching floor-length bordered by a deep neckline of soft fluttering Peach. The wardrobe on offer goes through several moods and one explores the suit in reconstructed form. A White blazer jacket and banded sheer blouse match to sports themed trousers that cature a feel of movement and energy in the piece. Centre above another bodycon dress in soft Rose is banded in tiers through the length of the figure with two seams of Lilac around the waist. A soft White jacket and work/social friendly tote at the shoulder cap the look. A strong Purple dress in wrapped in an imitation snake skin lookssharp and serious, whilst to the right a beautiful profusion of colour swirls sweeps around a long sleeved mini-dress gathered in ruched satin silk. This later look is another vintage Fast piece to enjoy and go clubbing in.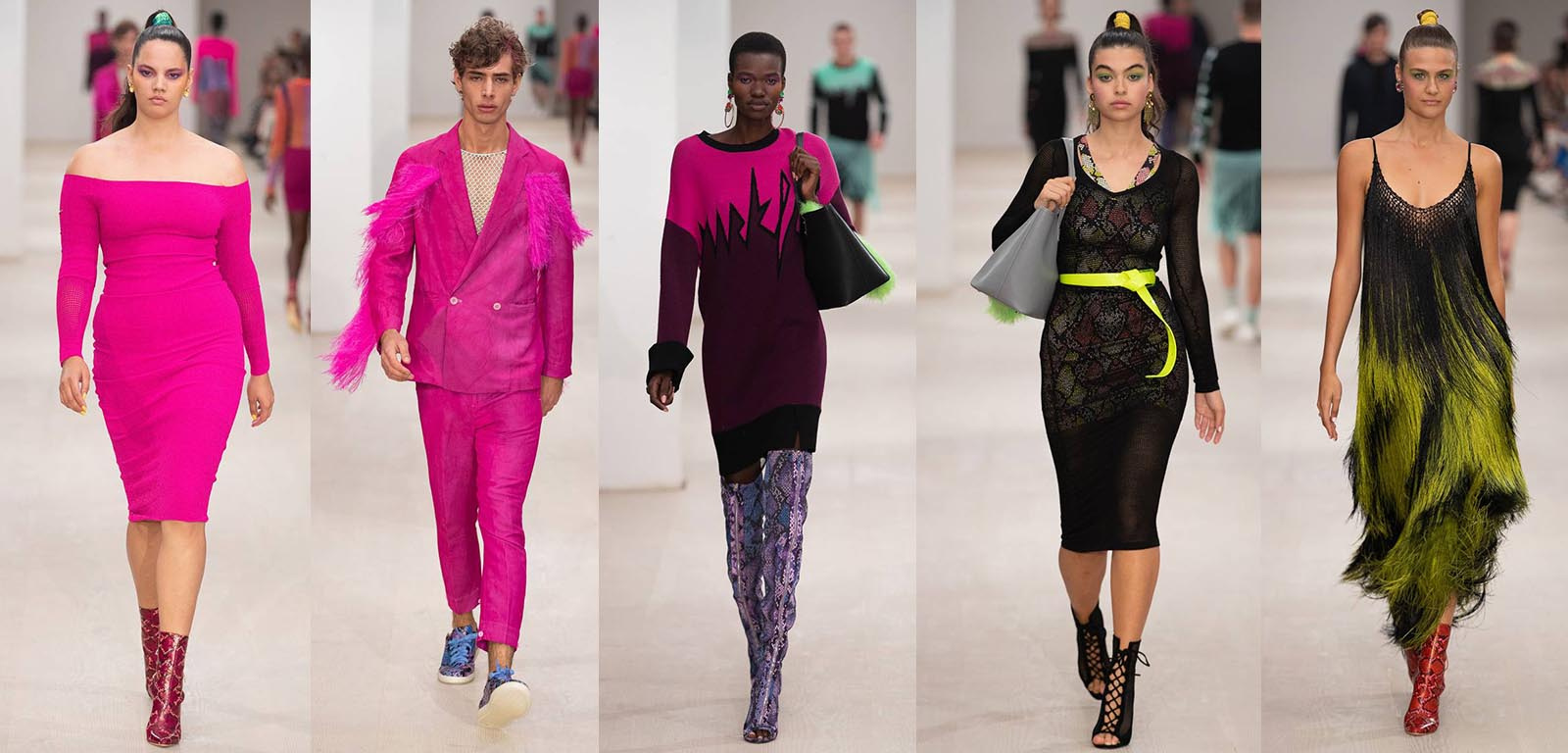 A figure-hugging dress in Magenta is worn on a model above the classic catwalk size of recent years and is a welcome sight to represent all women and it's good to see that Fast, alongside other designers, is taking steps in this direction. To show the strength of Pink isn't exclusively gender-tied the same Magenta appears in a man's suit with long feathered traces of flourish at the shoulders and arms. A knitted sweater with Fast's branded logo and name splits Magenta and Purple in lightning-flash streaks making a strong statement. To the right a sheer Black woven dress mutes snake print into something more delicate with hints of Green and Rose-Pink showing through. To the right a midi-length dress in loose tresses of colour embodies sweeps of movement and life.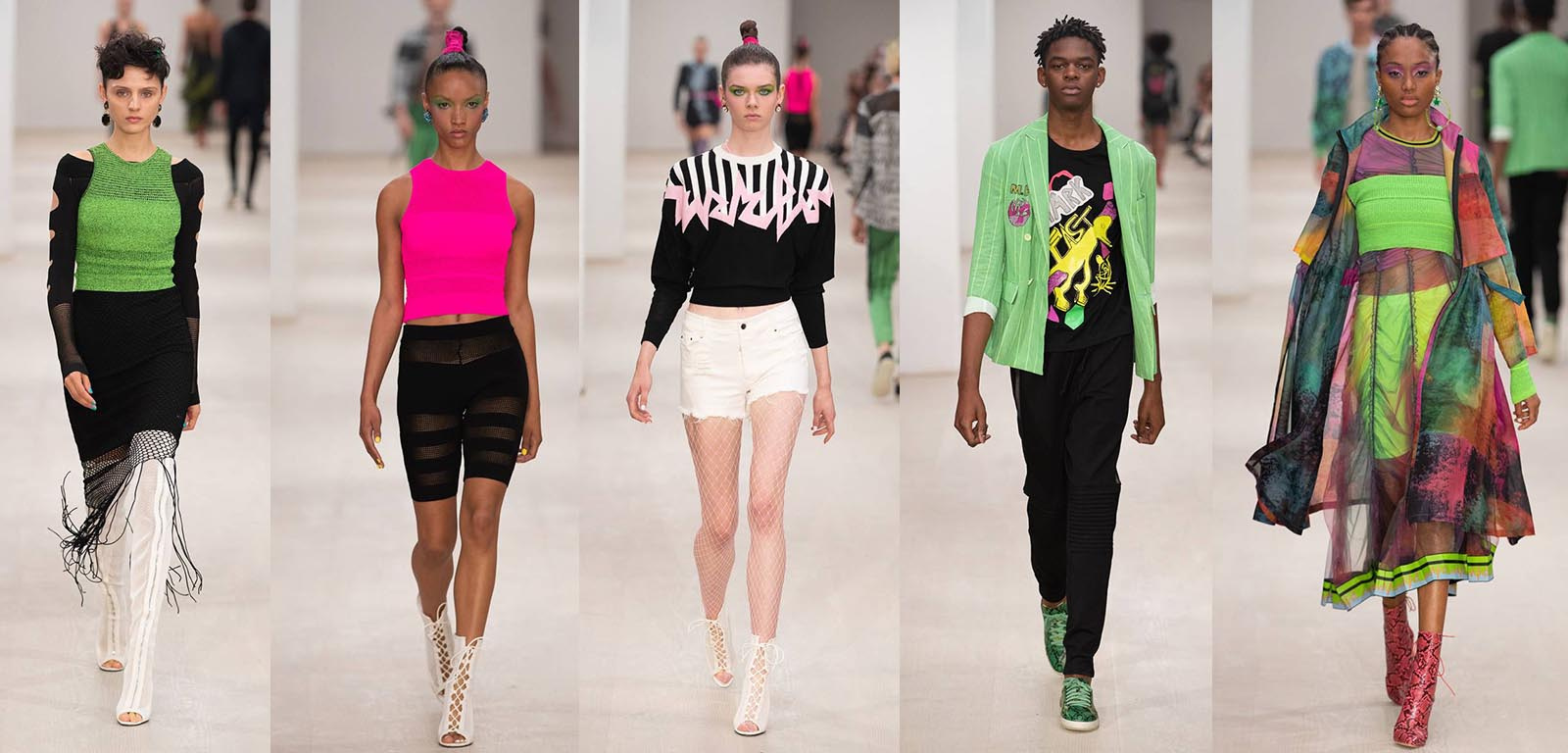 Teaming Black with a bold Neon, either Pink or Green is an instant way to infuse sports clothing with a further burst of energy. Sleeveless tunic tops are matched to both a long-sleeved dress and cycling shorts featuring a banded composition. Centre above a signature cropped sweater makes a casual composition with cut-off White trousers and broad weave tights underneath. Boots laced up the front feature across the collection. To the right a varsity blazer is made-over in the collection Neon Green with t-shrt and trousers and to the right sports meet eveningwear with a Neon Green bandeau and shorts dressed under a sheer dress lightly boned on traditional lines. A melt of Neon colours across the surface of a knee length coat bring a touchof the graffito spray paint to the composition.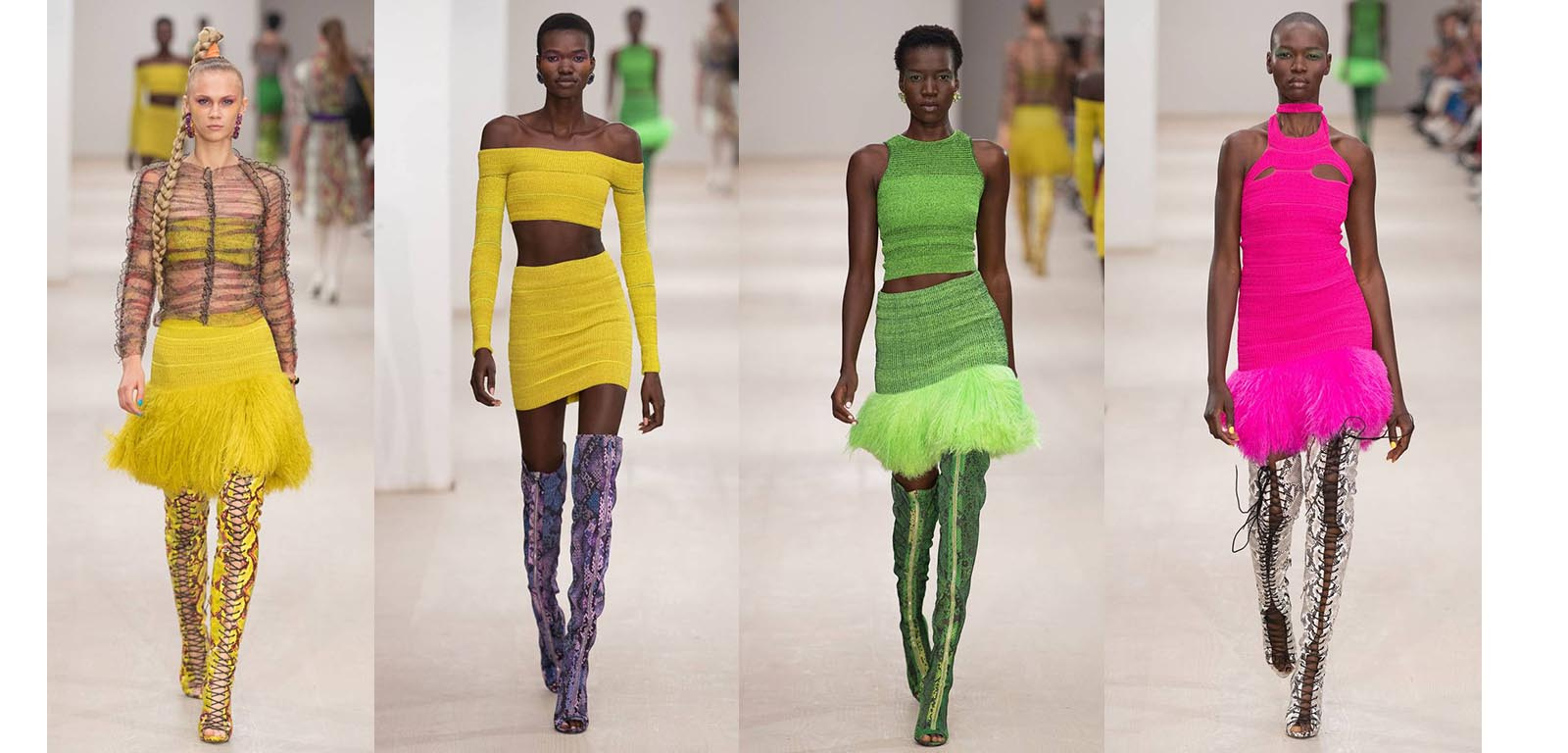 Another look determined not to miss the party is a Yellow bandeau and skirt combination with a wisper thin weave around the upper figure forming a blouse. Synced with over the knee boots, it's a strong look for the summer season. A trio of looks in Yellow, Green and Pink bring the close knit to the figure in dual and single piece garments. With the soft figure giving naturally over the figure as the wearer walks, they are high impact yet gentle garments to add to your wardrobe.
Nensi Dojaka

All images shot by me (c)

Each London Fashion Week brings new discoveries and this season one of my first shows brought just this. Dojaka is originally from Albania and after graduating from Central Saint Martins, she worked with Peter Pilotto and Fyodor Golan. Like many before her, she found these roles in the businesses of vibrant brands with unique identities a very useful way to learn about fashion in the broadest sense.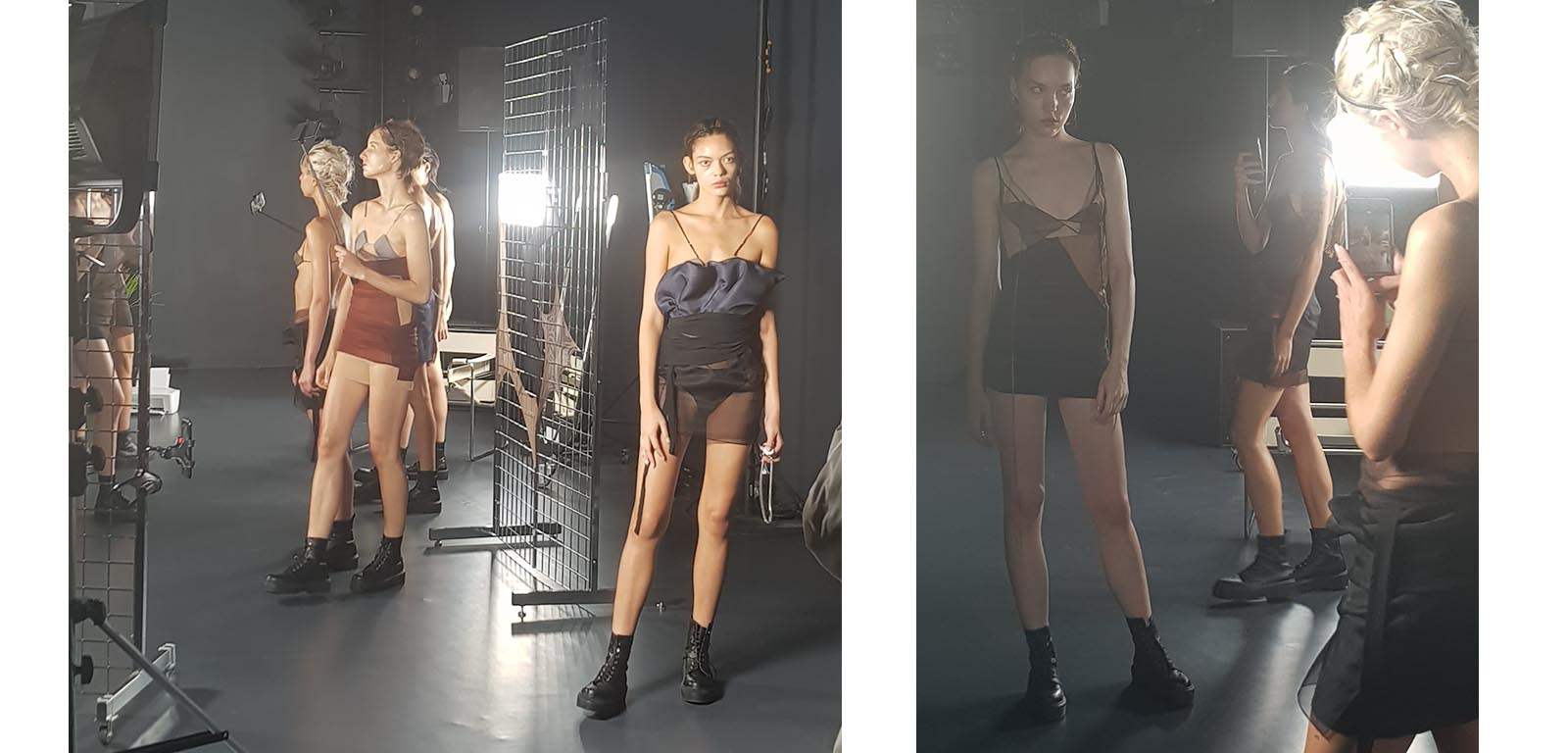 Garments for Spring and Summer are skimpy and minimalist with mini-dresses made up seemingly of sashes of fabric swathed around petite figures. A play on the role of the media appeared also in the theatre of the performance with models filiming themselves, eachother and being filmed on mobile phone cameras. There is nowhere to hide in the modern digital landscape. Models walked through the impromptu studio sometimes pausing, sometimes ignoring the cameras.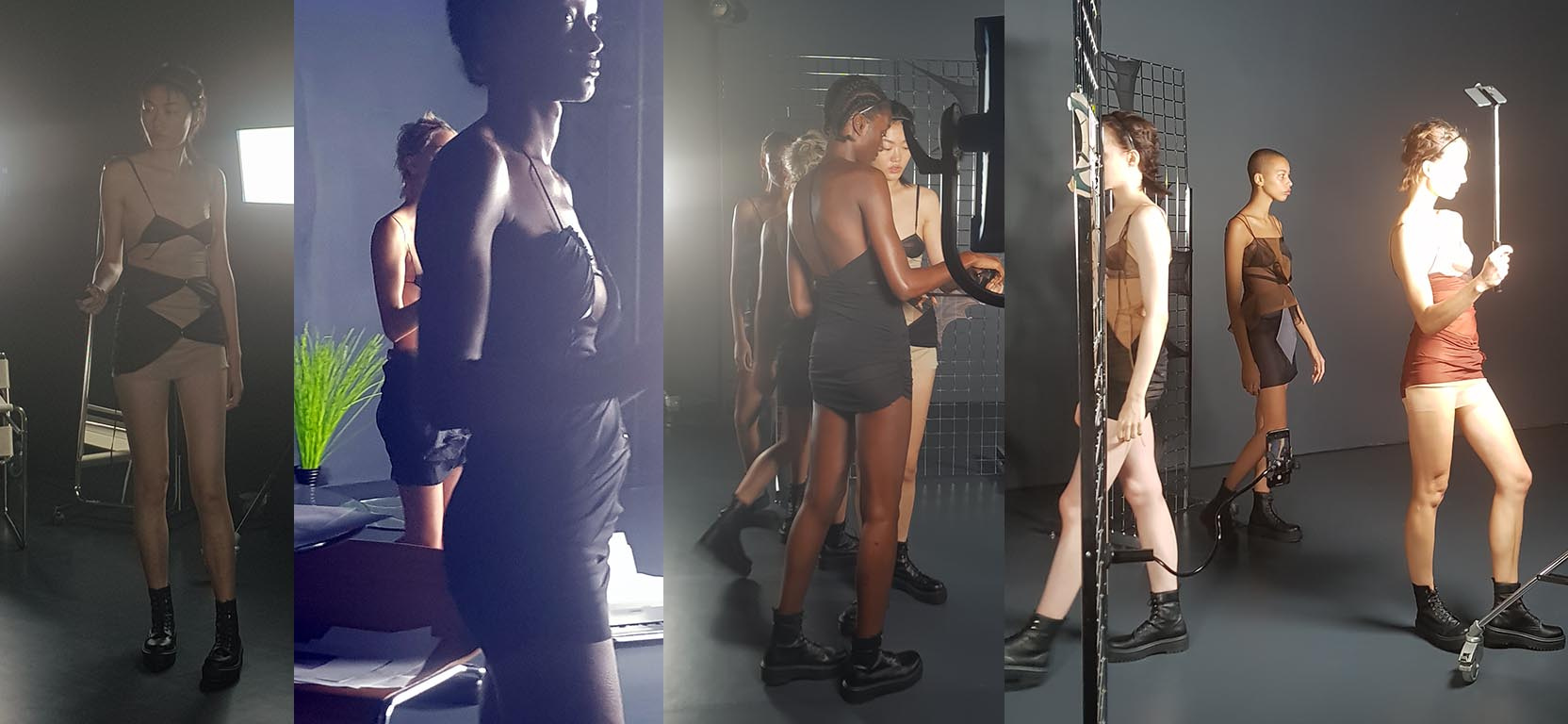 A fascination with sheer fabrics and layering creates pieces that at first seem ephemeral but on closer inspection are fashioned in the most minute details to reveal a vision of precision and care. Bralets fashioned in diamond descending to sash-gather outer layered skirts. Earthy tan colours are twinned with metalics and in a colour scheme ranging from Sand and Terracota to steel and darkest Jet.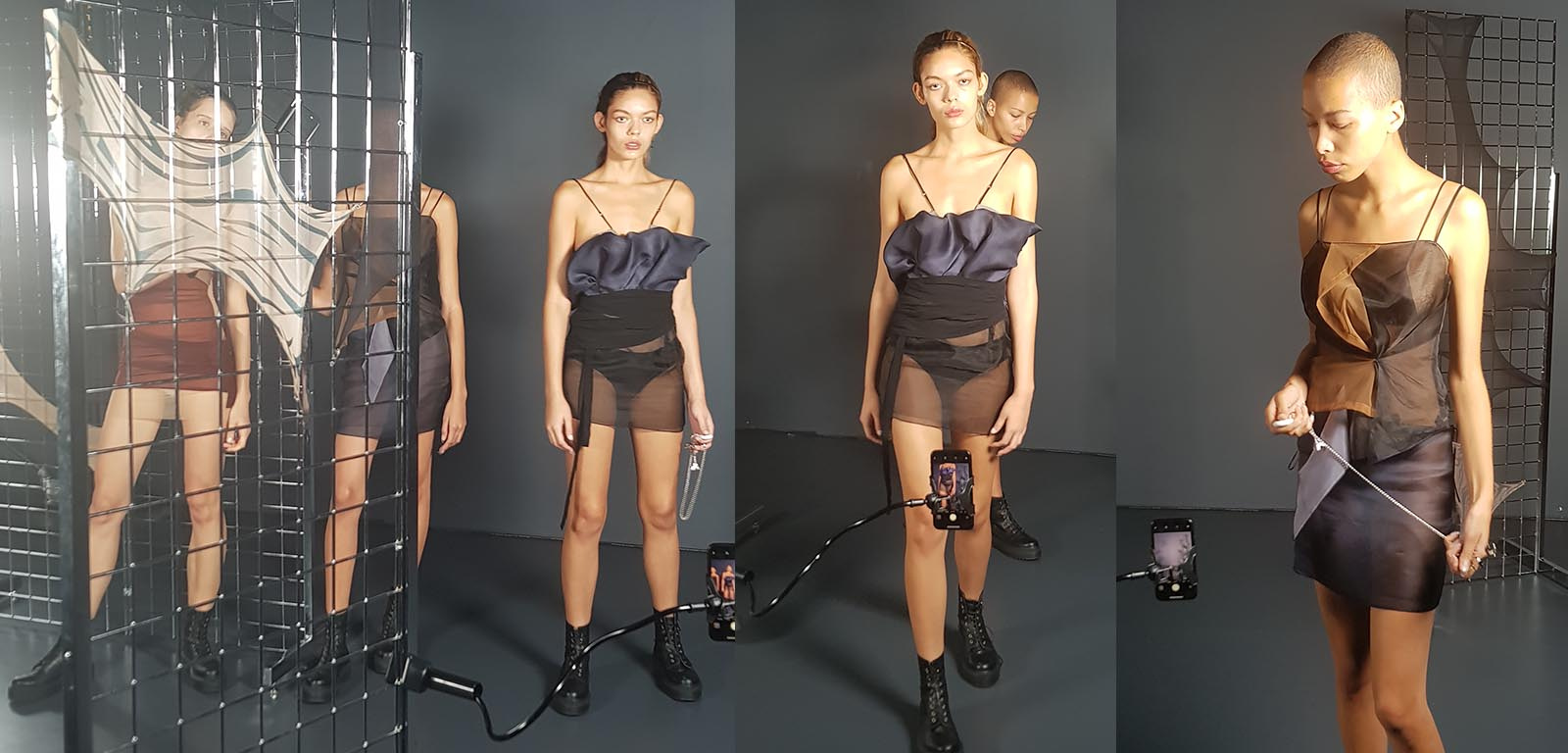 Soft loose folds escaloped into a gentle wave frame a plunging bodice in steely Purple. A soft sash around the waist is teamed with briefs and a sheer skirt to create a bold evening look for the hotter months of next year.
Bora Aksu

All images (c) Bora Aksu.

Hailing from Turkey originally, Aksu founded his label nearly 20 years ago and is now a long-time fixture on the London Fashion Week schedule. This season I mostly put my camera down during the show and simply watched with an eye to the details and composition making some small illustration notes.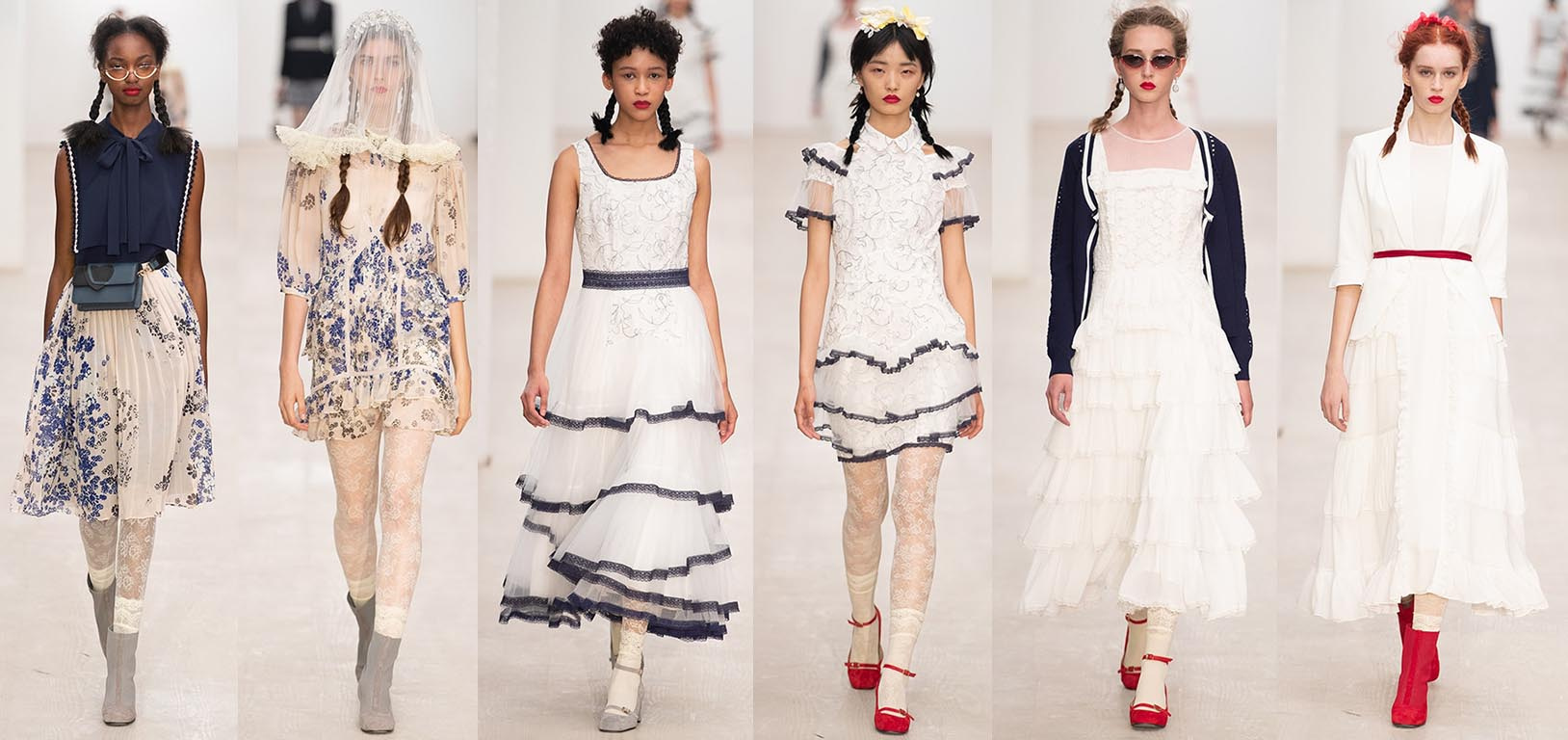 The offering for Spring & Summer 2020 opened with a nod to the traditional fashion calendar 'Cruise' months of late winter and early spring in the Navy and White. Something in the lines above of the Blue Bodice above left, Navy waistband and almost varsity style cardigan hint at the uniform style adopted historically at this time of year for travel. A skirt of fine pleats in one of the seasonal fabrics of the collection is further amplified by patterend tights that looked to be sewn with Roses. Grey ankle boots seal the look send you off into the warmer days of spring on a firm footing. The bridal veil appears in a shortened working of lace just beneath the shoulders with a gathered trim border. With a floral crown it's quite an ostentatious expression to carry with a a soft relaxed style. The dress echoing heritage textiles also reveals some of the structuring of the garment in soft boned definition. You could take it on a picnic and perhaps use the veil to keep the wasps and bees away.

Centre above a dress is composed in classic lines with several tiered layers of tulle composing the skirt lengths. Look closely and you can see beautiful embroidery work at the bodice echoed in the mini-dress next door replicating the tiered skirt in four soft layers below the hips. Channelling the vintage look with echos of the 18th century with bodice and tiered thin layers that in the 19th century would move under the outer layer of the dress. The softness of the cardigan contrasts with the boned structure of the corset-like bodice whilst a similar piece to the right sees a dress with fewer skirt tiers tied at the waist with a Red ribbon also holding in a White cardigan. Echoing the beauty of another time, they look bohemian or almost child-like depending on your perspective.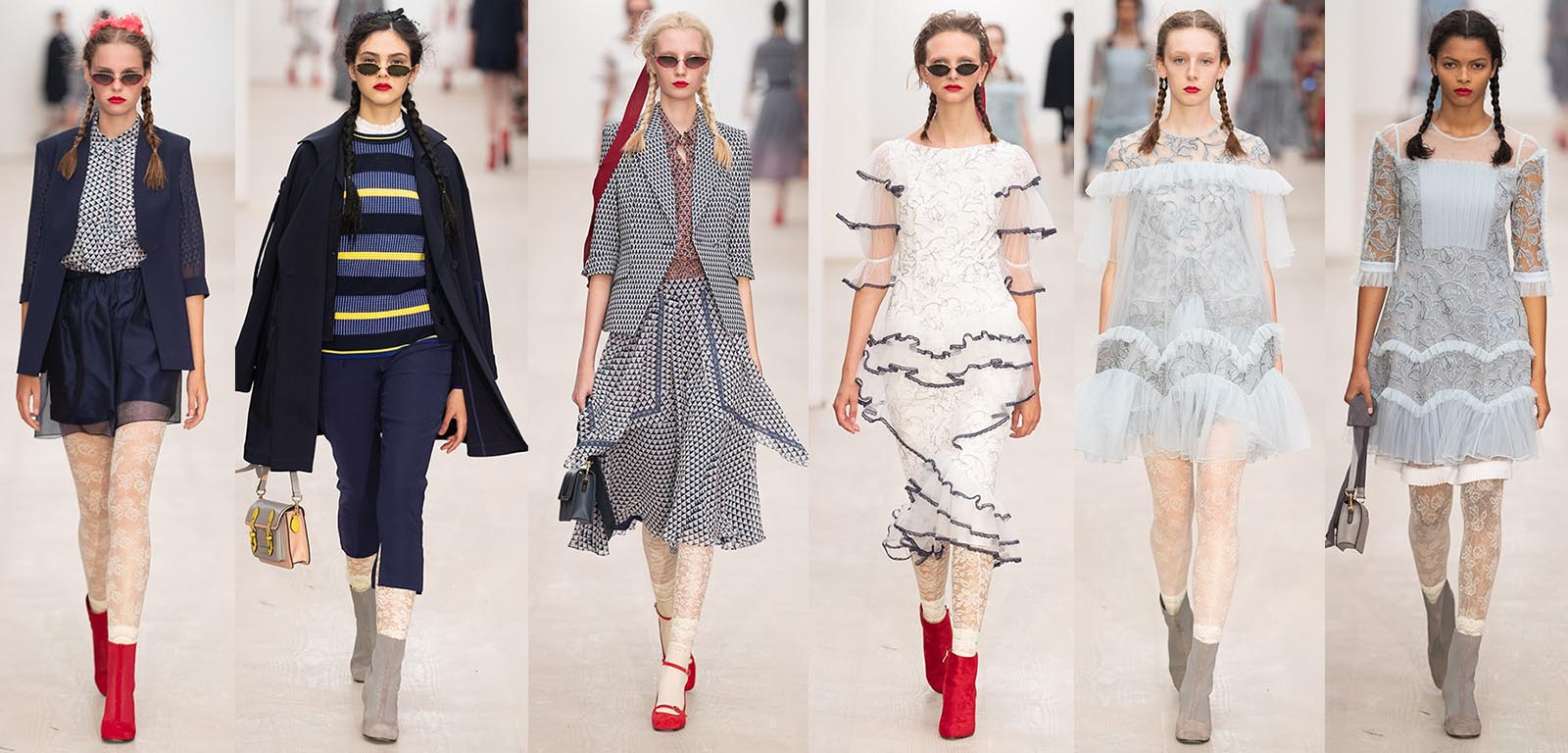 Navy morphs into a summertime suit but the flourishes of classic Aksu don't diminish too far with Silk shorts robed in an outer layer of tulle. A sweater, midi-length trouser and summer jacket combination make an easy 'about town' during the day time look. Another step away from the fantasy into the practical saw the skirt suit given a reworking with handkerchief like outer silk farbics. He doesn't stray from known territory for too long though as the three further looks above to the right feature a festoon of pleats and pin-tucks that create the soft angles and subtle geometry that his work is known for. Fine dentelle lace harkens to the crochet origins of his brand evoking Turkish traditional textiles.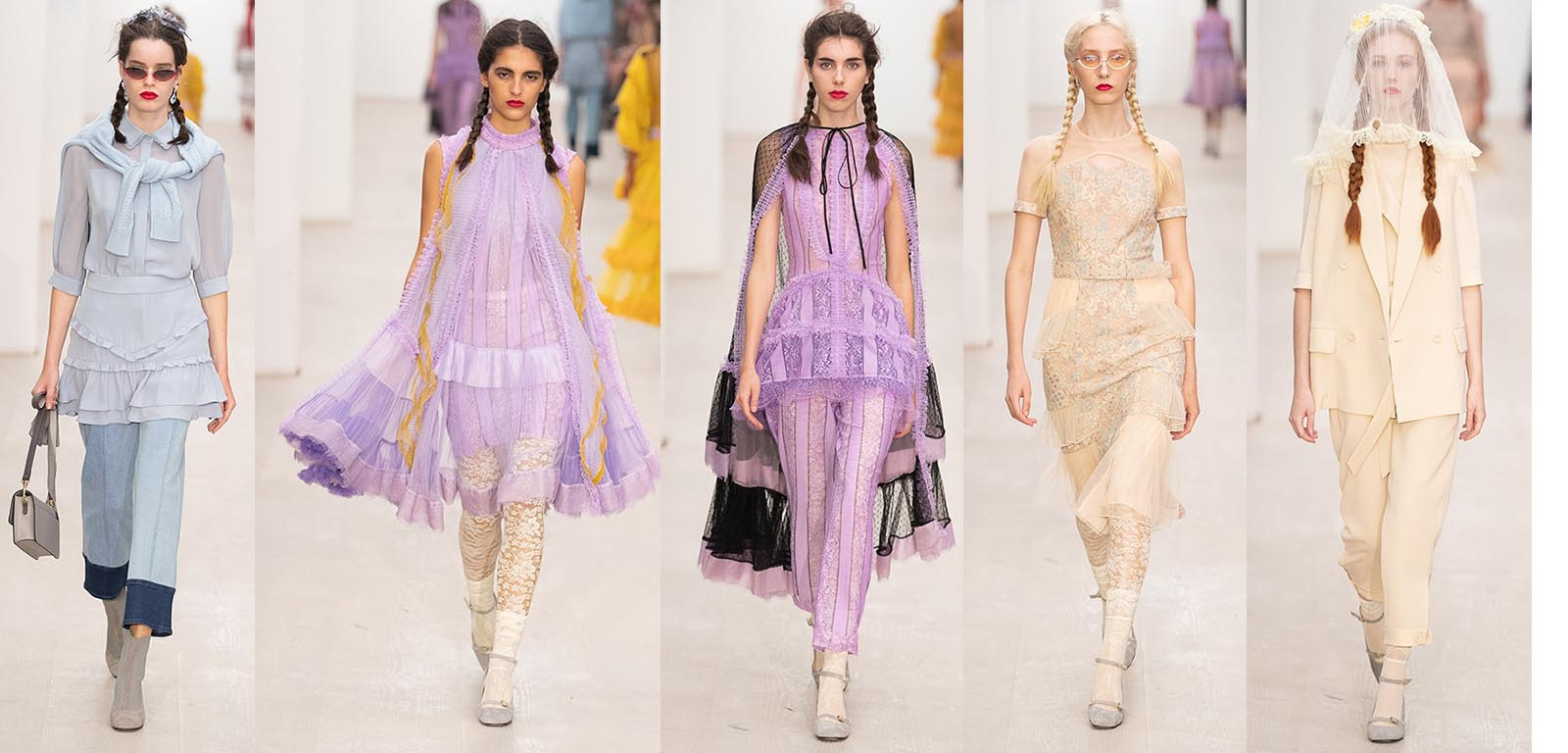 Another step in the direction of a pared back aesthtic from Aksu saw a Light Blue blouse and trousers accessorised with a soft summer sweater and clutch bag. Gentle frills around the waist as a skirt turn to a small flight of fancy. Lilac is a colour that Aksu often plays with and a diaphanous sheer dress in pleated tulle is crafted in the open loose weave that characterises many of his designs. Subtle bands of fabric appear to nuance the colour and to it's right the next look replaces the sheer White tights sewn with flowers with slimline silken trousers. A cape tied at the neckline uses a design reminiscent of previous seasons of work including the dual tiered hemline. A soft Ivory enters the collection with two looks, one classic Aksu and another more of a departure into highly saleable high fashion workwear. The dress revisits the frills and flounces of style with just a hint of the minimalist practical in the square cut collar. To the right a suit with an international feel is accessorised with a bridal veil. Some women marry in trouser suits and perhaps this would be the perfect thing for a busy bride in spring?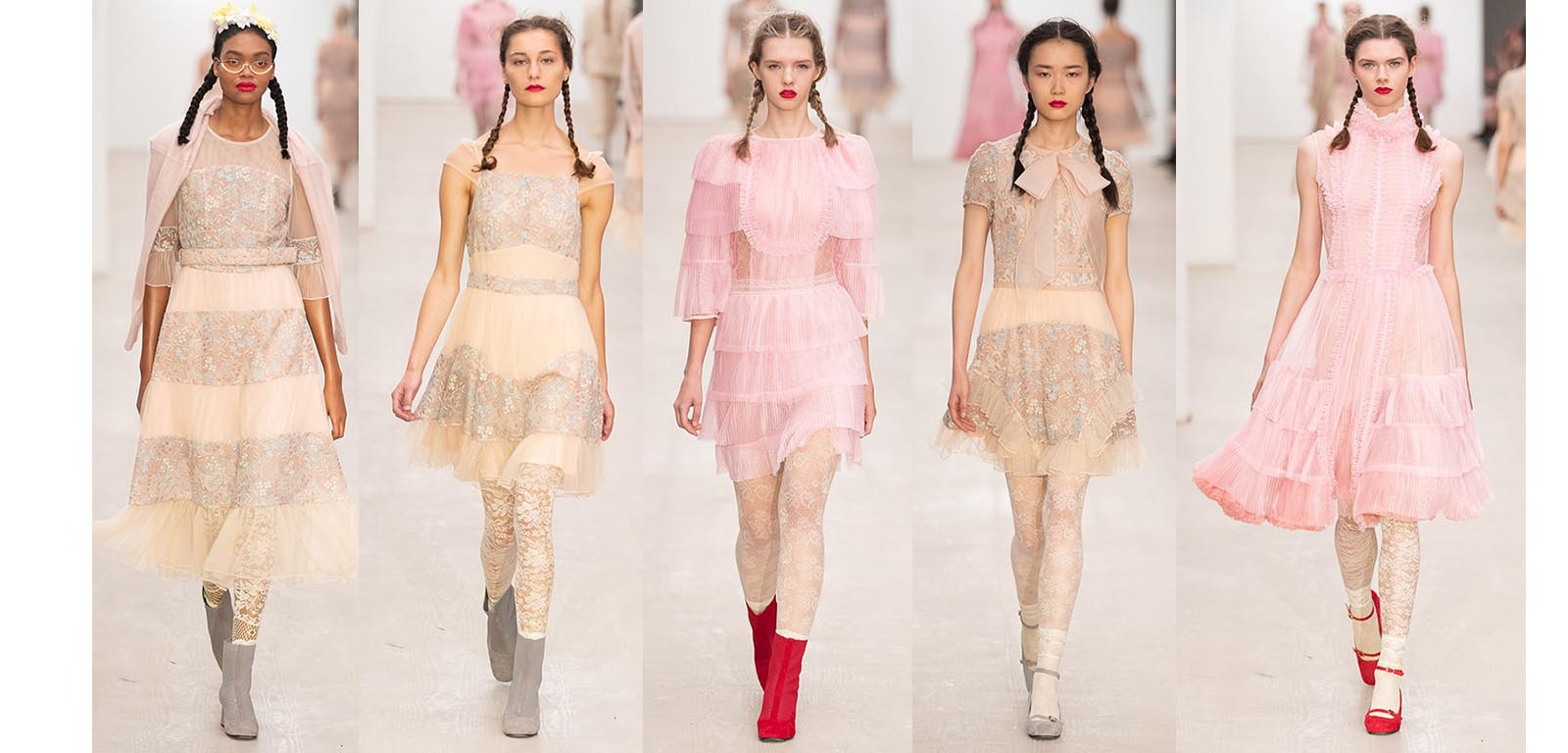 A return to the floating and floral with a frieze of dresses evoking that classic aesthetic that many know Bora Aksu for. A soft Ivory Cream shifts into Rose through a series of dresses hovering around the knee length. Soft bodices created with floral dentelle lace on a backdrop of semi-sheer tulle gives life to romantic visions and notions of carefree summer days. These are fun looks to go out and enjoy yourself in and celebrate the sunshine. References to the past in parts of the garment construction are off-set by the carefree ability to move in the pieces.

A soft blouse in one of the season collection prints is teamed with soft Ivory trousers and a light raincoat style jacket. It's a serious look for a professional woman and one that hopefully Aksu clients will envisualise in their wardrobes. The pinafore with gathered soft pleated tiers in the dress skirt returns once more in the same soft floral print as the previous blouse design. A hot Pink shoe-lace ribbon tie at the neckline is replicated in the colour of shoes and ankle boots across the set here.
A play on tartan in Red and Rose is crafted across the bodice and length of a mini-dress and pleated skirt. A gentle echo of the corset is present in the soft bodice of a dress translating to a second colour in the lower skirt. A Rose blazer is cinched in around the waist by a fabric chord creating waist definition. Another Rose blazer is bordered with Black piping giving hints of the varsity look which is a little unusual perhaps in the adult woman's wardrobe. Beneath a sheer dress skirt reveals the floral details of the collections signature stockings. To the right a midi-length dress is created in dual layers through the full length. A touch of bohemian re-enters the frame.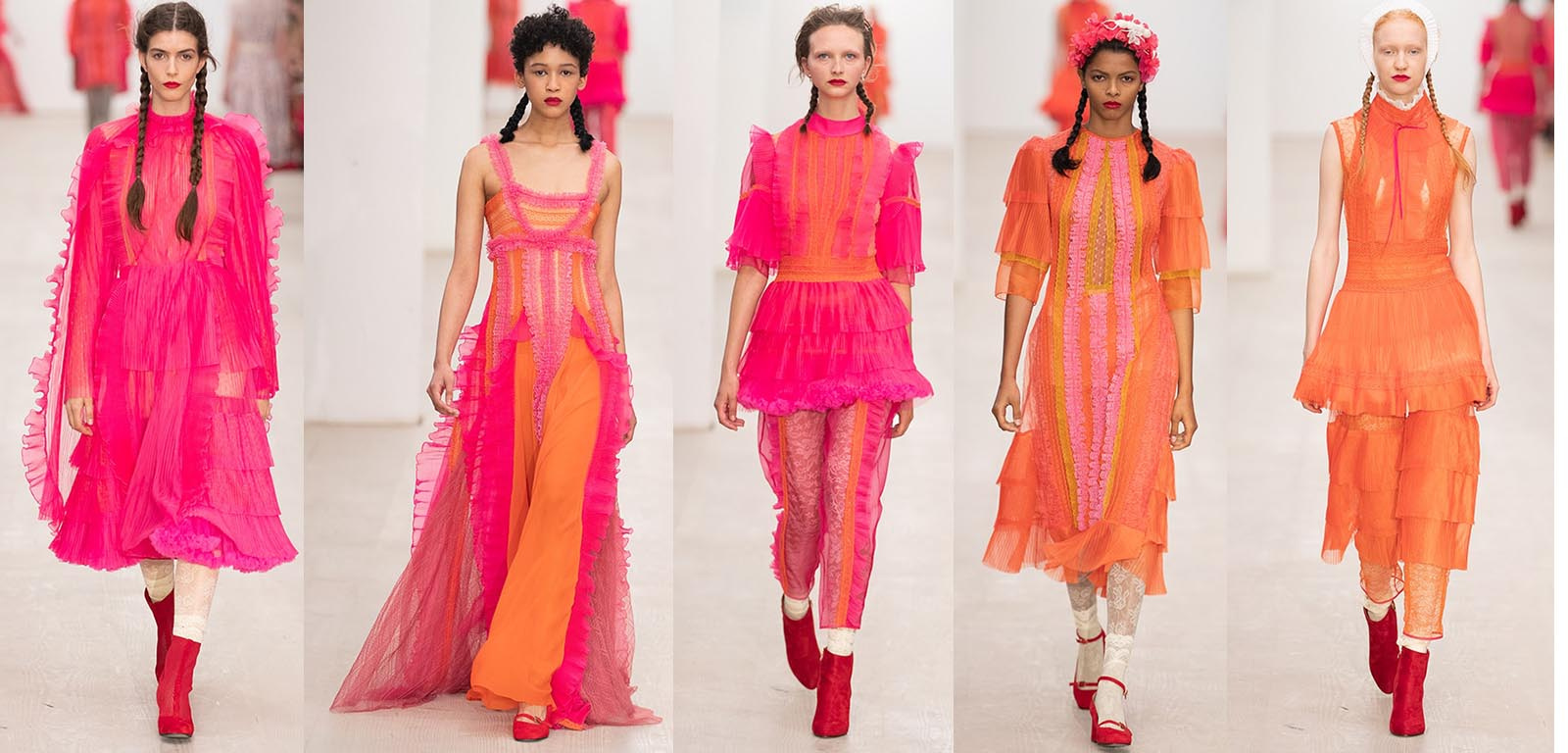 The collection moves to a close in a crescendo of colour with a hot Magenta Pink fusing with a bold Tangerine. Soft tenticles of fabric ripple down the length of the sleeves above to the left as the pinafore is sculpted into something very different from it's original base. Layers of sheer tulle float around the figure and rippled with an aquatic-like soft rhythm as the wearer walked. Hints of traditional European and regional Turkish dress appeared through the froth of vibrant colour above. A long line jump-suit with broad cut trousers accentuated with a soft train makes for dramatic impact, whilst a light bodiced mini-dress with soft trousers nods to a re-alignment of traditional style themes. Collections in ready to wear often culminate in Bridal as with Haute Couture but this season seems determined to shine the most vibrant light at the close. The full sun and colour of summer in Turkey has risen over the landscape.
Gayeon Lee

Studio group images shot by me (c) the rest in single view by Getty.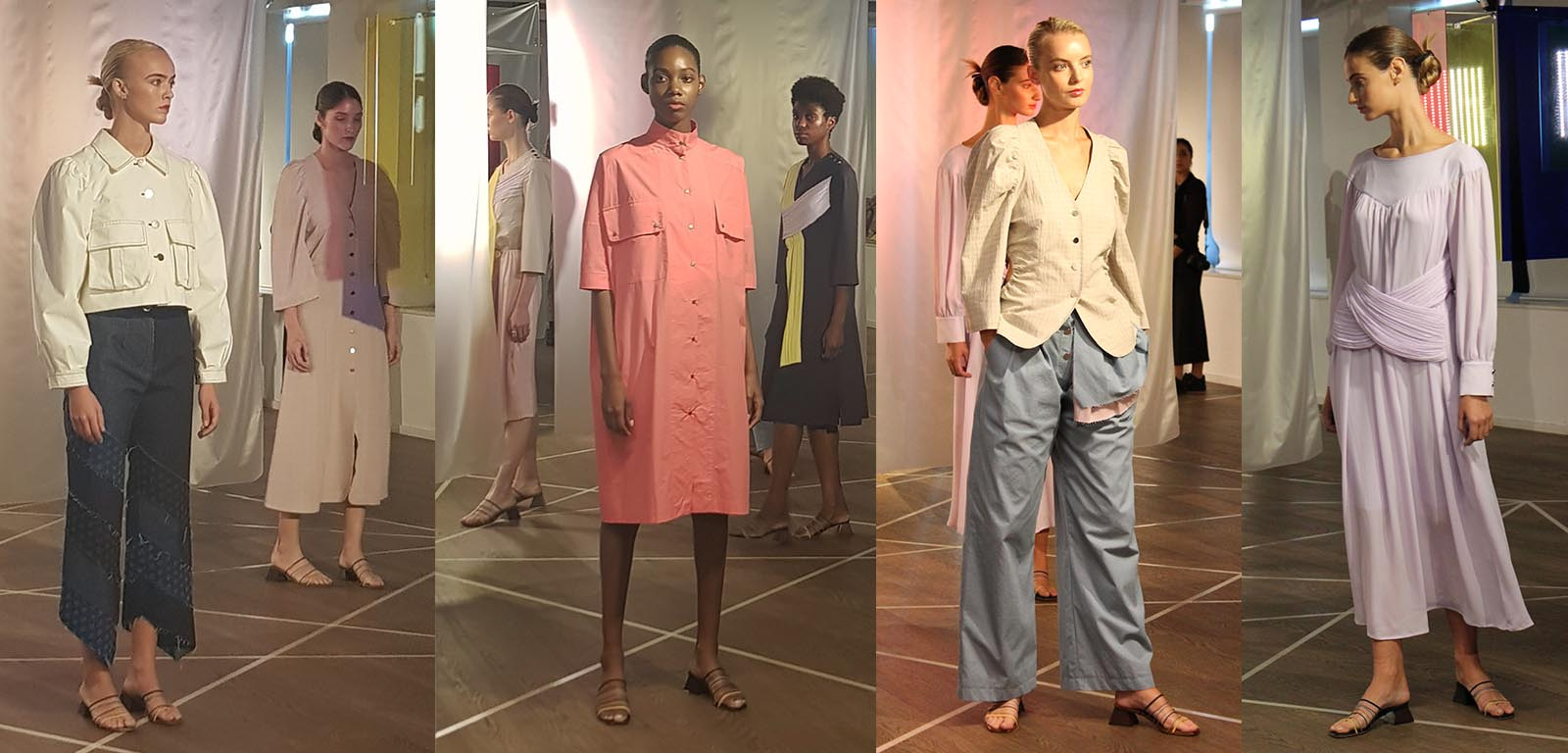 As one of the CSM cohort who studied under the late Louise Wilson, Gayeon Lee has amassed several years of preparation between her 2013 graduation and emergence into the London Fashion Week scene in recent seasons. Having worked with Marc Jacobs and collaborated with Swarovsky across two seasons, she has established her fingerprint of sophistication that still dares to ask questions.

The outdoor sports jacket gets a form of make-over with additions of sweet chic collar and gathered pintucks at the shoulder accentuating volume. Denim trousers are cut using two different fabrics in a spiral cut around the legs. Another casual option for a smart day suit opposite above saw a Cream jacket cut on the same lines as a classic dress bodice with sleeves descending to the button. The practical and the decorative join as one with Baby Blue trousers front buttoned in a style that was traditionally male. A shirt dress in Blush Pink nods again to utilitarian and sweetness combining and to the right, by contrast a Lilac dress sits loosley on the figure with sashes crossing the waistline.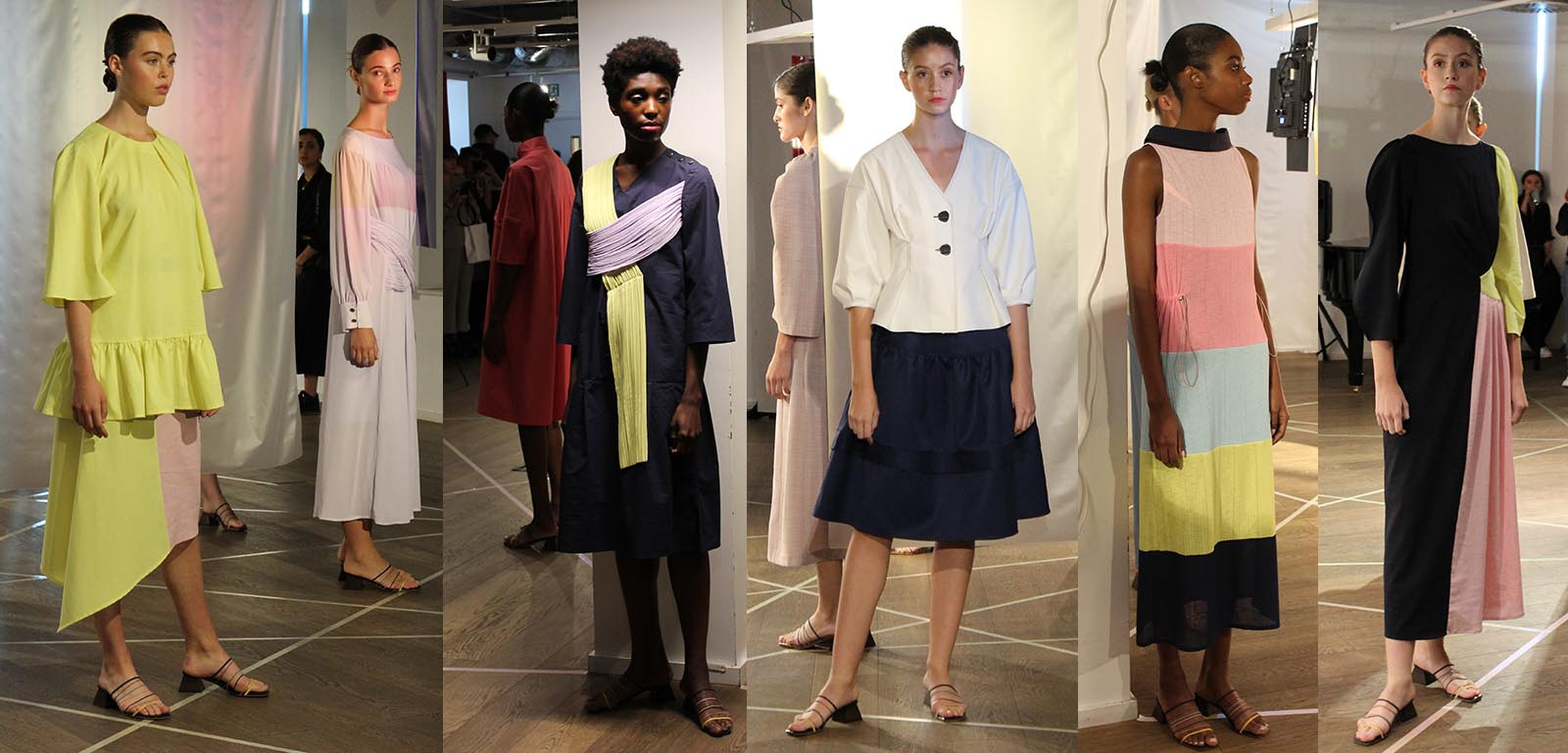 A Primrose Peplum drop waisted blouse and a 50/50 Pink and Primrose skirt blend cut and style without straying too far into clash with a colour bond. A Navy shirt dress uses gathered sashes on opposing shoulders in Lemon and Lavendar. One hugs the side whilst the other descends to the knee. There are several more restrained looks in this collection that would be suitable for wear on more formal occasions. A White jacket cut in the soft lines of classic mid 20th and 19th century dress bodices is enhanced and adapted to the cut of a jacket. A Navy skirt in cut in circular style to the knee banded at 3/4 length with a ribbon layer. A colour harmony of ice cream pastels descending to Navy forms a light summer dress option for casual wear in wither the day or the evening. To the right Navy forms the main part of the dress with cutaway colours of pastel Lemon and Rose drawn into the waist creating skirts that allow an increased volume.

Below the classic lines of the girlhood Summer dress complete with smart colar and buttons borrowed from the shirt, is accented with a sweetwrapper-twist of fabric across the chest. It's a classic chic statement that can go anywhere. More swathes of fabric centre below imbibe the colour themes of the collection into design reality. Below to the right some more clever tweaks bring familar forms into a dress that could be worn to a fun picnic or an evening drinks reception. Lee shows her studied skill in creating the adaptable.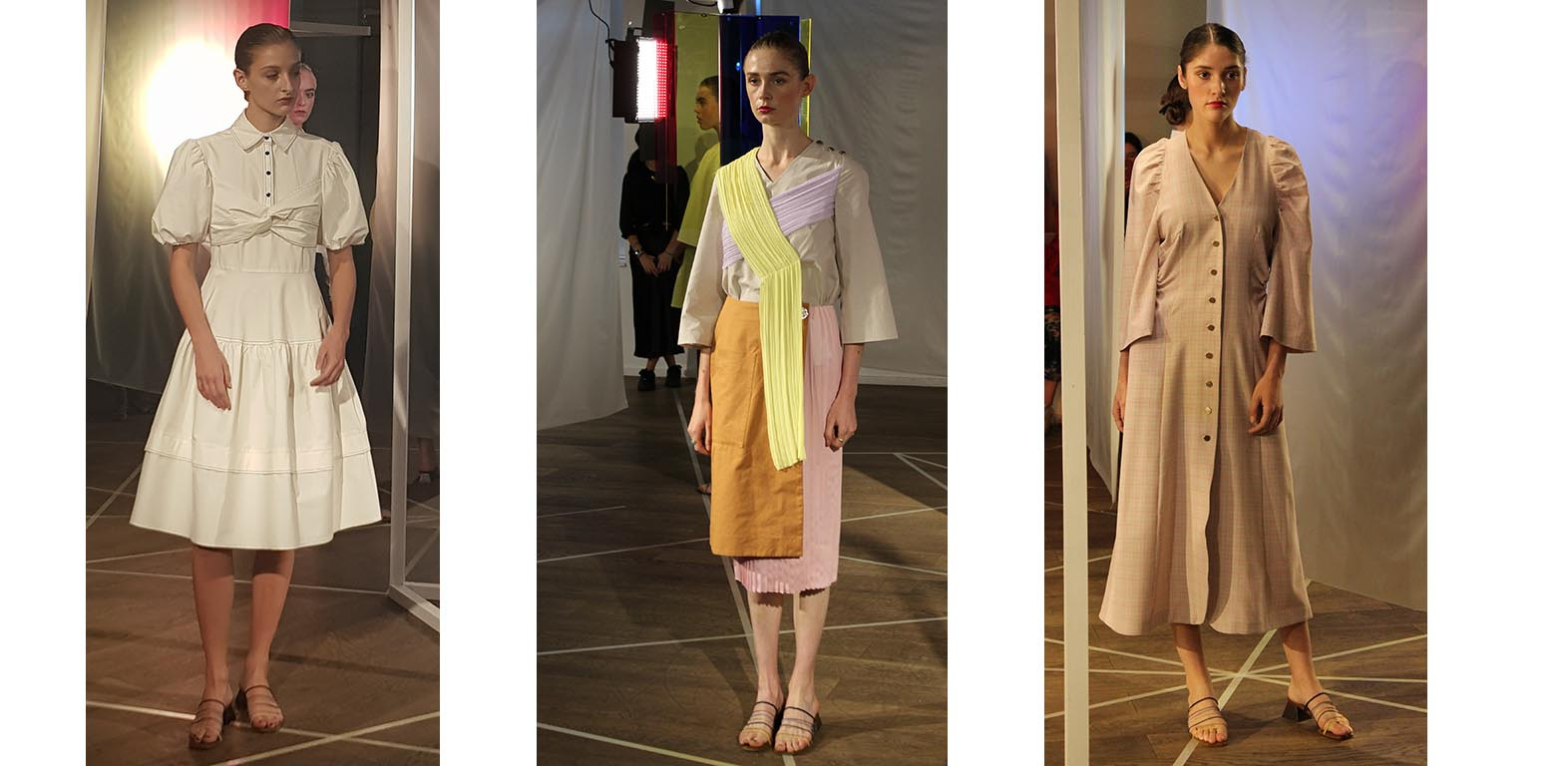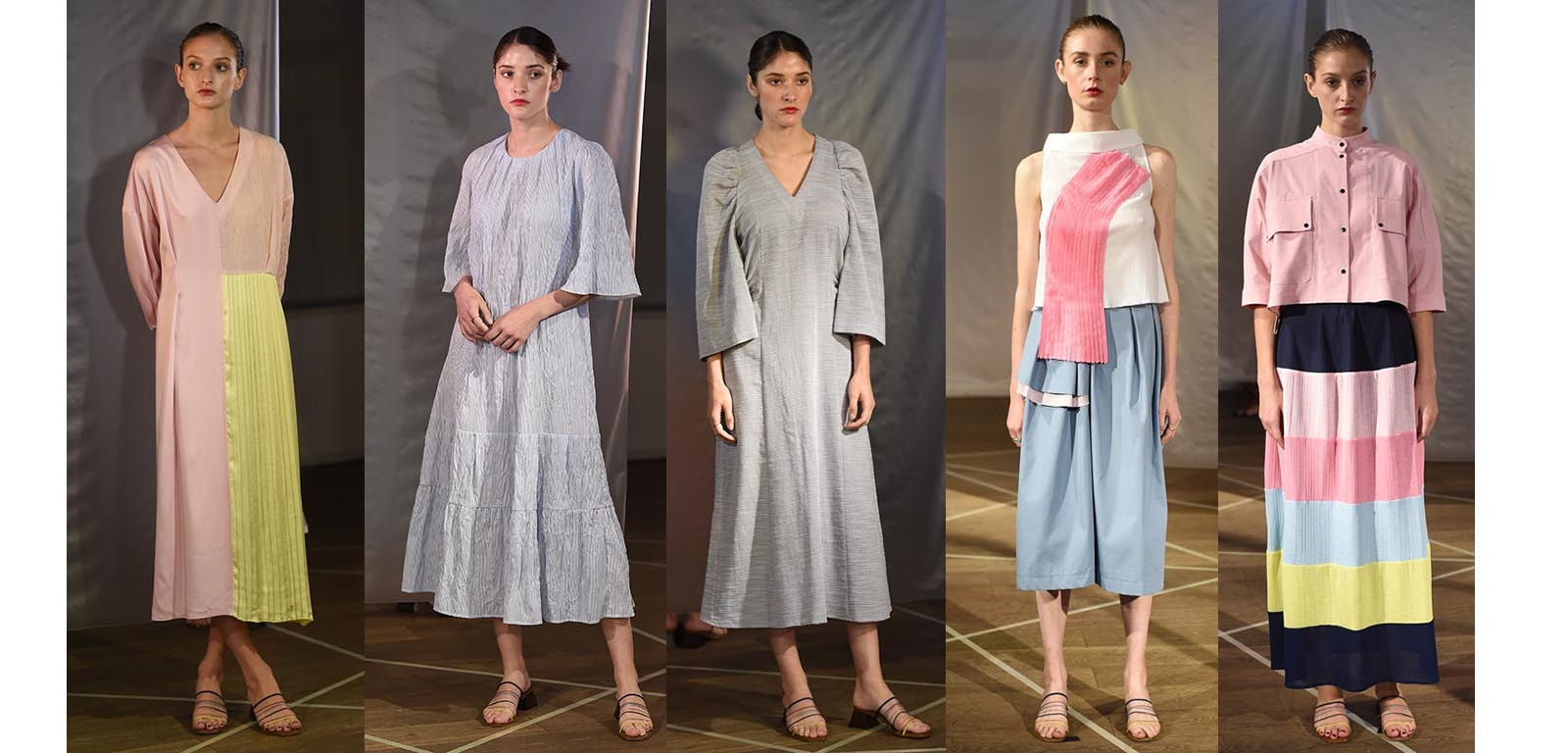 Above these sweetheart looks are pretty and still contain a spark of fresh realism. A dress composed of mostly Rose coloured fabric and straight skirt is segmented with a Peach blouse inset at the upper left side and a Primrose fine pleated long skirt. A Lilac summer dress forms part of a classic summer composition. It's a simple design that's super wearable with small tucks at the neckline and tiered layers in the dress skirt adding a little volume as the piece fills out in the lengths. A Dove Grey dress to it's right is also soft in it's formation with the vintage dress tunic and pinned shouder gathers adding a pretty accent. To the right light Blue culottes are teamed with a White tunic top boldly decorated with a sash of Rose Pink strands cutting a diagonal across the bodice. It's a fun outdoor look but also something you could wear to a summer party. To the right a Rose blouse takes elements of the classic shirt and skirt banded of pastels and Navy created another colour harmony on the theme.

A soft light jacket is cut from fabric containing a light ruch or even crinkle detail. Cinched at the sides and softly closing over hte hips, the two buttons create a soft close across the upper waist. An asymmetric Rose A-line skirt features a curl of pleated fabric rippling across the front of the garment producing a third sublt texture in the harmony of the piece. The time of a dress halved and then quartered in colour returns once more in a Navy dress cut with Damask Rose and Llilac quarters in almost harlequin style. It's a fun look for the sunshine or to brighten gloomier days. Sweet single colour dress options below in Rose, Baby Blue and Grey-White again show a soft feminine delicate answer to the wardrobe quandry many of us have in the summer. What shall we wear for that go-to Summer staple, easy to put on and head out in for country walks, brunch, picnics or a summer party. They keep to formal norms of dress codes so each of these three and their Lemon neighbour could be dressed with a hat and small purse (plus a jacket for the sleeveles dresses) to wear to a Christening or a wedding. Twist ties cross the bodice sweetly in three of the looks below but never look childish and the Lemon dress features one of my favourite fabric prints from the season. Gentle classics.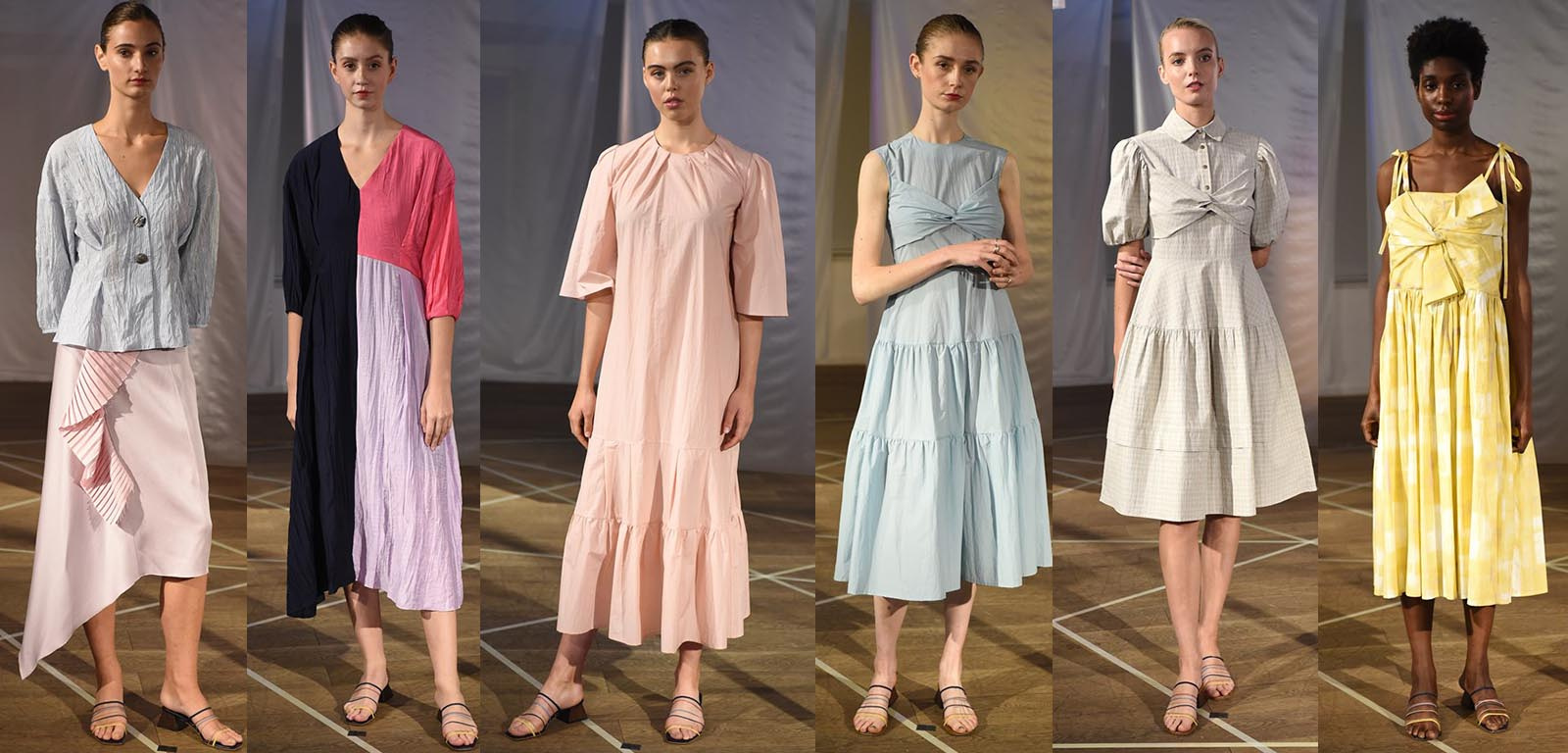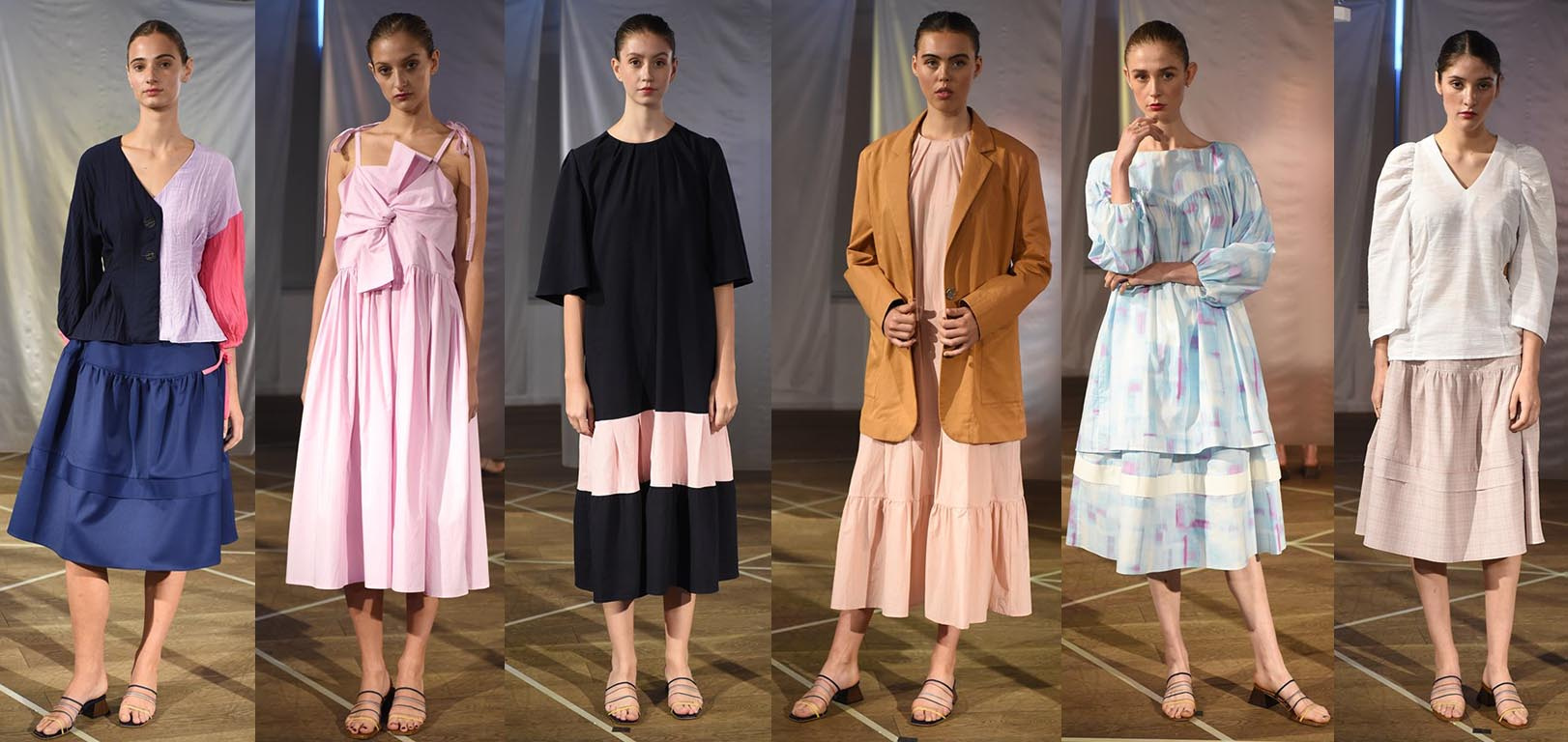 The tricolours of the dress above becomes recomposed in a blouse paired with a Royal Blue skirt. The hints of vintage are there in the thick rbbon band at the knee and pintucks but it doesn't look childlike even though this style was originaly worn by girls. Another sweet summer dress features soft volume in the skirt and a sweet twist across the bodice line. Two bow-tied straps at the shoulder hold the look in place and create a look for beach walks or drinks parties. Centre above two dresses fall comfortably down the figure. A Navy dress with a thick Rose band above the knee and a repeat of an earlier dress showcasing a Camel coloured jacket. It's an adaptable piece that would combine well with many of the other looks in the collection. To the right one several of my favourites including the three pasel looks in the range above. A medly of Light Blues and Lilac appear like a piece of contemporary art,set to farbic. A smock blouse and skirt banded at the knee like it's predecessors in Navy. It's so pretty and charming that it's difficult to resist. To the right, a skirt cut in similar lines in a dusky Pink is another easy grab for the summer wardrobe. Twinned with a taiored White blouse, this look is sfotly chic and an easy staple for the summer wardrobe.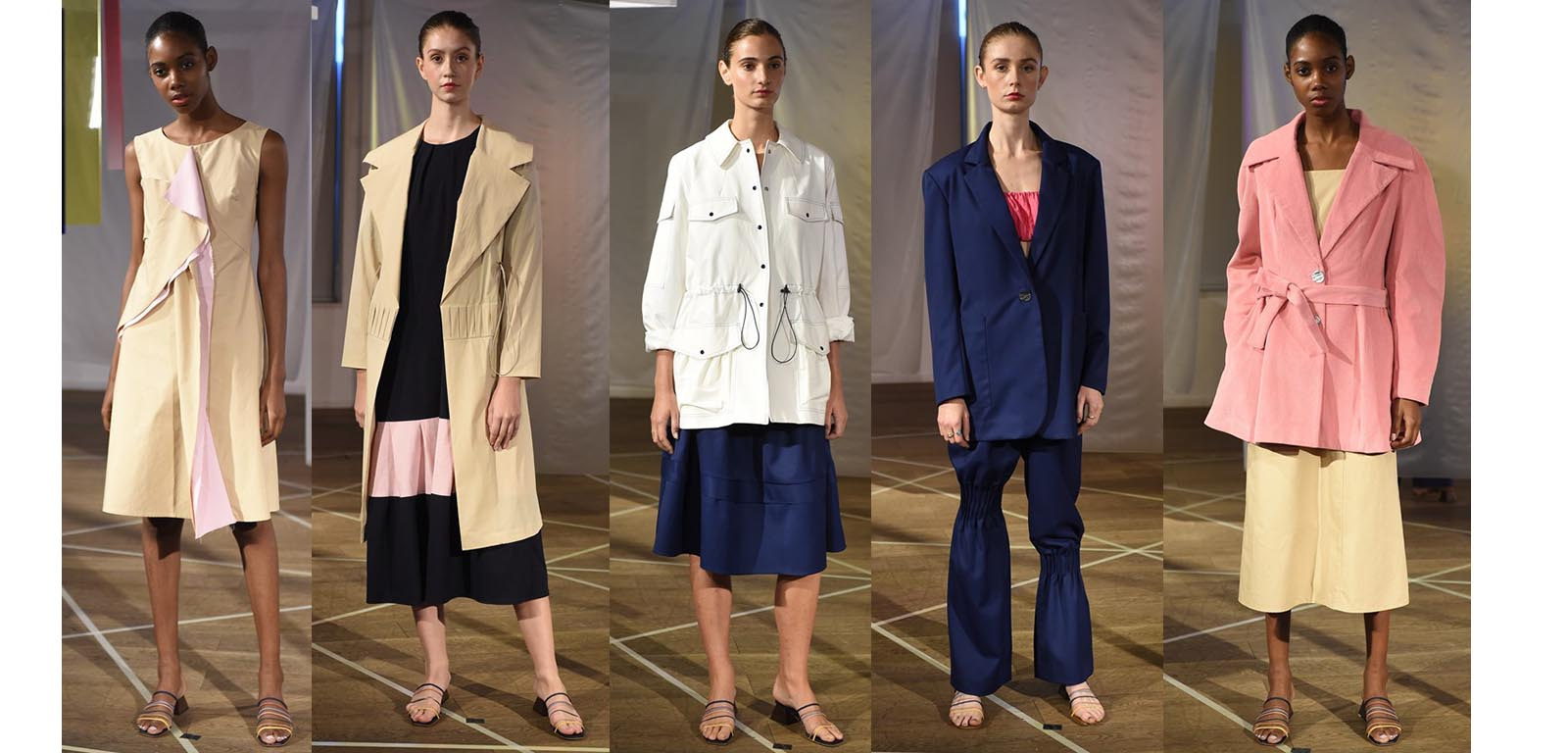 Lee has a gift for making seemingly simple elements in a garment create a beautful effect and it shows that she has fully grasped the art of sophicated design through the composition of 'simple' style features. In other words she has a sensitivity to elegance which can be perceived by instinct but is not always something that can be taught. A Banana and Rose wrap-over dress makes a features of folds exposing the layered colour. It's an easy option to have at hand for work and leisure times. Another light summer jacket is shown with chord gathers around the waist and broad lapels mixing the sporting and workwear styles. A White jacket centre above looks like it's about ready to head to the marina and go sailing. Teamed with a Navy Blue skirt it's a fun outdoorsy look for long walks on the beech or coller days on deck. To the right a Navy trouser suit employes the gathered ruched detail in an experimental look once above and once below either opposite leg. A Banana-Yellow dress and Rose jacket close my look at Lee's fresh offering this season. A chic understarted dress is matched with a below the hip single breasted jacket that ties at the waist. The jacket is a crafted super-soft almost plush fabric and would be a darling piece to add to a collection.
Roberta Einer

All my images here.

Wrapped in a lot of love and sweet colour combinations, Roberta Einer's message was simple this season, we need to be kind and we need to care. This even came complete with Care Bears, which I think would teach little children and not so little children today, so much more than computer games.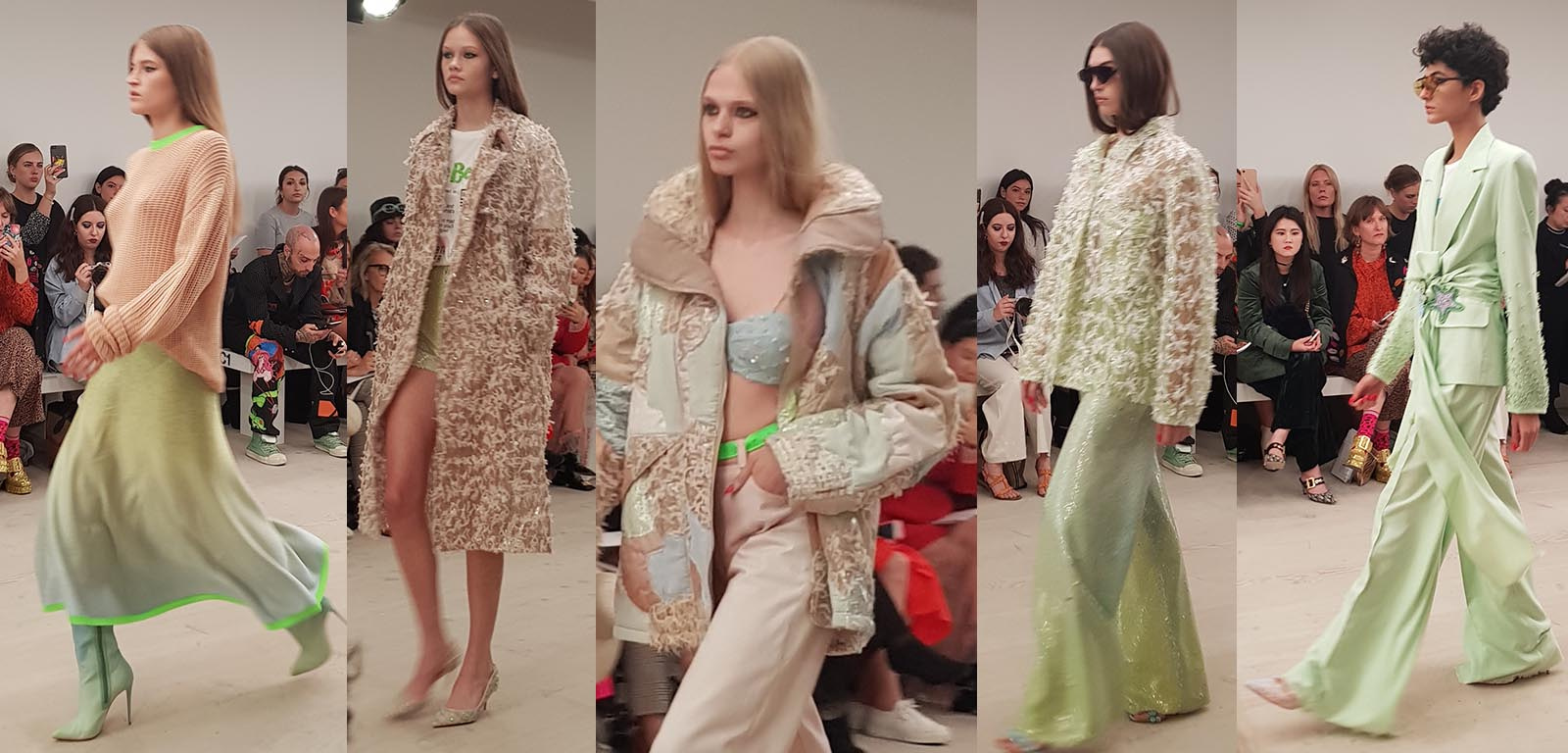 The collection opened with a Peach soft-knit sweater and Mint skirt and corresponding boots. Lime Green banding at the neckline and skirt hem set a juxtaposition to the colour themes. It's a soft look to see you into spring. A light sand coloured jacket is embroidered with applique tassels across the surface providing a textured and cosy styling option for many outfits through the spring and summer. This time the coat is shown by the designer with a Care Bear themed T-shirt underneath and Mint shorts. Easy summer classics with a touch of high luxe from the coat that could be worn with an evening dress. A Mint bralet vest top and light Beige trousers again see a hint of Neon Green popping in in a slim belt. A puffer jacket features embroidered quilt work across the surface of fabrics that appear through the collection. It's a nod to sustainable fashion and how off-cuts can be transformed into something special and spectacular that will last. More applique stands up from the surface of a Mint jacket featuring shimmering wide leg trousers and a blouse that make an evening suit. To the right, loose cut Mint trousers and jacket offer another suit option. The jacket is sewn with crystal jewels at the lengths of the sleeves and tied with a broad sash reminiscent of grand formalwear dresses of times past. A Silver star at the waist hints at a sparkling touch of magic.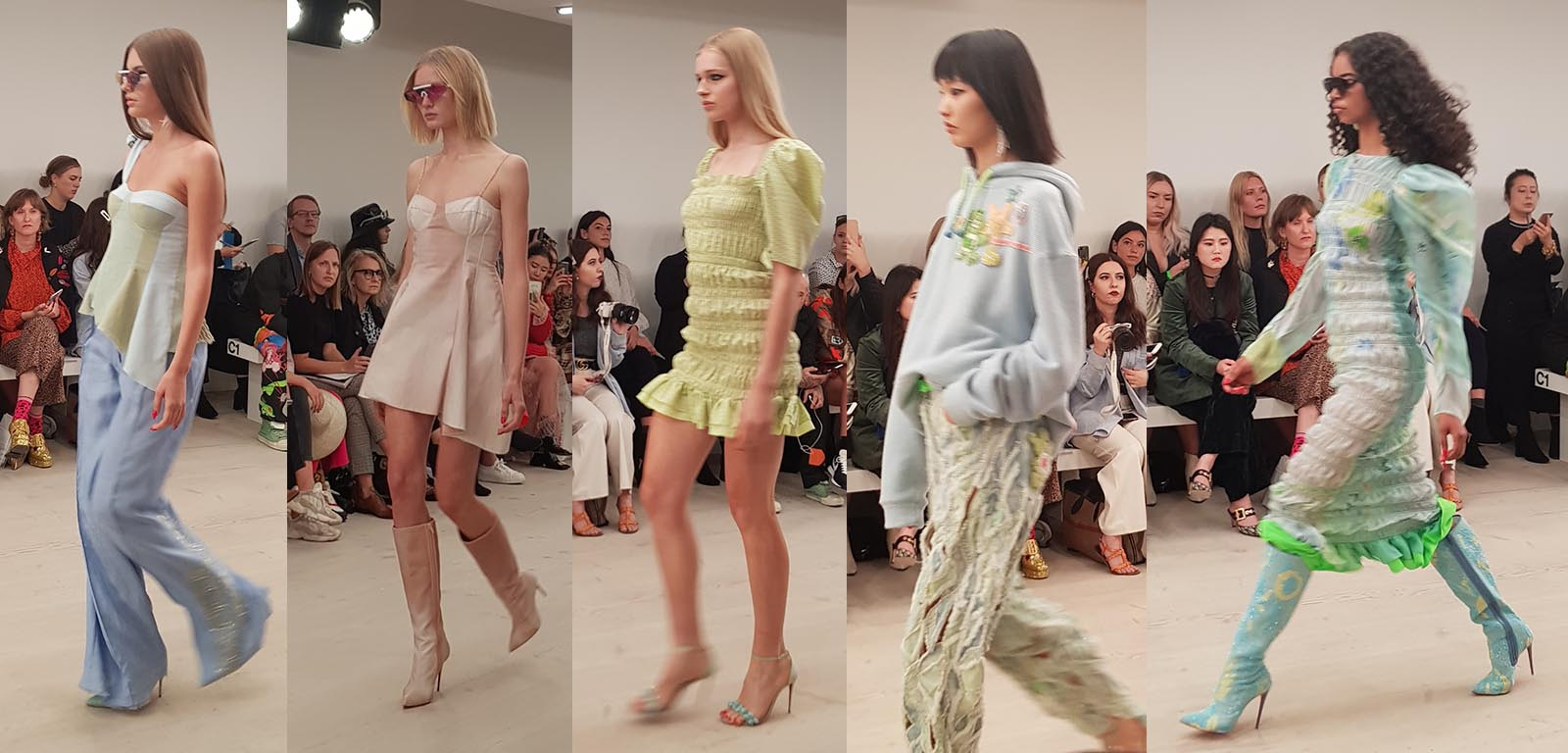 A single shoulder Mint vest top is sewn in panels and featuring a droppped side sash to the right of the figure contrasting with the left shoulder. Loose cut trousers with presses lines are sewn with crystals and add a shimmer as the wearer walks. A soft beige tone mini-dress features a similar nipped tuck at the left hand side of the garment. A softly ribbed corset featuring two escaloped cups at the bodice gently shapes around the figure. Another summer dress option appears in soft Lime with tiers of gathered pleats adding volume and movement to the look. To the right (excuse my camera-phone issue) a sports top is embroidered with Care Bears that dance across the surface and creep down the back of the trousers. The patchwork look of a jacket featured above returns in these garments and the soft 'barely there' pastel colours make a fun sports casual feel. To the right fine pleats appear again in a longer length summer dress that resembles an artsists palette. Baby Blue and Yellow hues are bordered by Neon Green with soft knee-length boots decorated by paint splashes.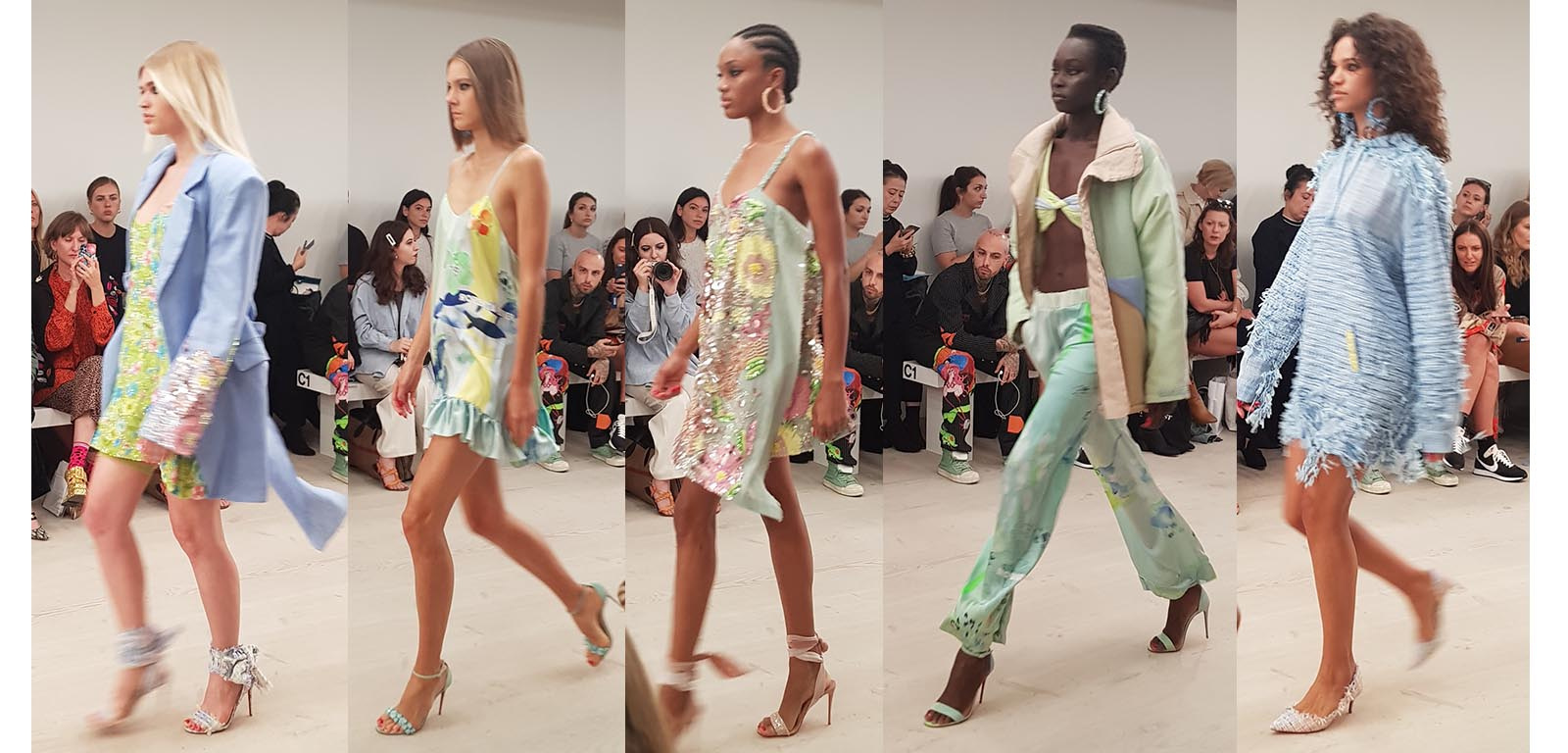 A soft floral dress matched to a Blue jacket is accented with jewelled sewn flowers at the cuffs around the wrist. A slip dress appears in two contrasting forms with a soft hand painted silk fabric frilled with a pin-tucked skirt hem. It's neighbour is sumptuously embroidered with a tableau of spring flowers sewn with sequins and crystals once again. It shines in the light and under the lights and would look equally pretty in the glow of candles. A super-fun piece for summer parties. To the right a bralet top with centre twist feature is teamed with splash pattern trousers in Mint gathered with a small White belt. Loose weave boulce translates to sportswear in the next look to the far right. Slanted pockets at the hip and a draw-string hood signa the practicality that Einer weaves into this collection. It's all here, sports references, casualwear and something to go out to a party or drinks in. She, like her contemporaries can see the benefit of combining many moods into the composition of the collection.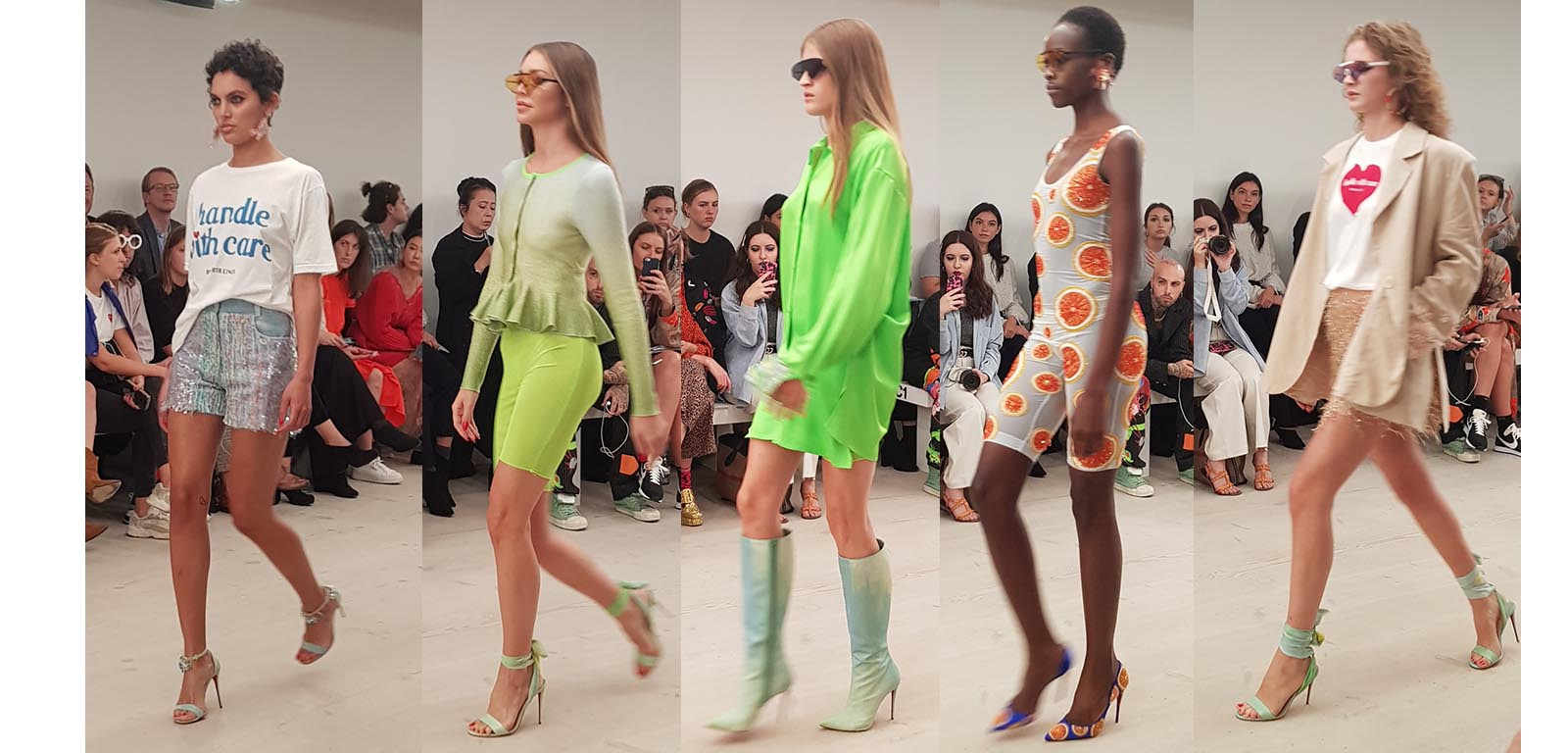 Care is where it's at; Care for eachother and care for the planet, not to mention the very 'now' phrase of self-care. Written in the Care Bear typeface complete with dotted heart over an 'I'. Silver shorts make a beeline for a party and dance floor somewhere on warm nights. Light Green appears in several shades of a palette through the collection with a very Light Olive blouse flared at the hip with Peplum frills and cycling shorts in Lime making a girl cycle racer look stretch to partywear. Pencil thin heels wrap a ribbon around the ankles in another pretty softening of style. Neon Green returns in a shirt dress that will see out the warmest of nights and a hint of fun in an Orange-slice decorated bodysuit nods to the vitimins in the favourate summer fruit drinks. To the right another heart beats with loving care and a soft beige coat jacket wraps around the figure with spangly shimmering shorts adding a twinkle for fun.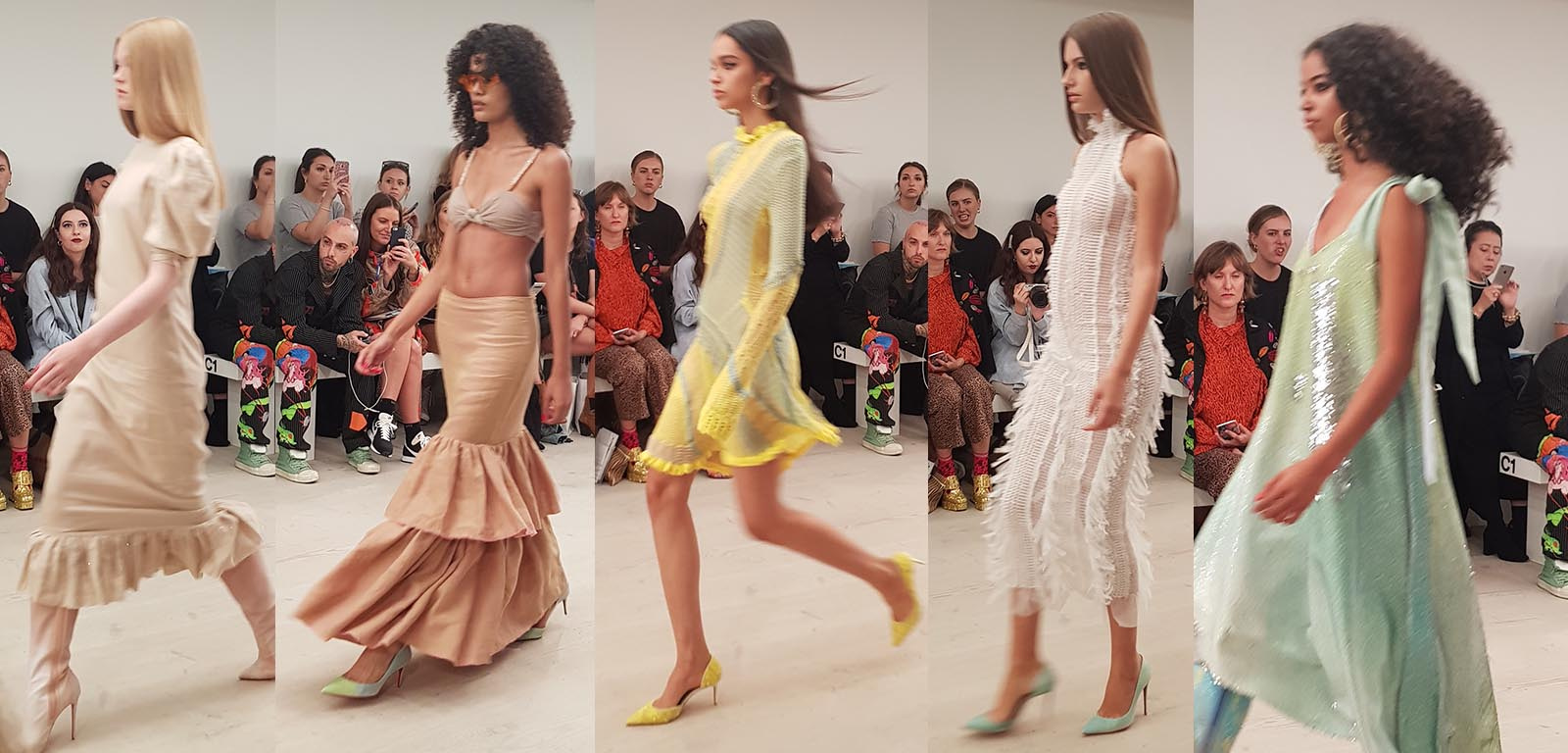 Two of my personal favourite looks of the collection feature side by side above walking out proudly in Beige-Biscuit for Summer 2020. A beautiful midi-length dress with peplum fringing in the two inch hemline of the garment sist comfortably on the figure with a bit of give and space around the wearer. Matched to same colour boots, it's an easy look for a drinks reception. A bralet top with flamenco-inspired skirt figs the figure around the hips whilst below the knee it flares to a double tier of soft circular skirts. Perahps worn with a blouse or jacket to wrap against the cool, it's a fun everyday and evening look. The last trio of garments from Einer show again her interest in fabric and texture but also in creating something that is easy to wear and effortless. Watching the walkthrough at the show finale was an emphatic statement of how we can all work to heal and care for the planet and the fashion industry plays a key part in this.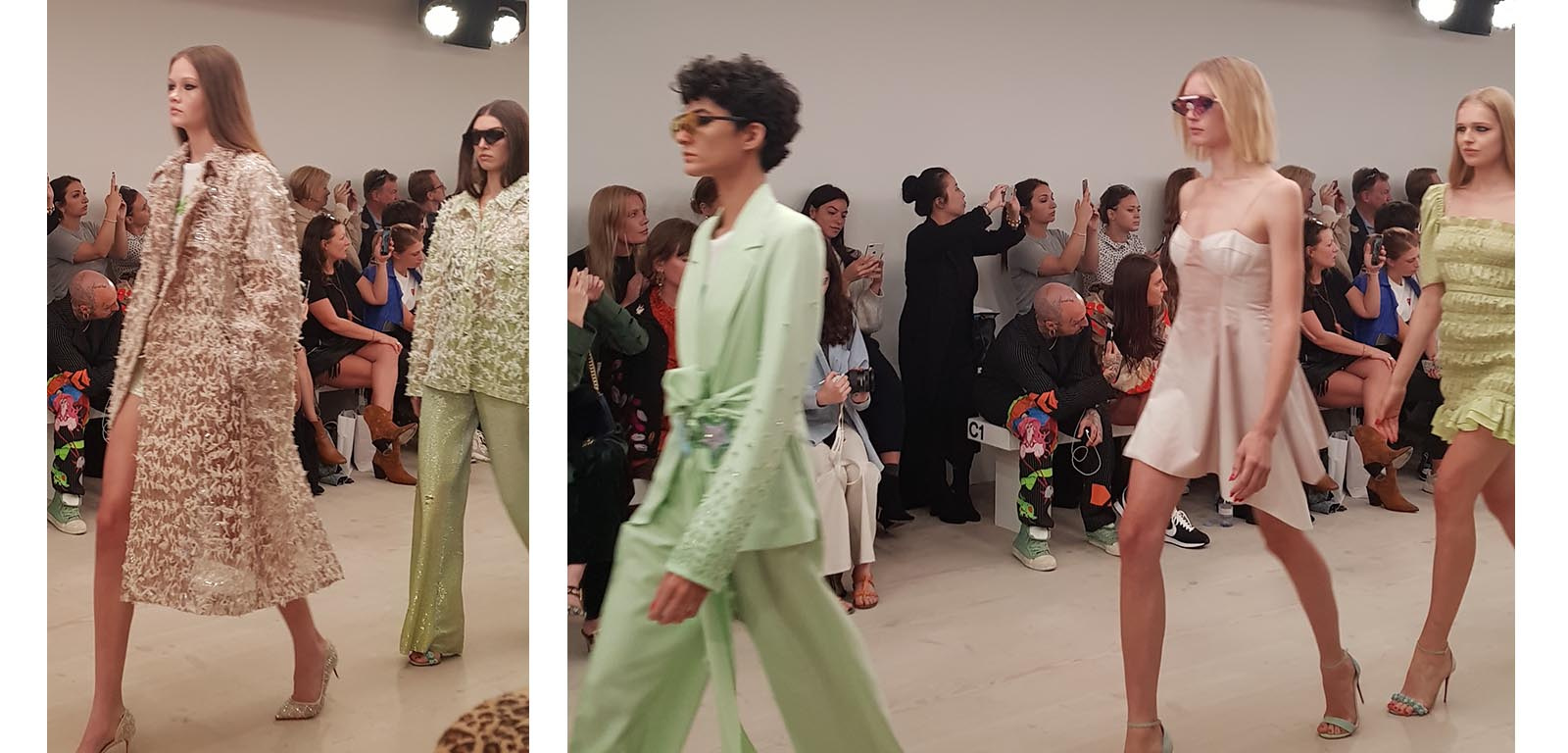 Marta Jakubowski

All images by me (c)

Marta has made it her mission, or should I say part of her mission, to create fashion that will work for women in their lives. She knows about work as aswell as fashion designing, she lectures on her craft at two leading London Universities. A graduate of the Royal College of Art in Fashion and a shortlist candidate for both the LVMH and Woolmark prizes, she has todays woman in all her roles, firmly in her sights.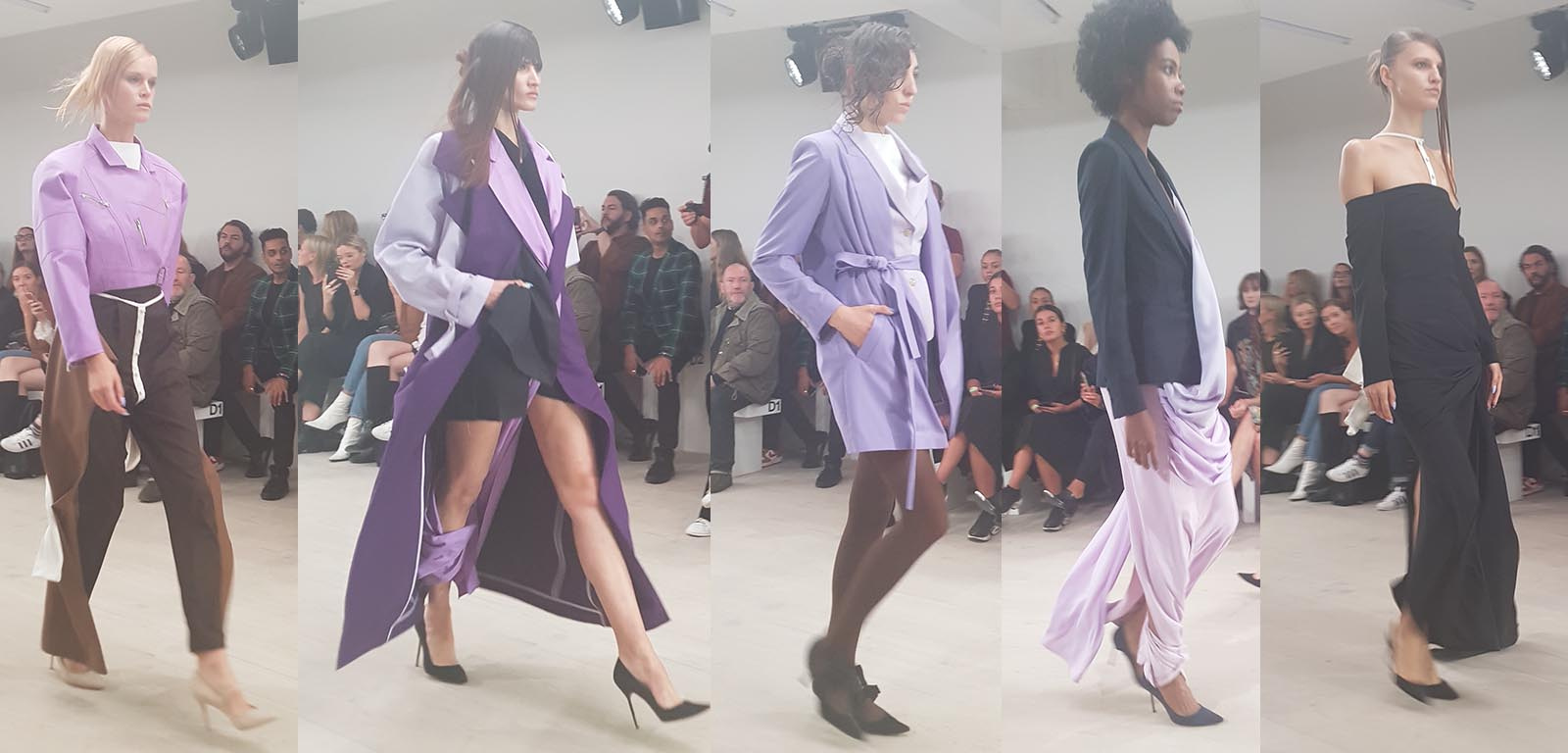 A Violet jacket zip fastened in zigzag lines reworks the classic biker jacket for a savvy girls wardrobe. Loose cut trousers swing on the hips allowing an easyglide walk. The same Violet is worked with a regal Purple into a full length modified version of the raincoat. Tied at the waist and with a double layer of lapels, it will bring extra colour to cooler and rainy days in the coming season. A Violet short belted jacket tied with a bow ribbon waist sits over a Light Lilac blazer and White blouse dress. It's a professional workwear look that will easily fit in the wardrobe. A Lilac dress is one of the wardrobe classics that Marta brings out a couple of times during the collection. Draped to delicate sashes, the dark Navy Blazer and thin heeled shoes pare the look to make it suitable for some working and formal environments. A shoulderless dress in Black is fixed to the figure on a White collar chain. A ruched gather of fabric at the left waist oposing a side split at the right thigh looks almost invisible in folds of the garment sweeping around the wearer.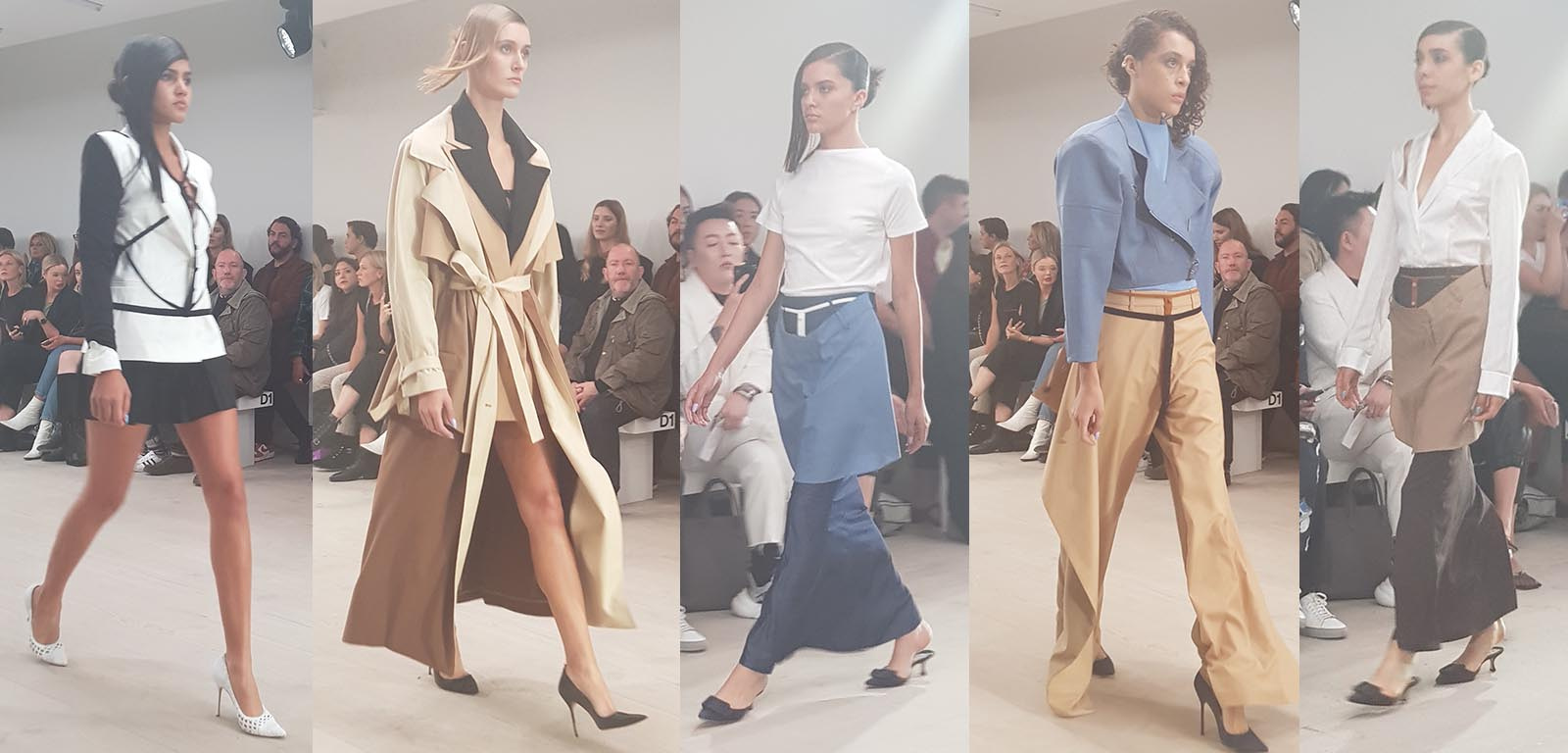 The classic skirt suit gets an interesting makeover as a White jacket lined with Black diamond piping is contrasted with Black full sleeves and a Black mini-skirt. One of the most classic looks of the collection features a Camel coloured Blazer dress and an ankle length raincoat worn partly open with a large ribbon tie at the right side of the waist. It has a look of casual cool about it but could still work for more formal settings. A White T-shirt and Demin Navy skirt is banded with a Light Blue apron. A T-bar form of belt also features in the next look with Camel broad cut trousers emphasising a square form a line around the hips. Soft folds of fabric weave around the sides of the trouser lengths and curved opening of the jacket in opposition to this geometric alignment. A Black skirt with Caramel apron is also similarly placed with a T-line belt at the hips. A White light blazer in single-breasted cut and Black kitten heeled mules copletes a soft neutral look.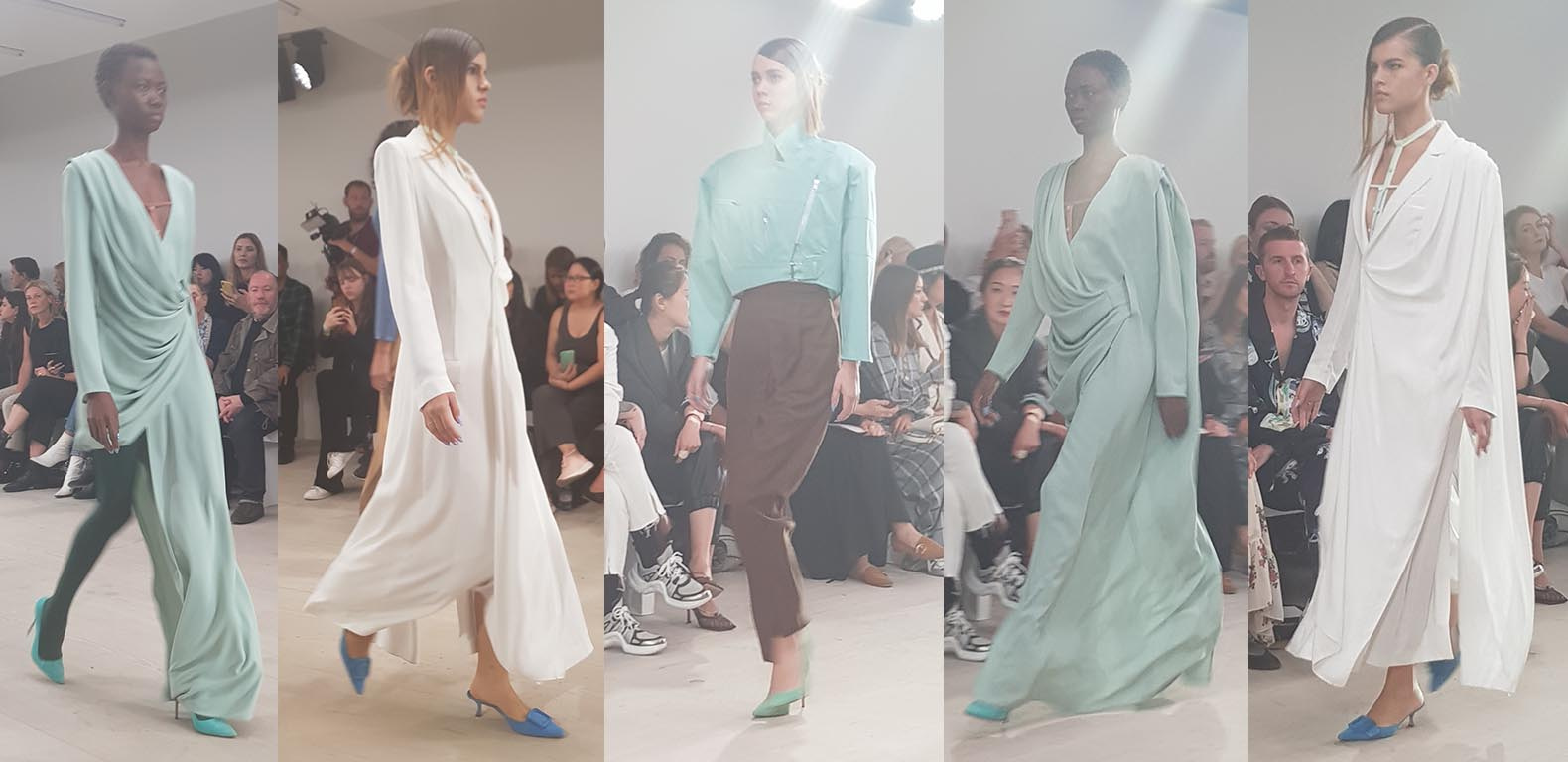 Mint plays a beautiful role in the collection with both separates and full length pieces bringing a soft fresh colour to the next season. To the left a dress features a droppped hemline contrasting a gathered side sash of soft pleats with a full length drop of loose cut fabric flowing around the figure. It's a confident look for Black tie and Red Carpet events. The light White blazer is lengthened into a stylish summer dress with abundant fabric set to catch the breeze on a Summer day to keep the wearer cool. It's a potential outfit for weddings on hot days as well as parties and social occasions. Centre above a Mint jacket like the first opening look shown above, takes it's cue from the sporting biker jackets with a cross over fasten. Chocolate Brown trousers tailored high over the hips hint at the 1930's and 1940's era when women's clothes became utilitarian. A view from the other side of the full length view of the dropped hem mint dress. To the right also a reverse angle from the right hand side of the White shirt dress shows the soft draping achieved in contrast to the sheer drop of the left hand side of the garment.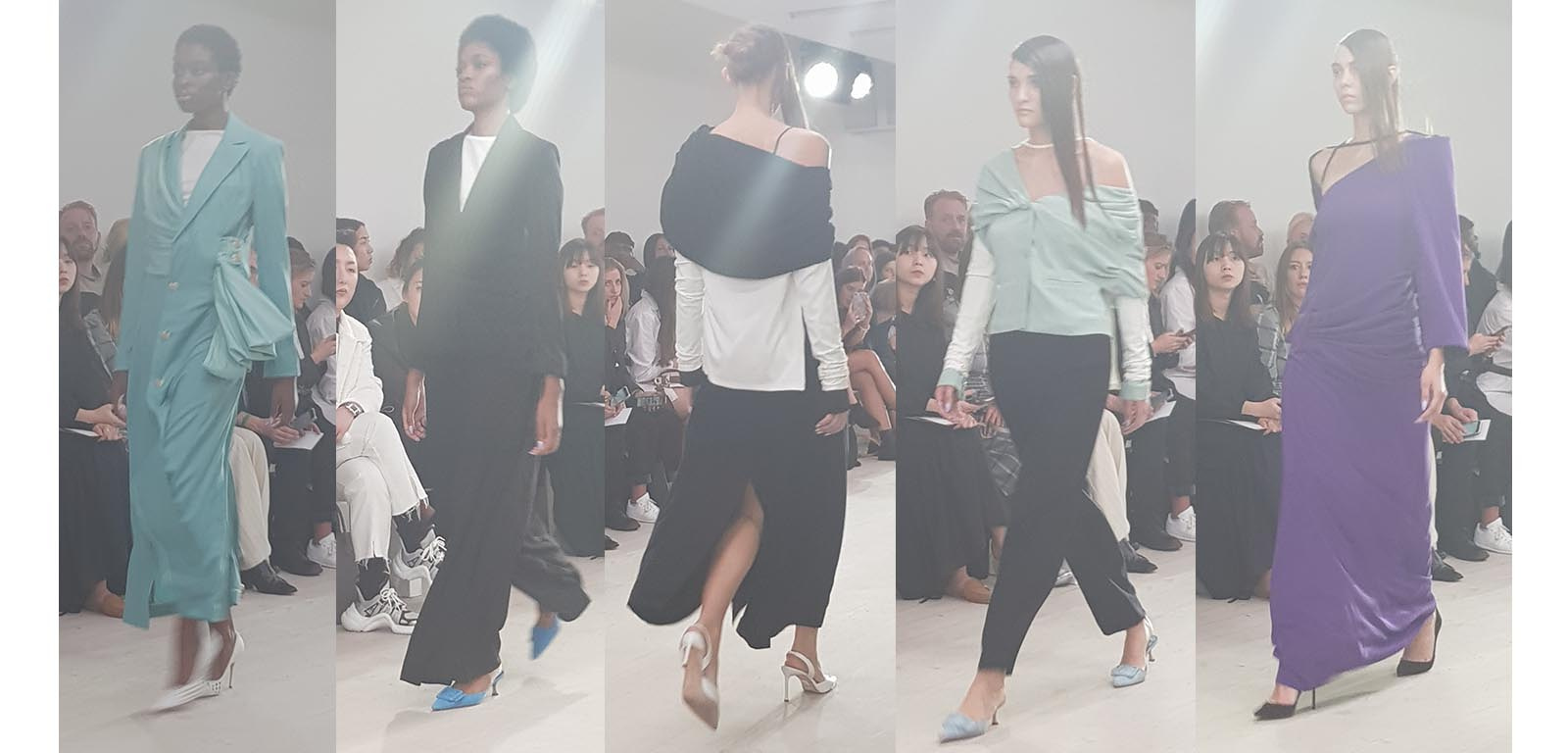 A full length coat in 'eau de nil' features sash gathers at the left hand waist in an echo if Jacobean 17th century fashions. Otherwise the full length of this piece is cut with conventional line creating a soft sophisticated look for the Spring. A Black trouser suit with White blouse offers an easy work and play option for styling. It's adaptable just as Marta's client's life is flexible. A White sweater with Navy shrug shoulder and long skirt split at the rear form a fresh look at the composition of the dress. A Mint shrug shoulder jacket with White sleeves is another casual and slightly marine looking piece to wear through the spring and summer on warmer days. I would be easy to accessorise with a soft bag and take in your travel case.

The collection drew to a close with a full length Purple single shoulder dress ready to stride the Red Carpet. This piece and the two dresses below detail Marta's love of draping and it's unfathomable ability to find new modes of expression across the figure. A single-shouldered full length Lilac dress is wrapped with an apron style slash vest that takes a new approach to constructing the layers to wrap formal wear. Marta shows her desire to create and explore. A deep Purple dress extends to regal lengths and throws contrasting pops of colour in Lilac and Chocolate into the mix by adding them as side sashes descending to a train behind the wearer. She finished her collection on a bold slightly regal note with a joint expression of contrast and harmony. Feeling almost futuristic this look channels the modern client looking to take a new style approach and possibly with an artistic eye.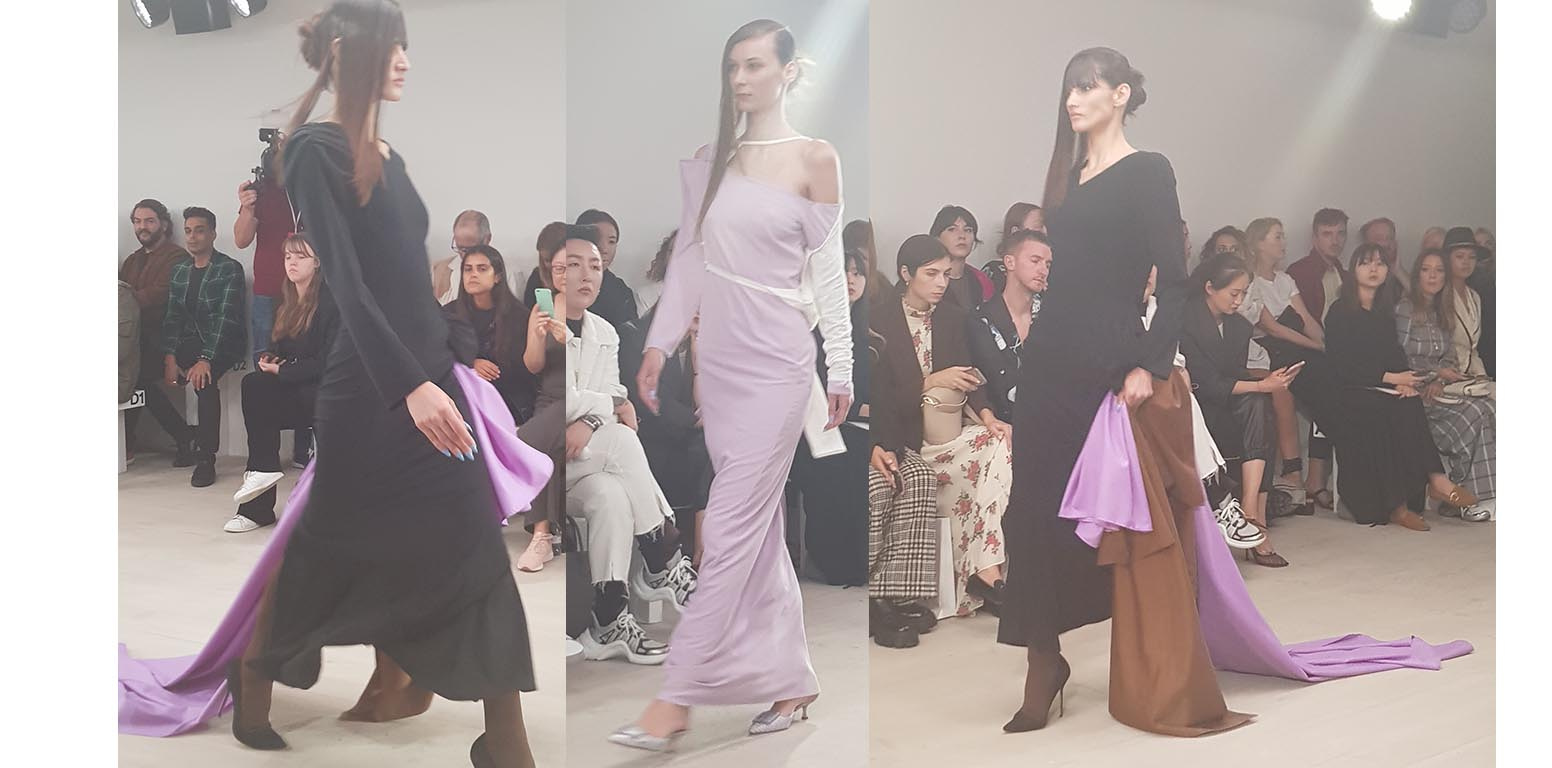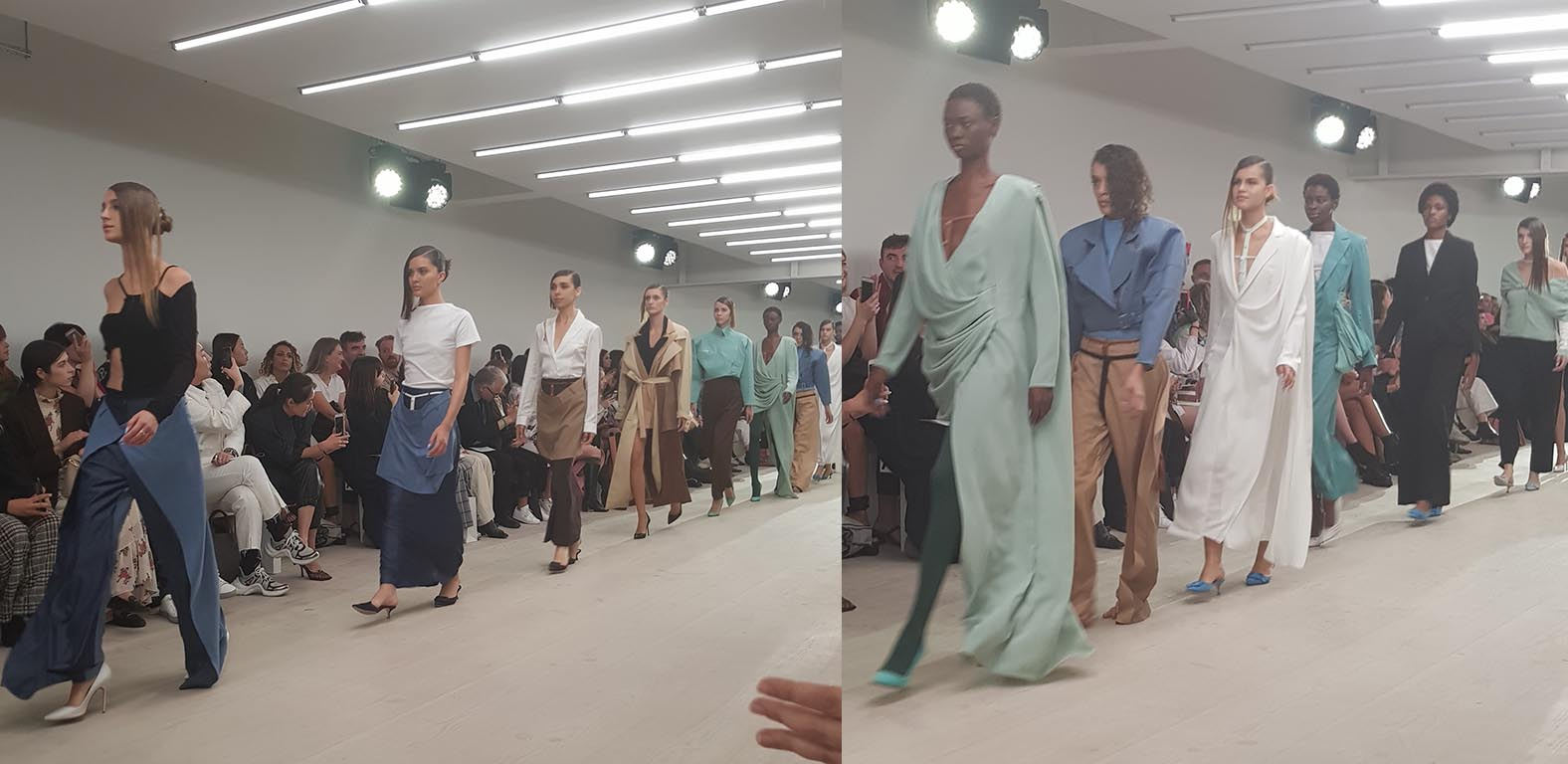 After graduating from the Royal College of Art Paula Knorr launched her own label in 2016. She's quickly gained traction in the industry for her femine drapes sympathetic to the female figure and reaches celebrity clients as well as being in receipt of the invitation to stock at department stores such as the Galeries Lafyette and Harvey Nichols.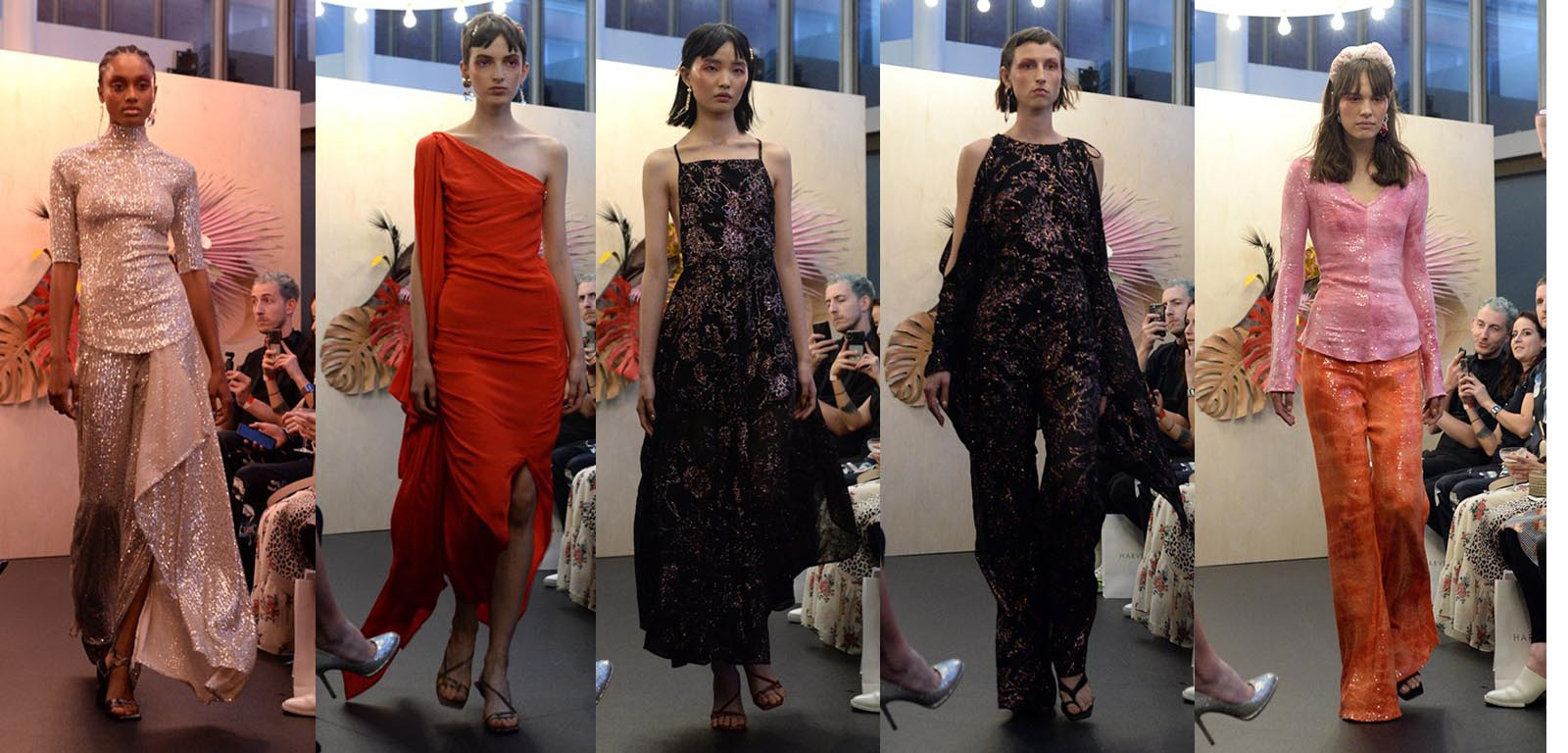 The collection opened and continued with a shimmer wraped gracefully around the female figure. A soft shimmering blouse teamed with a swirling draped skirt is an elegant choice for awards and evenings infront of the camera. It captures a floaty feel as well as complimenting the figure and a neighbouring goddess dress in Umber channels the look of classical antiquity in a single shouldered draped piece with shoulder sash forming a train. Centre above a sleevless dress has mark of summer with detailed embroidery through the lengths in one of the classic patterns of the collection. A jump suit with cut away shoulders also communicates through the same fabric whilst an evocation of Shimmer in a Rose blouse and Orange trousers offers a casual option for daytime and drinks parties.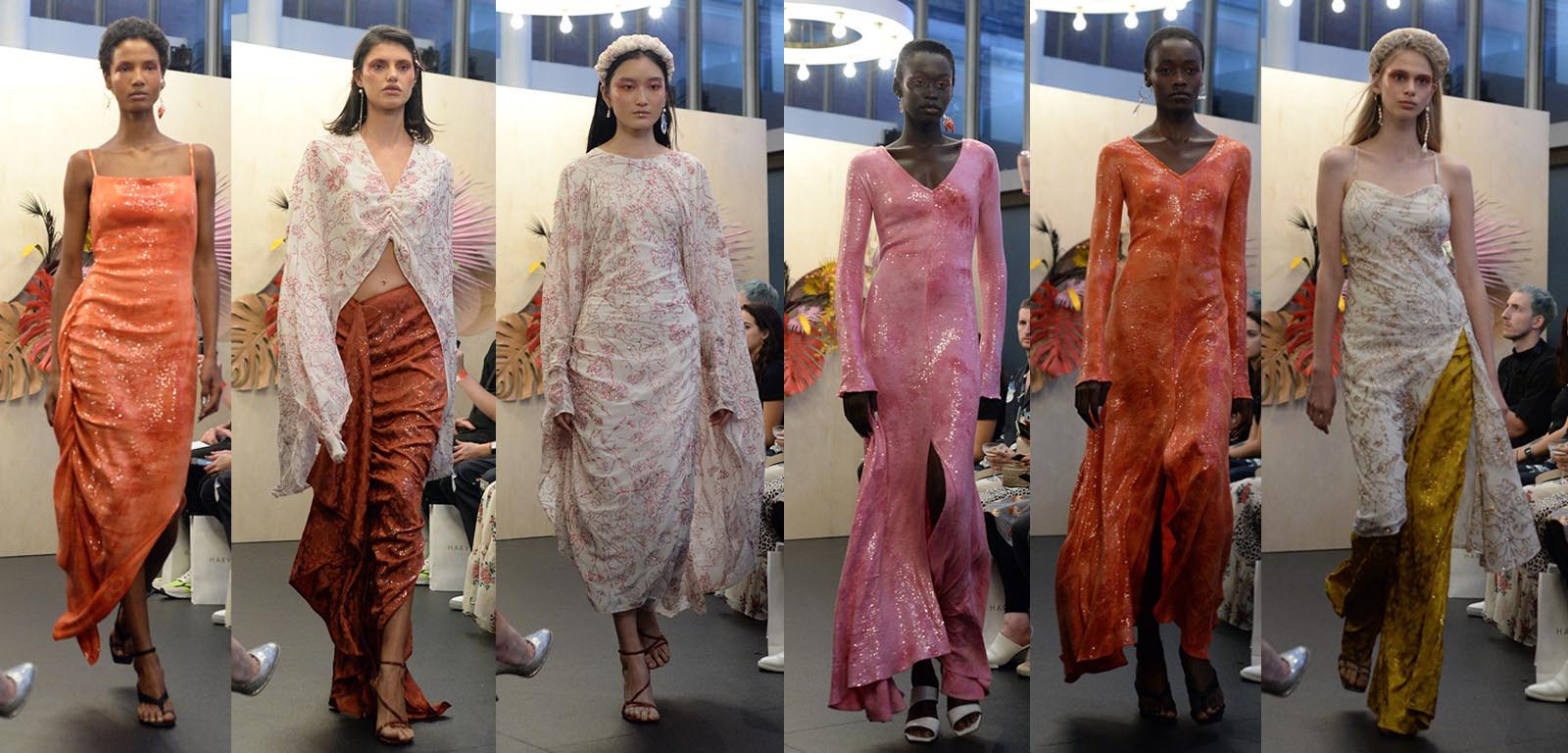 A beautiful deep Apricot cocktail dress is cut to feature gathers at the right side hip with a horizontal neckline offering a linear feature in contrast to the soft movements of the fabric. A blouse is created in butterfly style with White fabric narrowed at the bodice in pin tuck gathers that fly to the shoulders and the arms with fabric floating from demi-sleeves around the wearer. A burnished Umber wrapped skirt faintly resembles a Sari with silk folds tumbling down the leg lengths. The blouse fabric just mentioned extends to a full dress that would be one of my personal picks for next season. Floating and elegant, sleeves are almost concealed in swathes of fabric with the back of the dress forming a train behind the wearer. A body wrapping dress split to the centre from hem to above the knee appeared in Sugar-Pink and deep Apricot. To the far right a White dress is beautifully embroidered with Golden thread in floral illustrations. A Yellow-Gold pair of trousers similarly embroidered created a gentle subtle harmony for a glamourous evening event.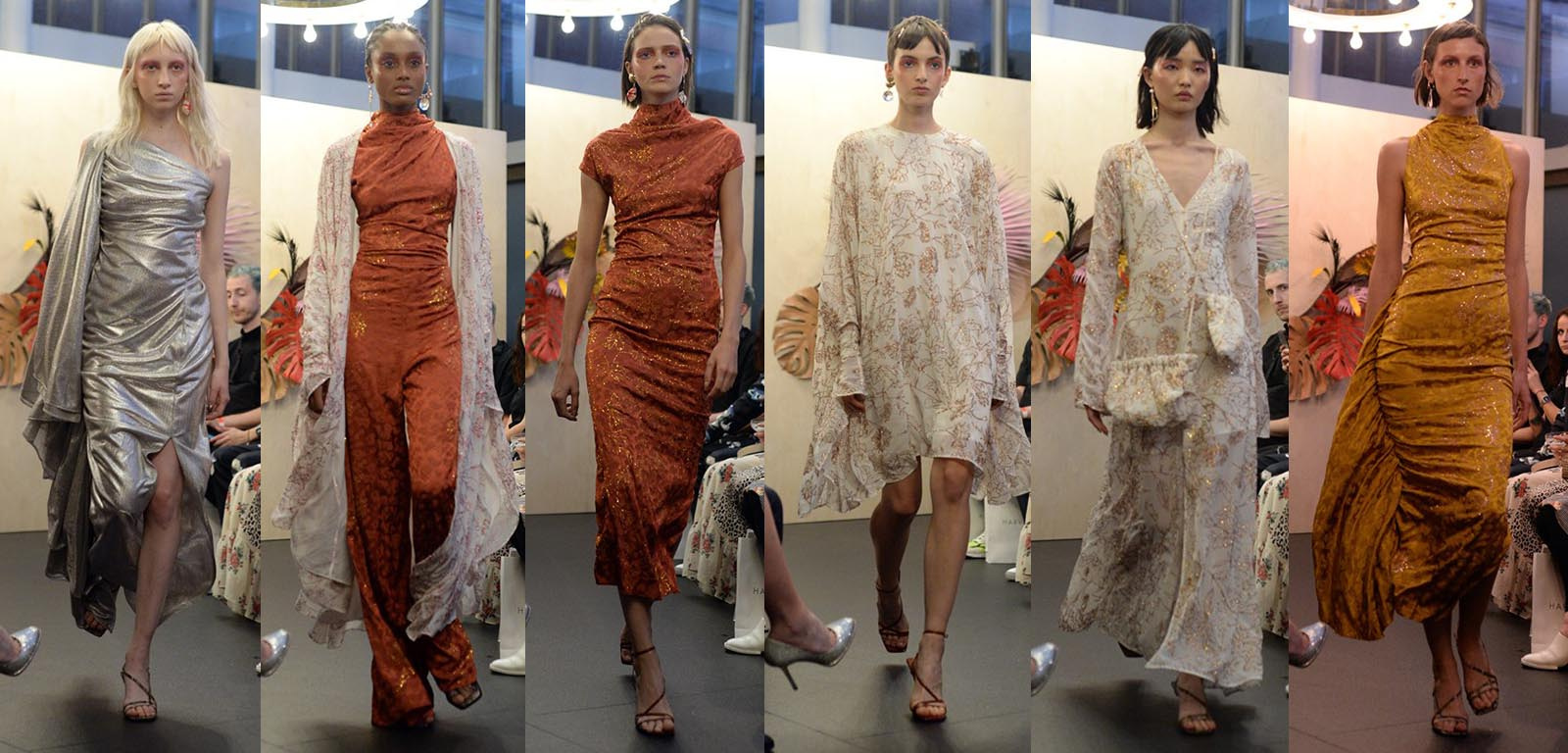 Knorr creates looks that will have an impact and and help create memorable moments for clients. As in recent seasons, her collection continues the theme of working with metallics in a key series of styles. Broadly speaking there are three themes carried across in colour, cut and embellishment of fabric. A Silver single shoulder dress features a soft draped cape falling from the dressed shoulder. Ancient Grecian meets space age glamour with the spohistication for formal events and more fun filled parties on warm summer nights. An Umber fabric shapes a jump suit and figure hugging evening dress, the former wrapped in a light stole floating around the model as she walks. It's a beautiful light fabric and translates easily to both a knee length and full length dress. A pouch bag also features made from the same fabric with a simple bar frame to retain form and line. To the right a rich Saffron cocktail dress features a halter neckline and a side sash sewn to create a fishtail transformed into a small train.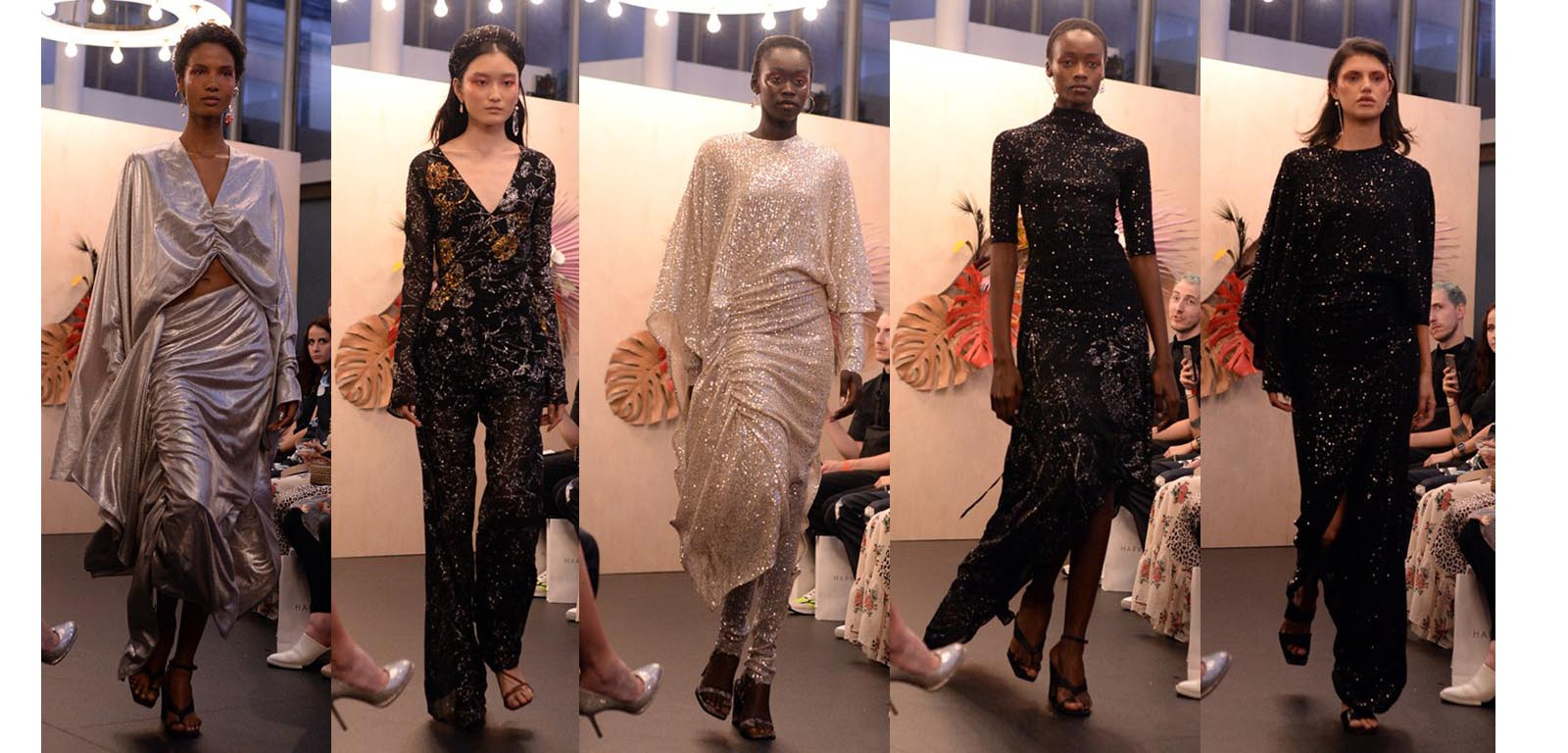 The Butterfly cape blouse returns in a Silver shimmer of fabric that clings to the figure. A draw string pull at the right hand side accentuates the line of the drape and flow of movement around the wearer as she walks. A jumpsuit in Black silk embroidered with a myriad of Gold and Silver floral designs resembles, to me at least, fireworks in the night sky at a summer party. Much of this collection speaks to Knorr's continuing collaboration with Swarovski and the light infused into the three final dresses through the use of sewn crystals is breathtaking. These looks could walk any Red or Green carpet and place the wearer like a star in the sky. I feel that this is Knorr's vision; to elevate the women, the client, the wearer into something iridescent and eternal.