All images below shot by me (C) with the exception of Met Gala related materials.
Suzannah Fashion - Spring and Summer 2018 collection

Nestled in the heart of Marylebone Suzannah Fashion is one of the most well respected purveyors of Ready to Wear and Haute Couture occassion wear. With sunnier days ahead and many exciting events landing in the diary, it's time to look at some beautiful options for The Season. For weddings, christenings, the races and a host of Summer fun with a formal or semi formal dress code Suzannah hits the spot for women across the generations. Her designs lean toward a simplified elegance but this is exactly what a carefully styled code requires and the expertise is in utilising subtle detail in imaginative ways.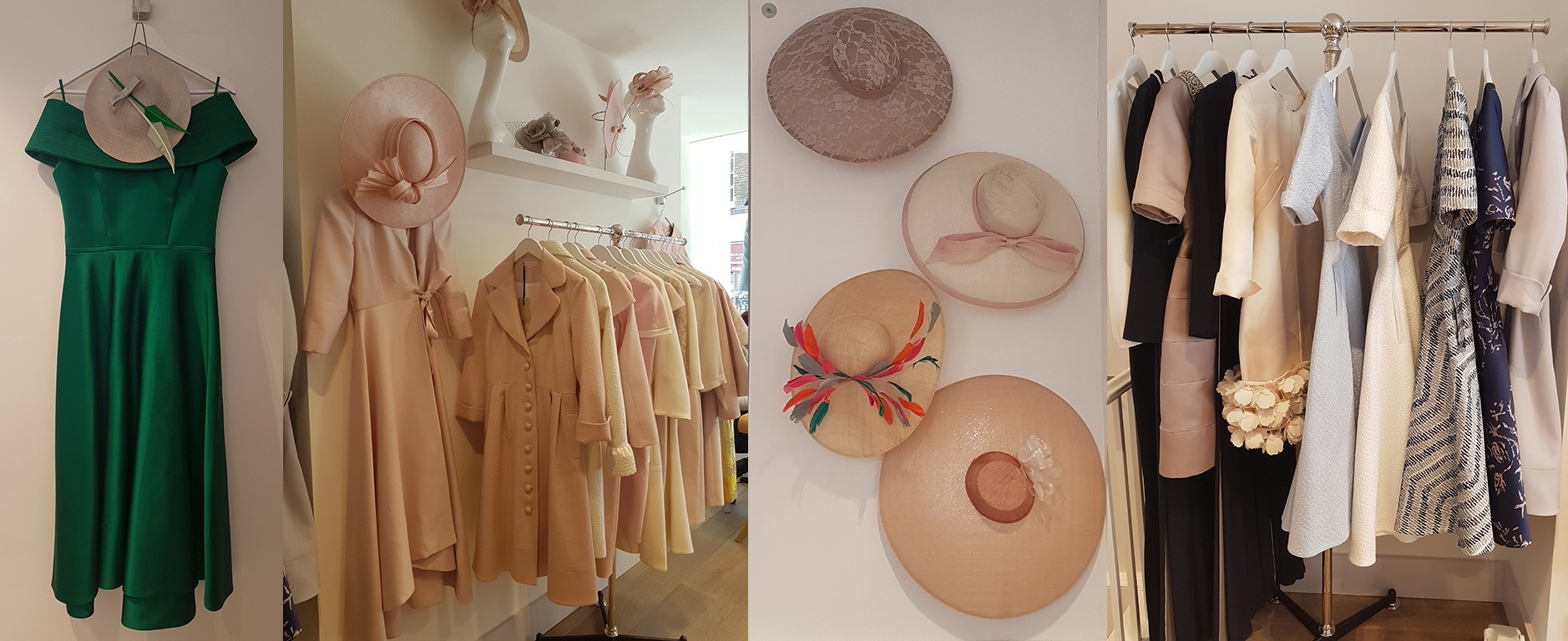 It was lovely to catch-up with Suzannah and team ahead of the busy wedding and events season and a beautiful green dress with a neckline curved around the shoulders caught the eye in a bold contrast to many of the other pieces in the room. Another clever subtle detail from Suzannah, use a bold strong colour with simple design styling and there you have it, an instantly classic look. Pared with a small crown hat sitting at an angle it's one of the easiest 'off the peg' complete looks that would be finished off with a beautiful clutch purse. The boutique is stocked with myriad outfit possibilities and the Blush Pink side tied coat to the left above with it's coordinating hat is a great example of how Suzannah and her team collaborate with milliners and accessory designers to create complete outfits for clients. At any one time her Quebec Street boutique will host hats, shoes and clutches from specialists. It's easy, it works and there is not that faintest sense of the hard sell. Designer's build their reputations and repertoire's steadily and over time Suzannah has built her own into an industry gold standard.
A coat dress sits at the front the rail above in the picture with full collar, cuffs, hip pleats and beautiful pockets finished with a front row of buttons. It perfectly mixes hints of the past with the elegant styles that clients want to wear to events today. Behind it sits a cream-tea palette of dresses and coat dresses cut to the mid-calf and knee. Garments can be tailored to the client so that they sit perfectly in line with the figure of wearer. Looking ahead to the summer season beautiful broad-brimmed hats hint of Ascot, Epsom, weddings and Boat race days. Frankly you could enjoy wearing many of them with some of Suzannah's outfits on a luxurious picnic. Above to the right a beautiful series of dresses showing Suzannah turning her hand in another direction to create a series of diverse pieces. Silk panels, paper flowers, Italian cloth cut in subtle style around intricate designs. Blush, Ivory and Baby Blue with looks that will dress women across several generations for a series of formal, semi formal and professional environments.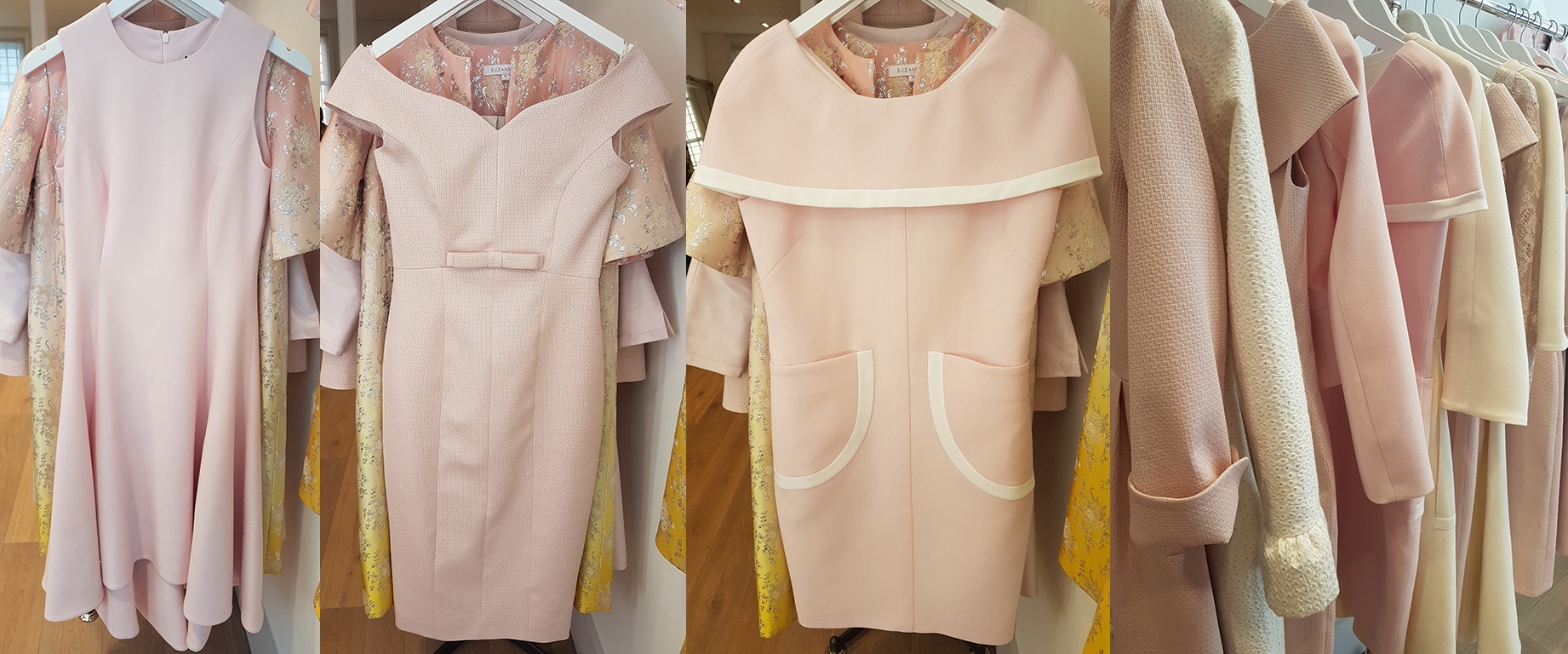 When a designer is talented they can create many designs they may at first seem very similar but in fact are very different. Playing around a core theme such as a style or a design are good ways to do this. Above to the left a sleeveless dress descends from tapered bodice to floating voluminous folds of a dipped hem dress. Haute Couture meets with skater dress in part and the result is a classic chic piece you could wear almost anywhere, dinner date, party, wedding or christening (with jacket) and of course to race meets observing the dress codes. It's a pure piece of Summer fun. Many designers build hints of a classic signature into their collections and the second dress to the right, with it's bow at the front just above the waist, is one such feature of Suzannah's work. Panels are cut expertly to sensuously follow the lines of the figure from the under arms down through the length of the dress. The neckline faintly curves around the shoulders descending like a heart shape above the bodice. Altogether it's a romantic piece.
A 1960's vibe appears in the next dress with a caped shoulder descending to ribbon seams and deep moon cut pockets. It's chic and neat and the utilitarian presence doesn't diminish in any way from the classic beauty of the gown. Another stylish universal piece. To the right a close-up rail shot shows the depth of variety of fabrics that Suzannah takes such pleasure in sourcing and working with. Her earlier years working at brands such as Karen Millen honed her skill at sourcing the very best materials to work with and textiles produced in the mills of Italy are amongst many of her go-to favourites. Browsing through a series of 8 or 10 designs across a rail you can see a huge variety of styles to give you inspiration for up coming events or pieces to buy for pleasure for use in the future.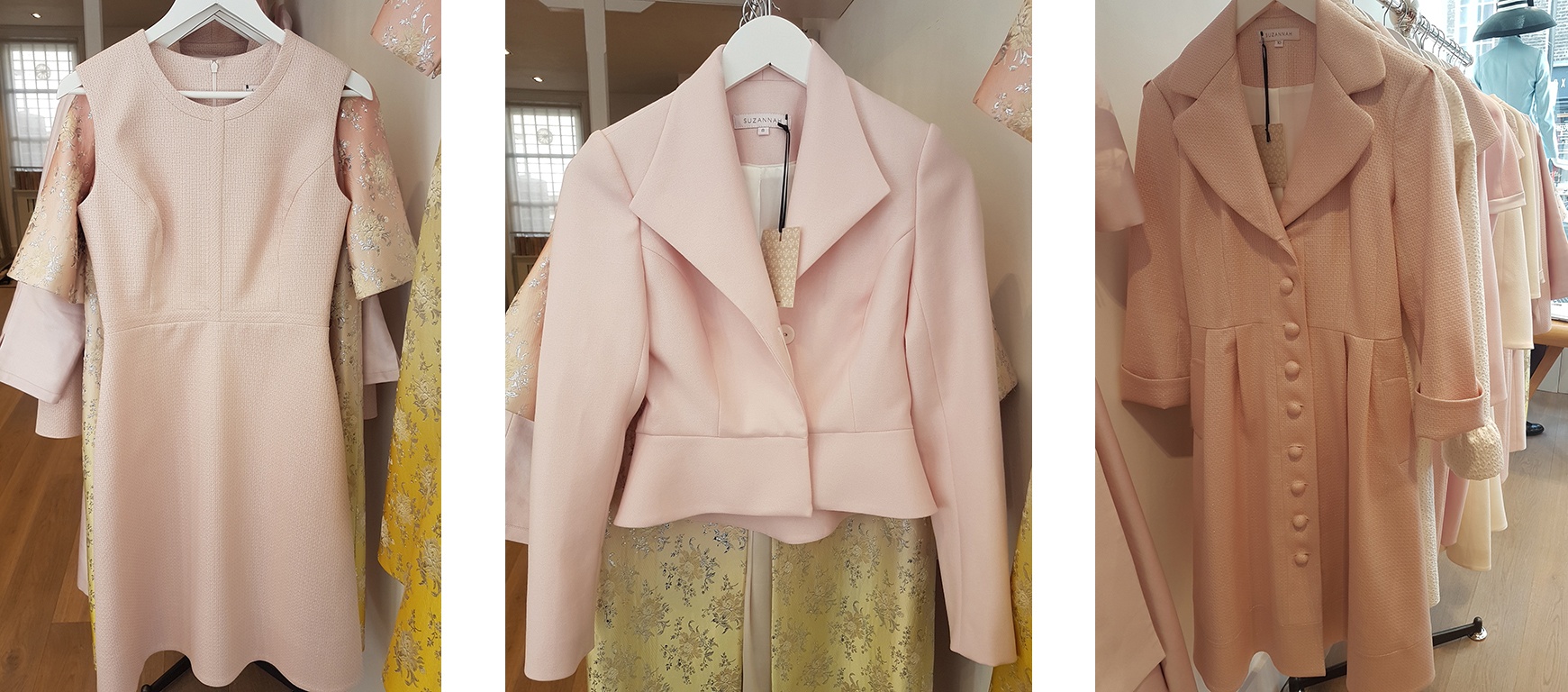 A sleeveless dress is a versatile option for warmer days offering a comfortable match with a jacket for formal events and a carefree armless look for more relaxed occasions. Hints of styling in the fit and flare nature of the bodice and skirt and the soft circular border of the neckline add a minimalist hint. This is a dress that can go almost anywhere. Centre above a jacket cut above the waist with a dipped border at the back mixes hints of the formal and more casual in it's softly folded broad lapels and wider sleeves. This is great Summer events jacket that is another classic versatile piece from the pen of Suzannah. Using experience and insight she creates stand alone pieces that you can build into your wardrobe and find as many occasions to wear as you should wish. Above to the right a closer look at the coat dress taking inspiration from the 18th and 19th century frock coats. With deep cuffs and pockets the fine material is warm enough to easily keep out the chill of the Spring air whilst being light for the wearer. Subtle gathers ensure that there is plenty of scope to wear an evening dress underneath or day suit.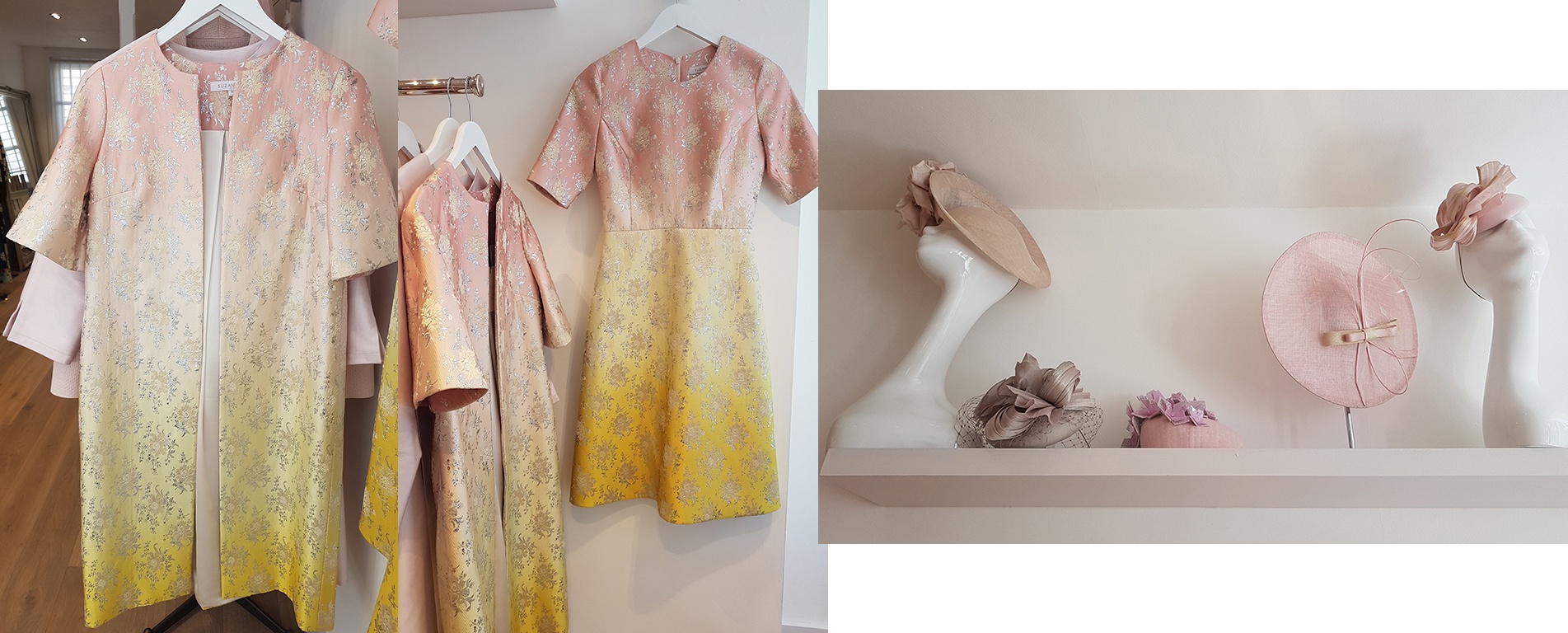 Playful colour dynamics can work well with formal wear, it just needs to be designed well. Here above in the matching coat and dress pairing Blush Rose Pink transforms into Imperial Chinese Yellow through the lengths of both garments. Fine floral embroidery gives hints of Chintz through the length of the robes for an apt formal but not overly grand look. Age-wise, it's a super versatile garment too. Many of Suzannah's classic formal wear pieces call for the addition of a piece of millinery and Edwina Ibbotson is one of the go-to milliners that she hosts in her boutiques in New Quebec street in London's Marylebone. Edwina crosses the breadth of styles from small cloche shapes and large fascinators to wider brimmed hats and is particularly adept at creating the flowery and sometimes minimalist designs that blend so well with Suzannah's range of seasonal pieces.

Moving from warm to cool tones, a Baby Blue dress with a dropped cowl neckline is accented with a broad slim ribbon tie at a generous waist. This piece would suit a variety of figures and for some clients it could work well as an early-stages maternity dress with the generous gather folds around the tummy. With simple cuff detail flowing from long sleeves it's a relaxed piece of formal-wear for a Spring day. Moving into Summer season occasion clothing the next dress to the right features slim bands of Salmon between the Mint coloured panels of the dress. Large cutaway sleeves allow the wearer to keep cool on warm summer days and the outfit would be perfect for drinks parties as well as matched to a jacket for weddings, christenings or the races. Subtle pleats added at the waist give the skirt of the dress volume when it's needed and allow it to move beautifully as the wearer walks.
Lace is always a good idea on warmer days and the Blush Rose coloured dress above with it's light outer lace shell is a beautiful simple option for many events this season. It's another classic piece that you could be very tempted to keep in the wardrobe for several years and is gently styled to fit over the figure simply. To the right an elegant cowelled neckline Lilac dress with it's bow-detail belt brings another easy to wear glamorous Suzannah style forward to be considered. This piece, like several in the collection seems to chime with the golden era of the Silver Screen in Hollywood and style icons such as Grace Kelly, later Princess of Monaco. With full arms and a high neckline it's a handy option for shielding against the breezes of the start of the season. *Another possible option for warmer days sits to the far right in the same Lilac silk. With a deep Bardot neckline richly detailed this dress is a timeless elegant look that would suit a variety of skin tones and occasions through the summer season. *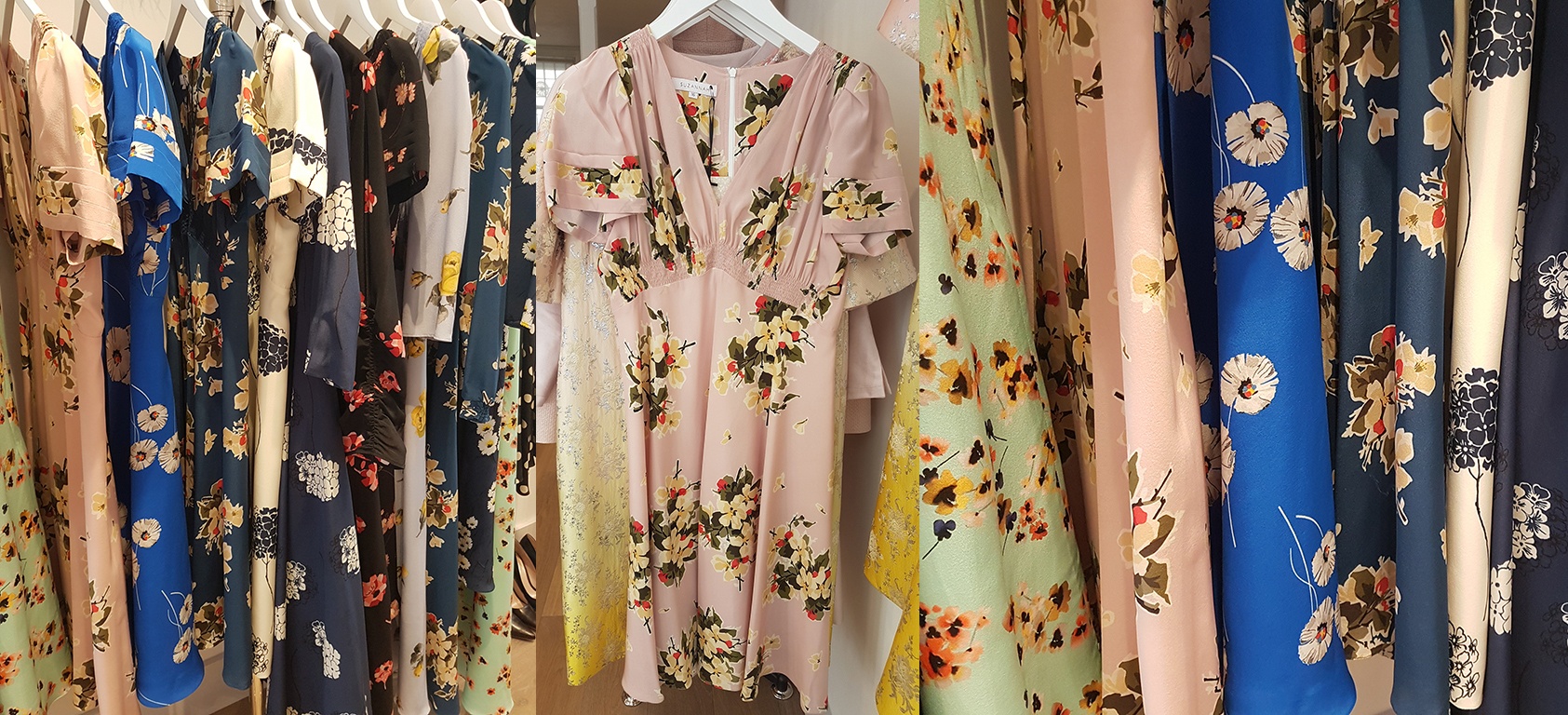 Bringing colour into the collection is also done very ably with an array of prints. A selection of dresses to suit women from their teens to their 90's is available from as part of the Ready to Wear offering and as with her other garments, there is liberty to create anything bespoke to individual needs. Flowers from the garden and meadow celebrate British summers and the light fabrics are a tremendous blessing in days of great summer heat. Many options that sleeves that means that shoulders are covered for formal ceremonies and occasions while sleeveless options such as the beautiful Black dress to the left can be worn with or without a jacket and with a light hat. You can where these pieces wherever and however you would wish and the simple cuts shouldn't distract from how well crafted the dresses really are. Styles vary with something to suit a variety of figures and proportions.


Polka dots never truly go out of fashion and in the last 6 months have made a re-appearance in women's wear. They often prove a handy staple fabric for occasionwear and to the left you can see a beautiful blouse matched to a broad sheer brimmed Black hat and a crown accented by a rose. To the right a coat dress with soft lapels and a loosely belted waist sits demurely underneath a millinery suggestion to wear for special occasions. Worn with a dress or alone as a daring statement it can be worn with any footwear that the wearer would feel comfortable in for the occassion. This part of the collection features more strong statement colour themes and above centre a Scarlett version of the Lilac gown above features a dipped coweled neckline and a bow tied belt. To the right an Emerald/Teal dress accents the rich colours of autumn and the simple hand of the fabric celebrates the long-lines of the 1930's and 1940's silhouettes. A dream Suzannah dressing room to the far right with life sized mirror and shoes and purses all lined up to make an outfit complete.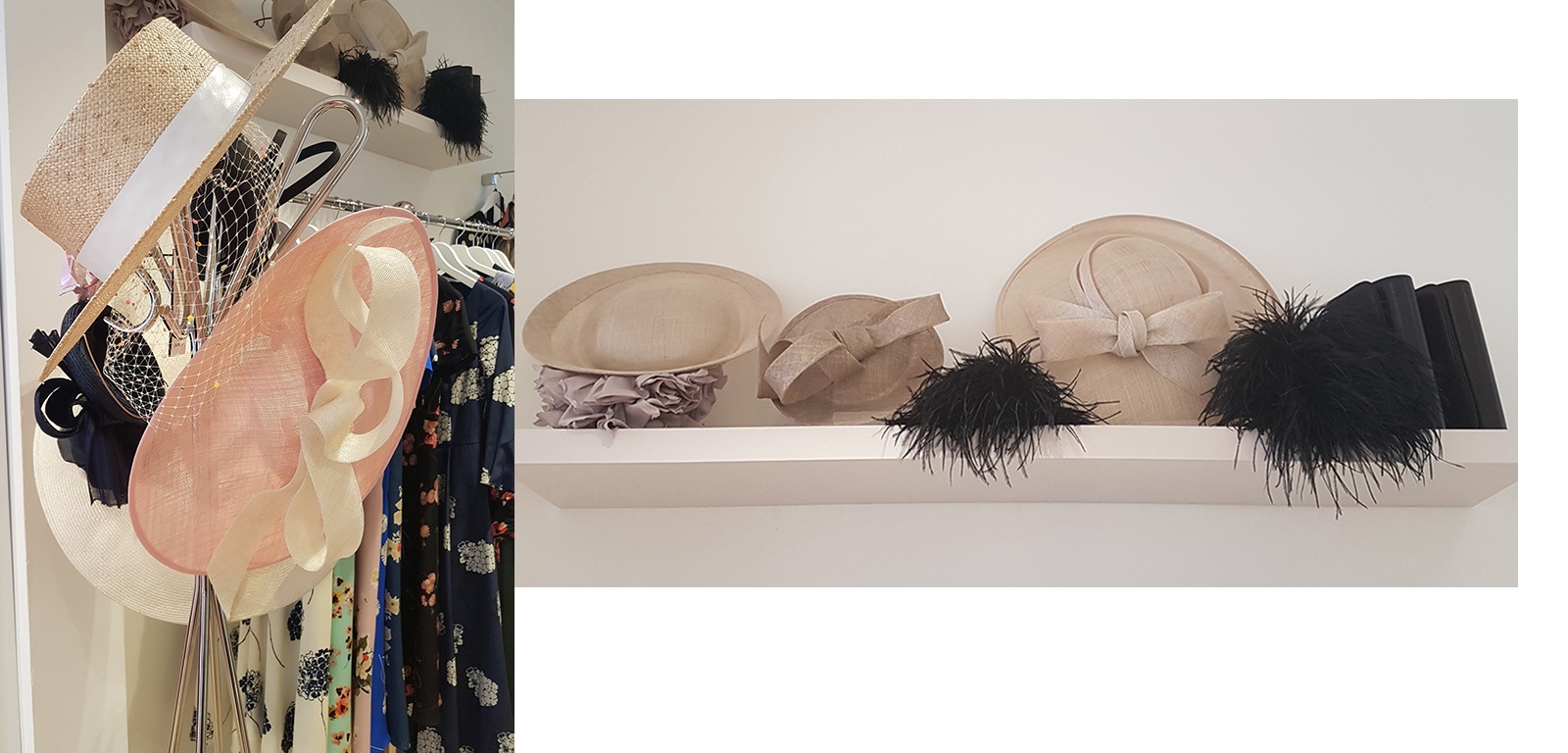 Millinery and dresses are such a natural paring and it's wonderful to see designers supporting eachother across disciplines in fashion. Millinery itself is quite a British specialty and having grown up a Brit' myself, I wasn't aware until about 7 years ago just how special it was to our shores and how much international clients look to British designers for head wear. Therefore with Suzannah's growing reputation, it's a wonderful platform to offer other designers and also compliments her own range of styles so well. From boyish Boaters to the most traditional of styles, it's wonderful to be able to try on a dress with that may be it's perfect hat-match.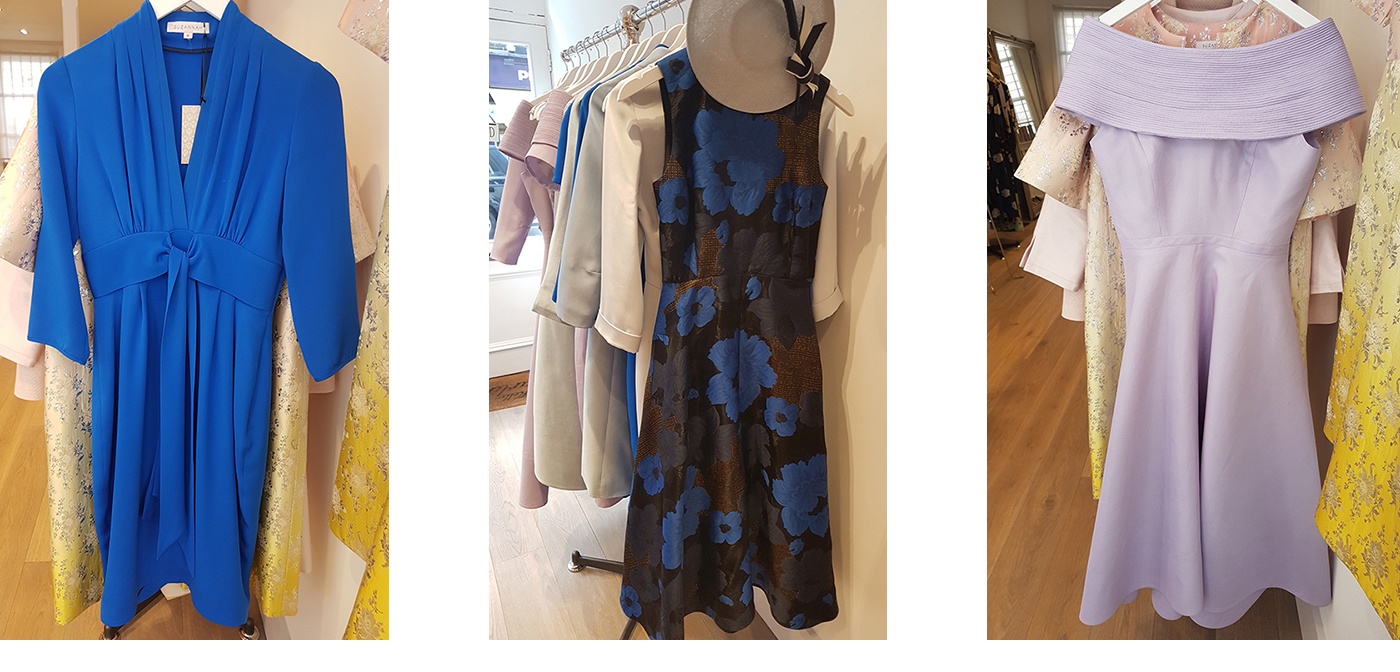 Artistry and quality set Suzannah apart and her care in catering for clients wishes and building an adaptable collection of Ready to Wear and Haute Couture base patterns. There are a deceptively broad number of options available when you enter both her ready to wear and private Atelier spaces and she's one of the few couturiers in London who genuinely dresses women across generations in the same family. Bold yet never too strong, classic but not dated, she seems to have found the winning formula for clients today.
The Costume Institute Benefit at the Met Museum in New York

The Costume Institute Benefit, held annually in New York, is one of the highlights of both the East Coast social calendar and also the International fashion world's diary. Alongside being a wonderful opportunity to raise money for the Institute itself, the style on show from guests in passage, as they walk the carpet attracts arguably more interest than any other celebrity fashion carpet including the Oscars. This is partly due to Anna Wintour and her board for the Met choosing a new theme for the exhibition each year thus reflected in the costumes, but also I suspect it relates to the fact that the East Coast of the US has a slightly closer time zone to Europe and the Middle East while still also working for the Americas.
The theme for 2018 was Heavenly Bodies: Fashion and the Catholic Imagination. An interesting departure from non-institutional themes and genres of the past but nevertheless sponsorship is sponsorship and the financial and political strength the Catholic Church has used to dominate cultural and political life globally for over 1,500 years has had lasting impact on society broadly. In terms of what one may be allowed to imagine via the doctrine of scriptures, this was traditionally very controlled but at the Met stars came forward with their own renditions of 'Heavenly Bodies' that shook off the austere controlled thinking of the past.
Diane Kruger wore a dress by Prabal Gurung in soft Aqua Blue (looking almost Nazarene) dripping with golden embroidered broacde. The garment played with a striking contrast in lengths between mini skirts and court length train, putting a new light on the formal splendor of the Papal Courts of Italy. Truly a modern fairytale gown that accentuates the feminine with it's large ruched bows to the rear descending from the shoulders to a perfectly rounded train length. It also had a slight hint of the Peacock in it's shape I felt. Singer Rhianna, honorary co-chair was widely quoted as "going the full Pope" and she was the winner of the Met Gala carpet. Her complete look was designed by Margiela with shoes created bespoke by Louboutin. The outfit encrusted with beads and jewels as an embodyment of the lavish rich costume favoured within the heirarchy of the Catholic Church and their building interiors. Here though, Rhianna perfectly embodies the female strength in papal form showing that the sacred and feminine really is devine. Topped off with a mitre it was the most literal interpretation of the dress code of the evening. Most beautiful perhaps, the gorgeous clutch purse that blends seemlessly into the coat itself.
Set against the backdrop of the Met Museum's art collections, Ariana Grande worked with designer Vera Wang to create a dress depicting the ceiling of the Sistine Chapel painted by Leonardo de Vinci and his studio. With a Blush coloured underlayer the warm tones of skin are reflected and the dress appears to have a complete sense of composition about it. The sleeveless dress with light corset style bodice and ruched full length skirt channeled the styles of centuries past blended with the fashion technology of the contemporary age. The evening's host American Vogue's Editor Anna Wintour also opted for classic simplicity, this time wearing CHANEL in Silver-White with a simple crucifix hanging low at the waist in traditional ecclesiatic mode. The outfit sewn with a profusion of crystals and gem stones twinkled like an evening sky filed with constellations and perhaps consciously evoking the millions of tiny beaded lights.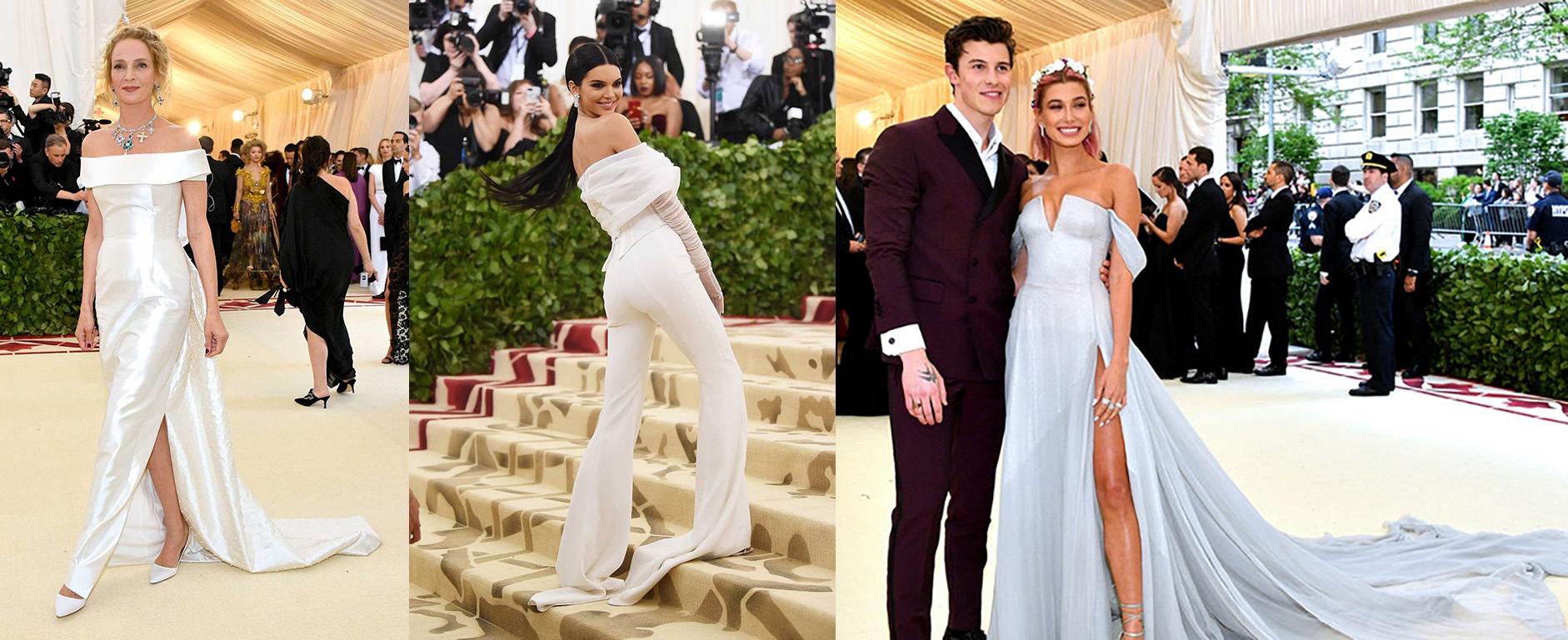 Uma Thurman wore a White Gabriela Hearst dress that had more than a hint of the traditional wedding dress about it. It's cool crisp satin lines reflected the purity of the later 19th and 20th century wedding dress fashion for pure white as well as the ecclesiastical day-wear of the pontiff in person. This demure evening look suited Thurman to a T with a wealth of Red Carpet and gala experience, she carried it off in the most natural way. Kendal Jenner opted for a trouser suit working the theme of a train into trouser lengths in a generous triangular cut. Again she favoured an off the shoulder off-White ensemble like Thurman giving hints of purity in the conventional colour coding of the church and sleeves descended to sheer gauze silk in the lengths of the Virgil Abloah look reaching downwards across the hands. With a swoosh of her mane, she headed up the stairs to join the party. Hailey Baldwin wore American designer Tommy Hilfiger for her 4th Met Gala. As a church going girl she was excited to bring some of her feel for the spiritual side of the church cross in her look and returned to the designer that she wore to the gala in 2016 as the team listened to her thoughts and feelings on design and gave her control over her final look. The result was an Angelic Fairytale piece that channeled the Blues of christian clothing but also was a perfectly fitting piece for a grand gala evening in New York at the start of the Summer Season.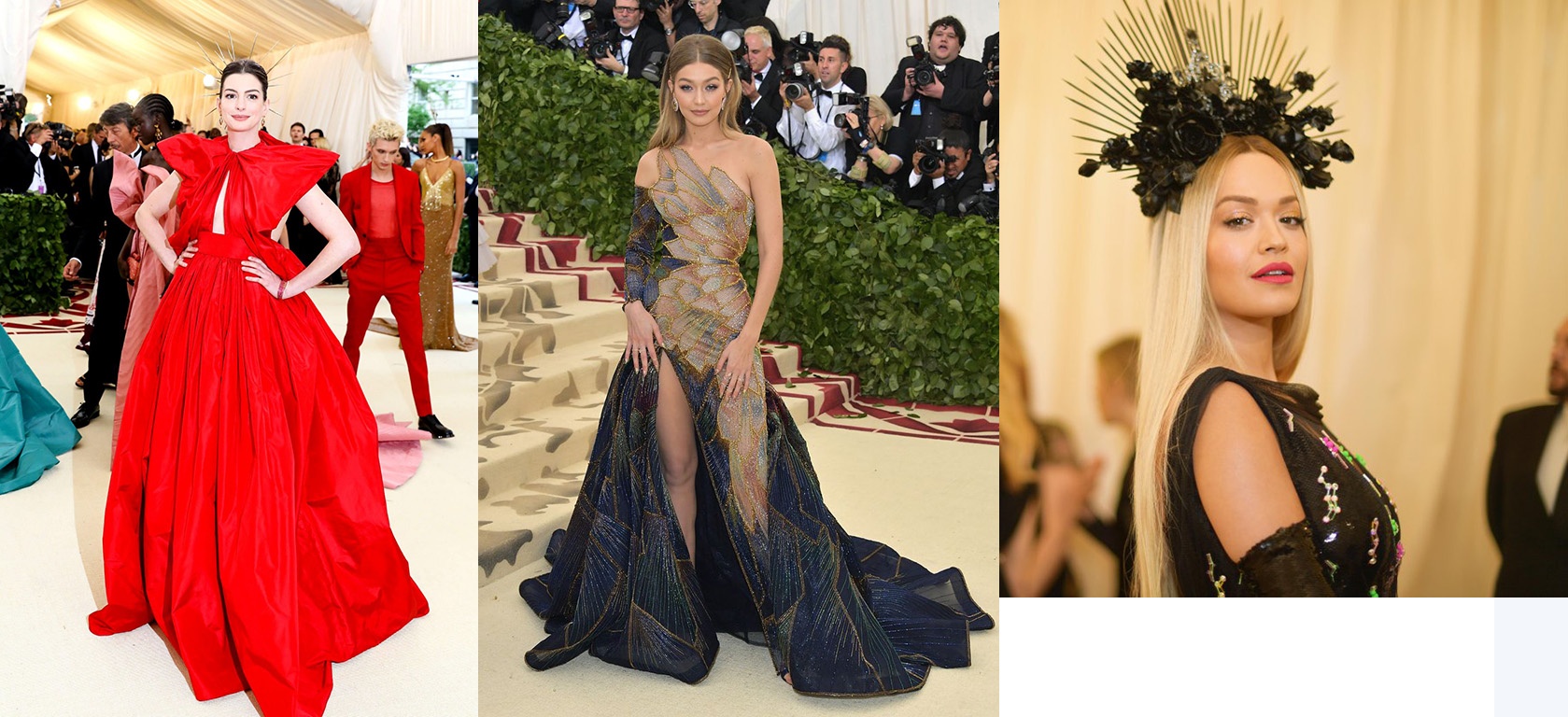 Red, Cardinal or Scarlett have also been traditionally associated with the Catholic Church and worn by Cardinals for centuries, picking up the mantle perhaps literally from the uniform of the Roman army that existed for more than 2,000 years. Anne Hathaway brought Rome very literally to the heart of Manhattan by wearing a gown by Valentino's Pierpaolo Picciolo working from the Rome atelier he has supported for over two decades. Using simple large wooden pins, Hathaway's hair is pinned up in a halo that is both earthy and divine and the bold block colour of Red perfectly gave subtle emphasis to her natural features. This is another contemporary goddess dress. Gigi Hadid also took inspiration from religious art by incorporating the feel of stained glass windows into her gown by Versace. With plate glass reflected in the construction of pearls across the bodice and length of the gown the colour scheme also nods towards the paintings of the Sistine Chapel.
Rita Ora came dressed in one of the most memorable looks of the evening with a crowing headpiece that was made by her hairdresser that captured the attention of milliner Stephen Jones as he walked behind her on the carpet as she gave her live interview for Vogue Runway. Below you can see the full length trains of these two of my favourite looks of the evening. So I deviate here from strict editorial and show personal favourites but hey, I love the elegance and line that these trains create. In the Royal courts they disappeared in the early 20th century and now they are generally an option for brides, I say 'yes', have a glorious long train in proportions to your dress that seem just right. It's wonderful for so many reasons, not just the geometry that meets the eye but also allows people to see more of the wonderful fabric that has been used to create the memorable garment.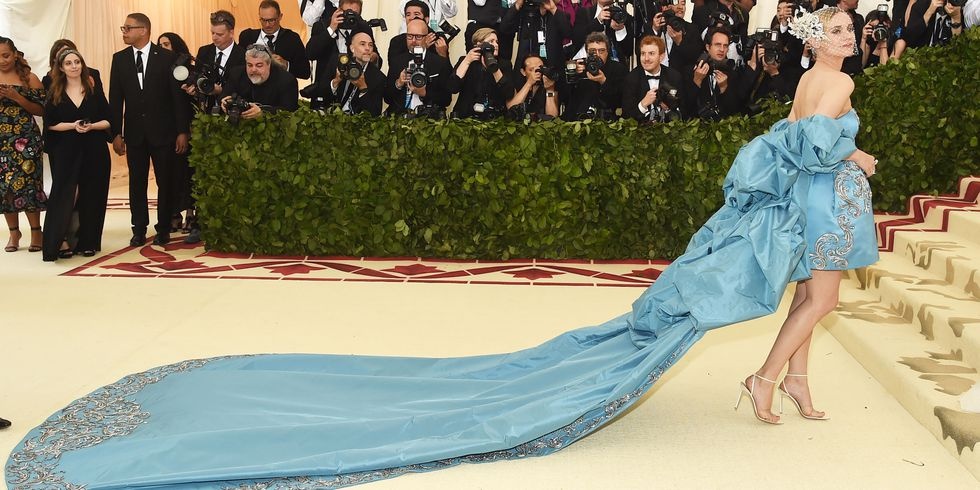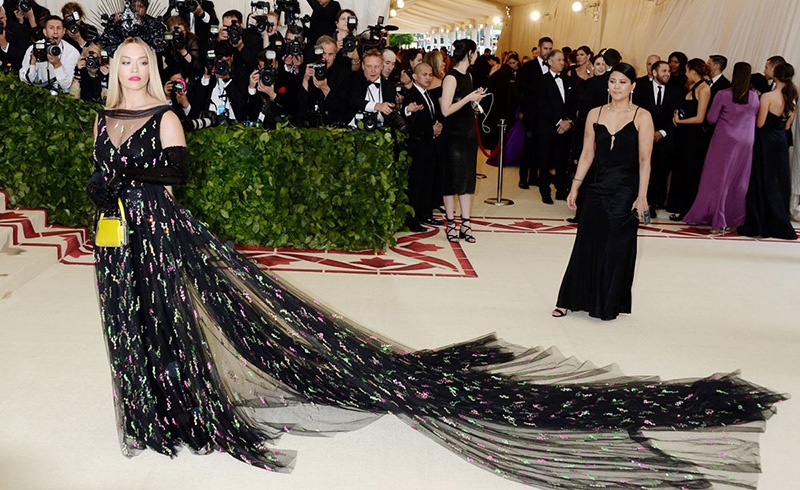 Rosie Huntingdon Whiteley embraced a softer more Angelic theme of the dress code looking cool, calm and collected like a super-being in a Ralph Lauren dress complete with crowning halo. It's not tricky or a big stretch to delve into the imagination to see Rosie as inhabiting the classic form of an Angel but how often where they portrayed as women in the past? The applique beading and the train that looks like it could also be a veil fallen to earth are quietly spectacular. Kate Bosworth chose Oscar de la Renta to make a 'Mother of God' and Queen of Heaven design statement with flowing layers of tulle bejewelled with the sprinkling of the dust of stars in the lengths of the fabric. A regal train flows behind the wearer as she walks and hints of the faintly Gothic and Bohemian give a sense of the spiritual and ethereal to the gown. It's a piece that at once both sweeps all before it but also has an air of meek humility and simplicity in it also.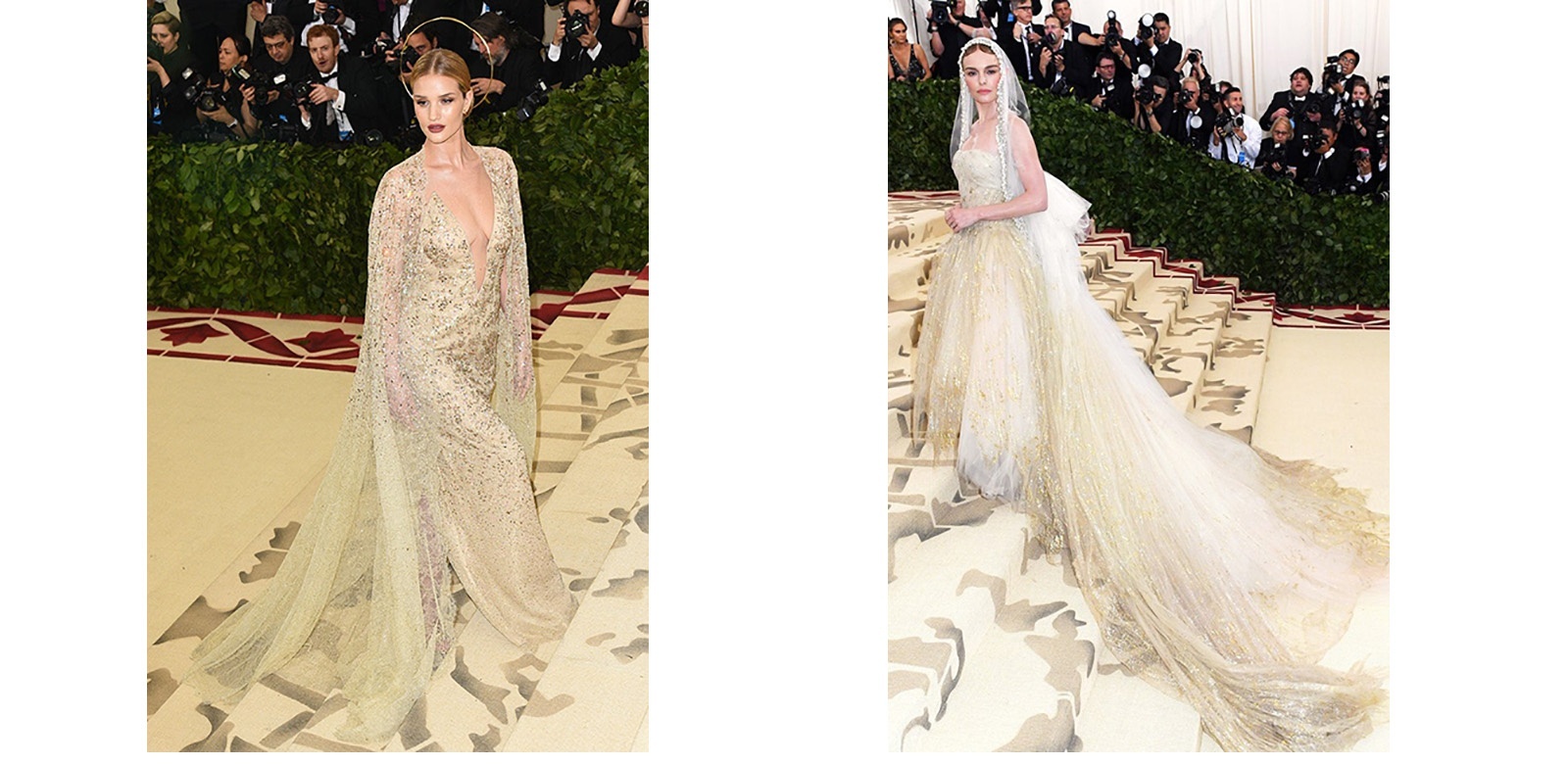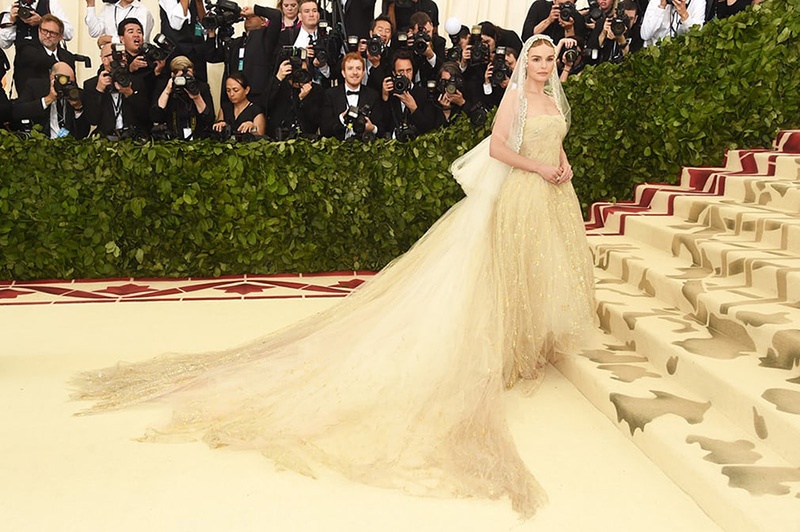 The strength of Black has often been used in the Catholic wardrobe with Gabrielle Chanel notably adopting her convent uniform to form the basis of some of the most notable parts of the House of Chanel 'Little Black Dress' and 'Little Black Jacket/suit' it's uniformity and adaptability are perfect. Lily Collins embraced romantic Gothic in her Black Givenchy dress. A White border at the shoulder echos the hood lining and trim of the nun's habit but there the formal echos die away as the dress descends to a cut-away waist and a mini skirt, perfectly flattering the figure. A sheer black lace outer skirt takes on the look of a widows veil as it reaches to the floor around the wearer and gives the elegance required for an evening dress.
The beautiful Mindy Kaling made one of the most regal statements in a simple pale grey court dress by Greek designer Vassilis Zoulias with Navy gloves and a beautiful crown. The look reflected the regal splendour of many of the artifacts lent by the Vatican to be seen in the exhibition and she was at ease and enjoying the evening in interviews. Prianka Chopra interestingly chose a chain-mail form of headdress to compliment her outfit perhaps channelling the Crusader knights of the past. Created in a strong rich Scarlett the Ralph Lauren dress that she wore combining the cape in one complete piece embraces the lavish wealth displayed by Princes of the Church over the centuries and their ritualised use of splendour in Rome.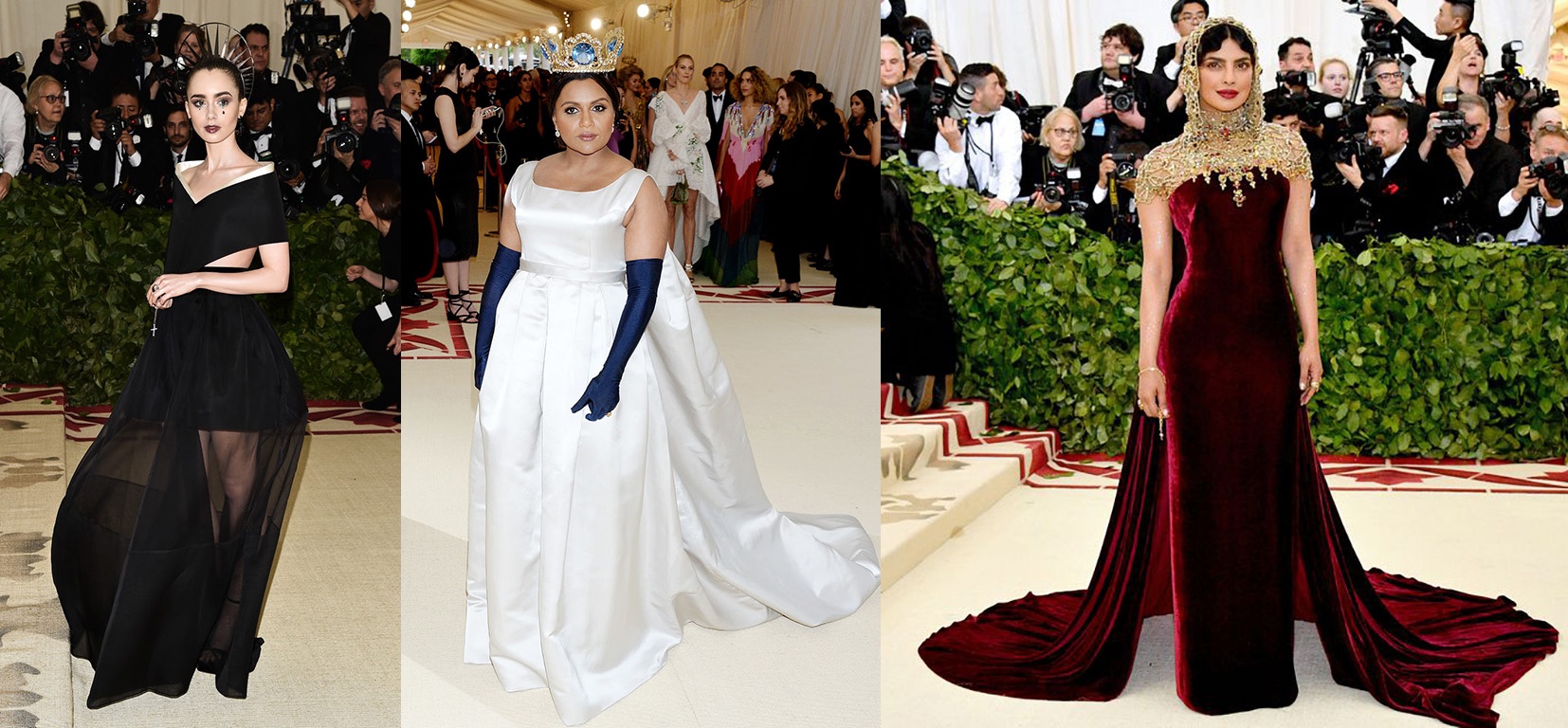 The Amal Clooney wore London based designer Stephen Quinn in her first look of the evening and the gown was a definitive Red Carpet piece. Combining both a full flowing length skirt with a a hint of Dior in the thin line Navy trousers, Quinn explored complementary contrast of both colour and textile in the lower part of the garment whilst the bodice united both moods as a neutral companion.
For many gala watchers it was difficult to decide between this look and Rhianna's as a favourite of the evening but the diversity of both for me celebrated the scope that attendees and their designers and stylists achieved by playing with the dress code for 2018. It's all about having fun at the end of the day although the sense of competition around dress can get a little serious for some. Blake Lively's ornate Ruby and Gold dress was another on of the evenings head-turning looks.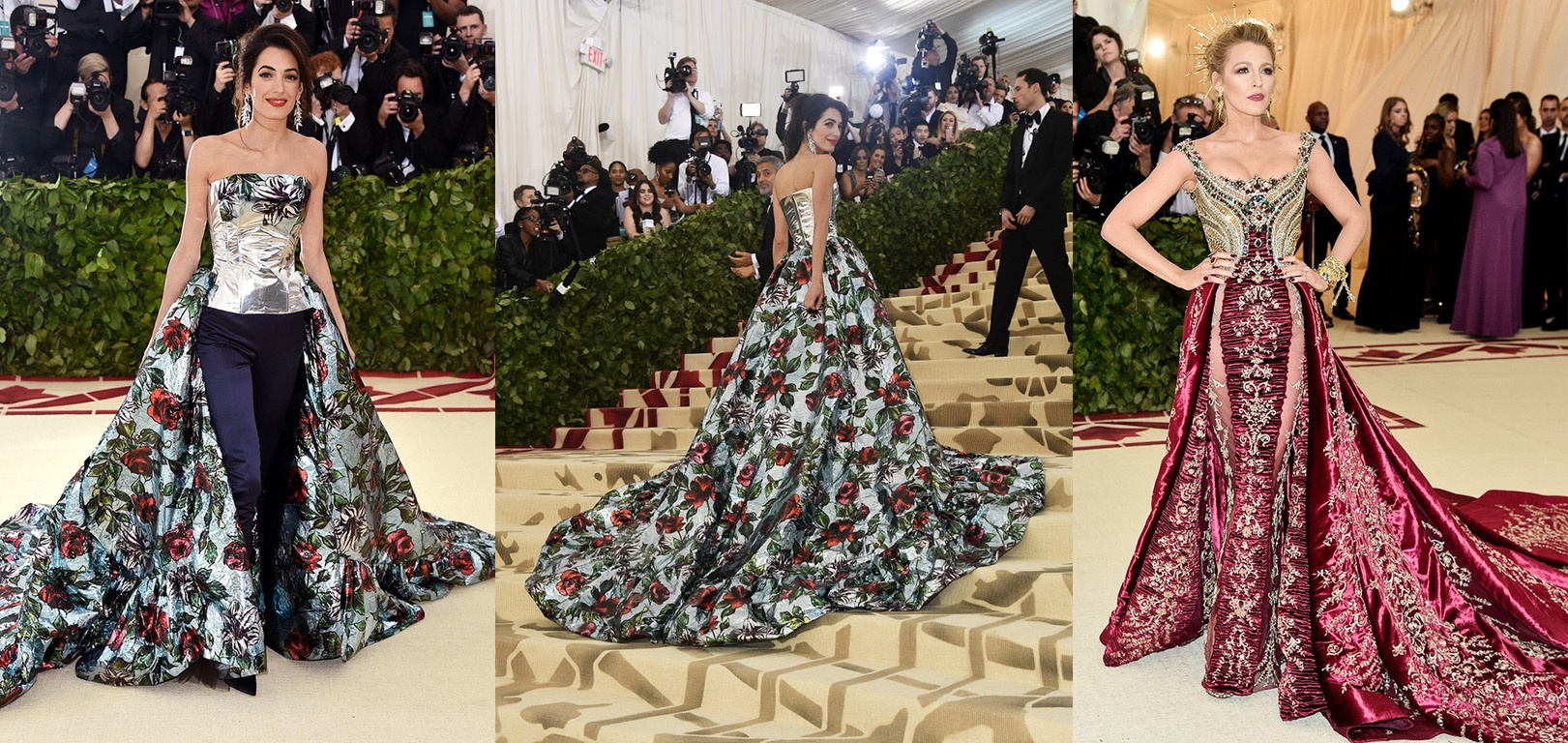 Blake Lively's ornate Ruby and Gold dress was another on of the evenings head-turning looks. The Versace piece too over 600 hours to make and the actress even joked about how well it blended with the carpet drape that entered the museum. A natural harmony then and with detail that was fascinating to the eye, it managed to capture the sense of august history of the church as well as looking very much a like a gown of today. Singer Cardi B wore another memorable piece which I felt captured the exuberant spirit of grand galas of past centuries. Discreetly hiding a bump when viewed from the front, her richly jewelled look by Moscino had a hint of the beaded and jewelled tightly woven detail that also comprised Rhianna's look but told from a more Baroque point of view.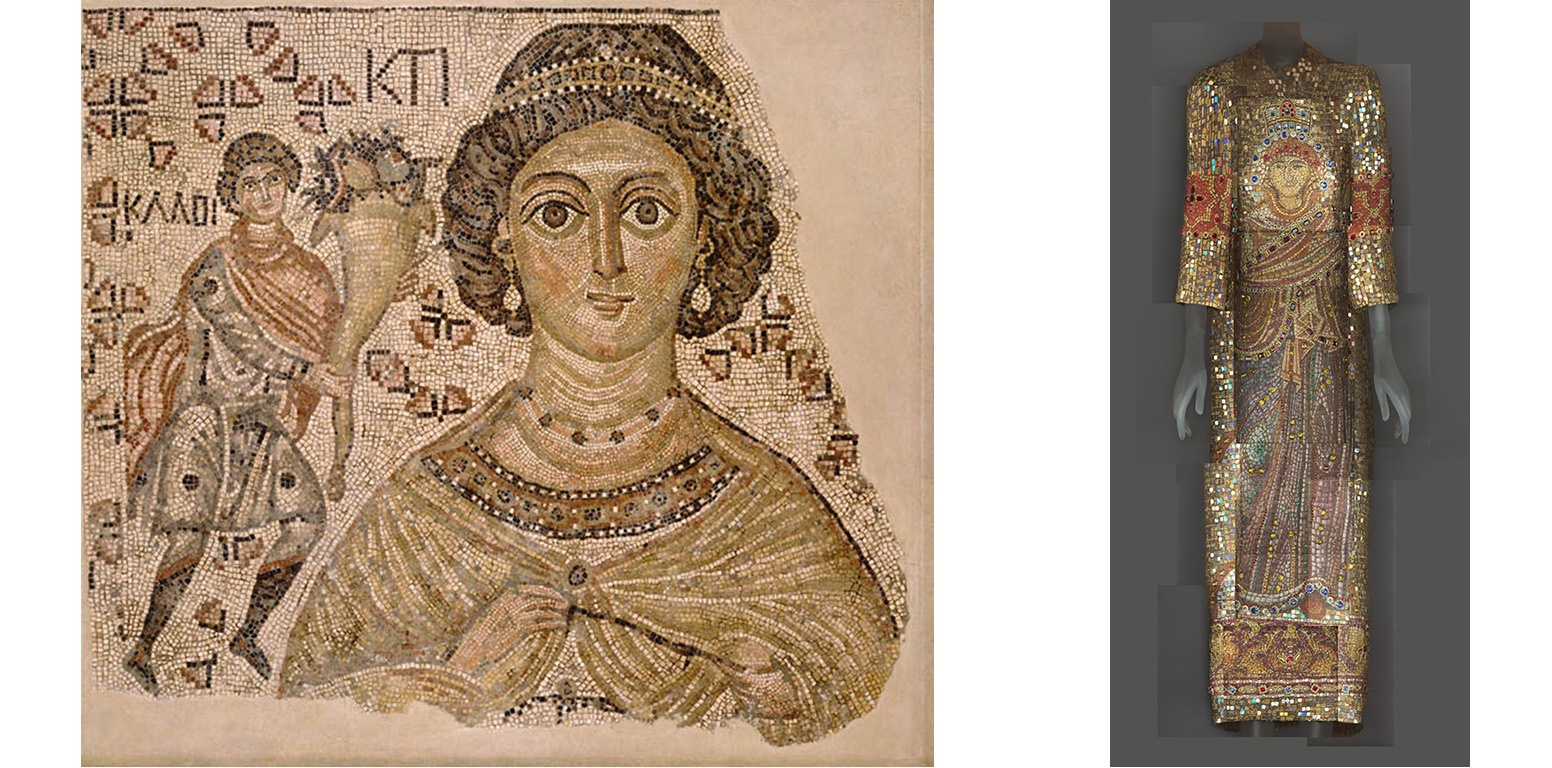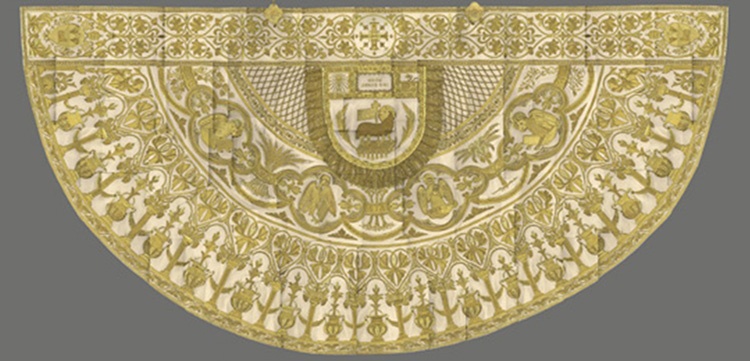 Captions clockwise from left; A mosaic fragment from 500 - 550 AD of a lady called Ktsis holding a roman foot measuring instrument. Dolce and Gabanna utilise the mosaic theme in a dress from Autumn 2013. The cope of Benedict XV from 1918.
The exhibition itself that the gala celebrated the opening of contains some astonishing works spanning the history of the early centuries of Christianity through to the late 20th and early 21st century fashion industry. The 6th century mosaic of marble and glass to the left shows a woman and a reference to travel and walking long distances. To the right a dress by Dolce and Gabanna who are known to use a lot of Catholic imagery in their work depicts a christian mosaic with strong early Hellenistic influences. Detailed embroidery is one of the features of the pre-christian era that was adopted with a passion by the Church as it developed and above the cope of a 20th century pope loaned to the Met for the Summer exhibition shows the enthusiastic use of valuable gold thread and hundreds of hours of craftsmanship to adorn the Pontif.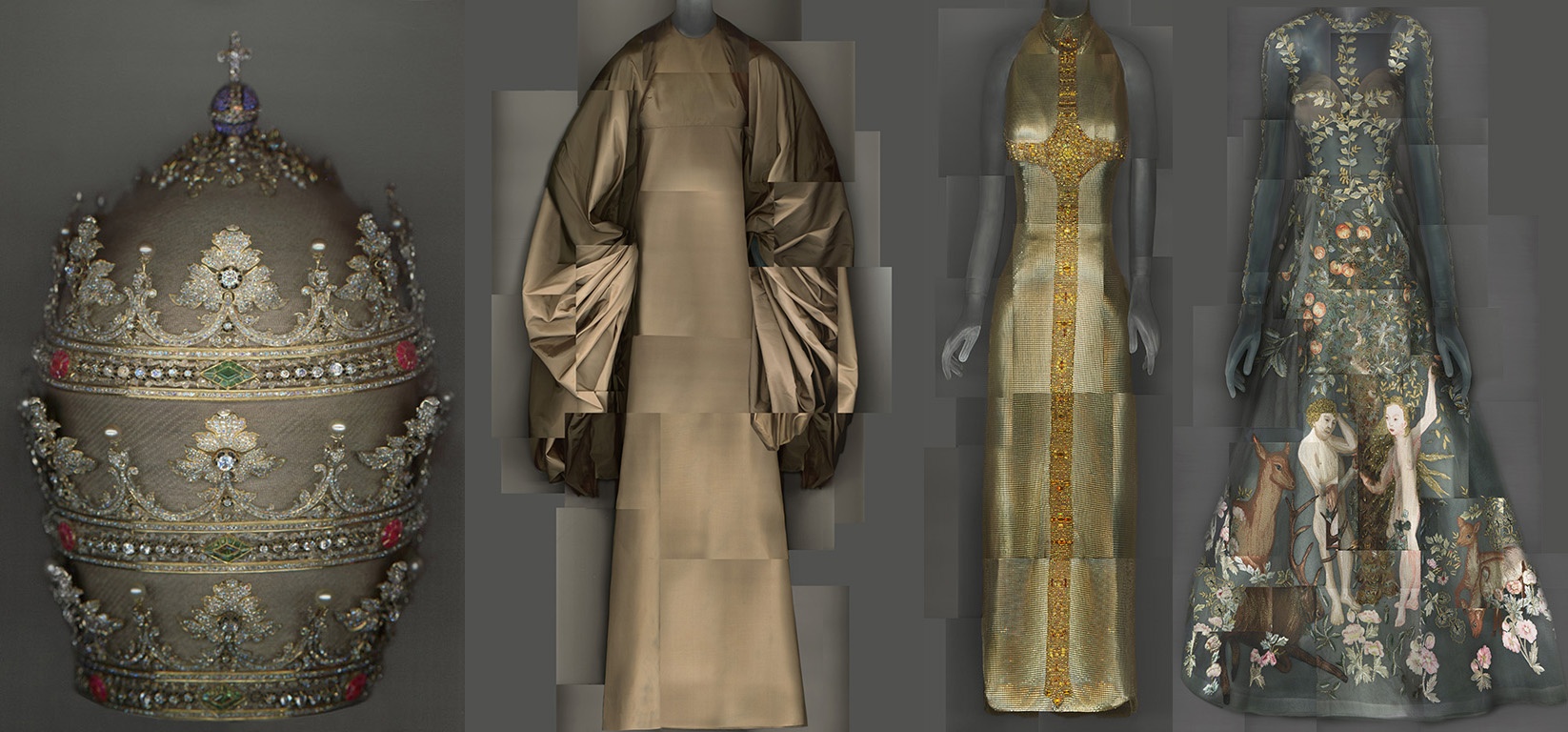 Captions clockwise from left; The Tiara of Pius IX from 1854. A Madam Gres evening dress from 1969. An evening dress from Gianni Versace with strong hints of Byzantine influence. An evening dress from Valentino Haute Couture Spring - Summer 2014.
In a more ostentatious display than royalty the Tiara above to the left was designed for pope Pius IX in the mid 19th century. It's actually a triple crown in a sense with three rings of diamonds and jewels topped by coronet in the 4th layer. How often this was worn, I'm not sure but I think it generally would have been used for ceremonies in the Vatican precincts. Separated out in an economical fashion it could create four stunning individual pieces. The influence of Catholic styles across the territories where it held a strong cultural grip is noted as strong here. Catholic styled clothes are imprinted on the minds at an early age and above to the left the celebrated French Couturier Madam Gres formed a diaphonous dress and cape echoing this influence.

The Byzantine influence in the christian church is represented in several pieces in the collection and notably in the dress above by Italian designer Gianni Versace. A simple bold statements in Gold of a crucifix set on the dress reaching from neckline to hem embodies a representation of faith across the look. How often works like this would be worn at gala's or Red carpet events is perhaps open to debate but as an expression of deep faith through textiles, it's certainly an interesting work. To the right a dress that I recall writing about when it first debuted in January 2014 at Valentino Haute Couture. A scene from the old testament is depicted across the breadth of the lower dress with Adam and Eve and a bountiful garden of fresh fruit surrounding them as they begin to make their way in the world.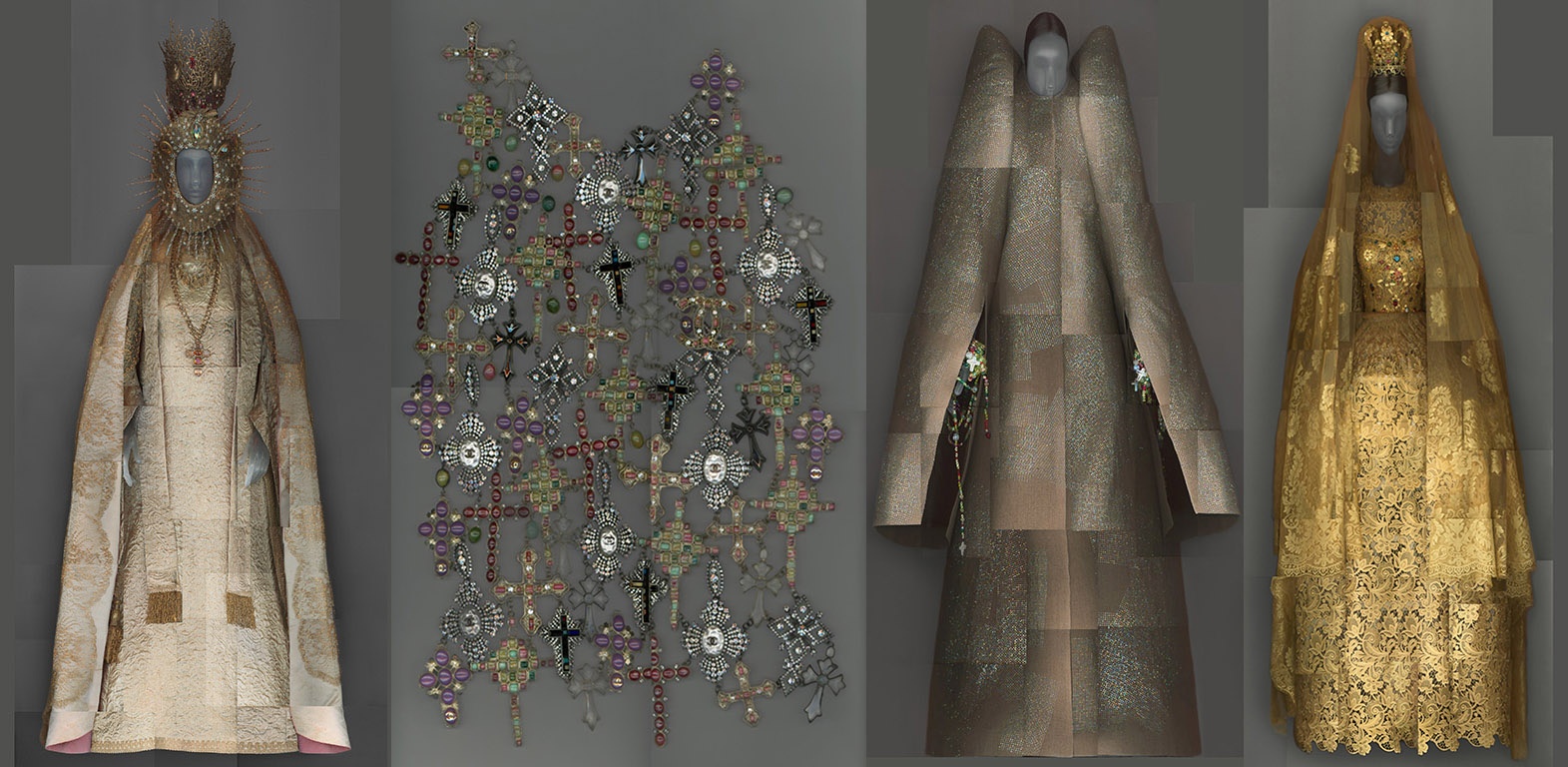 From left; A statuary vestment for the virgin of El Rochio by Yyves Saint Laurent in 1985. Karl Lagerfeld Gilet, CHANEL Metiers des Arts 07-08. Victor & Rolf AW 1999-2000. Dolce and Gabanna Bridal Alta Moda Spring - Summer 2013.
A further principle of the traditional of Catholic dress is to cloth statues in grand and luxuriant textiles beyond what many followers of the faith could afford to celebrate their divine status. Above to the left a piece that Yves Saint Laurent created for a statue representing the mother of Jesus is displayed and is worthy of a place on the Haute Couture catwalk itself. The high disposable income of the church through history in a way perfectly places it to be a client of Parisian Haute Couture. Gilet's are a handy wardrobe staple for many of us but in the hands of Karl Lagerfeld charged with paying homage in perpetuity to the influences of Gabrielle Chanel, it transforms from an item of clothing into jewellery with a dual function. Comprised of crucifixes and rosettes of honours this piece is designed to be worn over an evening dress or possibly a White or Black blouse. For the very adventurous it could also be worn alone to celebrate the simple beauty of human form.

Victor and Rolf take a minimalist approach to the construction of a formal gown with cape echoing the simplicity of the basic design of religious vestments from the Christian tradition. In a Bronzed hue it gives a faintly metallic impression with domed tips at the shoulder echoing the line of Angels wings in many statues and illustrations. With a flare for the gothic and even dramatic Dolce and Gabanna's bridal dress from their couture 'Alta Moda' SS13 collection is an astonishing rhapsody in golden thread emulating the traditional dressed statues that represent the Mother of God. It's an astonishing piece and also an interesting deviation from bridal White to express the beauty of the bride through another colour medium.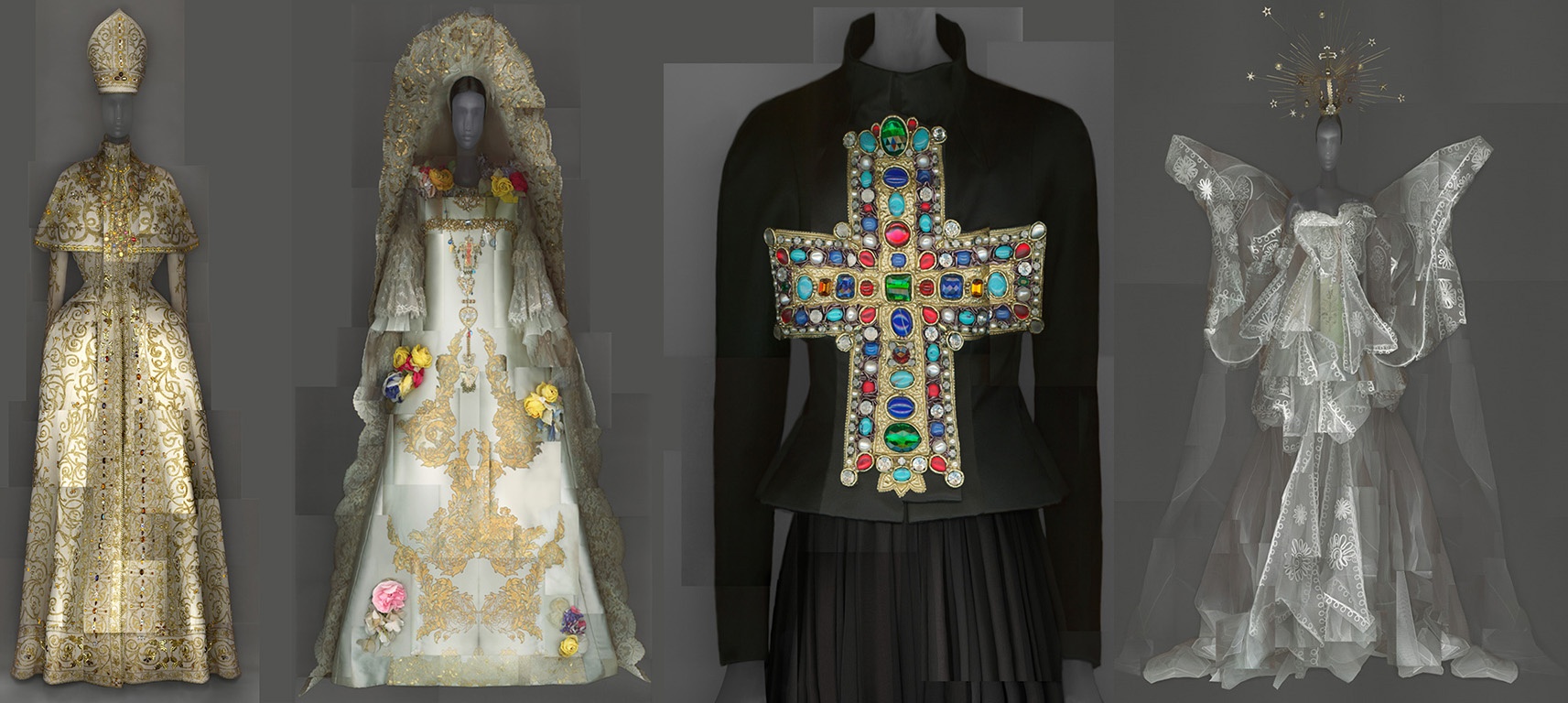 Captions from left; John Galliano Haute Couture for Dior AW 2000-01. La Croix Bridal Haute Couture 09-10. La Croix Gold Gotha AW 88-89 Haute Couture. John Galliano Haute Couture for Dior AW 05-06.
For Dior Haute Couture John Galliano also turned his attention to the full ceremonial garb of the pontiff for one of his first collections of the new millenium. With the most intricate golden embroidery imaginable from mitre to dress hem it's a piece of sheer theatrical splendour that would turn heads at any social engagement. As with many pieces of Haute Couture it also serves as a piece of art, a record of high stylistic textile art at a period of time when Galliano was at this most prolific and creative. The former House of La Croix (literally The Cross) has a literal connection to the church itself. The resplendent bridal gown from the 2009-10 Haute Couture collection has perhaps a Spanish influence in the styling of the mantilla - like the headdress and the floral arrangements across the fabric of the dress. Colour infused onto the traditional bridal White gives the outfit a further radiance. To the right the jewelled crucifix transmutes to the front of a chic Black jacket that can actually be opened. This is fashion fusing the most traditional and the most innovative at the same time with the radiance of the jewels highlighted against the backdrop of the suit. To close, a slightly ghostly look at an interpretation perhaps of the Holy Spirit itself from John Galliano for Dior. An ethereal Haute Couture garment, this could be worn for Balls and Galas or potentially for bridal celebrations. Truly the stuff of dreams taking some inspiration from the Christian church but using the freedom to push it much further.
A look at what's on the horizon for Autumn 2018 from the seasonal press days.
Looking ahead to Autumn for glimpses poste Fashion Week of new upcoming collections is always one of my favourite fashion things. To be able to see the clothes in close-up after the collections are officially shown is super handy when it comes to writing or building ideas for clients.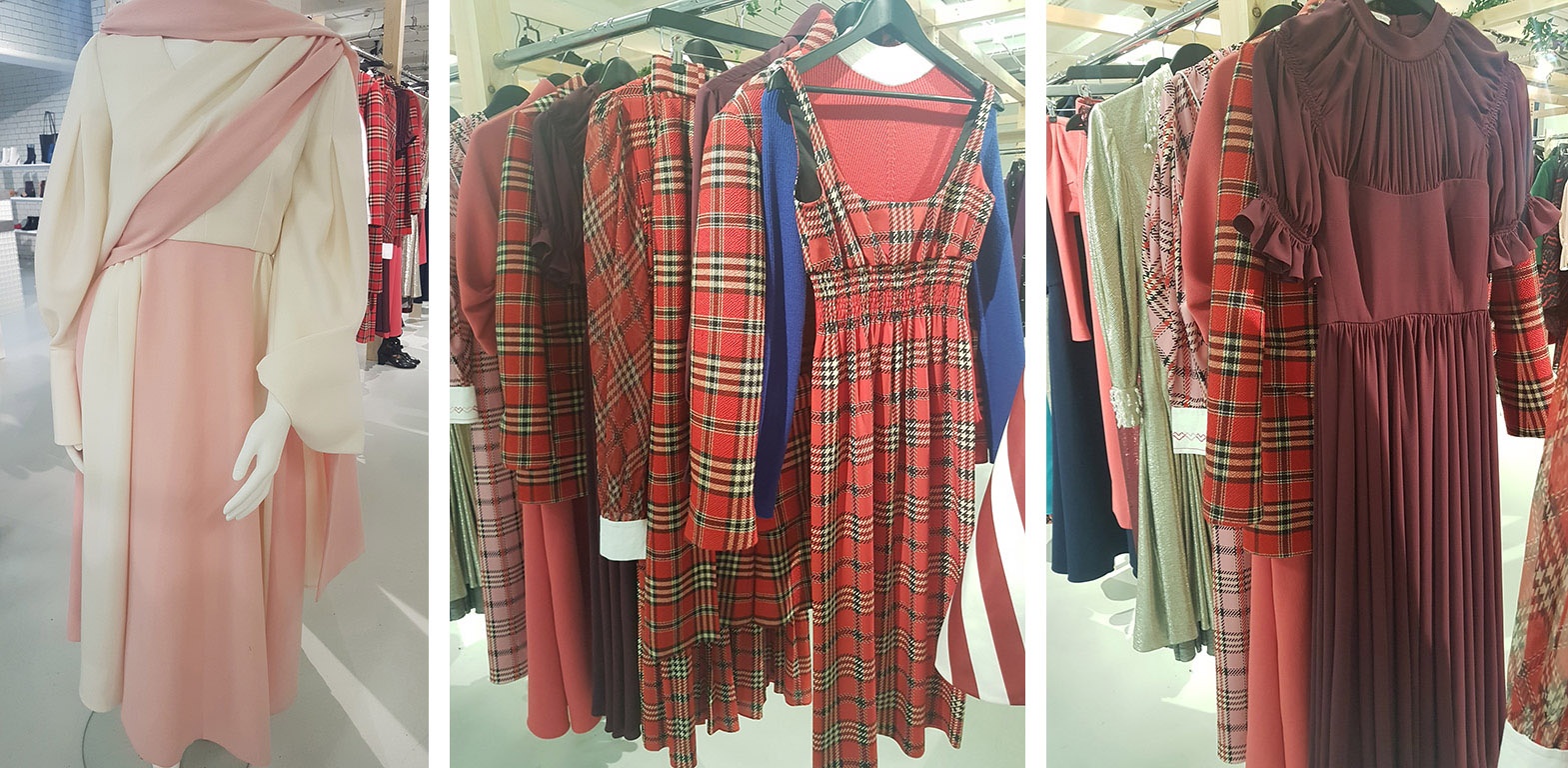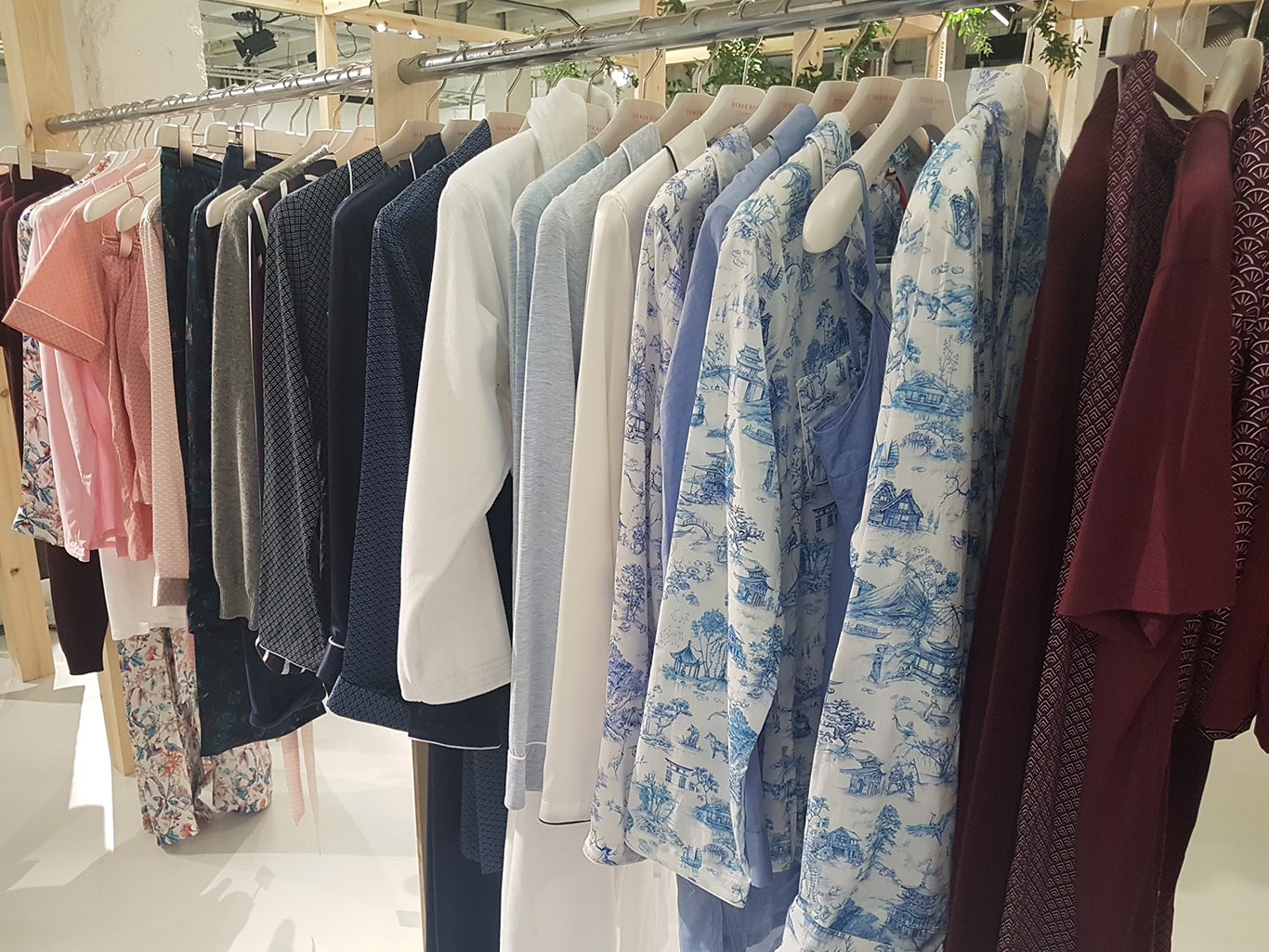 Emilia Wickstead above brought out a broad ranging palette of styles ranging from looks that appeared inspired by commonwealth cultural traditions to long line pieces that appeared inspired by the 1930's and 1940's and playful interpretations of highland tartan checked styles.
The sleepwear brand Derek Rose features to the left and below with some of their seasonal pieces for the coming autumn. This is one of the gems to discover amongst British Luxury brands and their clothes retail in places including Harrods as well as their central London boutiques. Designs are exclusively created in-house and made by hand in limited numbers in Cheshire providing work to a highly skilled team. It's a family business that has been run by several generations of the Rose family.

Touchingly many of their designs come from inspiration on the annual Rose family holiday. Looking through the rails at the sheer quality of the garments, it's easy to see why they are known to many as the worlds leading supplier of luxury sleepwear. Not content to rest on their laurels they are also expanding into swimwear expanding their experience into another specialist area.
.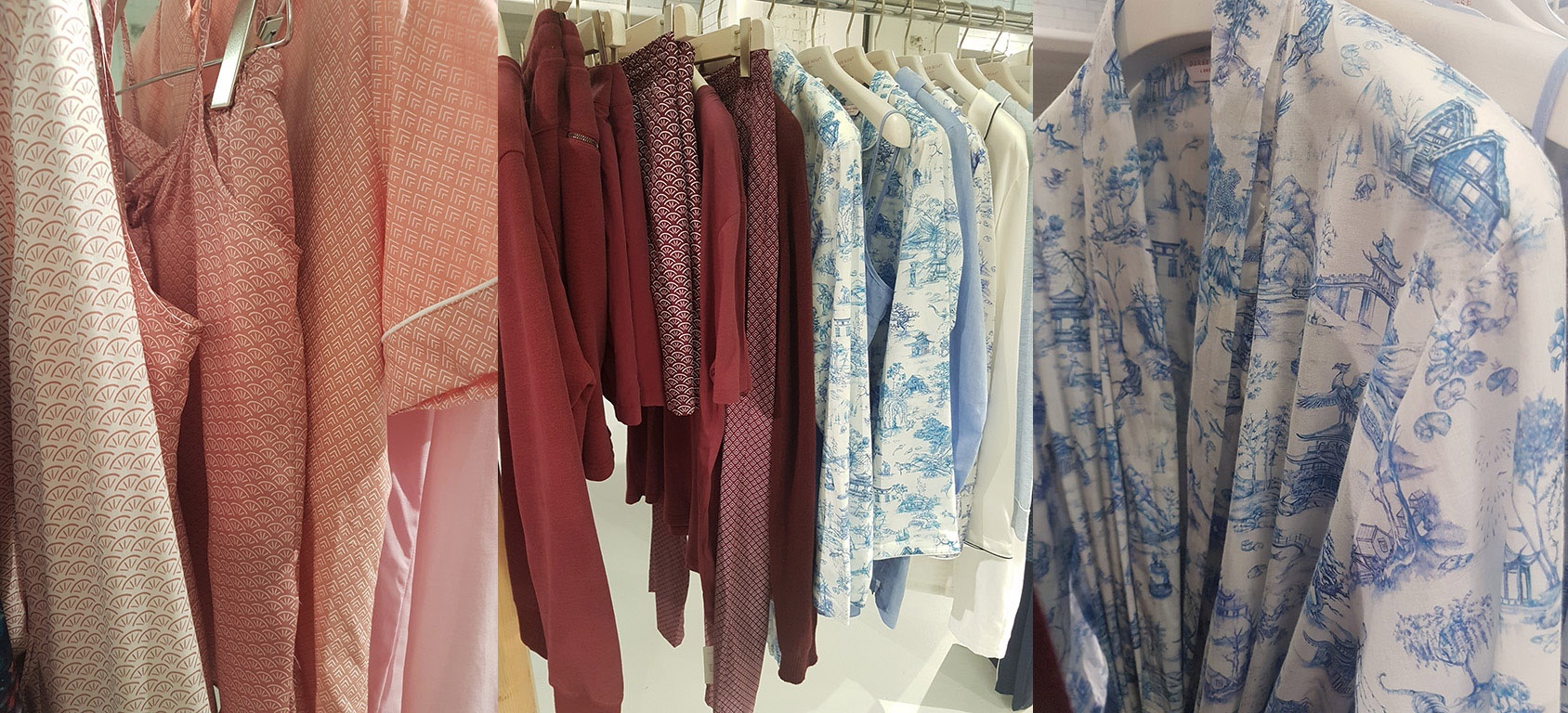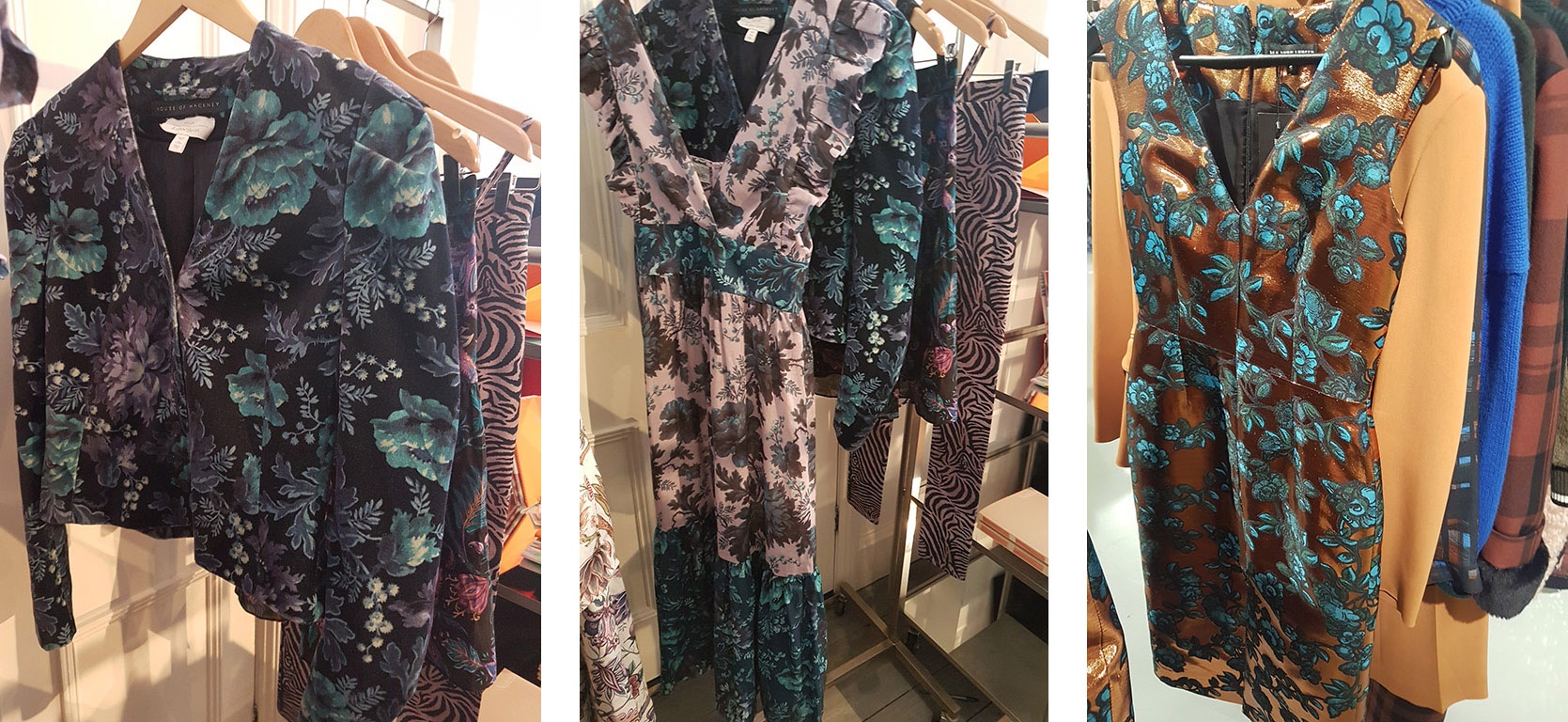 As well as having a deep love and appreciation of fashion's past, I'm intrigued by what's new and what has been shaped in the mind of the designer before being made real. What's also interesting to note is that when you combine elements of the old and the new into one garment real magic can happen. Take the pieces above and to the left from House of Hackney. Classics like the jacket, skirt and pinafore fringed dress are updated with high definition print designs using colour in a subtly sharp way bringing a touch of bohemian to extremely well cut fabrics. Above to the right one of my favourite pieces from LFW designer Markus Lupfer, one of the mainstays of the last decade and more on the show schedule. It's shimmering Bronze surface accessorised with Aqua Blue embroidered flowers shows to perfection his interest in creating pieces that have different physical sensations to the touch and creating a vision contrast too that isn't gaudy or overwhelming.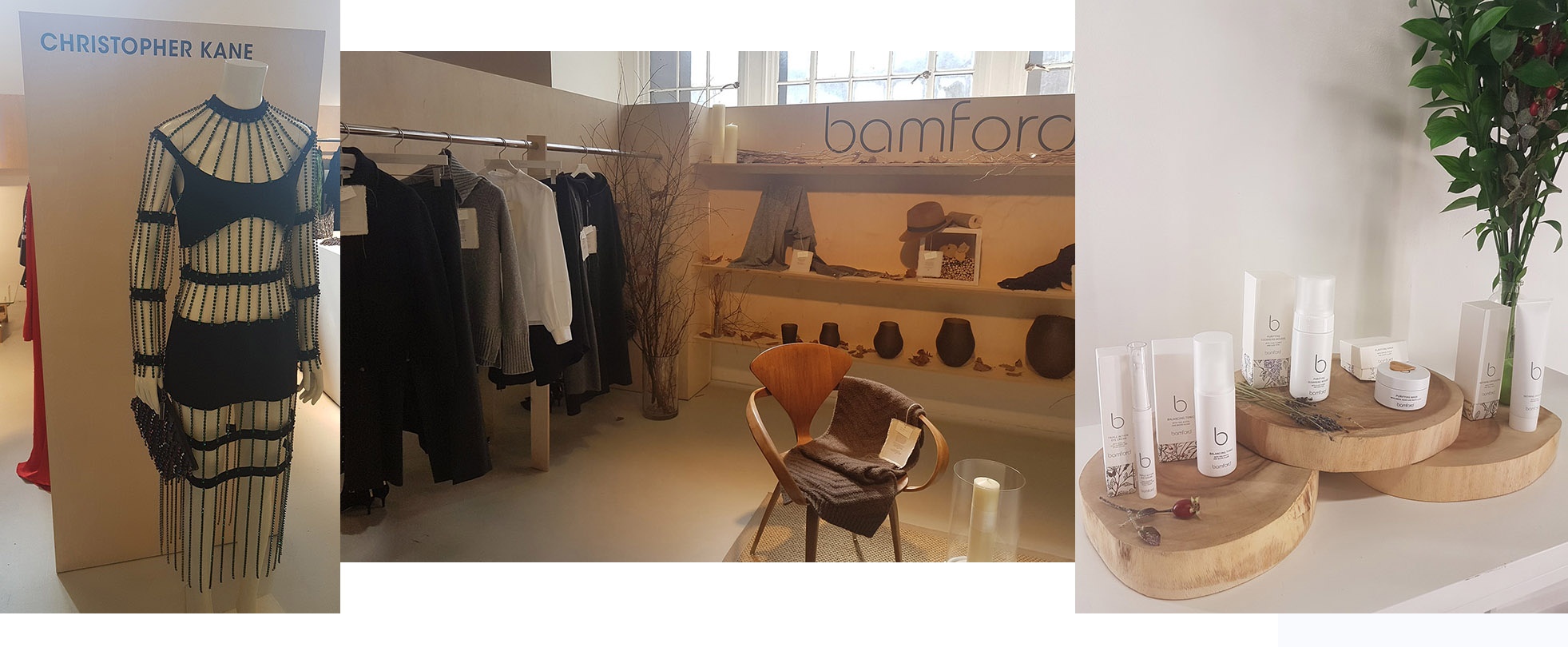 Christopher Kane is one of leading British designers who like contemporary Erdem also has a working relationship with his sister. The outfit above displayed alongside his autumn collection shows a playful take on evening-wear showing a dress seemingly melded with a bead necklace theme. In the skirt lengths this nods in a tiny way to the 'flapper' style of the late 1910's and early 1920's with shimmy effect in the lengths of the skirt. Christopher is another gem and he's also Scottish :). Carole Bamford and her Daylesford empire is gong from strength to strength and this season as well as launching the next carefully thought-out collection she and her team have also brought forth a skincare collection harnessing the power of belief in natural ingredients and sustainable manufacturing. A simple but yet complete range of serums, cleansers and eye cream is available from the Bamford shops, Haybarn spas and selected department stores such as Liberty as well as on-line. The products feel gentle and natural and I would recommend a visit to ask for small samples to test as with any high value skincare product.

Simone Rocha brought her own style of blending the old and the new together for the new season together in a beautiful romantic collection for the autumn. Above you can see some of the clutch bags and purses created channelling heritage fabrics such as tartan plaid and floral embroidery that could have been part of a gown or possibly drapes and furnishings in an earlier century. A shimmering Black shoulder bag with ribbons descending to long spider-like tendrills above to the left making a cute outfit addition for the darker autumn nights. Rocha's love of romantic soft details in some ways picks up from where her father left of at the start of her career but it's clear that the younger Rocha is forging her own path. Ribbons, tinsel-like applique and vintage inspired quilting are all applied to create soft romantic looks that could be worn at receptions or on the Red Carpet next season. It's dreamy without losing touch of reality in styling and composition. The designer shows her interest in fashion history here as tinsel is one of the half-forgotten details used in design in the Tudor and early Jacobean era.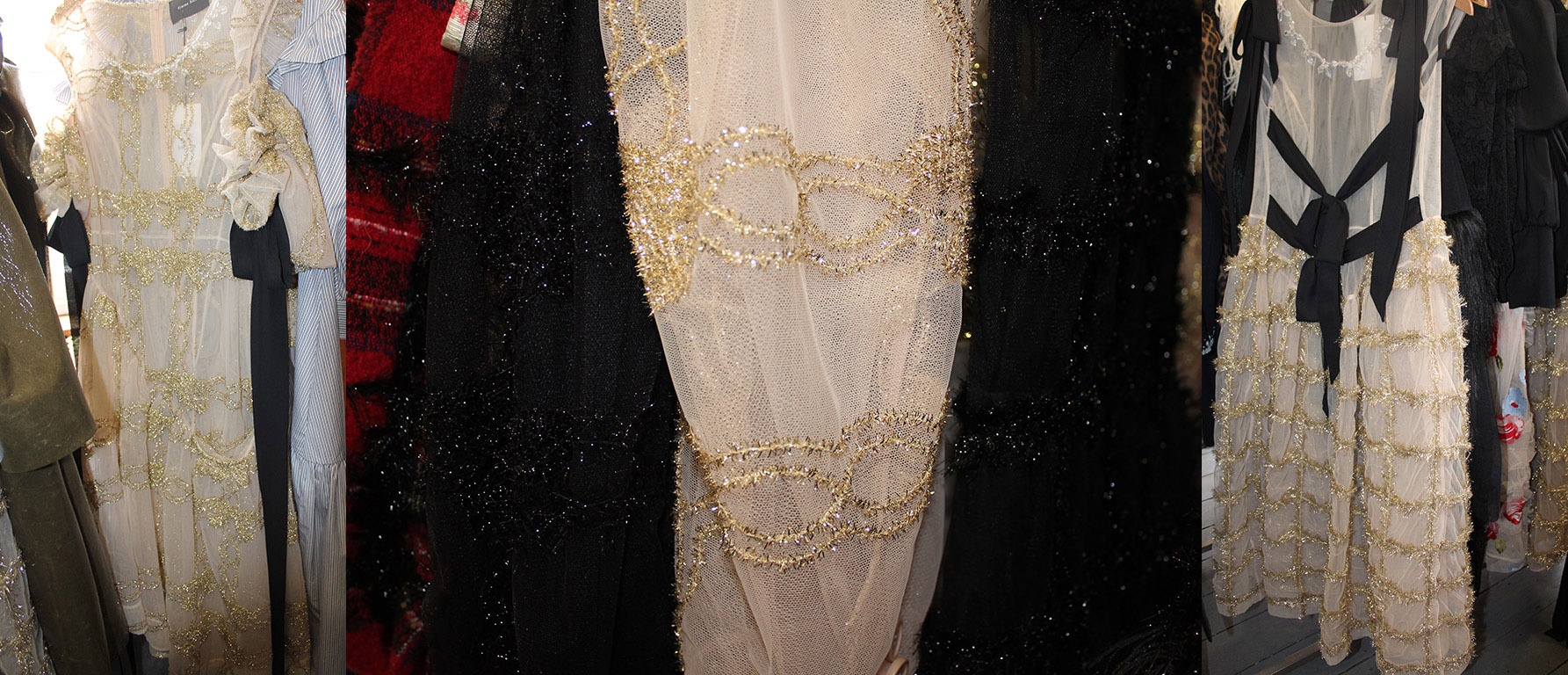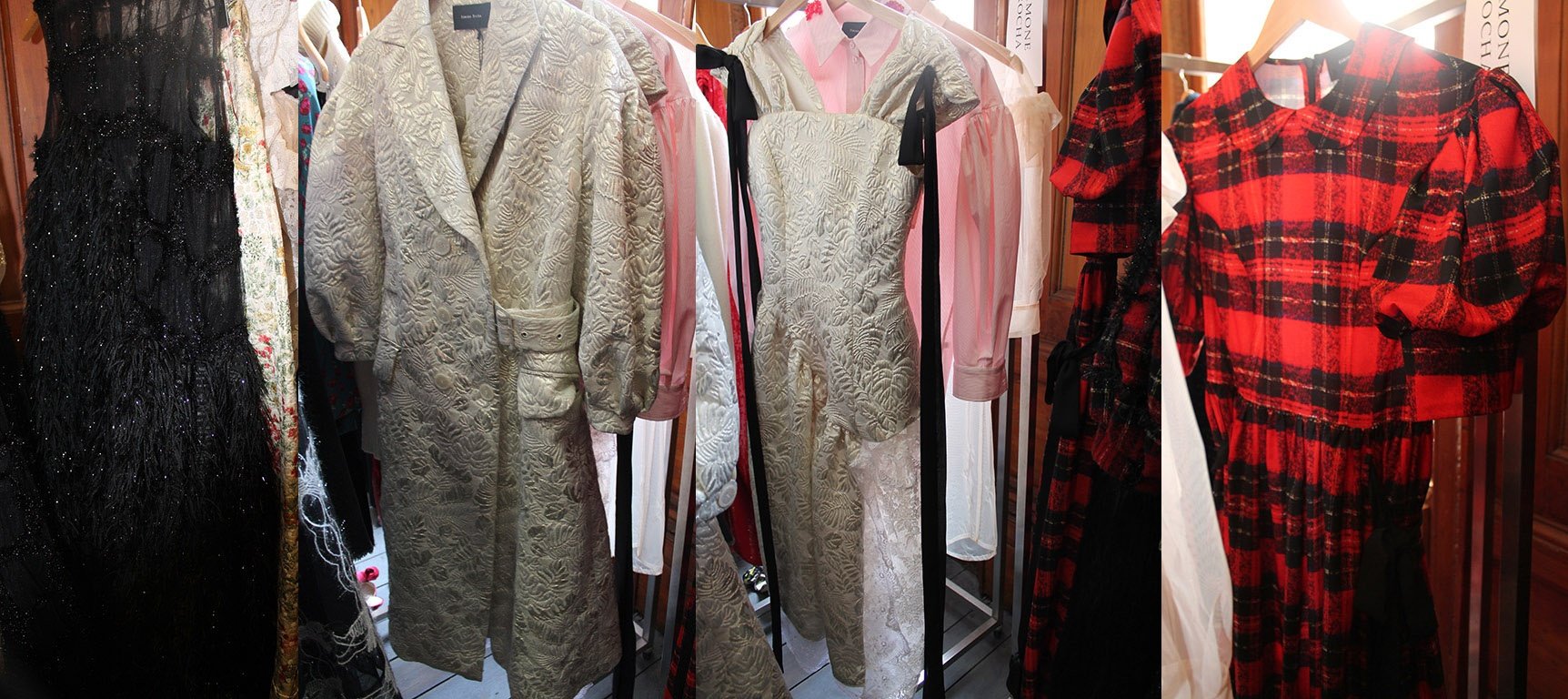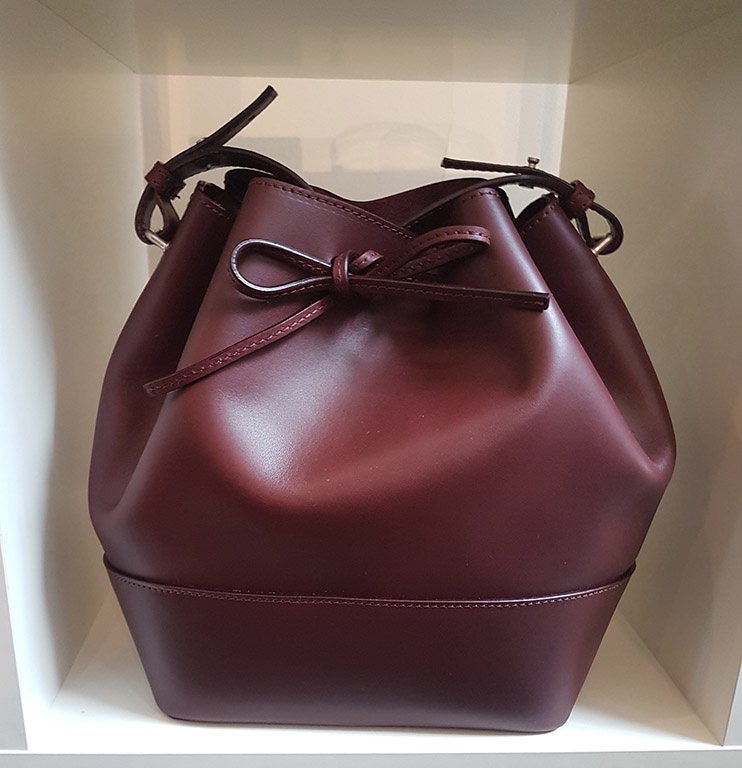 One of my favourite new designer discoveries amongst the brands that Karla Otto work with across the last year is ARKET the Scandinavian high street store pitched to compete with the upper end of the mass retail market.

They have managed to produce a series of lines of straightforward clothing and accessories and I loved the Claret coloured bag to the right that tunes into the continuing bucket bag trends that are handy for women working and travelling. It's a handy all-round shop to pick up a few things that won't stretch the budget too far.

Cordwainer Sophia Webster is one of the young British names forging ahead in the shoe and accessories world and has established her reputation as someone to go to for exciting footwear and clutch purses. For parties and nights out she has colour grouped possibilities in Gold, Blush-Pink, Silver, Black and Silver-White. Golden heeled sandals carry hints of the baroque whilst sophisticated court shoes carry a more sparkly edge in the heel. To the far right sandals ready for a party also show the flexibility of this originally humble style to sparkly adaptation. Webster is often known for fanciful high glamour and the fluffy stiletto ankle boots below are a reminiscence of this is a collection that was altogether more subtle in it's design. Having watched her collections over several seasons as you can see in my London Fashion Week reports, Webster is flamboyant in her creations but clearly also recognises the needs of a market for readily wearable styles. To the right below she shows again creative adaptations of the classic court show style with echos of lingerie in the upper shoe mantle.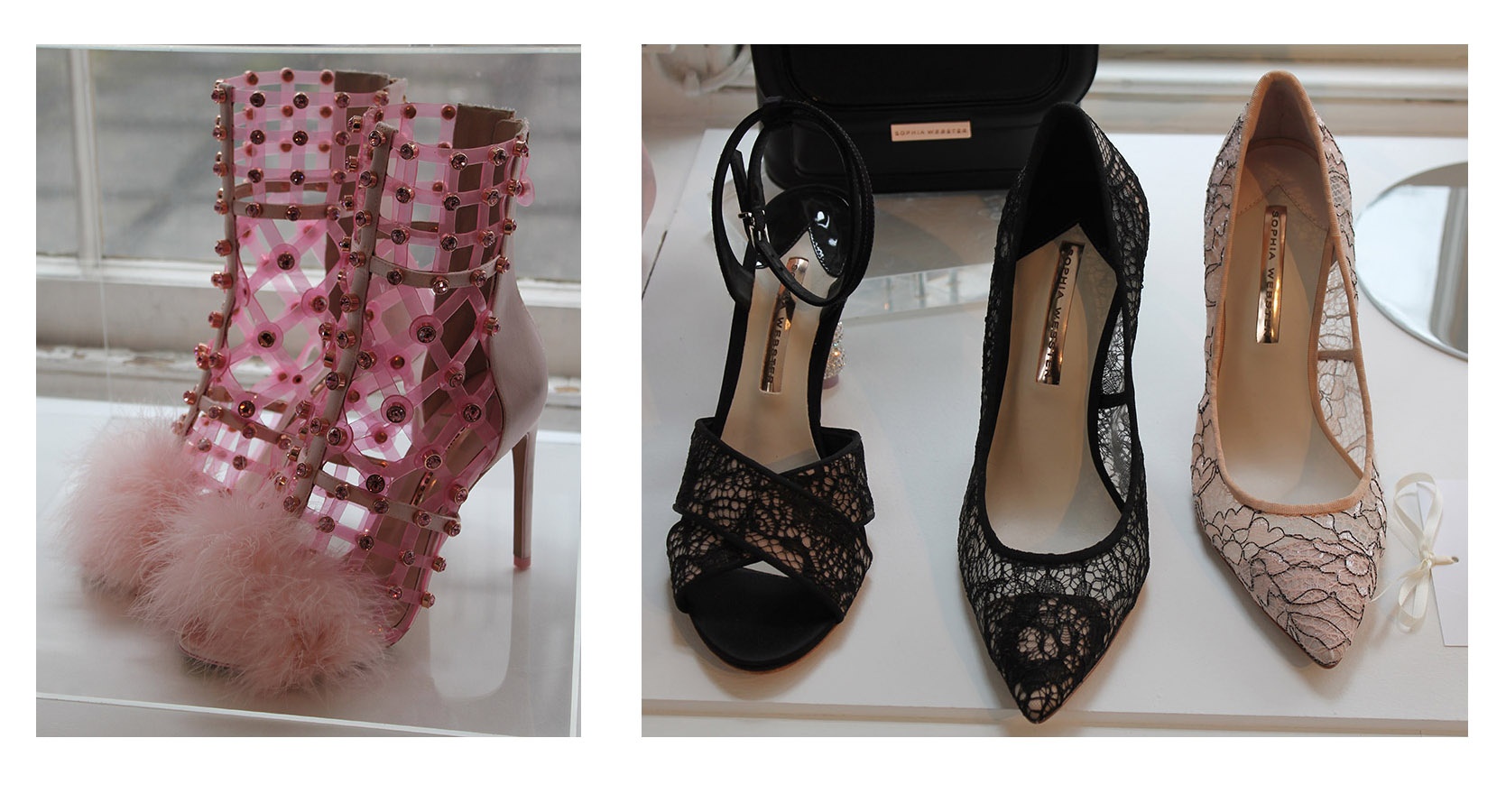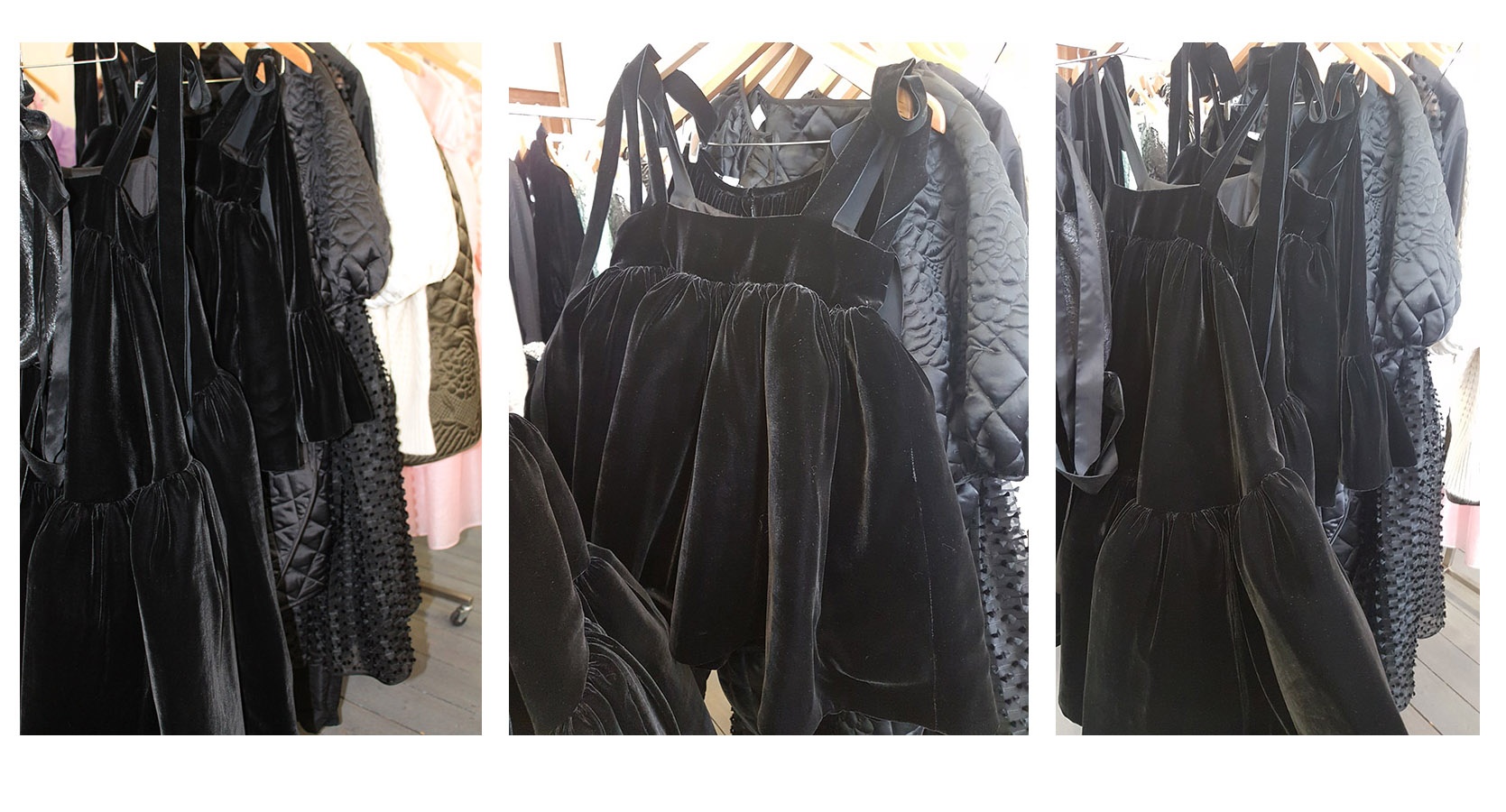 Cecille Bahnsen is an extremely talented designer who has also come to the attention to Karla Otto in the last couple of years. He style is unique and interesting. She plays with volume in rich fabrics with intricate fine, often minimalist, details but swerves away from her looks becoming too saccharine or 'Baby Doll' in composition. It's pretty and fun fashion that absorbs the elegance of a bygone age into it's DNA. Above you can see several dresses that take elements of the past in their construction, pin tuck gathers to create volume, long ribbons and small neckline bodices. There is an unmistakable elegance about her work and it's fresh and captivating. She's a designer that I can't wait to see more from and is attracting a lot of the right sort of attention in the industry.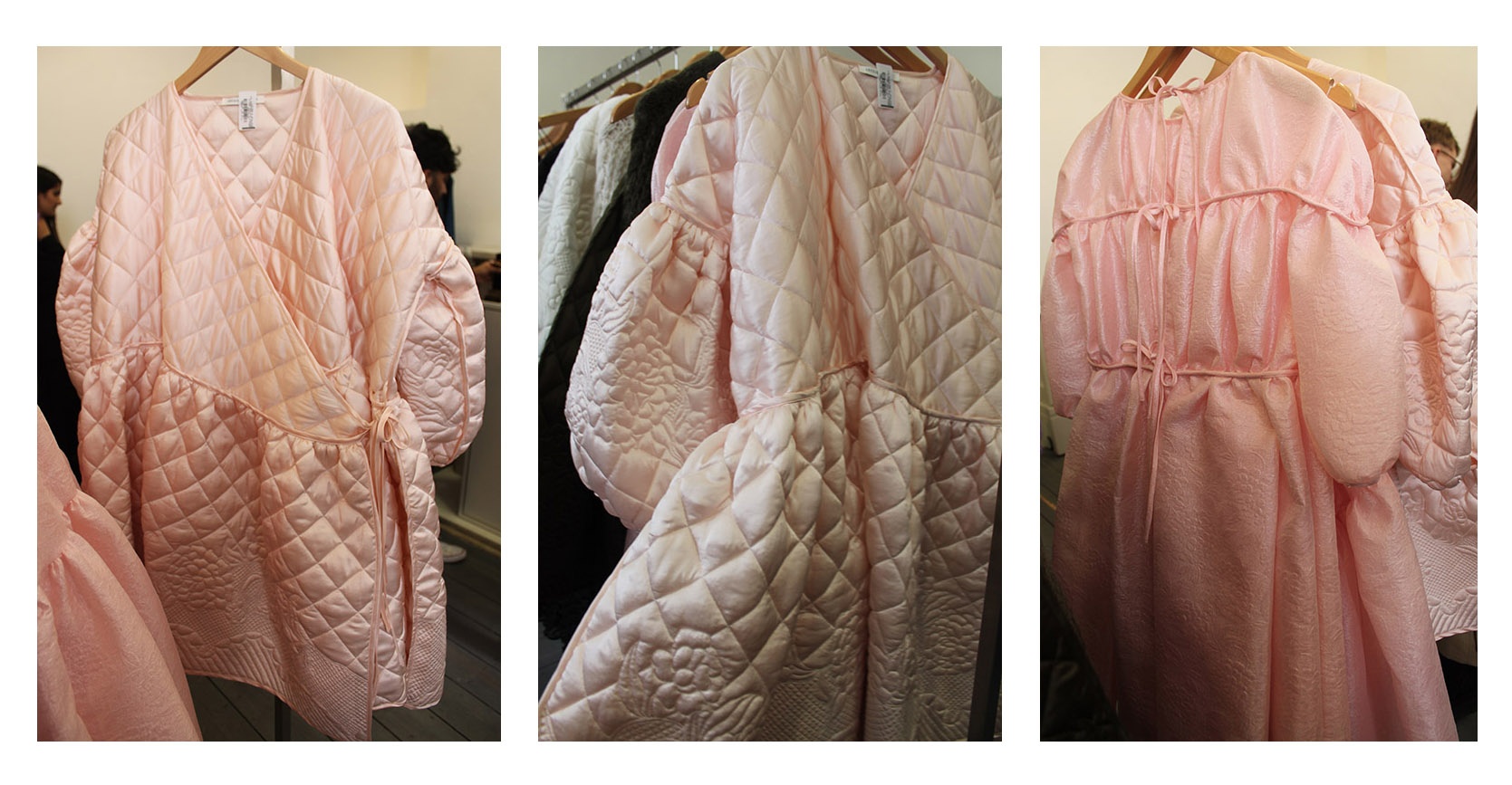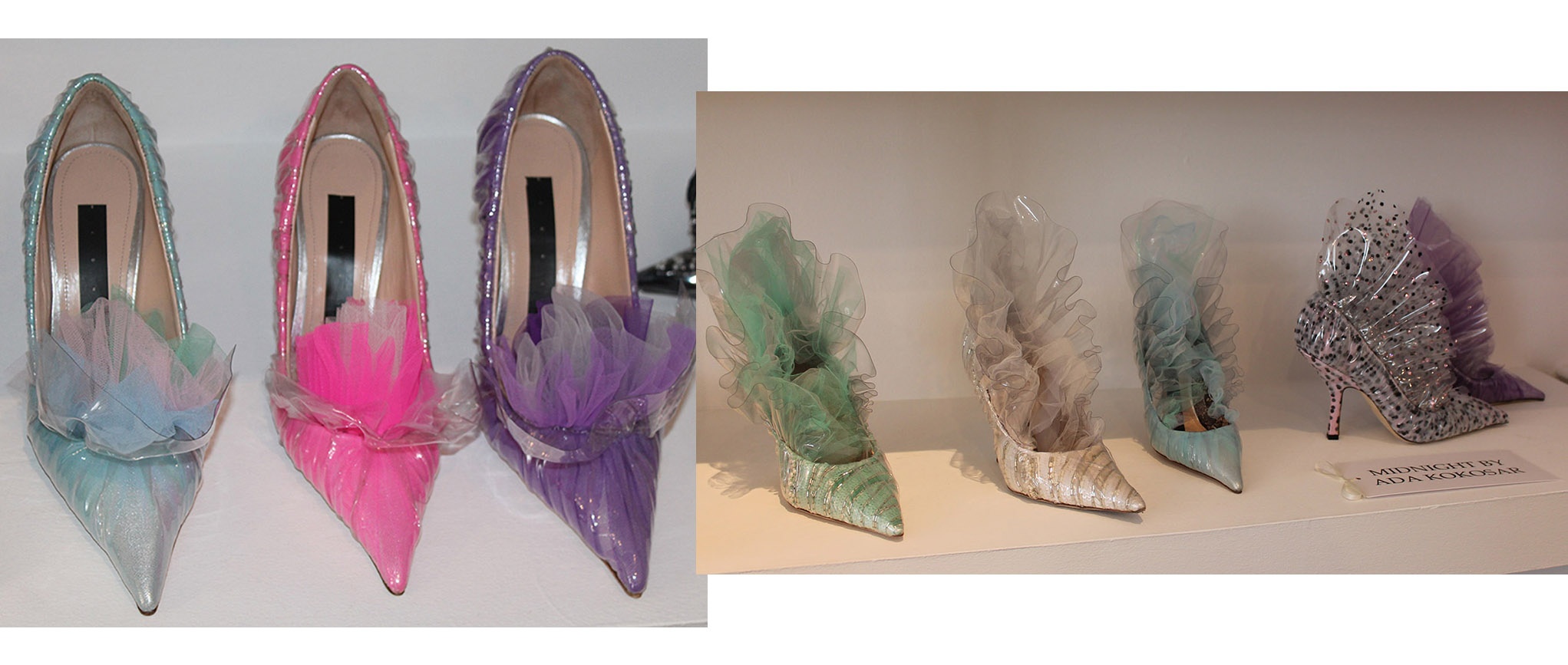 Ada Kokosar offered a fun and innovative looking 'Midnight' collection that made me think of mermaids having a night out in a glamorous seaside town perhaps in the South of France. The idea of adding frills around the feet as they sit in the shoes somehow cloaking them in a layer resembling a sea anemone's is sweetly romantic and such a pretty idea. Perhaps by midnight your feet may welcome some extra soft layers around them as you enjoy the evening.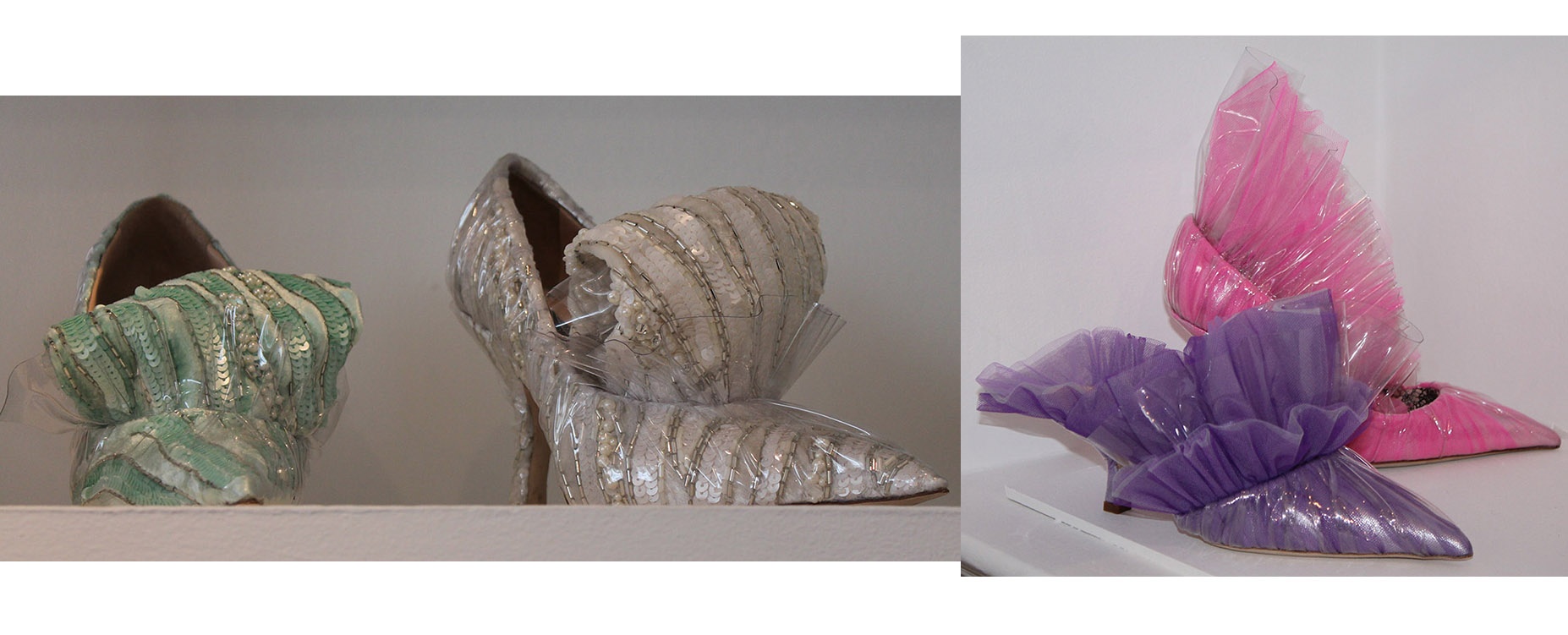 Another British based designer Charlotte Olympia showed that in her next collection she still has great afection for her adopted spider logo echoing the classic children's novel Charlotte's Web. Using classic themes and subtle designs she aims to dress the working woman for day and evening.
To the left folds of silk at the heels draw a subtle emphasis to the elongated shape of the leg that is created by the raised foot. Clients collect her shoes and there is something in the placement that hints that buying a set of styles would look perfect in your closet. Below slippers with low heels clothed in silks with a diamante buckle at the centre make a chic job of pulling together vintage themes and shaping shoes that could be worn almost universally today.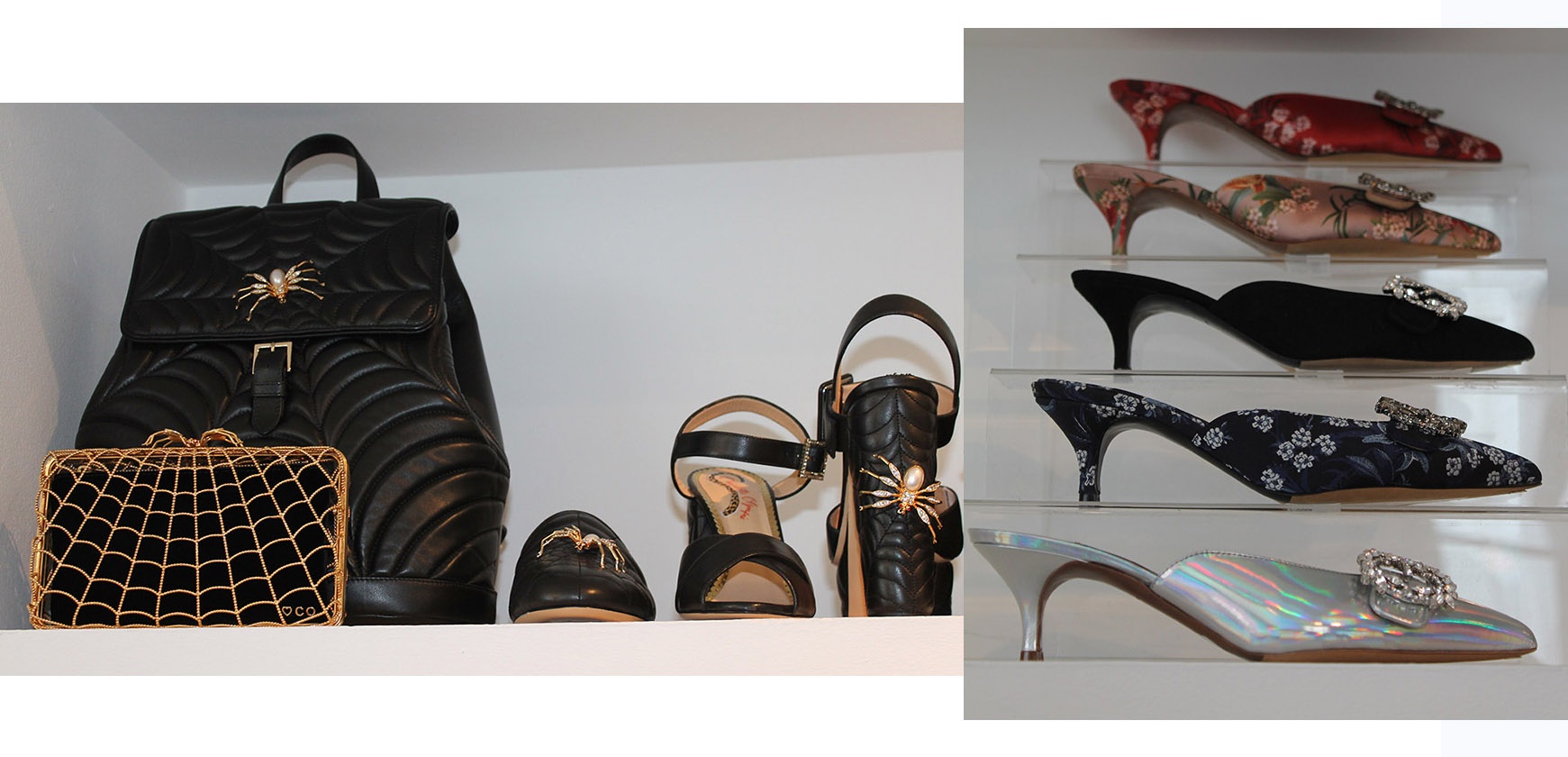 Sanayi 313 is a home-ware and accessories brand that produces a great line in shoes amongst it's collections. I was captivated by what looked to me like a designer taking a hand and re-working some heritage/vintage looks. Above to the left two fascinating Black velvet ankle boots have hints of the baroque about them and incorporate beautiful button detail into their styling both at the side as a fasten and across the centre of the foot. They look perfect for completing a special autumn outfit and below to the left a fascinating pair of clutch purses in similar Black velvet with Golden chord also reaches back into the past. By no means muted the label plays with a series of styles and colours often bold in expression and ready to be taken out on the town.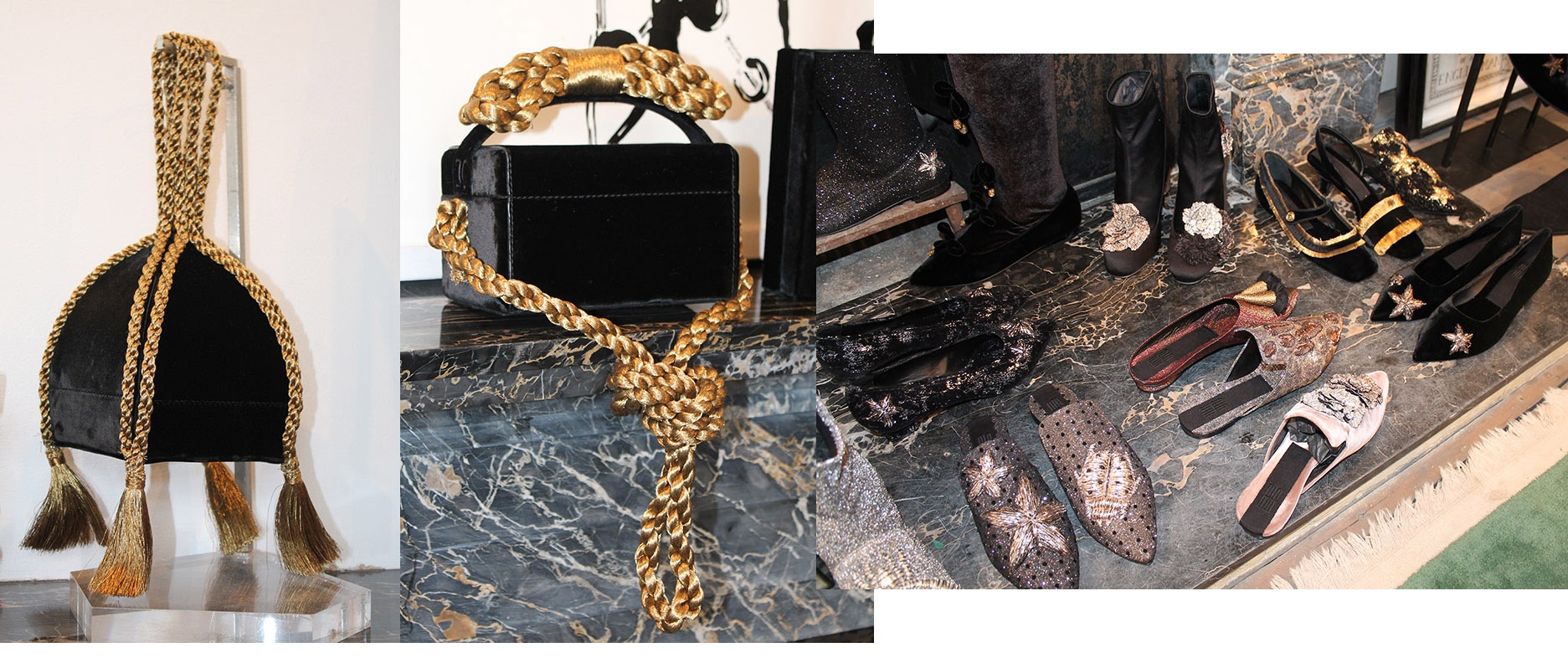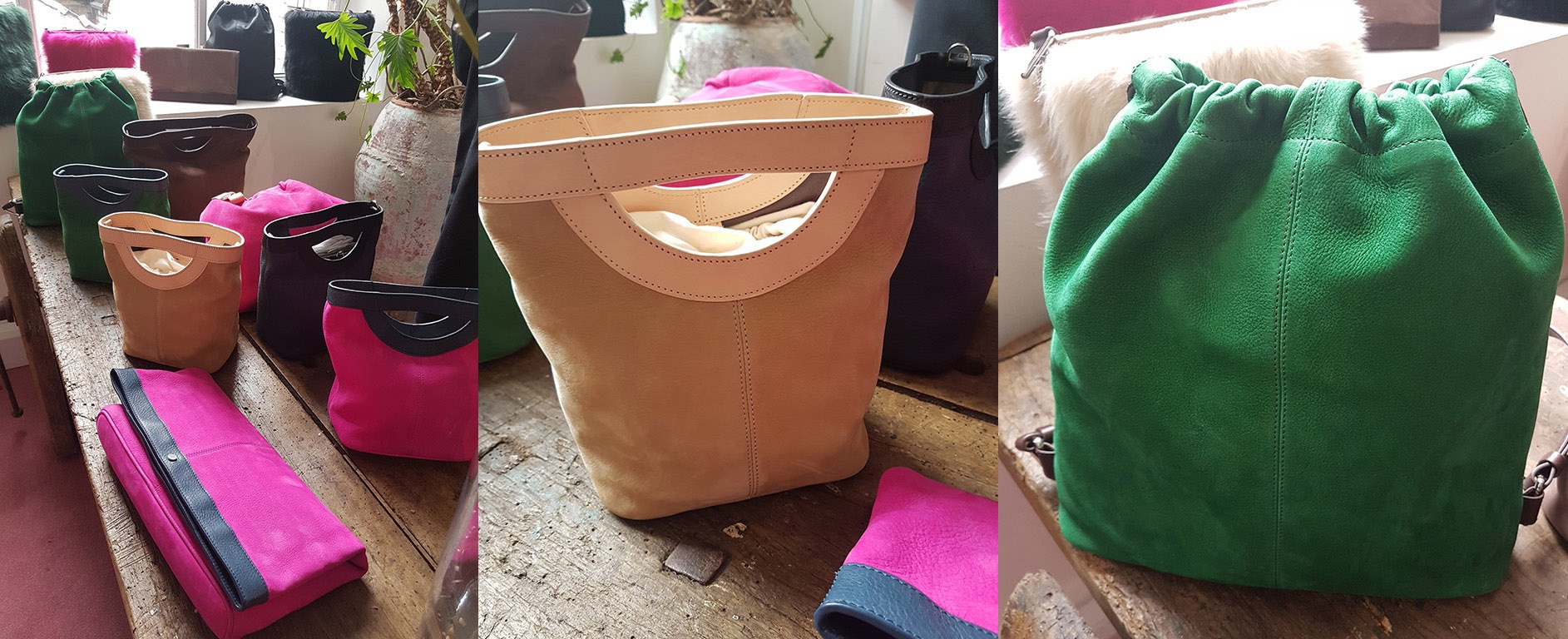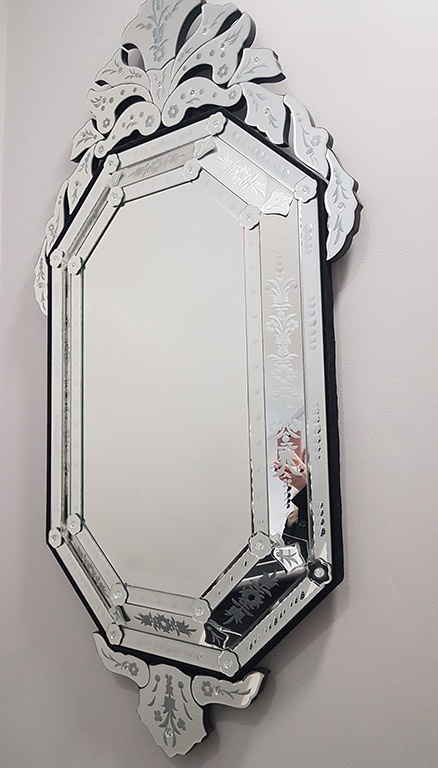 There where lots more treats in store (and here I'm only showing my favourite tip of my discoveries) and one such was Max V Keonig. I buy very little leather and suede these days at all but these bags and purses are made from material that is a by-product of the meat industry. Perhaps not for the vegan but on the other hand a great stride forward in terms of sustainability. I found the sizes of these purses where instinctively perfect for the hand and the right proportion against the body. Keeping the colour schemes simple offers greater flexibility for coordination.

It was hard to pick a couple of profile in closer detail but the simple beige bucket back crafted to a 'T' and the charming draw-string pouches stole my heart. You could wear them now or decades from now and women across the generations in a family could also wear them I'm sure with outfits for the day or evening. Koenig has shown a very experienced eye in their creation and design. I'm hopefully that we'll see a lot more of him.

To the left, I couldn't help including the mirror in the Mayfiar Spring Studio that greets you as you move between showrooms, or should that be the mirror that in that you great yourself? It's always a pleasure to see the team and the creactive selection of premium established and emerging deigners they represent.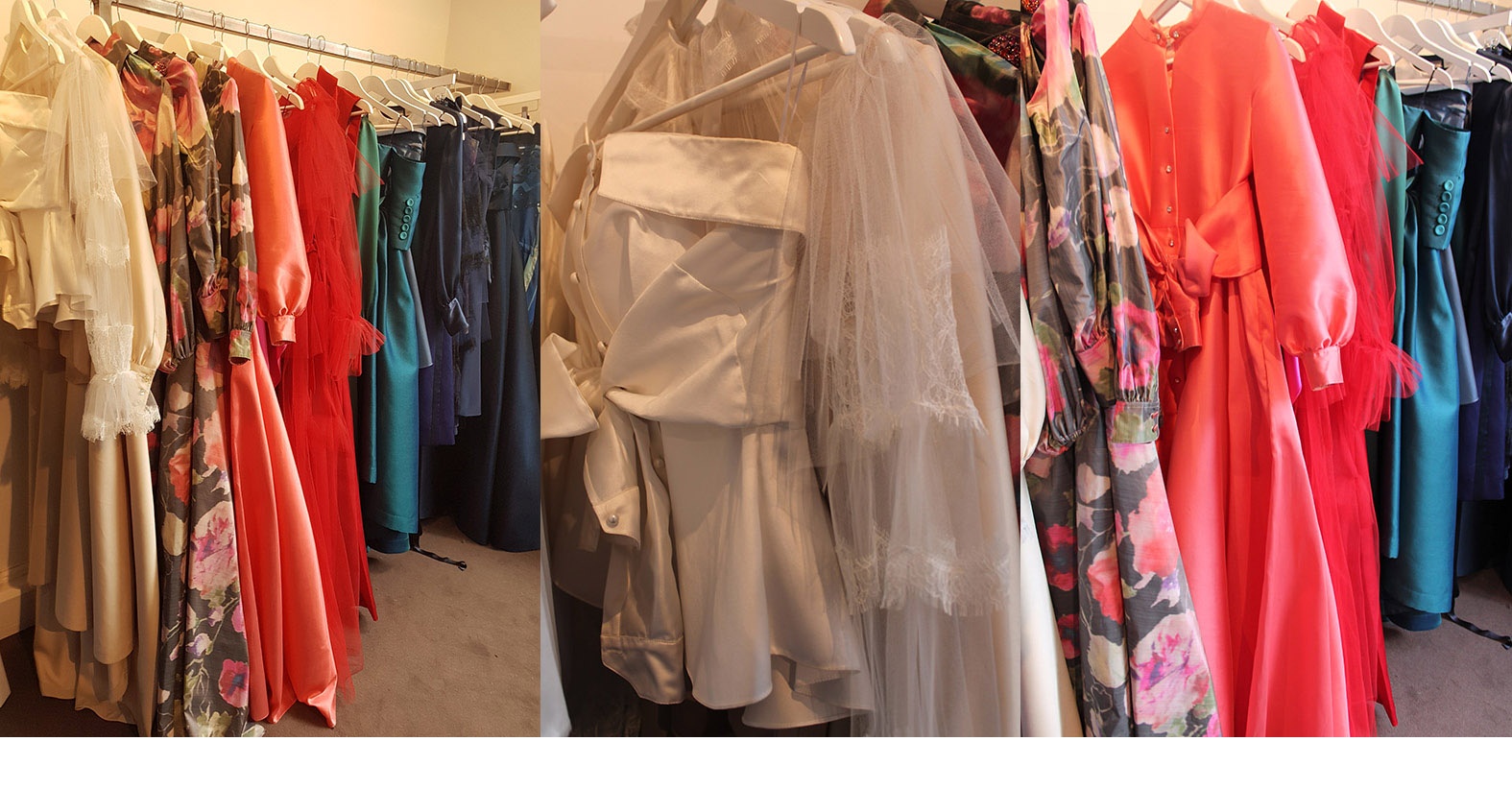 It was the biggest delight to see a designer whom is both my favourite couturier and a leading light of the next generation in Paris, Alexis Mabille, be represented by a well-known London PR firm that I have known for several years. His clothes are beyond beautiful and the care and innovation in his craftsmanship and design stand out for me like a beacon. Mabille's client base has grown steadily over the past few years and while showing on the Haute Couture schedule he has achieved wide-scale international recognition. He is a designer that many would hope to discover and it was wonderful to see his work for the coming season displayed in London.

The fabrics, cut and colour are all the essential elements that he has perfected the know-how of working with. Not bound too strictly by the past, there is a fresh energy in Mabille's work that takes a new approach to designs of well known classics such as shirt-dresses and ball gowns. He is, in my understanding, one of the kings of the ball gown. Many Houses in Paris, even the most well-known have somewhat pushed aside the art of creating the full evening-wear dress that isn't perhaps too risque or sheer and appropriate for more formal settings but Mabille has kept the classic luxury dress and innovated.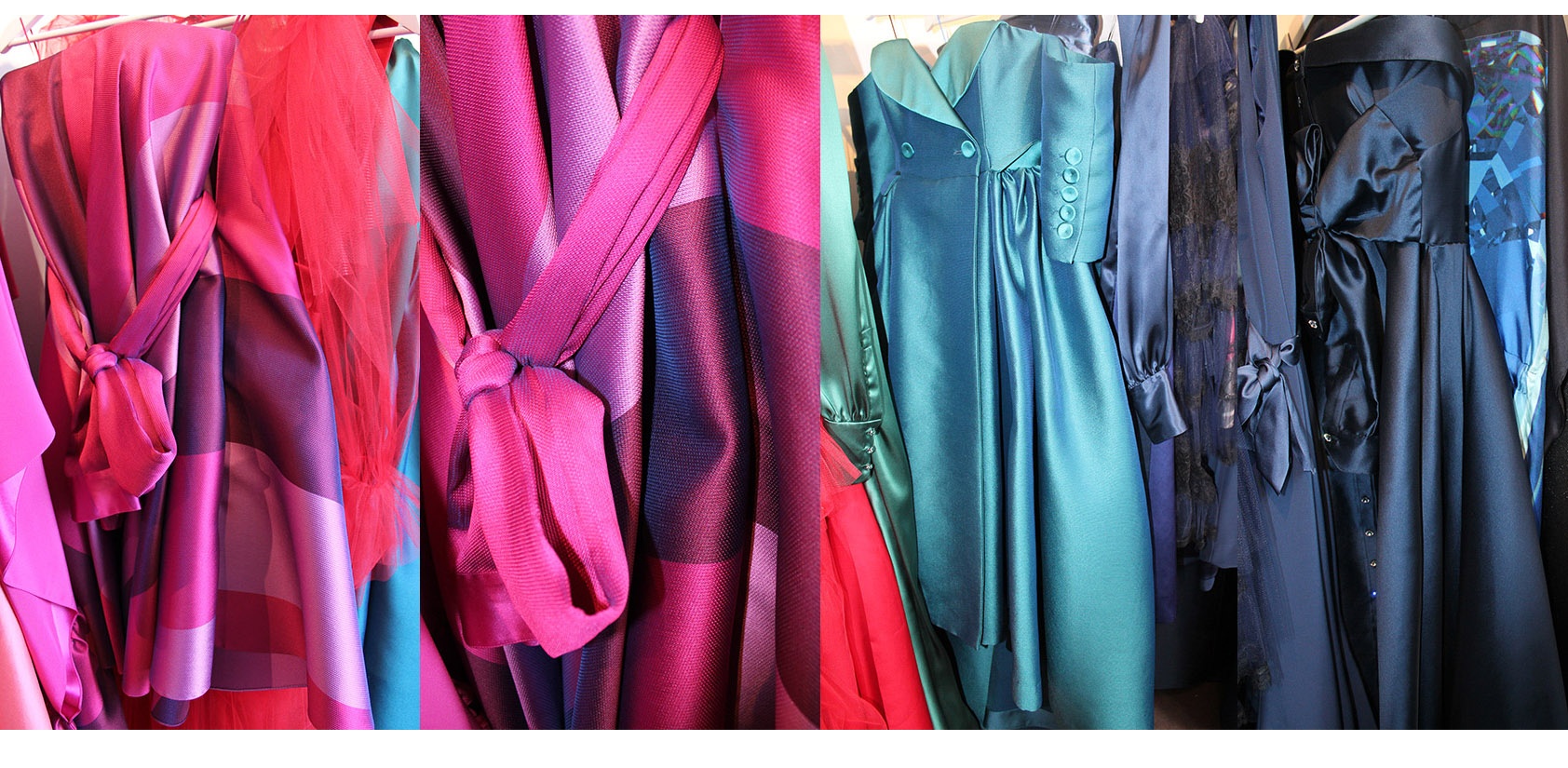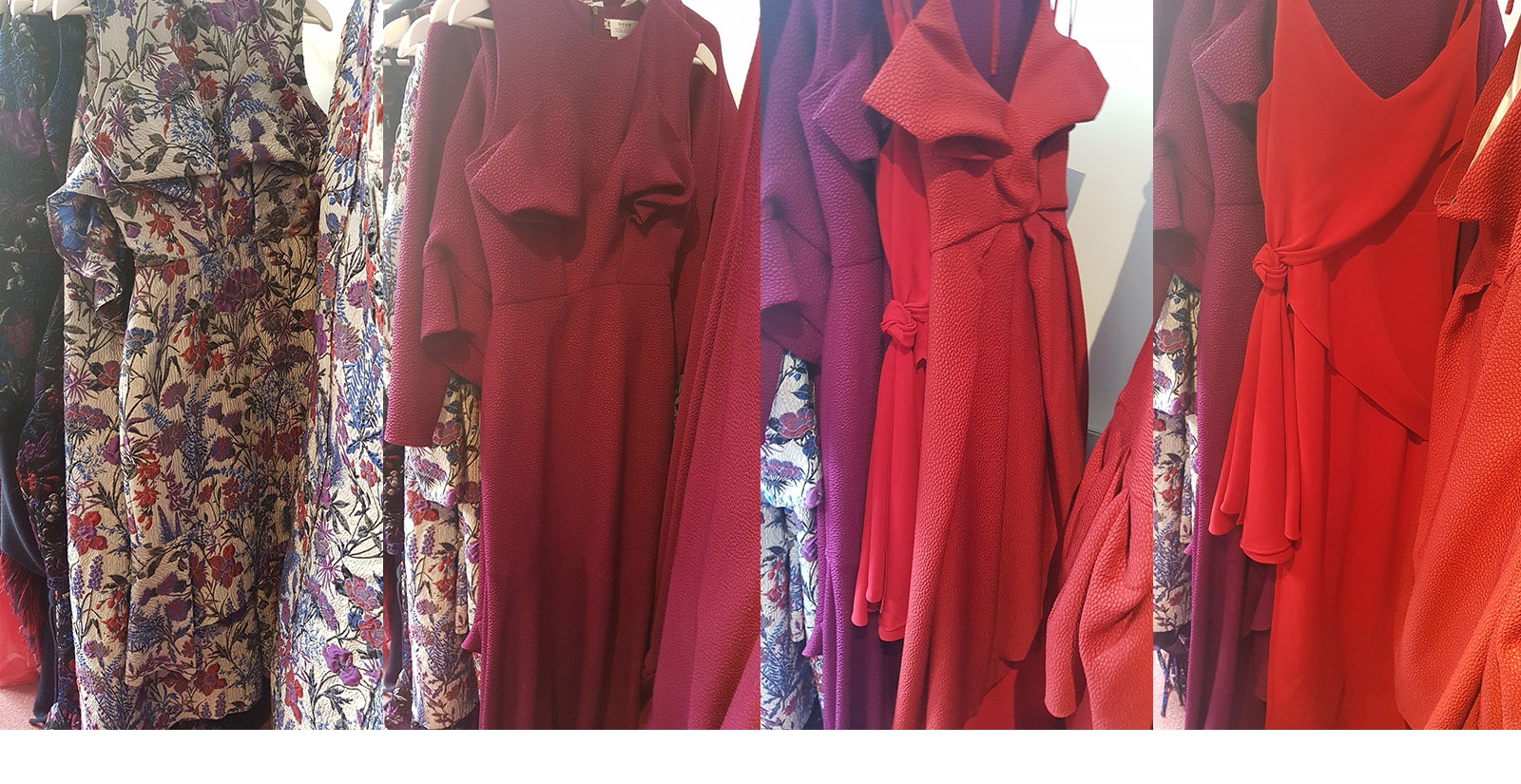 The three looks in Red above, acompanied by a beautiful jacquard tapestry gown are by Edeline Lee and illustrate her unique recognisable approach to cut and styling that she pursues within each collection. A dress with generous shoulders descends into fabric gathered around the waist and in the lengths as pleats. It's a soft comfortable fabric to wear that Lee has developed and expresses in different styles as part of her collections each year. As you can see there are plentiful party dresses and also look for corporate wear to chose from as well as leisure and free time. A capsule wardrobe for the busy international women, yes it is.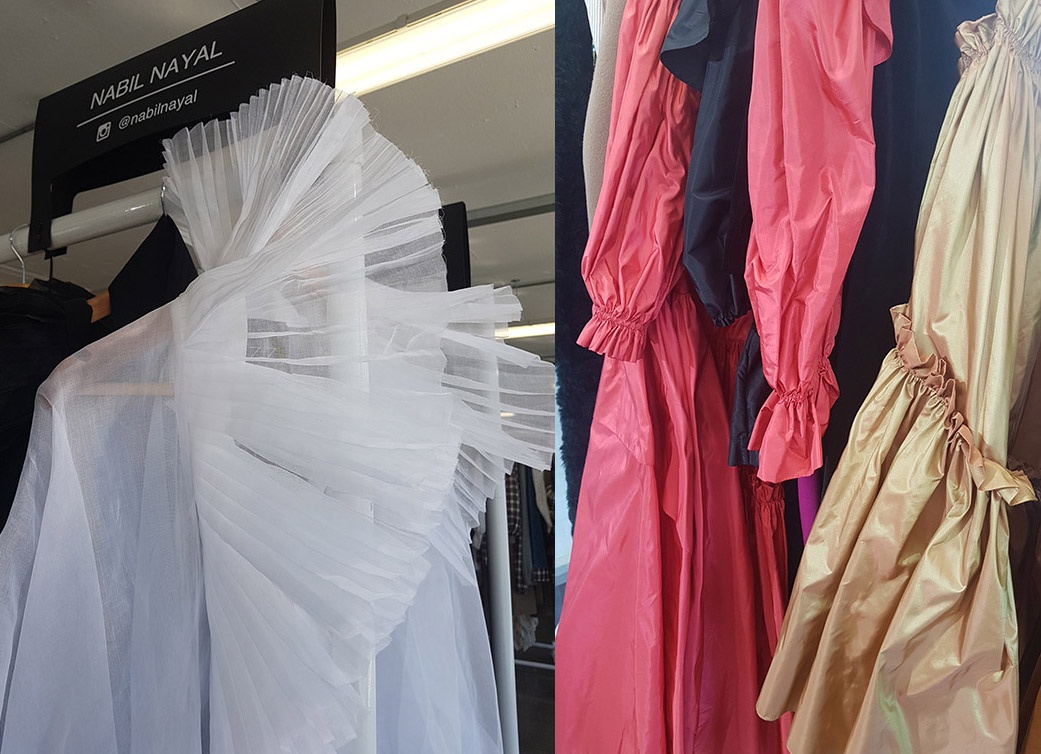 To the left a flourish of a collar from Nabil Nayal indicates his desire to play with dimension using pleats to express herself. The expansive collar almost doubles as a light cape in the autumn breeze. This designer has a great fascination woth the forgotten intricacies of Elizabethan and Tudor era fabric and textile production and it's very interesting to see what exciting promise has already appeared in his early work.

To the right a sneak peak of some of the treasures in store from the mighty Isa Arfen for the autumn. Using jewel box colours and pleat and pin tuck detail she has created a collection that has a soft feel whilst using a bold colour palette, not always an easy thing to do.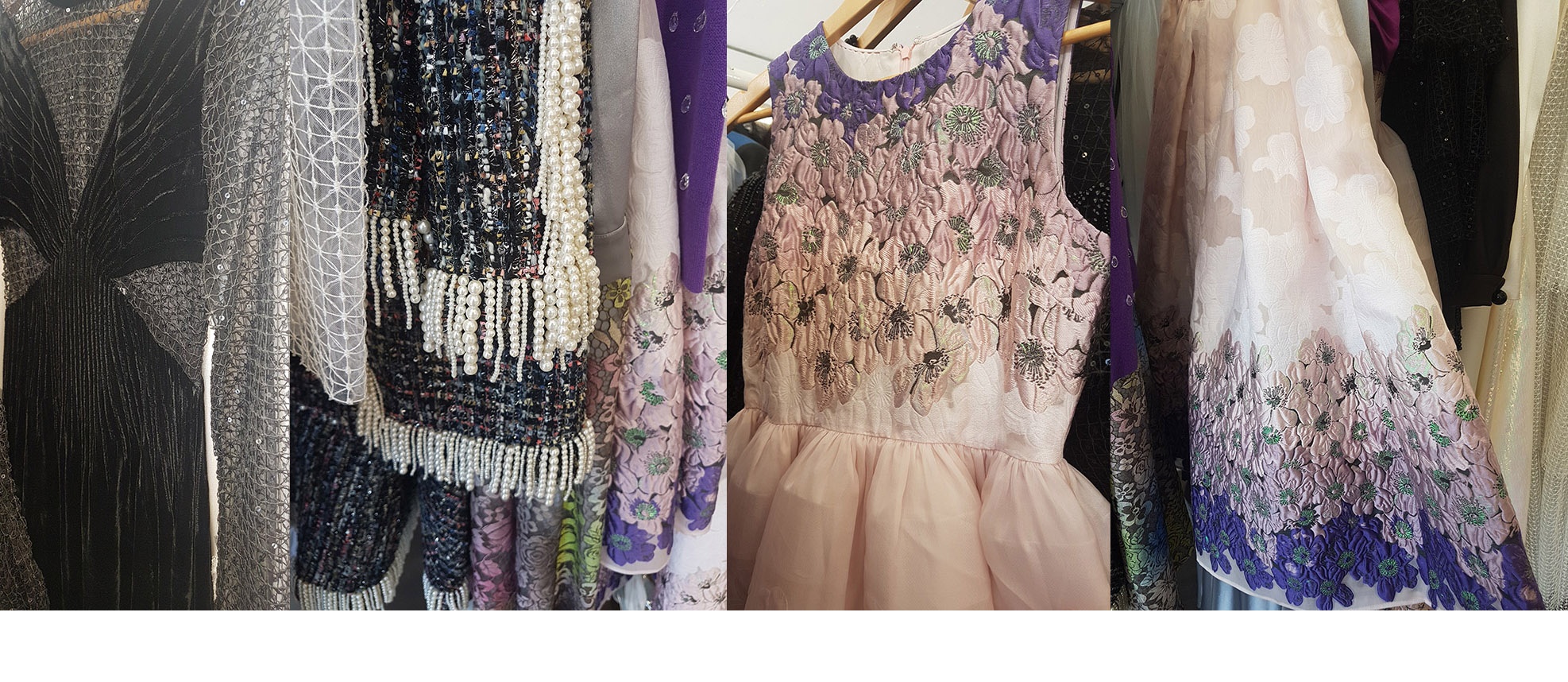 Huishan Zhang is another young designer who shows in London that has built a tremendous reputation in the last few years. I've been lucky enough to watch his collections across around five years now and his work his mature in it's perspective and development whilst also being fresh and innovative. His time spent in the Haute Couture atelier and ready to wear studios of Christian Dior during his Central Saint Martin's degree are evident in the dress of refinement in his work but perhaps some of his own magic rubbed off at Dior during those years. Above you can see the progress of the journey of his story of a girl as she moves from a happy time, to a sad time and then comes through it. All told through the story of colours and detail.

Neatly woven plastics blend with soft pleated velvet to the left while tweed takes on a new guise accompanied by luxuriant beaded tassels. Quilting style technique in the bodice of the dress above to the right and the lover dress hem shows the attention to detail that Huishan's client's relish. His works are beautiful to study and many piece approach Haute Couture standards of craftsmanship which is something that I noticed early on in his work after his graduation. Purple, Lilac and Blush Pink effortlessly blend together to create a natural colour harmony for a sophisticated evening look. Beneath you can see a long Purple silk skirt that is also a possible partner to a Purple blouse further along the rail. I actually love 'rail-shots' of collections, as I call them, as you can see at once the beautiful fabrics and colour scheme dreamt up by the designer for the season. A picky eye (like mine) can quickly work out what will best suit the self or someone I may be dressing.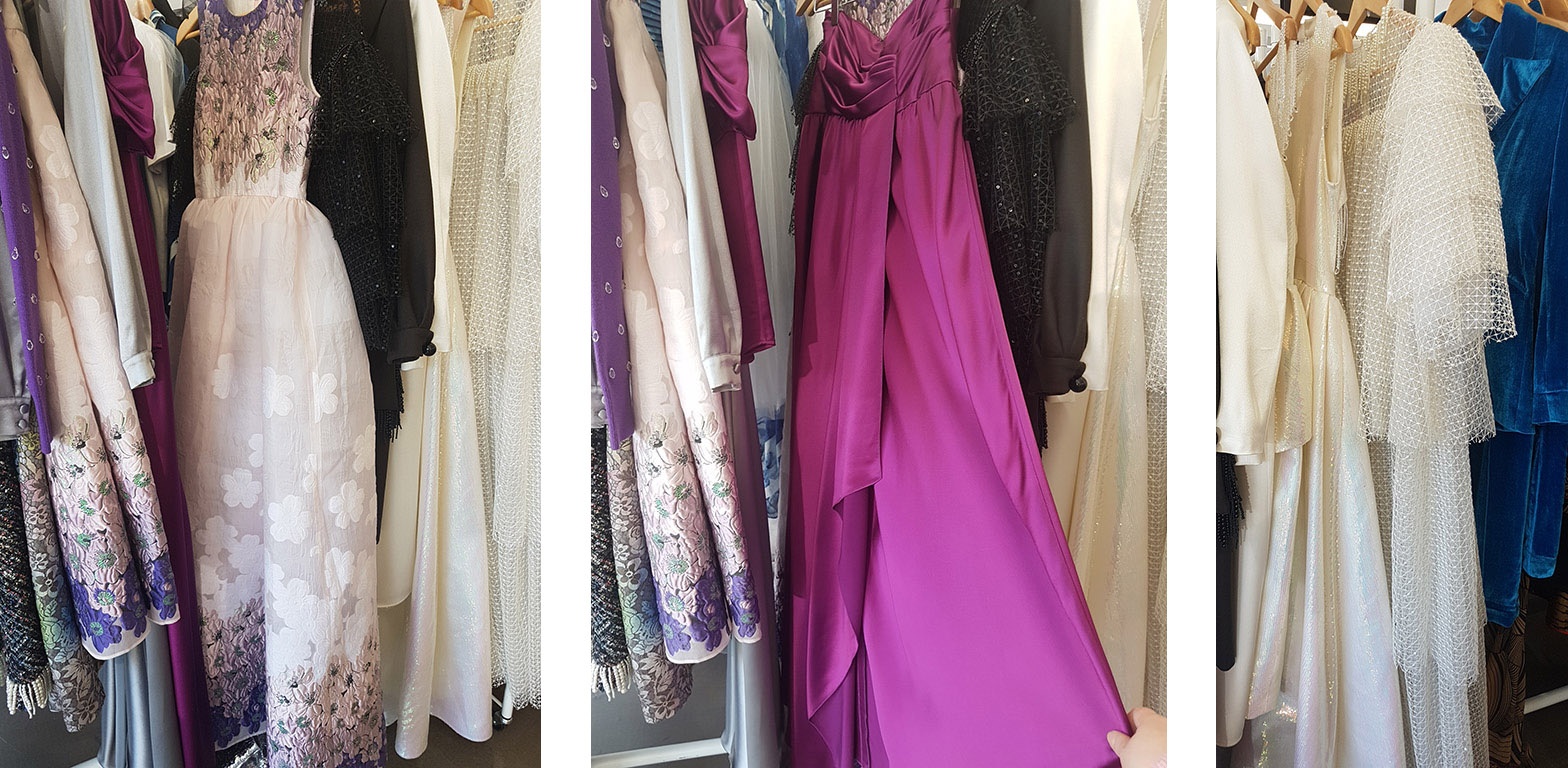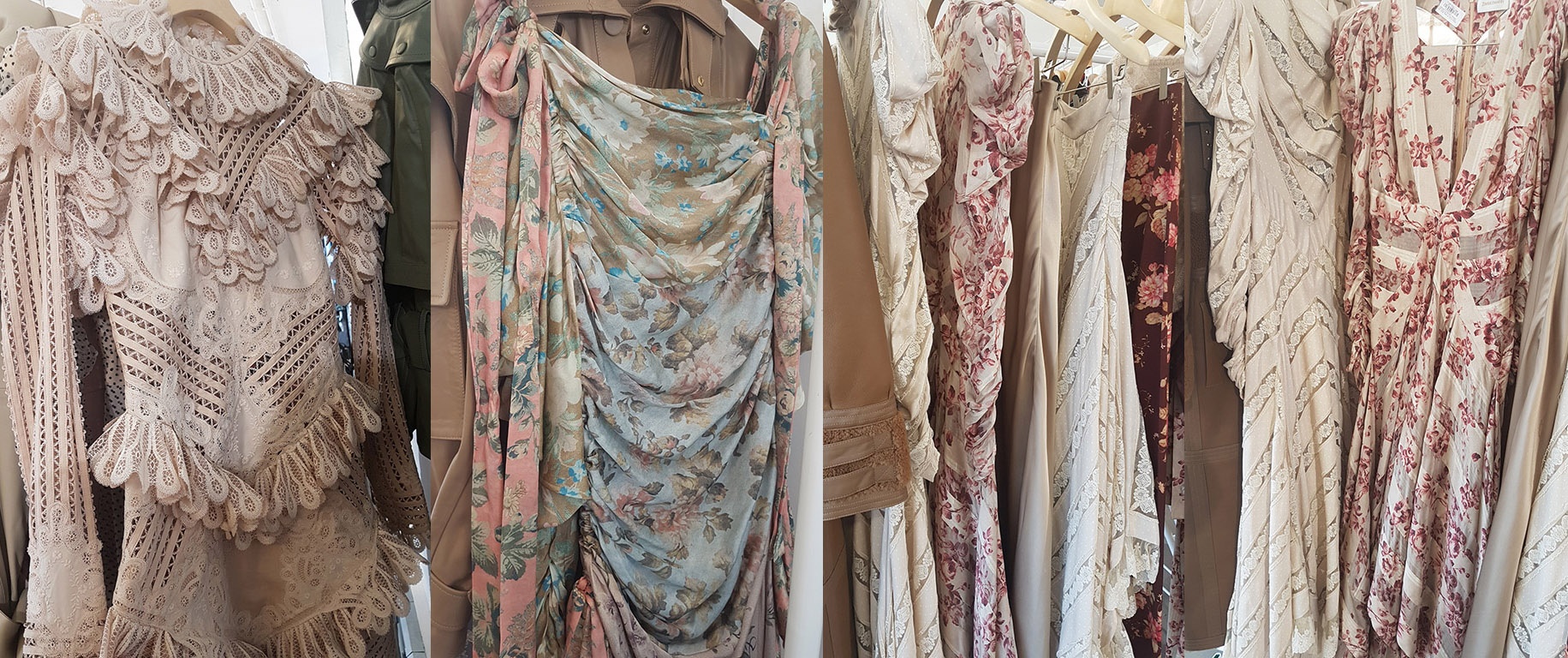 Effortless floating elegance with many feminine touches and carefully selected fabrics is a hallmark of Zimmerman's style above. Intricate layered of crochet tassels crown the outer layer of the Blush coloured garment above to the left making it an adventurous but perfectly executed look for autumn. The soft colours of the watercolour painting palette ripple across the surface of the ruched dresses above. Looking as ready for summer as autumn they could slide easily into a wardrobe anywhere in the world. The sheerling coat offers some protection against the breezes of the cool air as you step out. The blend of Cream-White and Berry colours in several of the styles is a more subtle nod to autumn.

Below the work of Turkish designer Bora Aksu also shows feminine light fabrics worked into his well known pleated style. He's a designer I've seen showing and exhibiting in London since the earliest days of my fashion industry exploration almost a decade ago and I'm still drawn by the fresh enjoyment of creativity that seems to permeate across his work. In largely soft colours and acres of floating fabric he greets autumn with customary light pieces.