London Fashion Week Spring & Summer 2019
All text and images below shot by me (C) unless otherwise stated.
As the catwalk season got underway in September, it felt like we were very much still in Summer so set the mood pretty well for the Spring - Summer 2019 collections. This season felt at least as vibrant as ever with many fresh collections and a growing push in the area of sustainability, a vital lifeblood for the future of all of us and something far beyond fashion.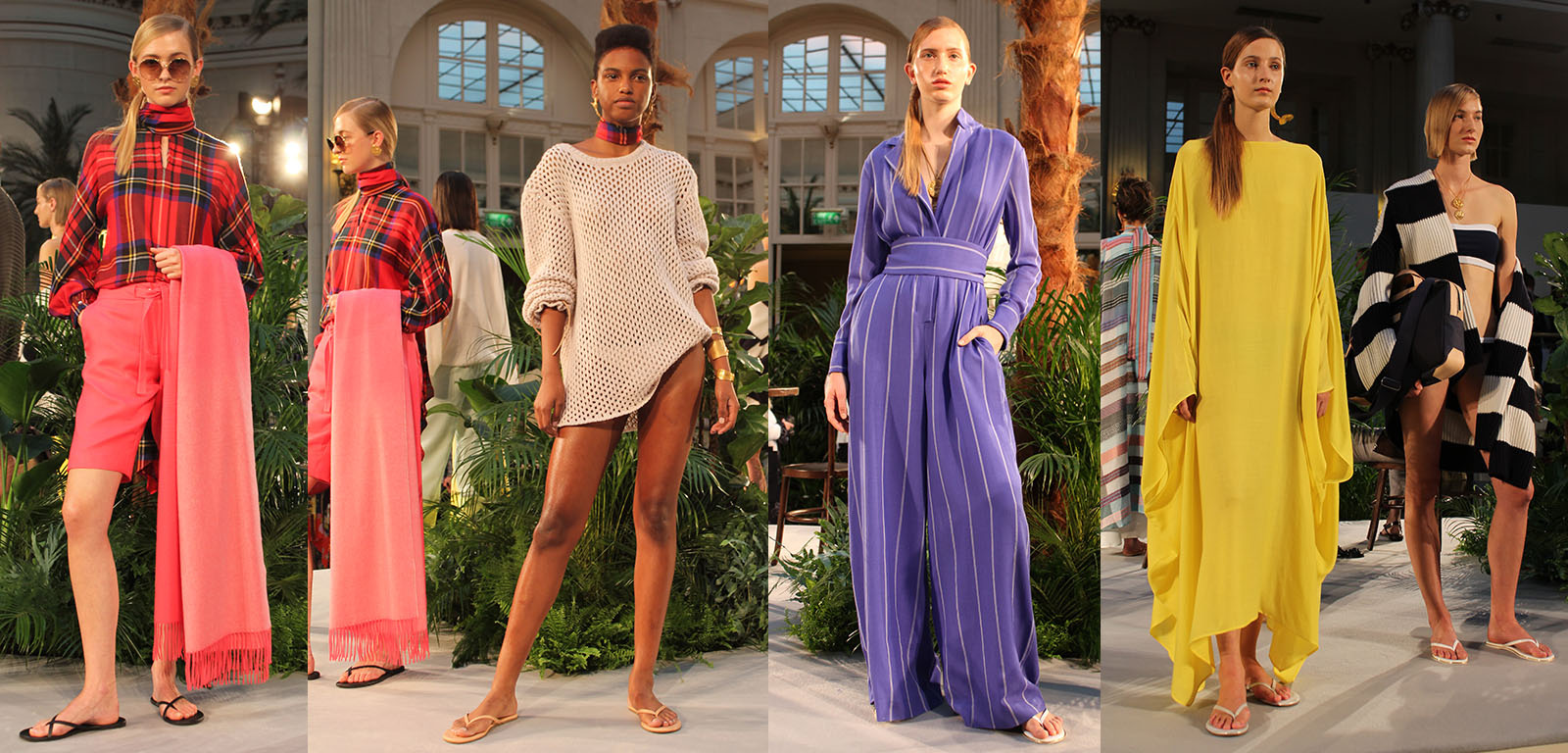 For it's second season at London Fashion Week, Johnstons of Elgin chose a light-filled atrium this partly helped to do justice to the bright colours that they have in the pipeline for Spring 2019. With a late-summer feel in the air, the possibilities where diverse and exciting. Johnston's is Scotland's second oldest family business and was founded by Alexander Johnston on the banks of the River Lossie. Today based in Hawick in the Scottish Borders, they employ approximately 300 people and help to drive a thriving borders industry. The company reaches an international audience and has been one of the best known British export labels across three centuries.
A tartan checked shirt sitting loose on the shoulders to give a casual style is contrasted with hot Pink above knee shorts and warm cashmere wrap to protect against cool breezes. It's a fun beach and pool-side look. Care-free casual with beautiful detail in captured in the next broad-knit piece hanging casually over the figure once again. The Cream-Ivory colour makes it universally flexible and as shown, it's a perfect holiday/hot weather throw-on. Hints of the formality of Varsity stripes are quickly tamed by a broad legged woollen Palazzo style suit in the softest wool. Bold Yellow and Black make a key colour combination across the collection. Versatile neutrals and also reminiscent of the busy Bumble Bee which reminds me of the hive of textile activity around Hawick.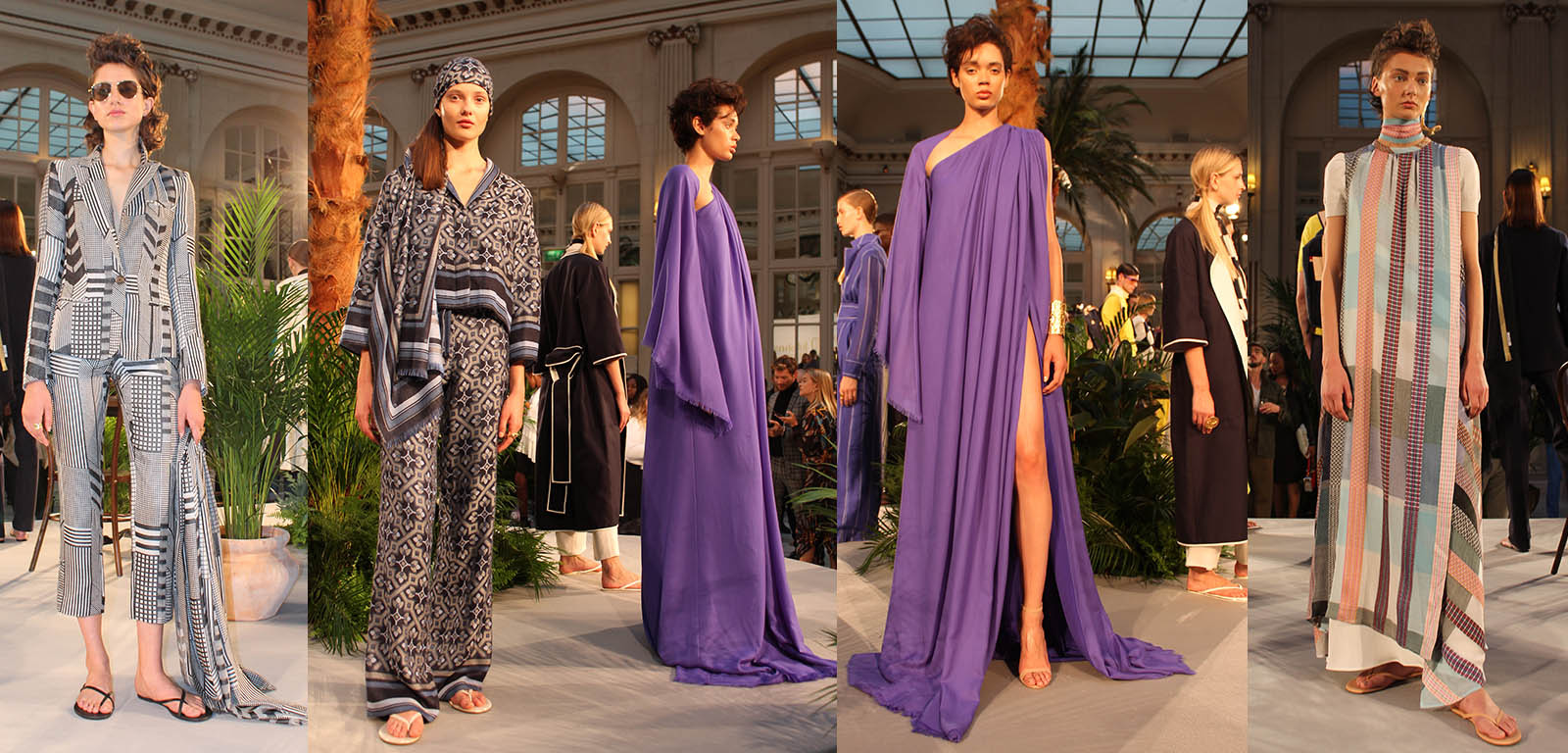 Bold chevrons, squares, stripes and dots bring Art Deco to the light day suit and scarf. They temper the Grey with bright design and create a fun work or play look. Moving up, or down into 'Relax' gear a playsuit with both Palazzo style and Moroccan influences is boldly tessellated with patterns and contrasted with pretty striped borders. Complete with hair scarf it captures the vibe of the 1970's with style codes of today. Broad sweeps of Classical elegance in a regal Purple play with the notion of on and off the shoulder. Carefully draped it's an interesting question to ask the self, does this garment actually sit on the shoulder? It doesn't really matter, it would make a wonderful Red Carpet dress. To the right play with geometry returns once again with sand and seas colours reaching across a dress combining kaftan and wrap garment style.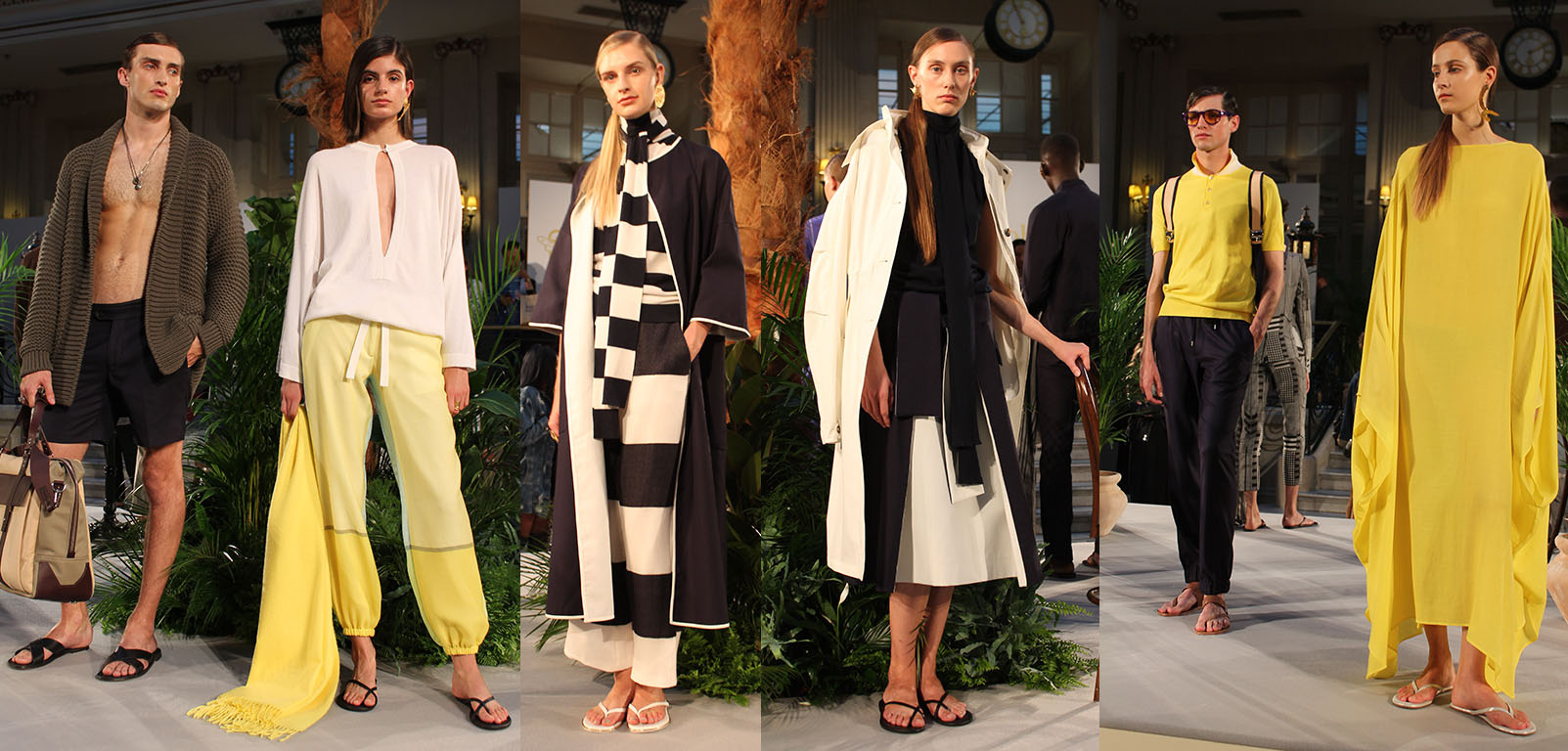 Knitwear plays it's part in the collection although the finesse of the techniques used by Johnston's in the 21st Century mean many weaves are so fine as to be unrecognisable to the naked eye. Above to the left, a chunky knit open cardigan in Olive is an easy piece to have to hand in the Summer months and Navy shorts are an equally flexible piece. A White sweatshirt with clasp fastened neckline again hangs gently from the shoulders across the figure but two tone Yellow trousers in a soft midi-sports style twinned with a soft classic Johnston's scarf that you want to reach out and stroke.

Monochrome is used frequently but not excessively in the collection with boldness of the colour, in blocks or squares contrasting with the softness of the fabric that wraps around you like a soft glove. If you won something from Johnstons you truly treasure it and it's a great company to buy gifts from. For me this collection had a hint of cruise about it and many pieces could be trans-seasonal worn from the cooler days of Spring, through high Summer and into early Autumn. Many well designed seperates give you flexibility and opportunity. A White skirt and coat; checkerboard trousers and scarf with light Spring/Summer coat with fine White piping. All could easily slip into the wardrobe. Below a Black blazer cut short coat with it's hip line pockets is a handy go-to piece that could be taken to work or out for long walks. With a small Yellow scarf at the neck and a broad wrap across the shoulders, it's easily adaptable to the temping urge to layer-up when you visit a Johnstons store.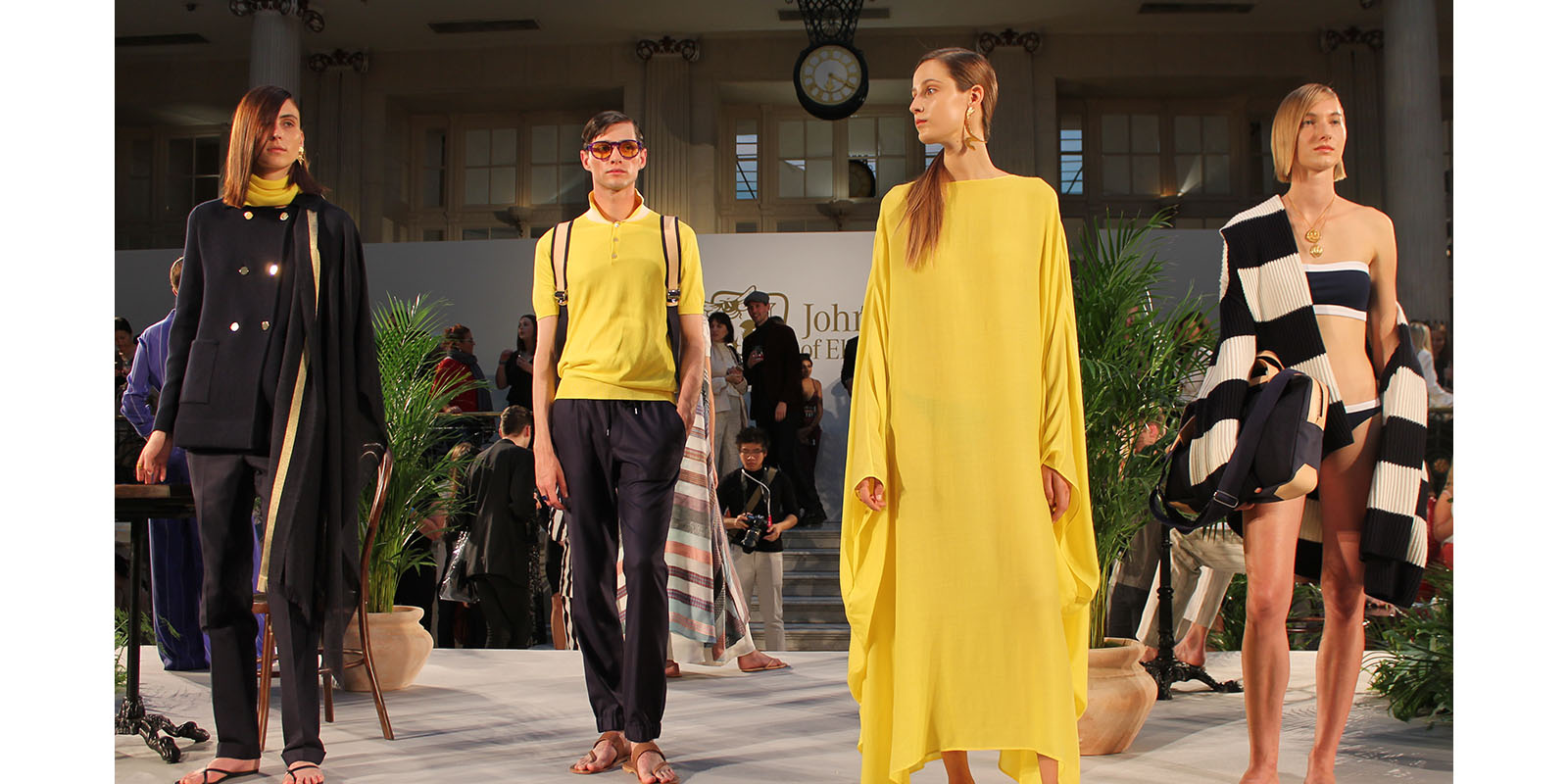 Xu Zhi is one of a small number of Chinese designers showing on the London show schedule with his dedicated team, he showed for the second season in the fashion capital. I was delighted to discover his work last season and found it very fresh and pure. For Spring/Summer 2019 he once again blended nuances of classic lines with a desire to push boundaries in textiles and tactile aesthetic to wonderful effect. There are daywear pieces to push the boundaries just a touch and beautiful cocktail dresses and a full length Black Tie dress of dreams to delight.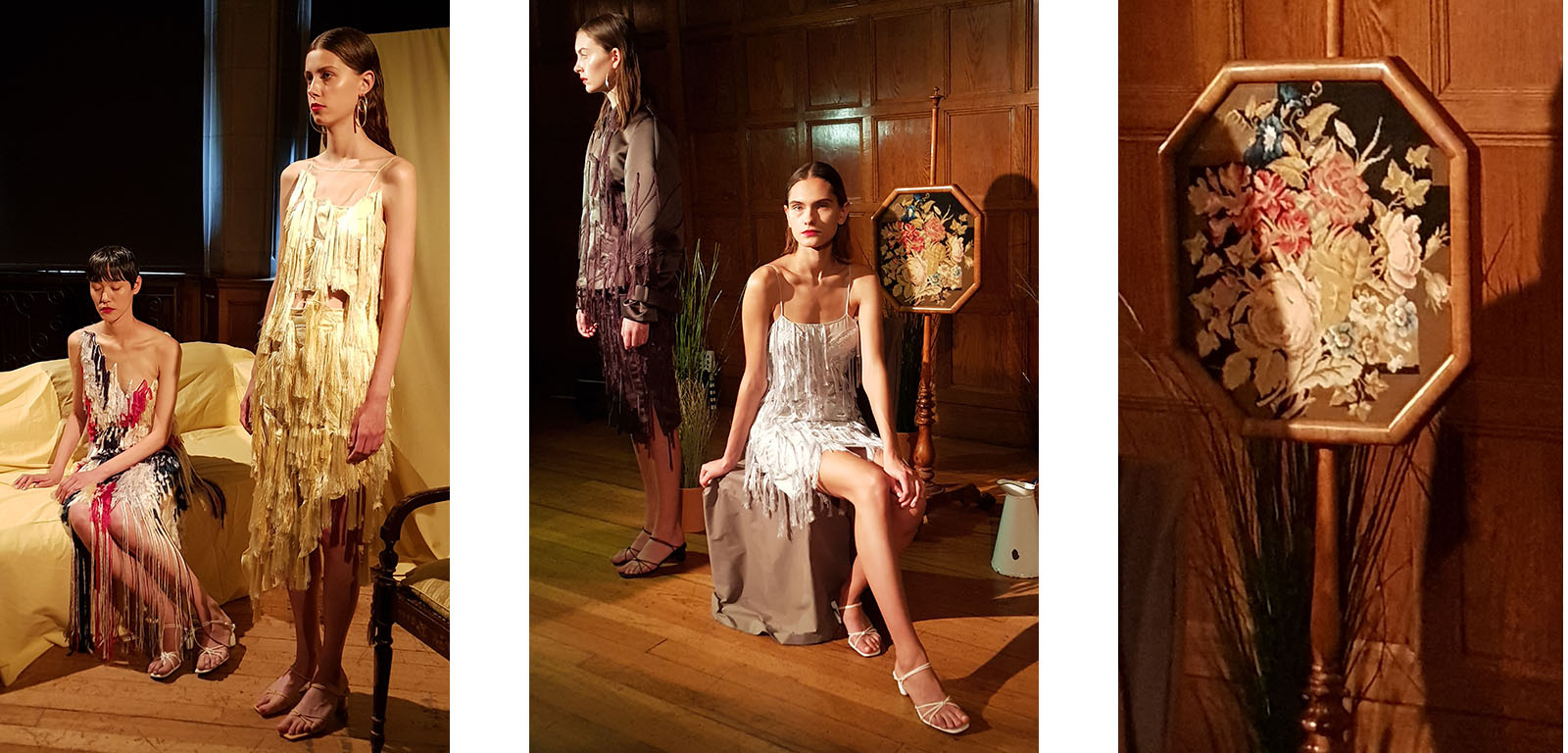 Zhi founded his label in 2015 to be able to emphasise both simplicity and sophistication of design, Several of his unique developments are present in the collection including above the intricately formed tassel features that drop from the garments. Furthest to the left in multi-colours and a soft Primrose, there is only a distant hint of the 1920's style fringe layered dress with the structure creating a unique second skin feel across the body. Above a Black jacket suit with the same design would be suitable for more formal events where shoulders need to be covered, or worn anytime that would feel right. The White mini dress with it's tiny straps is a perfect Summer party dress and could be easily worn with a jacket or fine woollen shawl on Winter nights. Zhi treated his guests to a visit to one of the historic gems of the Temple area and inside the building referencing the family arms and traditions of the past, we saw the old and new happily combine.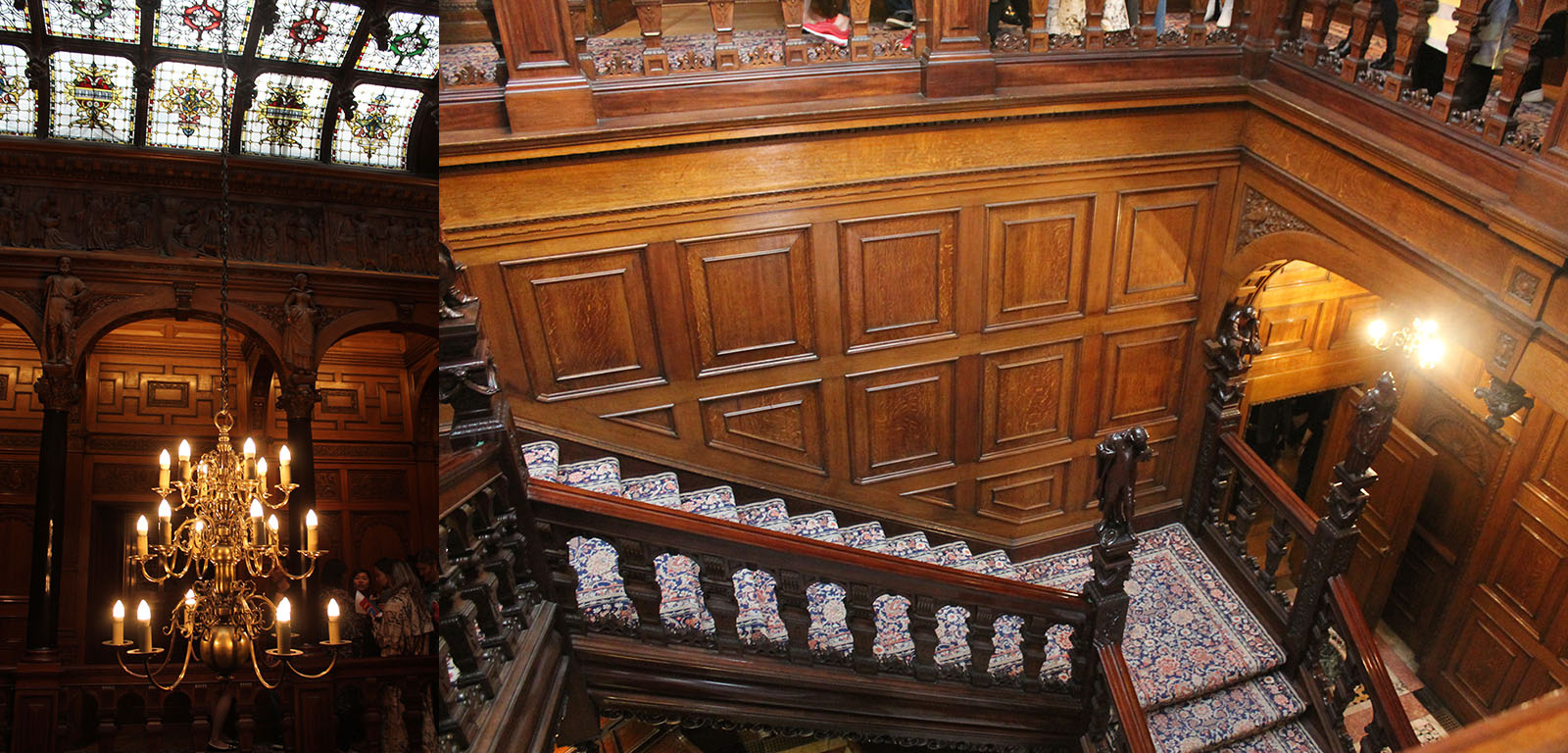 A beautiful Rose pink trouser suit is cut generously in light silk with playful designs across emblazoned at key points across the trousers and jacket. Worn with or without a blouse underneath, it's a simple piece that speaks of careful craft and quality. To the right a Magenta full length dress with it's minutely ruched payers falling from the skirt would make a beautiful entrance at a dinner or Gala and I can also imagine it being worn by a classical singer or musician. A sheer Blue blouse makes a daring counterpart to a floor length skirt in a beautiful two piece ensemble that would suit formal Black and White ties events (with help from a stealthy under garment). Generous fabric in the skirt below the knees allows for easy movement when walking. A Black raincoat is beautifully embroidered with floral patterns and is a sophisticated way of this wardrobe staple taking on a new way of life.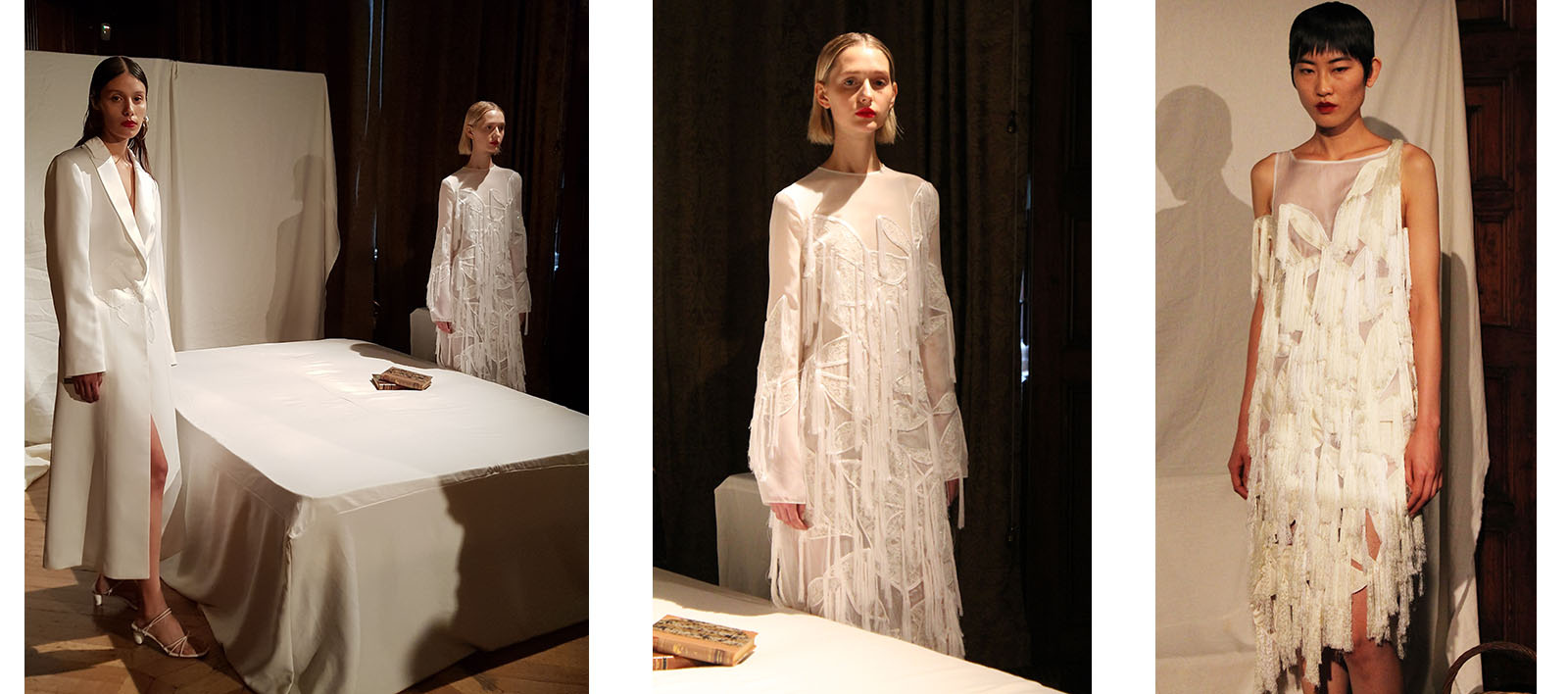 A sleek White coat buttoned only once to cloak the figure in a soft layer of satin is a coolly serene piece that could be worn as a coat dress. The cleanness of the lines speak almost for themselves. To the centre and right above, two dresses showing the intricate applique detail that Zhi aims to perfect fall gently to knee length. They are beautiful pieces that may make people curious to enquire about the design without appearing too challenging a statement. The soft outlines of the simple flower petal, the master stroke of nature appear partly visible, partly obscured through the design.

Below another dress featuring the intricate tassel weave creates a three dimensional piece of high fashion as does the trouser suit to the far right. Both meld fashion and contemporary art in one piece and would look wonderful in front of the camera at Red Carpet moments. To the left a sheer blouse with embroidered detail plays lightly across the figure in a flattering easy style and embroidered thin plumes add an extra dimension to the trousers. The plain embroidery style comes into it's own on a belted light raincoat over a matching skirt and sheer blouse. This sylph-like daywear look is a captivating piece for Spring.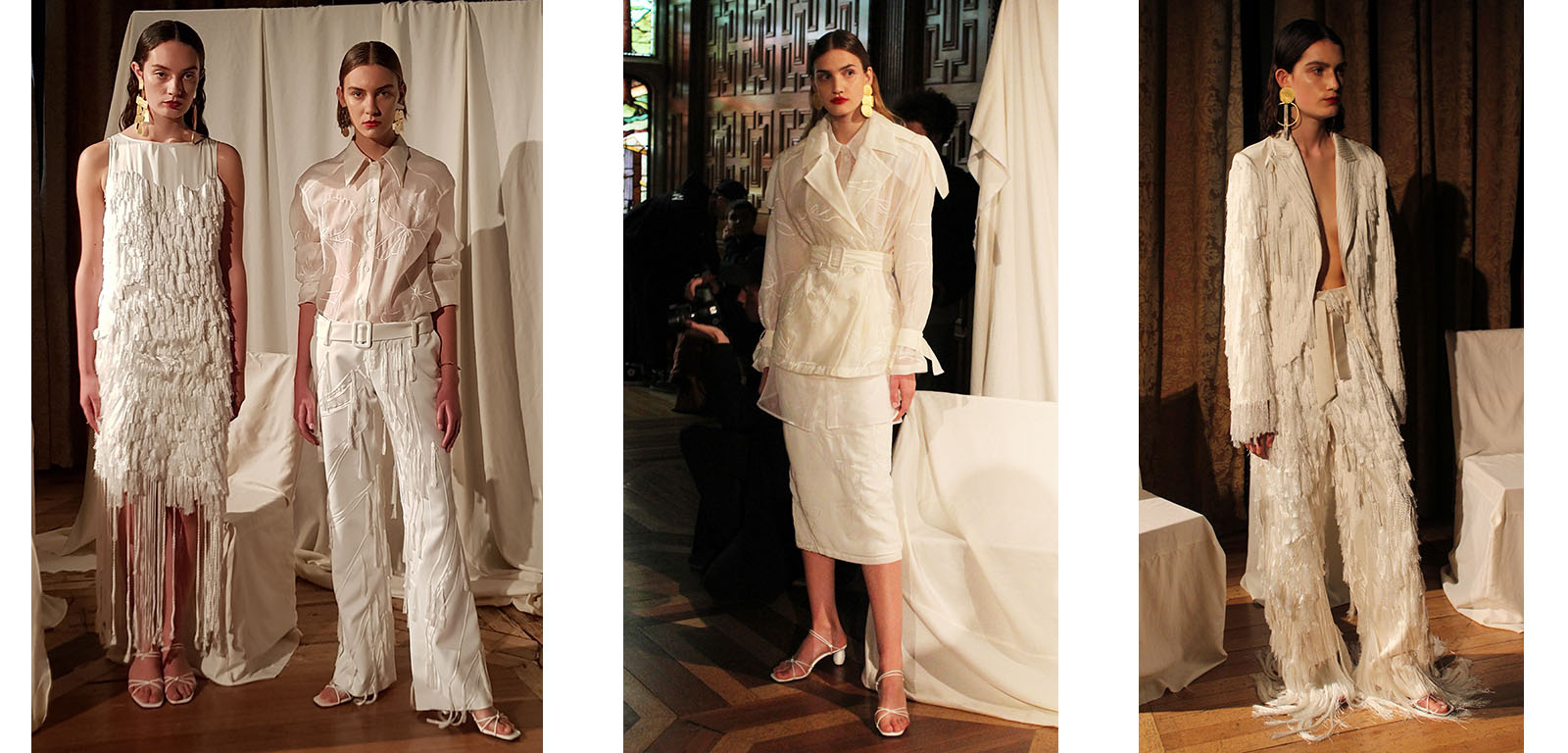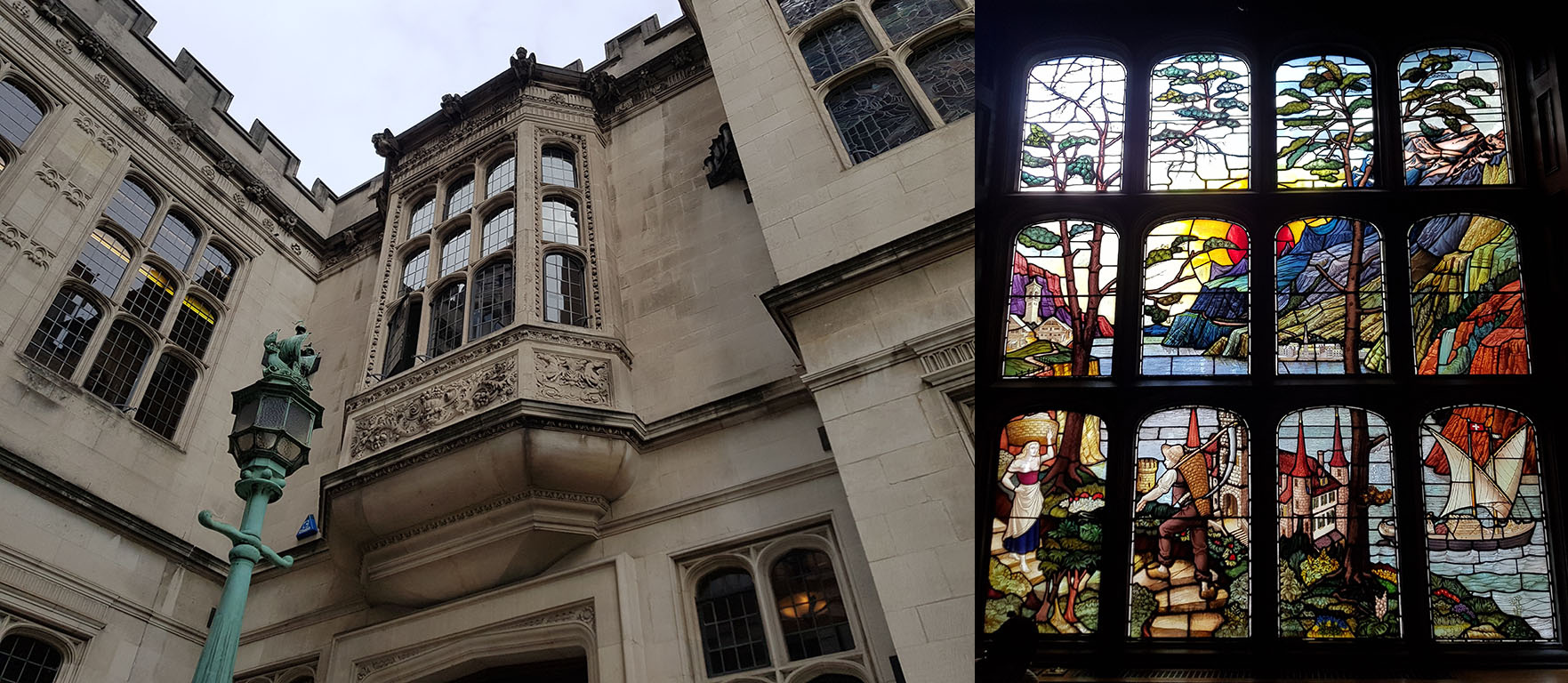 With hints of his Turkish ancestry weaving their way into each collection, Bora Aksu is a mainstay of the London Fashin Week schedule and a devotee of preserving the heritage of his homeland whilst infusing it with newly discovered technology.
A soft Blush dress is one of my personal favourites from the collection with it's light embroidered fabric floating softly. It's sweet and romantic but also practical with the soft knee length piece easy to combine with a jacket or cardigan to create a casual or semi-formal work outfit across warmer months. Spring time and romance go together and Aksu makes each piece of the collection resonate with a pretty charm. Ruching of sheer White silk at the sleeve line and waist, tied into a bow are complimented by a lightly fringed skirt hem rising in a peak like an inverse heart. Intricate designs printed onto the fabric evoke ancient art. To the right, another dress using the same patterns weaves a stencil design around the shoulders and upper arms almost in jewel like form before continuing across the length of the dress. To the right a close match to the Blush dress appears in Mint with a prim collar replaced by a soft circular neckline and bowed ribbon at the upper arms.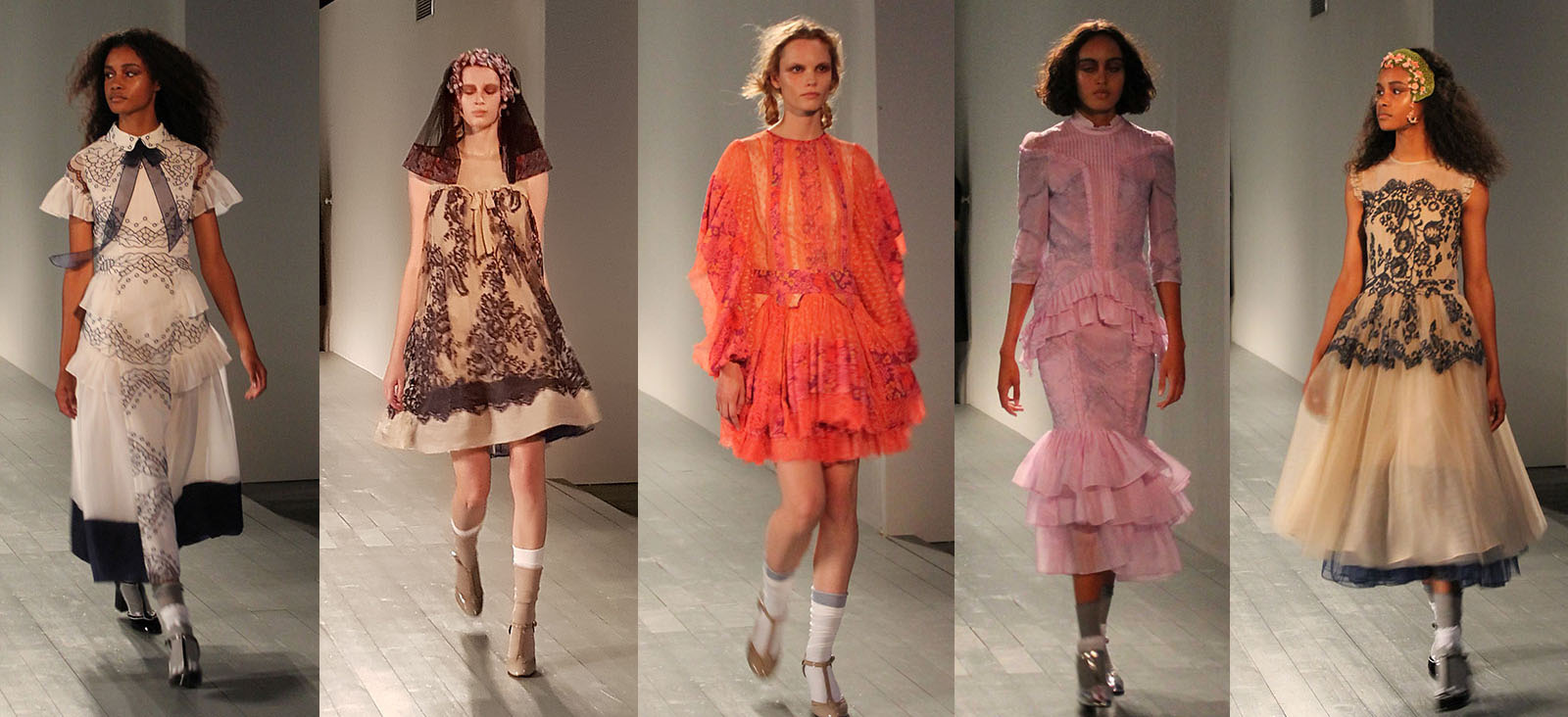 An antique vintage feel comes into the collection in many places with the fine layers of gathers and signature embroidery references creating a vintage feel. Above to the left, soft layers of silk tulle have pretty light stencil and a thick Black border matches to sheer lengths of a bow. A traditional Turkish headdress in the next garment fuse antique with modern in a dress at mid though level. It bandeau neckline and sweetheart bow add soft romantic touches to a dress that would shine in the spotlight. A bright burst of Orange accented with hints of Pink and Lilac brings traditional costume detail to the Summer dress. A proffusion of ruffles subtly adds volume and will float in the breeze. To the right s high collared Lilac midi-length dress uses hints of 'Edwardiana' and 'Belle Epoch' in the line and form of this look. Tiered peplum detail at the lower waist hanging in soft a chevron accents the feminine shape whilst a contrast in volume is also created around the knee in skirt layers. A sleeveless midi dress to the right blends Ivory and Midnight Blue in a reserved colour combination that doesn't loose any hint of the characteristic Bora Aksu prettiness. The Blue of the embroidered leaves and plants is echoed in the tulle dress under layer. It's a pretty look that also hints of the ballerina.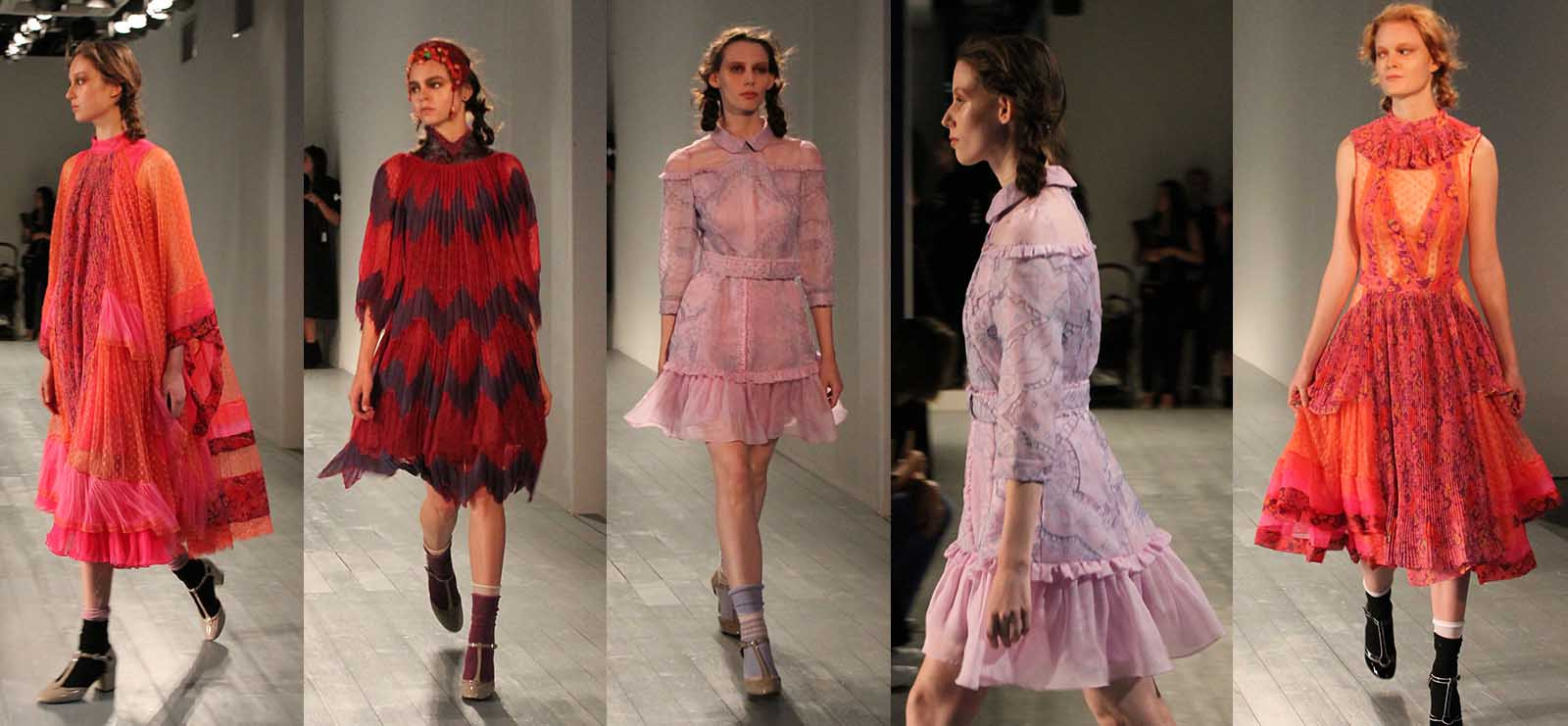 Blending textiles increases a feel of heritage and traditional craftsmanship. A bold dress comprised of Orange dotted lace is banded with stripes of Hot Pink and Red-toned floral fabric. Far from feeling confused or too much, like in the garment furthest to the right in the frame above, the colour contrasts seal a natural feel of affinity. Working in a single fabric, chevron of Crimson and Navy are tightly pleated in a knee length dress that expresses a modern faintly architectural aesthetic. To the right a soft Lilac gown is an easy to wear piece for day and evening and would suit both working and social spaces. The light fabric makes it an easy option for the hotter days while covered shoulders and a collar keep the look appropriate for formal settings.
A full length dress blends heritage textile combinations, including headdress with modern textile technology to create a statement look. A bold contrast of Black, Lilac and Red highlights confidence. Similarly a full length dress continuing the Orange theme offset with bright Pink banded in the skirt and sleeves and bodice, would also make a confident formalwear statement. Whispers of light White fabric appear above and to the right with the netting fabric again wrapping the figure in gentle layers. Tiered skirts and a longline dual layered dress both carry hints of playfulness but still resist a childish look. To complete the collection Aksu turned to Bridal showing three dresses expressing a love of women's traditional dress in fresh new pieces. A jacket dress featured abundant layeres of fabric in it's skirt in a fresh modern look, whilst the playful ease of high Summer dresses was referenced in the dress centre below. Crochet detail is everywhere through the collection and a medium that Aksu has been devoted to through much of his career. This is the most simplified of the three and one that could also be worn as a Summer dress to be enjoyed any time. To the right a very similar dress is accented with broad sleeves in tulle bordered with crochet falling to a train behind the wearer. It almost gives the impression of wings celebrating the ethereal feminine beauty of the bride and a soft peach breaks the single colour of this larger garment.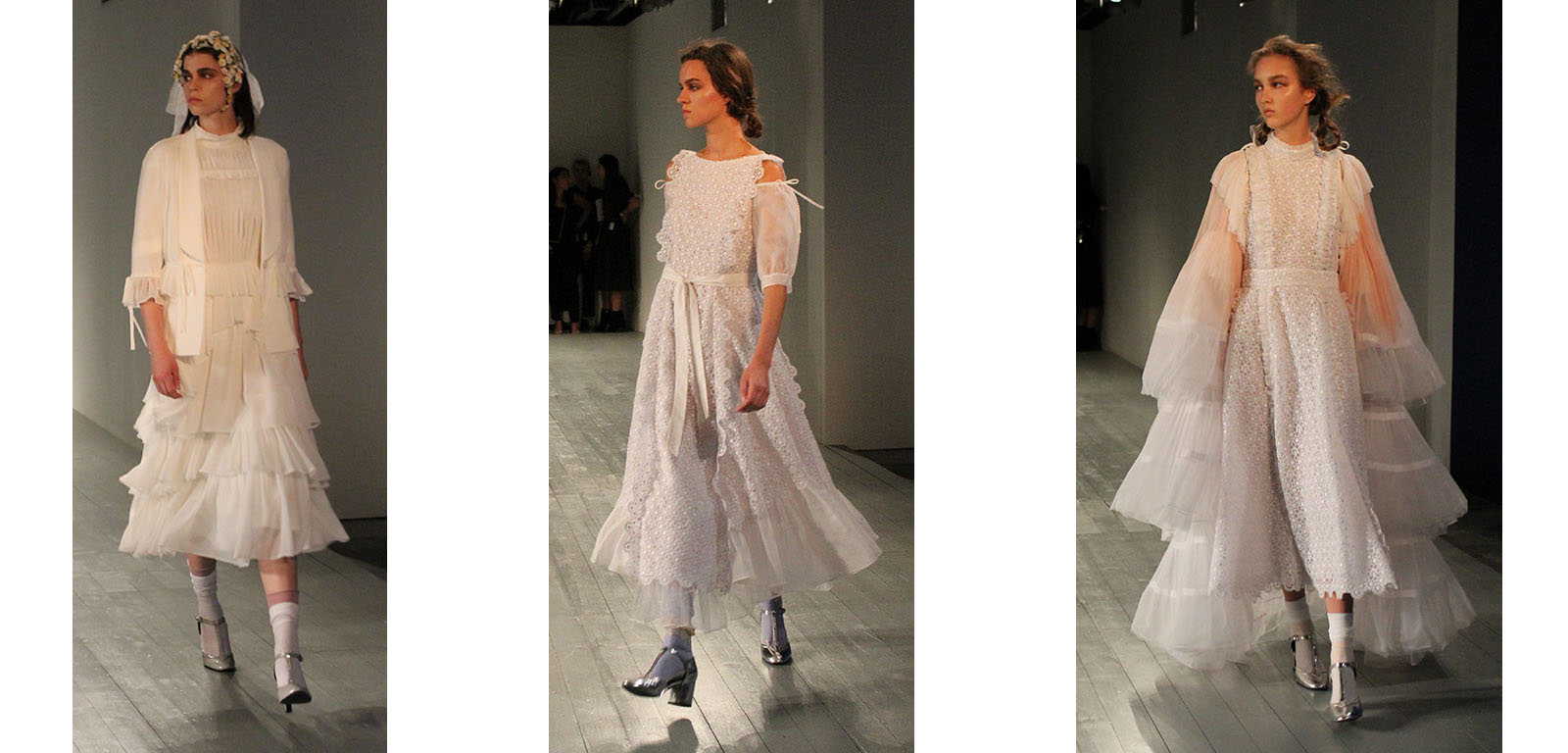 Ryan Lo

Image Credit: Kim Veeston Arnold: indigital T.V.

This was a collection of unashamed romance and also, do you note the pointed hats often assocaited with the 'Witch' of days past? It's slightly unusual to see these hats in reference to a point in the calendar that isn't Halloween but they do also carry another legacy from the past, that of the female Shaman. So whether you believe Lo's woman is bewitching us with her wisdom or beauty, perhaps both for next spring she was signalling that there is more than meets the eye about her muse this season.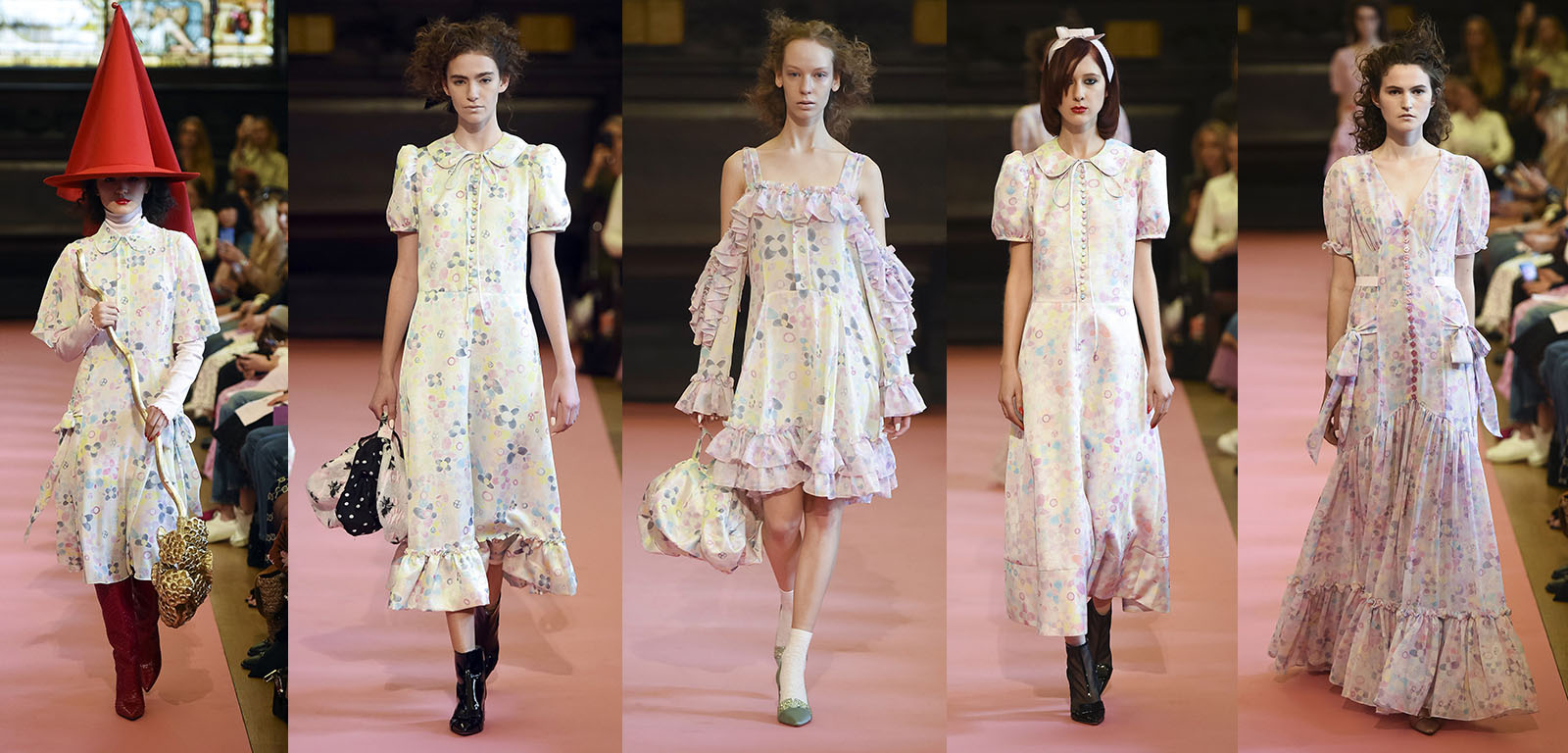 Soft floral notes in pastel pattern dresses cut in retro-style feminine looks. There is a noticable nod to the 1970's and hints of dresses of childhood. That safe place of fun, laughter and sunshine days that build many memories. From the shirt dress in the opening look to the pretty tea dress by it's side with their pussy bow collars, the five looks above cover both the casual and formal. You have options for days out, the beach, a relaxed office dress code and to the right a long dress that like it's preceding peers could also be styled for the Red Carpet. It's candy sweet but not too saccharine. A lot of care and attention can be seen in creating these looks with simple features such as pin tucks, borders, buttons and pockets being placed to perfection.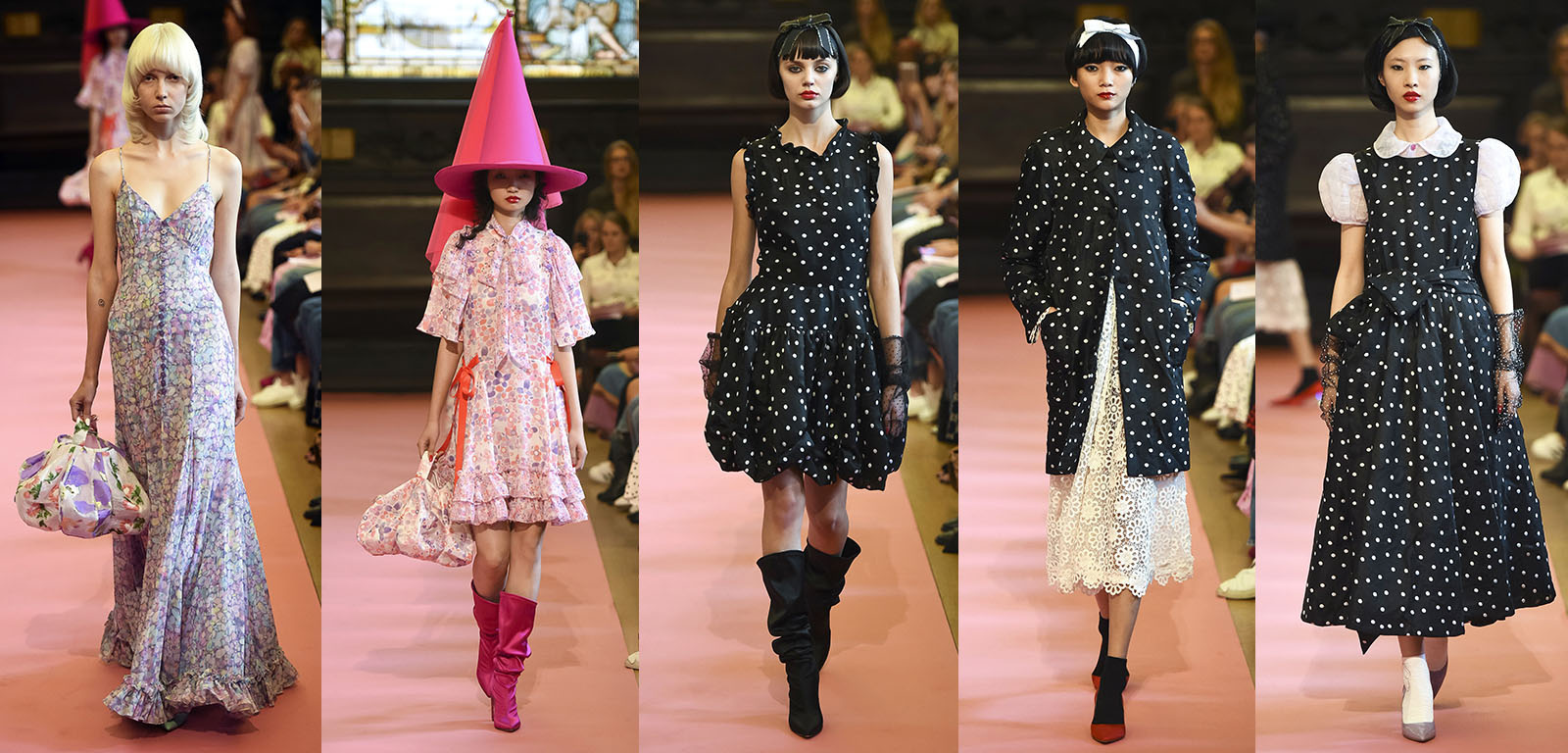 A soft Lilac sun dress sits lightly in the figure with centre buttons offsetting a fringed hem. The model holds a ballooning purse in soft silk that is shaped like the head of a flower upturned with a soft broad silk handle. Like all of the collection it feels very 'easy on the eye'. I couldn't zoom in and cut away part of the hat, it's integral to the charm and message of Lo's collection. A knee length pretty dress features Orange bow ties at the pockets with a double tiered cute hemline. Magenta silk satin ankle boots fall down ever so slightly in a casual hint with another flower bud shaped purse in matching floral fabric. It's cute but something in the refinement of detail stops it from being childlike and creates a spark of fun.
One of the seasons must polihed trends, the Polka Dot appears in three looks to the right above. White dots on a Black background form the classic code of style hat can be worn both casually and to formal events such as the races and cocktail parties. A sleeveless above knee dress has a hint of puffbal in the skirt channelling the 1980's whilst dotted fabric sheer lace gloves sit with the same casual nonchalance as Black satin boots. A light jacket sits over a White broderie anglaise dress dipping to just below the knee. It's a perfect look for heading out to a Spring and Summer event and to the right, the 1950's and 1980's are both referenced in the puffed sleeves and full skirt of a dress tuning into the classic post-war lines of Dior.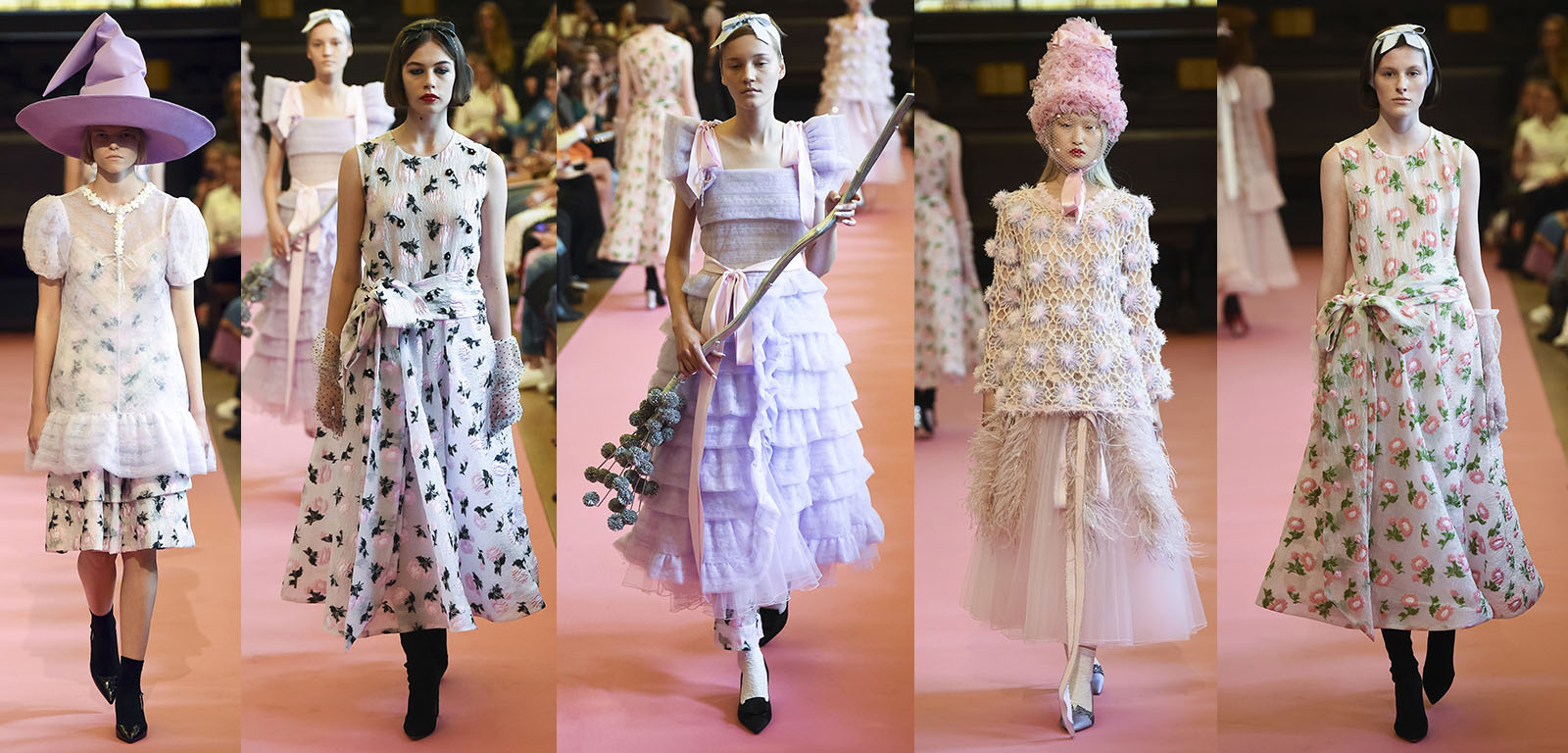 As the collection continues and another Witches hat appears with broom sticks at a later spot the sweet charming hint of 'Bewitched' appears again and Lo seems to enjoy playing with the character of a 21st Century witch who makes good fashion choices. A sheer chemise shell sits with peplum fringe sits over a neat knee length dress with dual layer skirt. Decorate with florals as the neck sleeveless day dress, it forms a dual design that doesn't clash with itself due to the colour harmony. The classic short or no sleeve midi length soft dress is featured in three styles here.

To the left, in soft Lilac floral print and above in the tulle fantasy of layers appearing like a waterfall. Sugar Pink bows at the shoulders, waist and in a hairband make a soft tone contrast and just below the skirt, you can see trousers peeking out in the same fabric as the previous two garments. In her hand she holds something looking like a broom but it also appears to be fresh springs of plant to scent a room on warmer summer days. Nature elements are close at hand. Wide stich crochet with pompoms and a ballerina midi-skirt are a creative soft look. A feathered hat descending to a fine veil seals the look of an aristocratic fairy spirit. To the right another simple classic tea dress offers boundless flexibility for work and play.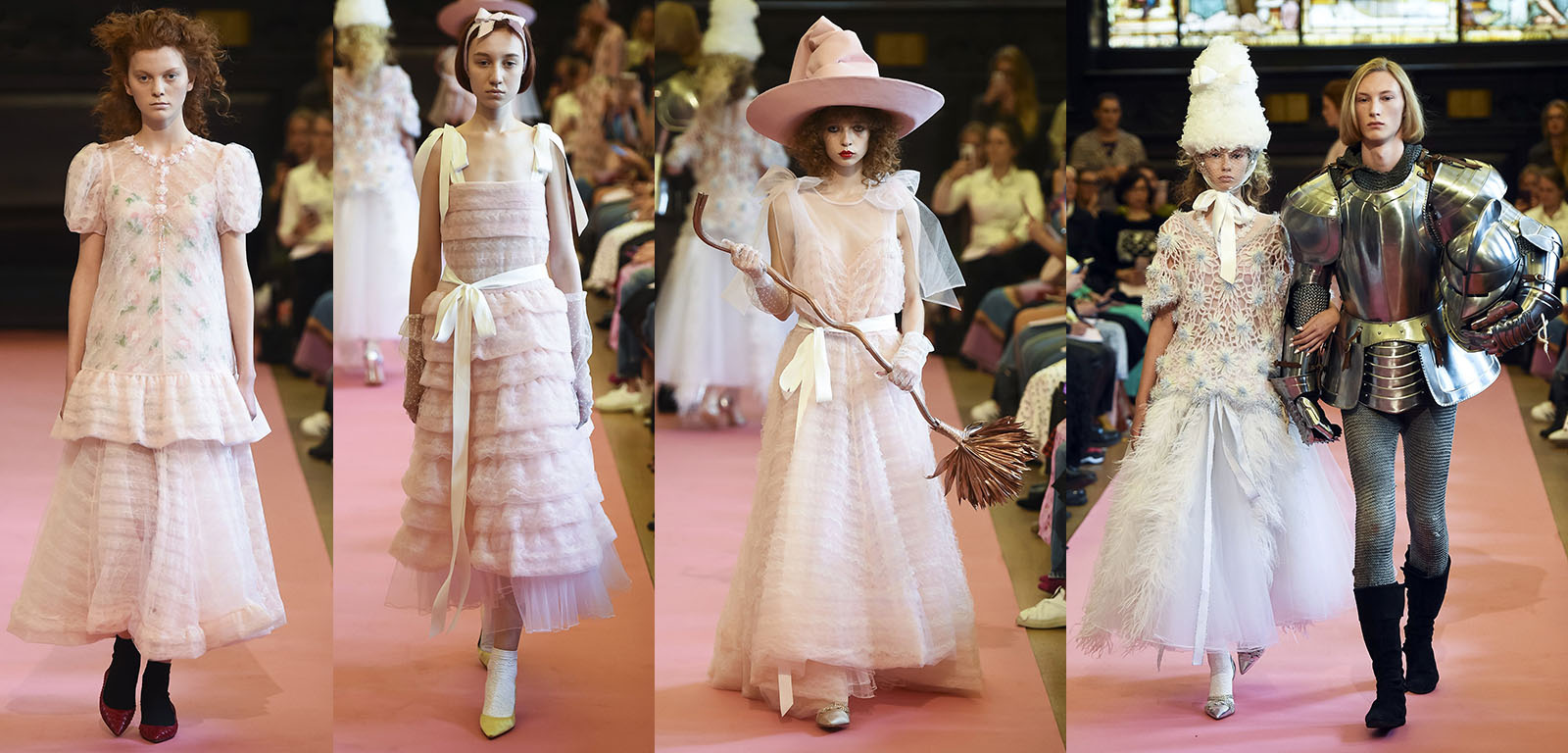 As the romantic fantasy continues a Rose Pink dress again uses the dual dress theme with a soft sheer outer shell in Rose sitting over a light floral Rose print fabric. Gentle contrast in the lines of the silk shell of the dress and soft styling at the shoulders add to the romantic impression. Layering creates a sugar plum fairy dream, a sweet witch antidote to any horror stories and soft White ribbons appear again bow-tied at the shoulders and waist. To the right another slightly similar style focuses on the single fabric again with sprig in hand to symbolise nature and the return of new life to the earth. To the right a Witch that found her knight in shining armour literally. It could be a metaphore for using your instincts to navigate your way through life, but no spells are needed as the light open crochet and layers of tulle topped in feathers speak for themselves.
J. JS Lee

Images credit: J. JS Lee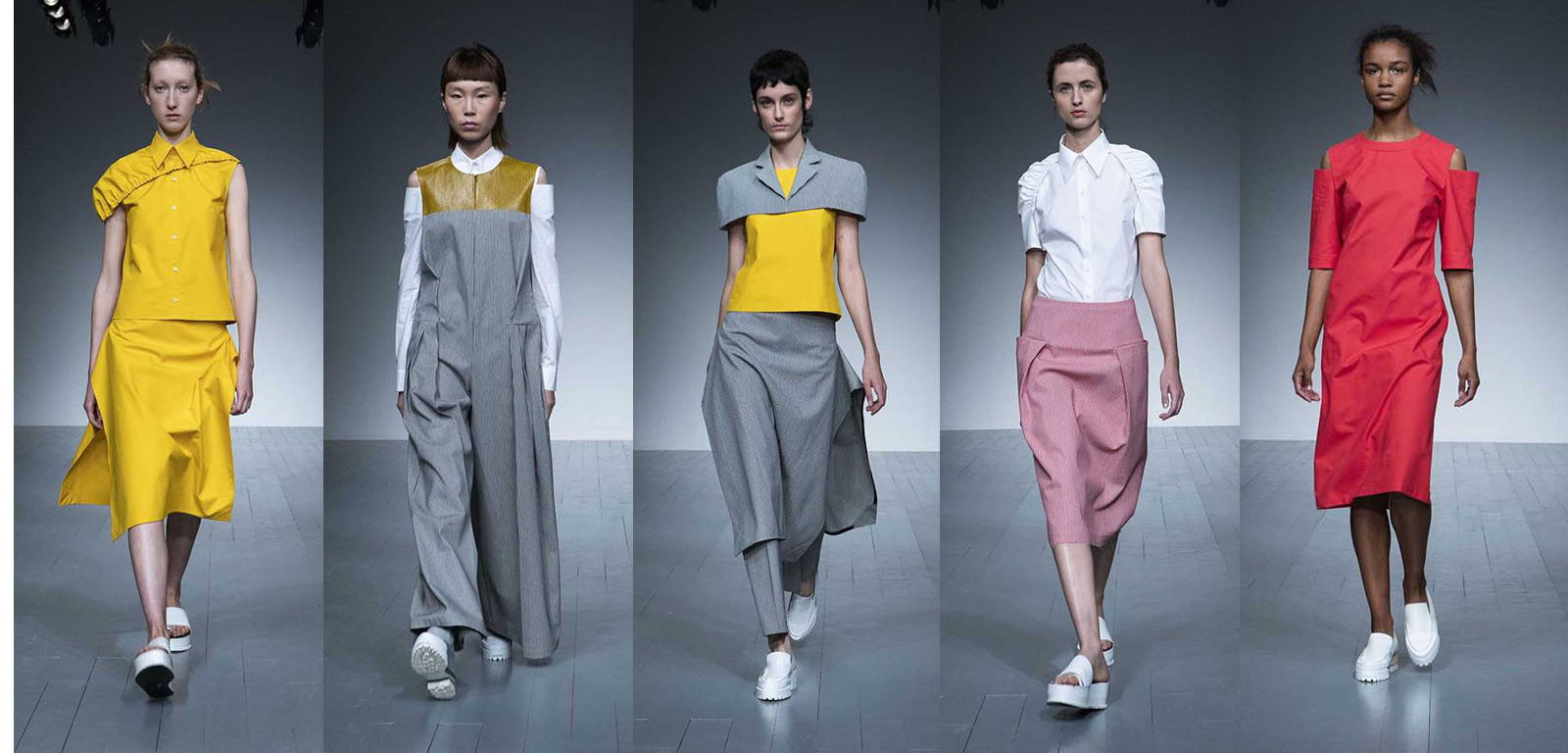 J.JS Lee brings out urban chic looks that can become staples for the working wardrobe as well as for days spent out of the office. Neat tailoring veers away from becoming clinical with clever softening of designs adding feminine touches. A Saffron shirt experiments with the collar and neckline to create a cut-away style sloping across the shoulder. With sleeves mostly cut away, it forms a tunic vibe with a skirt slashed at the side showing the confidence to challenge pre-conceptions. To the right a broad legged one piece trouser suit uses abundant fabric to flatter the figure and create a dynamic professional look. Centre above a boat neckline is created using aspects of the blouse above a Saffron bodice. Using layers as a feature it descends to a dress with pencil trousers concealed underneath. A White blouse with Pink skirt creates a utilitarian office-wear look with deep pockets styled into the outer shell of the skirt. Light and easy for a busy summer day it's very versatile. To the right a Scarlet dress with cut-away shoulders makes a feature of the tube style of design with a seem-less cut.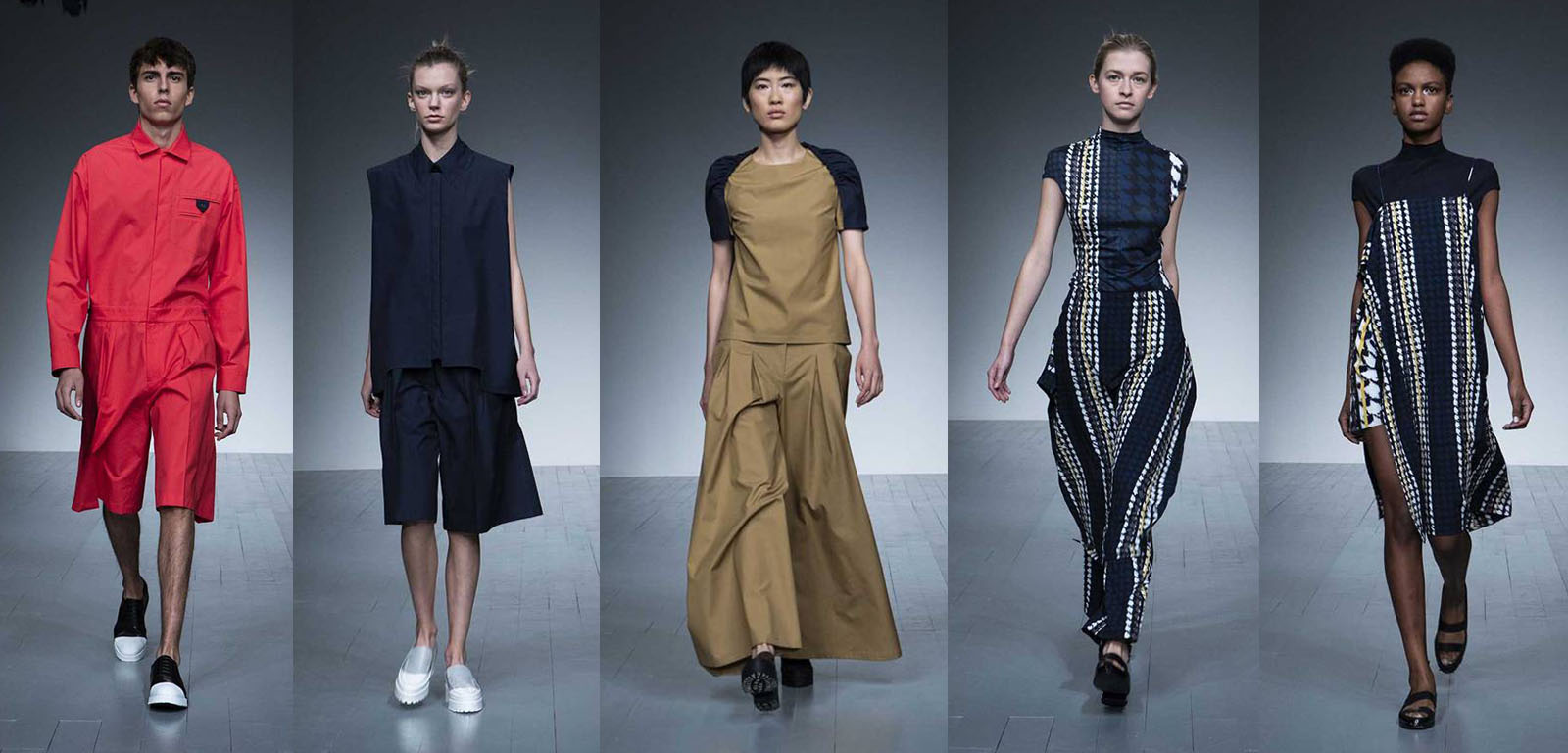 Lee also produces menswear to exacting style and the single piece sports outfit in Scarlet to the left is replicated in a sleeveless Navy two piece to the right worn by a female model. This sleeveless look is flexible for life in and out fo the city and would fit into a clients wardrobe anywhere around the globe. A Khaki vest fringed with Navy Blue trim at the shoulders is teamed with broad culottes to give a gender neutral option for daywear styling. Using block colour for much of the collection Lee swaps to a bespoke pattern for the next two looks shown above in both a vest and trousers and a dress composition. Daring but not too bold, they could work for daytime or casual evening events with the dress and silk vest making a possible choice for the Red Carpet.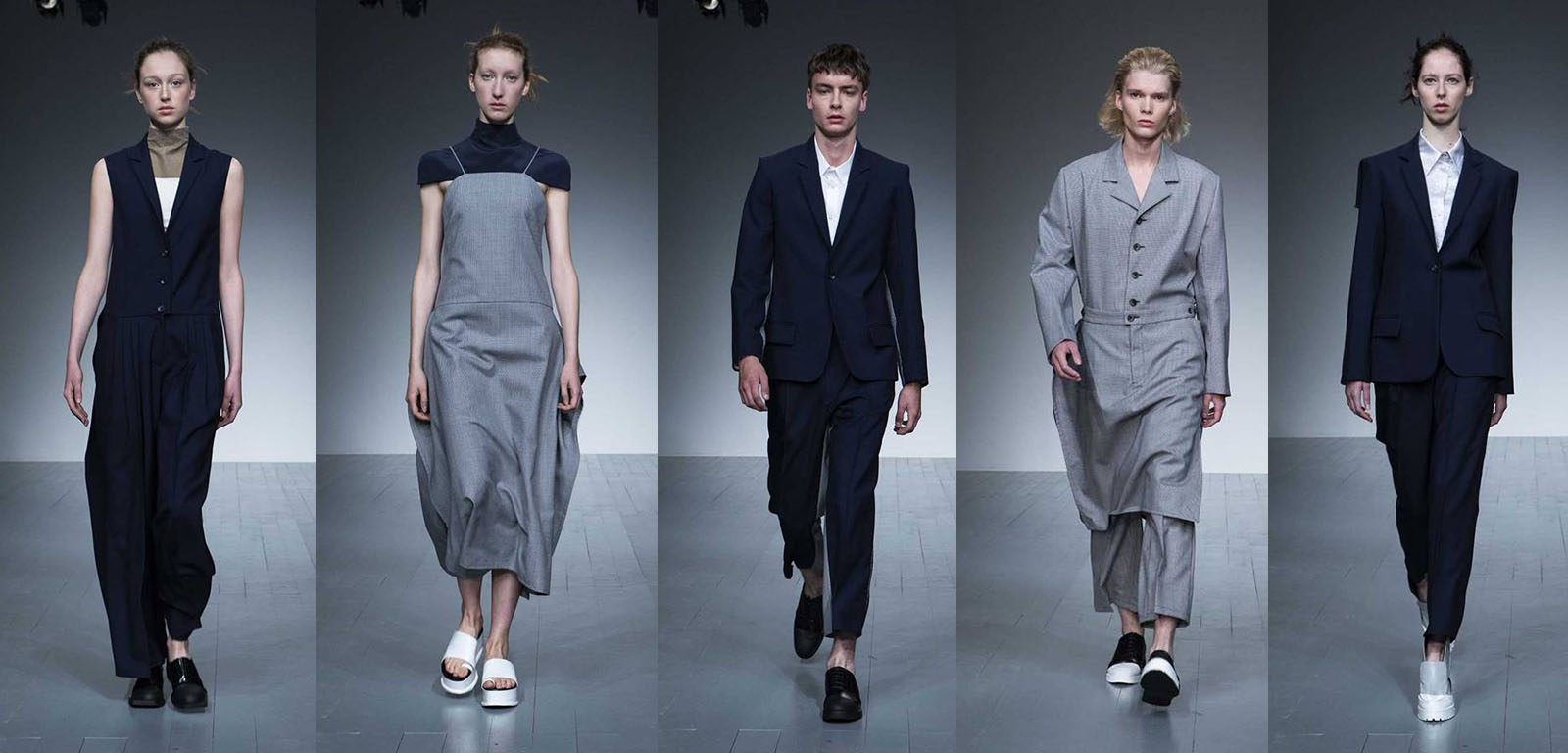 Bringing a sense of the uniform with the disciplined colours of Navy and White a waistcoat the finely folded pleats of the look furthest to the left form a classic simple structure. You can see that Lee has the mind of an architect in her design approach seeing the curves and lines of the body and understanding how to dress them in a flattering sense of concealment. A high collared shoulder covering mini-vest offsets the low neckline of a Grey dress bordered at the waist before flowing to diaphanous broad fabric in the skirt. It's a neat chic statement. To the right three suits worn by male models use gender neutral lines and familiar lengths of jacket to trouser are challenged by a Grey suit employing a shirt-jacket reaching the knees. This challenging alternative style could suit many clients and looks like a chic statement. It's an open minded almost-corporate look.

The collection moves to White with a series of pieces examining volume as well as style and design. Broad palazzo trousers feature again in a silk playsuit cut for ease and two gently figure hugging dresses in White with short sleeves emphasise the adaptability of the styles that Lee conjurs to the working wardrobe. The boatline at the bodice is shown in both sheer and full fabric style with high round collar necklines. It's a look that also touches on the ecclesiastical feel of robes in imagery too. To the right a White silk touser suit features a sheer soft polymer outer jacket as a shield from the elements perhaps of early Spring.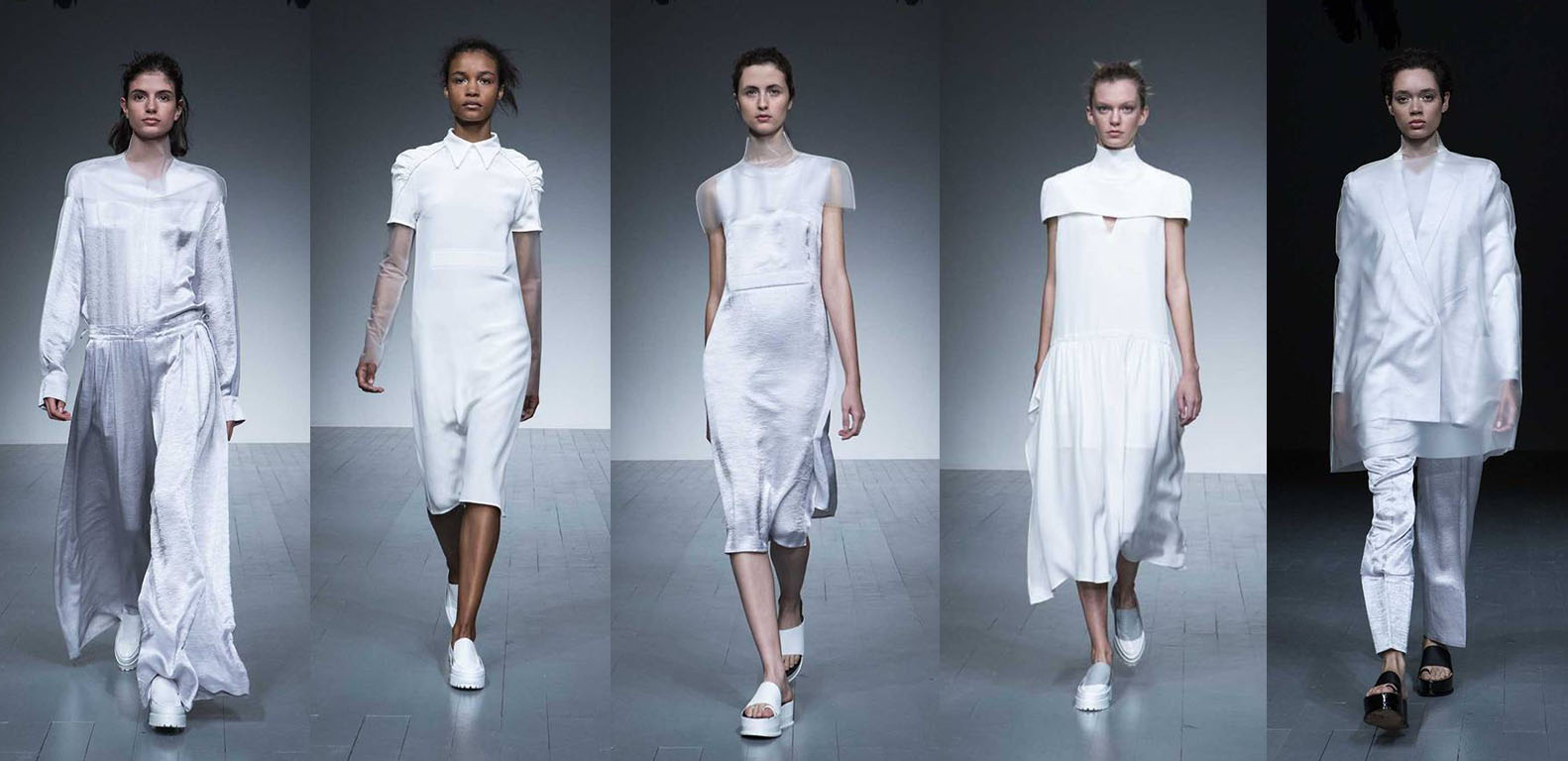 David Koma

Images via: Getty

Georgian designer David Koma has a sense of style that finds beauty on precision. His clothes have a sense of almost mathmatical precision that creates forms and shapes enveloping the figure but never overpowering them. The figures appear to be clothed in in a protective second skin.

Pretty and minimal seem to work well together creating an effortless harmony in Koma's collections. Above to the left a close fitting cocktail dress with tiered layered skirt hugs the figure in stretch fabric. Incorporating a material that catches the light it, brings a hint of disco to the catwalk and set the tone for a coolly energetic collection. A Black silk jacket dress belted at the waist and trimmed with the fringe fabric of the previous look, is a classic eveningwear piece for the dancefloor or parties. Centre above a figure hugging dress with emphasis placed on the waist flatters a slim figure. In this and several other looks, hints of sportswear are present, showing an athleticism as well as beauty.

Colour contrast arrives with a Green skirt belted high at the waist beneath a single shoulder top. A hemline fluted below the knee and rippling around the legs adds volume to contrast the sleek line of the upper outfit. Again this creates a contemporary silhouette with the cool international feel that Koma is respected for. A blazer dress shows soft conformity with belt and buttons at the waist tying the look to the figure along with experienced cut. Although corporate in look, it's feels relaxed enough for social events. To the right, a White dress with cut away oval at the waist again references the sports mood with stretch fabric descending to a peplum hemline emphasising movement as the model walks.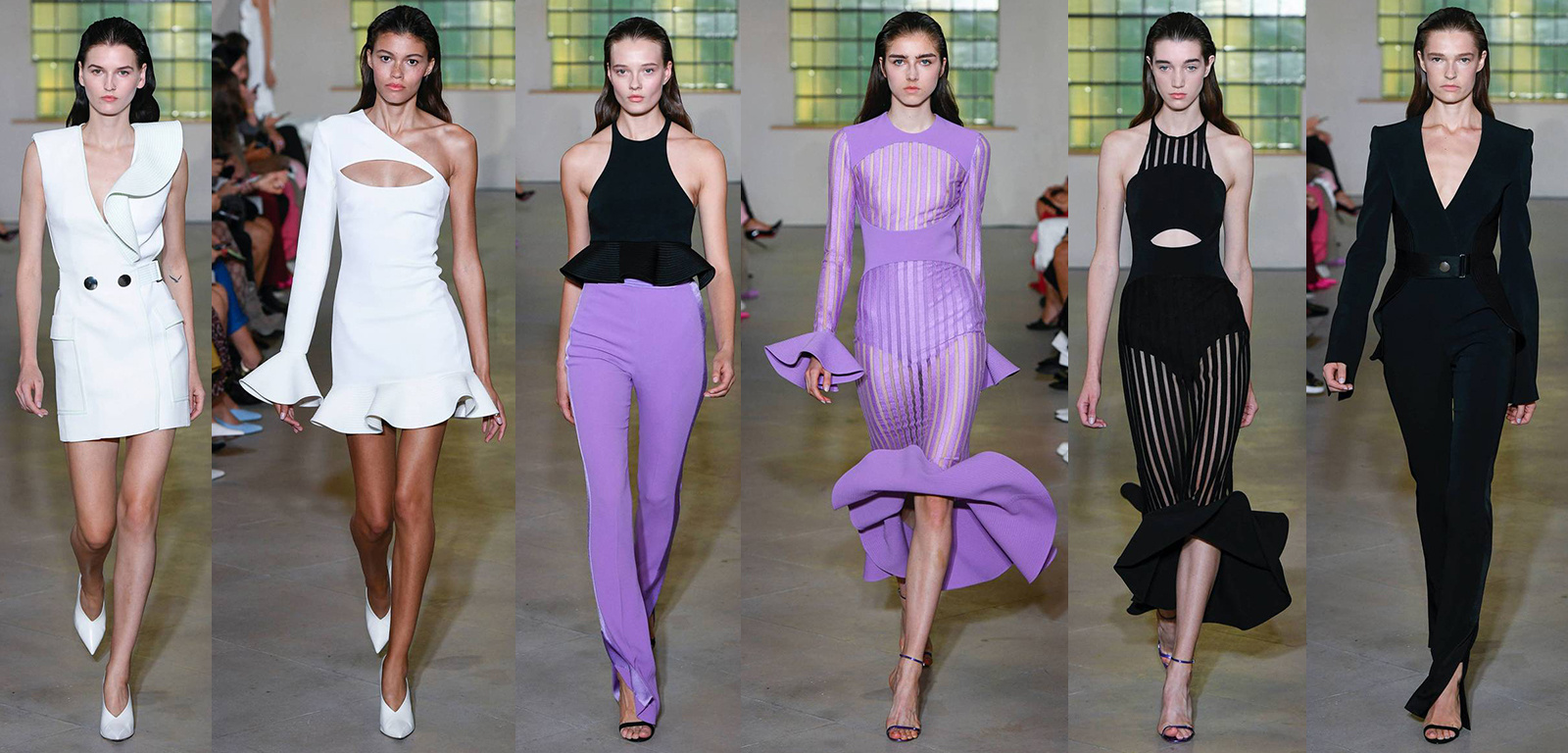 Peplum detail at the left shoulder of the jacket above adds a new line to the sleeveless jacket dress. A set of two buttons and deep pockets nod to the traditional lines of tailoring. Peplum is a large feature of this collection and a single shoulder dress incorporates a peplum cuff and hemline with the elliptical oval presenting the neckline in a bold style. Moving the colour scheme forward to Lilac and Black. A Black silk peplum fringed top sits above Lilac long lines trousers. With their side stripe they also have hints of a sporting or perhaps military feel. Hugging the figure this is a versatile look for social receptions and with jacket, possibly also for working corporate environments in the warmer months. Two dresses in single colours of Lilac and Black to the right are perfect cocktail and Black tie choices. With Sheer and opaque panelling, both a sleeved and sleeveless option, circular peplum hemlines appear to open like flowers emphasising a slim figure. A Black trousers suit with deep cut neckline is cut with a men's traditional tuxedo line dipping behind the wearer. With trousers slit at the ankles, Koma uses a style tweak on tradition to continue the length of line, allowing greater freedom to the wearer.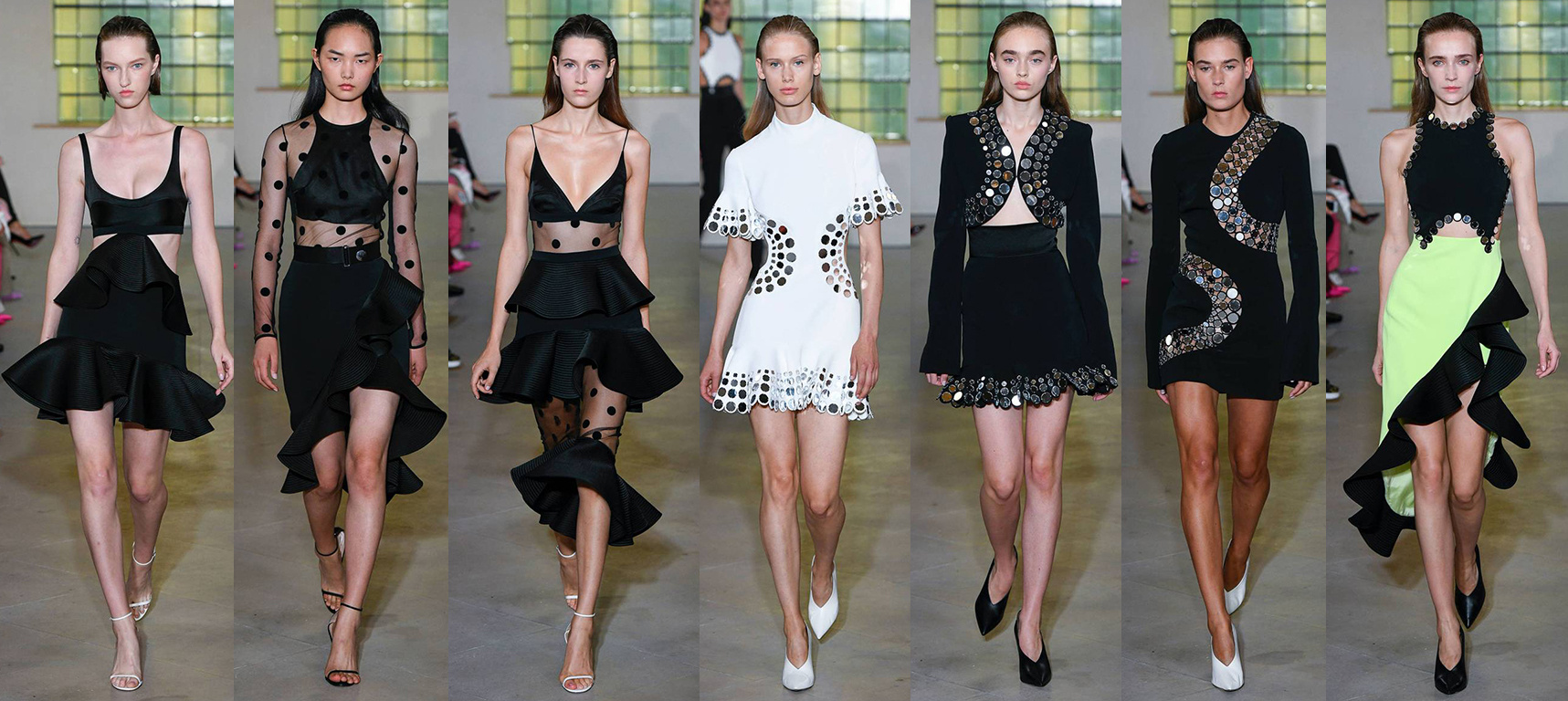 For chic sassy cocktail dresses, this collection is hard to beat. Above three looks play with the cut-away waist design to highlight the slim waist and healthy figure. Silk flows across the figure with peplum hemlines supplemented with flourishes of fabric at the waist. Necklines modulate from scooped to halter to V in perfectly cut silk. Sheer gauzey silk with large polka dots add a texture and feature contrast to the styles. Polka dots have popped up again as a style note that will be featuring in collections for next season and these pieces will work magic on the Red Carpet and at private receptions. Giant sewn sequins mirror the curves and lines of the figure arching round the hips, jacket borders and hemlines in the next three dresses. The theme of circles and light captures female energy and fun in a mesmerising way. Mini dresses and a mini skirt and jacket combination create looks that feel strongly inspired by art. To the right giant sequin discs border a bodice above a contrasting skirt in Lime with Black peplum trim at a diagonal hem. With hints of flamenco and Iberian charm this look also possibly recalls traditional central Southern Russian and Caucuses clothing and creativity.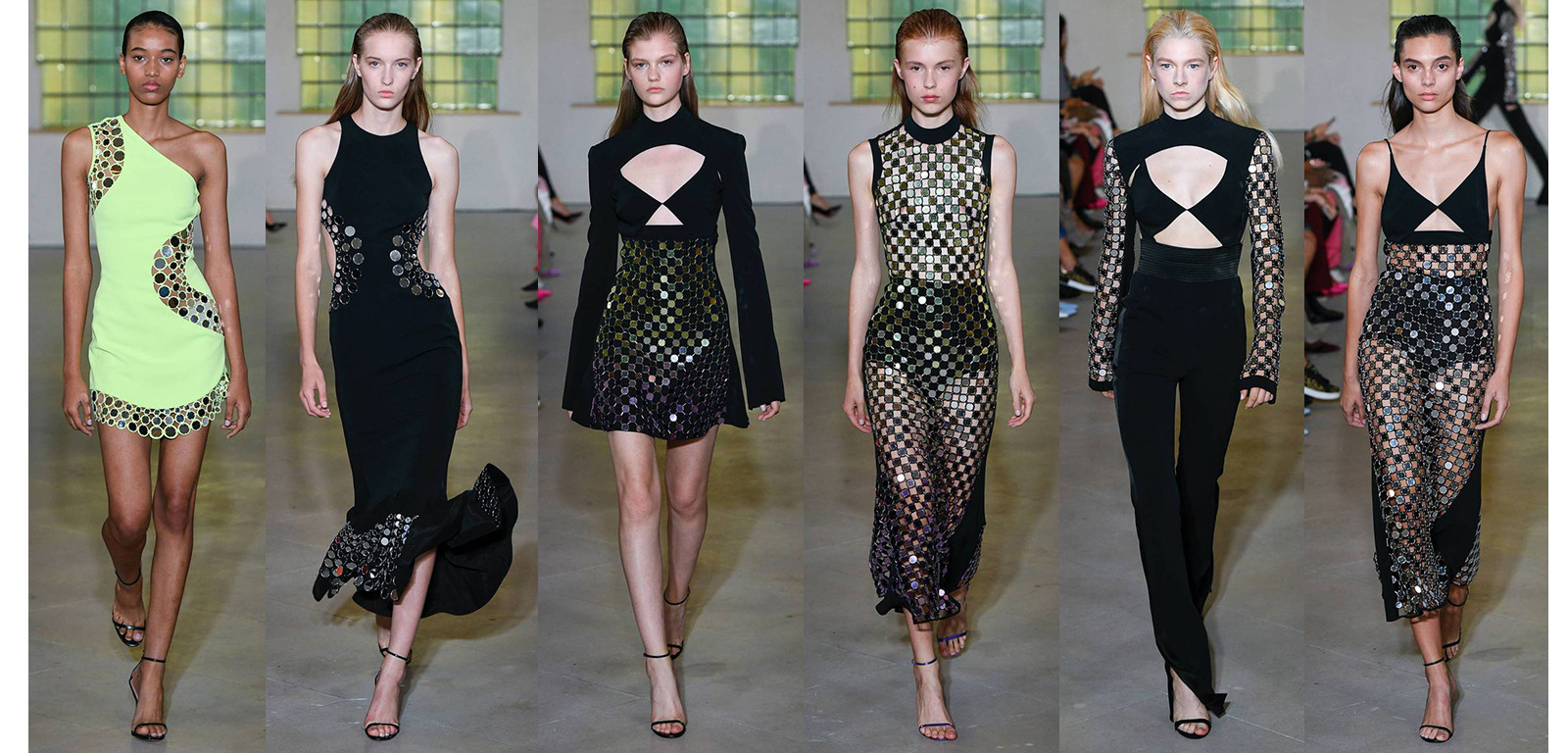 Mirrors continue to weave, even snake you might say across the surface of dresses with a Lime mini-dress featuring triple layers of reflective coloured discs in clever formations of shrinking and growing in size. It's a look that would literally light up in front of the cameras and on the dance floor. To the right the waist is hugged on either side by panels of sequin discs in a cut-away look that makes the waist appear even slimmer. A generously cut peplum hem beaded with sequins on the exterior also creates an effect of light bouncing as the wearer walks. The giant glass sequins take on a chainmail appearance when sewn into a continuous sheet and centre above they form the skirt of a mini dress and the main body of a long sleeveless dress. Becoming a fabric in itself the tessellated material moves gently as the wearer walks. A diamond cut in the bodice of the dresses above is a pretty feature but I also think is a symbol of the strength of the woman within. These are pretty classical looks that have a fresh appeal and with a strong global client base, we're sure to see many of them around next season.