As spring moved towards Summer, I was working on several communications projects as well as looking at how Spring styles where feeding into what people have been wearing around the capital and out across the country. With a couple of small breaks in the mix, I've got a mixed group of features covering fashion, travels and some beautiful antiques.
Ascot and Summer Season style

I was delighted to pop along to see the lovely Nicky Malone and some fantastic brands that she represents in the Spring and just ahead of the Summer Season. Milliners Sarah Cant and Juliette Botterill where joined by leading British Couturier Claire Mischevani. All of the ladies provide wonderful pieces for clients through the year but there's something about spring time that gets the pulse racing and invites a closer look at finding new pieces for special occasions on the horizon.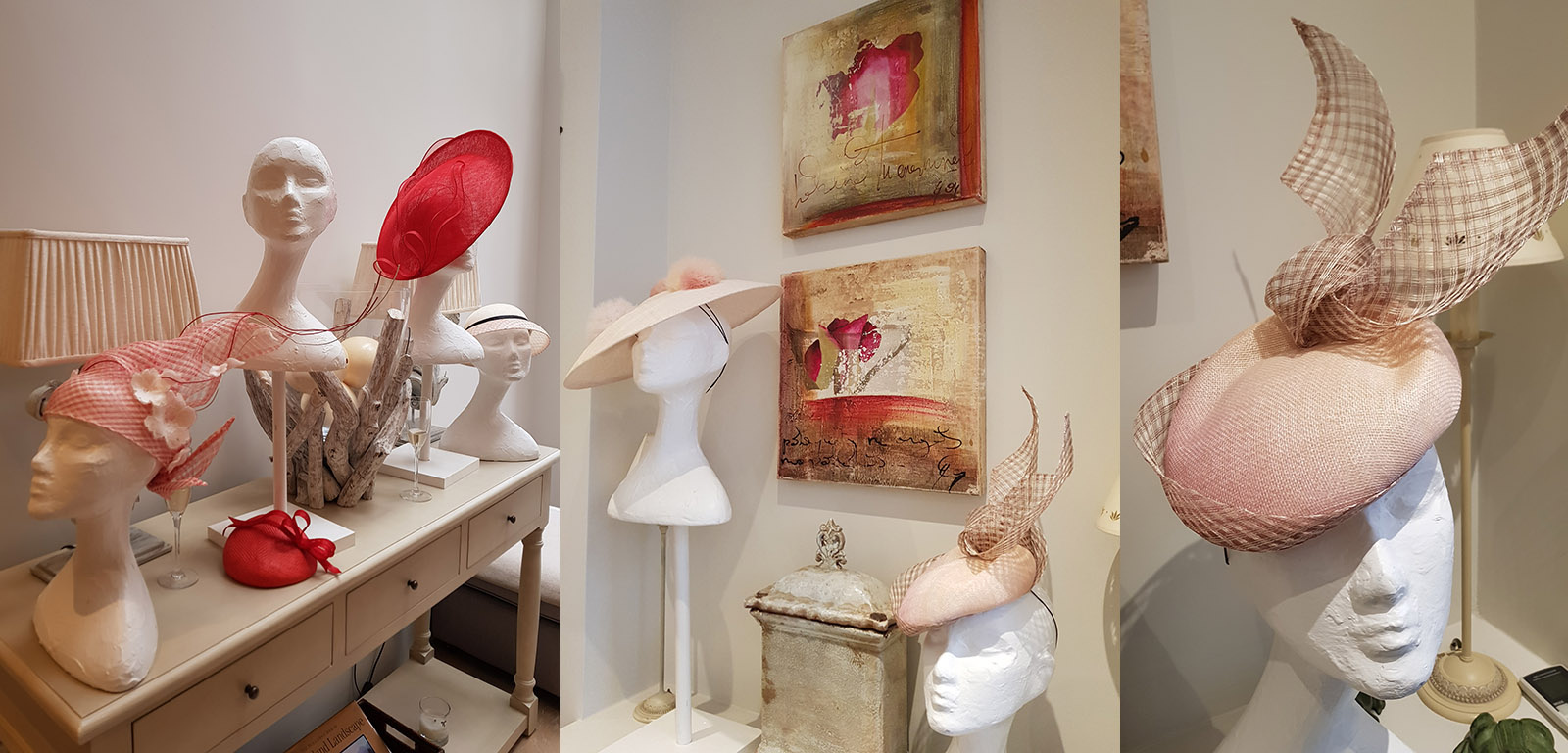 With the summer season approaching the options for late Spring and Summer formalwear outfits where pretty much foremost in many people's minds. Sarah Cant is an American milliner now settled here in the UK who provides beautiful and inspiring designs for clients around the world. I found that her collections had the feel of being grouped around colour and as well as shape styles. When she's not busy creating bespoke pieces or additions to hear seasonal collections, Sarah is also busy teaching a new generation of students the art of millinery to help preserve this branch of the fashion industry.

On a side board in a peaceful sitting room as series of looks you can match with outfits of great variety. The dual themes of a deep Coral Red and an off-White seemed a popular combination. First above to the left a swirl perhaps recalling the spiral magic of a magician's hat circles from the crown to the left side of the wearer's head in delicate trails of beauty. Small hats that almost seem like an enlarged designed crown are always a popular idea and they suit many face shapes as well as being one of the popular options for people who think they are 'not a hat person' although this is not really true, anyone can wear hats. Soft bowed ribbon like ties on a Red and Sugar Pink add simply sweet statements that capture an almost musical harmony around the figure of the wearer.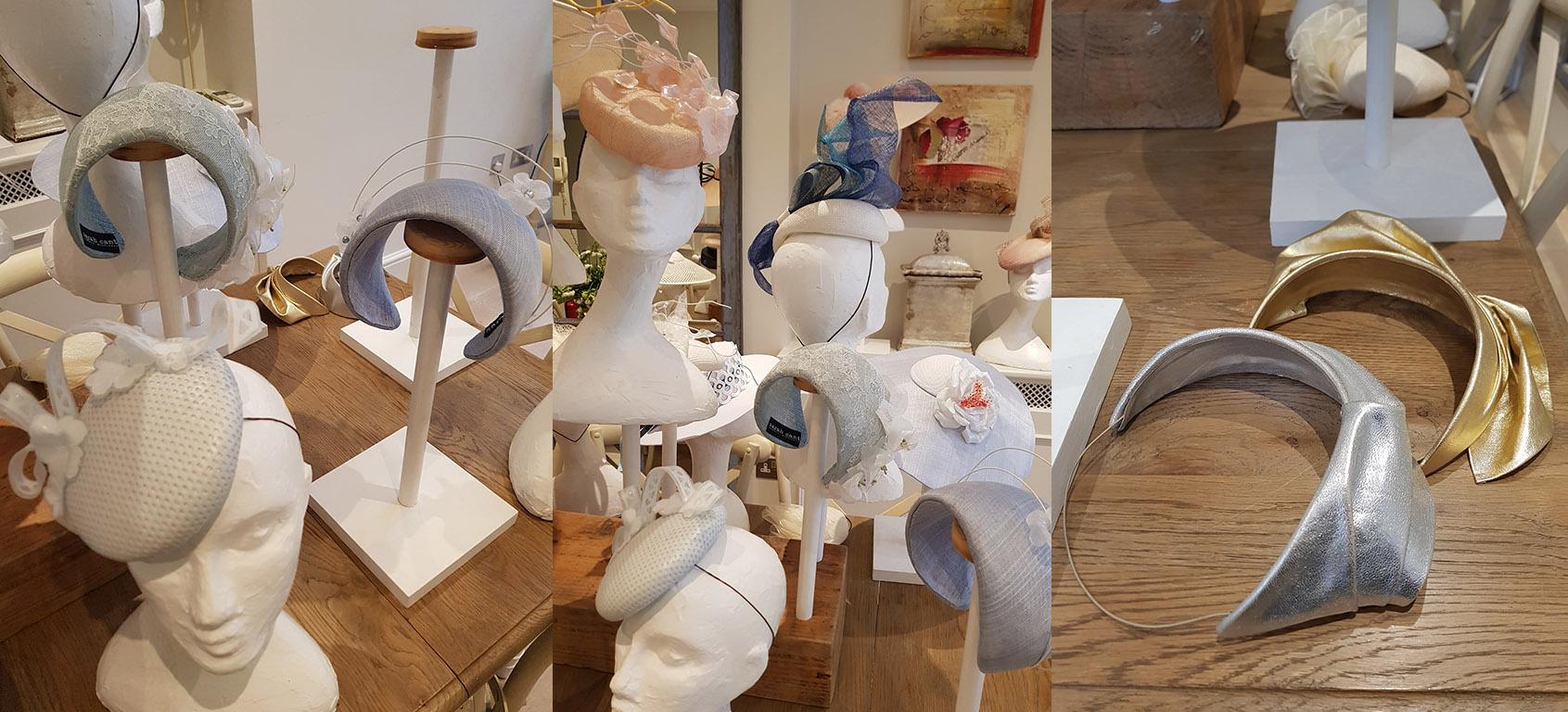 Headbands have become a popular option in recent seasons for clients and for some people cautious about choosing a hat style, it's another option that has answered that hat question. Above two Ice Blue headbands are flattering and versatile addition to an outfit and could be worn during the day through to evening events. One is trimmed with lace and another simply has the single fabric as it's central feature. Swapping colours and fabrics gives the hairband form a trans-seasonal adaptability that can easily take in a winter wedding, christening, race meet or be enjoyed whenever you step out. Features such as feathers and quill-like long spins across the surface of the piece add another dimension.

Small crown hats in Dove-White, Blush and Navy are also accented with scrolls and flowers show individual twists to the design of outfits that make subtle additions to any wardrobe and look. As with all these pieces, the looks can be created bespoke to colour match with specific garments and these pieces on display are very much templates of what can be created for clients. There's no set menu in fashion and you can and should always try and create your own style. To the right two metallic headbands with ear-like bows could add some shimmer to evening wear looks in the autumn as well as daytime looks for the Summer.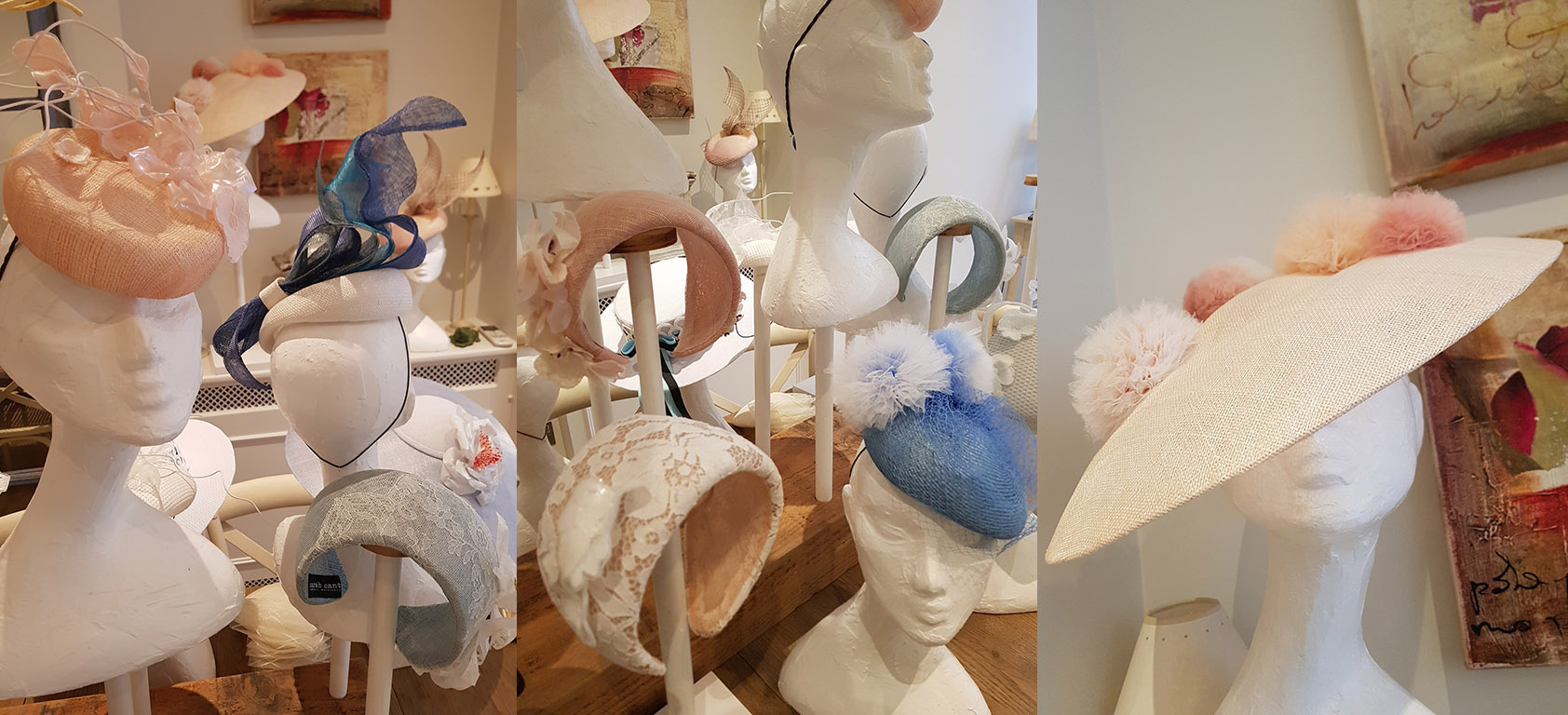 Above you can see a variety of pieces that highlight many of the different styles that Sarah has turned her attention to this season. Broad brims are styled with slender ribbons, pompoms or flowers. Two more Blush Pink head bands come into view, again one with lace and another with a floral flourish on each side of the band. The latter was picked up by Hello Editor Rosie Nixon and I could see it was a perfect match for Claire Mischeveni dress she was also considering for Ascot with myself, Nicky and Sarah enthusing about the combination this may have guided her to wear the combination for Royal Ascot in the Summer.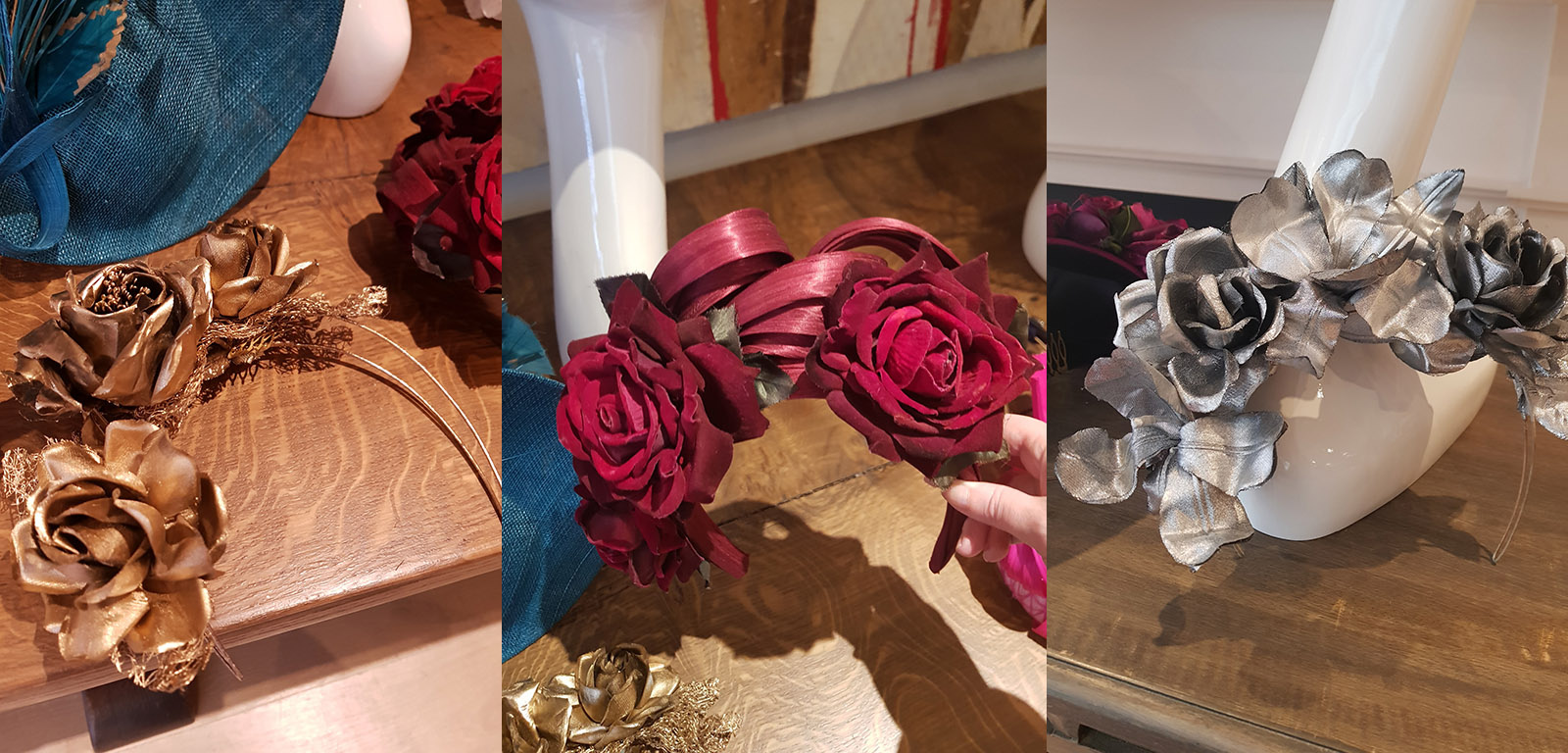 With her own unique style fingerprint Scottish milliner Juliet Botterill crafts pieces that are elegant and express a definitive style statement. Pieces are crafted with two style expressions of form and colour. A trio of headbands crown the wearer in Silver, Gold and naturalistic Magenta with Rose petals folding back in overlapping layers with Green foliate leaves hidden underneath. These are pretty pieces packed with character that will turn heads and capture the right kind of attention at a distance. Above to the left an Ice Blue hat off-set at an angle features a flourish of a small bouquet of flowers both above the crown and below the rim. To me it looked rather Scottish in a way and I believe that a variation was worn to the Royal Wedding in April 2019.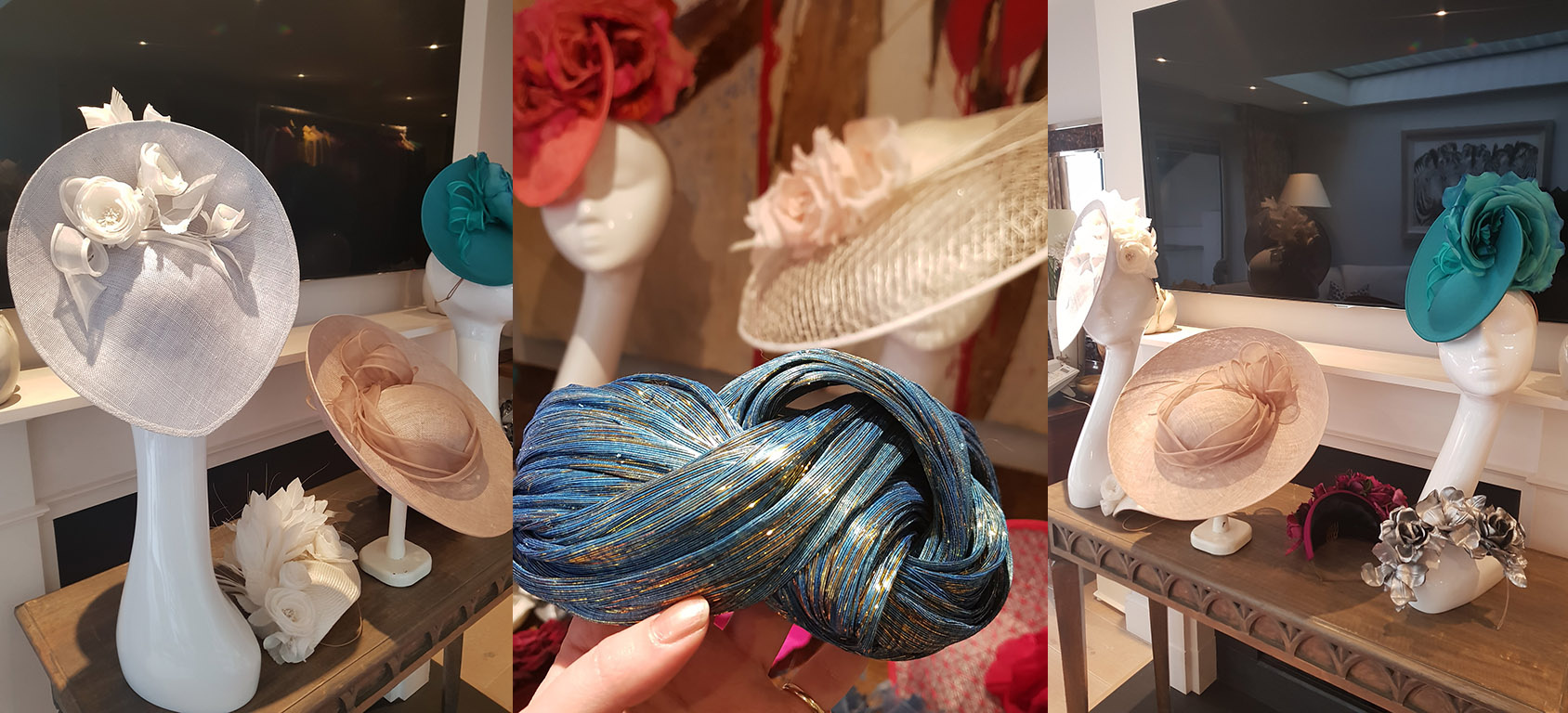 Another beautiful hat with a broad brimmed style that sits on the asymmetric angle rather like a bias cut dress' fabric flatters the natural features of the face with it's angles. The Crown is encircled by wisps of gauzey ribbon curled into floral shapes creating a beautiful optical illusion before the eyes. It's soft colour can be dyed to a shade to match the outfit that your wearing to make a truly original hat that you will treasure. A small fascinating Cream-White crown hat is plumed with feathers and Roses. It's a delicate look that captures the essence of the beauty of a British Summer. Centre above in my hand a swirling twist of Aqua-Marine with Golden sprinkles entwined. It's a simple crown band that would look wonderful with a number of different looks and also be dyed to a bespoke colour. A broad brimmed Blush hat is roundly crowned with an asymmetric brim circled loosely with ribbon curled into floral shapes.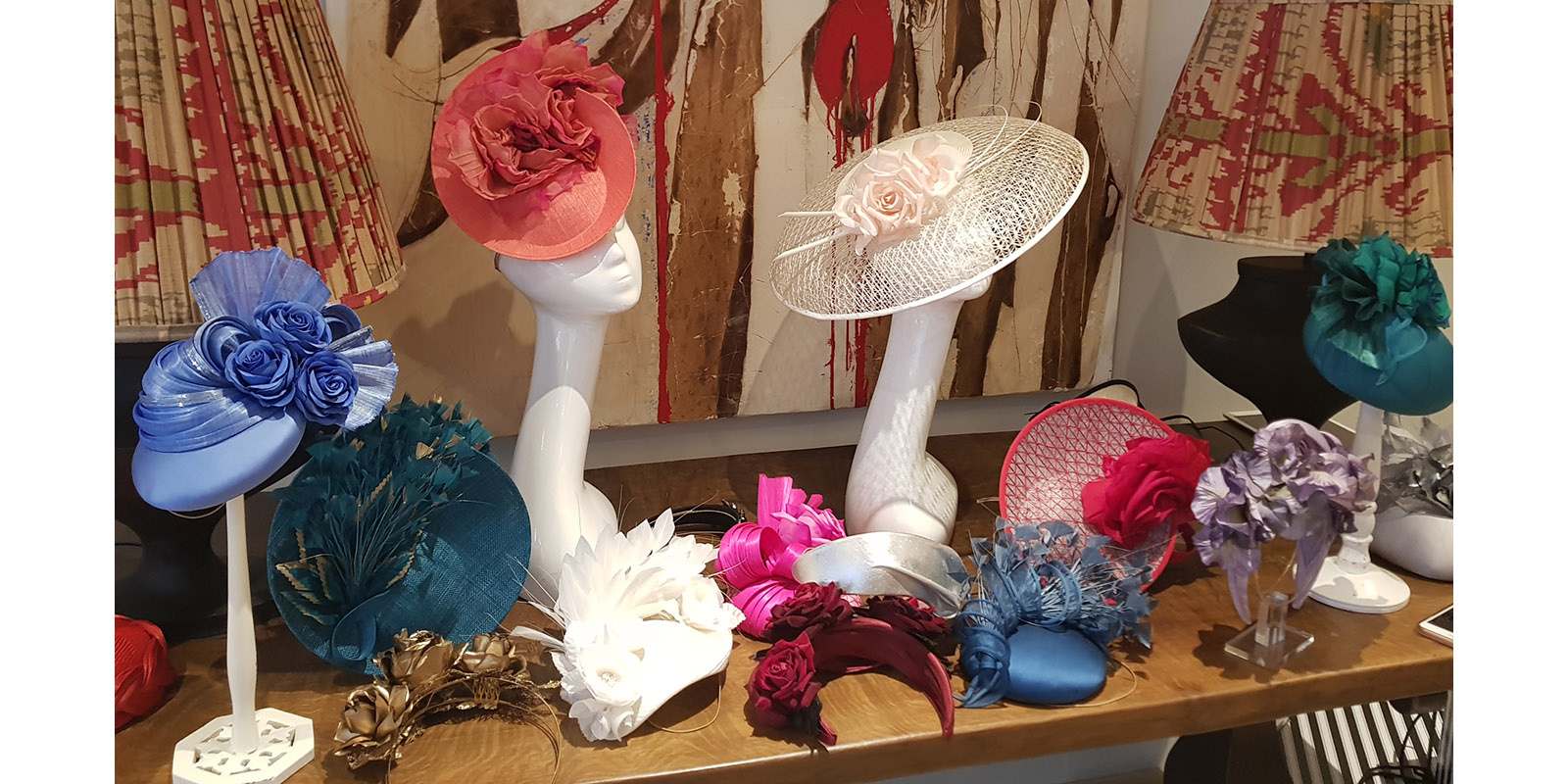 The beautiful array of colour in Juliette's creations one of things that strikes you with her contemporary Sarah, she offers a contemporary collection of shapes that can be taken as is or dyed and re-sized to individual needs for coordination or styling vision. It's captivating enough.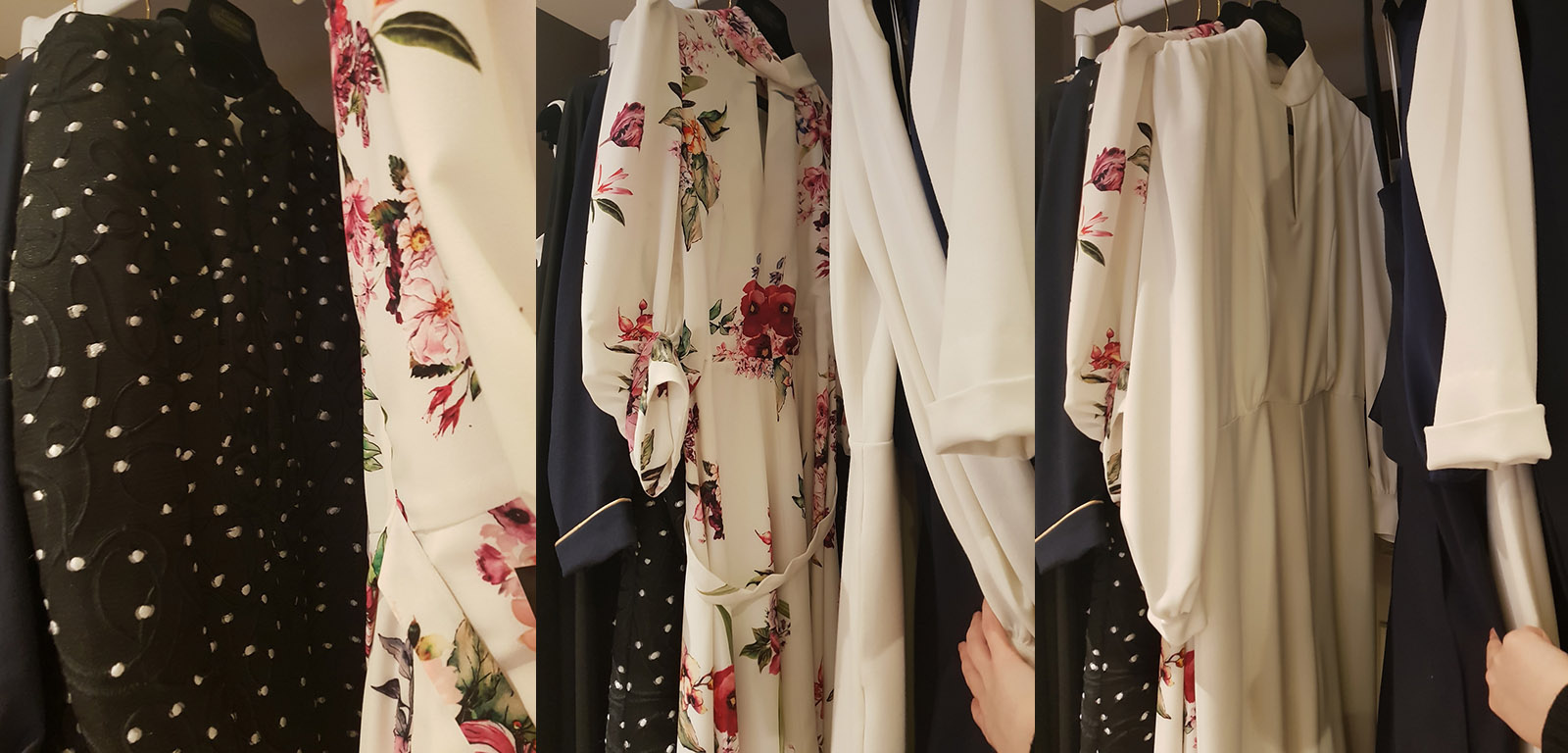 Claire Mischevani is a designer who creates beautiful ready to wear and haute couture for clients across the world. It's good to know that she maintains her atelier in Shropshire whilst also seeing clients in a studio in central London. Her collections and bespoke repertoire offer a vast array of choice to clients across the generations. Day wear, occasion pieces and evening dresses are all easily accessible for a variety of different figures and moods. To the left a Black coat dress swirls with floral curves dotted with White buds. A Cream-White silk dress is strewn with summer time flowers. Bright poppy flowers welcome the bright sunshine of summer and recall country fields and lanes strewn with wild flowers. It's characteristic of the skilful cut of the gentle flowing fabric that Claire is admired for and will slip easily into the wardrobe as a piece that can be worn alone or easily accessorised with a light jacket. A dress, I believe cut in White crepe silk, above to the right and shown briefly in the centre is one of chicest simple classics you will see around anywhere with a subtle reference to the simplistic linear lengths of the 1930's and 1940's. It's one of the most versatile, classic looks that could be worn across seasons and worked into other colours. As a Summer classic though, it's special find.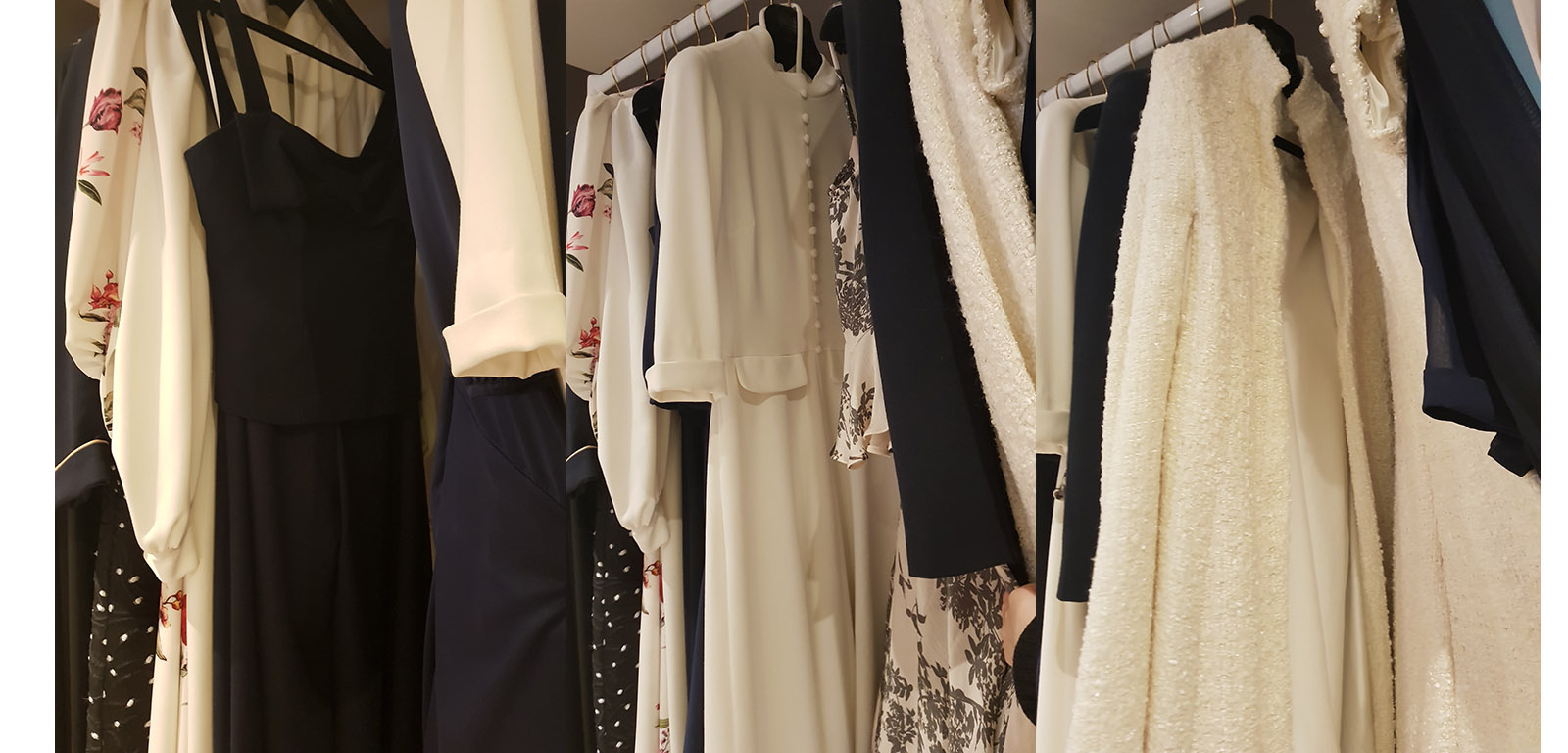 A Black bodice and dropped length skirt create another one of the easy to wear staples that Claire's clients rely upon to place in their collections. It can slide easily from formal day to evening wear and a piece in monochrome can also move between seasons as required. A broad bow across the bodice adds a subtle touch of prettiness whilst being fully grown-up enough to create a beautiful presence at any special occasion this season. A Cream-White dress features the definition of the front lines of a blouse with front of hip pockets and hints at a bridge from working day wear to a look you can take to drinks and dinner. To the right the classic boucle knit weave coat offers a stunningly crafted piece in a neutral tones that will work through a wide number of styling ideas. This is also another piece that could live on through the season into autumn. This light coat will blend easily with a jacket or dress for the day or early evening.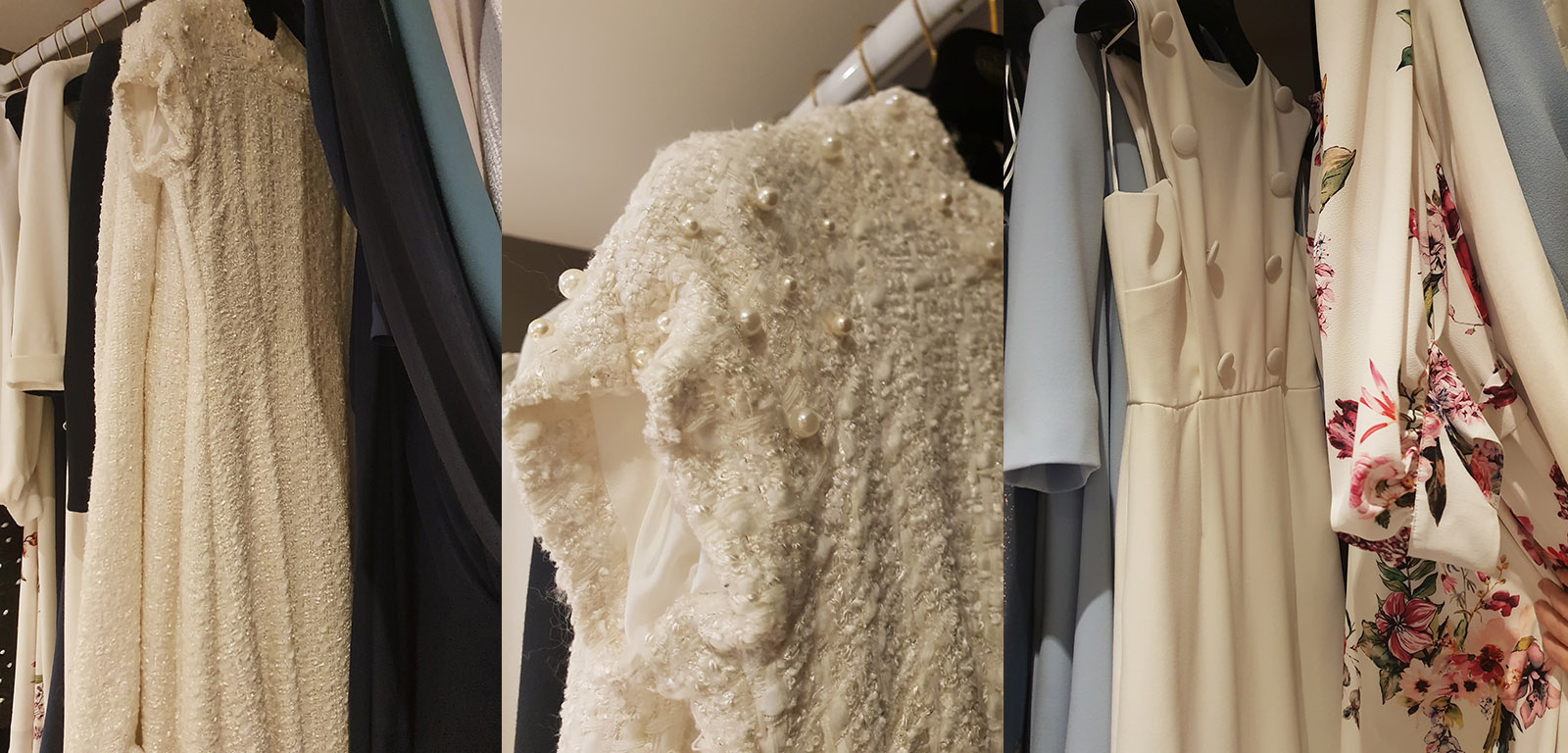 To the left above, another piece works in Cream-White boucle tweed with pearls sewn through the lengths alongside thick yarn highlights in the dress. It's a perfect accompaniment to the light jacket in the frieze above but as a stand-alone garment, it's absolutely beautiful and a piece to treasure. Cut with the softest panels, this dress is cut bespoke gently to run the length of the figure with a flourish. A close-up shot centre above showing the detail of the fabric at the shoulder gives a lasting impression of the touch-friendly fabric woven with exquisite care. To the right broad buttons display a confidence that also shows a tiny bit of humour and this look looks good as a stand-alone piece or an easy match for a light summer jacket for more formal settings. It has the hint of uniform without feeling too conformist.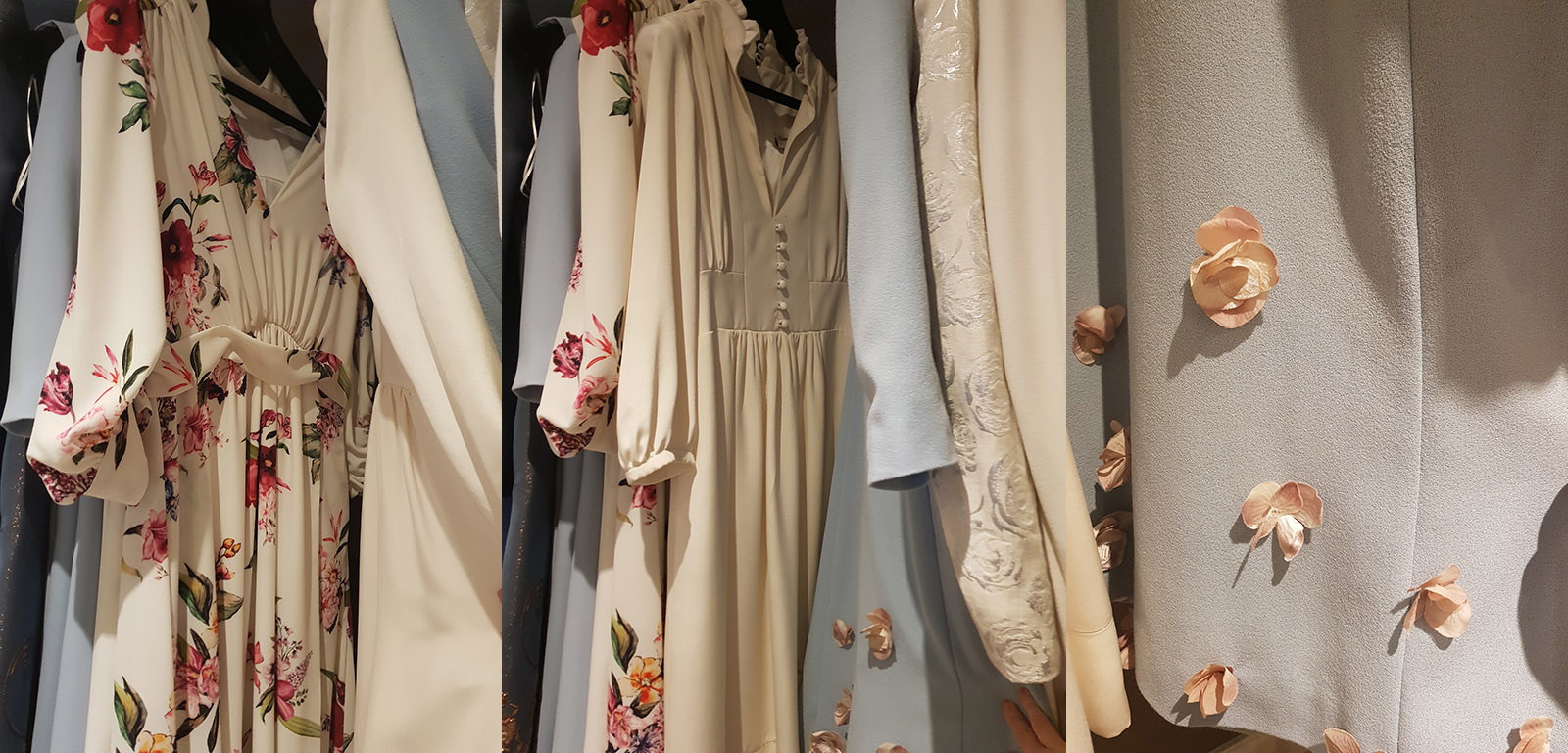 A floribunda of blooms strews the surface of a Cream-White crepe dress that could be worn to super-formal days like the Races, weddings and smart summer parties with jackets and hats or dressed down a little for lunches or afternoon tea's with friends. Drawn in subtle, simple lines across the figure with a broad sash-tie around the waist, the dress is cleverly designed to flatter and suit different figures. Another Cream-White dress flits into the frame with a button details through the chemise of the dress and above a broad waist band with pin-tucks gathering fabric around the waist. To the right sit coat dresses on the rail showing the imaginative variety of the collections Claire brings to her clients. In close up you can see a powder Blue coat dress with Peach-Rose coloured flowers in applique.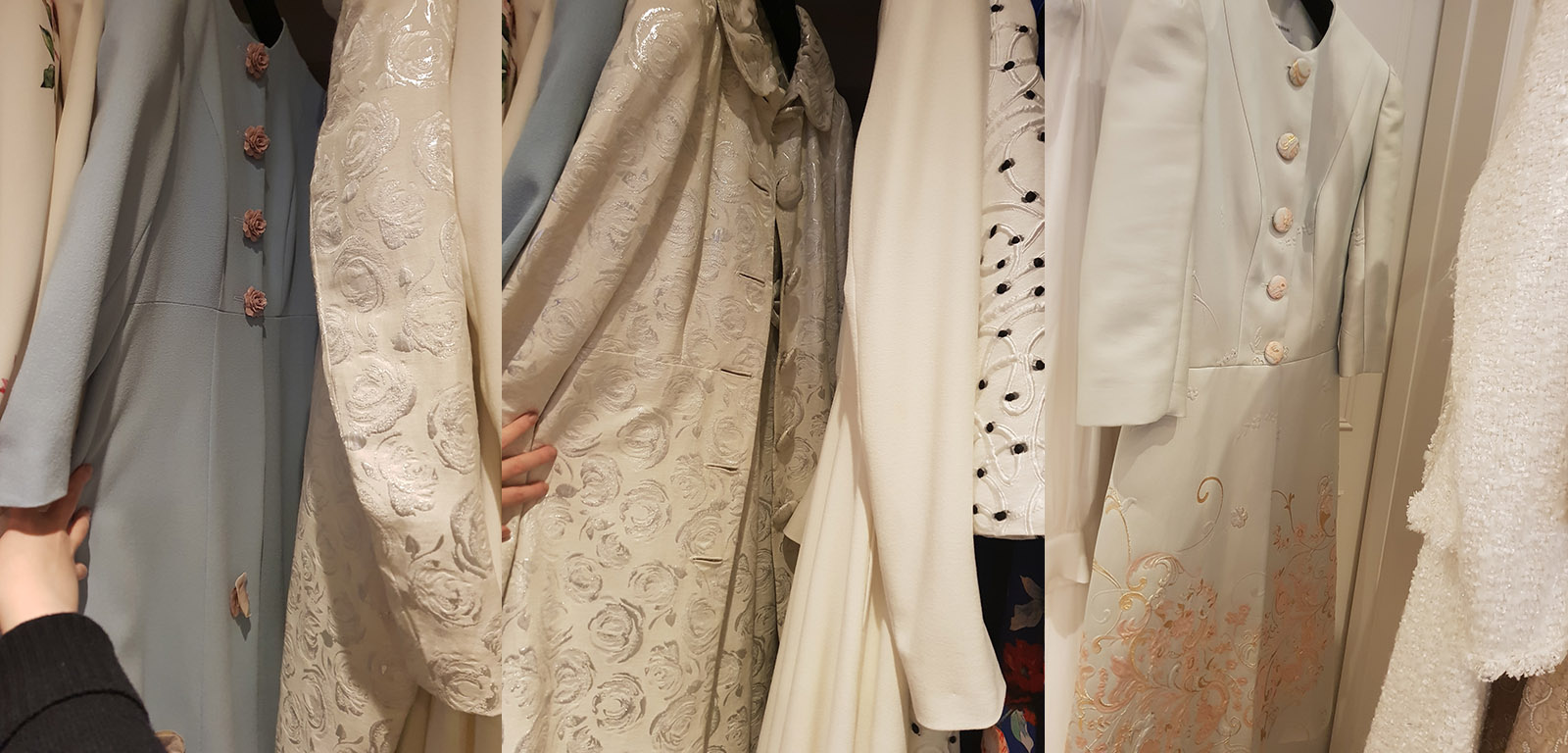 Above you can see the coat in full with enamel Rose buttons closing the garment and soft petals falling through the lengths. Dressed with a hat, or without for less formal occasions, it is a beautiful occasion garment. The Rose appears again in pristine White fabric running the length of jacket in soft applique mirroring the soft strokes of water colour painting. Large round buttons and a gathered frill collar hint at vintage inspo' but this is a piece for this season and makes it's mark with flair. As with all good classics, it could be genuinely worn by women across several generation in a family. To the right an Iced-Blue/White coat dress features panels across the jacket bodice of the garment creating a triptych look and raised applique at the jacket descends to a midi-length skirt with peach blossoms and stems scrolling across the surface like a Rococo dream. This is another easy suit to blend into the wardrobe.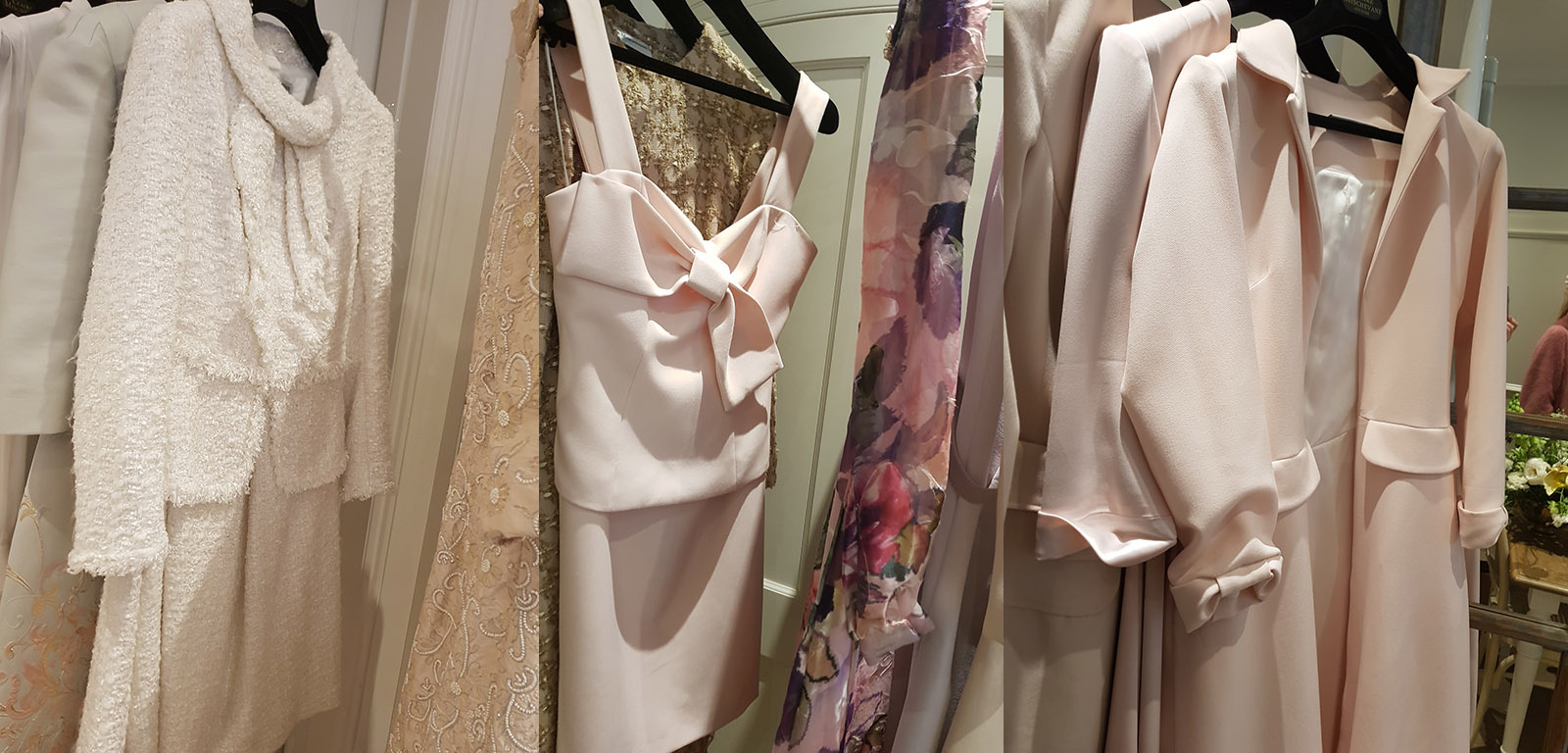 A classic White boucle weave skirt suit sits in pristine composure on the rails with a simple sash roll neckline and wrap over tie. It's flattering cut with again make this one of the go-to staples of the collection. The skirt is expertly designed to give movement but be proofed from rising in the breeze. You could easily match this set to a contrasting or coordinating hat and purse combination. Centre above, one of my favourite looks on display, a Sugar-Pink dress with sweetheart bow at a dipped neckline creates a classic elegant look that could easily be worn to cocktail parties as well as Red Carpet events. To the right a light Rose-Pink coat dress is your answer to covering those shoulders and arms on cooler evenings or to take out to parties that will see you out under the stars or the light of dawn.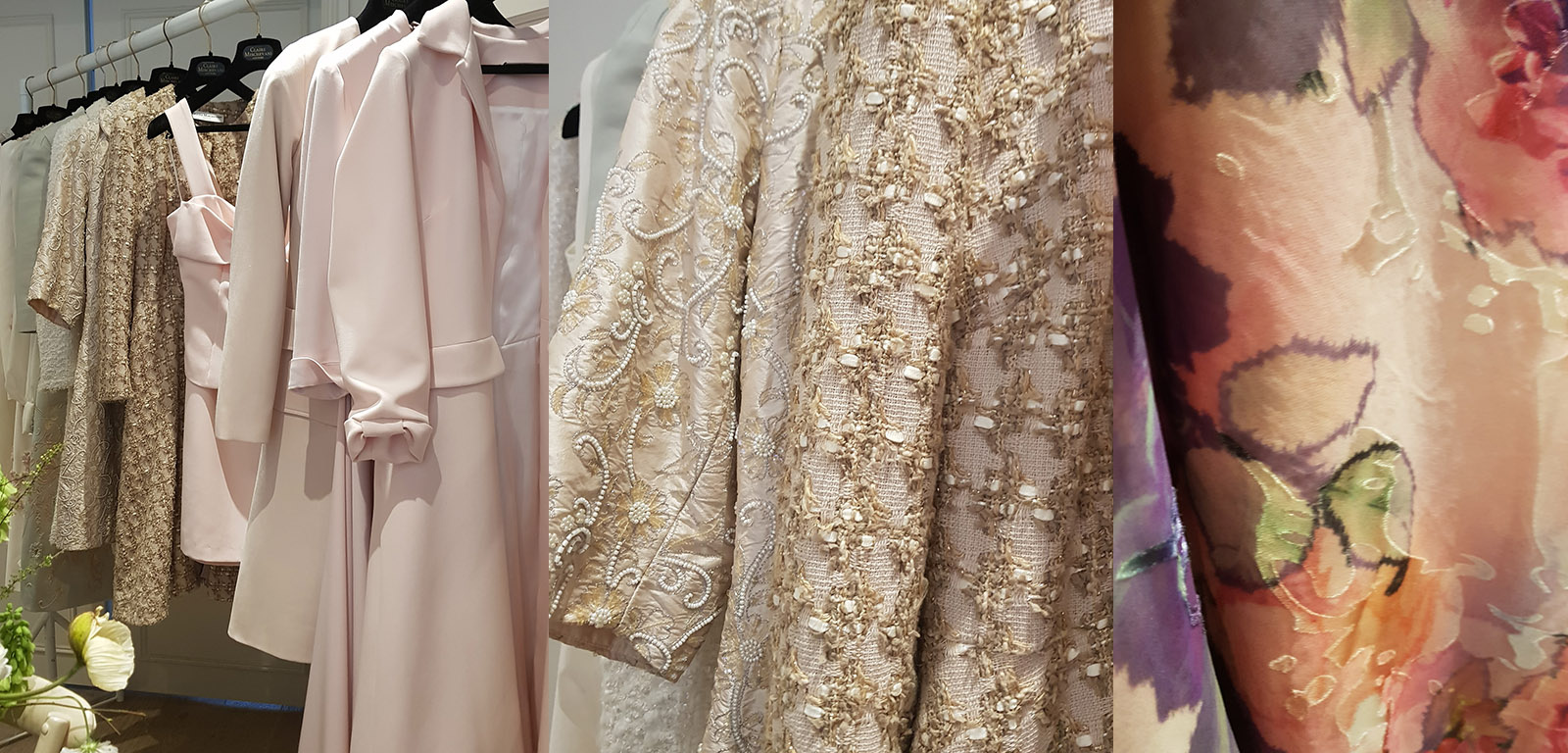 To the left above a rail-shot encapsulates the beautiful contrasts of the collection from smooth fabrics in soft pastel to the richly embroidered jacquard that brings hints of the Rococo to the whirl of the Summer season. Above centre you can see some these fabrics in more detail through the sleeves and body of the coats. There's something captivating about the textures and warmth. To the right, the passion of Summer colours, in dappled water colour shades from a seasonal dress. The colours create a look of easy elegance with a layer of mystery and intrigue running across the surface.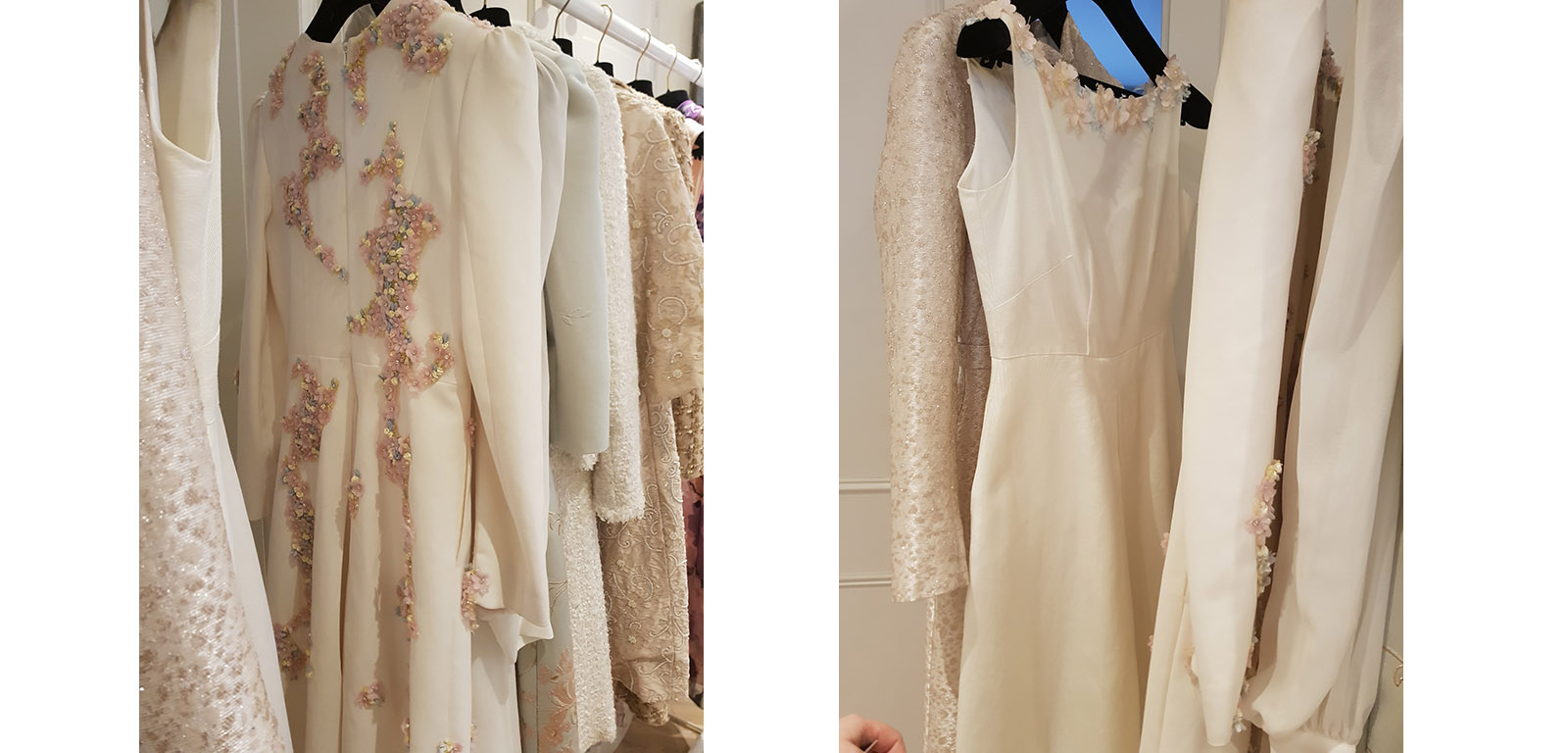 Claire creates magical applique and her enjoyment of these details is very apparent. Riverlets of coloured flowers falling through the length of a White jacket and bordering the neckline of a pristine White dress shows how a simple flourish of colour can make a neutral classic a unique look. Bright blooms of neon sunsets feature in a coat dress below cut to classic mid-century lines with hints of the Victorian. It's a beautiful eye catching piece that would stand out at feature Race Days and at Summer Christenings and Weddings but most of all it's a reminder that ordering bespoke can and should be fun and working with the designer you can create a personalised, memorable look that will be part of special memories. On the rail below, you can see more of the bright colours that Claire has evoked this season with imagination and flair.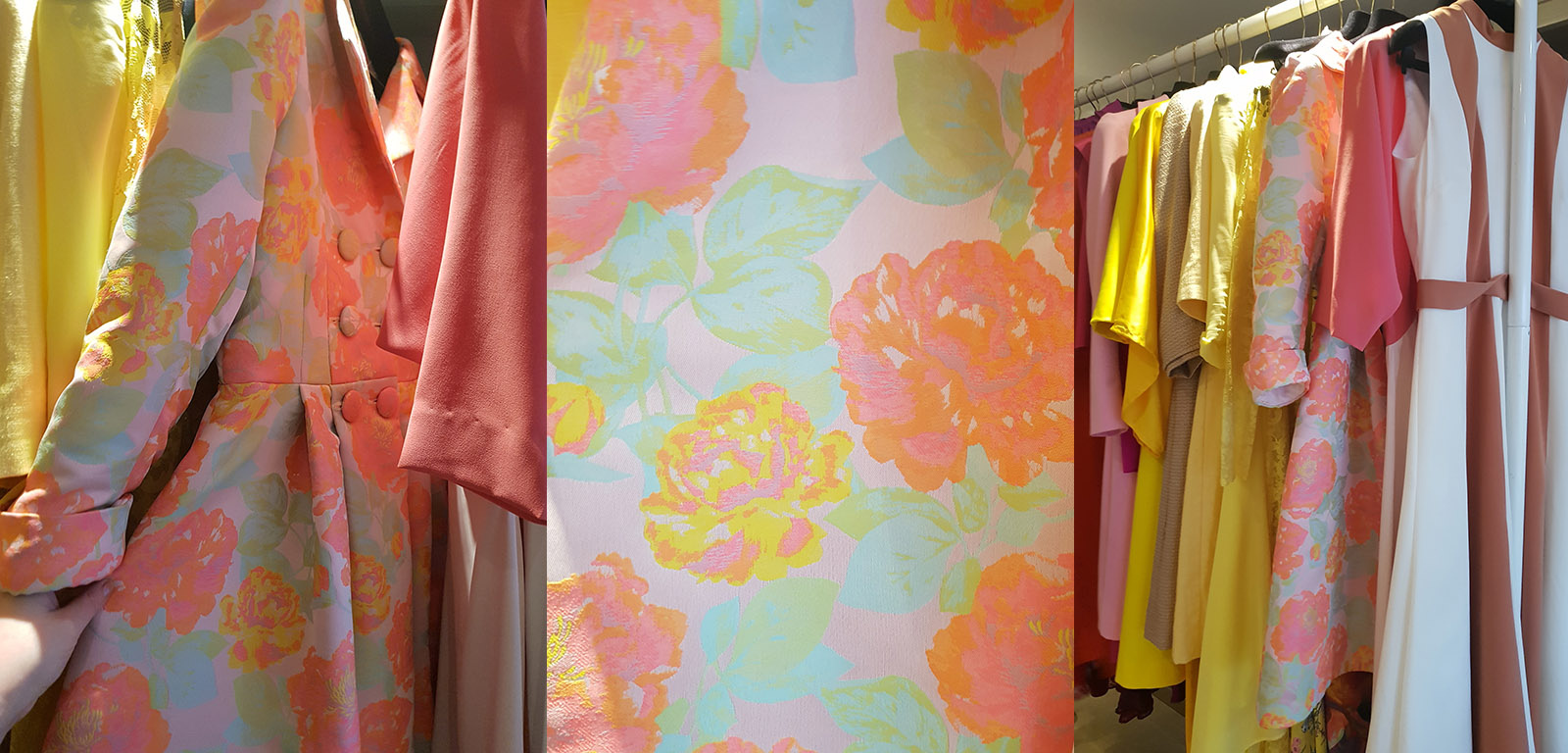 Visiting Chelsea Flower Show on press day in the morning with the first burst of floral freshness (the second is around 3-5pm I think as plants look towards the evening) is always a wonderful treat and always a fascinating experience. Gardens do so many things for all of us whatever our age or lifestyle. We all need some time for peace and reflection and as I've recently found gardening for relatives, the all round variable physical exercise that you get from chopping, pruning, planting is something that's much more fun and varied than going to any gym. It also gets you fresh air into the lungs and is good for the skin.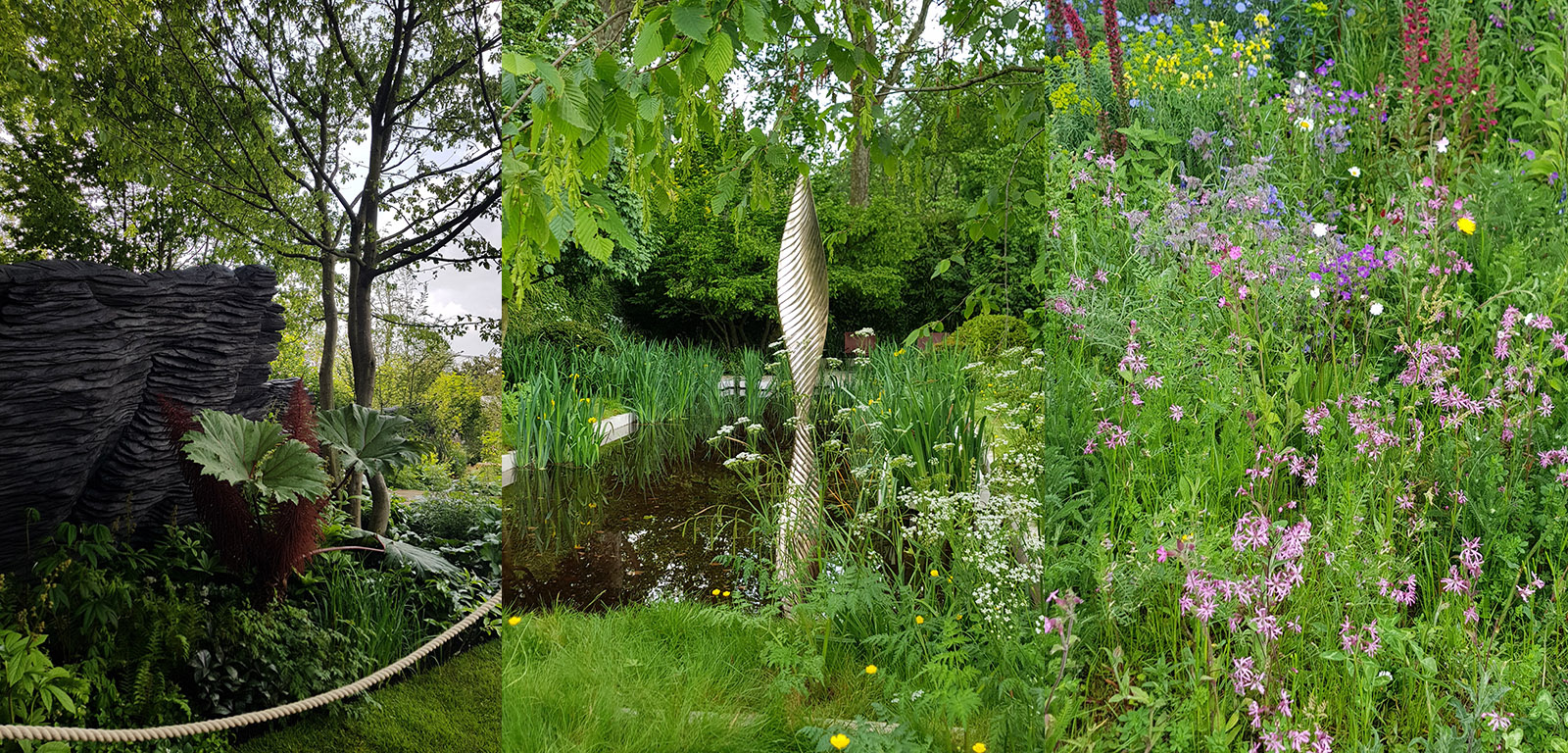 The variety of the gardens is part of the attraction and seeing what the designers can fit into their alloted areas. I was particularly taken with a cliff face composed of what looked like Welsh slate. The sheets placed one on top of eachother showed the complex slices of the ancient rock placed to create the appearance of fluid lines amongst many jagged edges. Very clever and still naturalistic looking. Centre above one of my favourite features of the entire exhibition, a leaf shaped like a Golden feather suspended on the lake. Rushes and plants stand in the water around it creating a naturalistic intrusion onto the angular manicured lines of freshly planted person-made design. To the right, the meadow blooms wild across the gardenscape. The meadow is a theme that I've noticed across the show several times this year and I think it shows a strong indication of a wish to return to the naturalistic styles of simple country gardens and rolling park and woodland landscapes.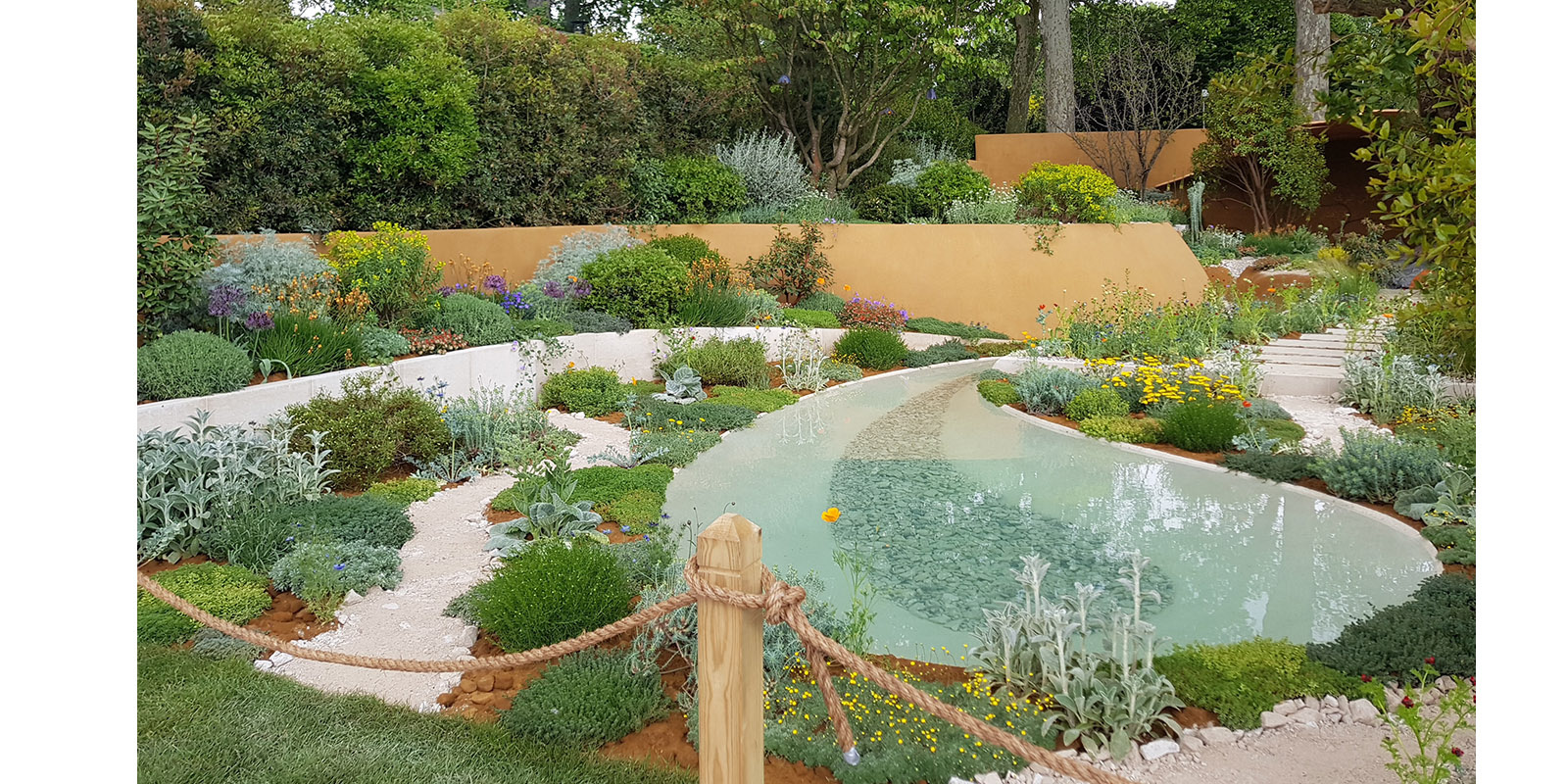 For me since early childhood, I have always been drawn to gardens that contain water features, in particular running water that creates that tinkle in the air. Above this striking composition could represent the water droplet itself but for me it also resembles an eye. Either way, water in itself is something that is now, more than ever a key concern for all of us in this world and this garden showcased compositions of plants that are in many ways an answer to living in times of water scarcity and the requirement to plant accordingly.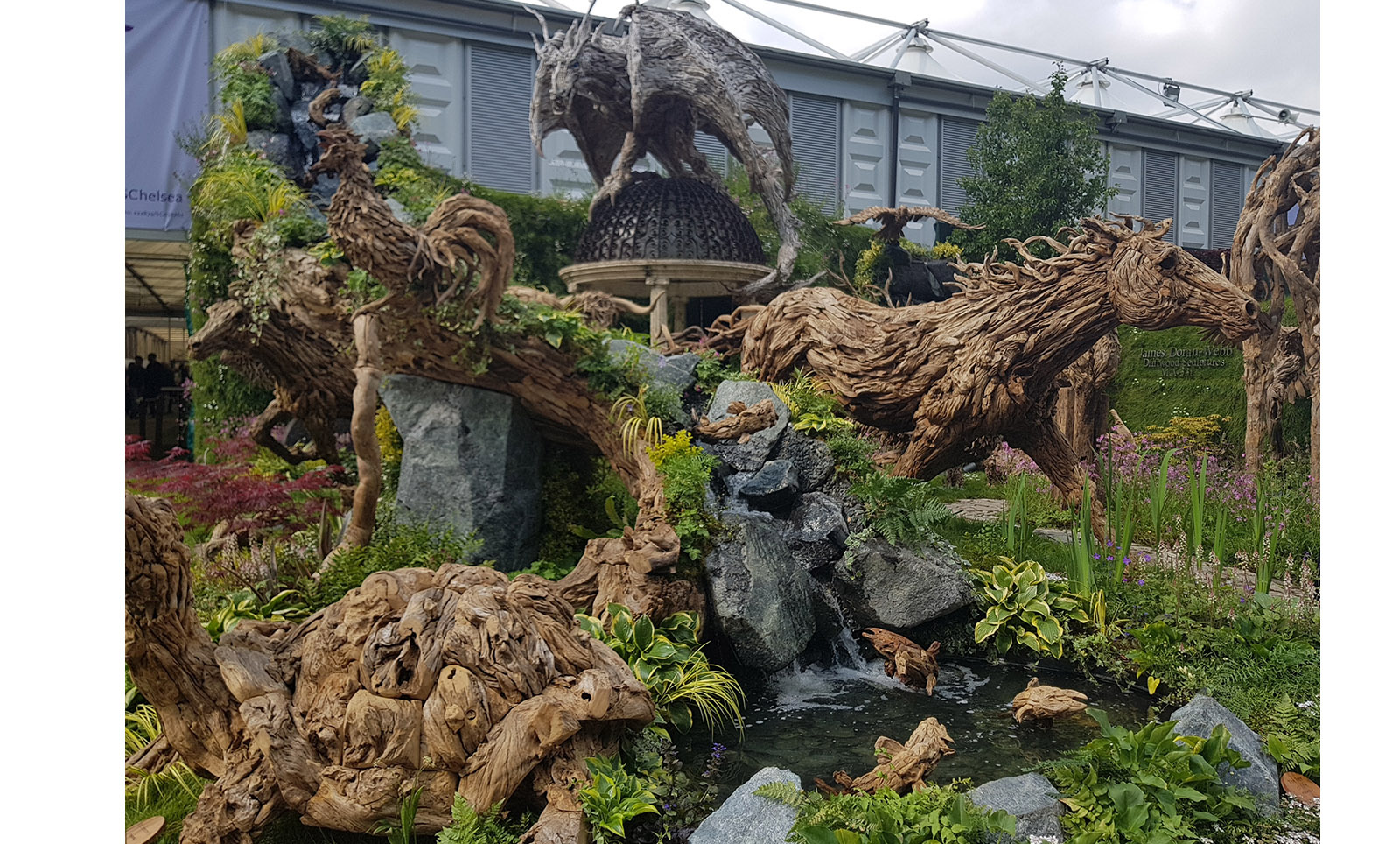 The Flower Show also host many people who specialise in outdoor crafts that can adorn your garden or living space. James Doran Webb created outdoor sculptures from driftwood of any animal that your imagination can create or recall. Although I loved the Horse, Fish and Tortoise, I think having a Dragon in your garden, or donating one to a hospital or school perhaps would be something hard to resist.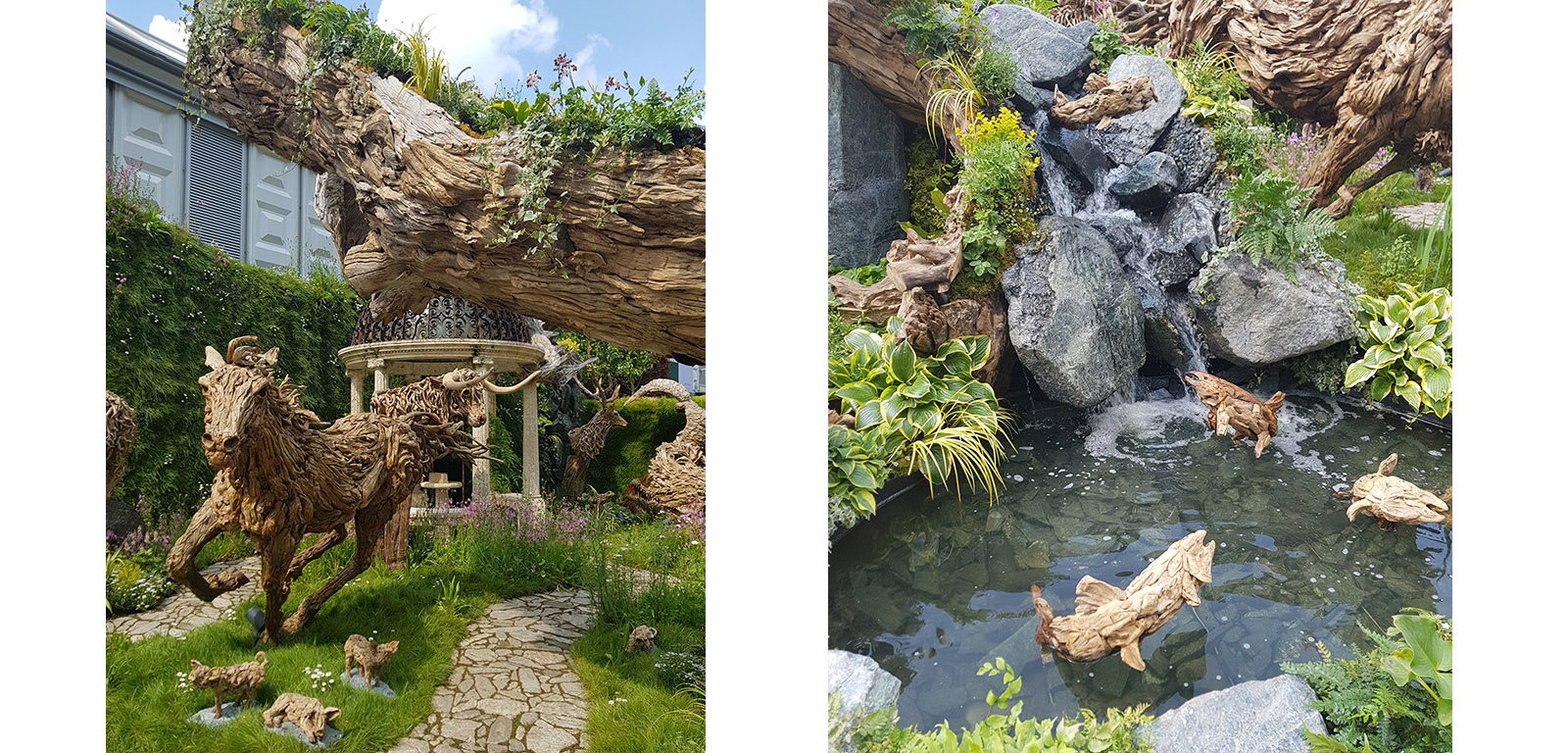 The movement that is created in the Horse and even the little Piglets at it's feet is something hard to resisit. Even the Fish jumping up with the curving strength of energy in their tails and lower bodies are moving free from their surroundings.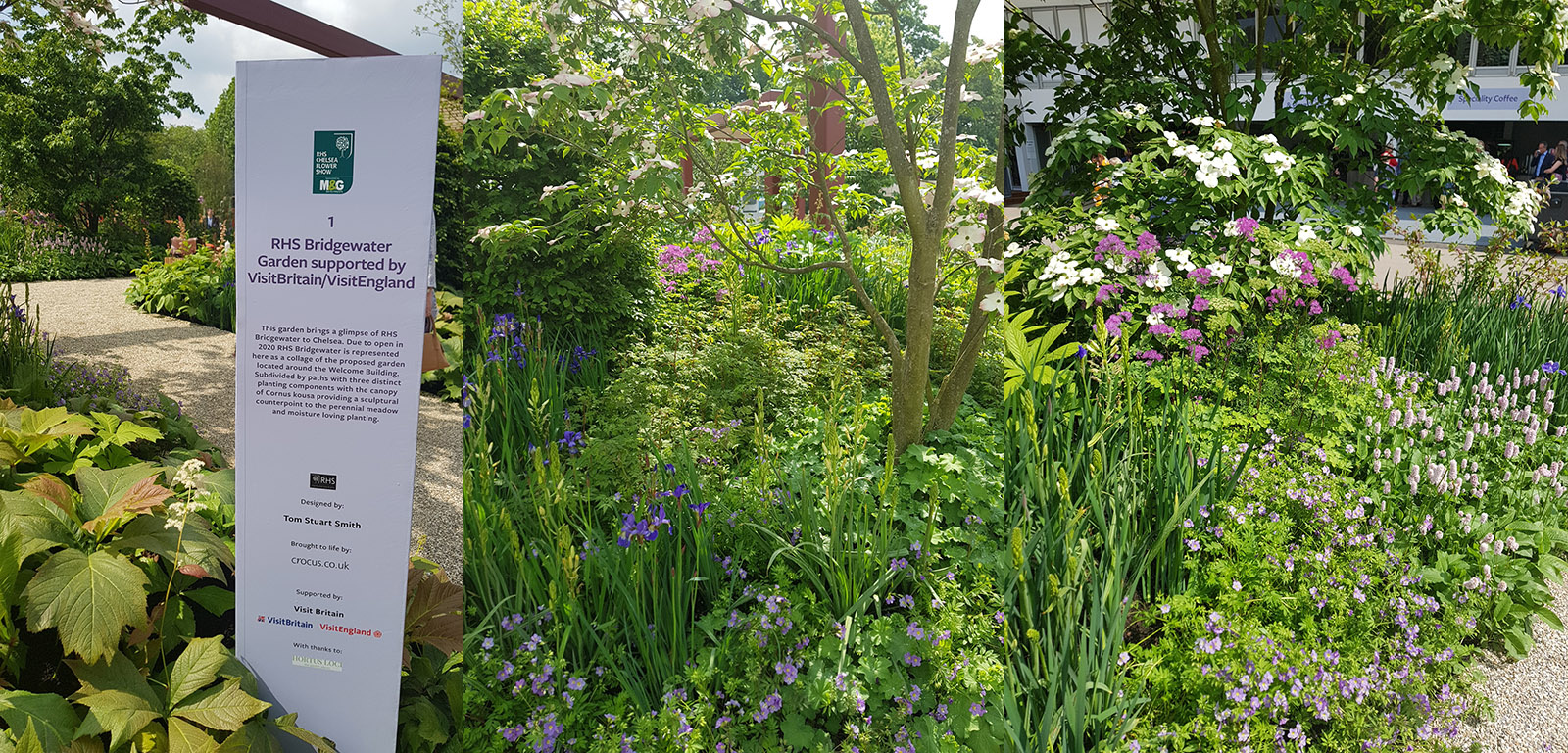 Great Britain is well known for it's gardens across the land and the Bridgewater garden sponsored by Visit Britain displayed the kind of wild roving expanses of flowers, scattered in a natural harmony that our woodland areas are known for. These havens of peace and tranquility are a precious paradise for those who known them and walk through them and for visitors, they are something that lives long in the memory.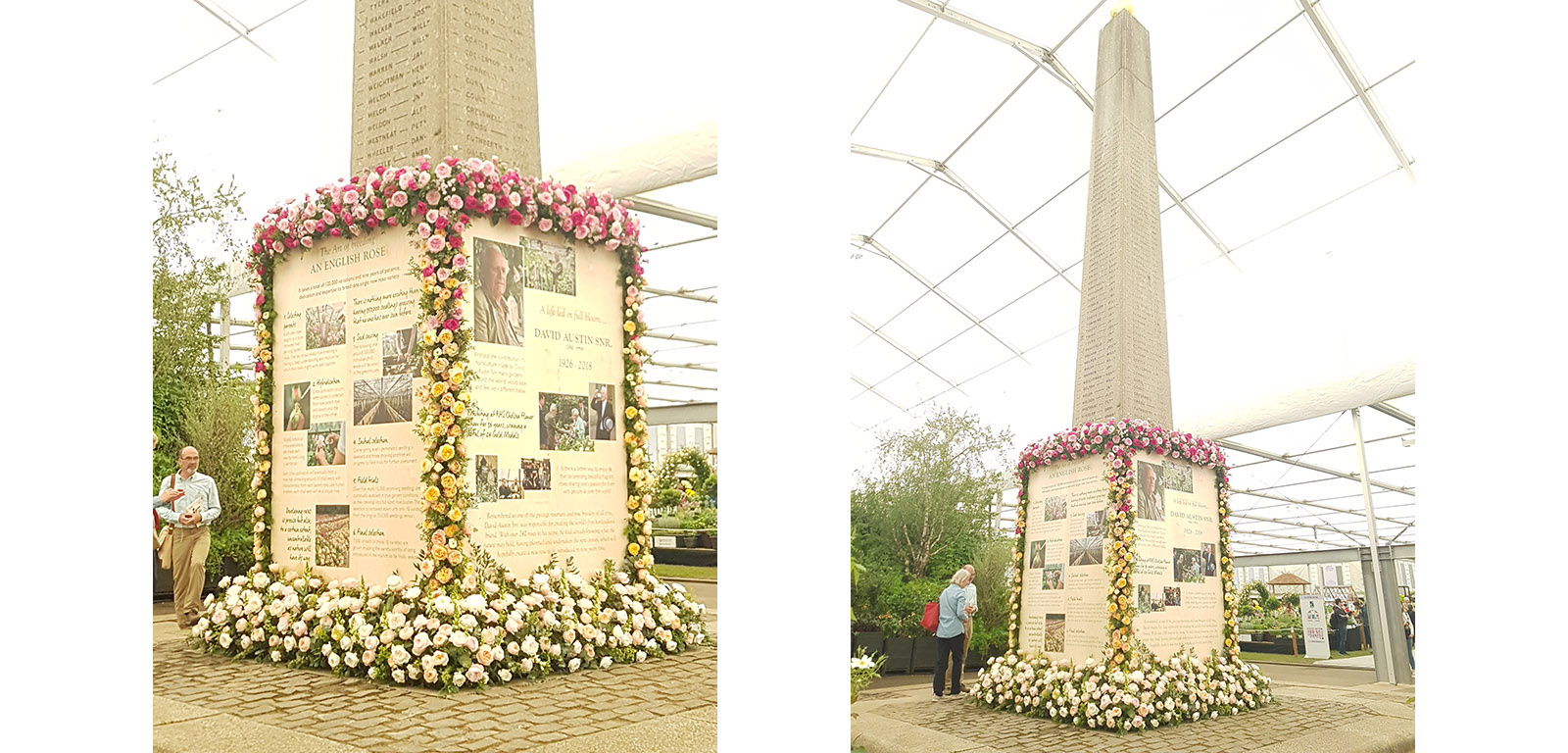 The exhibition hall covered by a canopy always features the most amazing array of gardens from around the world containing fruits, flowers and also vegeatables from many places. I usually make a Bee-line for the Roses and other classic flowers and this year was struck by the beautiful David Austen Rose memorial. David and his family have worked tirelessly to produce Roses that will intrigue and delight people the world over. From garden favourites, to naming bespoke blooms for yourself or loved ones their service is one of thought and huge professionalism.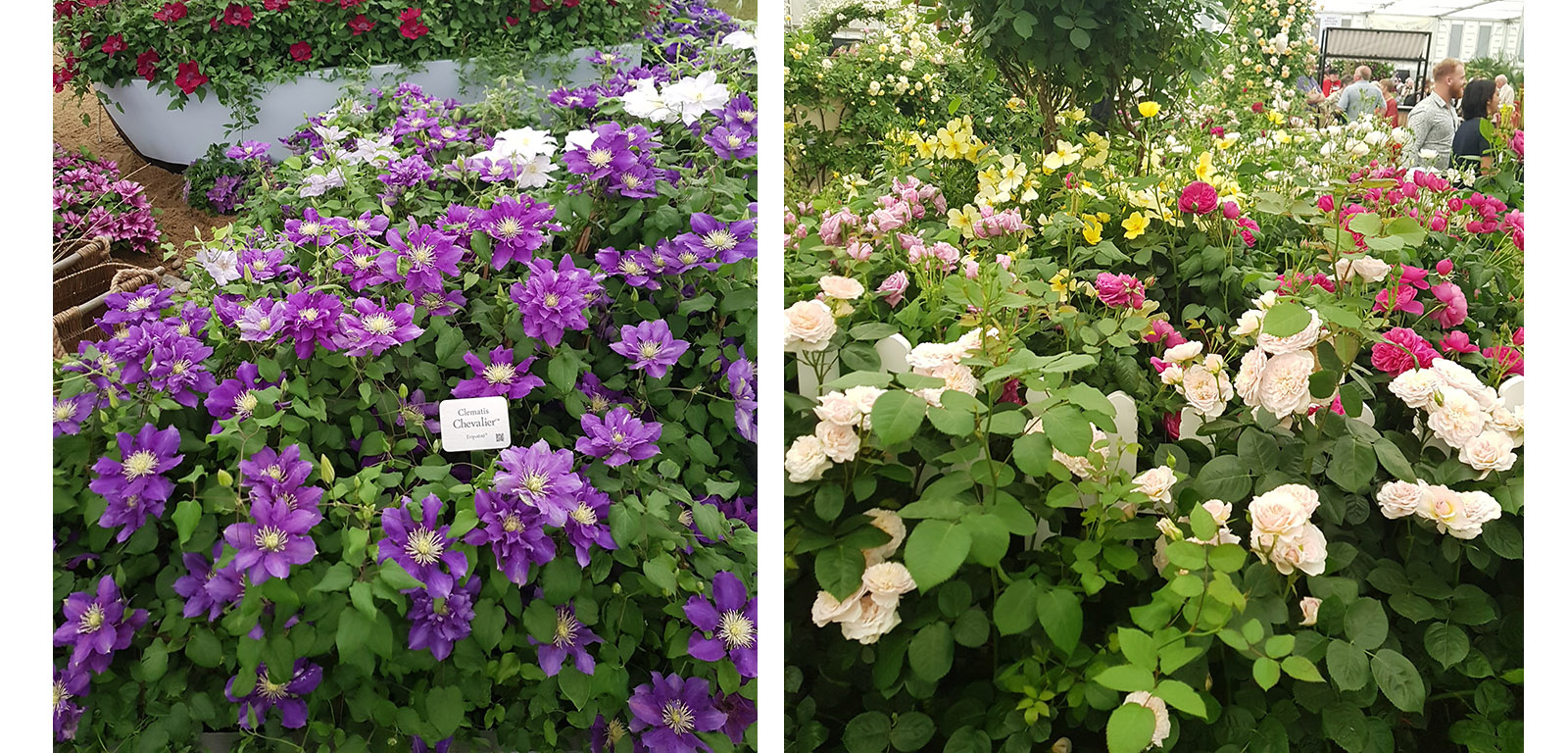 Both the scent and the colours of the flowers are what stikes you as you wander through the arranged banks of blooms. For me also I'm fascinated by the huge variety of Roses, so many shapes and colours and strains that don't look how we would conventionally recognise a Rose today. It's fascinating to see how much the flower has evolved from what our ancestors would have seen in the garden several centuries ago. Above a Purple Clementis Chevalier sneaked into the Rose fold.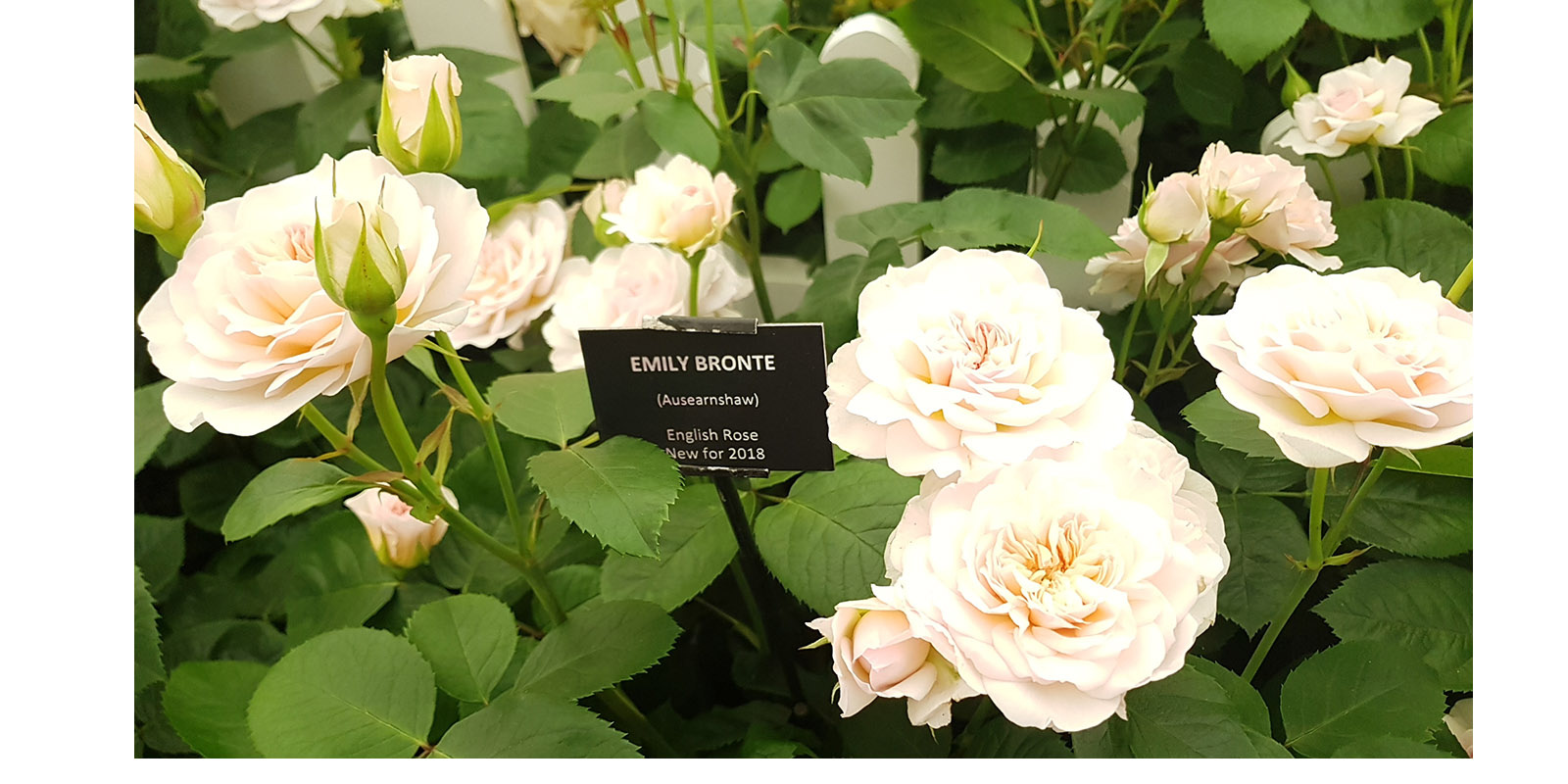 Some of the lighter colours of Rose are often the oldest strains of the plant but this bloom above, named for the writer Emily Bronte is only in it's second year after a launch in 2018. The densely folded petals wrap round the central bud and this plant has clearly been bred for maximum romantic effect with it's soft colour contrasted with a beautiful confident scent. It would make a wonderful addition to any garden border or bed.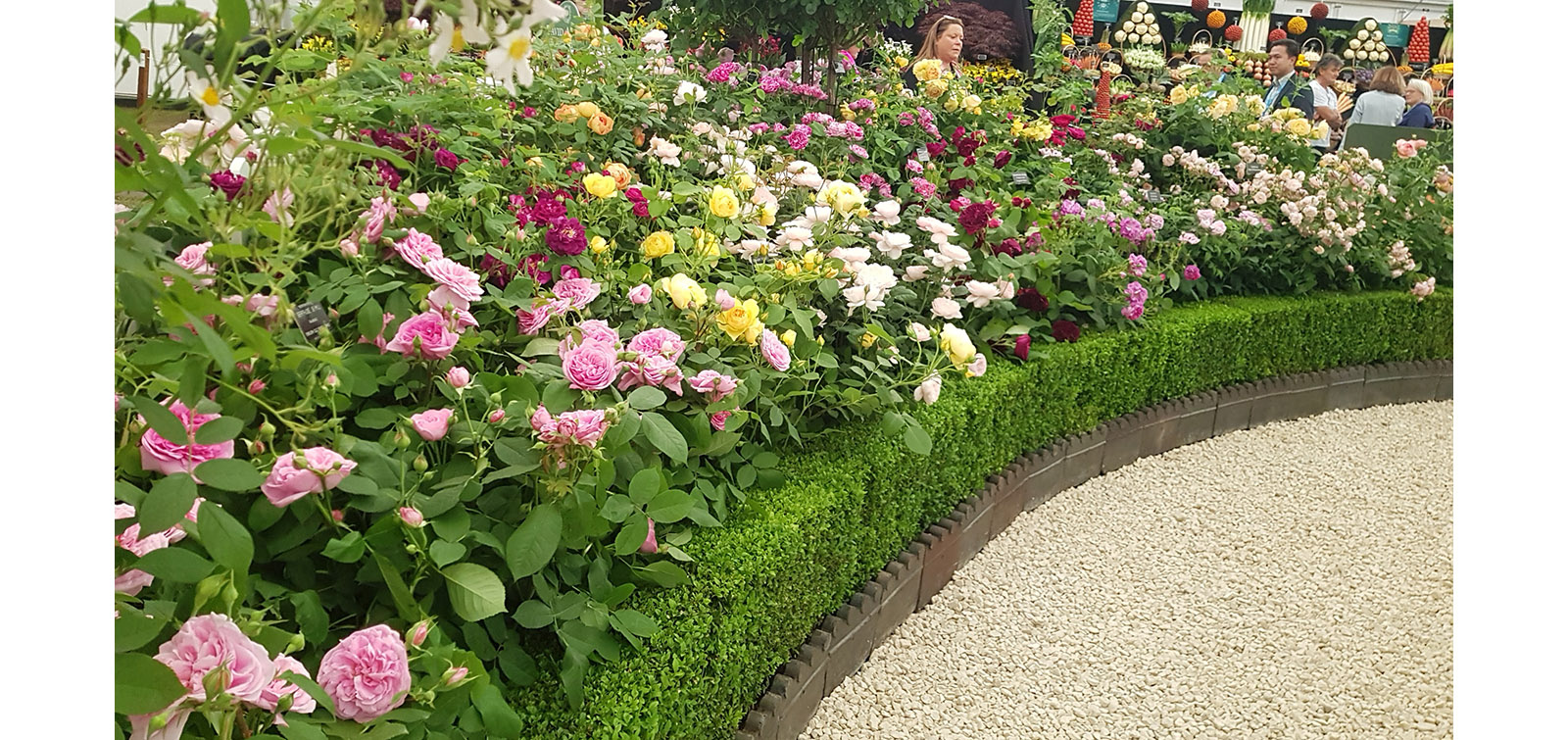 Walking through a garden border created with so many blooms timed to flower in unision is a huge delight. The gentle sweep of undulating colour moved across about five tones from Soft Rose-Pink to Saffron. All the while a beautiful scent filed the air as we walked through. Rather like the late afternoon burst of scent that often comes from garden flowers although this was earlier in the day.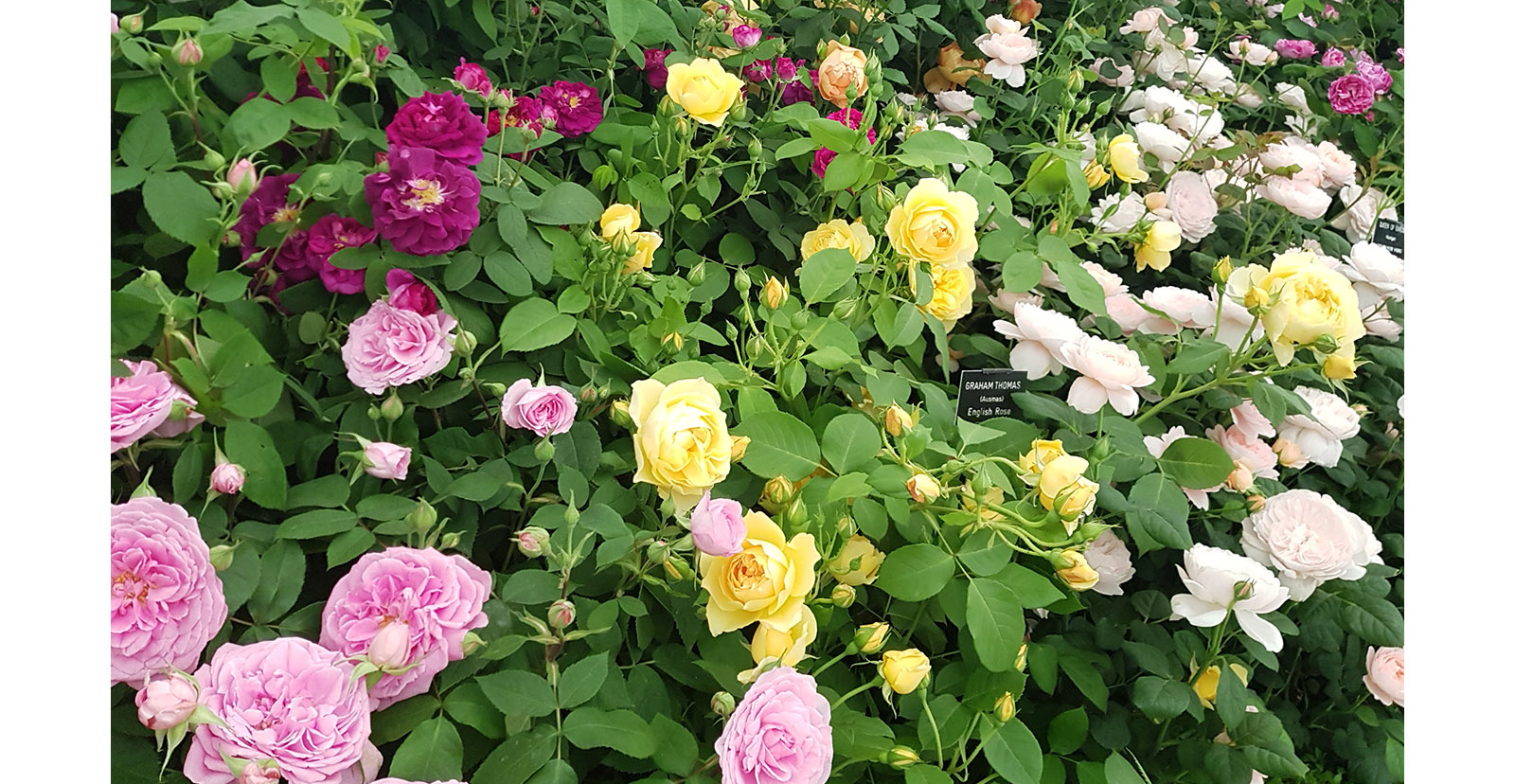 Here a beautiful close-up of the range of flowers that shows the diverse array of floral patterns. The old style of rose, closest to the camera at the left of the frame is perhaps my favourite with the Yellow Graham Thomas honeysuckle rose also giving an enveloping warm Golden honey-like scent.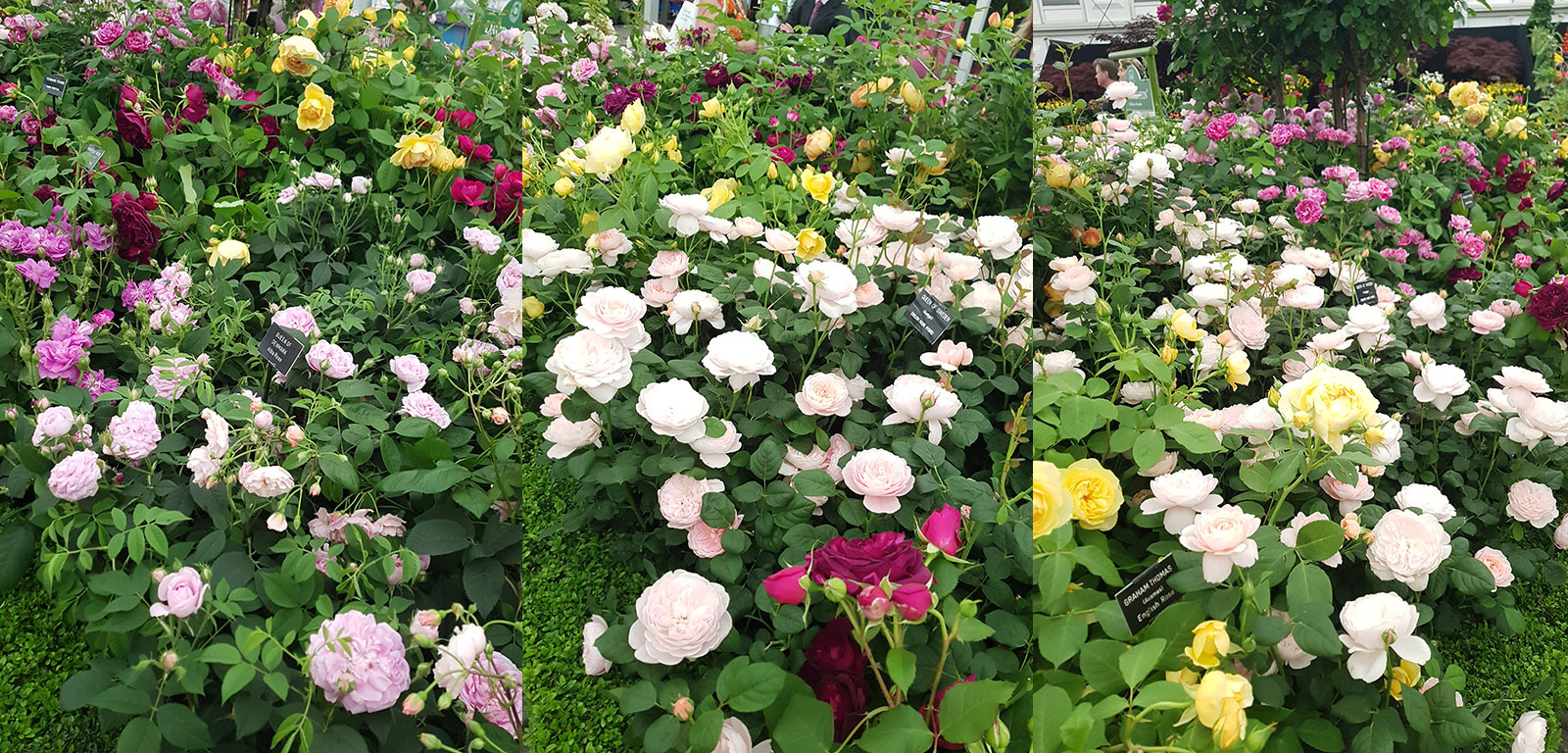 I can never resist taking many shots of the colour tableau of the flower beds that changes from every angle as you pass it. It's a heavenly scene.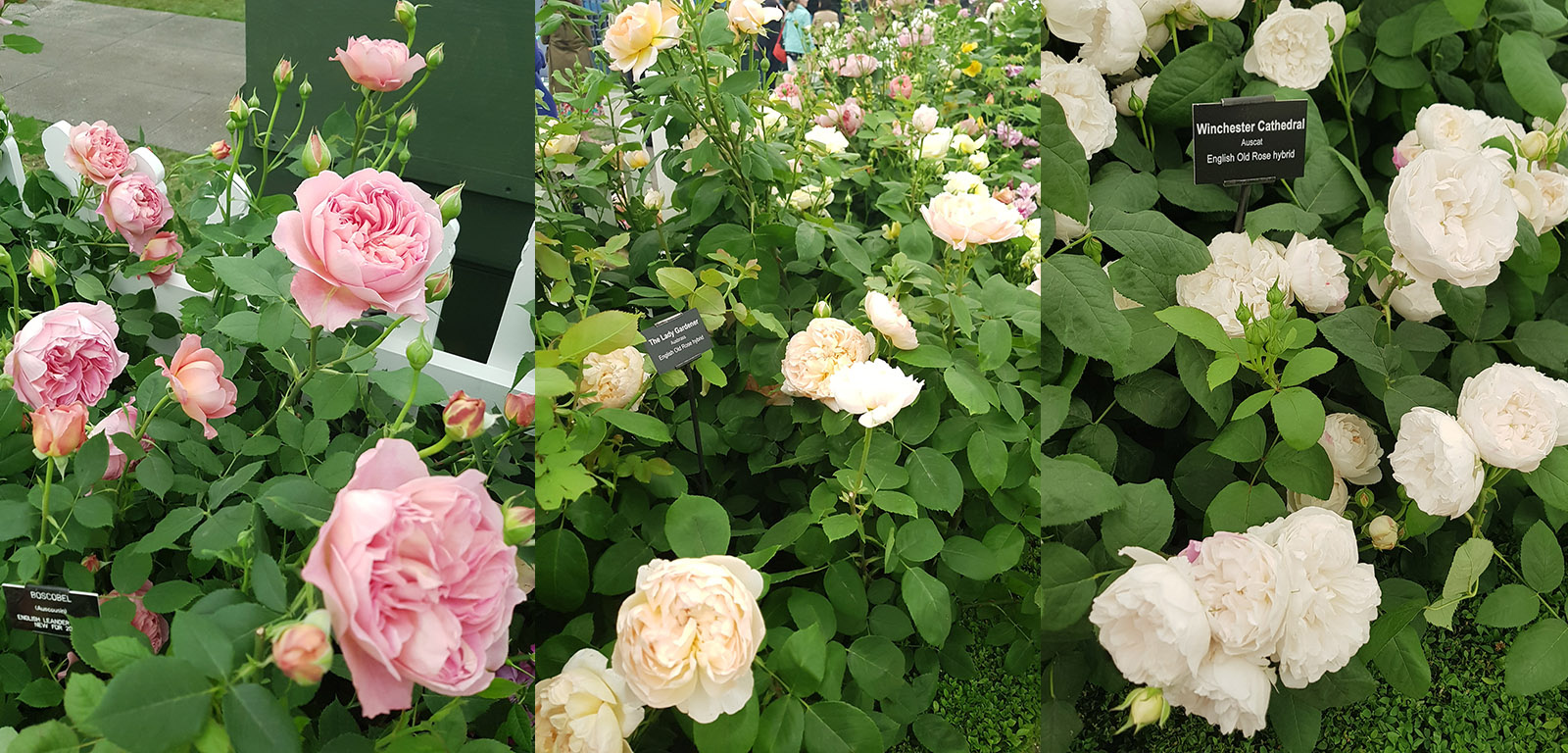 Three more of my favourite Roses are placed above and each carry part of the heritage of the old Rose with them. Boscobel has a scent that is both rich and sweet, softly enchanting. The Lady Grantchester Rose is a modern strain bred again in tribute to older lines and will make a reliable stable of the flower beds. To the right, the Winchester Cathedral Rose is an Old English hybrid and retains the traditional strength of the scent of the flower known through the ages. All of them a dream for a mid-summer garden.

Below to the left a garden celebrates bold planting designs in front of a futuristic garden house. To the centre and left below, the Duchess of Cambridge's 'Back To Nature' garden is composed of a natural woodland landscape with plants and trees worked around a free-flowing stream cascading over rocks. The garden is designed to recreate the woodland walks that many of us treasure as part of our outdoors landscape.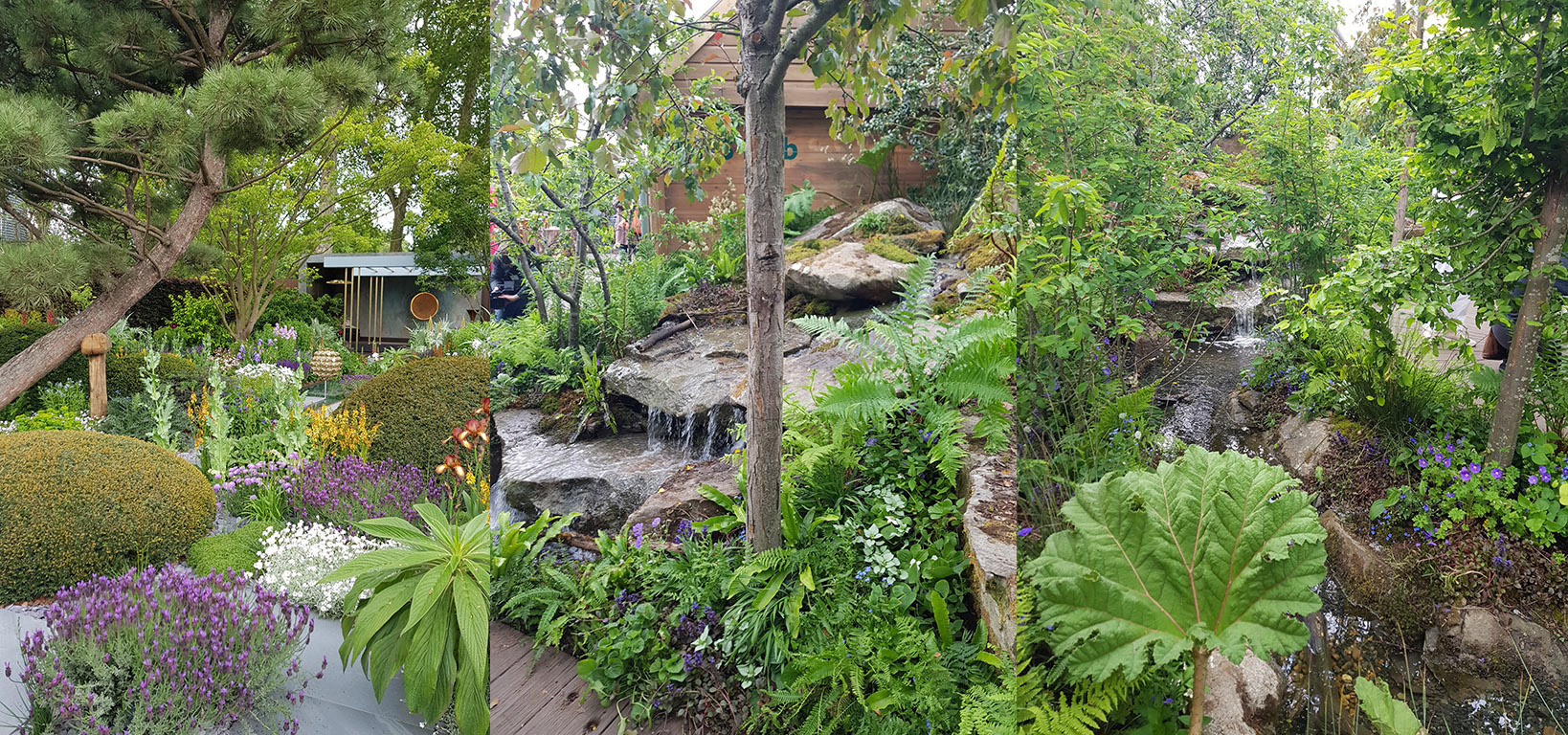 Across one of the May UK Bank Holidays, I took a long overdue visit to Cornwall where some of ancestors lived for many centuries and where I've neglected to set foot again for more years than I'd like to admit. I personally blame having slender holiday allowances that have been often 'spent' on work in the fashion industry. But anyhow, to Cornwall I went with a big smile inside and the hope of discovering some new vistas and seeing one of two places from sunshine filled, childhood memories. Yes, 1/4 of me (including Devon too) was heading 'home' so to speak.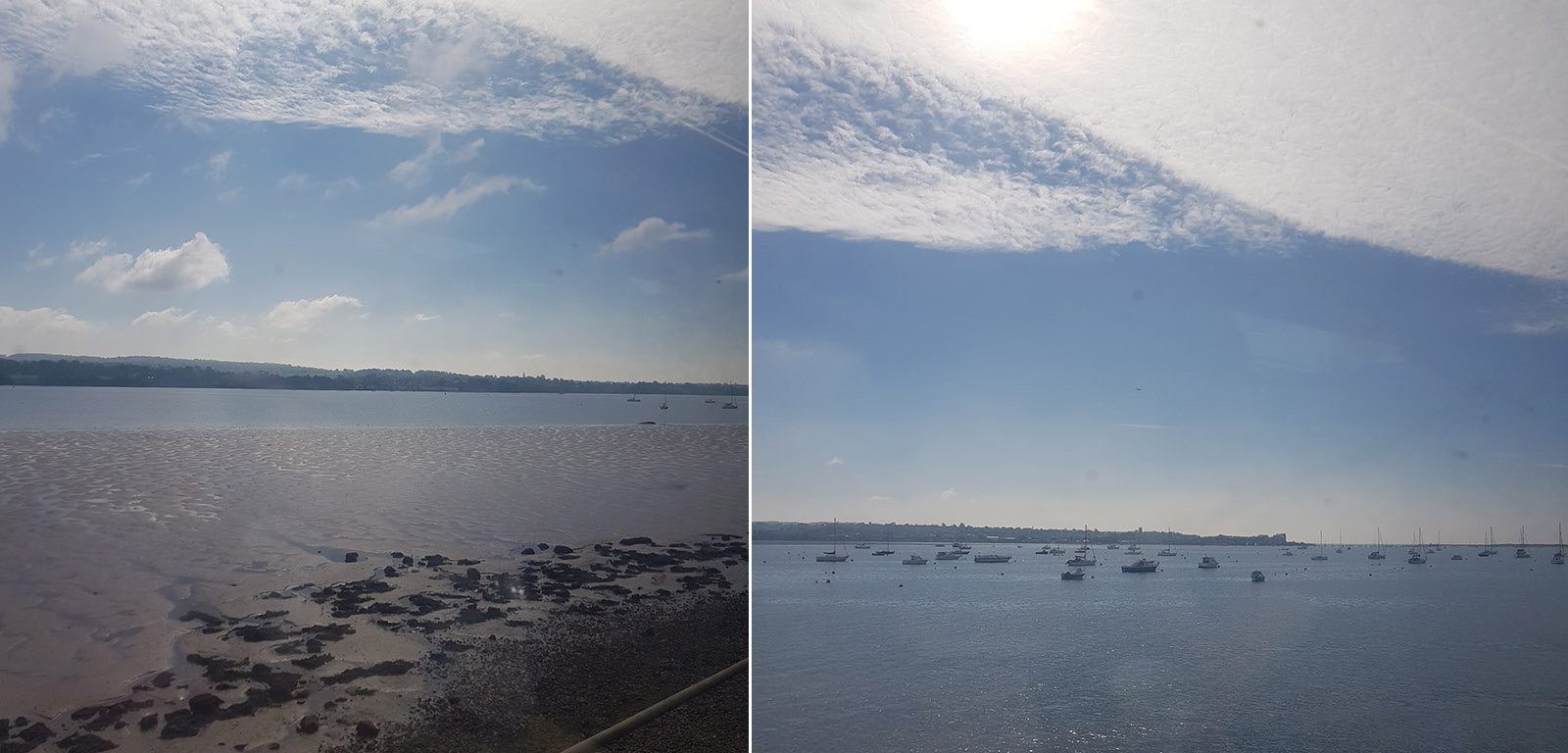 Here are a few shots from the train window looking out at the magnificent Devon coastline near Dawlish. With brilliant sunlight and beautiful sands, boats bobbed in the estuary on a sunny morning and it felt like a great start to the weekend.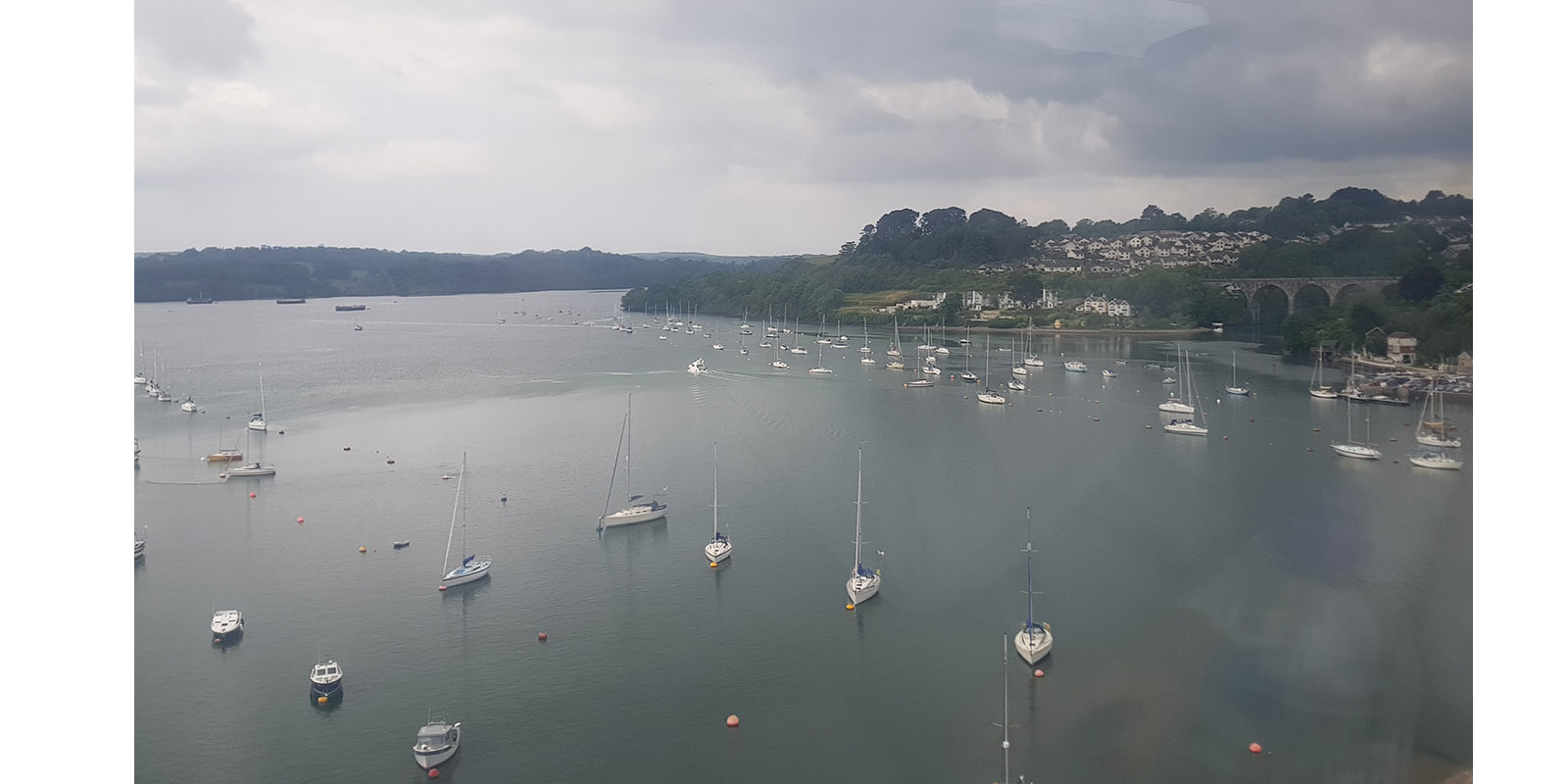 Following the expanse of Somerset and Devon that felt like I was journeying through a magical landscape, the far side of Plymouth brought a series of beautiful harbours into view. The gentle coves where captivating, each looking slightly different with their unique natural geography. This expanse summed it up well crossing the county border into Cornwall across the mouth of the Tamar and in the background you can see the further lengths of the bridge we were to cross shortly.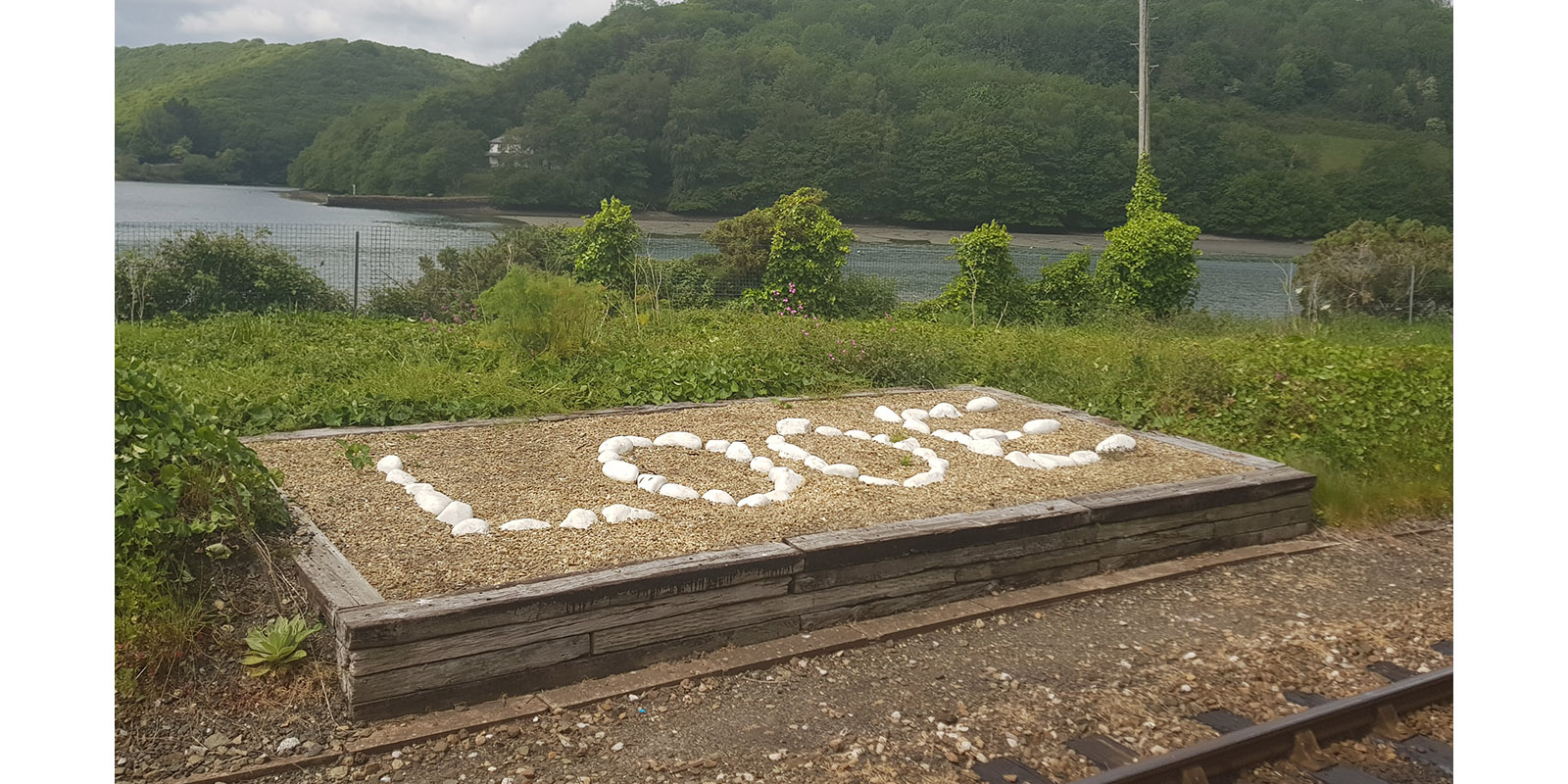 Travelling through Cornwall I was awestruck by the beauty of the countryside all around me. It reminded me of Wales and Scotland and valleys seem to appear everywhere, secret glens as you approach the end of the country. Not in the least the journey from Liskeard to Looe station through a beautiful vale sunk into the landscape had a feeling of enchantment about it. Tiny halt stations at the bottom of gardens and Celtic springs bubbling by the rail track eventually broadened out into a wider estuary view that changes rapidly through the day and teams with wildlife. The above view from the rail platform must be one of the prettiest in the country and the small well-kept station has a 19th century countryside feel.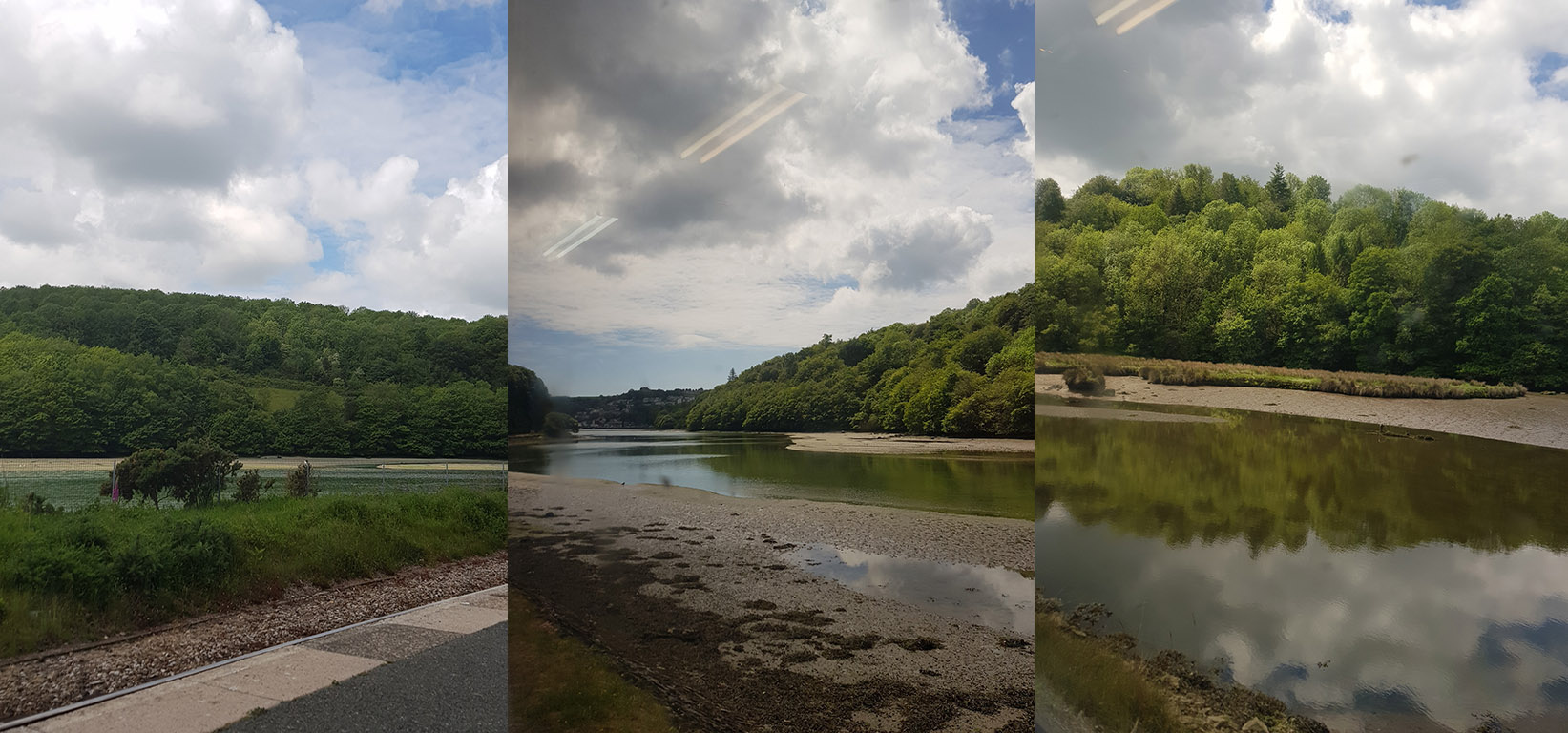 After quickly setting into my cosy village hotel in Looe, I hit the trail after lunch to head down the magical peninsula to see the county in full glorious sunshine and visit St Michael's Mount, weather and time permitting. Cornwall feels like a huge territory once you're in it and journeying through Bodmin, St. Austell and Truro, I was already contemplating what it would be like to live in the county through the year with it's temperate climate and abundant history and wildlife.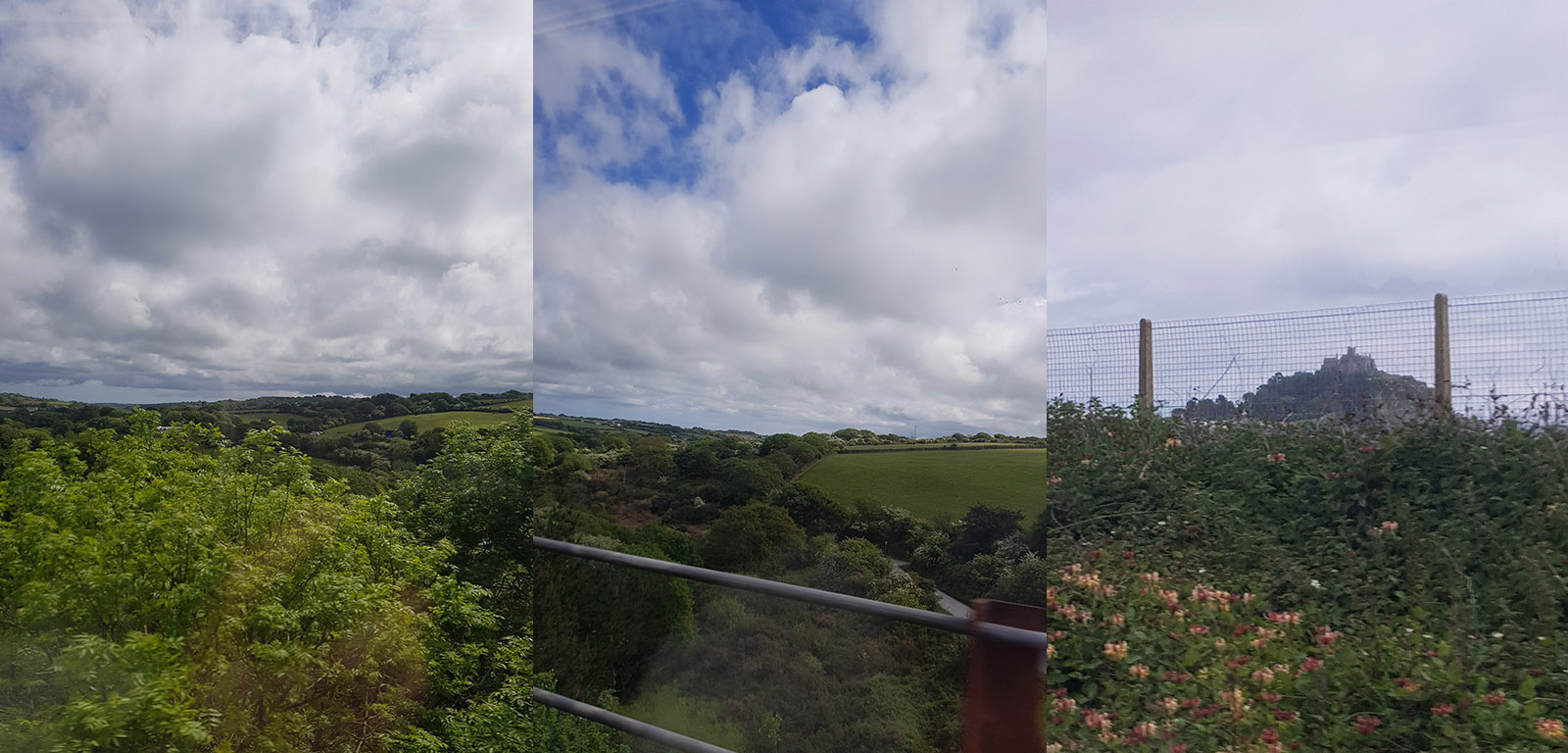 After a couple of hours we reached the outskirts of Penzance and as the journey came to an end, the train line ran along the spectacular coast of Marazion Bay. The Mount lived on for centuries by the St Aubyn family came into view and whilst drinking this in, I also was feeling some serious hunger pains and eager to try a traditional local meal, the fabled Cornish pasty. At Penzance the village felt quiet for a summer afternoon but one or two stores where offering foods and I chose fortuitously the Cornish pasty shop that had a link to the creation of the dish. Warren's bakery was the first place to produce the pasty and the story of it's origins is a lovely one that will warm the heart as much as the food itself. A love marriage of a young couple brought two families together who were on one side market garden farmers and the other patisserie bakers. Looking for a way to use left-over vegetables they hit upon encasing them in pastry from the bakery and this adhoc idea soon became a much requested favourite through local workers in mining, farming and fishing. The humble pasty was firmly on the map and shows what great ideas can happen in the drive for economy and less wastage.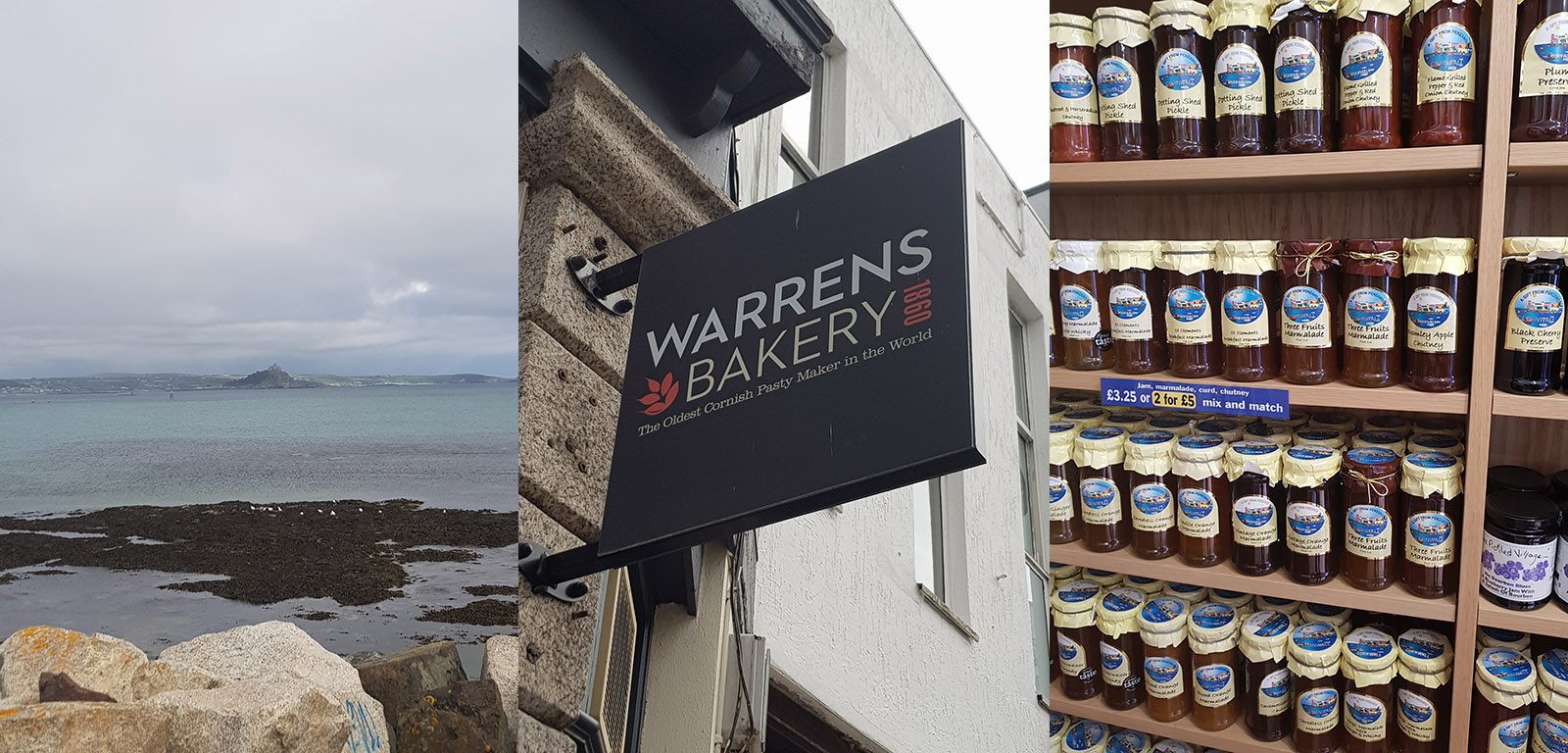 A fascinating store Harbour Gifts had every treat imaginable from a huge selection of postcards to plush toy Cornish Pasties and the most wonderful selection of jams and conserves. Another food that Cornwall is well known for alongside Devon is it's fudge. Rich Cornish cream and milks find their way into these recipes below and I was quick to buy a stash and some gifts for the family too. I'm sure at some point I will return, if not in the autumn, next Spring or Summer as I feel there is still more I want to see on the Penzance peninsula. Just look at all those flavours! yumm :) .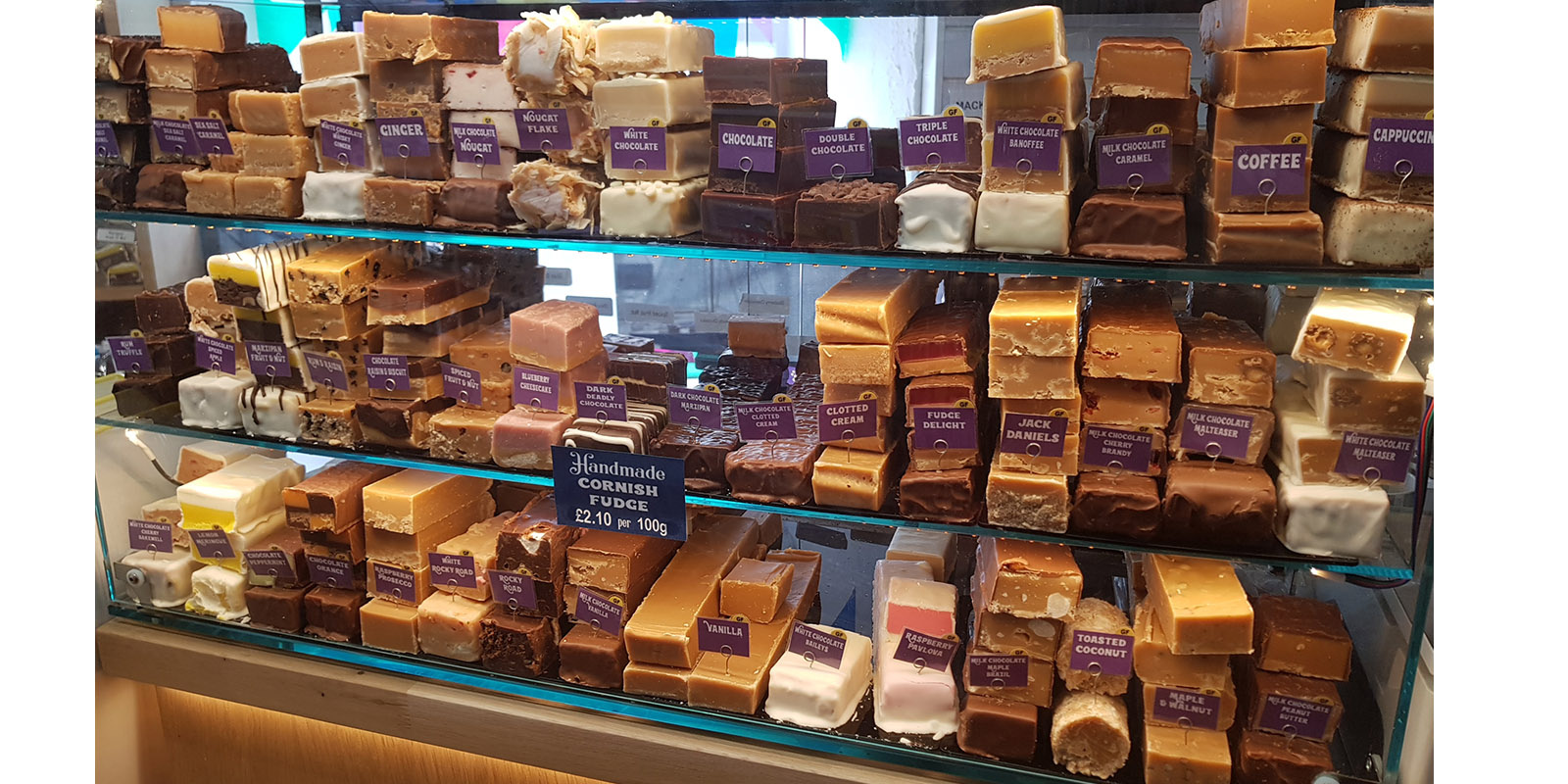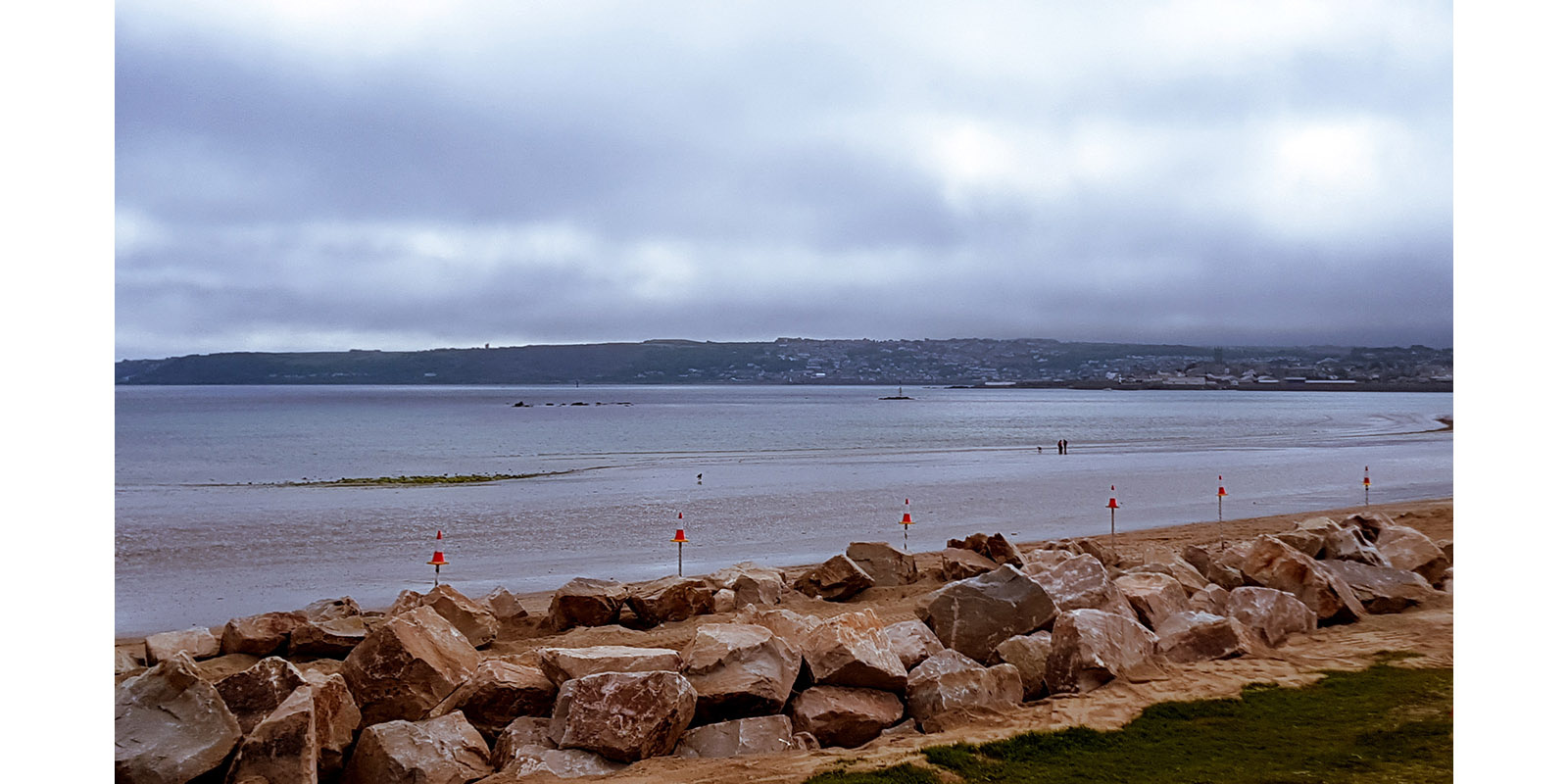 Marazion Bay is now one of my most favourite views in the country. It's quietly majestic, a jumping off point for our sailors and trade since at least the Bronze Age when it was a bustling harbour that took tin to the far eastern end of the Mediterranean Phoenician world. People and goods have moved in both directions often stopping in Brittany and the North Spanish coast for rest, cultural interaction, trade and refuelling since at least 1,600 BC I gather. I slightly under-estimated the time that I would need to walk around the bay and as such saw St. Michael's Mount from a distance whilst walking off a hearty pasty lunch. However, after visiting its Breton twin many times over the years, I will make the journey back at some point and see this special island and its community. Ports and trade are at the heart of Cornwall's story and I feel like there is a lot of untapped potential to grow prosperity in this part of the country once again and turn it into a bustling centre of commerce.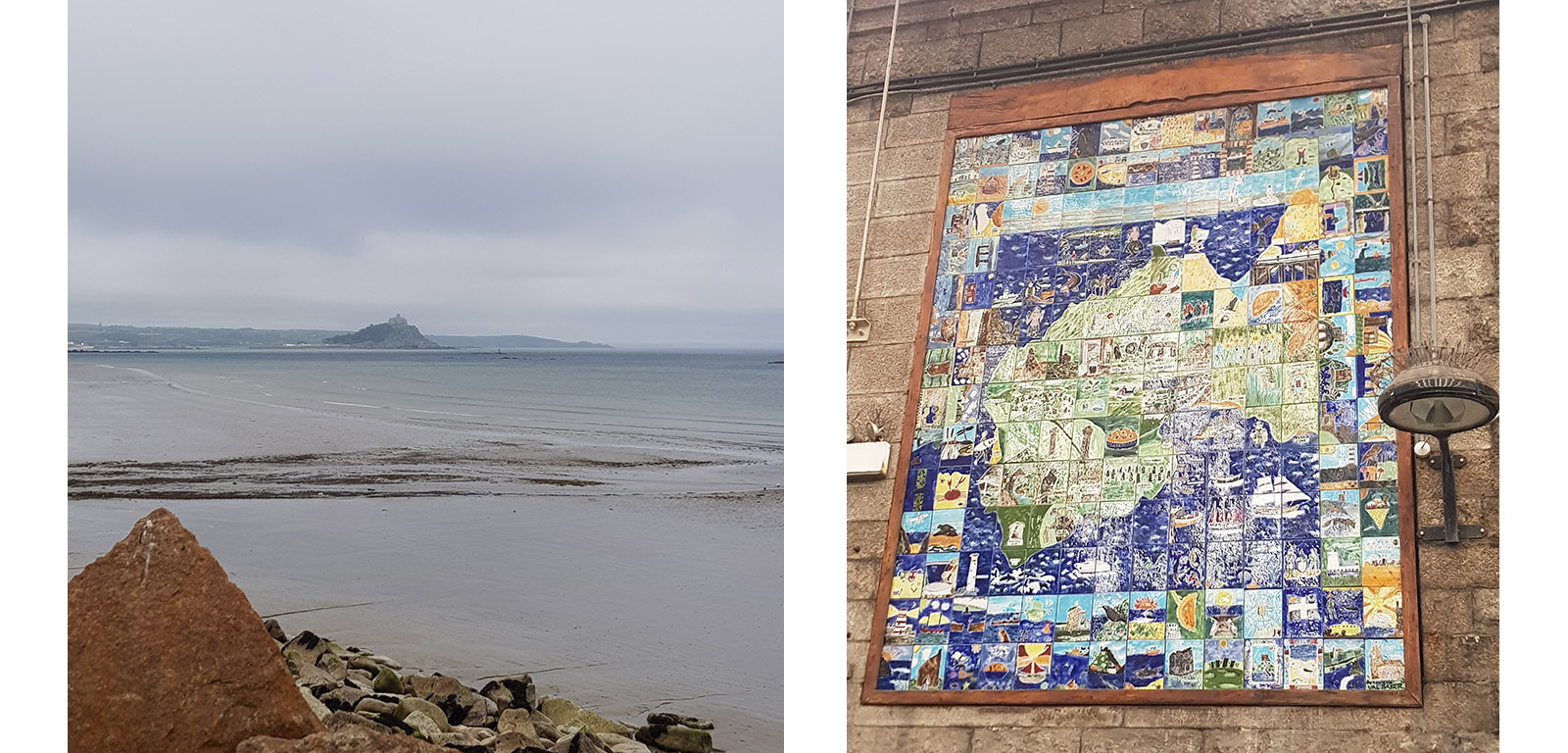 It was a misty day but the air cleared and revealed land far beyond the curve in the coastline to the horizon dotted with small villages with softly coloured houses. To the right above a beautiful mosaic showed the Penzance Peninsula with its many local landmarks. The maritime Blue standing out and also reflecting the sky.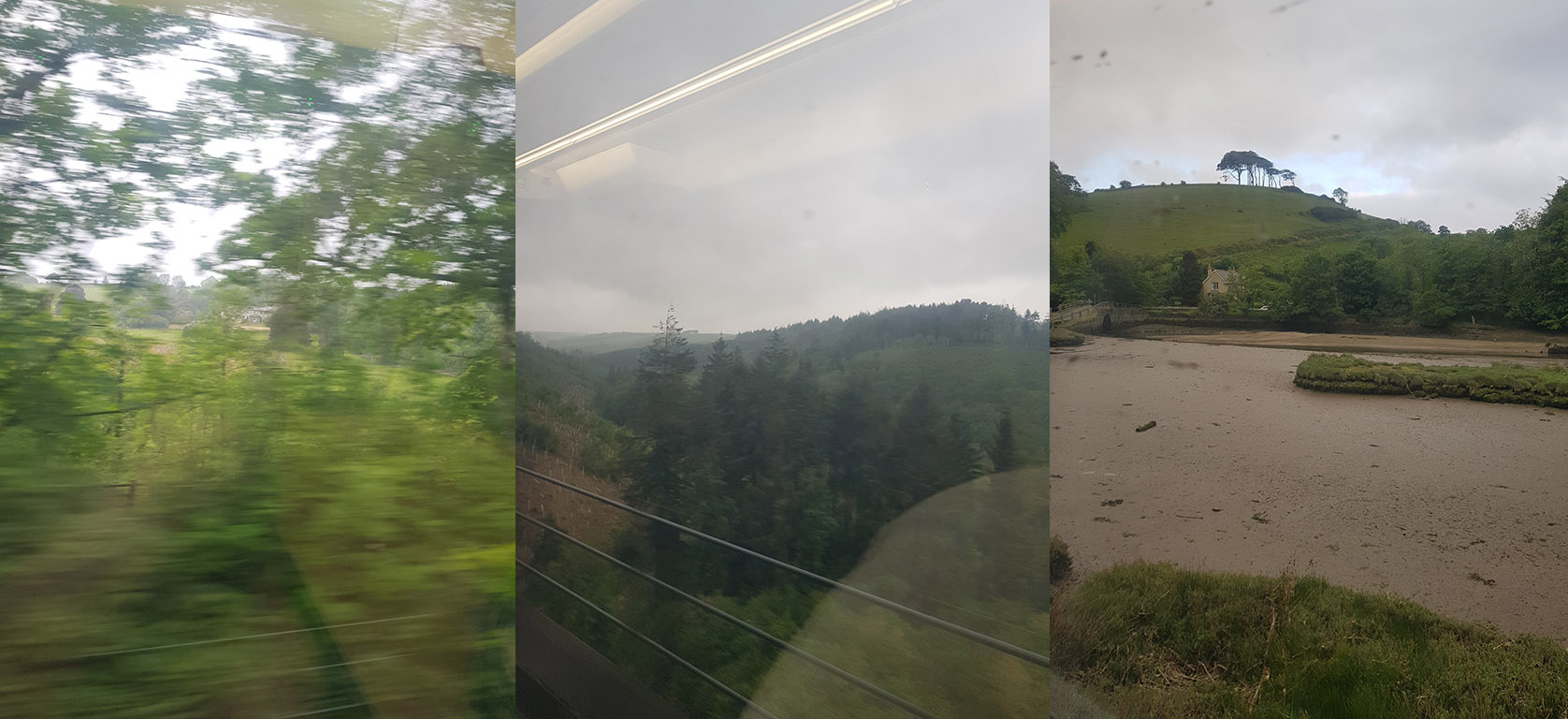 Houses hidden by trees captured the eye and deep sunken ravines created over eons of time by rivers and streams formed part of the unique natural landscape. But back to my base in Looe and the ancient broad river bed. It's not only the river basin that's ancient, the little town of Looe must be incredibly old itself. As with other neighbouring coastal villages that I was to see, it wasn't unusual to see buildings from the 15th century and the remains of some from even further back incorporated into later structures.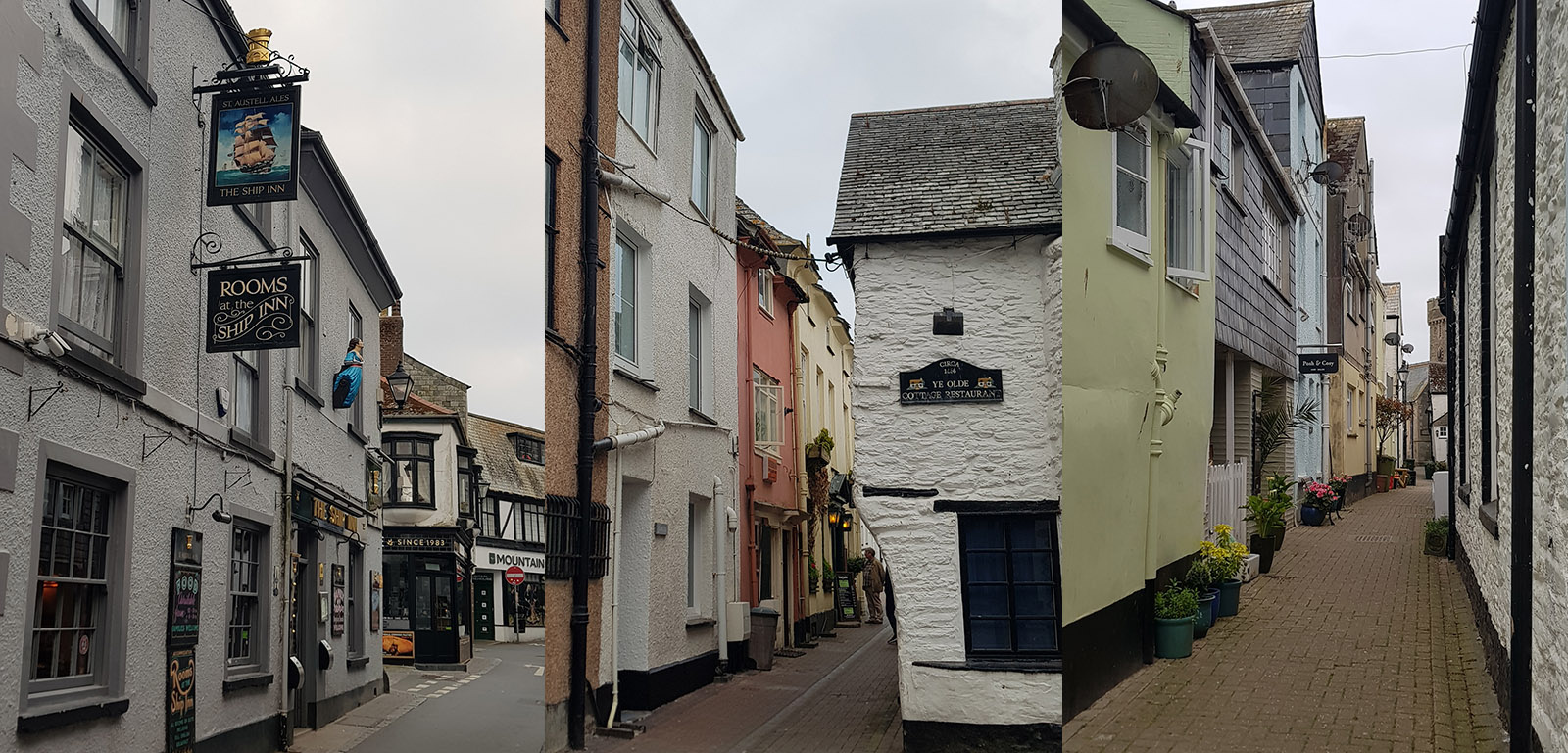 Walking around Looe really felt I was partly stepping back in time. Yes, cars squeeze down the narrow passages miraculously in these villages but when they are not there you get a sense of the life and dynamic of old villages that has disappeared in most of the country. Pubs with classic names like the Ship Inn and pastel coloured houses with their gentle sloping rooves, pathways winding round corners in short cuts through the warren of steets, it looked ready to paint and draw.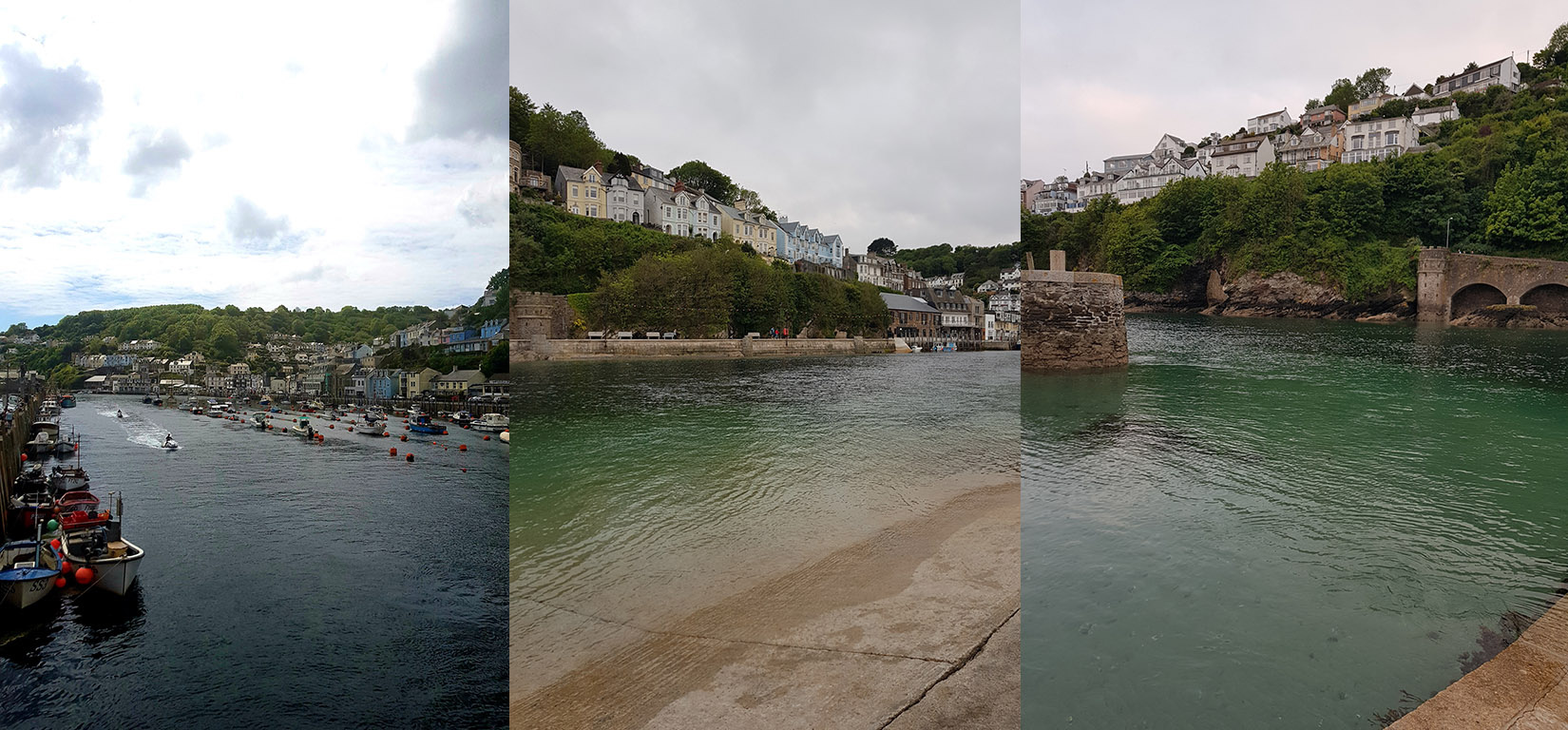 The harbour at Looe cut into the rocks, just as many are around the peninsula is very memorable in its setting. At different times of the day the water alternates between a light-mid Blue through to a Marine Green. I felt very drawn to going for a swim and I can't believe that people don't swim in the bay when ships are not around. The tides could be deceptively strong though that would mean that swimming could be quite a challenge. I still thought though that the floating breakers that you see in the water beyond beaches in the south of France would be well placed here.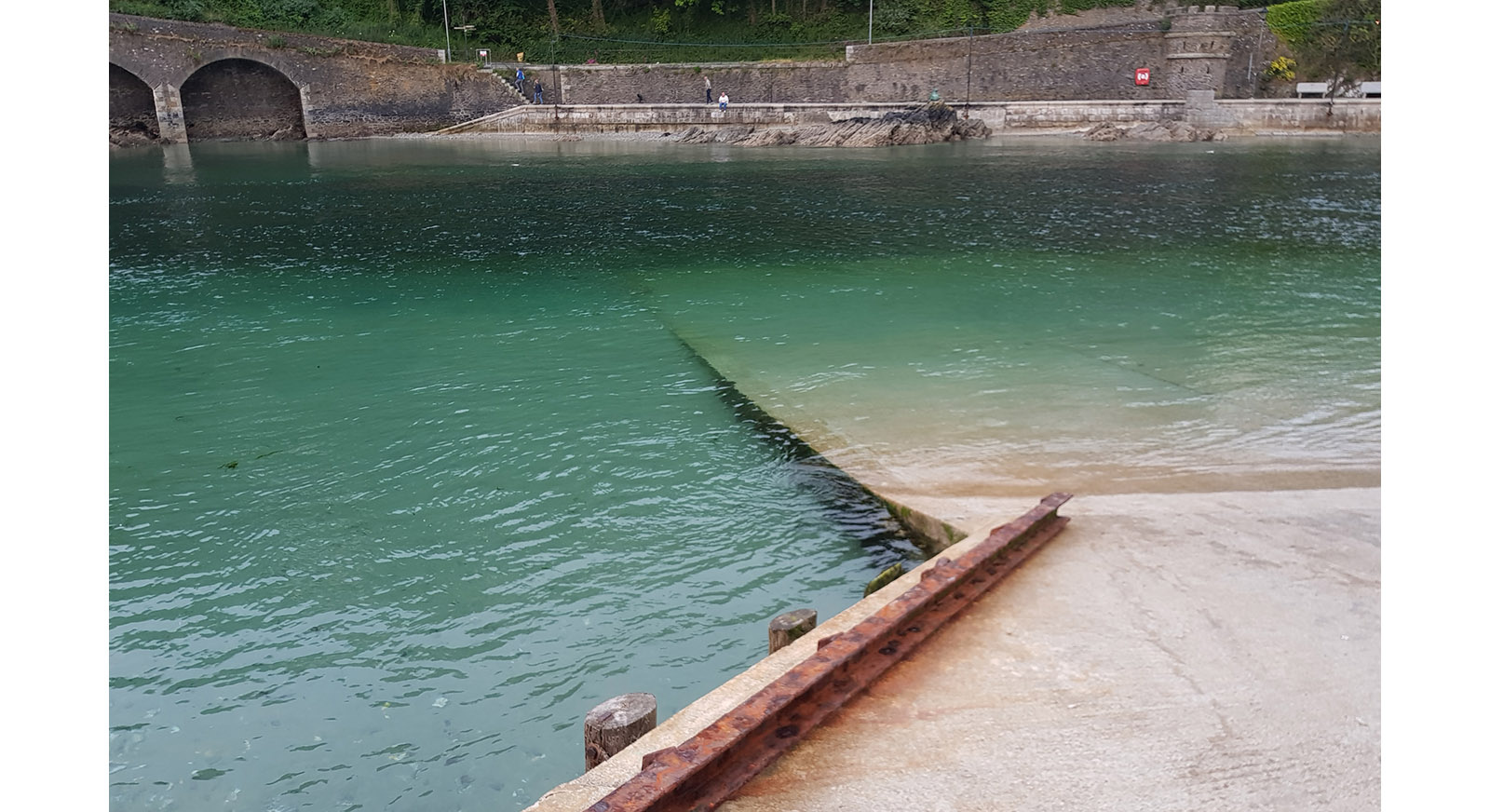 This looked like the perfect spot to string a wave breaker barrier across from but it is the RNLI launch point from which they carry out their important work and I wouldn't want to encourage anyone to take risks, no matter how tempting.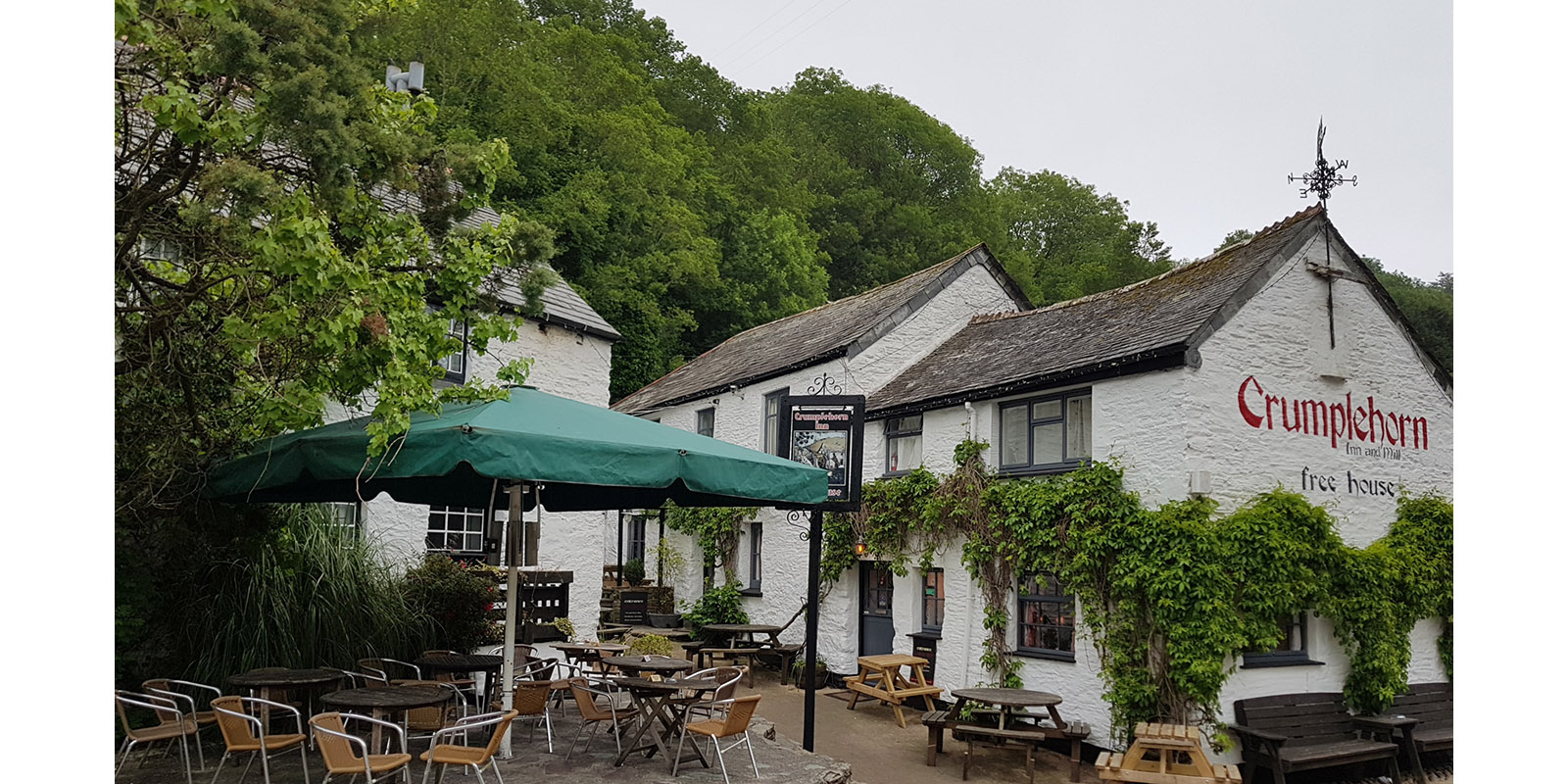 One local landmark signalling you arrival in Polperro on the land approach is the Crumplehorn Inn. It looks like it's been a pub since pubs began in England but this 12th-13th century building was actually an obscure Manor House and sometime Customs House until the 20th century saw it become a Public House.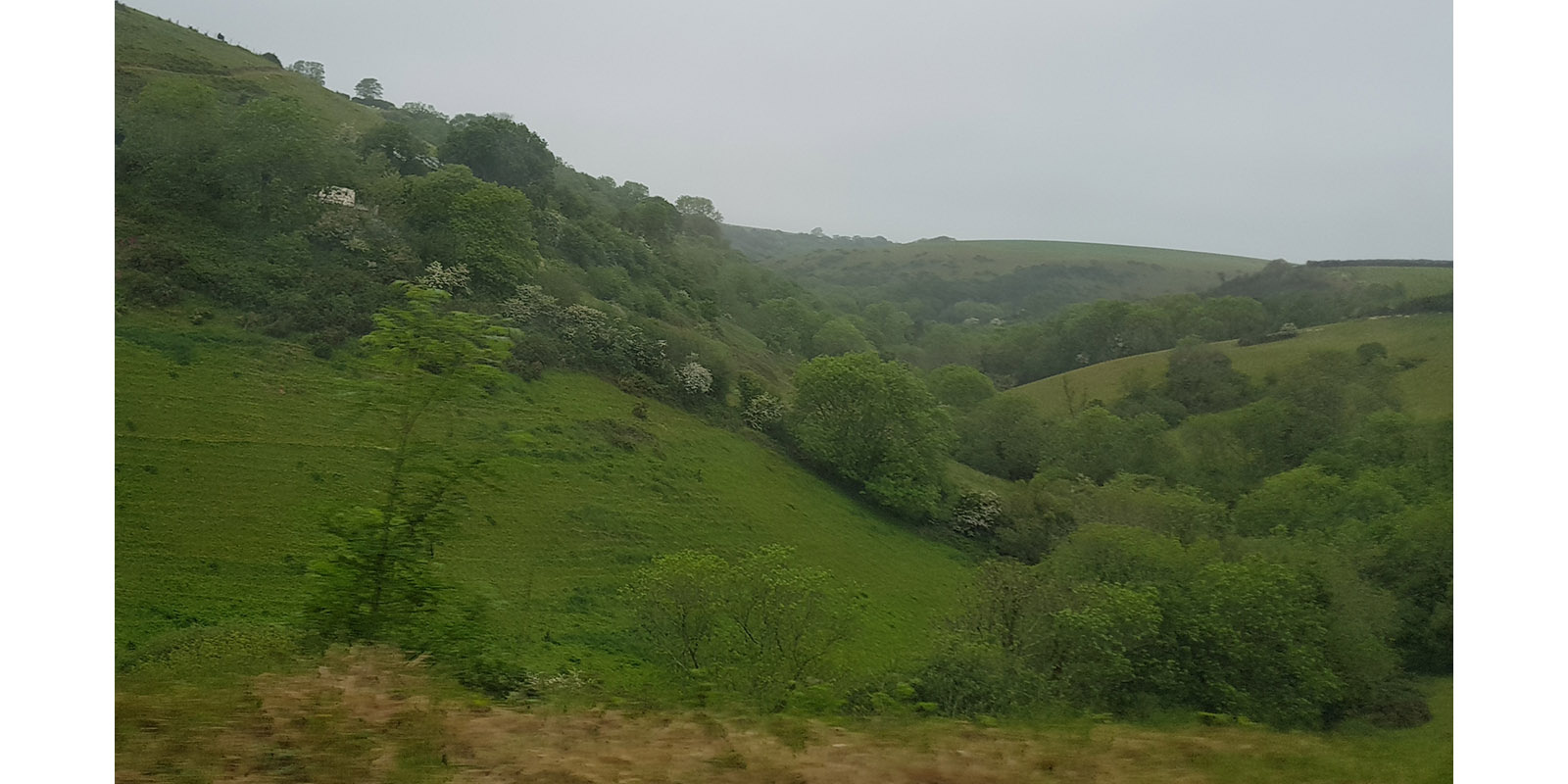 This is the quiet romantic country view on one of the pathways I think my great-grandpa and his parents travelled through between the hamlet he grew up in, Barcelona by Pelynt and Polperro where his grandparents lived.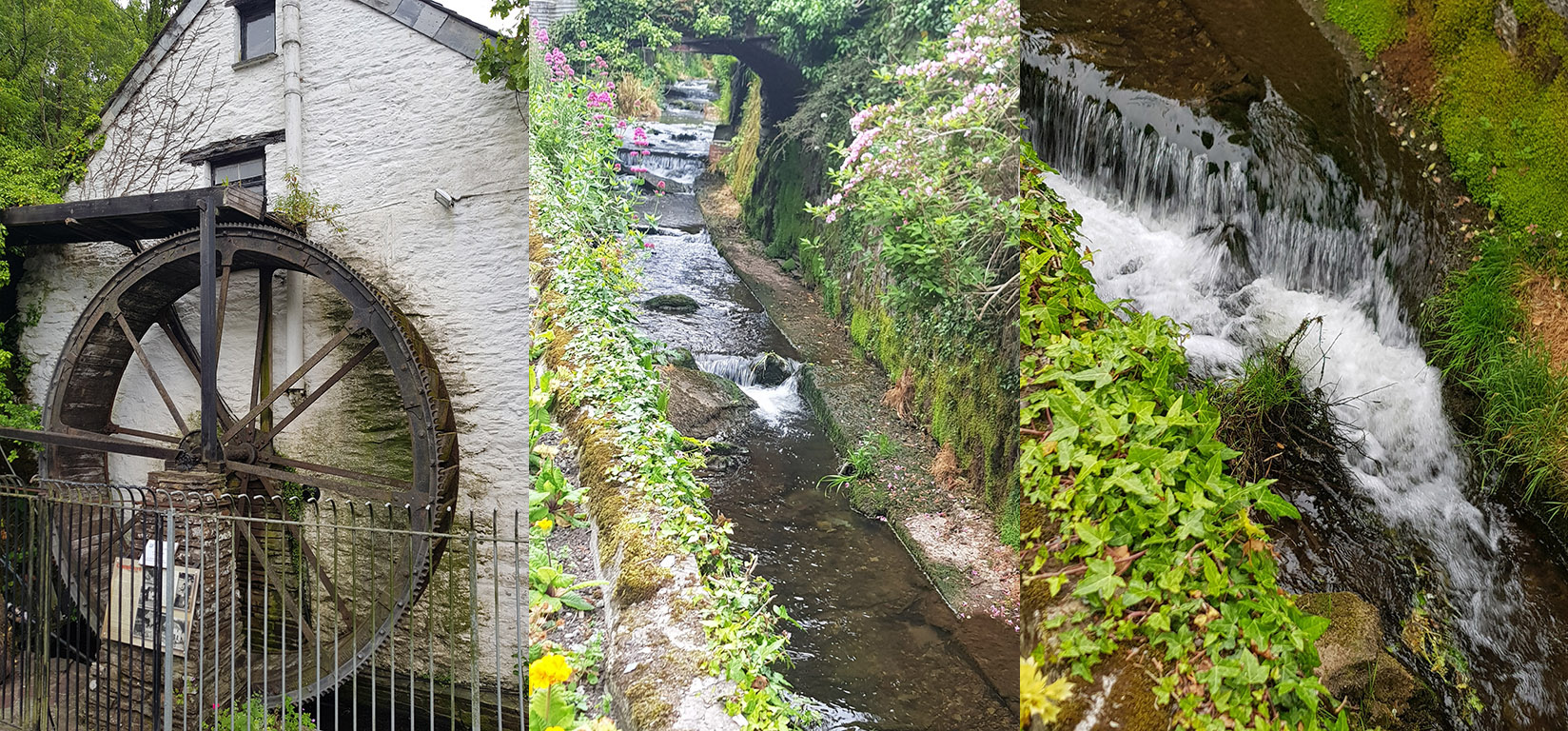 The Crumplehorn is a fascinating building and the mill wheel still turning at it's side is fed by a stream, an ancient brook, that is one of several tributaries that run down into the heart of Polperro. Far from being hidden underground, they actually form a key feature of the town and capture water run off during the rains and the storms that sometimes come to the coast.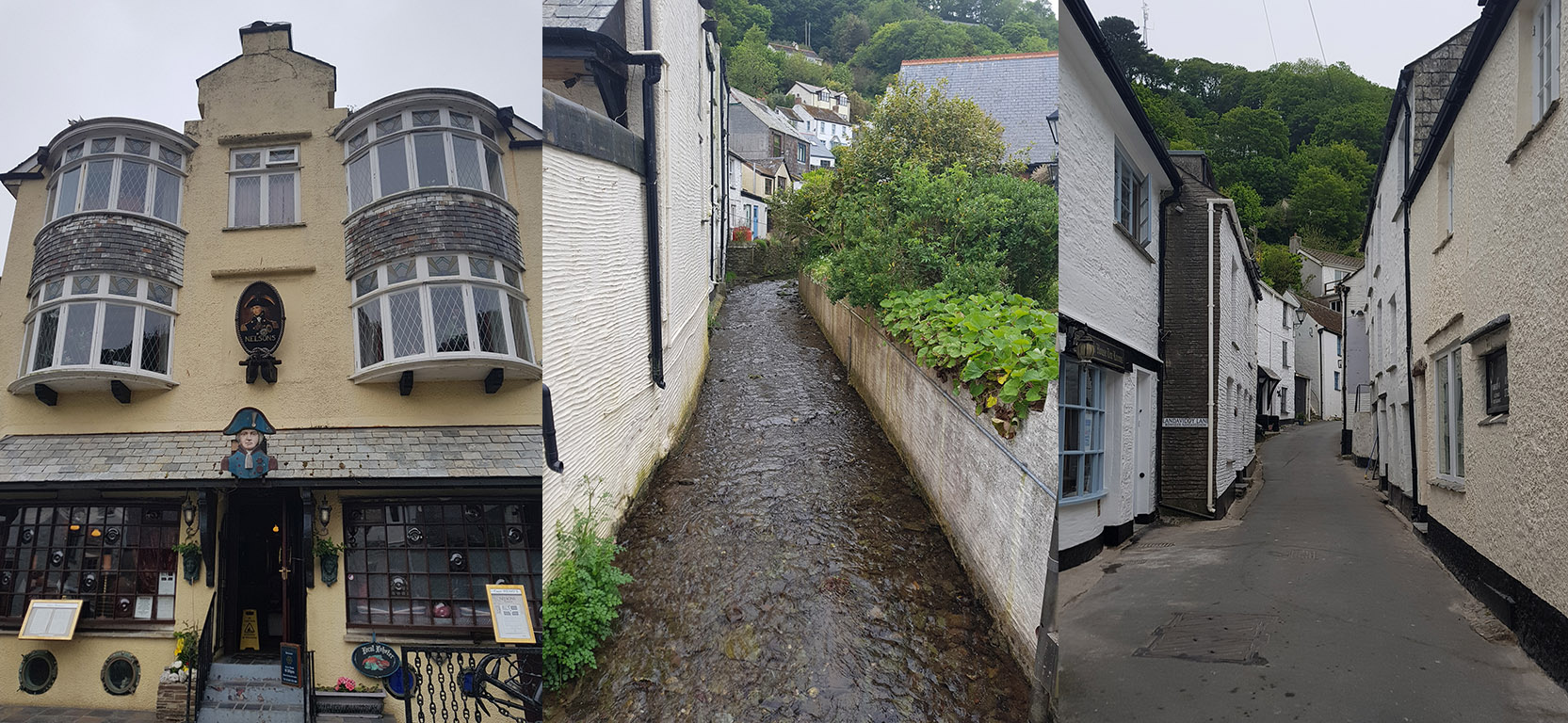 I visited Polperro relatively early on a Sunday morning just as the shops where opening and the village came to life. Again I was struck by the feeling of timelessness especially when no one else was in view. Aside from modern paving and overhead wires of telephone and electricity, there isn't much that has changed here in a very long while. Small roads seamlessly become bridges over rippling streams and vegetation springs up all around in the true style of the small gardens of medieval villages that are now just a memory in most of the country.
Polperro harbour was an amazing place to see. It looked so otherworldly it could have been a film set but this tiny mouse hole in the coastline feels like a beautiful 14th or 15th century gem protected from the ravages of time. These little boats can head out to see, along the coast or perhaps across to France and the Channel islands. I was struck by the possibilities that open up when you are by the sea, no matter how small the harbour.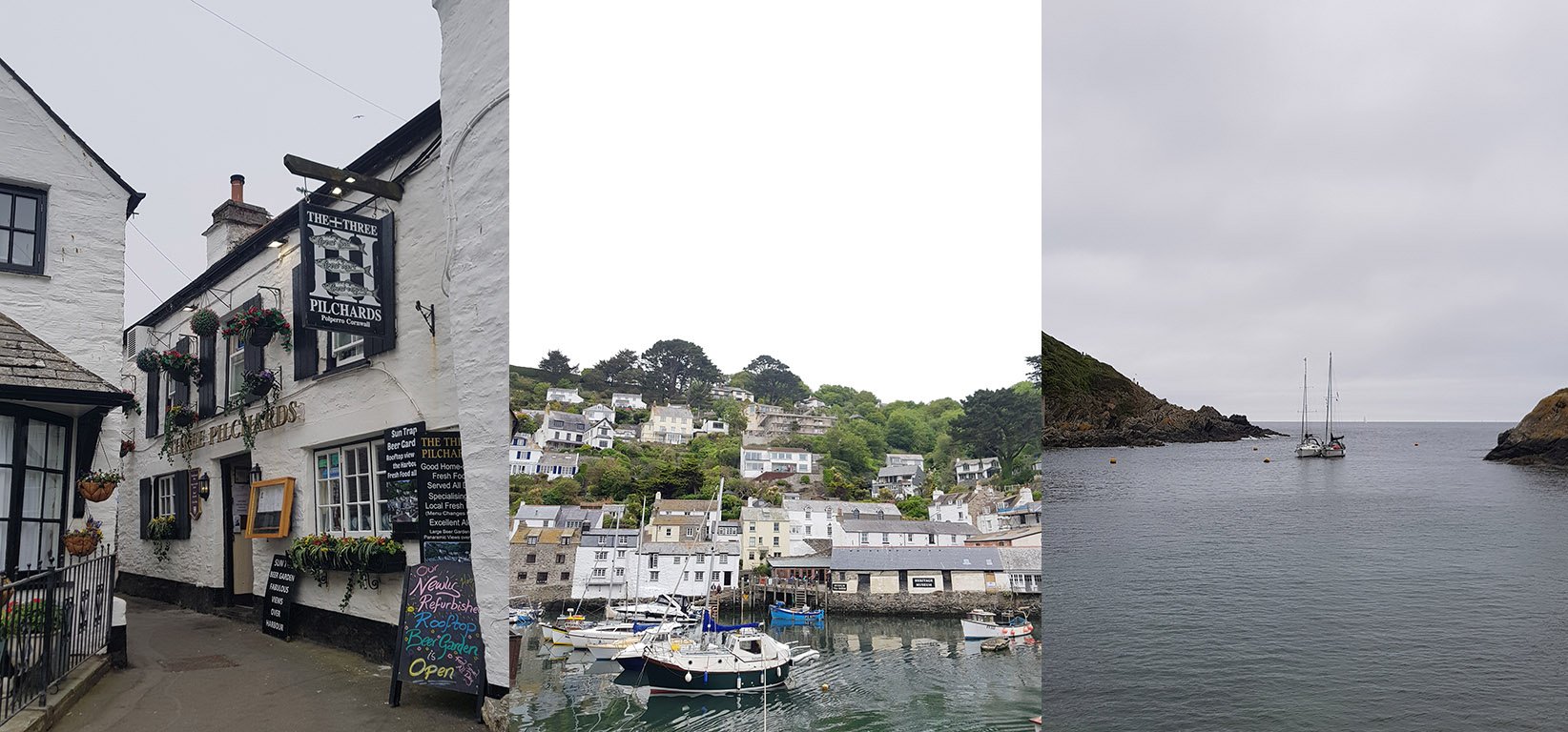 The Three Pilchards pub is a local landmark dating from the 17th century. Today it received rave reviews for it's food and hospitality and is quite a destination spot in the area. This belies a slightly darker past however as in it's earlier history it had probable ties to smuggling and cross border trade of various kinds. I felt a shiver and sense of uncertainty when I first came upon it in honesty but when I stepped in later in the morning to source a quick cup of tea I was met by a friendly host and happy customers that banished any strange vibes of the past.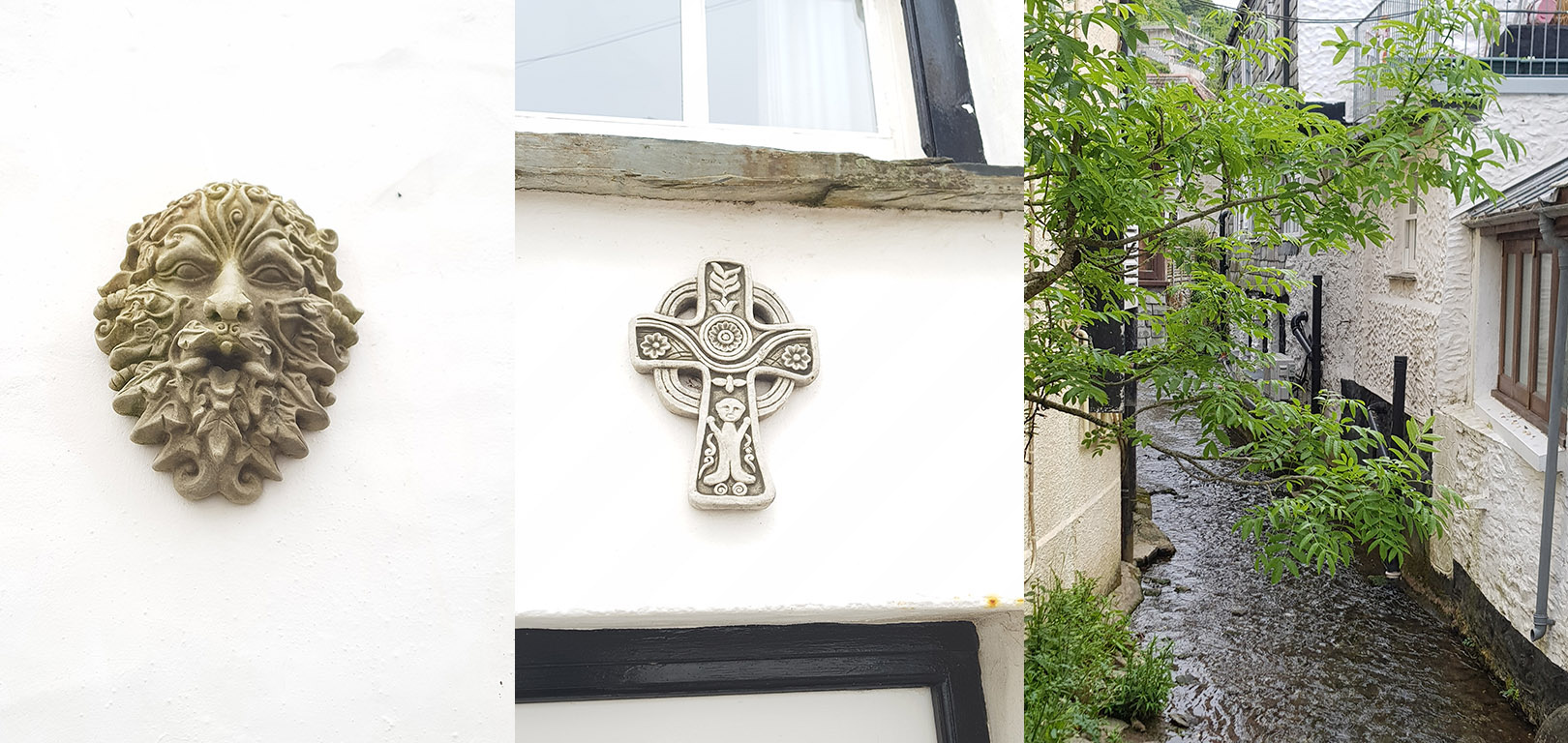 It's hard to over-state how unique and special the villages of South Cornwall feel. Packed with character and history they have tremendous stories to tell. Piracy and smuggling sadly are part of that and I felt in some ways this may have been frightening to the people living there in the past. I don't believe my relatives lived in the town back as far as the 18th century piracy heyday so perhaps this didn't concern them but it wasn't just Polperro that had an economy dependant on this extra type of trade. I think many other small towns and obscure villages would have taken advantage of possibilities too if not for anything more than a source of income away from the land and large centres of trade.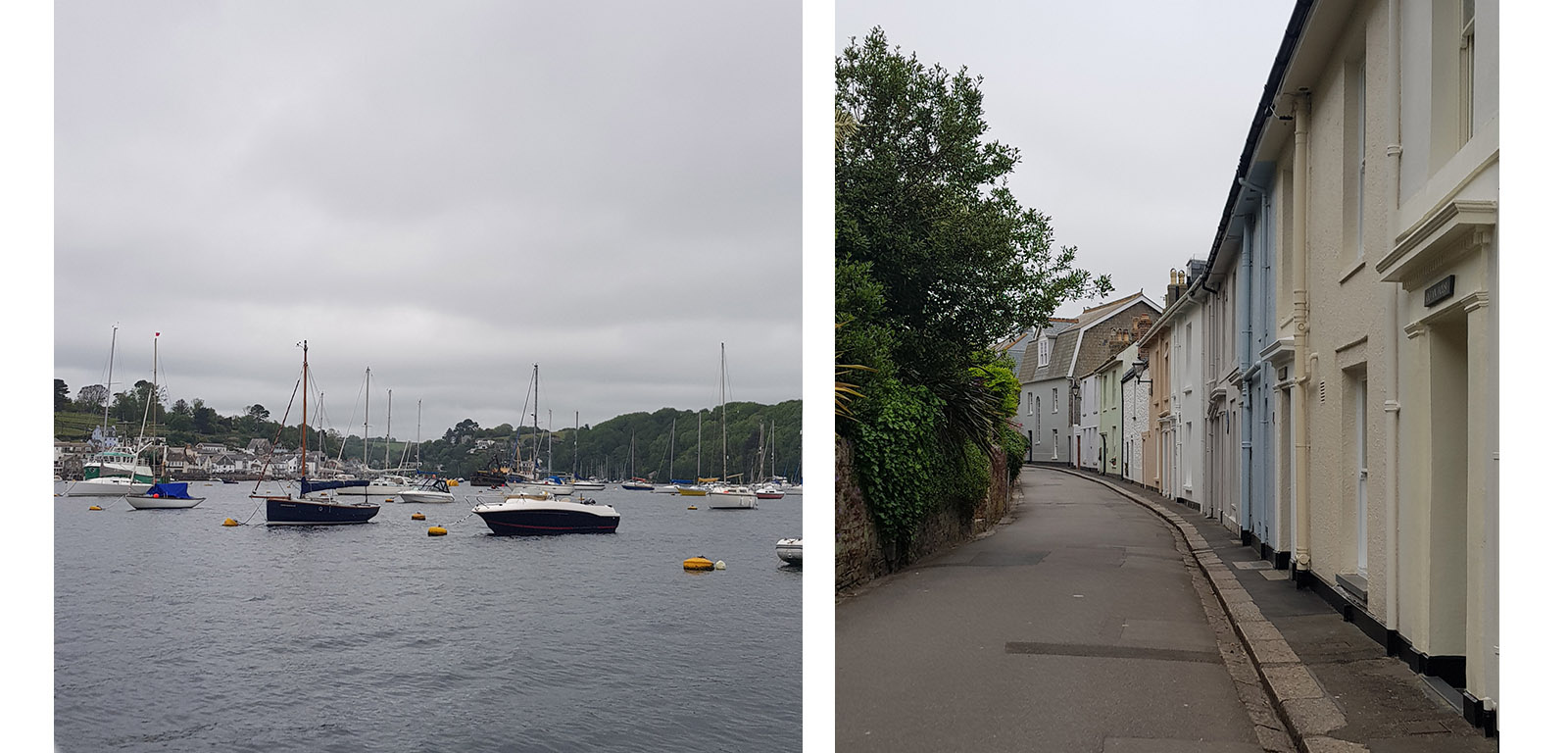 I set off on a journey to Fowey over the water having travelled through some astonishingly beautiful coastal countryside after leaving Polperro. When you don't see other travellers or cars you can easily feel like you're slipping into a very different time.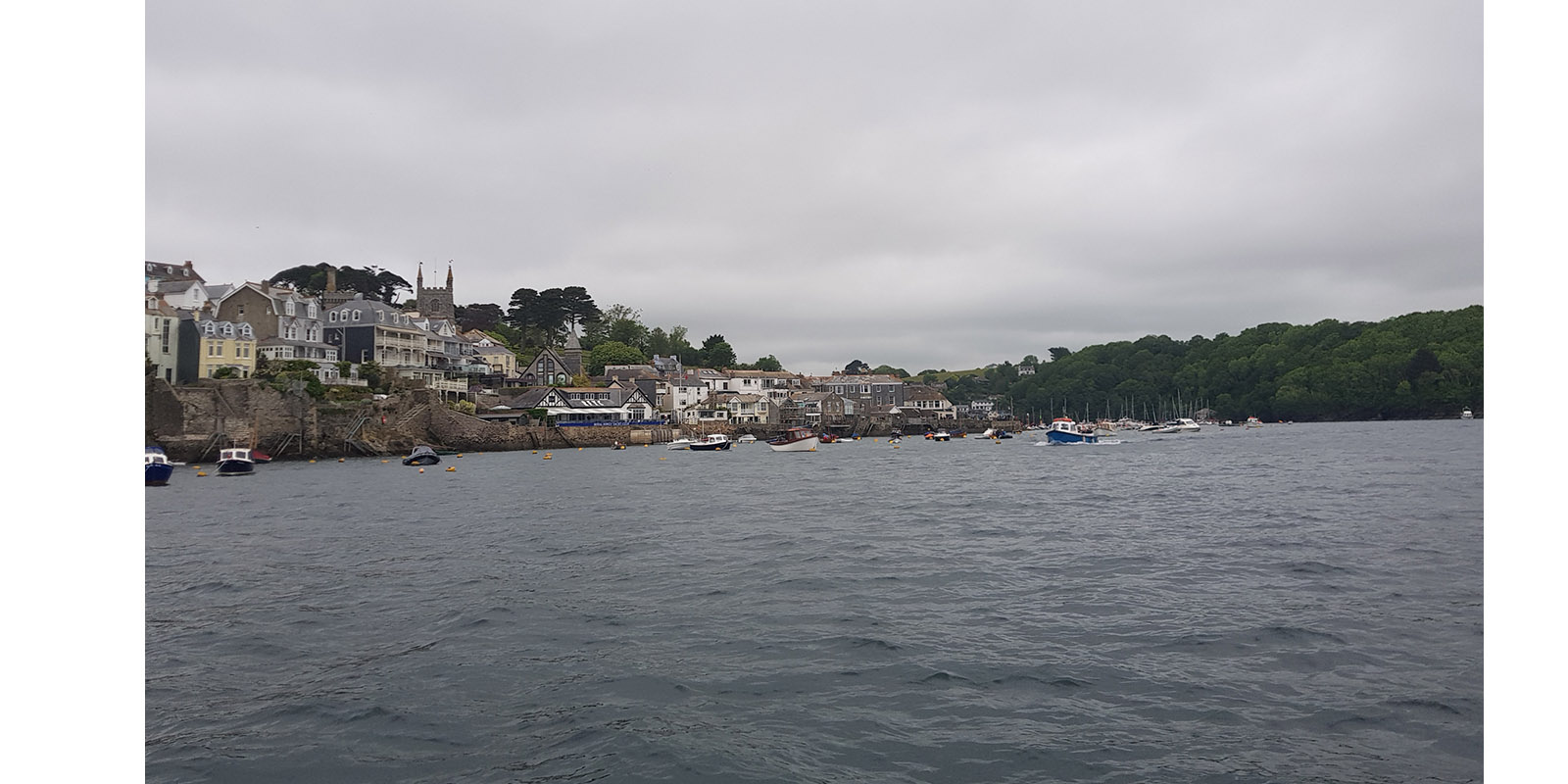 For me the journey across the bay in front of Fowey that leads to the sea was one such moment where I suddenly felt I connected with people living busy day to-day lives in centuries past and just over your shoulder is the wide open sea leading to France, Spain and perhaps the Americas. When you think of the sea as the ocean highway you realise that Cornwall isn't remote, it's a vital jumping off point to the wider world.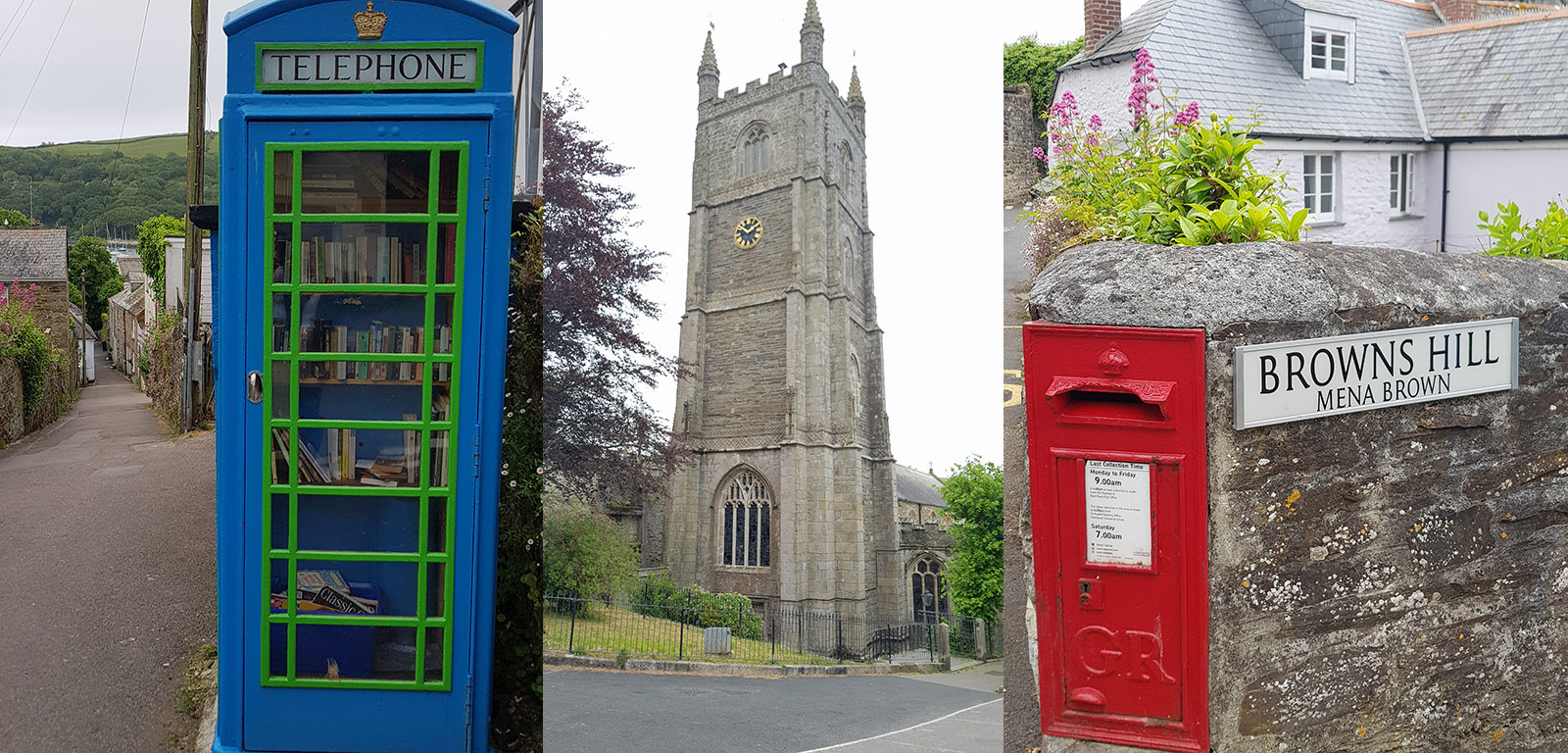 Fowey village is beautiful. Set on a very steep hillside rising above the mouth of the Fowey River it's small and packed with historic houses and cottages. It was certainly a good work out travelling from the dock to the upper village where I picked up one of the shiny new cross country buses to journey on to St Austell. I love a village book bank and this Blue telephone box will stand out in the atmospheric mists rising off the waters in the Autumn, Winter and early mornings. There was a beautiful old Church and Abbey that was closed to explorers that day but I would recommend discovering if you are in the area. Also as a tiny bit Cornish I couldn't help smiling at the bilingual signage in the village and very glad that Cornish, like Welsh from the borders where I grew up, is coming back in a steady determined fashion.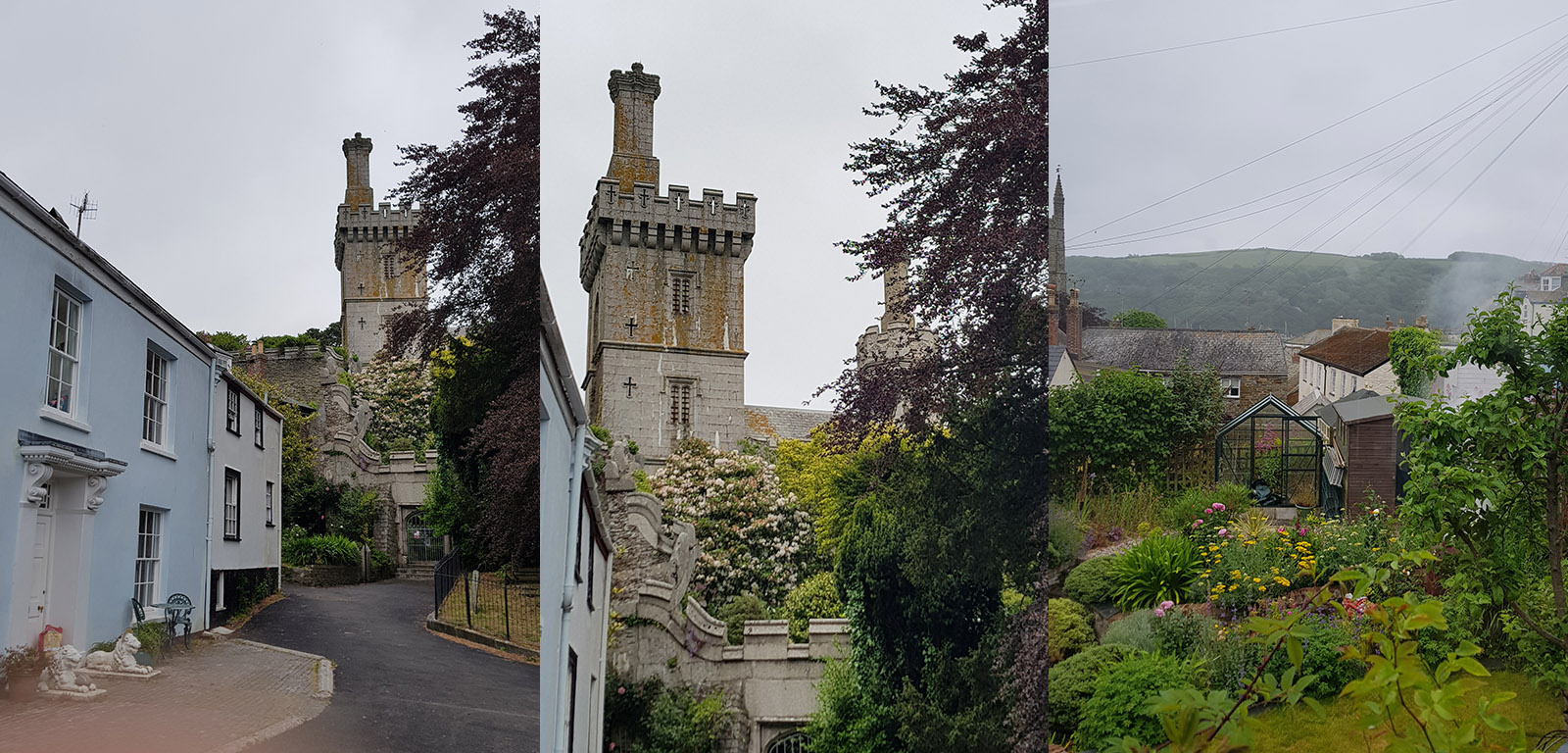 The Safe Harbour pub is a local landmark and sits close to the top of a hill in a prime position to see out across the harbour. You can see if you're under attack, who may be sailing in and what the weather looks like. Also customers and villagers can see by your lights potentially on a cold stormy night above the houses and cottages nestled closely together.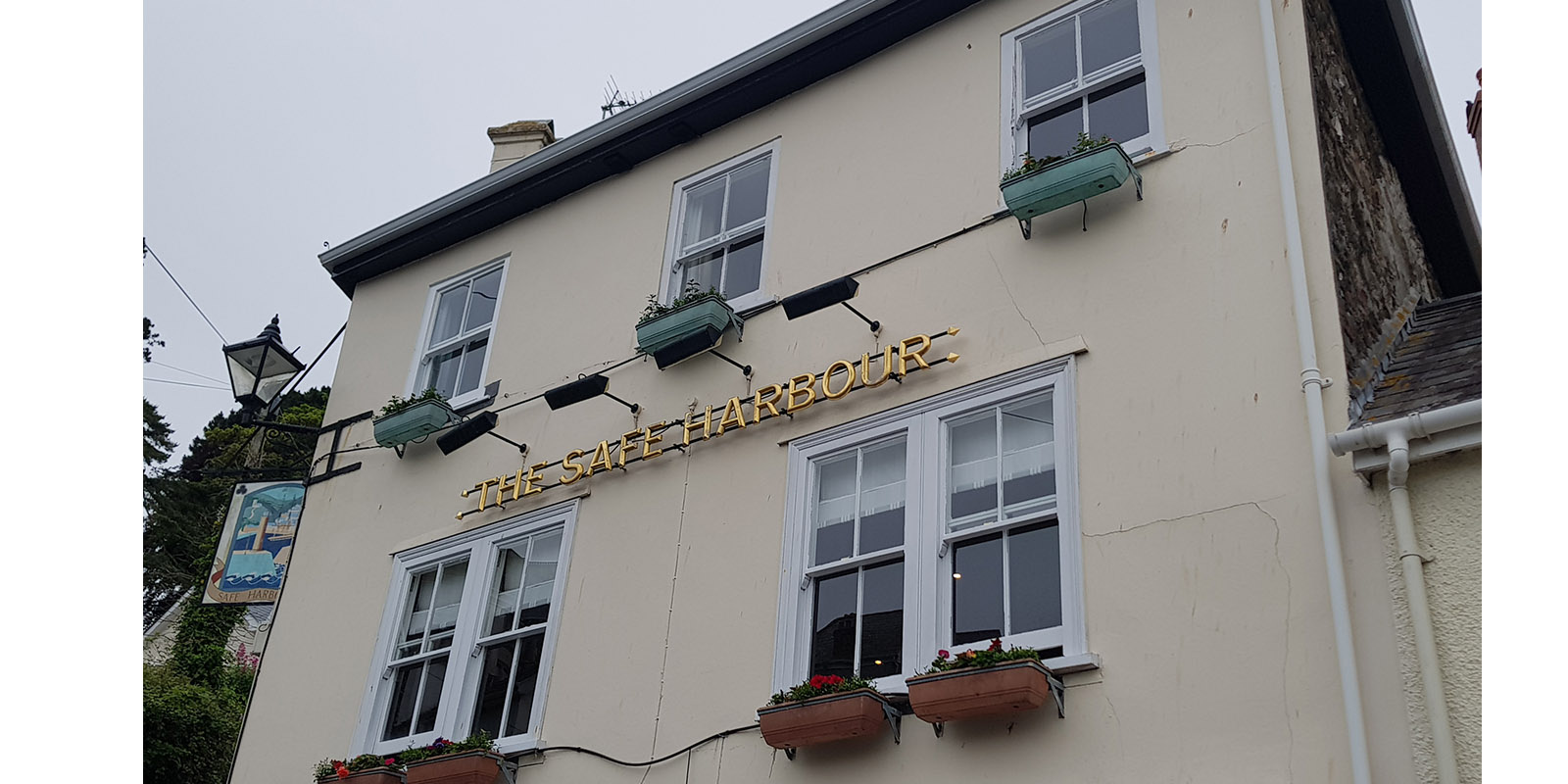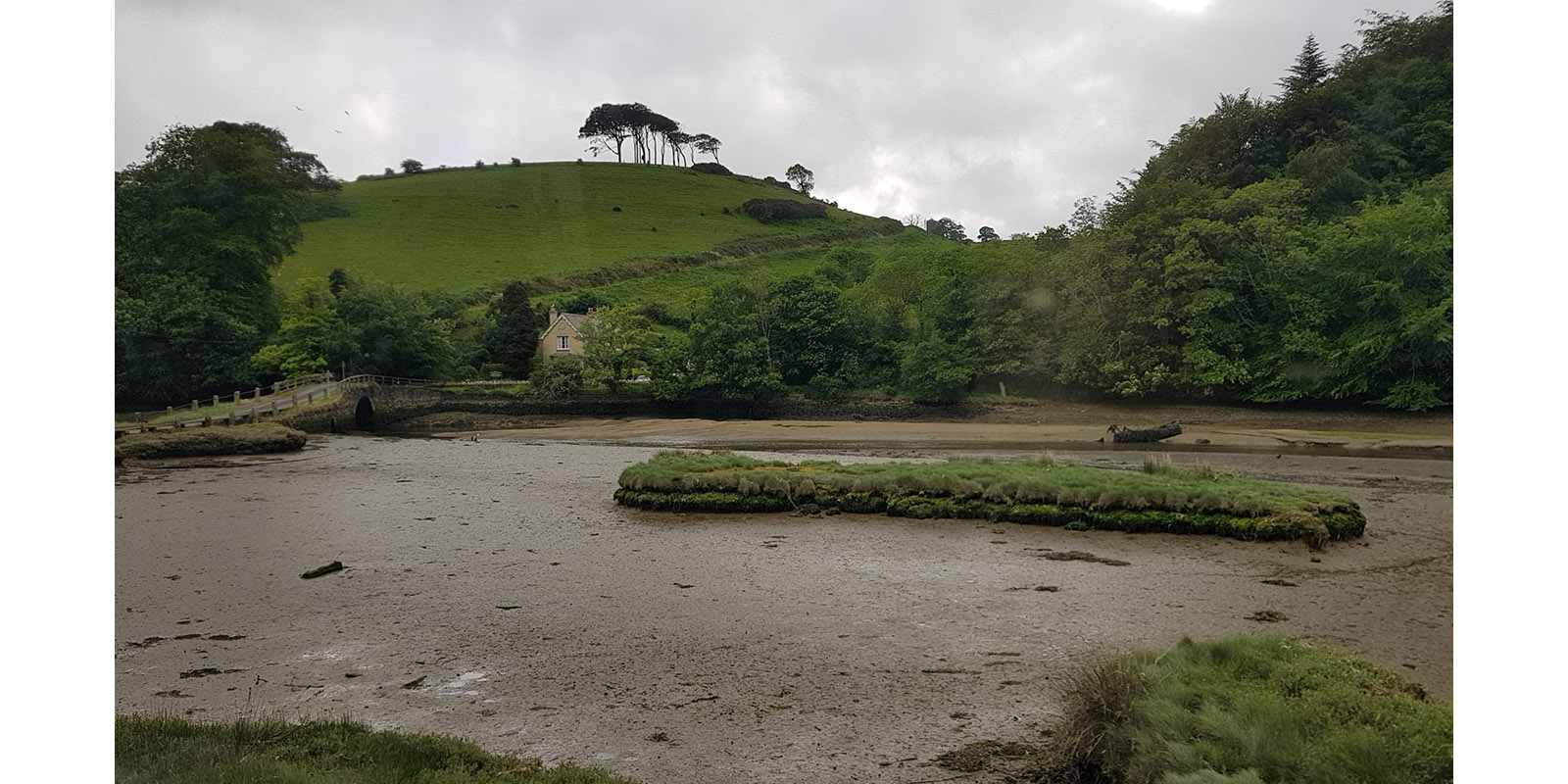 Returning to Looe again, I passed through the beautiful Looe valley again, this time all mud flat dotted with wildlife where previously there had been waters a few hours earlier.
Here is a beautiful view down the estuary to Looe harbour. As you hug the riverside on the train Looe first appears like a White dot briefly glimpsed between Green as the train snakes downwards toward the seaside. With each snatched view it gets bigger and bigger until this view where the train heads towards the last corner into the little town.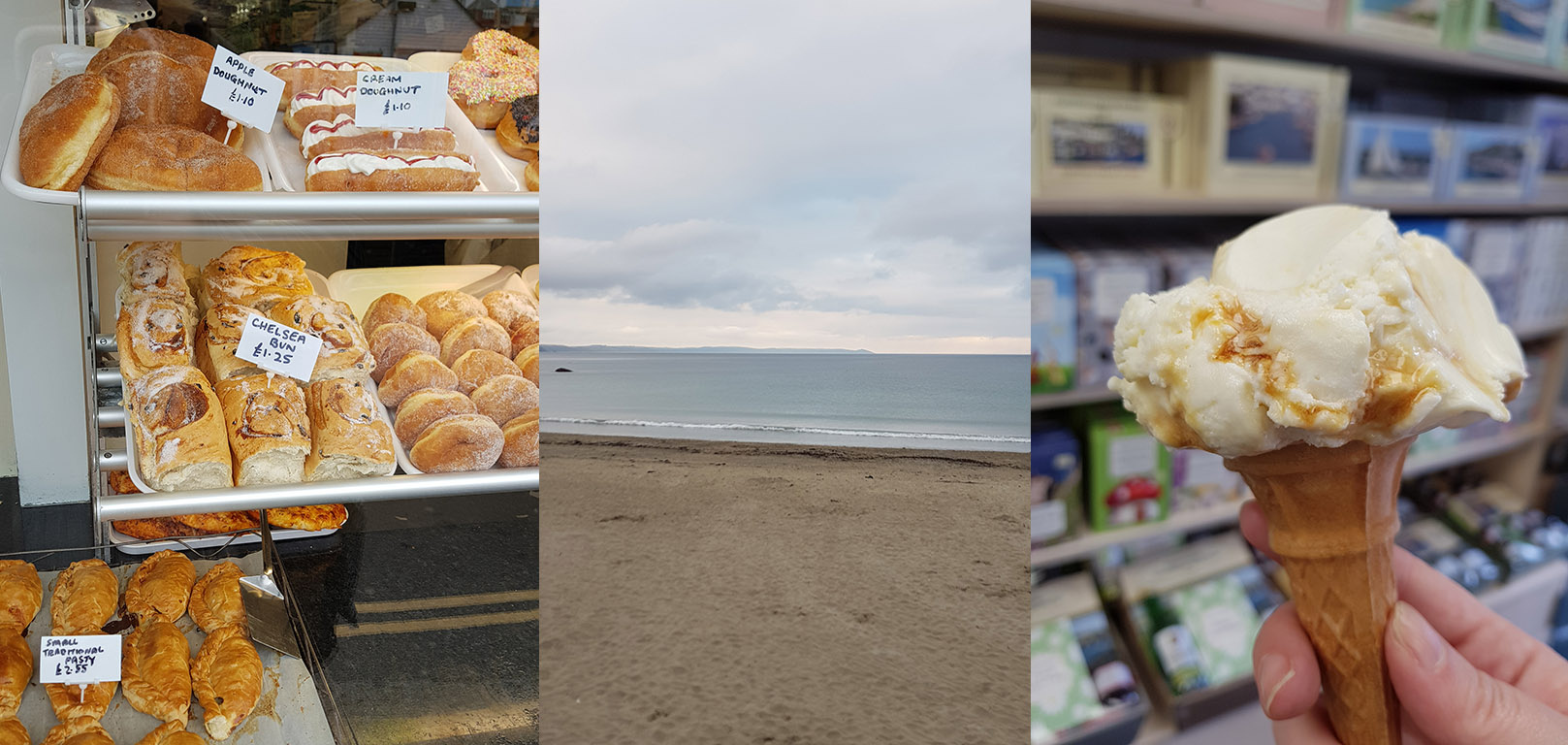 Another wonderful discovery about Cornwall is that the village bakery culture is still going strong. A pasty a day isn't really that unhealthy when you remember the fillings are generally savoury. Above it may not come across but I had to share the portion sizes on offer. These Chelsea buns may look quite ordinary but they are the size of a small Rugby ball as are the Apple doughnuts. The thing that makes them much healthier than what is often found in chain stores through the country is that the fresh baked things here are light as a feather inside. I don't know how they are made and magicked up but no stodge here whatsoever in the pastry or filling and they literally melt on the tongue. Unless you are absolutely ravenous hungry the small pasty is certainly enough. Centre above Looe beach on a calm evening with the curving coastline on the horizon. To the right my new favourite ice cream 'Thunder and Lightning' from the Looe Fudge Company. It's made from caramel, full cream, mik, honey and honey comb pieces are also infused into the creation. A single cone suffices as it's very filling, you may need one each day though.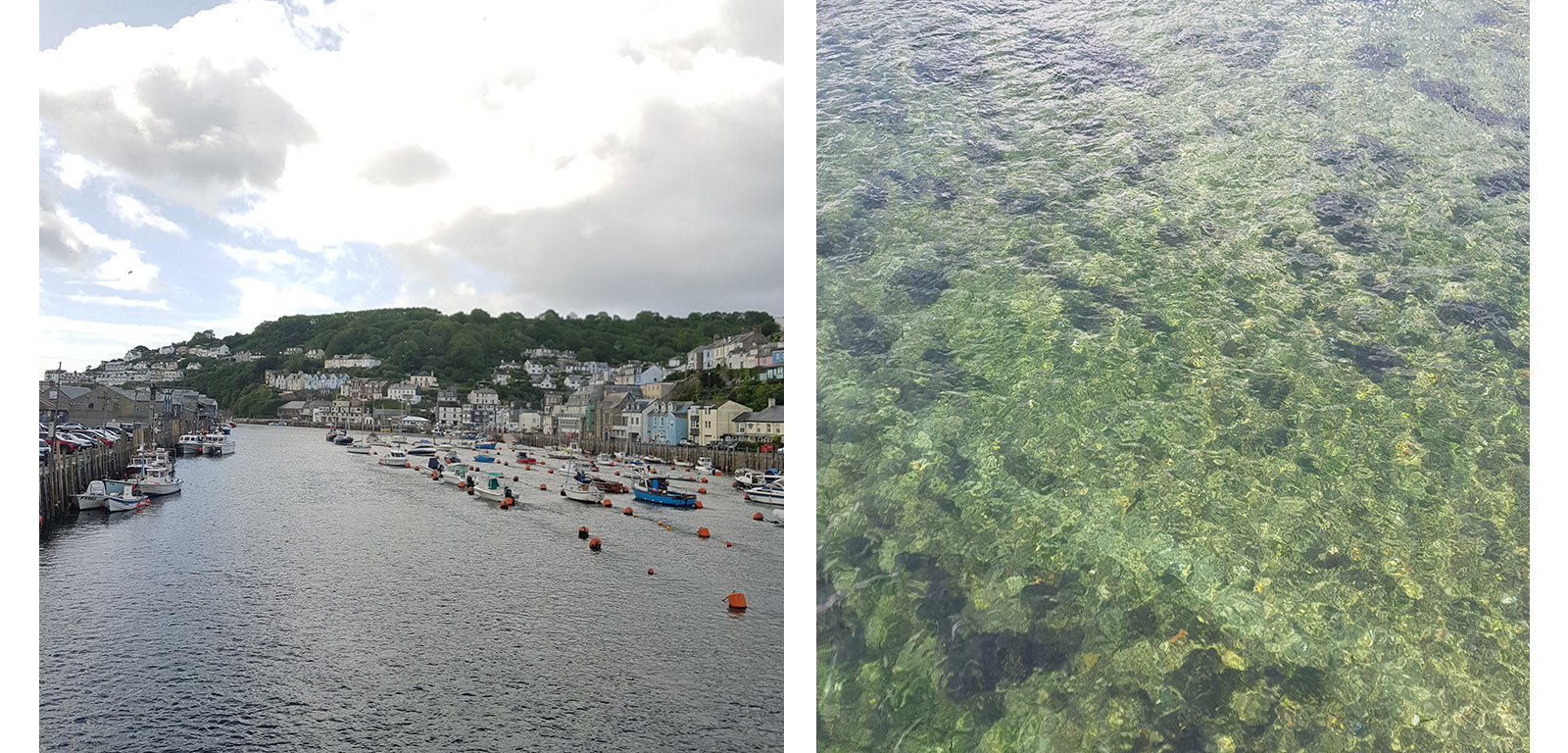 A view that you don't tire of easily and the magical shimmering waters of the mouth of the Looe bay ahead of flowing to the sea.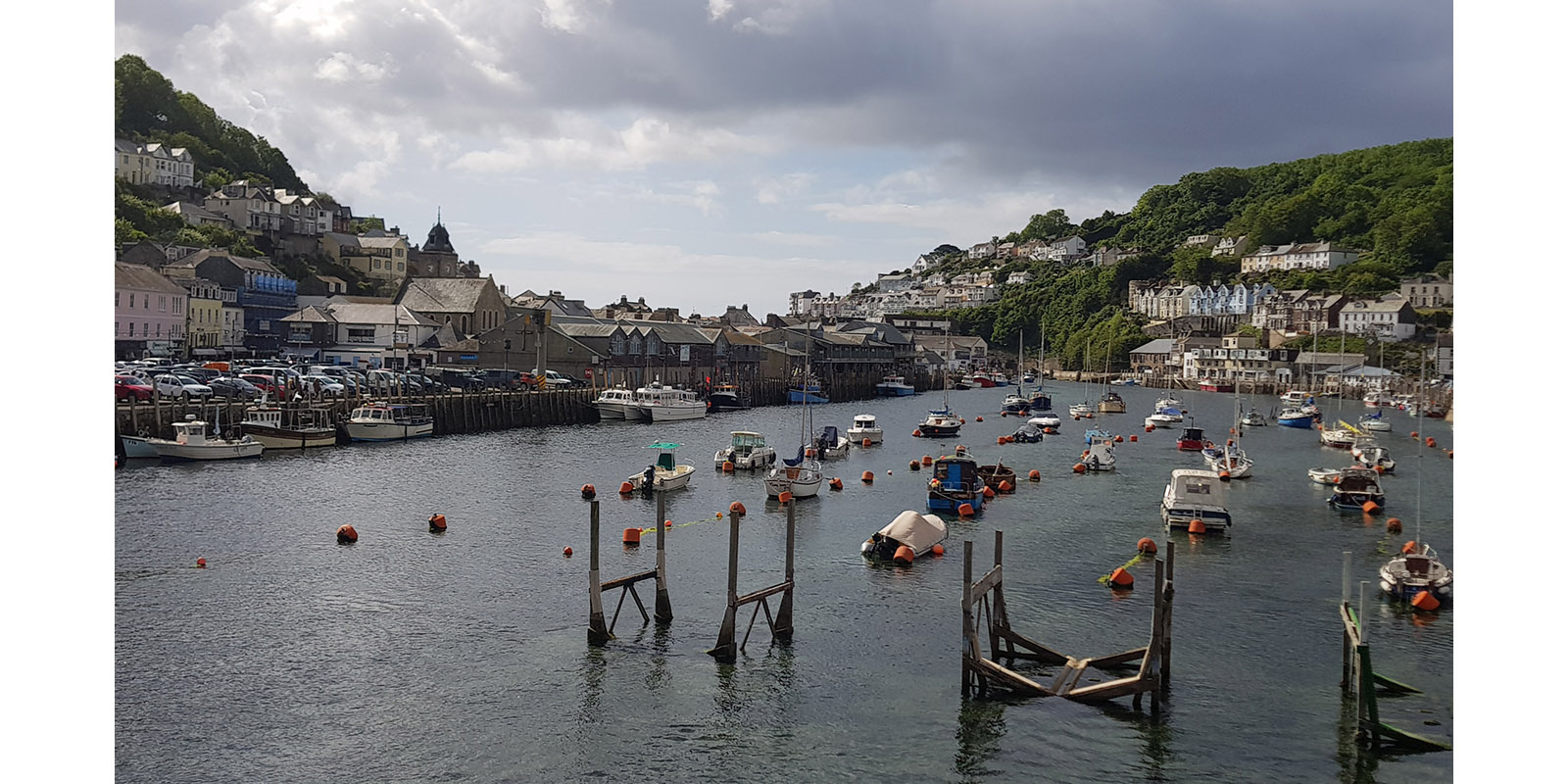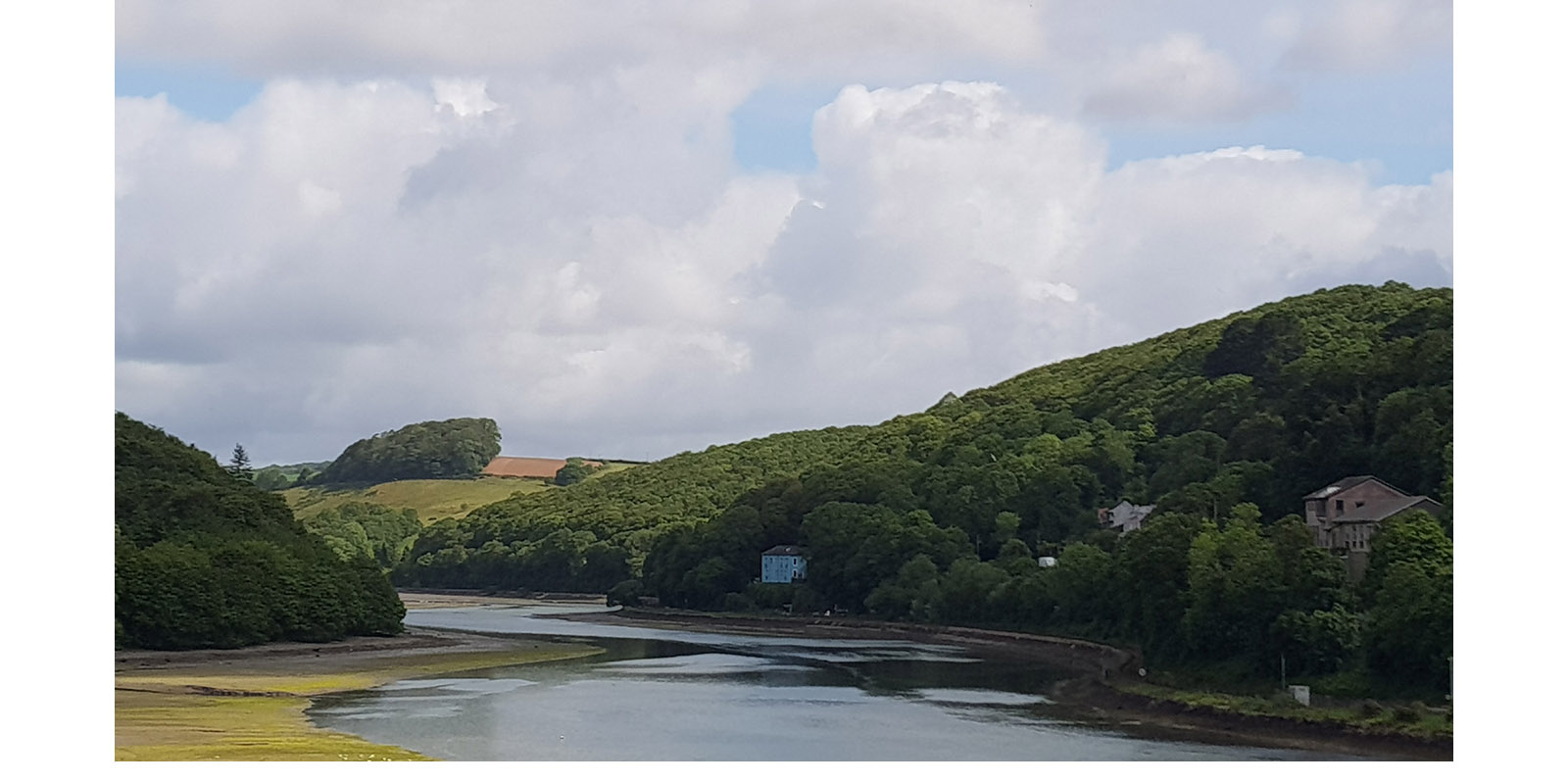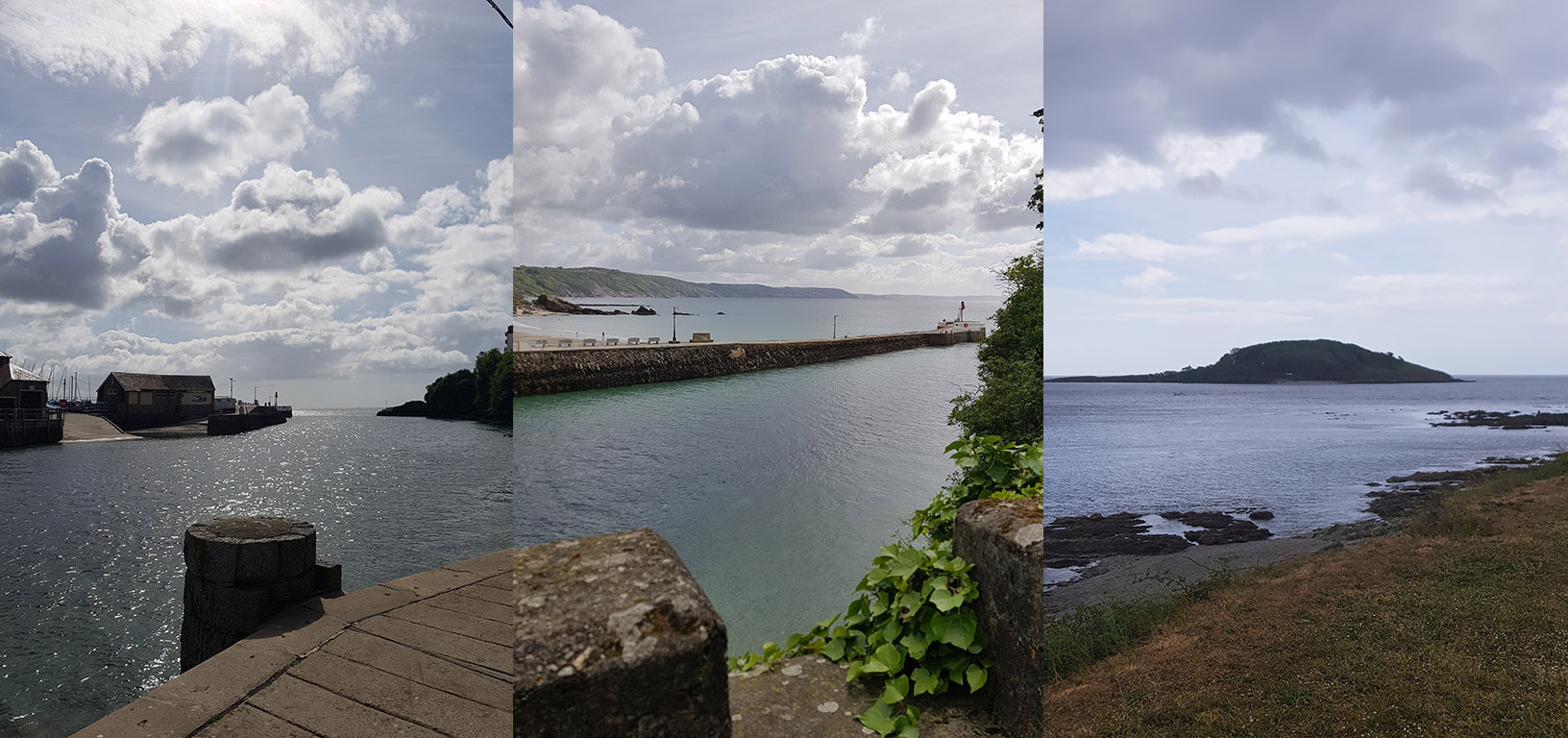 On my last day in Cornwall I felt like it was a good time to head out of Looe on foot and walk along the coast towards the fabled Talland Bay. The light was dancing on the water in a captivating dance of light and as I stretched my legs long the coast I saw the nature reserve that is Looe Island come into view. So close to the mainland you may be tempted to swim across but be warned, these are perilous seas with strong currents and tides. I walked off a lot of pasty and ice cream along the Talland coastline and was delighted to see posters encouraging people to do the 2 minute beach clean. The customary crabbing buckets can also serve another purpose in keeping the beaches clean. Walking back into Looe in the afternoon I saw the fascinating St Nicholas Church with it's Italianate tower. It looks like a little piece of medieval history dropped down in the largely Georgian and 18th century era part of the west side of the town.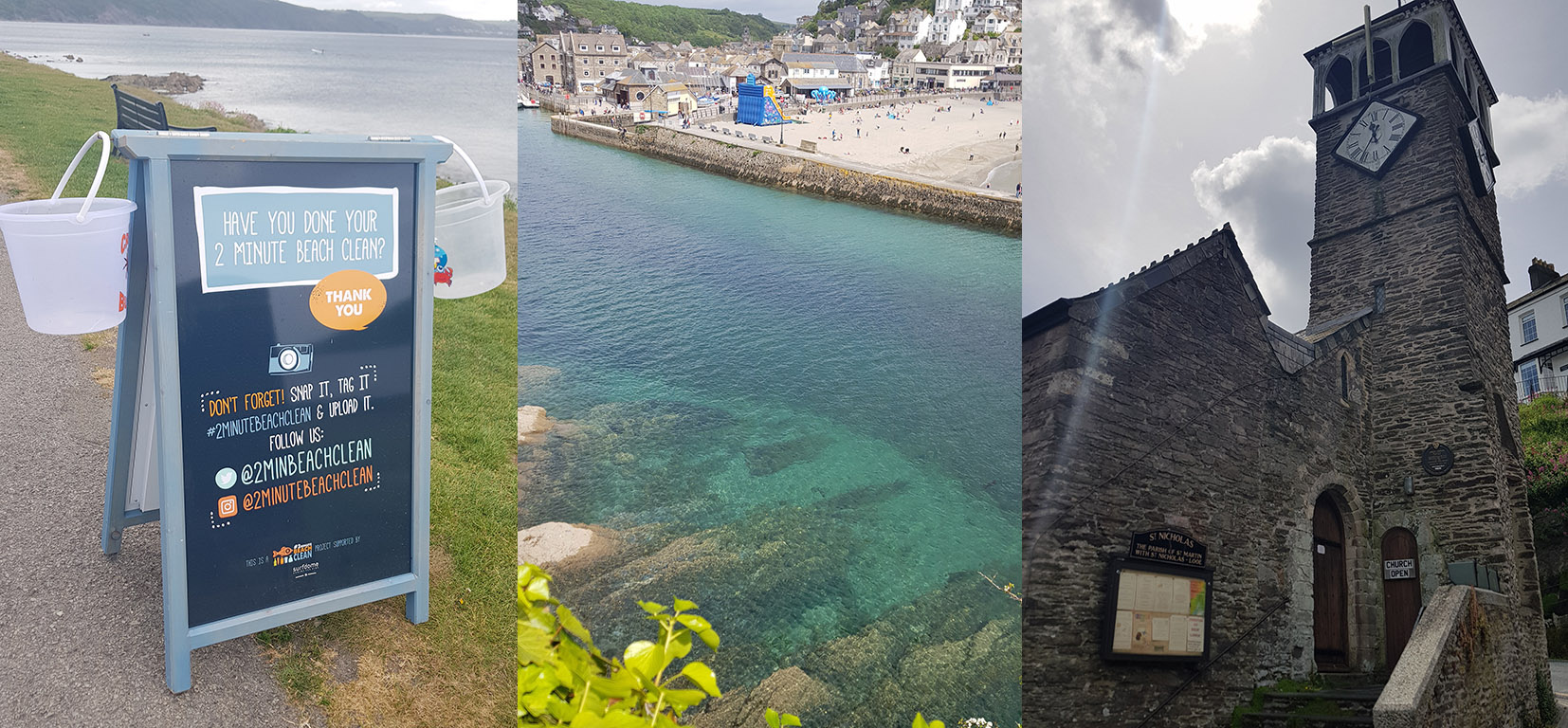 A last view of the estuary filled with light Green waters was a lovely way to say goodbye to this part of Cornwall. There are many places that I'd like to see still in this part of the country but this trip was a good start and after spending times abroad it leaves you thinking and feeling that this country is still so under explored.

Each July Masterpiece London arrives at the Royal Chelsea Hospital and fills the space occupied by the RHS Flower Show a few weeks earlier with an ecclectic group of collectable items to buy from Ancient art through several thousands years of craft works to the present day 21st century conceptual scene. This year giant Pom Poms by the artist Phyllida Barlow filled the space. After teaching at the Slade for more than 40 years she is now a Professor Emirata for the University Collage.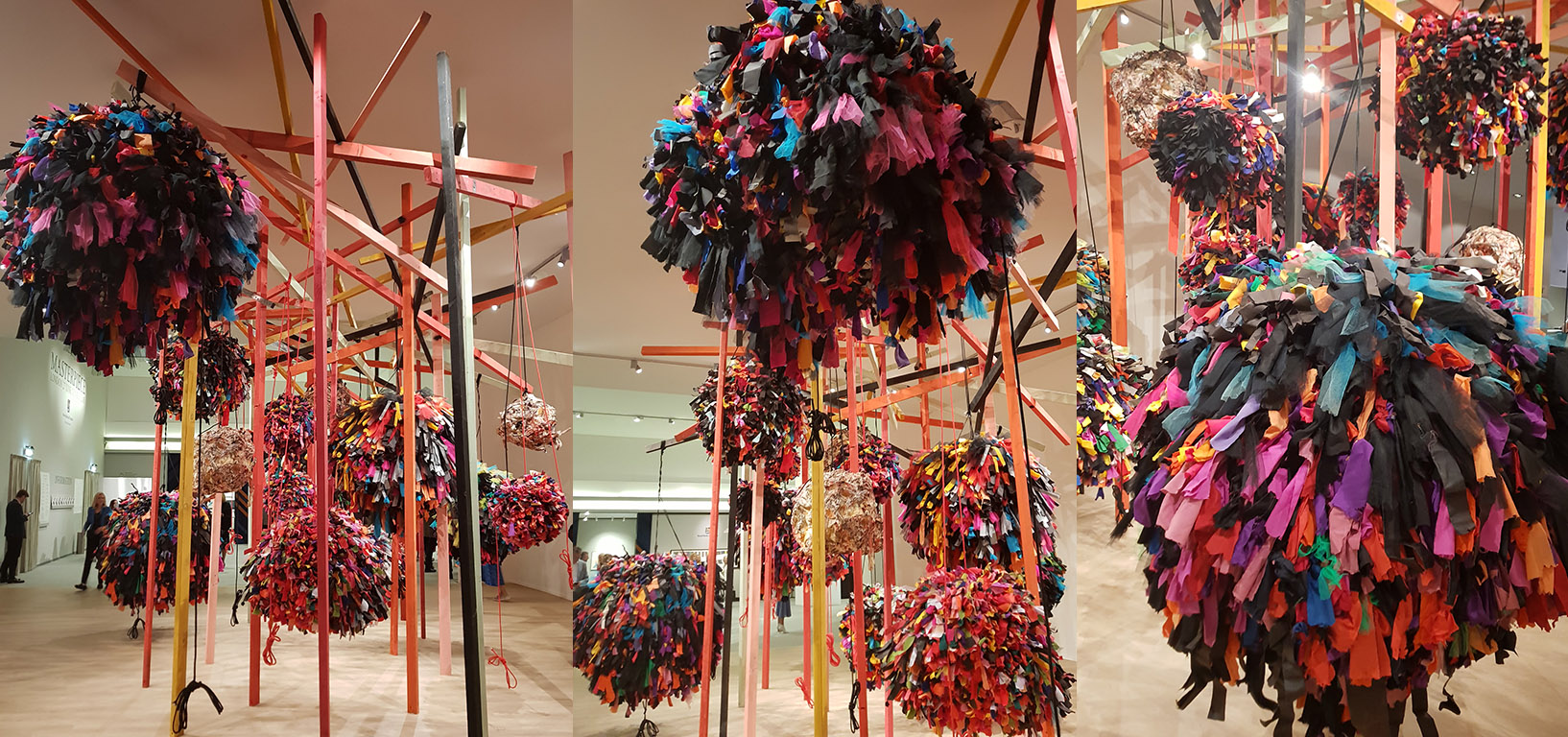 The cavernous space is arranged in gallery corridors with exhibitors not grouped by discipline. This is a wonderful way to see contrasting art and exhibits, many for sale, alongside eachother.
A striking sculpture greeted guests as they arrived at the entrance to the central avenue. Made of Bronzed linked chained by Susie MacMurray this impression of Medusa transforms the famed tendrills of hair into rippling arm like ropes that appear to transport her across the ground like a carpet of moving snakes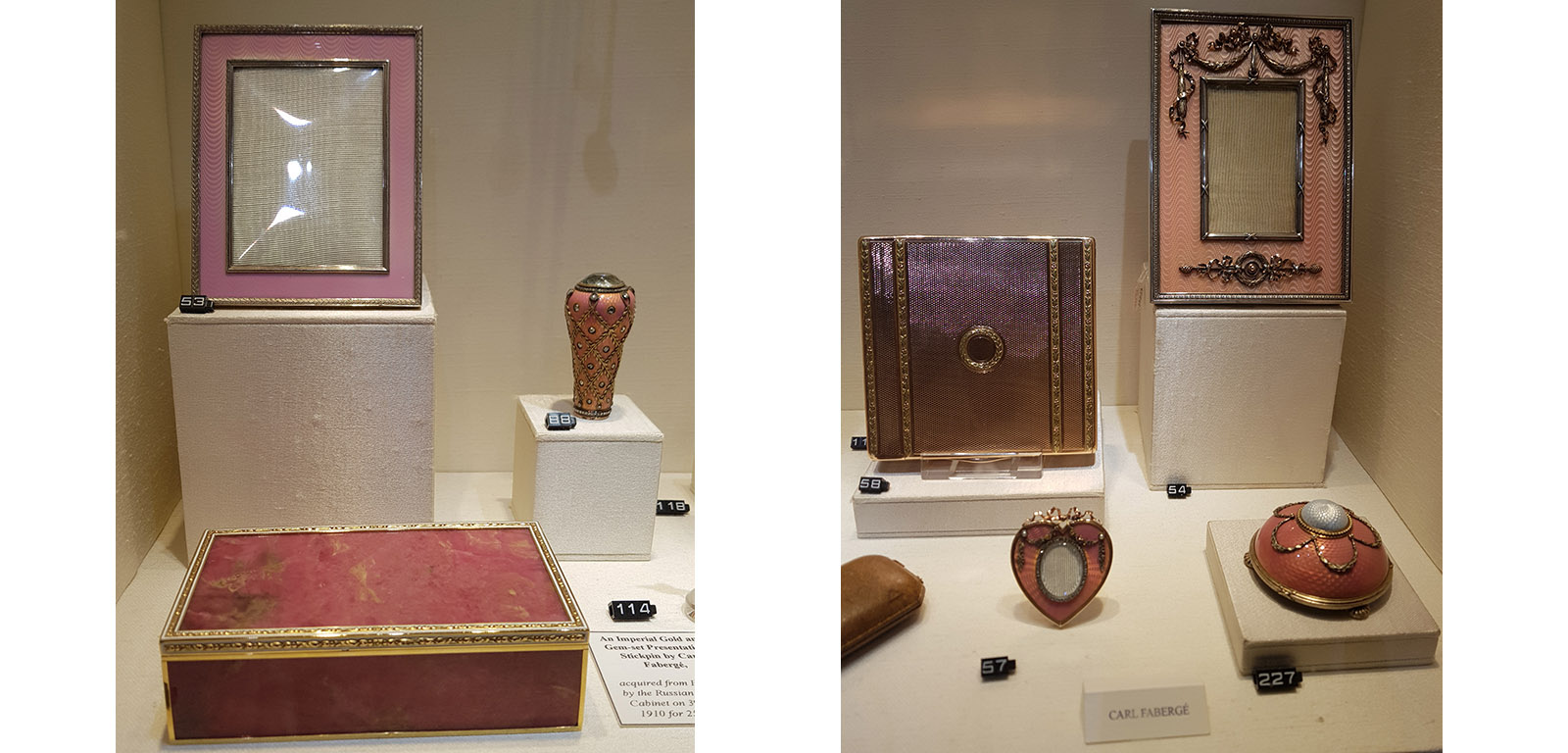 Jewellery firm Warski often show a delightful range of Faberge objects that are popular across the globe with clients. The allure of the fantastic quality craftsmanship and romance of Belle Epoche Russia combine to offer pieces that will make very special gifts. Pink and Gold is one one of my favourite colour combinations and here above, picture frames, keepsake boxes and even bell pushes and handles are a pleasure for the eyes to behold. The presentation box above to the left is one of my favourite pieces that I saw during the whole exhibit and the timeless simplicity of Rose-Pink marble or veneer fringed with a delicatly carved Gold border is a pure delight.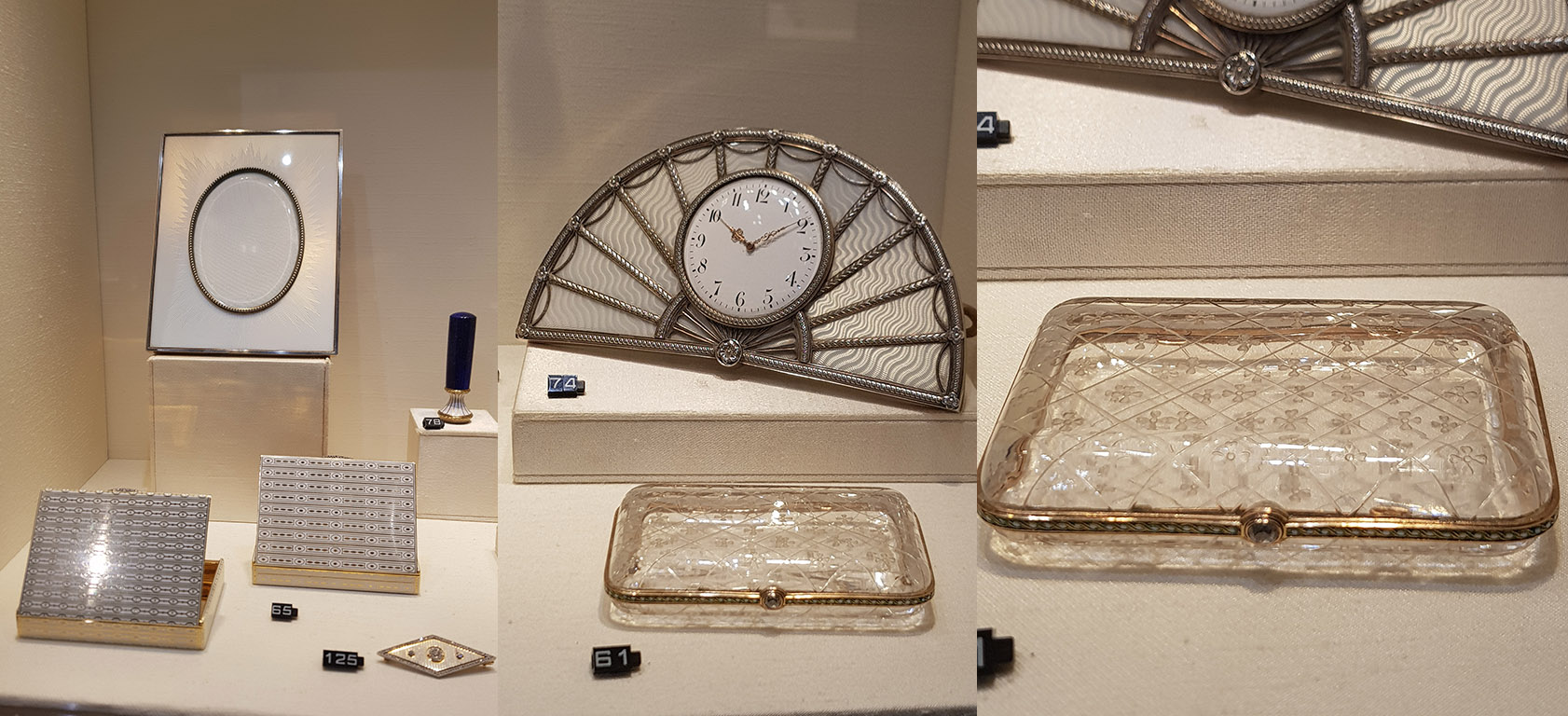 White and Silver also make a luminescent eye-catching design combination. Picture frames and cigarette cases (a fashionable thing in another era) reflect any glimmer of light in the room. A clock face that appears to me to be an early taste of Art Deco is cast in the novel shape of a ladies fan. Below an intriguing clear glass box caught my eye and I believe that this is infact a purse that look similar to transluscent items created in recent years by high fashion design labels. The glass is inlaid with that looks like a Maltese cross and I found the craftsmanship in this piece truly unique.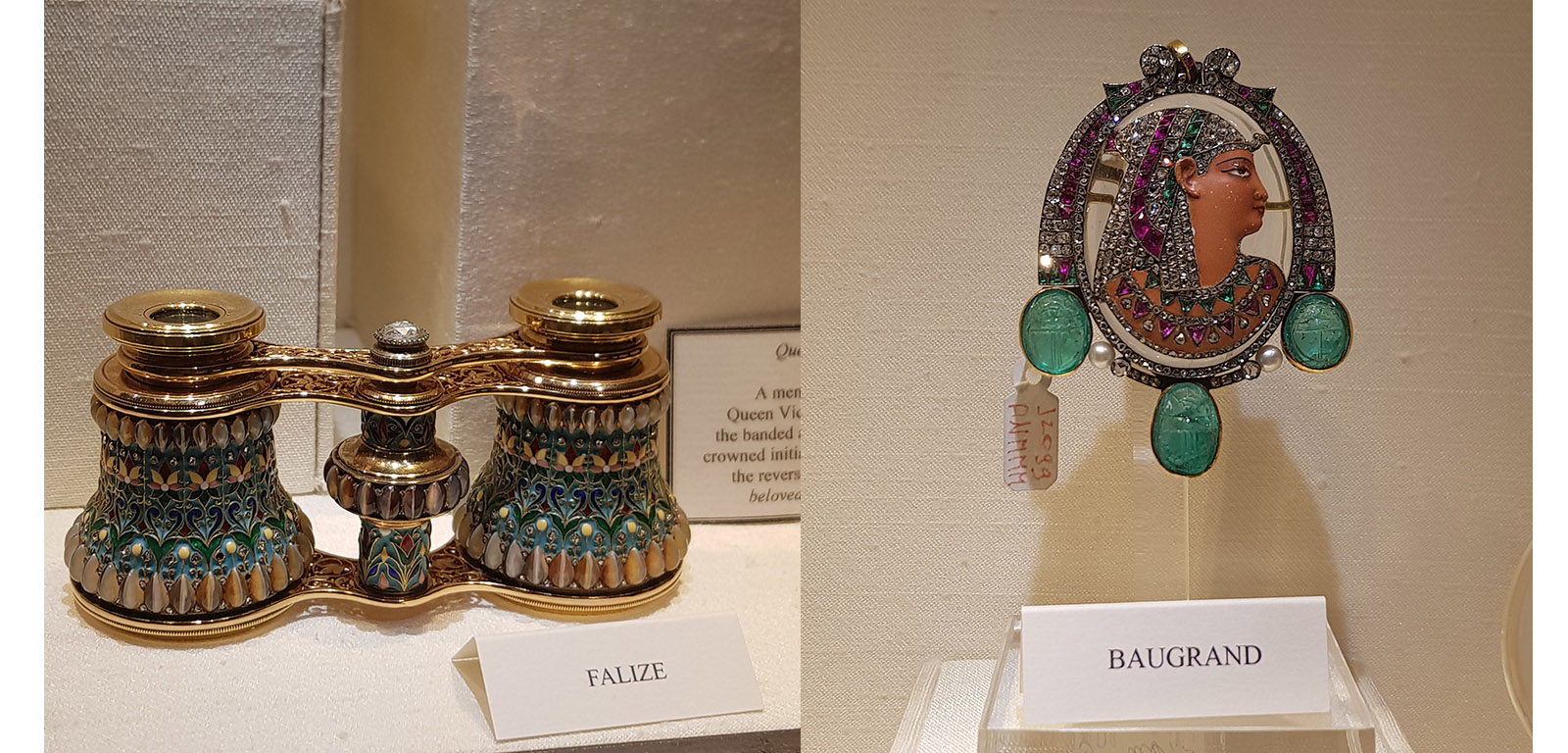 Highly crafted enamel work is something that you can easily become fascinated with. Above a pair of opera glasses that are beautifully guilded and set with semi-precious stones cut in deicate shapes is simply a work of art that you could use to watch art. It's angles and articulation all fit easily into the palm of the hand and are re-freshingly gender-neutral design to be worn by either a female or male owner. It's also part of the Art Deco era that looked to Egypt after the tomb raiding discoveries of the 1920's and Edwardian eras. The fascination with the history of Ancient Egypt was reawakened in the 19th and 20th centuries after a long sleep form the days when it fascinated Romans and Greeks in the Hellenistic era. Jewellers such as Falize and Baugrand working out of Paris were some of the most respected names of these times. Names that towered like pharonic statues in their industries and deserve to be rememebred and celebrated for centuries more.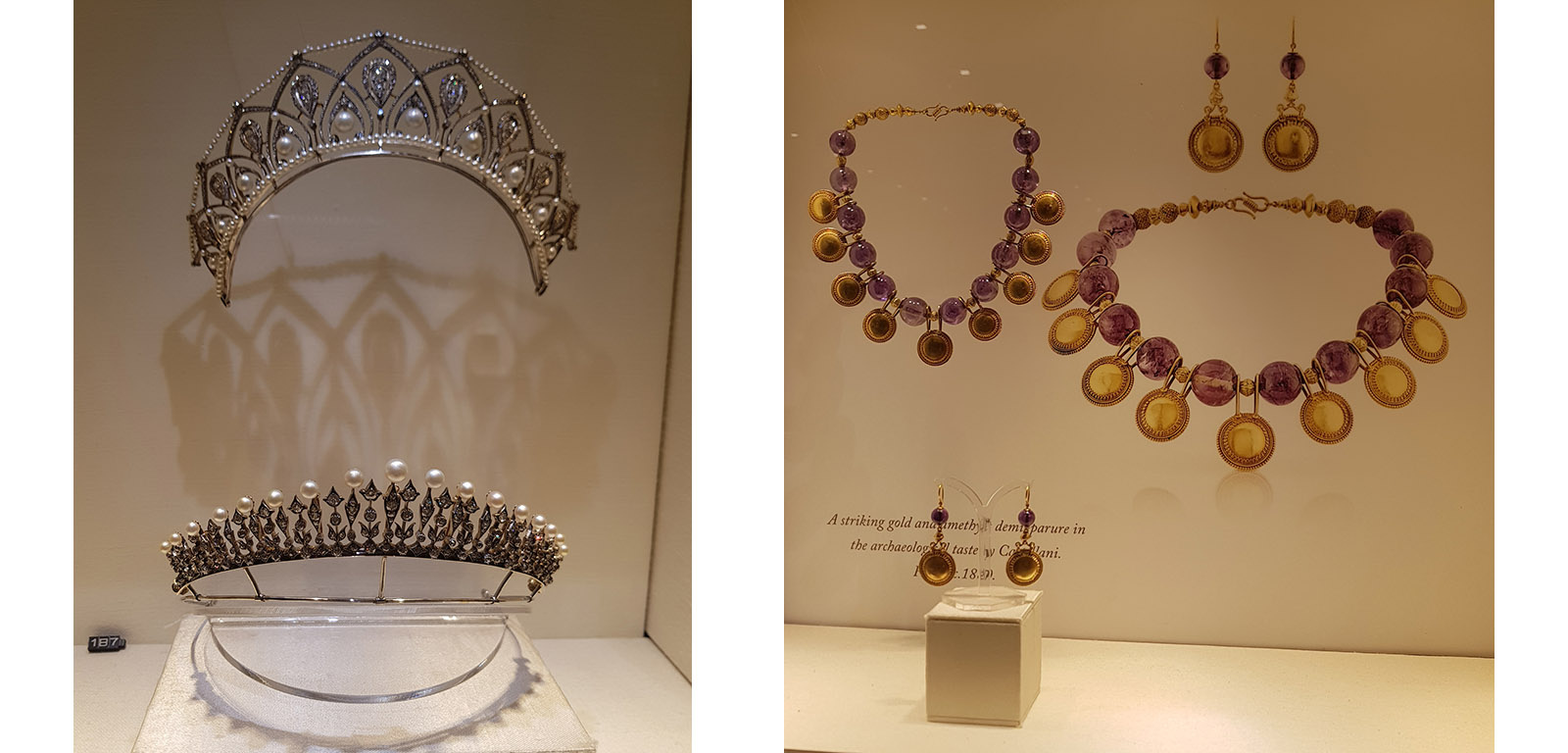 Tiara's are a beautiful and collectable piece of jewellery history that draw buyers from across the globe. Diamonds and pearls form part of the classic composition of these pieces that would look beautiful on different shapes of face and worn at different ceremonies or family occassions. Beyond weddings tiara's are rarely worn now by people outside of Royal families and for many people offering them for sale has seamed like a sensible option, rather than them gathering dust for many years between outings.
Amethysts are one of my favourite stones and they make a nice gentle combination with Gold in a variety of forms.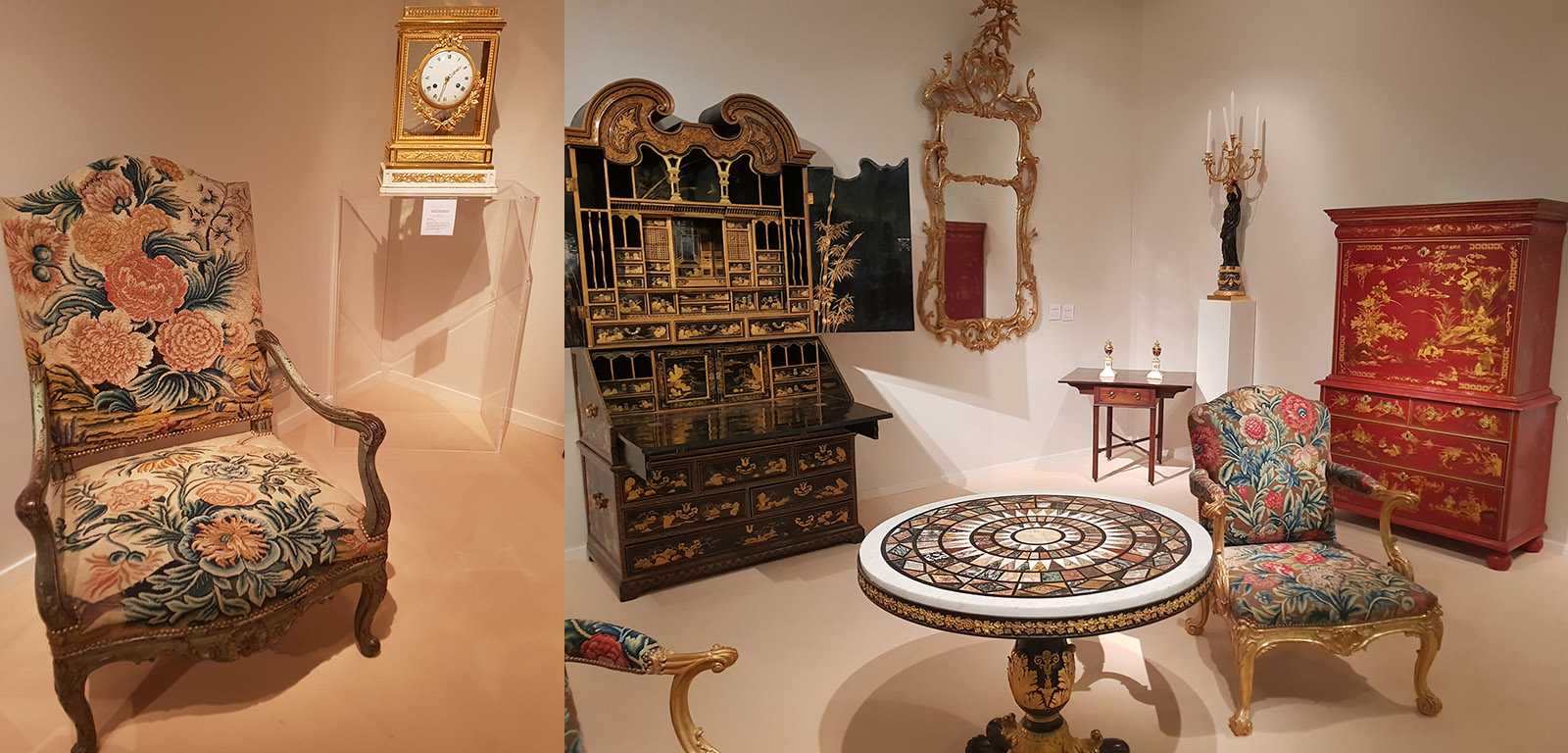 Masterpiece has the space to set out beautiful entire rooms before the eyes of guests and Frank Partridge & co is one such place continuing his families tradition of selling decorative antiques and furniture dating from the 18th century to today. These are beautiful things that for my own personal taste hold real value. The craftsmanship is stunning and the skill and time taken in creating these things is worthy of praise and respect. These aren't abstract ideas or a state of mind that people are being asked to pay tens or hundreds of thousands of pounds for creating value out of thin air I think. They are durable tangeable pieces and assets that will still be beautiful to buyers three or four hundred years from now.The Partridge showrooms are now located in a mews in Belgravia, handily central for buyers from around the world to visit and talk to the owners about what they are hoping to find.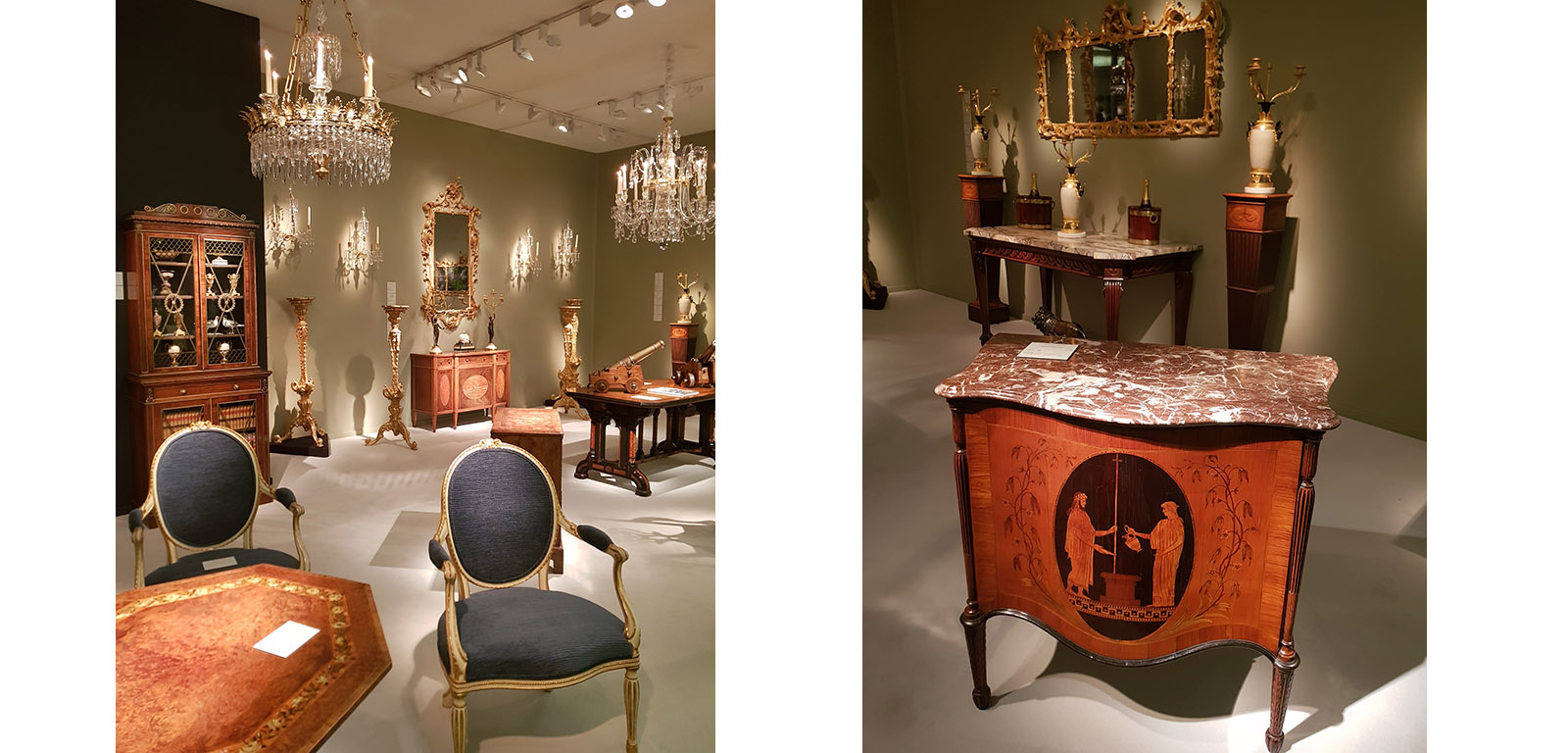 Above a room shown by Philips dressed with some classically appealing objects to add to your home or liveing and working space. A carved table with intricate inlay, too guilded chairs with Blue crepe fabric echoing the Empire lines of the Regency era. To the right a marble-top cabinet featuring a scene from ancient Greek myth. These piece blend easily into modern life today as well as giving the option of completing a 'complete look' for a room dressed to Regency era tastes. I personally find that there is something about Rose and Red marble that is irresistable.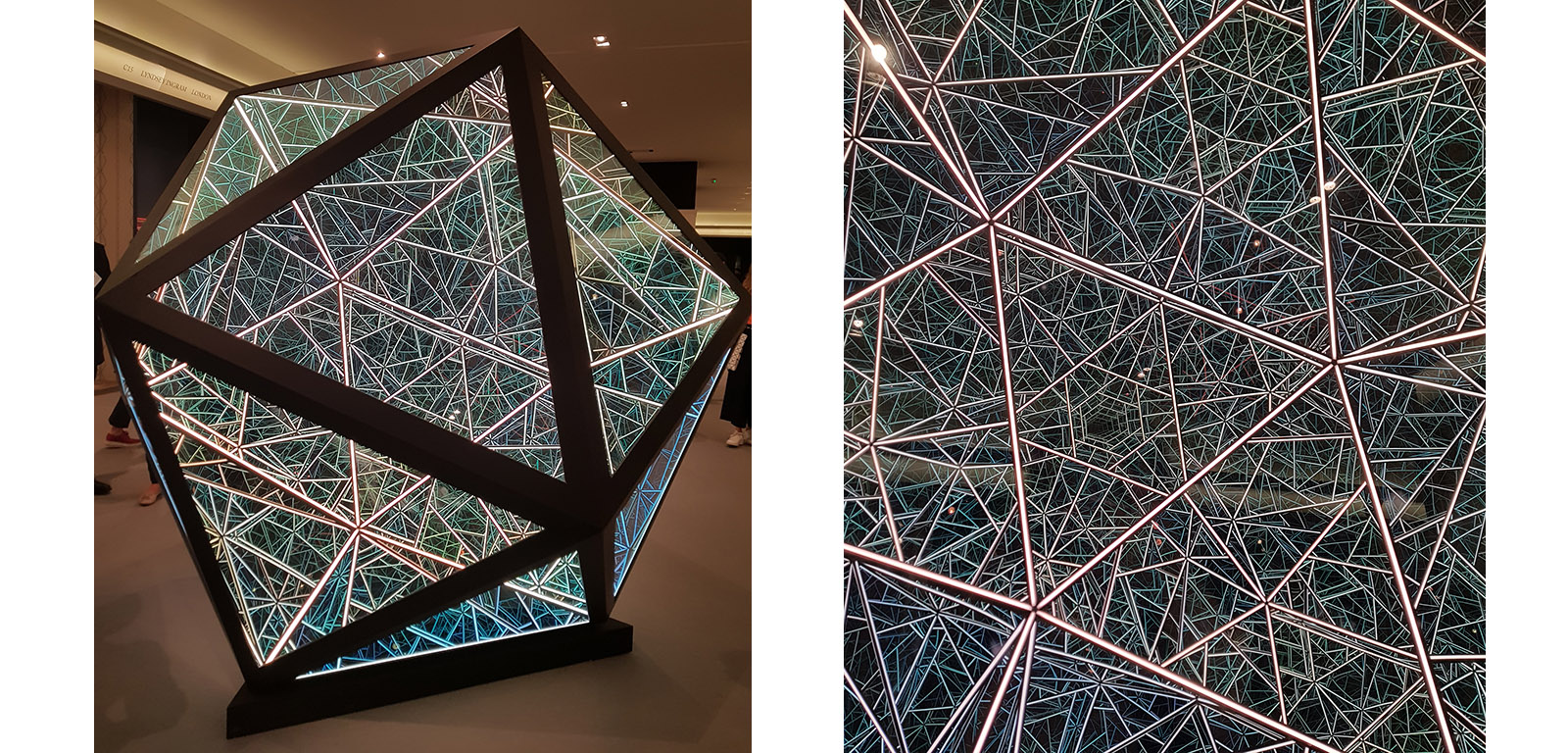 One of the most intriguing stand-alone sculpture objects was from the Visit Opera Gallery was located in the fayre walkways. An eighty sided prism sculpture by Anthony James, an 'Icosahedron', made with mirrored paines of glass, steele and LED lights. It had the effect of an ininity space within the object and for someone would make a curio addition to a corporate office space perhaps.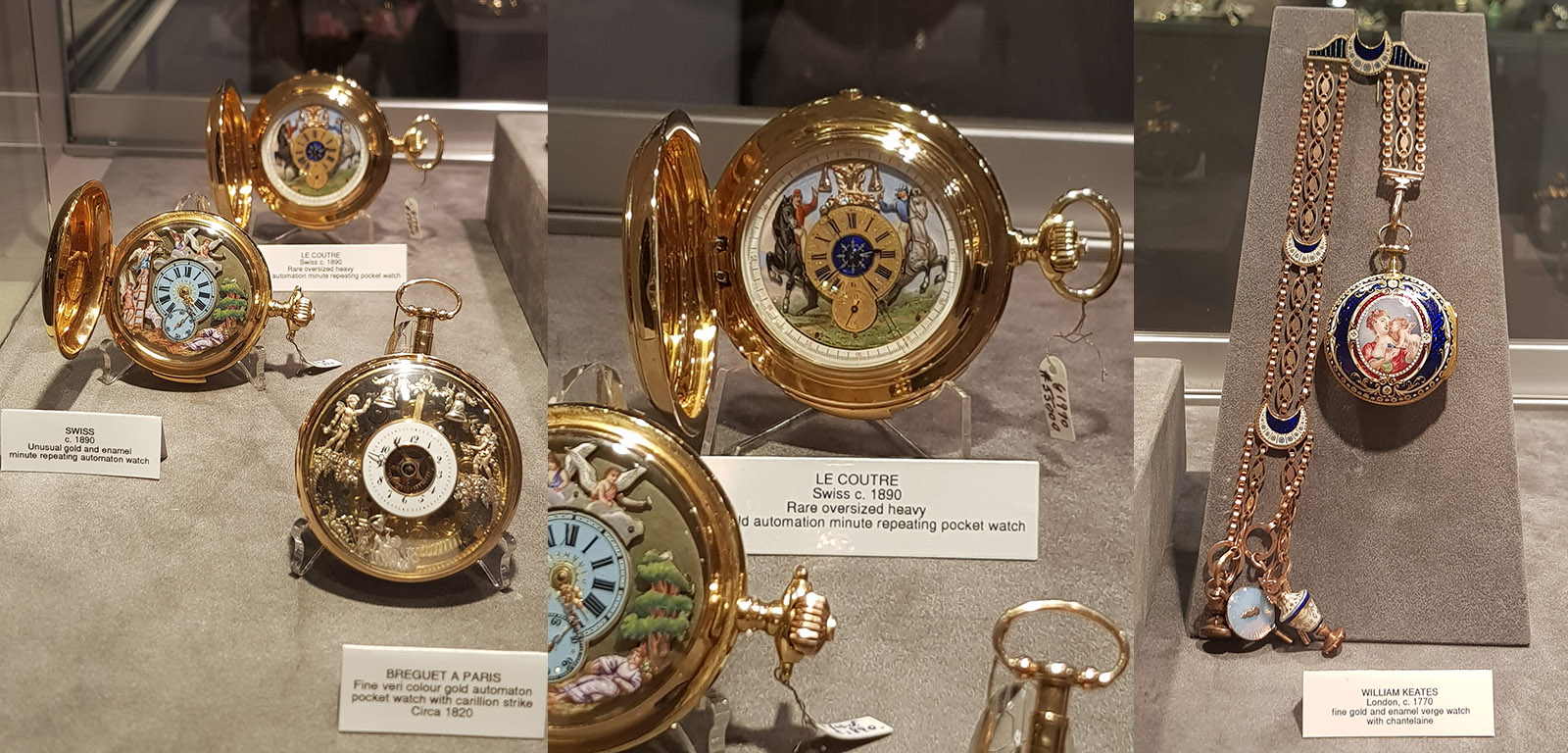 Pocket watches are a charming invention of the 18th century that grew into a beautiful fusion of art and jewellery over the next hundred and fifty years. Given as gifts or bought for pleasure by people who cherished the phenominal ability of the craftspeople who created them, the watches above owe a great debt to the technological skill of British craftsmen of the 17th and 18th century. Later the Swiss watchmakers of the 19th century who picked up this technology would come to be the most rememebred for this craft but our pioneering industry has been largely forgotten produced the first intricate pocket watches and small clocks desired across Europe. Continental aristocrats, Italian Princes and the wealty of the 'New World' all sought to own these items and they formed an essential part of the Gentleman's outfits for 6 or 7 generations into the early 20th century. It's the colours of the characters that have been pianted and engraved, the multitude of different designs imagined to grace the clock faces, the eternal shine of the Gold that would sit tight in the palm of your hand. These pieces are fascianting works of art to treasure. Watching the hands turn across the face, the picture of a story comes to life and it's easy to see why these keepsakes are treasured today as gifts and collectables.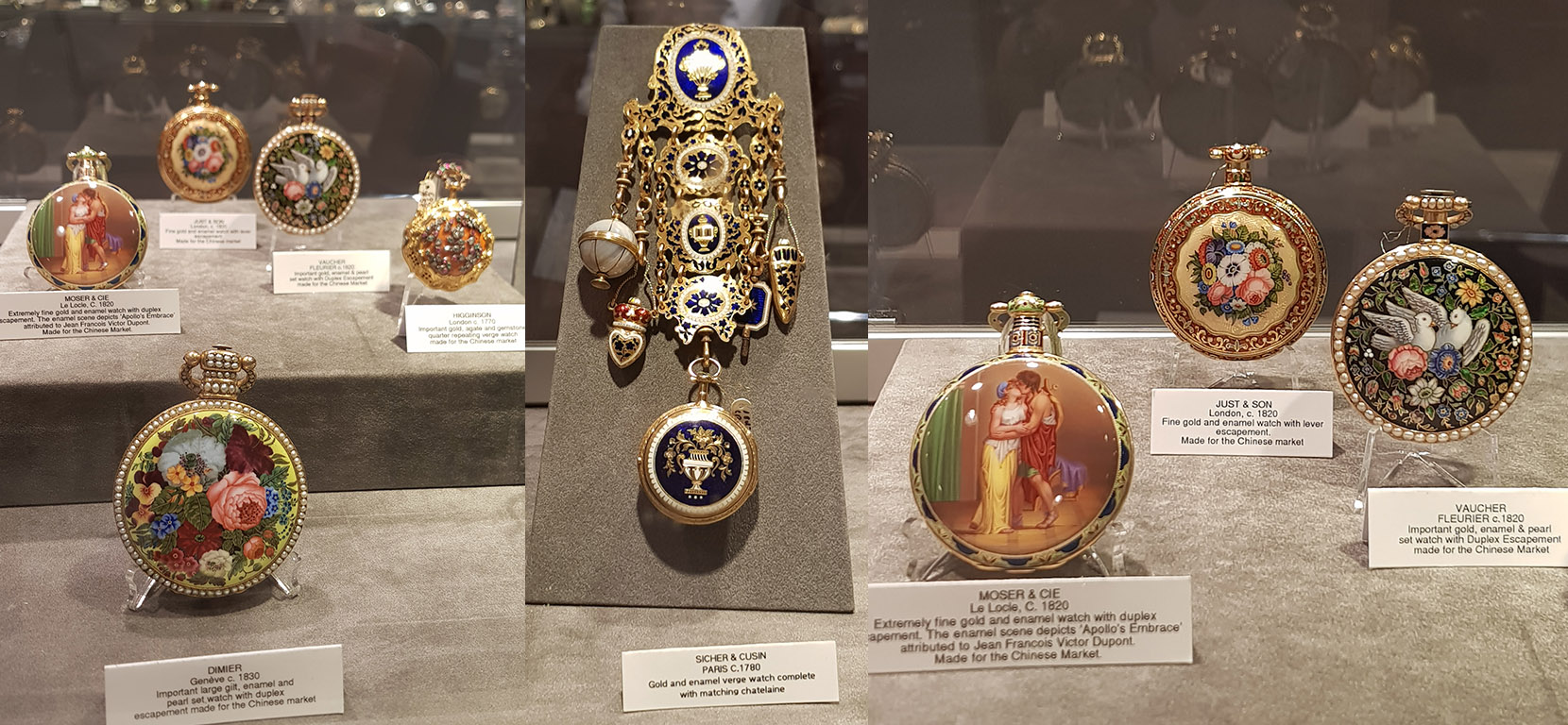 Above you can see a selection of beautiful watch cases closed to show the designs to their best. Inside the watch faces where probably no less extraordinary. Names such as Just & son, Moser & cie and Vaucher Fleurier, trusted through many generations are shown here with stunning work that would captivate in any time in history. A whole new younger generation of buyers are discovering the beauty of these objects of the past. Something very different from contemporary art but much more tangeable in my opinion in being able to hold and demonstrate value across the ages. Centre above is an object that carries hints of the medieval and 'Dark Age' past into the then current era of the 18th century. The Chatelaine chain was worn by women who traditionally had control and stewardship over large farms, manors, houses, castles and even in catholic medieval Europe Abbesses. Originaly they contained simply keys, sometimes dozens but later they became ornamental status indicators to symbolise the vast tracts of land and property that they controlled.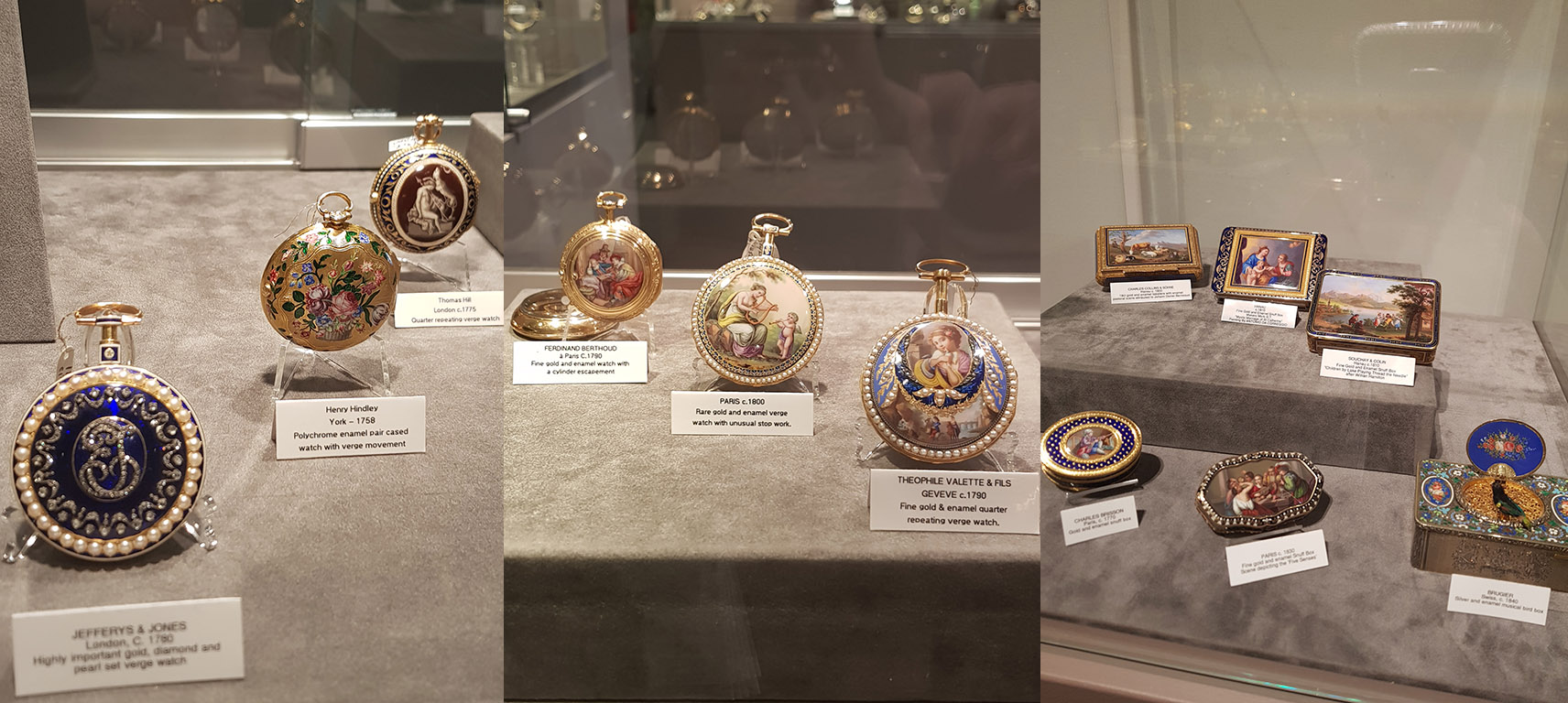 Above to the left one of my favourtie pieces of the whole exhibition, a Midnight Blue enamel watch cover encircled with White diamonds and pearls. It's a resplendant object worthy of a case of it's own I think but aside it sit several more watches that challenge it in decorative mastercraft. To it's right and centre in the above selection of images the beauty that was created by these enamel mastercraftspeople. Images from Greco-Roman myth where popular as the 18th and 19th century fascination with classical antiquity continued across generations. Floral arrangements and diamond and pearl inlay where always sure to capture the eye and heart of potential clients and gift recipients. To the far right you can see a group of enamel boxes that captured my attention. Displaying the same vivid use of colour that the watch faces are comprised of, these boxes where often given as gifts to loved ones and the pictures would often contain a significance to the giver or the receiver.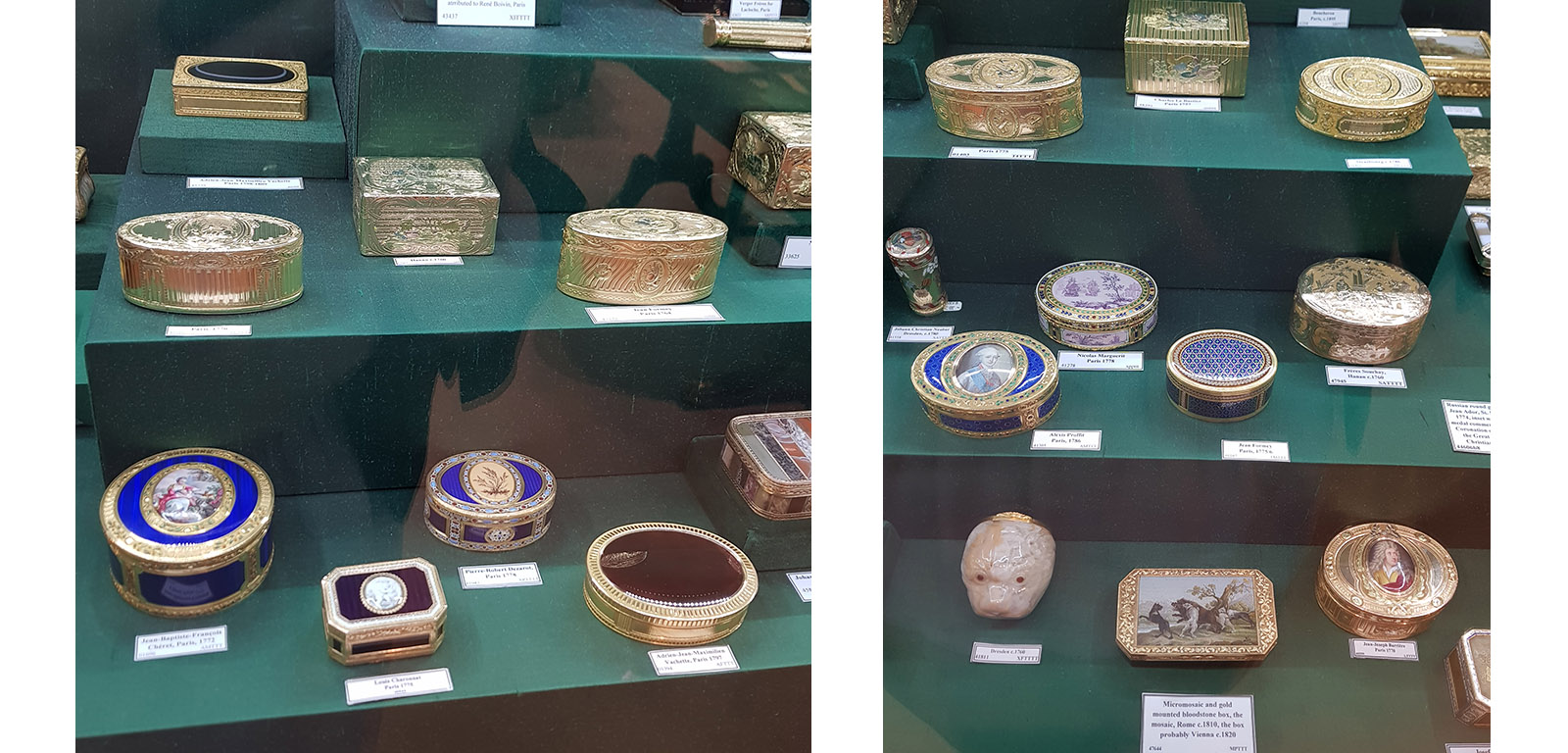 Above a series of beautiful boxes offered above show thick Gold bordering. These Golden frames contrast pleasantly with the Lapis Blue and Burgundy that make the freizes of the boxes. The colours are captivating. On the above tier a series of Golden boxes show intricate designs. This guild work is superb and one must think that these would have been some of the most highly sought after pieces in the world at the time that they where made. We are lucky that so many survive into the present day. To the right another shot of the cases shows a portrait of a gentleman on the second tier that was typical of the elaborate gifting boxes that people would have made for clients. To it's side several pieces decorated with elaborate engraved scenes featuring that pastoral, and elaborate lattice work guilding. Below to the right a portrait of another gentleman, probably a French aristocrat or member of a princely or Royal family is another example of a gift that could be given to friends or family. Lastly an unusual crystal bear head with Ruby set eyes is an elaborately carved box closed with a Golden lid at the neckline.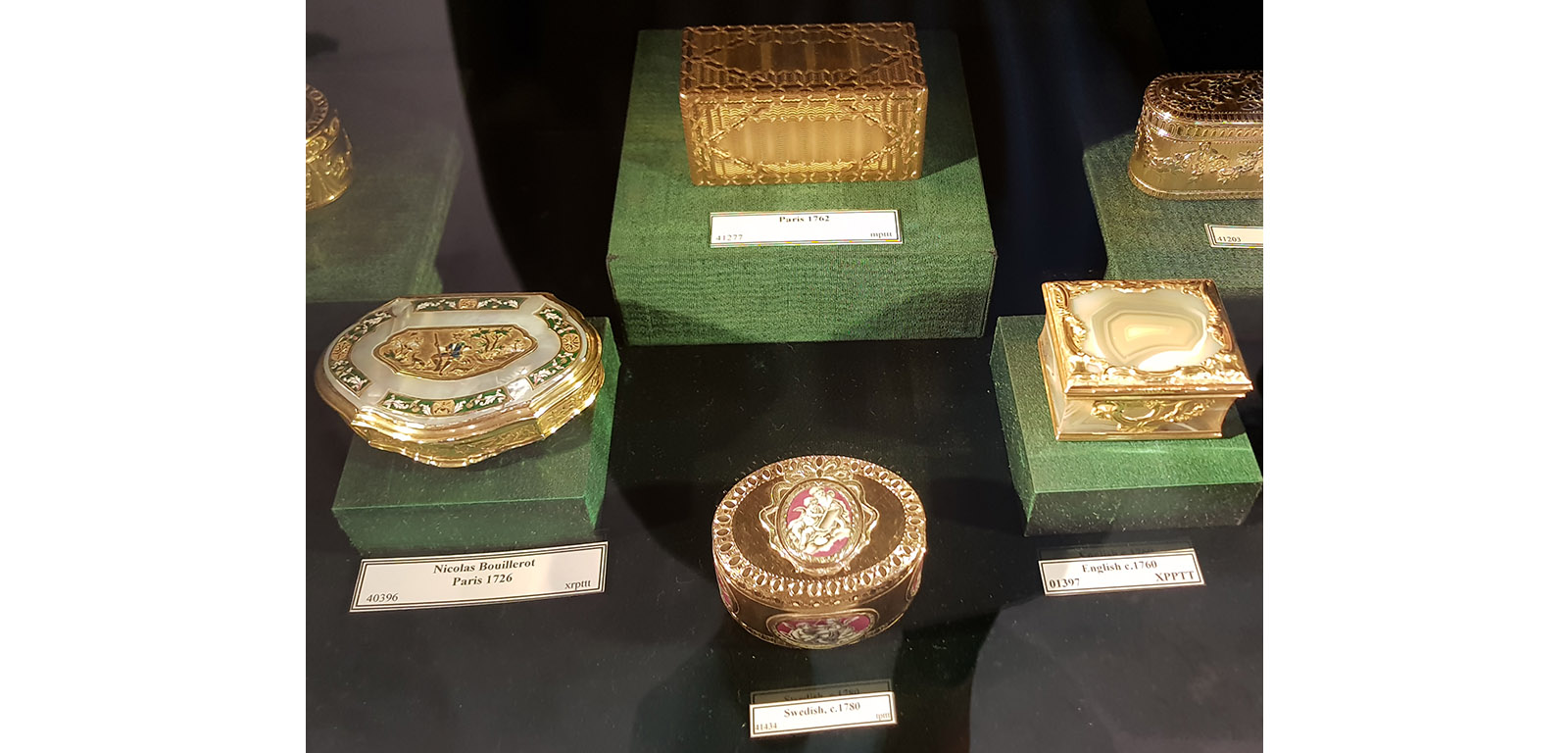 Above a series of trinket boxes in the purest metal when 24ct, Gold. The timeless favourite across so many cultures, it's the ultimate enduring gift. The French and English pieces above show the diversity of designs that here created only limited by imagination as the technical skill of the artisans on both sides of the channel was unsurpased. In a time before television, film and digital media keepsakes like these would be stared at for minutes by their owners and perhaps stories told to friends or children about the characters and designs that they displayed.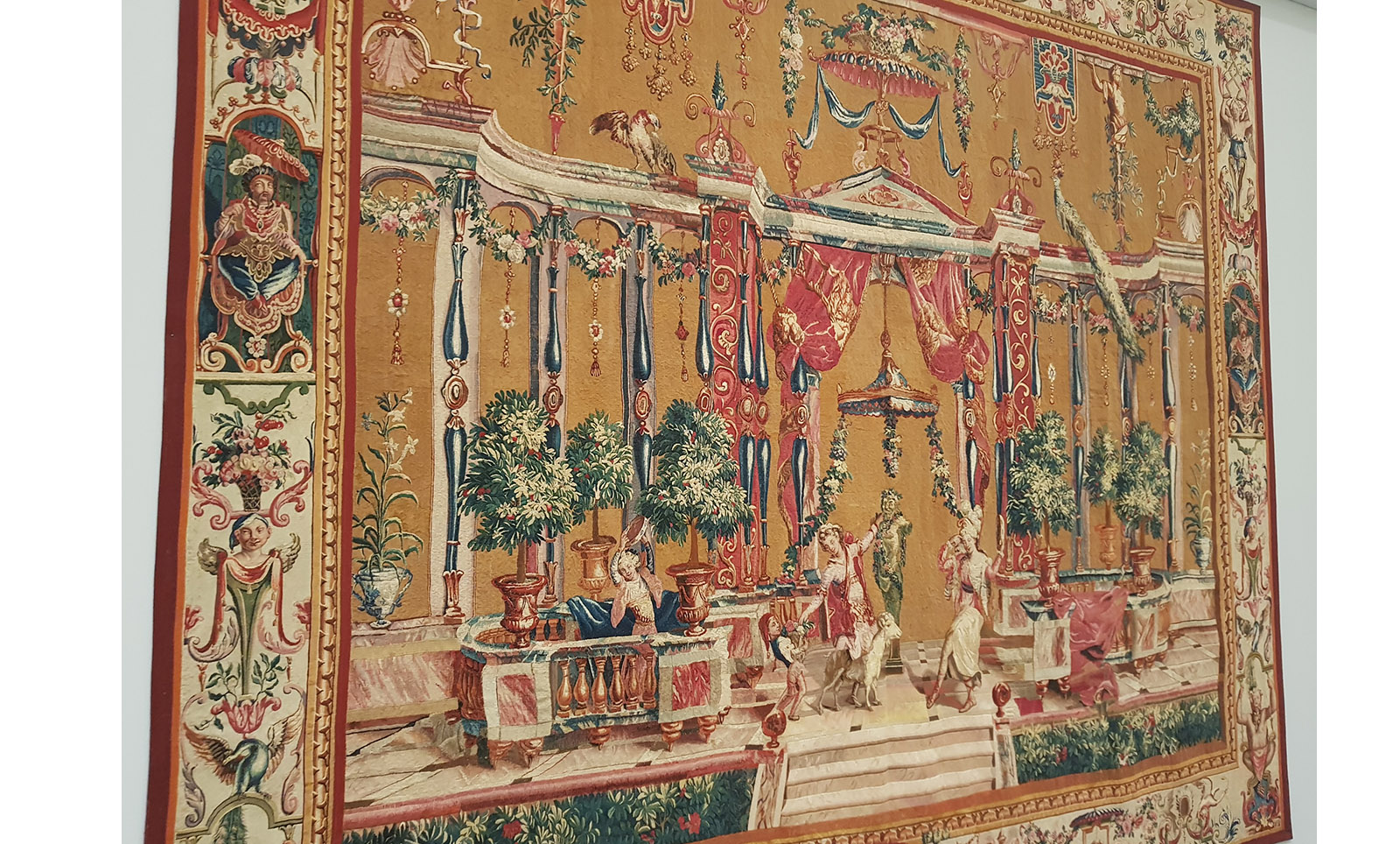 One of the delightful things about Masterpiece is seeing pices that can find homes in museums also being sold for home furnishings of very grand spaces. This huge tapestry above reminded me of grand palaces in Europe like Versailles and Turin. The vibrant colours illustrate classical scenes that would resonate with the audience and the composition above speaks of light-hearted fun.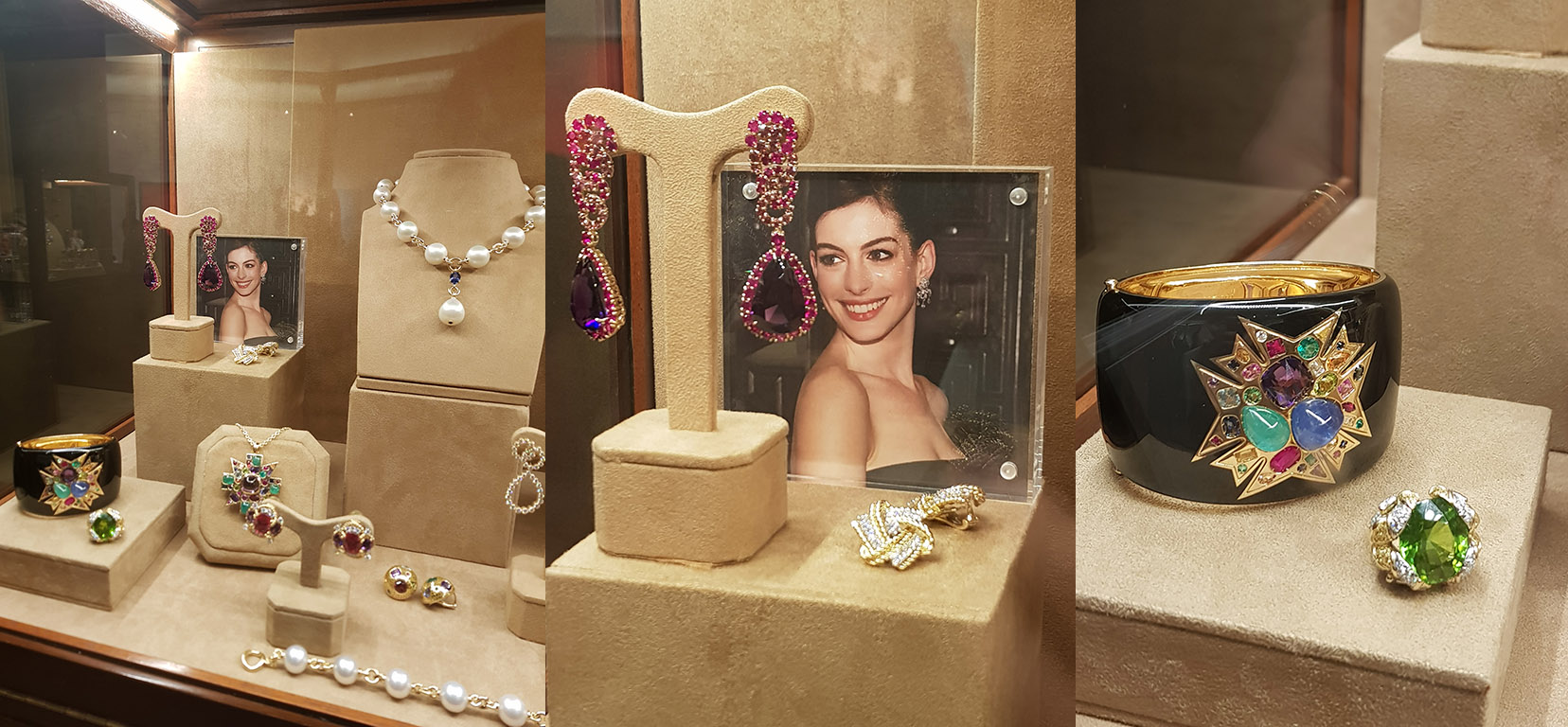 Fulco di Verdura is almost a forgotten name amongst the wider public beyond the world of high society, celebrity and high jewellery. He began life in the conventional way for a young aristocrat from Sicily but feeling the change in the times, Fulco wanted to leave the baroque splendour of his childhood in a way of life unaltered since the 18th century and carve a new future for himself in the world. His chosen profession was jewellery and it was an arena that he excelled in. At the age of 28 he moved from Sicily to Paris and after encountering Coco Chanel on the social scene he began designing her jewellery collections. He became a favourite of CHANEL who seems to have loved to 'collect' some of her friends from the emigre upper class tribe that was settled around Paris. The look of CHANEL jewellery today still has strong influences of Verdura's work about it, inparticular the bold cuffs with jewelled Maltese crosses. In the decades since his death the House of Verdura has been bought by a family who aim to continue his legacy and 'guard the flame' so to speak.

Above large pearls of unmistakeable lustre shine in the light of the cabinet waiting to be worn by a lady for fun or sentimental attachment. I believe Spinels and an Amethyst make a happy bold combination with large signature drop deep Purple stones encircled by the small Scarlet ones. Centre above a pair of rosette earrings with Diamonds fringed by Gold offer a discreet and highly adaptable acompanyment to a variety of day or evening outfits. To the right a large cuff in the above mentioned Maltese cross design is created with non-symetrical use of stones that give a sense of vibrant energy and maintain a look of youthful freshness many decades after being created.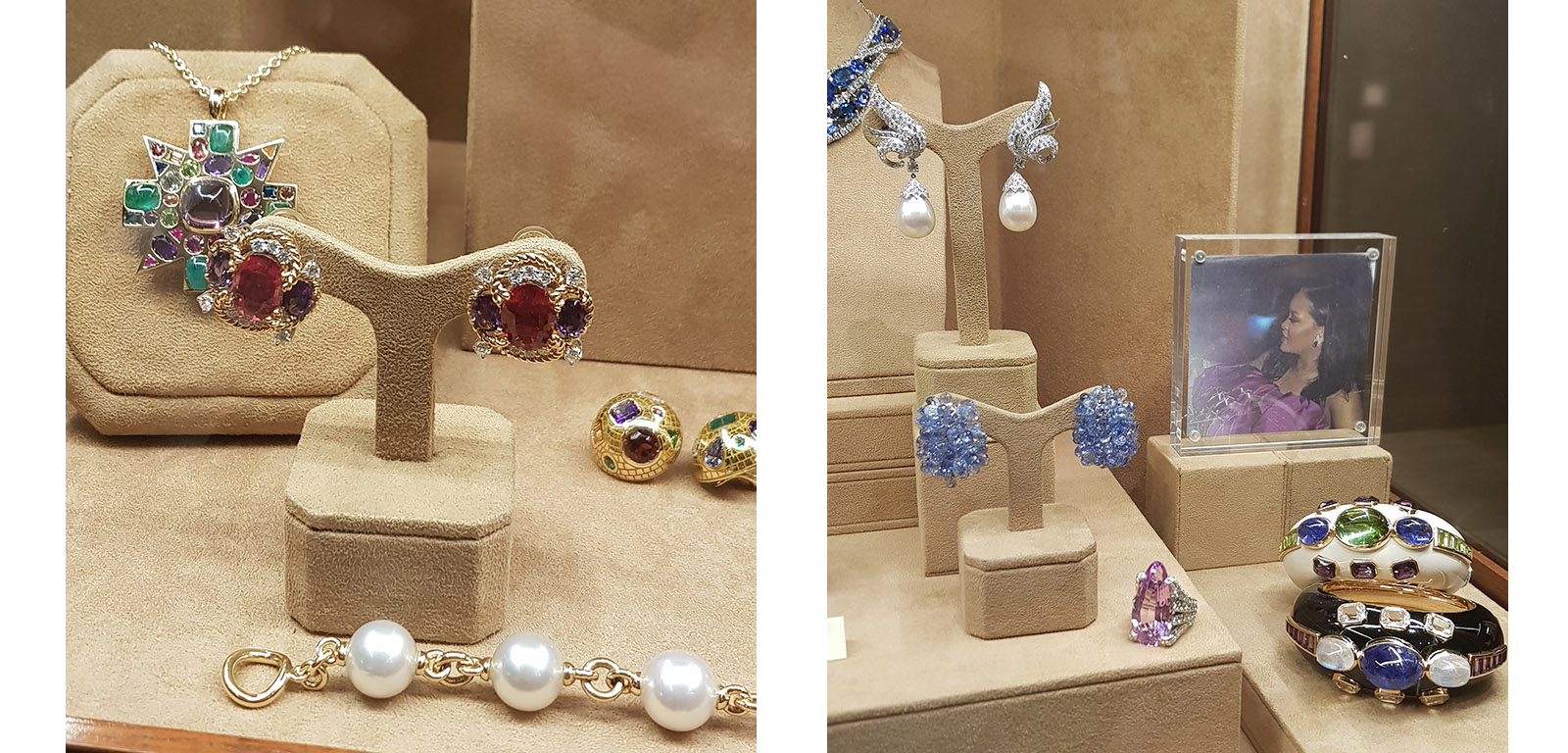 Part of the Verdura business today involves acquiring pieces created during Fulco's lifetime that are available to purchase or loan by celebrities or private clients. The size and clarity of the stones and the bold Italian expression in the use of colour make the pieces memorable and stand-out amongst the plethora of modern brands. I'm a believer personally that jewellery should always be about the stones; size, cut and clarity are important to make the right statement or compliment an outfit. It's also worth remembering how important semi-precious stones can be in creating unique pieces. To the right above, beautiful Aqua stones cluster to form a unique set of earrings and a Pink and White diamond cocktail ring would add the finishing touch to any outfit. Two broad cuffs underneath the portrait of famous client Rhianon show large stones set amongst smaller peers in linear design that gave a tasteful nod to decadence and capture the House's signature vivacity.
Tiny Diamonds set into Silver weave to form a ribbon-like wrap around the Green Peridots and a Ruby-Red heart. They create the perfect hint of a wrapped gift for a loved one. Between them a cuff is woven in diamonds to encircle the wrist of the wearer. Chic and understated this is vintage Verdura at it's best and typifies the classic design that would become the recognisable hallmark of CHANEL. Indeed I feel that I may have seen very similar pieces in the vitrines of the New Bond Street store in the past few years. Above and below a beautiful cocktail ring is centred with an Aqua marine stone that reflects the light like a magic pool. Aside it is a beautiful bracelet that features stones cut in many shapes, like droplets of water from a magical pool. These two would probably be my pick of the fair for their luminescense and joy that appears to be captured within. The unique cut and sizing of each stone reflects the natural forms found in nature and also the reflection of light glistens like water under the sun.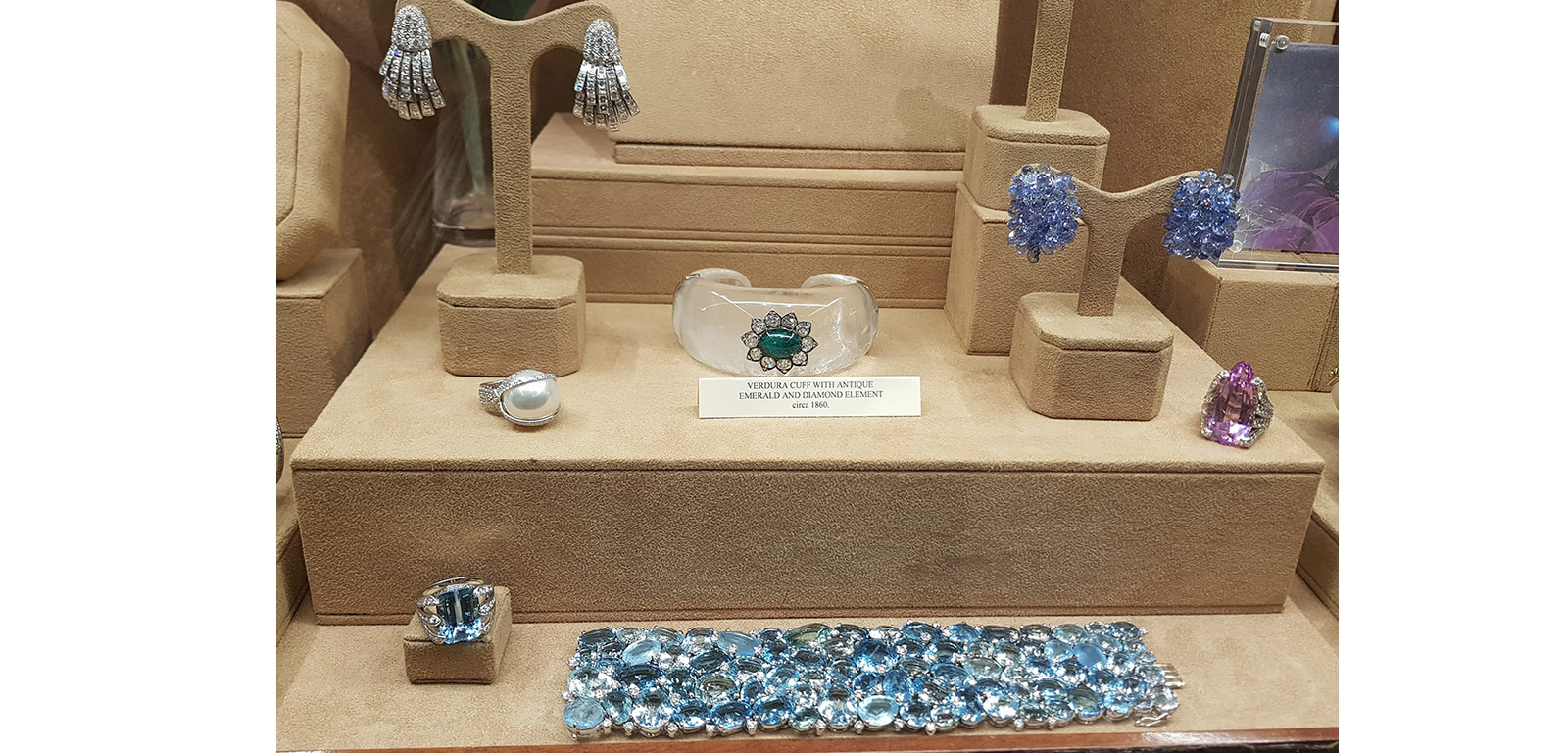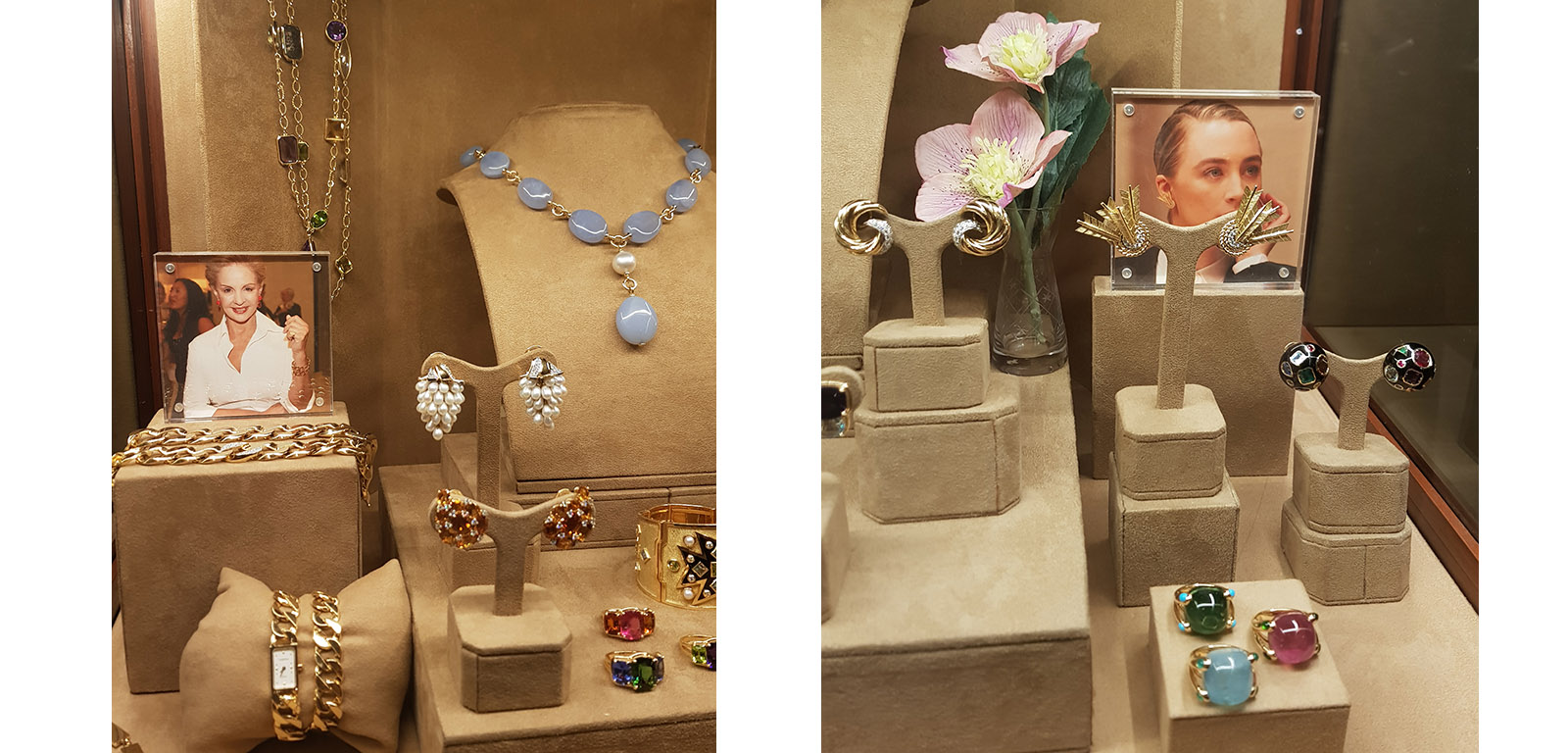 Above some pieces of metalworking jewellery show the intricate lattice of links of bracelets and a necklace. With signature colour and bold square and oval cuts the effect is of a grown-up sweet shop. Cocktail rings to wear for pleasure and buy as gifts make a fun lasting momento for family and friends. Above to the left a pair of cluster-pearl drop earrings creates a vision of fruit becoming jewellery and below another pair showing Rubies and Diamonds in floral circle flourish. Set behind them a necklace composed of semi-precious light Blue stones shows that there are a world of possibilities beyond the conventional precious gems used in personal jewellery. To the right a trio of coloured gem stones bring a hint of the baroque to 20th century jewellery.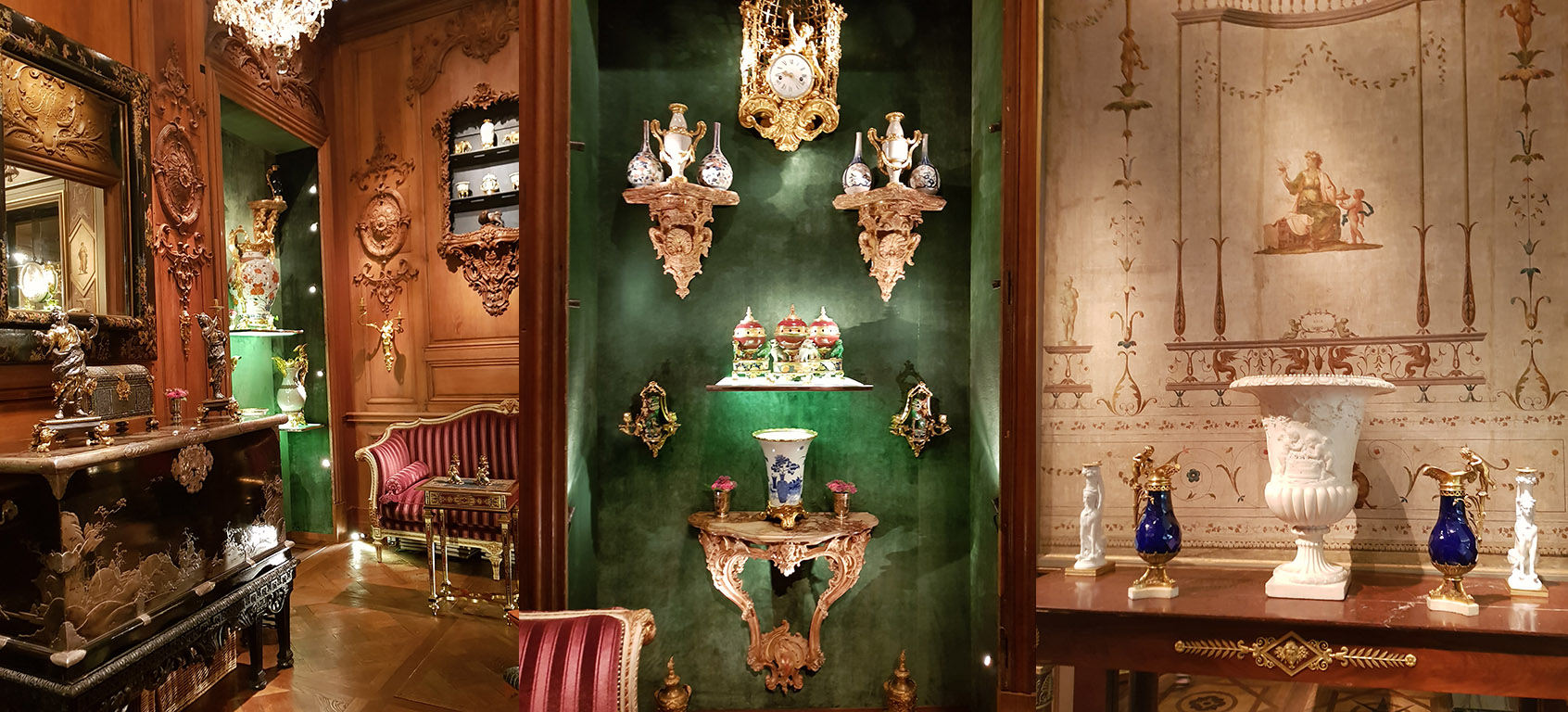 Many visitors to Masterpiece marvel at the opulant interior sets built to showcase furniture for sale. For some clients this probably looks like their homes, for many more, it's a chance to see extraordinary objects that they could buy for museum or their own collections. These beautiful objects could make memorable gifts for friends and family. The Parisian firm that offers these antiques does a fantastic job of channeling the Rococo-esque revival of the Empire era of France.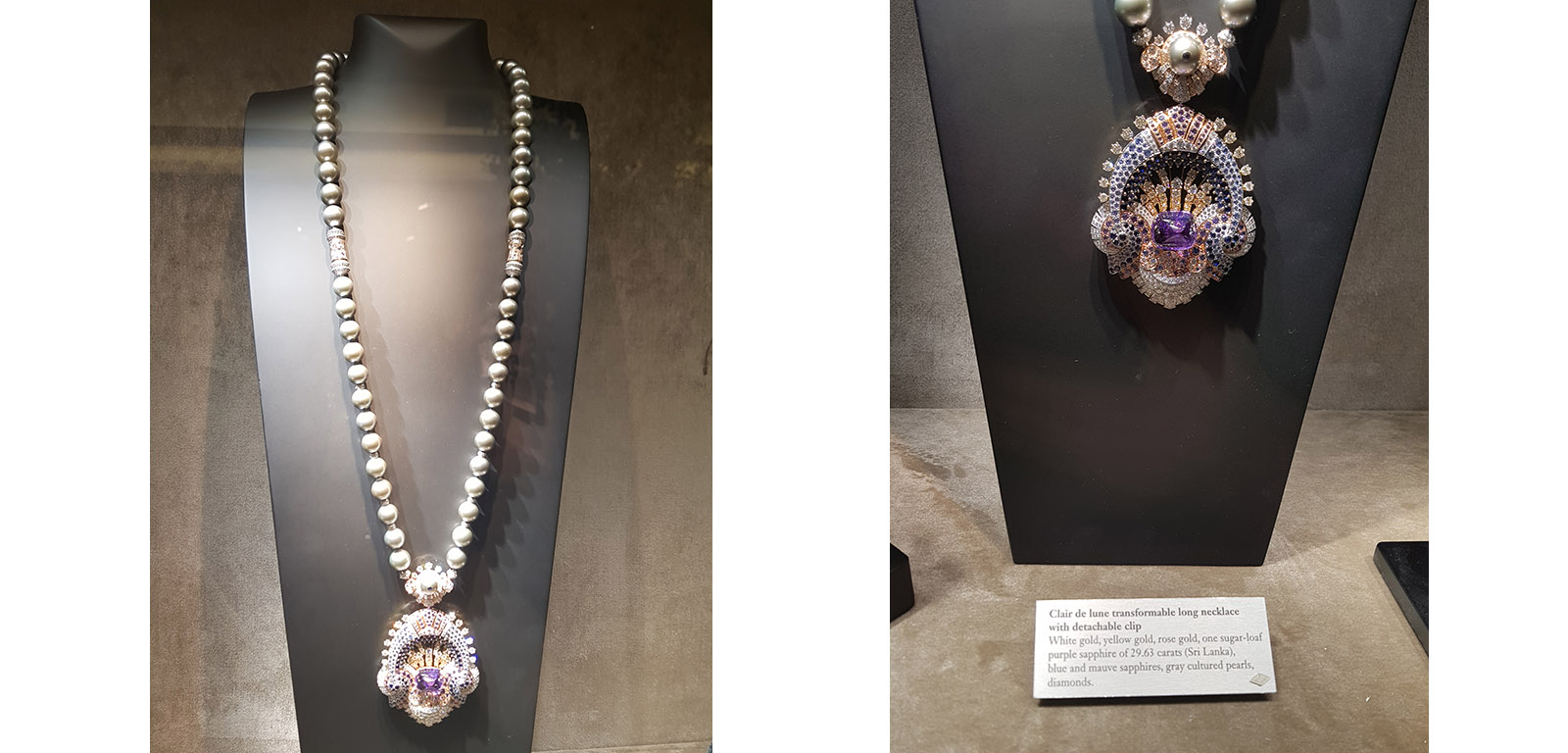 Van Cleef & Arpels show some of the most beautiful new jewellery that can be imagined and above a necklace is fashioned in the long style taking inspiration from 'Clair de lune'. The beautiful light of the moon shines softly across pearls and is reflected in the soft sparkle of a single large sugar-loaf purple Sapphire from Sri Lanka. Weighing nearly 30 carats it's a feature part of the necklace set inside a tableau of stones that replicate the image of an Indian headdress.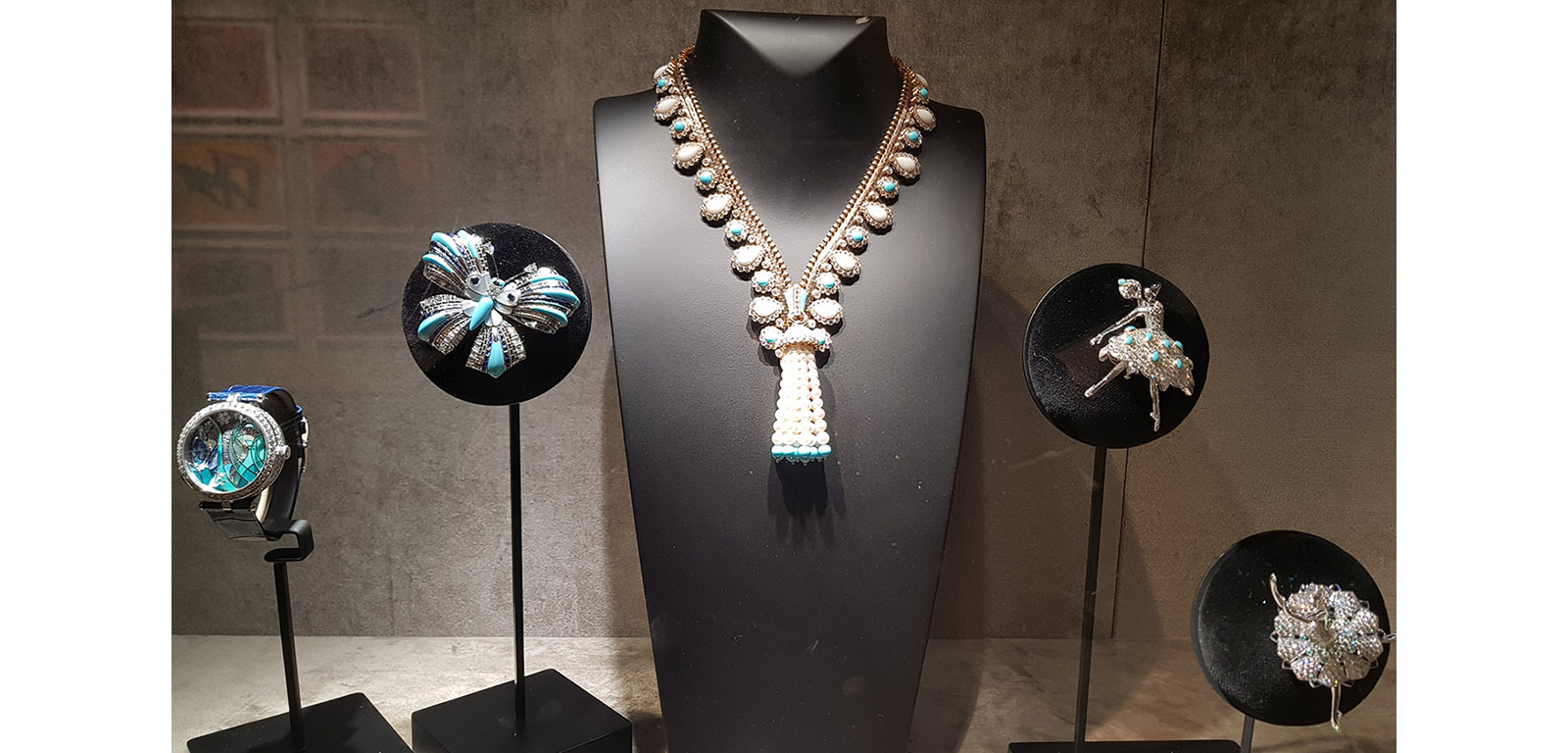 Movement and ideas based on movement are a theme that is often used by Van Cleef & Arpels. A watch, a butterfly, dancers and a zip form articulated necklace all express the notion of movement. In the sequence of pieces above and below, the colour of lightest Turquoise or vibrant Duck Egg Blue adds a shimmering compliment of colour to the shine of Diamonds.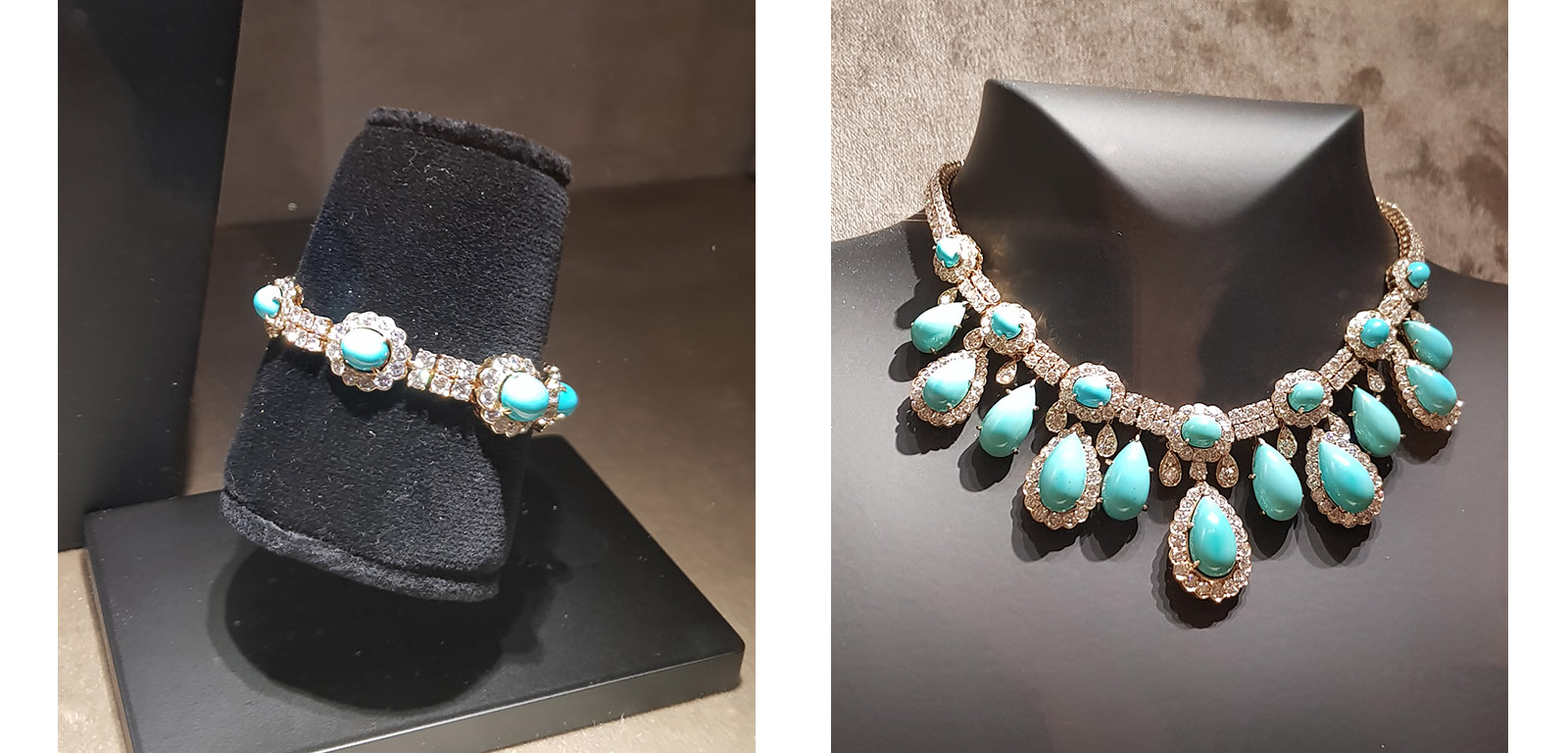 A matching pair of a Diamond and Turquoise bracelet and necklace is accented with teardrop and egg shaped stones in the colour of pure aqua water. These are versatile pieces that could adapt by many different styling ideas and places. They will also suit wearers across the generations and easily pieces that could be shared between mothers, daughters, nieces and grandchildren.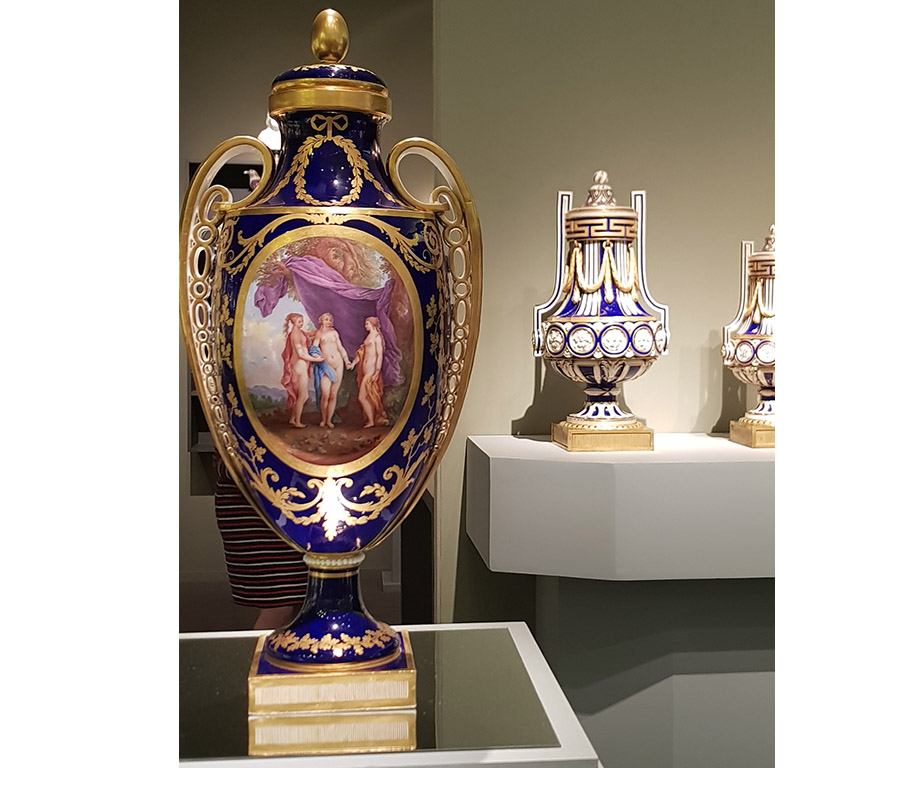 Porcelaine always has the power to charm and 18th century French pieces are often the most striking porcelaine objects to be found at international antiques fayres. To the left a large vase typically illustrating a three graces scene from classical antiquity is framed in Gold set against Lapis Blue enamel base. It's a truly timeless piece that will be cherished across centuries as it has already been by so many who have seen it already.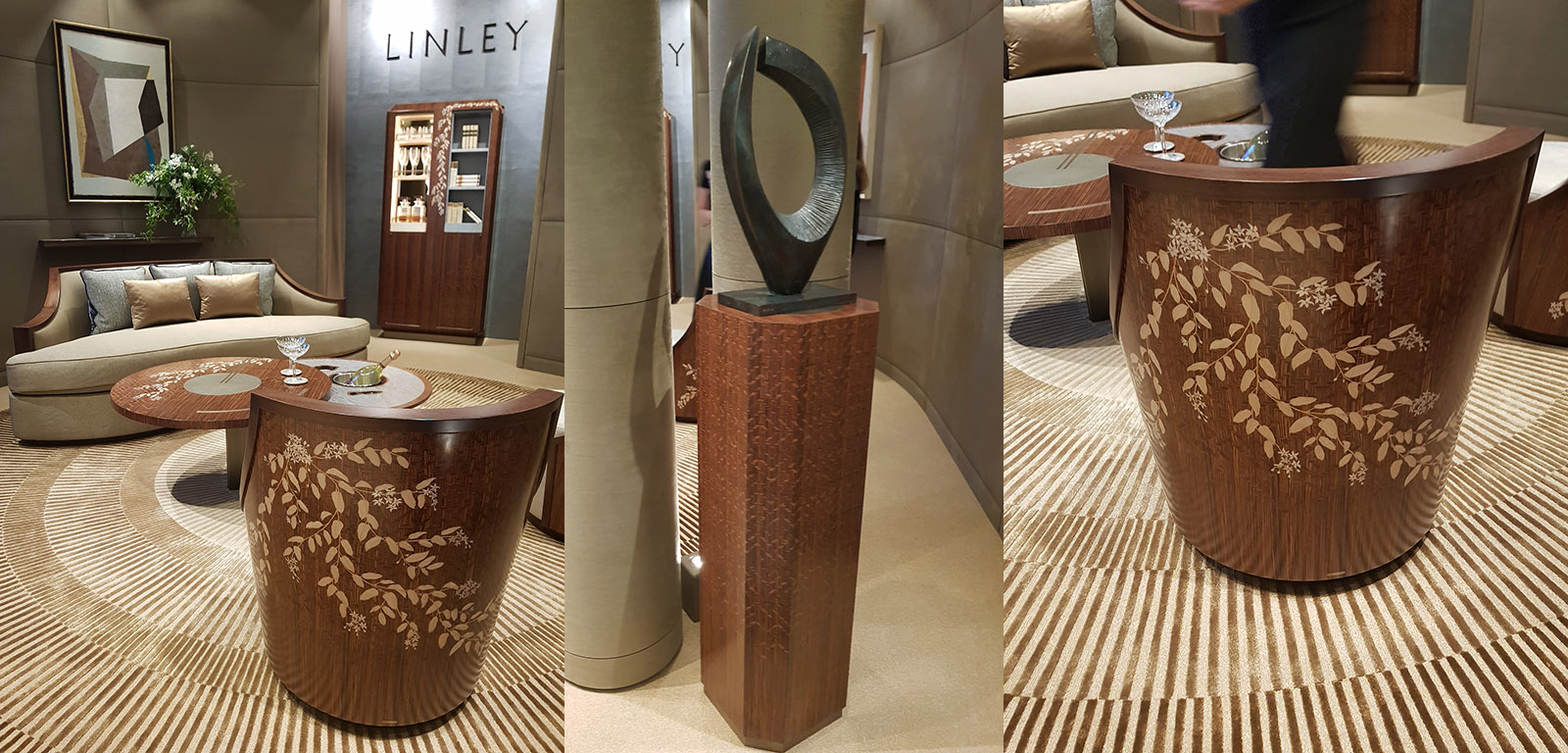 Linley of London are another one of the most popular stands to visit at the fayre and each year they bring out a showpiece item or three from their series of handmade objects to furnish the home, office and living space. This year's colour theme comprised of neutral tones of Golden Sand, Grey-Blue and Cream. A comfy soft sofa is easy to sink into and relax and would make a comfortable addition to home or office. A table and sculpted chair are patterned with beautiful flowers of Spring and sheltering leaves that herald the optimism of new growth and new life. The craftspersonship as always is stunning and you need to see these objects in person if possible to fully appreciate them.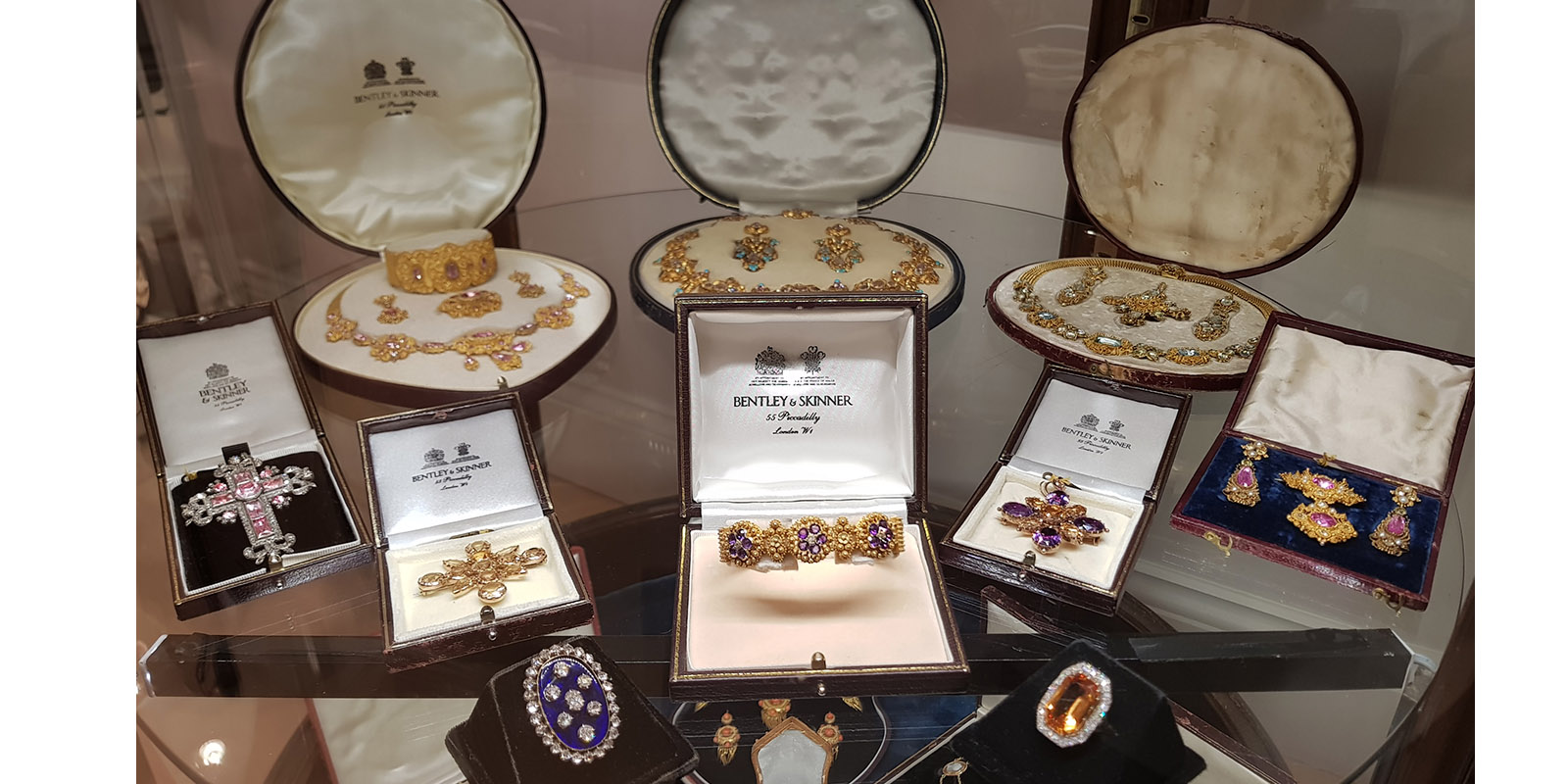 Bentley & Skinner have decades of experience in discreetly gathering in some very special jewellery pieces from vendours across the world and somewhat closer to home at their Piccadilly boutique. Anything a jewellery fan could wish for is here from brooches to necklaces, earring to rings and not least of all the resurgent tiara. The Napoleonic and Regency era revival of the classical diadem thanks in no small part to Josephine Beauharnais (and some Italian aristocrats interested in the ancient past) gave the 19th and 20th century the jewellery category of the Tiara. After the era of debutant presentations ended in the 1950's and high taxation of personal wealth following from then to the 1970's, many tiara's left family collections and where also simply needed for wear less and less often. My personal favourite stone is the one that is the most unusual, Amethyst tiara's where largely discarded after the Edwardian era as being funereal and dour but I find these stones quite energising and after wearing an Amethyst tiara about three years ago and feeling so refreshed afterwards, it's something, a superstition I guess that needs a revision.

Above two Amethyst brooches sit amongst small parure's of brooch, earrings and also necklaces. I also felt that the Gold accompanying many of these stones was a beautiful buttery soft Yellow and my Mum tells me that this is how Gold often used to look, a more warm Yellow. She remembers her grandmother's wedding and engagement rings looking like this and I find the soft warm light that seems to come from it really beautiful. In a world full of modern sharp cut jewellery, I find these styles really charming and the intricate details that they carry in their design seem to have a story of their own. I think they would make a very special thoughful gift for a loved one.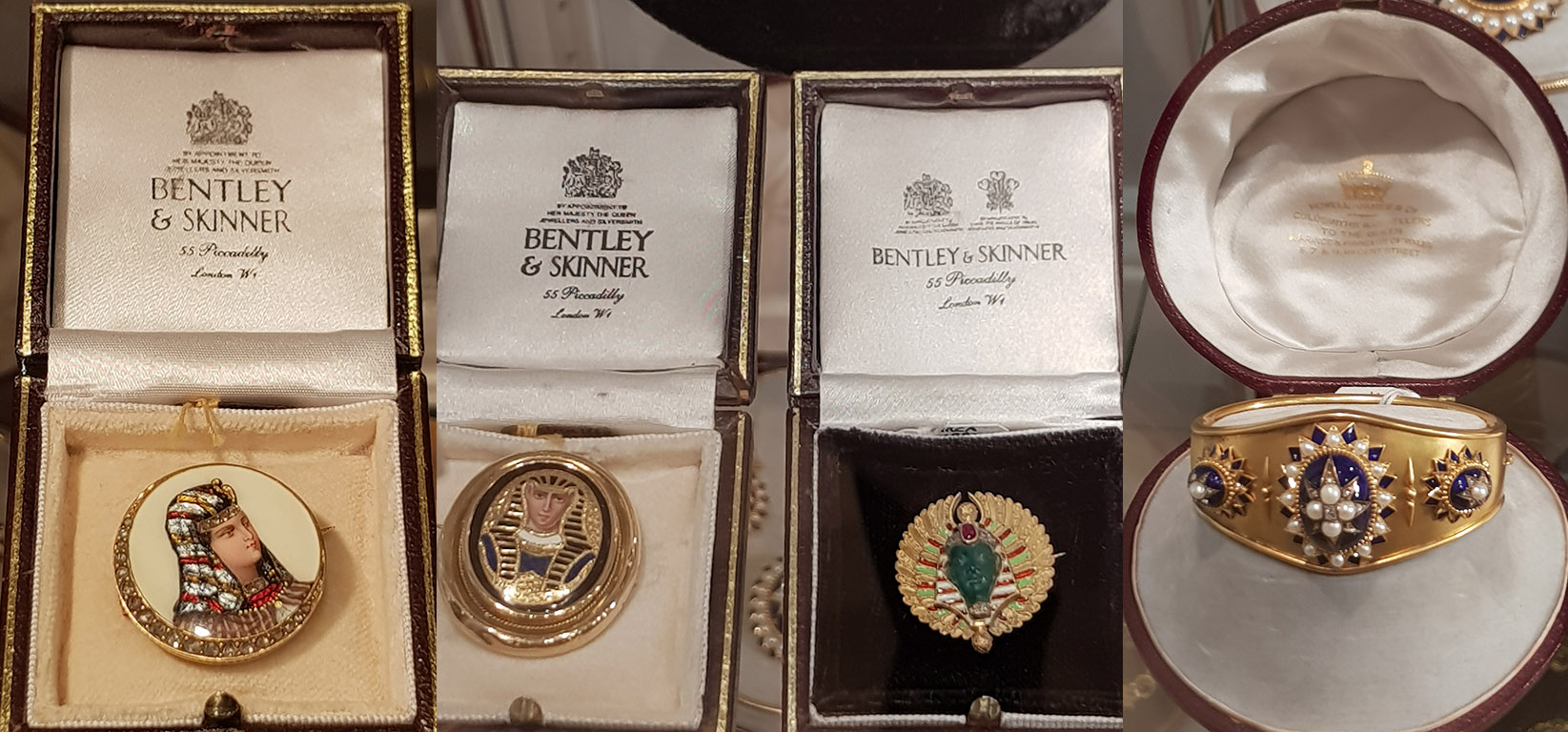 Looking back again to the Regency era and also the 1920's, Egyptiana and echos of ancient Egypt appeared popular in one of the displays of brooches that appeared in the jewellers cabinets. As a former Egyptology student I flip between thinking that they're weird and corney to that they are a cute way of keeping the memory of the ancient culture alive somewhat and could inspire people to look up more works of actual Egyptian art in the future. To the right a bracelet encompases three simple colours that define a feeling of classic. The broad Golden surface is studded with Blue stones and tiny pearls creating star-like clusters that burst with a resonance of energy.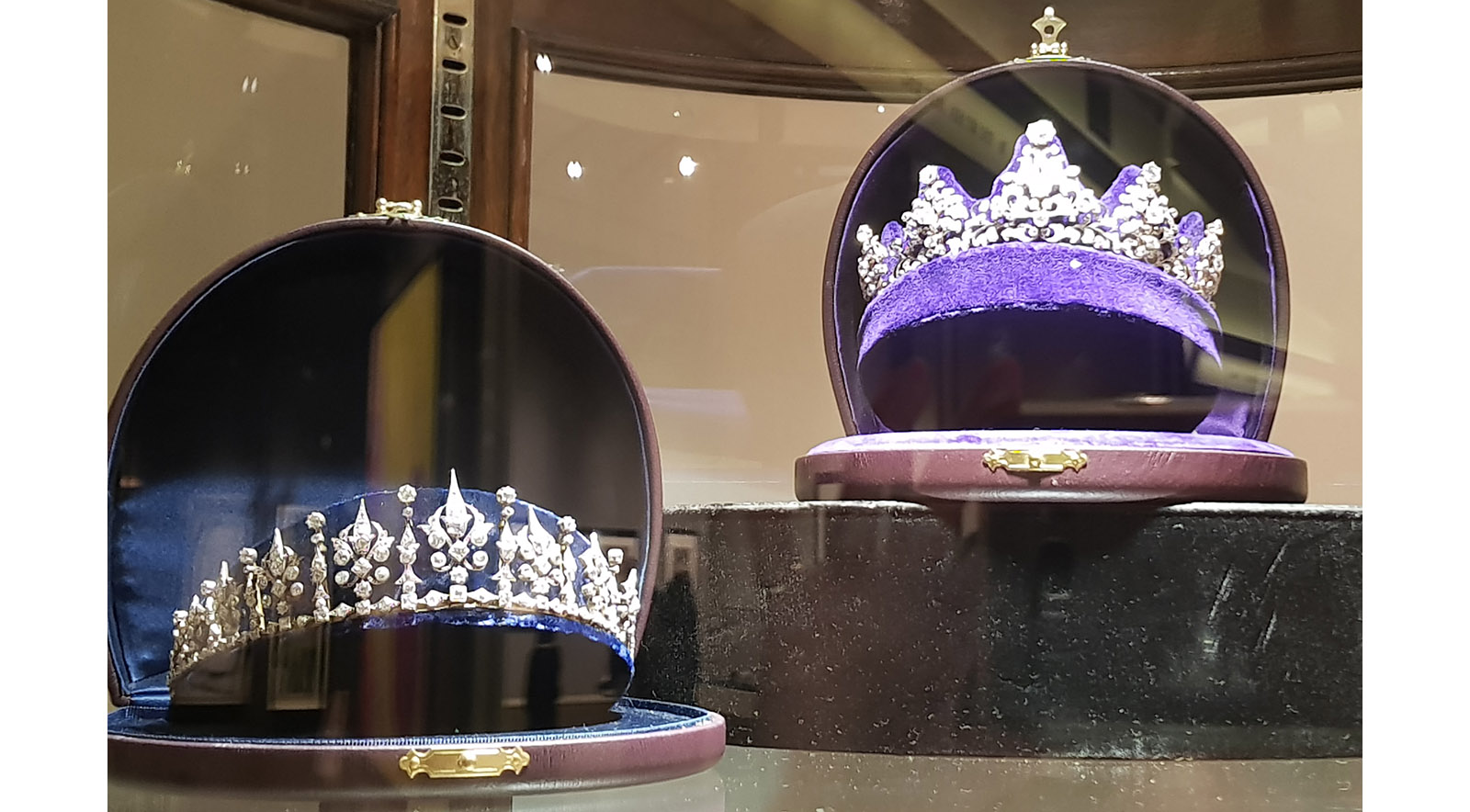 Here above are just two tiara's from the large collection that Bentley & Skinner had to offer. At a glance I think that they illustrate how two supposedly similar ideas for a frame strucutre can be composed into something very different. One has single columns of diamonds set next to flowers whilst the other has raised floral crenellations that garnish the light in a beautiful array.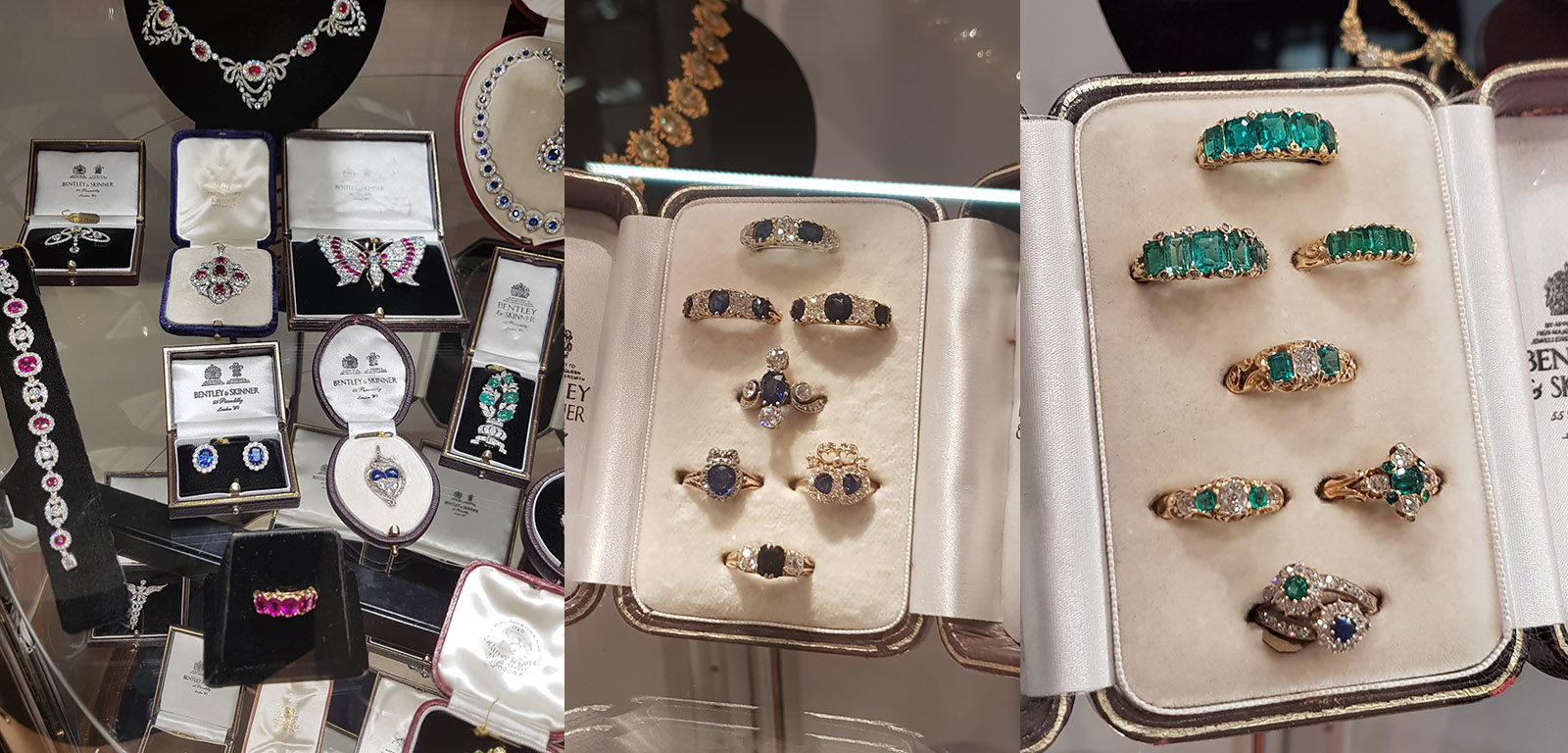 Many, many sparkling things on offer to delight a loved one of even treat yourself to a piece of dress jewellery. Pre-loved jewellery often comes at quite a reasonable price and I think that it would be wonderful to give a home to a piece that has already been worn at a fraction of the cost of new. I've also seen rings for sale at auction with quality stones sell for a price that would be kind to the pockets of soon-to-be-wed pairs. Sapphires and Emeralds in soft trays of seven rings offer versatile ideas for dress, engagement or eternity wearable rings.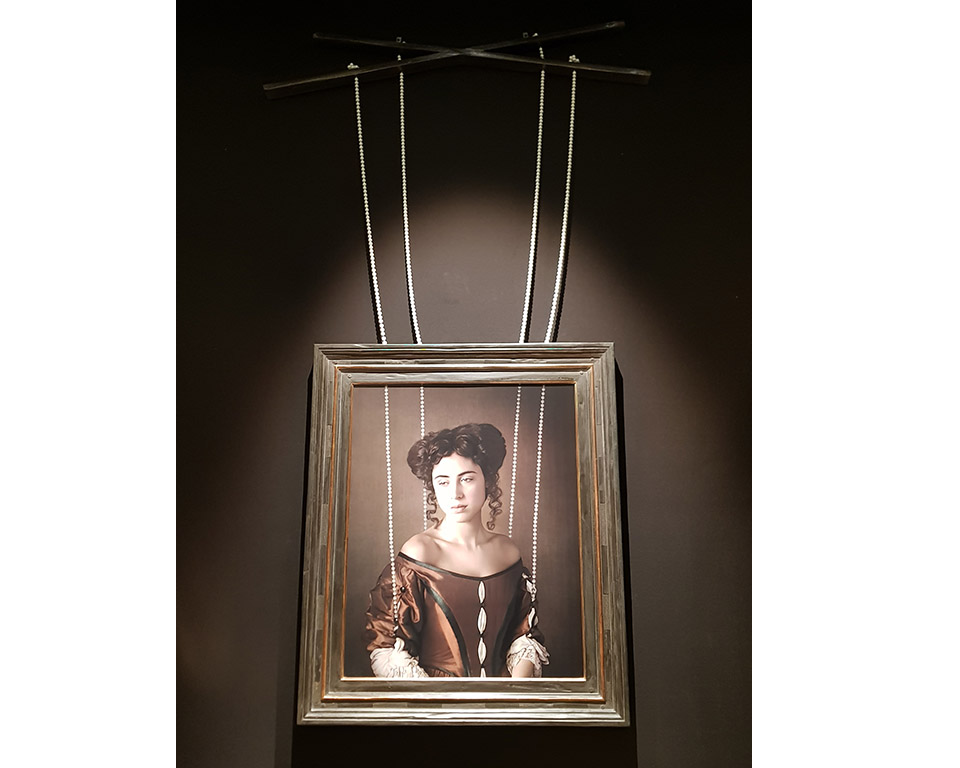 In a sharp contrast to the jewellery pieces that are avaiable to buy in abundance there was one painting that stood out as using jewellery to make an altogether different statement. The historical portrait is deconstructed in this contemporary work to show a sitter, not only constrained by her corset, but also bound as a pupet of others by the ropes of pearls that she wears. The cross of the puppet master's frame hangs over her as she sits gazing sadly away from the audience.

The colours are muted with a chocolate coloured dress against a dusky coffee backdrop. Real or imagined, she is constrained by conventions and any property or wealth that she holds in perhaps far from being fully her own. It's a frightening glimpse of life for some women in another century.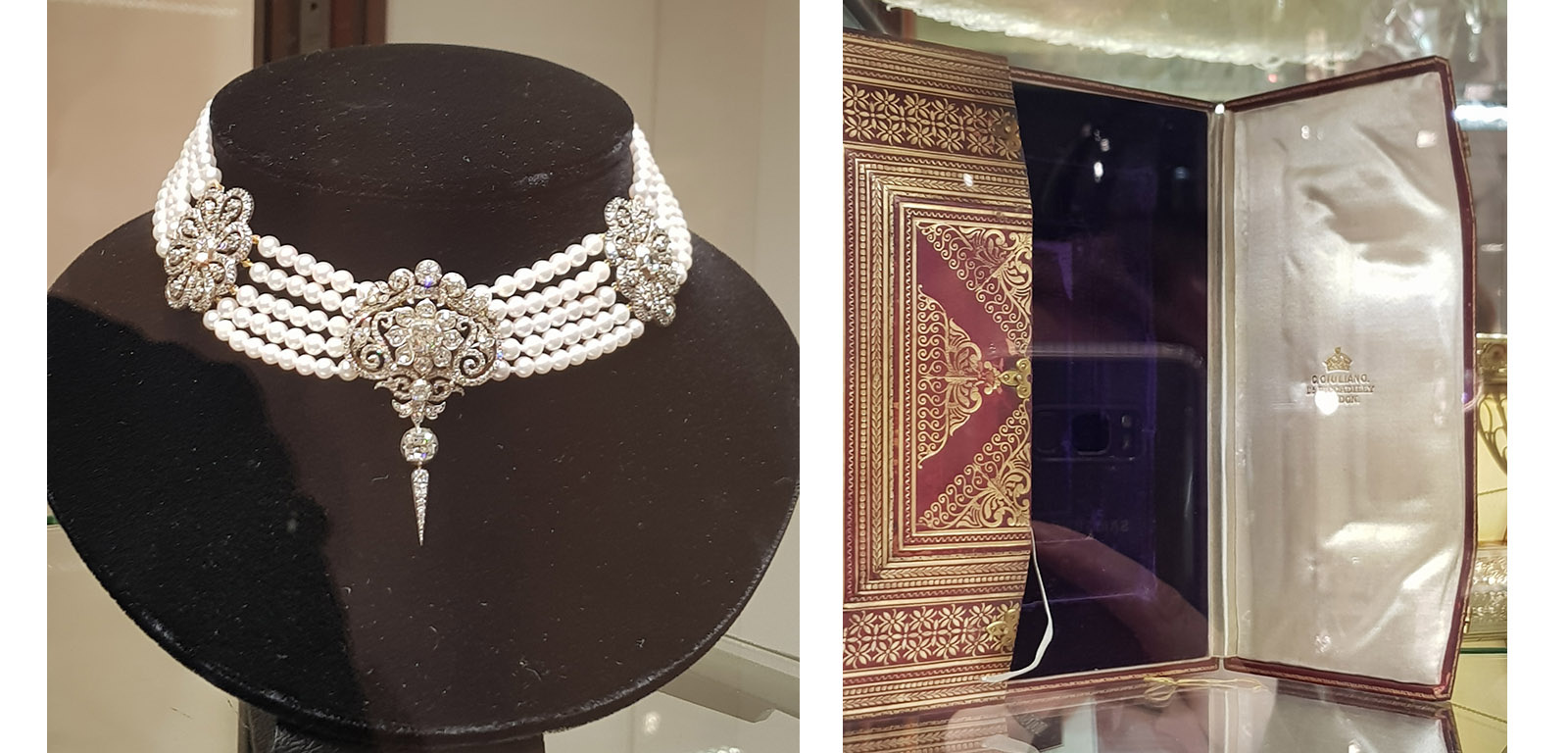 Centre above an important collar that I believe dates to the Edwardian era sits with perfect symmetry of design and briliant shimmer. The five strands of pearls between the set jewels create a grand image and this piece looks frankly regal in it's proportions. A diamond drop pendulum at the centre of the neckline anchors the piece around the neckline of the wearer. To the right, something else that is also an object worthy of being part of a collection in itself, a beautiful jewel box guilded in minute detail and softly cushioned inside.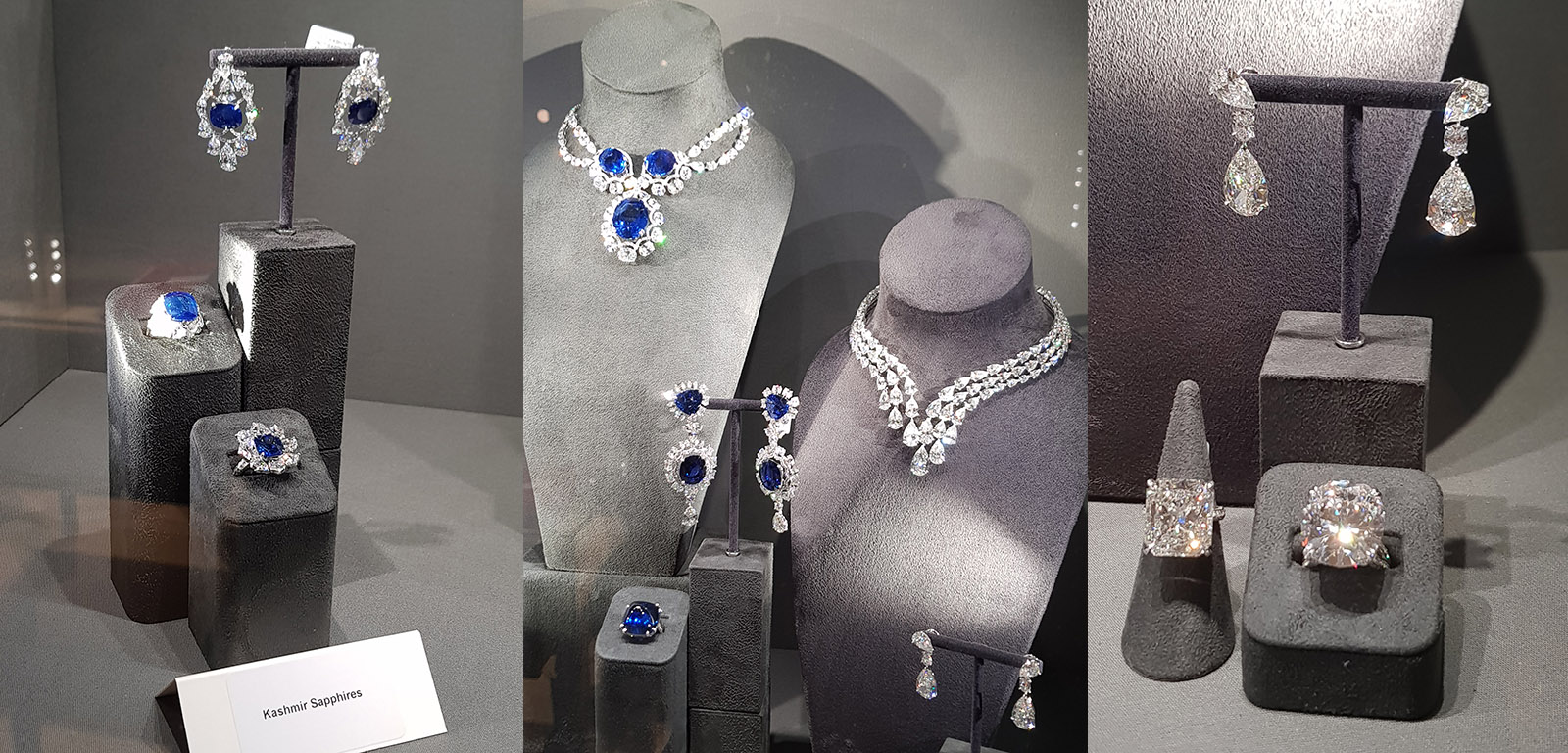 The captivating Blue of Kashmir Sapphires was on display at Van Cleef & Arpels alongside the crystal clear brilliance of White diamonds. It's another universally flattering and adaptable stone colour combination that can be worn across a multitude of different pieces. The stones are mostly oval and marquise cut I think and the circular-type nature of the stones cut adds to the warmth, I think, as light travels within the stone. Diamonds resemble drops of water and appear to run like liquid across the skin of the wearer when worn. I think from above, my favourtie piece would be the Diamond necklace for the appearance of easy flow wrapped around the neckline.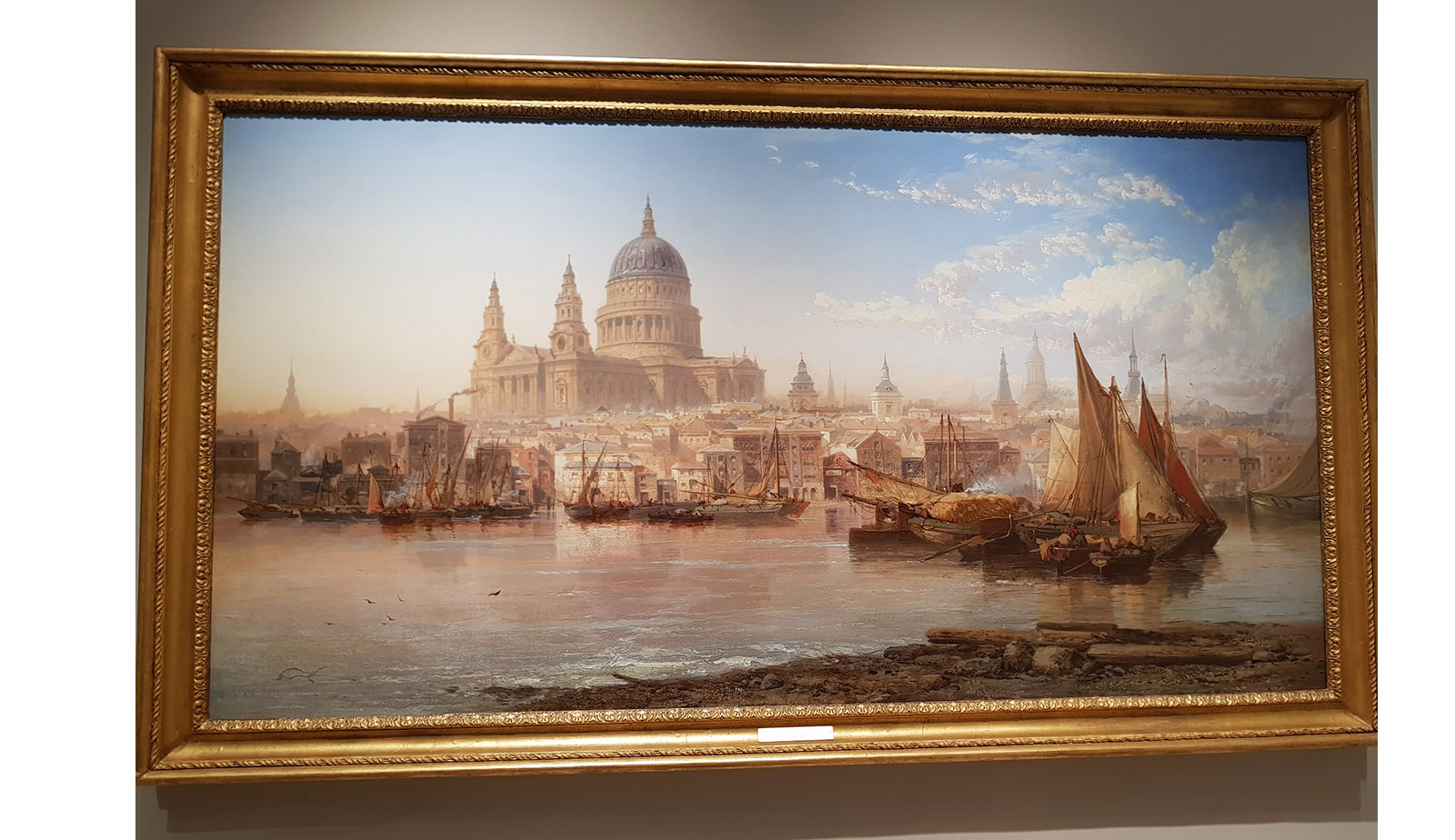 Beautiful paintings are easy on the eye and a wonderful addition to your living space to help you relax. Above a cityscape view of the City of London in the 19th century before the high-rise office buildings of today competed with St Pauls Cathedral. I think somehow the perspective has been altered a little to make the Cathedral stand out above the city a little bit more and turn it towards the river, rather than being lateral with it but it's only slight. It's an atmospheric reminder of how crucial the Thames was to trade and travel internationally before the mid 20th century.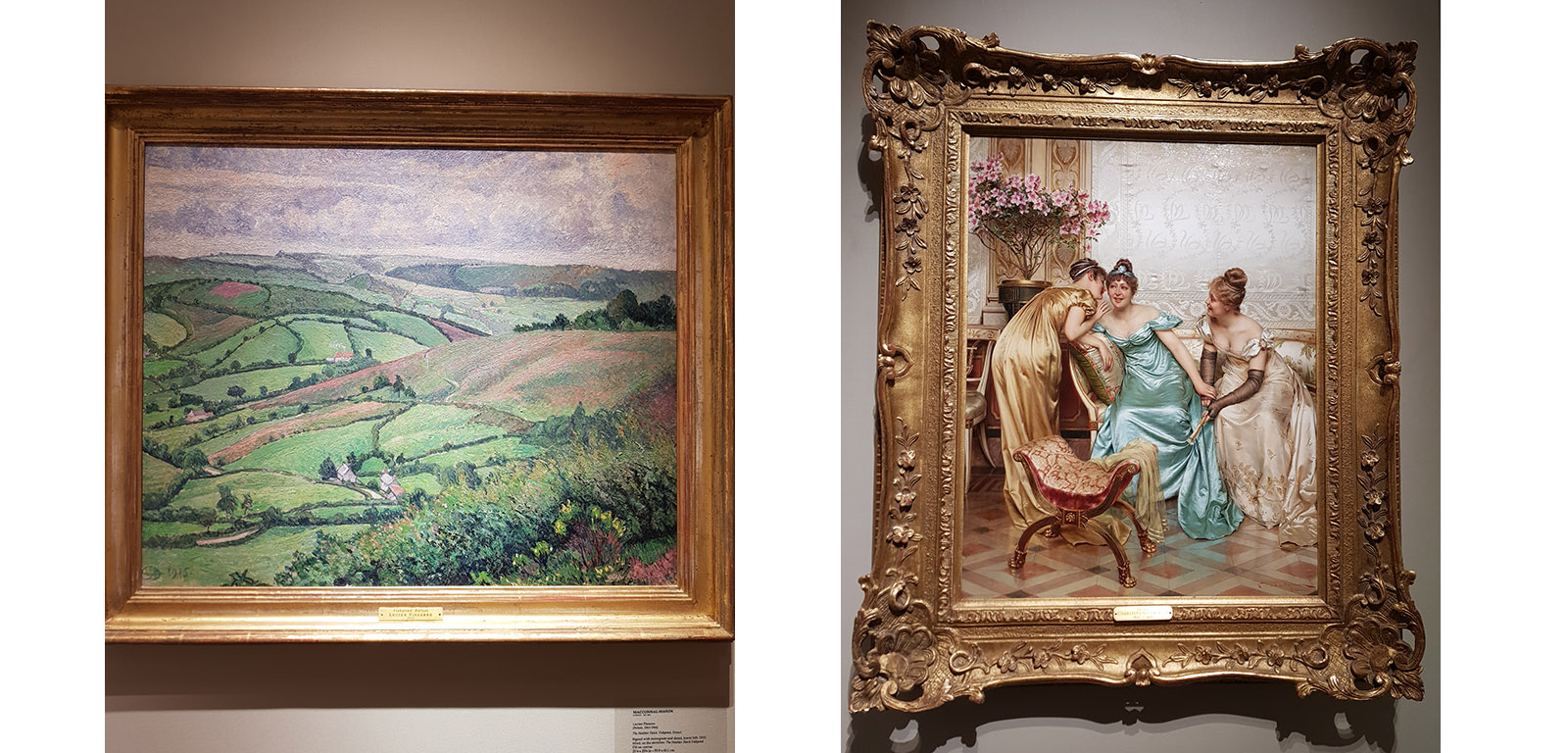 I think that art that is visually relaxing and enjoyable, that tells a story without getting too 'clever' or psycological is the best to be enjoyed and above are two pieces that I feel fit exactly that category. The rolling hills of a countryside landscape offer a soothing vision of the isles and for many people home. I think this would be a nice piece to hang in an apartment in the city or be placed in it's native green agrarian territory somewhere in the British Isles. To the right one of a series of portraits buy an artist who'se name I've lost, but intend to find again, featuring scenes from the lives of the French Bourgeois in the 19th century. These paintings are supposed to have a small element of humour contained in the desire to achieve very proper behaviours. I just love the fabrics that the ladies portrayed are wearing and the expression that is used to create them in the painting with shimmer and light moving across the garments.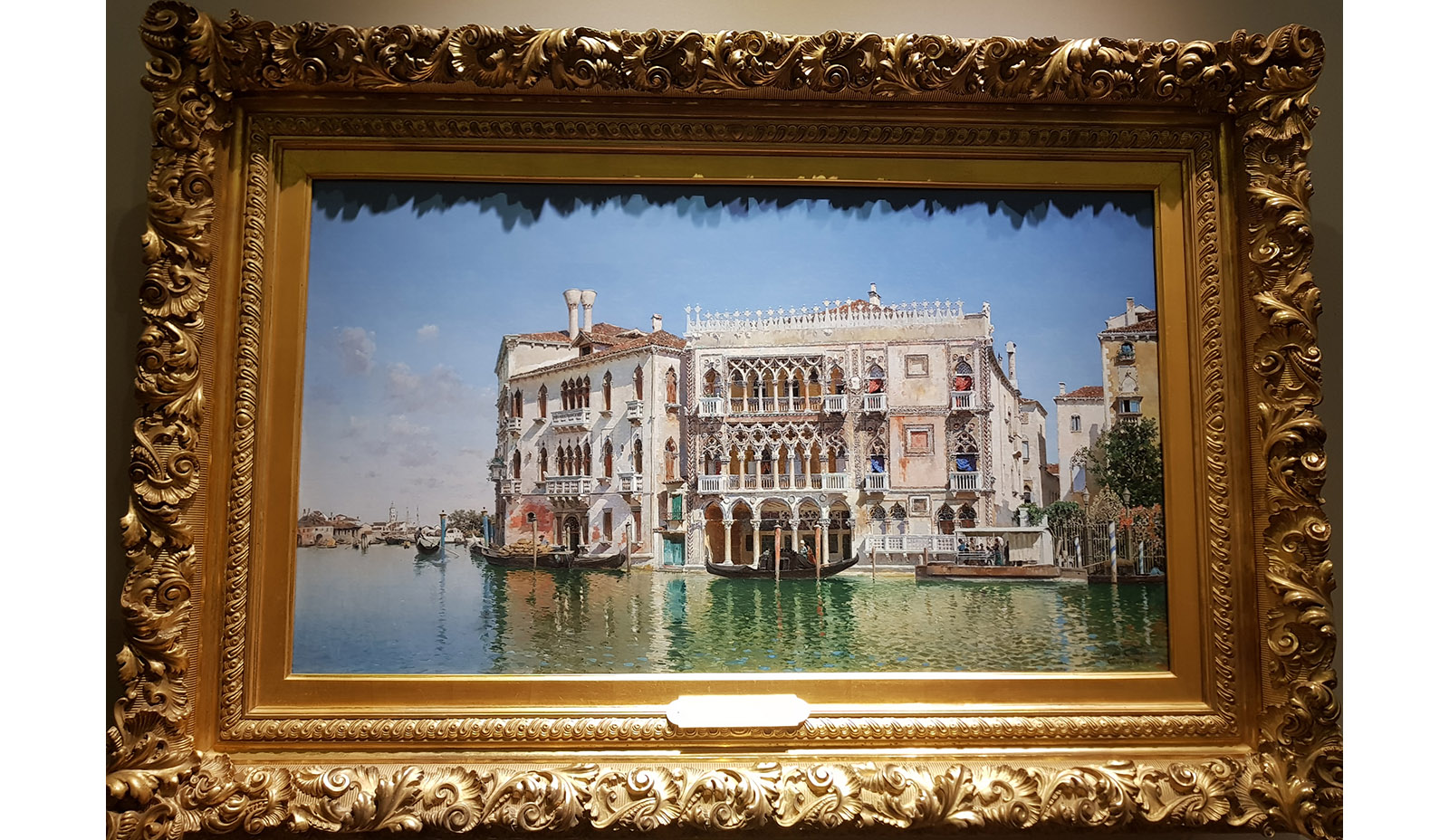 The beauty of Venice is captured with the light bouncing off the water that the city appears to rest upon. On sunlit days like this it's hard to imagine that the city is in so much danger from flooding in the future but it's worth reflecting that the beautiful image masks danger and fragility of a place lived in for around 1,100 years.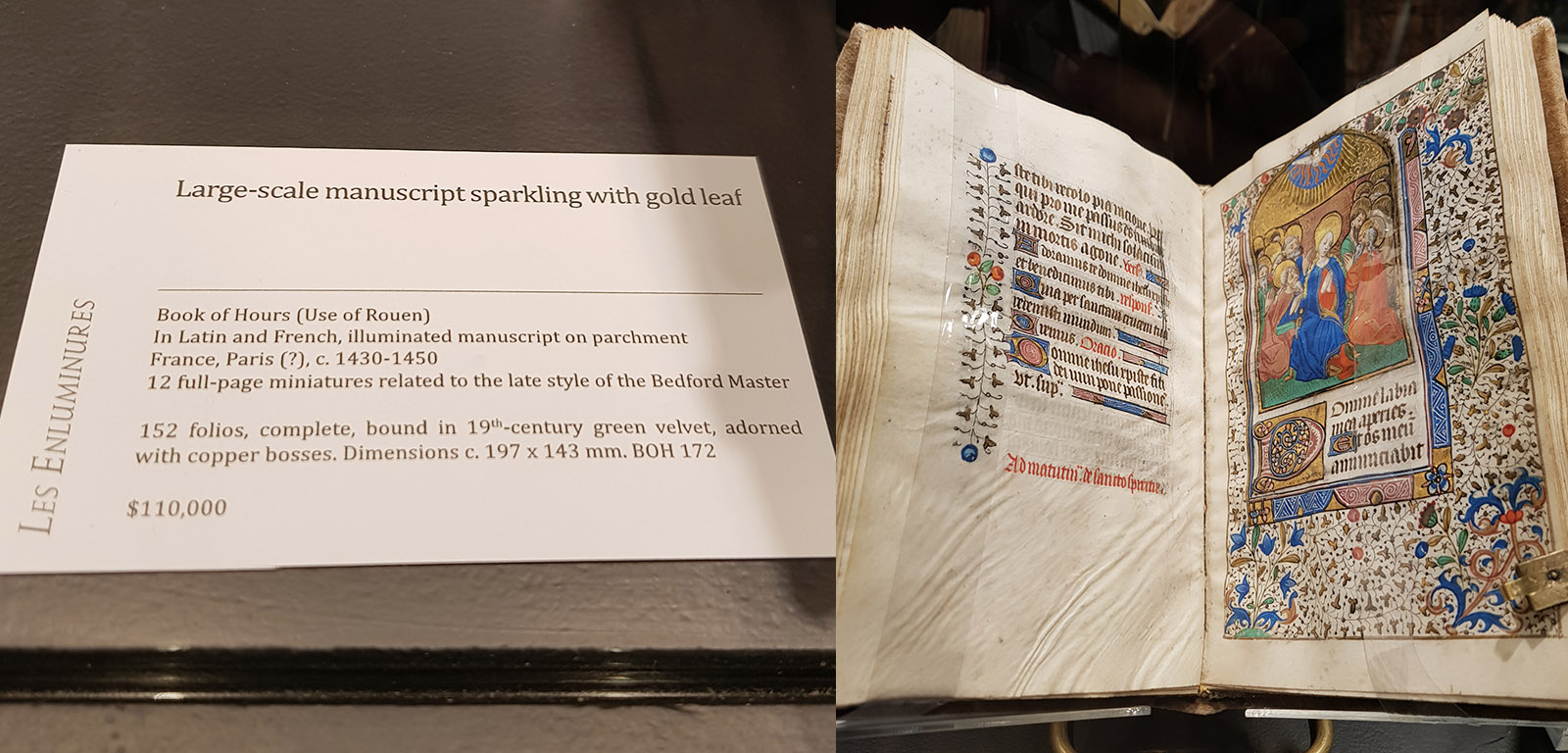 A beautiful manuscript from Les Enluminures was part of a large selection on offer that would be well placed to live in a museum or colection perhaps in France where it was originaly created. The detail of the work is extraordinary and will represent many months or perhaps years of work by one or several monks working in seclusion.

A Book of Hours was a medieval manuscript that would encourage people to be prayerful and use their time well, often in the act of prayer and it neatly sits opposite two fine clocks below. If you've ever seen the Beauty and the Beast films, Cogsworth the character running the castle may spring to mind when you see the square shapes and round faces. The precise working of British and French made clocks was prized thorughout the world in the 17th-19th centuries and they are still much treasured objects of wonder today. The mechanisms still work well after several hundred years.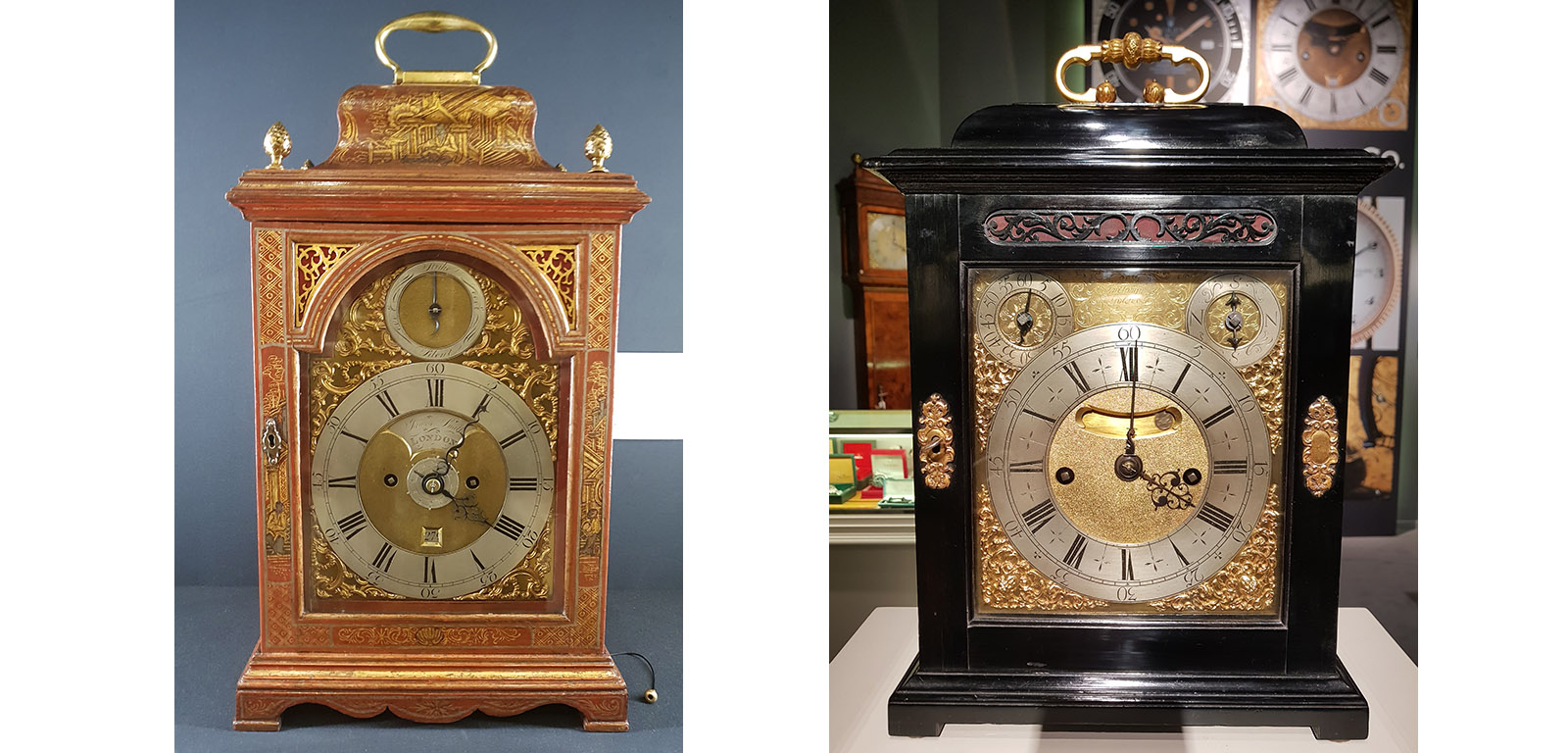 Below, a last look at some favourite enamel pieces that where offered also by Bentley & Skinner again with the beautiful enamel that is emblematic of the Russian jeweller Faberge. The natural light that these pieces appear to contain in themselves is unforgetable and ornaments for all purposes and ideas can be found as souvenirs by the House of Faberge across the decades. For me the four-leaf clover locket is one of the most beautiful things that I've ever seen crafted by any enamel maker.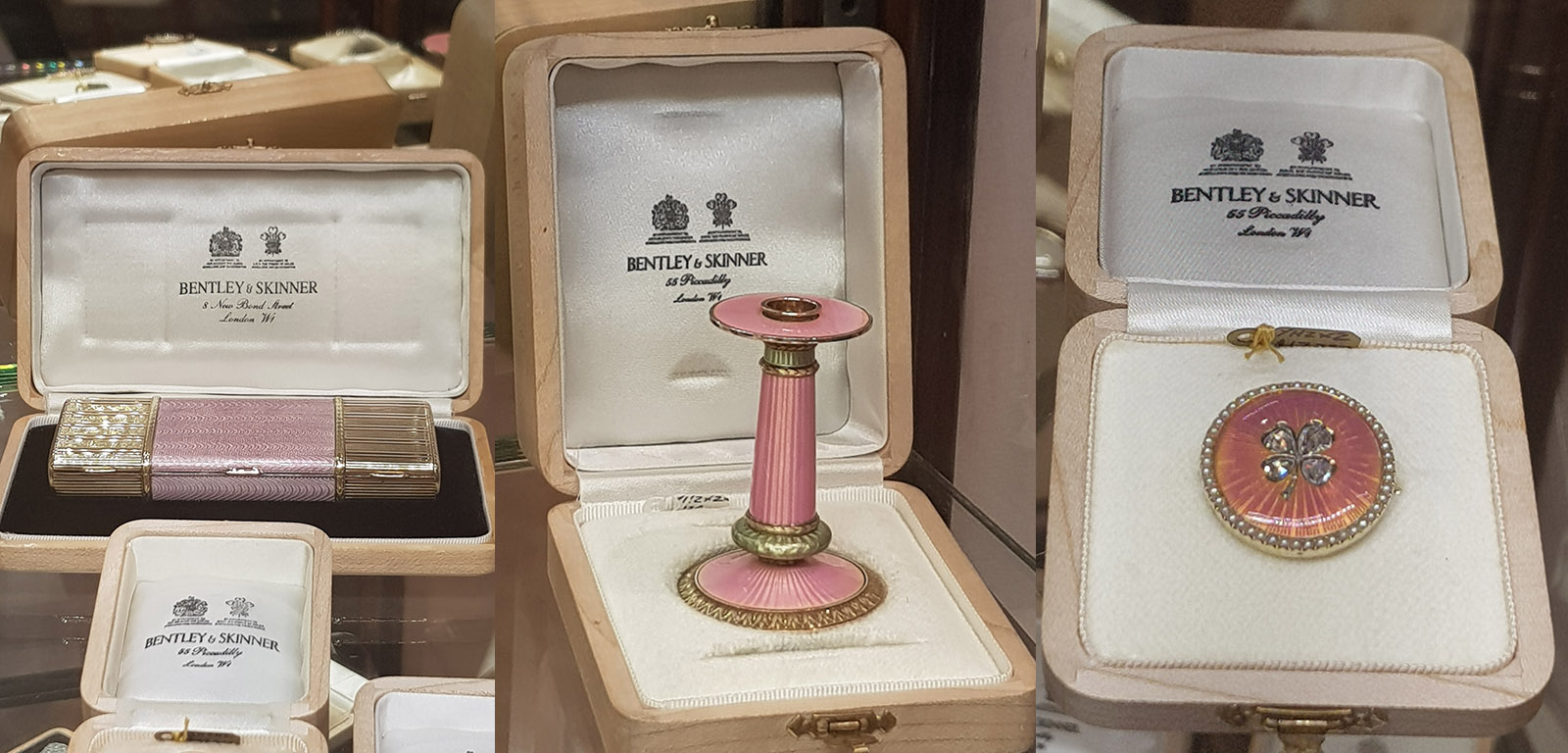 In an age when we are all so conscious of the time that we spend making a carbon footprint, I must confess that when I'm able to travel any journey beyond around 4 hours when not driving is ideally by plane as long train journeys sometimes make me itchy to save time as well as green around the gills. So above the clouds it was to head back to Scotland after an hiatus to revisit lands in the central belt familiar when I was small and see some new places too.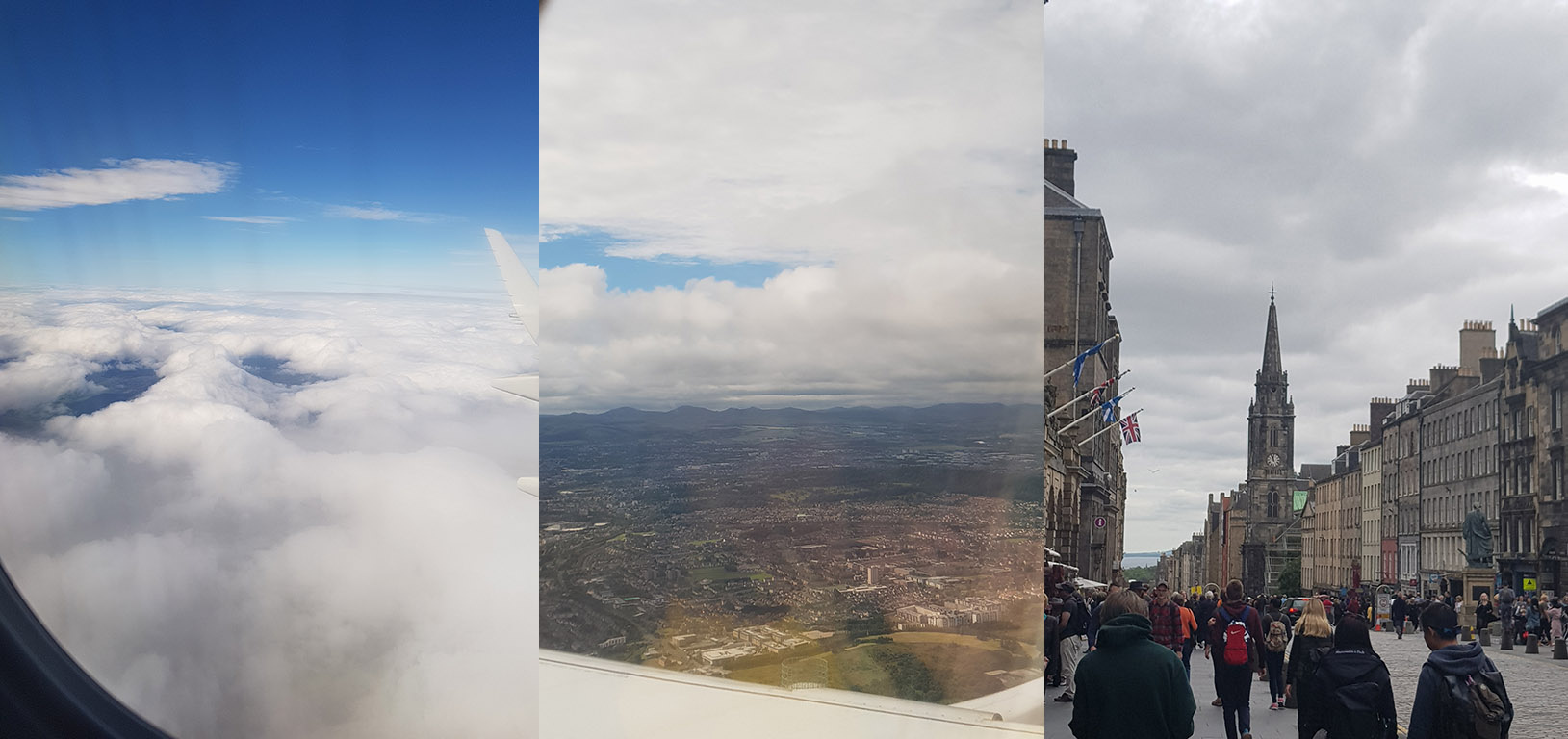 Flying down through the clouds Edinburgh appears near the sea ringed by hills. It reminded me slightly of Rome but perhaps I was already thinking of Italy after being surrounded by AlItalia flights when leaving London and Italians at Edinburgh Airport. Once inside the city the Royal Mile was bustling with people and a stormy day in Edinburgh settled into a nice calm evening. I stayed in one of the tower rooms behind the Royal Mile and found it was a very handy place to be. Bars and cafes are near by and the trees growing up around the towers give a feel of peace and tranquility away from the city life. Although I go to Scotland every so often, I'm usually in the countryside or small towns and this was my first visit to Edinburgh since I was a toddler.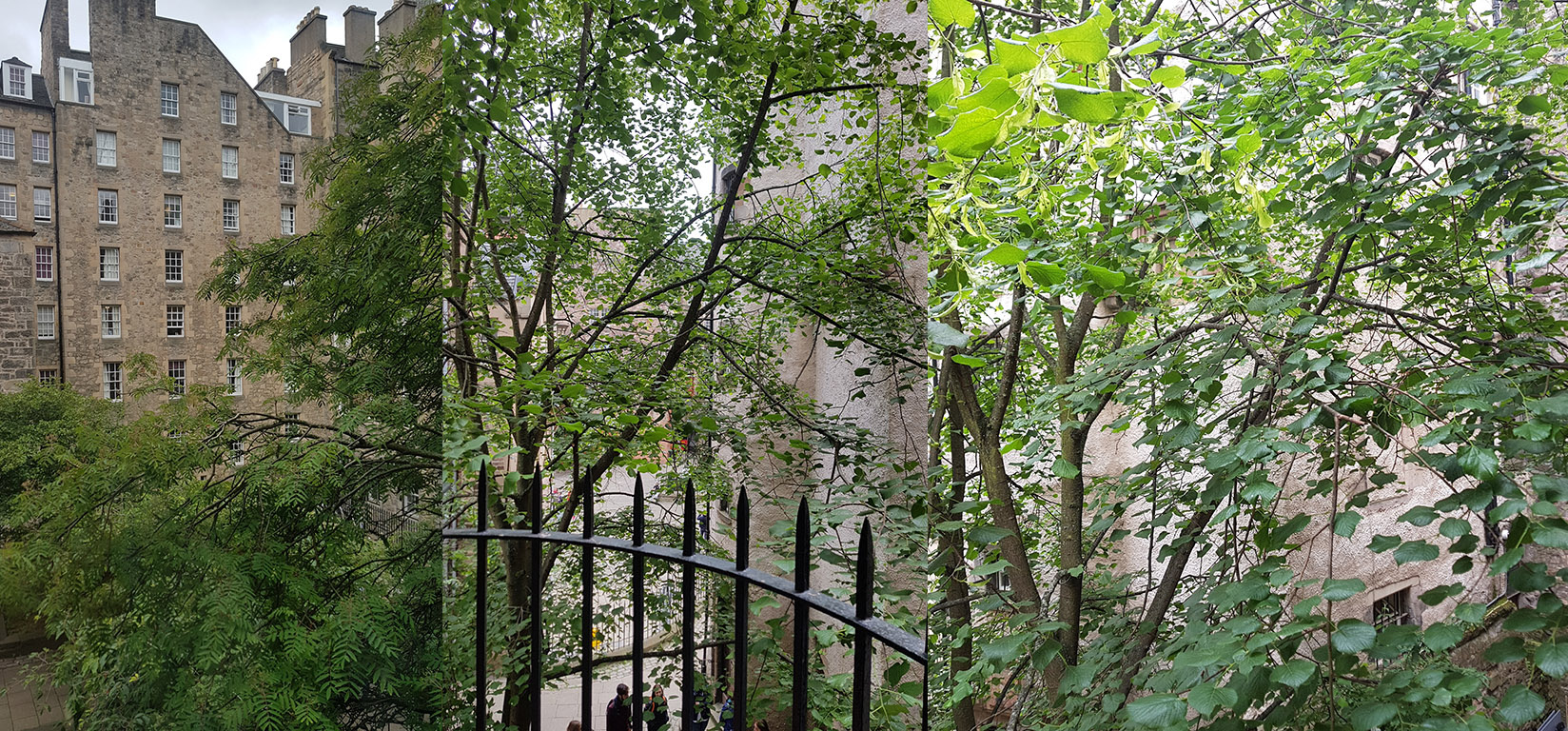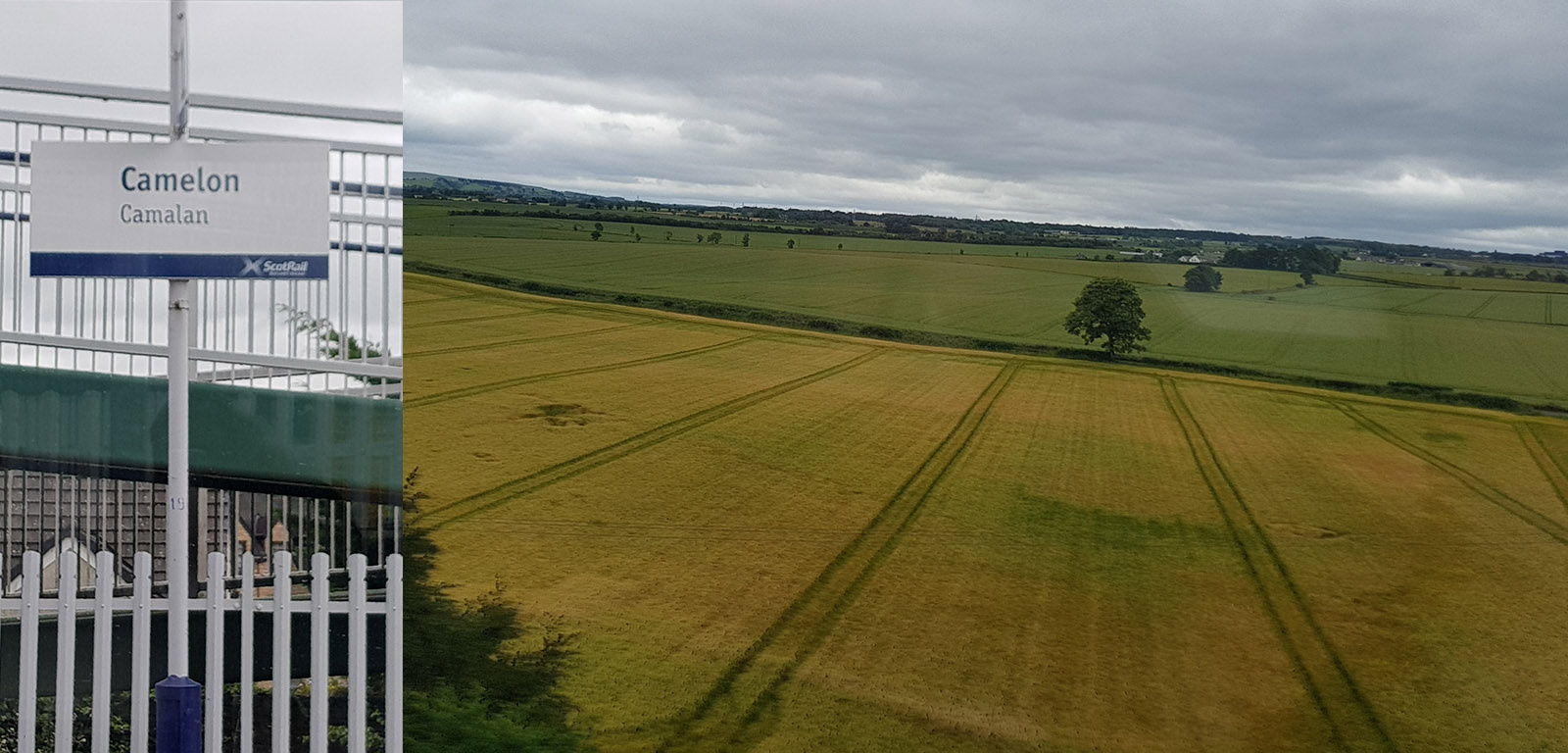 Although Edinburgh is the Scottish capital today, I'm very aware that in previous centuries the centre of power was often in other places as the court moved between Stirling, Abroath, Perth and Linlithgow. It followed a more ancient tradition of being itinerant. For my part with a yen to see the highlands and visit several historic spots I headed off to Waverley station and onto a train north. The broad open landscapes where so mesmerising that I forgot to even lift my camera on many occasions but these broad fields on the start of the journey to the highlands summed up for me how rich and fertile the land is in Scotland and childhood memories came rushing back. Passing through rail stations in the countries central belt I was struck by the station name Camalan after having visited Cornwall home to Tintagel a few weeks earlier. Another olde British footprint.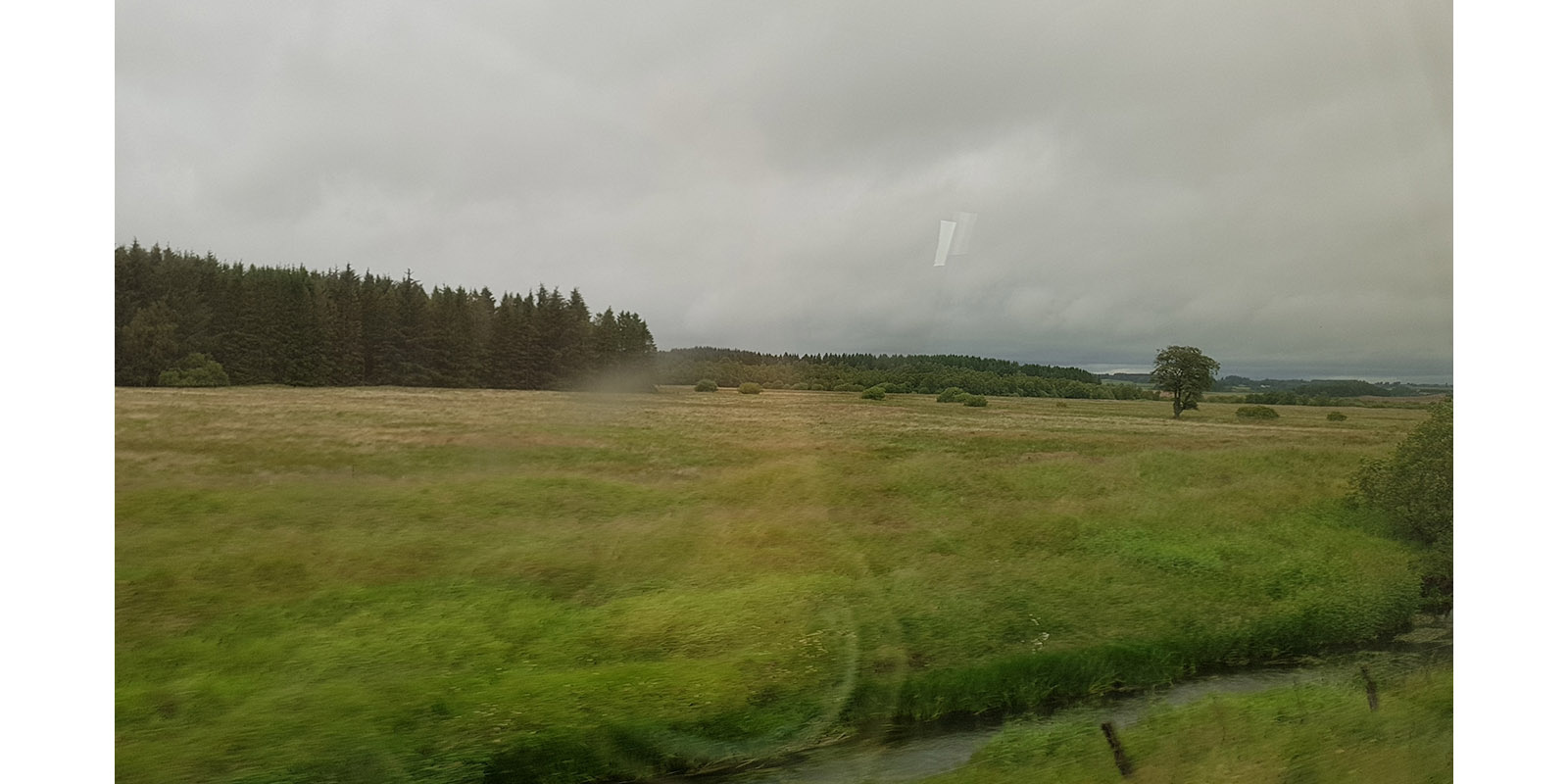 As the train swept north and the pine forests began to appear in abundance at the edge of the fields I started to think about the long drives my Dad took us on up to Scotland. This is also a part of the country where I have some origins too and I felt that this would have been a clean healthy environment in which to live, although in reality life would have been challenging in many ways without modern conveniences such as cars and heating.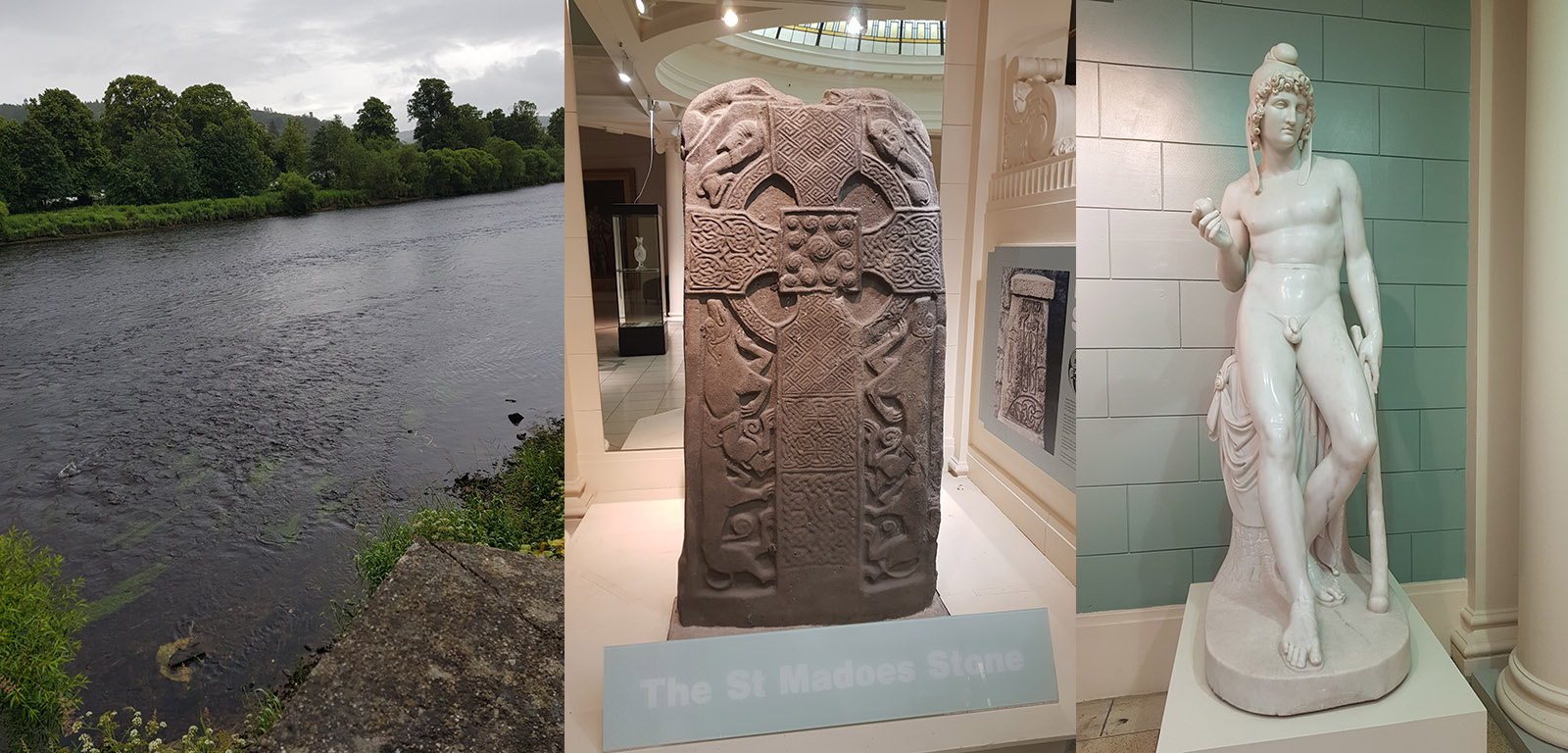 Up in Perth the skies where brooding but that didn't dampen the beauty of the old town and the Tay was flowing strongly through the town just as it has been for thousands of years. I wandered through the old town and saw the Museum and decided to visit. I hadn't planned to but as the skies turned cloudy and rain was settling into the air it seemed like the perfect time. Inside visitors are greeted with an entrance hall containing several statues and the St Madoes stone, an ancient Celtic relic that connects with the powerful Pictish and early celtic Christian heritage of the area. Creatures and geometry fill the surface of the object testament to sincere faith. Another faith, that of the pursuit of perfection and the Greco Roman life sculptures is shown above to the right. As a classicist, it was an interesting juxtaposition to see these two art forms treasured in their respective places of origin at opposite ends of Europe.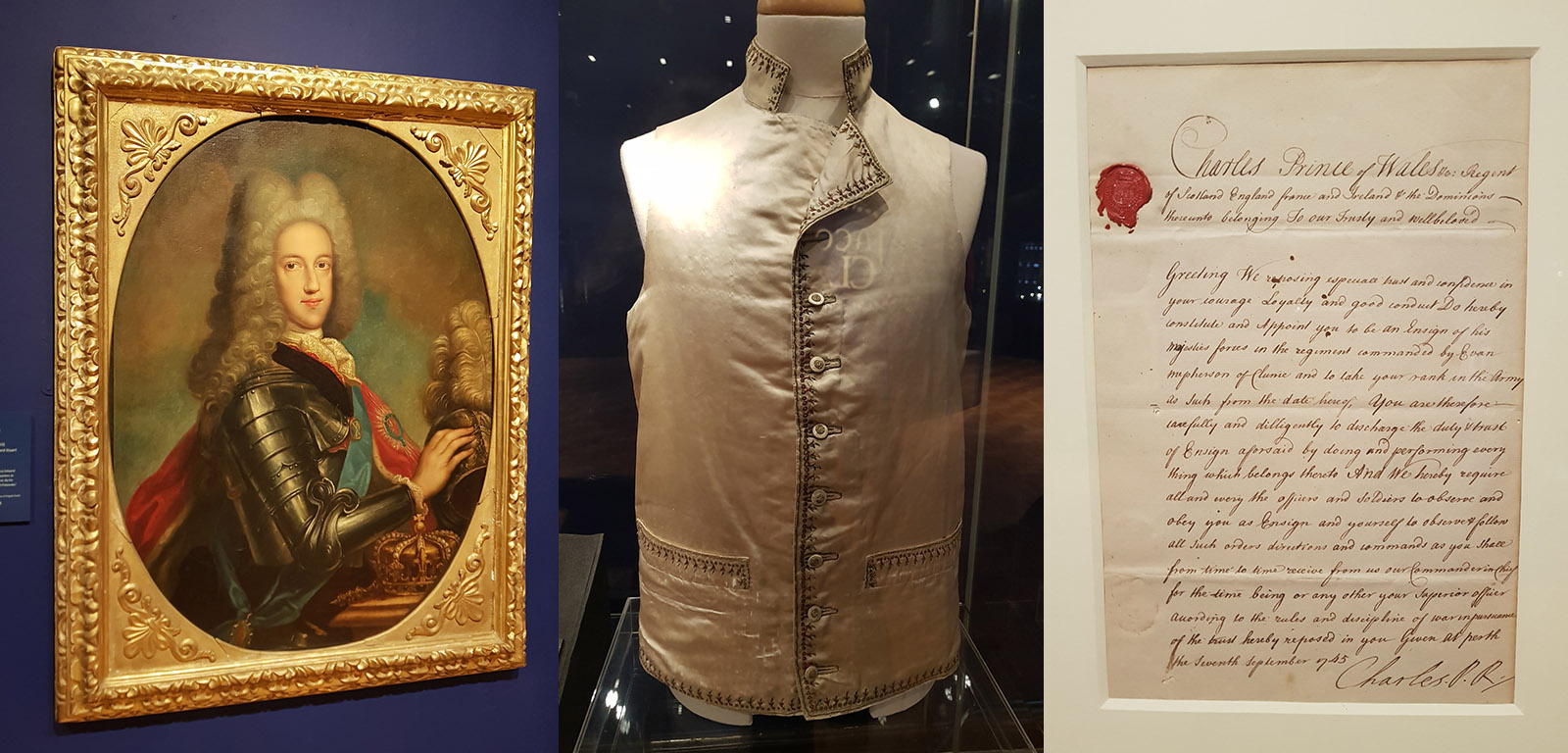 It was a nice surprise to find that there was a Jacobite exhibition on at the museum also and after walking around looking at broad sweeping views it was nice to focus in on something. For me this a part of British history I had seen or heard very little about until maybe two or three years ago so I was curious as to what may be exhibited. There's lots of romance and 'what if's' inevitably but you soon move beyond this and see the story of a people and a family, the Stuarts, who felt displaced and marginalised before Scottish nationhood became resurgent in the 19th century. Above is a portrait of Queen Anne's younger half-brother James Francis Stuart, known as 'the Old Pretender'. On her death bed and in her final years she in fact agonised over what his and their younger sister's future would be but his offer of being a moderate ruler allied to the Roman Church but upholding the Church of England for the populace, had been earlier rejected by William III. Not quite the bumbling silly of the recent film, Anne was astute to the political reality of his situation as an exile. Years later the Tory politicians around the dying Queen Anne couldn't tee up a smooth succession for James without his conversion before she died so fortunes ran in the favour of another relative.

As Anne predicted James Francis became 'Jamie the Rover', stateless and after his first invasion attempt, a Prince that few in Europe wanted in their realm as I believe she probably foresaw. She is quoted as lamenting his fate in her final hours to stone face politicians around her bed. For the next four generations the family of James and his eventual wife the Polish Princess Maria Clementina Sobieska lived on the continent making fleeting visits back into the mid-19th century, the most famous of which where his elder son's campaigns as 'Bonnie Prince Charlie' in an active attempt to regain the throne. Centre above a waist coat worn by him Charles Edward Stuart, James' son is sewn with tiny Rose flowers complete with Green stem leaves. The detail is minute and a work of devotion no doubt by the hands of a Jacobite follower to dress one of the most famous male fashion icons of the age in Europe. It's been very well preserved and the silk retains it's softness today. To the right one of the many letters from Charles Edward that has found it's way into private collections. Neatly written but pressing his case it's filled with quiet determination that remained to the end of his life.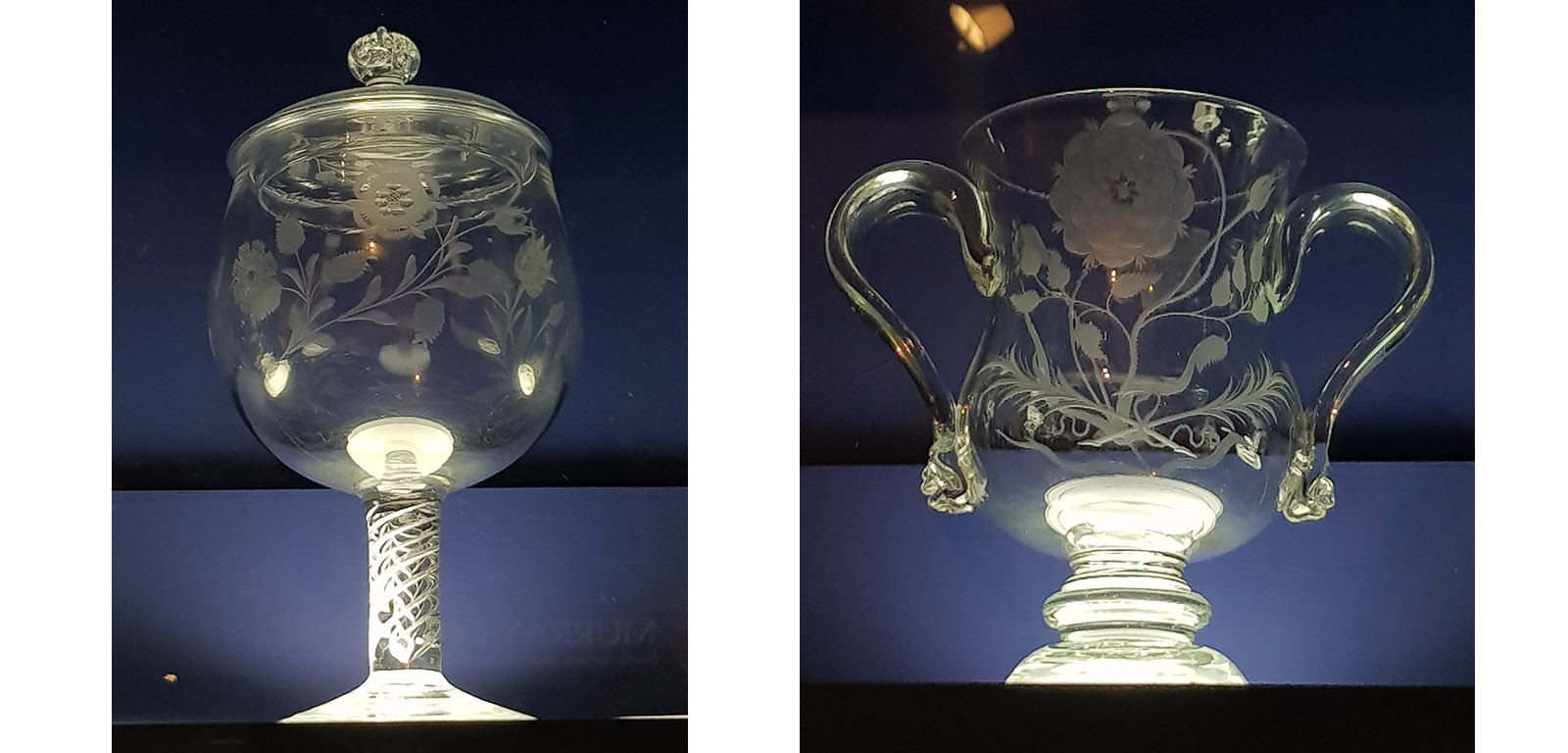 I have a slightly niche interest in fine glass and was surprised to see during this exhibition the volume of collected glassware that was a key Jacobite communication tool. Not exactly like social media, but not hugely far off. They used it to communicate messages of sympathies to friends and followers across distances as great as trade routes could take the objects. The Rose itself is apparently Jacobite symbol and the White Rose was the emblem of supporters. Above these vessels show Roses growing on the vine wrapping around the centre of the vessels indicating growth and the hope of new life. I wonder if it was meant to indicate the Stuart families continued line running into the future like a growing vine as well as the spring-like regeneration of their cause? Whatever the meaning that people found in these objects, the workmanship in creating them is astonishing. Also to symbolise the exile 'over the water' many of these glass items contain a drop of sea water sealed into the base. White Rose and Stuart societies continued into the 20th century and this glassware is highly collectable today. I think even for people who don't understand the full meaning of the origination, they represent incredible works of art in their own right.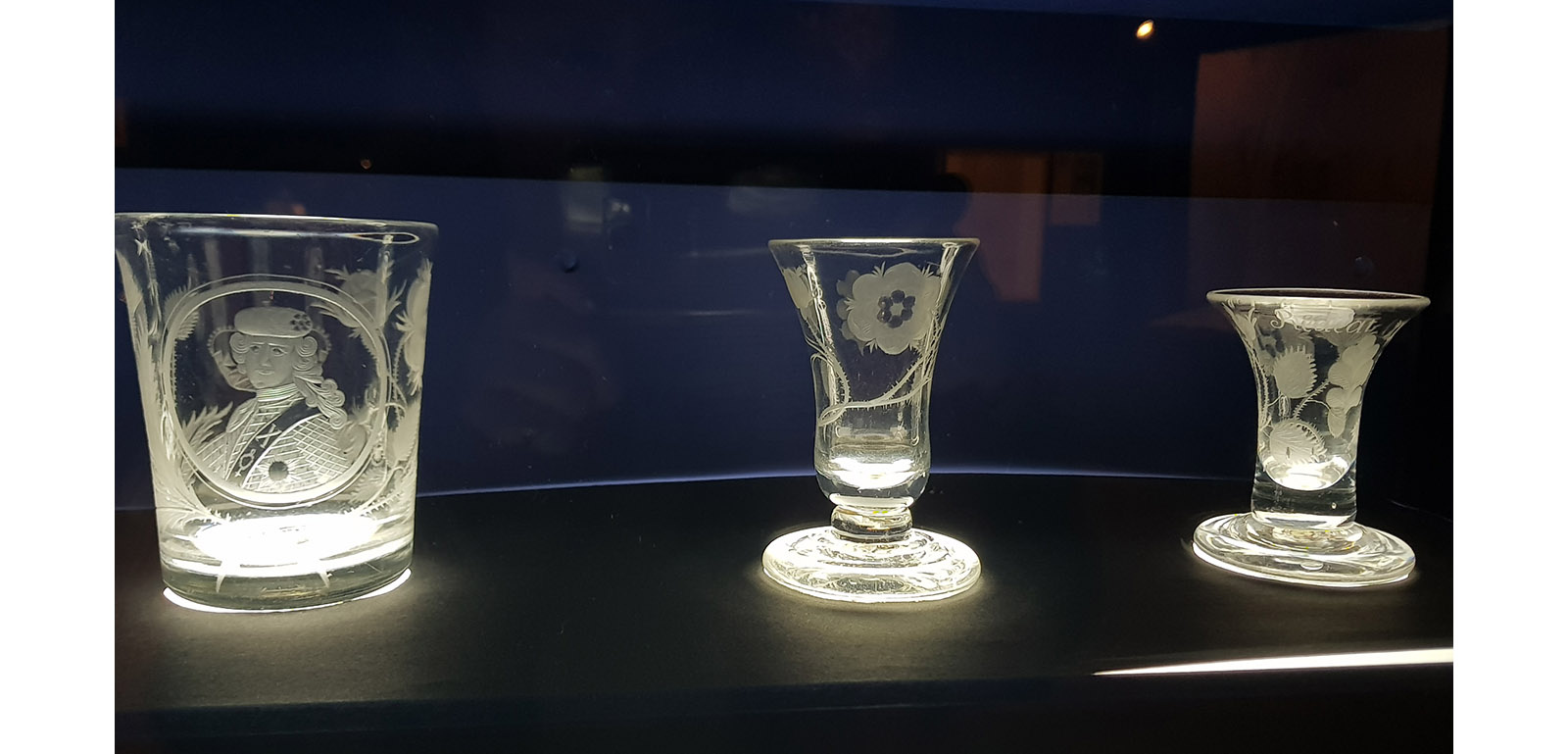 Smaller glasses for drinking toasts were also much in demand with glassware's produced over many decades. The engravings depict the Jacobite Rose, sometimes a thistle or two and the second member of the family to claim the throne Charles Edward Stuart. The fact that so many of these pieces have survived is striking and shows that they must have been treasured by families over many generations. The light shines beautifully through them just as if they were quite new. Only scuffs at the bases hint at many years of use.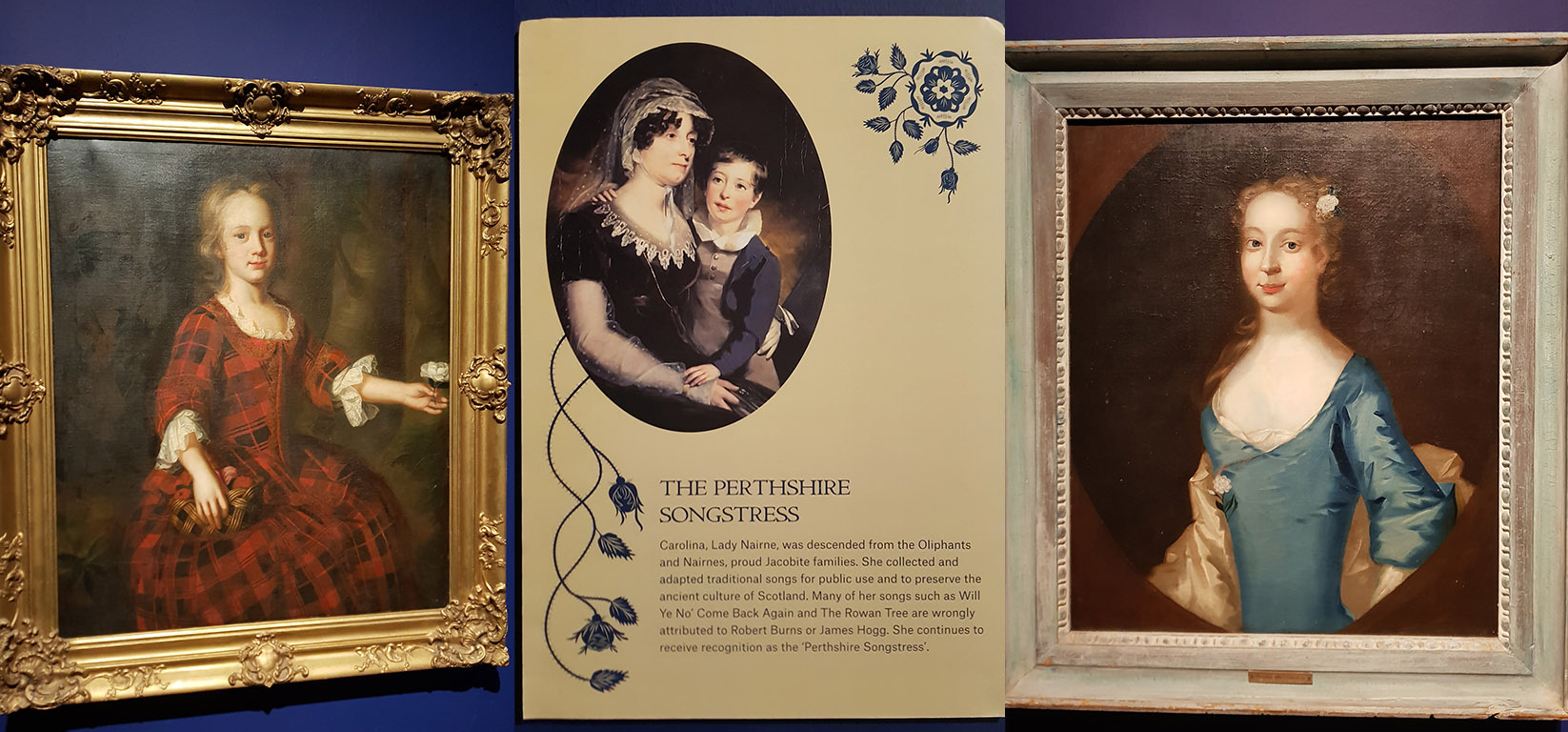 The Jacobite supporters took great risks in showing their loyalty to the Stuart family and many of those who did were women. Threat of imprisonment, torture, financial ruin and death was a reality. One brave family, like many strong in their loyalty, had their daughter painted in a dress of highland fabric. This child above to the left is clearly wearing 18th century clothing and holding a White Rose. Women where important preserves of folk and cultural history and in the 19th century the role of women and their due credit was often much more diminished that in the previous 18th century. Hence Robert Burns and James Hogg are often credited with writing the works of Carolina, Lady Nairne. This reminder is testament to a brave lady who was descended from Scottish families and worked to preserve the heritage that earned her the name the 'Perthshire Songstress'. To the right a painting given as Flora MacDonald who disguised Charles Edward Stuart as the moved through the western Scottish Isles. This painting looks most unlike Flora and I believe it is more likely to be either imagined of her likeness or a painting of Maria Clementina Sobieska, Charles Edward's mother. Her life in the exiled Stuart court in Rome was cut short and although she never visited the United Kingdom she apparently wished in childhood to become the Queen of England. To some who lived with the Stuarts in their European exile or supported them in the UK across England, Wales, Ireland and Scotland she realised that wish.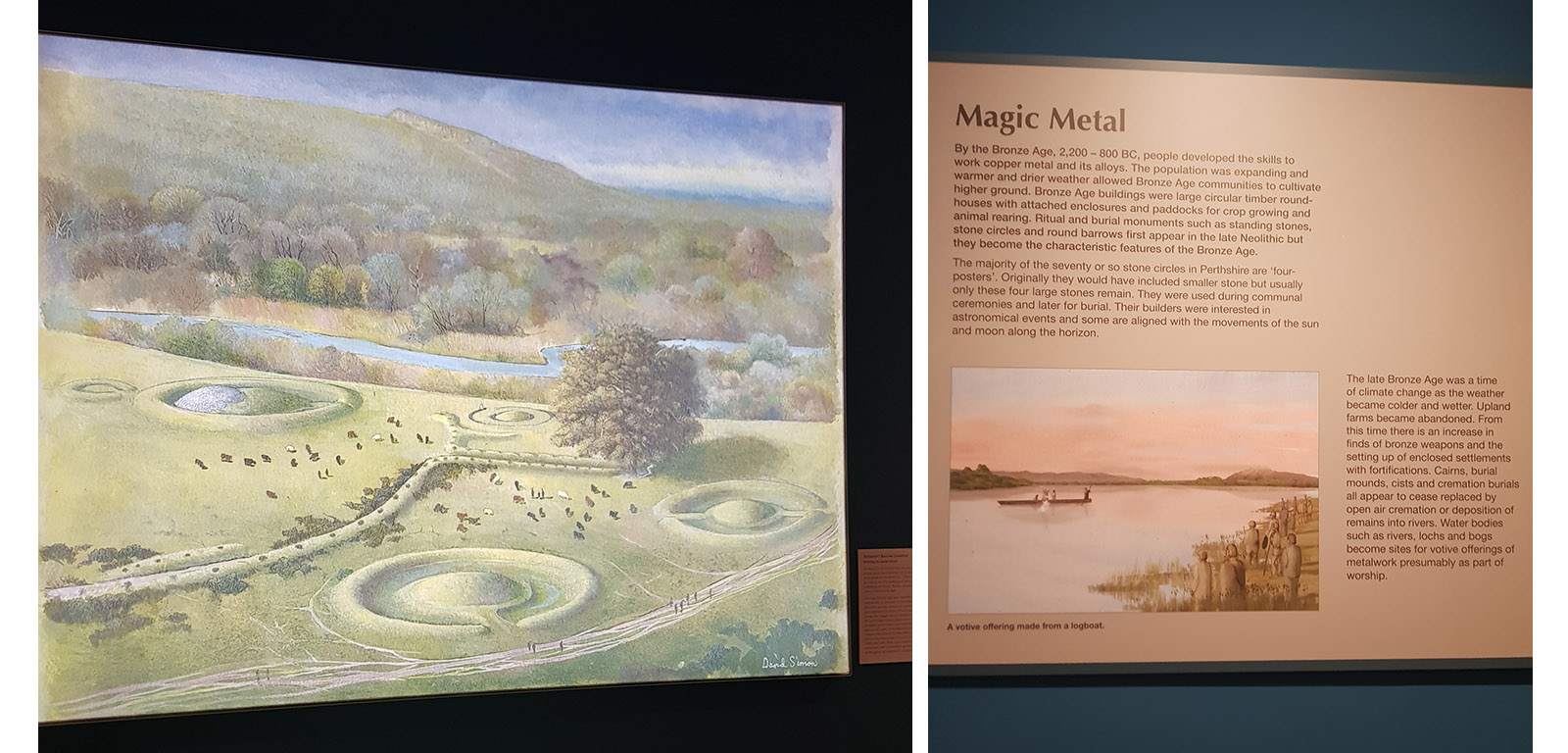 Further through the museum I enjoyed exploring the ancient footprints of Scotland. Pastoral recreations of Bronze Age settlements and the farming culture that preceds that of today. Far from simple, these where complex societies with highly developed astronomical understanding and complex inter-dependant communities with families, clans and commerce taking place around agriculture and craft goods. The heart of technological advancement was metalworking and the ability to create tools, implements and sometimes weapons from bronze moved society forwards in many dynamic ways.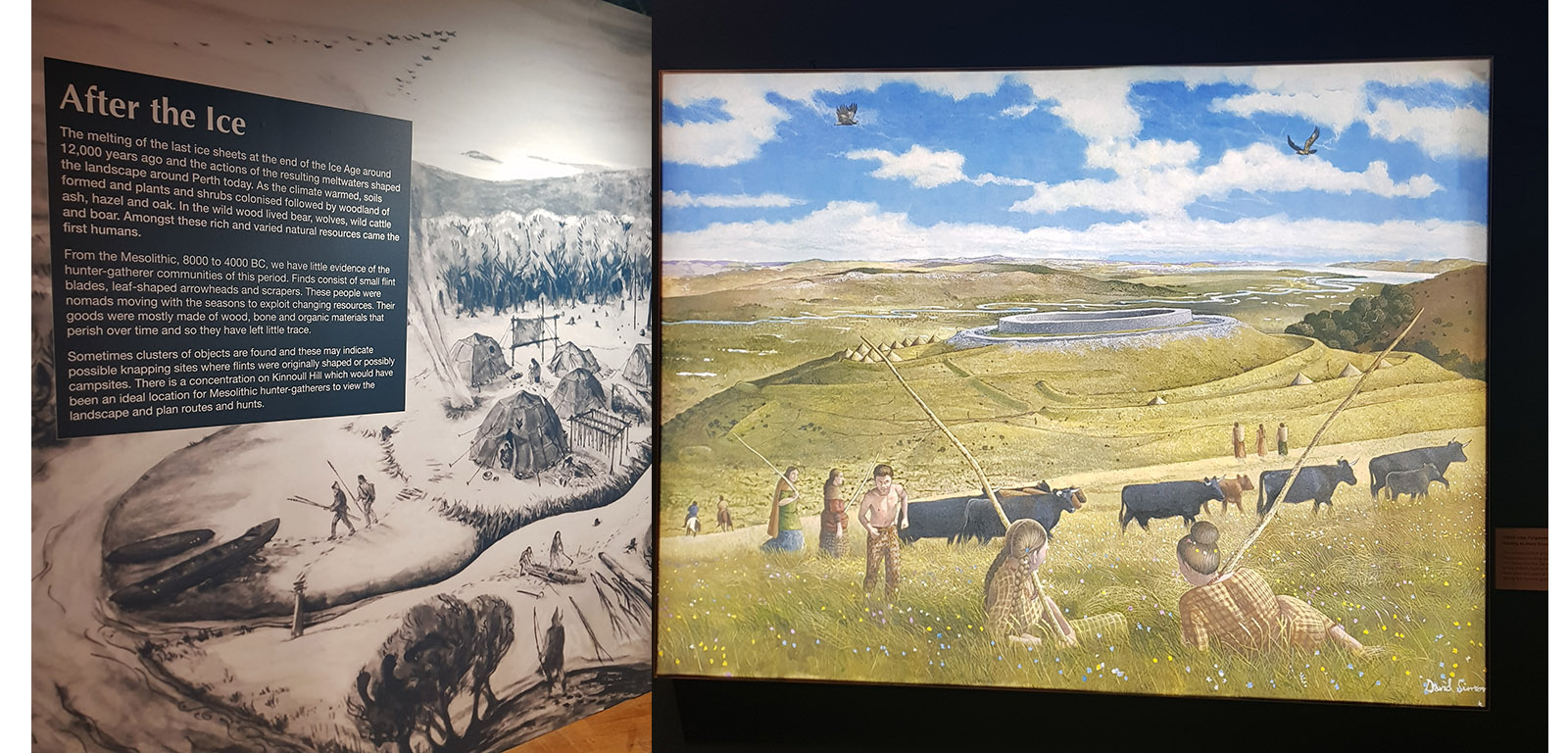 Stepping back further in time a glimpse of the mysterious Ice Age. Scotland was frontier territory from 4000-8000 BC and as the Ice sheets retreated the area we know as Scotland today was inhabited by hunters and their families in nomadic groups that may have returned to seasonal camps across certain months of the year. The illustrations look scenic but their lives would have been very difficult and I think strong bonds of family, friendship and loyalty would have been important.

With another parting look at more beautiful marbles that made me wish I'd brought my sketch book to the museum, I headed off for the next stop on my highlands journey. Wizzing through countryside in carriages with enormous windows, I felt very glad that the weather was perfect to see far into the distance.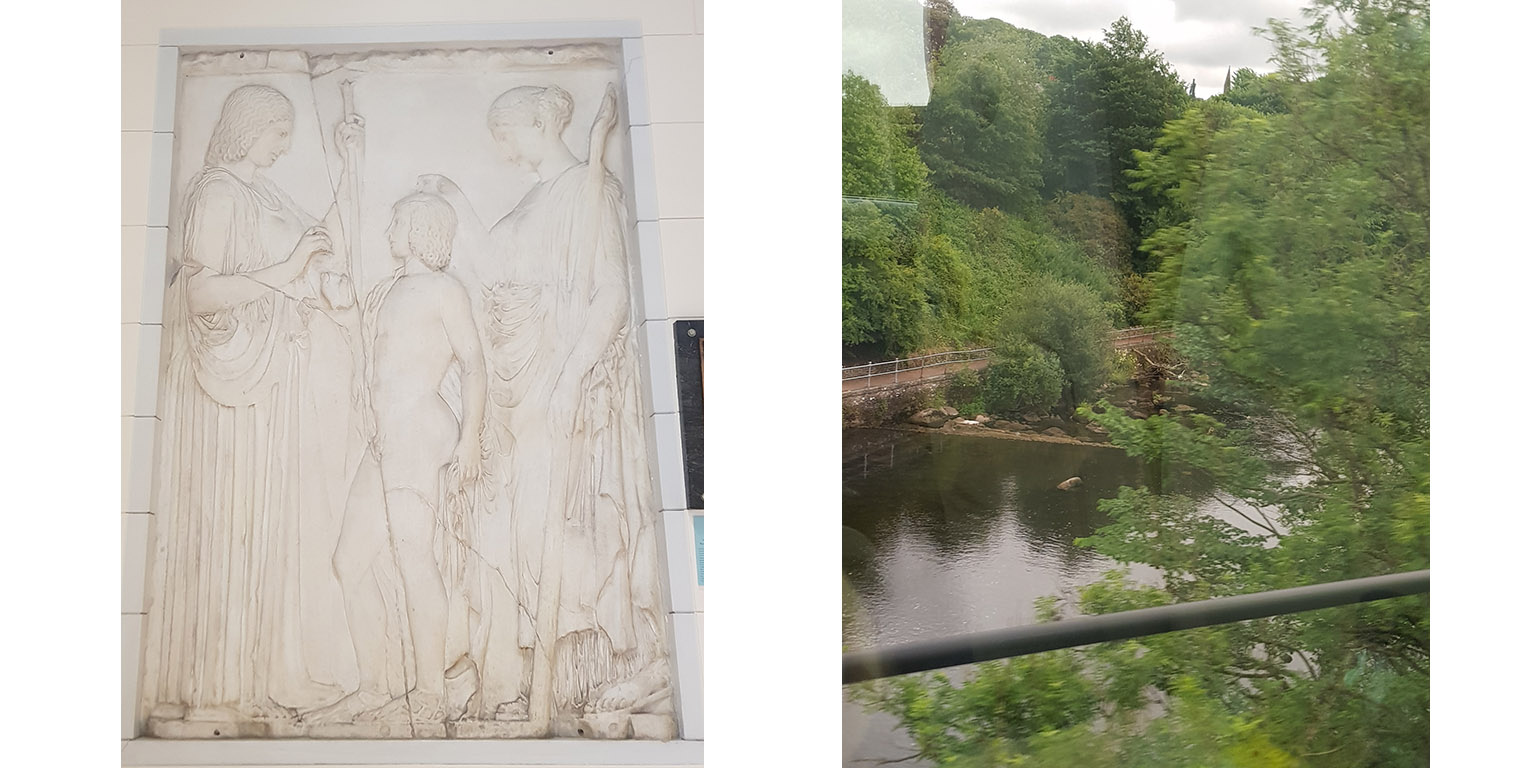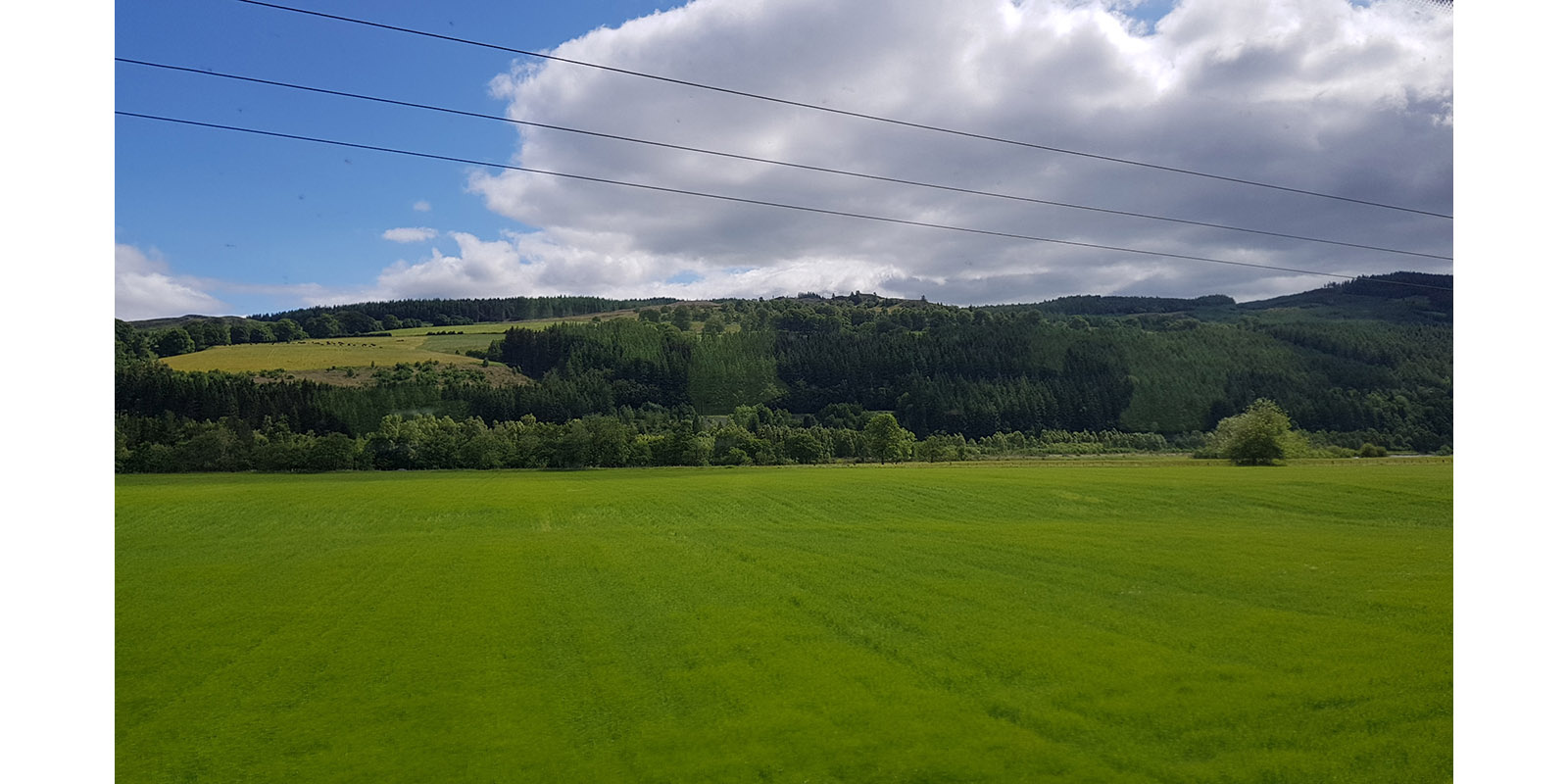 The wide open spaces of the highlands. One of the most beautiful sights that you can behold.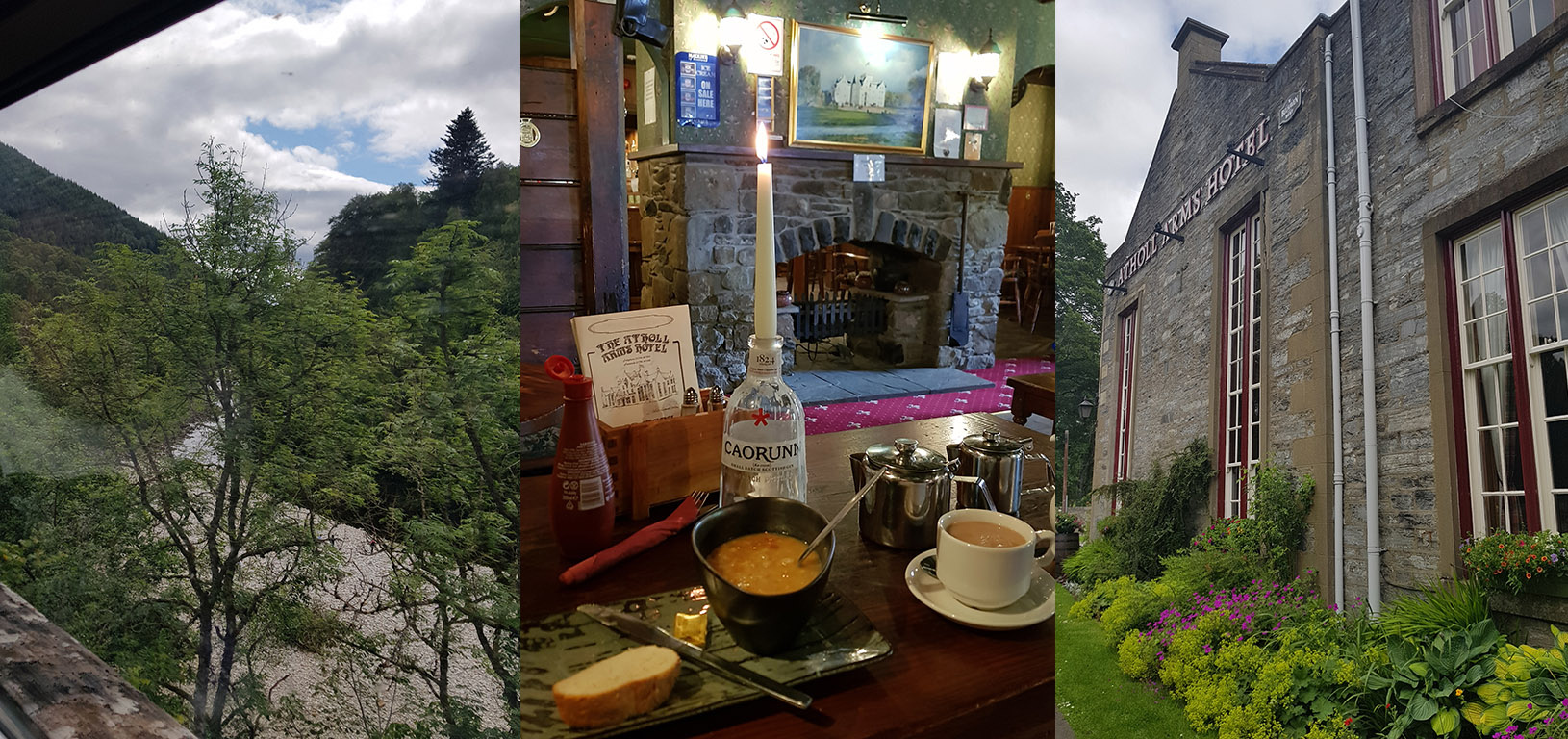 I headed further north to Blair Atholl which I remember spending some happy times as a child and again fell under the spell of the wonderful Highlands scenery. Stepping off the train after drinking in so much beautiful scenery I was speechless and quite hungry. When you're in a slightly remote place and forgot to pack a packed lunch food becomes a serious priority. I found the famous hikers stop, the Atholl Arms, quite easily as it's adjacent to the train station. There is a large amount of space inside for guests with conference and dining rooms well-appointed down to the charming toille de jeux wallpaper and deep armchairs. There is also a cosy pub area and here I feasted on an enormous bowl of chips, fresh veggie soup and lots of bread and tea.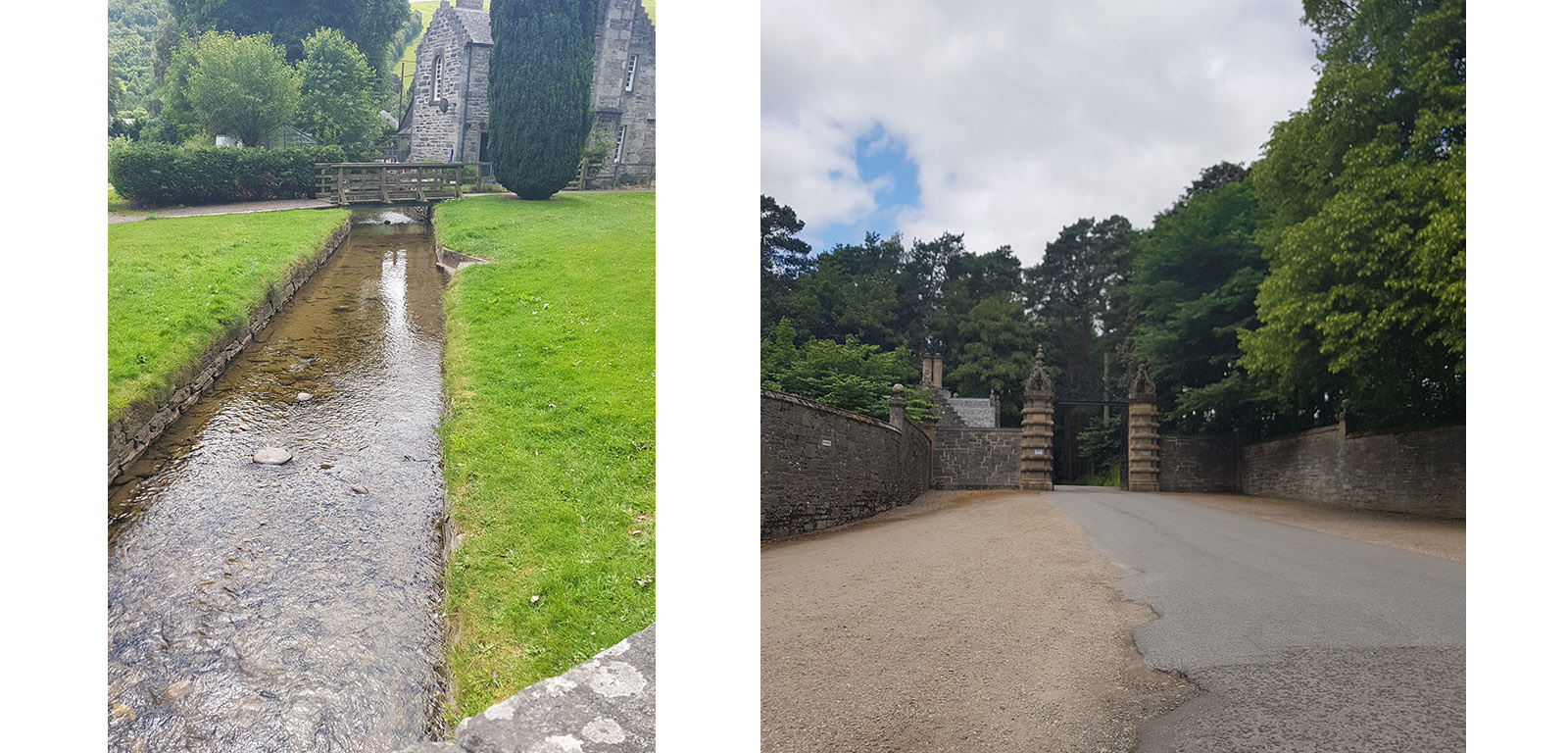 Walking through the village, I felt a sense of how a Highlands community pulls together and with Old Blair not too far away, the community with it's Post Office and busy General Store, looks to be pretty resilient. The village was built at the place where the rivers Tilt and Garry meet and fast flowing streams leading from these rivers fed the ancient water mill. It's hard to miss the huge sweeping entrance to Blair Atholl estate and inside lies a famous fairy-tale castle with huge gardens and walking paths. I decided on an outdoor adventure to see as much as possible as I'd seen the castle before, so off I went. The landscape is stunning around the castle and the air, after a few months in London, tasted almost sweet on my tongue. I breathed deep lungful's and was very glad to have returned to the wide expanses of Perthshire.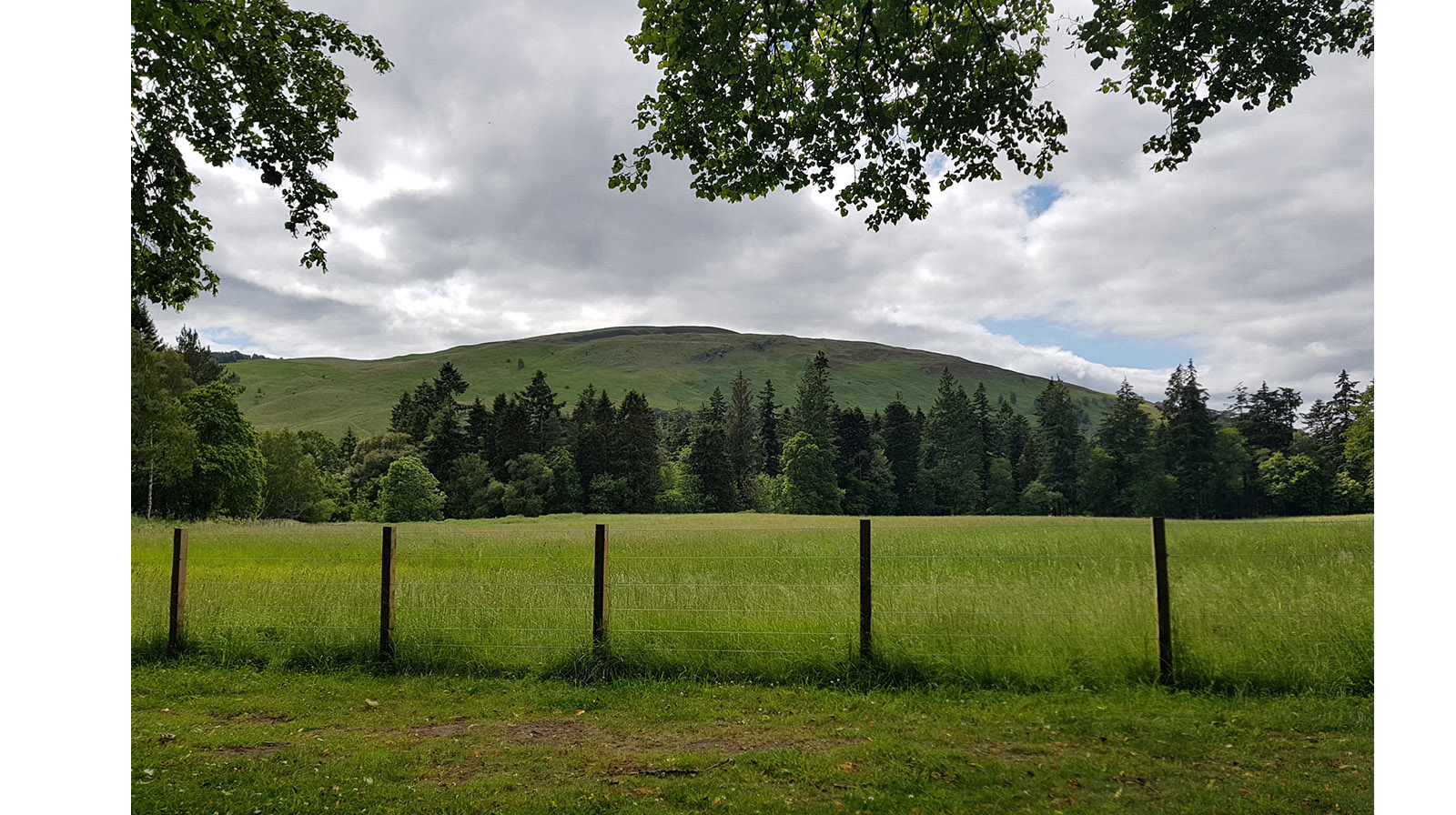 A perfect day in Perthshire. Whatevery the weather may be doing, it's always beautiful in every direction that you look.
The next morning I set off for Pitlochry another place that I have fun memories of and enjoyed winding between the hills from Blair Atholl to this picturesque little town. Romantic castellated buildings and tartan plaid selling shops abound as well as many friendly locals. There are lots of pretty tea rooms, coffee and sweet shops and also one of the best hardware shops in the area which is good to know in a rural out-doorsy environment where the winter can be a bit harsh sometimes. The huge variety of soft pastel tartans is so tempting all across Scotland it's hard to resist or imagine up a new design for yourself as I did in Hawick in the borders a couple of years ago.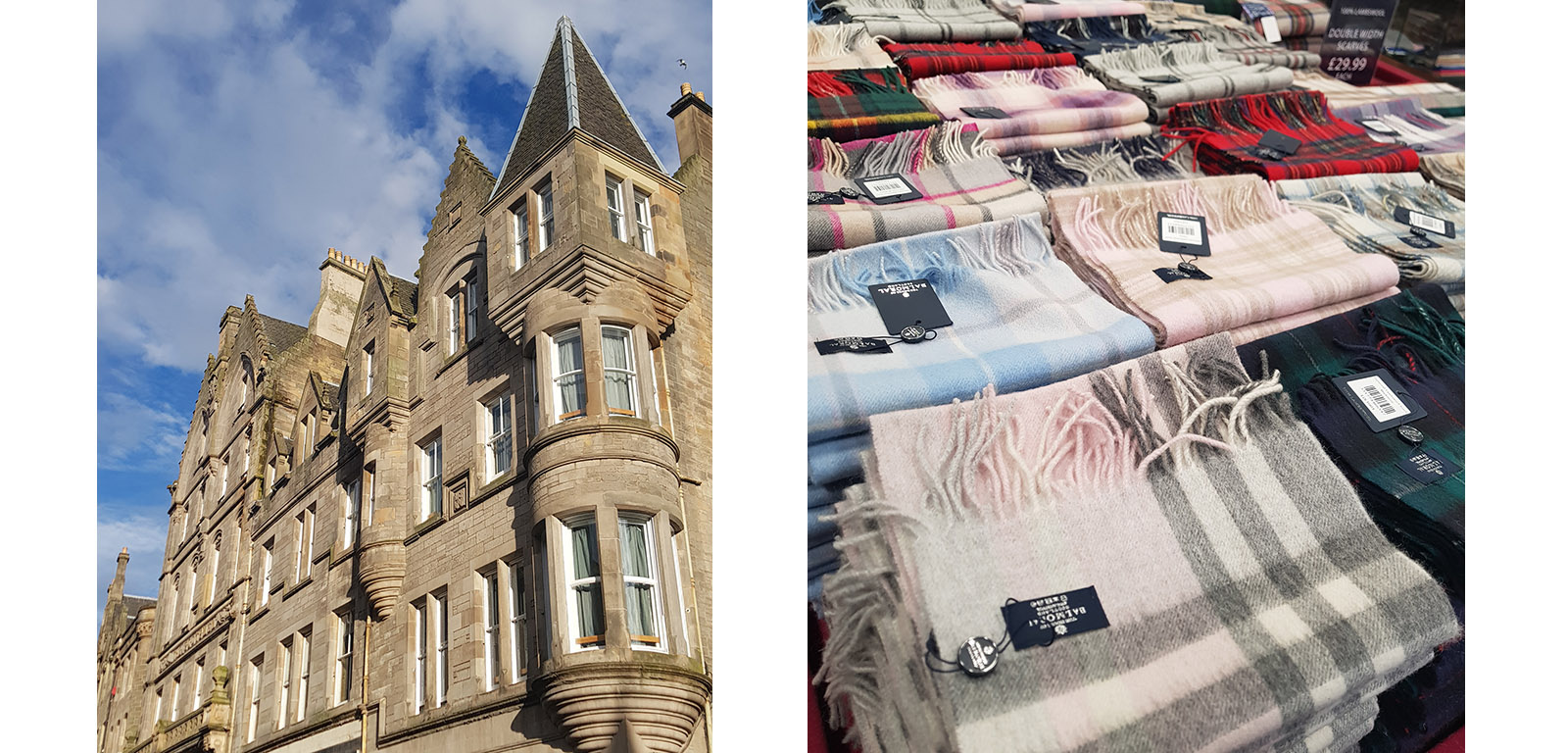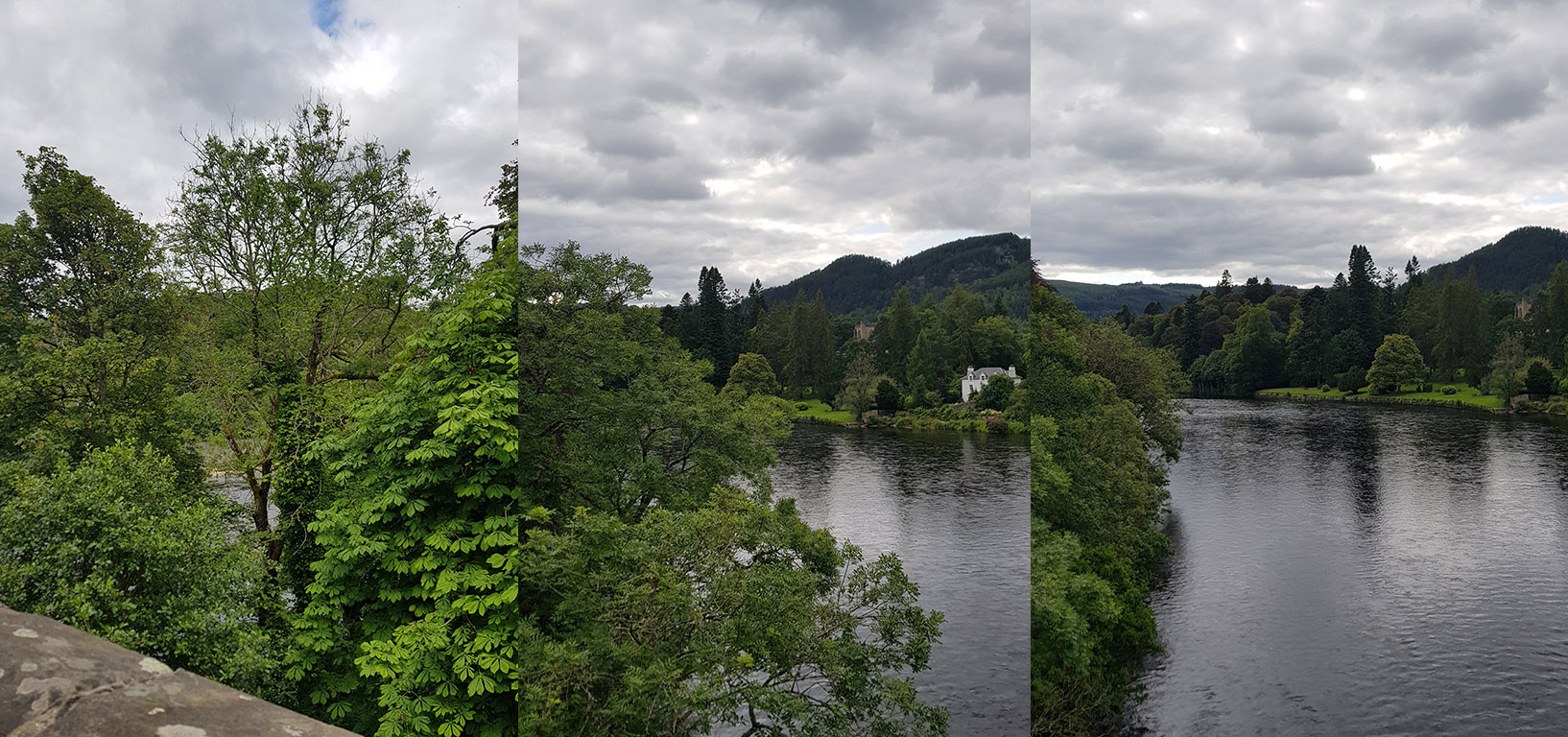 The next stop on my highlands journey was the beautiful small town of Dunkeld, the site of an ancient Pictish settlement and sacred place and also one of the most untouched late 18th to mid 19th century towns that you will see in the whole of Scotland if not the country. Crossing the bridge over the river Tay (having joined with the river Braan) after a 20 minute walk into town from the train station was a very memorable and atmospheric experience. I feel that I could use that adjective many, many times over when describing Perthshire. This is the view northwards from the bridge looking back upstream towards Blair Atholl and Inverness. It was a day of brooding sky's but that made it no less beautiful.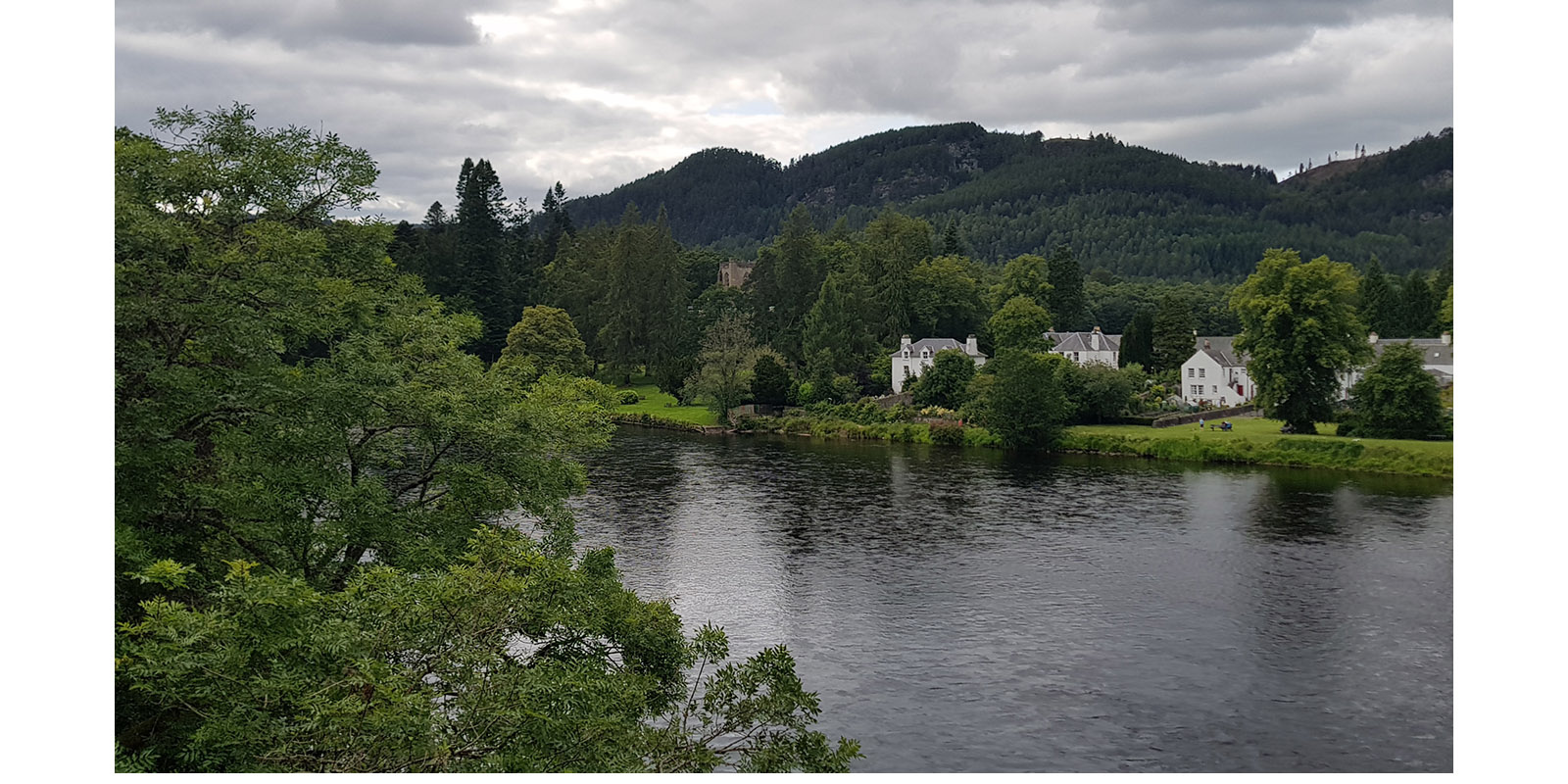 Above is a wide angle shot that shows the steady flowing river, some 18th century houses and the tops of the Abbey ruins above the mature grown trees. It would be a beautiful vista to paint.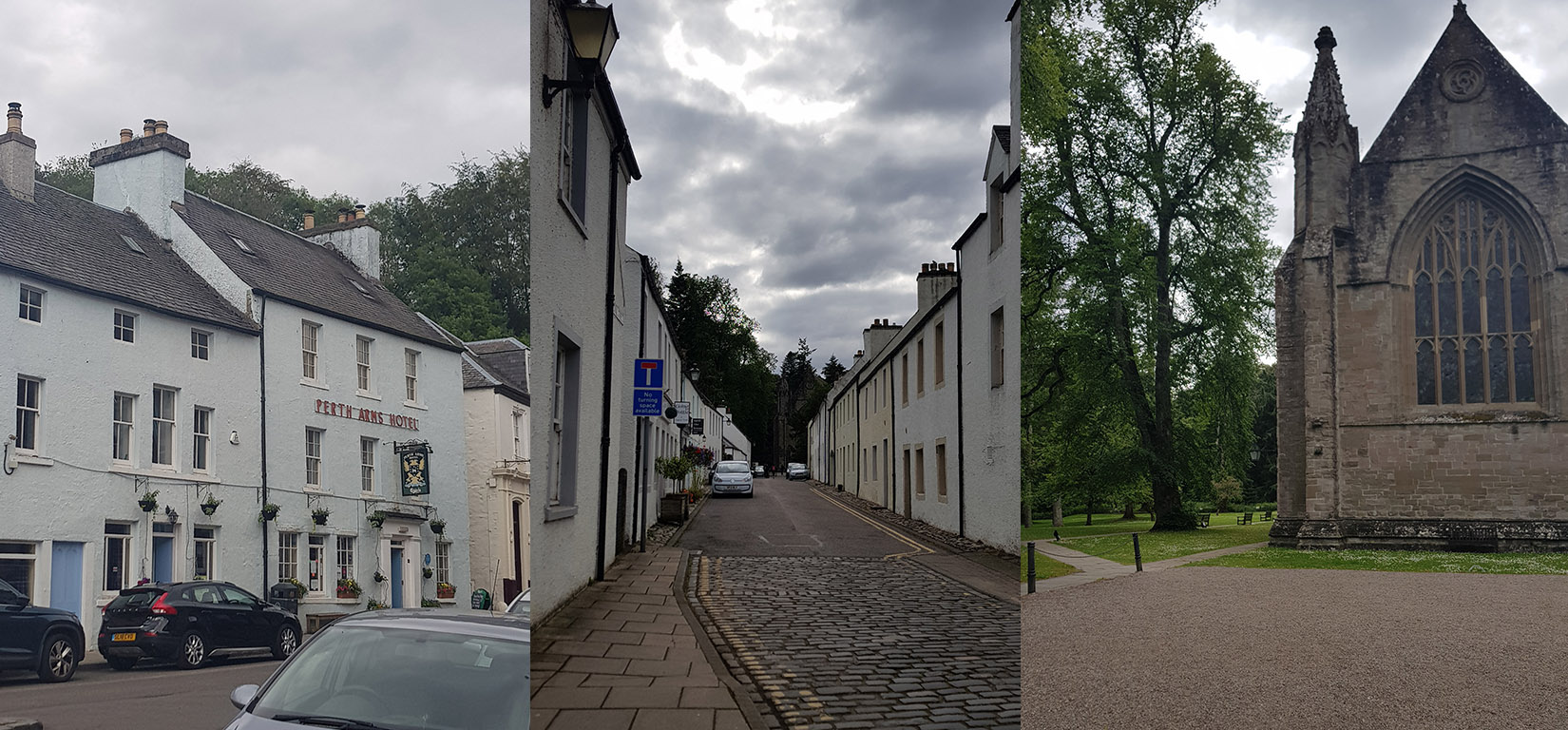 Dunkeld High Street is an absolute marvel of a preserved 18th century Scottish town or large village, a probable contender I would imagine for a UNESCO-type designation. I didn't picture it above as it was thronged with people and I think it's a little rude to photograph people especially children generally and include them in a blog post without them knowing. The riverside Atholl Arms pub was thronged with visitors and the scent of hearty roasts and fish and chip lunches filled the air as I walked past. For a small town there is a huge variety of shops, covering crafts, clothing and food including delicious bakeries. The frontages where 'chocolate box' pretty and it's well worth stopping to spend a morning or afternoon taking in the sights and enjoying a meal. It could also be a handy over-night stop for travellers crossing north or south. Turning left into the side street that form the oldest part of the village the route leading to the Abbey itself was lined with quiet cottages, another 18th century pub and ran straight to the Abbey precinct gates.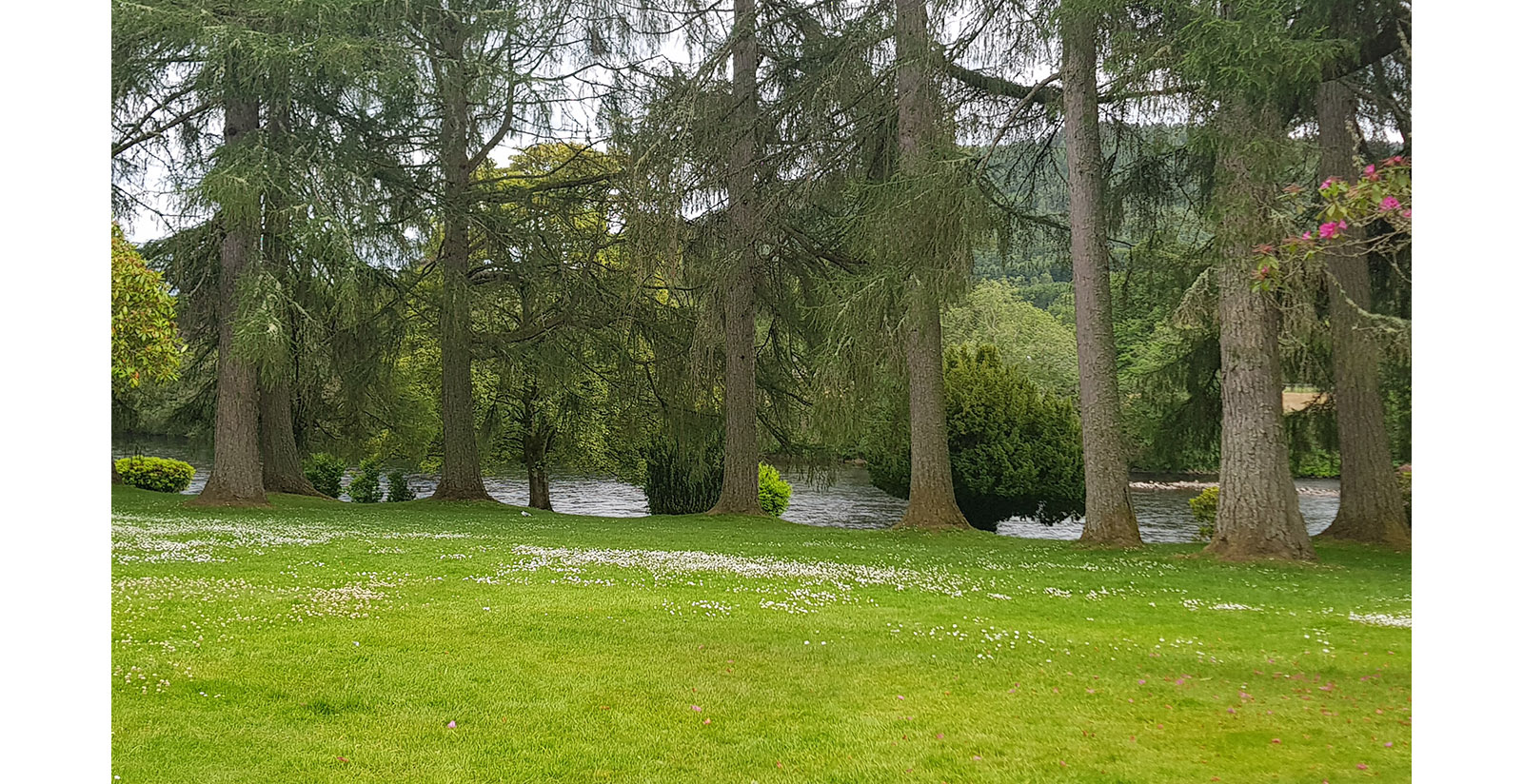 The site contains a ruined Abbey and a modern church that is used for services on a regular basis. The gardens around the Abbey ruins are wonderful expanse of tranquillity and in the Summer, if permitted, would make a perfect picnicking ground. It's easy to understand how this was such a special place for the ancient Picts that the Christian Church continued to cherish. The ancient ruined Abbey is currently being restored at a gentle pace by a Scottish Heritage charity but hopefully it will be open to the public again in the next few years.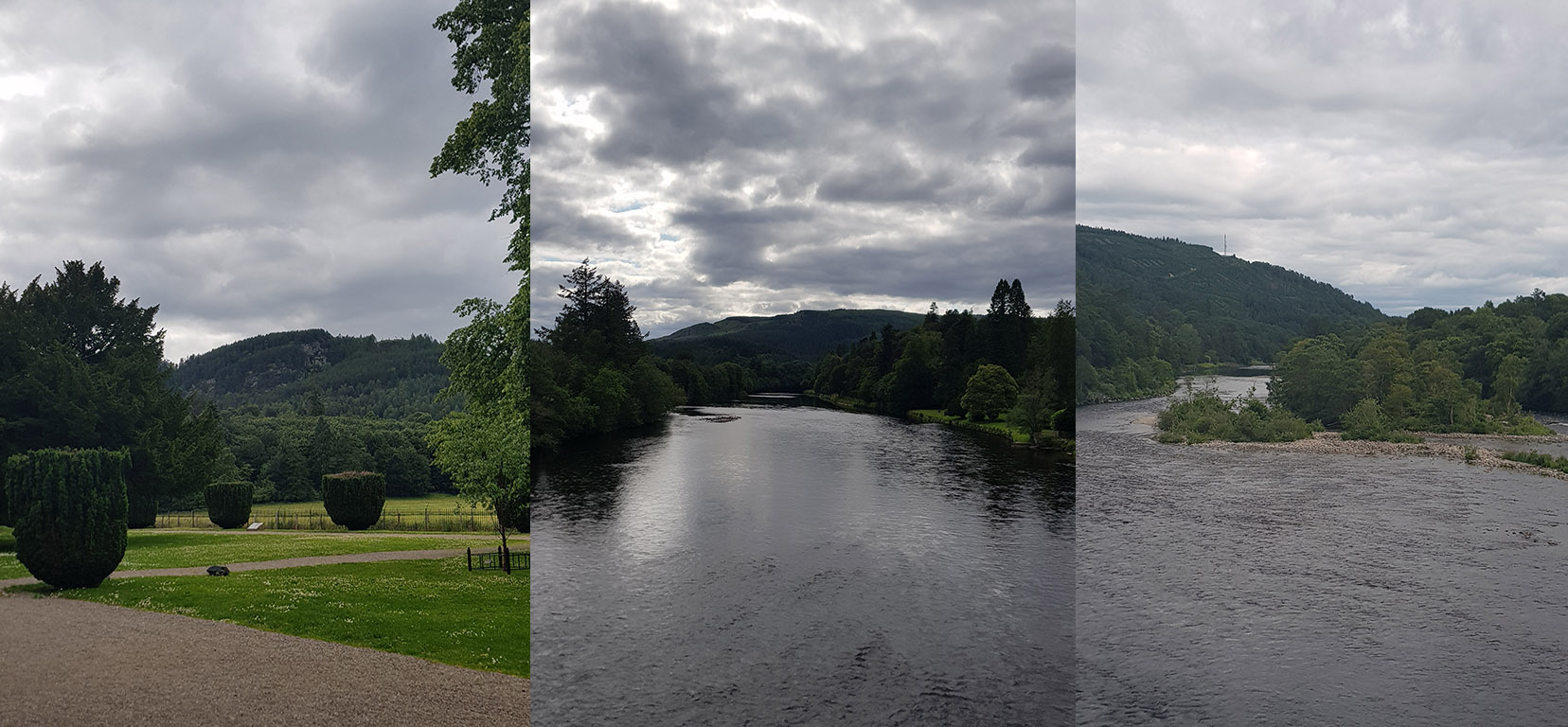 Leaving Dunkeld after a dreamy day exploring somewhere that felt quite unspoiled, I was captivated by the view of the Tay that led downstream towards Perth. The torrents of water of this wide river rushing under the bridge could perhaps give much hydro-electric power if harnessed in a way sympathetic to nature I think, although I'm not an expert in this field.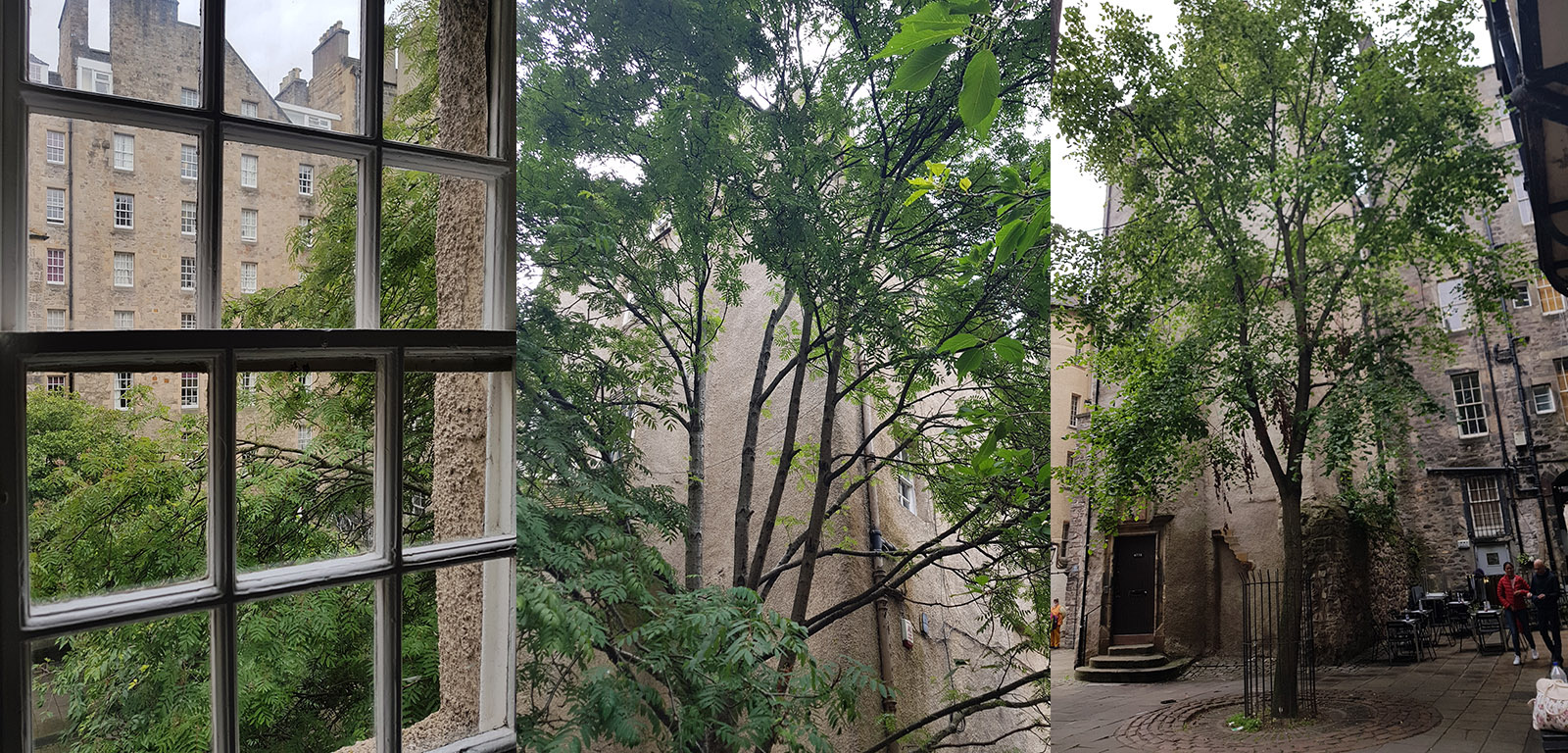 Back in Edinburgh I relaxed for a while in my little tower apartment and then headed out to explore the town. I must admit to some late afternoon shopping (due to the longer day light, I'm sure) and enjoyed the exploring the lovely coffee shops and artisan bakeries throughout my stay in the winding streets around the Royal Mile. This part of the old town is popular with guided tours who show the old tower buildings, now mostly converted to apartments and offices. I found myself being photographed quite a few times by visiting tourists going in and out of my building which was a novel experience.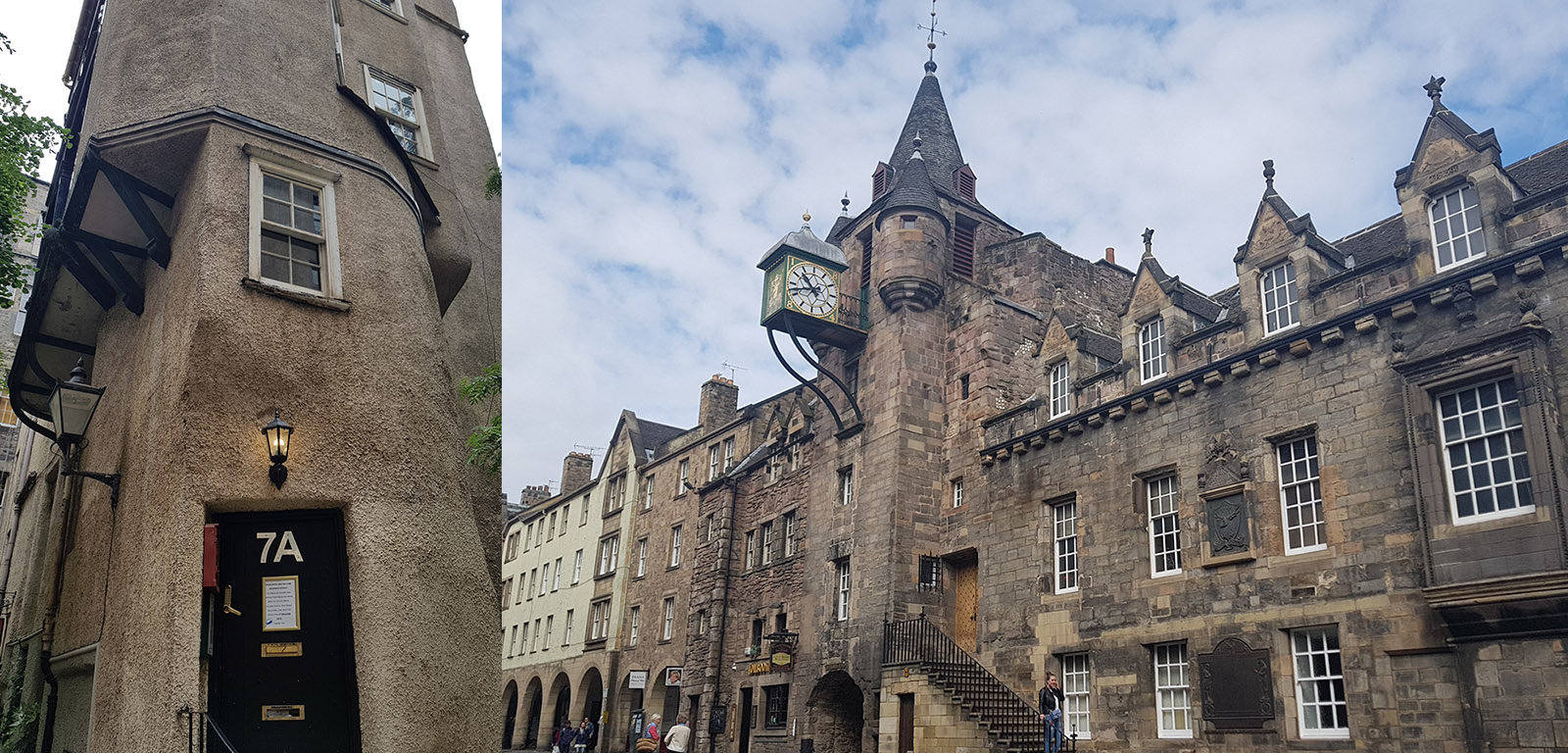 Walking around Edinburgh and the full length of the Royal Mile through to Holyrood, I realised that one of the most memorable parts of seeing Edinburgh, aside from the Grey stone was the antiquity of the buildings. I think Edinburgh must be one of the most well preserved historic cities in the country. Above to the right a memorable building that struck me as one of the most quintessentially 16th-17th century buildings (I think) around in the city. I love the clock supported by it's balcony so that the time can be seen for a long way in both directions of the mile.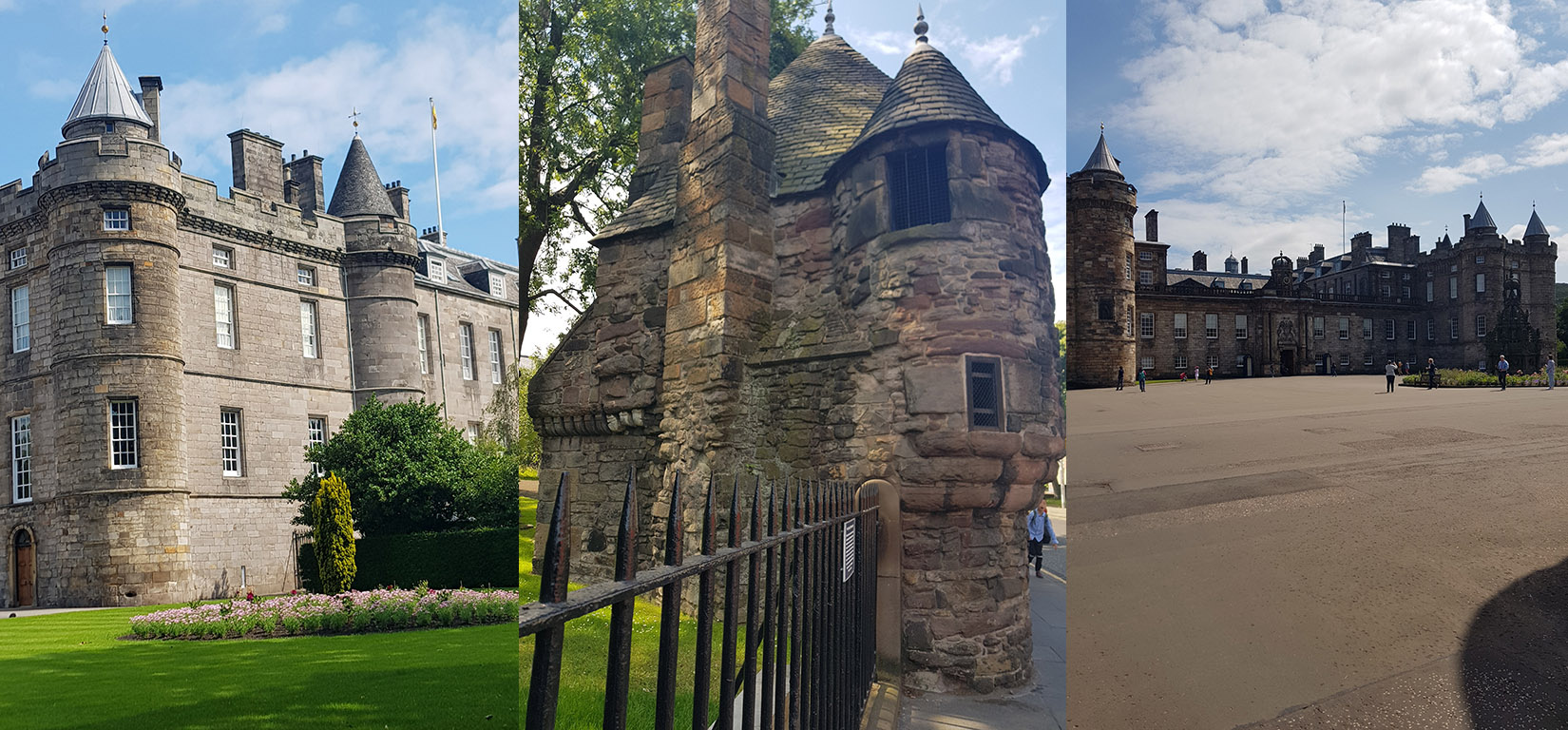 At the end of the Royal Mile if you walk from the city direction is Holyrood House, the Queen's official residence in Scotland. When the Stuarts reigned in Scotland I understand it was generally not their main home but after the crowns united under James VI and I it formed a crucial nexus as was accessible from land and sea. Charles II sent his younger brother James who would later be king with James' second wife Mary of Modena to oversee reigning in Scotland as Viceroy and the couple lived here for several years with their young family who sadly all died in early childhood before the birth of their son James Francis Stewart. I mention them as centre above is an image of Queen Mary's bathhouse. A small stand-alone building reputed to be used by Mary Queen of Scots for bathing and later used as a favourite summer house for taking tea by James and Mary and their courtiers, followers and small children.

I discovered or re-discovered that the Unicorn was the old symbol of power and saw this beautiful plaque carved into the wall of the Palace buildings. I would love to know the origin of how the Unicorn became connected with Scotland and very happy for someone to tell me, by email perhaps, through my email address below. I was also quite struck how several of the buildings in the Old Town looked similar to continental European ones and I think students staying at the University over the centuries, many from overseas, would have felt curiously at home perhaps under their rooves. I also think these casement windows and slightly haphazard shapes are a gentle reminder of medieval building styles now lost to us through much of the country but still preserved in some places like York and Chester.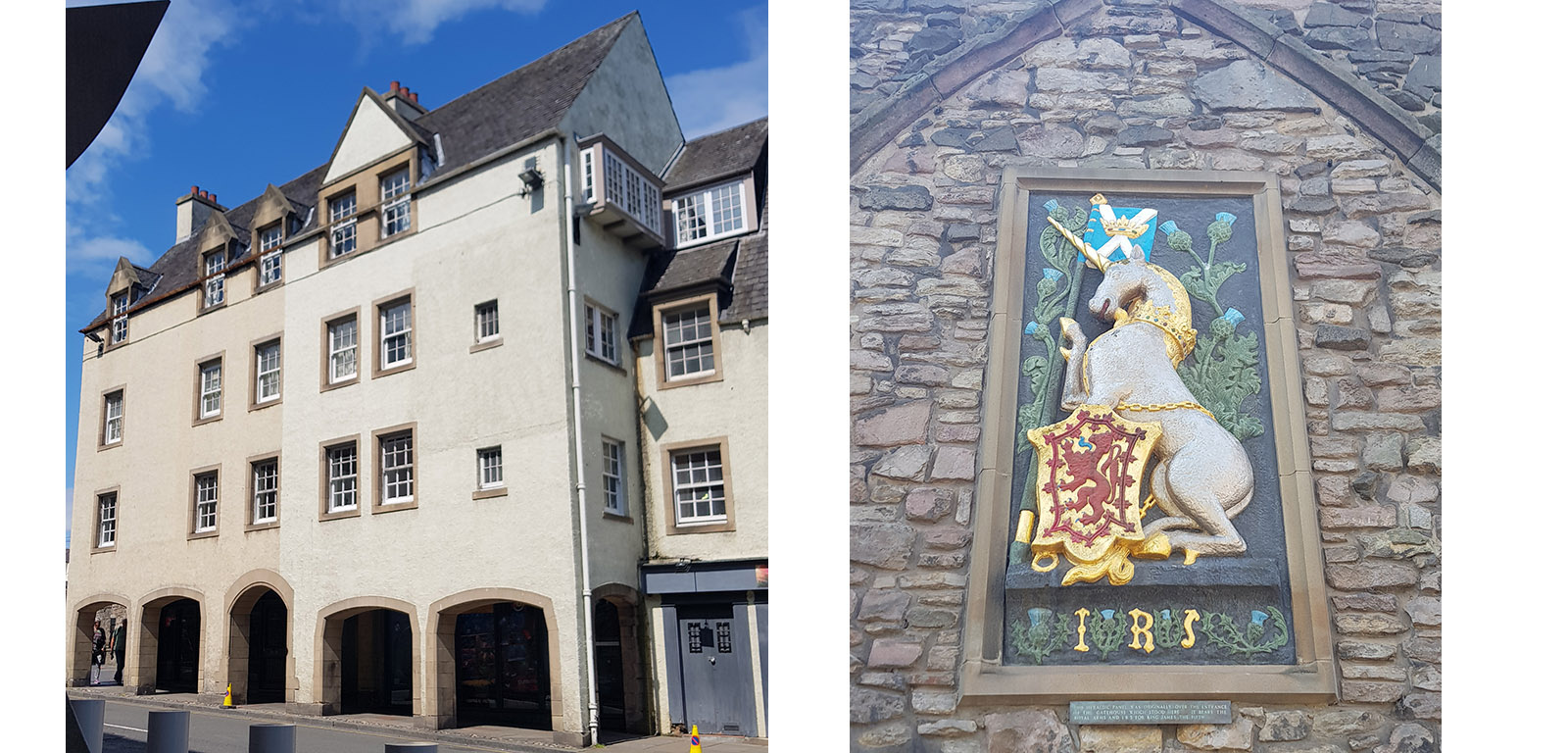 The High Street and Royal Mile host one of the most abundant groups of memento stores you could imagine to tartan-wear goods. Accessories, keepsakes and lots and lots of sweets. One store in particular, below to the left a scene from a store that stunned me as the manager told me that the kilt maker who provides the kilts follows a tartan patterns from the 1640's. I apologise for misplacing the store name as have had a very hectic time since visiting but it's wonderful to know behind the shortbread and lovable furry coos that there is also a serious commitment to heritage preservation.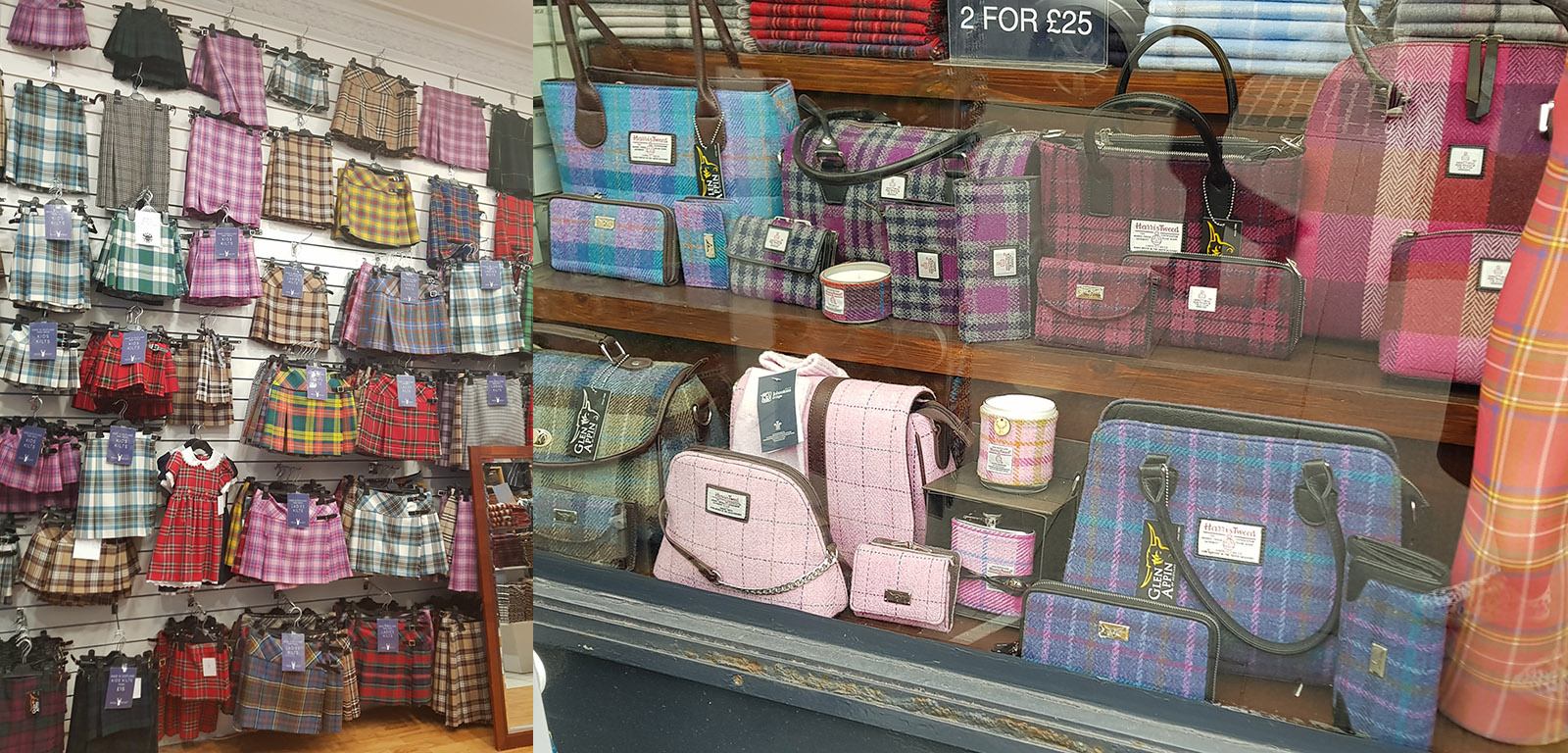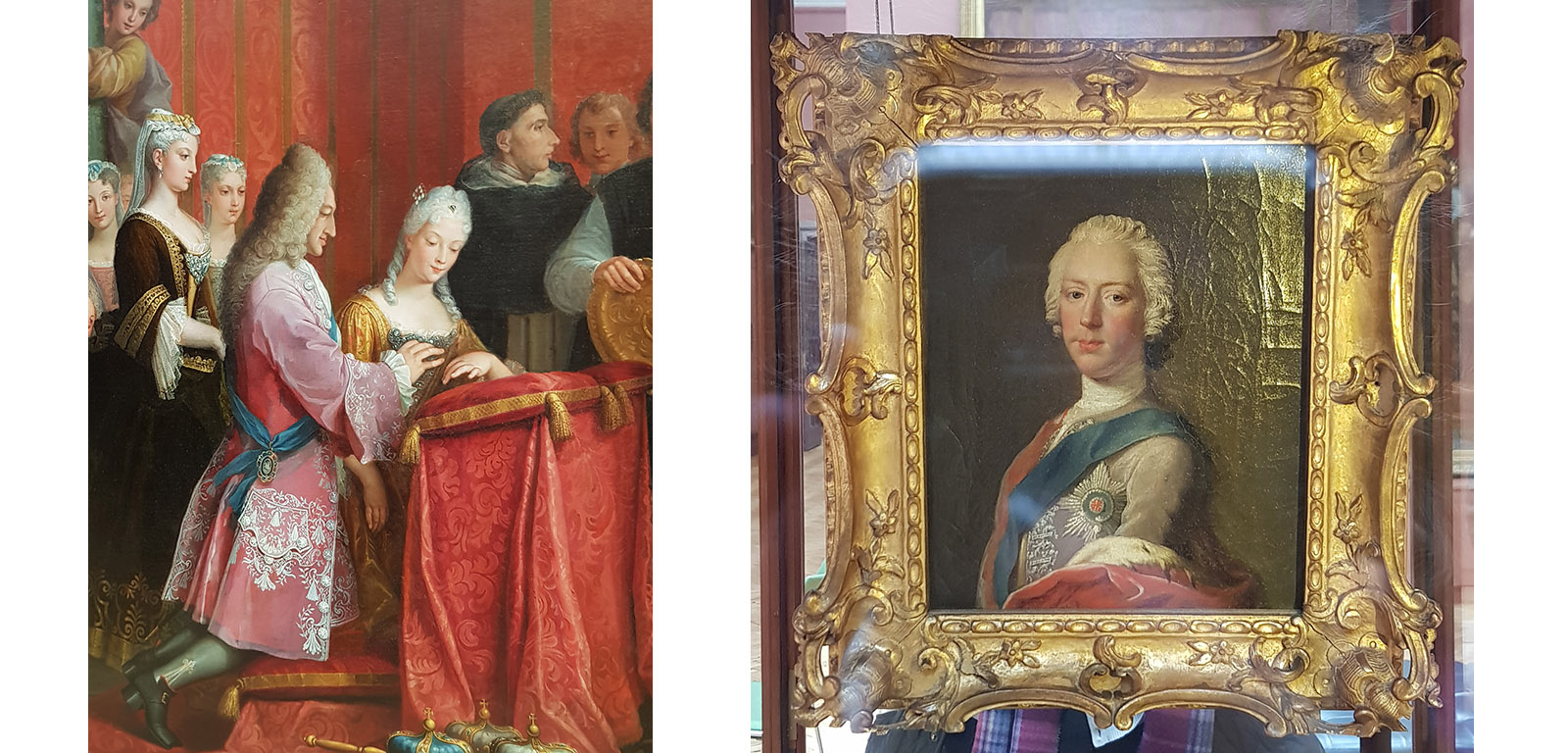 No visit to Edinburgh is complete without going to a museum and I chose the National Portrait Gallery of Scotland from the huge choice of tempting Institutes in the northern capital. For the second time in my visit I came across a large cache of Stuart family related paintings although being the National Gallery of Scotland this should hardly be a surprise. I find the Stuart family story is quite interesting and a side of 18th century history that isn't much spoken or known about in the UK.

Set on walls that where coloured a nice soft Pink, the colour that people painted their castles and homes when loyal to the Stuarts, the gallery contained a variety of images. I apologise in advance for not labelling them all but they should be searchable on the Museum online catalogue. Whilst living in France and later Italy the family relied upon portraiture to help preserve their image and identity back in the United Kingdom and across Europe. Above to the left you can see a close up of part of the painting commemorating the marriages of James Francis Stuart and Maria Clementina Sobieska at the Vatican. This was the second ceremony after the proxy marriage held when Maria Clementina arrived in Italy whilst James was in Spain. Below the couple with their heads bent in prayer three crowns sit on a cushion for the kingdoms of England and Wales, Scotland and Ireland that James' father had reigned over. In Rome he was given three boxes at the opera, one for each kingdom.

To the right a portrait of their eldest son Charles Edward. I believe that this was painted during his time living at Holyrood Palace during the 1745 campaign to take back his families throne and comes from the collection of the Earls of Wemyss. It's one of the most well-known images of him to survive and portrays him in a way similar to that of a reigning Royal family.

Below to the right is a painting of James Francis and Queen Anne's younger sister Louise Marie Stuart. Born and raised in France, she was a consolation to her parents and never visited the United Kingdom. She had many friends in the French Royal Court and the Bourbons (her cousins) and their followers celebrated her intelligence, kindness and beauty. To the shock of her mother and the French Court she died very suddenly aged nineteen from smallpox that also nearly claimed her brother. Louise at this time was already facing an uncertain life. It was clear she would find it difficult to marry within the conventional web of ties between royal and aristocratic dynasties due to the politics of being an exile. A marriage to her cousin the Hanover prince was faintly contemplated in the court of Queen Anne but neither Louise Marie, nor her mother would consider it.

Centre below is Charlotte Stuart, the daughter of Charles Edward. Her life, like her children's, is not so well known in the UK and she spent all of her life in Europe mostly between France, Switzerland and Italy where she died in her mid 30's. Although christened and raised in the Anglican Church initially she was educated from the age of seven in French convents thanks to a pension from her grandfather the de jure King James. Like her father, she a practical view of religion it seems and understood that politics was closely linked to it factoring in the mood of the British and the parliament would be important in any faint hope of restoration of the family. At the end of her life she was on good terms with 'uncle' Henry Benedict Stuart and lived with him in Rome and Frascati and was unwell enough to return to her children and mother in France. Charlotte's own children had a royal father but he, like she was forbidden to marry from childhood when he was destined for high office in the Catholic church. They where raised in genteel secrecy by their maternal grandmother Clementina Wilkinshaw (herself descended from several generations of Jacobite supporters) and their father in France, Germany and Switzerland.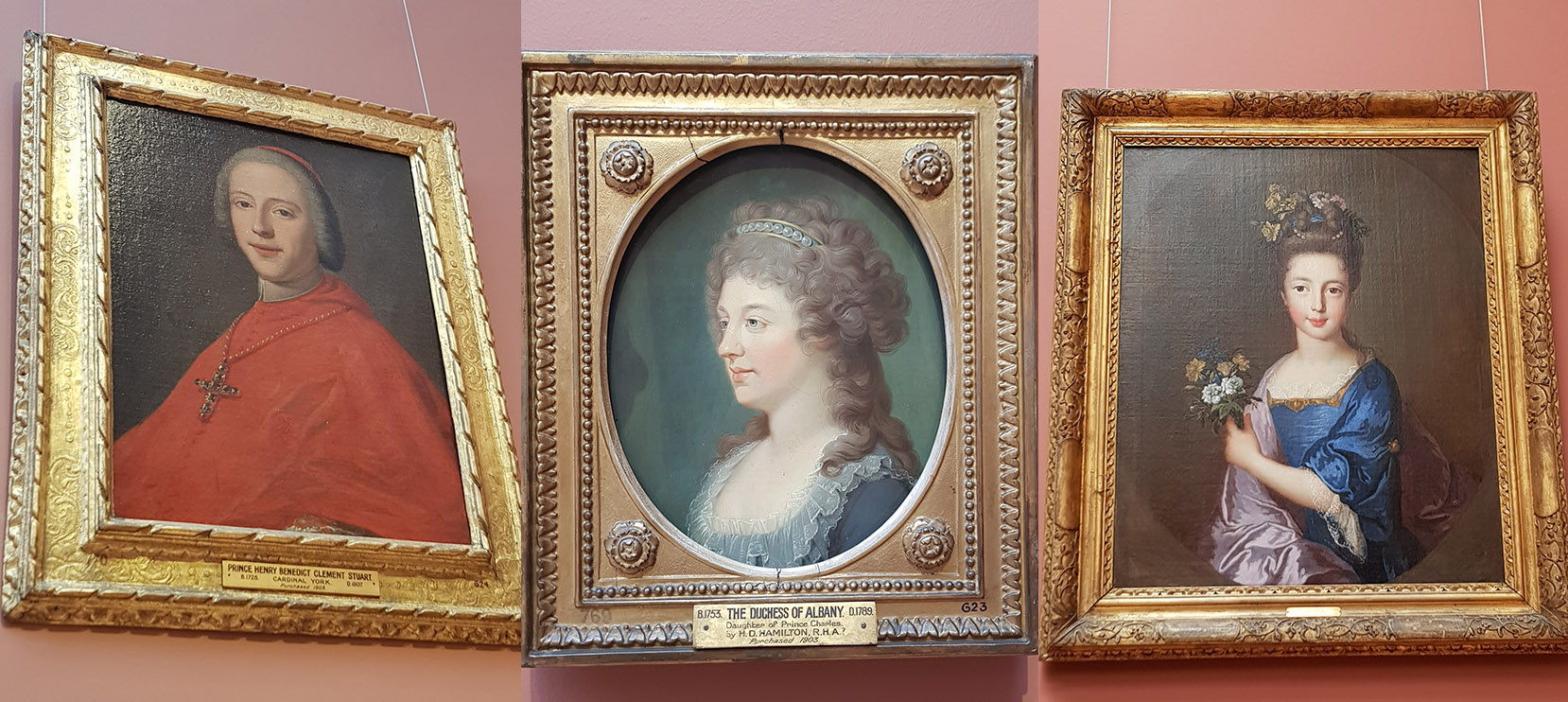 Charles Edward's younger brother Henry Benedict was a prince also trained with the same strong all-round education that he had had covering humanities, languages, music, sports. Taught by British and Irish tutors in the large exiled Stuart court in Rome he also had some ability in military strategy but following the defeat of his brother's British campaign he decided on a very different path, perhaps in part to secure a career and also an income to support his father as James Francis grew older. Henry was often painted in the Red robes of a Cardinal but day by day around Rome or travelling he would be seen in less formal dress with fine White linen or silk shirts, Black trousers, a tricorn hat and a large Golden cross worn across the front. In custom with the era a large Black cape falling either to the hips or the ankles depending on the weather and lined with sumptuous Red or Purple silk would complete the look worn with well-fitting boots. He enjoyed a princely life at his own episcopal Palace in Frascati above Rome and away from the Vatican gave substantial amounts of money to charities and supported civic life in the town. He also met some of his Hanover cousins in his later years, inviting them to tea, when they made the journey to Italy and Rome.

Men in Rome knew how to dress well and it's said that before you sat for a painting, you always visited a tailor upon arrival in that city. Urbane and devout Henry was effectively second in command at the Vatican, then one of the world's great powers, for nearly half a century. Here behind closed doors he did much work and fought many battles of a different kind from the field known always as Cardinal Duke of York in paralell with a distant cousin onshore in the UK. It brought him great wealth and influence, much of which has remained hidden I think. Although his tastes for art, music and entertaining where more lively than his father's he made sure that the King in exile, as he always knew his father to be since birth, was well looked after. Henry was always regarded as handsome and articulate and made a lasting impression on British travellers and European and Roman aristocracy whom he met from childhood. You can perhaps speculate that if he had not taken a role in church, he may have been remembered as a leading style icon of the 18th century as his brother was known in his younger years.