Spring & Summer 2019 part 4
All images shot by me (C) unless where otherwise stated.

RIXO

Founded by two best friends with a shared love of vintage, RIXO has become the hottest name in Luxury Bohemian-style wear that is currently on the London show schedule. After it's SS19 season debut on the schedule the brand has caught the eye of the fashion media and is rowing an international client base very quickly.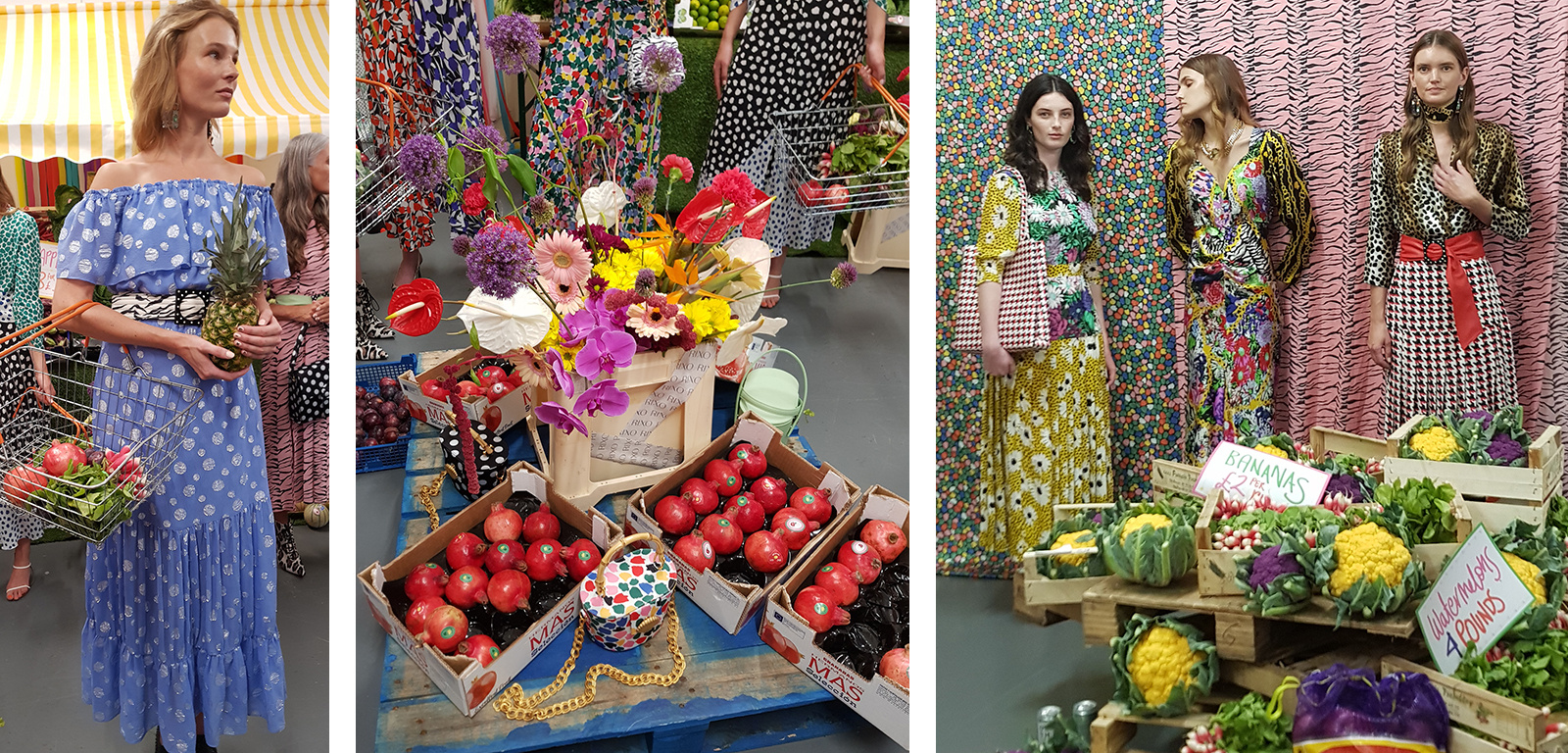 They are focussed on using high quality fabrics producing easy-wear garments at affordable prices for the all women of all silhouettes, size and ages. The garments are all originals with produced in small number to say 'No' to mass production and each print is designed and hand painted by the founders in their London studio. Their debut collection Virtues of Rosemary featured a 100% silk dress known as the 'Camilia' and with selling out at lightning speed they have brought it back in subsequent collections. Mixing pieces from their own substantial vintage collections with new pieces, the team offer a flexible way to shop and even without purchasing anything (hard to resist) they bring to mind of the buyer and client how the vintage can be used in thereby promoting sustainable high fashion. Above a light Blue dress cut with soft hints of rural nostalia makes a perfect addition to the Summer wardrobe. To the right a myriad of contrasting prints offer a confident exploration of design.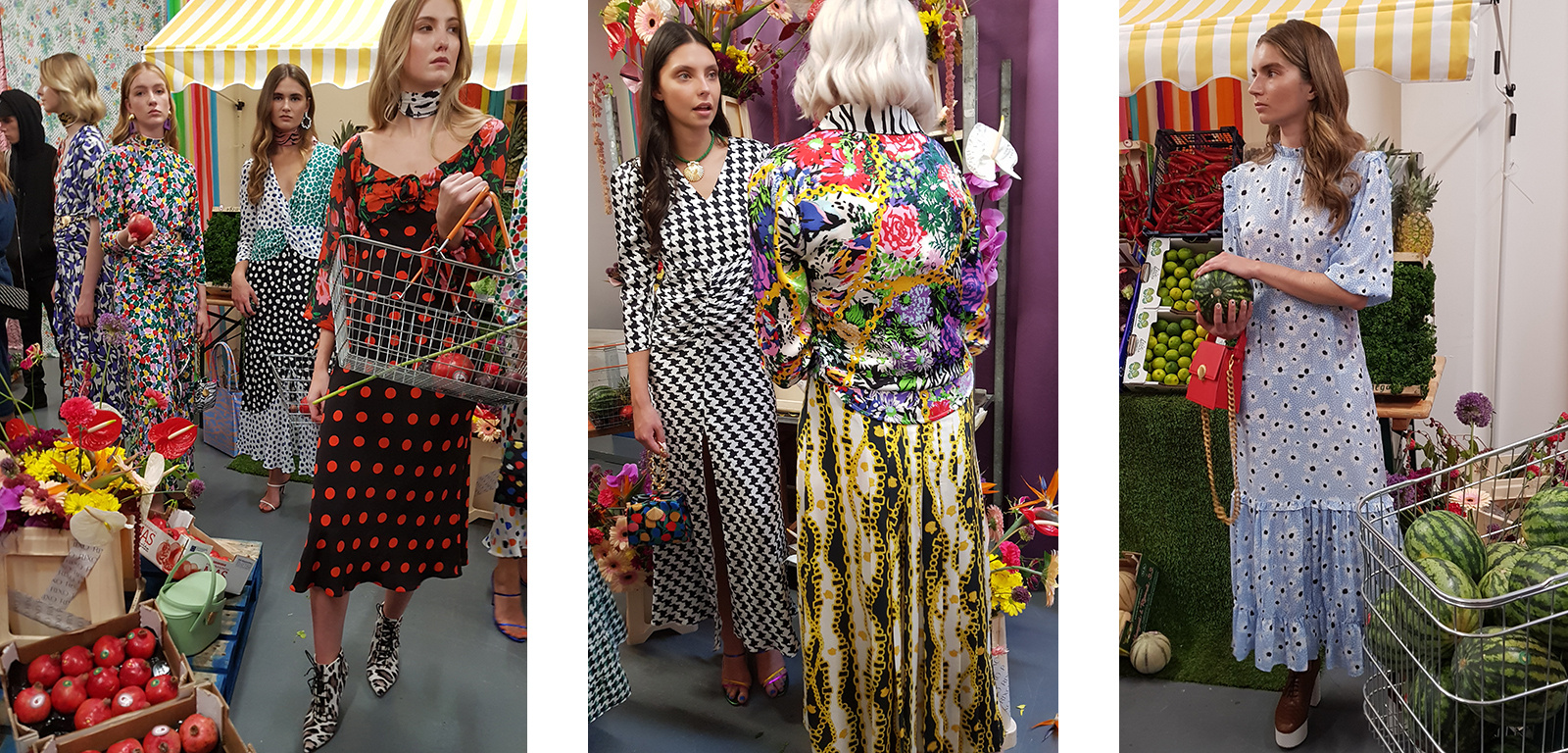 The collection was shown in a market place with fresh fruit available to guests to take home. The idea was thought up in the Cheshire weekend markets close to the home of one of duo and proved a very apt motif. The dresses are cute and have that touch of wholesomeness about them but feel defined and not a tired vintage in any way. A Black dress with Red polka dots is finished by a sweetheart neckline of Red roses and matching sleeves. All tied with a rosette at the neckline it's a super versatile piece. Behind White, Green and Black fabrics dotted with little hearts in contrasting colours come together to create a dress that could be worn for work with a jacket, a summer reception or on holiday. It illustrates the RIXO commitment to creating looks that women can cherish in their wardrobe and wear for a variety of occasions, sustainable, practical and easy to wear. Several dresses above appear in single print making a more understated classic look. These are easy to mix between formal and non-formal events with accessories and show how vintage can be sophisticated as well as bohemian.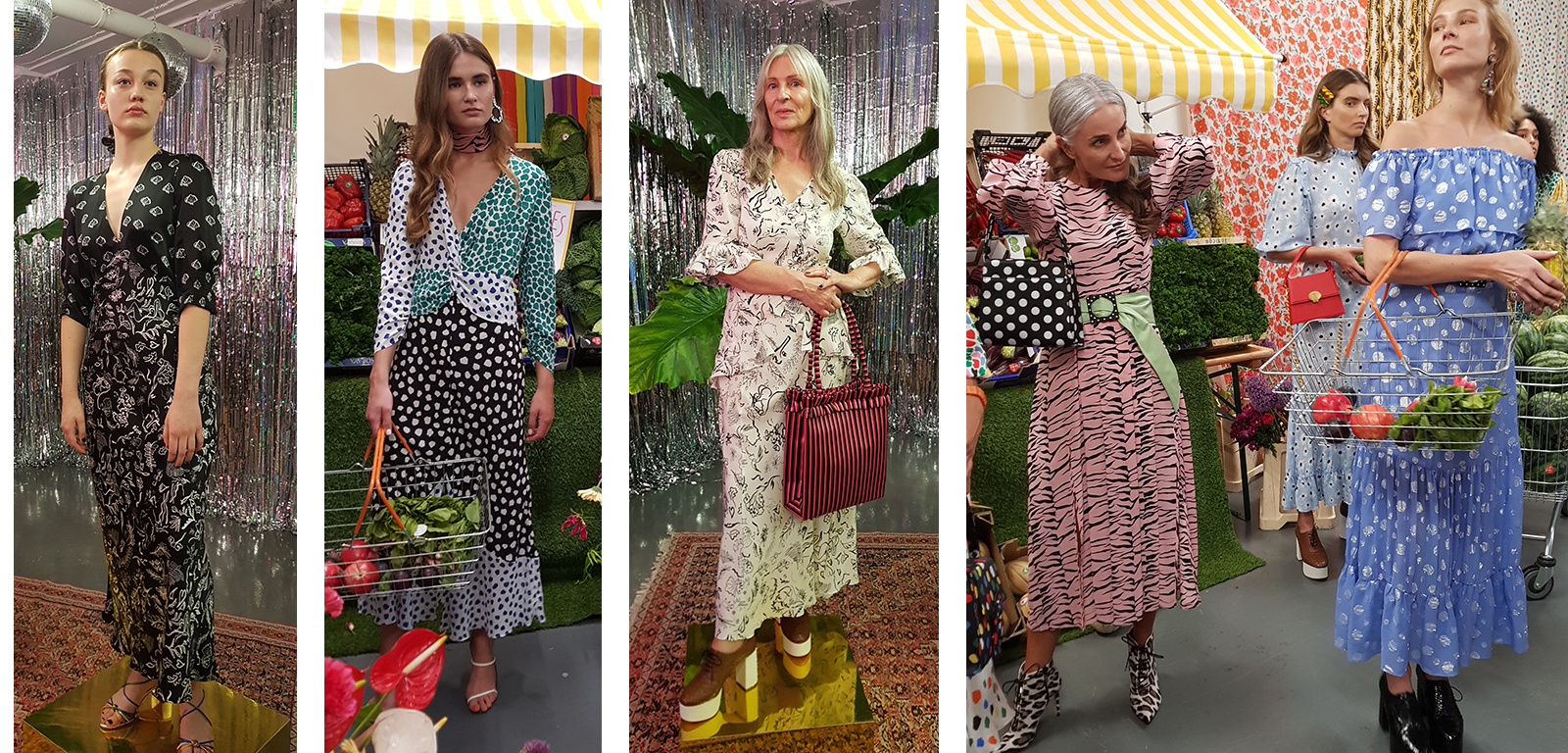 A high waisted sculpted dress working the inter-war years line of the 20th century fits the figure in a glove sense. Interweaving two prints it has a soft feminine shape and would be just as suitable for a Black Tie event as for work or social events in the Summer. This is true sustainability. A dress or a look that you can wear for several different settings. Several of the models working with the RIXO ladies illustrated the importance of disregarding age in the equation on fashion and along with other designers their model choices made me glad we've made some progress in the past decade in bringing inclusivity to the catwalk. There is still a way to go though. More delectable prints to feast the eyes on above and below show the team is brimming with ideas. RIXO want to take you to the party next season, or the beach or wherever you choose to go with style and a heart rooted firmly in sustainable fashion.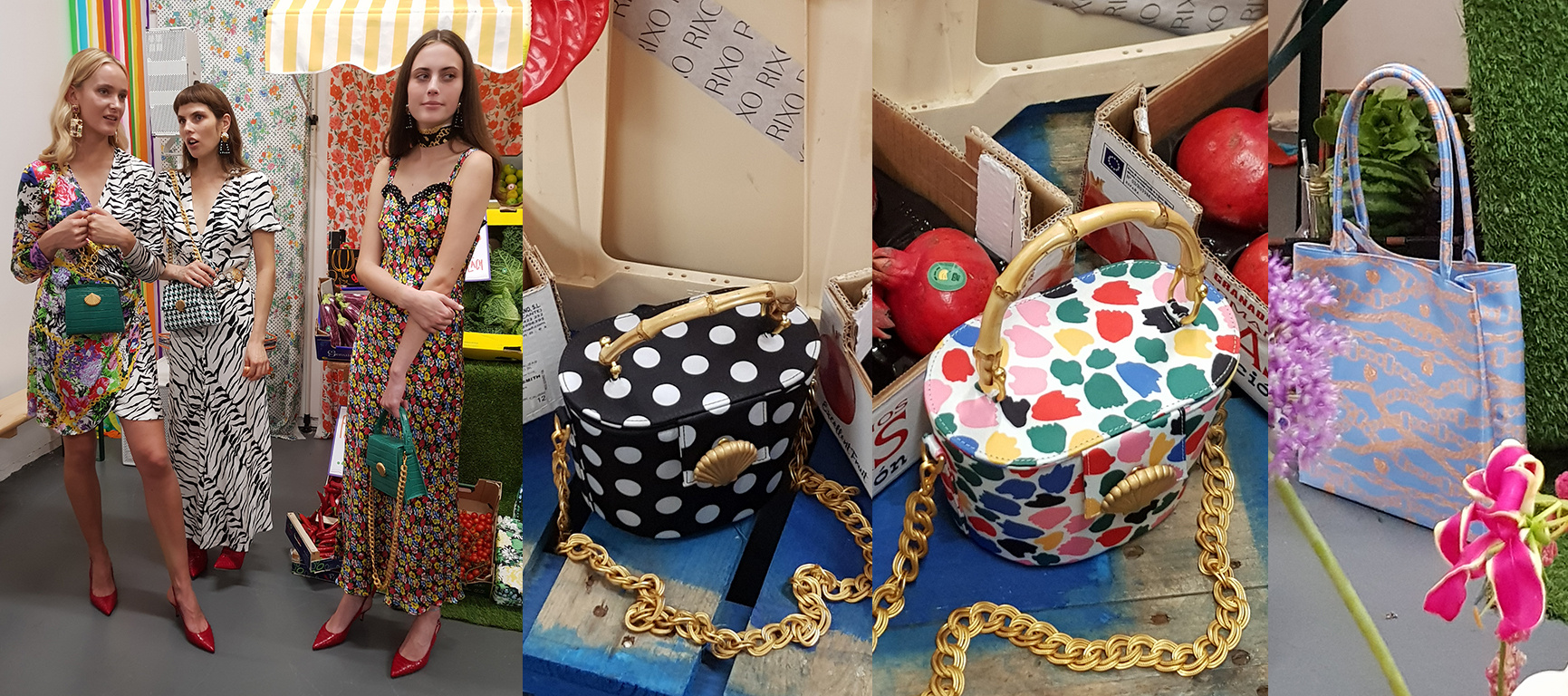 This season the duo used bold colours to celebrate the strength of women and true to their ethos, their clothes where shown by models amongst who some carried disabilities embracing positive fashion. The presentation in the 100 Club in London's theatre land was alive with expression and meaning.

A raincoat cut in classic lines showed bold blue print across a baby pink surface. Broad legged trousers that would flatter a variety of figures made a simple harmony. Contrasting the classic and the new a fitted orange jacket with plumed gathers at the elbow cuff team with a Raffia weave skirt with chevron lines making a playful juxtaposition to the jacket.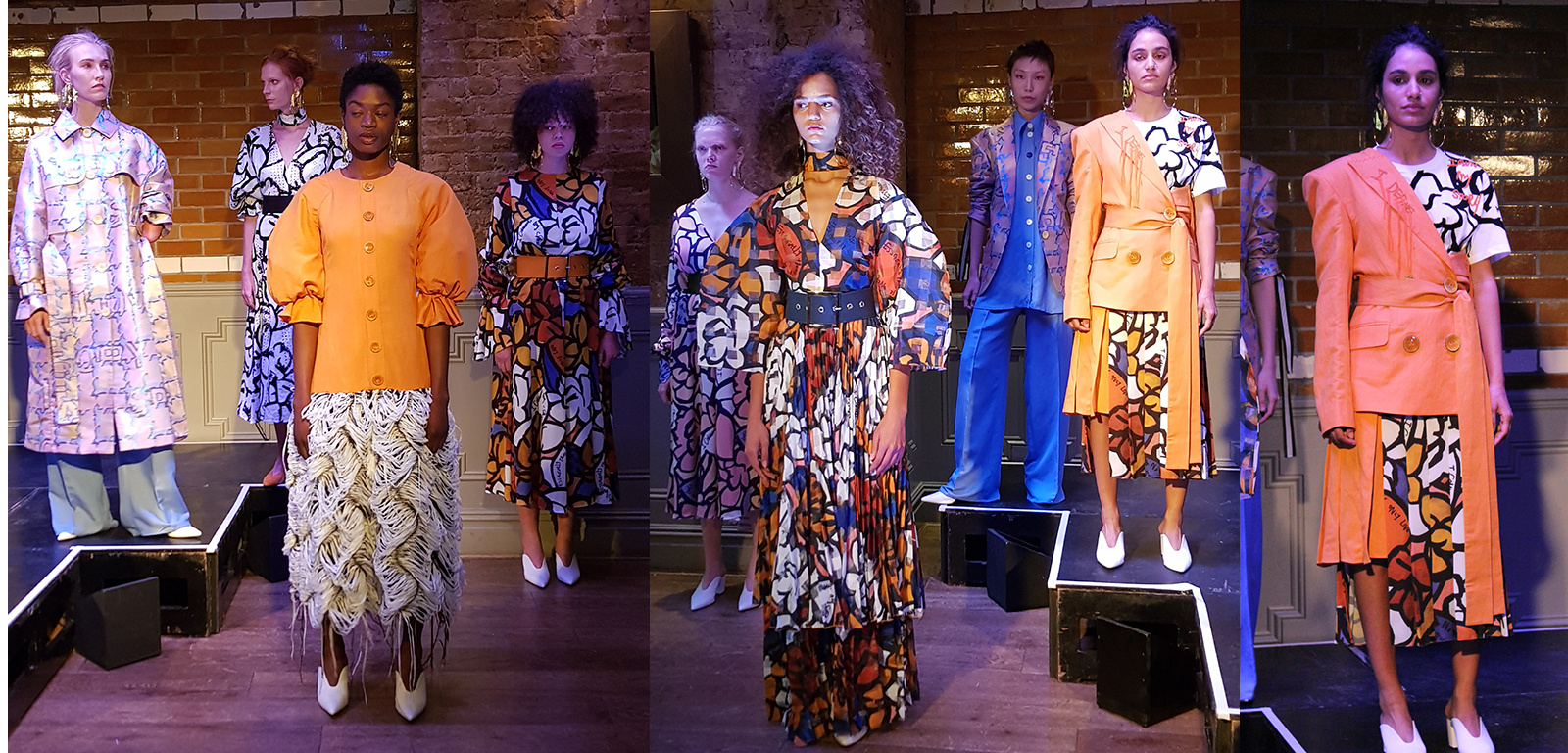 Bold print of a double layered dress uses signature Tetum Jones colours. It's a look with personality and also makes a smart/casual statement and could be worn in many different locations. Mottos are written on the garments in vocal show of strength fusing design and speech, the material and the literal. A jacket declares 'I define' 'I am my own story'. It's how very women should feel when she wears an outfit that she chooses. The presentation showed a series of looks suitable for daywear and eveningwear and occasion pieces and many look will easily dress strong women of all ages.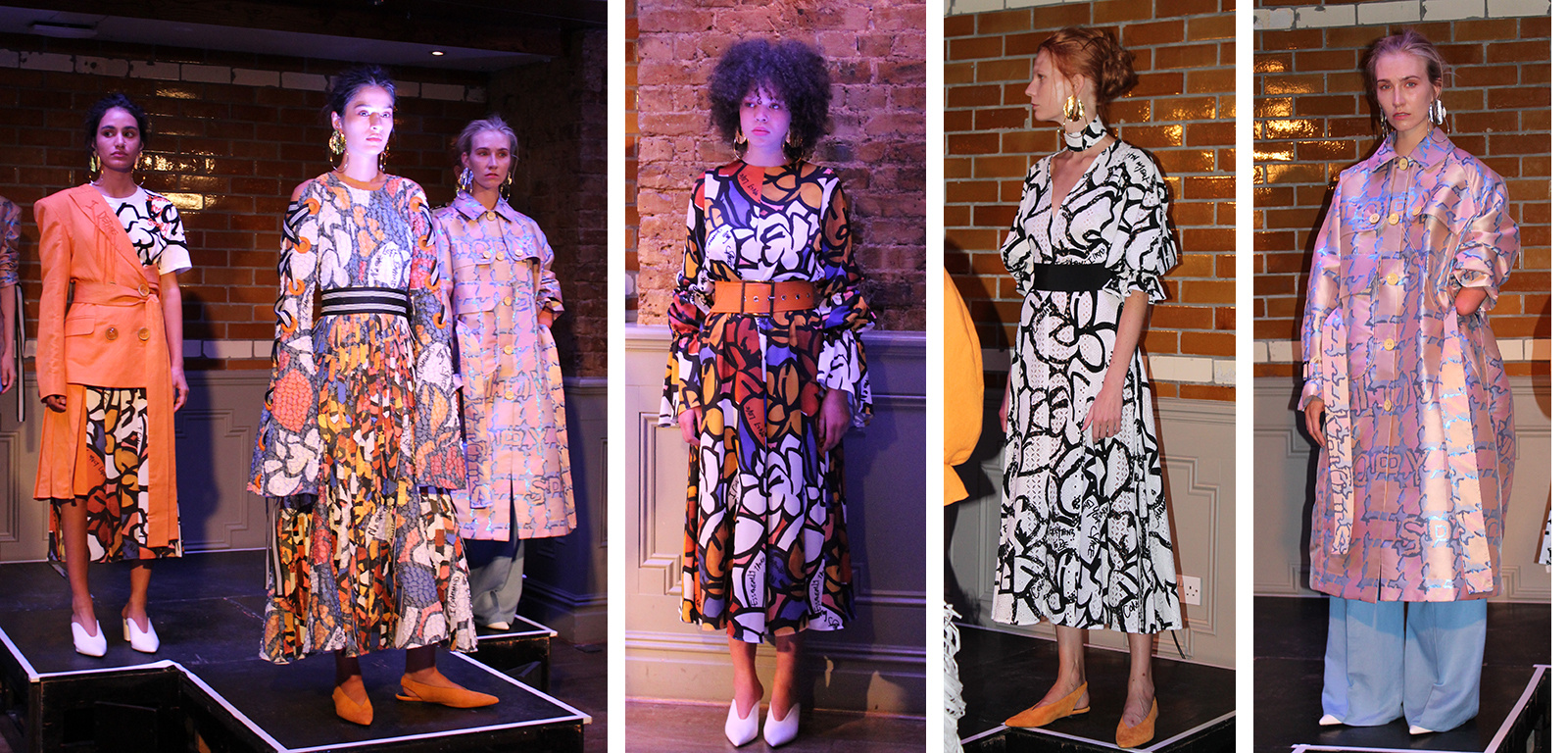 REJINA PYO
Image credit: Rejina Pyo

Rejina Pyo is one of the most interesting designers to have burst onto the show schedule in the last two to 3 years. Having completed her masters degree in fashion at Central Saint Martins and worked for a number of London based labels including Roksanda Ilincic and Christopher Raeburn before starting her own. I'm going to sound like an elder here but I feel you can honestly tell when a designer has had some very serious post graduate training in-house at designer labels, often with very differing styles, you can see it in their workmaship. An openness to approach and savvy for 'making it happen' while not losing sight of their own collection goals and personal sense of taste.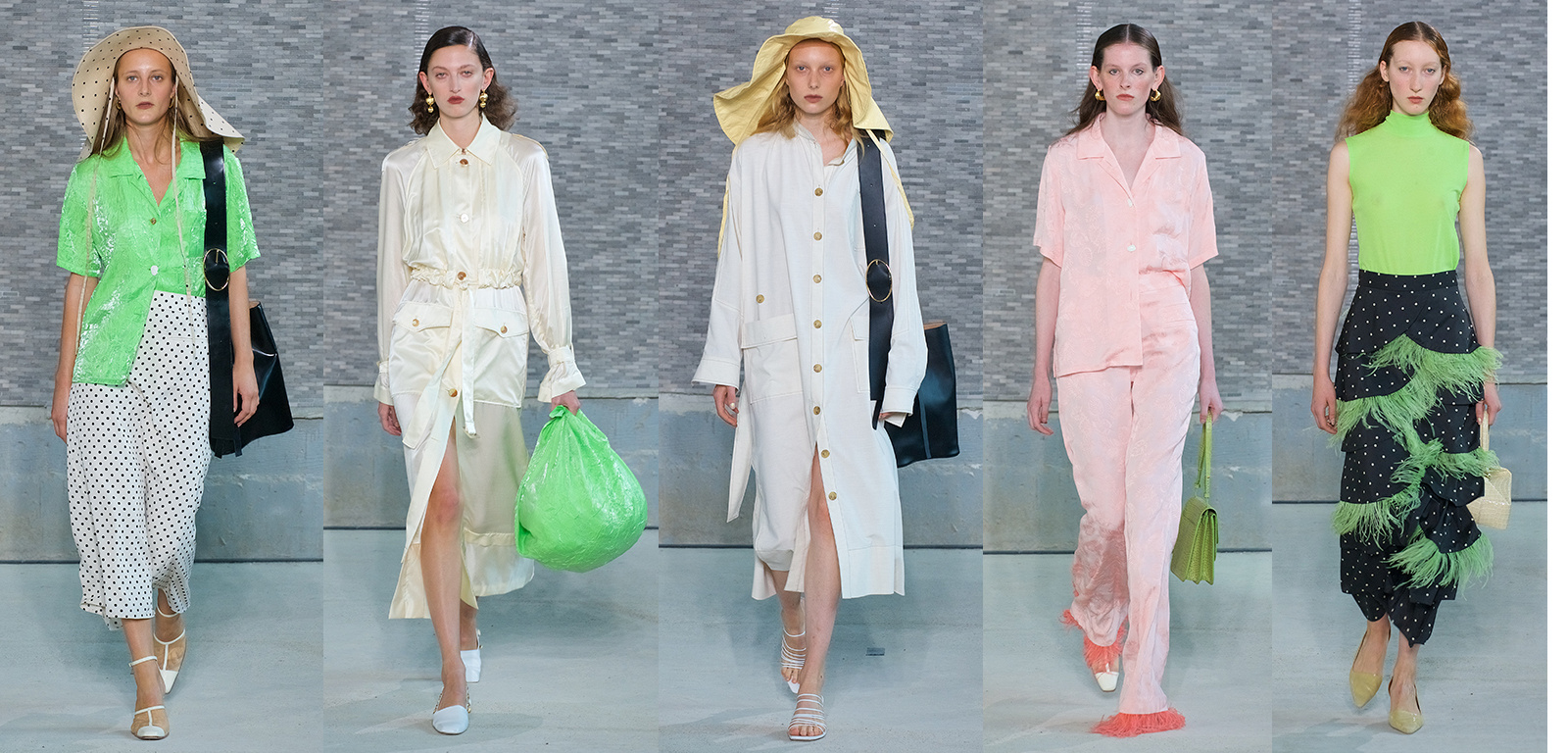 The collection opened with smart Summer daywear options that with bright notes of colour to punctuate the lengthening days of Spring. A Lime silk shirt is tucked half in, half out of culottes trousers in polka dot fabric. Teamed with a minimalist yet practically styled shoulder bag, it's sets the fluid tone of workwear through to social. A Cream satin silk blouse dress is drawn at the waist to give emphasis to the figure. With a large reinforced paper bag at the left hand it quietly promotes sustainability rather than awful plastics. While this looks hints at evening and occasion wear a loose worn shirt dress to the right has more casual hints of daywear. A soft Coral Pink trouser suit hints at all-day pyjamas and is styled with a retro-chic vintage look purse that would get phones, a small laptop and necessities inside. To the right, a Lime tunic blouse matches simply with a tiered layer skirt. Fringed with feathers as the silk suit trousers are, it carries a playful hint of movement as the wearer walks.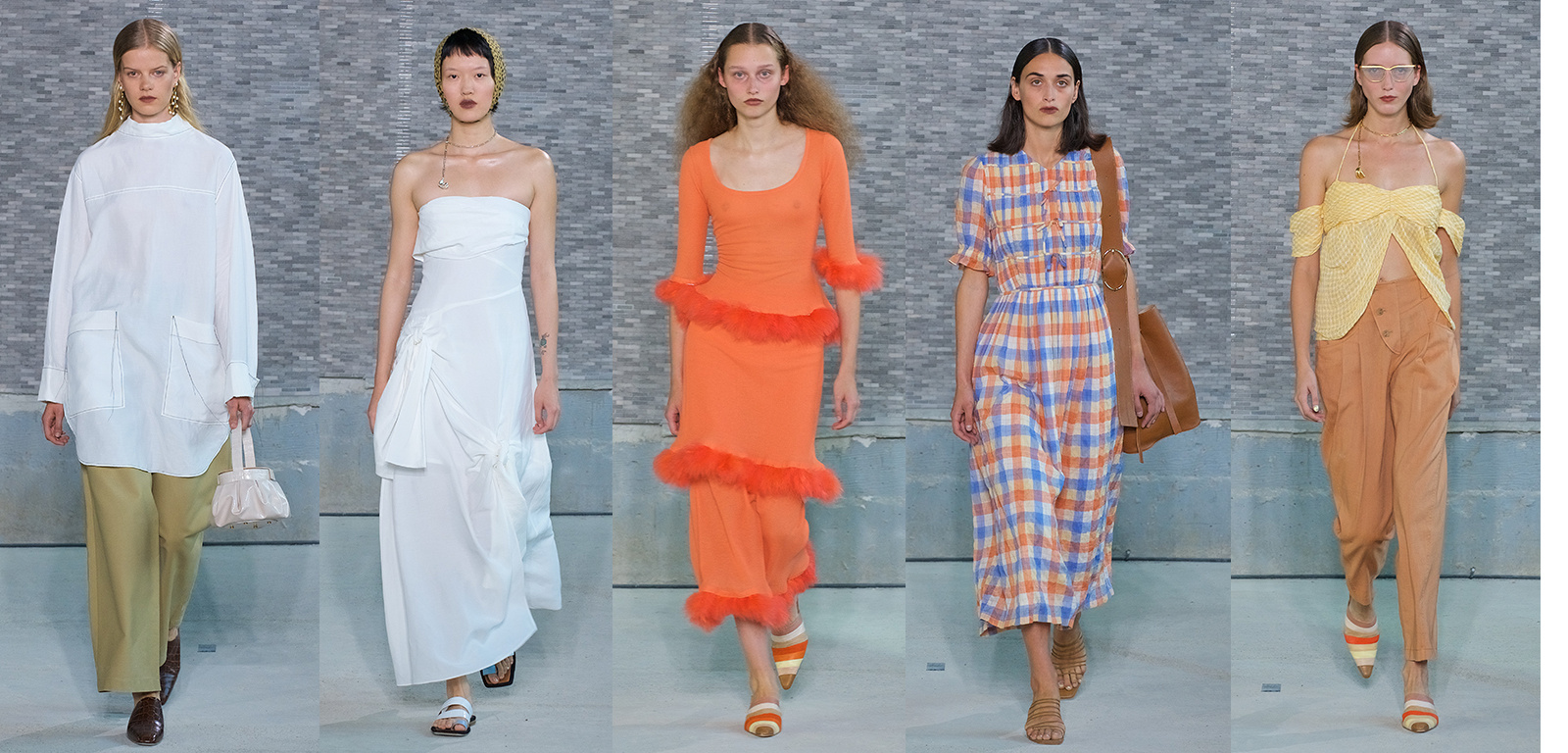 A loose form White shirt makes an artistic statement with large pockets echoing the dimensions of wide almost culottes-cut trousers. A swinging box clutch purse adds a character twist to any look from the collection and it's worth noting that while the bags in this collection are really interesting, Rejina doesn't let them overshadow the main thrust of her work which is the designs. A White dress flowing across the figure in wrap style would be an east staple for a Summer wardrobe. In off the shoulder style, it could be teamed quite happily with a wrap or light jacket. Centre above in Orange a semi-sheer dress with finely feathered fringes demonstrates a linear elegance that Rejina plays with through several styles in the collection. Geometry is often there, just below the surface. Summer gingham is a wardrobe staple and a large Brown hold all equips the wearer for the town or the country. To the right a Lemon bandeau top with side sashes to make it part blouse creates a light casual suit with Umber toned trousers. It's a cafe to beach or vice versa look.

An Terracotta trouser suit with mother pf Pearl buttons is an echo updated from earlier Rejina collections with deep pockets giving practicality as well as comfort, it's an easy staple to add to the working wardrobe. Similarly a Lemon dress with stripes borrowed from the man's corporate wardrobe is simply tied at the waist with deep pockets to rest the hands or carry home beachcombing finds. A Baby Blue tunic top and dual layer and length skirt with floral detail is another easy Summer look updating chintz prints of the past. Bands of Rainbow colour in a dress to the right below make a bold statement and would be eye catching for celebrity clients on the Red Carpet. To the right denim gets an upgraded appearance with the varsity stripes style being used in an outer jacket with a deep Navy shirt underneath. Lose cut White trousers further a naval theme and create a relaxed look.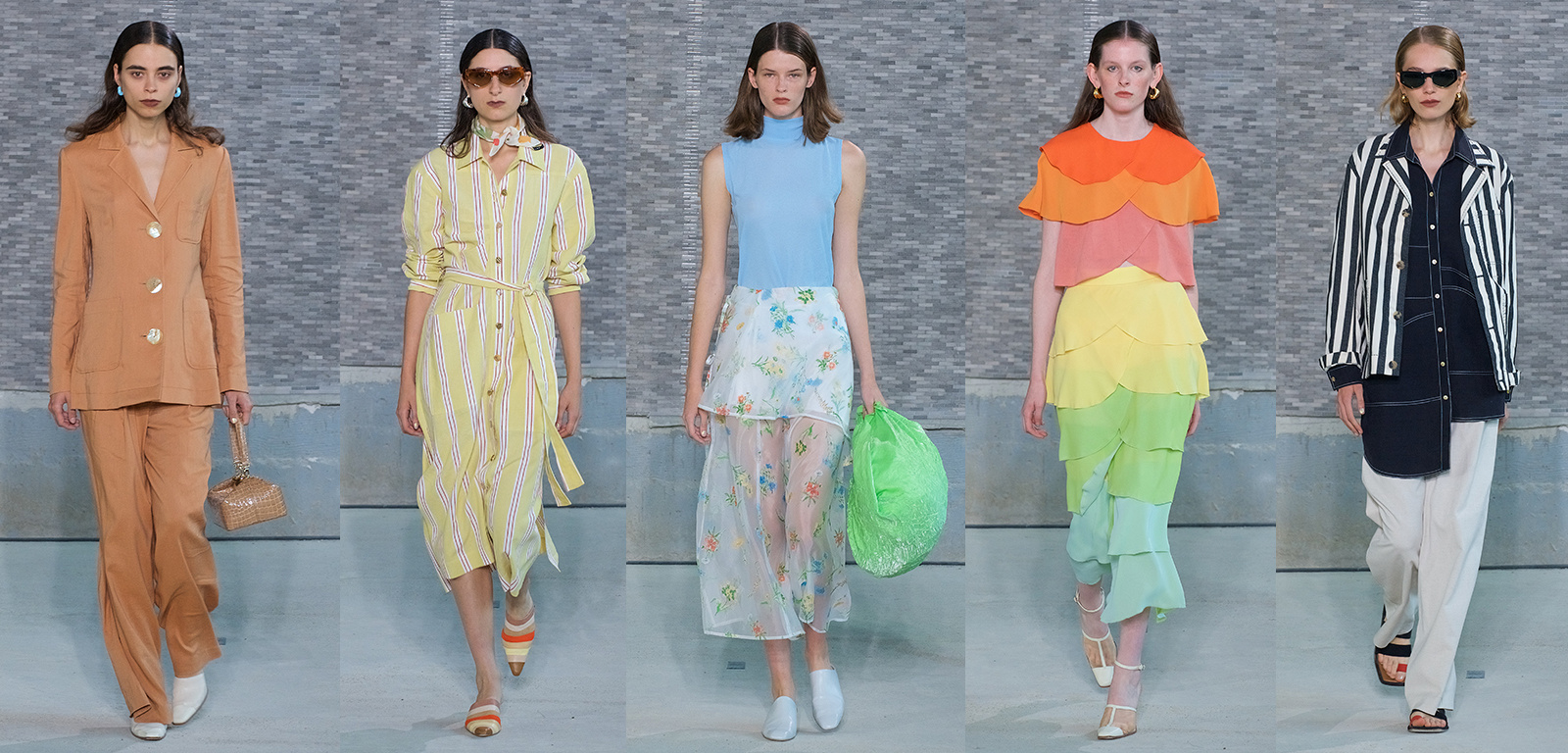 Bright sunshine and the Blue of the sky and seas are two things from Summer that I guess influenced Rejina strongly in the composition of this collection. Below to the left a halter neckline dress with Golden fabric with embossed floral details is a bright burst of sunshine before your eyes. A Light Blue Jacket and trouser combination recalls the Light Blues of Summer skies. Sitting nonchalantly on the figure with a carefree sense of confidence it's marbled stone buttons bring a touch of earth to the contemporary composition. Centre below an evening dress in Azure Blue would make a confident entrance at an evening party and as it's fun giant kerchief style bag shows, it could also be styled casually successfully for life out and about in the daytime. To the right a Yolk Yellow jacket with it's wide ribbon ties carries hints of the antique in a hint of the ancient world colour schemes contrasting with the Umber of it's trousers. To the right another Azure Blue look appears in bold sheer fabric. An under-layer of Green Neon in the bodice offsets the colour in a clash/contrast showing the power to surprise. To Rejina cut and fit are highly prized but her collections carry a unique melody of style in every garment.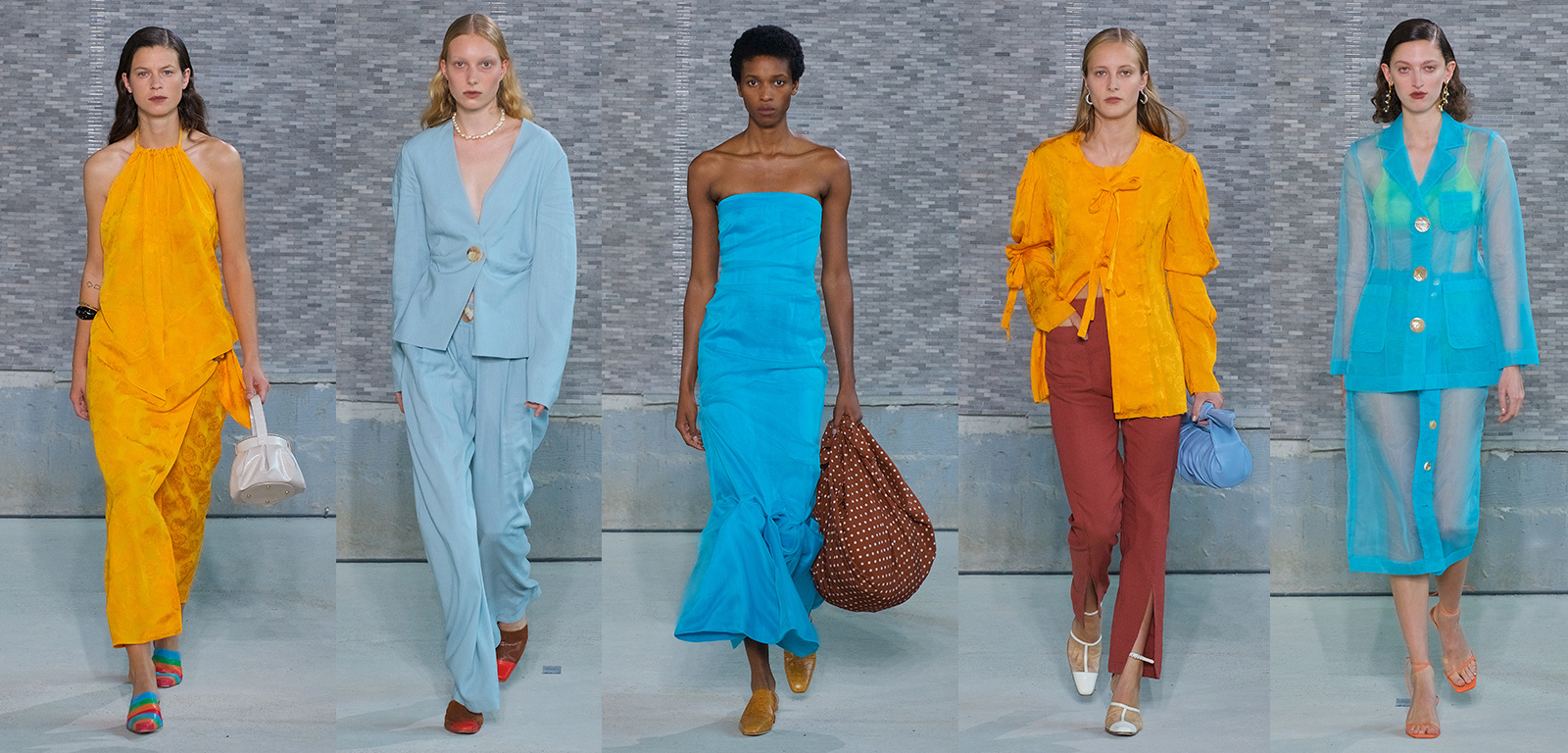 ROKSANDA
Iimage credit: ROKSANDA

Croatian designer Roksanda Ilincic has been a mainstay of the Fashion Week calendar for over a decade and her designs are known for their expression of colour as well as fine tailoring. More recently also, as we will see below, her interest in melding art and fashion is becoming more apparent.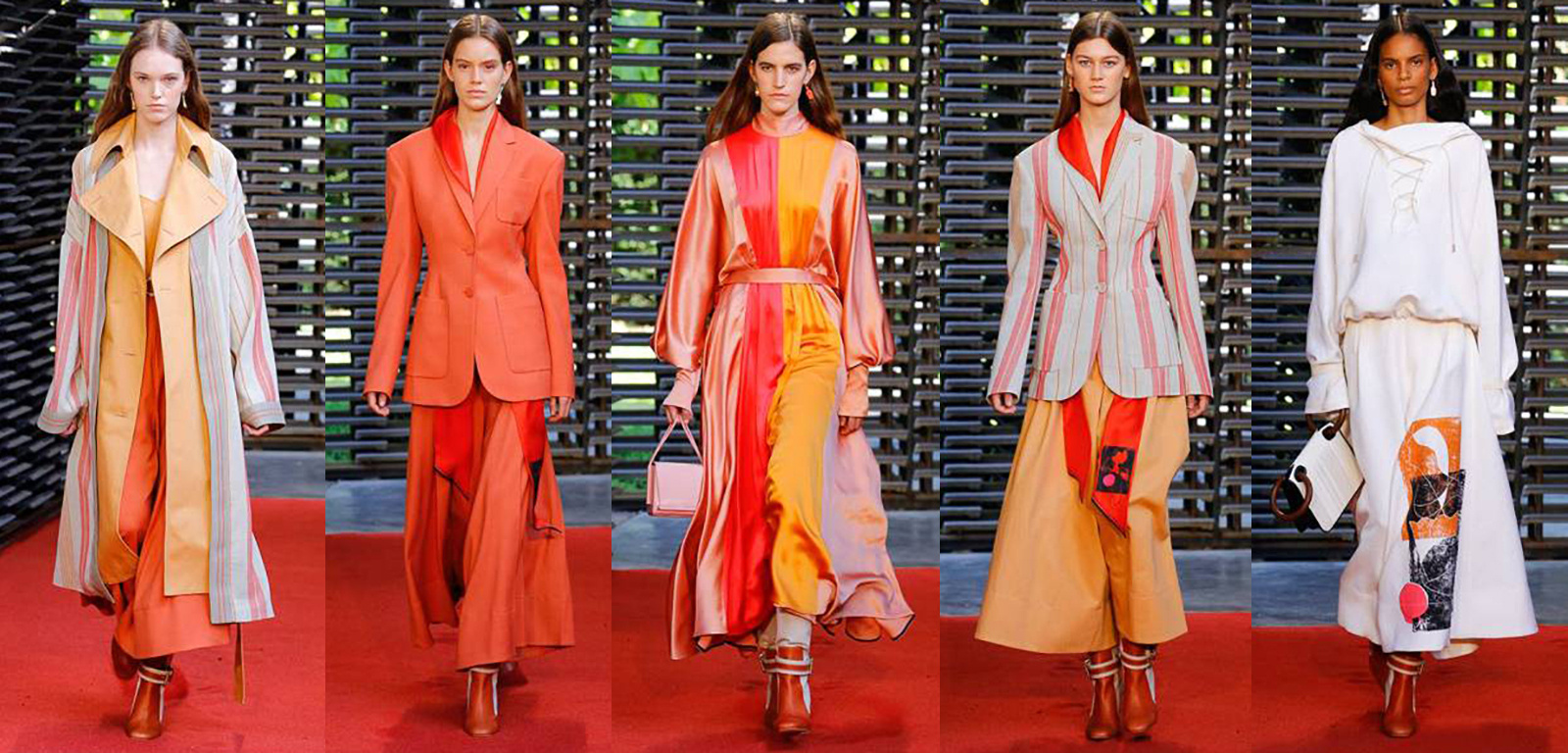 The collection opened with streaming colour across the lengths of a dual layered jacket above a smart Ochre top and Umber skirt. Ochre and Umber, those shades of Tuscany certainly seemed to be coming forward in several designer's collections and look to be something to watch out for in the heat of the Summer next year. A similar bold earth tone from mid Italy set the note for the jacket and dress combination to the right. A well cut blazer with pockets styled to emulate the traditional men's jacket lightly on the figure above a flowing skirt. Flowing lines are another Hallmark of Roksanda's style with bold stripes of colour rippling before the eyes in a look centre above. A simple box clutch with strap in the models hand perhaps inspires the use of older pieces in a family collection as well as picking up this piece from the designer next season. Varisty stripes clash beautifully in a bold contrast with Mustard Culottes while a Red sash shows the first hints of the art inspiration to come in the collection. To the right, an artistic print adds a flourish and intrigue to a White skirt beneath a plain White sports top.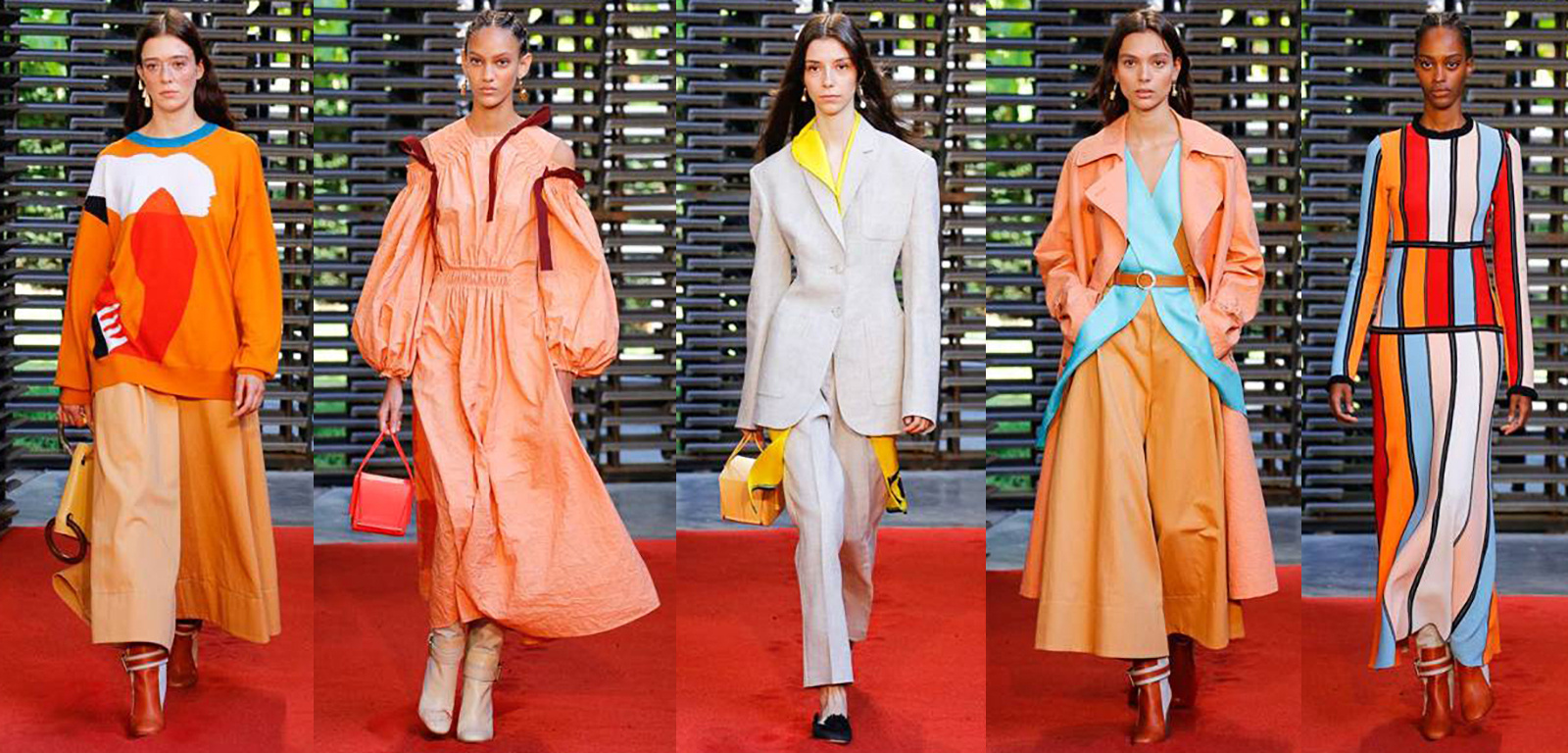 Abstract shapes appear again in an sweater matched also to lose culottes that fast become a theme of the collection. A light Salmon summer dress is ribboned with Burgundy and in one hand a Coral purse adds a third colour way to the outfit. The theme of narrow scarfs, sometimes not bigger than a broad ribbon appears to give Roksanda several ideas through the collection. Swathes appear under a White jacket and across the figure dressed in Umber dress and jacket in a contrasting light Blue. To the right a stronger hint of the 1960's block colour art inspiration that seems to appear in several designs. A dress cut close to the figure offers an easy to wear single piece look that will draw attention in front of the cameras for high profile clients, or simply be piece to be enjoyed and light up a room.

Below a dress cut to offer the spirit of a modern ball gown, meets contemporary art is patterned at one side with an art print. This looks like Frieze meets Ready to Wear to me and I think it would be a popular choice for the art community around the world. A soft Primrose dress with sash tie at the waist and billowing shoulders channels heritage chic with a spin on Jane Austen style for the 21st century. Centre below a Cream silk suit is cut in a generous comfortable style for the wearer. Deep pockets hint at practicality and a place to keep the hands warm in the last of the Winter breezes. To the right below two dresses that take a serious look at modern art in the abstract human figures drawn across the surfaces of the fabric. Light Teal flecked with Gold and Soft Pink and Rose make a gentle backdrop to drawings that will capture the attention and the admiration.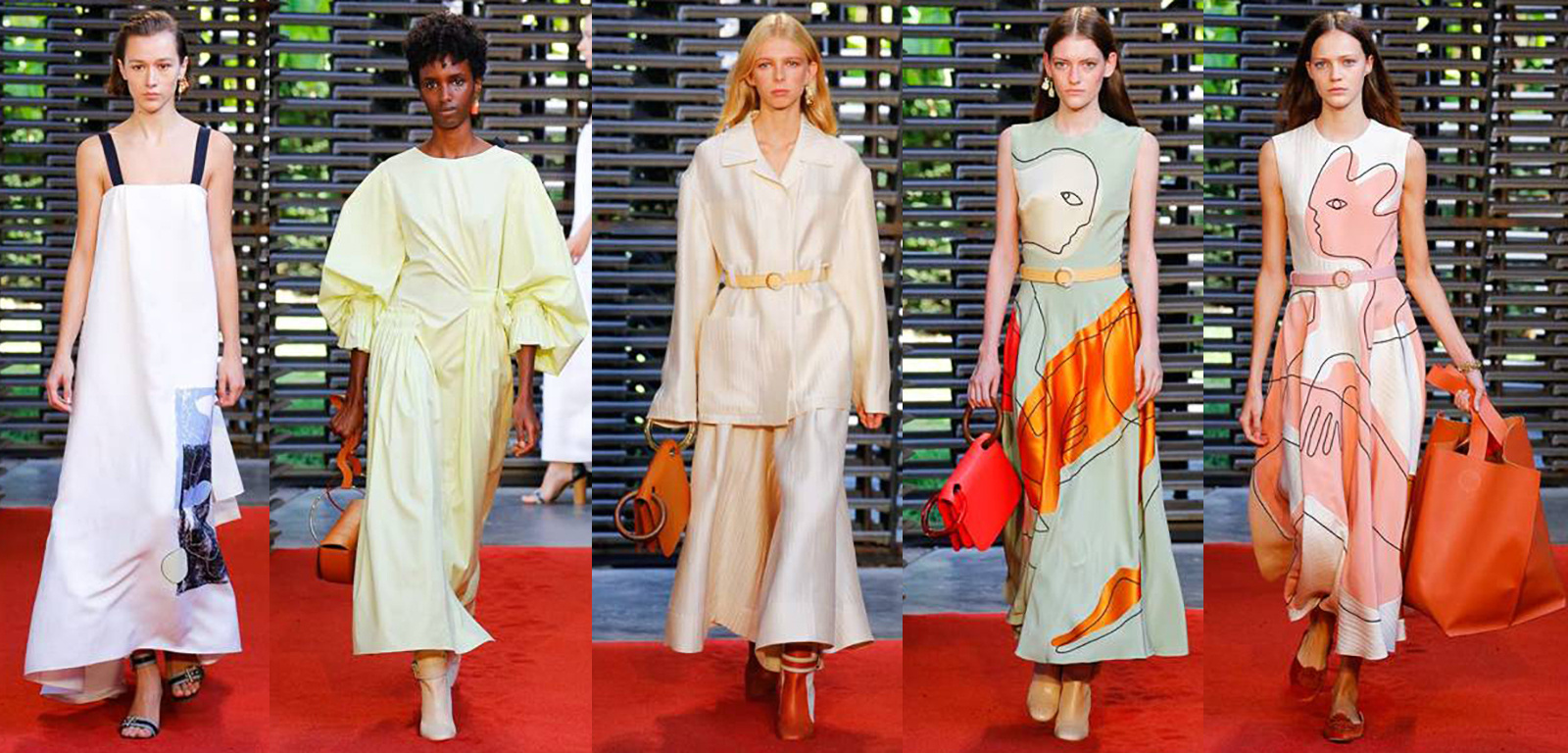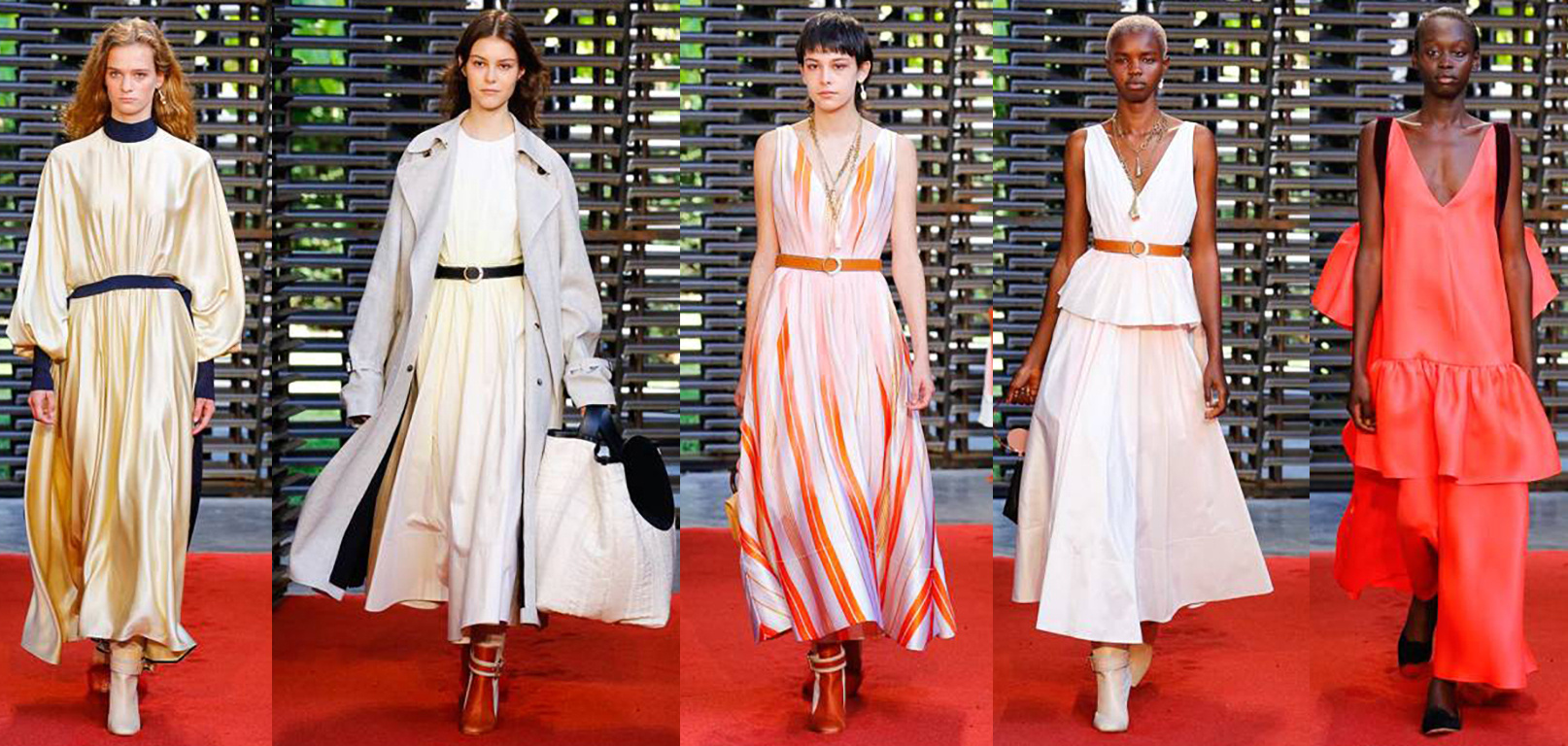 The collection moves to eveningwear with looks that are chic and still capture the essence of Roksanda style. A Cream-Gold dress floats like liquid on the figure of the wearer. With elasticated banding at the collar, waist and cuffs it doesn't look too classically formal in Roksanda's future-facing mode. To the right a midi length cotton dress aits under a raincoat offering proof against the autumn weathers whereas a stripped dress centre above brings sunshine beams of colour into the wardrobe. To the right a White V neckline blouse in gathered fabric sits belted above a broad White skirt, perfect for Summer evening and parties at any time of the day. In almost a Neon tone the dress above to the far right takes a fresh look at the lines of the evening gown. Broadened out in classic Roksanda style to give volume it's Black borders are a stylistic adaptation. Below in Sherbet Lemon a slightly similar design with fabric richly gathered around the waist offers freedom and volume and movement to the wearer for a warm evening at a party.

Abstraction plays an important part in the looks that close out the eveningwear passage and the collection itself. The human form is hinted at in free style pen strokes that stretch across the fabric and create images to tease the mind. Are they wearable, certainly for many clients and celebrities who are interested in conceptual art and want their style choices to speak openly about their tastes. In light sherbet Yellows, Pinks and White, they blend a possibly stark design with soft colour to moderate the overall effect.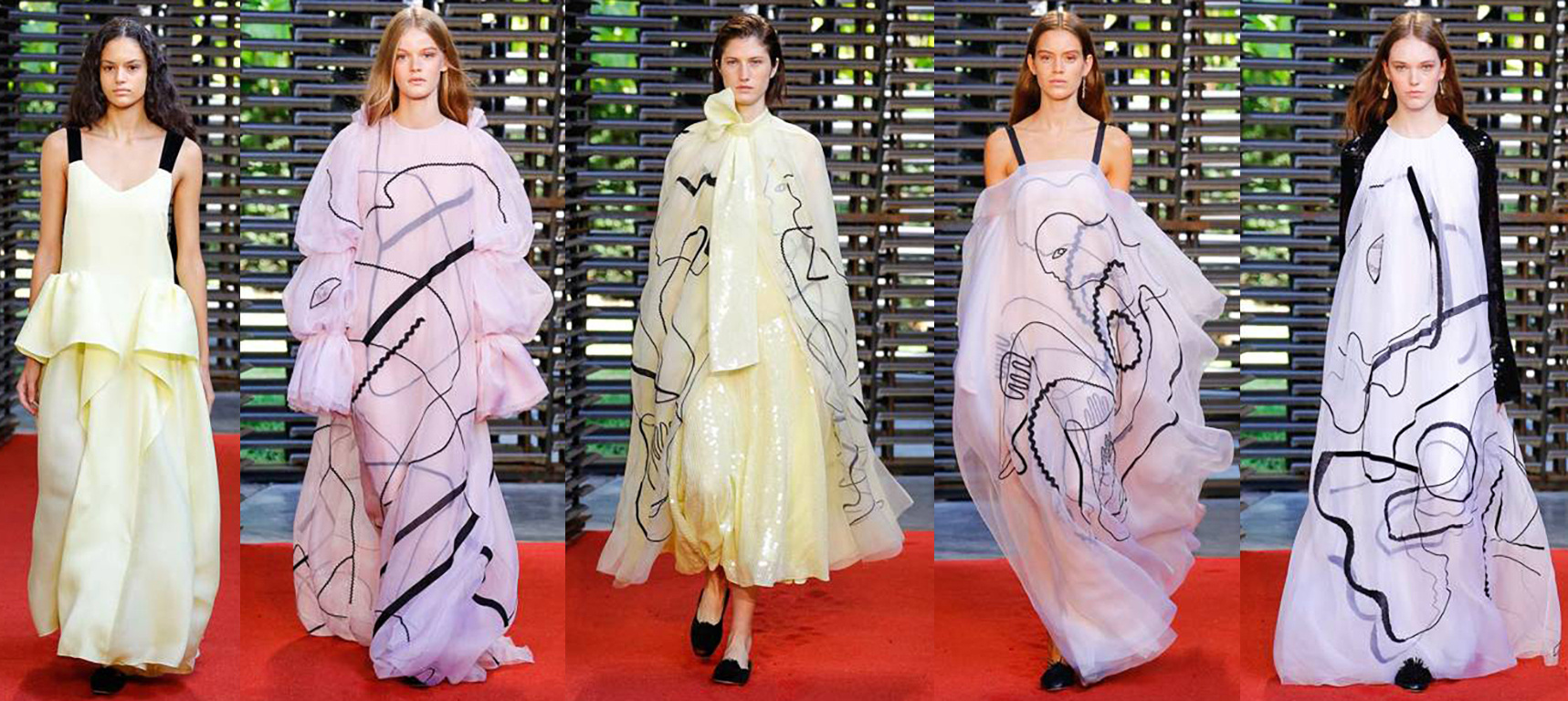 Edeline Lee brought out a collection infused with the spirit of interpretative dance in one of the most highly attended collection showings of London Fashion Week. My handful of pictures can barely do justice but it was a fantastic collection with swinging jazz rhythms and meditations on the modern era of celebrity in the social media age. Models where snapped by fellow dancers as they walked and showed mutual strength and support through dance phases.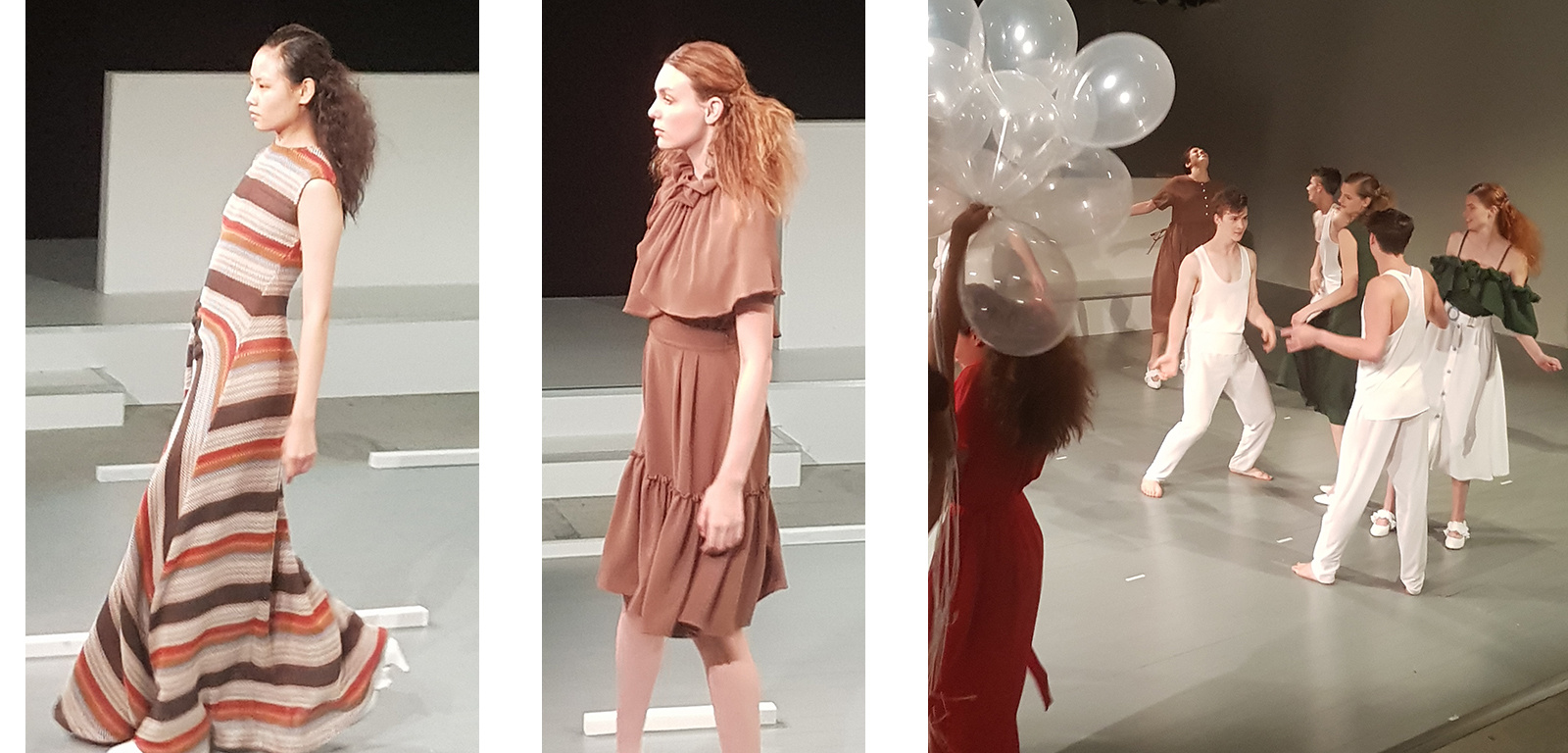 In Edeline's signature style, dresses almost universally captured a free flowing aesthetic with signature pink tucking creating gathers and a little more volume. Broad bands of colour showed a flowing emphasis to the collection mood while most of the collection was completed in single colour pieces. Soft Tan Browns, White and Green. Earth colours dressing the figure and style alive with the dynamic of creative energy and a sense of happiness.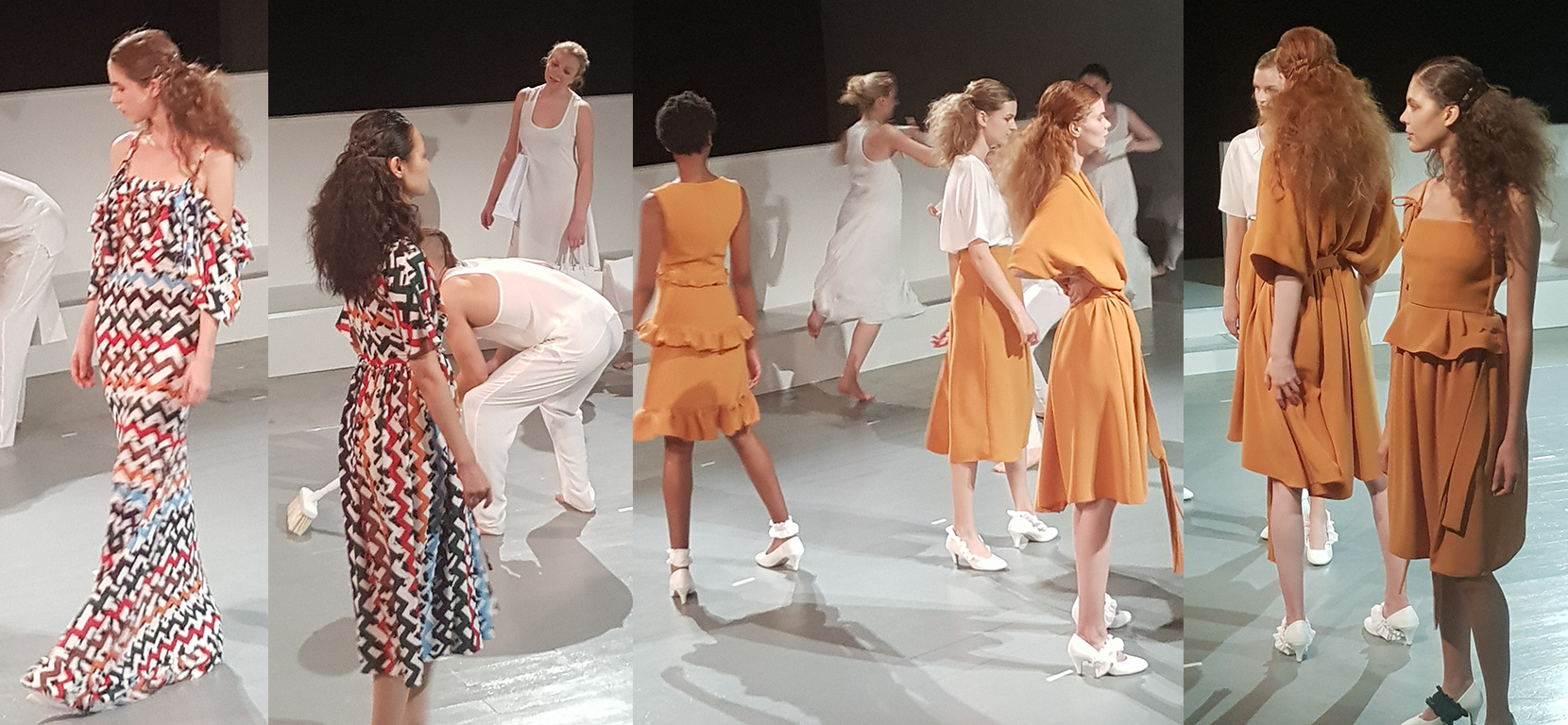 Above to the left you can see several pieces incorporating a weave made up of the signature colours of the collection. Charming and pretty it's a statement of confidence and the wearer is free and unconstrained in her sense of self expression. To the right, Umber-Tan coloured looks dress the dancers with a hint of utilitarian combined with pretty-chic. These are party and playwear looks that would suit for work and formal. They are classic from office to evening drinks/party styles actually which so many women need to have at their disposal around the world. A clear Red is one of the most eye catching colour statements through the collection and here below you can see several dresses in the dance pairs and the group scene, that show how committed Edeline is to creating designs that are sympathetic to the figure and yet show delicate design definition. Beauty can be comfortable too.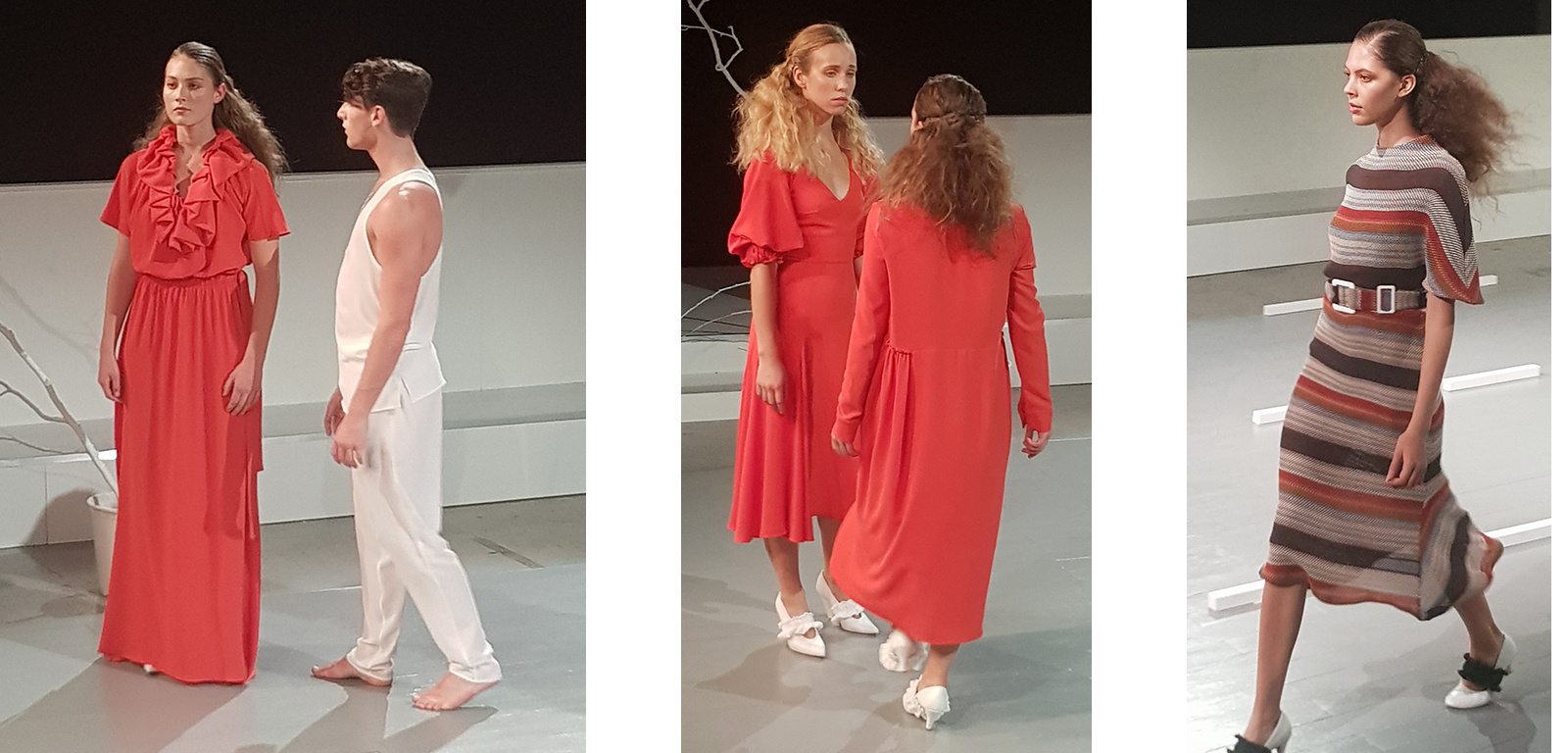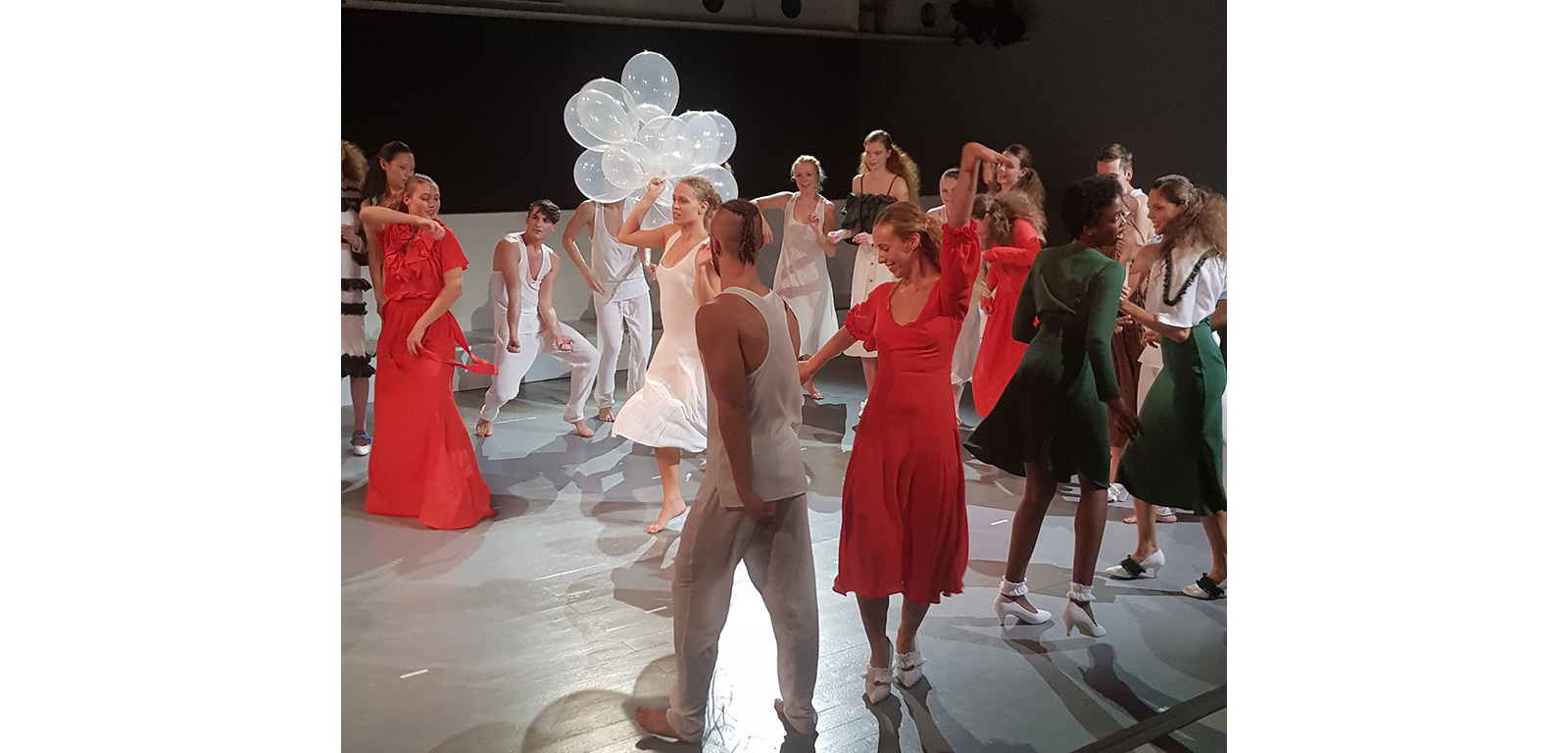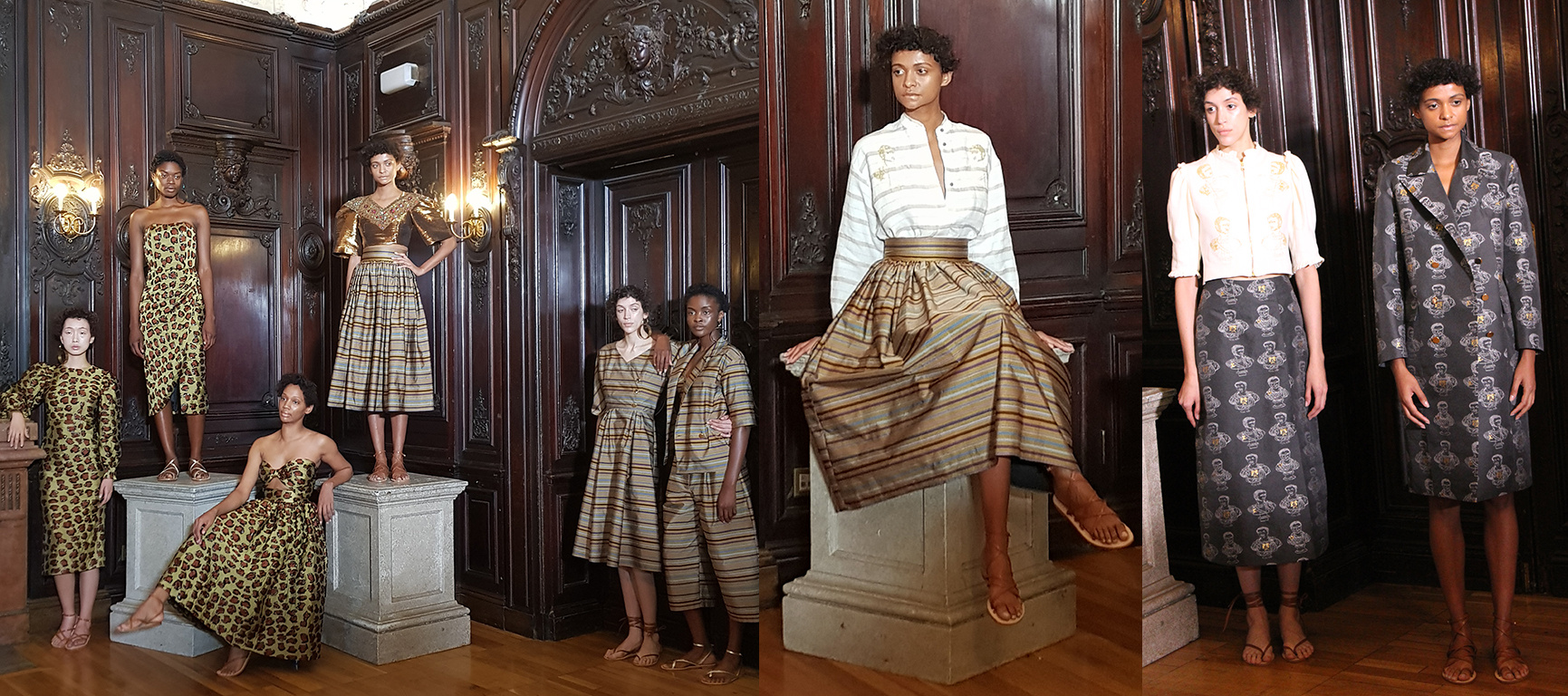 A high baroque setting in Mayfair provided a perfect backdrop to showcase the latest collection from designers sister Tata Naka. With over 15 years showing in London and dressing celebrities and socialites on both sides of the Atlantic, the pair are still creating collections that intrigue with their unique brand of style. This collection like recent ones is heavily inspired by the romance of the Isle of Capri off the Italian coast and it's Roman Empire era heritage features in tassels, prints and Gorgon heads with also the Roman habit of bringing 'exotic' animals from across the Empire and beyond to Italy referenced in the bold animal print designs encapsulated in the collection.

Silk cocktail dresses ready for hot Italian Summer nights featured cheetah print spots. Cut in a series of classic styles they are bold to some but also understated for those with more flamboyant tastes. Hallmarks of Tata Naka are that they are committed to dressing women across age groups and they also show models from a diverse series of backgrounds. In many ways this echoes the populations of the bustling cities across the Roman Empire particularly in Italy. Luxuriant finely woven silk that the Roman's would have loved is woven in thin striped print that appears timeless and somehow recalls the colours of the Roman Villa. Cut into skirts, dresses and a jacket and culottes suit it's an easy wardrobe addition. To the right busts of Roman Emperors pattern a blouse, jackets and a skirt. Flecked in Gold, they hint at the faded grandeur and glory of the past. It has the almost humorous expression of some of Tata Naka's pieces of the past whilst retaining the dignity and seriousness of the subject.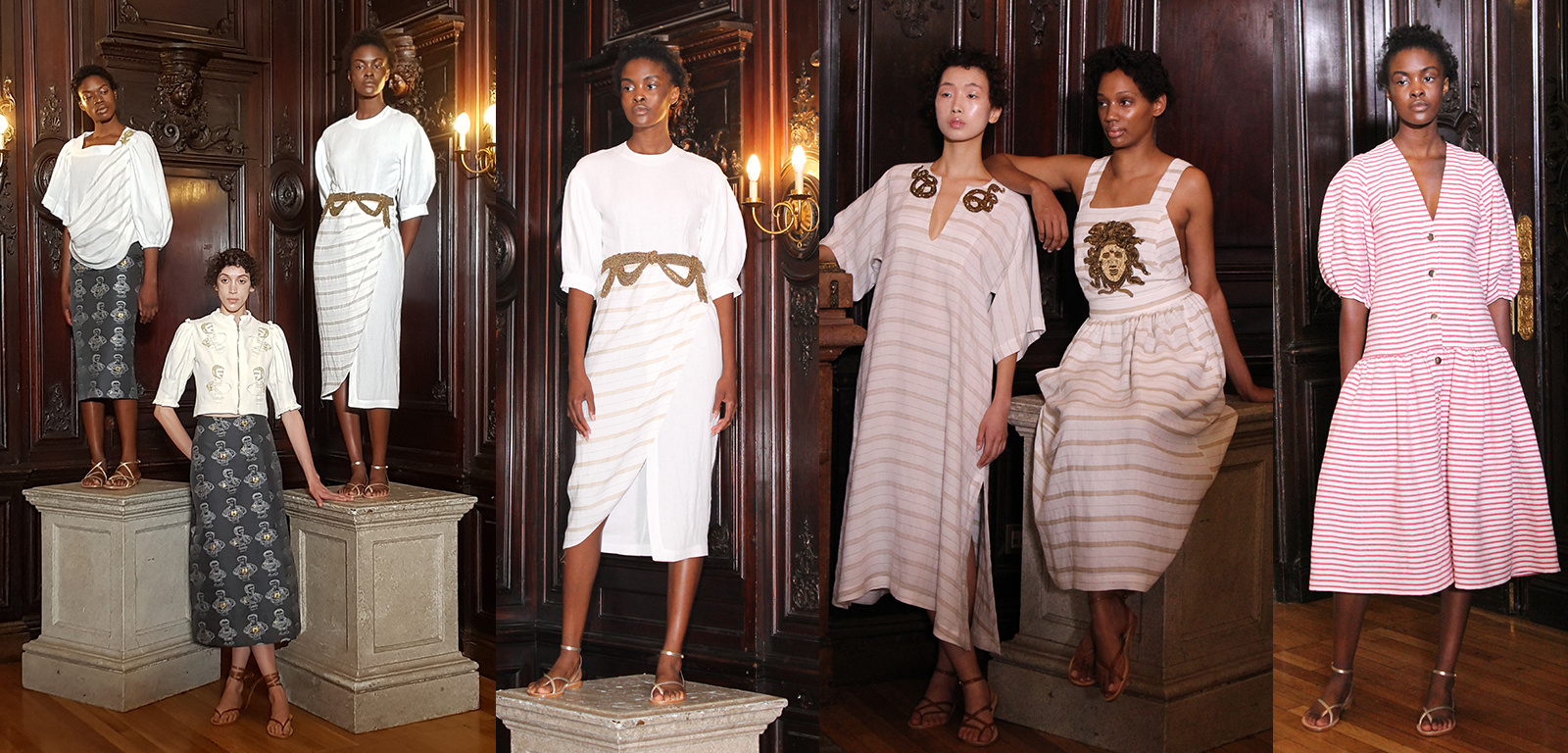 With it's soft easy wear pieces the collection recalls the holiday mood of the island as it has been for over two thousand years for many Italians and Romans alike. Light fabrics fend off the Summer heat while Golden brocade wrapped around the waist of a dress hint at both Imperial splendor and the maritime heritage of the Island playground. The ease of the pieces to wear comes across with a soft shirt dress, faintly printed with the traditional Roman border and maritime sea serpents coiled at each shoulder of the dress in Bronze-Gold. A summer dress emblazoned with a Gorgon's Head features deep pockets to collect pebbles or shells on a Summer stroll at the shore. Both these dresses would be at home exploring villages or poolside and could be worn out to dinner. To the right nautical stripes in Pink appear across a dress with generous volume that would be an easy piece to sail in and protect from the sea breeze.

Summer dresses with an extra hint of character are a House specialty at Tata Naka and below a trio of looks in bright Umber show three very wearable style combinations for the Summer months. A cut away waist dress strikes as an obvious partner for swimwear in a house to beach look and teamed with two longer, more diaphanous dresses it would be hard to choose between. Blue blouse and Saffron skirt feature the face of perhaps a ships captain or Naval leader. Printed with borders in another echo of surviving Roman era art on the walls of the buildings. The soft watercolour Blue hints at an independent artists exploration of the island and all it's treasures. To the right animal print returns in a complete day dress and coordinating separate with skirt. Matching with the colour theme of the next sequence of the collection, there is a natural fit. Here an Imperial bust is reimagined in water colour sketches and when painted within borders, it captures the interior decor of the style of Ancient Rome that came to life once again when northern European travellers became inspired during their Grand Tour. An Imperial bust across the centre of a swimsuit makes a strong statement and also makes me think how few statues of Roman women have survived.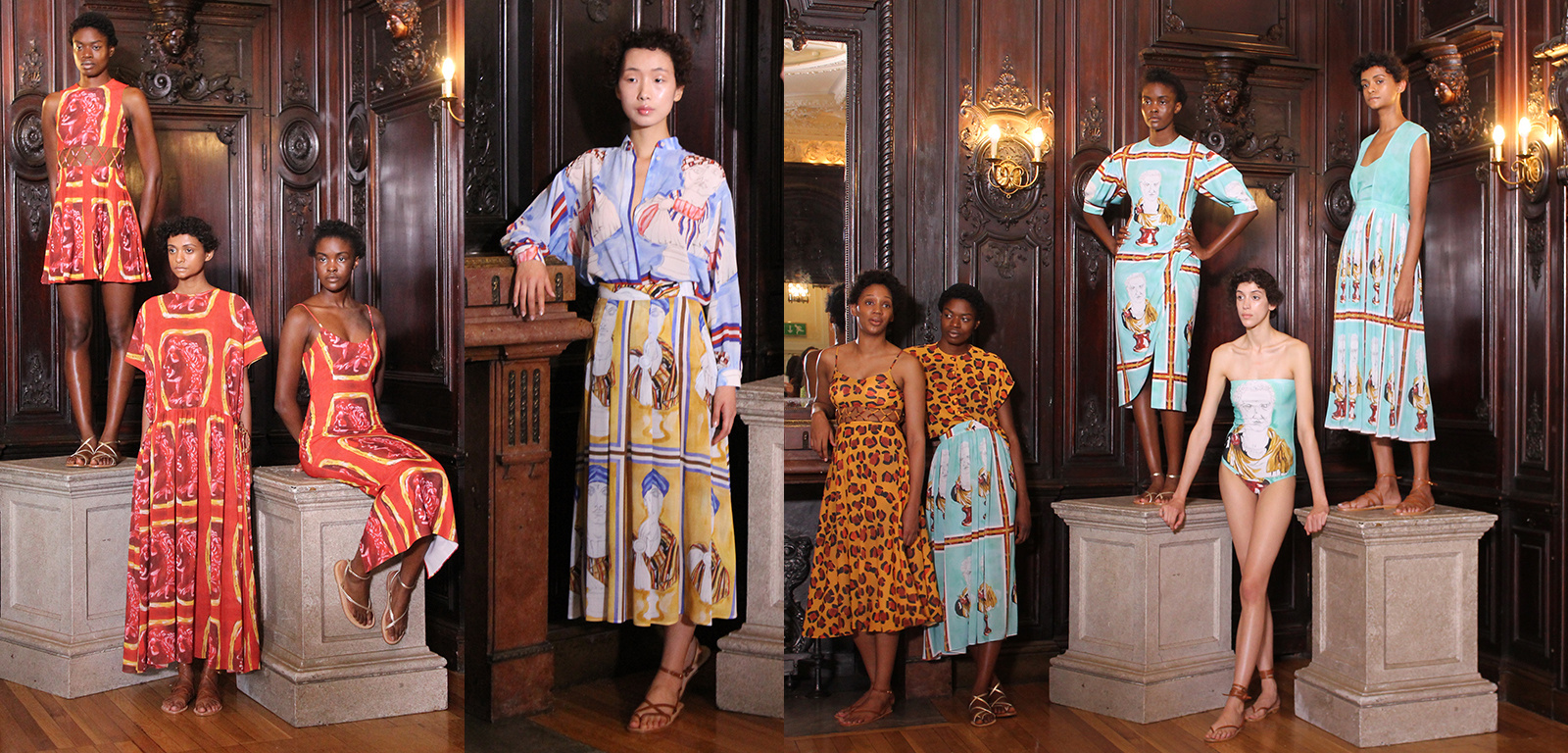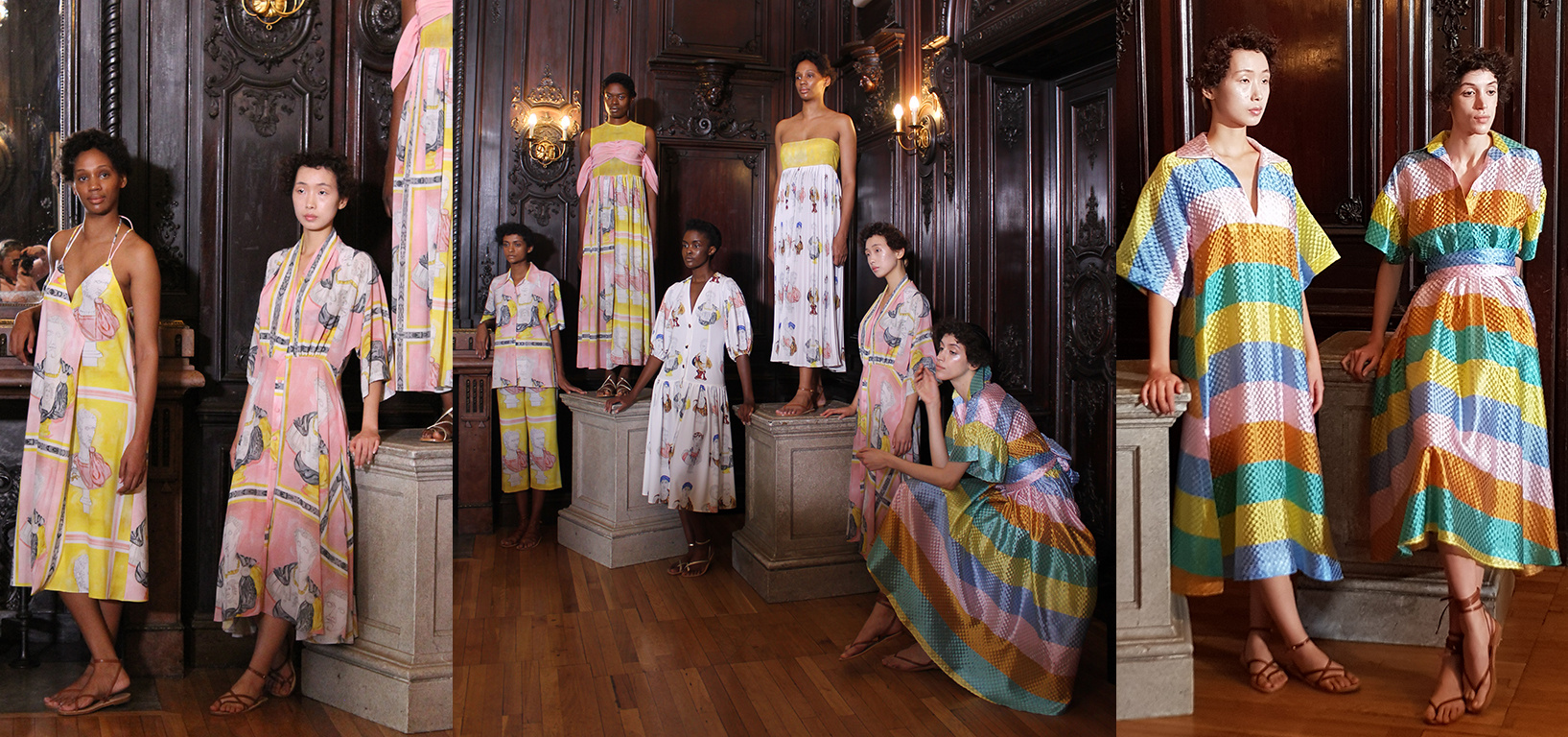 The colour of the ancient palette is something that is often overlooked and here in bright Yolk Yellow and Baby Pink, several dresses capture carefree ideas for looks to wear in the day through to evening. You can just 'see' someone strolling through a village in Italy or France with basket in hand en route to the market or heading out to an evening drinks party or open air Opera. Elegant tailoring and sheer ease of dress really come across in these pieces. To the right above, bold splashes of colour in bands across crimped silk produce bolder looks for smart occasions that require minimal effort. A clutch purse, jewellery, fragrance and some favourite shoes would seal the collection look.
Below a closer look at two dresses featuring the hand drawn sketches of ancient statues found around the Island. This is the sort of thing I do when on Holiday and it's a charming reminder of how accessible history can be and how it can be interpreted in a diverse span of ways. Moving the collection more firmly to eveningwear and featuring generous lengths of silk, burnished Bronze-Gold brings Imperial luxury to the collection with a jewelled dress collar meeting the heights of fine imperial taste. They are strong looks and again suitable for Black-Tie appearances and special nights under an Inky Blue Summer sky.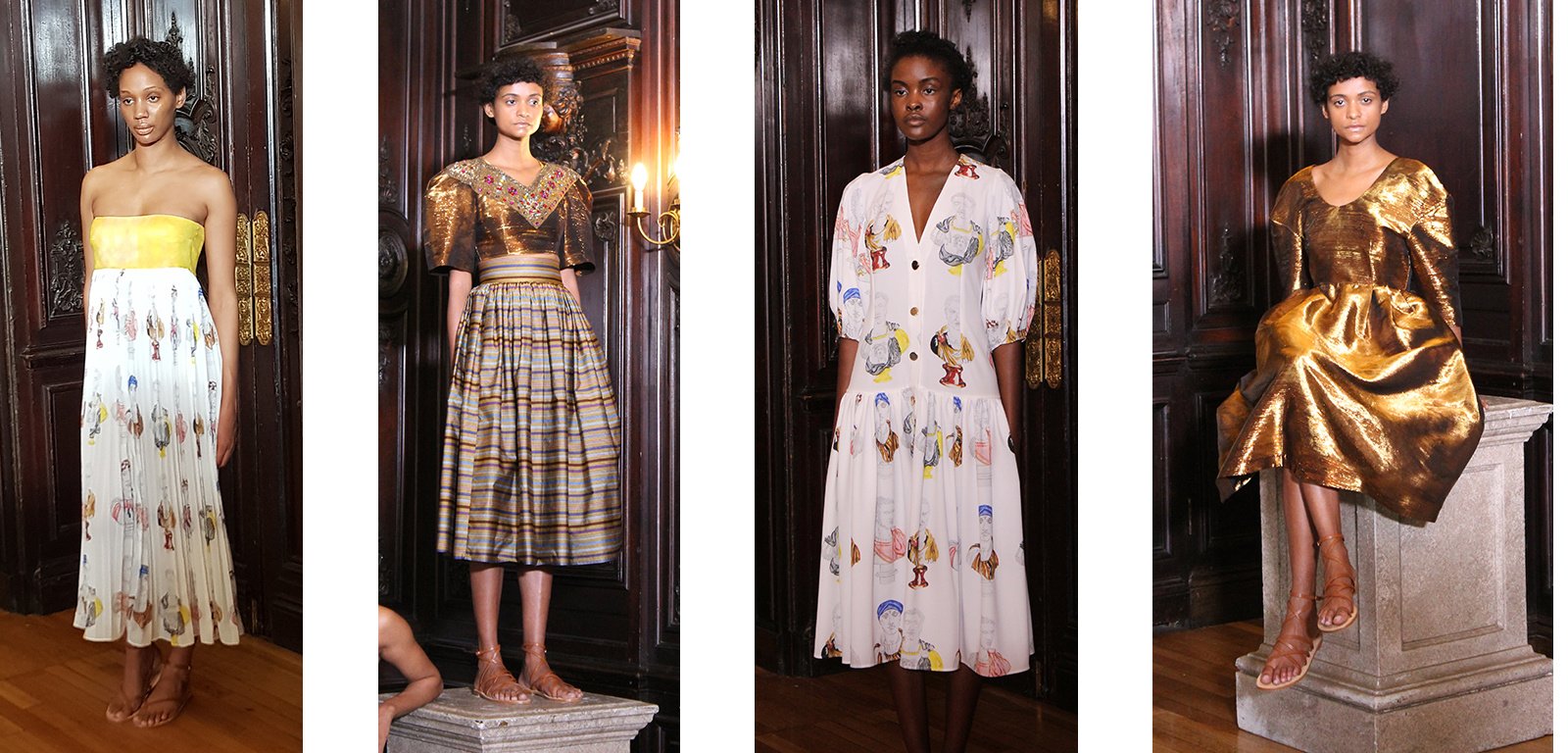 It's a mesmerising collection and one that takes you back in time to Rome as well a celebrating the Golden era of 20th Century Italian film that provided so much legendary celebrated glamour that influenced the world. Many of the styles of looks are cut in the 1950's and 1960's style and could have happily clothed women actresses and socialites half a century ago, just as today. Below several looks show the fine-weave of silk that characterises this collection. With mythical spirits and beasts reaching across the fabric it brings enchantment but also collectable pieces facing the future. Lastly I duplicated a shot of my favourite look of the collection. Simple silken White blouse and skirt showing the classic Roman coloured border lines seemed to say so much about the suit of looks.