Spring & Summer 2019 part 2
All images below shot by me (C) unless otherwise stated.

Fyodor Golan

Images credits, my catwalk shots with flower borders, the rest from Fyodor Golan themselves.

Fyodor Podgorny and Golan Frydman chose their Spring - Summer 2019 collection as one to raise a serious issue that touches all our lives. Partnering with Plastic Oceans U.K. they created a collection that was designed to raise awareness of how much our oceans are now suffering and what we need to do to help them. Setting the scene with what was for me the most thought provoking and emotive set of London Fashion Week, flowers and seaweeds where caught up in nets of plastic with the random detritus found in the ocean urging nature to fight back. This is a period of call to action for the planet and Fyodor Golan know we should all be taking part.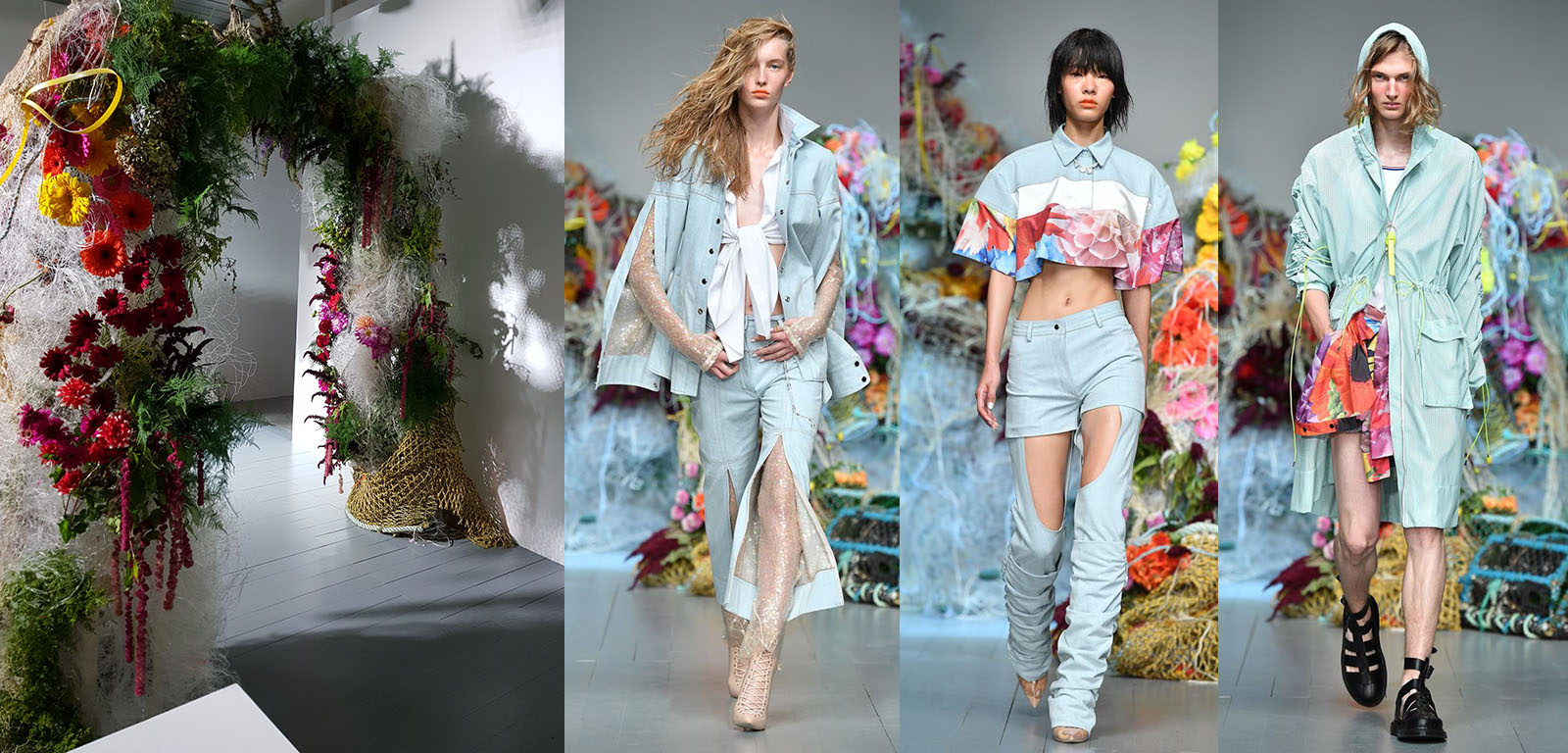 I found myself placed at the entrance to the catwalk under an archway decorated like a tragic entrance to Neptune's kingdom. The collection opened with light colours in pastel gracing a jacket worn open with a wrap tie top or trousers cut open to the knee. Shimmering figure hugging fabric skim the arms and the legs creating an echo of the light shimmering on the sea. This invigorated play on the traditional bleached denim look created fun combinations. Floral print in tropical colours appears across a cropped shirt matched to Baby Blue shorts and gathered cut away leggings. The sports feel is reinforced by a raincoat featuring floral print underlayer. Soft and casual it's a flexible offduty look.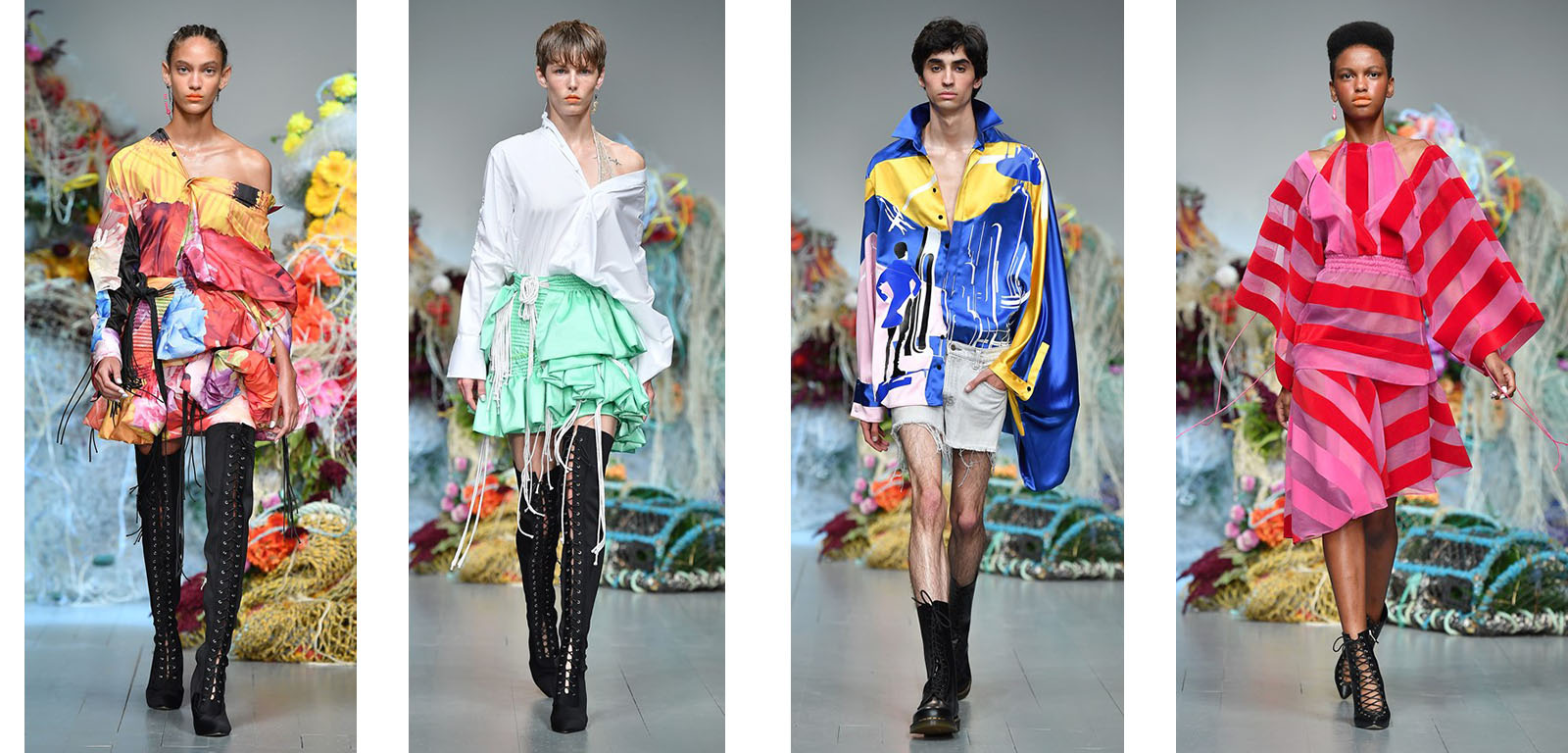 Creating something for the ladies, bright pops of colour appear across a mini dress left open at the shoulder and sash tied at the waist. It's a fun dress for parties but also makes a string style statement partnered with over the knee lace-up boots. To the right, it's counterpart with a soft White blouse and Pistachio ruffle mini skirt is both cute and serious, sexy yet sweet and with it's carefree tassels hanging down across the figure embodies the fun element that Fyodor Golan so embrace with their styles. A men's outsized sports shirt plays with the representation of the figure of the person looking out on the world against the city scape backdrop. To the right bold lines of Red and Pink alternating in sheer and opaque fabric clothe a female model in a dress composed of layers. Signalling the warning perhaps of a sea in peril, this look draws the eye to the flattering design.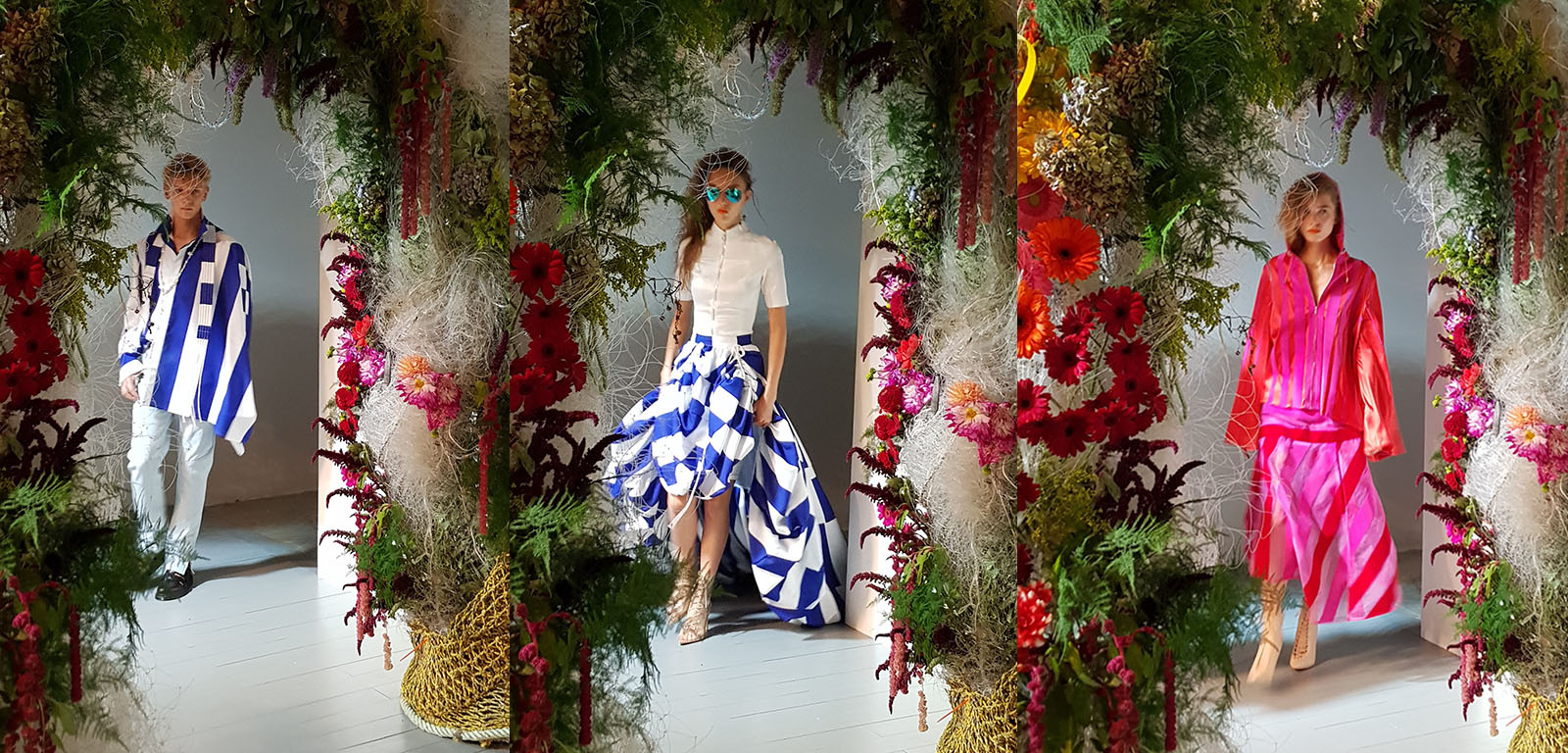 Striped blocks of colour prove a popular feature and they perhaps reference the maritime interaction that people and the sea have had across centuries and in fact milennia. A loose cut men's shirt with stripes at opposing angles hangs casually on the figure paired with lightest (perhaps sun bleached jeans). Centre above a flowing wide cut skirt with fitted White blouse transposes the fit and flare classic evening dress style to a Red Carpet look with a sustainable edge. But why should be you be limited to the Red Carpet, it would make a beautiful wardrobe addition for sunlit days. To the right the hooded sports jacket staple is re-worked with fine styling and matched to a skirt again using the cold colour contrast stripe theme. It both flows gently but keeps out the breezes of early Spring.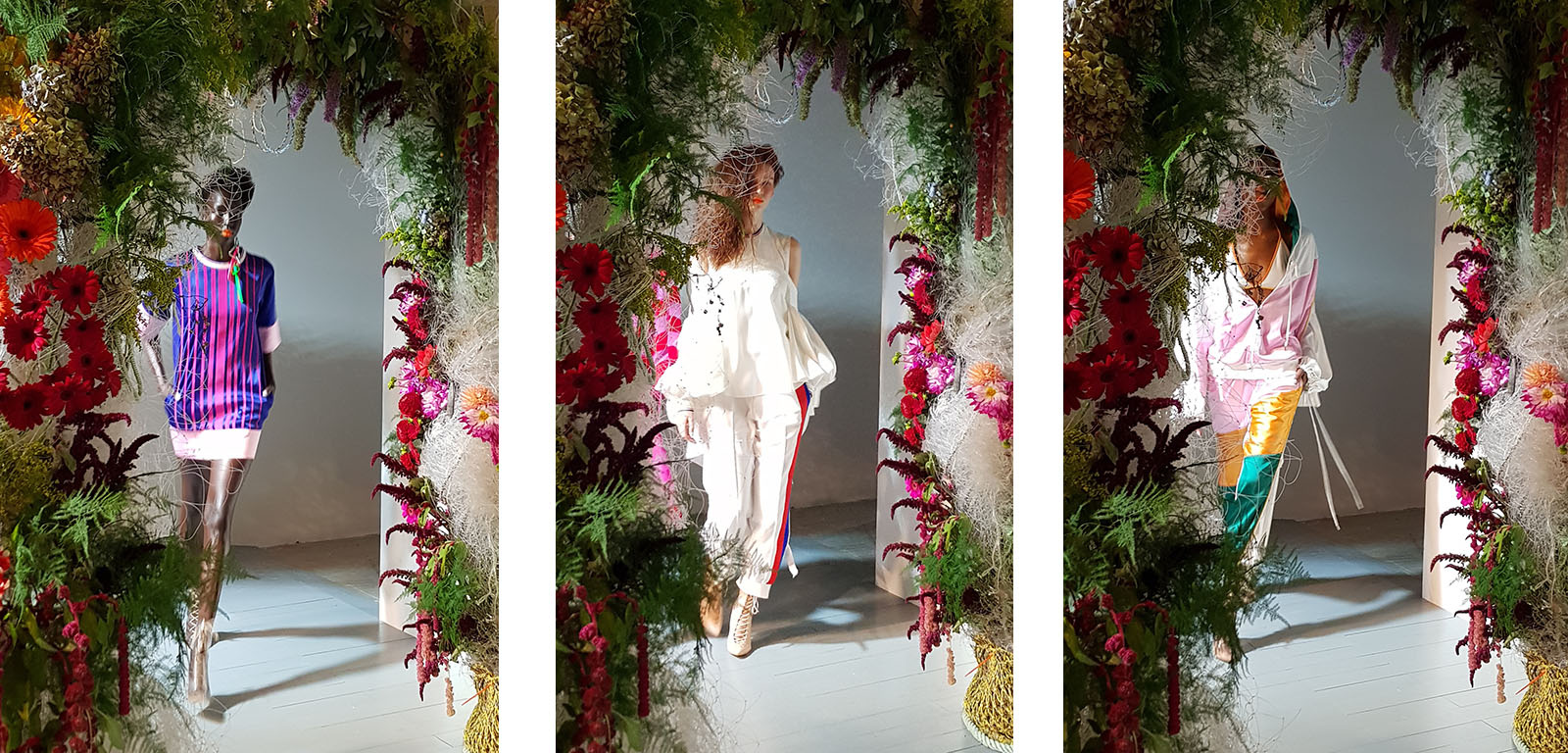 A football strip worthy mini dress brings the sporting classic into the woman's casual chic wardrobe. Purple and Pink make a statement of strength. Centre above a flowing peplum blouse with extra gathered material teams with pressed crease trousers with sports stripes running from waist to ankle. Feminine and strong it's a confident look. To the right, a Pink light tracksuit banded with Pink, Gold and Green and makes an easy pool side option for wearing pre-swim with a bikini underneath.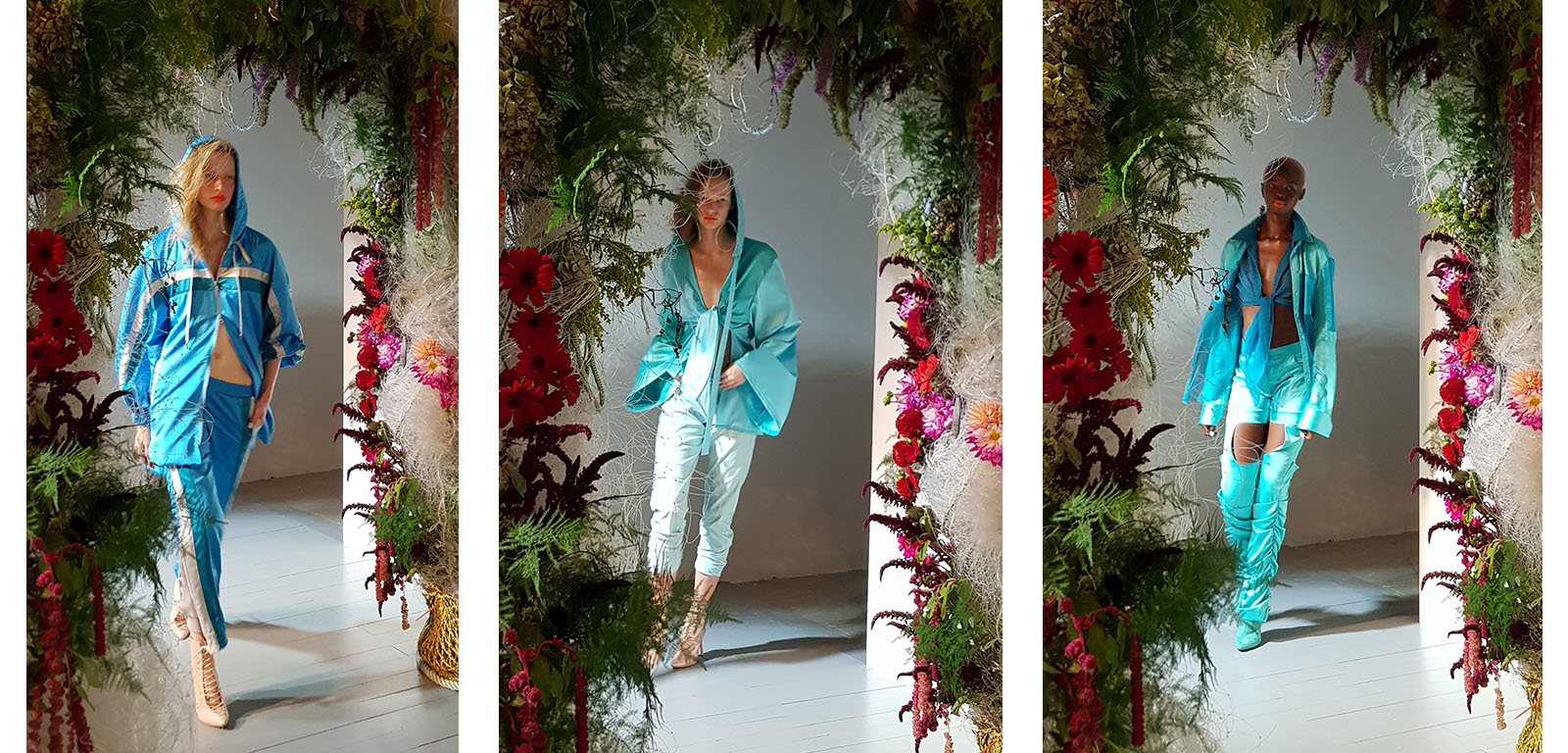 Another tracksuit in light marine Blues sets the wearer up for a day on the run with soft fabric cut carefully round the figure. Perhaps it's an expression of how we need to use our own energy to re-invigorate the care for the environment. An Aqua coloured jacket tied in a large sash bow at the neckline also features large open kimono style sleeves. Teamed with pedal pusher trousers it's a bold style idea softened by the colour and choice of fabric that would work well in an urban or seaside holiday setting. With the hood also taken off the jacket it could make an interesting Red Capet photo-call camera look too. To the right a Teal sash tie top is simplicity itself underneath a light Aqua and Teal jacket and open cut wader style trousers. Are the models later day mermaids, or are they trying to fish the pollutions out of the ocean?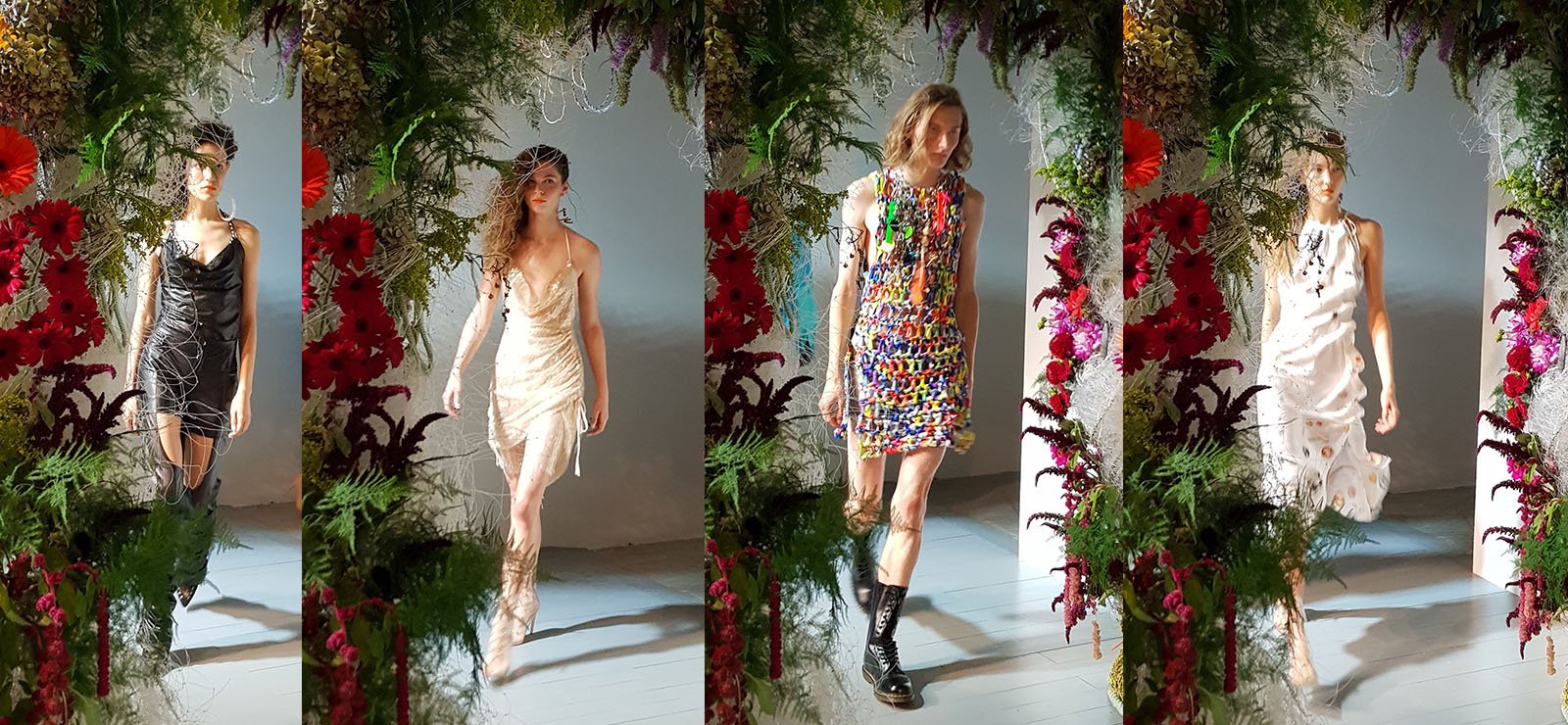 Hipster shorts descending to waders also make a stylish companion to a Black top above to the left with a low cut neckline offering a sassy and confident option for events. To the right a Blush toned dress with shimmering sequinned fabric pulled to the side in a ruched style with a draw string hinting at sports styling. Thin sequinned stockings skim the legs in a Mermaid party look for the hot nights of Summer. Showing versatility always, a key attribute we all need to be mindful of the environment, a neon weave tunic dress to the right makes a bold statement. Referencing the pollution caused by plastic that then becomes entangled in nets, it creates a colour shockwave in the thoughts. To the right, a soft White cocktail dress composed of a single piece of silk carried tiny images of marine life on the surface and captures the simple draw-string effect of sportswear. It's a fun light piece for warm evenings.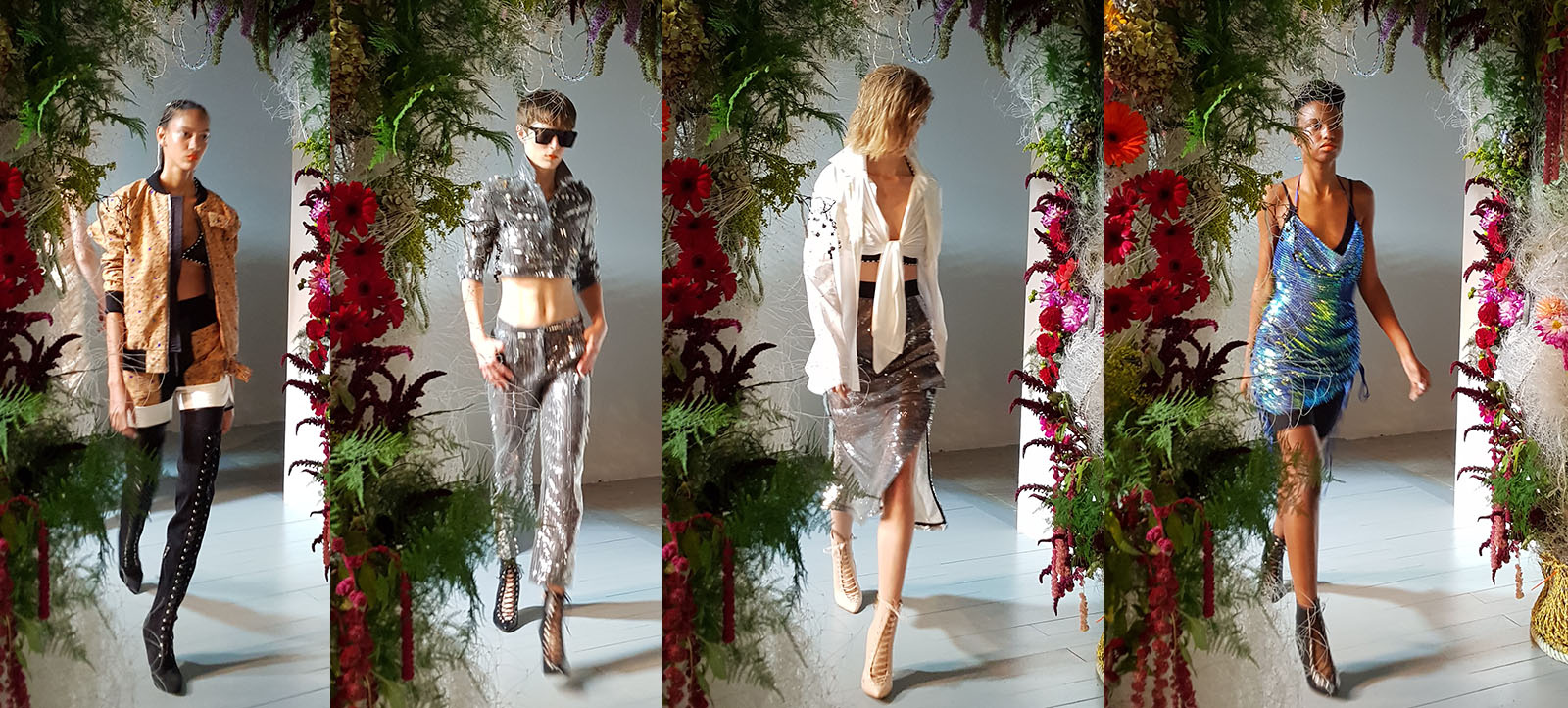 Bringing a rock element to the catwalk in the designs puts a clear emphasis on how the ocean and environment is something that is of interest to all of us and a future that we share. Bold creative print on a jacket and shorts teamed with a Black bikini top and long over the knee boots gives a look of streetwise power. Moving to a look of pure shimmer (apologies for a rare blurry photo) in a cropped jacket with trousers sitting on the hips you would light up the depths of the ocean with this look twinkling. To the right a sheer skirt with wrap fasten blouse and loose White blouse carry the casual hints of Summer. To the right, a Blue sequinned mini dress sits over a sports body suit in stretch fabric. Ready for some energetic dancing perhaps but a fun piece to party in across the Summer.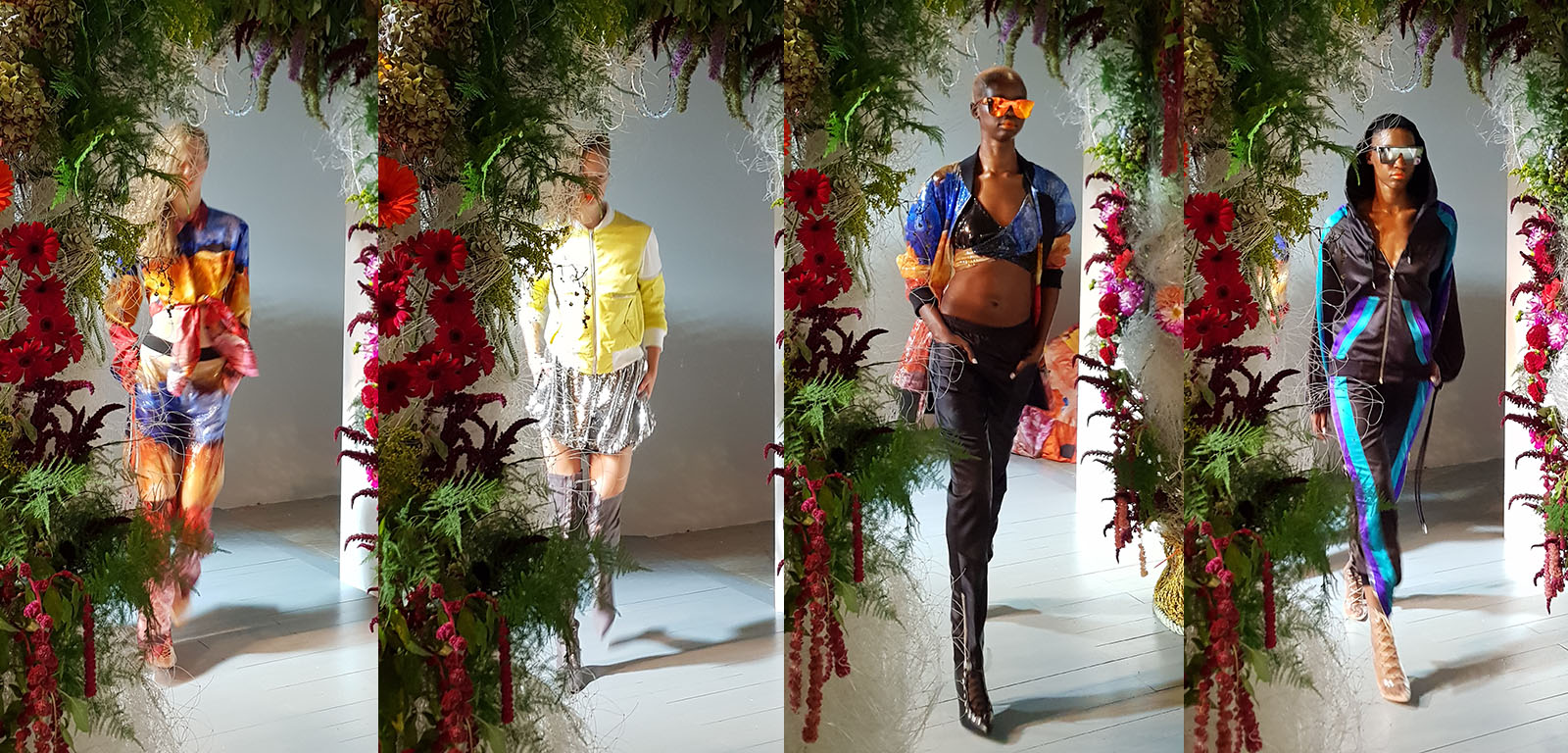 Bright colours dominate this collection and show the bright passion of possibilities for change. Above sports casual continues as a theme and jackets and shorts in almost-neon merge with banding of Black. A wrap top and a light jacket in bold colours match to Black trousers and a hooded tracksuit offers a stylish sportswear option for when you're out running or playing tennis or other outdoor sports perhaps on colder days. The volume of grand gowns is made a twin with sustainability in a broad trailing full skirt to the left below with a light cotton jacket infused with the print of life. Pink and Black appear in a statement jakcet, shirt and skirt combination and also in bespoke house prints to close. It's a punchy Madonna meets new romantic look from the early 1980's styled for today to take on the world and look it in the eye. And to finish with a moment to pause and reflect on the peaceful yet slightly haunting archway. We have time now, time to change things but we must not wait. Fyodor Golan illustrate that we all must stride forward and focus day by day to create change.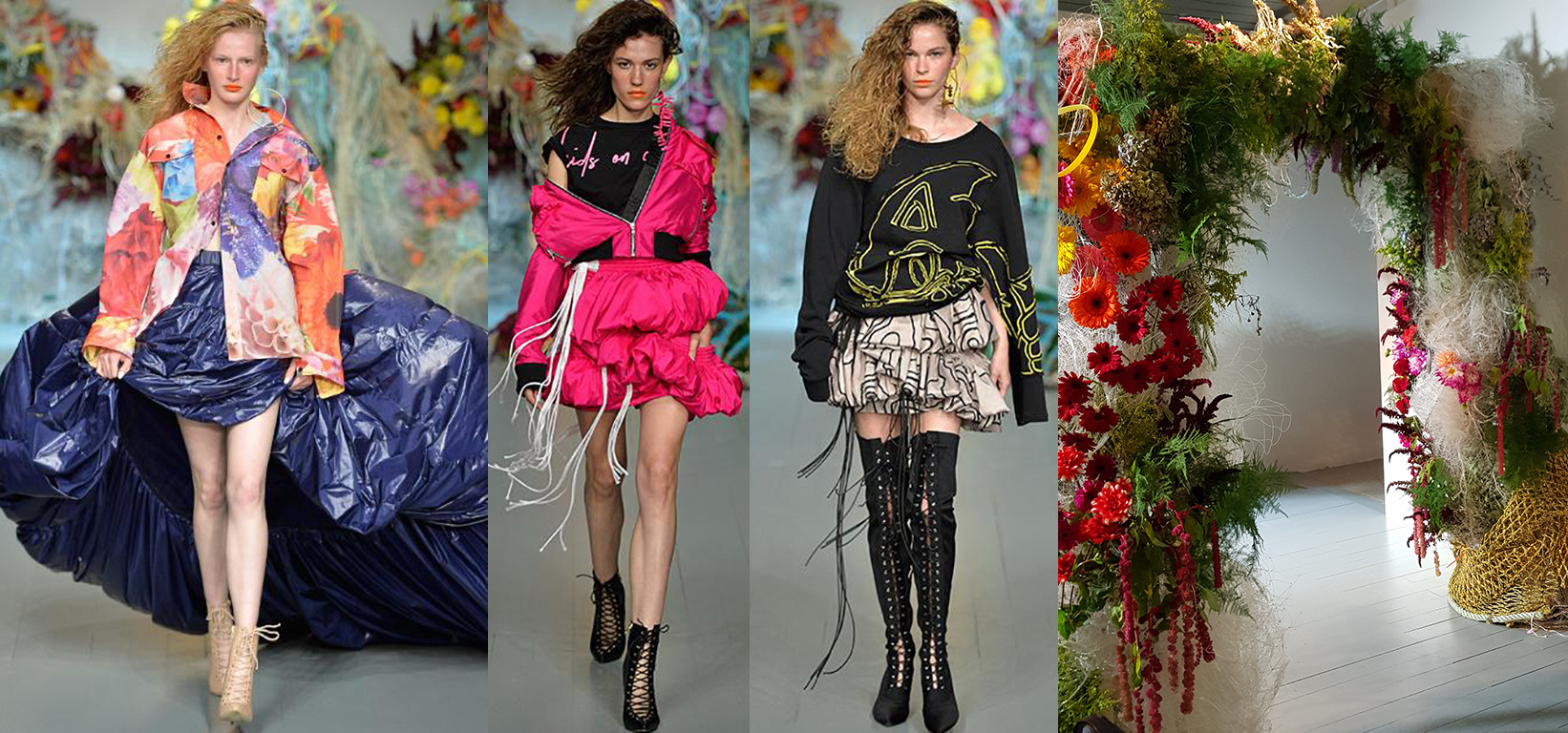 Alice Archer

Image credit: Alice Archer

Alice Archer is one of the most followed young designers producing beautiful evening and occasion wear to show in London. Her clothes are simply beautiful and the light delicacy of her work combined with quality of workmanship make her pieces treasured. Each season she brings out a collection of around twelve to fifteen carefully considered pieces that almost universally ahve something to offer women looking for a piece of occasion or daywear.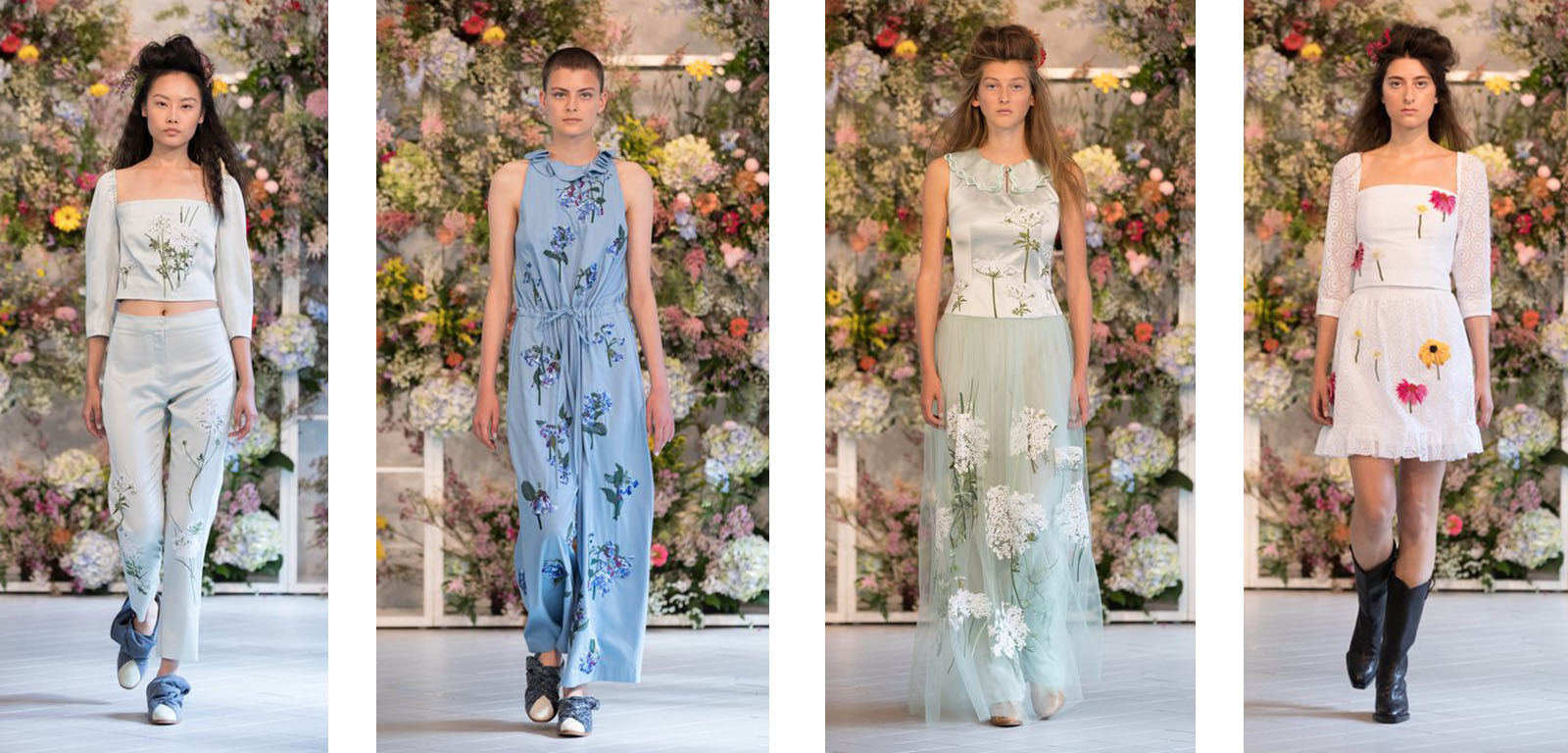 A sweetly feminine collection opened with a Pistachio trouser suit featuring a jacket cut in cropped style at the waist. Gentle flowers weave across the surface of the fabric curling up the legs and placed centrally across the jacket. It's a soft beautiful look accessorised with soft fabric wrap around detail in the shoes that offers extra comfort. These are clothes to relax in and enjoy as well as looking beautiful. To the right a Blue sleeveless dress patterned with flowers heralds Spring and lighter fun days ahead. Drawn at the waist, it gently sits on the figure in a carefree manner. To the right a sophisticated Mint dress with silk satin bodice descends to soft tulle pleats embroidered with pretty flowers. Cut in a sleeveless style it's ideal for Summer florals on warm days and evenings and also hints at Alice's new expansion into Bridal wear which her styles often suggest. To the right a White bodice and mini-skirt combination with sleeves reaching below the elbow is patterned with light Pink and Yellow flowers. Looking effortless and carefree it's teamed with Black boots to give a style edge and an easy look for the daytime or Summer parties next year.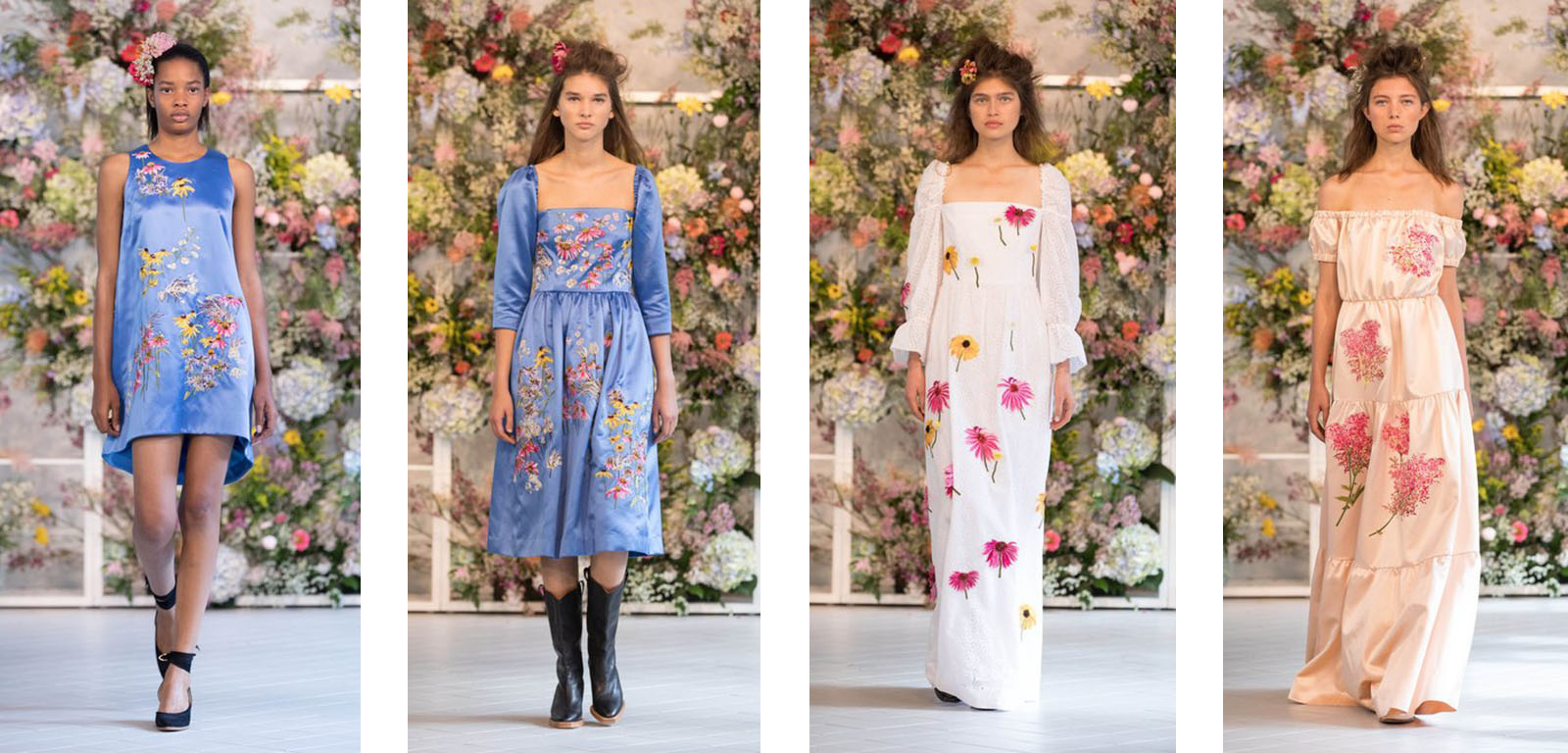 There is a Chinese feel to some of the pieces in this collection with flowers sewn onto silk. A pretty Blue dress cut at mini length is sprinkled with Yellow and Red flowers in a simple slip-on style. It's easy stylish glamour, pretty key for a busy Summer social season but to the right longer dresses also show how Alice has perfected the beauty of her signature fit and flare style. Bodices with shoulders echoing Renaissance and pre-Raphaelite lines descend to both knee length and floor length skirts. A second Cornflower Blue dress is followed by a White dress with Pink and Yellow wild flowers sitting in almost 'Empire Line' on the figure. To the right, a beautiful Blush Summer dress with flounce neckline descends through three bordered tiers with pin tucks helping to increase volume as the dress descends the figure. It's another romantic piece that would be beautiful to wear on a warm evening for a drinks reception or party.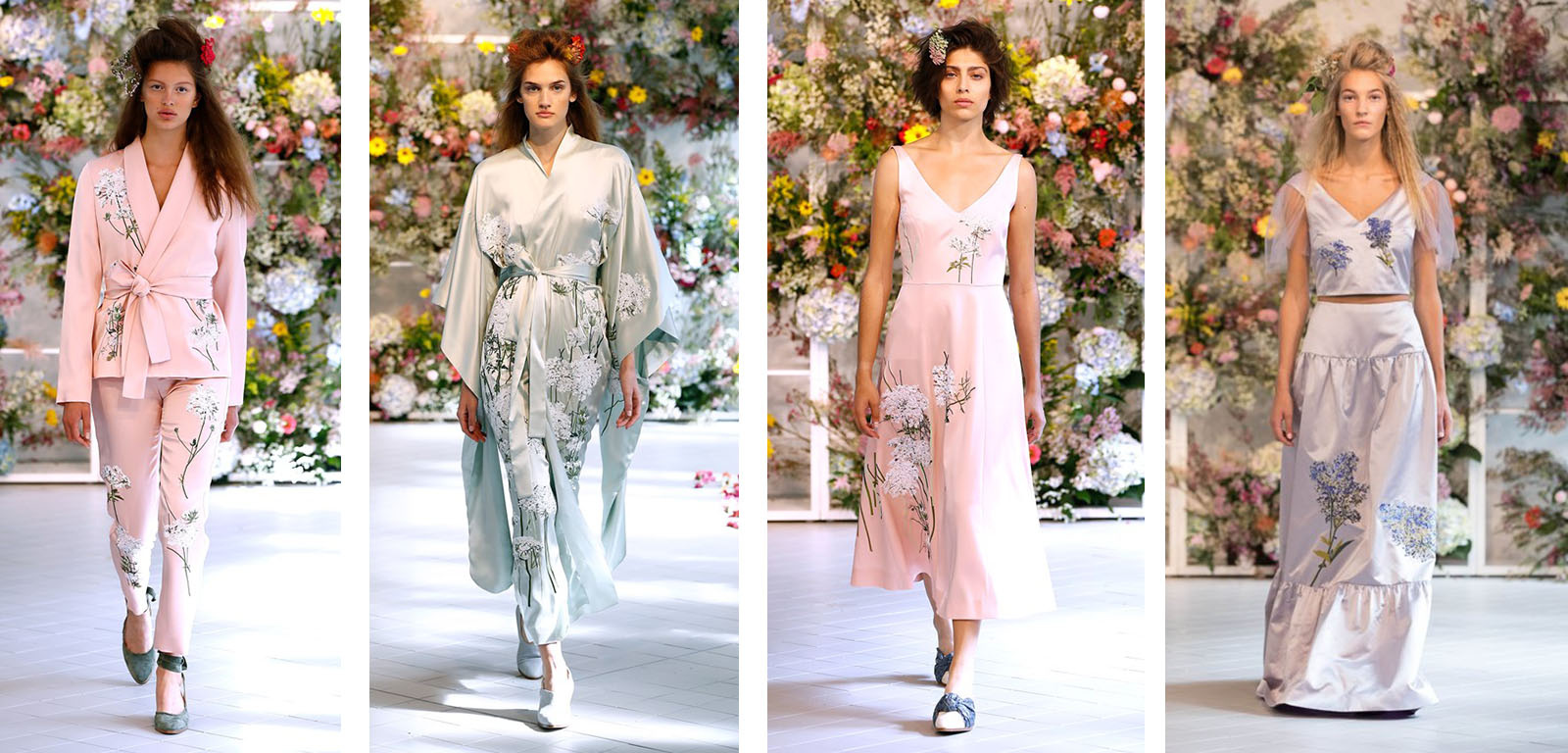 Further hints of the traditional silk gown of the east appear in the look to the left with a Baby Rose trousers suit decorated in florals sash tied at the jacket wist with a wraparound jacket style. The stems of the flowers are poetically matched in the colour of the models shoes also rooting her to the earth. A silk kimmono with long wide drop sleeves also signals a link to the East. Floral embiodery grows across the fabric cloaking the wearer in a silken sheath of nature. Baby Rose appears again in a sleeveless dress of simple design with the beautiful White flowers of preceeding looks creating a pretty clear design. To the right to close a piece with Bridal overtones in the form of (I believe) forget me nots' on a Lilac silk bodice and skirt. A soft light veil-like fabric sits on the shoulders of the wearer and this could be worn as a bridal piece by a bride looking to make an individual statement. Stocked in London at Fortnum & Mason and the Bluebird cafe in Covent Gardenoutlets in Dubai and Athens also allow clients to discover Alice's dream come true.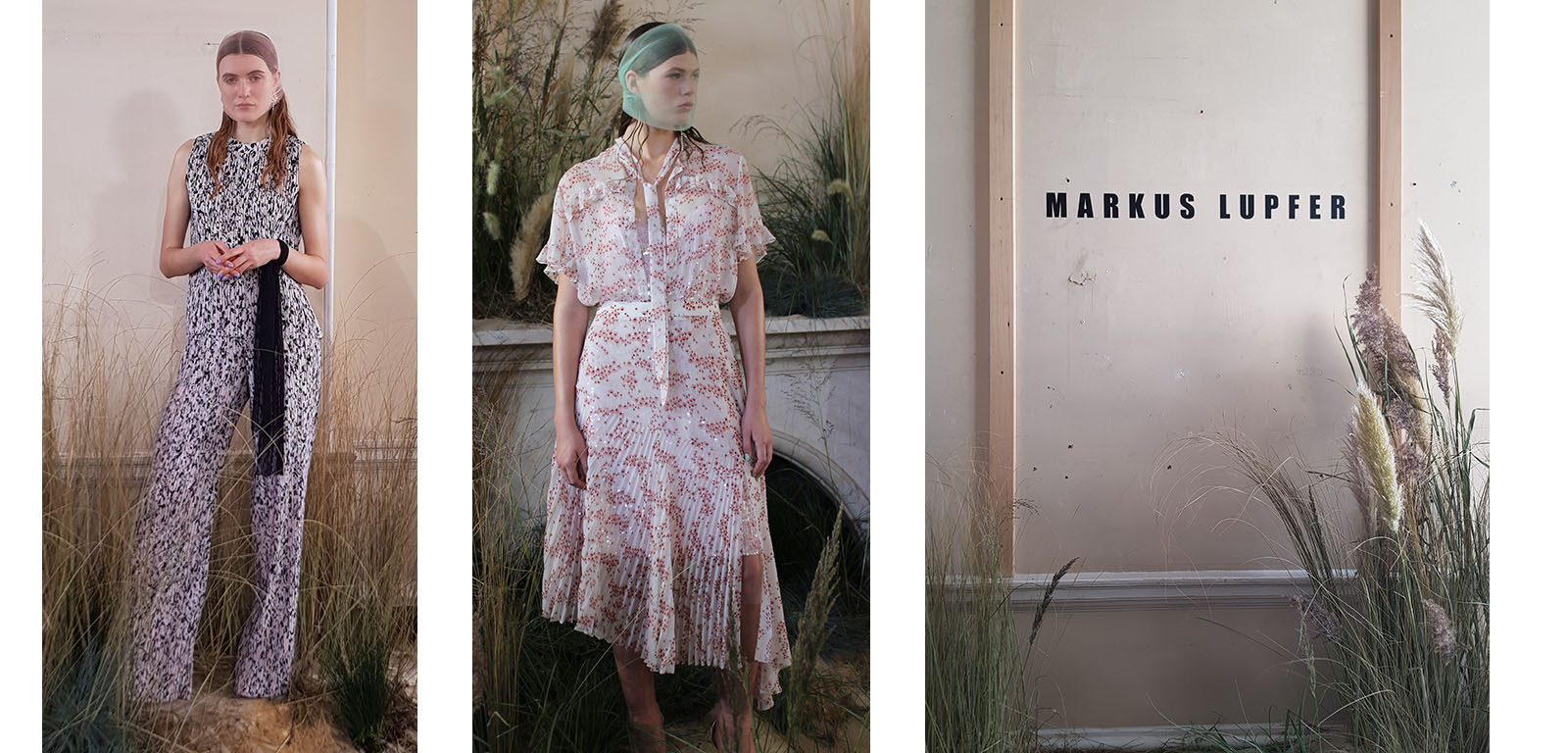 Markus has been a mainstay of the fashion week for over a decade and since launching his label in 1999 he has striven to show the strength and beauty of women through his designs. There is always a playfulness in his work with this season shown amidst sand dunes and grasses of the coast in the spacious rooms of the riverside Somerset House. His collection moved thorugh three main phases, prints, stripes and onto sequinned dresses. I greatly enojyed shooting ere and wished I could have stayed longer to see the full collection rotate but as always battling a tight schedule. Above to the left a blouse and wide cut trousters for a soft Summer suit cut sympathetically to the figure. Tied at the wrist a long sash can double tied around the waist and a sheer gauze mask over the face creates a contemporary veil of mystery as in the look to the right. Here a Summer dress with open blouse style bodice features a side-split skirt with large fine pleated hem. It's as carefree as the Summer breeze.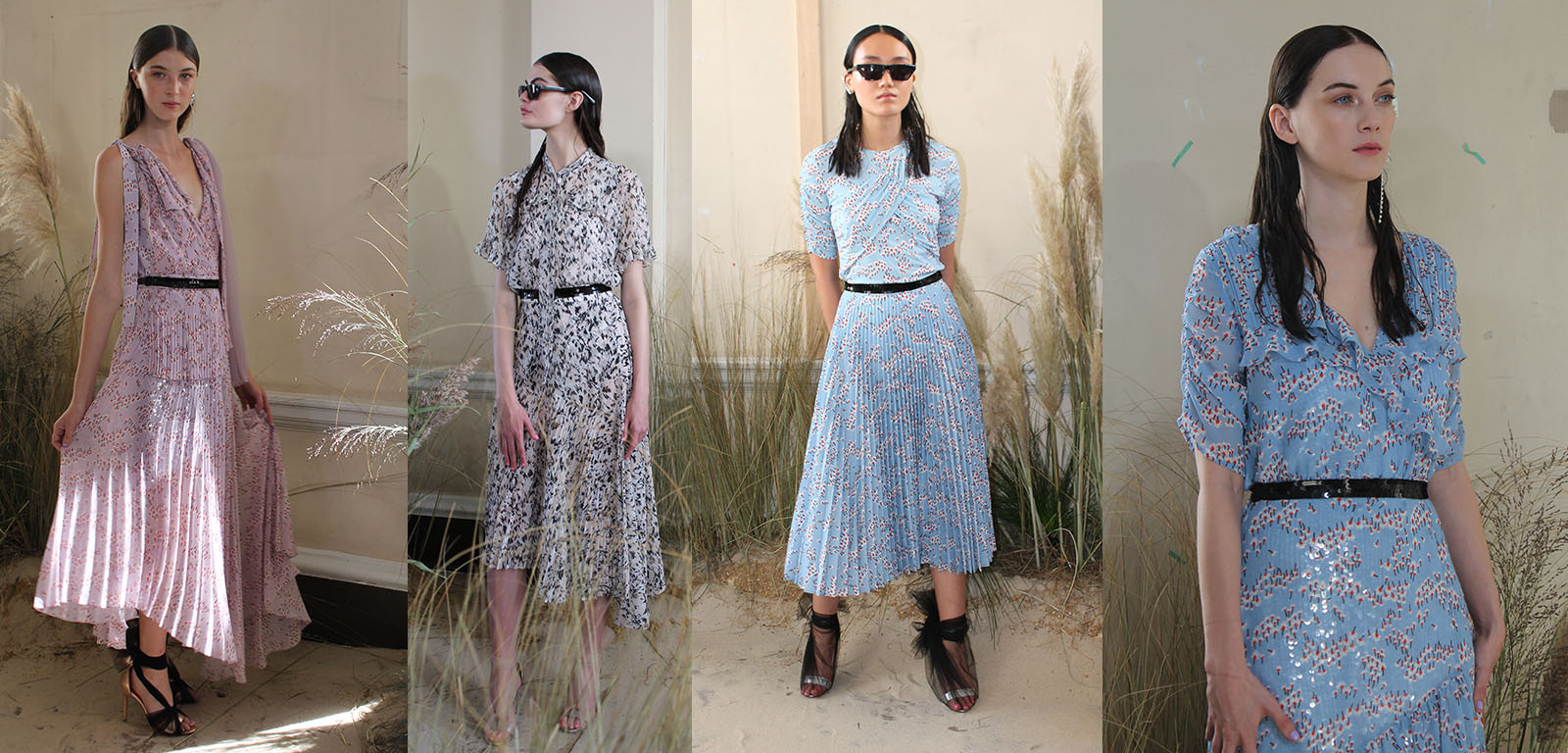 A fine pleated dress with generous volume in Cherry Blossom Pink is belted with the signature accessory that Markus has used in this collection. Sitting softly on the figure and descending gently from the neckline it's a light and easy piece to add to the wardrobe. Staying close to a simple tonal palette the next dress above in Black floral prints also uses a slightly dipped hemline to give another style variation. A small knotted pussy-bow tie at the neckline offers another style twist. To the right a further Summer day dress uses a subtle style contrast of a fabric cross across the chest and shoulders while descending to a circular cut tightly pleated skirt. It's a joyous fun piece that Markus gives to his clients. To the right, close up I shot of the detail in another dress also seen below with gathered waves of fabric and a bias cut border. Soft sequins across the upper part of the dress give extra light and sparkle to the piece.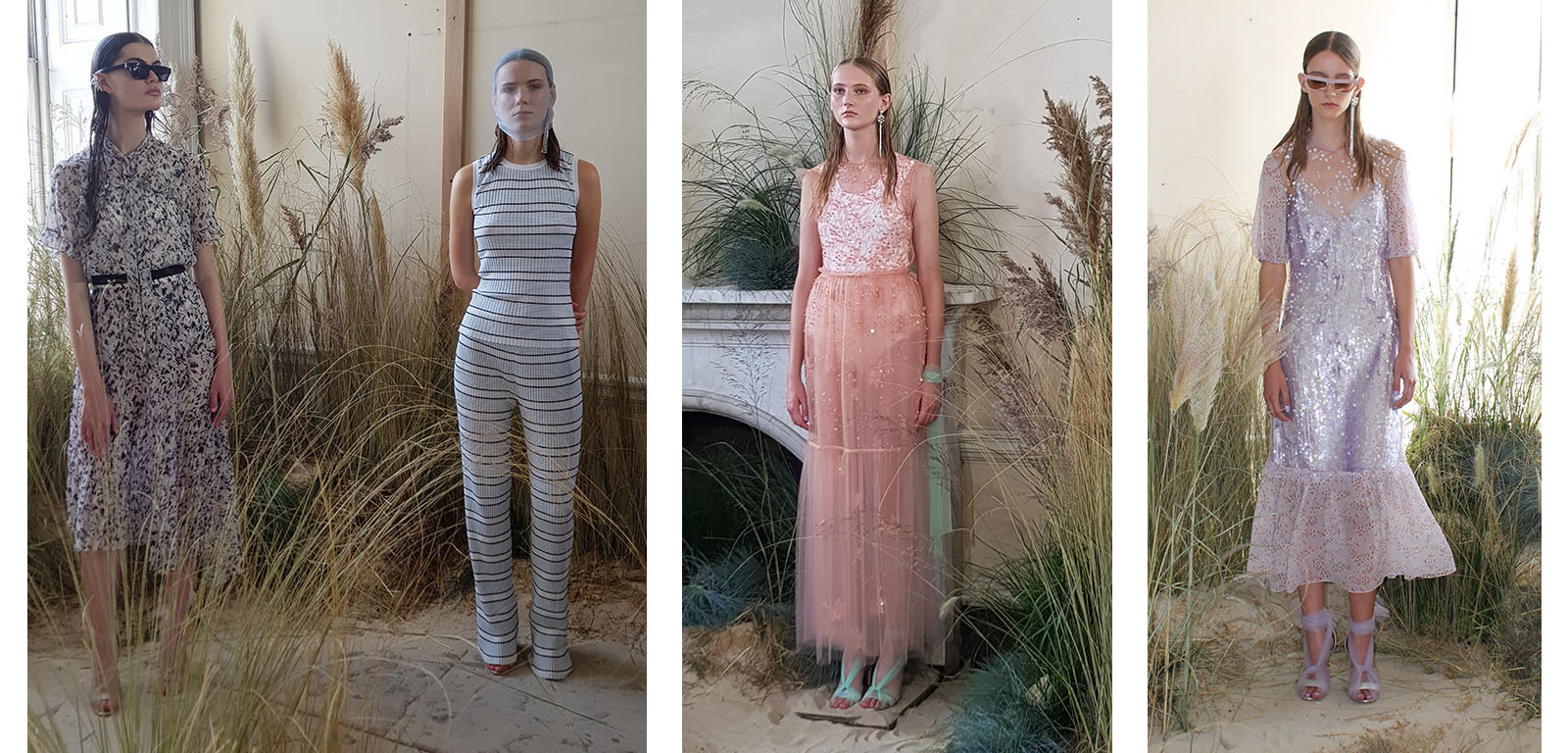 Soft strech fabrics are another area of the collection where Markus brings tonal diversity to his clients. A light sweater and trouser combination lend to his easy-luxury aesthetic and make another flexible addition to his wardrobe options. To the right a soft Blush shimering swimsuit is worn with a fine sheer skirt reaching ankle length. From pool to restaurant or in reverse it's an adaptable look and a Pistachio Green tie at the wrist is matched to shoes also composed with twists of fabric for the shoe uppers. A sequinned cocktail dress in light Lilac to the right offers possibilities for a cocktail or party dress with shoulders covered adn a dropped hem in a retro chic touch that Markus is clever at adapting.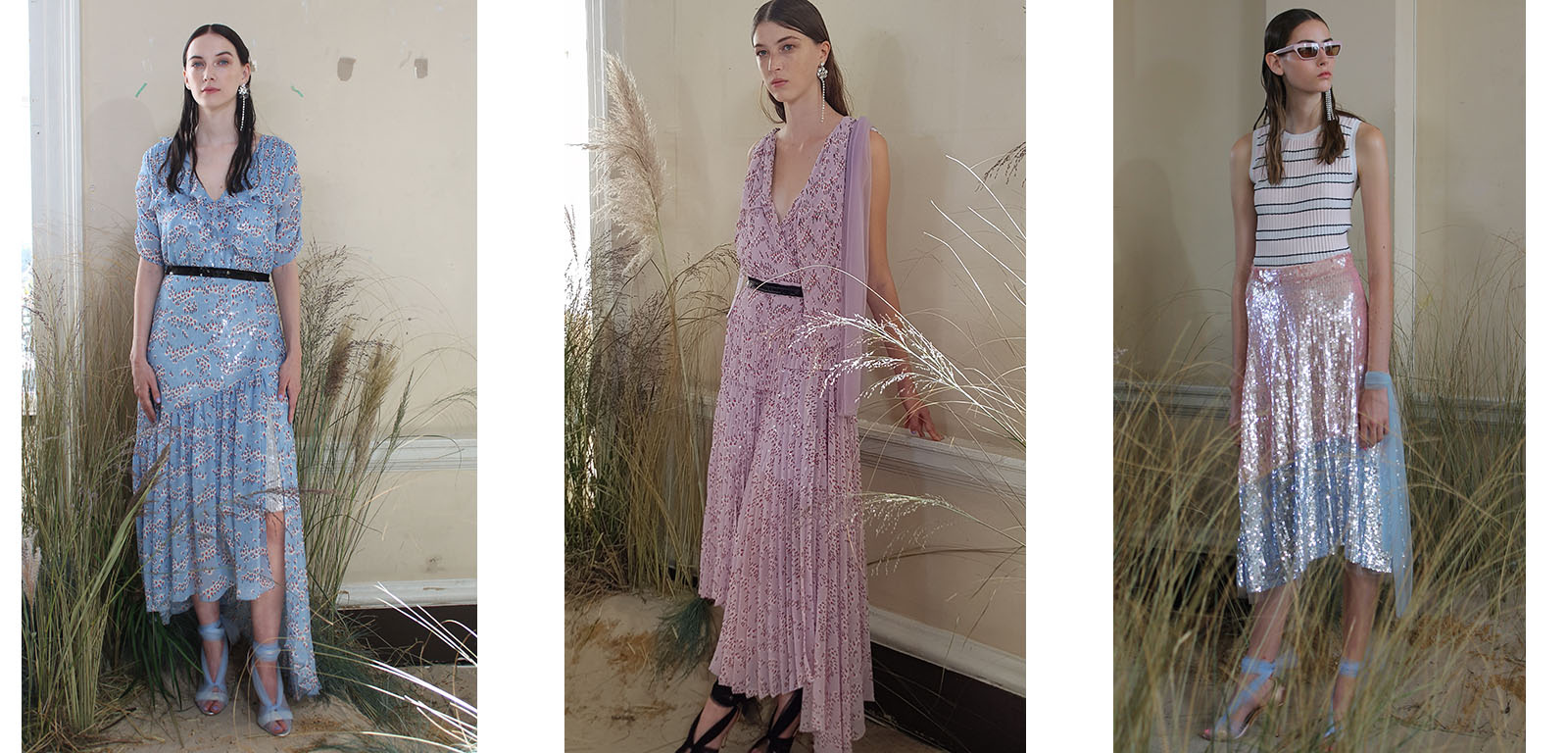 The Blue dress shown above is here in full length and a gentle side split demarks the spiralling length that curves round the figure. It's a pretty way to add volume without playing the line of the silhouette too much and adapts well to many different figure types. To the right the Cherry Blossom print appears again on a dress shown above that is this time hanging flat on the figure. It's long elegant lengths are suitable for drinks receptions and evening parties on the hottest of nights. To the right a cross-over between the easy sports wear and sequins of the formal pieces. Looking a touch reminiscent of the 1970's Disco era vibe this outfit with its soft shoes made with strand of fabric wraped around the feet in a soft wraping style.

Two sequinned cocktail dresses in Green and Pink create a mermaid meets stage glamour look. A Lilac veil partley covers the face of one of the models adding a hint of mystery and perhaps channelling the ocean whilst the Rose coloured dress with it's gentle drops of sheer fabric over s sequinned dress is a fun and sparkly glamour piece. To the right, a Lilac blouse with hidden sequinned bodice underneath makes a complementary contrast with a fine pleated floral skirt. It's a sweet and chic look for parties next season and has the hall marks of an individual woman with a sense of fun that Markus loves to dress.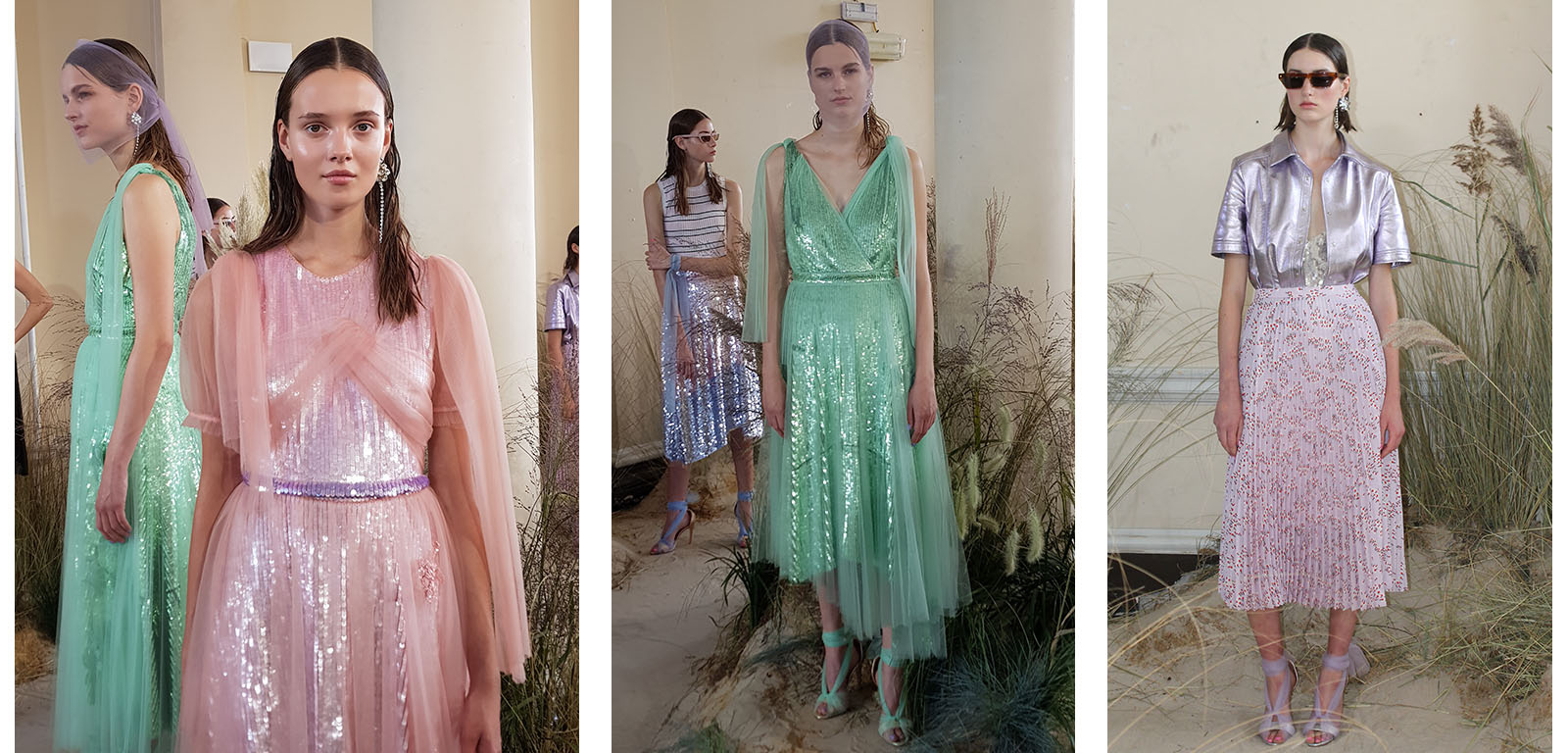 Julien Macdonald
Image Credit: Getty

Julien Macdonald really is a London Fashion Week legend and attending one of his shows is an unforgetable experience. The music pulses through you and the audience is brought ring-side to the Red Carpet itself walking with the heartbeat of the celebrities who will wear his clothes.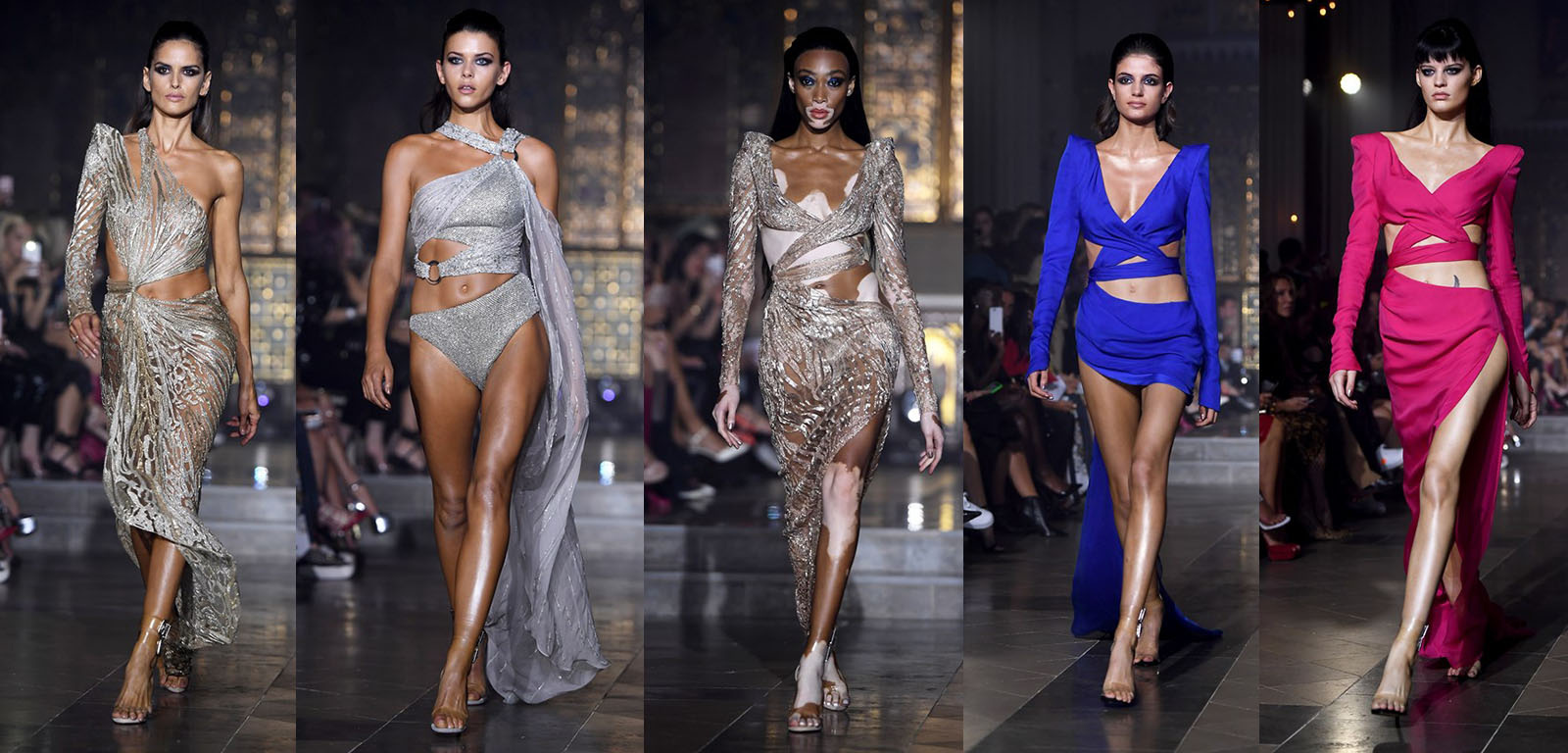 The collection opened with a bold flourish of a dress showing ice-like woven fabric wrapped around the figure. Julien's garments often fit his models like a second skin and he is always careful to cut sympathetically to the figure and work around the natural curves of the woman in her goddess like element. The model wearing the opening look literally appeared regal with a majestic flourish. To the right hints of sportswear possibly influence the next piece with a clasp tied gown draped across the figure and a sash falling to a modest train behind the wearer. Centre above Winnie Harlow walks for Julien as she has in several seasons showing his commitment to sustaining the promotion of women's strength and beauty. Fabric woven in the ice crystal cob web of the first look wraps around her figure in streamers of ice and to the right two dresses feature a very similar composition crossing the bodice in ribbons of Lapis Blue and Magenta above a skirt with a cut-away wrap composition.

These are rock star glamour outfits as fitting for the stage as the Red Carpet and private events. Julien's women, some of whom can be seen at his shows are brimming with confidence and know exactly what they want. Whether you're transfixing an audience in platinum of walking with silks floating behind you as in the next two looks the designs are works of dedicated creation. Two prints in Smokey Lilac Grey and Emerald Green create visual texture for the eyes away from the metallics that Julien also enjoys playing with. Centre above the Emerald dress with it's ribbons of fabric wrapped around the figure will compliment all skin tones and be a fresh burst of colour for Spring. To the right intricate knit composing a Black signature Julien Macdonald dress forms a classic second skin. For this model it blends closely with her skin tone but would also suit fairer skin if someone was looking to make a bolder statement. To the far right a Black dress in another bespoke print weaves across the skin and hugs the figure. For private parties and life in front of the camera, this is the look that will help you make special memories. The exploration of asymmetry is interesting here showing the mathematical element that can be picked up in some of Julien's designs.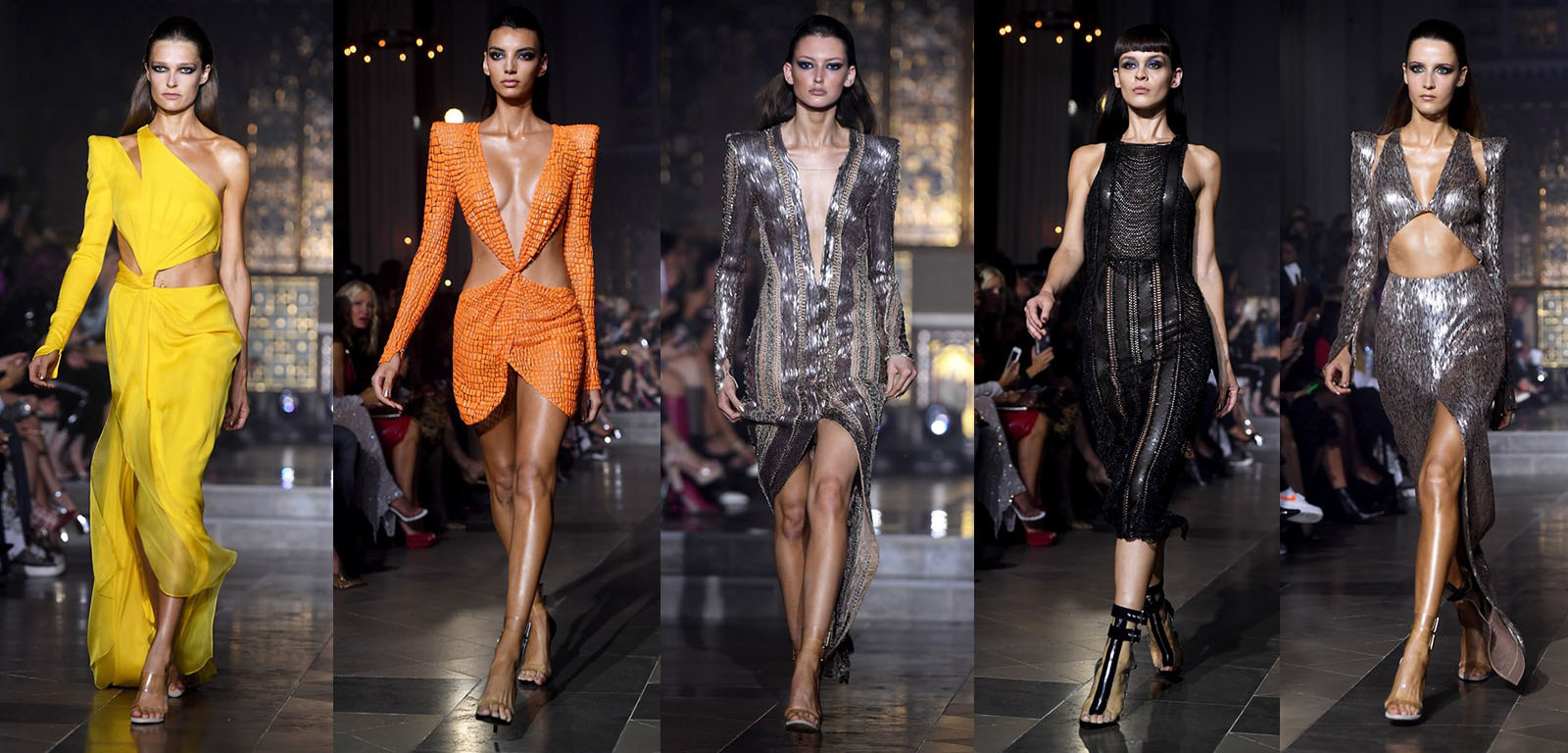 A Saffron dress with banded at the wist also displays the same playful twists with asymetry. The look is cool and confident but still carries the tenderness of thoughtful creation. An Orange dress printed in the image of animal skins is held in place with the slenderest of twist across the stomach. You simply do need to keep up with the fitness plan if you're going to wear this and for those that do, it's a flattering piece. Two more dresses in Silver and Black respectively use the close weave style that Julien has developed over a number of years to cloak the figure. Woven with precision geometry, they both flatter the natural shape of the female form. Angular cut appears to the right also is one that will best suit a well toned body and many people will find it flattering who have both taller and longer line figures as well as those with curvier shapes.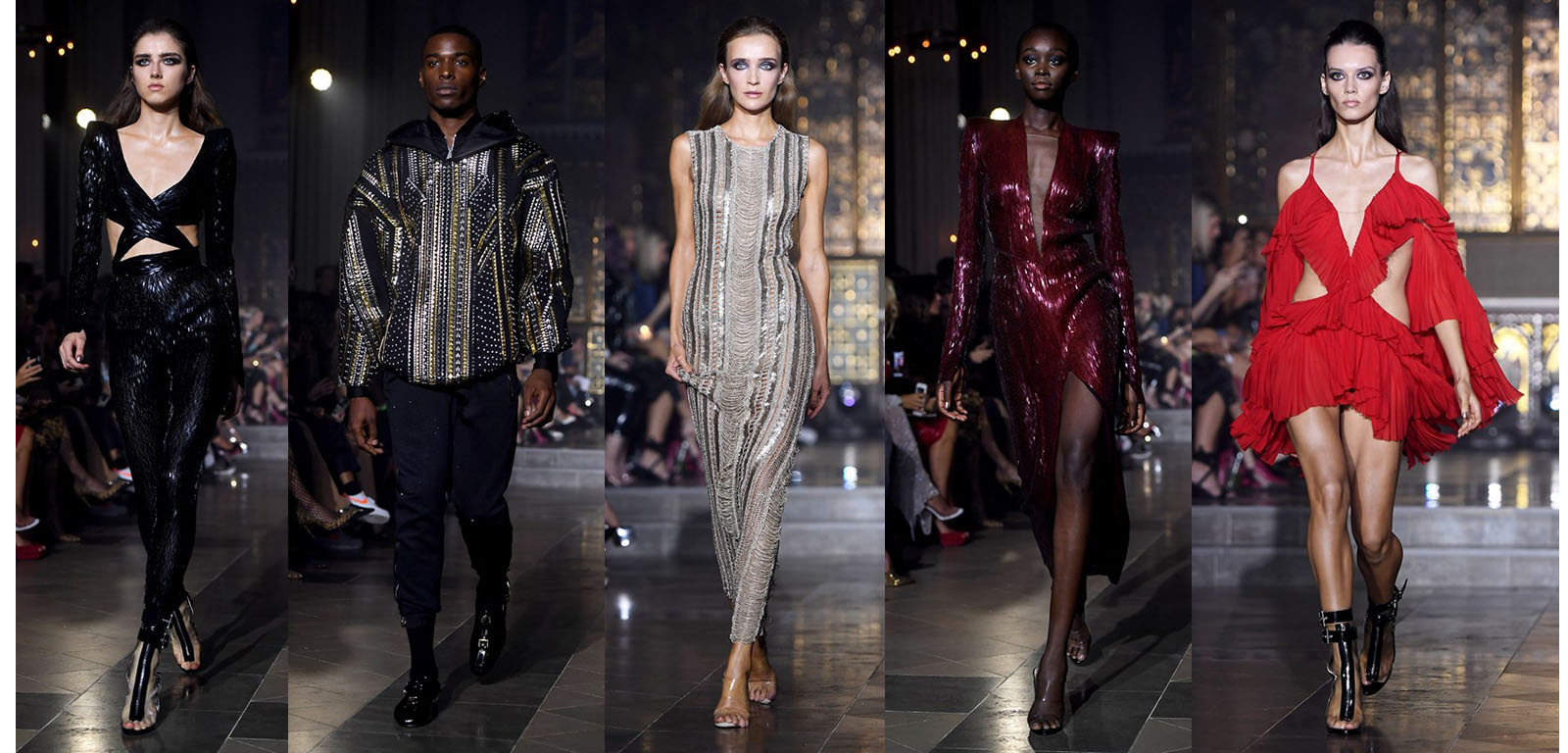 Sash wrapped fabric crossing the figure in a Black jump suit barely seems to move as the model walks in front of you and you realise just how honest Julien's look is. He also produces many Men's styles in each collection focussing around dark trousers and showpiece studded jackets in both an outdoor and lighter indoor form. Fine layers of horizontal thread tassels and sequins create a beautiful composition that moves wth the body in almost a liquid way. Liquid again appears almost in physical form in the Red dress above to the right split almost to the navel with a though split to the upper leg. A rosette dress to the right weaves a romantic shape around the figure defining the waist and hips in angulation in a way that flatters.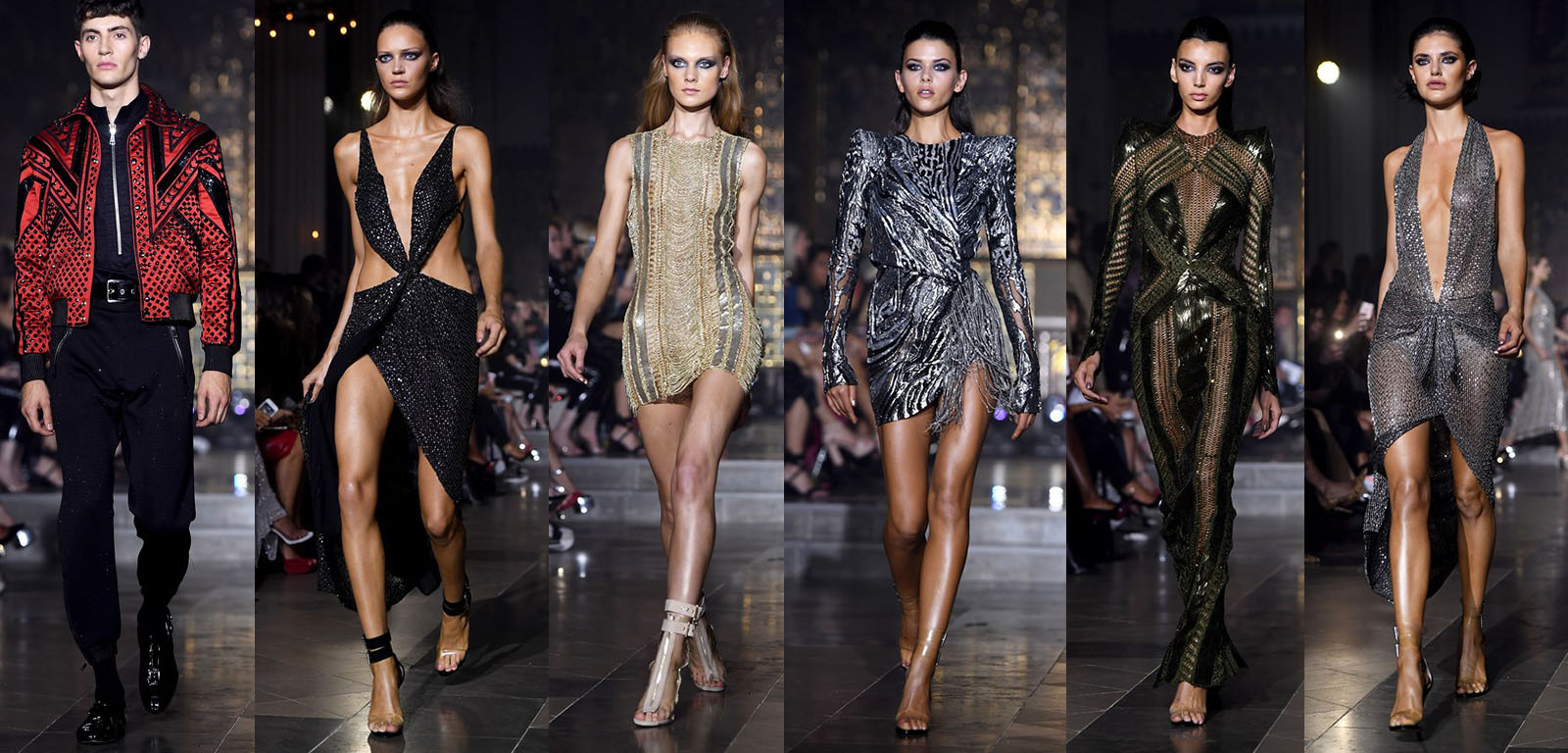 Another of Julien's menswear looks features a bold Red jacket studded with chevron detail and Black trousers softened from an army look. With a waist accented by a twist of fabric as for earlier garments in the collection the upper sashes of fabric stretch out across the skin like wings of a bird above a skirt draped around the hips. A mini-length version of a dress above, this time in soft Teal and Gold leaves the figure partly revealed and partly hidden. To the right a broad shouldered power dress keeps this high impact looks coming with print in the garment imitating the natural lines of woods. To the right a dark Emerald shimmering dress sets reaches ankle length in close weave. Note the model is wearing 'invisible' shoes as seen on several other looks placing full emphasis on the dress. To close my look at the collection a dramatic dipped neckline above a sash-tied waste has hints perhaps of the Egyptian that would create a show-stopping entrance at a party or reception next Summer.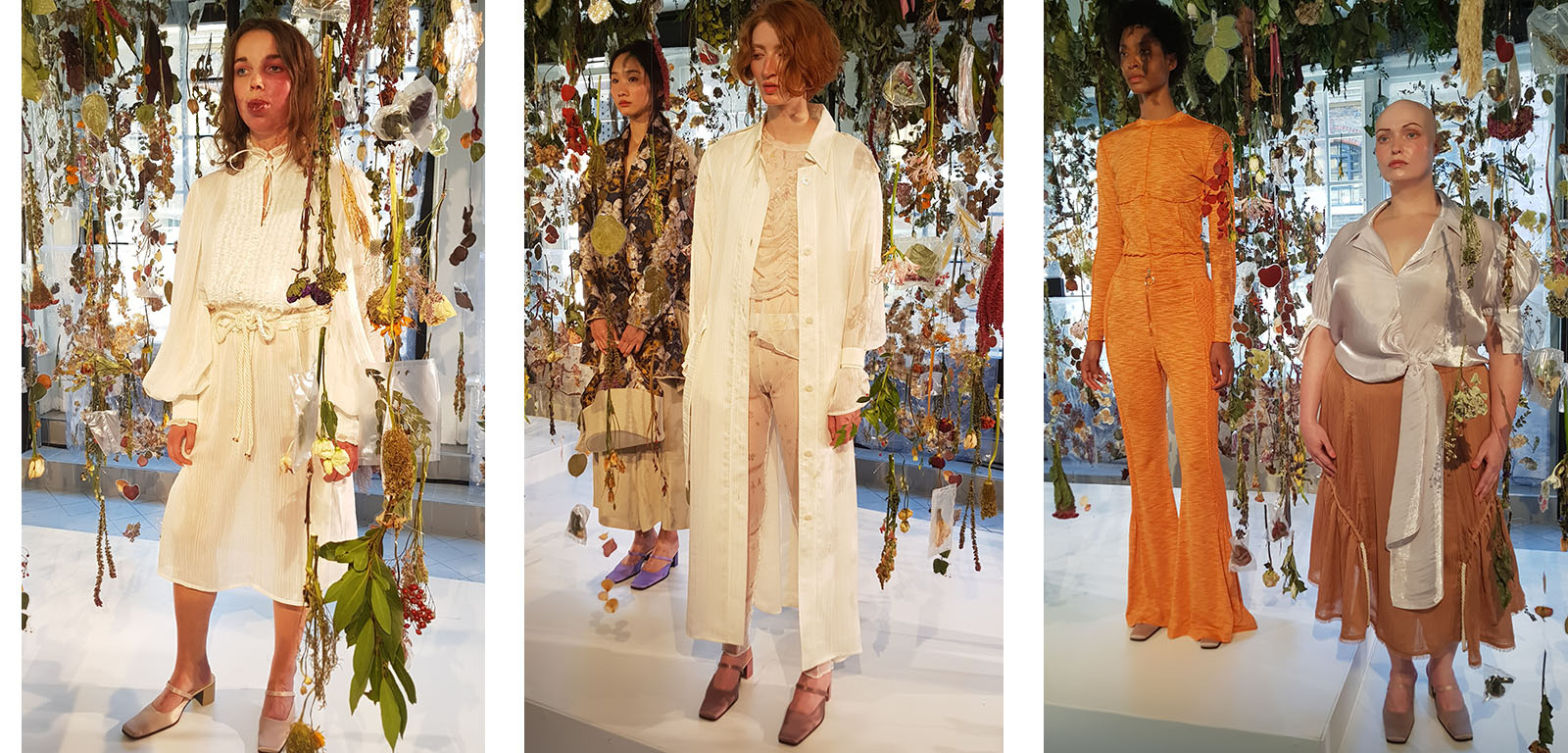 For Spring and Summer 2019 Steven Tai was adamant that he wanted to show all women are beautiful and that we must all embrace each other and not keep some faces and bodies out of the light. Models wore a variety of soft styles with a sheer and opaque light fabric amongst the floral display. A White blouse and light skirt are tied with a simple chord captured a mood of the country to the centre a floral long coat and linen wide trousers blended with the decor whilst a long White shirt and soft lace day suit represent casual luxury. To the right a bold Orange jacket and trousers work a 1970's retro look with a silk blouse and satin skirt showing a flexible option for drinks parties and receptions.
The collection manages to meld a soft romantic look with hints of sport and style quirks. The gathers of the drawstring athletic kit also add an interesting style feature to the soft satin pieces of the Summer wardrobe. The high cut blouse to the left could be also worn with jeans, for example on cooler Spring days.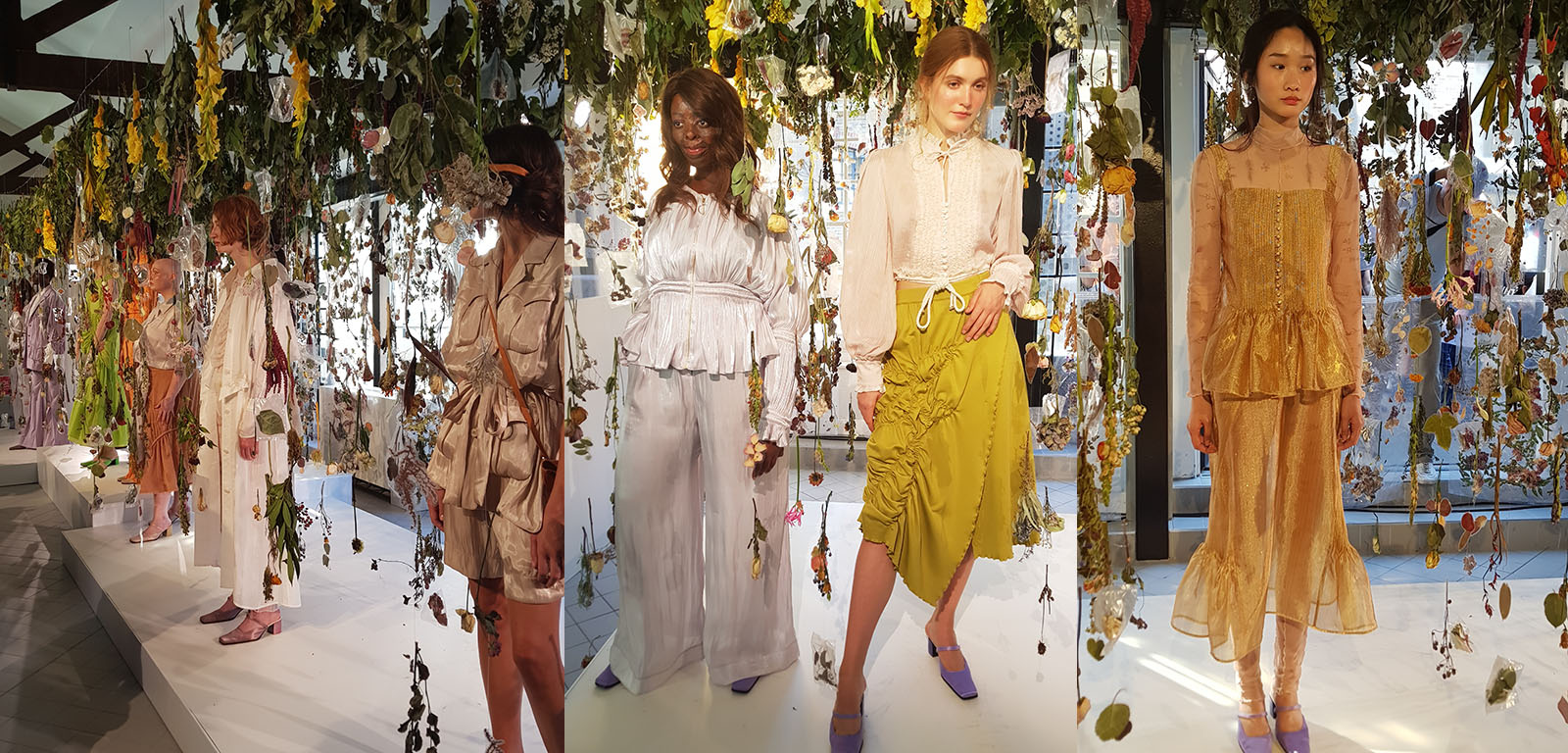 The frieze above shows the full range of the collection through which several looks rotated. Crushed silk fabric above forms an easy to wear lounge suit and above to the right a Golden blouse and skirt form a beautiful party look. Below to the right a Caramel coloured outfit that hints of travel and expeditions is rendered in soft satin gently sitting on the skin like a whisper whilst still looking utilitarian and practical. To the centre a Brown suit also works the safari theme with a very eye catching weekender tote bag. To the right, a White blouse dress with ruff collar emphasises the light beauty of Summer as Steven reminds us, it can be found everywhere.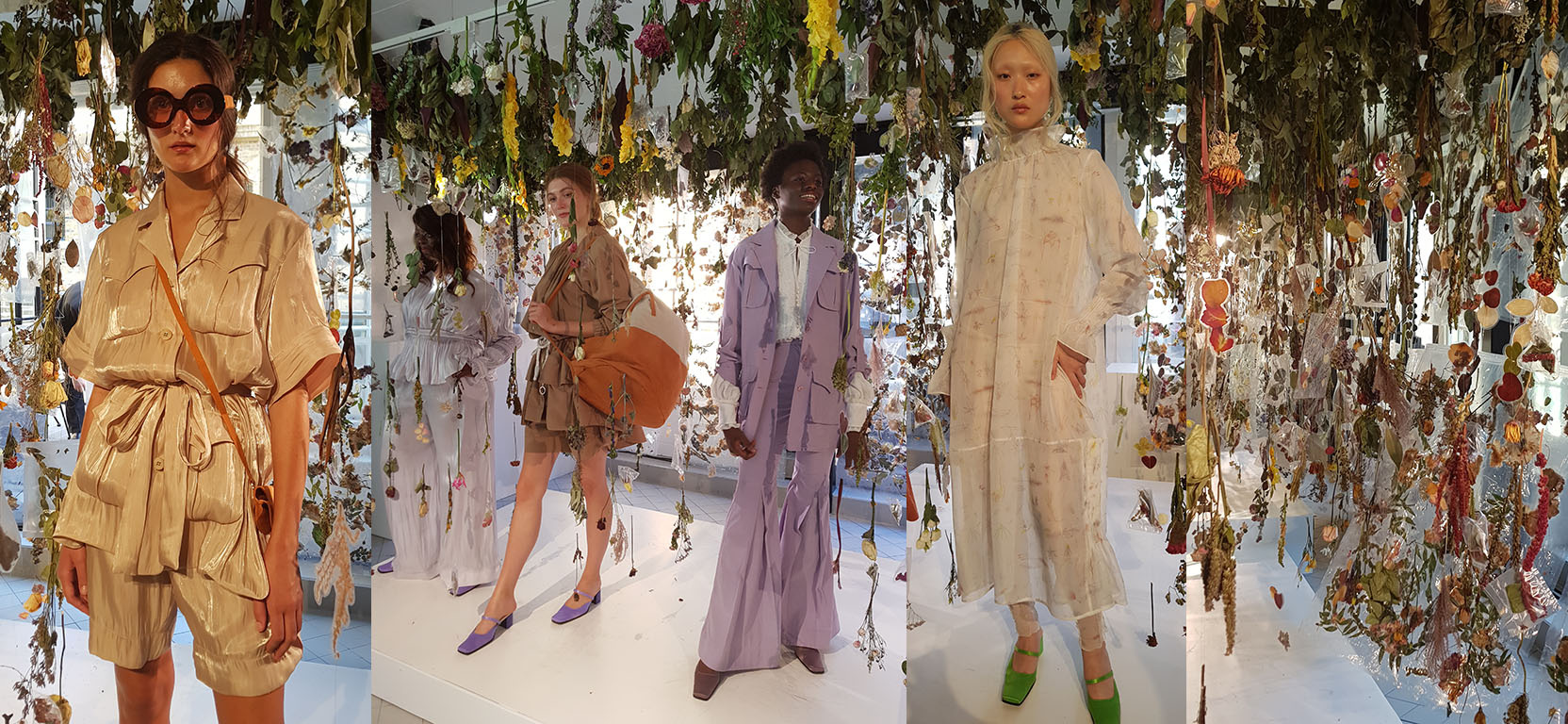 Christopher Kane

Image credit: Christopher Kane

Christopher Kane and his sister run one of the most dynamic high fahsion Houses in London and are a long term presence on the London Fashion Week show schedule.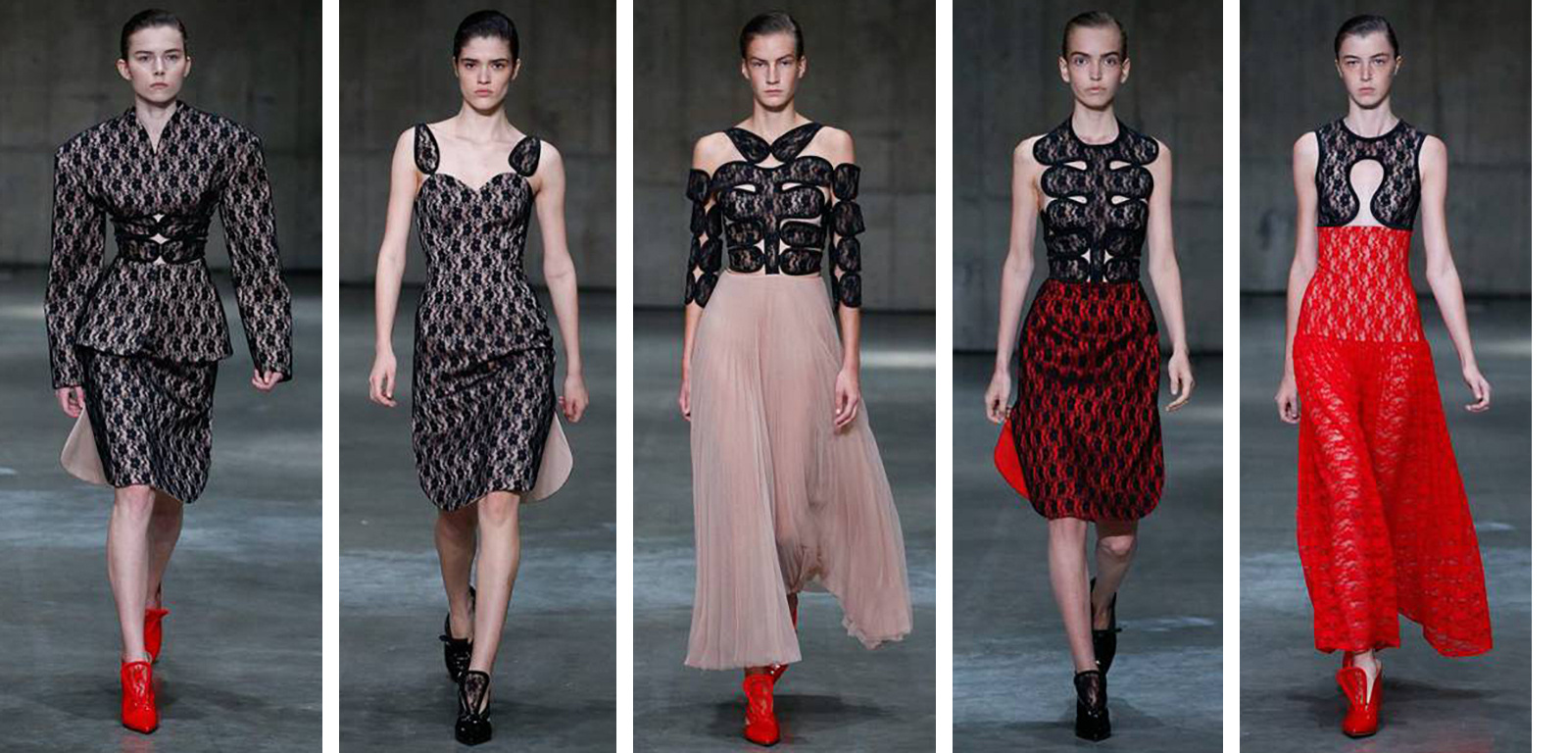 Woven lace enrobes many models in the early part of Christopher's collection with the first look comprised of a skirt suit fastened close at the waist with escalloped bows across the figure. A slim waist and wide shoulders form a visual contrast through the line of the jacket that feels fresh and inspired whilst using a traditional fabric. You could say this for much of the collection in fact. A cocktail dress in the same fabric features the same rounded shapes at the shoulder, echoed in the scalloped bodice, almost in the shape of shoulder epaulettes translated into a style feature to be placed in a creative alignment. It's a chic adaptable piece to have. Centre above, A dress bodice composed of these epaulettes in cutaway style also banding the arms like sleeves contrasts with a Blush coloured finely pleated skirt. The lengths reach to the ankles in a demure counterpart to a daring top. To the right a similar bodice, this time sleeveless matched to a oval cut knee length skirt with Black lace backed in Scarlet fabric. Further right, Scarlet and Red appear again to form a sheer lace two phase garment that like it's counterparts would dazzle on the Red Carpet come Spring, Summer or any season.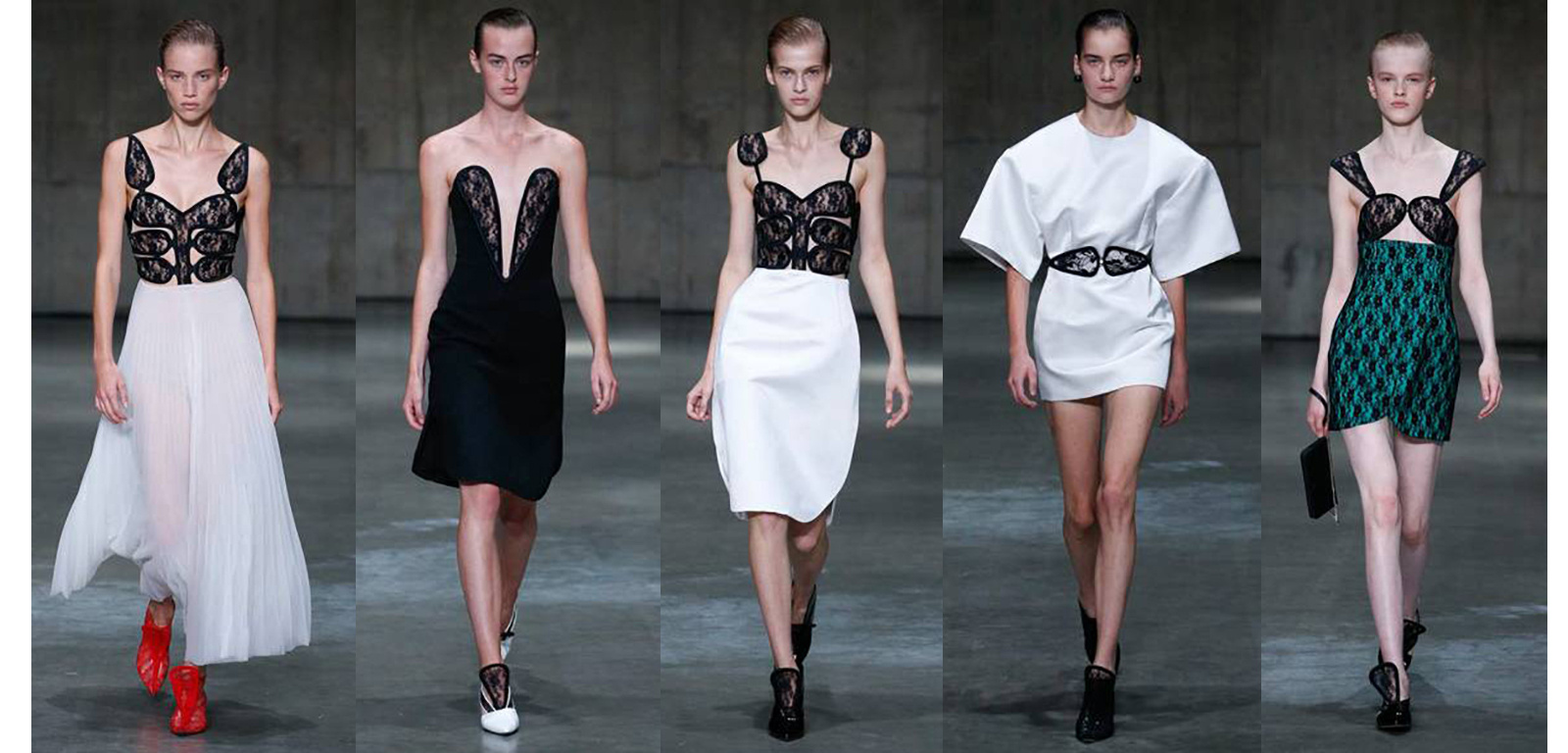 The epaulet feature is clearly an idea that brought forth a series of possibilities and moving to a monochrome Black and White phase, Kane and his design partner sister deliver a series of classics that could dress clients for many different occasions. A Black lace tear-drop epaulet bodice is matched to a White pleated skirt offset by Scarlet boots. Light and carefree it captures the feel of easy glamour. A Black knee length dress with cut-away plunge neckline fringed with lace captures neat simplicity and like all the pieces of this collection would be very easy to accessorise. Centre above another re-working of the simple bodice shape appearing as though lace pieces have been sewn together yet barely touch each other. Matched with a knee length pencil skirt cut open at the left upper leg for ease of movement, it's a perfect date night look that would also work very well for press commitments in front of the camera. A shirt dress using the epaulets as a waist defining feature to the right channels a more creative arty look and to my eyes it looks perfect for a Summer party at an art gala or drinks reception at a loft in New York. To the right a mini dress with Green skirt is cut close but comfortably to the figure with chic definition at the bodice continued in the lace outer shell of the dress. It has a feel of cosmopolitan ease that is largely captured by the collection and would be easy to match with a jacket or purse combination.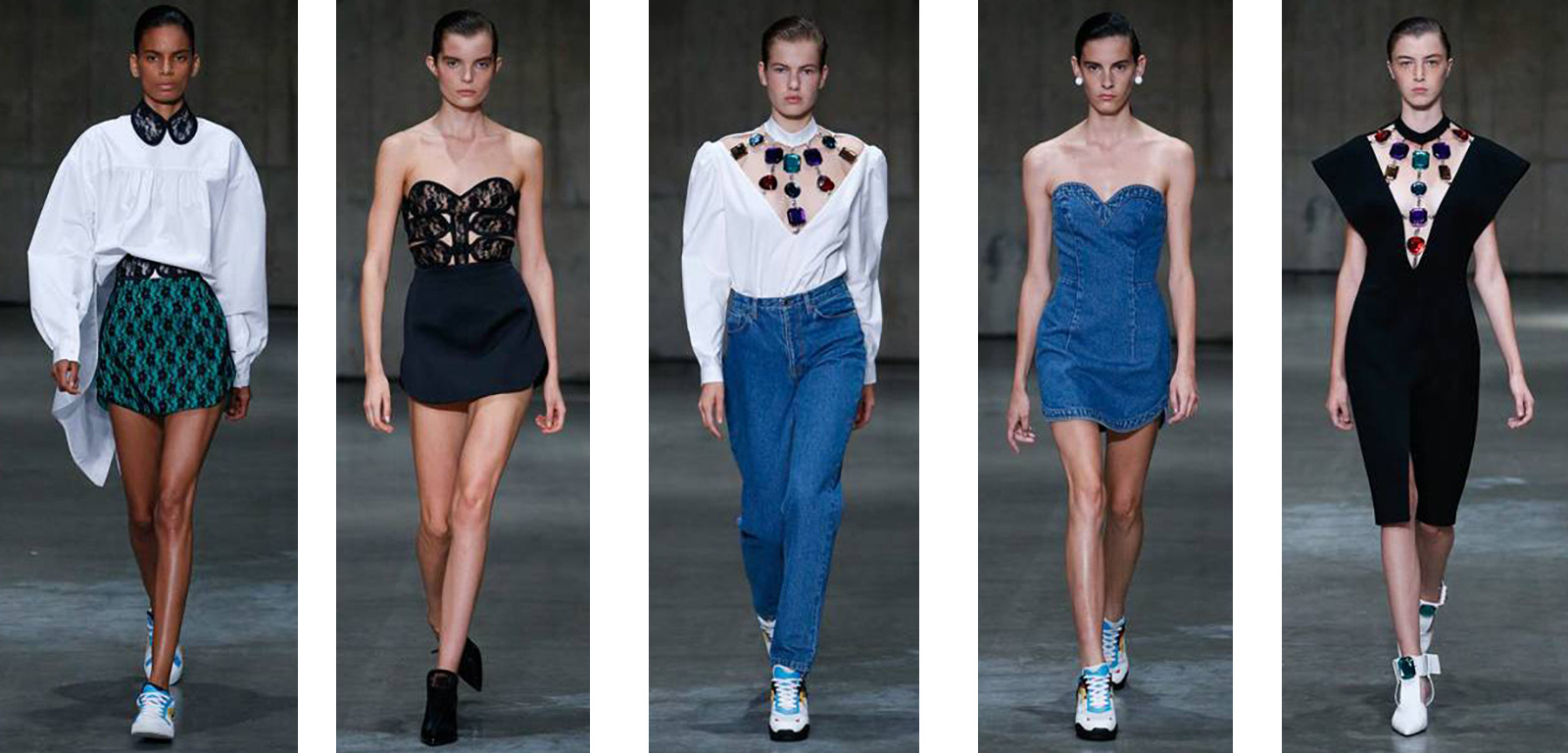 A loose cut blouse collared with an epaulet wrapping around the neckline forms a soft flowing garment. Mimicked at the waist, this style detail creates an attractive tie around with the Black lace duplicated in a Green mini skirt creating a charming tri-colour look. A Black mini-skirt and micro lace bodice hug the figure and create a look for those with absolute body confidence. It would be perfect for events on hot Summer nights and a reliable party piece to have on standby. An interesting juxtaposition is created in the next look with sheer fabric printed with giant jewels contrasting with the casual denim of comfy fit cut jeans. With a blouse also featuring pin tucks at the shoulders to create plumes, in one move it synergises opulence with the humble. A denim dress, something that we all own at any one point in our lives features a scalloped sweetheart neckline and the familiar broad distressed seams of the staple denim and jeans and jackets. There is something playfully wonderful about combining the refinement of high fashion tailoring with this fabric of the working man and carefree Summer sunshine. To the right a Black dress with sheer fabric across the decollate printed with giant gemstones creates a high fashion garment incorporating jewellery into the design. It's an elegant design forming a cutting edge way to express style.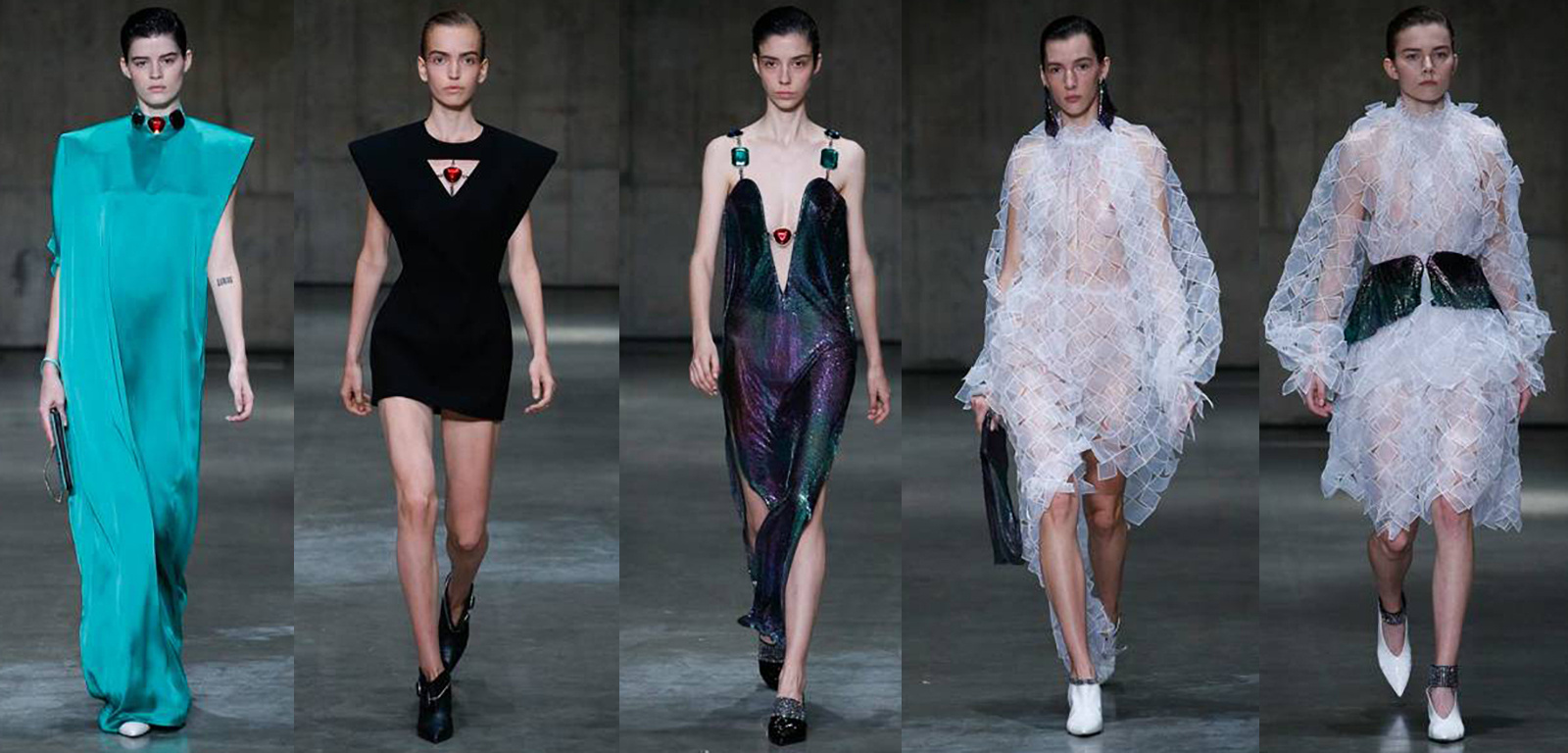 The interest in the triangular form set against the curve of the human figure. Angulation at the shoulders descending to loose flowing fabric in the lengths of the dress in bold Teal creates striking evening dress combined with large crystal jewels at the neckline. Looking somewhat futuristic, this series of dresses looks ahead to another age where geometry has an increased influence in design or perhaps it also finds harmony with the ancient geometric symbols of Greece and Babylonia. To the right in Black a mini dress cut wide at the shoulders tapering to a neat circular waist features a single Ruby coloured stone across the chest. Located near to the heart it also strikes a note of resonance with the primal energy of love and the beating pulse within us all. A daring dress with dropped neckline featuring a Red heart stone between the fabric has a Disco feel to it with fabric undulating between Green and Lilac as the models walks. To the right two pieces exploring tessellation of fabric weave around the figure in attractive sheer lightness. Light itself is captured within the figure as the wearer walks dispelling any sense of deconstruction that the composition may imply to form to show the figure living inside a crystal.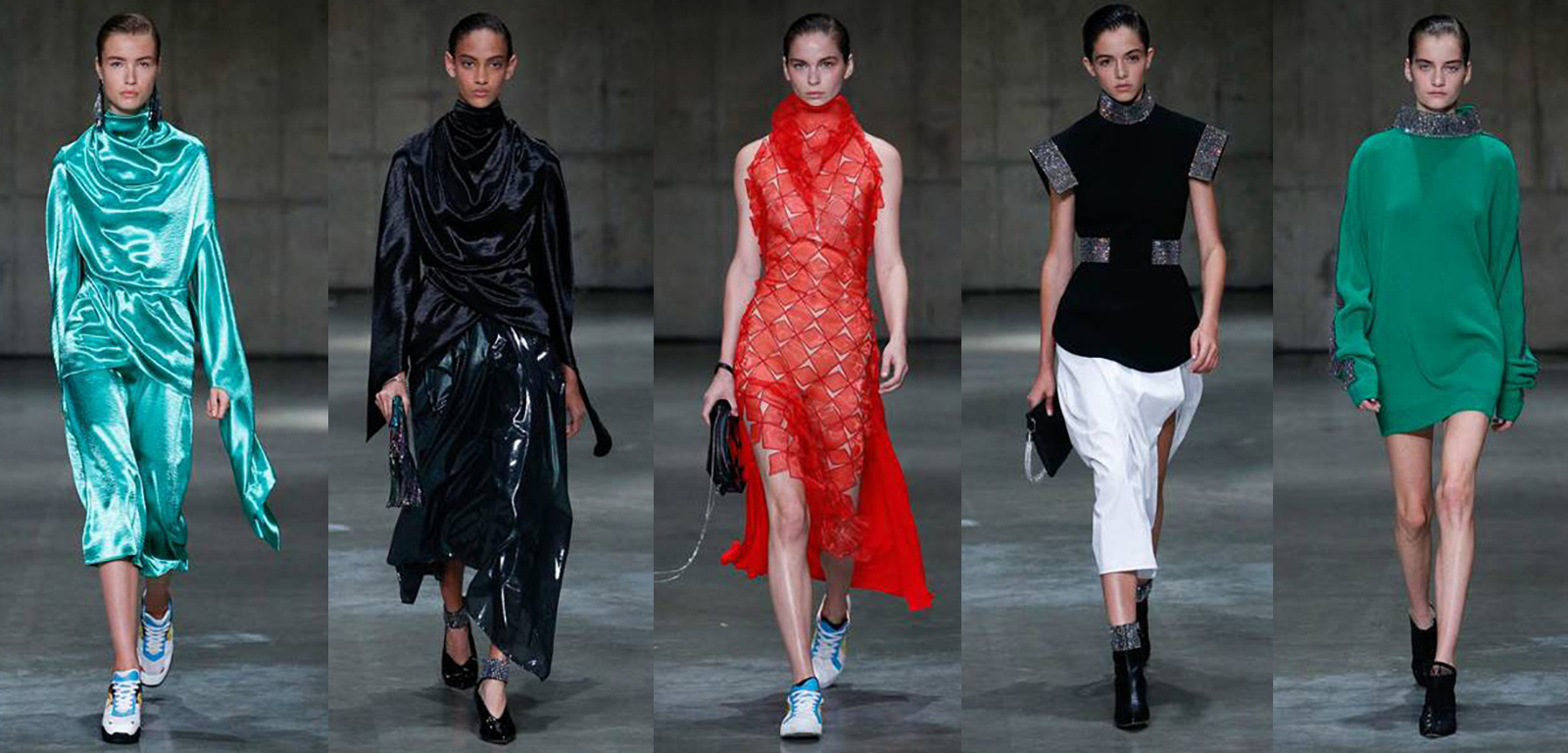 Fluid silk ripples across the surface of the figure in a dream dress with long trailing sleeves and polo neckline. Like the Black blouse of the neighbouring look that I placed here above, it appears to move around the wearer like liquid. It's an easy wear piece for cocktails and evening receptions. It has a sophisticated yet creative mood. It's the perfection of the draping that makes these looks so spectacular and the sheer acrylic Black skirt beneath the blouse adds a tonal contrast to the complete look. Centre above a look is composed again of tessillated square sitting closely aligned and also neatly gently falling away from each other. The back of the dress is of opaque fabric falling in gathered pleats like a partial cloak. To the right the Black and White classic eveningwear code is finished with glittering Silver borders at the collar, shoulders and waist. A skirt cut open at the thigh contains volume but not so much as to be a complex contrast with the bodice above. Ankles are jewelled with crystals as at the upper figure. To the right a Green sweater dress also bordered in crystals blends the casual with the formal. It's an easy to wear look for a variety of locations next season.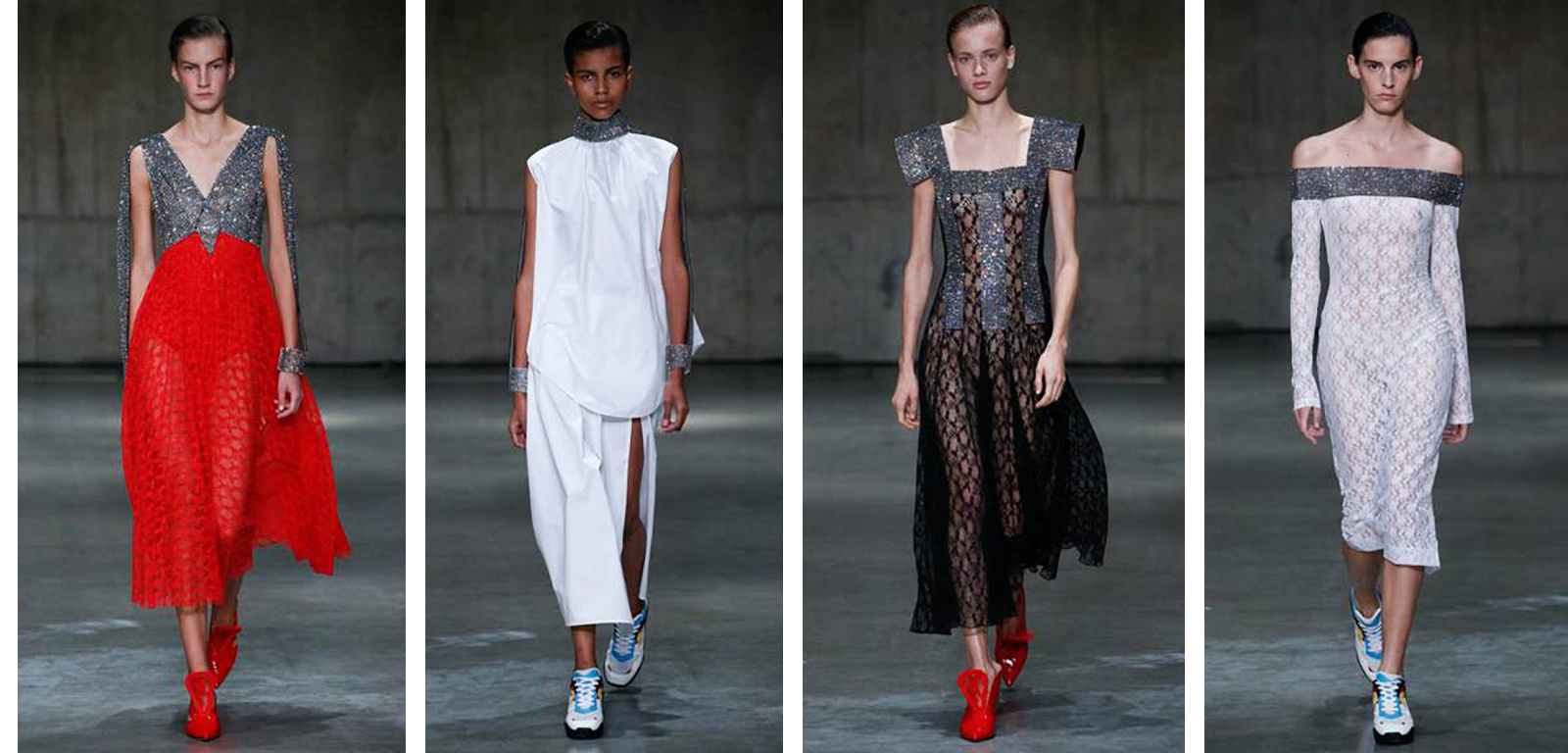 Crystal shimmer continues to shine through the collection particularly at the upper part of the garments in the closing pieces of the collection. A jewelled bodice cutting across the upper figure with trailing sleeves sits above a Red tunic base and broadly woven lace skirt. It's a beautiful look with perfectly styled volume to flatter the lines of the figure without overpowering it. A White tunic cut top with side cut skirt can be dressed up or down with either trainers or heeled shoes. Like all of it's contemporaries, it's an easy look for warm evenings. To the right a lace weave dress is panelled with tiny crystals to create a light structure on the figure descending from a neckline firmly set with clear cut angles. The three open necklines of the range above all feature a sense of geometry in the precision of their neckline cut. To the right an off the shoulder dress with it's Silver crystal neckline band descends to a soft stretch-fit dress covering the figure like a glove. It's a beautiful piece for day and evening, formal and relaxed and is a perfect drinks party dress for warm nights as a show stopping Red Carpet look.