London Fashion Week Autumn & Winter 2018-19
All text and images by me (c).
As the new London Fashion Week season came round it was exciting to see again what was in store for the coming autumn. I love seeing new designers and familiar names equally as you appreciate the full diverse spectrum of London bursting at the seams (not in the literal sense) with design talent. All images are shot by me as ever the Octopus, I was writing, shooting photography and getting the inside track from designers and fellow fashion editors in town for the seasonal collections. I hope that you enjoy.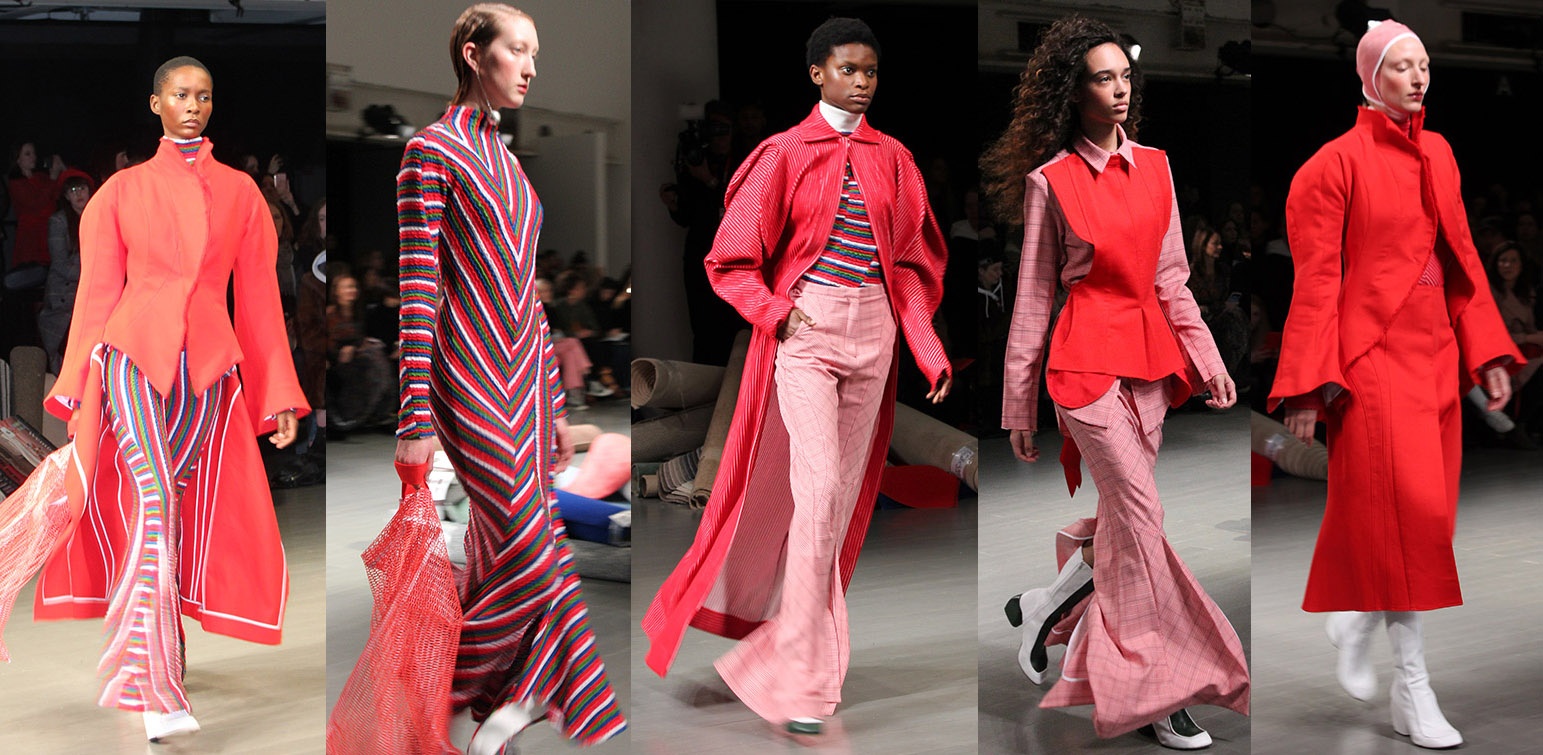 My first show and London Fashion Week catwalk opener was a colourful delight by Richard Malone. The Irish designer thankfully adds to the ranks of Irish talent that show in London and brought out a very memorable collection that was both fresh and innovative but also paid tribute to the basis of the craft in the roles of textiles used as the set dressing in the British Fashion Council show space. A Central Saint Martin's Graduate who was also awarded the LVMH Grand Prix his work is both challenging of norms and conventions whilst capturing the spirit of femininity. It's a fascinating combination and perhaps gives a strong clue as to why his only one of two designers including Issey Miyake who had their work added to the collection of New York's Museum of Modern Art in recent decades.
The opening look of the collection saw the traditional 18th century frock coat re-styled with sharply cut jacket and trailing tails. Hints at the designers process where given by the chalk outlines boldly shown on the scarlett fabric. Trousers using a theme of the boldest Red, Green and White lines running down the leg lengths use fabric cut at contrasting angles encapsulating Malone's sense of rebellion and desire to dress his woman differently in his own signautre style. The fabric theme of the trousers is extended into the next look to the right. A long line dress that hugs the figure before descending to a flared skirt uses bias cut and a series of panels to create a more slimming flattering shape that descends the figure gracefully. This piece could be worn in the daytime as well as for evening events and would accessorise well potentially with single colour statement jackets or wraps.

Forming the basis of a new interpretation of the classic women's suit Malone shows two looks above to the right that encompass both the long and short jacket styles with trousers or a suit. In one case the coat jacket is open and in another, the jacket is a shorter partially covering garment, more along the lines of a gillet. Both fit the archetype of the Malone woman with her signature bold statements. Fabric moves freely around the lower lengths of the garments showing that Malone's exploration of style saccrifices little in terms of comfort and practicality. On the contrary, practicality is high on his agenda. To the right a Red coat wraps the wearer in warmth over a matching skirt and vest against the winds of Malone's native Wexford and much further afield. The bonnet that gives a nod to sportswear effectivley closely covers the ears. A vital way to ward off colds in the winter season as well as looking like a unique style touch.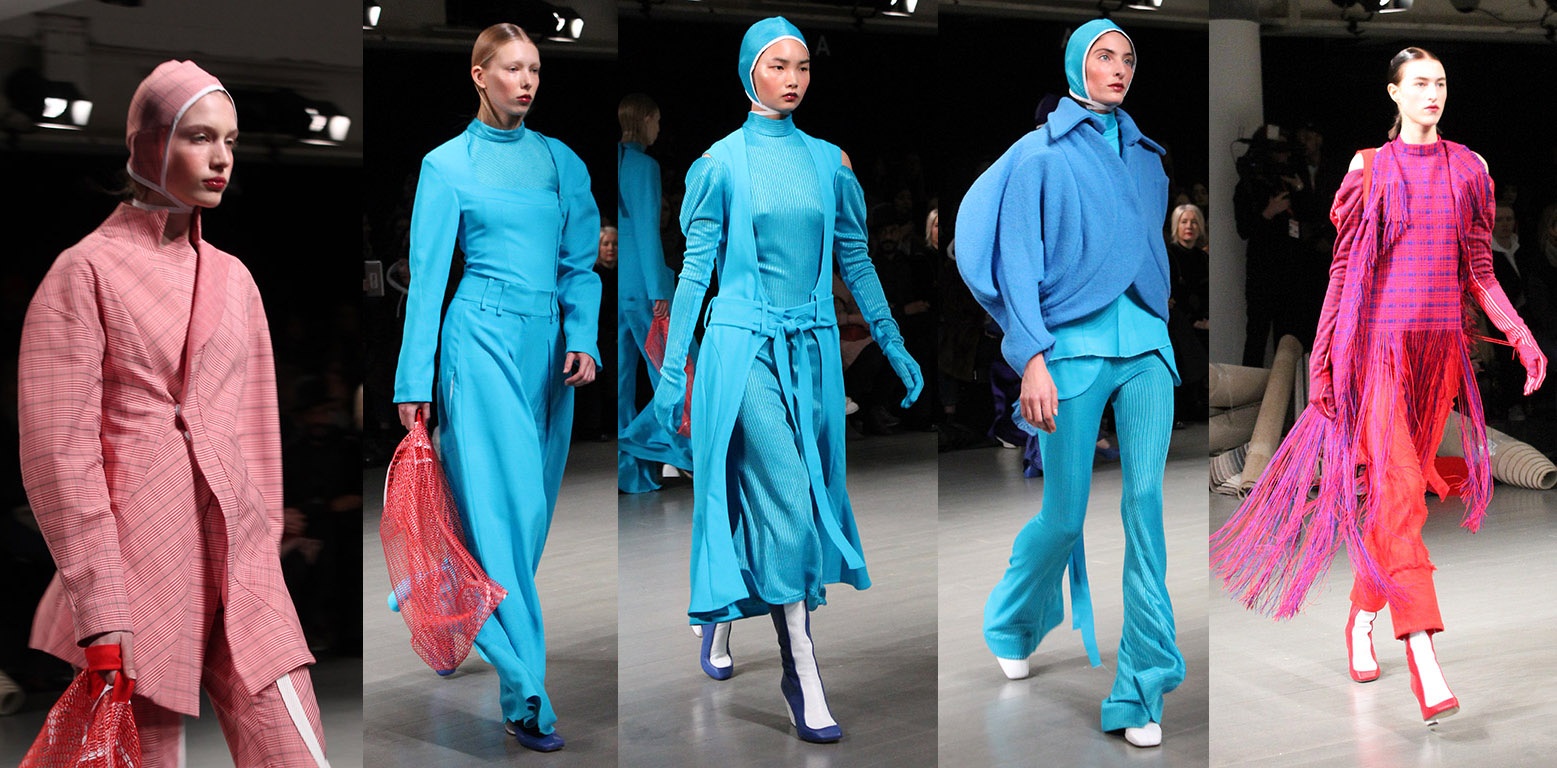 The close cap in the look above to the left is cut from the same fabric as the suit. Long White stripes at the seams of the trousers and cap border hint at a sporting theme while the plaid references the tradition of Irish tartan that is sometimes forgotten in favour of it's more famous northern neighbour. Malone creates a rhapsody on an Electric/Marine Blue with several looks exploring trousers with vest tops, a dress and open cardigan and trousers with a fascinating circular cut jacket. This bold colour suits all skin tones and it's interesting that most bold colours do Malone perhaps seeks to instill the strength in wears to 'go for it' and reach for the strongest colours to add to their wardrobe. The styles mix the utilitarian and luxury perfectly so that you can wear the looks in a variety of places as suit your feeling. To the right woven textile is highlighted in a different way showing the woven and unwoven strands of fabric combining beautifully to create a signature sweater with lengthy tassels and cut away shoulders. Bold Red trousers create a contrast to the Magenta and Violet weave but it looks harmonious and with the Red boots showing their signature White stripe line reflected in long line gloves, the components form a complete harmony.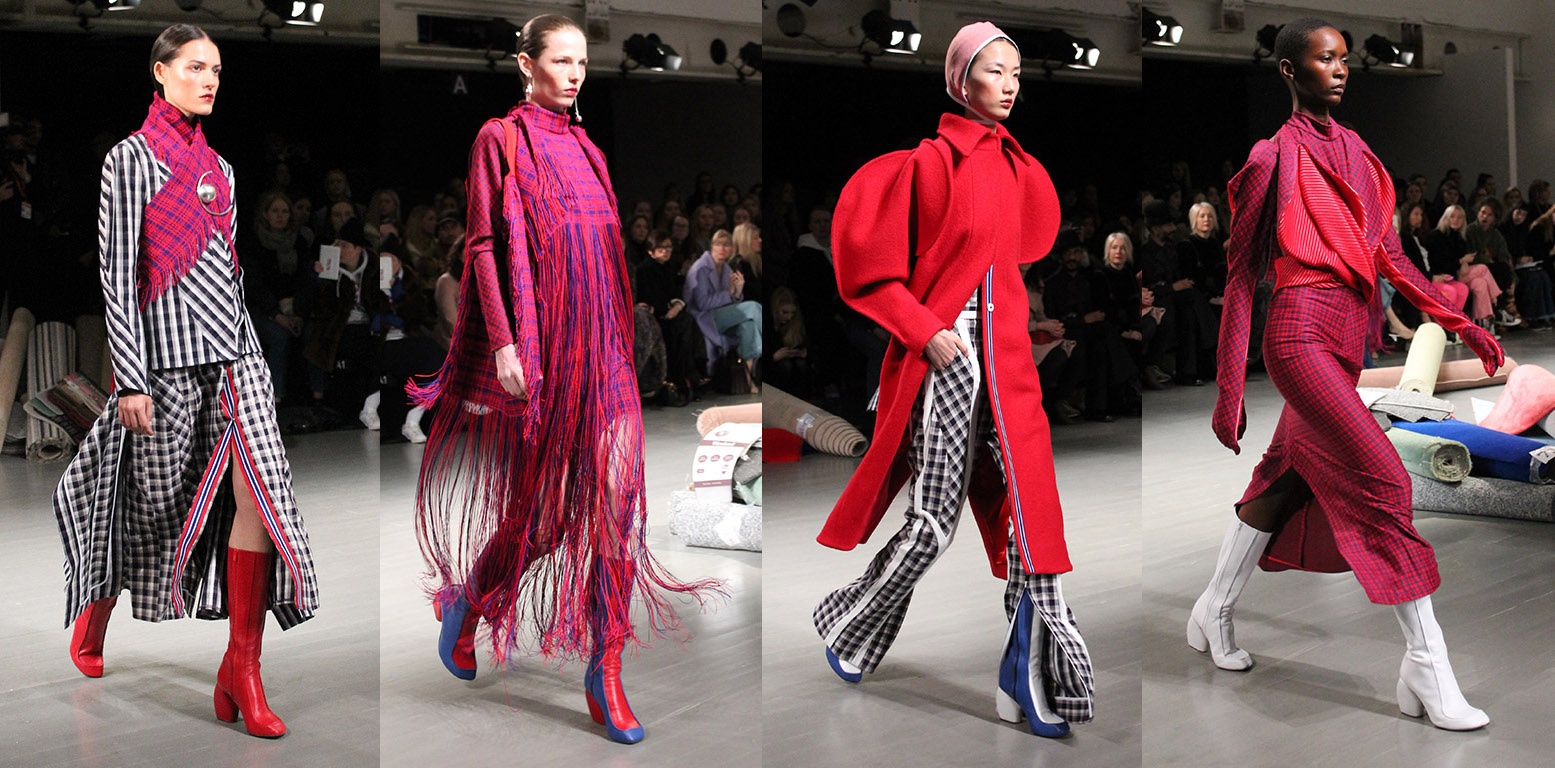 Plaid on plaid is a great idea when done correctly and as if by magic the first look above to the left combined my signature colour themes too in the Black and White jacket and open-length skirt and the Magenta and Lilac scarf tied with a large traditional Irish style brooch. It's an easy wear look for professional or leisure time and could also make an impact on the Red Carpet like many of Malone's creations. Above to the centre the free flowing tresses of fabric both celebrate the weave process as well as adding an extra dimension of length to the jacket and dress combination. Circular disc shapes again make their presence felt in the cut of the upper sleeve and shoulder of the Red jacket to the right. With it's tailored collar and long straight form setting a conventional contrast to the style higher up the outfit, it's completed with Black and White trousers in an open-cut bell bottom design. Blue and White boots peep out from the trouser length and form an confident and signature look. To the right a Magenta tartan wove in the single colour Irish style is adapted to form the basis of a figure-hugging dress. Colour contrast is provided by lapels shaped like petal on the bodice of the dress in alternate fabric. The dress includes incorporated gloves as part of the sleeves. White boots finish the look in a third tonal contrast.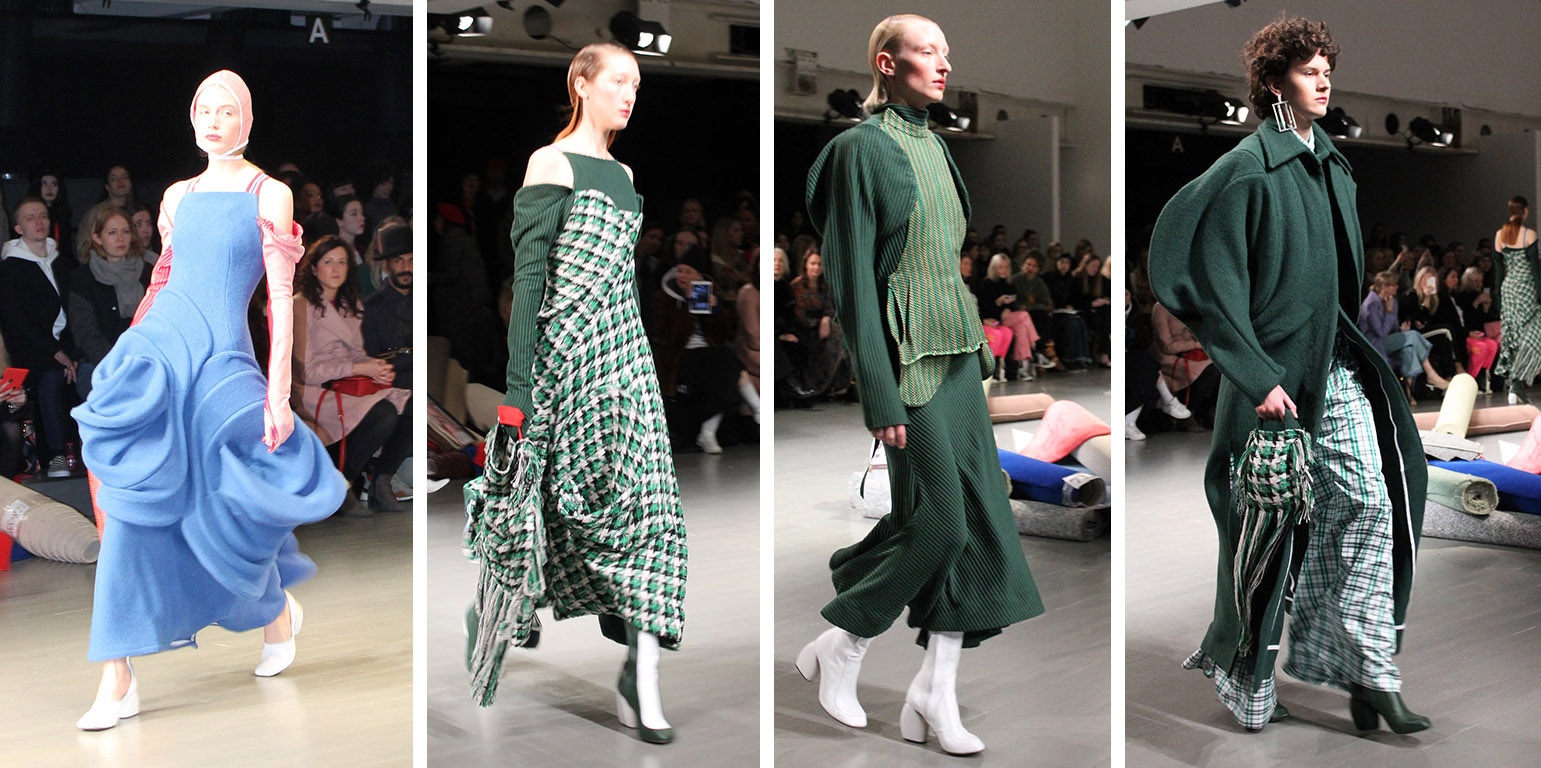 The Blue dress above makes a great play on the theme of circles sweeping them almost into rose like folds and curls sitting in a natural asymmetry on the hips. The gown has natural movement as the wearer walks and the volume also recalls part of the form of dresses in the 18th century that sat with gathers around the hips. Feminine and floaty yet also showing a keen desire and will to explore. Green the special colour of Ireland is celebrated in the later looks of the collection with a series of pieces mixing comfort with practicality. A woven plaid fabric is swirled into a beautiful dress's outer layer with bodice and sleeves composed of Teal Green. The model walks with a beautiful purse composed of this fabric on her right with tassels trailing elegantly as in the finale look. A close cut Fern Green bodice is fitted over a Teal dress that is fitted loosely to the figure as it descends to the lengths of the skirt. Wide cut trousers and a full length coat featuring the circular cut of upper sleeves and coat body give a distinctive touch to a smart contemporary style. Richard's support of women extends far beyond his clients to work in tendem with his sustainability ethos. He works with women in southern India in the Tamil community to produce some of his fabrics to ensure they have a sustainable source of income and that his garments are ethically produced.
XU ZHI was a designer that I discovered for the first time at London Fashion Week AW 18-19. He's one of the younger generation of Chinese designers who is crossing the European and Asian markets with his collections. There is diverse inspiration in his collections with many pieces initially seeming European and western in original but one closer inspection influences from traditional Asian clothing can also be seen. In the first set of looks above to the left, a White blouse it matched with a pretty White skirt with volume added by pleated folds at a dropped waist. This was overlayed with a Navy Blue bodice decorated in ruched material detail tied with a buckle at the waist. Navy Blue again appears in the rain coat to the right sitting over a light jacket in the same frabric and a Black skirt. The effect, with White shirt collar jutting out from the underneath, is one of a chic urban uniform but this could be worn in any city or even village in the world. To it's right a strong Salmon Pink dress appears to be composed of many of simple adaptable themes from the traditional Chinese wardrobe.
A dress above to the right appears to incorporate the gentle leaf pattern shapes that appear so often in traditional Chinese art. Far from hiding a Panda in the undergrowth they form a useful motif for paying with multi payers of fabric with in the garment and allowing for movement. As with the dress below to the left in White and Grey/Blue and Green the tassels descend from the upper part of the dress to the lower in a gentle cascade form. Woodland Green also makes an appearance in several pieces of the collection with another long coat similar to the Navy Blue one acompanying the Green blouse and skirt. To the right a skirt swathed in ruched detail sits under a Black top with Grey boots cut to accomodate feet cosily. A unique part of the collection signature to the designer showed plastics created in fabric with the swathes of paint brush strokes running across it's surface. A fascinating way to customise your style and an interesting art and fashion connection.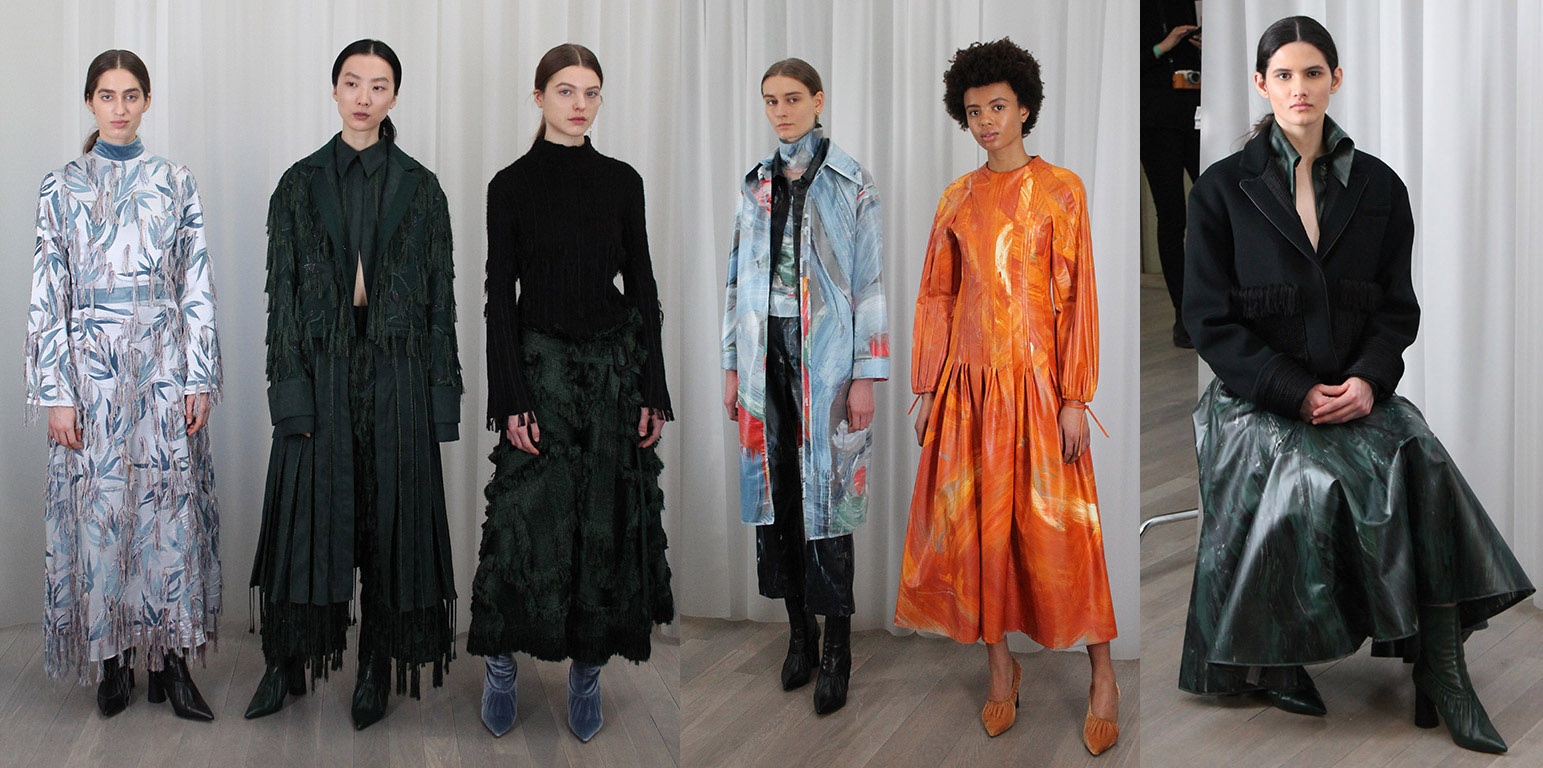 Bora Aksu graduated from London's Central Saint Martin's in 2002 and with a lot of hard work following his industry acclaim at that show, he has forged a successful career. Domenico Dolce and Stefano Gabanna purchased pieces to be used as inspiration from his graduate collection and recognition from the Queen of his adopted home country at Buckingham Palace in 2010 was followed by further success dressing women such as Rita Ora, Ellie Goulding and Erin O'Connor. With his mother serving as his muse for much of his career he creates looks that have a girlish femininity and a touch of the antique whilst creating modern silhouettes and delving further into the use of fabric technology. It's very evident that Aksu enjoys his craft and the creation of modern fairytale pieces from this East London studio.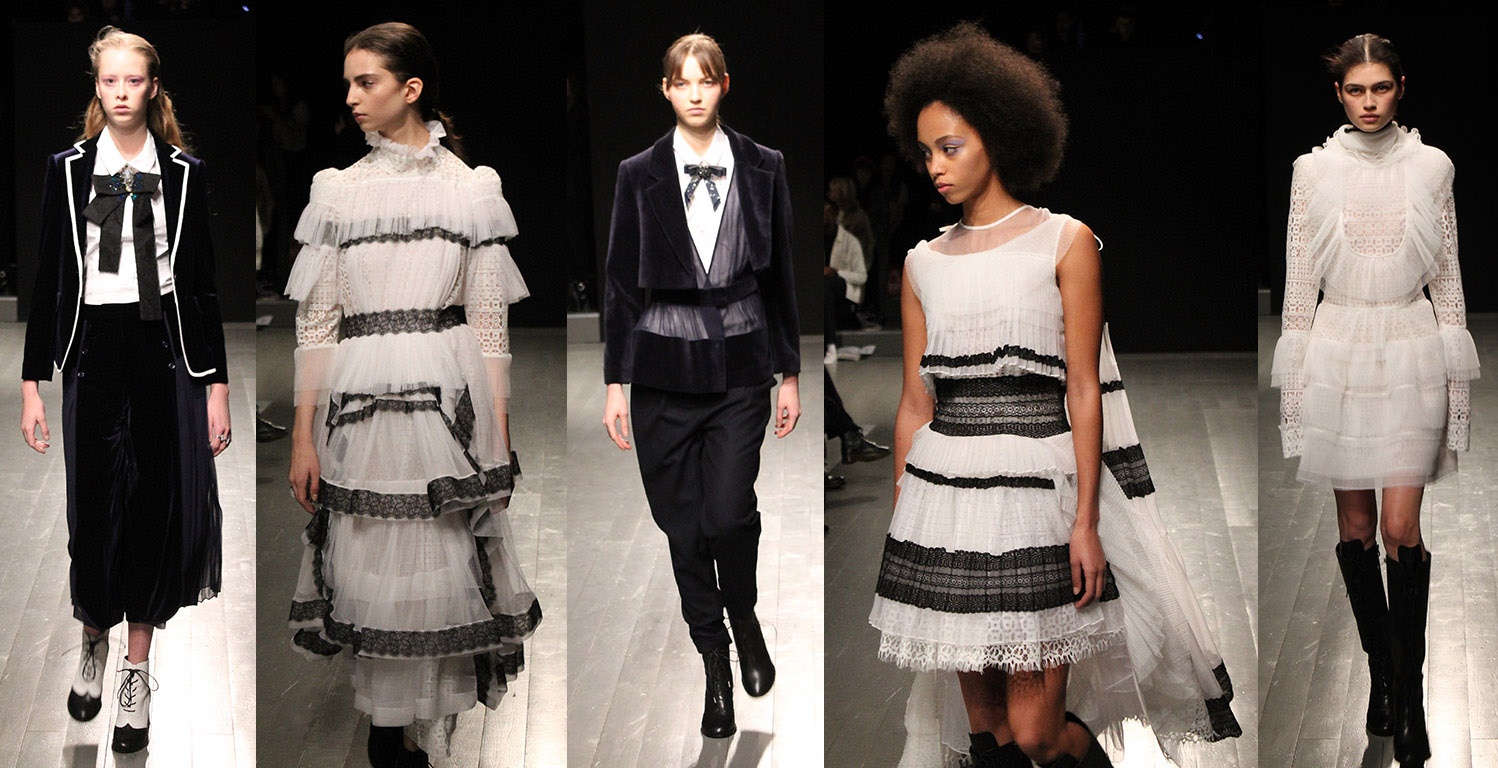 The collection opened with an adaptation of what the American's call a 'preppy style'. With it's White blouse, Black bowed tie and velvet jacket and skirt it has hints of a college uniform about it. The jacket is finely cut with borders defined by White piping and the skirt on closer look also has side panels made of a generous gauzey silk fabric. It's a beautiful look that you could wear for smart day of evening occasions and the jacket could potentially be worn separately with the blouse and trousers of jeans to take it more casual. A dress composed of layers of frothy tulle from neckline to mid-calf appears next with each tier fringed with Black lace. A frill collar at the neck also hints at a vintage/late Victorian look and the piece seems to float somewhere between girlish fantasy and grown-up evening wear. Centre above another variation of the suit shows a high waisted Midnight Blue jacket cut in bolero style sitting over both a White blouse and a sheer silk shirt with velvet trim at the waist. Lose cut trousers create a comfortable and smart conclusion to the outfit with high ankle boots.

To the right above a dual length dress uses both the mini skirt and the knee length as a second layer forming a cape-like drop behind the wearer. As with many of Aksu's creations the fabric is whisper light and floats around the wearer as she walks. To the far right a White dress exemplifies the best of broderie anglaise styles and the crochet technique that Aksu is so fond of. With frills bordering the bodice in a trace of a dropped neckline, at the mid-arm to create a cuff and in tiers in the skirt reaching above the knee, this is a beautiful piece to wear for an autumn event and would look great in the Christmas party season.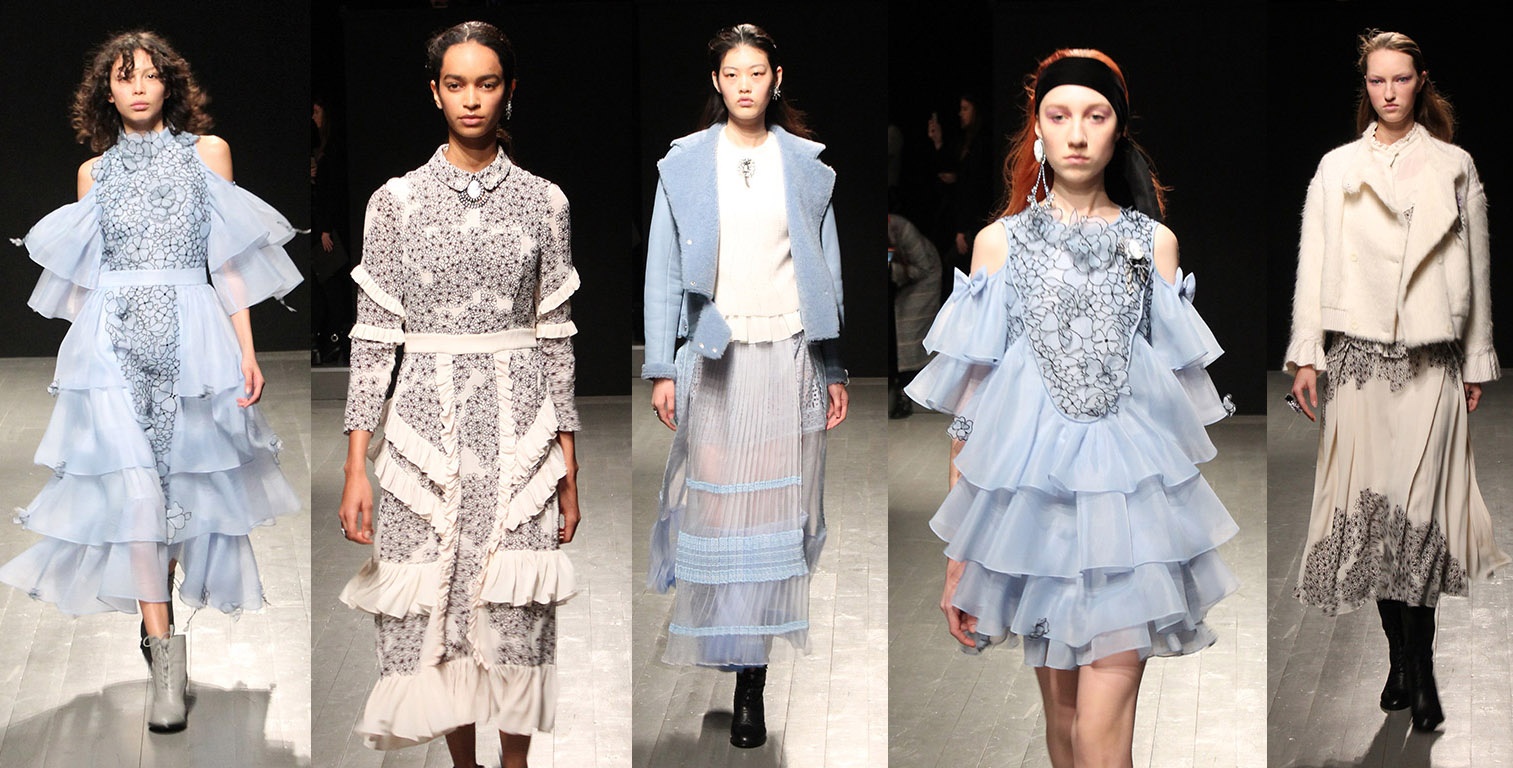 Moving the colour palette through to Light Blue a soft floral dress with light applique flowers sewn to flutter as the wearer walks has all the playful light touches that clients of this designer enjoy. Sitting softly on the figure the dress plays with volume with ruffled flounces at the upper arms and cascades from the waist. The look is echoed in a shorter dress above to the right making an above the knee skirt from the cascade of ruffles themselves. Cool shoulders allow for you not to get too warm at winter season parties and note the pretty bows at the top of the sleeves? Super pretty. The applique detail across the length of the bodice gives an extra dimension of movement beyond the ruffles of the skirt. The 1970's day dress of Laura Ashley fame gets a make-over in the second look above to the left. Fringes of White cotton fabric in symmetry at the hips and in the lengths of the dress give hints of American traditional dress and a carefree sense of style. It's a perfect formal/informal piece that could be worn on numerous occasions and easy to accessorise.

Above centre a skirt in the classic form of Aksu's designs is made in sheer fabric with pleating and crochet and soft panel detail hidden inside a wrap skirt look. A White blouse sits under a Light Blue sheerling jacket left open. It's a relaxed look that could still be worn at less formal Red Carpet events as well as playtime. To the far right the sheerling jacket appears again in white as a warming accompaniment to an autumn look. The blouse and skirt underneath are decorated at the top and hems with the signature hand drawn floral designs that Aksu has created.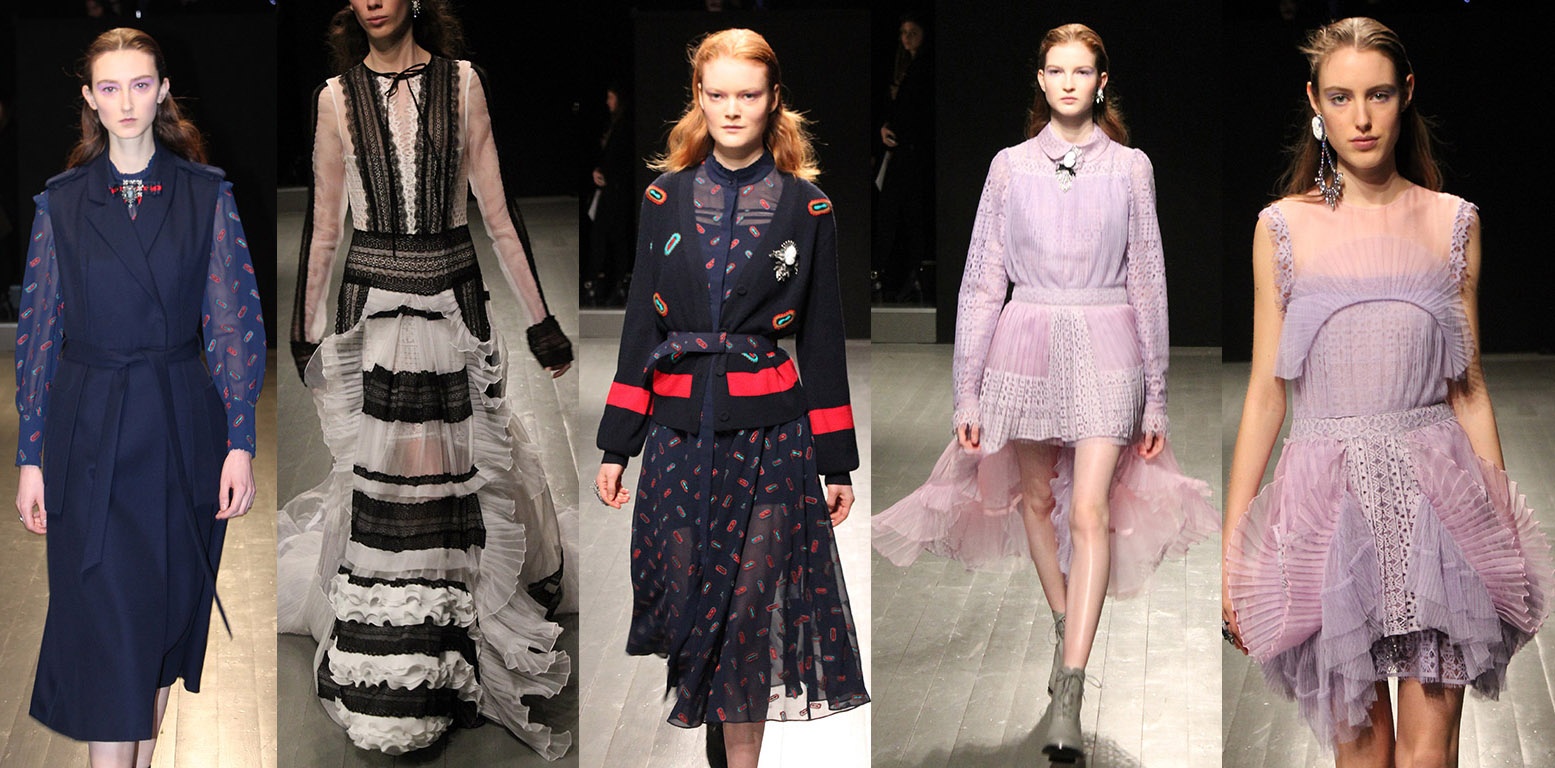 Working in Navy Blue a wrap around knee length dress with sheer sleeves decorated with light floral applique is a perfect office or leisure time piece that could be accessories with both evening purses or more serious working bags. It would also work well with an array of autumn coats and gently wraps against the cold whilst being light enough to wear indoors when the heating is blasting in offices, or at events. Another classic Aksu piece in flowing flourishes of pin-tucked pleats is unmistakably an evening wear piece. With a train behind the wearer as she walks, it's a romantic light ensemble making a feature of Aksu's prized crochet and applique detail.
A cardigan finds it's way into the collection as an accompaniment to a sheer day dress. It's a cosy look that has a relaxed feel and shows that Aksu isn't solely about glamour in front of the camera. To the right two Lilac dresses feature more in depth crochet details and pleating. These intricate pieces, the first in split mini and knee length with long sleeves and the second, shorter with three different fabrics embellishing the skirts of the dress both make sweet additions to a wardrobe for the autumn. The second dress particularly I think would make a great party season or Red Carpet piece.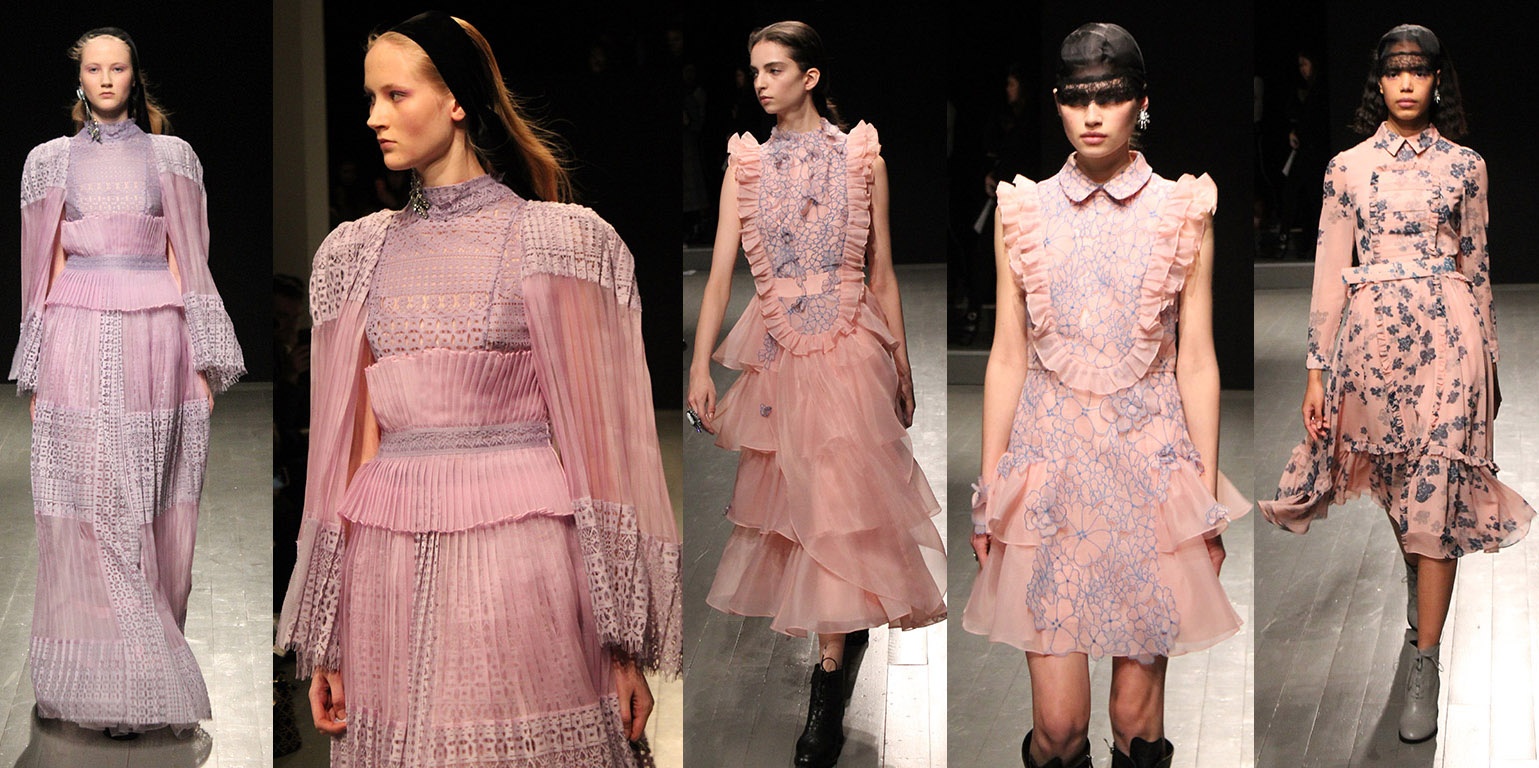 A full length variation features a waistband of pleats with an embroidered lace waistband and cape across the shoulders. Crochet appears at the shoulders and hem in the same length of drop as the skirts of the dress. Above in close-up you can see the detail of the dress and the details of the layering, particularly in the skirt with the crochet of the under-layer of the skirt visible. Centre above two dresses with Aksu's signature flower detail across a pleat-bordered bodice. The first of these sleeveless dresses features four tiered layers of tulle that descend through the skirt to the mid-calf. It's a beautiful and engaging piece and is a natural twin to the shorter above knee dress to the right that features Aksu's flower sketch drawings running across the lengths of the skirt. Both could suit clients well in the late autumn party season. To the far right a long sleeved tea dress belted at the waist with a beautiful border hem provides a trans-seasonal day wear option that could easily become a dependable staple.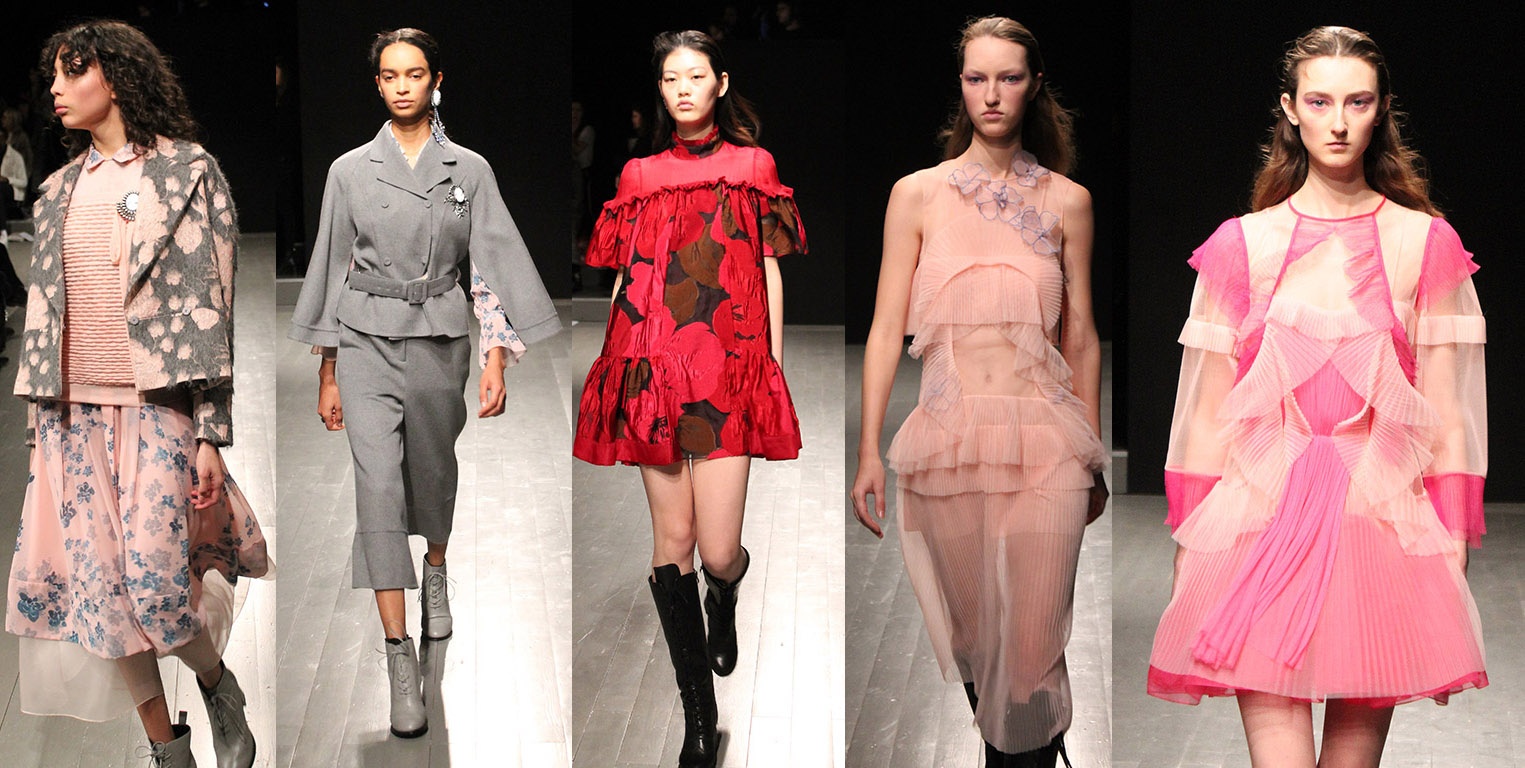 Above to the left a combination of dress, sweater and jacket in different fabrics created a layered autumn outfit that could be worn in leisure-time anywhere in the world. The soft wisps of fabric of the dress are supported by the weight of the sweater and jacket with a rosette brooch on the left hand side of the chest adding a hint of the modern antique. A Grey trouser suit offers a professional and leisure option with a light blouse underneath decorated with the same Blue flowers that appear elsewhere in the collection.
Centre above a Red mini-dress covered in roses shows a slight departure to a new arena of style for Aksu. With a collar matching the fabric of the length of the dress, the shoulders are dressed in sheer fabric emphasising the slimness of the wearer whose figure is concealed through the generous volume of fabric used. Black knee-length boots give the look a feel of urban glamour but it could also be dressed with heels for a more formal evening wear look. A Blush coloured dress crafted in two parts uses flowers to accentuate the neckline. Semi-sheer in it's composition, it would be a spectacular Red Carpet piece and turn heads with a confident wearer. To the right a fantasy piece composed of pleats and symmetrical layers conjours a perfect party piece in Blush and Magenta pink. The strong colour doesn't drown out the weaker and in fact had White been used for the lighter colour it would have seemed like quite a stark and less sophisticated colour contrast.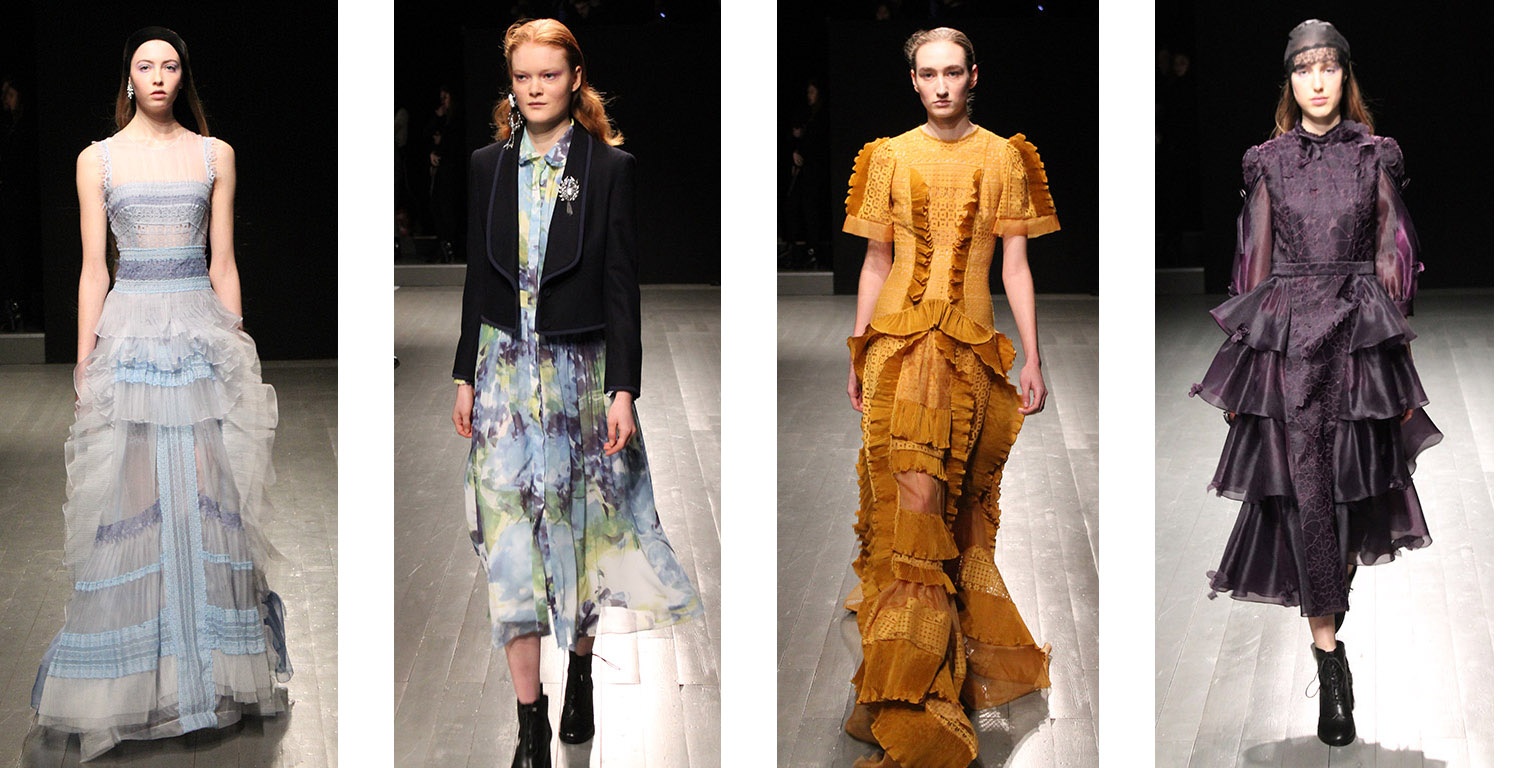 A floor length dress composed in layers of silk tulle pleated vertically and horizontally banded with light and mid Blue crochet is a perfect evening gown look for a Gala or dinner. It's a great piece to wear in front of the cameras just as much as for a private event. As with all Aksu's creations, it's well structured but is also easy and light to wear across an evening event. A Navy blazer accompanies a dress created with Blue and Green watercolour flowers rippling across it's surface. It's a light and easy trans-seasonal piece again with the slightly muted soft Blues and Greens working well with the autumn colour landscape and the Navy Blue blazer adding a touch of formality. A deep Golden dress echoing the rich Corn colours of falling leaves also brings another touch of autumn to the collection. This piece is richly sewn with panels of fabric and crochet making a statement entrance piece. To complete the view of the collection, a rich Purple dress with cap headdress makes a reference to traditional Turkish dress as well as employing modern fabric technology. As a formal-wear piece for a Black Tie occasion it's a look filled with character and charm.
Jasper's collection are always a treat to see come out live and he designs some of the most translatable collections for everyday life that are shown through London Fashion Week. His craft is honed on dressing the sophisticated woman who requires a polished professional wardrobe of pieces for day and evening and as one of the handful of founding London Fashion Week designers remaining, he is one of the most perceptive and experienced at dressing women.
His collection worked around key bold colour themes for a confident autumn palette that offered the perfect platform to show some very appealing autumn-winter styles. Above to the left a Navy sweater and long culotte trousers accessorised with a thick waist length coat had hints of marine naval uniform about it. A tiny twist perhaps on the looks of the 1980's from Jasper in the era when the military coat was adapted to be a key part of women's outfits. Next in a Saffron shade another warm sweater sits underneath a coat that features two tiers of pockets. It's broad lapels again offer a faint echo of military styling. This emphasis on the practical as well as comfort is a key feature of Jasper's collections. Moving the collection into White, a lighter sweater and high collared jacket offer a slightly more minimalist approach with a simple long line skirt wrapping the figure against autumn breezes.
The minimalist feel continues through the collection with a tunic top and long pleated skirt composed as a simple adaptable look for work or leisure. Sitting losely on the figure it's easy for busy women to wear. To the right more detail is added in a textured gillet top that matches to an A-line skirt. This is a useful day to evening look that would work equaly well in an office or at a drinks reception. This can said about much of Conran's collection as his clients greatly appreciate. A long White skirt with a large triangle pleate adds comfort and movement in the look above to the right. Another well tailored jacket wraps the figure in warmth and the light sweater underneath gives the wearer the option of removing the jacket for an office-wear look.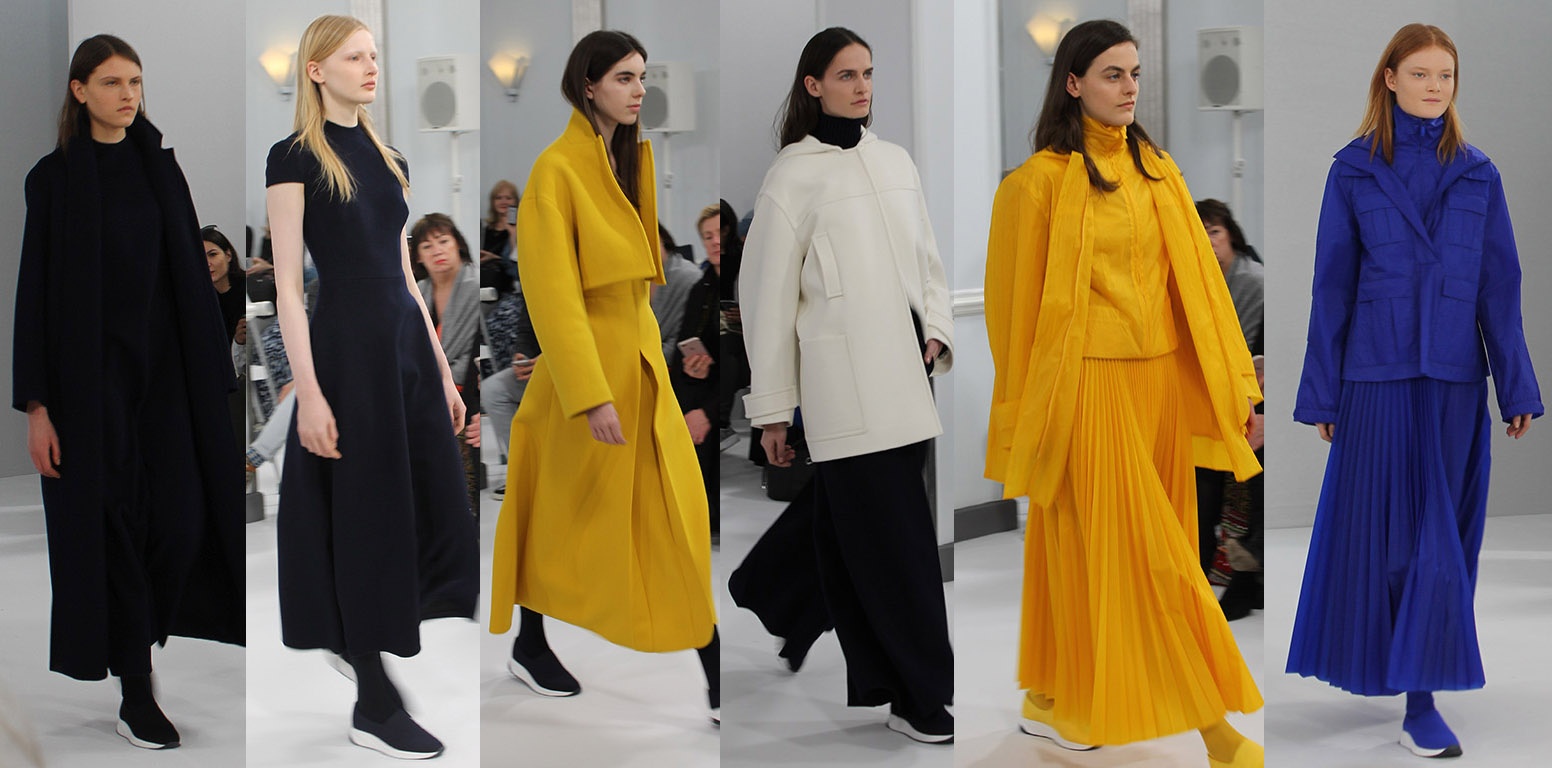 A full length Navy coat and ankle length dress is a key look of understatement for the coming season filled with the reassuring warmth of high quality fabrics carefully tailored to the figure. Similarly the dress next to it to the right also demonstrates Jasper's experience and mastery of the art of the cut. Sitting close to the figure this dress fits gently like a glove and would be the perfect piece to wear through a busy day at work or out and about. The short sleeves prevent the wearer getting too warm and the generous cut of the fabric in the skirt offer the wearer a pretty natural movement. Centre above Saffron returns in a long dress using the front triangle pleat emblem and a bolero cut jacket with a high collar running fluidly down to the hem. It's a look that's equally practical and stylish and an easy autumn uniform piece.
Wide leg trousers form the basis of a well cut day suit paired with a smart White jacket with deep pockets above the waist. A hood at the back protects sensibly against the chill and winds of autumn whilst remaining true to the minimalist notes of the collection and again gives hints of marine vibes that permeate the collection. To the right a sports jacket with front zip blends with ankle length pleated skirt to create a more casual all-weather chic look and this is overlayed with a raincoat to complete the single colour Golden piece. To the right, a Lapis Blue version of this look also features a high-necklined light sports jacket, long pleated skirt and outer jacket. The style is comfortable and practical and easily blends high fashion and sports casual into one.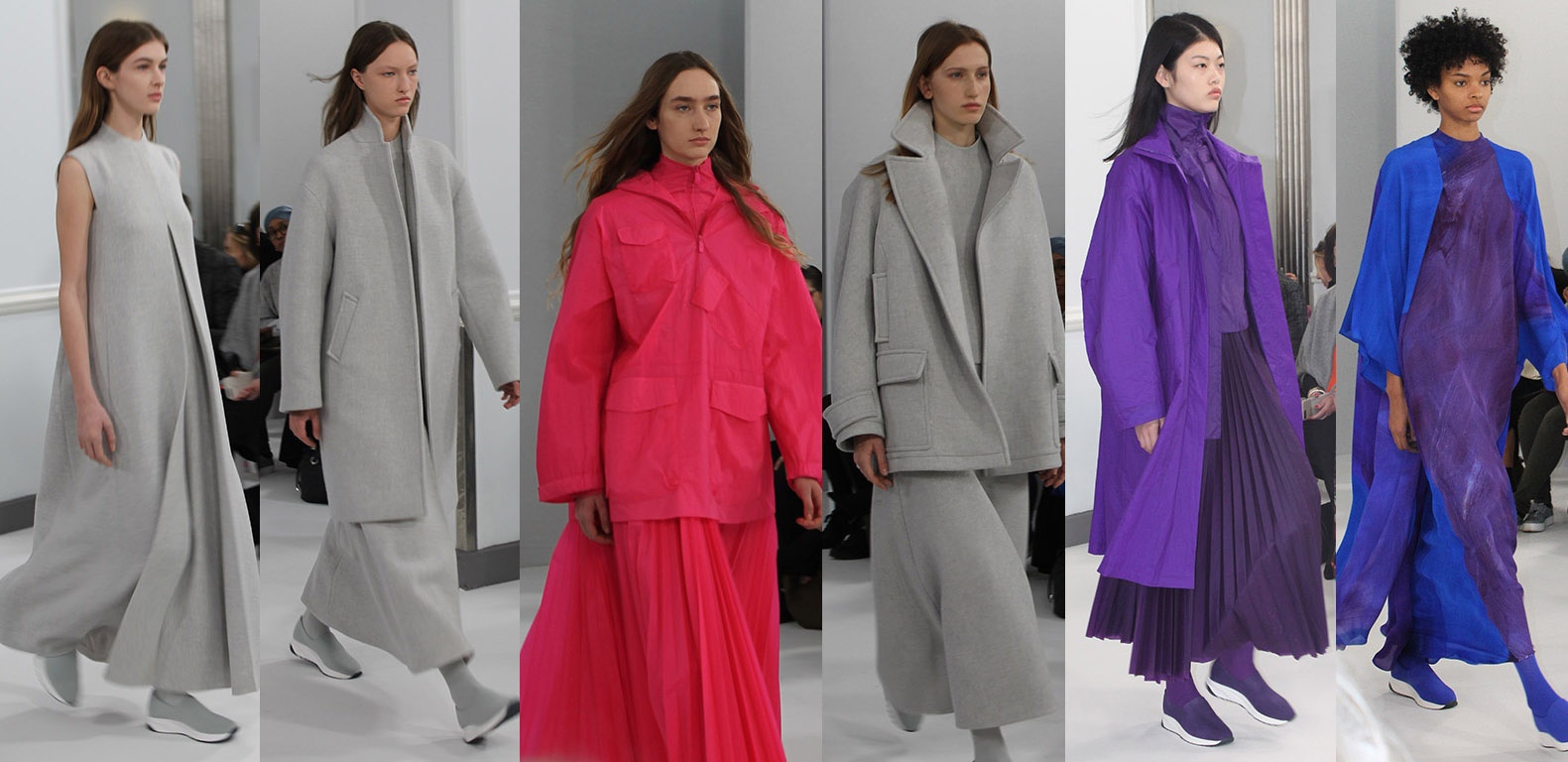 A sleeveless ankle length Grey dress makes a feature of the front triangle pleat to effortlessly increase the volume of the dress in one simple stroke. Expert tailoring makes this look an easy classic adaptable piece to add to your wardrobe. Soft Grey is a good neutral to add to a wardrobe collection that suits many people. To the right Jasper offered two complete looks comprising of blouse or light sweater, culottes or skirt with an outer jacket. Both jackets are cut with practical pockets and have high collars to keep out the chill. These are cosmopolitan looks that could be worn anywhere in the world in the office or out to dinner. Centre above in bright Rose Pink a variation of the double jacket and long pleated skirt walked out across the catwalk.

The bright colours speak of confidence of the wearer and an expression of style in equal measure. To the right a long raincoat in Purple sits over a blouse and jacket teamed with another classic elegant pleated skirt. The look is harmonised again in colour but it is possible to wear some of the items separately to create a weatherwise colour statement. Breaking up colour lines proved to be a rich field of experimentation for Jasper this season and the dress above to the right shows a marbled effect within segments of blocked colour as it runs across fabric. Swinging elegantly around the wearer as she walks, it's finely tailored Red Carpet ready as well as a useful piece to have in the wardrobe to bring some colour into autumn days.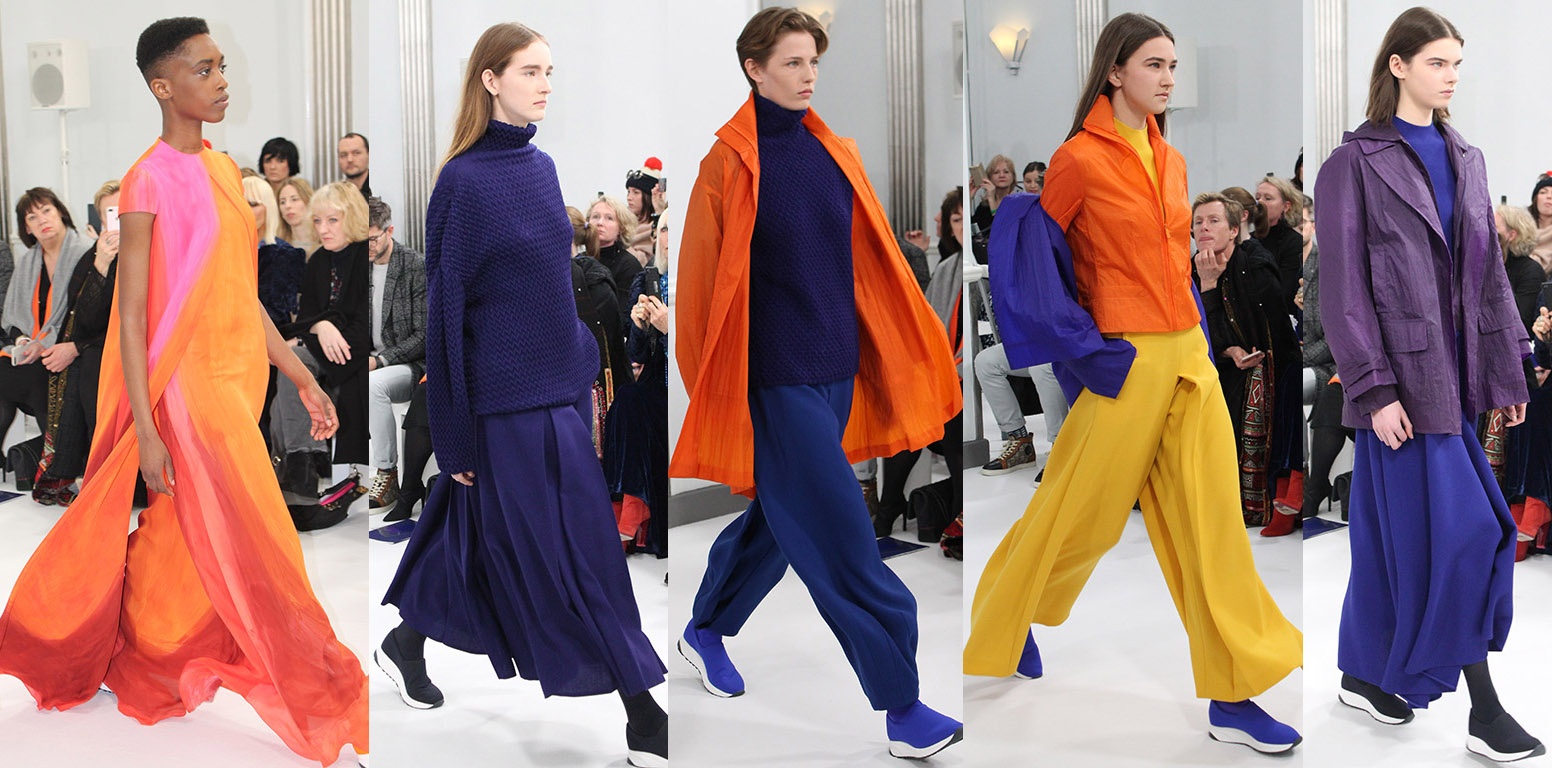 The oil-paint palette with it's hints of brush strokes and swirls appear in a sophisticated blaze of colour above to the left in Tangerine, Pink and Grapefruit. Making a confident and creative statement simultaneously it comprises of a dress with flowing lines and a light outer jacket sitting on the shoulders and then open from the neck downwards. It would look wonderful on the Red Carpet. To the right a Navy sweater and box pleat skirt are cut with generous allowance for comfort and space and the fabrics although very light will keep the wearer warmly chic. Looking outdoors again for inspiration the next look to the right incorporates wide leg trousers, a sweater and Orange jacket in a visible show of confidence. Playing again with a bold Saffron, Tangerine and Purple Jasper blends the colours and style options into different permutations to allow clients to pick and choose what they would prefer to use a basis of a look.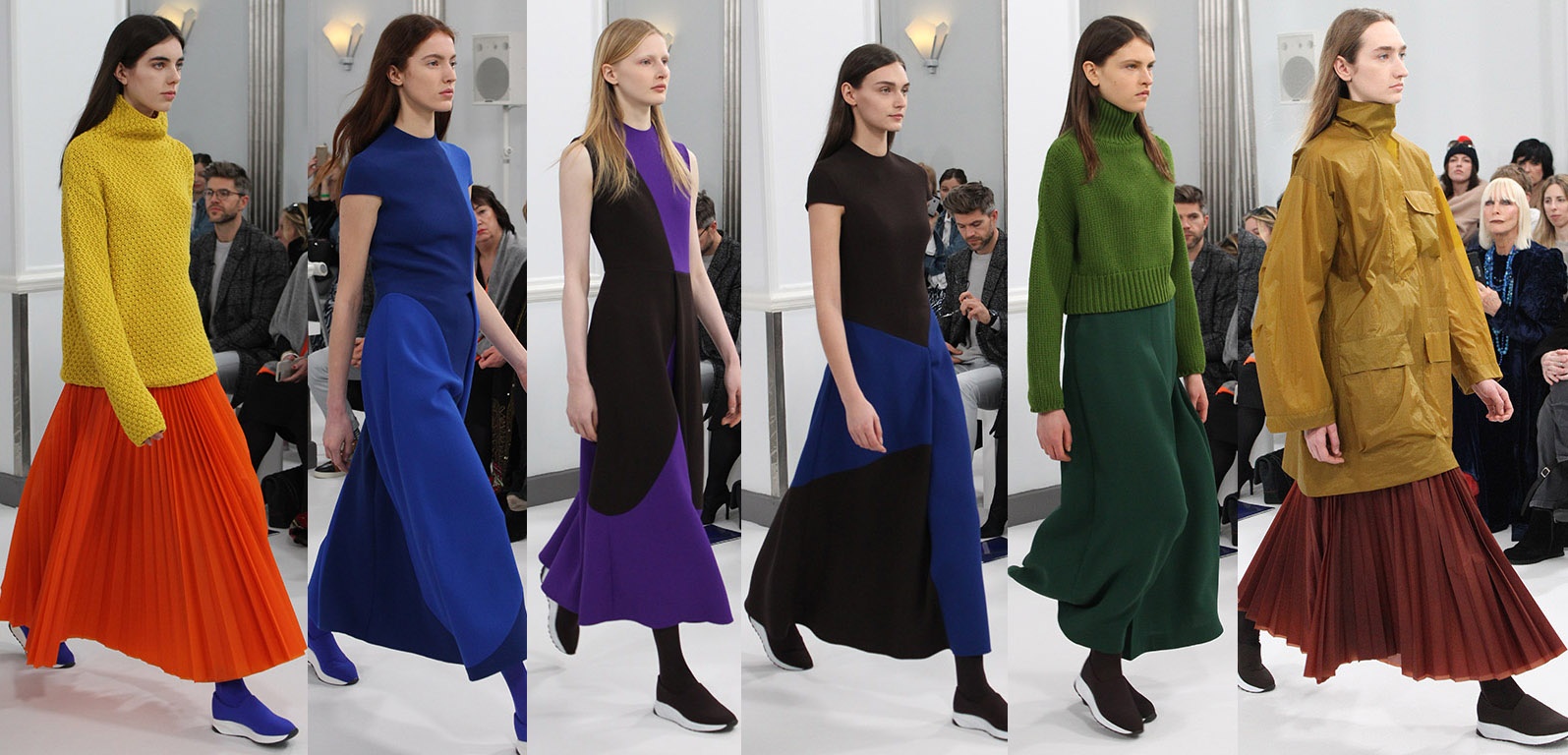 It's clear that Jasper has women very much in his thoughts when he's designing, not just from an aesthetic point of view but also knowing what his clients need instinctively to add to their wardrobes in the next season to support their busy lifestyles. It's a skill in itself and there is a sense of this care that comes across in the collections. Comfortable sweaters and smart tailored dresses emphasise the ease that they bring to support the lifestyle of the owner. They can simply be slipped into.

Above comfy knit sweaters and long lose skirts again usher in a series of light but warm options whilst the tunic dresses boldly using two colours in geometric contrast add volume a further dimension with the clever use of folds. Above to the right an earth toned waterproof jacket with generous deep pockets blends with a deep Berry coloured pleated skirt reaching to the ankles. A smart look for life in the town or country in the autumn.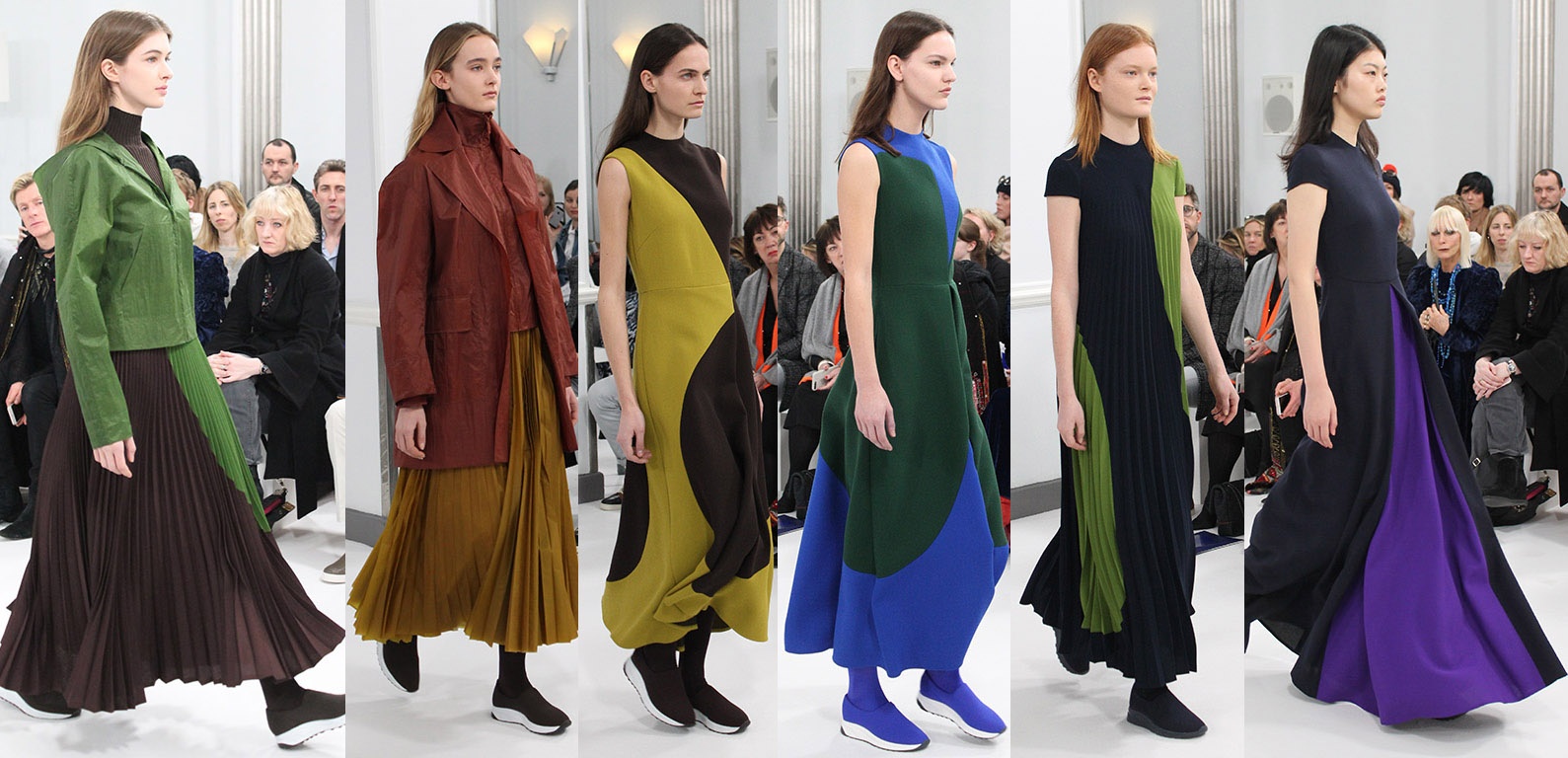 Blending strokes of colour with pleats and a light waterproof jacket provided huge scope to play with arrangements through this collection. Skirts so broad that you could twirl and create a disc hang gently on the figure thanks to numerous small folds. Above a russet sports jacket again is double layered with a lighter top underneath a longer outer wear jacket with the look descending to a deep mustard coloured skirt. Swirls of block colour find a voice again as the collection continues to move through dress options. A faint hint of the 1960's survives in some of the shapes but the lines and cut are Jasper showing how you can make a statement both subtle and bold in a sophisticated work-wear outfit. Pleats and fold create a series of subtle options that work and adapt themselves naturally around the varying figures of female clients. Above to the right volume fit for a ball gown is created by using a central triangle pleat with an attractive second colour fill. This look could be easily worn for day or evening perhaps with a jacket and keep a client warm on cold evening nights.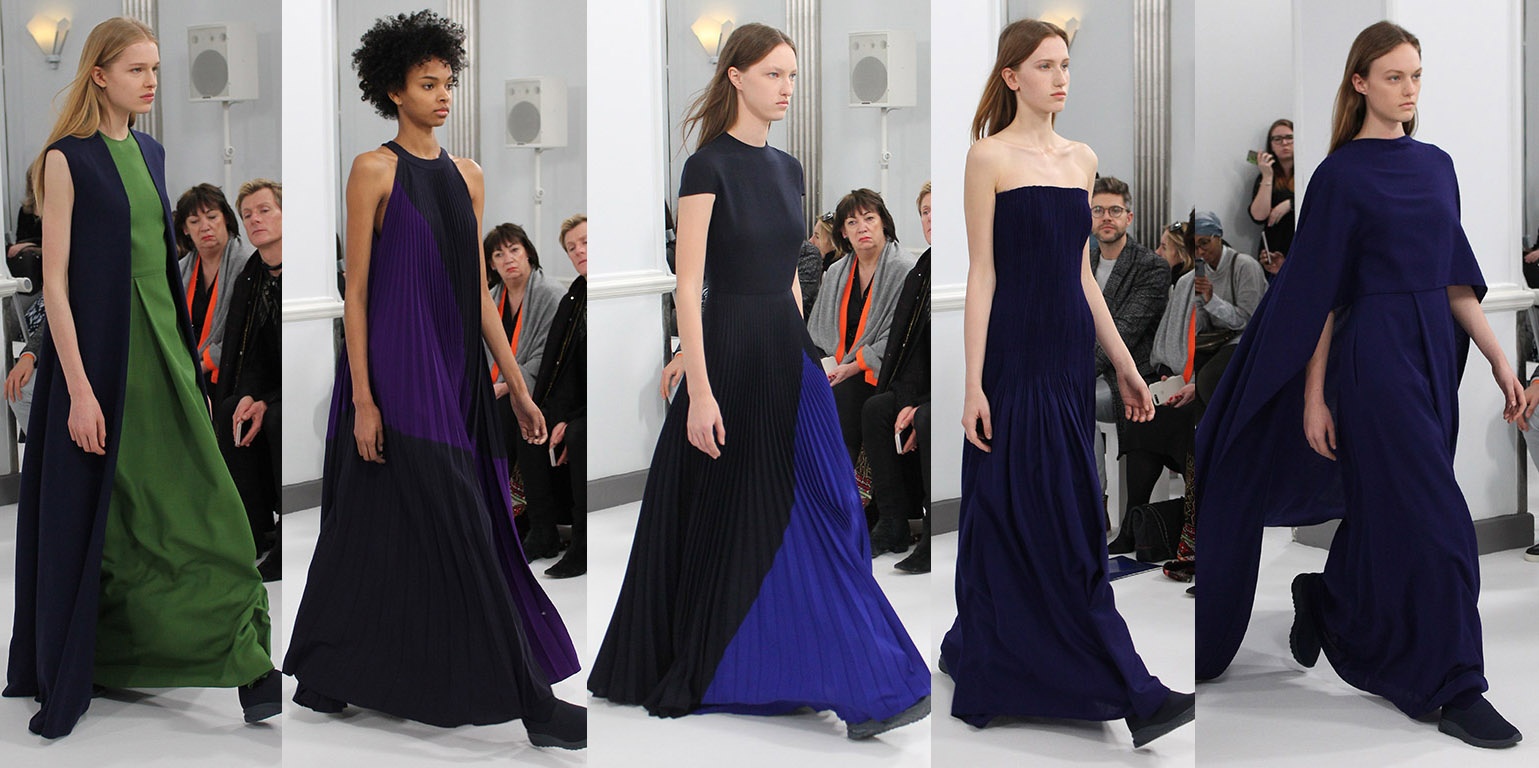 This was a polished and relaxing collection to see come out and a delight to speak to people about. The focus around core themes that Jasper chose showed that he keenly maintains his interest in dressing women in simplified styles that have a timeless durability with a contemporary stamp on them also. Long line coats sitting over long dresses, pleats and simple necklines all cater for women who are very busy and whilst they know what looks will suit them, they need a trusted hand to complete the picture. Above pleats again create a graceful accompaniment to the figure and above to the right two Navy Blue dresses present flattering evening or formal options that channel minimalist simplicity and elegance at their best. This is what Jasper's clients rely on him for and what he never fails to deliver.
A bright and early start brought one of my favourite designers showing her latest collection for autumn. Rejina Pyo is a talent who has lit up London across the last three seasons since she started showing on the schedule and brings her audience pure quality. Hailing from South Korea she moved to London in 2008 and graduated from Central Saint Martin's in 2011. Following graduation she's worked with Roksanda Ilincic and Christopher Reaburn before flying solo and launching her own label and industry acclaim is everywhere. She has a brand of high fashion that moves truly to it's own beat.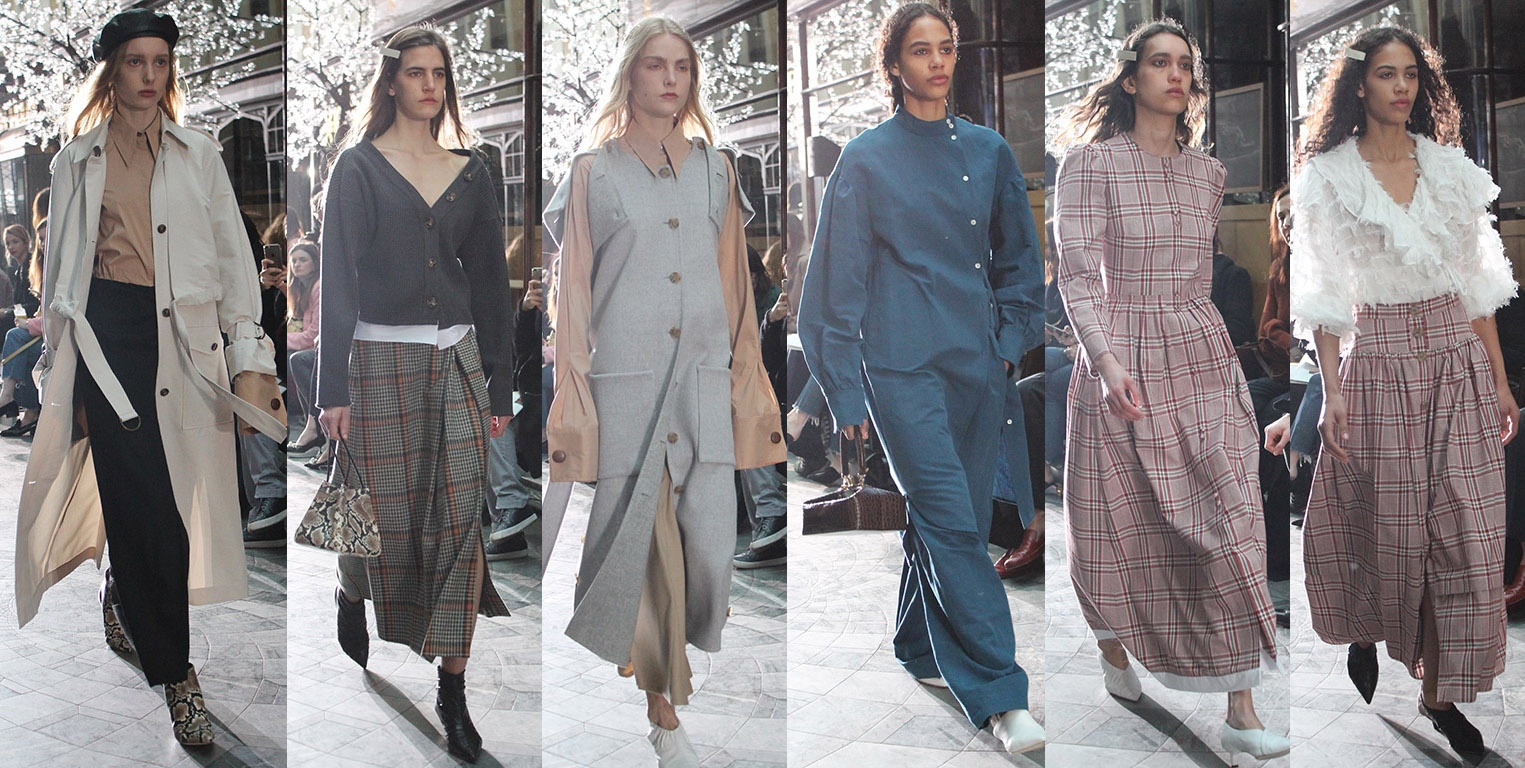 The first of a large number of looks that you could happily slip into your wardrobe showed a light Ochre coloured blouse sitting over a pair of wide leg trousers completed with a white raincoat. To the right a look that blends both cosy-casual with sophisticated style provides a wrap cardigan over a White chemise and a plaid skirt with a concealed pleat leading to a side split that cannily gives the wearer a lot more volume to play with as they walk. She is interested in the everyday dressing processes of women as well as those for special occasions. She wants to explore this and add her own pieces to women's wardrobes that they can keep for years to come. The shirt dress gets a new lease of life in a dual re-incarnation centre above. An ankle length ochre shirt with it's casually open cuffs sat underneath a light Dove Grey outer shirt with deep pockets. It's a light easy look for early autumn.

A Blue lose cut shirt jacket and wide leg trousers use cross cultural references to express a relaxed comfort and style that works for many casual and working environments. To the right above two more looks work in plaid, a fabric that Rejina really seems to like working with. A dress constructed along traditional tailoring lines uses the single colour neutral weave to create a formal/semi-formal dress for day or evening. It uses traditional elements but the White band at the hem and small waist pleats show Rejina tweaking the classic to bring it up to date in a practical way. A White blouse comprised of feather like applique detail sits in a perfect harmony/contrast to a plaid ankle length skirt fitted to the waist with central buttons. It's a pretty look that could be worn for many social settings and the non-corporate working world and find a regular place in your wardrobe.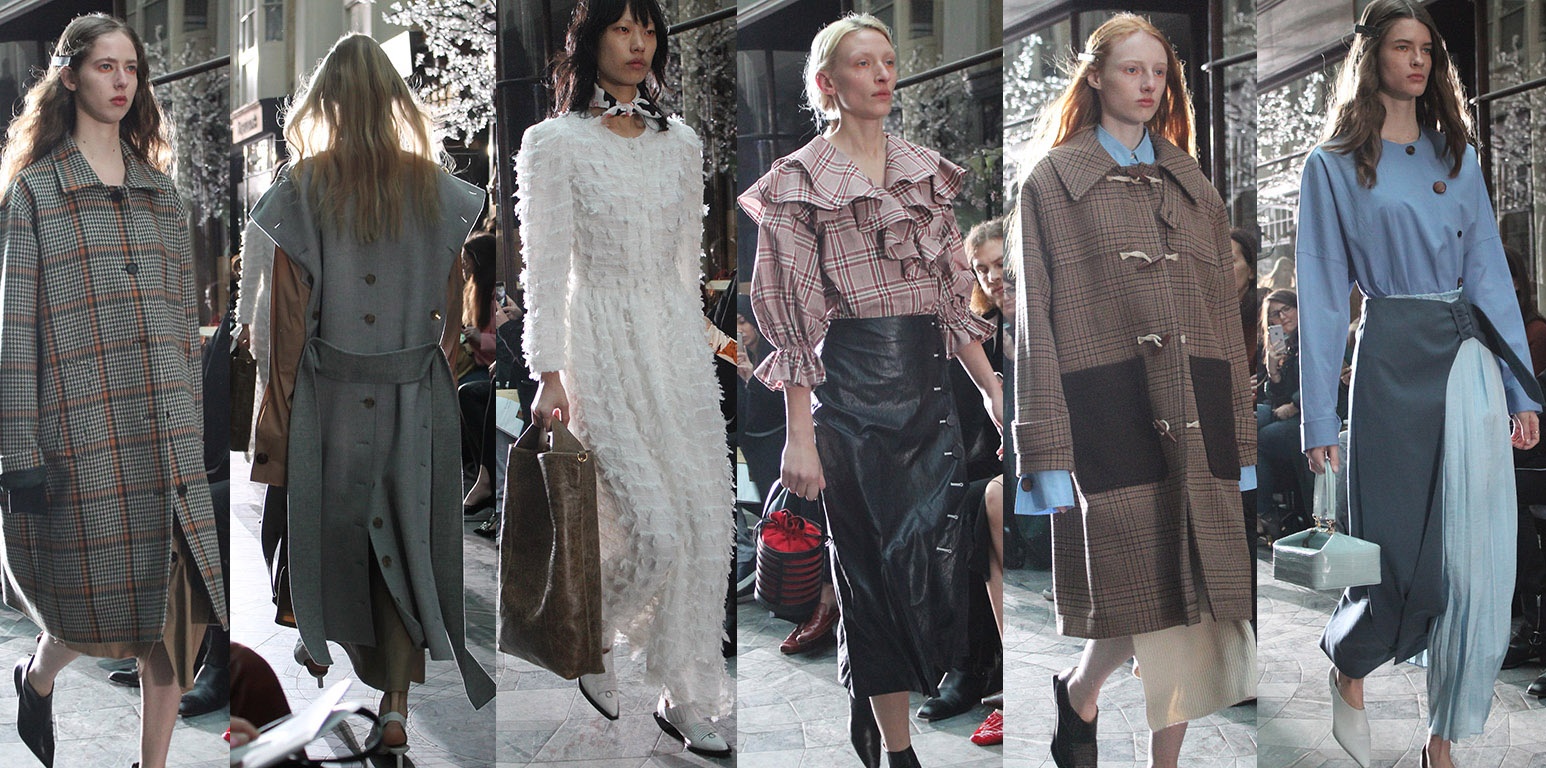 A warm winter coat shows Rejina's commitment to creating looks that are practical editions to your day to day clothing selection. A spacious cut leaves ample room for layering in cold weather and deep pockets perfectly placed for a natural sense of ease also show the eye for practicality that this designer has. Simple Black gloves and ankle boots form a stylish finish to the look and underneath a dress from the collection peeps out. To the right you can see the reverse of the third look above in the upper series of shots. The buttons running down the reverse of the garment is a play on convention and offers the wearer the choice of making the garment looser or closed depending on the weather.
Feathery applique adds texture to a White long sleeved ankle length dress off-set with a neckerchief featuring fabric from later in the collection and an out-sized bucket bag. The dress is light but not too light for autumn and would make a great day into evening piece. Plaid and ruffles return again in the blouse of the next look. What look feminine today was also part of the mans wardrobe in previous centuries and this piece matched with a leather skirt with side buttons is a chic urban uniform. Again another easy day to evening hit. To the right another coat uses the woven plaid theme with mix/match large fabric pockets in a contrast colour that could formerly have been an arm patch colour. Shirt cuffs and collar innocently protrude from underneath while the duffel coat toggle buttons hint at a simple desire to keep warm as well as stylish. The hem of a White asymmetric dress peeps out from underneath also displaying nonchalant flair. Rejina likes to challenge structural norms and above to the right a shirt is cut on the side with varying sized of button while a skirt that appears as though it may a pair of trousers gently draped on the figure uses a double layer of two fabric. I've personally never seen this before and think it's a very interesting and flattering form of re-styling the skirt suit.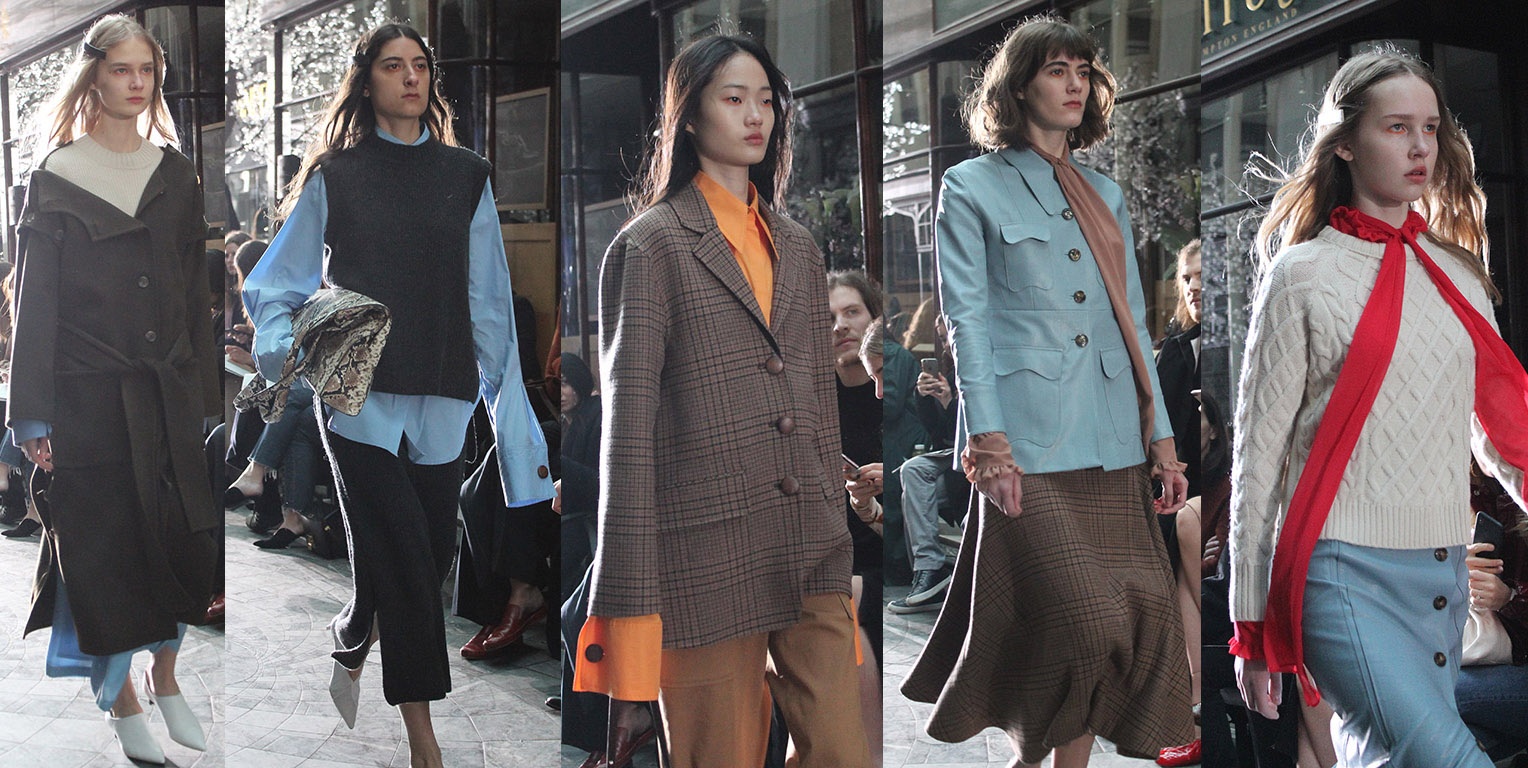 A snug warm coat is casually worn off the shoulder and with a light sweater underneath accessorising what appears to be a long light Blue shirt dress. Tied at the waist it gives a perfect example of casual luxury style. Easy to wear and relaxed in movement, ready to where anywhere. To the right a Light Blue shirt and effectively matching tunic sweater and trousers give an easy work wear option that would also look great on the weekends for seeing friends and running errands. The modern suit takes on a hint of the past with a jacket from the man's wardrobe sitting loosely over a Tangerine blouse and sand covered trousers. Confident and casual it also reminds me that Rejina produces stunning bespoke wear as well as her ready to wear collections and is able to customise to a clients wishes. To the right the light Baby Blue that Rejina has enjoyed using through the collection appears in a jacket that forms part of a composition of separates. She does think about how women compose their options in the morning and it's clear the enjoyment she seems in how women dress themselves. To the far right a Light Blue front buttoned skirt and classic cream cable knit sweater are neutral partners to a red underlying blouse. This bold dash of colour is a trademark of how Rejina expresses exuberance in colour in sophisticated measure through her collections.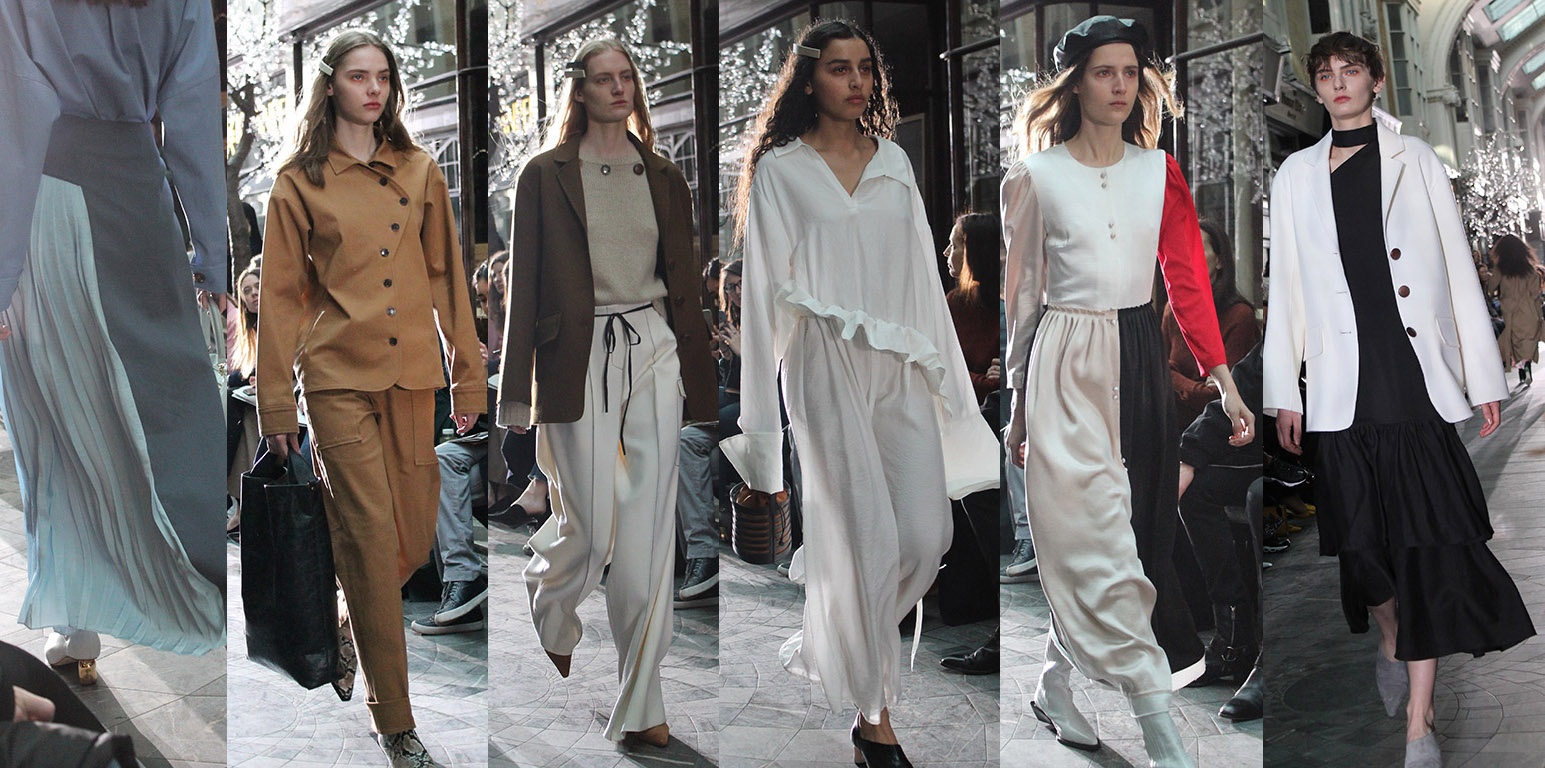 Above a close-up showing fabric detail of the earlier two tone fabric skirt above. Note the metallic heels of the White shoes. Another gentle difference in effect. To the right a day suit again adapts a hint of an Asian shirt in it's closing and the varied buttons show a playful change to tradition. Trousers borrow ever so slightly from the urban/outdoor wear field with zip pockets sitting in line with the leg itself. It's a light easy look and the large shopper/tote in the models hand also hints at urban practicality. Comfort is the vibe again as a soft sweater with round buttons at the neckline tucks into a fluid pair of White trousers with pressed creases typifying easy style. With a hint of the autumnal country colours a brown blazer jacket sits easily on the shoulders.
Sending the collection slightly further in an evening wear direction a White lose flowing jumpsuit takes elements of the sweater shirt and even the waist-frill of the Grimaldi clown outfit to create a chic look for drinks and parties. Flowing around the figure, it's effortlessly stylish. Perhaps I'm imagining a clown link but again to the right, I see hints of the clown costume in the boldly coloured block segments of the next blouse and skirt combination. Scarlet, White, Dusty Pink and Black all combine to create a bold but not overpowering look that shows the sense of play and fun that the wearer has. With it's sweet better hat topping off the look, it's charming and sophisticated with a sense of humour. To the right a very desirable look for evening sees a Black drop waisted dress with two tier skirt and neckline choker matched to a White blazer jacket. This look every inch a polished piece of formal wear that you could take on a date or, without the jacket, to a Black Tie reception in the autumn or party season.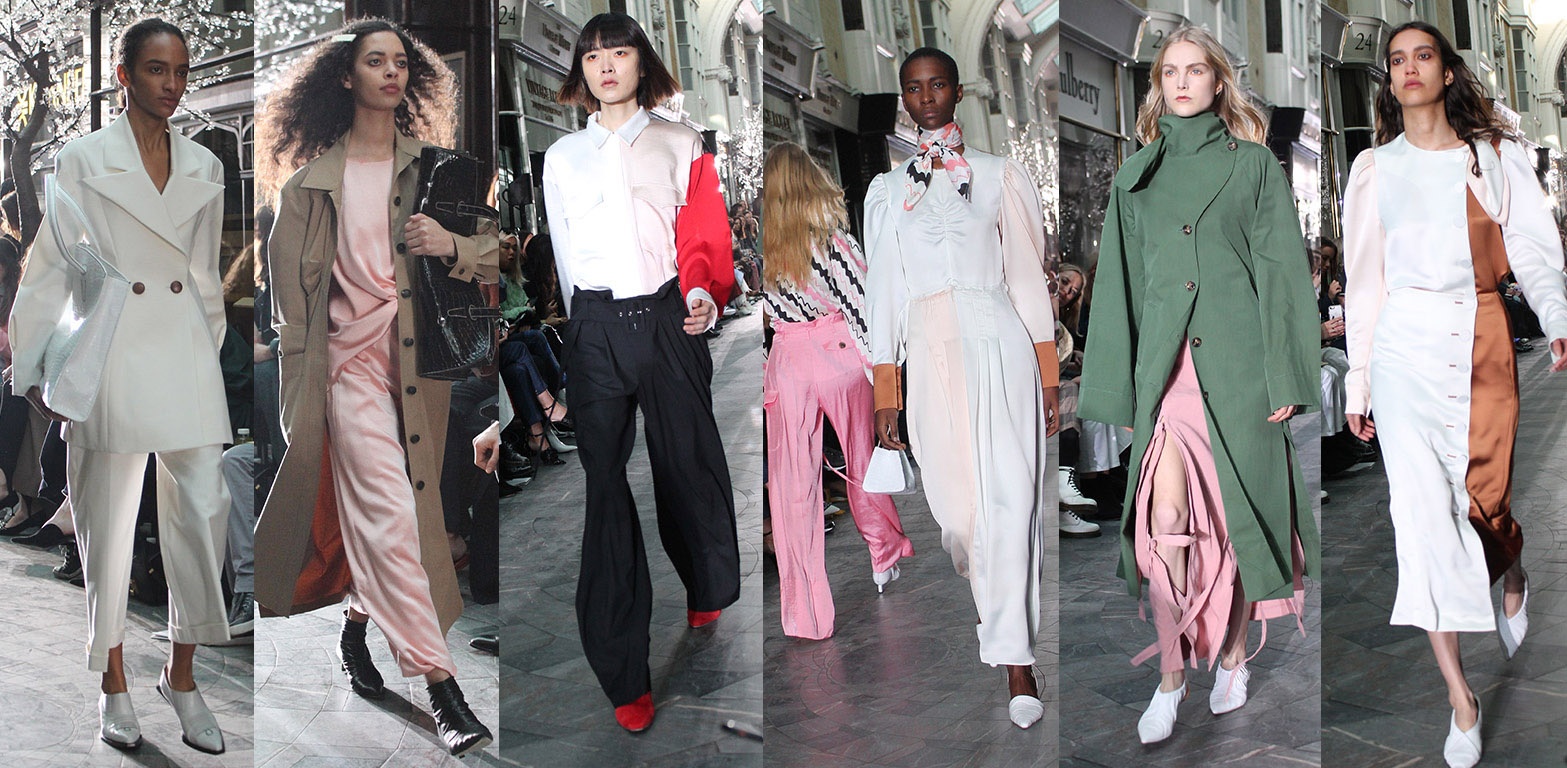 Clean cut with a hint playful flourish that's a good way to describe the next outfit above to the left and the collections from Rejina as a whole. Lapels of the jacket are brought out at broader angles than they would perhaps be making a flattering angle in juxtaposition to the seams drawing the eye down to the waist. The styling takes hints of the single and double breasted jacket while the loose-cut trousers sit jauntily above the ankles in an almost sailor like style. With it's long sleeves it's a stylish and practical way to beat the autumn chill when your busy. A Blush Pink dress with a twist fold across the waist to give style definition is casually accessorised with a Brown coat worn open above lined in a Copper Red silk. It forms a practical day to evening piece and the dress by itself would look wonderful on the Red Carpet as well as a comfortable piece of day wear.

Fun with colour blocking appears again above centre with a multi-coloured shirt matched to Black trousers that sit lightly on the hips in the way that men's styles often do. And why shouldn't women also have the same ease of wear at their disposal? Using segments of colour across a garment is a unique way to give a signature to your work and above a White blouse and skirt are tempered with a soft Blush Pink at opposing angles in a sleeve or skirt lengths. A Rose Pink dress cut with tasselled lengths in the skirt is another addition to the urban sophisticate wardrobe. A Green raincoat sits over the top with a signature swerve-cut across the upper coat using hints of the military jacket before descending to lengths with generous fabric cut. To the right silk dress perfect for cocktail parties and dinners again plays with the multi-fabric theme and uses a bold splash of copper to great effect against the lightest shades. It's an easy to wear look and gives definition to the lines of the female figure while still managing to not cut too close and restrict.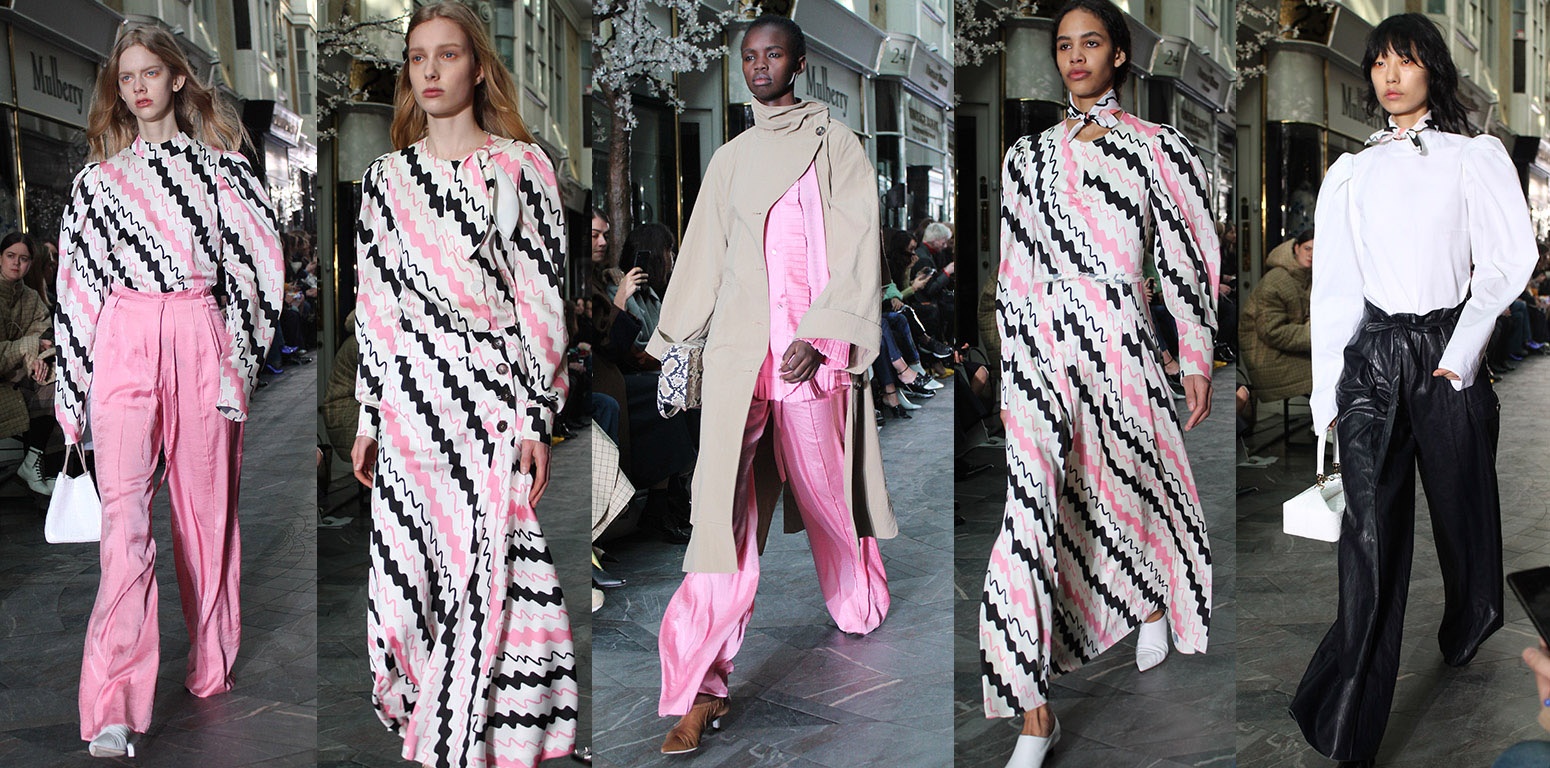 Working further in my favourite colour scheme of Pink, Black and White the final series of looks above took time to explore new permutations of suit styling and a dress. The blouse and trouser combination above left with it's tiny chic tote is a casual go-anywhere look that will bring colour to the autumn days. To the right a full length dress with pretty rosette at the shoulder to tie the front bodice of the look together is an elegant easy to wear piece. Flowing elegantly on the figure as it's neighbour further to the right, it's a beautiful statement of feminine power. Centre above a Pink suit sitting under a raincoat boldly cut open at the sides. To close the look at the collection a dapper White shirt with pin tuck raised shoulders is teamed with Black trousers to create a casual day suit. With small necktie and box clutch bag, it's a look that takes to the best of men's and women's styles of the past to create a bright future.
It's always a tremendous pleasure to see the latest offering of one of the leading British heritage brands with a long tradition of producing the finest textile and fashion for the global market. With a heart beating proudly in Scotland, this firm is continuing generations of tradition each season at London Fashion Week.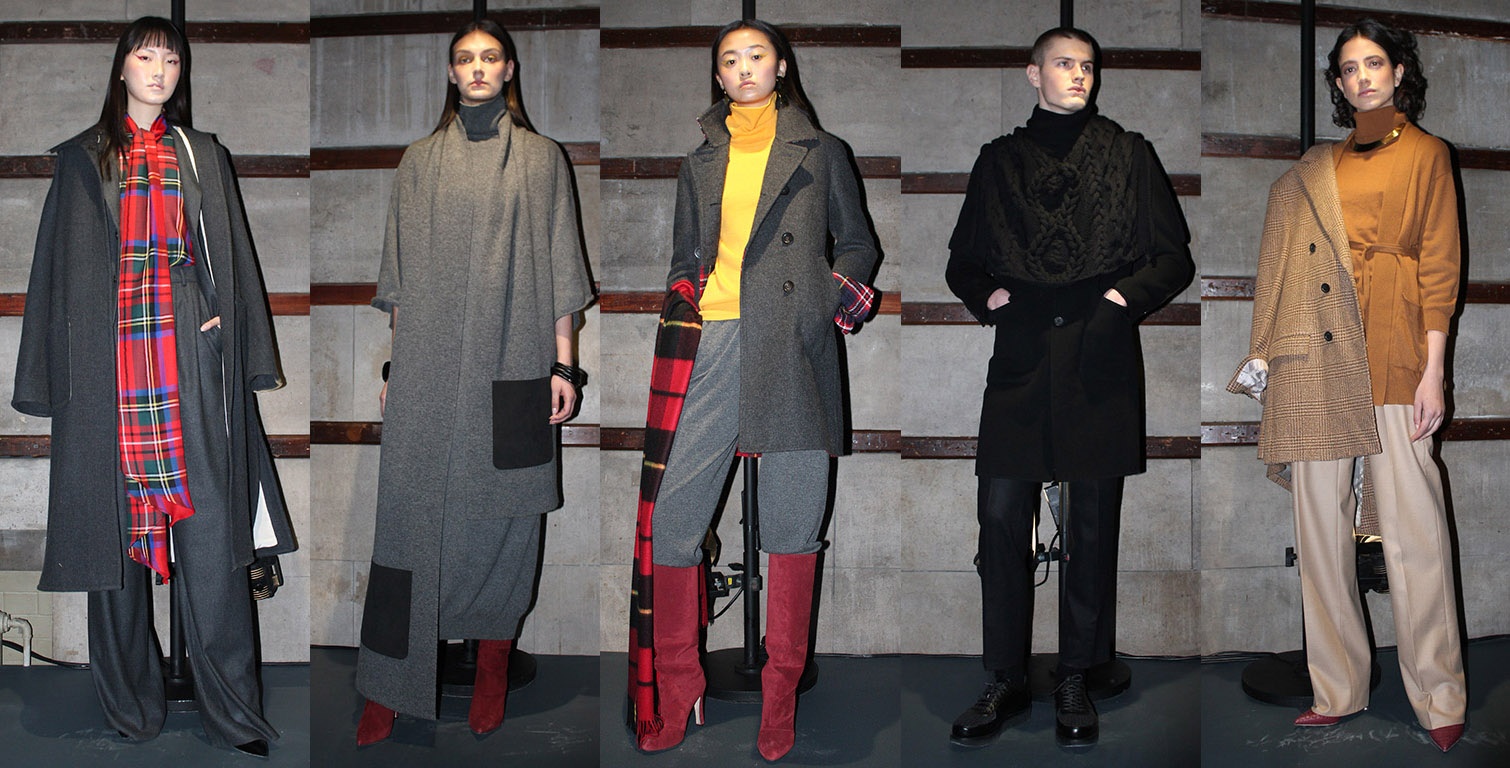 Today for it's fashion collections the brand seeks to create looks and outfits for both outdoors life and day to day living and work. Above to the left a woollen coat sits over trousers and a tick tartan scarf hiding blouse underneath. It's an invitingly snug composition and one that's emblematic of the collection as a whole. The Johnston family have carefully cherished the craft and patience that is required to create their fabrics for over two hundred years. At a drinks reception on a September evening at London Fashion Week there where echos of the Scottish 'open house' as editors and friends of the House gathered to see the new season offering. A long Grey woollen dress is wrapped in a scarf cannily featuring deep pockets so that it may be used to also keep the hands warm. It's a subtle discreet look evoking the mists of the north on cold days.

Centre above colour pops into an outdoors look with the bold colours of the tartan plaid scarf taken as the basis for block colour garments. It's a great idea to take the much-loved Scottish accessory as a base for creating a palette for the rest of the outfit. As bold Yellow roll neck sweater, Grey trousers tucked into mulberry coloured wellies and a tartan jacket coloured lining all some up a modern look celebrating it's Scottish heritage. With attention paid to both men's and women's wear looks the mans outfit in Black of the finest softest wool shows how the Johnston look is readily translatable to the international market. To the far right the traditional easy combination of light sweater with cardigan is completed with soft fine wool trousers with a woollen tweed jacket over the top. The colours have a natural sense of coordination about them and speak of the rocky tones of earth and autumn leaves.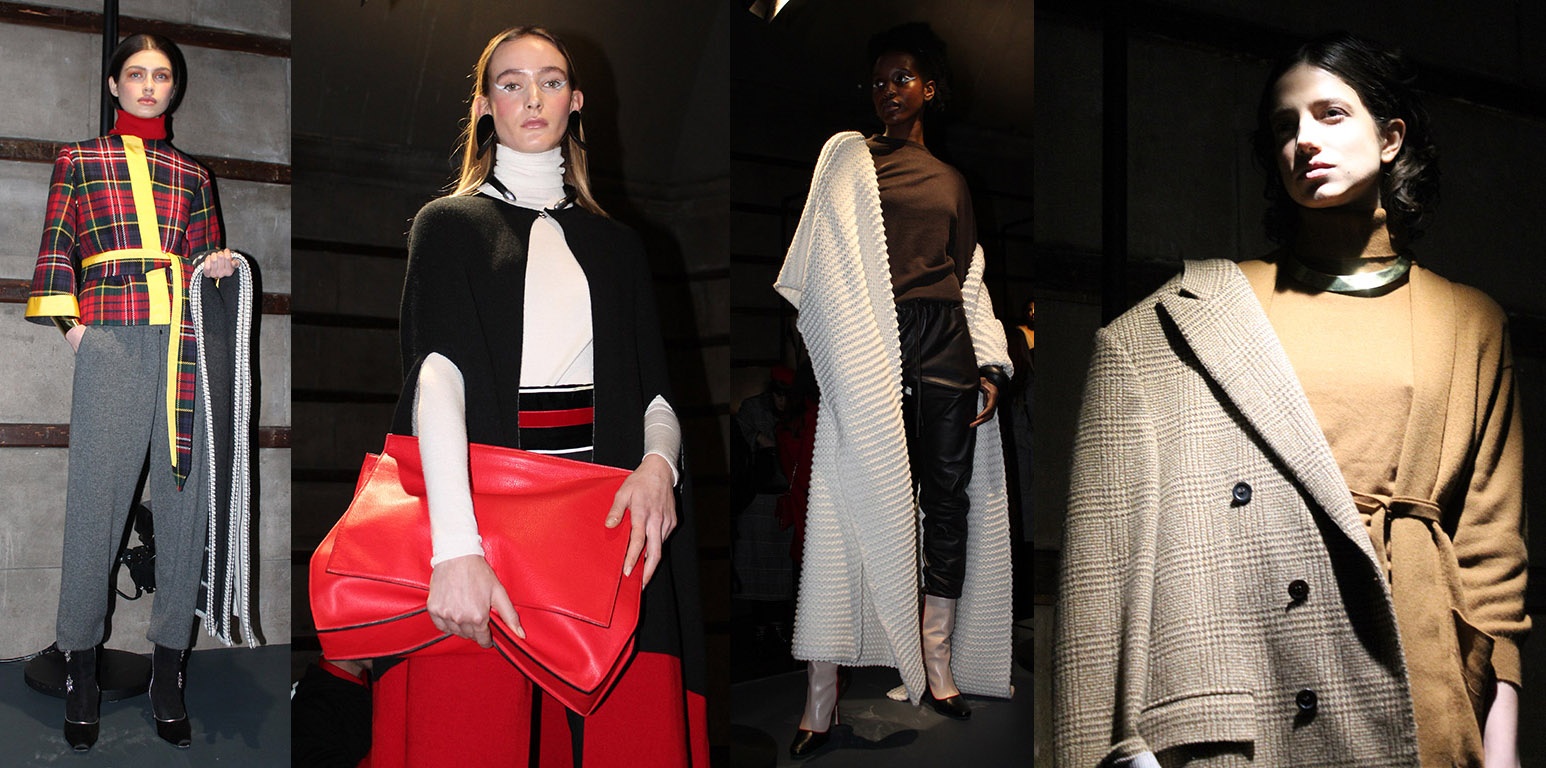 A desire for innovation as well as remaining true to core themes and inspirations based in art, history and the natural landscape help Johnstons maintain a sense of identity. Signalling the bold strength of Scottish courage the strength of the fabrics lit up the faces of those who saw them. A bold tartan with broad boarders in Yellow and Red uses a dressing gown style to create a simple wrap-over effect. The classic roll neck sweater appears in several places in the collection with a White sweater sitting underneath a Black cloaked gown. At the waist broad blocks of Black and Red create a contrast/divide to the culottes in flowing bold Red. An outside clutch purse offers plenty of space to hold notebooks or a laptop. Extending the scarf to a fuller length wrap to cloak the figure is a warming piece of snug Scottish textile. To the right one of these wraps around a casual sweater and trouser set that keeps the wearer warm and can be worn easily like a jacket by wrapping your arms in it. Above a close-up of the model in the above range showing more detail of the fabric and the Golden necklace that held echos of the rich cultural diversity of Scottish history in it's Celtic and Viking past.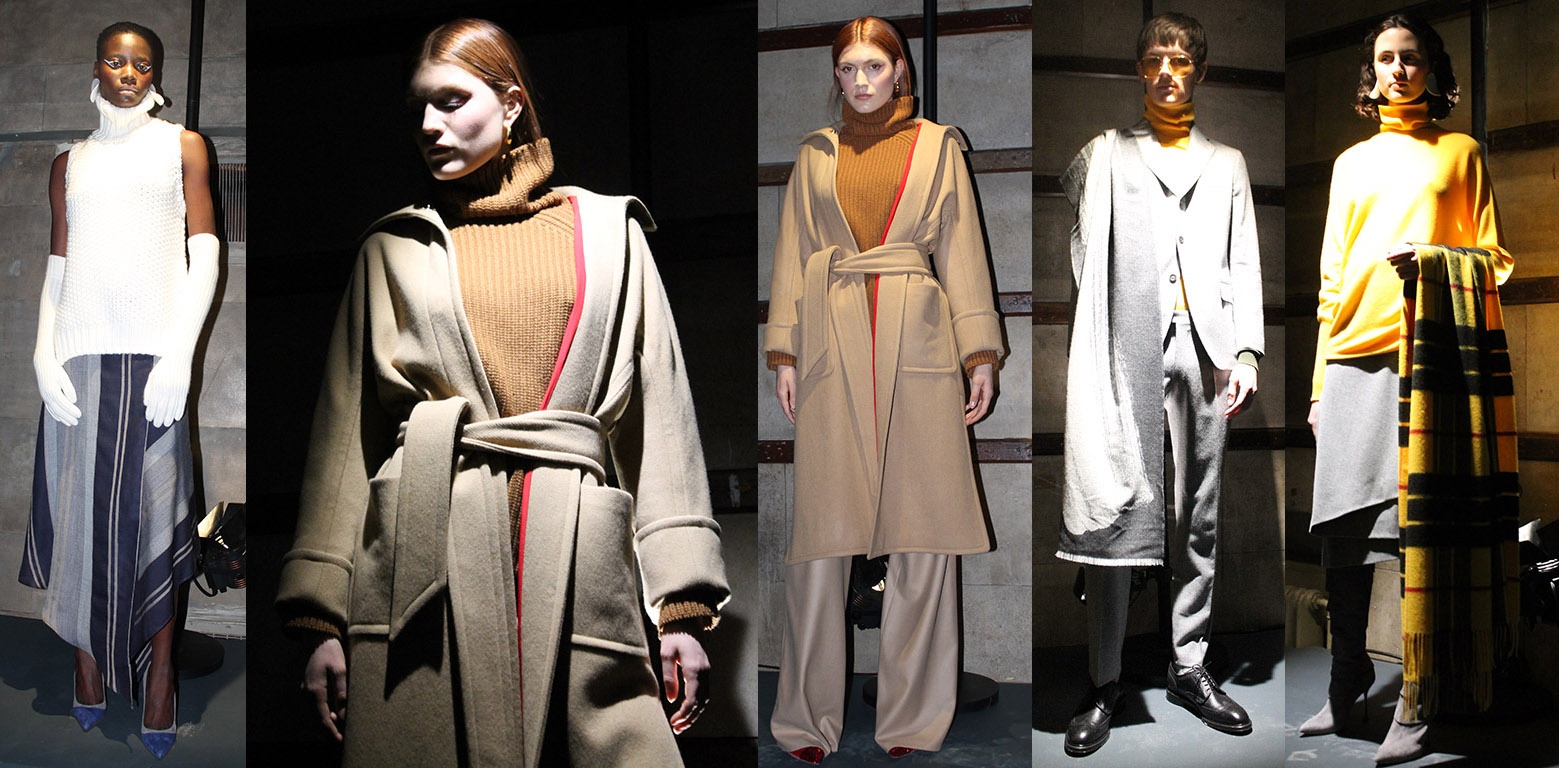 A sleeveless chunky knit sweater is paired with matching gloves and dressed with a skirt of Grey and Blue woven fabric. The contrast of the lines against the plain White of the sweater is defined but not too powerful as to seem stark and the composition is suitably elegant. Centre above in full length and close-up is one of my favourite looks that sees a relaxed pair silky smooth woolen trousers accessorised with a Caramel sweater and a large softly belted woollen blend coat. The deep pockets and hood allow the wearer to wrap up extra warm against the chills in the UK and anywhere else in the world. It's also a perfect coat to accessorise with a number of day and evening outfits and cherish as favourite winter coat. To the right another menswear composition of suit and long scarf wrap shows that there's nothing exclusively girly about the giant wrap scarf. To the right bold colours return with a Yolk Yellow appearing in a tartan scarf and then translating to a bold sweater. Matched with an asymmetrically cut Grey skirt wrapping in folds around the figure for an extra hint of warmth.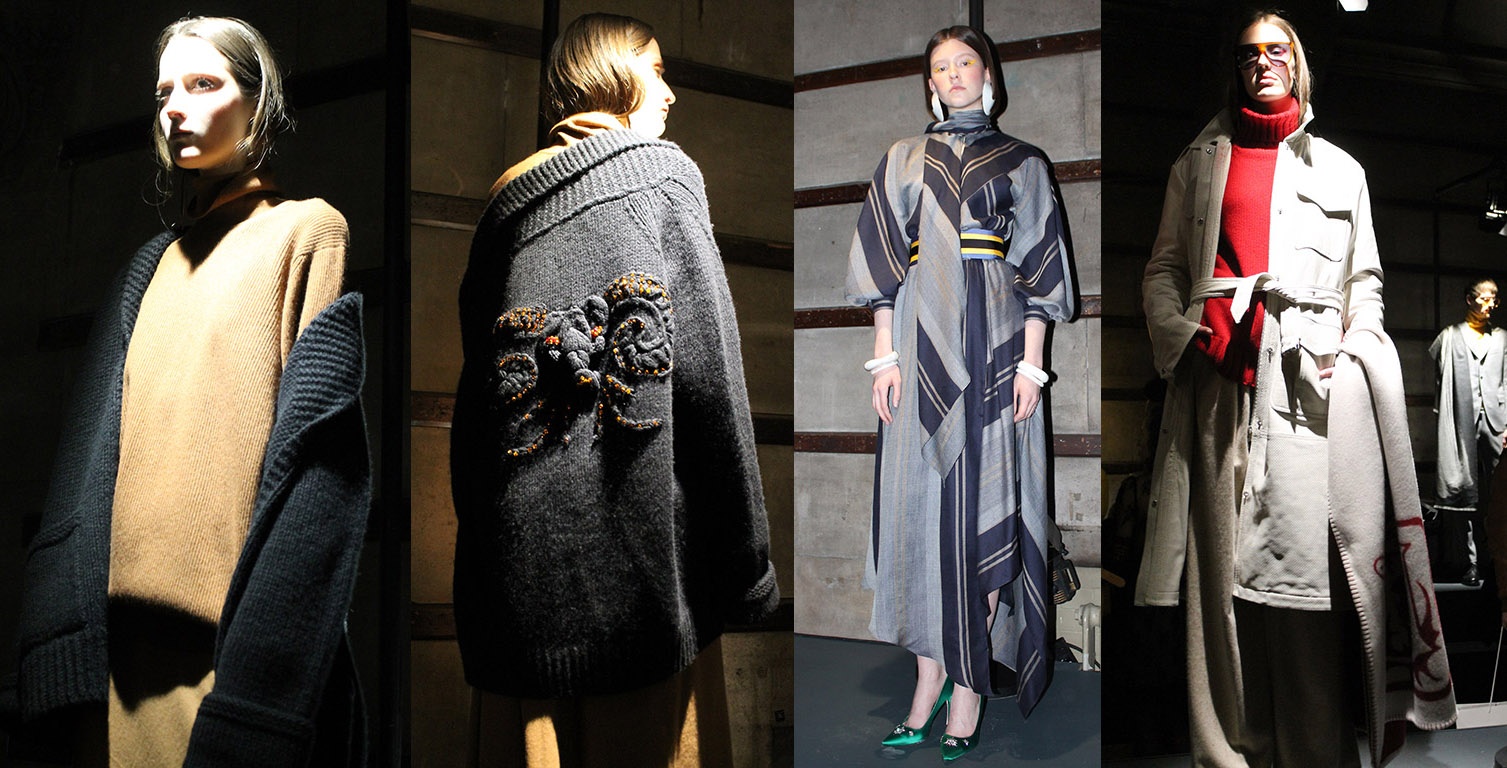 Focusing on the knit in the look above shows the wrappable layers that clients love to buy and give as gift to prepare for the winter months. A Caramel sweater and skirt sit under a Charcoal Grey cardigan featuring a knitted artistic depiction on the Johnston's of Elgin sheep, a symbol of the family business on the back. It's charming and elegant in it's composition and an readily adaptable to the wardrobe. To the right a dress composed of the striped fabric above has hints of varsity style that was perhaps composed in the textile mills of Scotland for clients around the world. Here it forms a soft silky dress that could be work for business or leisure times. To the right a Red chunky knit sweater and wide leg comfy trousers sit under a long raincoat. Wrapped up against the elements the blanket the model carries also proudly displays the Johnston emblem that gives the imprint of the traditional rural origins of this powerful international brand.