Spring & Summer 2020 part 3
It was a huge pleasure to visit Stephen Jones during London Fashion Week for his pop up in St. James'. Working with clients across the celebrity spectrum and providing hats to illustreous designers and was introduced to Paris in the 1980's by Jean Paul Gaultier no less. Stephen has an incredible career to date helped largely by a seeking out the best training in the fields that interested him.. He studied art at High Wycomb College before attending Central Saint Martins in London. It was there during his Summer breaks that he gained a place at Lachasse, one of the leading British Couturiers of the 20th century studying millinery for successive Summer breaks under Shirley Hex. Lachasse was a pillar of the formal establishment from 1928 until it's closure in 2006 but it had the forsight to open it's doors to many students who would push the creative boundaries further including John Galliano, Hamish Bowels and much earlier Digby Morton and Hardy Amies.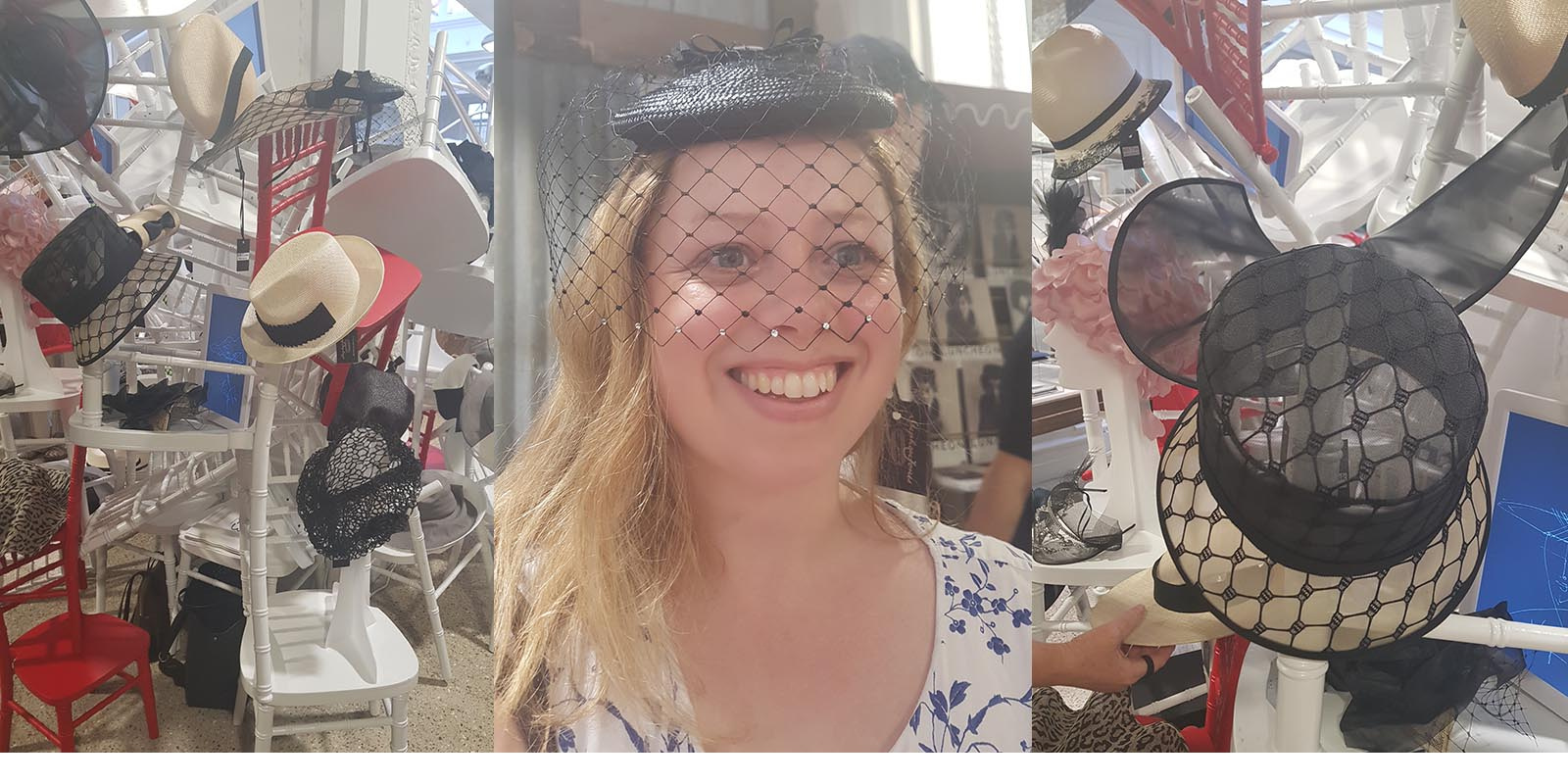 In the bright halls of Dover Street Market a number of hats semed to be enjoying themselves and having a party before the people arrived. With Darren Gerrish on standby to capture any secret hat frolics I looked at the beautiful pieces and spoke to members of Stephens team. You can see from images of some of the collection that the scope of Stephen's output is really varied, something to suit everyone and there is no such thing as 'not being a hat person'. Excusing my silly face above, you can see an example of a small crowned piece with veil.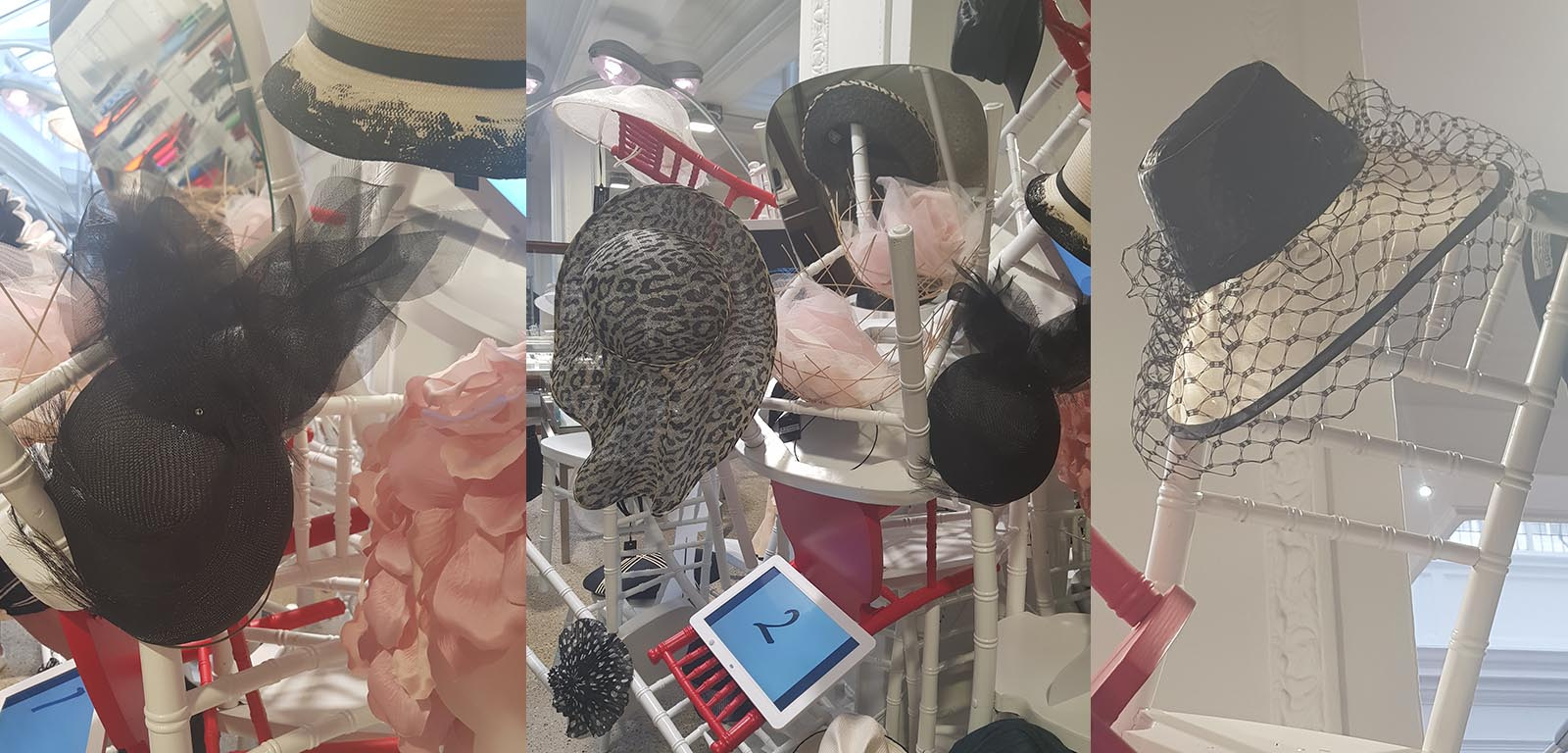 The hats were having a great time as were the people. Looking at Stephen's designs it really brings it home that hats can be worn for every day. Some milliners produce beautiful pieces that ou will see heading to weddings and the Summer or Winter formal seasons of race meets but many of Stephen's designs blend into everyday life. Can we embrace wearing hats again on a bigger scale as we did in this country before the 1980's? I hope so, I think it would be fun.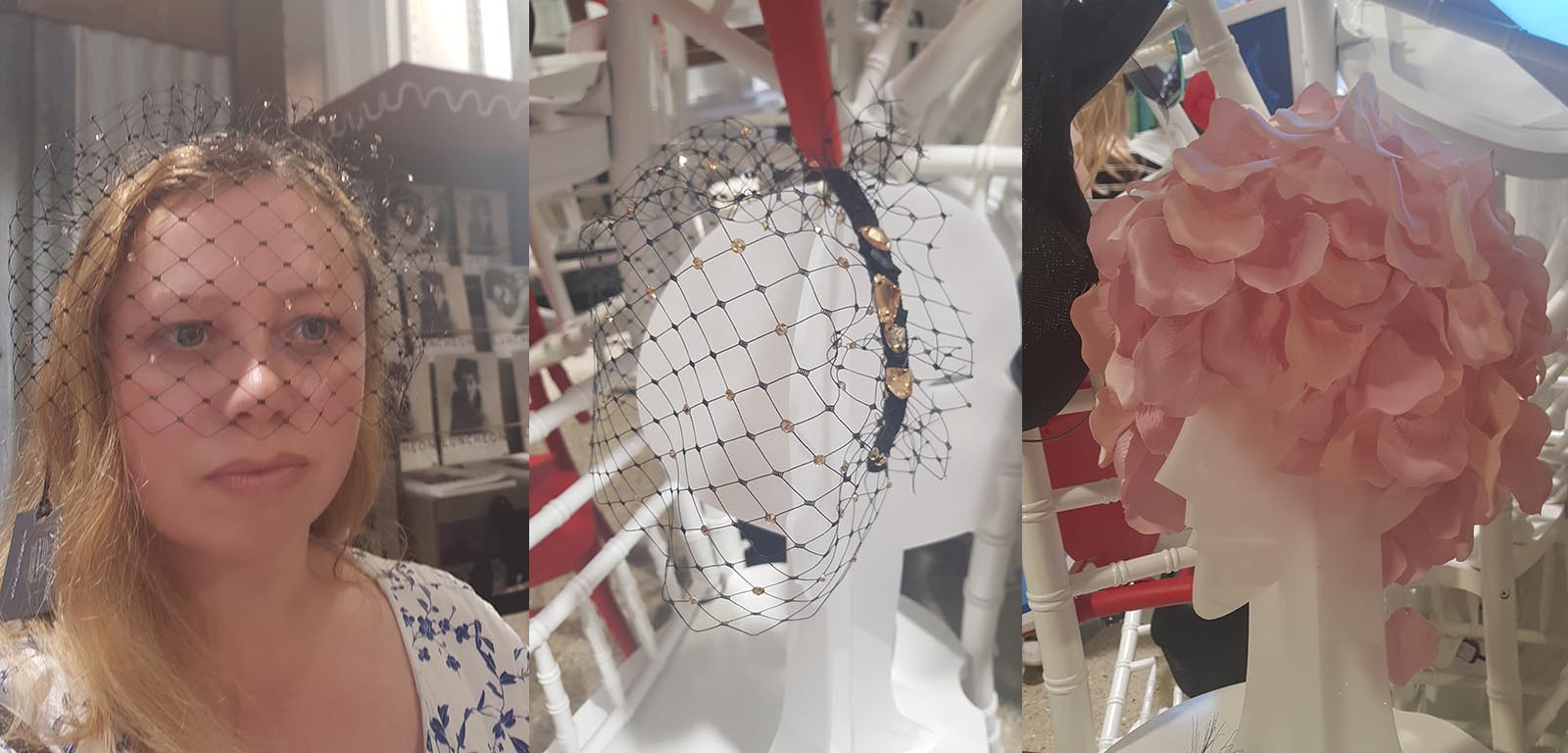 Above you can see me in my favourite piece placed to the right, a soft headband with veil featuring small crystals that catch the light. It was a very charming piece and for someone who is cautious when it comes to hats, I really liked it. I wasn't the only one either as this soon found it's way to crown American television personality Billy Porter and as you can see where he was 'hatted' by Stephen below, he really liked it. Above to the right a shower of flower petals swirl around a head in a look channelling the styles of the 1960's.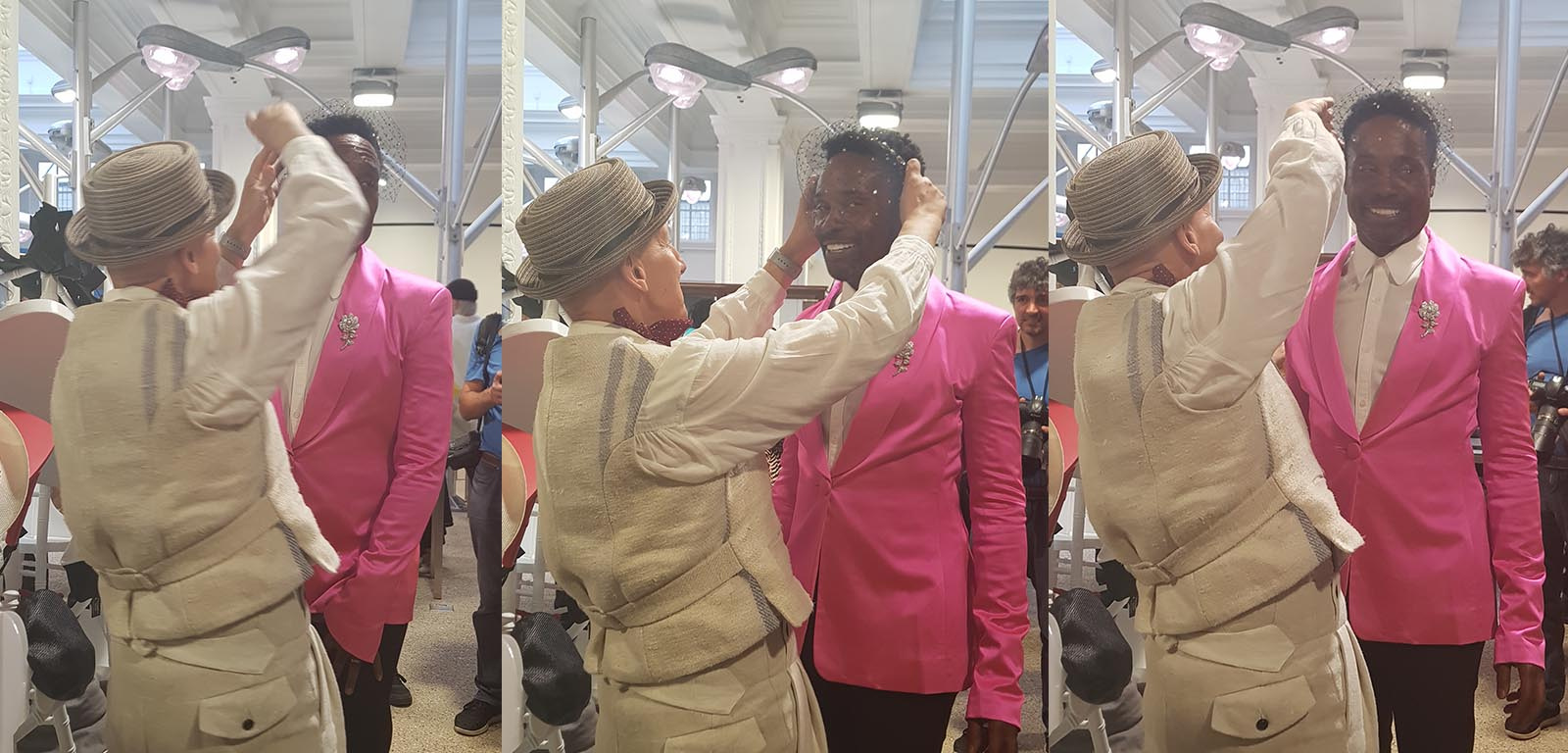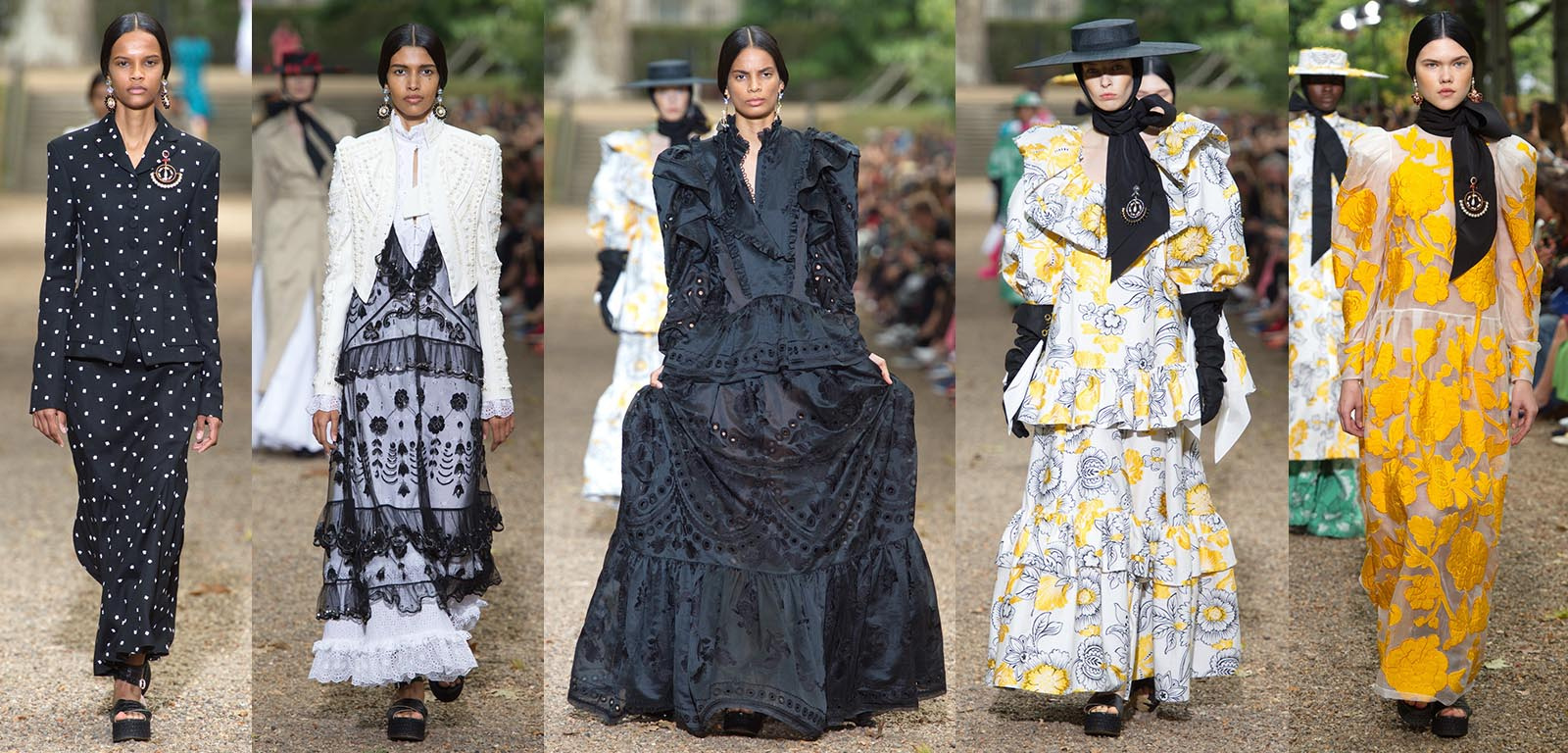 Erdem Moralioglu is one of the leading fashion designers on the London show schedule and his collections are a treat to see and absorb. Spring and Summer 2020 collection inspiration came from Tina Modoti the multi-talented Italian Model, photographer and actress who moved first to America in 1913 where she worked for several years before moving on to Mexico in 1922. Among many projects, she documented the lives of Mexican women in different regions of the country and became a communist.

A Black skirt suit is dotted with White spots that open the collection in a vibrant monochrome that set the tone for Belle Epoch nuances of glamour. The jacket is classically recognisable but look closely at the skirt and a neat point of innovation appears with two seams descending on the diamond diagonal bordered with pin tucked ruched fabrics. Vintage re-invented leaps forth at full force with a beautiful Broderie Anglaise dress overlaid with a Black sheer lace shift featuring three tiers of skirts at the hip, knee and mid-calf. A White jacket sewn with beads in a geometric alignment carries a strong flavour of traditional Mexican crafts. It's a dazzling look that would look very beautiful at Summer events.
Centre above a full length dress in Black takes advantage of using the full length of the figure to show embroidery and I think crochet detail to full effect. It's filled with the creative verve and passion of Mexican textiles crafts. Patterns rippling across the surface of the fabric and cut-away circles with embroidered borders take the eye on a creative journey. Its glamour and elegance defined. There is little Italian influence in the collection, I would say, beyond the lengths of the clothes that was customary at the start of the twentieth century. A Saffron-Yellow floral pattern weaves across the surface of a dress again tiered in three layers reaching to the ground. The full fiesta of Mexico and pride in the regional crafts produced is very evident here. Black provides the strength of contrast with a broad brimmed hat and cravat. To the right a sheer White tulle base is adorned with Saffron coloured embroidered flowers. Like something blooming out of the fields of Mexico, this piece pieces adopts a simpler structure than its contemporaries early in the collection. Perhaps hinting at travel the scarf in this piece is sewn with a design resembling a compass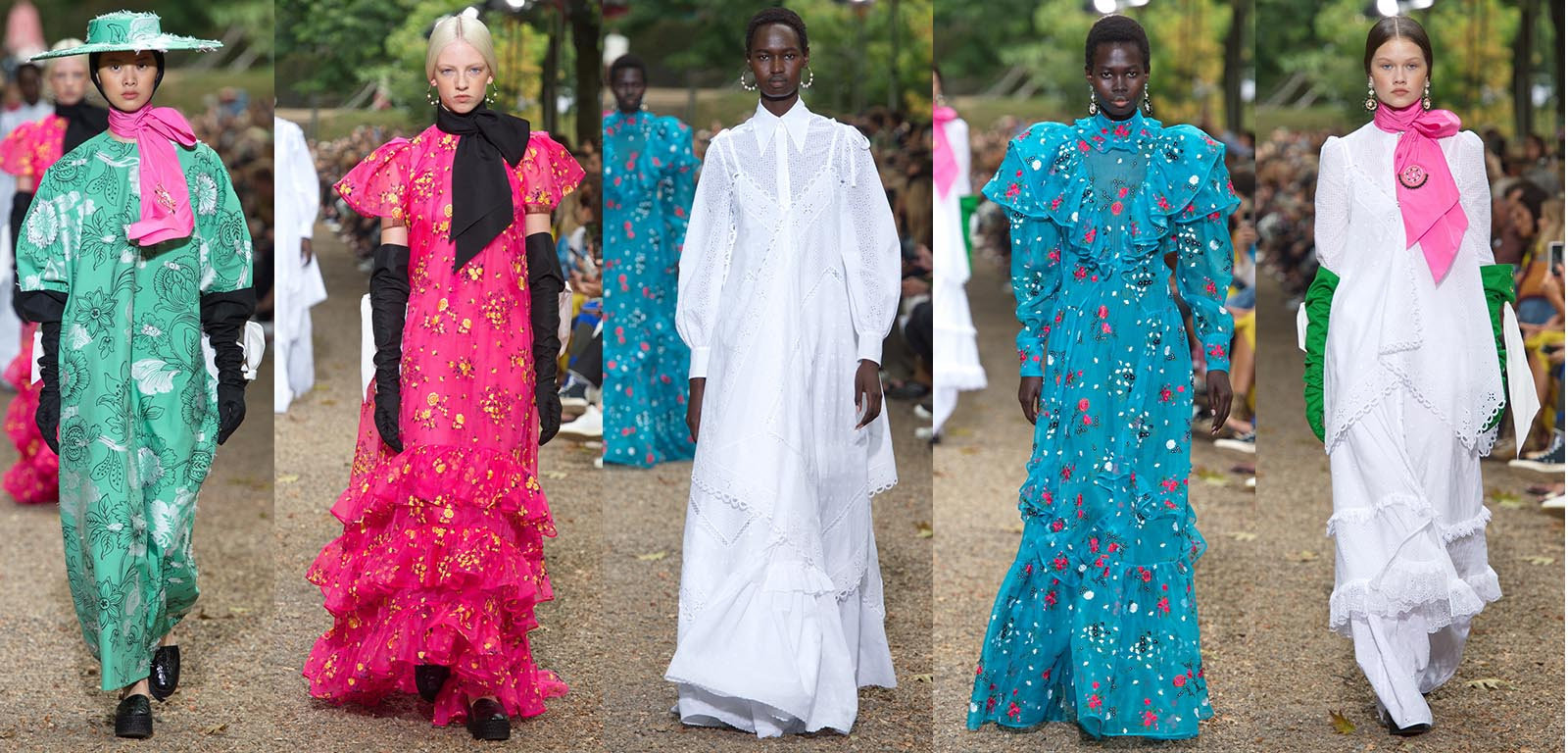 A signature floral pattern of the collection appears on a bright mid-Green fabric outlined in Black and painted with White to fill out the colour of select flower heads, also appearing in a hat with small feathers strewn across the surface. In contrast a bright Pink scarf tied about the neck and Black silk long gloves leave the figure almost completely covered yet the modesty is perhaps disguised by the boldness of the look. A bright Pink dress restricts tiered ruffles to the knee to ankle lengths with small flourishes at the upper sleeve of the light sheer fabric. Small Yellow flowers welcome the sunlight printed upon the outer sheer shift and the Opera length gloves and neck-tie heighten the glamour. Beautiful fine White embroidery trimmed with pristine lace paid further tribute to the careful skill and craft of the Mexican women that Modoti met. A dress that commences with the structure and formality of a shirt-dress descends to the fluttering lengths of a soft conventionally feminine piece. Sewn with panels of varied fabric weave, it's almost a play on upcycling as less conventional than a garment that would have been worn in the past. A Turquoise dress printed with Red flowers channels the Edwardian/Belle Epoch aesthetic that was embraced through central America in its enhancement of the female figure. To the right the 'handkerchief' cut and fall of fabric is emphasised in the loose dropped bodice sitting over a similar piece to an earlier dress.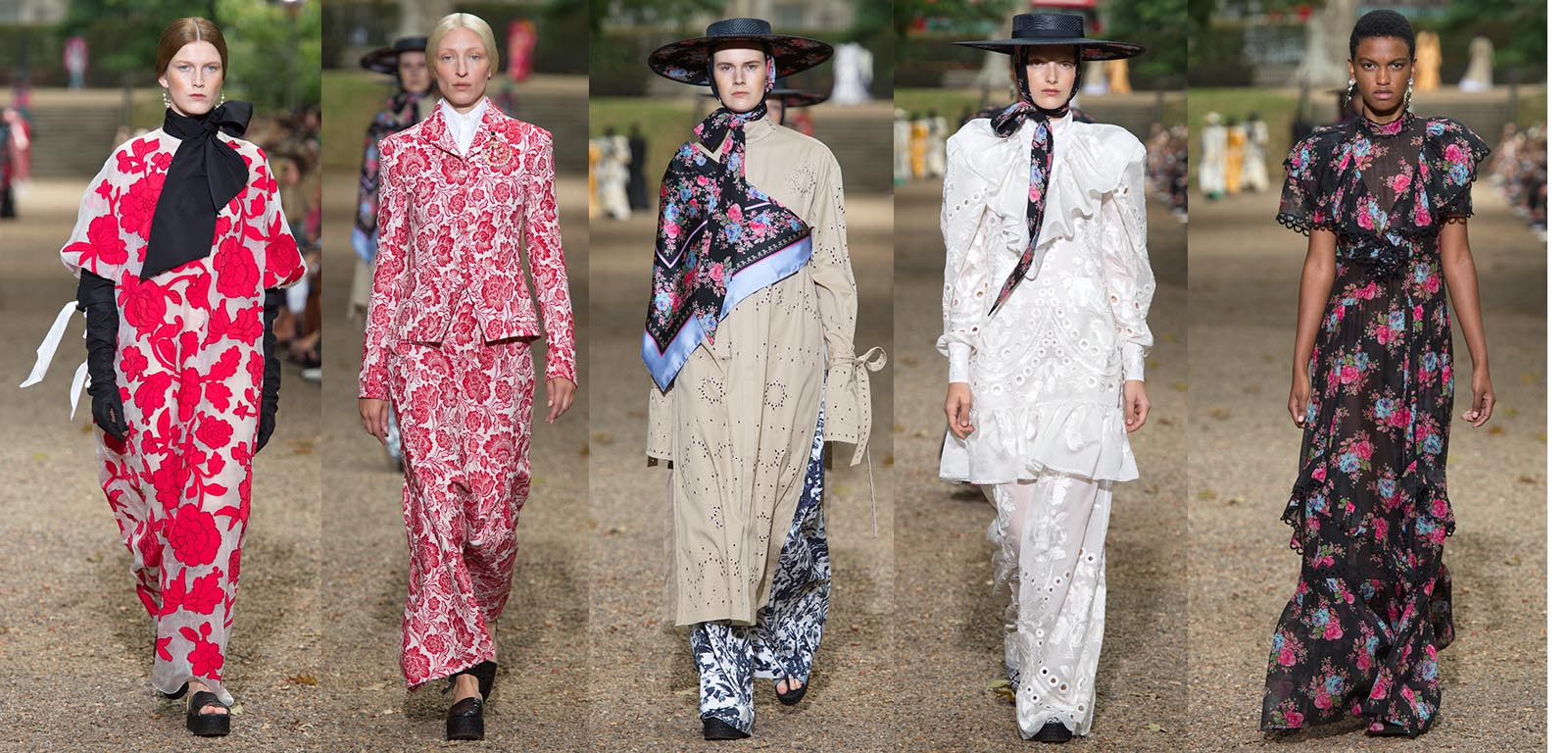 Broad Red flowers grew and weaved across the surface fabric of a dress. Cut from a single undulating piece of cloth, this semi-sheer piece again curtseyed to the beauty of length and the ease and mystique with which it wraps the figure. Another Black silk neck-tie and pair of over the elbow gloves create a formalwear option that could walk the Red Carpet and turn up the style heat in the summer months. The fabled central and South American love of colour continues in a calico trouser suit with flowers and leaves flowing across the surface. A crisply tailored White shirt keeps the look in a formal sense of harmony.

Floral colour splashes jump to the neck scarf in the look centre above with a broad brimmed hat keeping the rays of sunlight at bay. A Greige midi-length blouse dress is perforated with small holes to give an updated twist on the heritage applique detail blouse. Soft White silk trousers are printed with more Calico in an inky Black. An outsized Broderie Anglaise stitch with flounced ruffle collar and dropped waist shirt is completed by a pair of wide legged trousers. It's another demure look that will keep you smartly covered during the hotter months around the world. A full-length floral floating piece channels long lines and glamour of a bygone age with ruffles around the above elbow sleeves descending towards the waist in a diagonal across the bodice. It's an easy piece for day and evening wear next summer.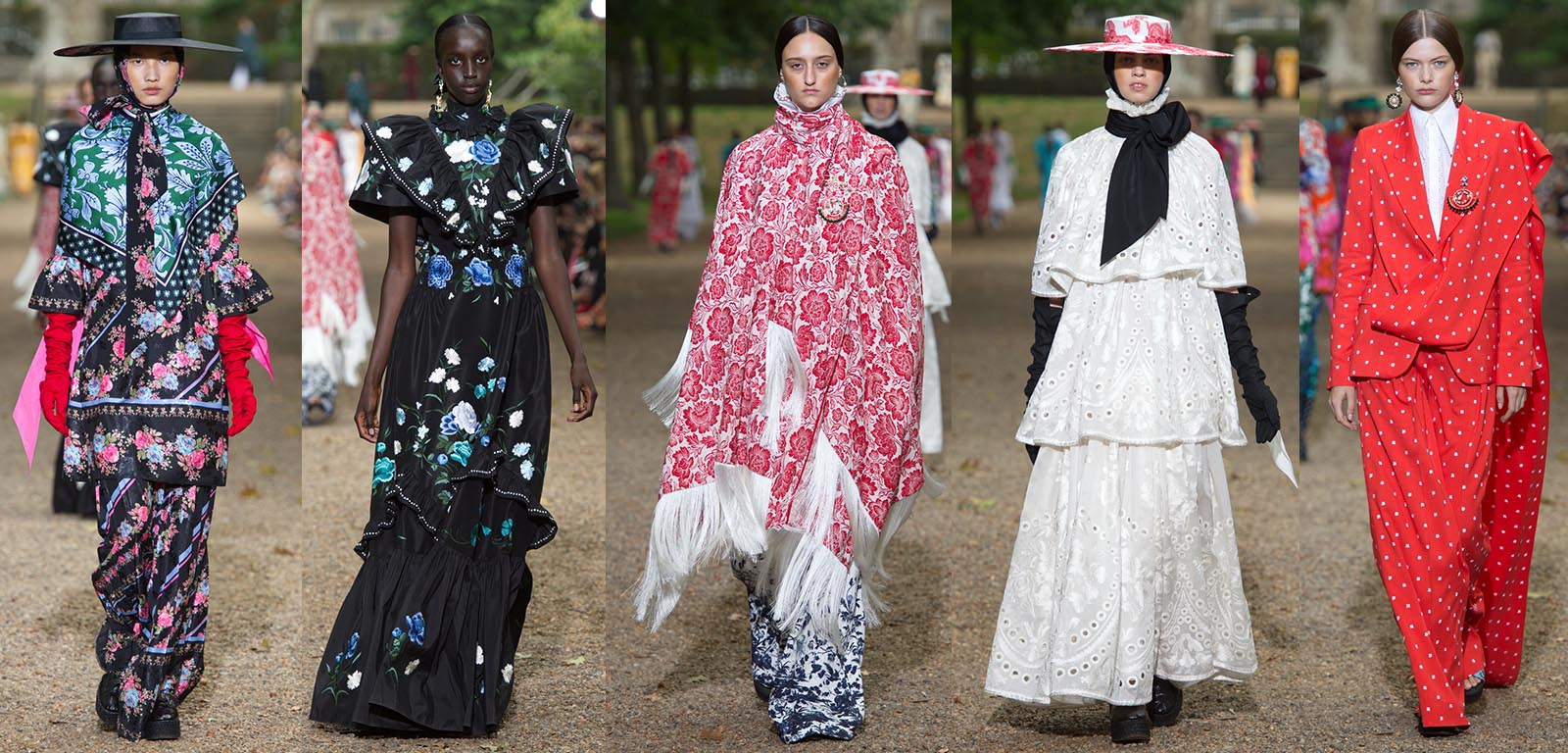 The silken neckerchief takes on a new guise in a cape, blouse and skirt combination. An expanse of silk bordering drawn around beautifully printed panels of fabric takes chintz to another level. Scarlet over the elbow gloves are created in an abundance of fabric with a softer Pink large bow tied behind the back of the model chiming with the soft roses of the fabric illustration. A Black full length dress with its two tiered skirt really channels the vintage ERDEM that so many of us know and love. Hints of the 1970's long line that he is known to admire also correspond with the subtle style tones of the Belle Epoch. Two designs formerly used in separate calico print pieces form both a long line poncho with fringe tassels and generous culottes. It's a statement glamour look that will catch the eyes. The hallmark SS20 Broderie Anglaise fabric created by ERDEM returns in the form of a triple layered dress with tiers falling to the waist, the knee and floor. A broad brimmed hat is created in the Scarlet floral fabric of the collection with a Black silk scarf and matching extra-long gloves. Furthest right a polka dot trouser suit appears again with a train formed from the left lapel reaching over the shoulder and down to the ground.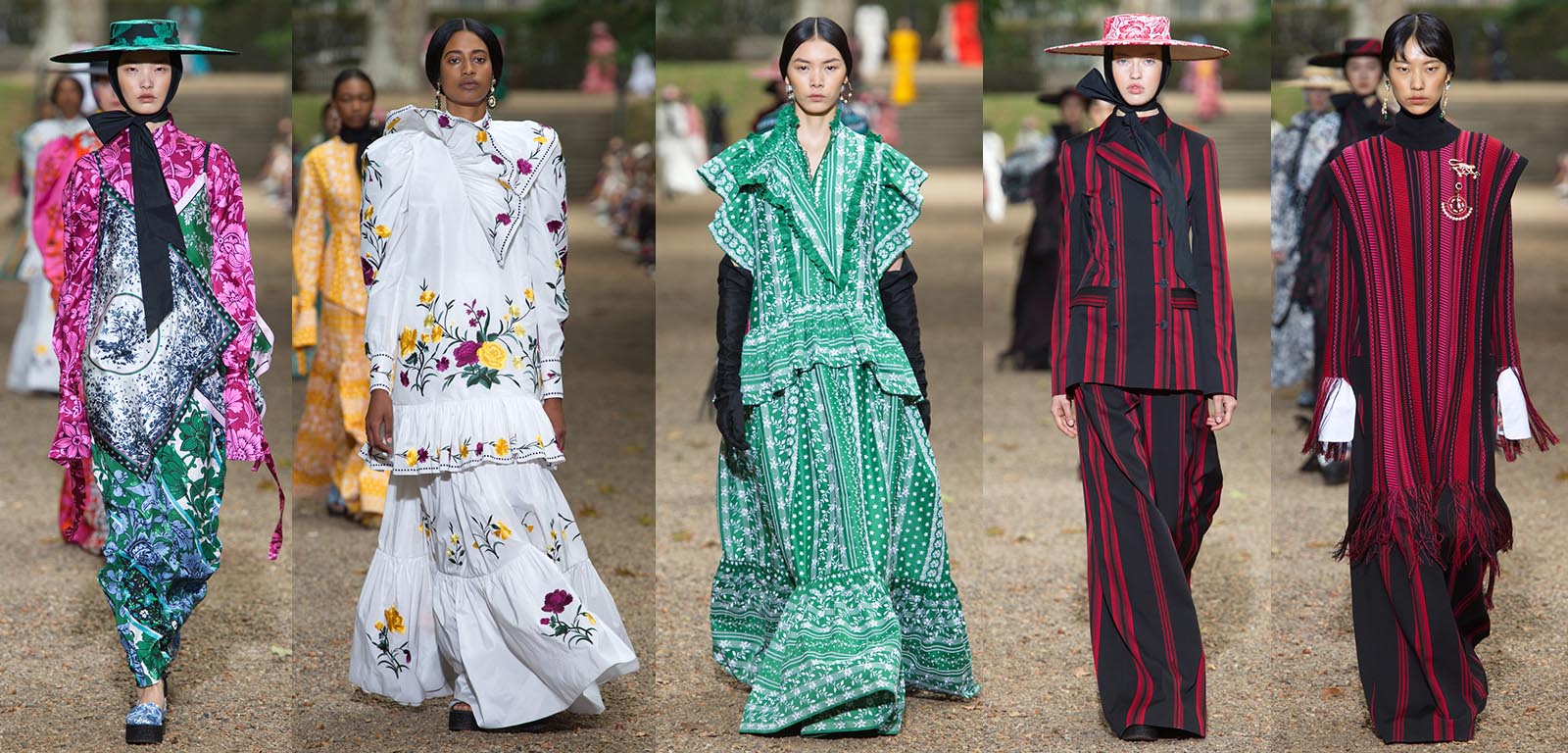 The classic season print is transposed into a contrast/clash of Magenta and Rose on a blouse beneath a dress that gives the optical illusion of being composed of many scarves. A bloom of spring flowers stretches across the bold White fabric of a dropped waist blouse and skirt. A loose form ruff collar is an aesthetic companion of soft peplum detail at the dropped waist and midi-length hem. It's a dress that calls the sunshine to come out and dance around you. Green printed fabric with traditional Mexican textile design makes a confident statement with seams of intricate borders running the length of the fabric. To the right a trouser suit and dress in full length are cut from the same fabric using a Black base playing with varsity stripes in greater number than the classic uniform design. It's never overpowering though with a Black neck-tie and an open sided knit sweater banded with Pinks, Scarlet and Black. Broad cuffs of the classic white shirt are attached to the sleeve lengths and free flowing tassels appear like a scarf-like off-set to the conformity of the straight lines.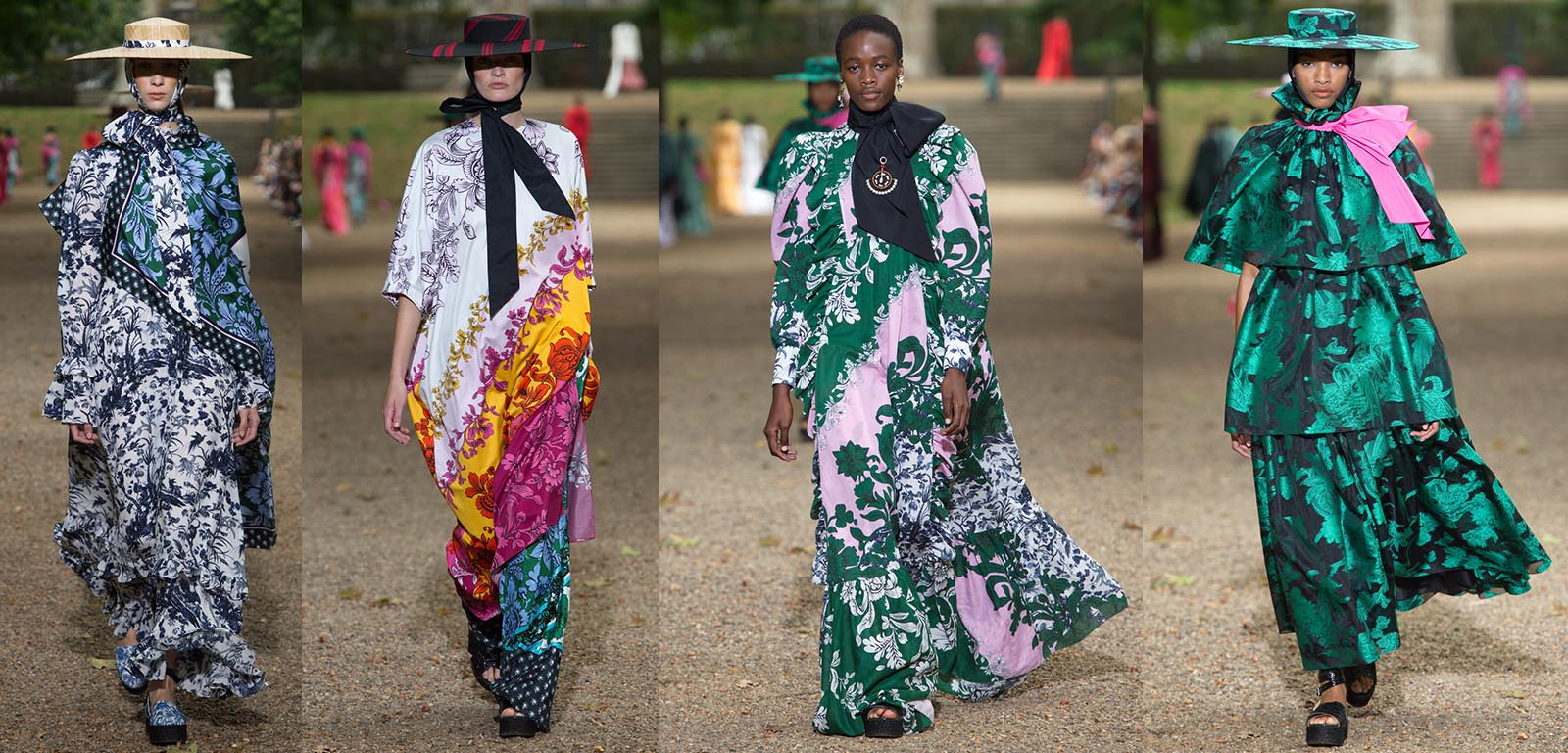 A diaphanous White dress is printed with Blue-Black flowers once again in the signature seasonal collection. Crafted in part with a large silk headscarf-like fabric across the left shoulder and continued the floor-length silhouette. Whilst many dresses feature a single fabric, one piece is designed to show what appears to be several fabrics running across the surface in a seamless blend of blend of designs. There is no join, colours of the next pattern are painted to align with their predecessors. Rose and Green often make a happy combination and a soft Pink base features lush vegetation sprawling across the surface in illustration of Green and reverse into White flowers on a Green surface. Turning up the subtle impact to more high statement, a Black silk dress is printed with delicate Green flowers in beautiful scrolling calico.

Soft colour tones also make an entrance towards the later part of the collection with Soft Rose coloured toile de jouy illustrations set on a White base. Five tiers of layers at least descend through the length of the garment and swathe the wearer in enhanced volume of soft silks. A board flat brimmed hat in this same fabric created a complete look off-set by a Black silk scarf. To the far right the garment that closes the collection also contains a Rose toile de jouy on White tied at the neck with a Saffron Yellow out-sized bow and Scarlet over the elbow gloves. This bold Yellow appears in one of a pair of dresses below, the other being a matching Scarlet that carry their colours to the final look of the collection.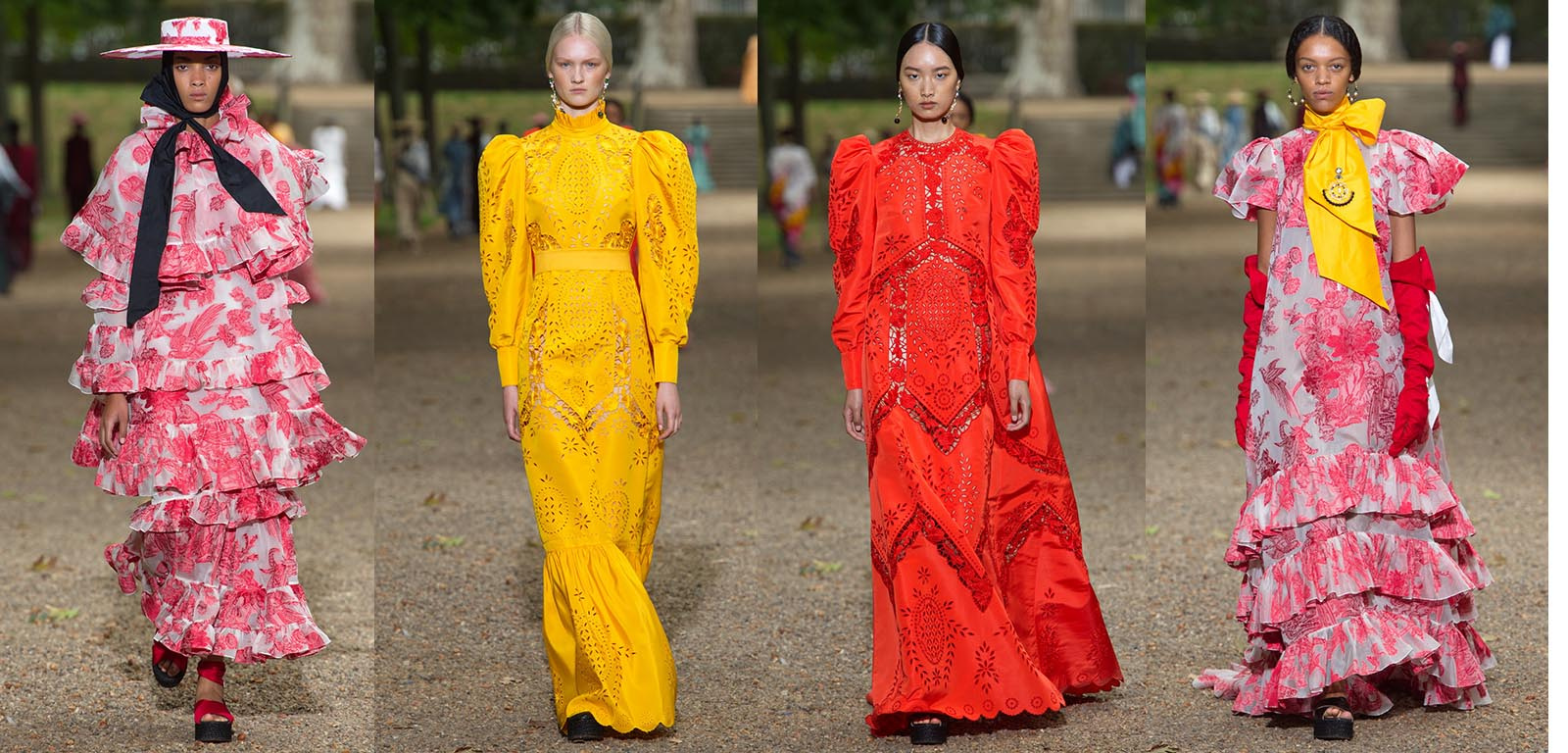 Lee set her collection for spring and summer 2020 against a backdrop of inter-rotating pairs of actresses who gave monologues and dialogues expressing complexities in relationships. There where powerful emotive speeches and as ever Lee sought a talented group of female protagonists to join her cast.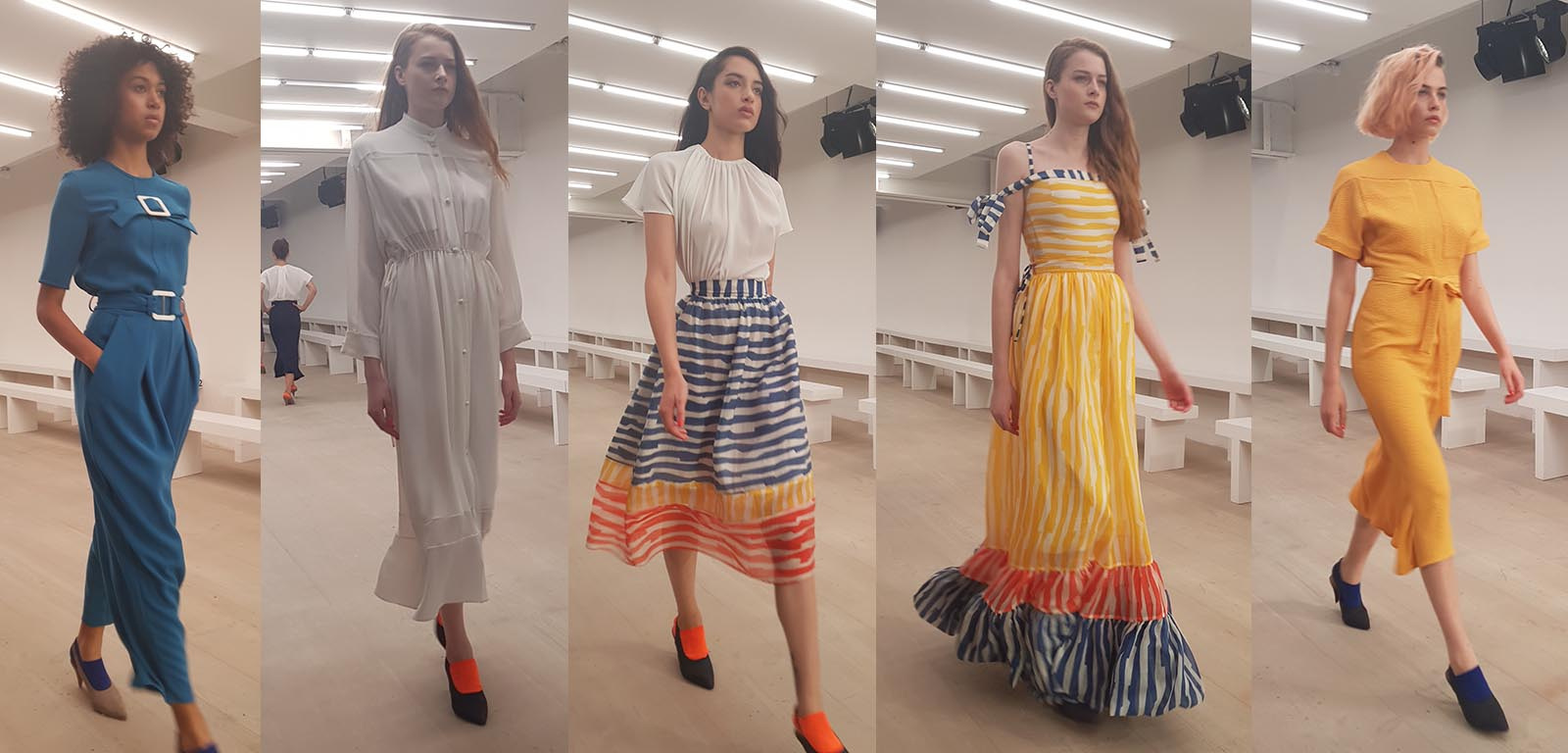 Colour was very evident for this season and Lee never shies away from enlivening her collection with balanced amounts of colour that form adaptable working and play outfits. A petrol Blue dress belted at the waist formed one of the choices of looks that would translate easily to office wear. Its cut perfectly on the figure for adaptability and the pockets slide over the hips seemingly creating space out of nowhere. A White shirt dress with cinched waist and soft round collar uses faint piping at its borders to provide definition. It's another easy piece to take into the office or for a summer evening party. Centre above a White blouse featuring cinches of fabric creating rays of fabric and volume around a circular neckline is an easy accompaniment to a skirt framed in a tricolour of horizontal and vertical Red, Yellow and Blue brush strike lines. The lines themselves vary in width to a lesser or greater degree. The idea extends to a full lengths sun dress with small straps on the shoulders complimented by a thick band around the neckline. The sunlight streams of rich Yellow through the lengths is complemented by the Yellow dress softly tied around the waist. This another easy summer look for work or leisure that appears a continuation of the Lee aesthetic.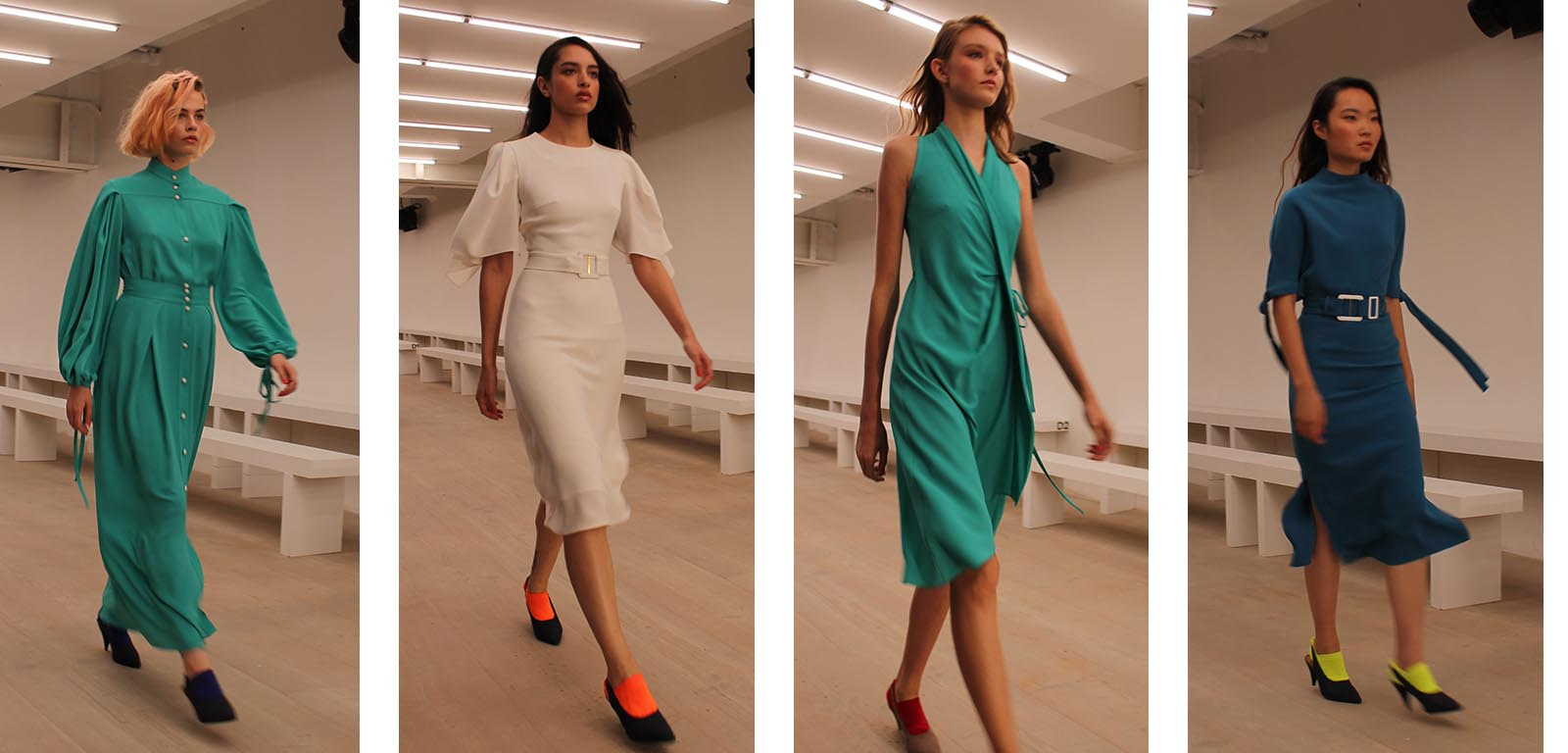 Strong colours blended with defined yet sympathetic tailoring is a key feature of the collection and classic Edeline Lee work. A Turquoise-Green dress features a shirt style collar area with balloon sleeves and a central line of buttons accentuating the shirt look. It's an easy piece to style for a working wardrobe around the globe and also would make a great option for what I sometimes term 'soft-formal' wear. A White midi-sleeve knee length dress creates on of the most classic looks that the collection contains and for me would be on the shopping list for next season. A belted waist gently moulds the look to the figure. A sleeveless Turquoise dress is set for summer and could easily be dressed for a number of occasions including the formal by adding a jacket or shoulder wrap. With its side tie at the hip. It's an easy wrap-around piece that you could potentially wear over beachwear. To the right another dress in a Petrol-Blue softens an idea that could look utilitarian into something that is a warm compliment to the wearer.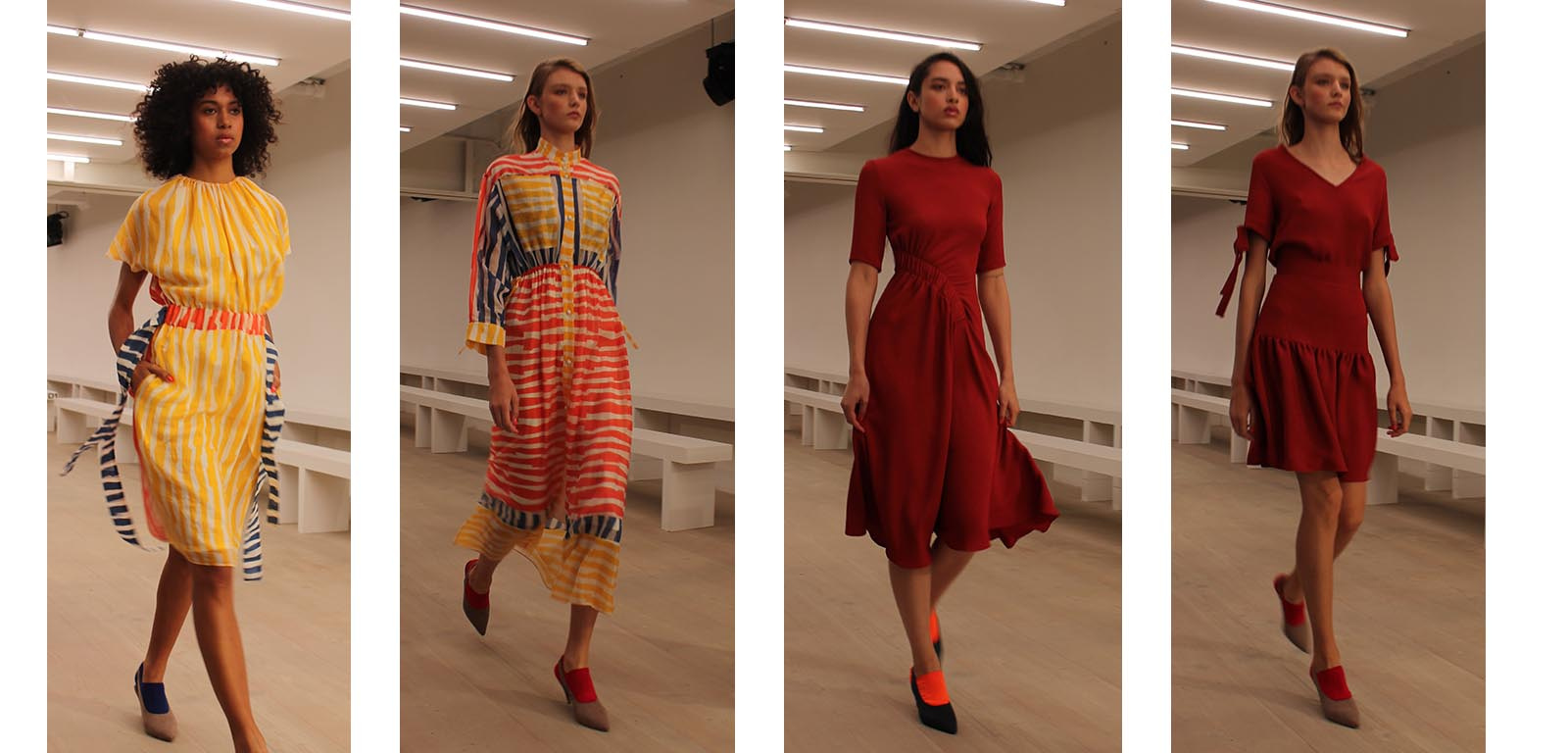 Colour returns again with a summer dress featuring sunshine Yellow vertical stripes banded by soft Red at the waist and streams of Blue and White fabric running from the waist. A shirt-dress blends the three colours of stripes used a signature in the collection with a passionate statement for the summer months. To the right single colour elegance returned with a Maroon coloured dress beautifully tailored around the figure featuring a cinch detail curling about the waist. To the right an invisible waistband within the knee length dress holds the garment around the wearer before descending to a pin-tucked ruched mini skirt. It's another easy to love staple to add to your wardrobe and its warm colour could sneak on into autumn and winter as a key piece of work or desk to dinner wear.
A bold Green dress accented with a V neckline has the unmistakable touch of Edeline Lee style about it with careful tucks at the shoulder adding volume aside a skirt that is cut with a generous give around the figure. Another Maroon dress also uses classic Lee lines in its composition and is a clever piece that will again suit both working and semi-formal, non-Black-tie social events. The care that she takes in her use of fabric and fabric development means that her finished pieces are both light and warm to wear. Thin straps and a wrap-around the shoulder band also appear in another bold Green dress with a fun summer energy about it. Cinched at the waist, it has the look of a relaxed day or evening outfit to enjoy near a beach or to keep cool and relaxed around the city or your local village. To close the collection, Lee brought in a wonderful bespoke embroidery for the collection featuring Blue leaves changing colour through to Green. It was a hint of fairy-tale fantasy that welcomes the longer brighter days of spring and summer. An above the knee mini-dress with signature small V neckline and an ankle length dress with quarter leg length hemline both offer plenty of choice for a stylish look with an individual fingerprint. Once again Edeline Lee has tapped a sense of strength and individuality to create a palette of beautiful and unique options for next season.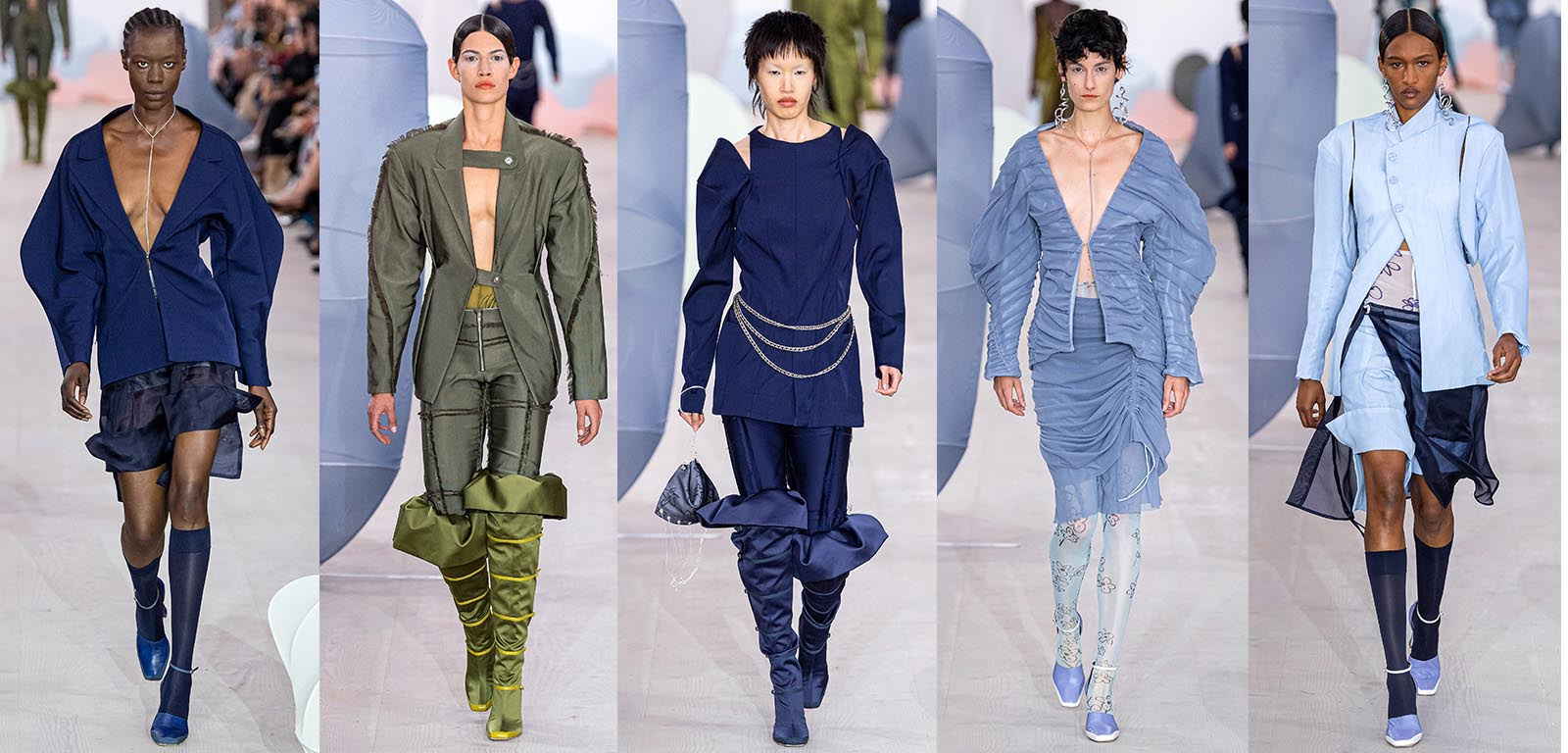 For Spring/Summer 2020 Malone slightly played down the colour palette that opened the collection with a Midnight Blue jacket falling open with a plunge neckline to above the waist. A tin necklace accents the line of the garment with a soft sheer Navy Blue at the skirt chiming with knee length socks and shoes. It's like a smart urban uniform with impact for day or evening dressing. Here as in several proceeding looks the straight line of the garment is contrasted with the balloon sleeves of the jacket. A Silver jacket accented with thin ruched linear borders of silk and trousers offset with Olive Green boots paints another subtle colour composition that belies a more dramatic cut of tailoring. Malone's women walk like warriors.

A Midnight Blue tunic blouse and trousers are complimented by another air of over the knee boots that have a swash buckling 17th century feel about them with the large swathes of fabric draped hanging over the knee. Sleeves break away from the bodice allowing free movement and a soft pouch clutch dangles on a string from the right hand in a seasonal print. A soft Sky-Blue jacket is fastened by a single hook-tie at the waist, slightly opening across the figure with fabric falling across the hips. The jacket lengths give a close-up demonstration of ruching to perfection and a draw string through the outer layers of a two-layer skirt features. Light Blue sticking printed with floral motifs in hand-drawn collection prints add a childlike playful twist to an otherwise serious look. To the right a light Blue jacket reaches over the hips with split hemline shorts of the same fabric encircled by a sheer fabric constituting a wrap-around skirt. It's a vibrant mix of energies.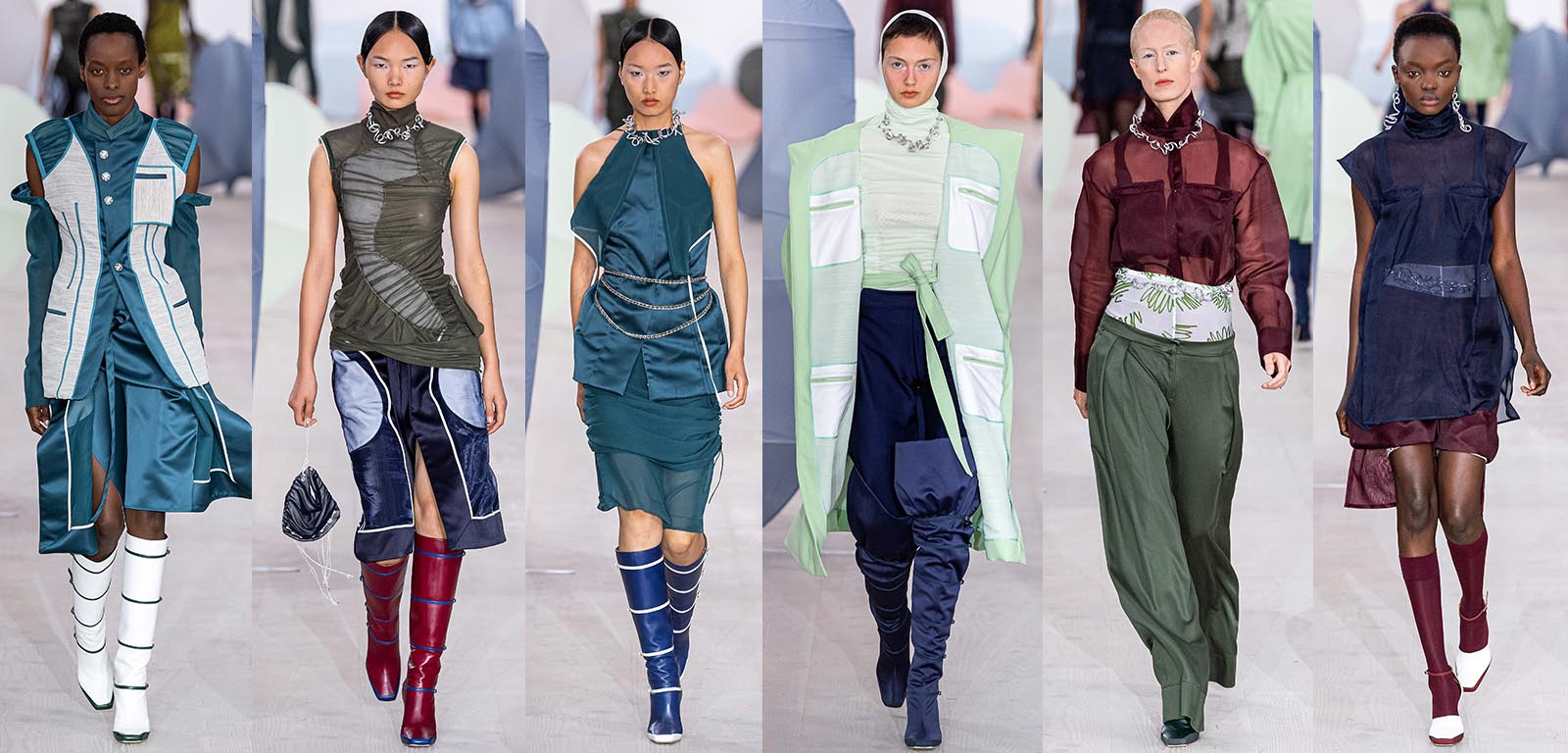 A Teal jacket also features cut-away shoulders that allow the wearer to move with maximum ease whilst an outer waist-coat jacket is hinted at by the use of a second outer fabric. The lengths of a dress underneath are framed with White piping that faintly resemble crisp bedlinen corners to me. It's a playful way of announcing comfort and softness. The boots across three looks above are ringed with contrasting colours that appear in whole garments in the look. Malone cuts interesting shapes and patterns across the area of his garments. Meanings are perhaps whimsical or hidden within the swirls of fabric but it's all touched by Malone chic. A Teal blouse and above the knee skirt are created in alternate silk and sheer tulle. Another three tiered belt features with a jewel studded chain encircling the waist whilst dropping across the figure like a necklace.

A Mint jacket and blouse contrast with midnight Blue silk trousers capped with over the knee trousers again channelling the looks of centuries gone by when riders spent many hours and days in the saddle. A sheer Burgundy blouse features large pockets that also serve as a modesty shield across the bodice of the piece. Olive silk trousers slip down over signature pattern tights that are hand drawn with sunshine smiles and designs. It's a simple tricolour design with a break between two colour block. Traditional autumn colours also resonate with the warm earth tones of high summer. A Burgundy mini-dress is over-laid with a Midnight Blue shift dress and forms an easy stylish piece to wear for the Red Carpet or for parties and dinners.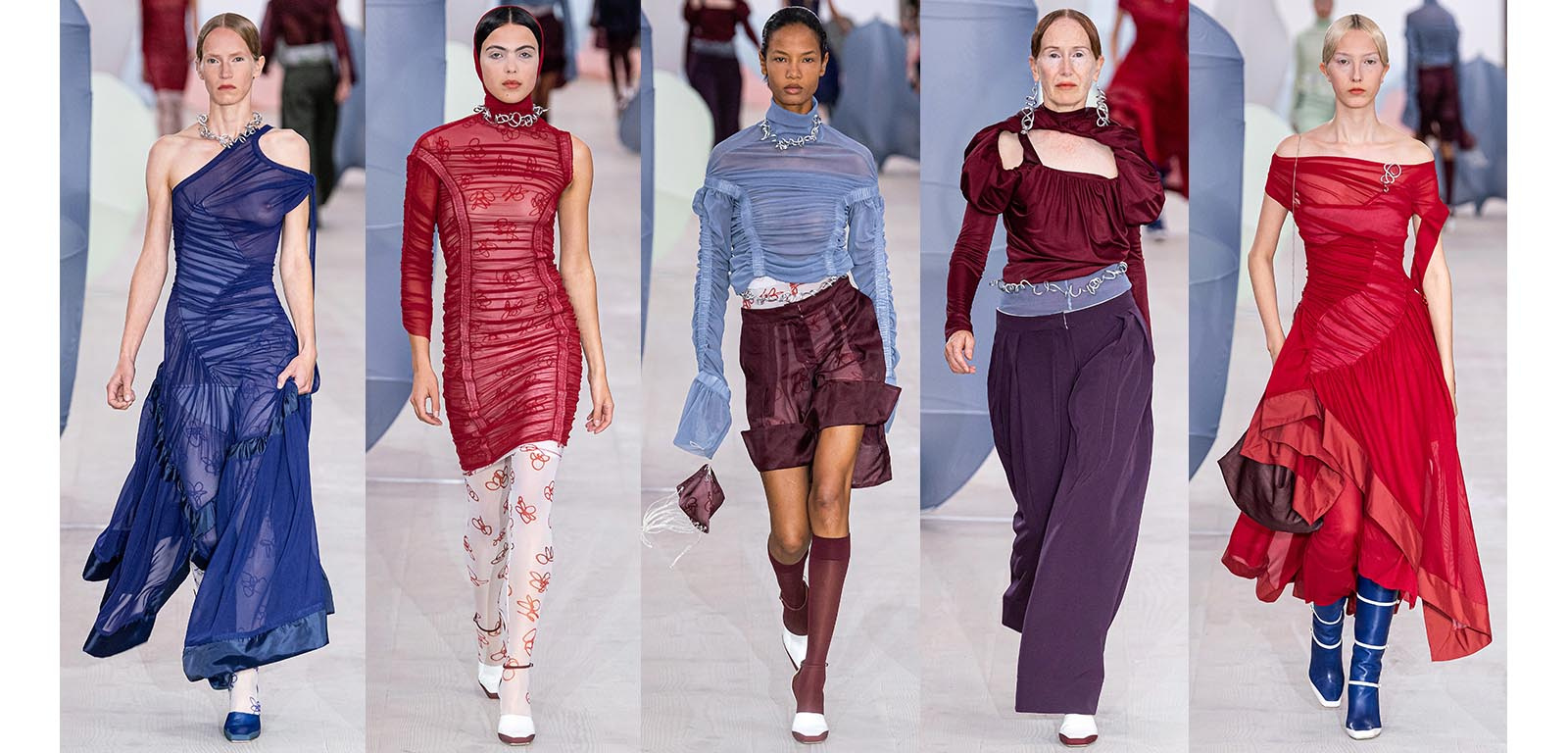 Colour hits a brighter note with Red, White, Burgundy, Blue and Purple appearing in stylish flourishes. A sheer Navy Blue dress is another masterpiece in ruching and sewn with several panels spiralling across the surface it cinches fabric in harmonious diagonals. The hand drawn floral design of tights-leggings reaching over the hips peeps through the fabric adding another dimension to the look. Malone makes a feature of single shouldered dresses and here the left shoulder is accented on either side by a soft chord-like tie. The doodle drawings across the surface of a body suit with drawings peeking through the sheer Scarlet fabric ruched to the height of belle epoch perfection on a single sleeved Scarlet dress. Like its predecessor the look is accompanied by a close weave of curled metal in a scrolling necklace. This dress comes complete with a hood that adds further to the sports fee
A sheer Lilac-Blue blouse and Aubergine shorts make a feature of ruching and folds of silk. The often invisible becomes visible in a study of technique. A Burgundy blouse with cut-away fabric at the front of the garment leaves the contrast of cut-away neckline but covered neck, shoulders and arms. The fabric itself in voluptuous ripples becomes even more of a stand-out feature. Purple trousers cut wide at the legs allow a graceful glide along the catwalk and factor in relaxed comfort and style. To the right a seemingly carefree take on the classic midi-length fit and flare dress that's been in the wardrobes of several generations of ladies since the early 1950's. Falling from the shoulders this dress features swept-up skirts in a cut-away reveal of the multi-fabrics that went into the creation of the dresses under skirts.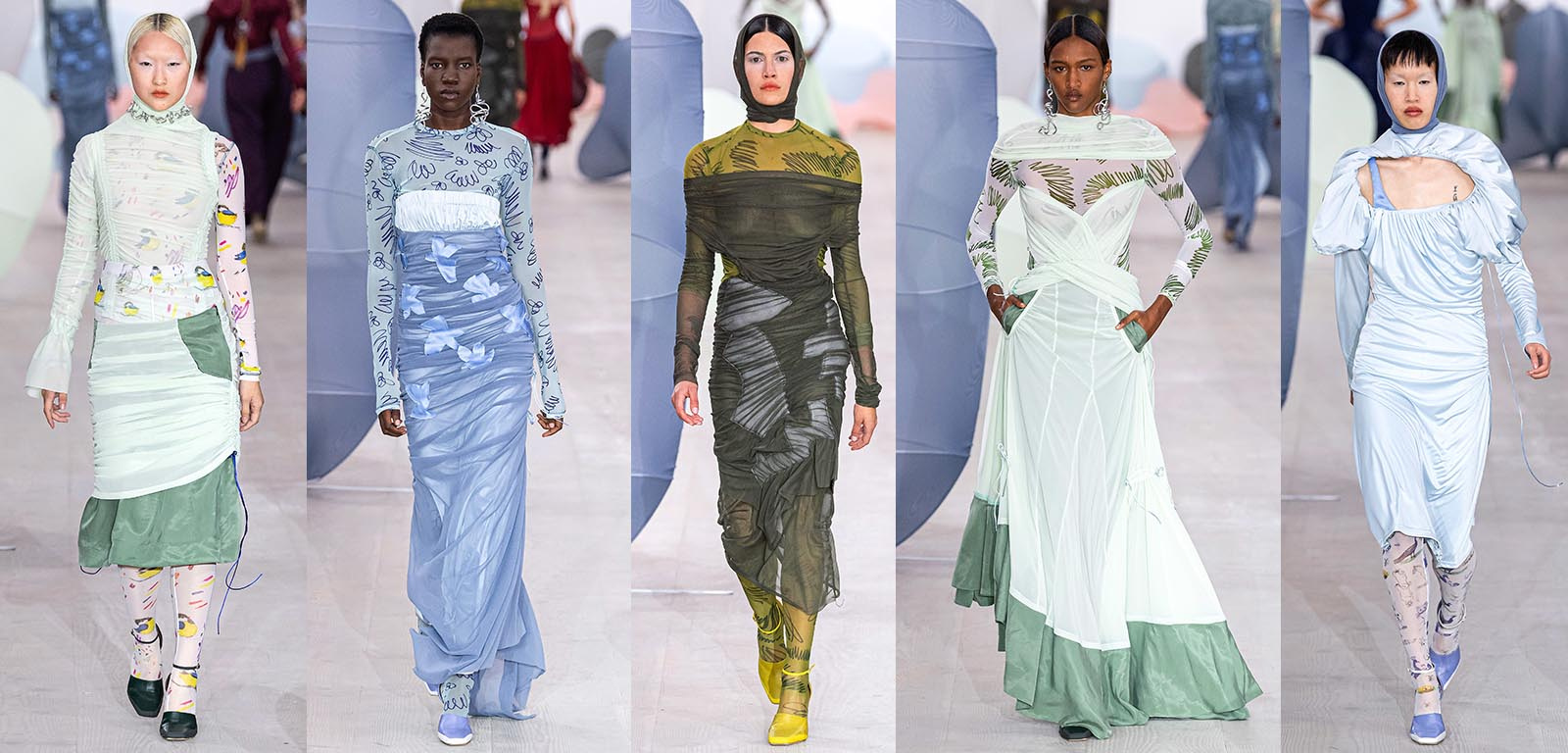 The colourful free-style hand drawings return with a colourful bodysuit printed with little birds and swathes of colour sits underneath a mint-skirt and long sleeved tunic dress complete with hood. It brought a sports feel briefly to Malone's collection that otherwise comprised largely of recognisable day and eveningwear. The characterful hand-drawn illustrations appeared again on a light Blue bodysuit reaching from neckline through long sleeves to ankle length. A dual layered dress of ruched White bodice and lightest Blue tulle shift is sewn with soft cut-out of flower-like birds around the waist and hips. With fabric flowing to the floor it's an elegant eveningwear dress with a strong style fingerprint.

A Moss Green body suit beneath an Olive shift dress sewn into ruched gathers and complete with cut away inserts, provides a striking option for potential formal wear occasions. Illustrated again with squiggles and lines, it's a free flowing expression of creative energy. To the right a dress is sewn onto a White bodysuit with similar doodle-sketch lines. Thin panels comprise the garment wrapped in sashes across the bodice with lengths descending to an Olive hem of several inches thickness. An Ice-Blue dress brought back the feature of the circular neckline an exposed strap featuring a sports-like feel to the composition. Complete with headscarf-hood it's a going to proof you against the chilly early winds of Spring.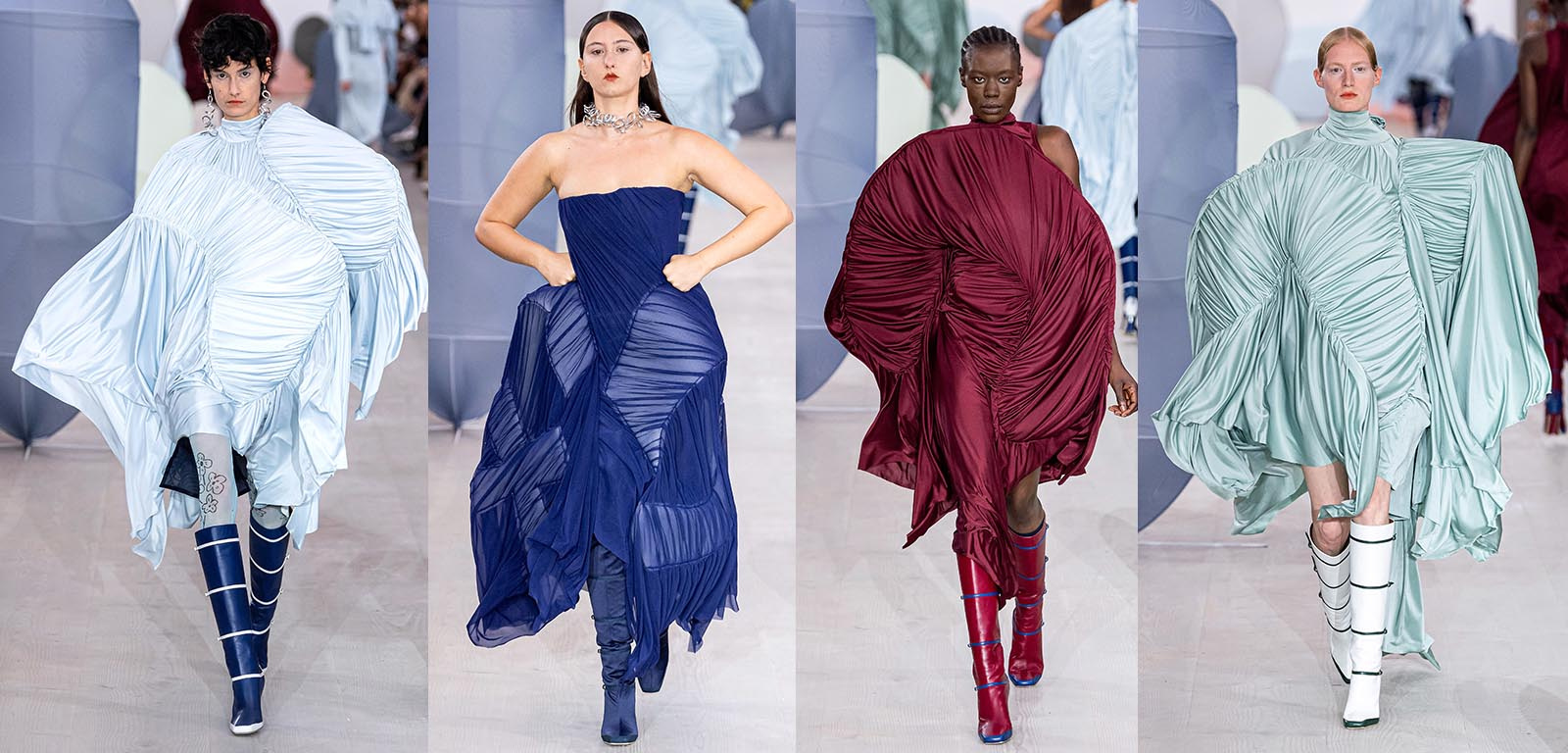 As the collection drew towards a crescendo the dresses became larger with more statement impact. The cut-away insert segments featured in previous designs returned to feature in larger scale as part of the main structure of the garment. Huge swathes of fabric where gathered and set against borders demarking the boundaries of these tide-like flows. The garment is styled like a cape that sits on the shoulders and the volume dramatically, beautifully swept about the wearer. A bold Navy Blue off the shoulder dress transposes the many ruched segments into a recognisable evening dress cut with echoes of the 17th and 18th century Mantua dress with its exaggerated hips. A corseted bodice whirls around the figure with fine tucks of ruched tulle emphasising the length of the models middle figure. The skirt lengths feature segments of sheer ruched fabric with quilted layers sewn in soft curving shapes. This look in single colour with boots seamlessly matching is filled with the exuberance of Malone and his work.
A Claret dress features a combination of a hooped raised outer skirt and a figure hugging smooth bias cut dress. With a cut-away at the left shoulder, the broad circle of the garment plays with geometry against a contrast of soft flowing fabric. The finale piece in the collection is composed of a light Mint fabric that took a step further in emphasising the large swirling discs off-set by straight drops of fabric. It's a bold fashion statement that speaks with a soft glamour and would make a bold choice for the Red Carpet. For some clients this coming season, that will be exactly what they are looking for.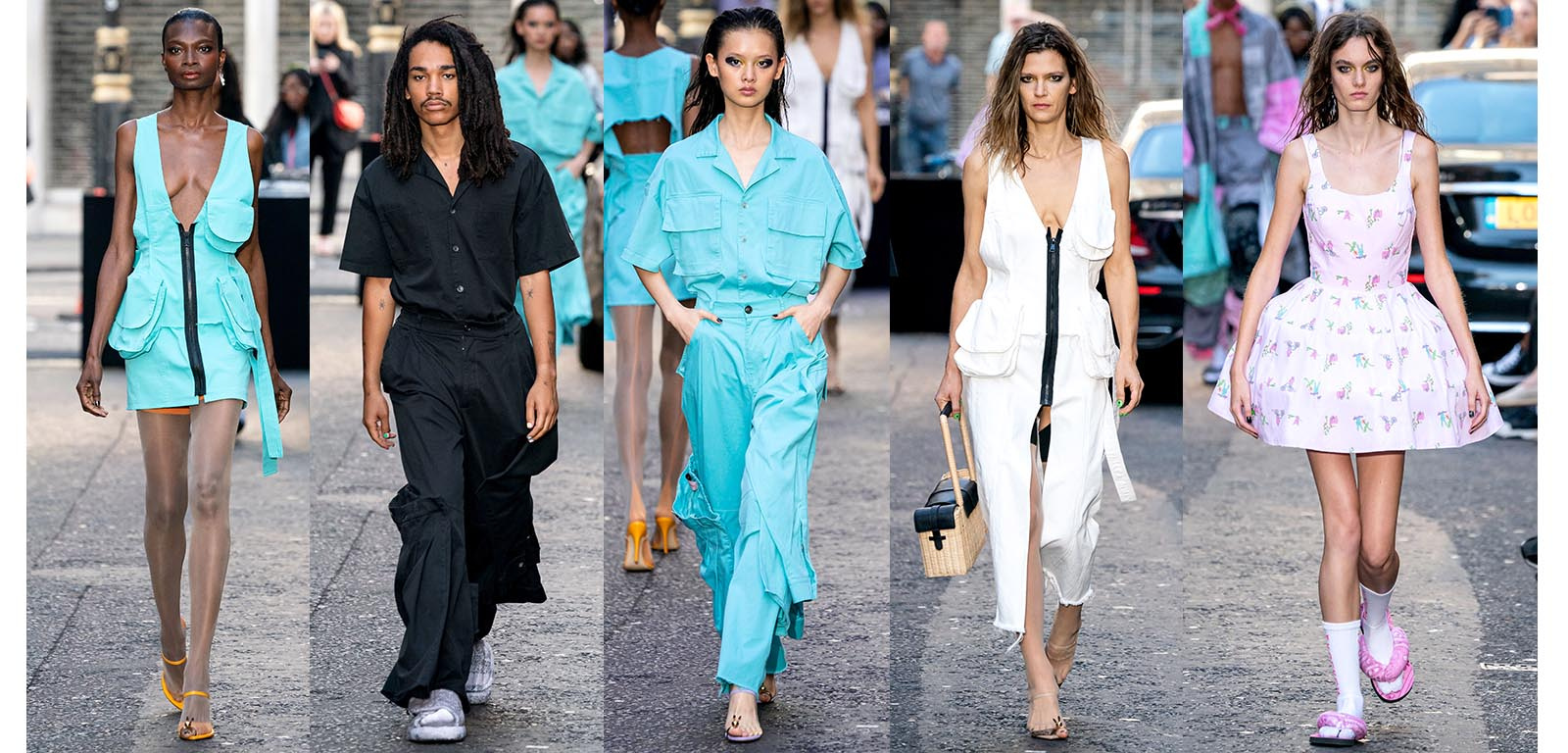 Natasha Zinko brought splashes of colours and sportswear to the catwalk. My invitation itself was a colourful material hat complete with seating number. A Neon Blue sports suit looked ready to windsurf or take run on the beach. Men's pieces trickle through the collection although the focus was mostly on womenswear. A Black shirt and trouser combination creates one of the most understated complete looks of the collection. This style is then repeated in a Neon Blue cut to suit the female figure. Trousers are cut with a double thickness of fabric that sits gently on the figure. To the right a White dress also cut on the same sports line hints at water skiing or paragliding from the back of a boat I think. Beyond the opening looks in single colour statements, small splashes of colour began to appear with a White dress patterned with geometrically placed flowers. A mini-dress with vintage shaped bodice creates a modern emulation of the formal gowns of previous centuries with a ballerina shape skirt flowing out from the waist.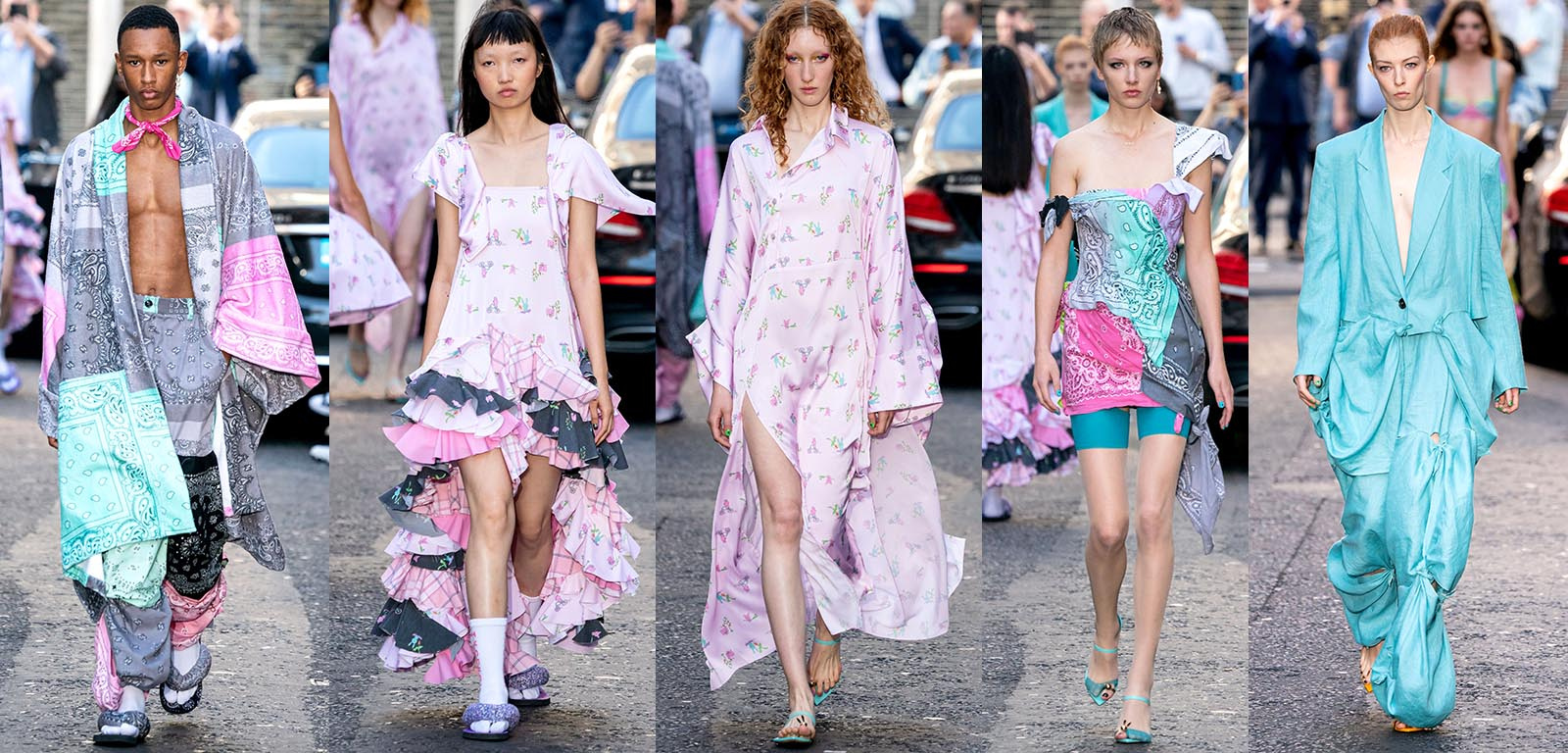 A more relaxed vision of the day suit for men appears in the form of an open cut loose shirt with lengths trailing to the floor with wide trousers and neck tie. The fabric is a clever print that appears to be a patchwork of many broad handkerchiefs or linen squares in light Neon Pink, Green, light and Charcoal Grey. I personally love it when a bit of old European craft and textile can sneak into high fashion; why not? It's a comfy/smart look. The signature floral patterns appears again set on a light barely-Pink dress base with a patchwork effect created through a dropped hemline inspired by flamenco. The skirt lengths include three contrasting fabrics are used in addition to the signature print to create a lively and fun sense of combined colours. Short sleeves fall to a small cape behind the shoulders of the wearer and add a further elegant touch to the silhouette.
A shirt dress created in the single fabric of the continuing signature print sat lightly on the figure of the model as she walked with slashes reaching to below the waist allowing the fabric to float freely around the figure. Broad cut sleeves enhance the feeling of space that the model has whilst wearing this piece and it's an easy look for summer to wear pool-side, on deck or in the country on warm summer days. The multi-coloured handkerchief fabric returns again in a mini dress matched with sports trousers. Here Zinko blends the pretty with subtle hints of the sporting without too striking a contradiction. A single colour outfit returns to the right with a woman's suit cut very loosely on the figure in an homage perhaps to the styles of the 1980's. It's a relaxed take on power dressing and with daring swag slashes at the lower legs it's a look that is happy to flout convention.
The rainbow of mixed textiles theme proved popular in this collection and a pair of wide slouch trousers teamed with a small bralet bodice represents an easy relaxed style. The fabric sewn together resembles the 1990's combat trousers in the large pockets featuring in the lower leg. To the right an open jacket also features a plethora of handkerchief-like fabric squares in a plethora of colours, more than ever before in the collection, and in a simple contrast soft-cut trousers are formed in a Lilac fabric patterned with small White stars.

This Lilac fabric forms a key element in several following looks of the collection. A mini-dress sewn with panels including some in that fabric is wrapped in a coat of this signature look of the collection. Sitting above the knee and cut with gently widened sleeves it's an easy go to piece with some character to shield from the rains of early spring. The fabric transforms into a soft pair of dungarees with a broad Stetson hat to create a fun relaxed look for next season. Switching to a more evening appropriate style an above the knee mini-dress features a framed bodice, multi-layered puff ball hemline and a short jacket. It's a delightful fun look to wear out for an evening in the warmer months.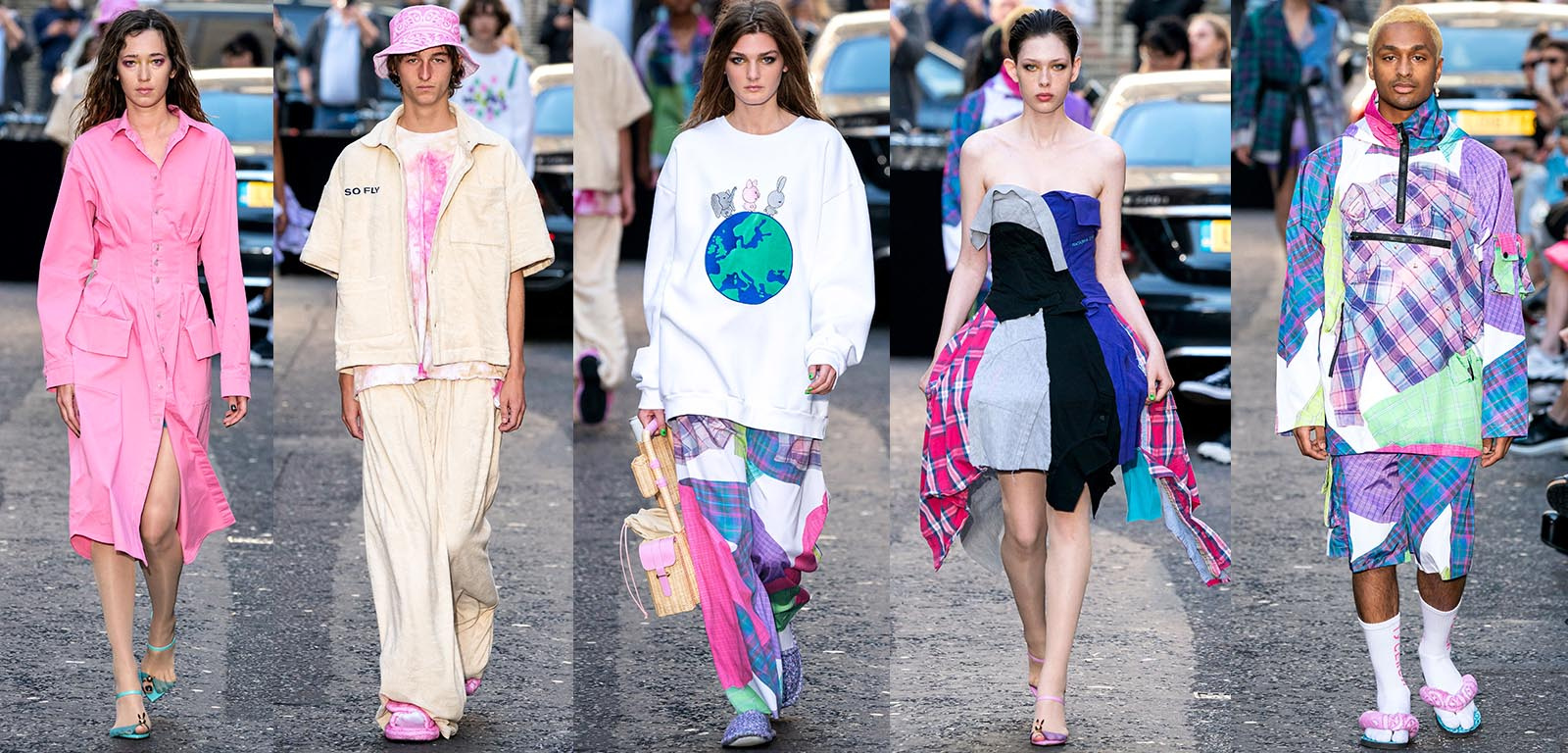 A Rose-Pink shirt dress offers a practical easy styling option for the summer months with deep pockets and a smart tailored neckline. It's ideal for casual offices as well as social occasions away from work and also holiday. Thin and light, it's one of those pieces that will be ideal for summer packing and could be matched to neutral light trousers for a more covered look. A soft shell-Pink tracksuit with baggy wide trousers is an easy comfort addition to the wardrobe, with a tie-dye T-shirt underneath matched by a White soft sun-hat in plush with curled Pink pattern design. Footwear is a comfort statement in this collection with shoes ranging from slippers to soft open sandals.
Twee-cute style blends in with little soft shape animals walking across a disc representation of the earth. To me it's a hint that we should care far more for the world and loose cut trousers feature a blend of the coloured print fabrics set on a White background in a playful, almost pyjama-style medley. At this point I think you can start to see the melding of the fabrics is a meaningful nod to sustainability and care for the earth by re-suing fabrics in the best way. The blend of fabrics from denim to plaid formed into a mini-dress illustrate the varied form and style that can be created from imagination and long wearing fabrics at your fingertips. A waterproof sports jacket and short set is itself emblazoned with a tartan check shirt across the front as well as prints of more shirts running overlaid across its surface. Almost like the contents of a laundry basket running over another garment, it's a look that's both practical but also makes a point illustrated by the boldness of its colour.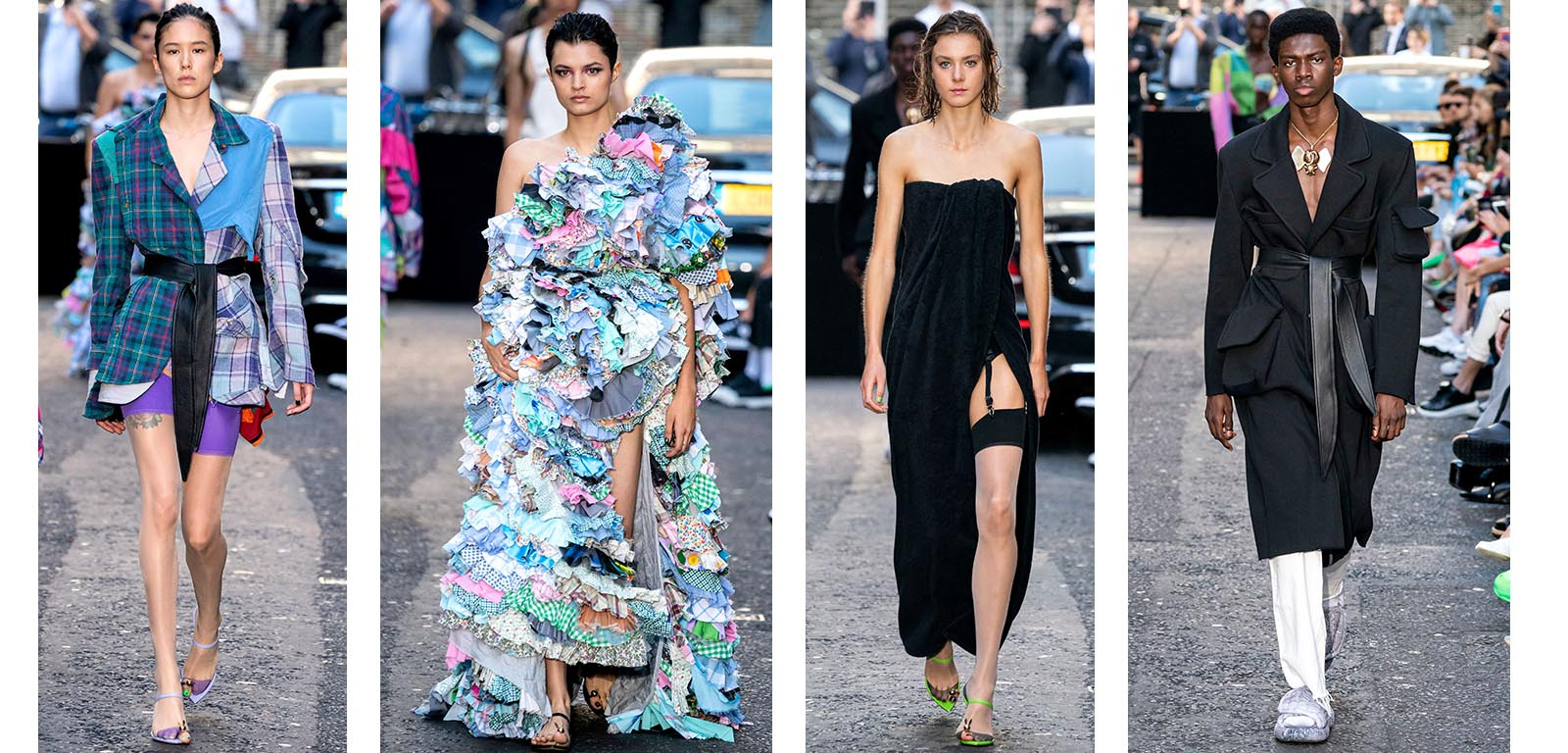 A ladies blazer is crafted in multi-tartan at the front of the garment while the reverse is a patchwork blend of many fabrics. Tied neatly at the waist, this jacket could be combined with trousers in a single colour to make a neat contrast or be worn as is with the Lilac sports shorts as featured. Using multiple fabrics really comes to the fore in the next look as a full-length dress is created with countless layers of fabric from many different textiles, sewn and amalgamated into a single garment that has strong flamenco vibes. In contrast a dress in all Black features the simplest design imaginable with a single large piece of fabric wrapped around the figure and folded at the neckline like a long bath towel. This is statement of comfort and feeling relaxed. To the right a knee length Black coat worn by a male model is cut in a style more normally seen on women. It's perhaps a deliberate question to challenge the audience about their own perceptions. White trousers cut with a generous hand offer a soft compliment to complete the look. This collection from Zinko looks forward to a bright summer and expresses the hope of new possibilities.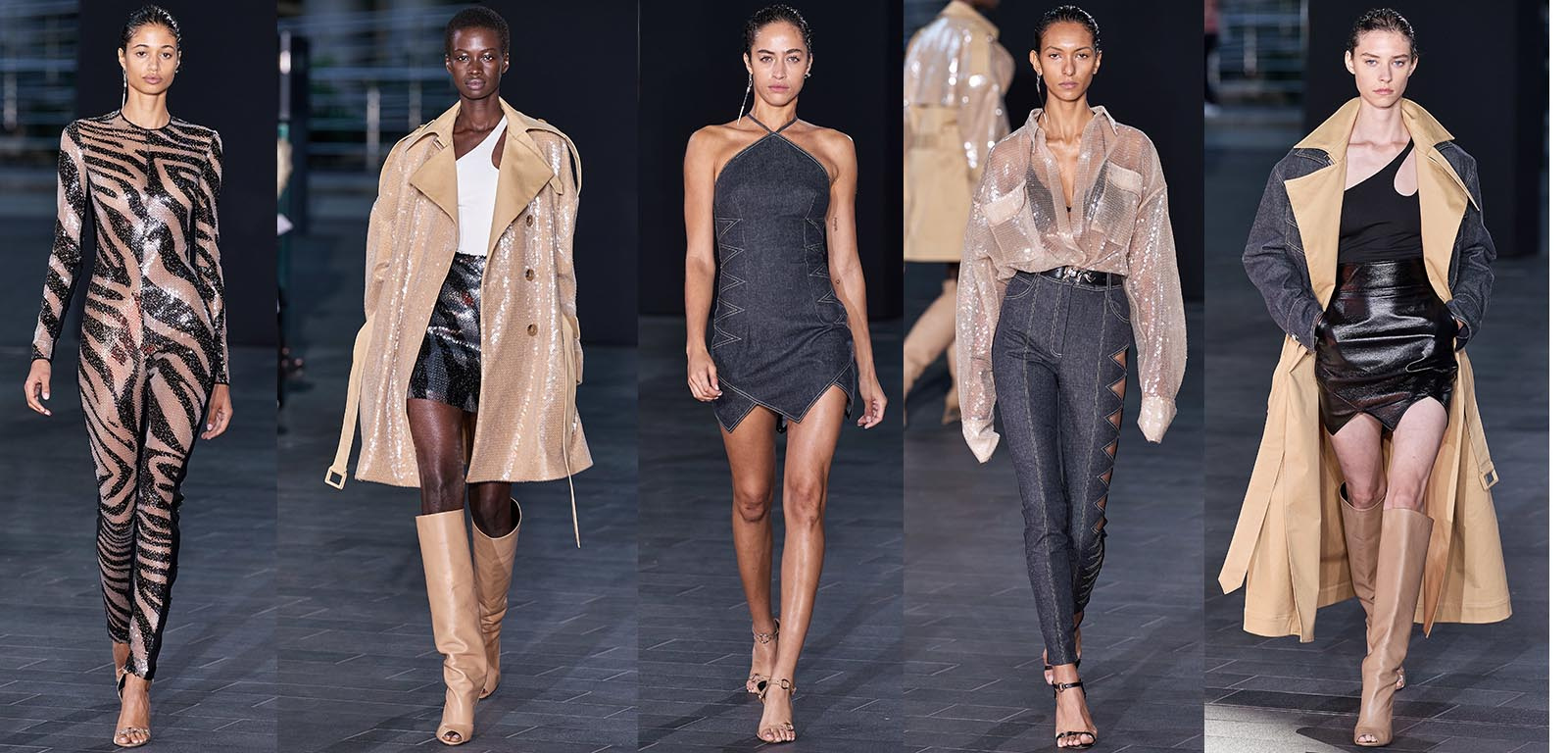 Koma's collections always have an unmistakable note of polish about them and generally herald a night out or a party. This season was no exception with the opening look of the collection created to resemble the stripes of a Zebra print fused into a body suit reaching to the ankles. The same shimmering fabric is used in a mini-skirt except stripes are blended with Silver rather than Bronze and a White single shoulder vest top completes a look ready for clubbing or parties in the spring. The trusty demin weave doesn't escape attention with a mini-dress cut in fabric diagonals that represent the handkerchief dress edged in the linear denim single stitch. The waist is gently defined by chevrons and a halter neckline makes this piece perfect for hot summer nights.

The theme is continued with chevron cut-aways descending through the length of a left trouser leg. Teamed with a Black bra top and a sheer sequin infused Cream blouse, this is a look to take out in the evening for drinks on a sunny night. To the right a Black single shoulder top and short Black skirt make a clubbing harmony whilst protected from the rain by a raincoat splicing denim with the classic warm Beige.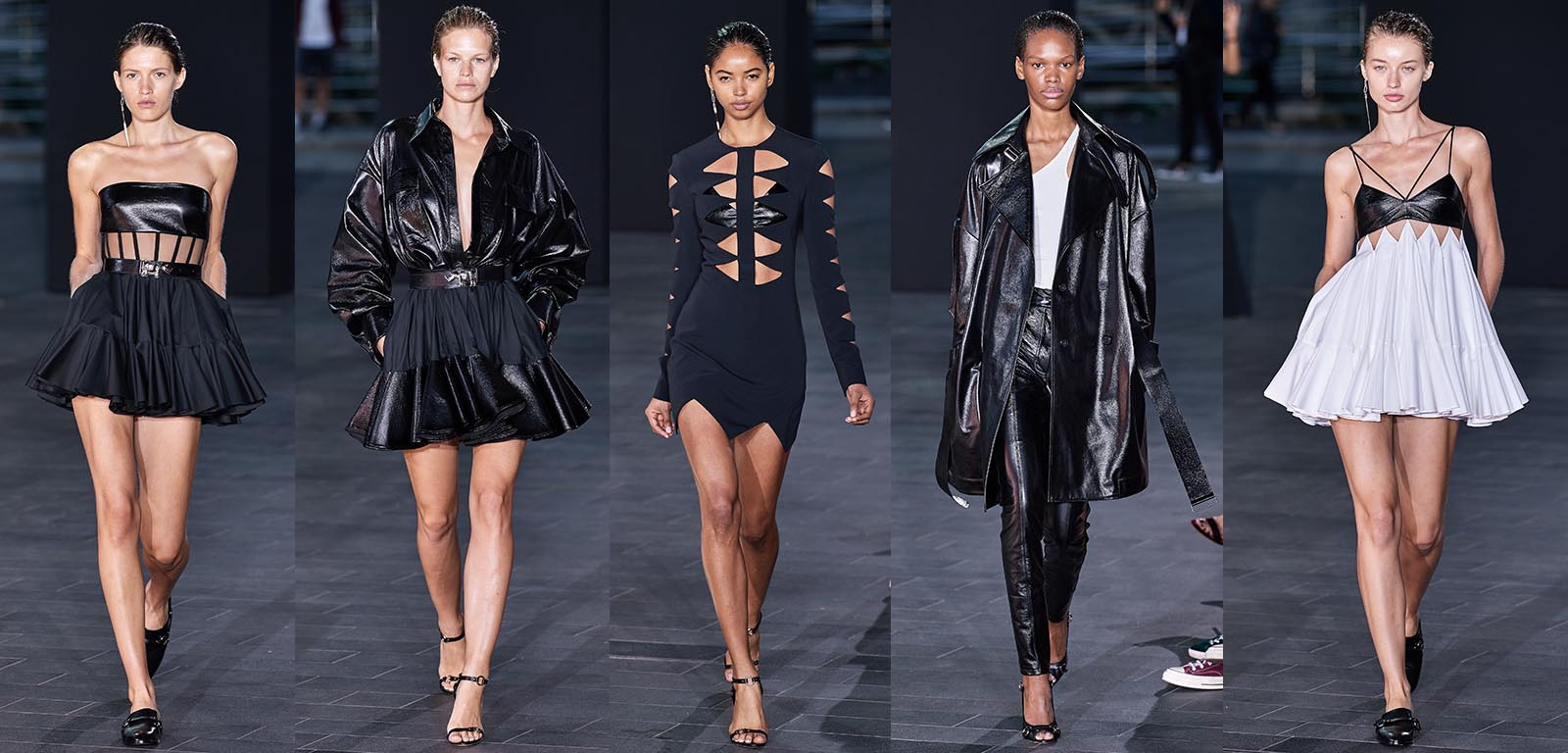 A bandeau neckline mini-dress in Black featuring a classic Koma style touch of alternate banding of fabric and sheer tulle around the waist above a puffed skirt is a timeless party dress to make an impact with. For slightly cooler evenings or more formal setting, it's contemporary beside it with a jacket composed into the body of the garment offers a little more coverage. Both looks feature a skirt with thick hemline equal to the upper half of the skirt gathered into a voluminous millefeuile of layers around the wearer.

Chevron cuts feature again in a sultry Black mini-dress that is partly cut-away from the neckline to the waist and along the line of the sleeves. It's a great dress for Red Carpet appearances and press commitments and also a good look to go partying in. The White single shoulder blouse returns with lacquered trousers and raincoat to add a hint of the 1980's American style to the collection. Another full skirted mini-dress hinting at the ancient traditions of central Asian style is composed of a bra-let top once more and a thick folds of fabric descending from small cut triangles of fabric suspended from the bodice. You could match this to a Black jacket on cooler days and nights at the start of the season or wear just as it is for summer parties.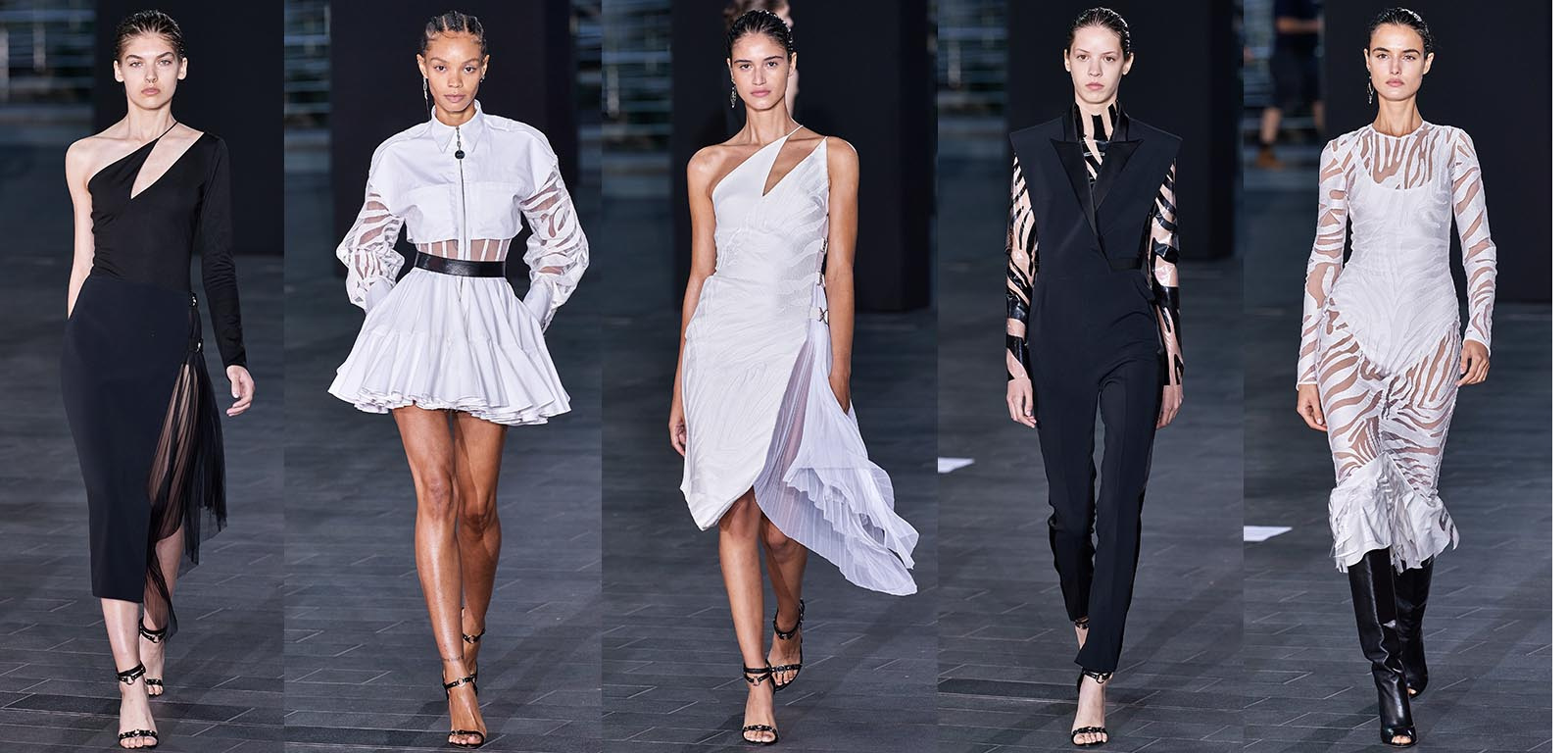 Cutting at angles is something that is a signature feature of Koma style. A Black midi-length dress is composed of a single shoulder, yet with double shoulder banding detail. A thin spaghetti strap crossing the neckline is complimented by a wide shoulder sleeve at the same side of the chemise. This bodice descends below the waist to a finely pleated side skirt dropping from the left waist side in a flourish beneath a straight wrap around skirt fasted at the left hip in a similar way to the kilt. It's a confident look for events and evenings out next season. Hints of animal stripes return in a White jacket styled in the form of a shirt with thin bands and sheer panels accentuating the waist. A thickly pleated mini-skirt surrounding the waist oozes fun factor and a 'go out and play' vibe. There is another hint of the 1980's in this swishable piece.
The single shoulder double strap detail features again in a White dress that gives glimpses of the famous 1950's Marilyn Monroe dress. Satin is graduated through the fabric with barely there animal print features and a sharp asymmetric cut drop through the skirt is banded at the side by another semi-sheer fabric, finely pleated and feather light to catch the breeze as the wearer walks. A Zebra print sheer blouse sits in contrast to a Black jumpsuit fusing waistcoat and trousers into a single look. You could perhaps swap the statement shirt for a White blouse to create a more pared back style that would be as suitable for working life as entertaining evenings. A White body suit hints of swimming in Blue summer seas underneath a sheer dress again accented with stripes from the animal kingdom. It's a striking look that would attract the cameras on press related celebrity events.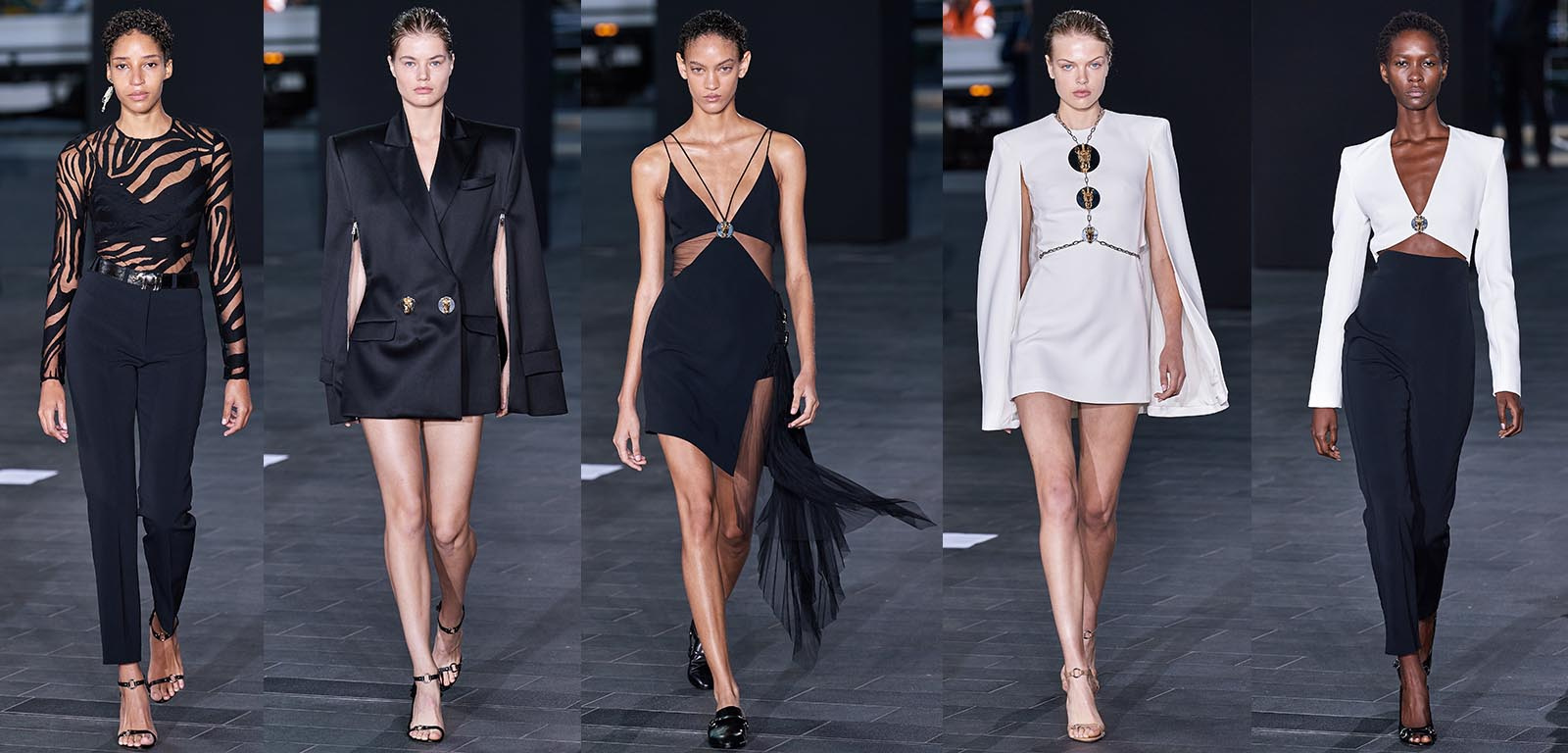 A sheer light blouse with animal print hints sits over a modesty bodice and with Black trousers, belted around the waist, it's a look that could have a jacket added to it to make a slightly more formal look. The blazer jacket itself becomes a feature next in a tuxedo dress that wraps across the figure. The jacket sleeves are zipped through the inside length half-way between elbow and underarm and in a styling look that carried the innovative and challenging hints of Koma. It's a sharp look to be seen out and around in. Like the swish of a horses tail, the side-slash featuring floaty gauzy pleats returns in the cut-away of the side of a skirt with a double buckle kilt feature at the left waist. Otherwise this piece looks like a conventional mini-dress to party in with its diamond lozenge cuts at the plunge neckline and skirt. A totemic medallion reaching to the waistline resembles large buttons on the blazers and later dresses in the collection. A White mini-dress embodies style elements of both the dress and jacket in its composition and a necklace transforms into a belt feature falling below to the waist. To the right a monochrome trouser suit is created by a White bolero jacket sculpted around the waist and tied with a single medallion feature and high rise Black trousers that give the look and feel of a couture cut on the figure. It's a singular sophisticated statement.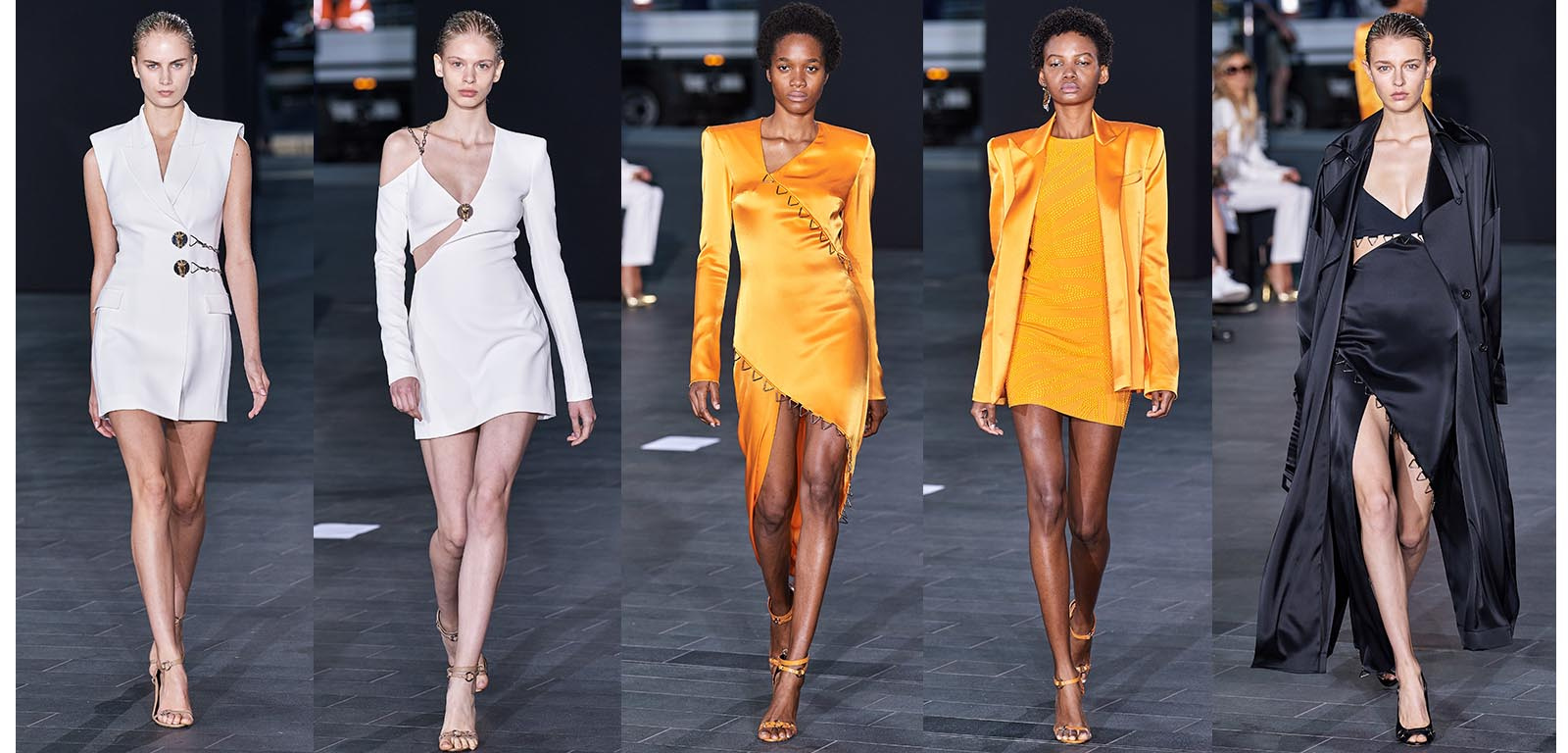 The tuxedo dress gets a re-style for a second look set in White and without sleeves, its large buttons at the left of the hips are accented by chatelaine style chains running around the left sided circumference of the waist. Broad pressed lapels and a wide collar give a reassuring touch of styling and pockets set on the hips nod to practicality amongst the inspiration. A second White dress in the range above features a bold cut-away design that sees a sleeve and bodice joined by a hinge of fabric and necklace-like Gold chains across the back of the design.
A flash of Orange makes a statement impact with two dresses cut and patterned on the bias around the wearer. Small triangles first seen in jewellery feature pieces frame the bias in two tiers of dress wrapping around a model with an asymmetric length. A mini-dress dotted with the prints of nature is teamed with a jacket resting a little length of the dress. This off-beat nonchalance suggests a questioning of convention and to the right a satin silk Black dress and ankle length jacket offer a crisp yet fluid elegant look. The bodice in this piece with a small tie at the waist to the skirt of the dress, itself bias cut with triangle fringes forms a natural succession to the earlier looks of the collection. An extension of this dress appears at the start of the next frame below with a jump suit.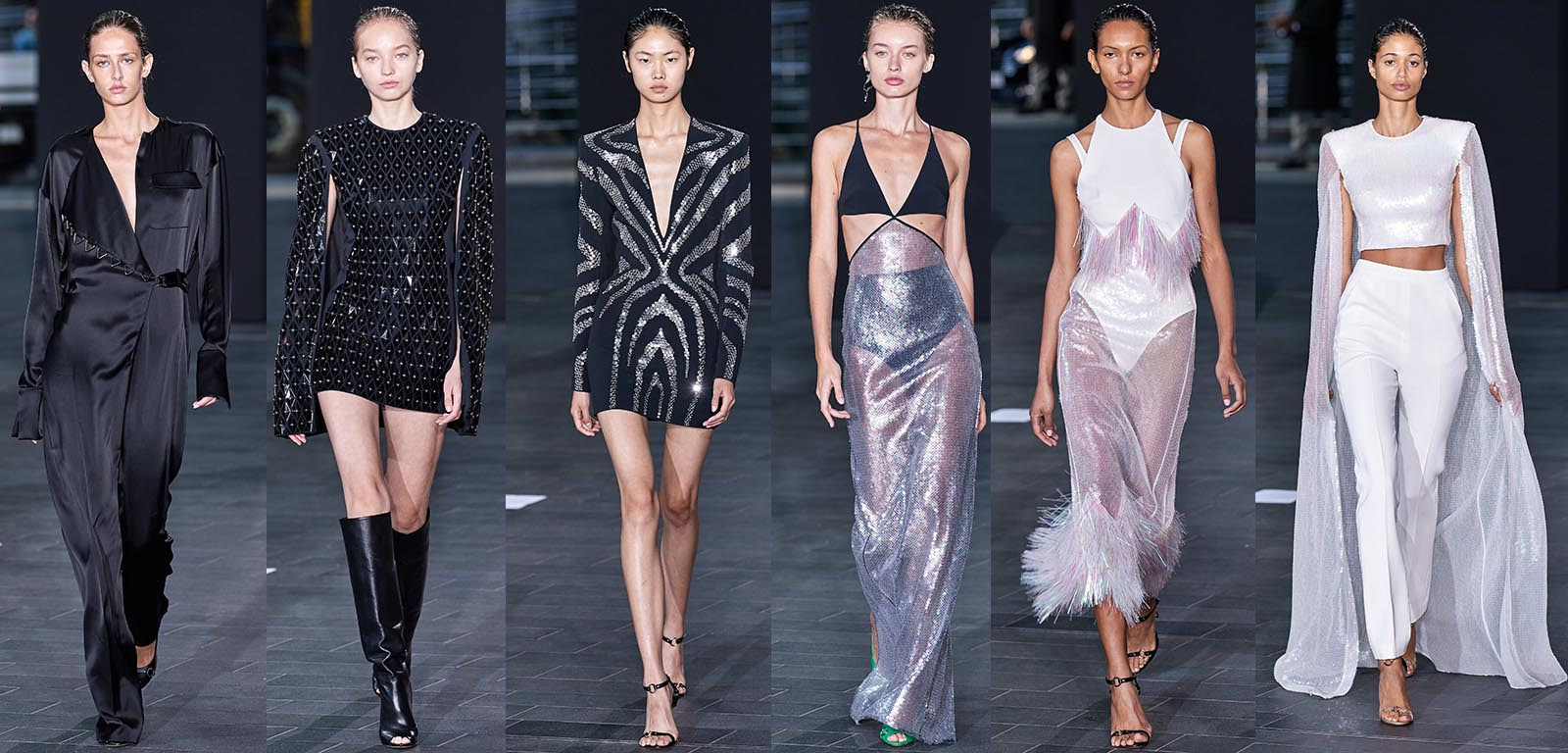 Styled to feature the open lapel of the suit jacket, this is a statement of easy luxury at its most casual, simplified and elegant. Sharply tailored lapels, long cuffs and a breast pocket are all reminiscent of the classic tailored shirt. A mini-dress in diamond lattice form is vintage Koma and the deep slit sleeves cut along the inside of the arm give an extra dimension of movement to the garment. A mini-dress with a plunge neckline and sequin-sewn zebra stripes is another stop and stare look that will make a Red Carpet or press event impact. The almost bikini-like bodice that featured earlier in the collection returned again with a mid-breast join to the apex of a sheer sequin long lined skirt. Edged in Black and revealing some serious Black shorts underneath, it's a heat-friendly look to draw the cameras potentially in the summer season on the Red Carpet. Sequin shimmering tassels accent the plunge neckline of the bodice of a White dress with a bodysuit underneath a midi-length skirt also hinting at swimwear in the sunshine months. The finale look in bridal White comprises an almost space-age trouser suit with a cropped White bodice shimmering with sequins and a full length cape trailing behind the wearer. It's a defining look for a women walking into a new season.