A Blush of Rose
ablushofrose.com

It's day one of London Fashion Week previewing the AW 17-18 season and I'm looking forward to seeing some fantastic designers showing cross the next few days. 
A fantastic curtain raiser to Fashion Week in London was the brainchild of Bay Garnett; the Fashion Fighting Poverty Oxfam catwalk show on the supported by ON OFF. Produced by the ever cool Ant Waller Bay enlisted the help of Stella Tennant, Clara Paget, Erin O'Connor and Bella Freud to walk in the show supported by Dame Zhandra Rhodes.
We've all been to charity shops over the years and they can be an absolute gold mine, whether it's finding vintage or nearly new pieces or discovering styles that give you a new perspective. The best thing about it is the recycling of energy to make a positive change elsewhere in the world. Fashion really is a powerful force for good in so many ways.
Here are my summaries ahead of full collection reports in a couple of months.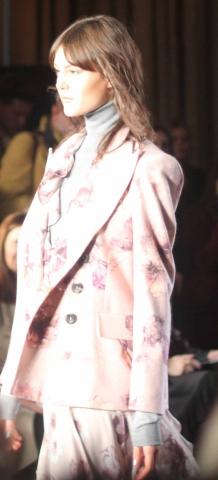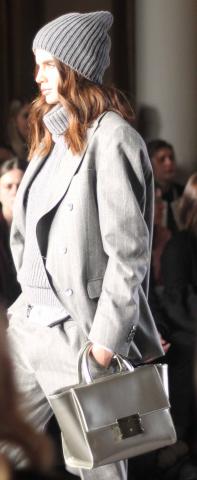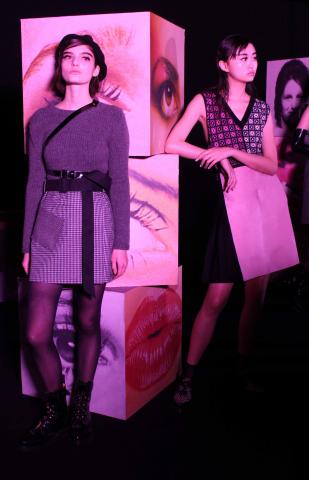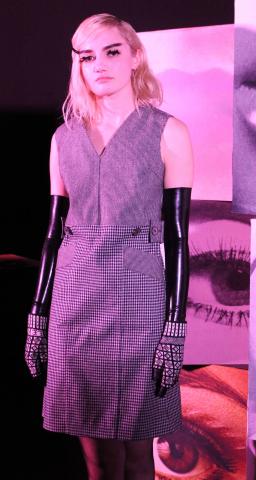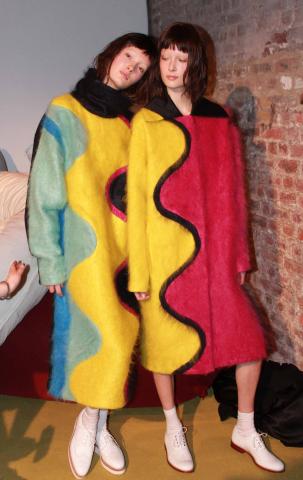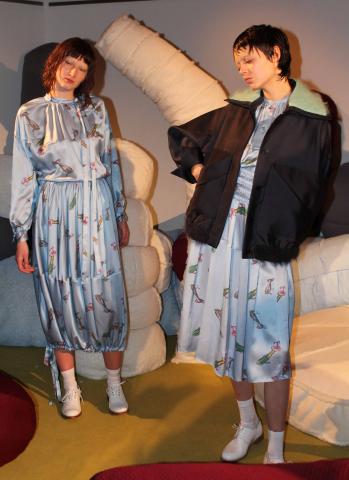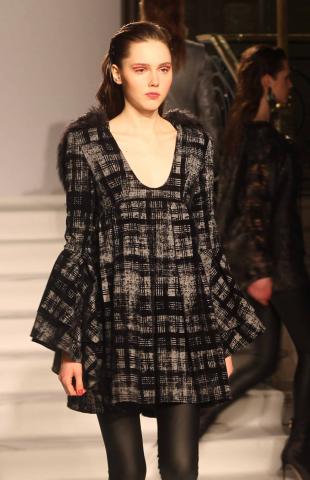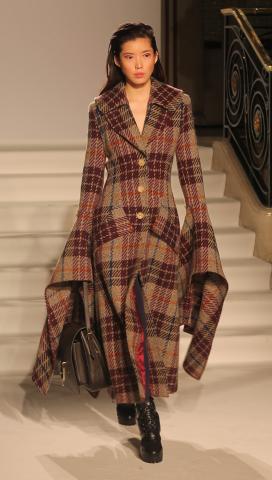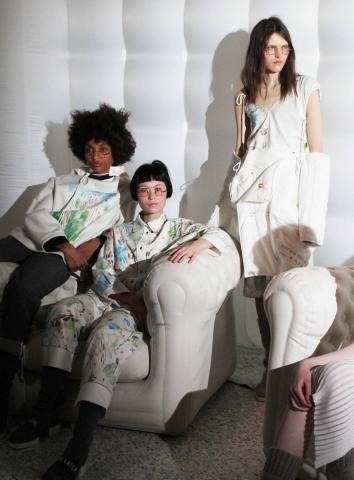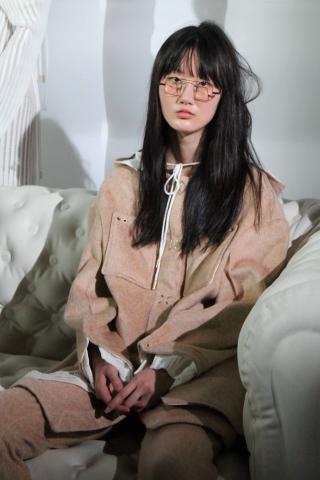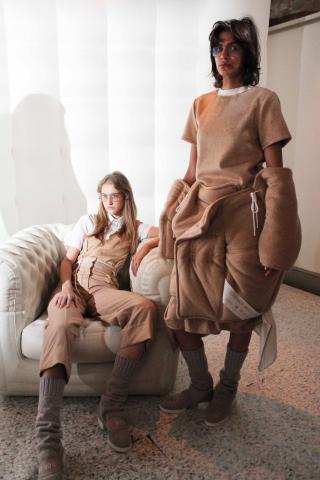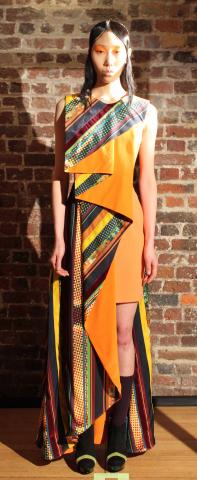 Minki London
This is one of the new emerging designers that has been a great joy to discover this fashion week. Minki has plenty up their sleeve and this collection went on a broad tour of texture from plush faux fur felts through to prints on the finest cotton and billowing silks. There where stripes in abundance in one-scheme or multiple scheme variations.
So there was undoubtedly pent going on here not to mention the numerous different styling ideas. Long line coats, tailored jackets, voluminous trousers made their bid to attract alongside dresses with draw strings at the waist and also the base. 
Confused? You don't need to be. The inspirations drawn from fishing and life in the city hint at a broad playful character that's exploring it's world. Minky's founder graduated from Central St. Martin's in 2012 and in these pieces carry within themselves a wealth of styling know how. An interesting name to know.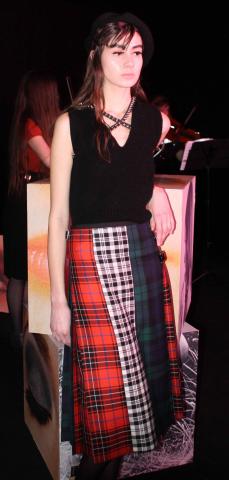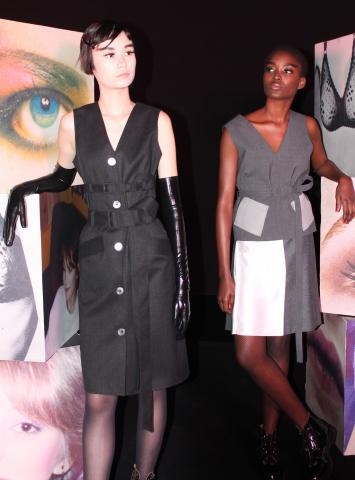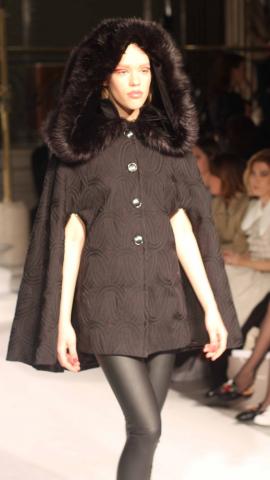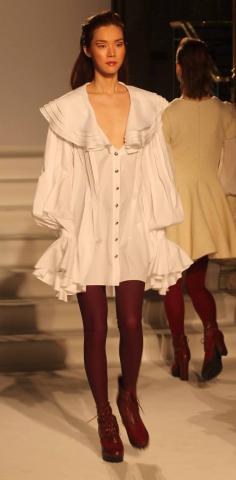 Steven Tai
Steven's motto for his woman this season was 'Sleep now and work later'. There's definitely nothing wrong with a bit of self-care and saving your energy for the things that matter - wise word's now on to the clothes. This was a collection that was overtly cool but without trying too hard. Casual sports jackets restyled with cosy luxe plush fabric retained the practicality of pockets and zips. Voluminous plush oats and other jackets made from thinner fabric where east to open in stages and allow vents for the body to breathe. This adaptation from pure sportswear into the luxury urban and casual looks like an inspired choice. As ever Steven has an eye for the practical. Water colour prints on white collared shirts, trousers move the feel of the collection to another phase with hints of art imbibing the laid-back style of the collection. Summer whites live on into the autumn wardrobe with hints of pleated tennis dresses and cricket sweaters in a new form.   
Judy Wu
Judy brought a bright flash of colours from the tropics for her Autumn-Winter 2017-18 presentation, perhaps also an alternative autumnal palette with plenty of warm hints crackling away. Draping and folding form a large part of this collections structure and form synopsis and Judy finds ample scope for working through different colour moods.
What she's created is a varied series of cocktail and contemporary formal wear gowns that give an edge of expression. There where broadly two perspectives that she covered, the block colour contrasting with ribbons of fabrics hinting at distant shores. The alternate was two colour block colour bands in striking harmony that made a recognisable bold impression. 
Beauty was also strong but simple with models wearing their hair slicked against their foreheads in a centre parted style with nude-like full face beauty and an amber wash of colour across the eye lids. Bold and fearless Judy's woman emerges intrepid for AW17. 
Paul Costelloe
Known as the Father of Fashion (and with a large family all involved in the business) Paul is simply one if the most experienced and highly skilled designers currently on the show schedule and when you see his work in person, this is very apparent. With five decades in the industry behind him he's pursuing new projects beyond fashion in homeware but still as dedicated as ever to doing what he does best. Producing luxury fashion for an international women that has an eye for style and refinement. 
Paul's formative years in fashion where spent in Paris studying and working with Pierre Cardin and from looking at his work there is an echo of this I think still in his work. People often use the phrase 'je ne sais qoui' to describe French chic but it's really the opposite, the careful definition coupled with creative flare referencing classic proportions assembling looks of elegance, ease and good taste. In Paul, an Irish designer showing in London as one of the Fashion Week pioneers continuing to show this season saw another demonstration of how he can twist classic garments into something fresh, different and desirable.   
Swashbuckling style with ruffled cuffs and collars created sophisticated shapes always flattering the figure and showing the woman's body in the best way. This is high fashion, it is luxuriant dressing to be seen in or enjoy privately. Shooting back stage and having the chance to see them in close-up it was easy to be spell bound by the fabrics and I would dare any fashionista's not to be. 
From dresses that will have you dancing the night away in a 'boite de nuit' or sweeping statement looks this collection has huge amounts of scope. One of Paul's many great touch points in his collection is creating pieces that have a perfectly calculated amount of movement in them and a natural easy swing, if you like, as the wearer moves. Paul is a definitive master of contemporary luxury wear and the future looks like it holds more treasure and surprises from the hand of this man who is also a notable artist.
DAKS London
In many corners of the globe DAKS London is known as one of the 'go-to' names for style that encapsulates the best of the British with a contemporary edge. As I took my place to see this seasons offering the seats where filled by a notably international crowd. So what did DAKS bring them? They delivered what many people from Buyers to clients will be dreaming of, practical styled easy classics to populate your wardrobe with. Looks for work and the business world that will carry you across the the evening. Plaids, tweeds, knitwear. 
Trousers, light sweaters, blouses and jackets all echoed the sophisticated elegance of the world of the DAKS woman whilst playing softly with style. There are plenty of staples here to add to the wardrobe with pieces that are easy enough to travel in too. The tailoring across the collection is also discreetly generous always giving a comfort factor. DAKS is a luxury label for women who want a defined sense of style in the traditional British sense and this collection delivers it in spades. 
Le Kilt
Samantha McCoach is the granddaughter of a traditional kilt maker and from memories of the pieces that her grandmother made for her mixed with the chic ambiance of the night club scene of Paris and SoHo Le Kilt was born to give the traditional heritage garment a new lease of life. Sourced from ethical wool producers Le Kilt is a young brand that is part of the sustainable fashion movement with commitment to luxury and excellence that doesn't expect anyone to pay an unfair price for wearing Samantha's beautiful clothes. 
Gathered in a riverside gallery with a string quartet playing beautiful harmonies Le Kilt displayed a fresh collection that stunned the senses with how much scope there is to re-work and adapt the Kilt. Soft lighting gave me Rose tint in many of these image but the make believe becomes real in this collection with cleverly developed styles in one or two pieces. Exploring hounds tooth in skirts and adapted as a gauntlet to long sleeve leather gloves this collection is packed with the punchy carefree beauty and sexiness that Le Kilt evokes in it's brand identity. 
Tunic dresses, mini and long line kilts matched with silky soft light sweaters and light V necked sleeveless tops in a beautiful array of choices. To the left you can see one of the most striking and I (being a teeny part Scottish) think is also the most fun way to re-create your tartan, mixing patterns. From a style point of view it's fun and eye catching and also got me wondering if people ever mixed the fabrics to represent different parts of their family?
Le Kilt may be young but it's strong, super strong with the off kilter sense of youthful rebellion contained in a punk style approach. It's fashion for women and girls who want to grab life with both hands and there is also a Scottish sense of directness. Its bold confident beauty and for women and girls around the world it's a hit. Samantha references her mother and grandmother in the collection showing continuity of vision and a sense of cherishing beauty and memory.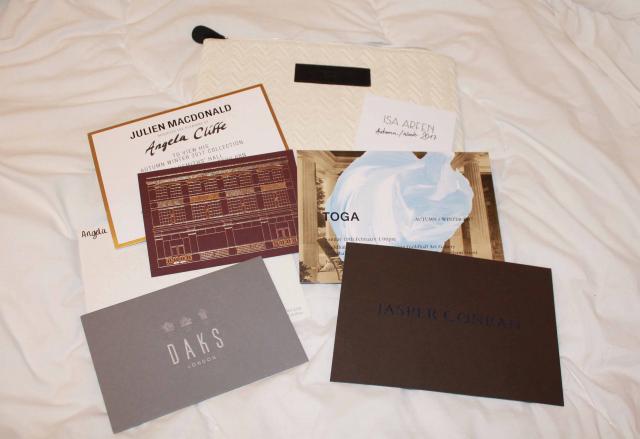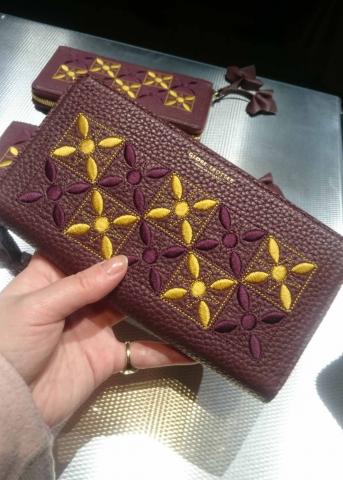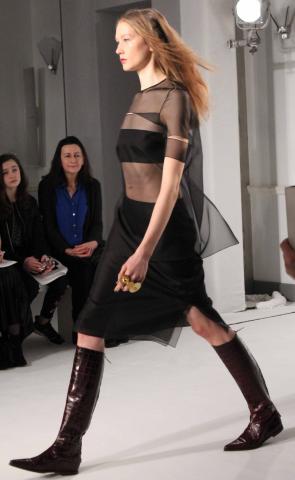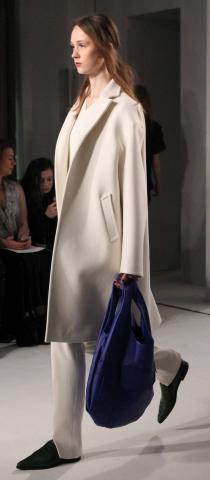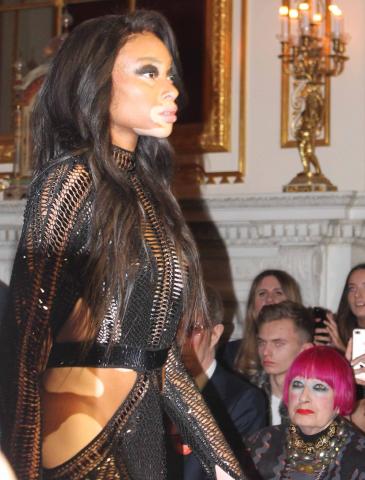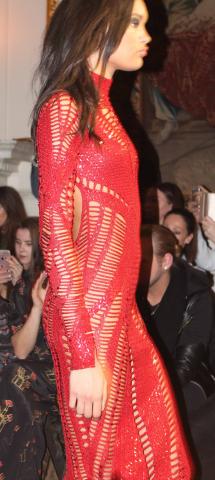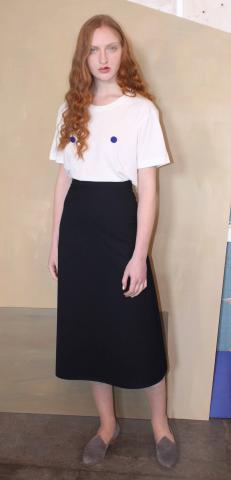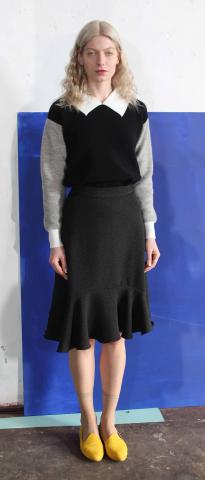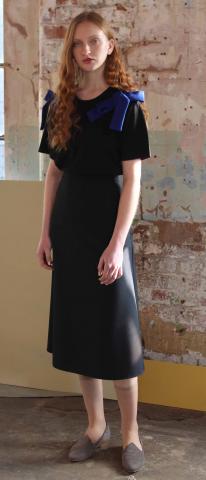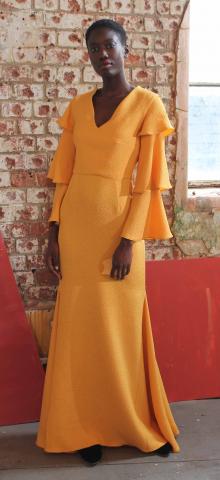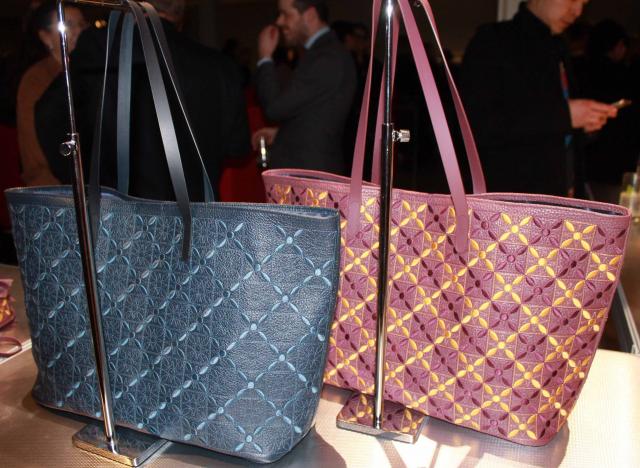 Julien Macdonald 
Walking into the Hallowed halls if the Goldsmith's Company on the City of London to Julien's latest collection there was one of the most glamourous crowds that you will see at any of the shows at Fashion Week.  It's always good to be properly dressed at Fashion Week but people turn up the volume for Julien in the same way that he injects so much life and energy into his clothes. With a front row thoroughly packed with international A-listers and special guests we saw the feather light detail that captivates and intrigues and also (to come in my longer features) a spectacular series of men's looks. Working in a palette largely of silver, black, red and champagne the collection had a broad appeal in the types of styles that Julien was sending out. There's sass and sex appeal but nothing ever looks 'too much'. 
Like the words from the James Bond soundtrack; 'nobody does it better' when it comes to high octane glitz and glamour and with Edward III himself looking on at proceedings giving a regal seal of approval, the international guests cheered one of our current living fashion legends who is still pleasing his clients, A-List and private a-like with his unique brand of glamour that grew out of his early virtuosity with knit and cobweb structures. The beautiful resonance of the gilded halls and the Music (Julien's is one of the best anthem creating shows) had a captivating effect before we had even taken our seats. Winnie Harlow closed the collection, above to the left, showing fashion's commitment to be inclusive of beauty. Very aptly I was sat opposite Dame Zhandra Rhodes who I think would agree like the rest of us with this.   
Edeline Lee
Hailing originally from Canada and training at Central Saint Martin's Edeline is one of the brightest young designers on the London show schedule sending out collections that have moments of fancifulness as well as a sound practicality. Edeline creates looks and individual pieces that you can wear for work or leisure and accessorise with classic or contemporary pieces. Soft A-line skirts teamed with subtle tops with a faintly uniform appearance at times but never looking childlike, always urban, sophisticated, practical and demure. Peplum fringing returned again this season on the skirt and in varying parts of the dress such as sleeves and skirt lengths. There's a strong mainstream appeal to these clothes while still remaining creative and a feature draw on the LFW schedule amongst the up and coming designers. Edeline is dressing the modern lady, she's chic and stylish and expresses herself through new fashion shapes but is never constrained by it.   
Jasper Conran
Jasper is another one of the Founder members of London Fashion Week who continues to show on the schedule bringing a fresh palette of well tailored choices to the audience this season. We saw perfect tailoring, clean lines and silhouettes that where at times floaty and others, cut closer to the figure but    
always quietly flattering and sensitive to the nuances of the female figure. Jasper has a seasoned knack of creating collections that have genuine appeal across more than one generation of clients. The staples of light sweaters, finely cut trousers and coats that will be mainstay wardrobe pieces across the seasons are all there. To the far left you can see one such combination teamed with a winsome hobo shaped tote, the latest in a series of accessory styles that Jasper crafts each season to slip into the wardrobe. 
He uses colour in the measured moderation that you would anticipate for a man with his experience and sensibility and I sensed a little of the warm embers of the Moroccan heat in the tones of some pieces, including that to the left showing vest, skirt, jacket and clutch. It blends perfectly also the autumnal colours of the British harvest fields.  
Jasper also reminded us that he can pay a quietly strong game on producing chic sexy evening wear pieces for drinks, parties and clubbing. Above to the right you can see two of the pieces that will have wearers holding admiring gazes I think when worn out. The lines here are almost deceptively simple with attention paid to the natural curves of the figure within the form and line of the pieces. To the right a diaphanous flowing gown with a print resembling the the shadows of grass ripples as the wearer moves into the cooler days of Autumn. As ever Jasper was a marvelous host and his team and the Claridges team looked after us superbly.  
Globe Trotter 1897 
There's nothing more exciting than seeing a heritage brand re-emerge and set it's sights on a brace new future. After over a century of discreetly providing luggage to everyone from Her Majesty the Queen to James Bond in the film Spectre, Globe Trotter are making their way back into the spotlight. The brand was built on a unique technique devised in the 19th century of using many layers of tightly pressed fiberboard to create stylish luxury luggage that was highly durable and could clock up the miles with ease. To this end satisfied clients with full travel itineraries from flight attendants to HM The Queen have all kept sets of luggage across several decades of real globe trotting. At a drinks party we where introduced to a new collection of trunks and accessories on a conveyor bet echoing where some of the brands products will find themselves in the future. Alongside this to emphasise the heritage of the brand a series of cases from across the history of the brand where displayed showing the classic lines now converted into contemporary pieces. Below I chose show some of the accessories in this mini edit that I think could be a big hit from the collection. Shoppers, mini pouches are  some safe styling choices that should please the eyes of potential clients looking to add some sophisticated accessories to their collections. The flat line purse, also available in blue looks to be a potential trend for next season.